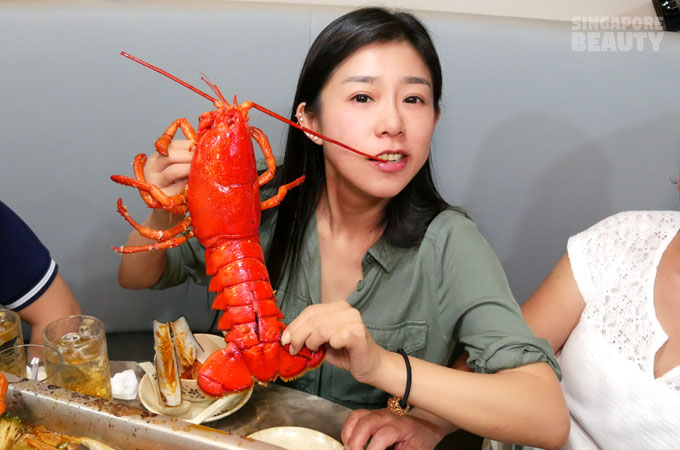 [Restaurant no longer exist] Eight Signatures Seafood Restaurant (八鲜过海) is an all in one restaurant with live seafood dishes, fusion zi char and BBQ. They are popular for their zi char dishes such as truffle chicken (using wild black truffles bits and not truffle oil), homemade tofu (made from scratch), free-flow beer and seafood platters!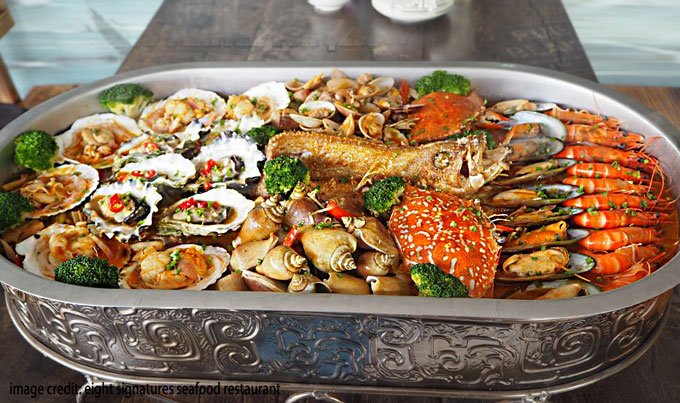 SEAFOOD PLATTER
Their seafood platter starts from Eight Signatures Platter ($138++) for 4-6 pax. It includes one grouper, flower clams, tiger prawns, oysters, gong gongs, two flower crabs, mussels and scallops.
From now till 15th Jan 2018, every seafood platter comes with Free-Flow beer!
They also have Eight Signatures Upsize Platter ($258++) for 10-12 pax. It includes two groupers, flower clams, tiger prawns, oysters, gong gongs, four flower crabs, mussels and scallops.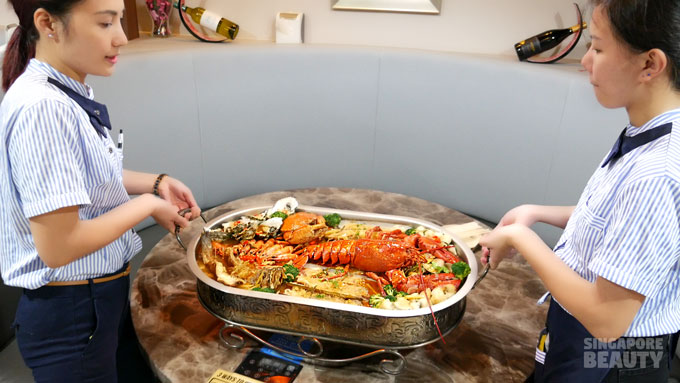 We tried the Eight Signatures Deluxe Platter ($388++) for 4-6 pax which comes with a large size boston lobster.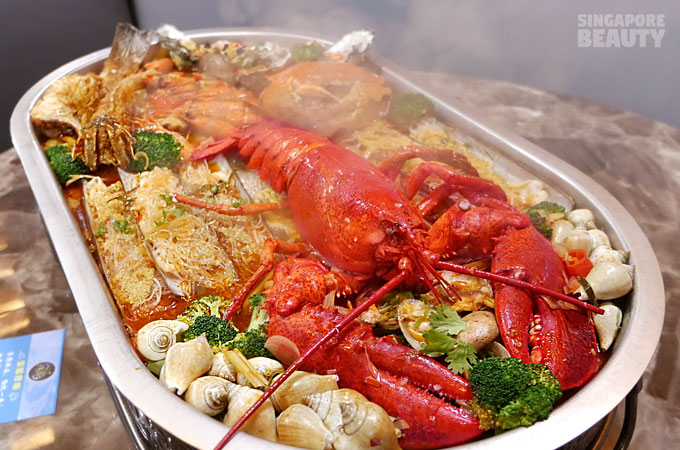 This deluxe seafood platter comes with a 1kg Boston lobster, bamboo clams, mud crab, prawns, gong gong, flower clams, grouper and oysters atop a bed of seasonal greens like broccoli and cabbages. These are prepared individually as each type of seafood has a different cooking time and method. These are then served in a huge platter and simmered in a broth of your choice. We chose the newly launched homemade Tom Yum flavour which is made from scratch with broth, fresh buys such as lime, lemongrass, galangal, chilli peppers and some other secret ingredients. This light broth is on the spicier end and less tangy to complement the briny seafood. Alternatively you can choose spring onion or their mala (Hot and spicy) broth for a change.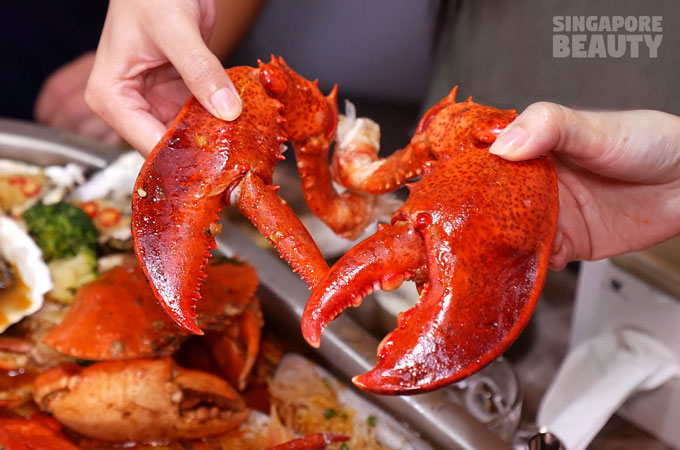 1 Kg of live Boston lobster with a considerable big meat claw and fleshy tail.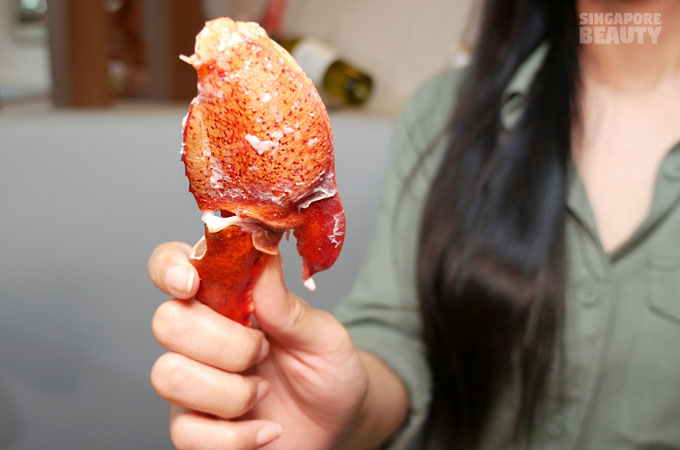 The meaty claw and tail of the Boston lobster are well-cooked so that the meat remains firm but succulent. Since it is a live Boston Lobster, it is fresh and sweet too.
Topped with generous amount of sautéed chopped garlic, parsley and vermicelli. These bamboo clams are about the length of a lady's palm. The flavourful vermicelli is soaked with the briny juice from the bamboo clam and will slide effortlessly down your throat. The flesh of these clams are tender and a joy to eat.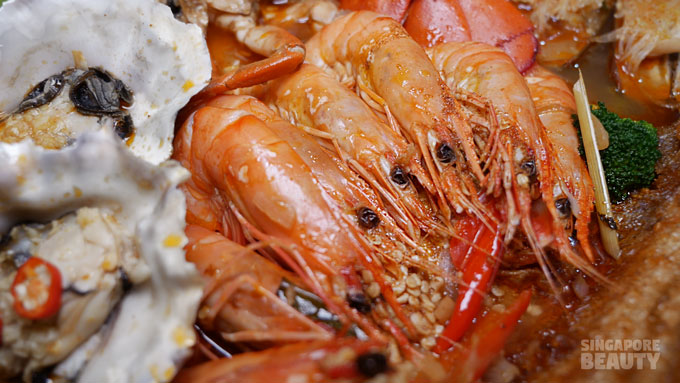 These live prawns are crunchy and sweet. Do not chuck the head of these prawns. The head packs loads of creamy juice and of course the best flavours. Delicious!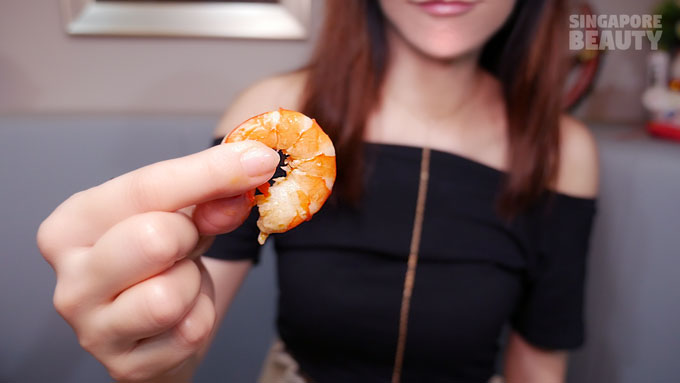 Deshelling the prawn is a breeze because they are so fresh.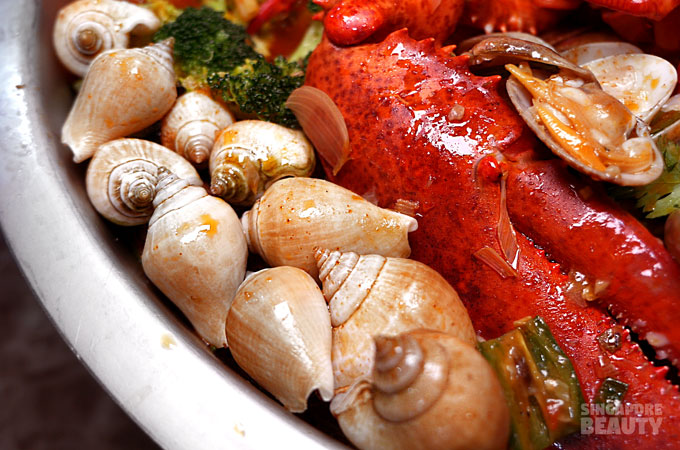 Gong gong are lightly cooked so that the flesh remains succulent and not rubbery.
Live flower clams are stir fry briefly with fragrant chilli oil in seafood sauce. Each piece is glazed with the savoury sauce without overpowering the natural flavours of the clam.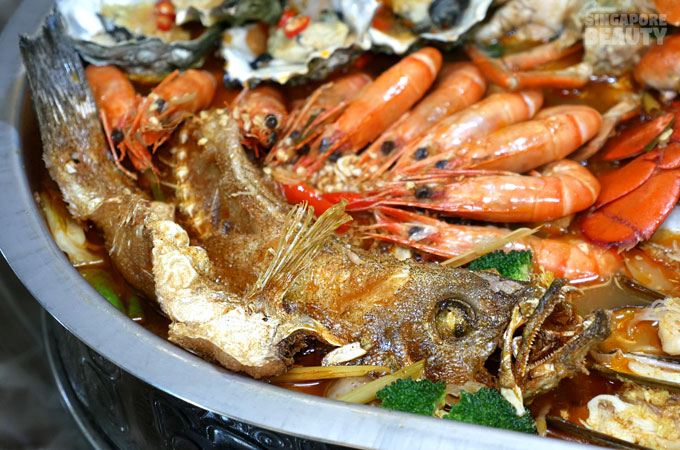 Grouper is lightly salted and deep fried in hot oil. The tender flesh is held together with a crisp and saline flavoured skin. This is one of their signature fish named happy fish (乐乐鱼) and I must say this is one of my favourite seafood in this platter. The head is so crispy like fish crackers!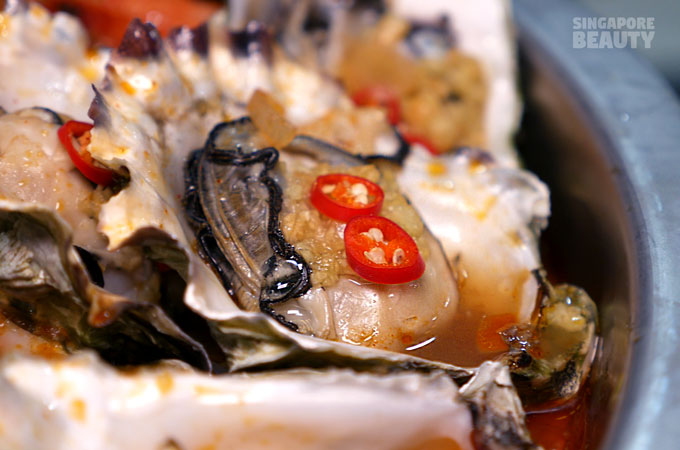 Oysters are plump and creamy. The cut chilli and sautéed chopped garlic in oil surprisingly add a complimentary sweet undertone to the oyster.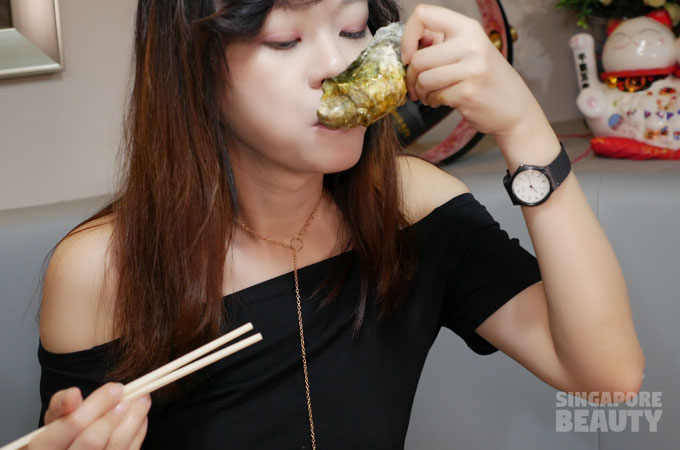 Pop these oysters into your mouth whole to savour the explosion of flavours and textures. Remember to slurp the briny broth in the shell.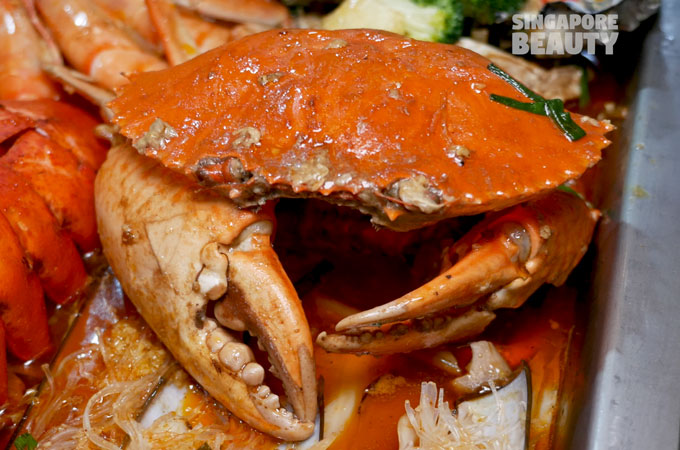 There is also a mud crab.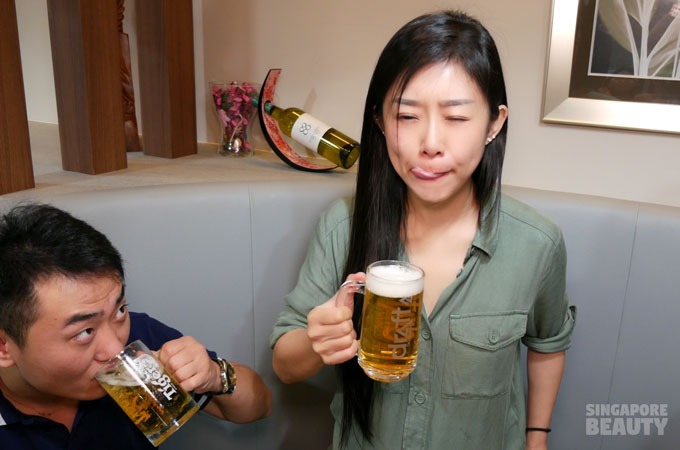 FREE-FLOW BEER
For a limited time only from now till 15 Jan 2018 , any seafood platter ordered will entitle you to unlimited free beers! Drink to your heart's content. Ladies, beware of your beer moustache!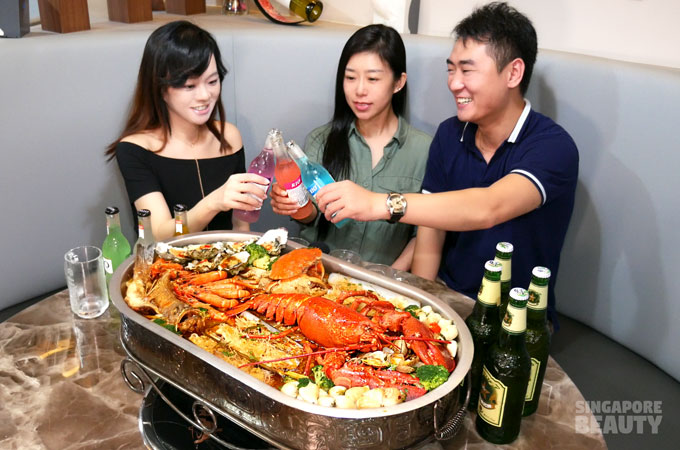 If you prefer some fruity brandy instead, you can also order their range of mocktails.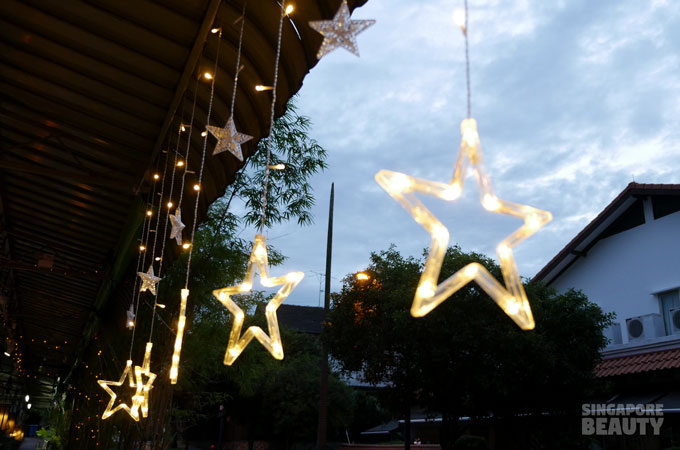 Chill and relax at their beer garden amidst fairy light under the starry night.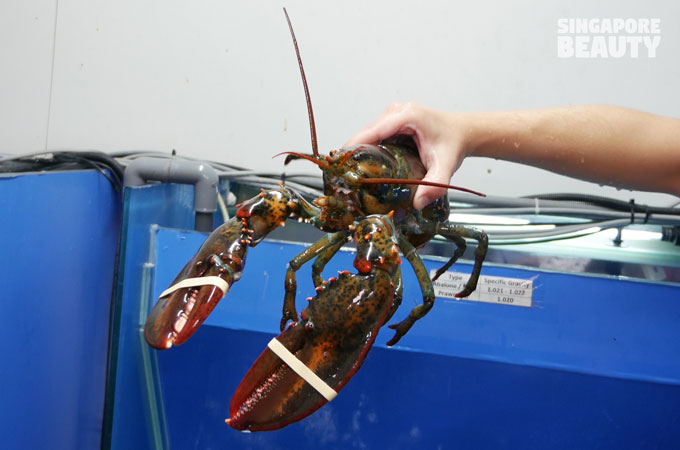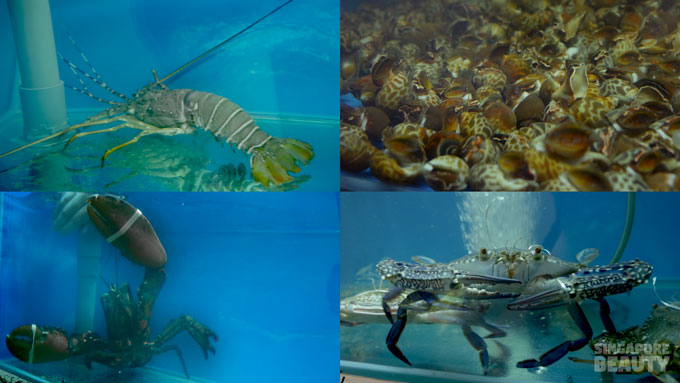 LIVE SEAFOOD
Live seafood are kept fresh in their in-house tank till they are ready to be served.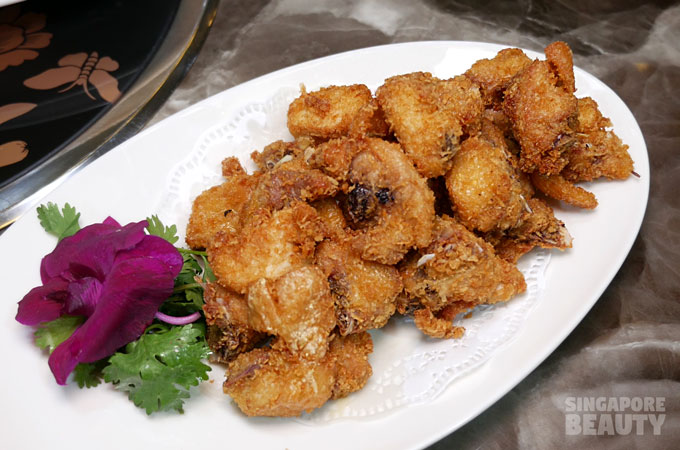 ZI CHAR
If you prefer some fusion zi char, you can also try their zi char dishes. The highly recommended ones are the truffle chicken and homemade tofu. Truffle is high in protein, with anti-aging benefits and is a great energy booster. Signature Truffle Chicken ($22++) is marinated with oil infused with wild black truffles bits for at least 12 hours before going into the fryer. The chicken is tender with a thin crisp panko crust. Very addictive.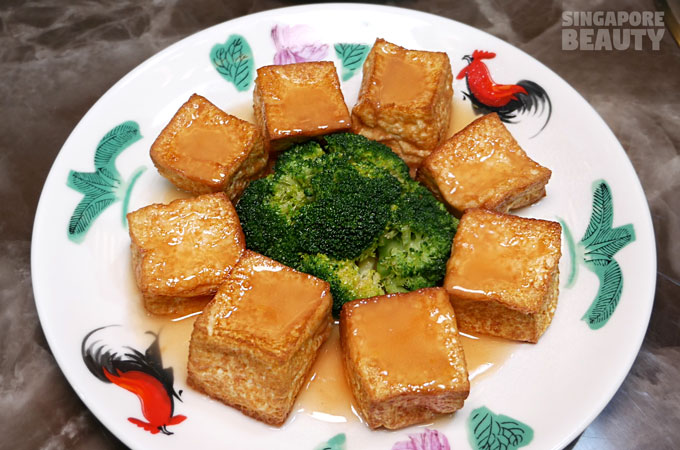 Fried homemade tofu topped with abalone sauce ($16++). The tofu are made in house from scratch. Beans are soaked overnight, grounded to a pulp and boiled to a milky consistency. In between these, they have added some other steps and ingredients to perfect the texture of these tofu. The end result is a custard- like wobbly tofu with a extremely smooth texture that dissolves in your mouth but firm enough to be picked up with a chopsticks. Must try!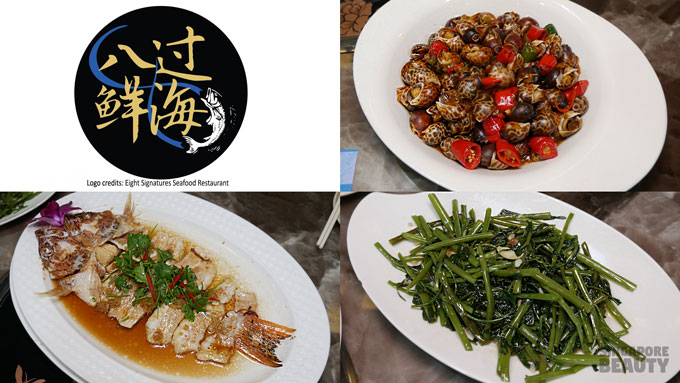 Steam Red Grouper ($48++) Hong Kong Style, boiled sea Conch with chilli oil and wine($15++) and stir fry Kang Kong with Chilli and garlic ($12++).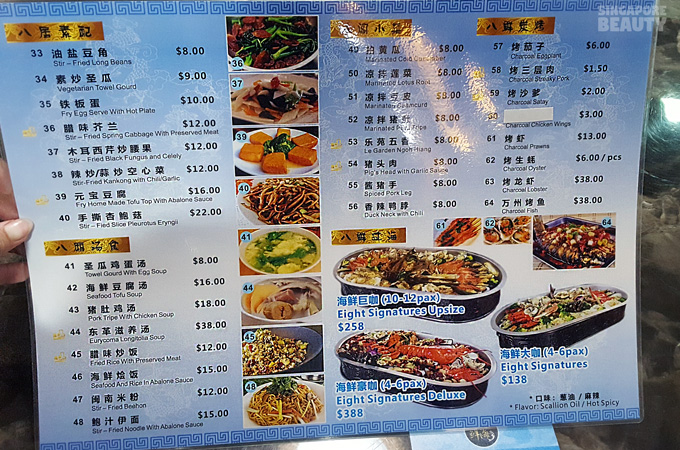 Try some of their other zi char dishes and roasted fish too!
Usher in the New Year with a hearty meal and spend some quality time with your friends and love ones over a sumptuous meal in a comfortable setting. They are open till 4am daily!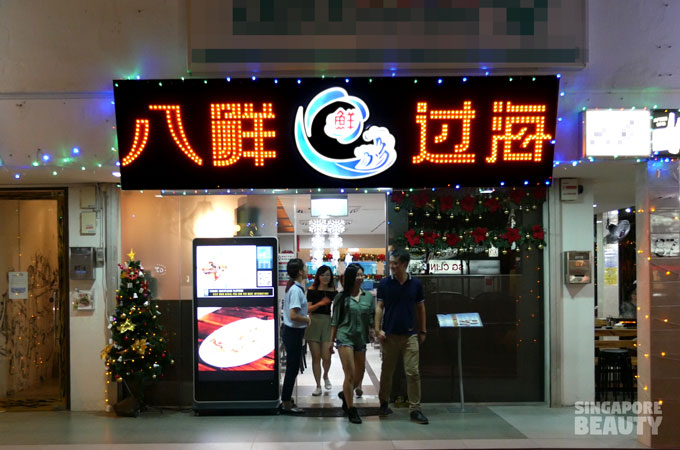 Eight Signatures Seafood Restaurant
Restaurant permanently closed.
87 Serangoon Garden Way
Singapore 555983
Opening hours:
Monday- closed
Tuesday to Saturday -12pm till 4am
Sunday- 12pm till 2am
Reservation:
6282 3996
Parking:
Parallel parking is available along the shop front
Nearest Bus Stop:
Serangoon Garden Circus (B66271) Bus: 73, 136, 315, 317
Brought to you by Eight Signatures Seafood Restaurant.