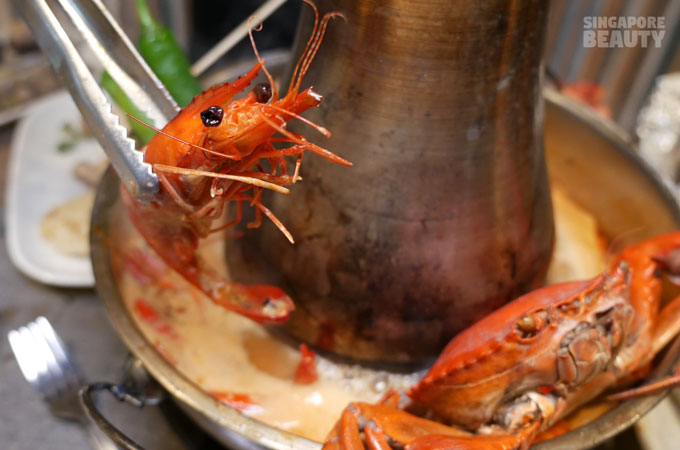 [Restaurant no longer exist] New Thai Tanic is serving free flow live oyster starting from 8th Jan 2018 in additional to their BBQ live seafood, steamboat and skewer bar.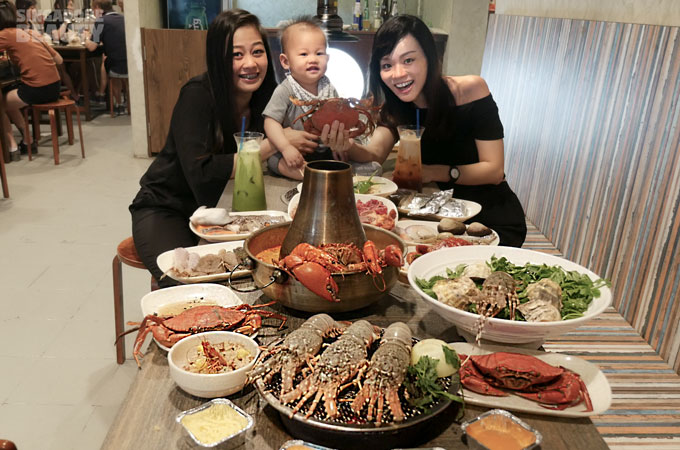 If you are looking for a place to feast for this coming Chinese Lunar New Year, where is a better place than here? This is a kid friendly restaurant, kids (under 1.1m and below) dine for free. Baby chairs are available so that you can enjoy your feast wholeheartedly.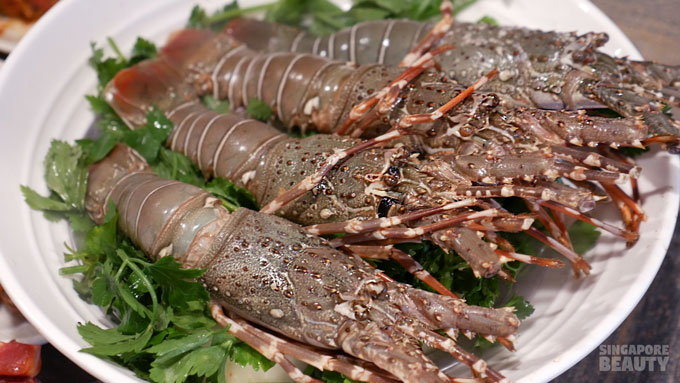 From 15 Feb to 2 Mar 2018, (CNY reservation) for every 2 or more adults, you are entitled to an iced live lobster each.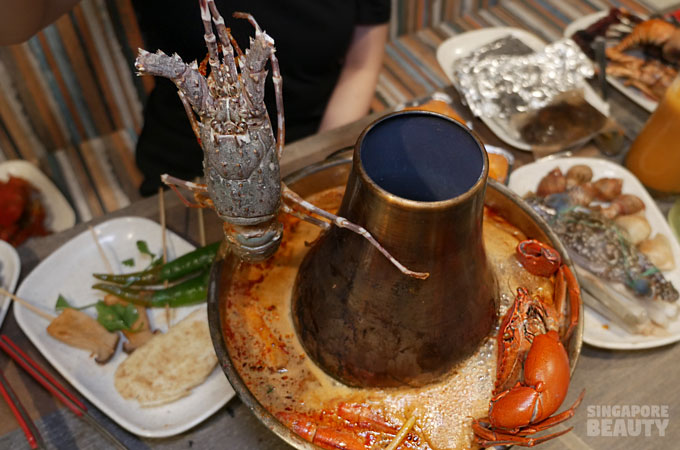 What is Chinese New year without steamboat? At New Thai Tanic, it is a must to try their Tom yum steamboat (+$18 , CNY period is free but needs reservations and subjected to availability) that has a robust flavour and thick gravy. Made in house from fresh spices, these steamboats are limited daily and need to be pre-ordered to avoid disappointment. Highly recommended!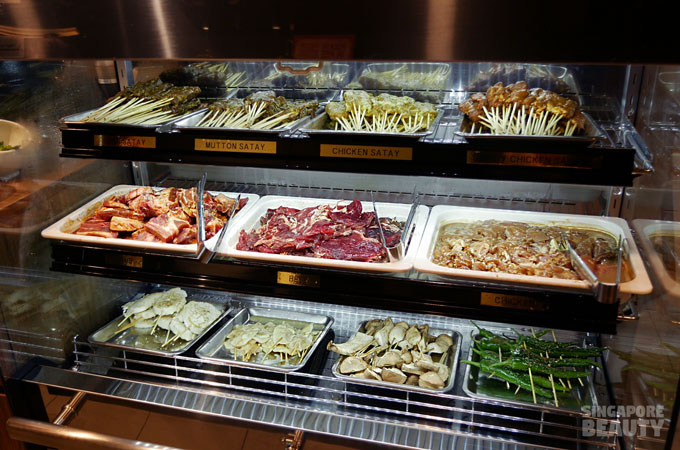 New Thai Tanic also added a new skewer bar.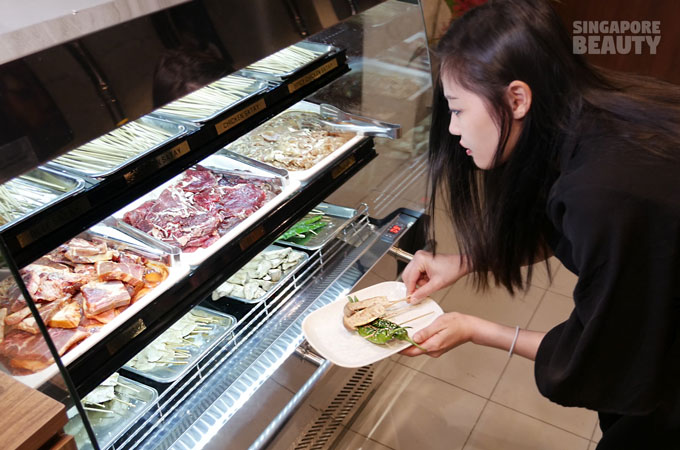 Satay (beef, mutton, chicken, spicy chicken), chops (beef, chicken, lamb), seasonal greens and fungi.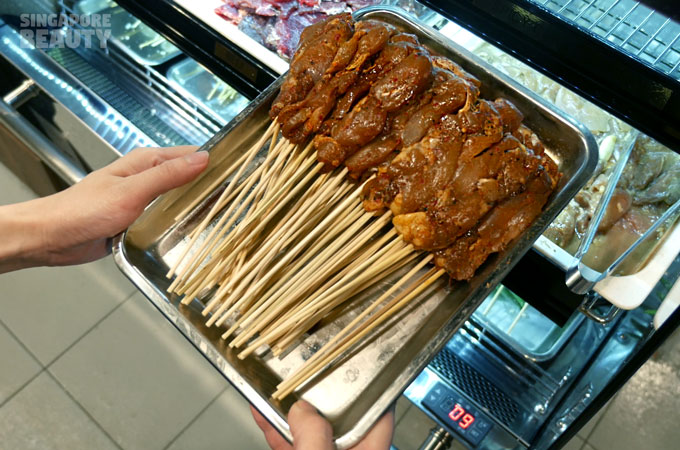 These meats are marinated for hours and the greens are seasoned with spices too to give that extra oomph.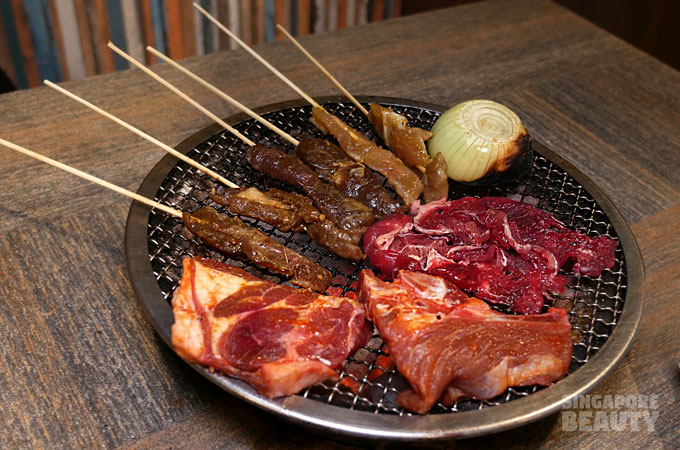 The lamb and beef chops are thick with a good proportion of fats, soft bones and meat ratio. Satay is flavourful and tender.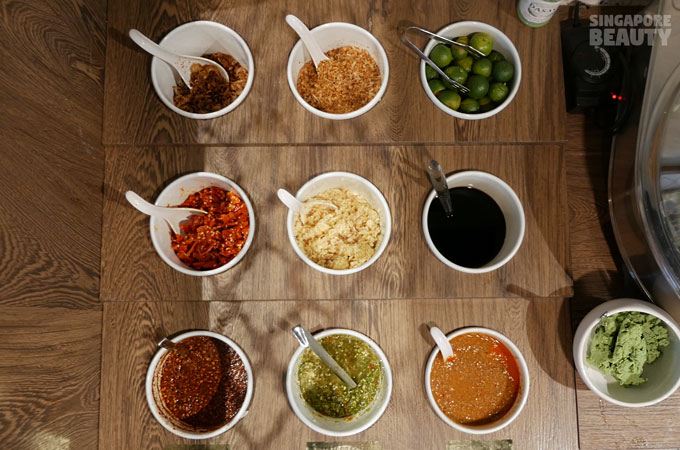 Their nutty and chunky satay sauce make up for the absence of ketupat, just because it is so addictive. The one on the extreme bottom left corner is the satay sauce that goes well with any meat. They also have meat chilli sauce, which is thick gravy of grounded spices and chilli pepper fried in hot oil. The bottom three sauces are the hot favourites, do get some of these dips when you are there.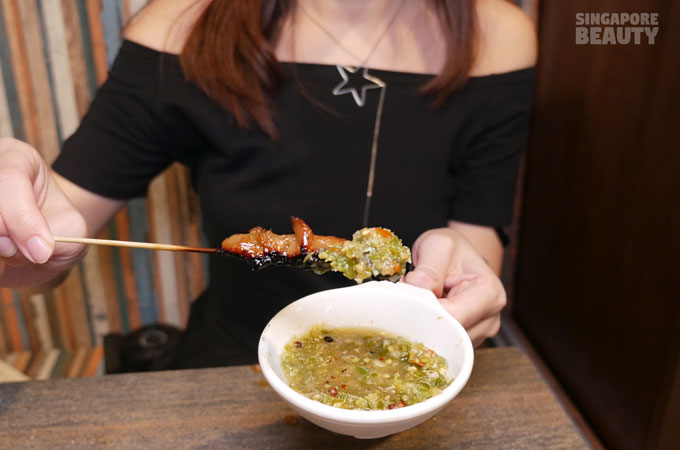 Here is a close up on the consistency of their seafood chilli which is spicy and tangy.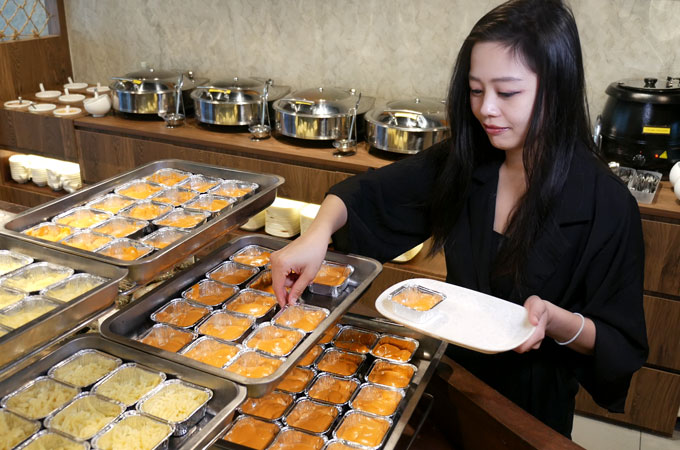 They also have a terrace of free flow Mozzarella and cheddar cheese for cheese lovers.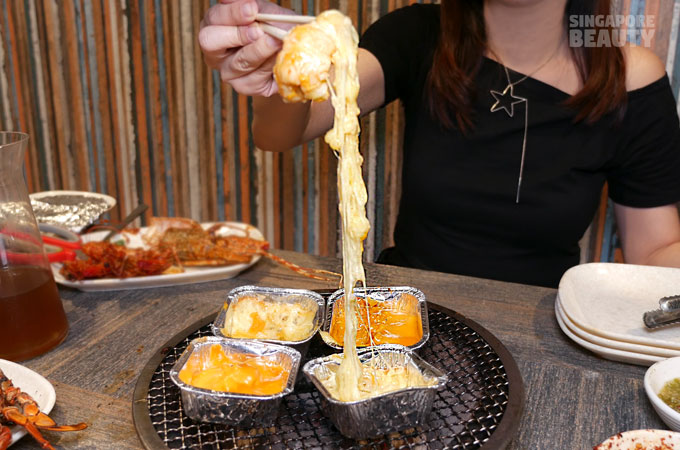 You can have as much cheese pull as you fancy atop the hot stove. Melty, gooey and chewy cheese.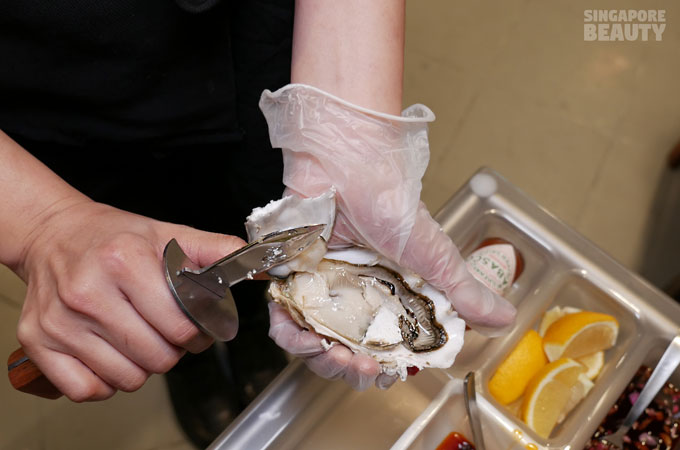 Unlimited free flow live oyster with personalised oyster shucking service will be available from 8th Jan 2018 onwards to celebrate the festive seasons.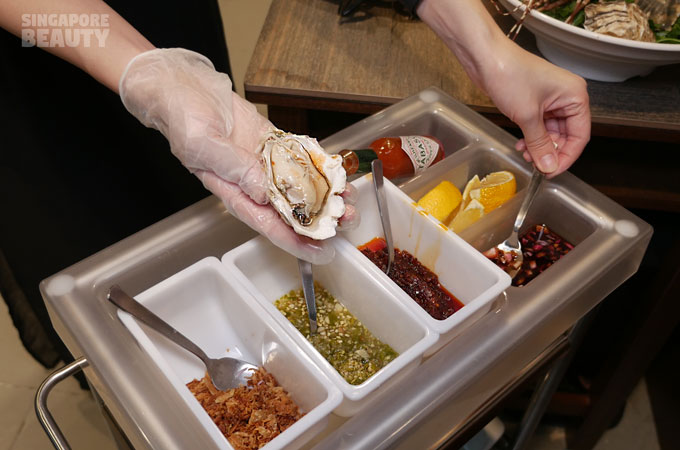 Choose your dressing for the oysters from:
A) French style (Mignonette dressing) with diced shallot in red wine vinaigrette and a dash of Tabasco for that extra zap.
B) Thai style with fish sauce, chilli, rice wine, vinegar, sugar and lime.
C) Au natural with a drizzle of tangy lemon juice.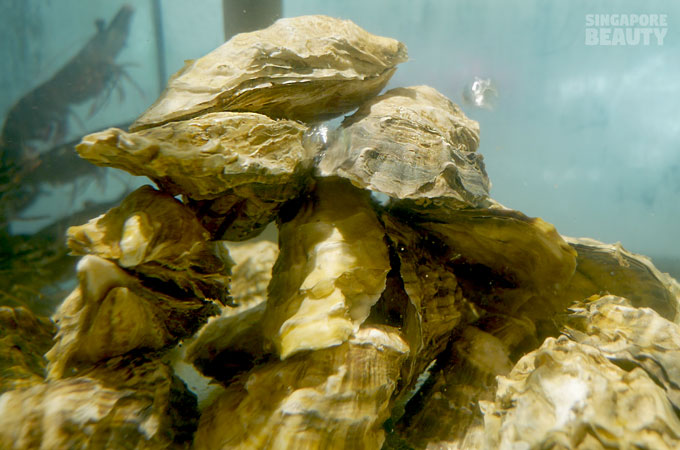 These live oysters are kept in aerated tanks for maximum freshness and you get to pick your own live seafood in New Thai Tanic.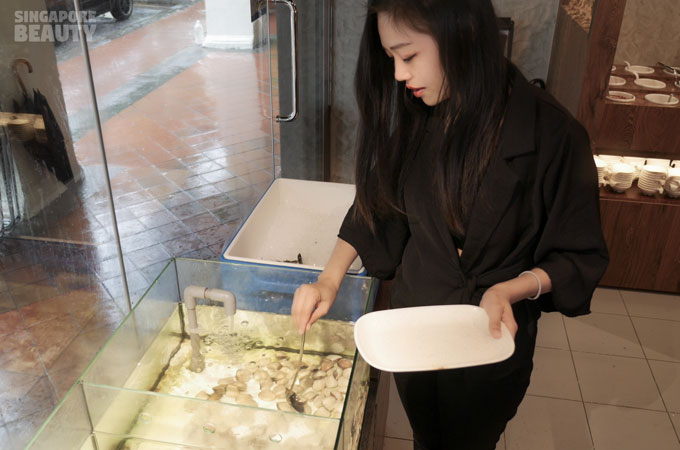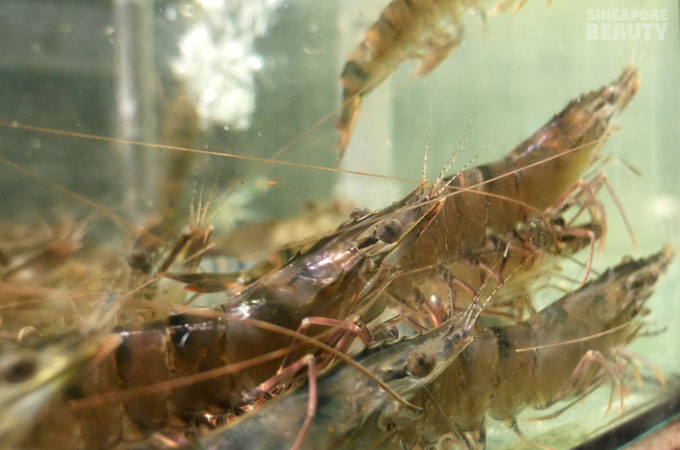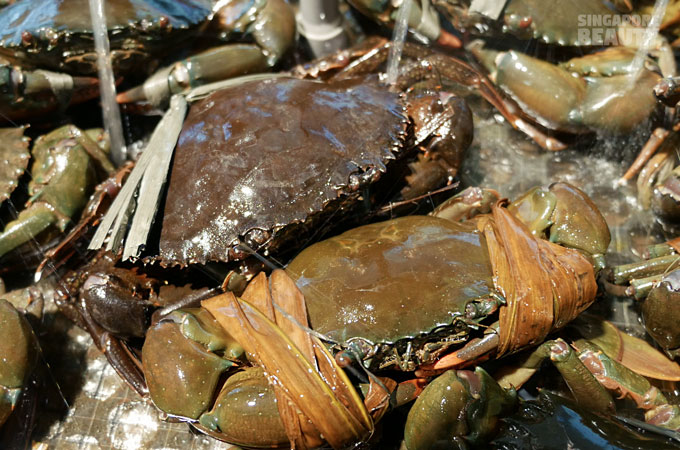 The live seafood consist of tiger prawns, mud crabs, oysters and clams.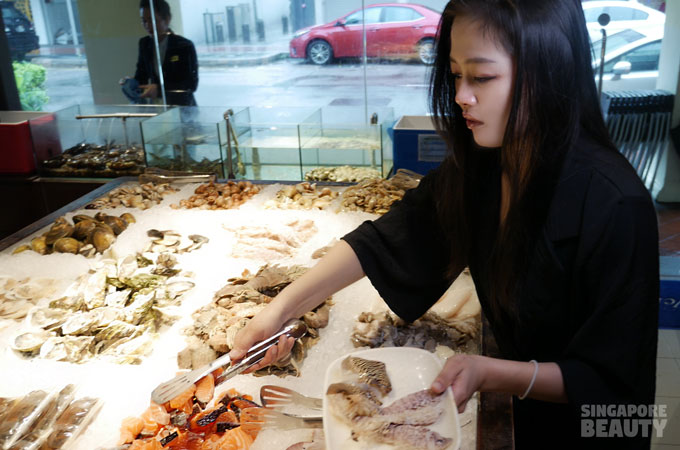 Besides these live catches, they also have a ship of iced seafood. This is a treasure trove of seafood atop a bed of ice to keep all these sea hauls fresh.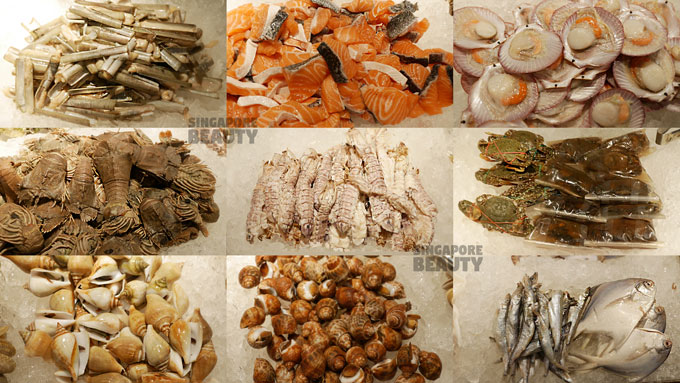 Mini lobsters, bamboo clams, blood clams, clams, flower clams, giant clams, gong gong, oysters, scallops, sea conch, deshelled mantis prawns, slipper lobster, whole pomfret, shishamo, salmon, soft shell crabs, squid, baby octopus and exotic large snail.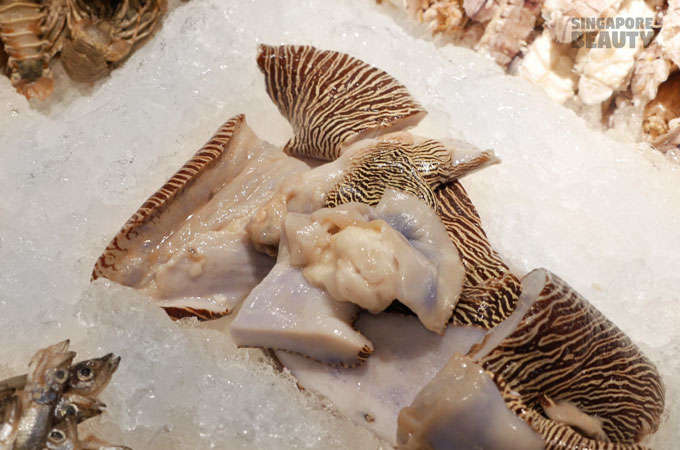 This is a close up of the large snail served in New Thai Tanic. This is deshelled for the diner's convenience. For your information, they do serve some quirky and exotic seafood periodically. Do try these exotic seafood if you are an adventurous eater, you might actually like them!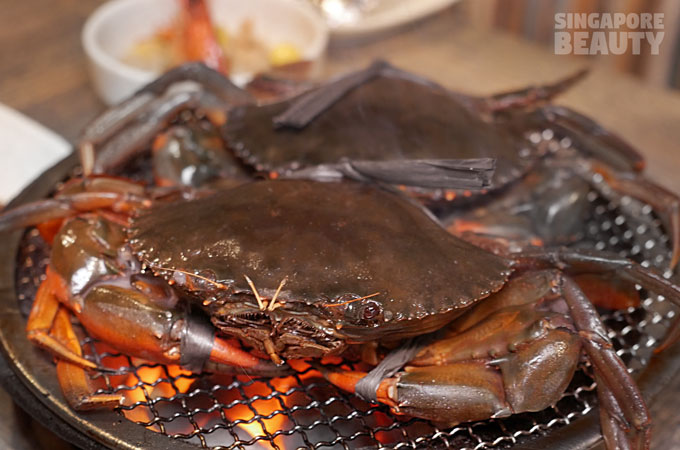 If you are a crab lover, you will be delighted with their female roe crabs. Full of orangey red roe that is so delightful to eat after they are roasted.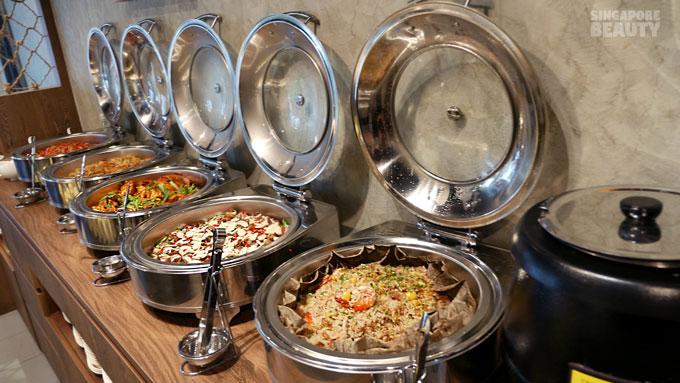 Cooked food station consists of a few of their signature dishes of the day by their in house chef.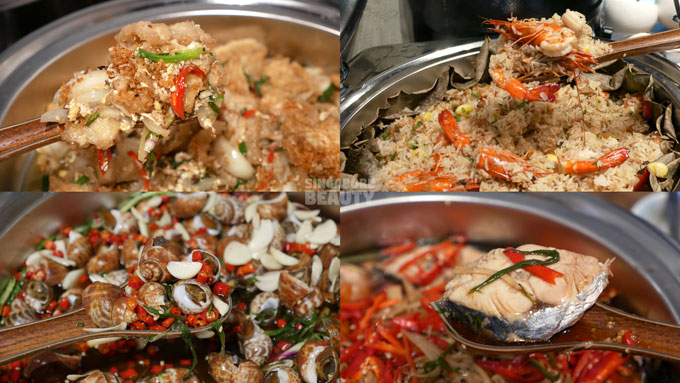 Lotus wrapped fried rice (with gingko and yam), sea conch (in chilli padi and Thai fish sauce), fish maw (stir-fry in ginger, spring onion and onions), chilli crabs (in Singapore style) and fish fillet (in soya sauce).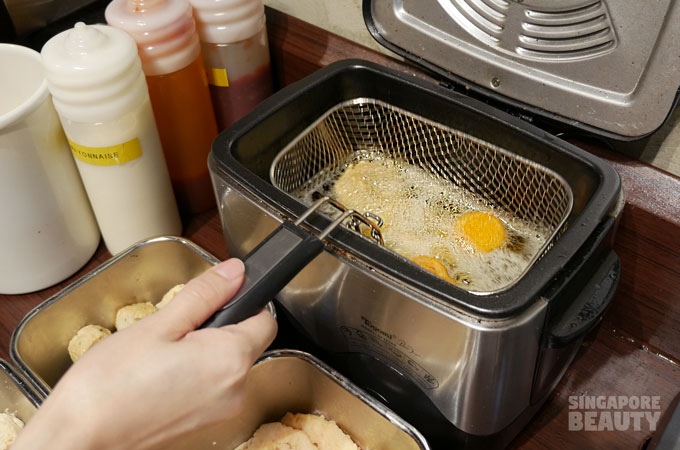 Want some finger food? They have a deep fried station for finger food lovers. Fry your own items and watch them sizzle away in the deep fryer which is a breeze to use.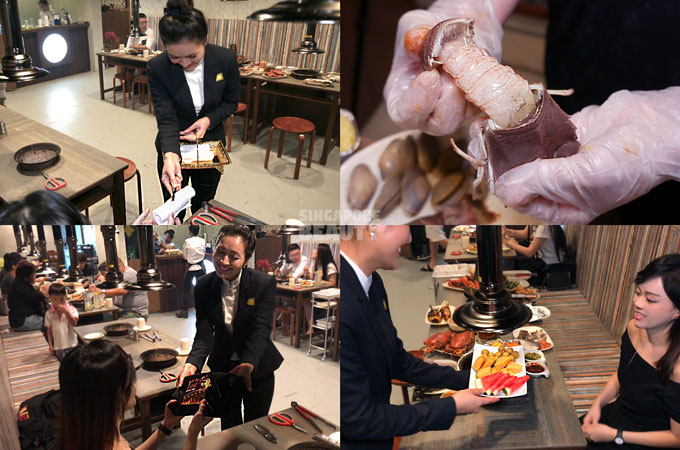 A dining experience in New Thai Tanic is akin to onboard SQ. You get served hot towels before your meals, apron before starting your meal, deshelling service during your meal and a fruit platter after you meal. They are sure making a lot of effort to wow their diners with their variety of food and good service.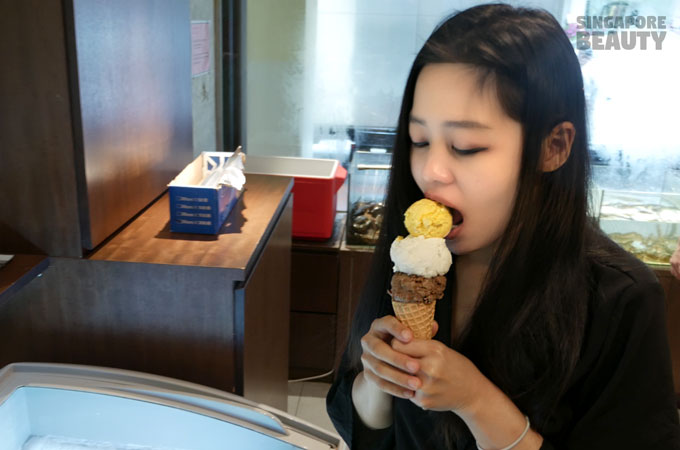 Help yourself to their DIY waffle and diy ice cream. Ice cream flavours are available in Thai milk tea, mango, yam, coconut, chocolate and sweet corn. Oh man, their waffles are heavenly if you cook them at their recommended settings.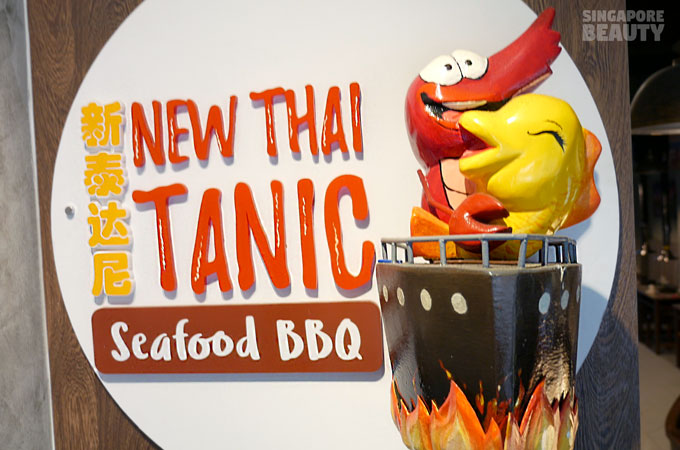 Lastly, at New Thai Tanic, there is always a sweet ending. Dock there soon!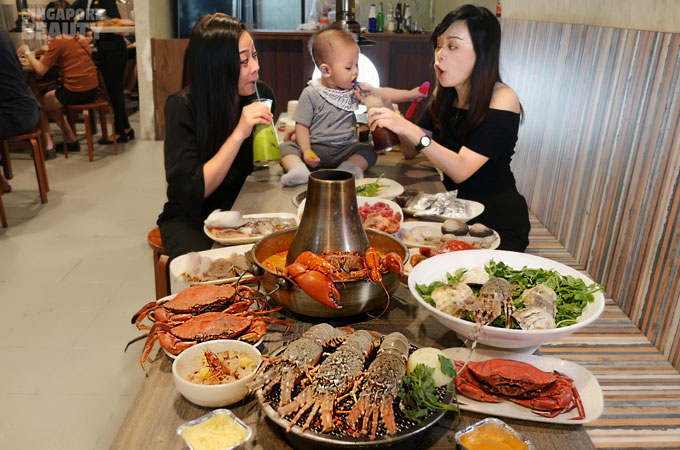 There is always something for everyone!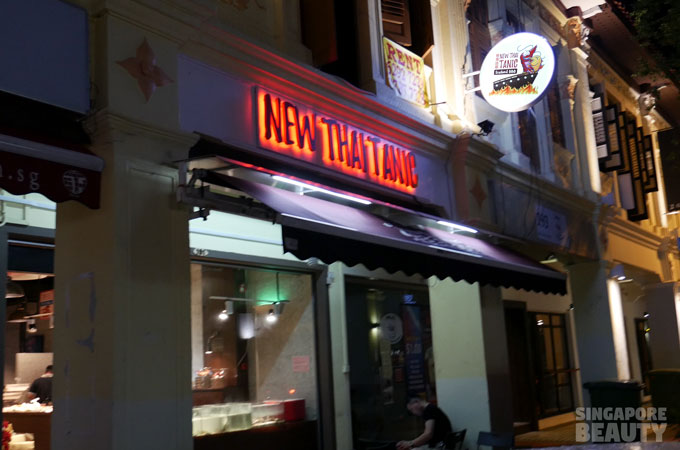 Head down to New Thai Tanic now, this CNY feast is only here for a limited period of time.
Lobster & steamboat only available for CNY Period from 15 Feb – 2 Mar 2018. Other items are available all day.
Promotion 1:
Happy Hour (finish before 6.30pm, Monday to Friday) at 30 % off (exclude eve, PH & CNY period).
Promotion 2:
15% off daily (exclude eve, PH & CNY period).
Promotion 3:
Kids (age 12 and below) between 1.1m and 1.4m is entitled to 50% off.
All children below 1.1m eat for free (exclude eve, PH & CNY period).
Promotion 4:
Early Bird reservation for CNY Special (15 Feb till 2 Mar 2018). Each diner is entitled to a free lobster for every 2 or more paying adults. They have 3 time slots available for reservations (3.30pm, 6.00pm, 8.30pm).
Promotion 5:
Free steamboat for CNY Special (15 Feb till 2 Mar 2018). Limited number of Steamboats daily and priority will be given to those who make reservations for steamboats. Call now to make reservation for your CNY celebration and secure a table.
Usual Price $59.90++
they have a new pricing! do contact them!
Address:
[Restaurant no longer exist]
Operating hours:
Daily 3.30pm till 11.30 pm
Brought to you by New Thai Tanic.