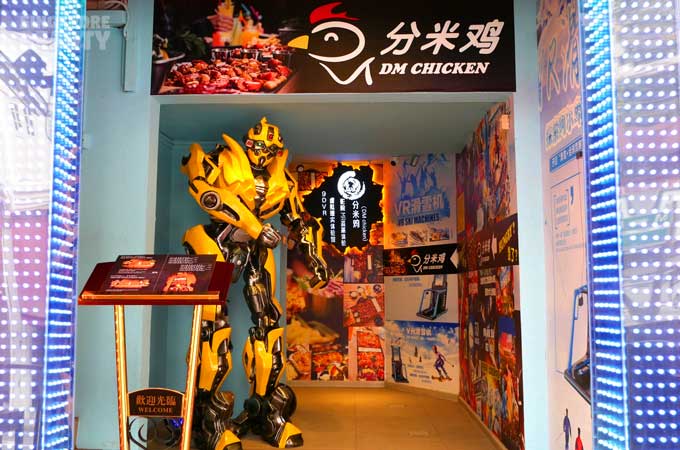 The flagship of DM Chicken restaurant has landed in Singapore with a bang! A distant cousin of Bumblebee from Transformers is seen beckoning to curious onlookers to explore this cutting edge themed restaurant.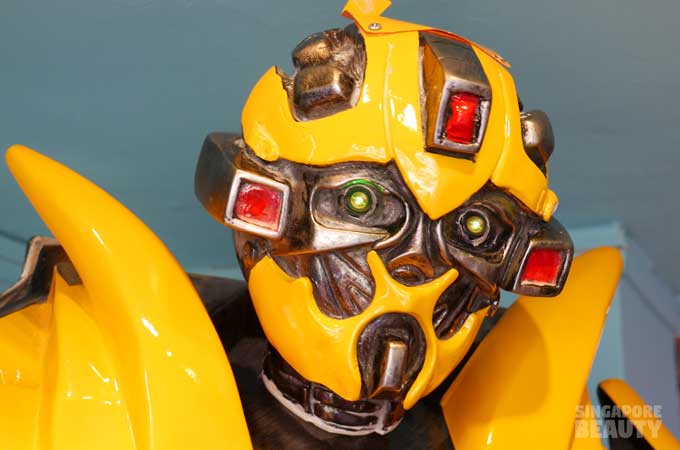 The penetrating jade green glare of the towering figure allows only for the bravest of hearts to enter. Behind this imposing figure, is a transporter that will teleport you to the 3rd floor into a hidden enclave.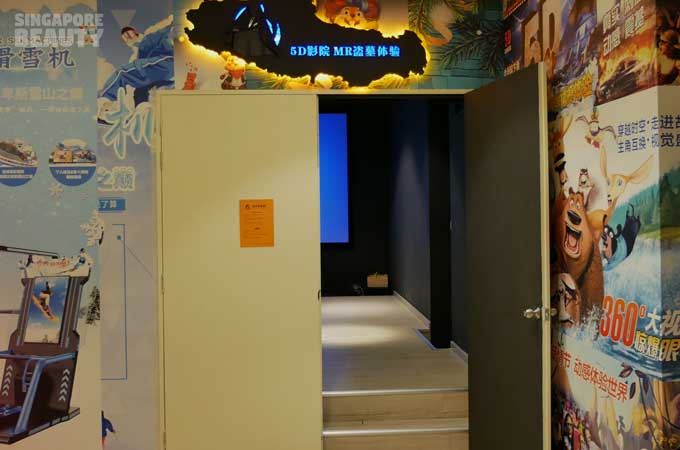 Unravelled before you is a privileged view for being the bravest of hearts to enter this enclave.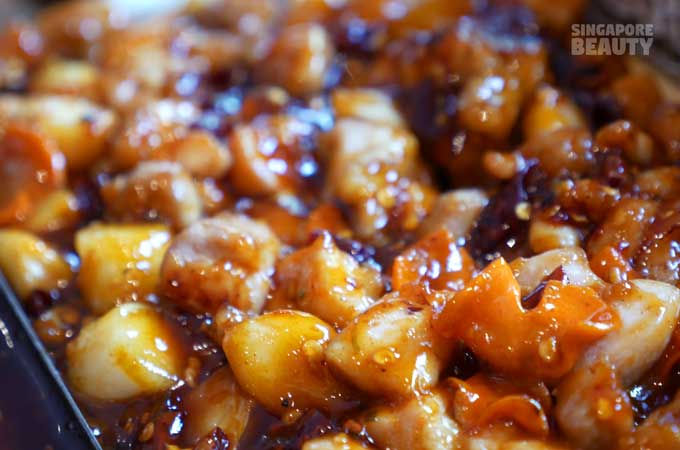 You are rewarded with DM chicken signature battleship platters, a diverse range of VR (virtual reality) games and unlimited 5D movies titles to ponder upon. This is a gem hidden away from the maddening crowd of touristy Chinatown.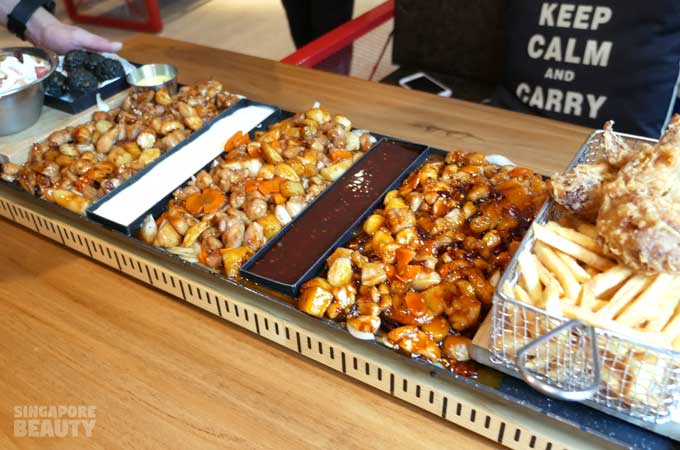 The DM chicken battleship platters comes in 3 lengths (50cm, 75cm,and 100cm). You are to choose the crew onboard based on the below deployment format.
1. 50cm DM chicken (DM chicken 600g+chips+salad+cheese) $50
2. 75cm DM chicken (DM chicken 900g+chips+salad+cheese+Korean fried chicken+Korean crab) $75
3. 100cm DM chicken (DM chicken 1200g+chips+saladx2 +cheese+Korean fried chicken+Korean crab +lamb chops) $100
4. 50cm DM chicken+DM prawn $55
5. 75cm DM chicken+DM prawn $80
6. 100cm DM chicken+DM prawn $110
7. 50cm DM chicken +DM Lobster $68
8. 75cm DM chicken +DM Lobster $98
9. 100cm DM chicken +DM lobster $138
Please do check with the captains in black for the best combat format for the size of your team.
75cm DM chicken ($75)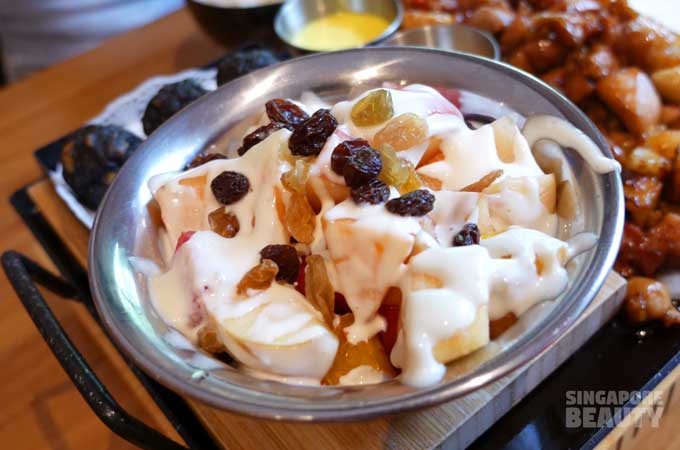 Usually, 75cm DM chicken battleship platter is good for a team size of 3 to 4 px. A generous serving of fruit salad(cubed watermelon, rock melon, orange, and apple) dressed in light mayonnaise and topped with golden raisins as a starter. Choose original or from 3 level of spiciness for your DM chicken. I chose the spiciest of the lot and really enjoyed it.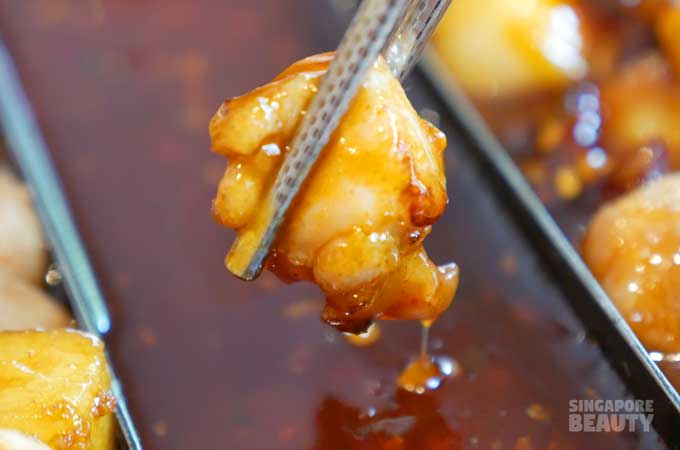 The DM chicken are braised and coated in sweet and savoury gravy. TteokBokki(Korean rice cake), carrots, caramelised onion, sautéed potato and garlic soaking up all the goodness. The sundried chilli peppers add heat to the overall flavour. DM Chicken are tender as only chicken thighs are used. These platters do come with fluffy white rice topped with toasted black sesame for the nutty crunch.
The Finger Food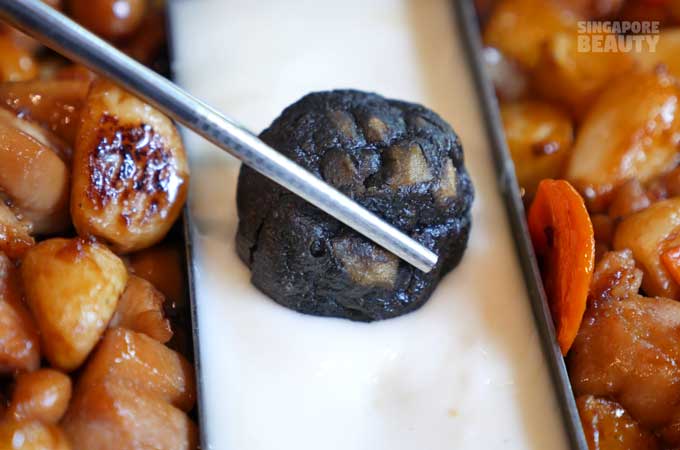 These charcoal black squid balls are made with squid's ink sac blended with crunchy real squid bits. They say look is deceiving and this is one of the items you will regret not trying. Very "Q "indeed.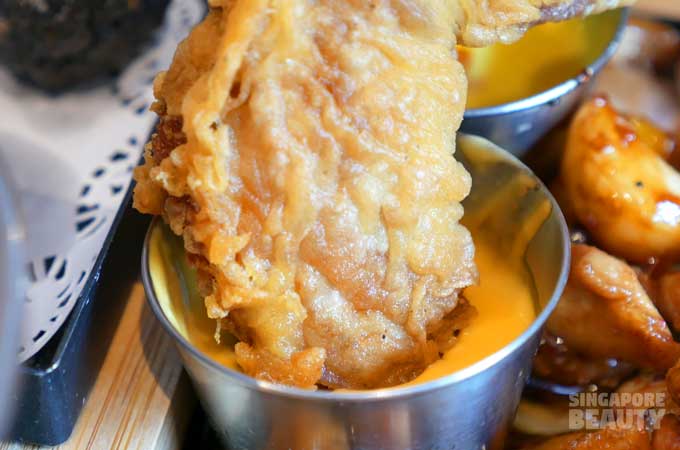 The Korean 3 joint wings are fried to perfection, thin crispy crust with tender juicy flesh nested in golden fries.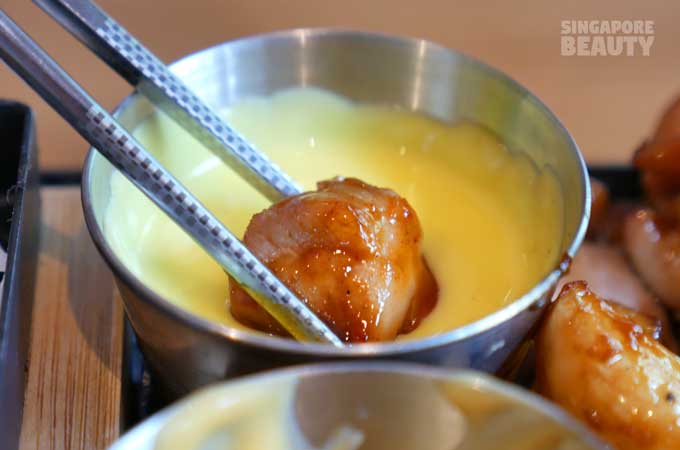 4 dips(honey mustard, tartar sauce ,sweet and hot sauce, yogurt-cheese sauce) to savour the wings, or create your own buffalo wings with the sauce!
Additional Sides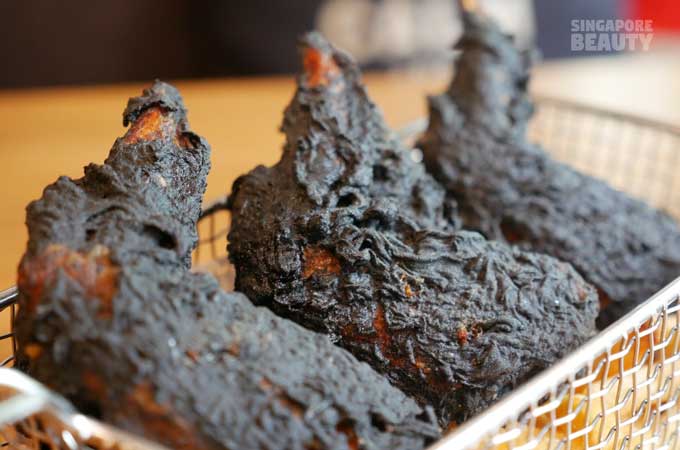 Mexican Fried Chicken wings $9.90
Feeling adventurous , I decided to explore the unknown and order a side of black wings. This looks daunting don't they? This is seasoned and coated in squid ink batter before it goes into the fryer. Do not judge a wing by its colour. This is a surprise bomb with a unique flavour. Fried wings also comes in tomato, honey mustard, amber ,sweet and sour and spicy flavour.
Drink Towers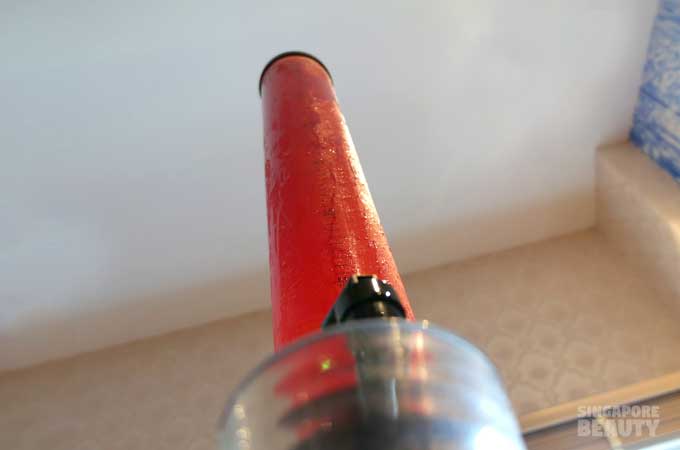 A watch tower in a battle is a must-have! Order a 100% Watermelon juice tower (aka special blister drink)(1.5litres small $12.80/ 3litres big $18.80) no sugar or colourings added.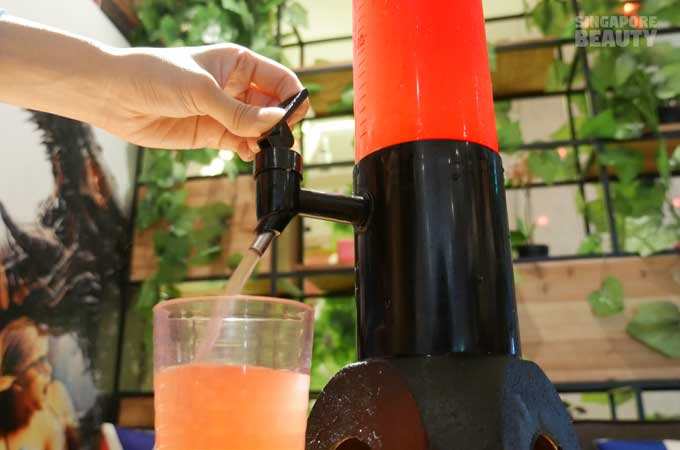 Drink to your heart's content!
Since rock melon is seasonal ,only cup size juices are available so that everyone gets to share a little of melon-goodness.
Other platters you can try.
50cm DM chicken+DM prawn $55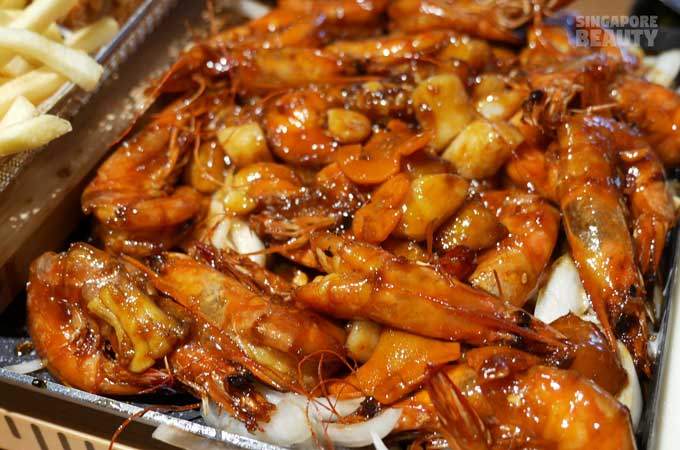 50cm DM chicken +DM Lobster $68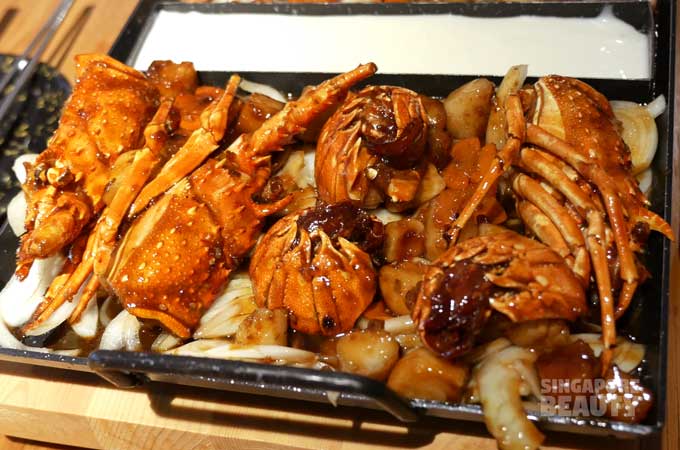 Use only Australia Live lobster!
NOTE THAT ALL GAMES HAVE BEEN REMOVED.
Free 5D Movies Mini Cinema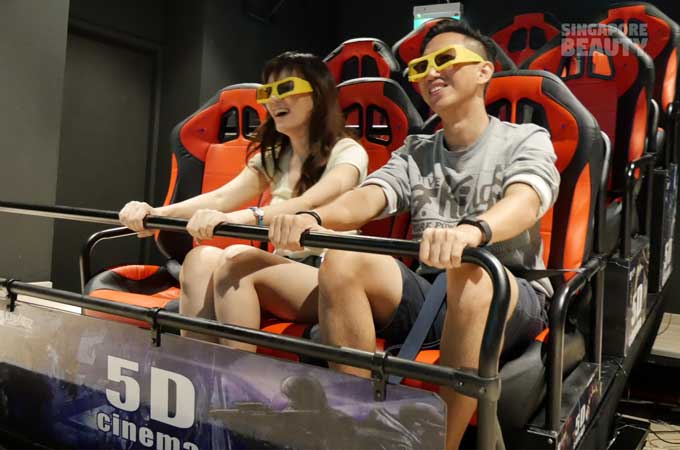 A diverse range of VR (virtual reality) games and unlimited 5D movies titles to choose from. Are you ready to be teleported into the world of virtual reality? Where the line of real world and the virtual is blurred?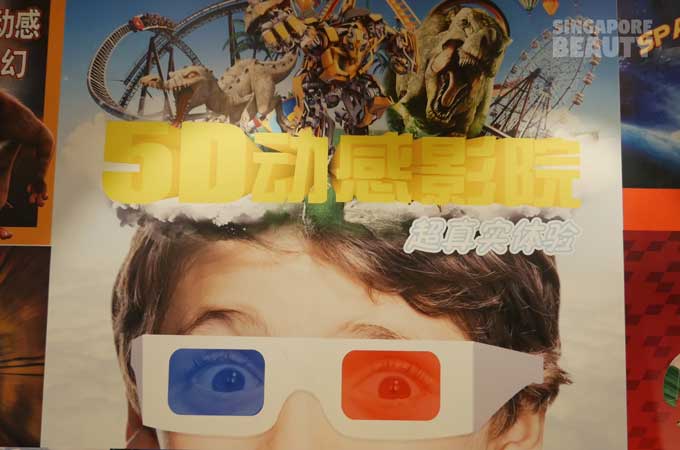 Don on the VR glasses, belt up, sit tight and you are ready to soar. With bionic field of vision and interactive cabin seats effect simulation, get ready to be tossed to the dynamic movie themes.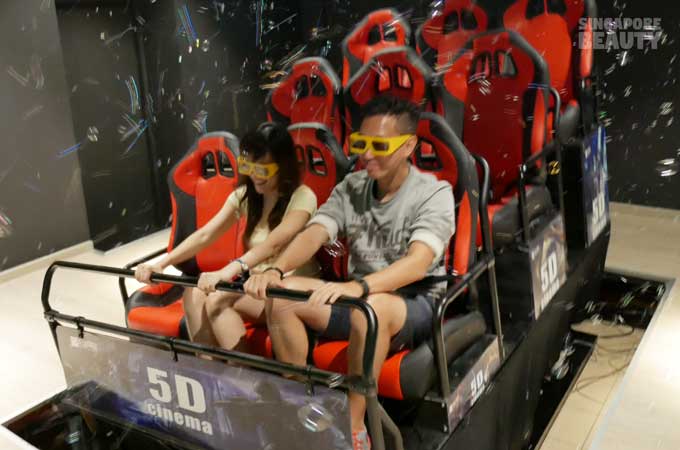 This is not all. Since this is 5D cinematic experience, your 5 senses are engaged too. Hear the thunder roar, see the lightning stroke, touch the wind and interactive animation that pops out from the screen to scare the wits out of you. You will also experience some of these special effects like wind caressing your hair, bubbles from the ocean, hay brushing against your ankle, vibration from an earthquake and even the heat from a volcano.
Power packed 5D movies with genres of thriller,war,mystery,action,horror,comedy and many more. Some of the titles worth watching are Rollercoaster, The Mystery of the Pyramid, Curse of the Witch, Apocalypse ,Dead Island, Jaws ,Tarzan, Bloody Road, Resurrection of the Mummy and many more. The front row is not for the faint hearted. Catch a 5D movie for free today! Yes, you heard me right. You are welcomed.
VR Games Room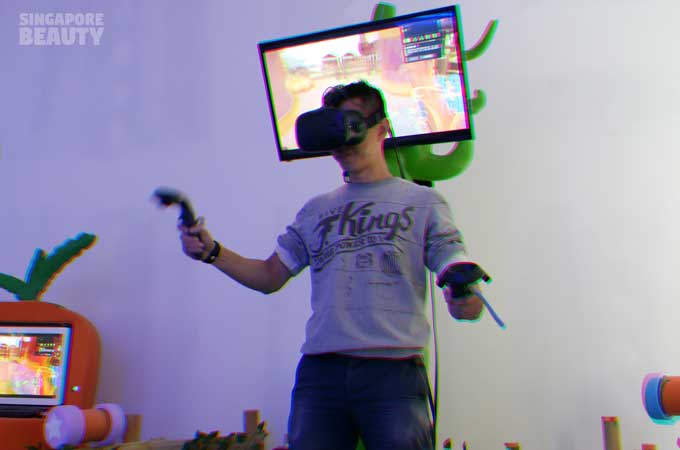 Some others VR games are hammer the farm's mice (looks like cute squirrels to me) that steals your pumpkins and carrots,
VR Horse (gallop and hunt)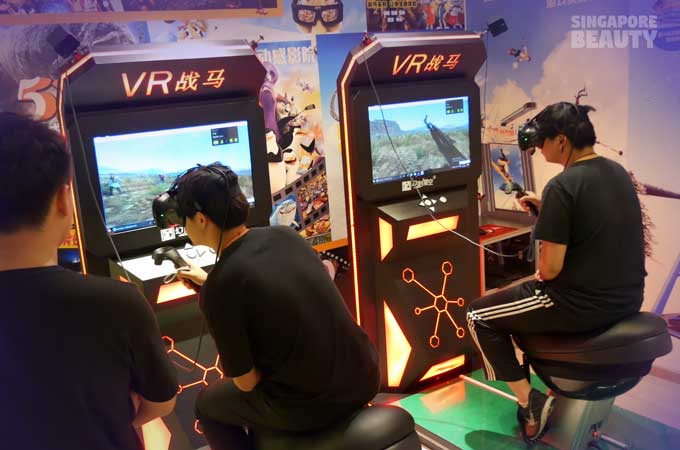 VR Snowboarding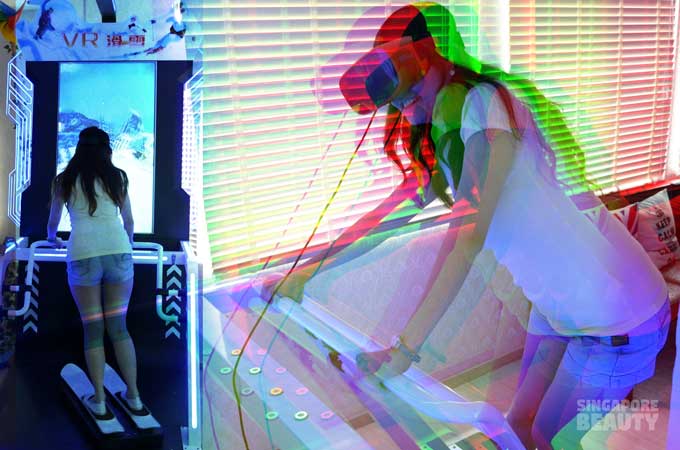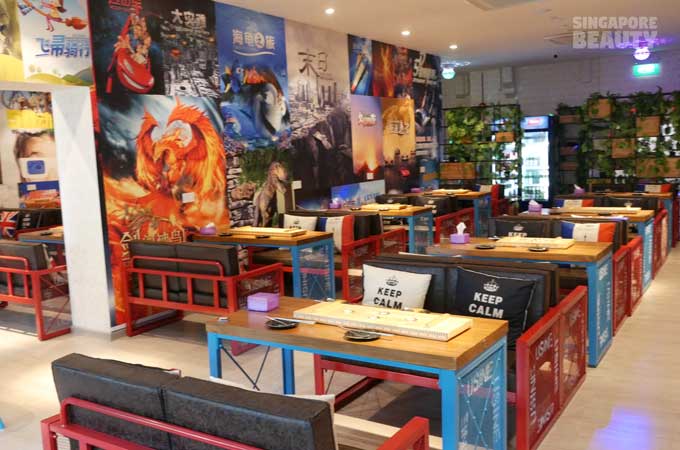 The interior boost of a good flow with cosy lounge seating and plenty of leg room. This is a great place for a meal, intimate dates, gatherings or large corporate events.
How to get there?
Exit E or exit A from Chinatown MRT.
191B New Bridge Road (take their lift up to level 3)
Singapore 059423
Operating Hours:
11:30AM – 1:00AM
All day dining from lunch till supper.
Reservations:
6909 2756
Update as of 2020: they no longer have the entertainment facilities.