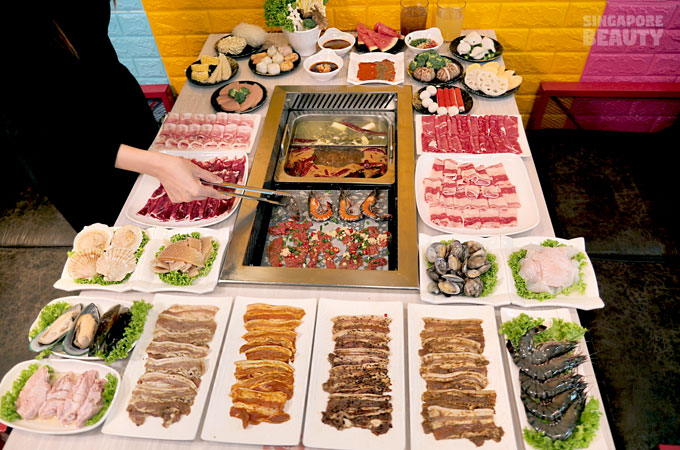 Treat yourselves to a table-full of shabu shabu meat, marinated meats and seafood at Ding Garden Hotpot Barbecue (formerly known as DM Steamboat & BBQ Buffet) with 2 newly added soup bases.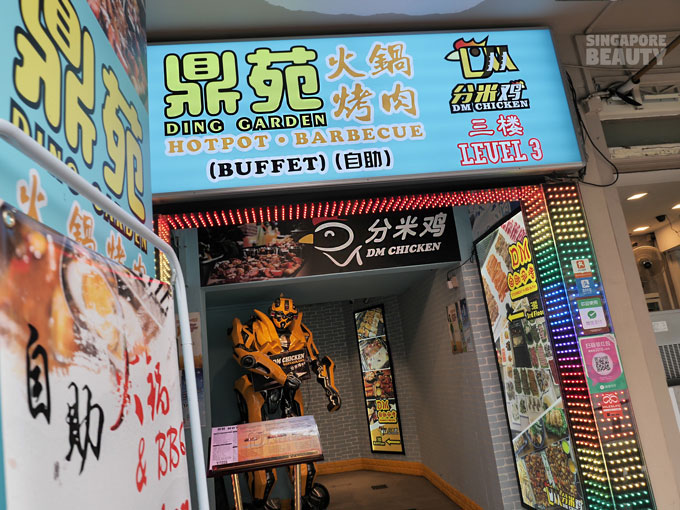 Ding Garden Hotpot Barbecue is still under the same management except for the change of name and a partial makeover of the interiors.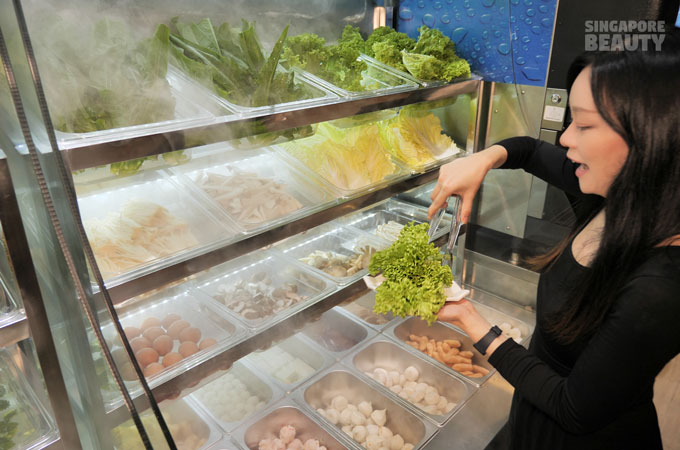 It is now self-service for the greens and surimi from their newly added 4 tiers display duo misting shelves at Ding Garden Hotpot Barbecue.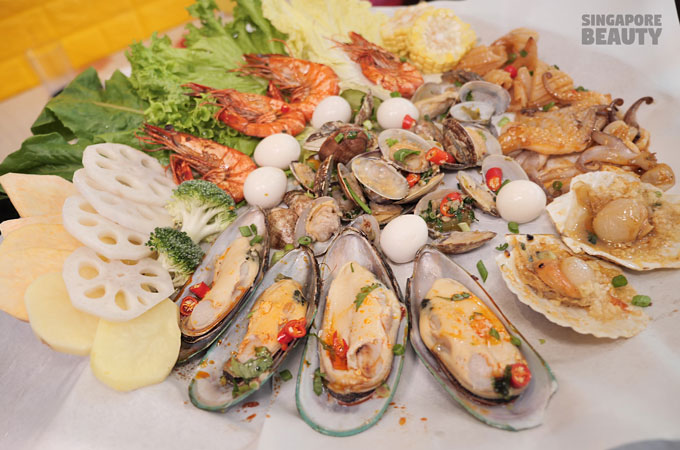 Create a platter of assorted seafood-prawns, fish chunks, cuttlefish, baby octopus, lala, mussels and baby octopus – from their ala-carte buffet menu. Grill these seafood with the sauce and seasonings of your choice from the sauce counter.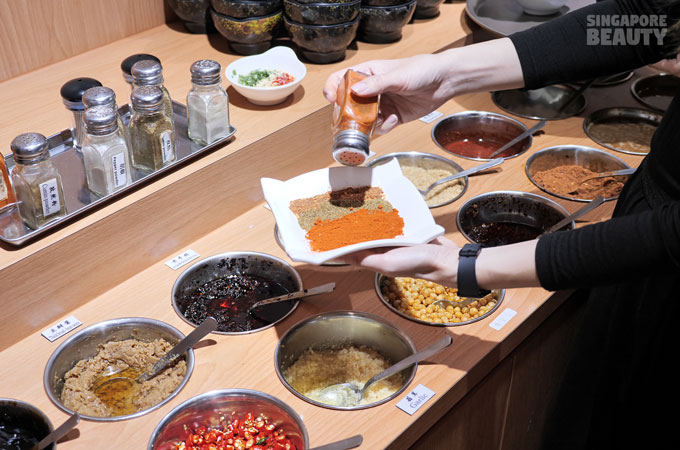 With 28 types of condiments to cook the meats and seafood.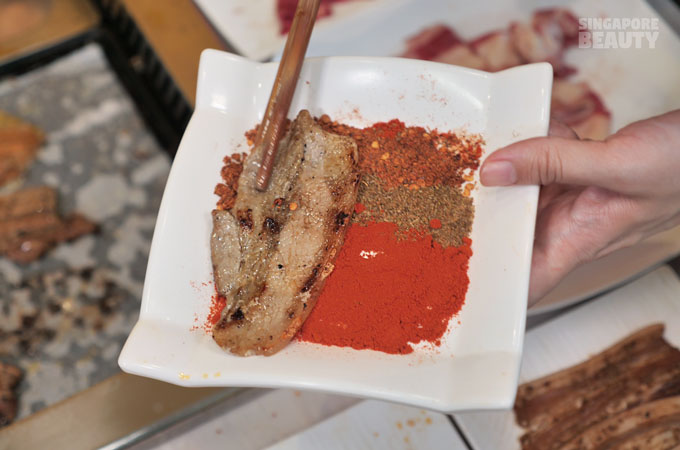 You can even create your own spices dip for the BBQ meat.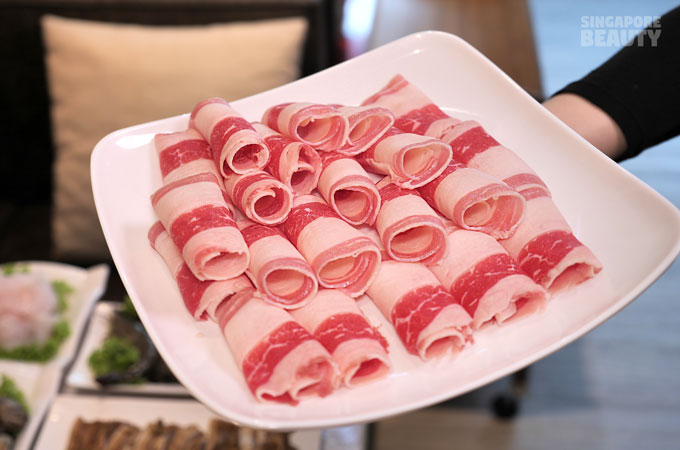 There are 3 types of shabu meats – pork, beef and mutton for hotpot. The meats vary in fat and meat ratio.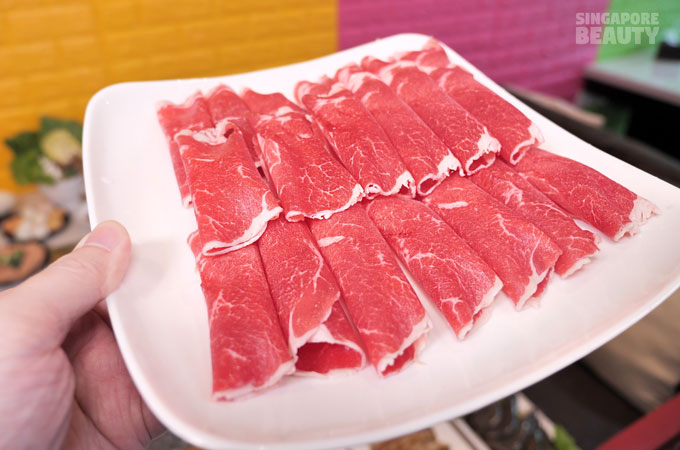 Pork belly and US beef are higher in fat whereas sliced beef, mutton, meat balls and beef balls are denser.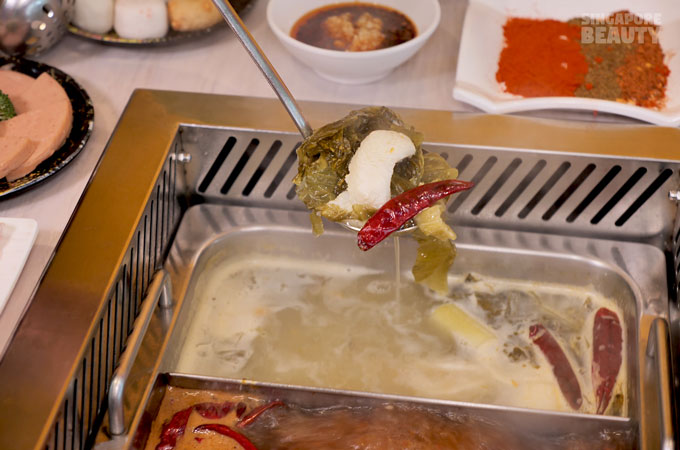 All are equally delightful additions to the flavourful soup bases. There are a total of 7 soup bases to choose from such as hot and spicy(mala), pork bone, tomato, fish, kimchi, mushroom and pickled fish soup. The pickled fish soup is mouth watering with its saline and sour tones.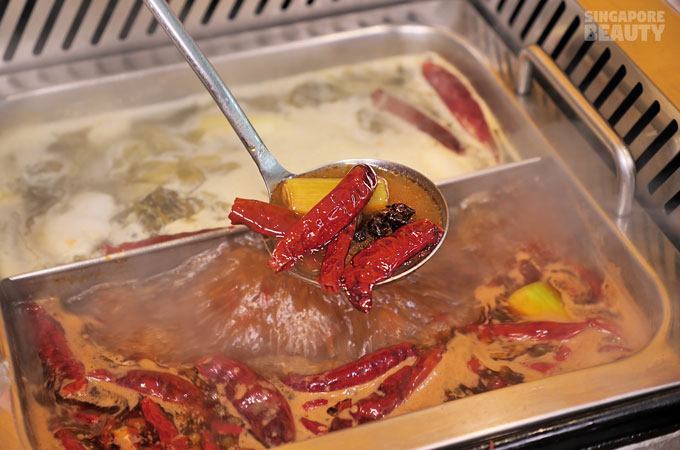 We also tried the chef's recommendation – hot and spicy soup / Mala soup. The Mala soup has 3 level of spiciness – the second level of spiciness is manageable, enjoyable and easy on our tummy.
The Mala soup is more towards the savoury type than pure heat and numbness. The leeks help to add a sweet dimension to the soup base.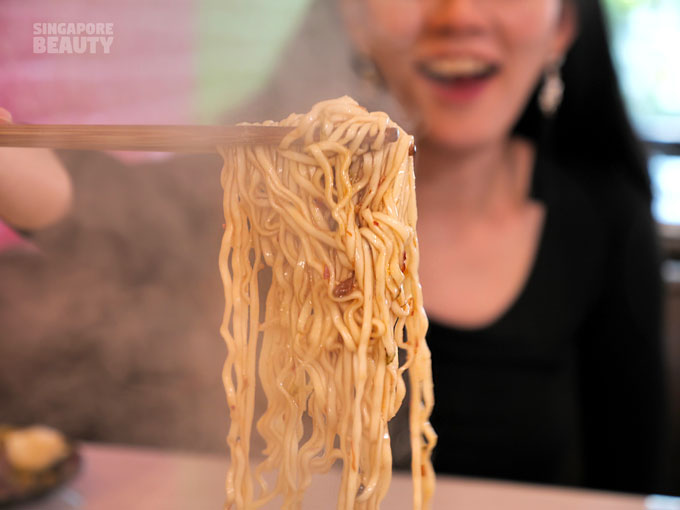 With mala soup base, vermicelli and egg noodle are must have to soak up the goodness of the savoury mala spices.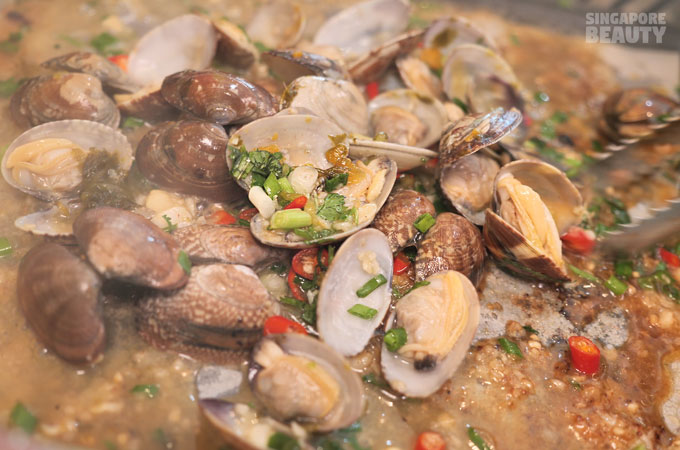 For seafood lovers, feel free to order one of each type of seafood on their menu. Stir fry lala on the hot grills in chilli and garlic.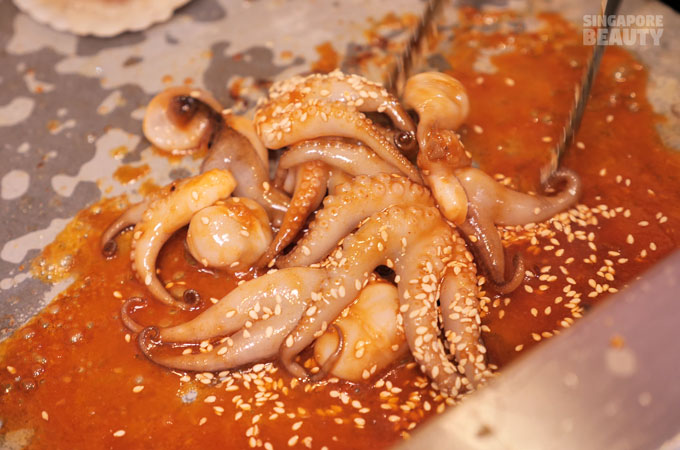 Baby octopus in sweet chilli sauce and sesame. These cooks quickly and are ready to eat when the tentacles curls. With the free condiments provided, feel free to create your own creative dishes.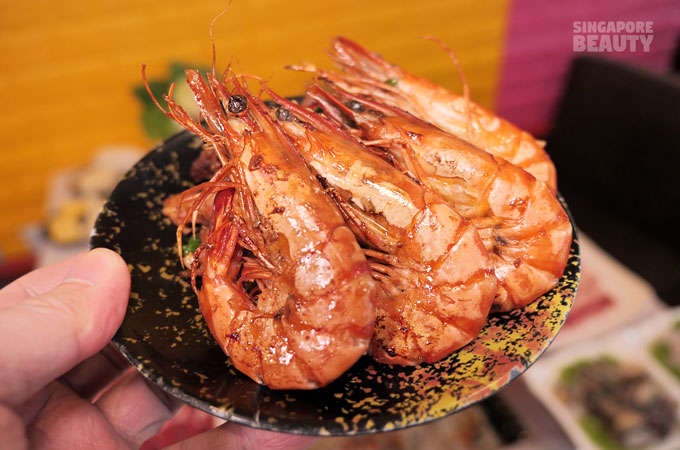 Garlic prawns grilled in their own briny juices.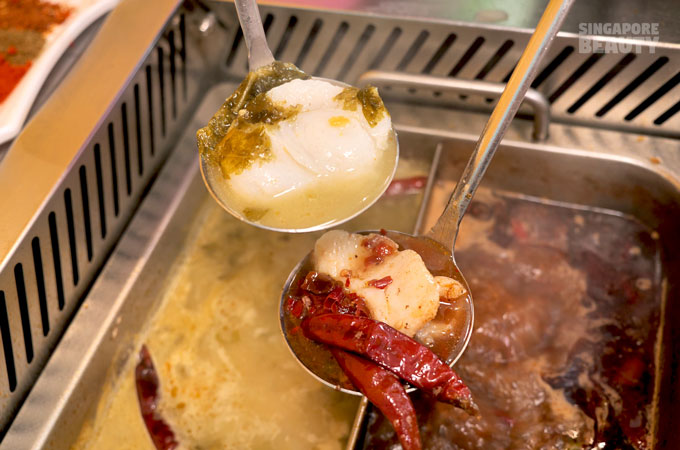 Both the Mala and pickled cabbage soup bases go extremely well with the sliced fish chunks. The sweetness of the fish chunks compliment the savoury mala and tangy pickled cabbage. Must try.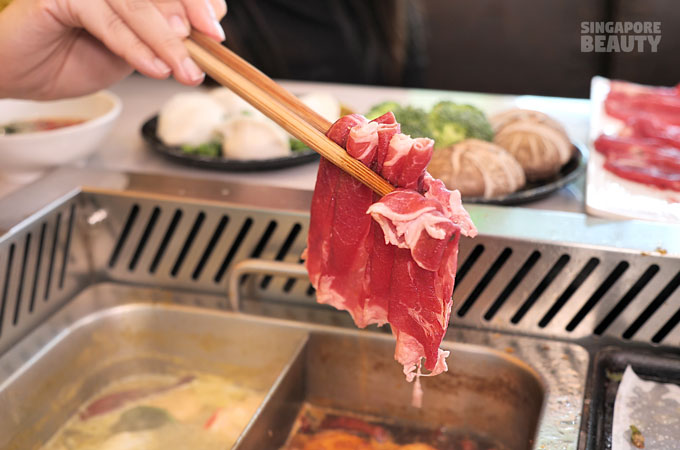 Unlimited servings of US beef cooked in shabu shabu style.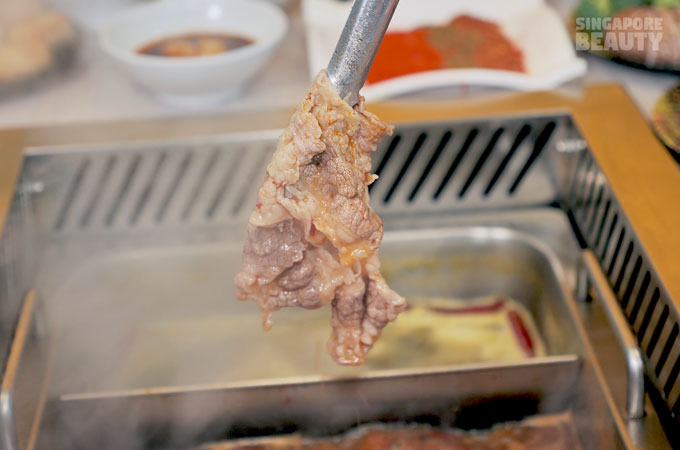 Tender and melt in the mouth. The texture is like those of Yoshinoya beef bowls.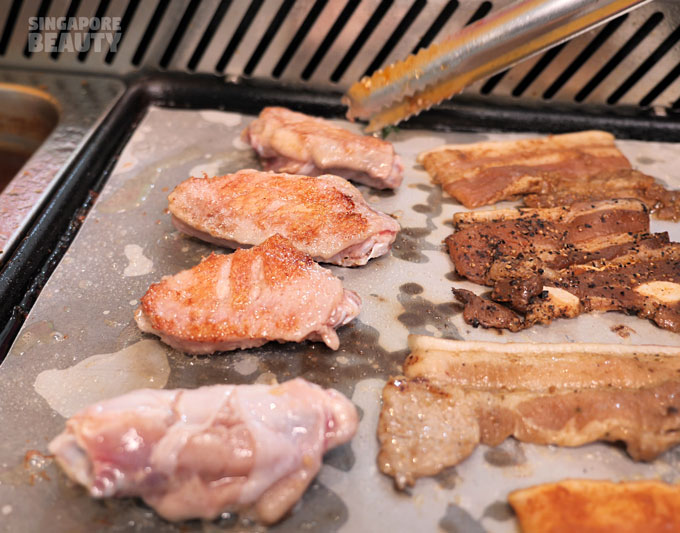 Grilled some chicken wings with their own fats from the skin. The trick to a perfect grilled wing is to keep the heat low. The result is a juicy wing with crispy golden brown chicken skin.
The marinated meats are intense and taste like bacon after cooking. There are no burgers here, but you can grab some mantou from the appetiser counter to go with these bacon-like grilled strips.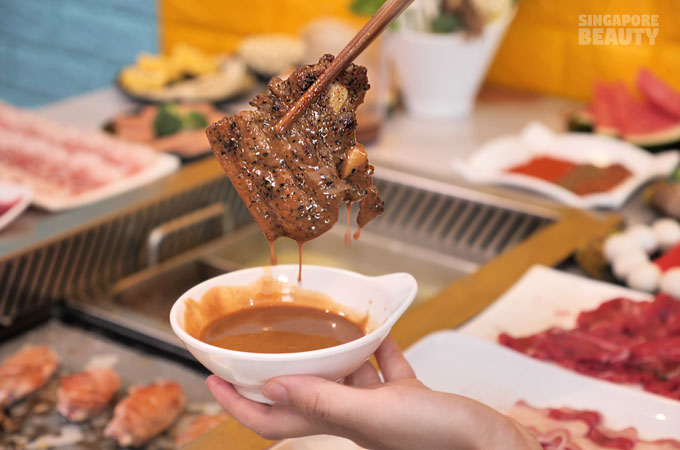 The BBQ meats with a coat of sesame peanut sauce. You might fall in love with this crispy meat in a buttery and nutty glaze.
8 selected drinks are now free flow and included in the buffet.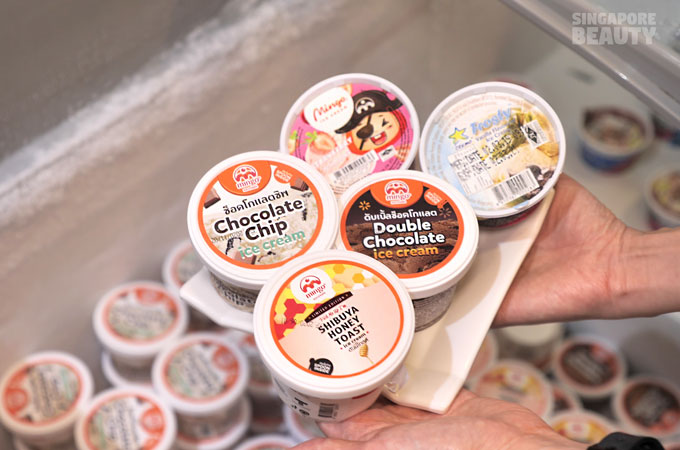 Free flow ice cream on rotational basis with flavours such as vanilla, chocolate, strawberry and mint.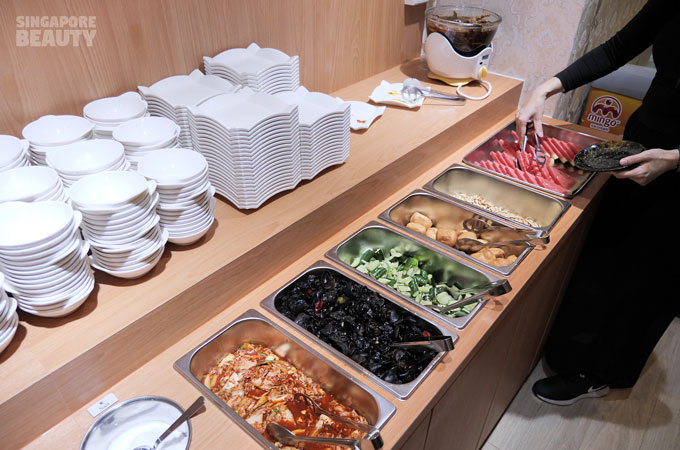 Unlimited serving of cut fruit of the day such as watermelon, melon and orange on rotational basis.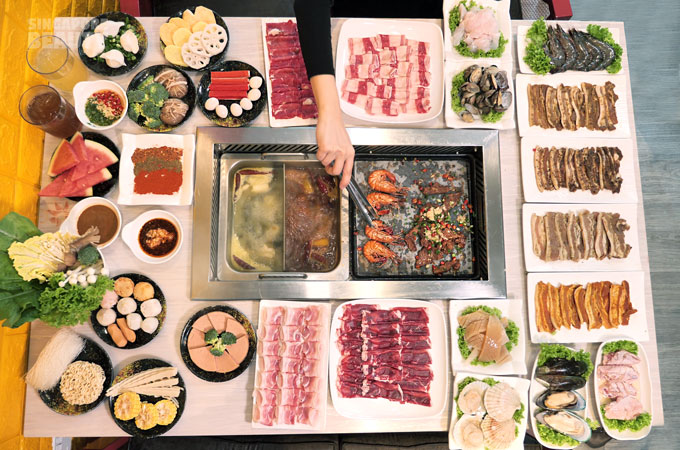 Time to feast now at Ding Garden Hotpot Barbecue.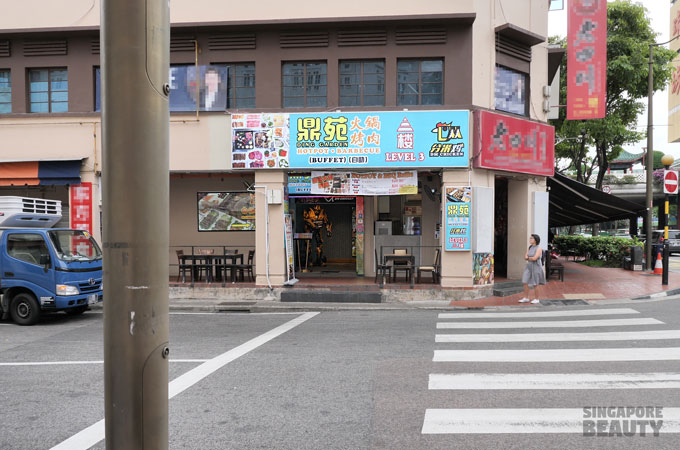 Conveniently located near Exit E or exit A from Chinatown MRT, take their lift up to level 3. This restaurant is great for big groups. Do make a reservation and see you soon!
Drinks are included in the following buffet price per pax.
Mon-Fri Lunch Buffet
Adult at $21.90++
Kids (5-12 years old) at $12.90++
Mon-Fri Dinner Buffet
Adult at $26.90++
Kids (5-12 years old) at $14.90++
Single soup base $6++
Duo- soup base $10++
Sat & Sun & PH Buffet (lunch and dinner same price)
Adult at $26.90++
Kids (5-12 years old) at $14.90++
Single soup base $6++
Duo- soup base $10++

They just added Unlimited roast fish buffet. Check out the new pricing for the Roast fish buffet.
Table time limit
Minimum 2 pax to dine
Lunch time 11.30-3pm (last order)
Dinner time 3.01pm-1am
Peak hours table time limit
Between 2-4pax – 90 mins
5pax & above – 120 mins
Location:
Exit E or exit A from Chinatown MRT.
191B New Bridge Road (take their lift up to level 3)
Singapore 059423
Operating Hours:
11:30AM – 1:00AM
Reservations:
6909 2758
Brought to you by Ding Garden (formerly known as DM Steamboat & BBQ Buffet)