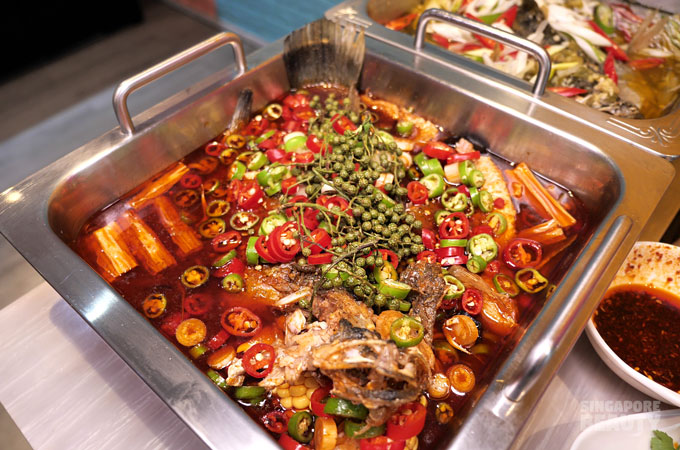 Ding Garden hotpot & barbeque restaurant has launched add on (ala carte style) roast fish in 4 savoury soup bases in additional to their popular fare of hotpot and barbeque buffet.
LATEST UPDATE: They are now having roast fish buffet! Pricing below are outdated. Check out the new post: Roast fish buffet.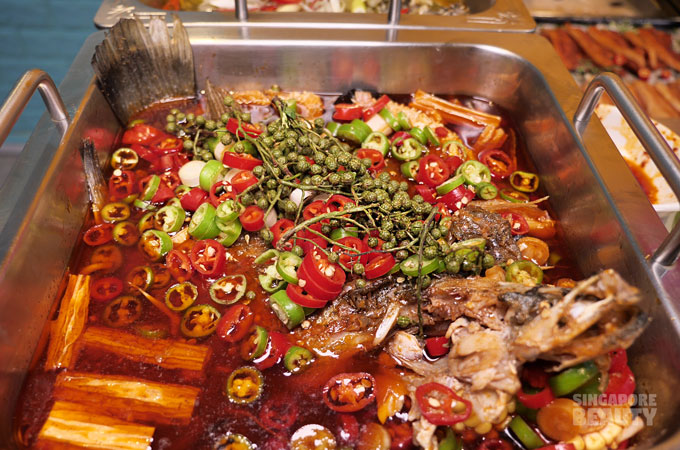 Mala spicy fish peppered with lots of cut chilli, fresh peppercorn, chilli oil simmering in a savoury Mala soup base. Mala spicy fish sat upon a base of soybeans sprouts, black fungus and bean sticks to soak in the mala flavour.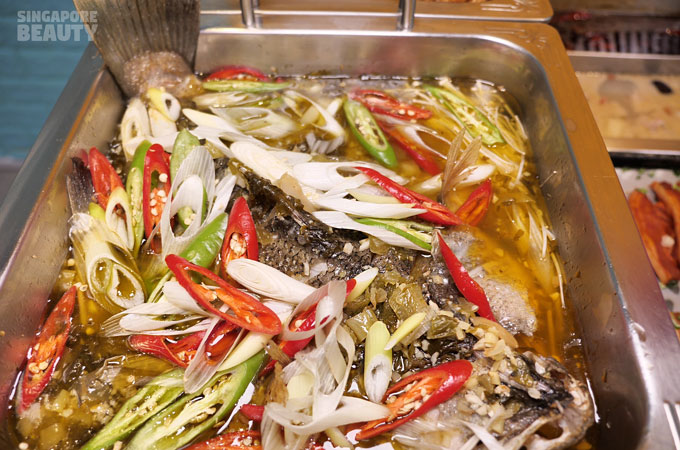 Pickled cabbage fish is garnished with red chilli, sweet leeks, chopped garlic and lots of pickled cabbage in a light buttery soup.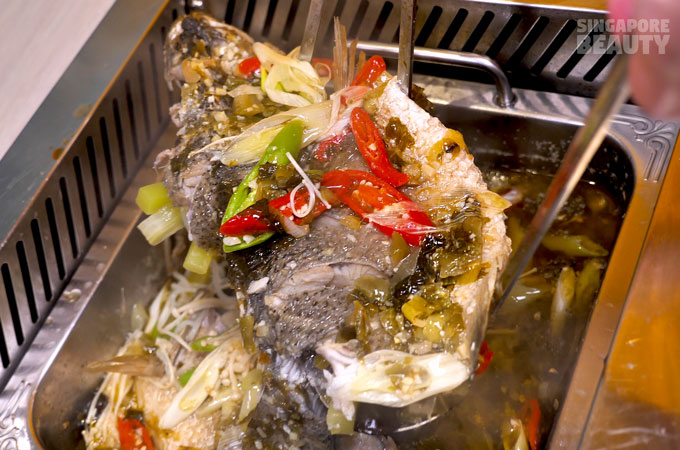 Pickled cabbage and leeks caramelised on simmering heat, for a tart and sweet flavour that is easy on the palate. The soup base is that of an appetising and addictive kind.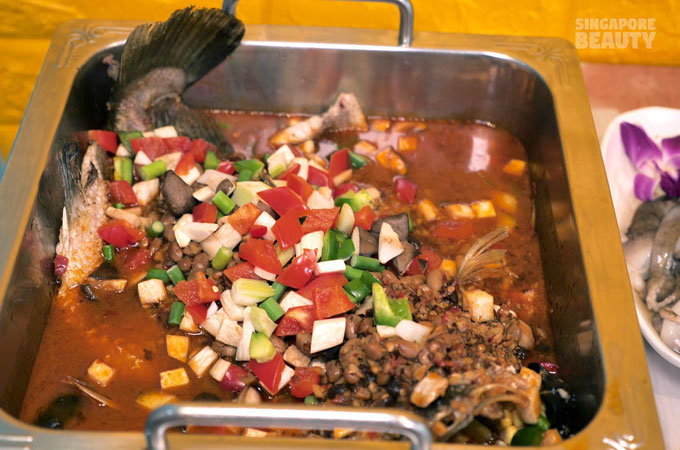 Fermented soya bean fish topped with cubed king mushroom, shoots, celery, green pepper, red pepper and load of fermented soya bean paste in a light soya base soup.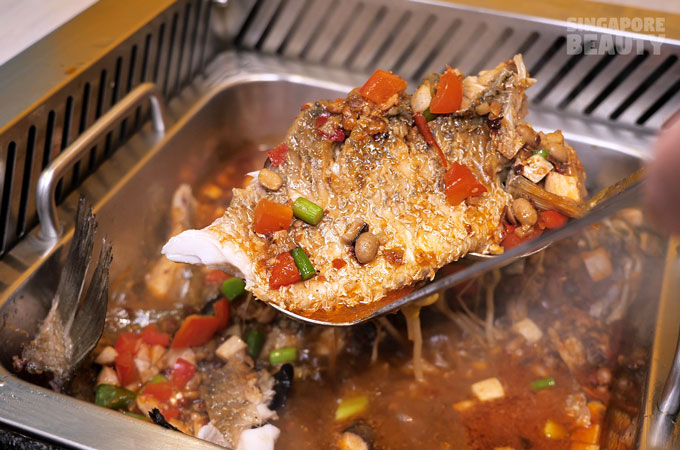 The flavour is very much like home cooked steamed fish in soya bean paste except much richer and intense flavours.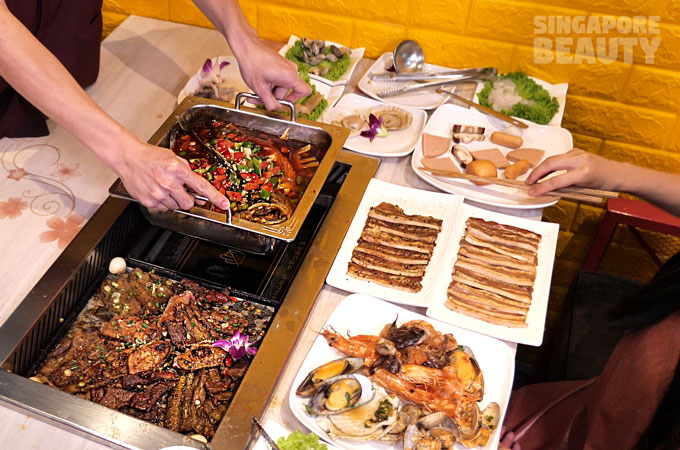 These roasted fish single soup are alternatives to the usual 7 soup bases. This is how it works, per head buffet charge aside, top up $12 for the first roast fish single soup base, subsequent change of roast fish soup base comes with a roasted fish in a fresh new pot of soup at $6 each. However if you decided to change to the normal soup base, the soup base is chargeable at $6 for a single soup base and $10 for the duo soup base. Every new ordered soup base or roasted fish soup base will be charged accordingly.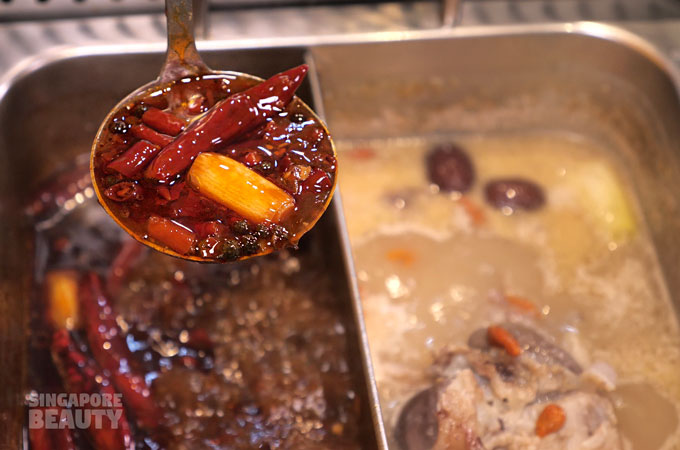 Mala spicy, pork bone, tomato, fish soup, kimchi, mushroom and pickled fish are the usual soup base for hotpotting.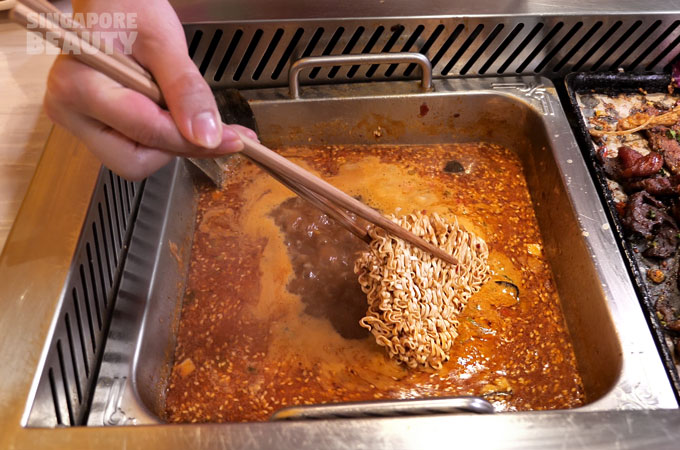 For those who are happy with the remaining fish soup to hotpot in after finishing the roasted fish, do ask for free flow of clear broth. You can continue to enjoy your hotpot using the refilled soup.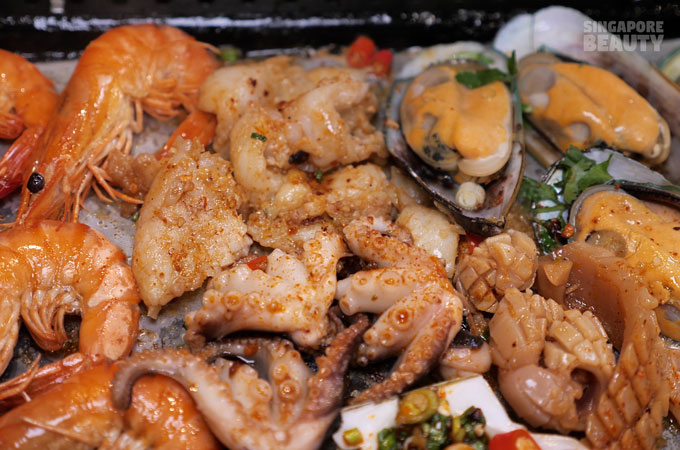 No matter which type of soup bases ordered, the variety of meats and seafood for BBQ and hotpot are part of the buffet.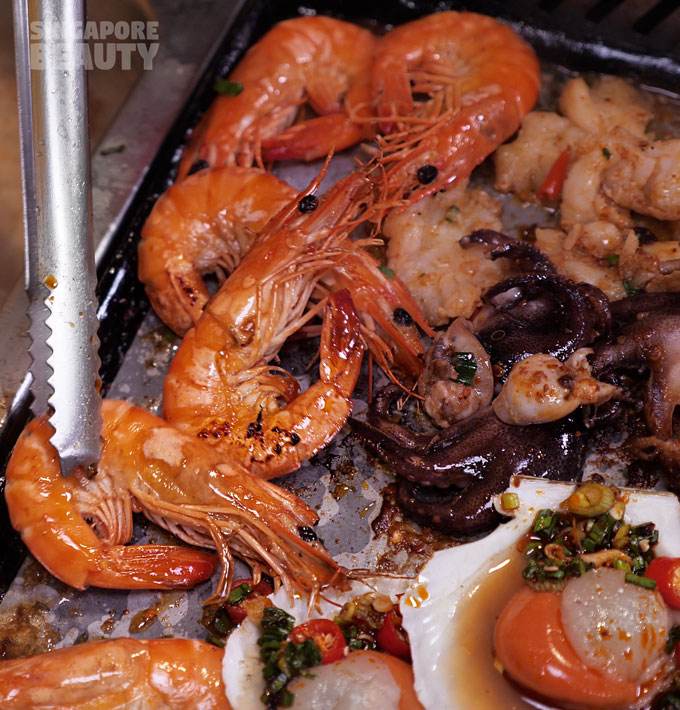 Barbecue some prawns on the hot grills.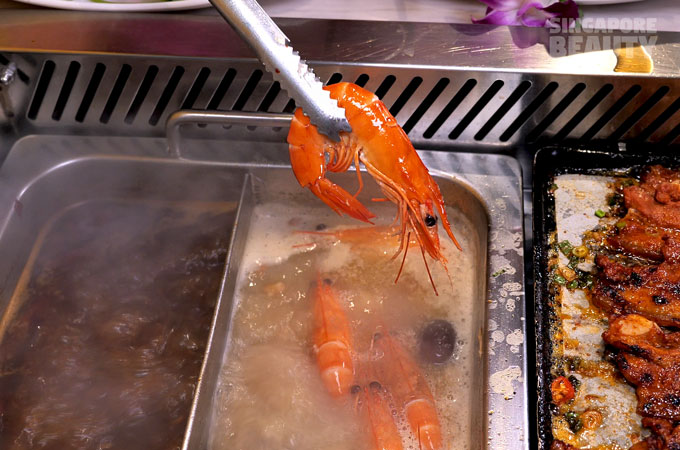 DIY your own pork and prawn soup by adding barbecued prawns to the pork bone soup base and add spoonful of chopped garlic from the condiments counter to taste.
Enjoy some crunchy prawns with a sweet prawn mee type of pork soup.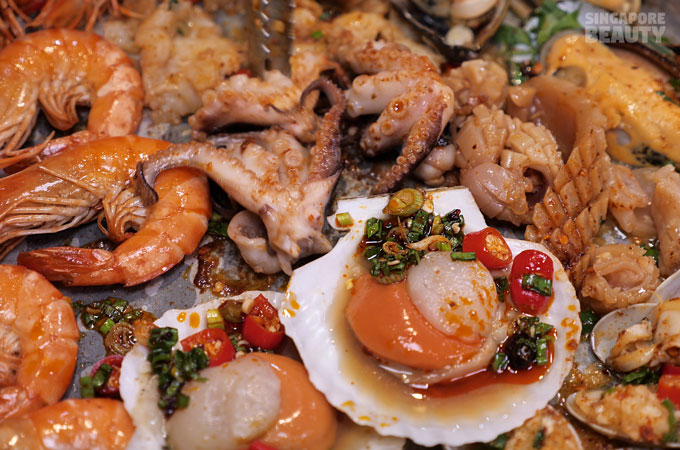 Barbecue some scallops in their own briny juices with some green onions and chopped chilli for extra kick.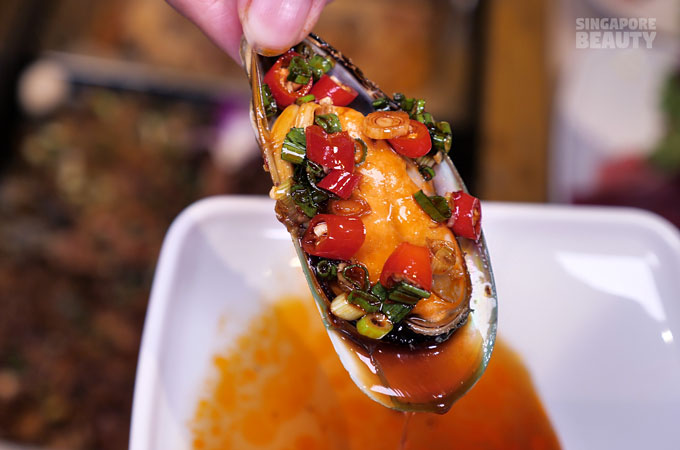 Customise your own savoury red hot chilli oil dip with red chilli and refreshing spring onions for the seafood.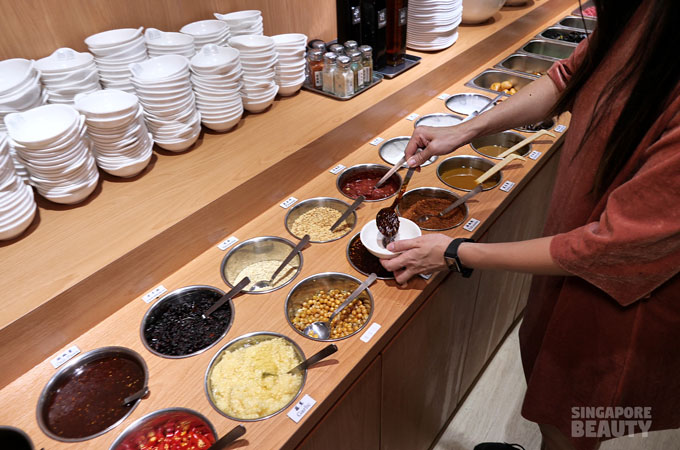 20 condiments at the counter for you to DIY your perfect dip, with interesting finds like fried soya beans, sesame sauce and spiced chilli flakes.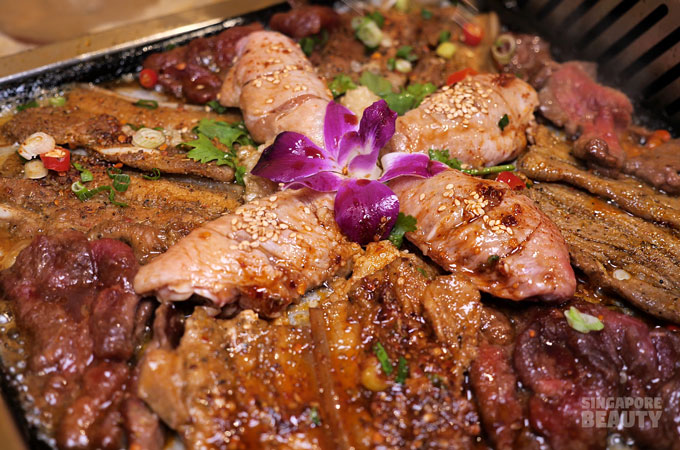 Enjoy a grill-full of marinated meats or plain cuts with your own DIY seasoning.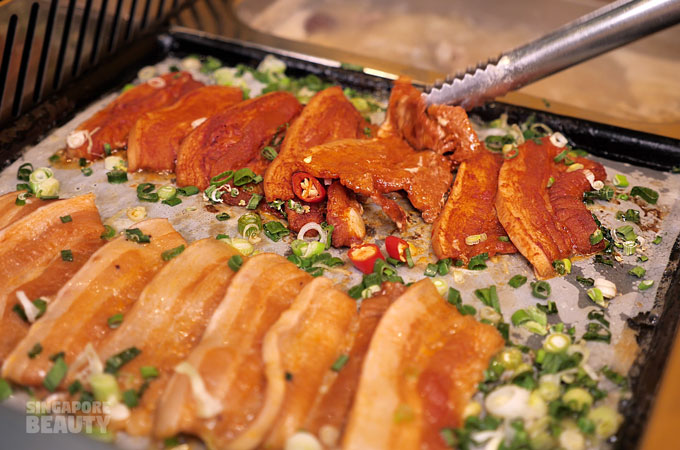 Black pepper, spicy, cumin, honeyed pork and the secret recipe range of marinated meats, available in chicken and beef.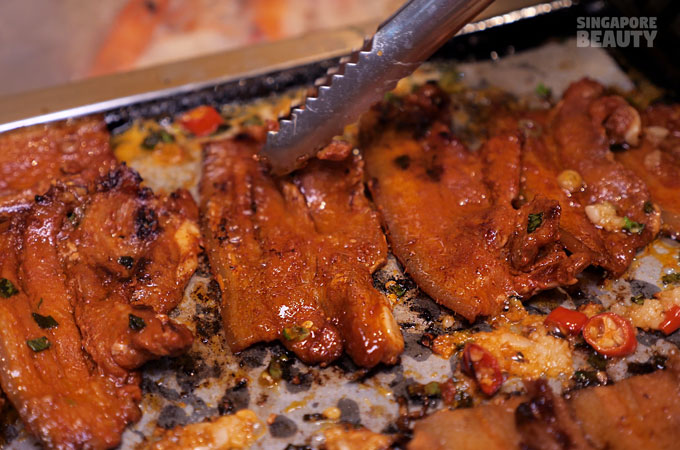 Interesting cuts of pork belly with crunchy soft bones.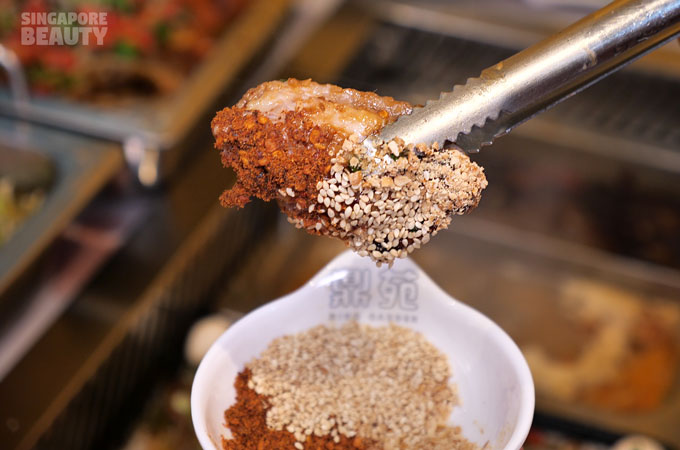 Nutty dry condiments for the barbecued wings, for aromatic, nutty and a little bite of heat.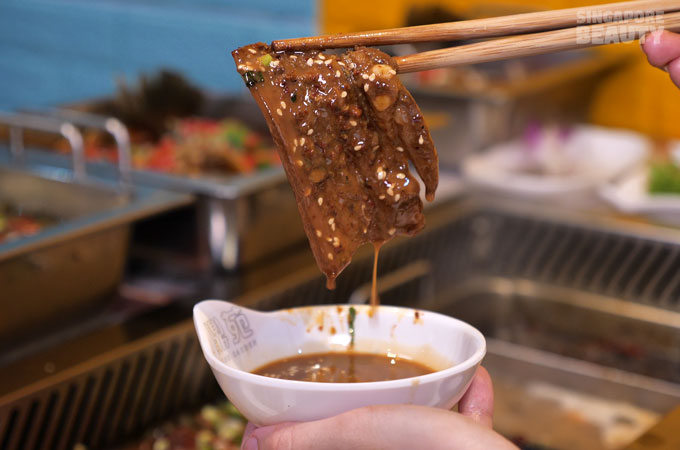 Sesame sauce with real roasted sesame seeds for the barbecued marinated meats.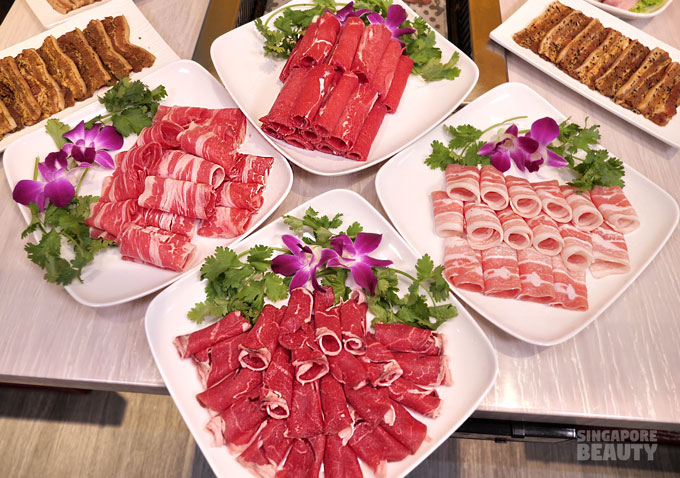 Must order are the sliced pork belly, sliced beef, sliced mutton and US beef served in shabu shabu style.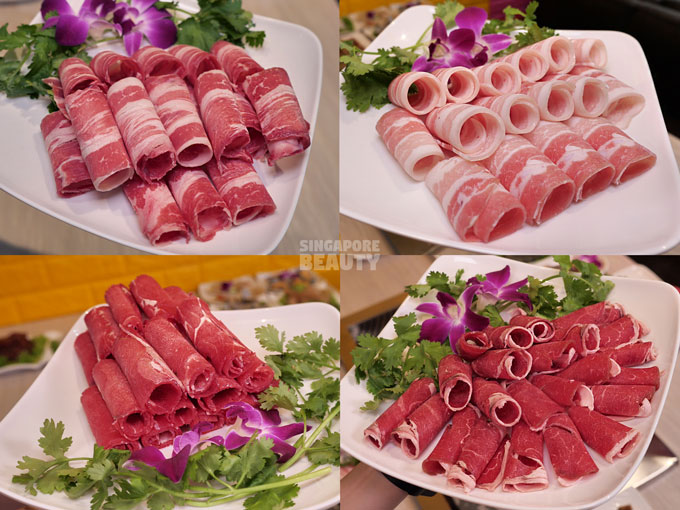 Cut to a delicate thickness for optimum cooking and to retain the flavour and texture when cooked.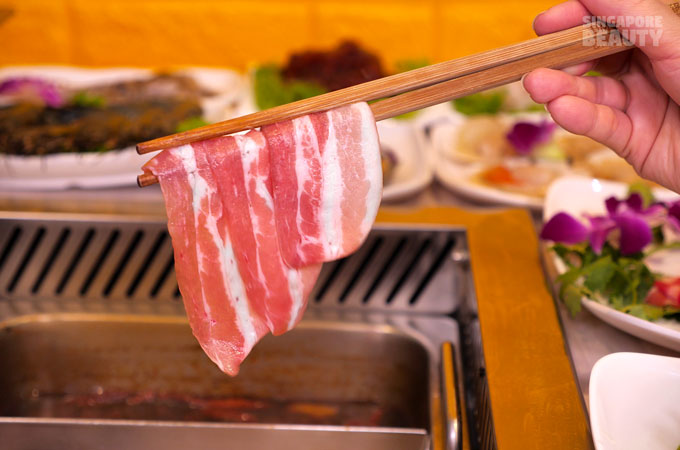 Good ratio of fats versus meat for a better bite after cooking.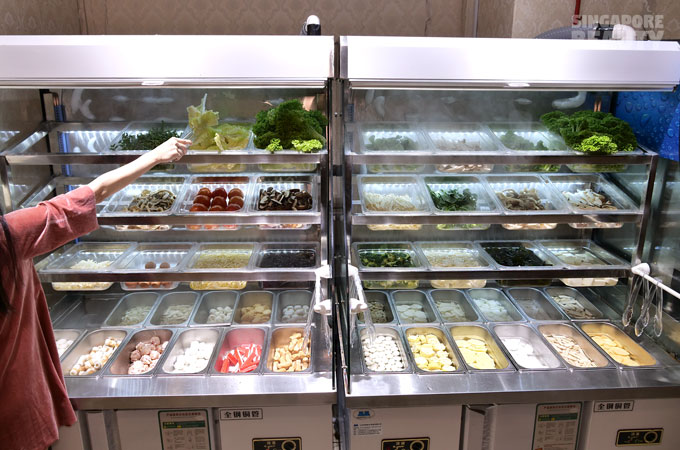 Although the roasted fish in soup bases are (ala carte style), you still get to enjoy unlimited free flow fresh greens, innards, surimi, luncheon meat, noodles, fungi and root vegetable from the display chiller to go with the roasted fish soup base that you ordered.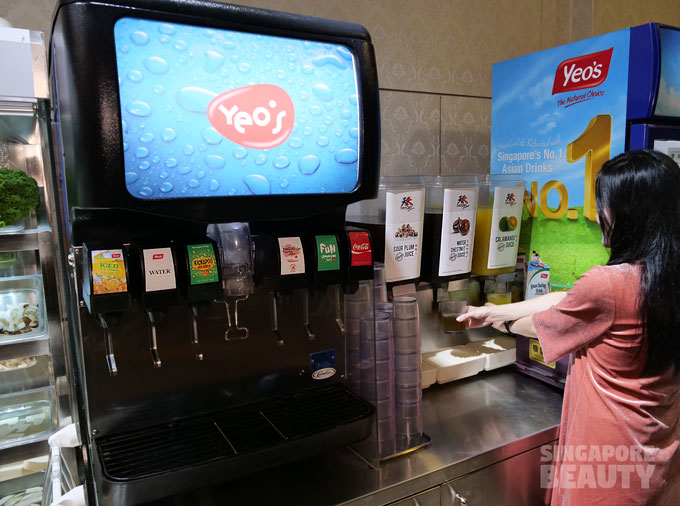 9 types of free flow ice cold drinks included in the buffet. Ice lemon tea, water, Kickapoo, peach tea, sprite, cola, sour plum, water chestnut and calamansi drinks to choose from.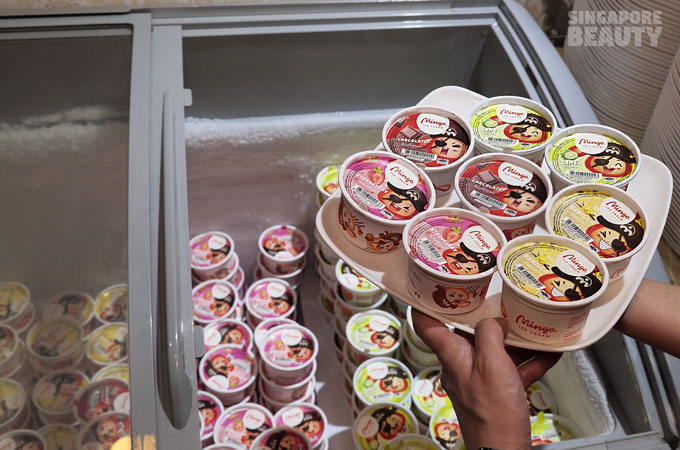 Whack their ice cream cups with assorted flavours such as chocolate, lime, strawberry and vanilla to cool down after the filling sizzling bbq and hotpot feast.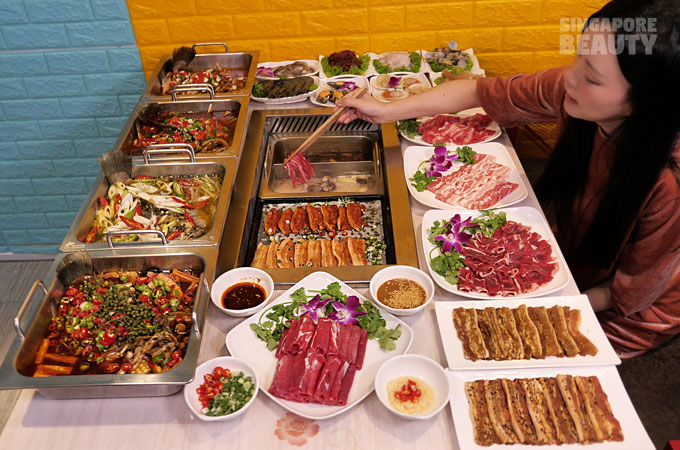 Time to head over to Ding Garden hotpot and barbeque buffet restaurant today or make a reservation. Place is great for small to huge groups, private room maybe available for advance booking, do check with the restaurant.
Conveniently located near Exit E or exit A from Chinatown MRT, take their lift up to level 3. This restaurant is great for big groups. Do make a reservation and see you soon!
Drinks are included in the following buffet price per pax.
Mon-Fri Lunch Buffet:
Adult at $21.90++
Kids (5-12 years old) at $12.90++
Mon-Fri Dinner Buffet:
Adult at $26.90++
Kids (5-12 years old) at $14.90++
Sat & Sun & PH Buffet (lunch and dinner same price):
Adult at $26.90++
Kids (5-12 years old) at $14.90++
Single soup base $6++
Duo- soup base $10++
Roasted fish soup base(first fish) $12++
Roasted fish soup base(subsequent fish)$6++ each
They just added Unlimited roast fish buffet. Check out the new post: Roast fish buffet.
Time limit:
120mins
Minimum 2 pax to dine
Lunch time 11.30-3pm (last order)
Dinner time 3.01pm-1am
Location:
191B New Bridge Road (take their lift up to level 3)
Singapore 059423
Exit E or exit A from Chinatown MRT.
Operating Hours:
11:30AM – 1:00AM
Reservations:
69092758
Brought to you by Ding Garden (formerly known as DM Steamboat & BBQ Buffet)