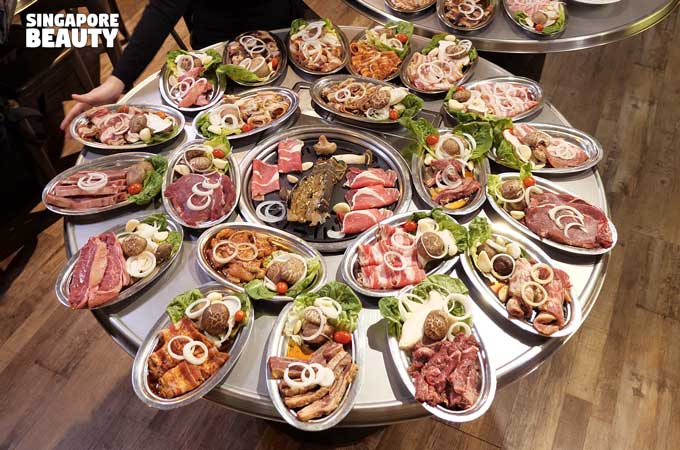 91 Korean BBQ restaurant is serving up Korean style barbecue with 28 varieties of meat, cut to order shabu shabu meat, black pork, big bone ribs, free flow Korean ice tea, unlimited sides such as Korean pancake, Korean fried chicken wings, kimchi soup and melted cheese pull. Menu shown on this post has expired, for updated menu visit: https://singaporebeauty.com/seafood-buffet-91-korean-bbq/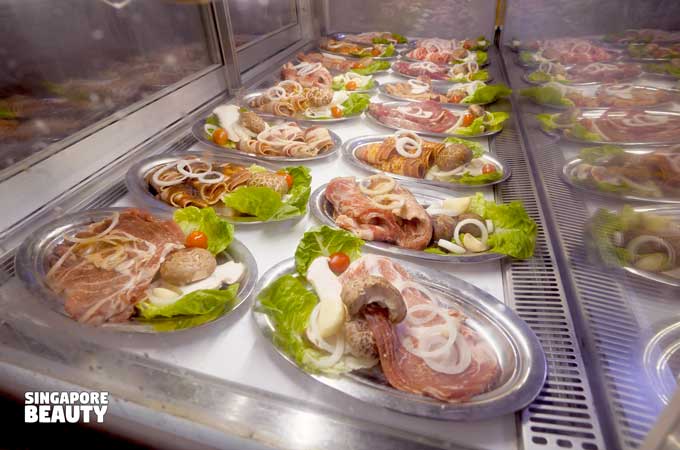 Choose your desired type of meat and method of marination from the chiller display and the server will pick up for you. You can then bring to your grilling pan and start barbecuing.
There are 28 varieties of marinated meat and non marinated ones too. Pork belly (teriyaki, mala, Korean spicy, honey soy), short plate (teriyaki, Korean spicy, honey soy, garlic), ribeye (honey soy), pork collar (mala), beef ribs (teriyaki, salt pepper), galbi GUI (teriyaki), chicken (honey soy, spicy, teriyaki, salt and seasoning), big pork (spicy, marinated) and big bone ribs (marinated, salt pepper, spicy).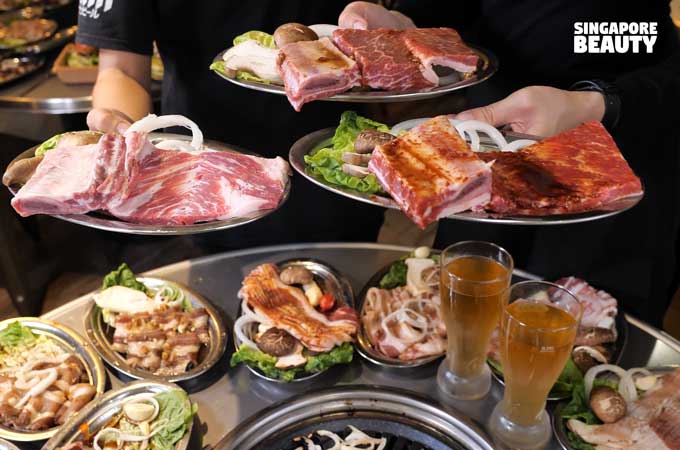 91 Korean BBQ restaurant has 3 buffet pricings to cater to different diners' taste palate. Basic buffet with chicken and pork at $19.90+, Premium buffet with chicken, pork and beef at $24.90+, Luxury buffet with chicken, pork and beef, black pork and beef ribs at $29.90+. The prices quoted are for per pax. According to the sources, this is the cheapest black pork and beef ribs buffet in Singapore.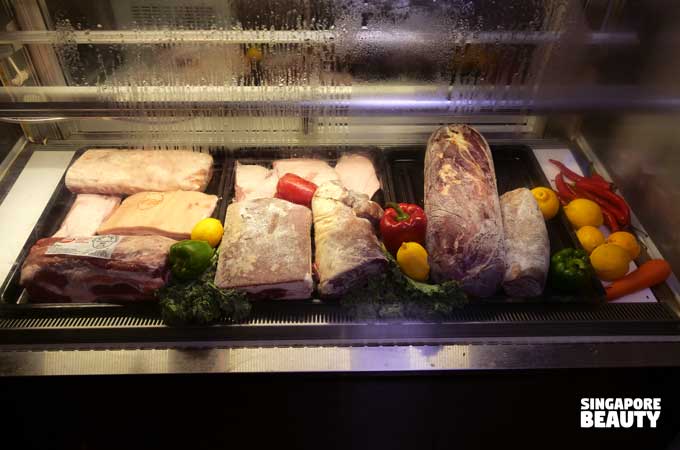 Let's take a look at what we are having for the Luxury buffet pricing. The meat carving station displays different meat blocks in the chiller display.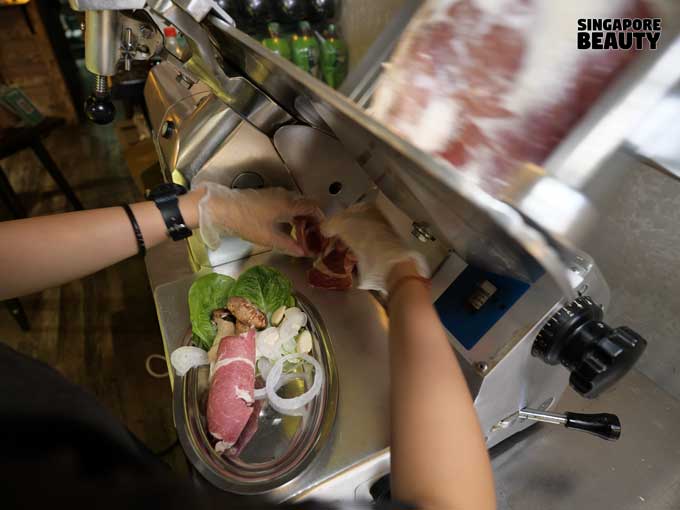 You can request for cut to order shabu shabu meat for grilling when the shabu meat runs out on the display chiller. The server will assist to cut the shabu shabu meat for you on your order and you can pick up the meat when it is ready.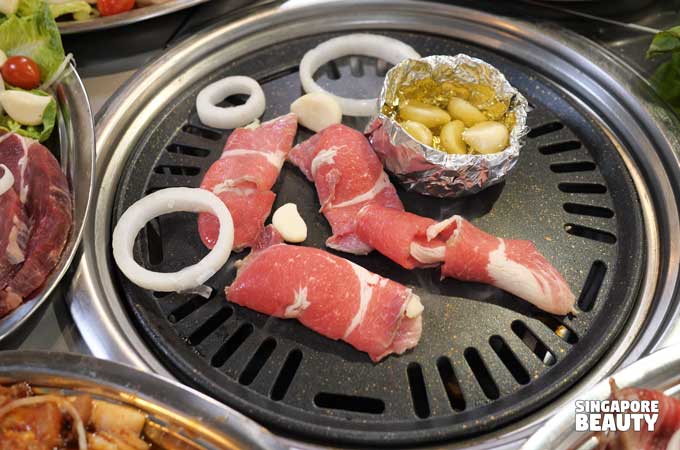 Proceed to barbecue these shabu shabu meat rolls right away on your heat grill with some onion rings, garlic cloves and butter provided.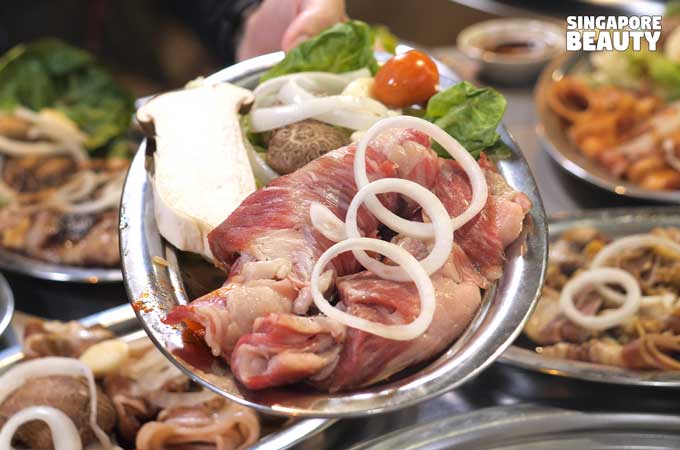 The top picks in this luxury buffet are the galbi gui beef which means grilled ribs in Korean. Galbi means ribs and the gui means grilled. Although these galbi gui beef short rib are by nature a tough cut of meat, the meat is tenderized through the marinade.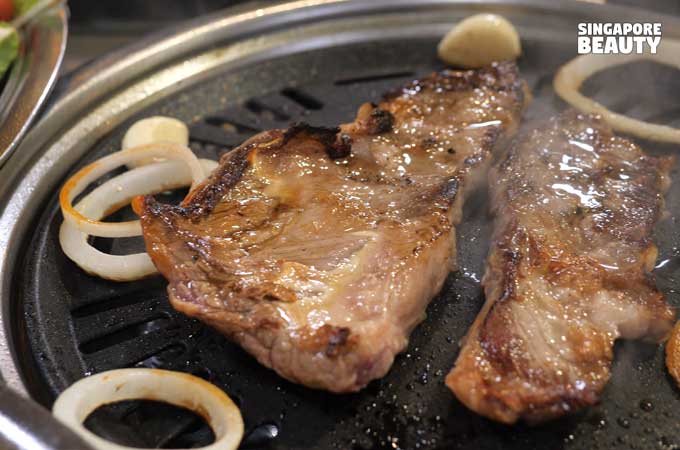 The marinade is made of juiced grated Korean pears, onions and vinegar to break down the protein in the meat. The meat is gently scored and marinade is massaged into the cut. These meats are then set to rest for at least a few hours before serving them to the diners. The barbecued galbi is a juicy tender slab of beef ribs and cut against the grain to serve for an even more tender bite.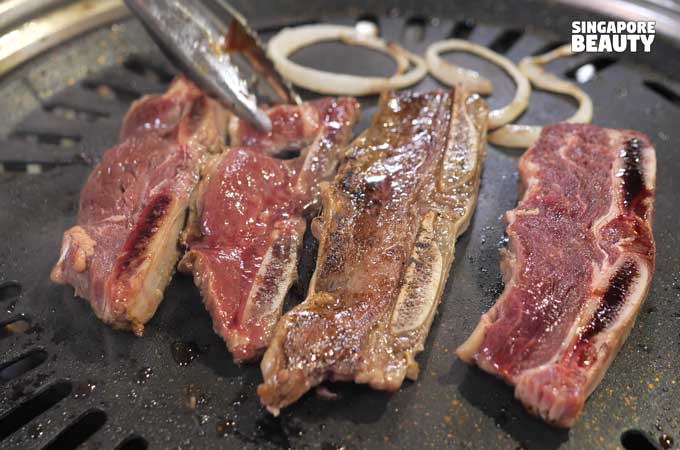 Bone in short ribs are parts carved from the beef brisket or beef plate areas.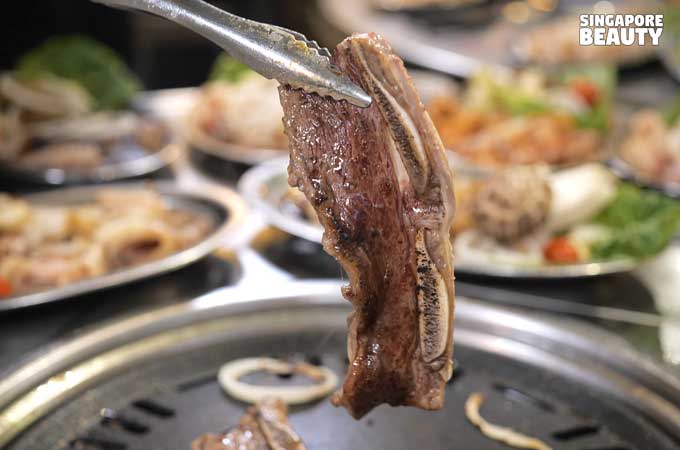 These short ribs come with bone-in for the extra flavour the bone will impart to the meat during barbecuing. The meat around the bone part will nearly be fall off type when it is thoroughly cooked. If the bone in short ribs are done medium rare, the meat around the bone will be chewy and sinewy.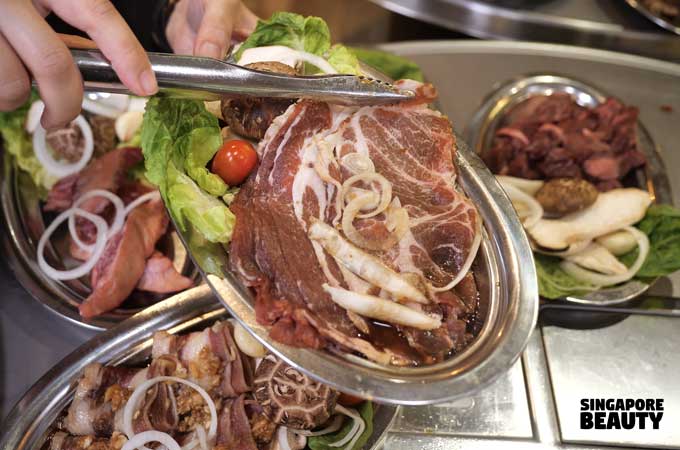 Black pork collar is one of the meat that cook really fast and has an excellent texture.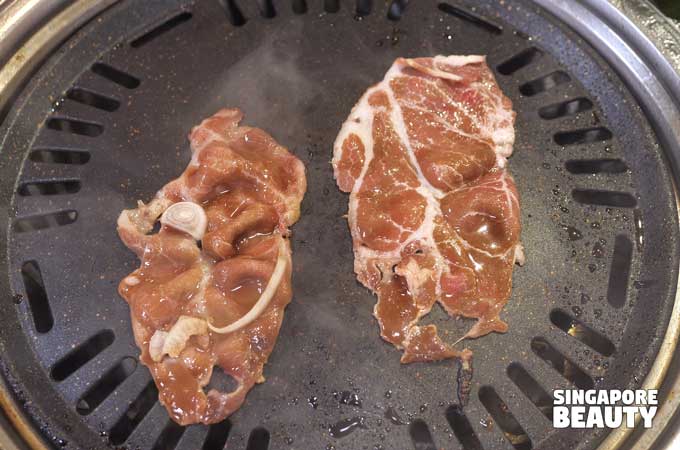 The fats coursing through the meat and holding them together in an almost fragile manner. The meat is juicy with an exceptional flavour. The texture is chewy, super tender and soft.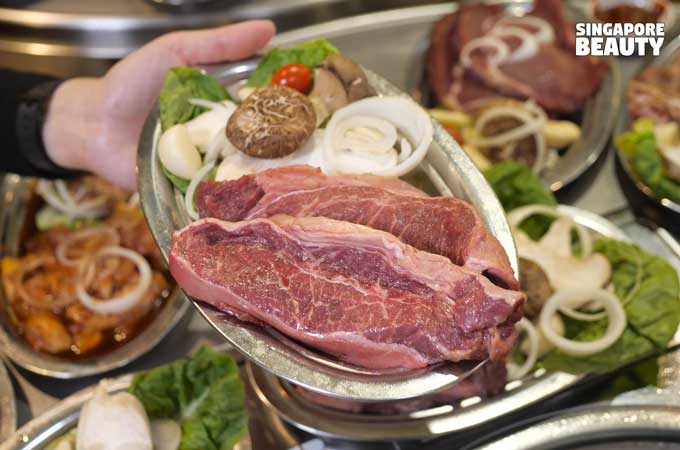 The flat iron steak is carved from the shoulder area of a cow.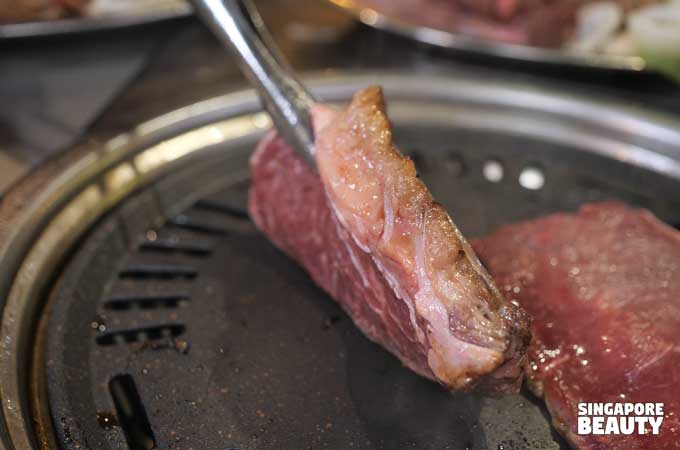 This is best grilled to medium or medium rare as over cooking it makes it tough. Sear the edges of the steak and move it around to deglaze the grill as it releases some oils and juices. The bits of fond will start attaching themselves to the steak and give it some intense char flavours. It is beefy for this steak and very flavourful too. It has a liver flavour due to its high iron content which some enjoys.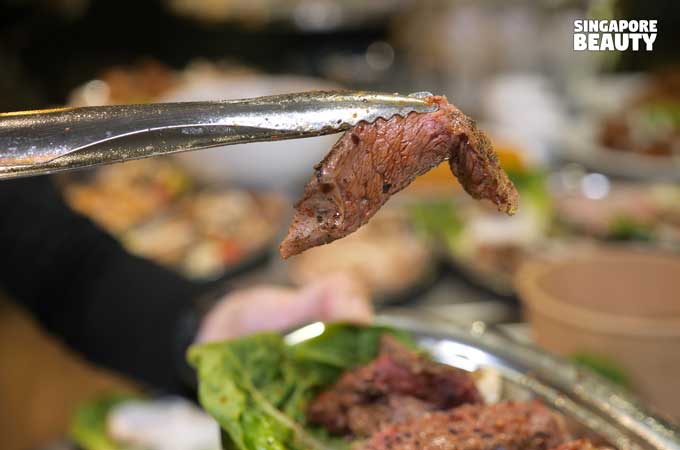 Cut this with a fork and knife and enjoy the deep flavour it has to offer.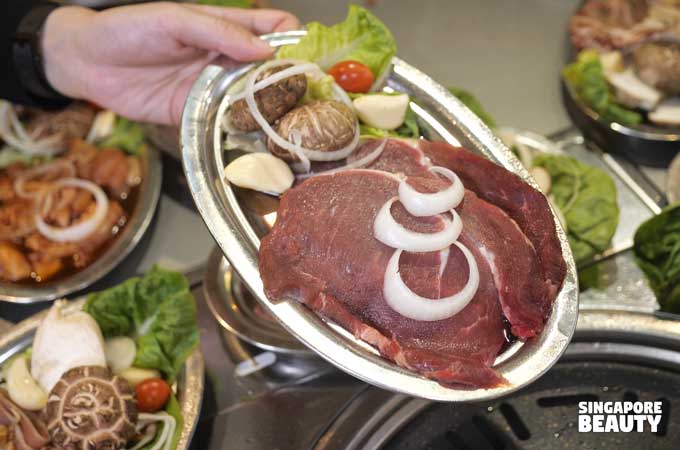 Ribeye has got to be the easiest steak to grill with its high fat contents. The fat contents renders it very forgiving even if it is slightly char and will stay moist with fatty juices. The flavour is beefy with strong buttery notes. Char on the outside, tender and fatty inside. This could be anyone's favourite cut for beginners to beef or the beef lovers.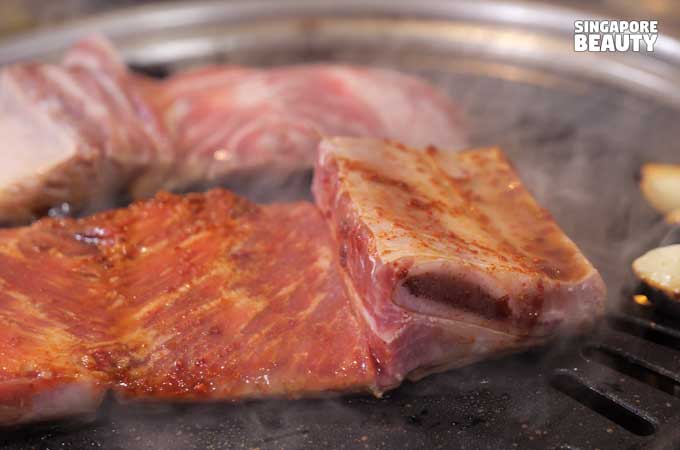 Do some serious barbecuing with this big bone ribs. These big bone ribs are heavily marbled and extremely tender when cook correctly. Usually this type of big bone ribs are smoked with applewood or some others wood fires. The big bone ribs are smoked for 4 hours to achieve the smoky flavour on the outside and tender and melty meat inside with a sweet flavour.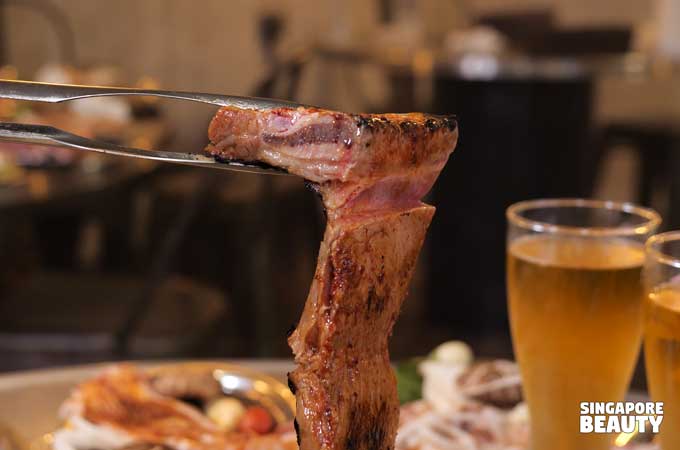 Since we are grilling the big bone ribs, the ribs has been carved into thinner slabs to facilitate the cooking process and keep the meat juicy, melty and buttery.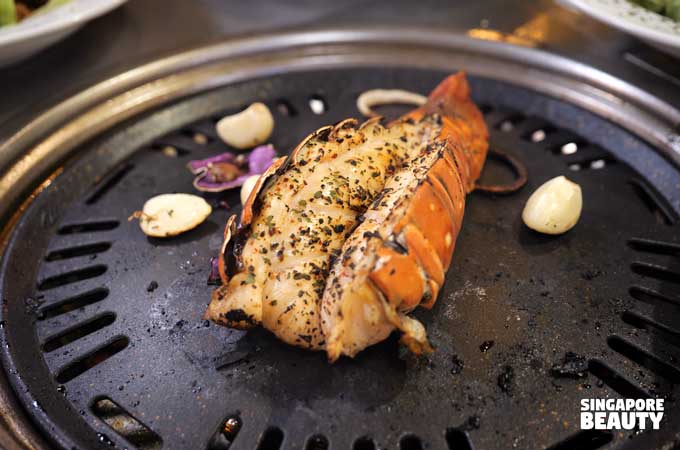 Add on a lobster tail for $20+ when your seafood mood kicks in. A thick meaty tail seasoned your way or simply salt pepper and cayenne pepper flakes.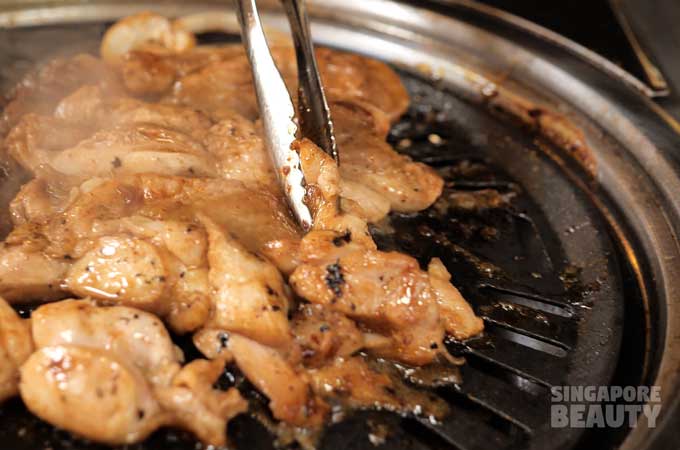 Spicy chicken chunks are marinated in gochugaru, Korean red pepper powder, red chilli pepper paste sugar, salt, soy sauce and wine overnight. The chunks after grilling has a smoky flavour to it with a mild crunch and acidic flavour from the onions. These are best enjoyed with ice cold beer.
5 bottles of Asahi are going for $25. Play some Korean drinking games such as grand slam while snacking on the free flow ready to eat Korean Fried chicken wings in 4 flavours – cheese, yangnyeom, honey soya flavour or original.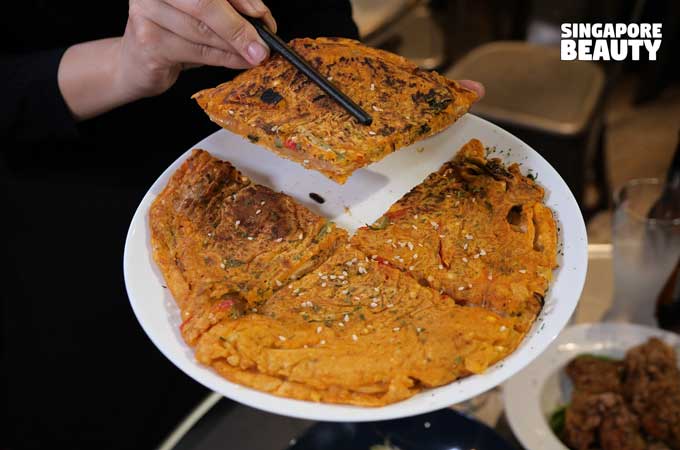 There are 7 types of free flow sides included in this buffet. Kimchi soup, kimchi rice, stir fry glass noodle, tofu soup, kimchi pancake, gyoza and Korean fried chicken.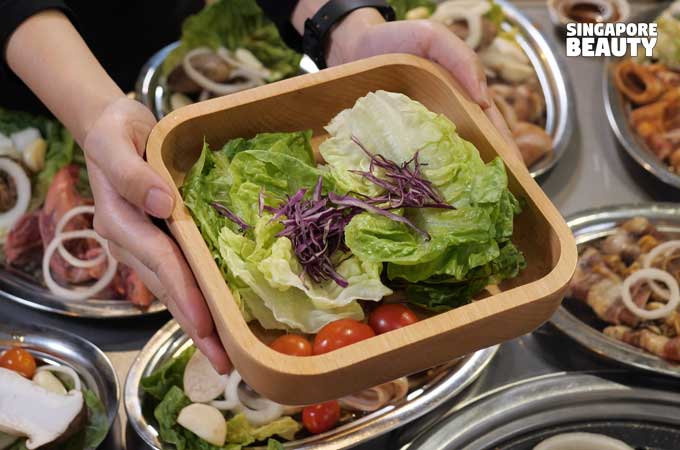 You can also ask for some lettuce to do your meat wrap with the condiments.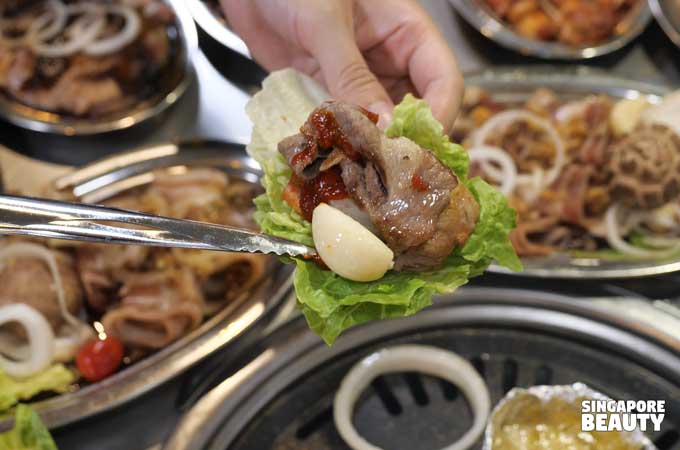 On top of the lettuce, add some acidic onion and spicy garlic to the protein to balance out the meat feast.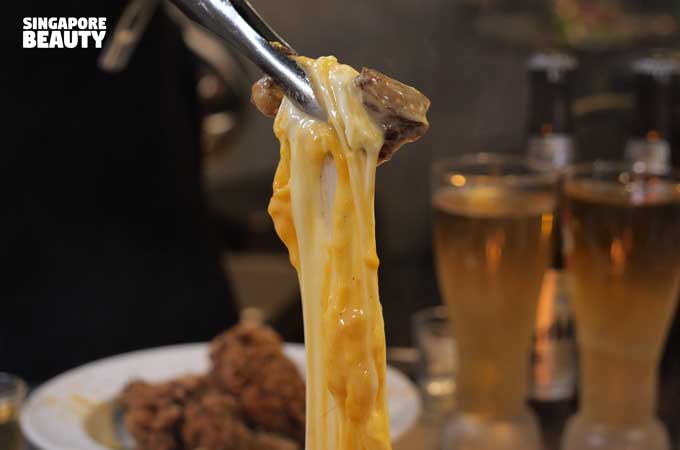 How about some melty creamy cheese pull with the grilled meat? Yes please. Enjoy some chewy melted goodness by grilling the cheese in a ramekin foil cup.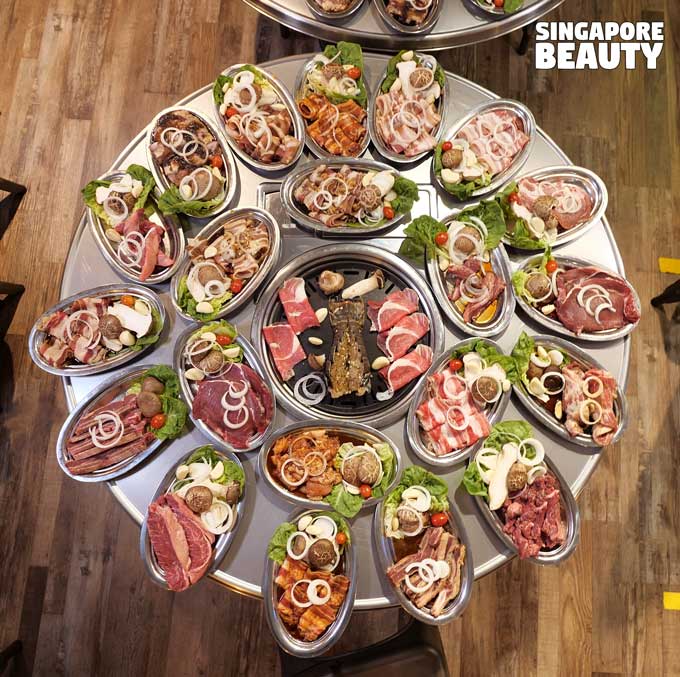 Head over to 91 Korean BBQ restaurant today to enjoy your BBQ meat feast.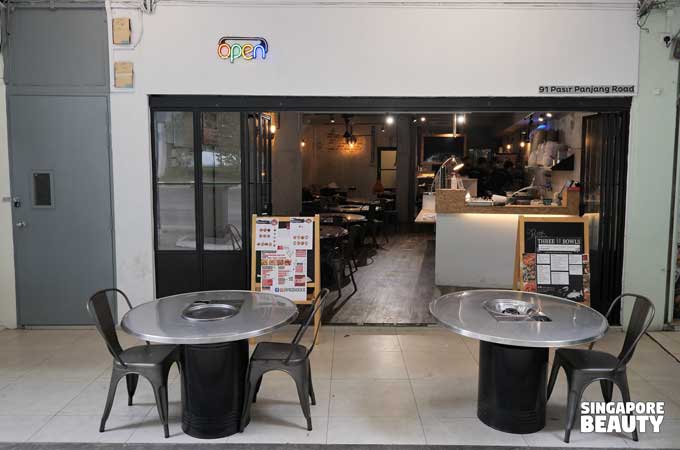 They have outdoor and indoor tables available and is good for small groups of fives.
Menu: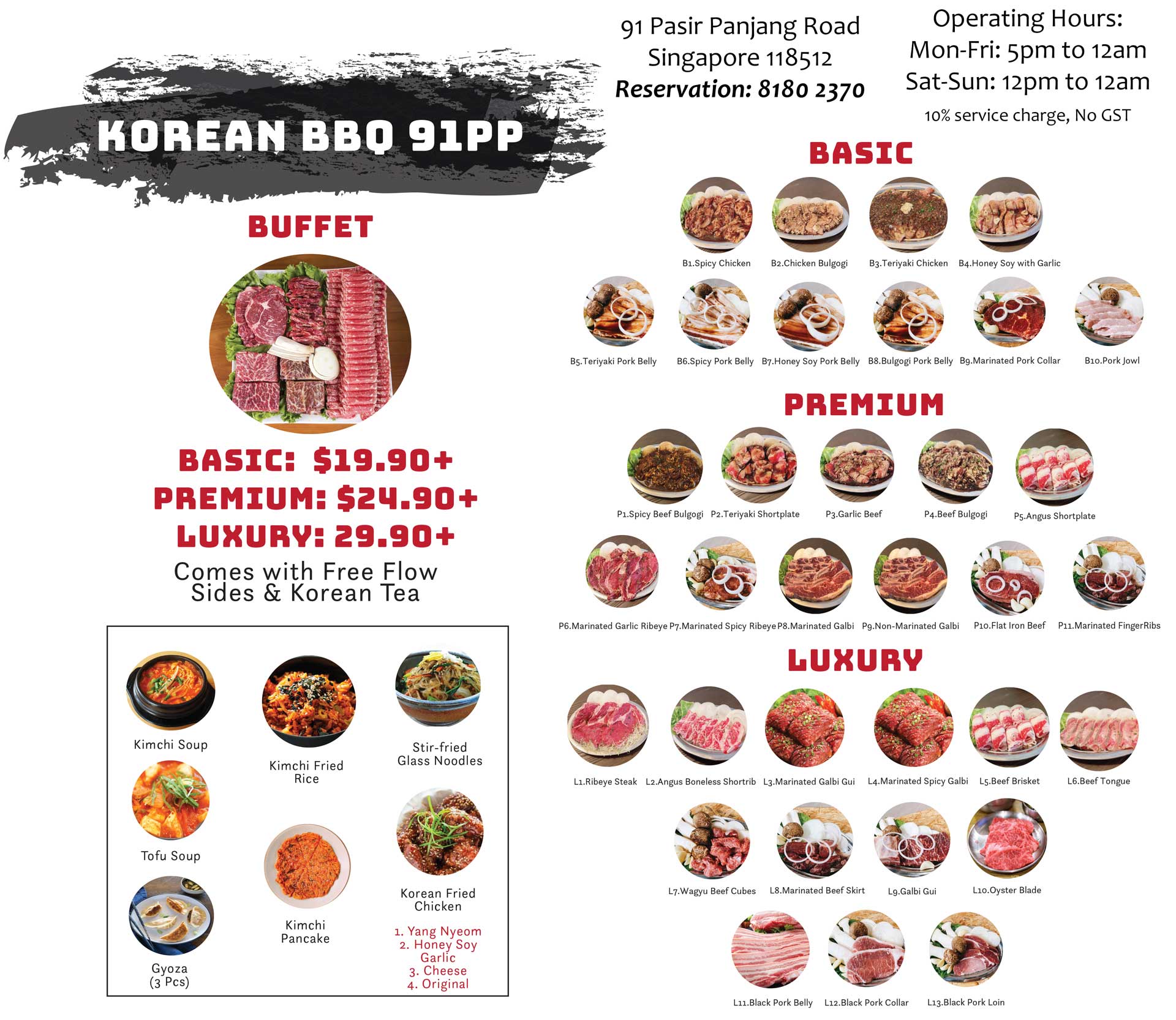 Location:
91 Pasir Panjang Road Singapore 118512
(6mins walk from MRT Station Pasir Panjang Exit A)
Dine in time:
2 hours
Free flow korean ice tea and sides.
3 buffet pricing basic $19.90, premium $24.90, Luxury $29.90.
10% service charge, No GST.
The above menu has ceased, for the latest menu go here: 91 Korean BBQ Seafood Buffet
Operating Hours:
Mon-Fri: 5pm to 12am
Sat-Sun: 12pm to 12am
Reservation: 81802370