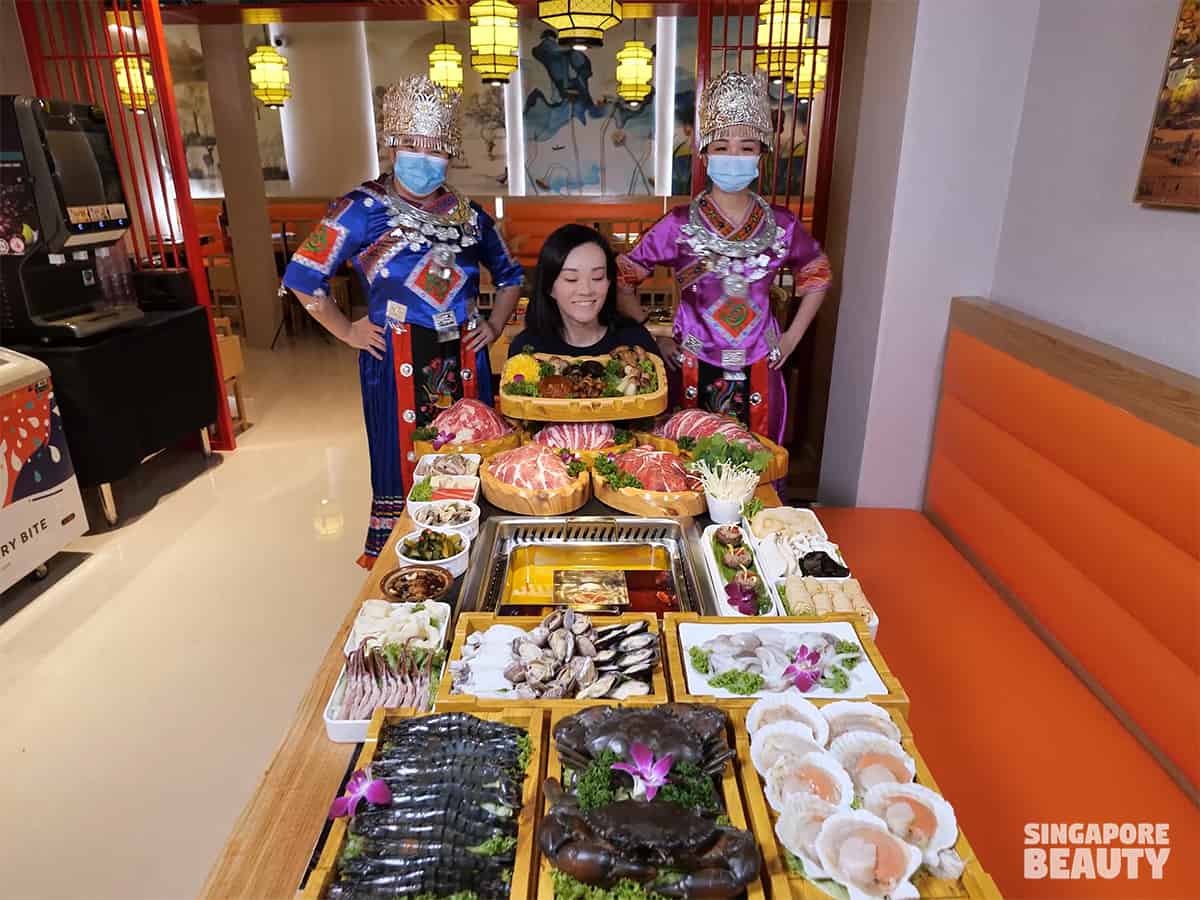 Yun Nan AHMS Hotpot Buffet is a newly opened hotpot restaurant serving free flow premium wagyu, seafood and very rare wild mushroom platter. They have two buffet menu – A and B. Buffet A offers meats, seafood, greens, surimi, fungi, appetisers and dispenser fruit punch. Buffet B includes all the items in Buffet A, premium cuts of wagyu, Spanish black pork, more variety of seafood, exotic offals, premium appetisers and kungfu noodles. Those diners getting the Buffet B are also entitled to redeem a set of mushroom platters and live mud crabs based on the number of diners.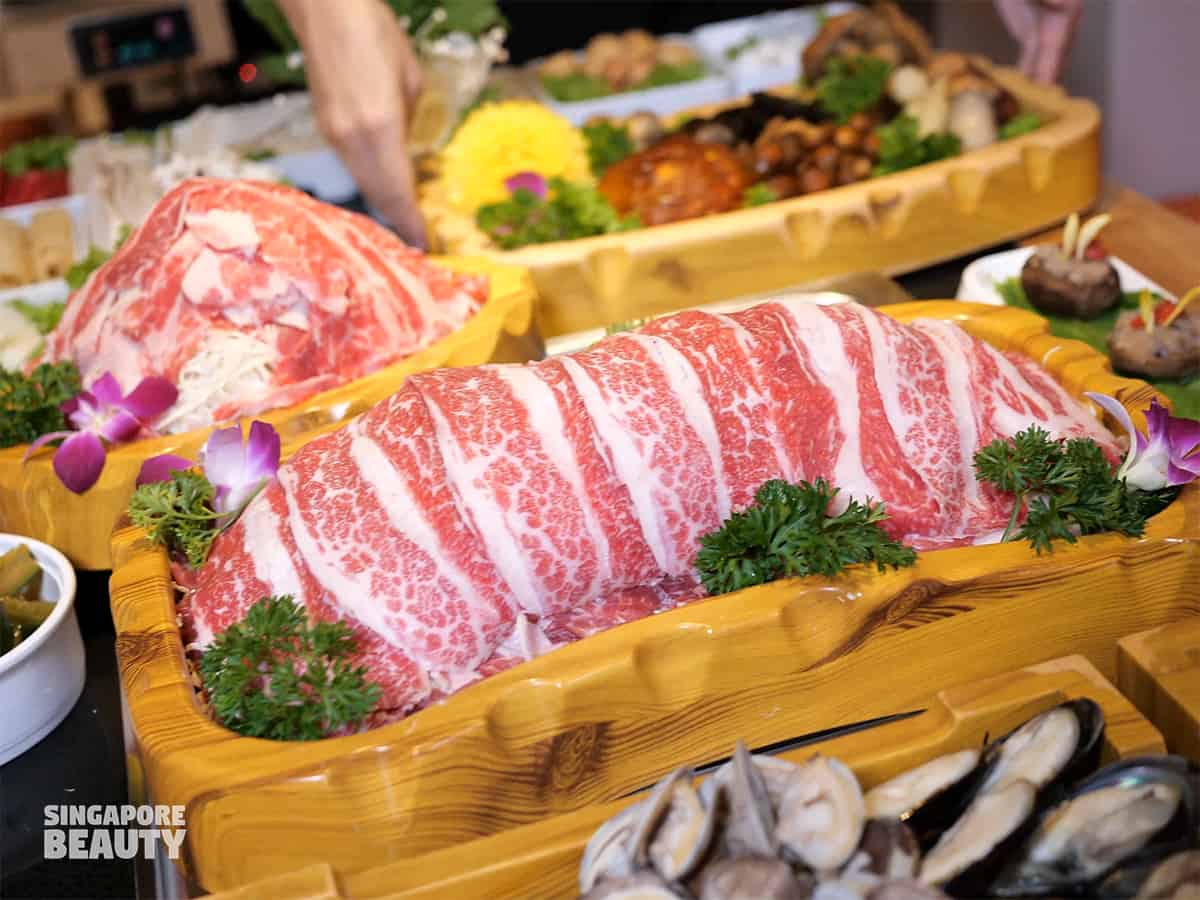 Let's check out Yun Nan AHMS Hotpot Buffet B. One of the stars of the buffet is the premium wagyu beef served shabu shabu style. The wagyu are cut to long ribbons and serve on a wooden platter. The intense marbling on the wagyu is a tell tale sign of a tender and melt in the mouth type of texture. This wagyu also has the signature buttery and depth of flavour after it is cooked.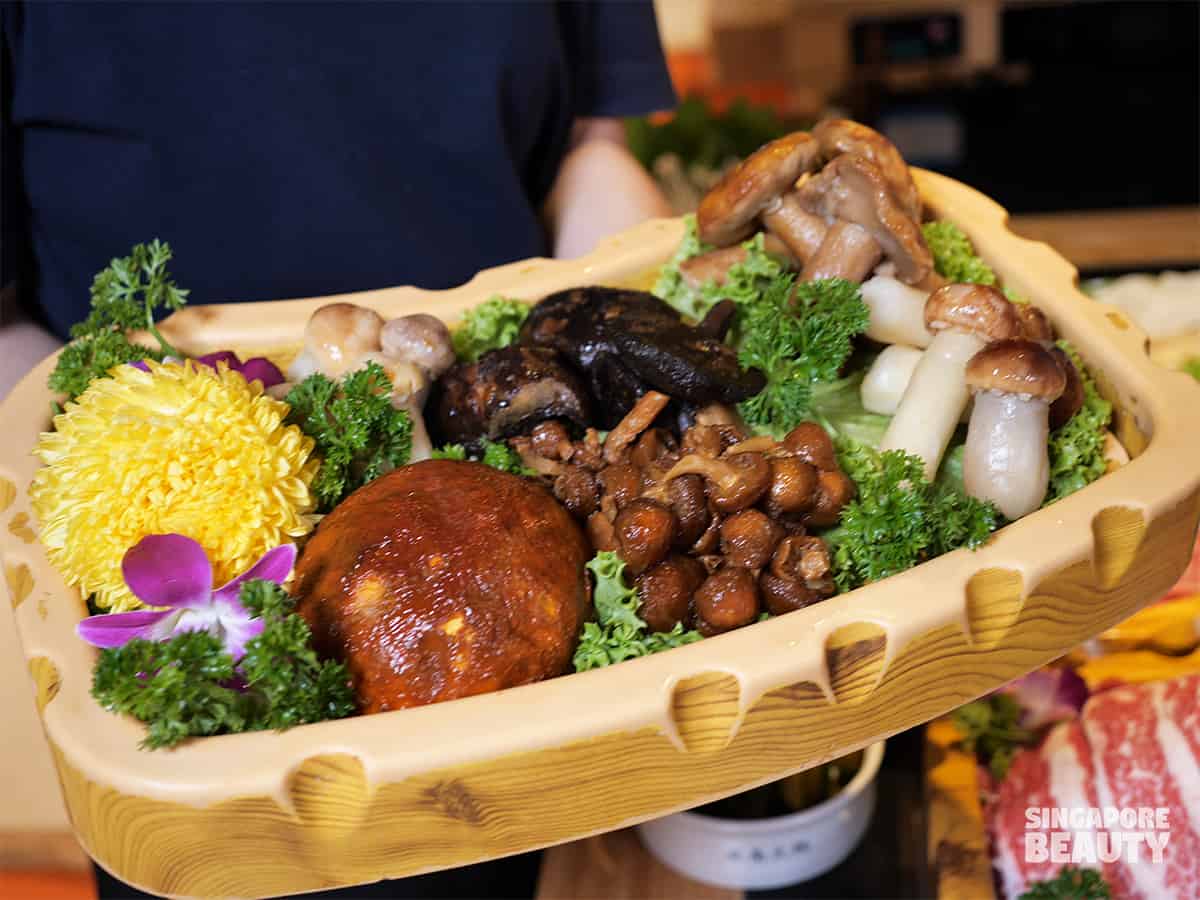 The wild mushroom platters are presented like a flora display wild mushroom blooming amongst a lush green vegetation. The wild mushroom platters consist of some of the rare and exotic mushrooms such as zheng zhu jun, xun shang jun, ji rong jun, er dan jun, huang niu geng jun and hei niu geng jun. These mushrooms are prized for their anti-oxidant properties and are believed to increase the immunities in our bodies. These Yun Nan AHMS Hotpot Buffet signature wild mushroom platters pictured here are redeemed for 2-5 pax diners (the more people the more mushrooms). For ease of hotpotting, the different types of mushrooms are served sliced to bite size when served.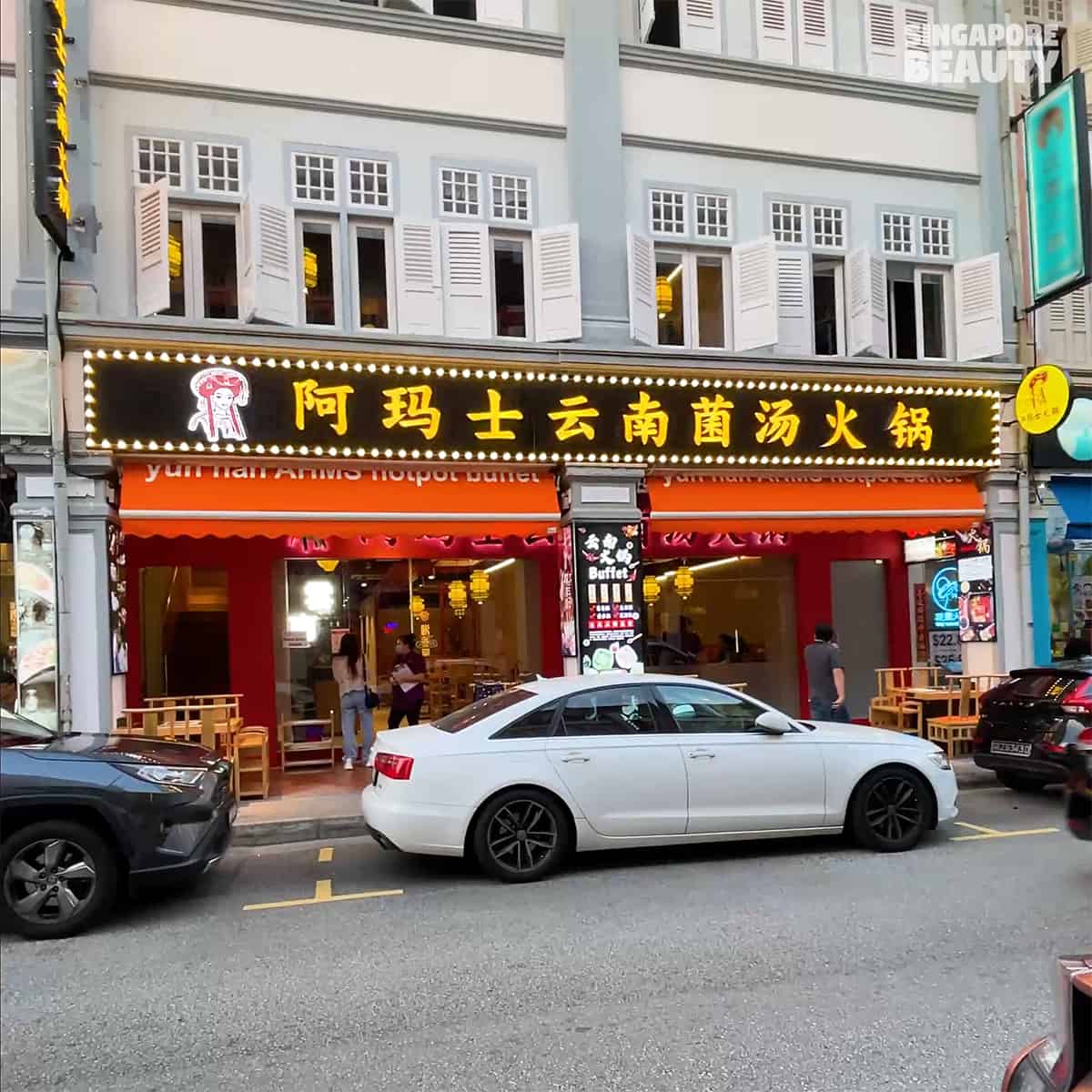 Newly opened Yun Nan AHMS Hotpot Buffet restaurant is located along Liang Seah Street near Bugis. It occupies a double shop front with 2 storey worth of dining space. Parking is available along the shop and at the adjacent open air car park. This is the buffet place you need to be at when you are craving for buffet at Bugis. Good news for late night kakis, they open till 2 am daily for you to fix your supper cravings.
The mushroom soup is super rich after adding in the wild mushroom platter. The soup has a luxurious velvety consistency. These are not ordinary shiitake or oyster mushroom. These are the abalone grade of mushroom or the apex of Mushrooms. They are soft, melt in the mouth and infused with the natural umaminess of mushroom goodness. Highly recommended!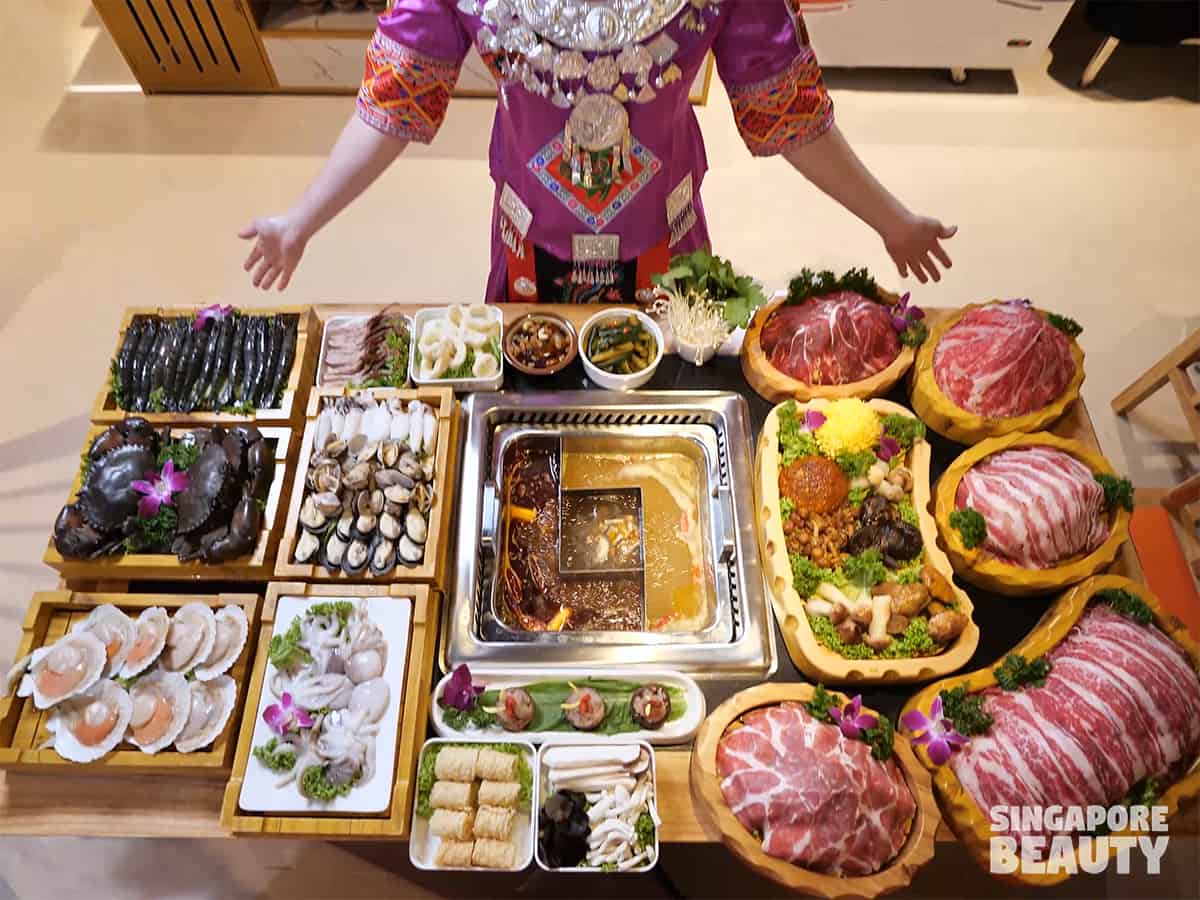 Here are some of the must eat at Yun Nan AHMS Hotpot Buffet B spread. Pictured on this table are wagyu platter, Spanish black pork, premium lamb shoulder, pork shoulder, fine beef, 6 wild mushroom platter, and appetiser ice jelly, mushroom with prawn paste, fish maw, duck tongue and selected seafood platters. With over 90 types of buffet ingredients to choose from, you will be spoilt for choice.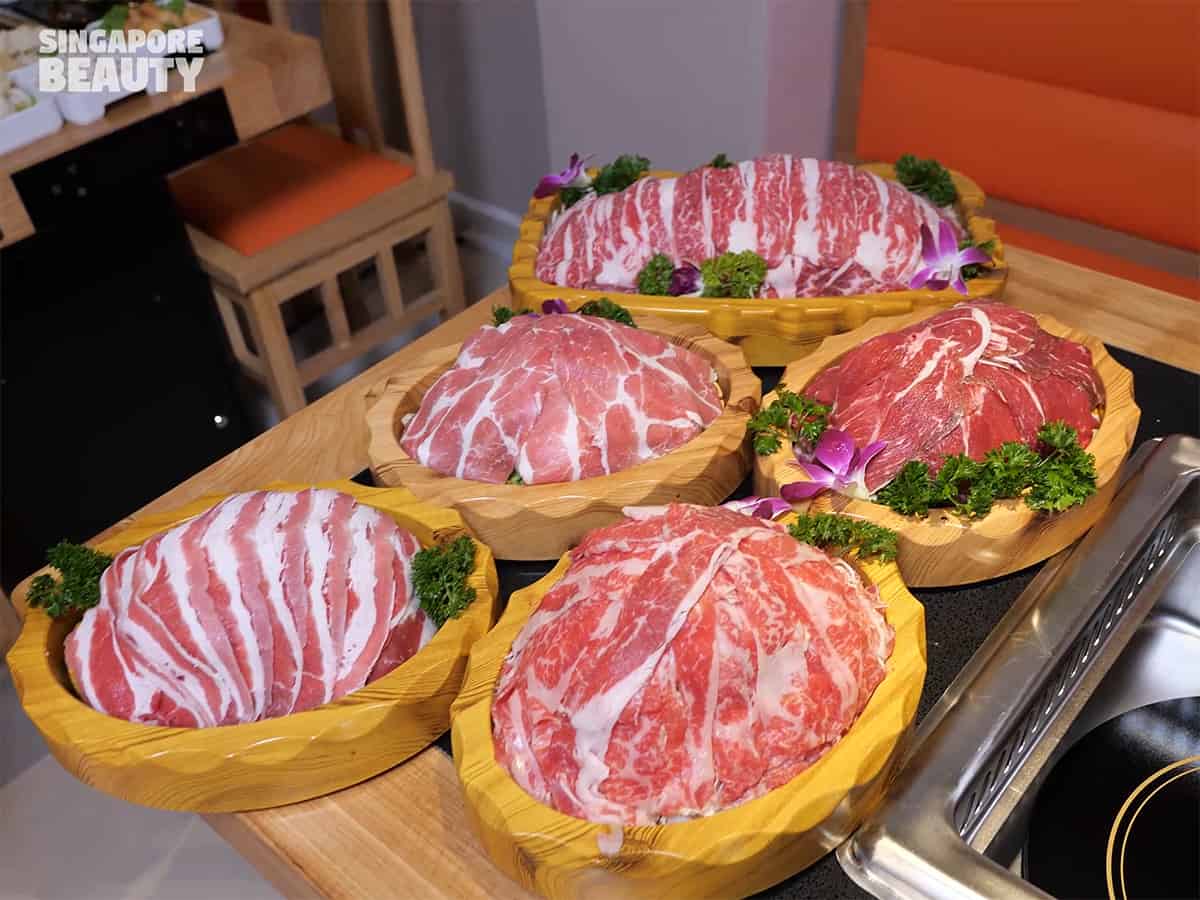 Here are some of the large meat platters that you can order for Buffet B. This meat buffet includes free flow premium wagyu beef, Spanish black pork, premium lamb shoulder, fine beef, sliced lamb, quality beef, pork shoulder, tender beef and chicken tenders.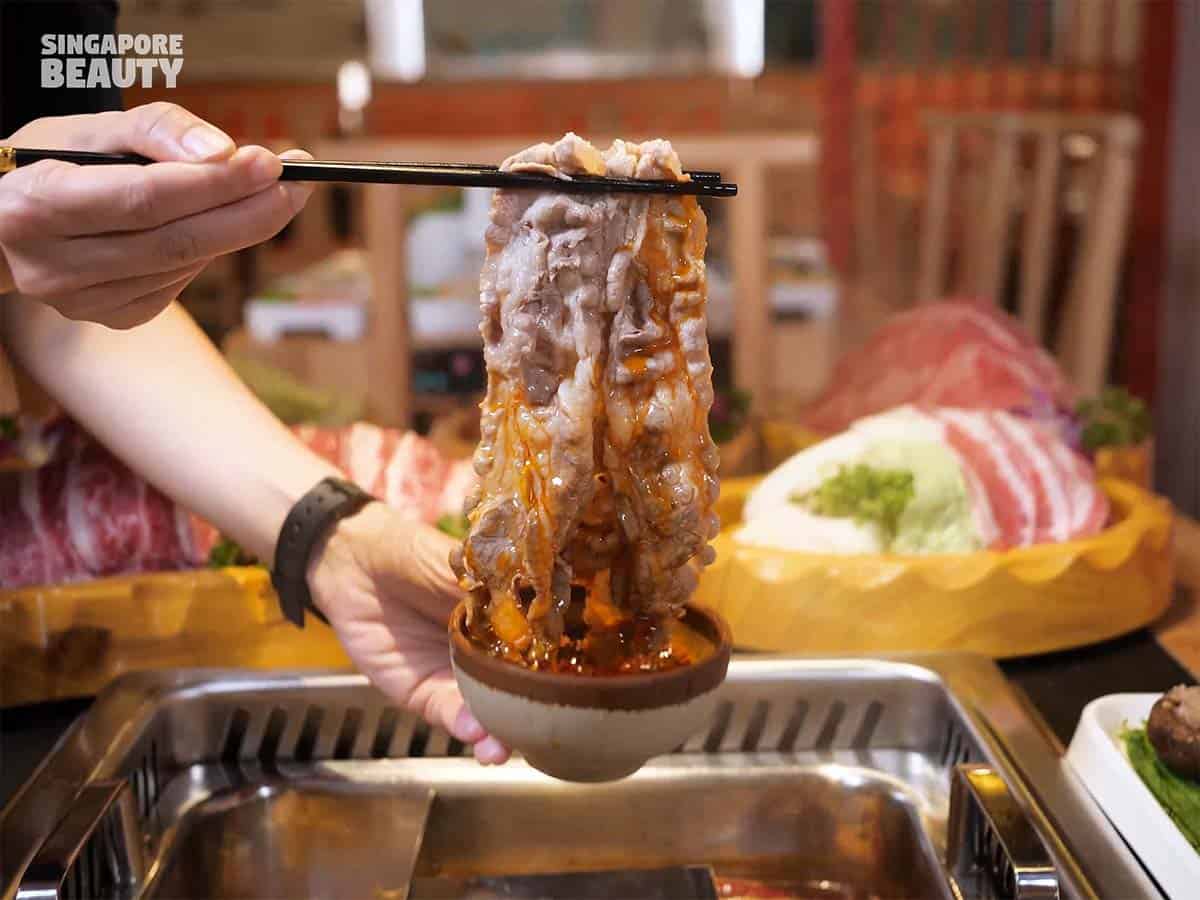 Enjoy these ribbons of shabu shabu meat with their signature in-house sauce dips. They have 7 types of sauce combination recommendation for seafood, garlic lovers, all purpose dip, influencer's favourite, meat lover, innards and offals dry plate spices season dip and clear soup dip. The crew will assist with the sauce combination of your choice or you can customise your own sauce from 25 types of condiments.
The Buffet B seafood available are tiger prawns, scallops, razor clams, baby octopus, fresh prawns, sliced squid, green mussels, cuttle fish and clams. The mud crabs are redemption based on the number of diners at each table. For example, for 4-5 pax you get to redeem 2 live mud crabs dispatched for you.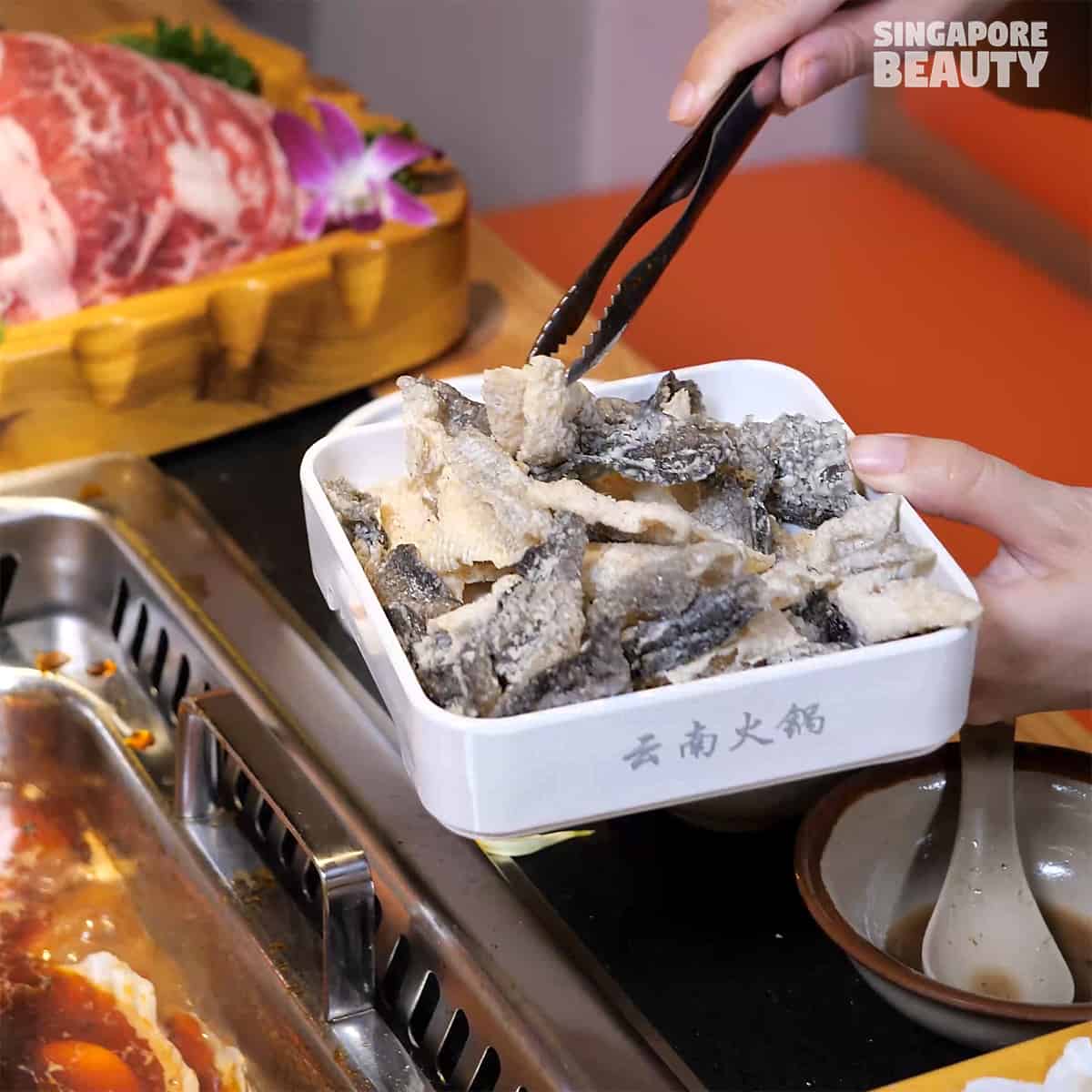 They also have unlimited appetiser such as crispy fish skin, Lijiang seasoned cucumber, Ice jelly, edamame, fried peanuts, Yunnan mixed kelp and deep fried mantou. Dispenser drinks such as lime juice, sour plum water, ice water, warm water, ice cream are all included in this buffet.
They have 8 types of soup base to choose from such as Wild mushroom, hot and sour, mala spicy in clear soup or butter base, chicken, tomato, tom yam, pig bone broth and pickled cabbage soup. The must order soup is the wild mushroom soup base.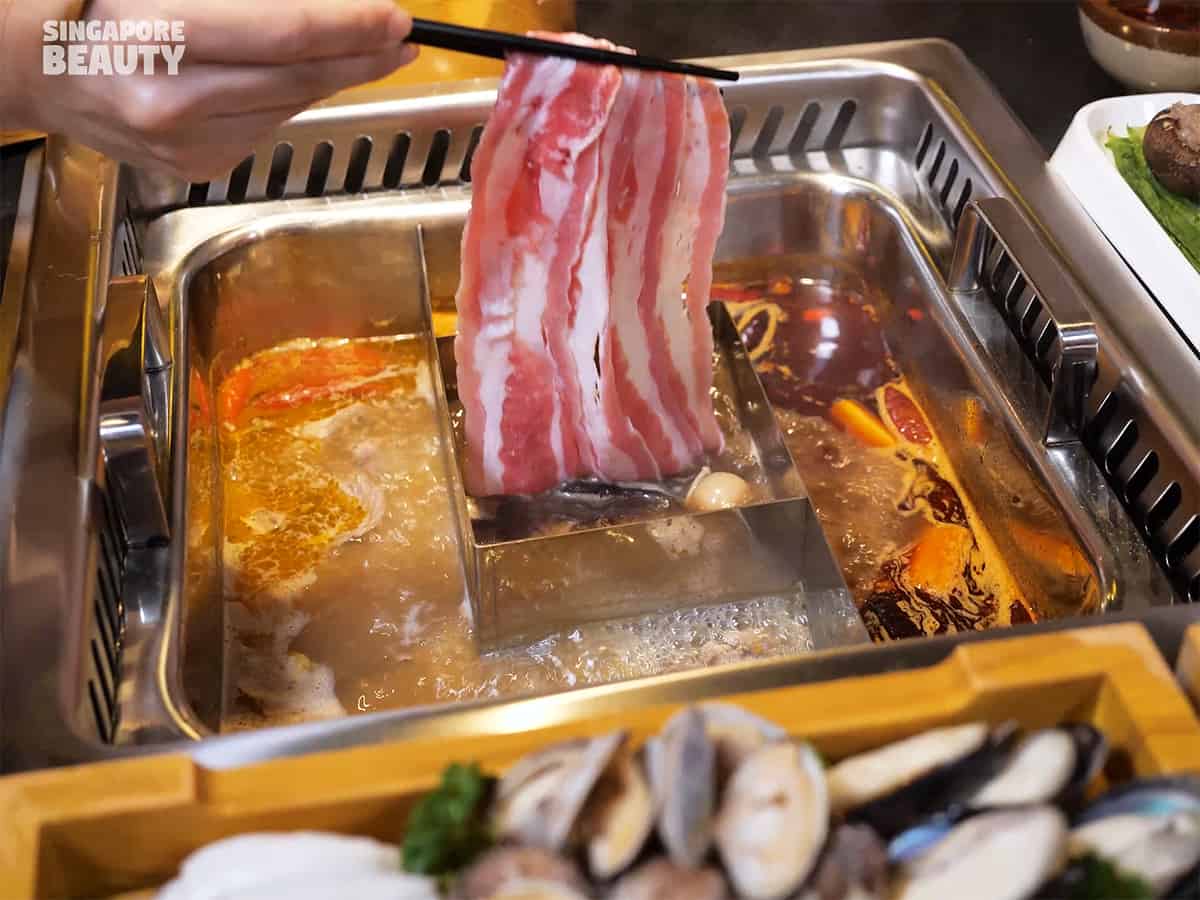 The soup bases are add on $8 for 3 types of soup bases. The mala soup base goes very well with the shabu shabu wagyu and quality beef as it add a nice coat of spicy aroma to it. The umaminess of the beef with the mild numbing and tingling sensation from the mala makes it so addictive. Go easy on the spicy level of the mala soup if you are a beginner.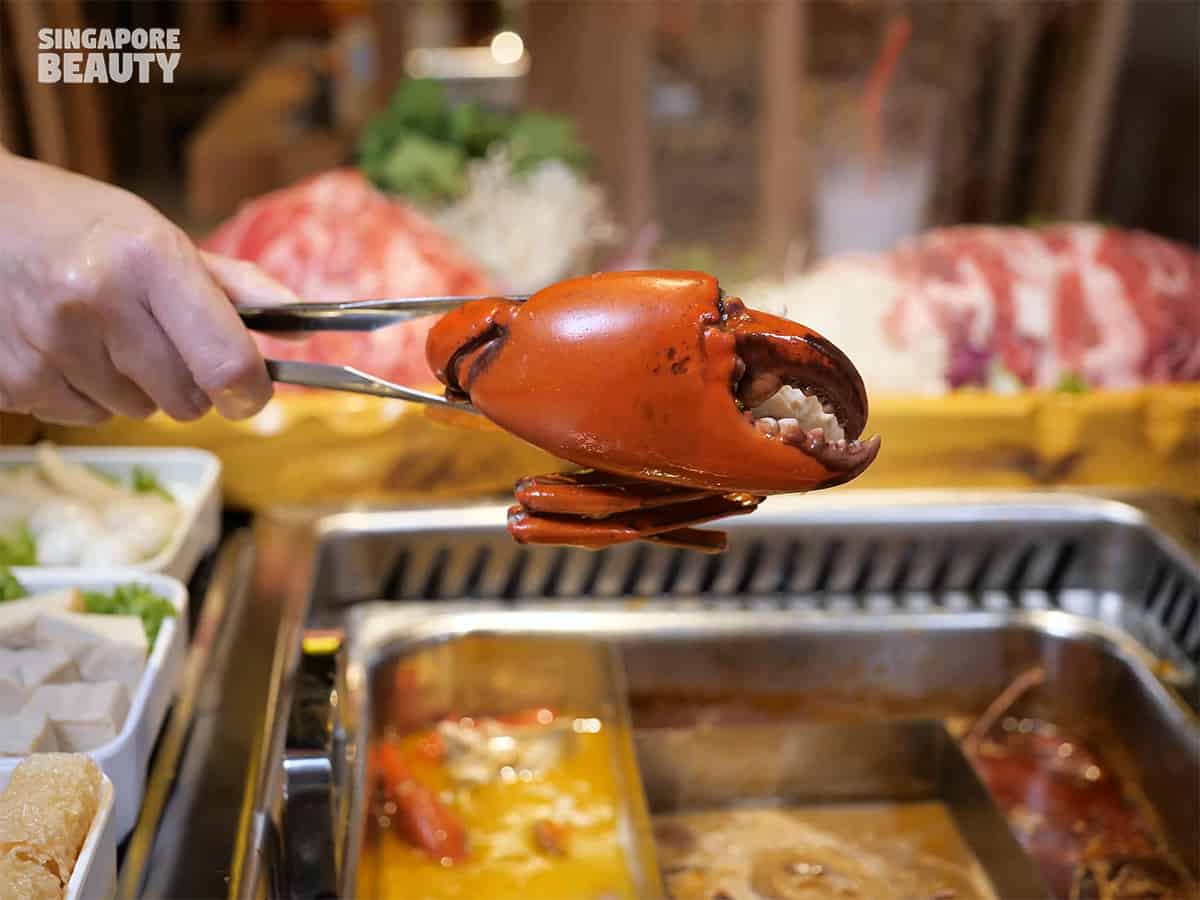 Adding the crab into the hotpot impart the sweet flavour into the soup. If you wish to enjoy the natural succulent crab flesh, our advice is to add it into either the chicken or pork broth. For those who love a sour spicy kick, you can add to the tom yum soup. Tom yum and seafood are the best combination. If the shell of the crab claw is a tad too tough to crack on your own, do get the crew to assist in cracking them.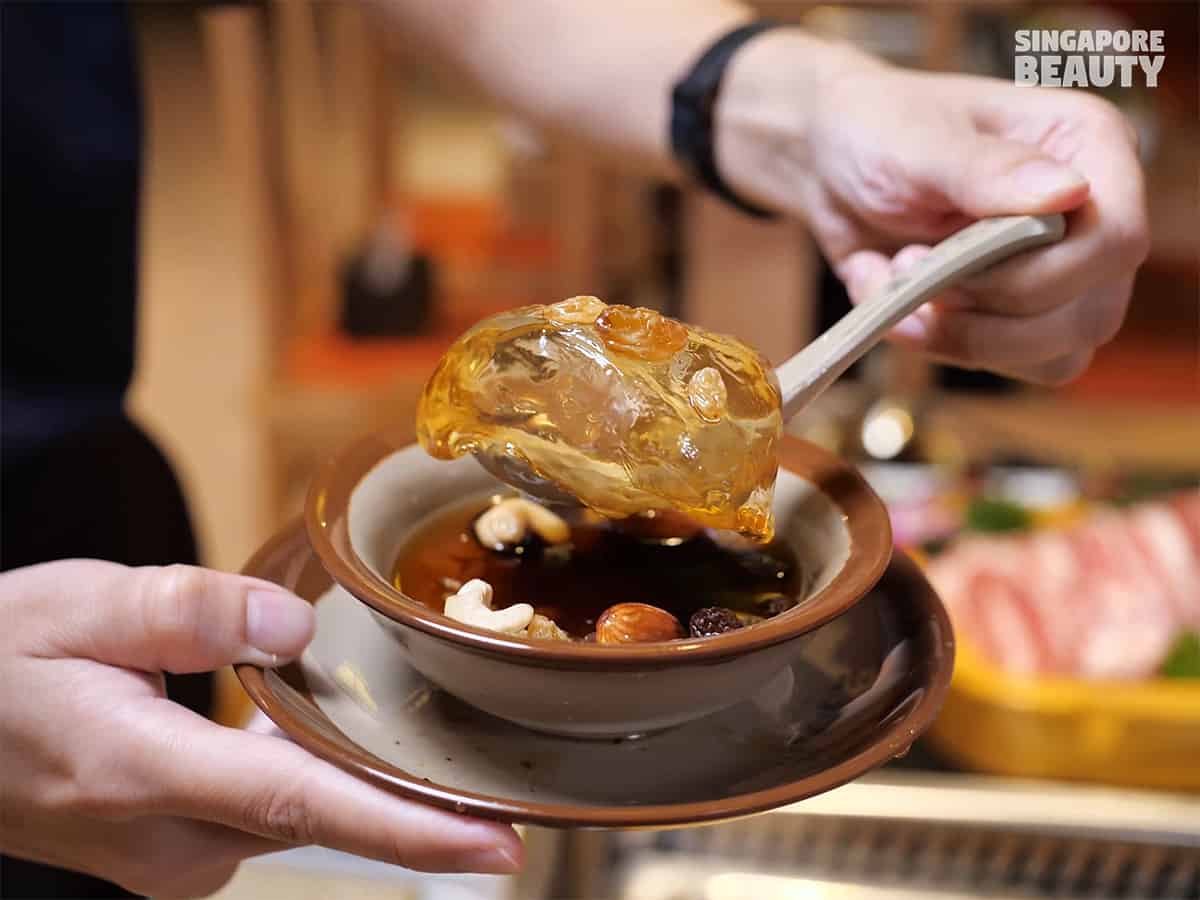 End your meal on a sweet note with their homemade ice jelly in a sweet honey with mixed nuts such as almonds, cashew nuts and raisins. The transparent glass globe of jelly is extra soothing after a hotpot meal and kind of refreshing.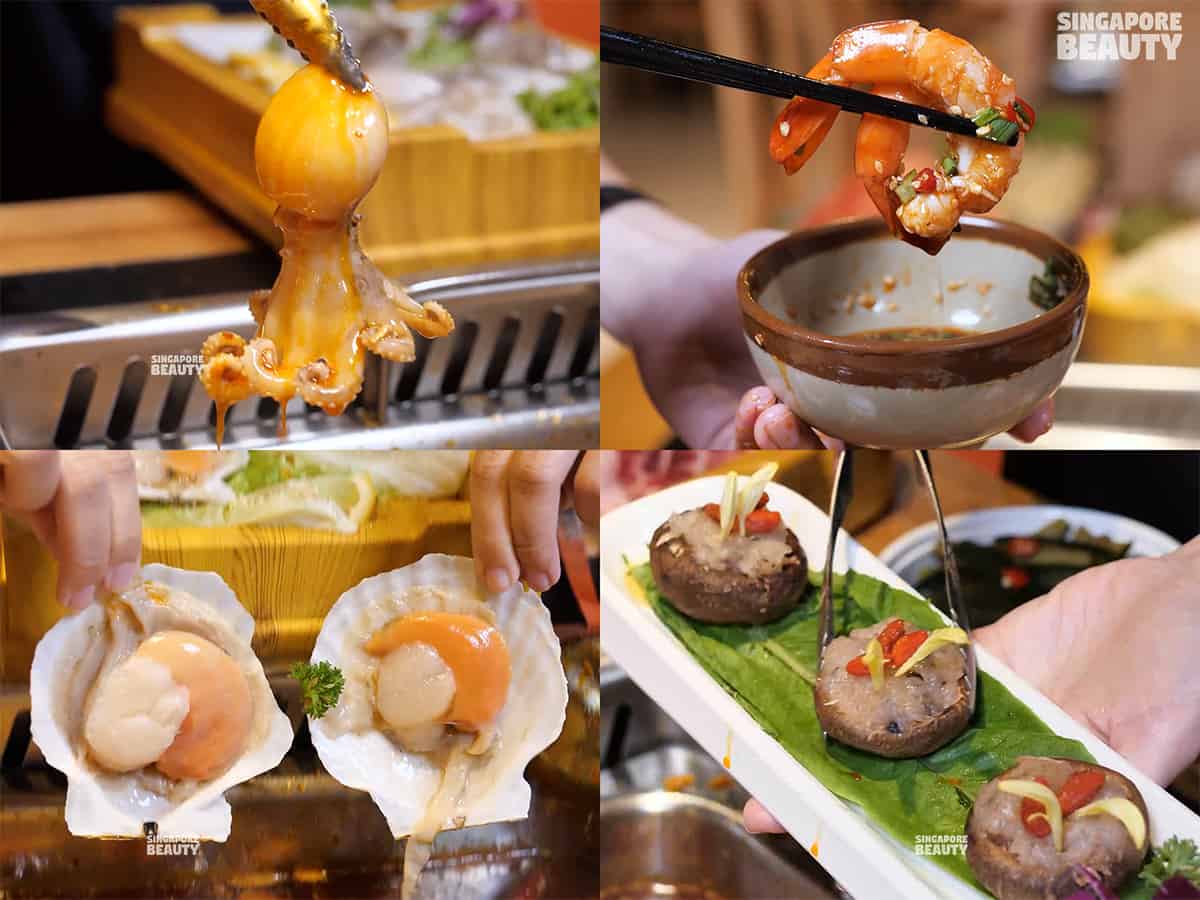 There are also some unique selections such as mushroom with prawn paste, large scallops, baby octopus, superbly sweet tiger prawns, handmade prawn & pork balls, prawn paste, duck tongue, pig tendons, tang O, pig liver, pork stomach, chicken gizzards, honey comb tripe, Chinese yam and more.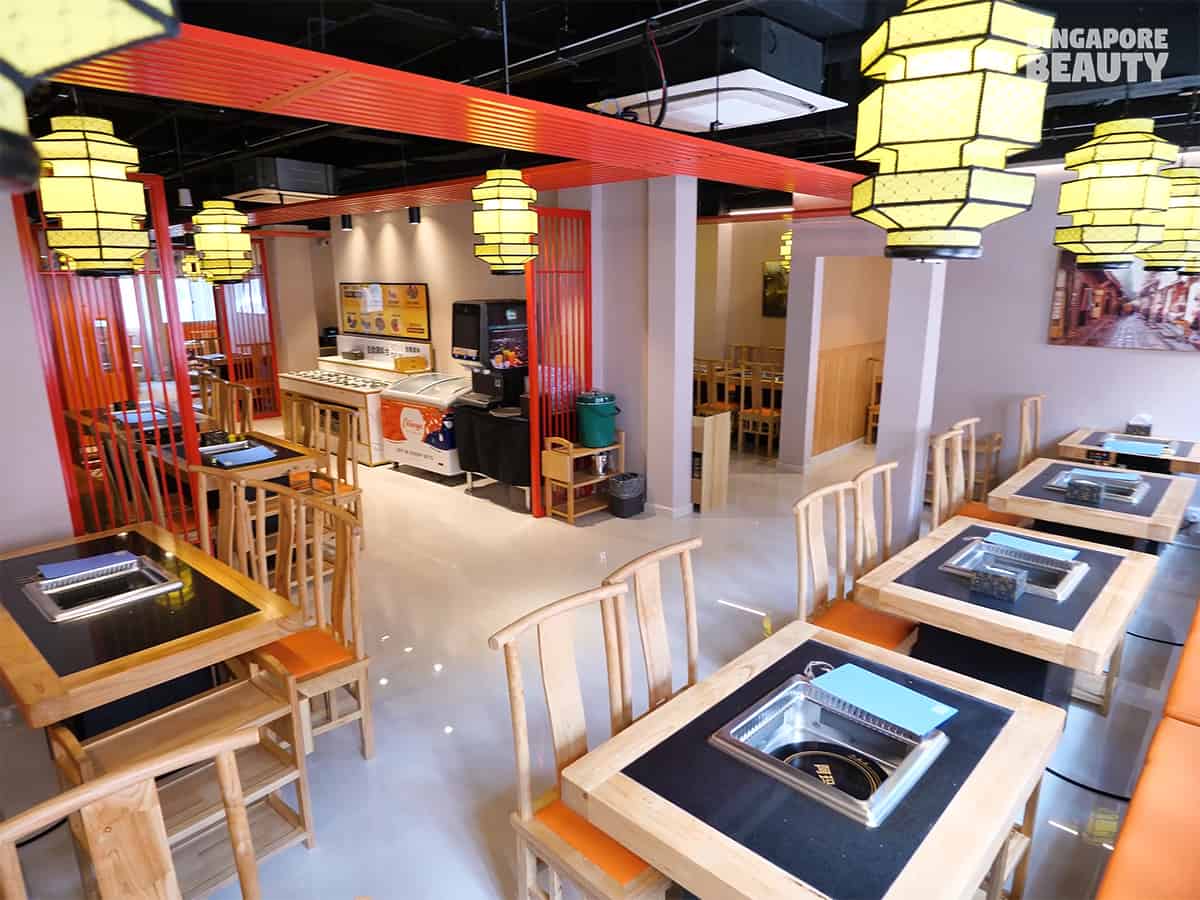 Yun Nan AHMS Hotpot Buffet has private dining and main dining hall as well on two storeys. The hotpot are the sunken table top type with a black stone top and high back chairs and cushioned bench settee. This is an ala carte buffet style where the food is served to your table after ordering from the buffet menu. See you there soon!
SPECIAL:
Quote SingaporeBeauty for opening special of $18.80++ for Buffet A, valid till 22 December 2021.
Only applicable for lunch buffet from Monday to Thursday. Add on $8 for 3 soups.
Address of YunNan AHMS Hotpot Buffet :
26 Liang Seah Street, Singapore 189047
YunNan AHMS Hotpot Buffet Price
Buffet A:
(Mon-Thurs) Adult : $25.80++
(Fri-Sun, Eve of PH & PH) : $28.80++
Buffet B:
(Mon-Thurs) Adult : $42.80++
(Fri-Sun, Eve of PH & PH) : $45.80++
For both buffet menu, top up $8 for 3 soup bases
Kids below 1.1m dine free!
Time limit: 90 mins
For reservation call : 69806856 / 83999127
Brought to you by YunNan AHMS Hotpot Buffet