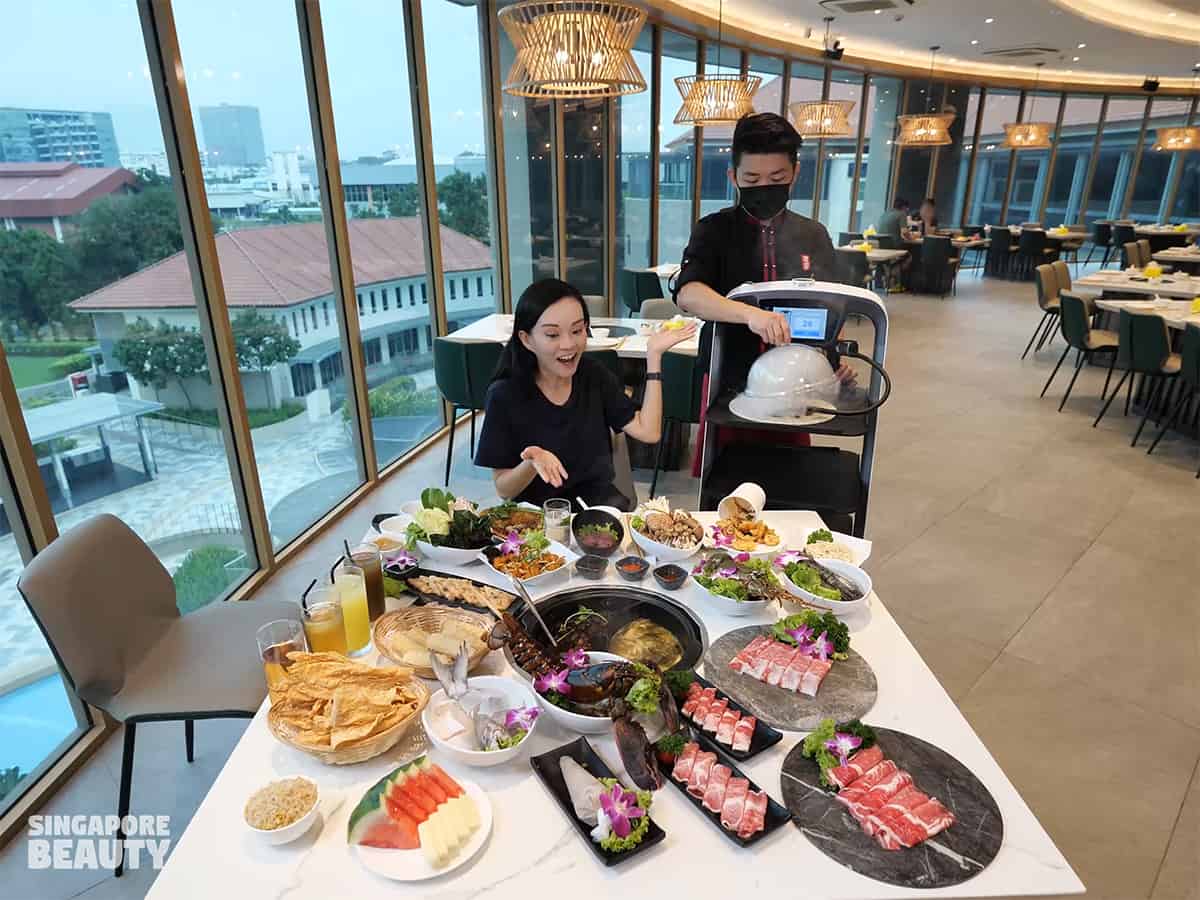 Qi Xiang Hotpot has opened a flagship restaurant at the Chevrons near Jurong. The concept here is slightly different from the existing branch at Kovan. While they still use claypots to cook their popular chicken pot, at this new branch, you can enjoy some hotpotting as well. This is made possible by using a yuan yang claypot so that you can enjoy the best of both worlds. Enjoy a total of 80 dishes at reasonable price including some local delights with a twist that are offered at the Kovan coffeeshop. They are open till 3 am on selected days for those who are looking for a supper place around Jurong.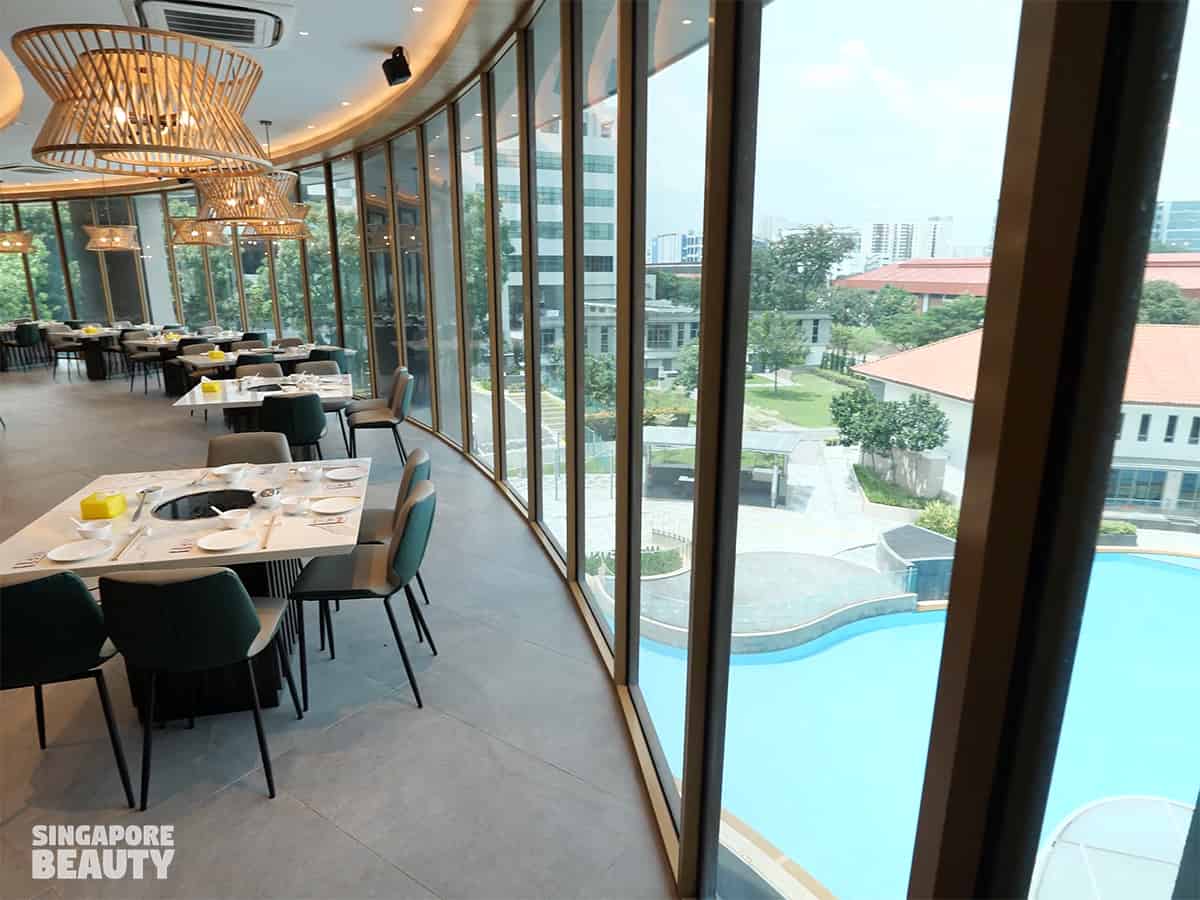 Qi Xiang Hotpot is situated on the third floor within a clubhouse – The Chevrons – that overlooks a resort like setting with pool view and landscaped villa views. During the holiday season, this is a popular place for staycation and family bonding. After enjoying the facilities such as spa & wellness, gym session or a dip in the pool. Head over to Qi Xiang Hotpot near Jurong, the casual dining atmosphere, views and nicely plated dishes instantly lift your moods and give you the energy booster you have expelled while working out at the club. Great for large gathering as Qi Xiang has a large sitting maximum capacity of 196 pax. Their tables are arranged so that the personal space for each group of diners is maximised to ensure your dining experience there remain as peaceful as can be. The tables are arranged in a radial fashion and the views are directed outwards towards the resort and the internal atrium. The good news is that at this branch they are air-conditioned so you can remain pretty and dry in your best dress while slurping up the chicken soup from the hotpot.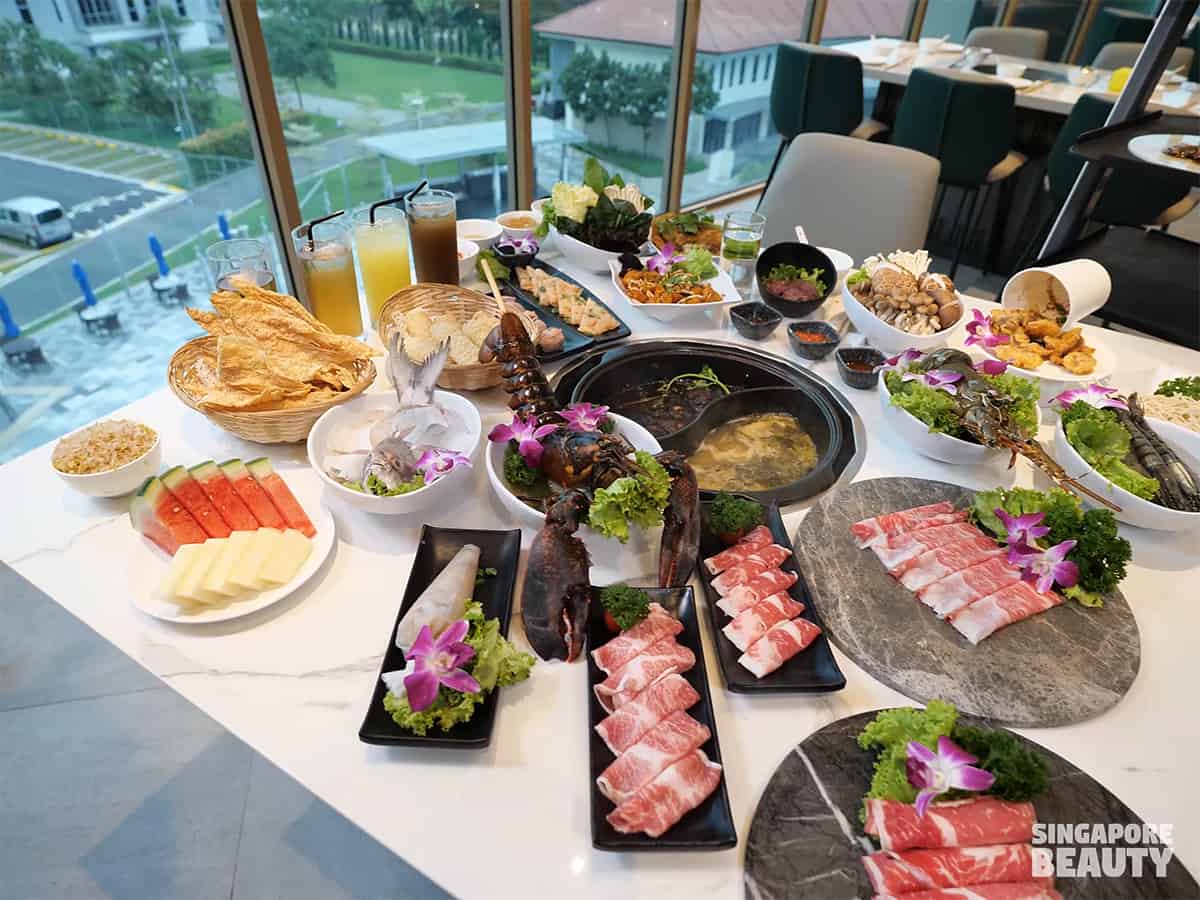 Here are some of the dishes recommended by Qi Xiang Hotpot from their menu of over 80 dishes. The menu includes soup bases, appetizers, vegetables, meat, seafood, carbs, specials, dessert and drinks. Pictured above are the Signature broth soup, sour vegetable soup, starters fruits, local delights such as egg fried rice, XO carrot cake, prawn pizza, smoked duck and deep fried pork collar shake with Sze Chun Pepper. Different cuts of shabu shabu meats include Japanese wagyu chuck and Iberico pork collar. As for their seafood selection, you can find Boston lobster, bamboo lobsters, handmade shrimp paste and Chinese silver pomfret. For greens, you can order their veg platter, mushroom platter and handfried tau kee aka beancurd skin sticks.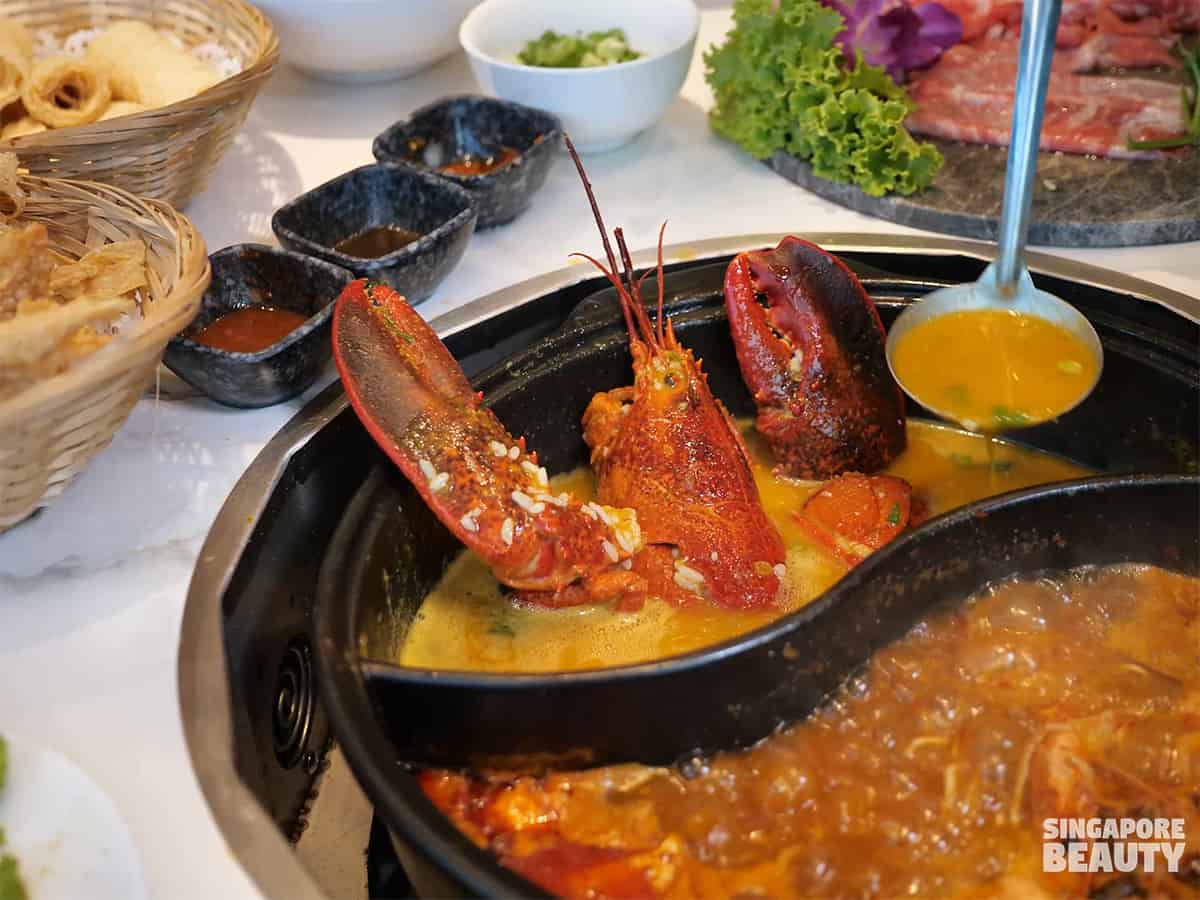 If you are a seafood lover, do splurge on their Boston Lobster ($35) or Bamboo lobster ($49). Create your own seafood congee pao fan with the golden pumpkin soup, lobster and steamed rice. The thick pumpkin soup has a rich chicken flavour with the sweetness from the lobster set to make you feel satisfied and nourished. The waitress will be happy to assist you with the cooking of this lobster pao fan in pumpkin soup.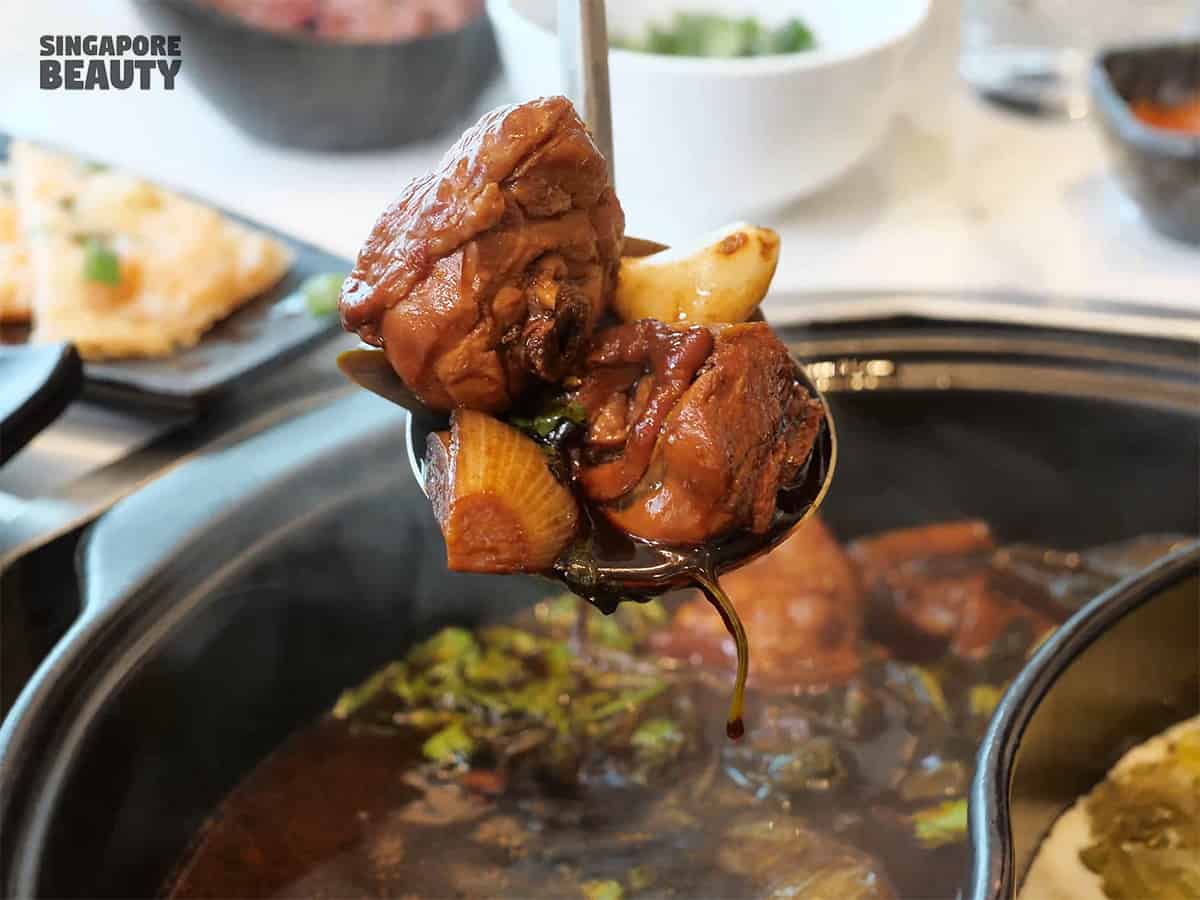 At Qi Xiang Hotpot, this is the signature broth soup ($24.90) that is a must try. This is the popular chicken pot from Kovan that commands snaking lines during the peak hours. Although Qi Xiang Hotpot delivery is available on some food platform, the best way to enjoy this chicken pot is at their restaurant. The soup consist of chicken parts simmered in a claypot as you enjoy every bite. Tender chicken bites are infused with the dark hue of soy sauce. The broth is almost a sauce kind of consistency with an intense secret concoction of Chinese herbs and umami grounded bean paste flavours. The wedges of onions, garlic and parsley add more deep to the chicken.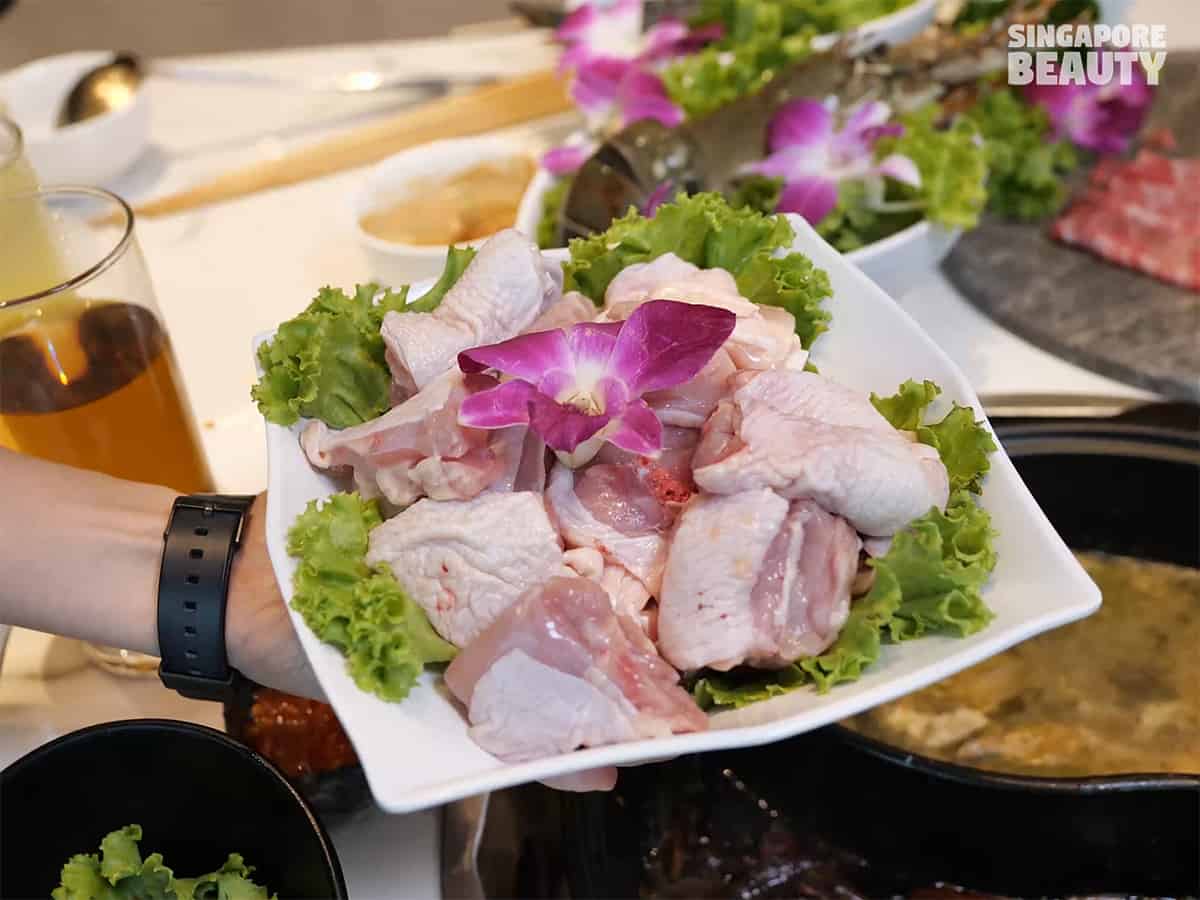 Add on $6 for half a chicken or 2 chicken thighs to soak up the goodness of the signature broth. They have 7 type of soup base ($9-$24.90) such as signature broth, pumpkin, herbal, sour vegetable, tom yum, durian and tomato. Qi Xiang Hotpot recommended soup bases are the signature broth and the pumpkin base.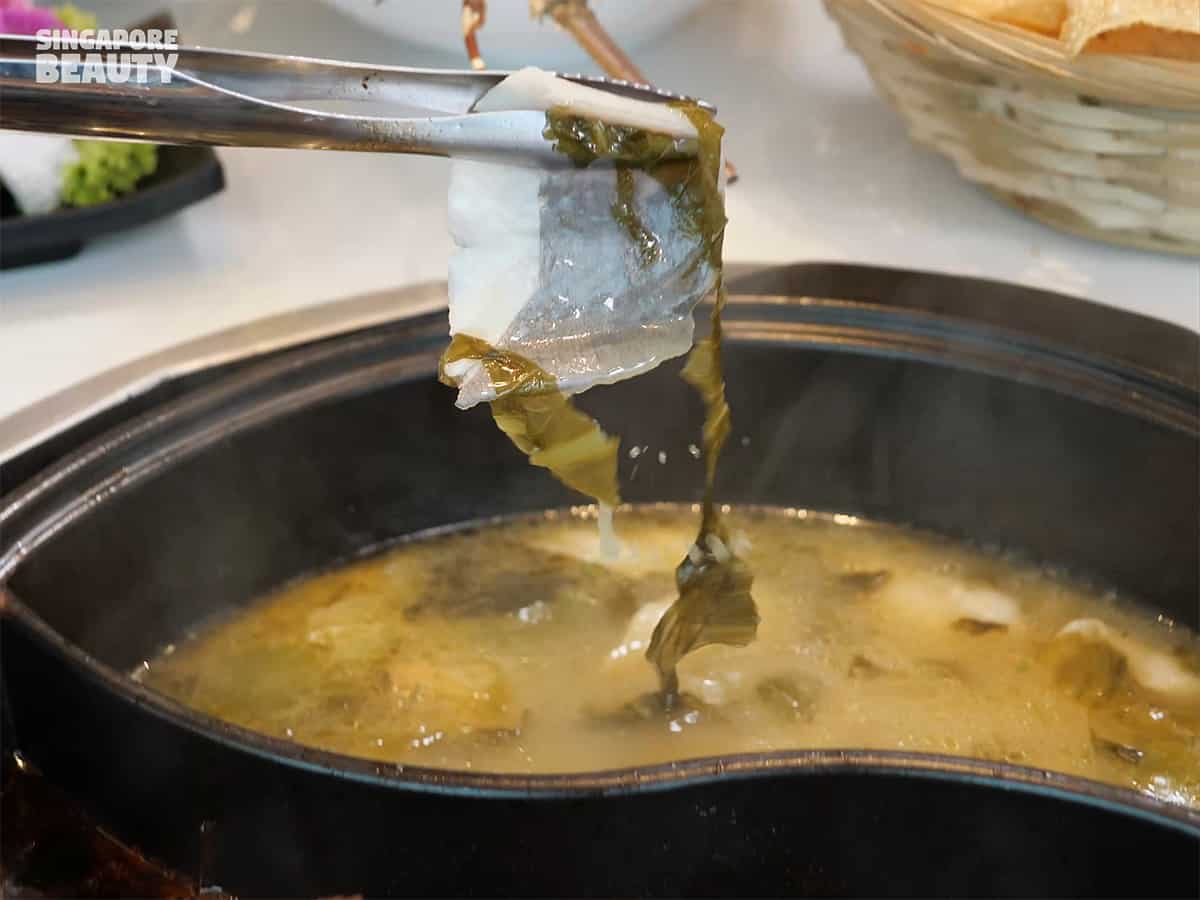 Sour vegetables soup comes with dory fish chunks in some sour and spicy soup base. The freshly fillet Chinese sliver pomfret ($39) pairs well with the soup base. The pomfret is served plated butterflied and deboned atop an icy hill to keep the flesh of the fish fresh and a bouncy bite when cooked in the hot soup. The sour tang of the soup base goes well with the delicate pomfret fillet with a melt in mouth texture.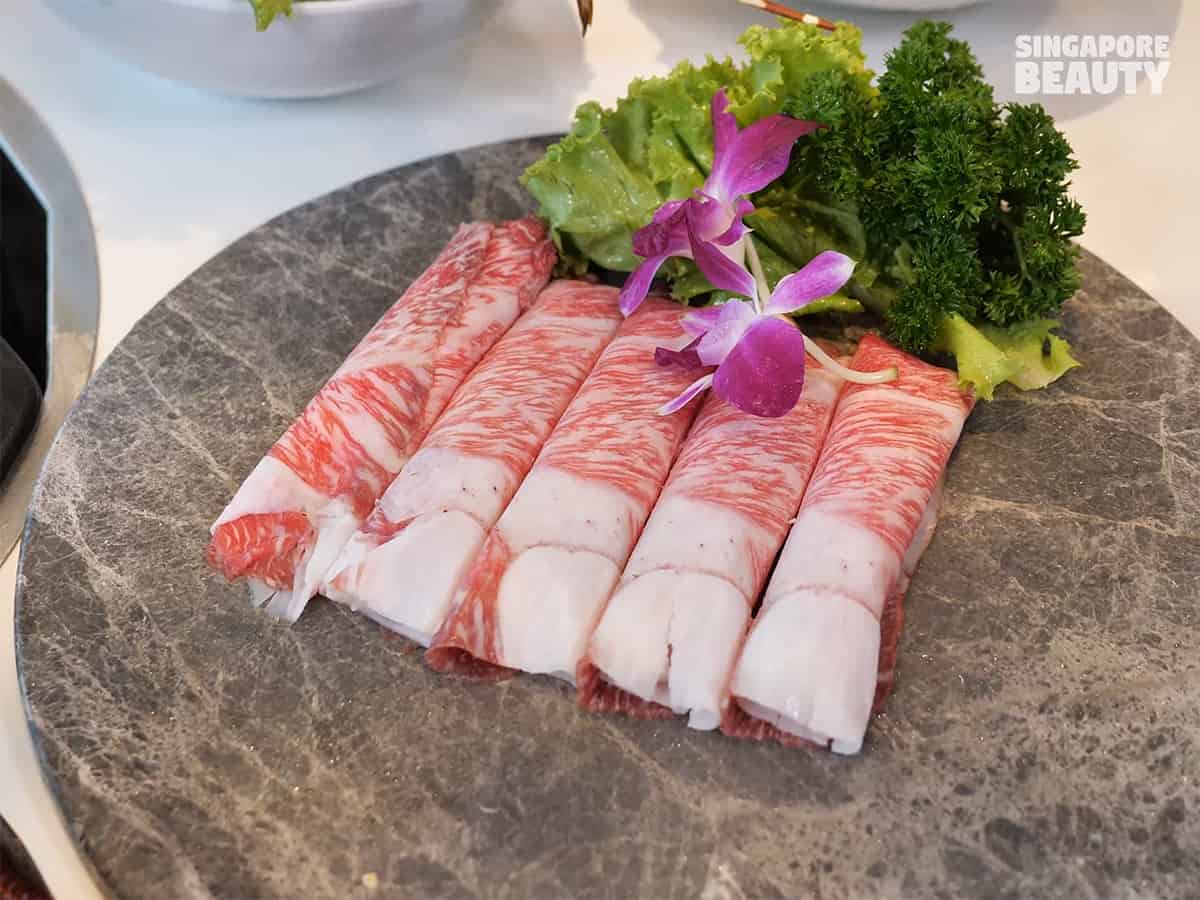 The hotpot ingredients also includes premium Japanese Wagyu chuck ($67.90), round($24.90), US beef ribeye($19.90), short plate($12), marinated beef($10.90), iberico pork collar($9.90), liver($3.90), belly ($6.90), collar, homemade meat balls($4.90), mushroom meatballs, Taiwan sausages ($3.50) and selected portions of chicken(from $6).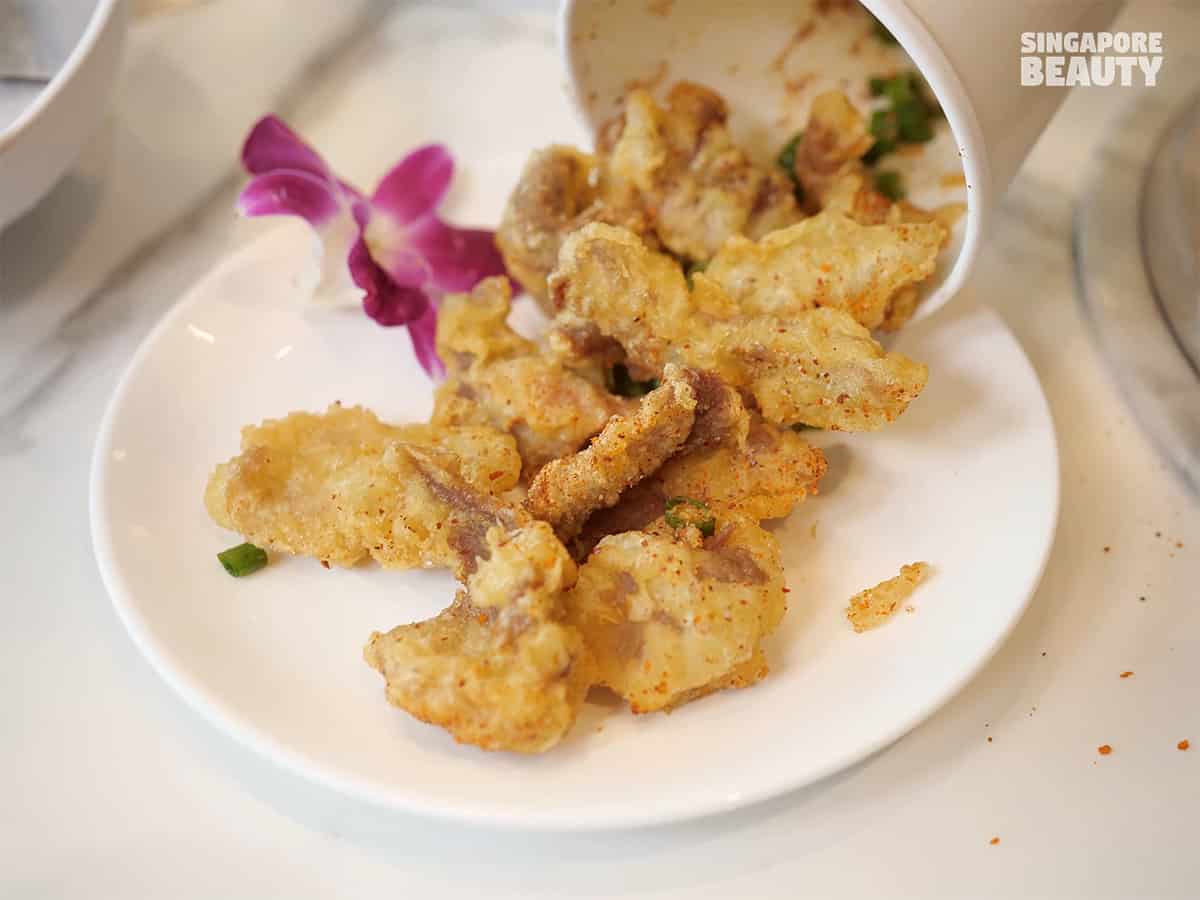 While hotpotting, you can add on the appetizers such as Prawn Pizza ($9.90), Deep Fried Pork Collar ($7.90), carbs such as oyster omelette (orh luak) ($10.90), XO carrot cake ($10.90), egg fried rice ($3) and more. The pork collar is coated with a thin crispy crust and seasoned with a mixture of salt peppercorn, chilli powder and more. This is served in a tub with a lid, you shake the tub to coat the crispy bites with a saline kick. Crispy crust with an umami tender chew of the pork collar is addictive and fun to eat.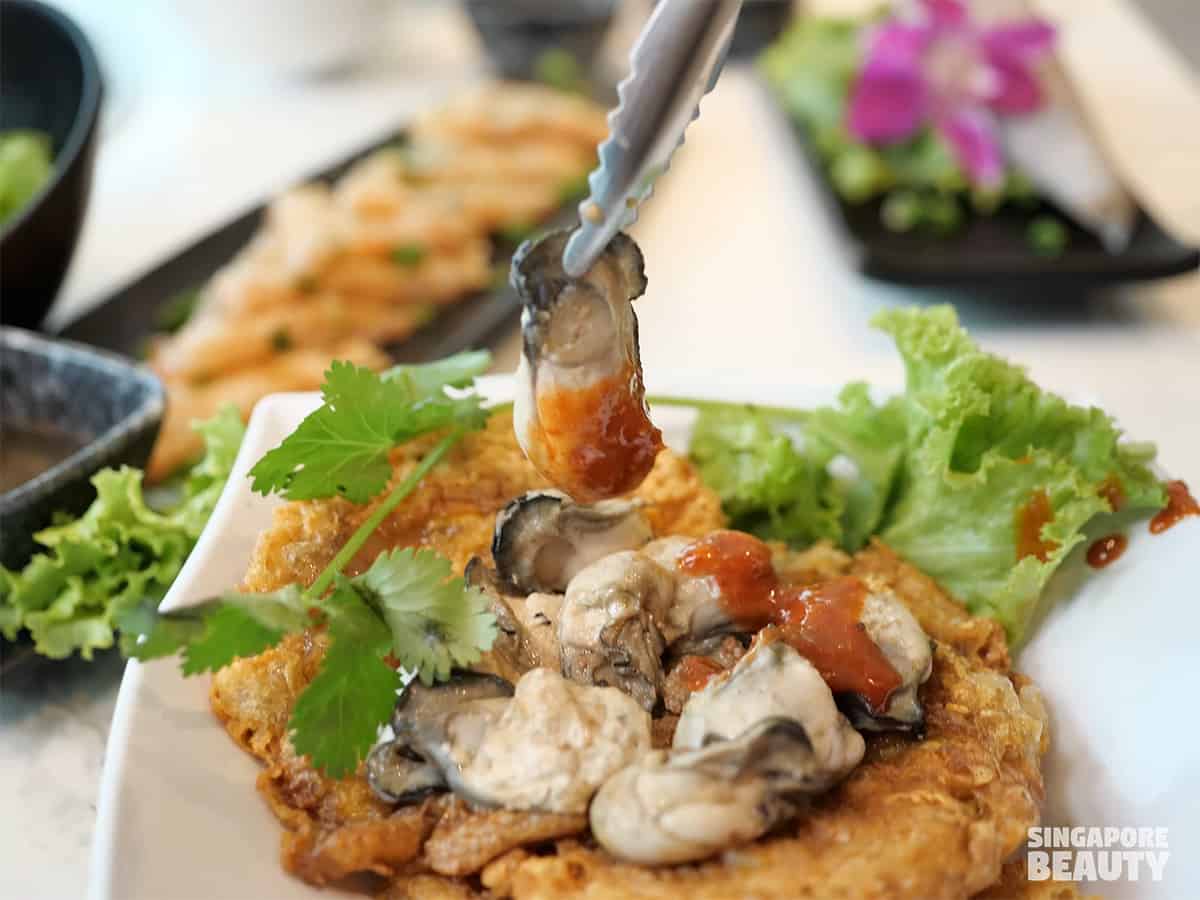 Oyster omelette (orh luak) is served atop a superbly fluffy Thai style omelette. The omelette is fried till the edges are all crisp up with a soft airy centre. The lightness of the fried egg is heightened by the smoothing and creamy oysters that are just laid atop with a stalk of coriander. Drizzle some of the pairing chilli dip over it for an extra tang.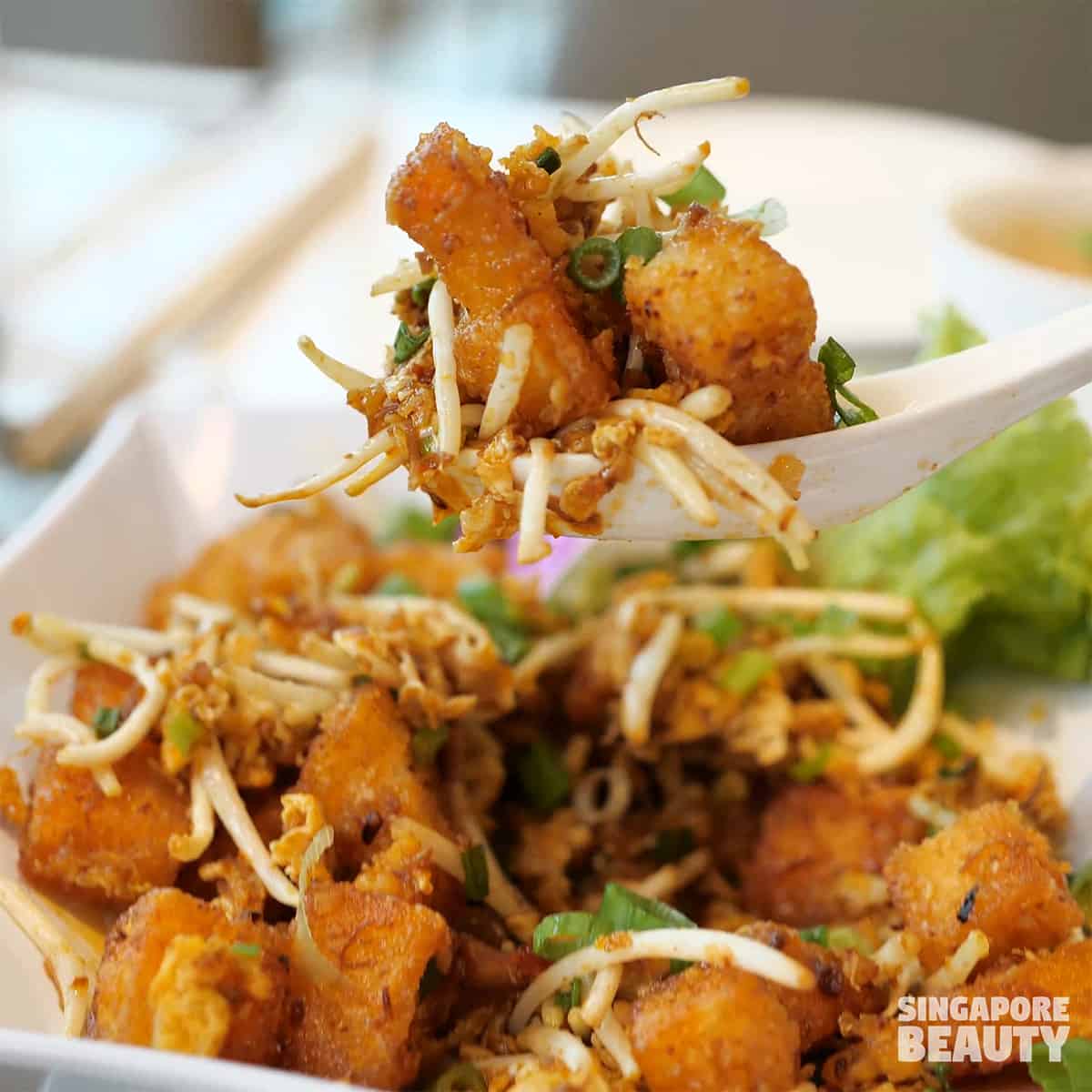 XO Carrot cake is morsel of bite size carrot cake cubes that are deep fried with an elastic crust and a soft melty centre. The bean sprout adds some refreshing crunch to the dish. Both the carrot cake and bean sprout are unified by a light coat of mildly savoury spicy XO sauce. The XO sauce – undertones of oceanic conpoy with savoury dried shrimps – is delightful with occasional punches of peppery scallions.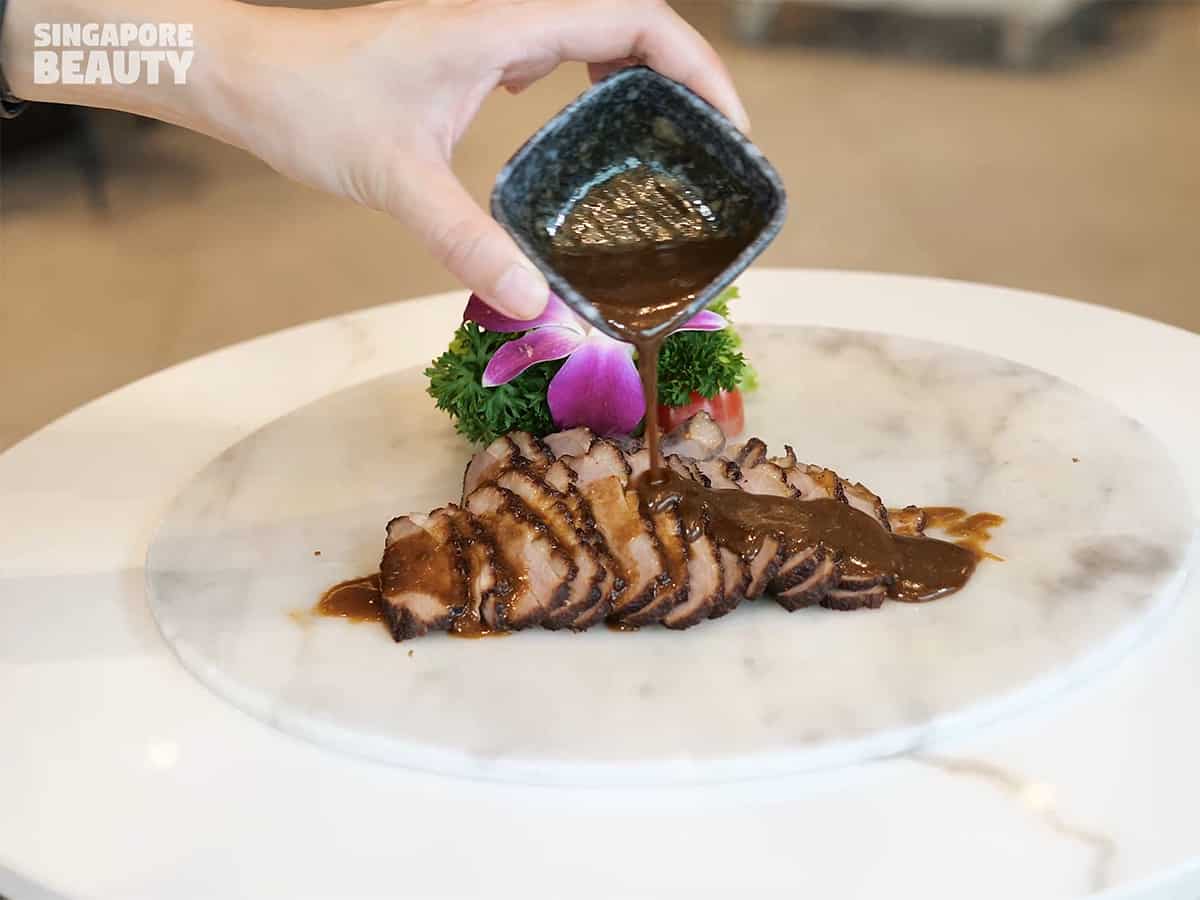 Qi Xiang Hotpot has a special dish on his menu – Smoke Infused Duck Breast Braised in Szechuan Sauce ($22.90) is neatly plated braised duck breast presented in a see through clear dome on a marble plate. The braised duck are tenderised through the process of slow low temperature cooking and braising. The Szechuan sauce adds a sweet and sour glaze to it.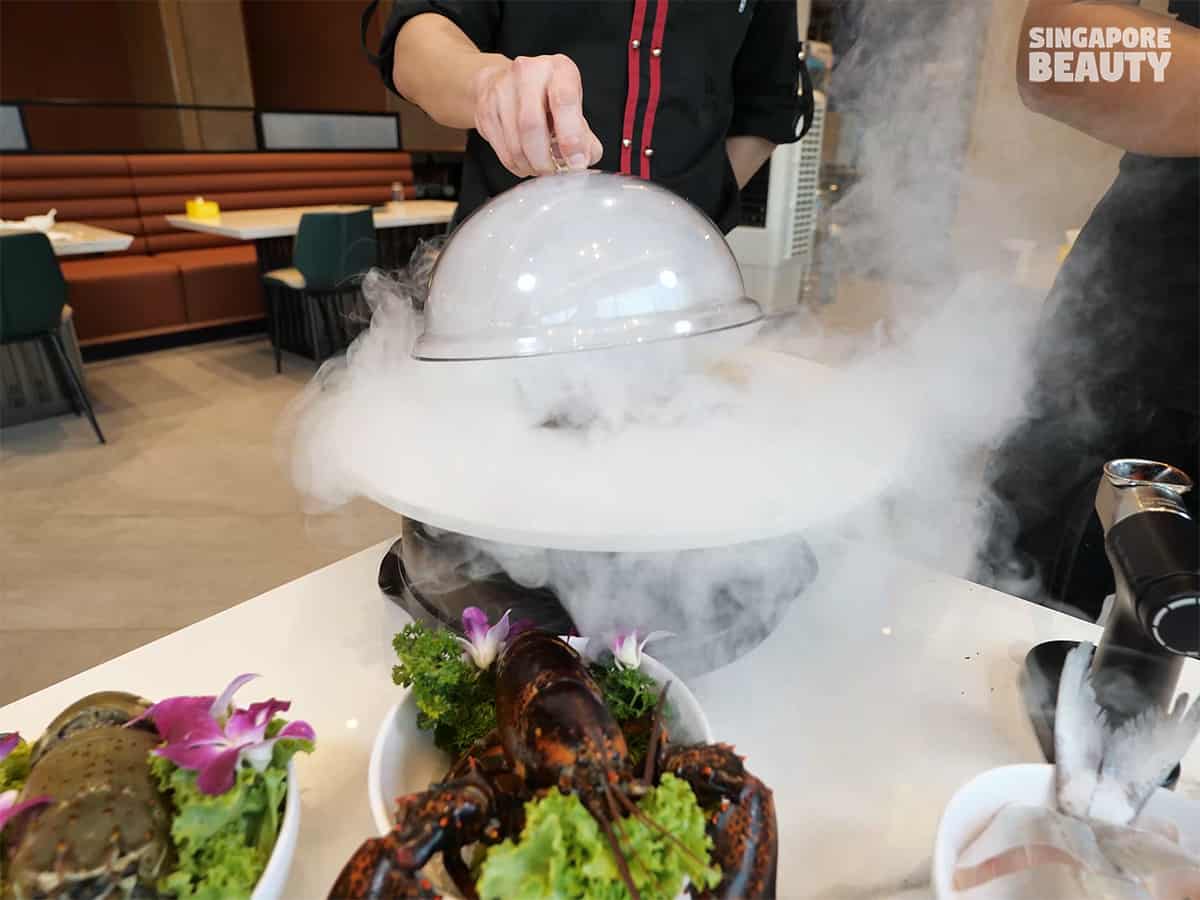 The braised duck meat is sous vide and smoked with wood chips for a smoky aroma. Get your camera ready if you want to record the insta worthy moment when they lift the dome, to release a cloud of aromatic hardwood smoke before you dig in.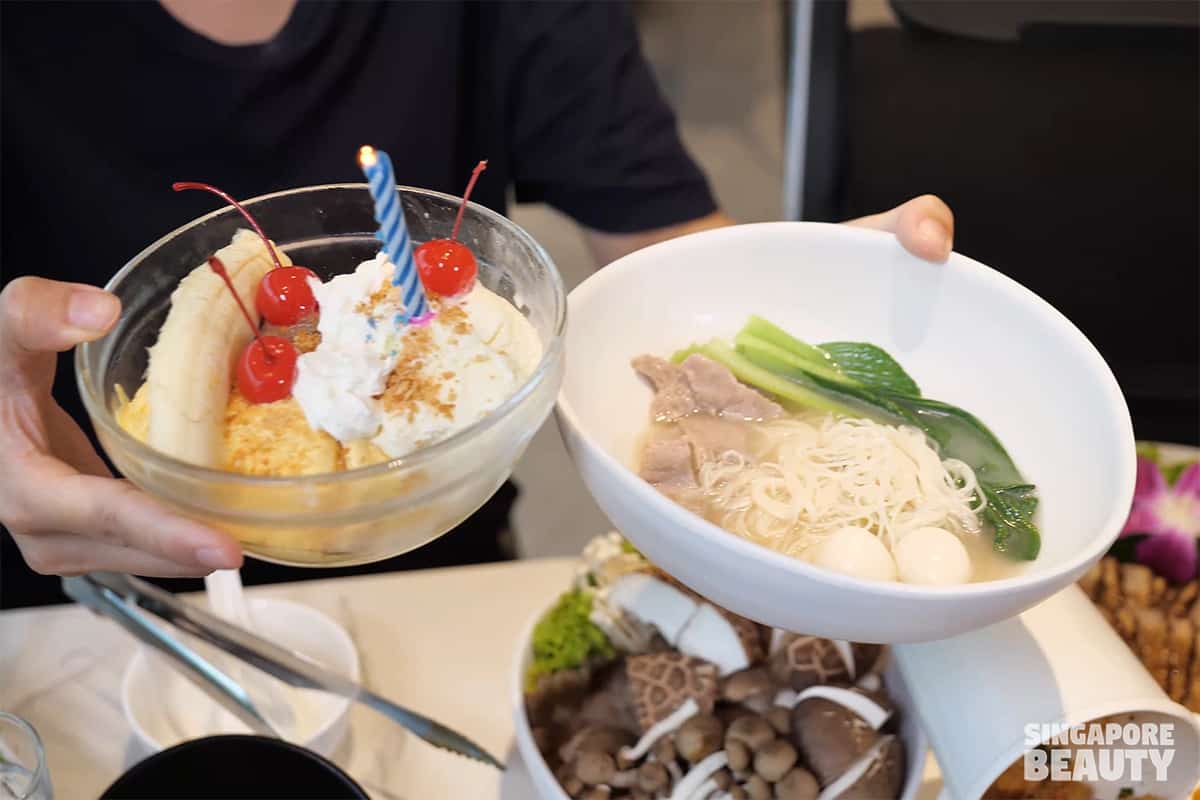 They also have birthday special for those who celebrate their day with Qi Xiang Hotpot. Enjoy a Qi Xiang Banana Boat Ice cream with a cherry top and a bowl of traditional longevity mee suan on the house.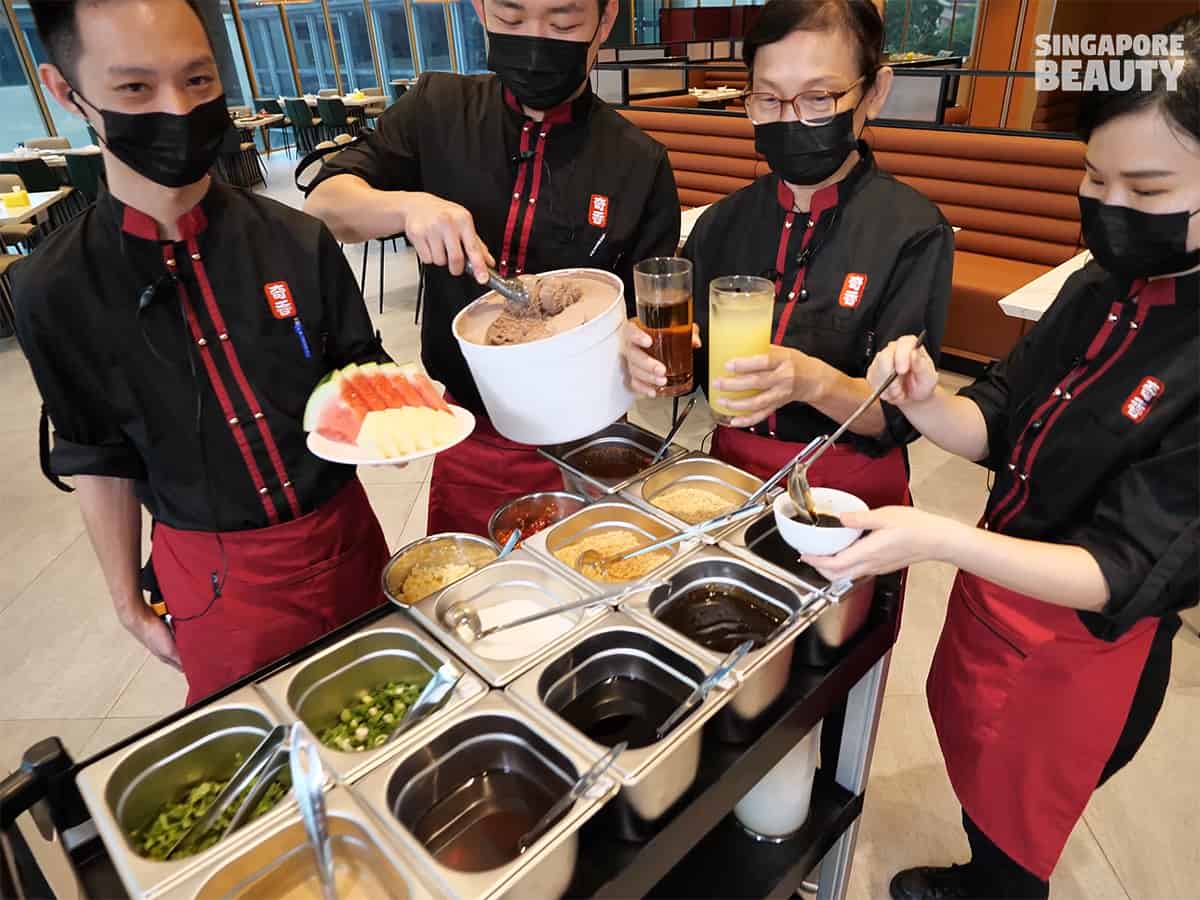 Add on $5 per pax for unlimited drinks such as Chinese tea, lime juice, fruits, ice cream and condiments. The condiments trolley will be doing a table service with up to 15 types of sauce to choose from.
Do get some of their signature homemade chilli sauce to go with your meats and seafood as they are known to pack a spicy punch. Besides that, if you order some of the seafood such as tiger prawns, deshelling service is provided. They also have the prawn pizza which is prawn paste and chopped prawns sandwiched between two thin layers of beancurd skin and fried to a crisp. The prawns paste is also recommended where the waitress will assist to pipe the shrimp paste into the hotpot to create bouncy sausages of prawn cake. For prawn lovers, you will be spoilt for choice at Qi Xiang Hotpot.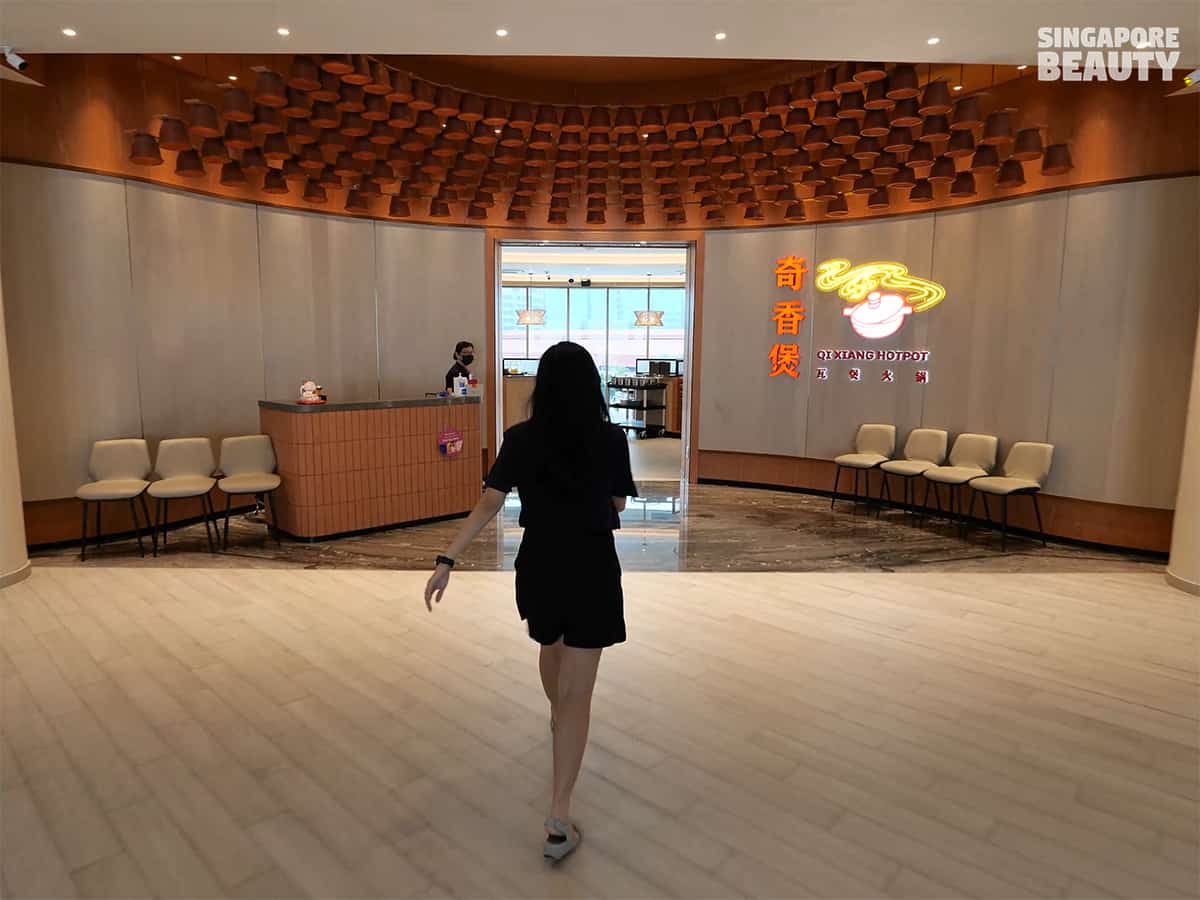 They are currently having a 2-5 pax promotion with up to 50 % off (for 5 pax and above) dine in bills from 11am-4pm, 11 pm -3am daily until further notice 31 Dec 2021. This promotion excludes drinks and soup bases. See you soon at Qi Xiang Hotpot – new flagship restaurant supper spot in Jurong – with his popular chicken steamboat.
QiXiang Hotpot
Promo for Off peak hours only till 31 Dec 2021
11am – 4pm (daily)
11pm-3am (friday, Saturday and Eve of PH)
Eligibility for promo base on arrival time of customer
2pax – 20% discount
3pax – 30% discount
4pax – 40% discount
5pax – 50% discount
*discount on all items except for soup base and drinks.
Complimentary banana boat ice cream & noodles to state birthday during booking
Address of QiXiang Hotpot :
48 Boon Lay Way #03-06
The Chevrons, Singapore 609961
Opening Hours :
Fri, Sat & Eve of PH – 11am to 3am (last order 2.15am)
Sun to Thurs – 11am to 11pm (last order 10.15pm)
Due to the pandemic, operating hours are subject to changes, do call to confirm.
For reservations call : 6908 4333
Brought to you by Qi Xiang Hotpot