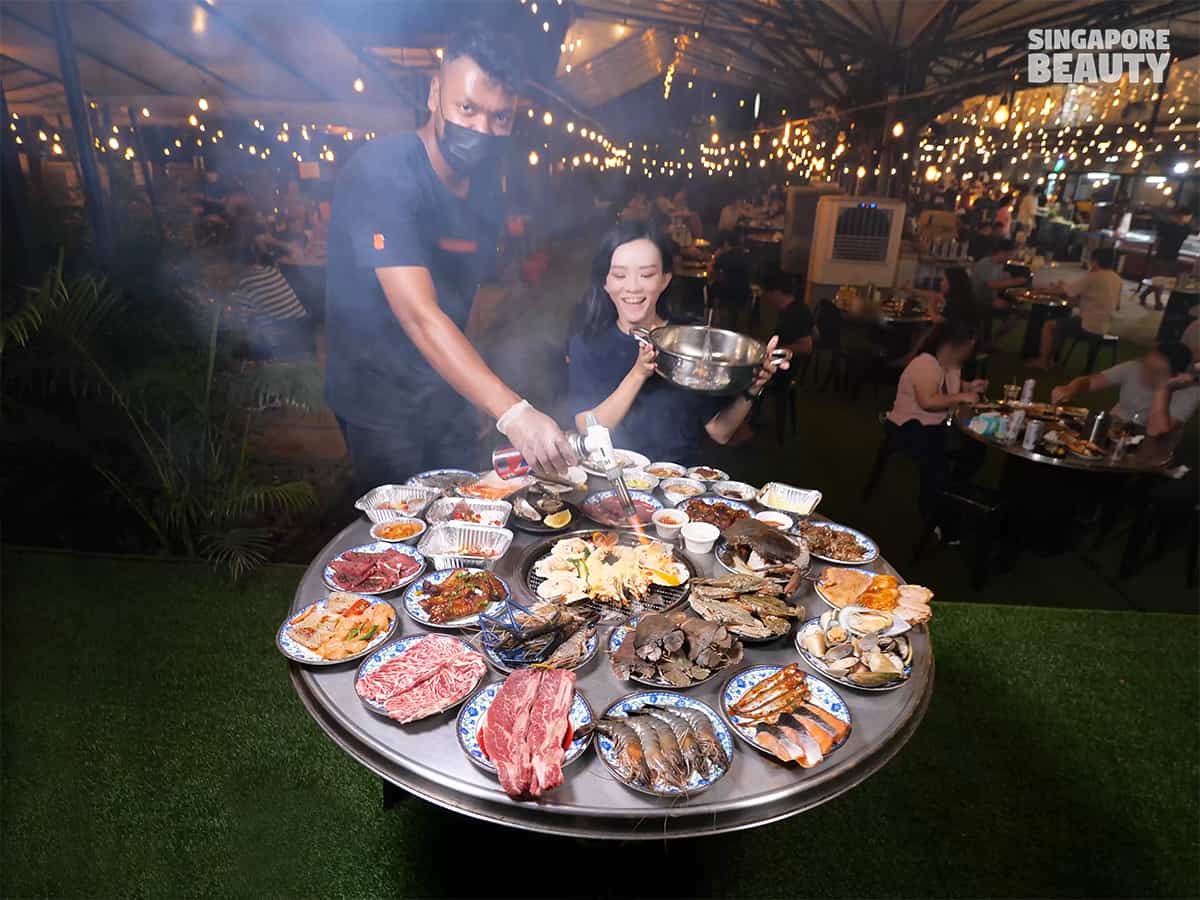 The Three Peacocks has added a hotpot option to their popular BBQ seafood buffet. Now you can get the best of both worlds at The Three Peacocks. You get to enjoy some piping hot food from the hotpot and smoky flavours from the barbecue stove. This is great news for those who always wanted to hotpot the wide variety of seafood instead of barbecuing them. You can enjoy the freshness and oceanic flavours of the seafood with this hotpot option.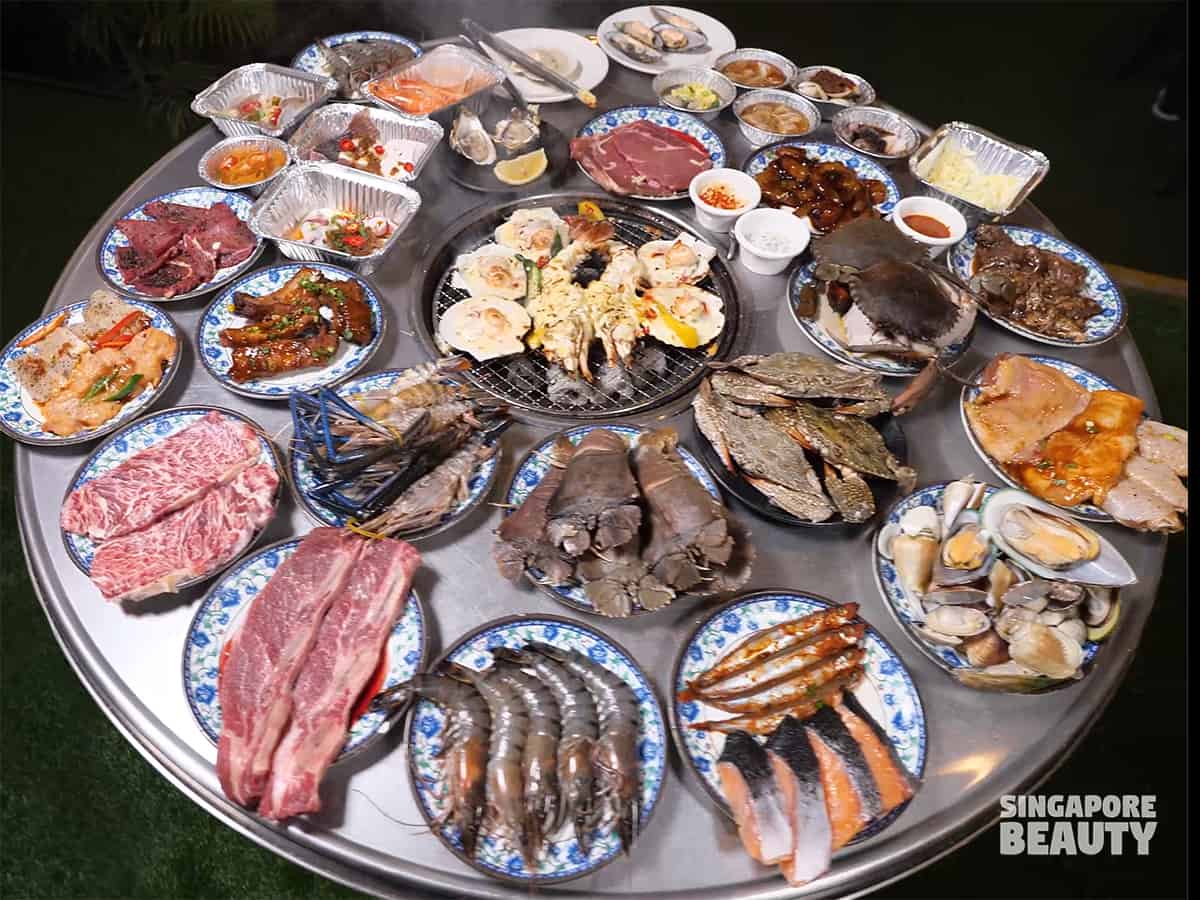 The Three Peacocks at Labrador park has added a new Grocer & Gourmet section into their existing menu. You can find premium cuts of steak, marinated seafood such as shishamo, Pollock, Dory and salmon in large cuts. The palm size steak, ribeye, long slabs of bone in short ribs and beef tenders are the must-try in this section for barbecue lovers. The Three Peacocks is also famous for the signature marinated seafood in their house made sauce such as lemon garlic, The Three Peacocks sauce, black pepper, teriyaki and BBQ sauce. They have added 3 new sauce to their condiments selection – sambal, satay and kecap manis – that is great for barbecuing.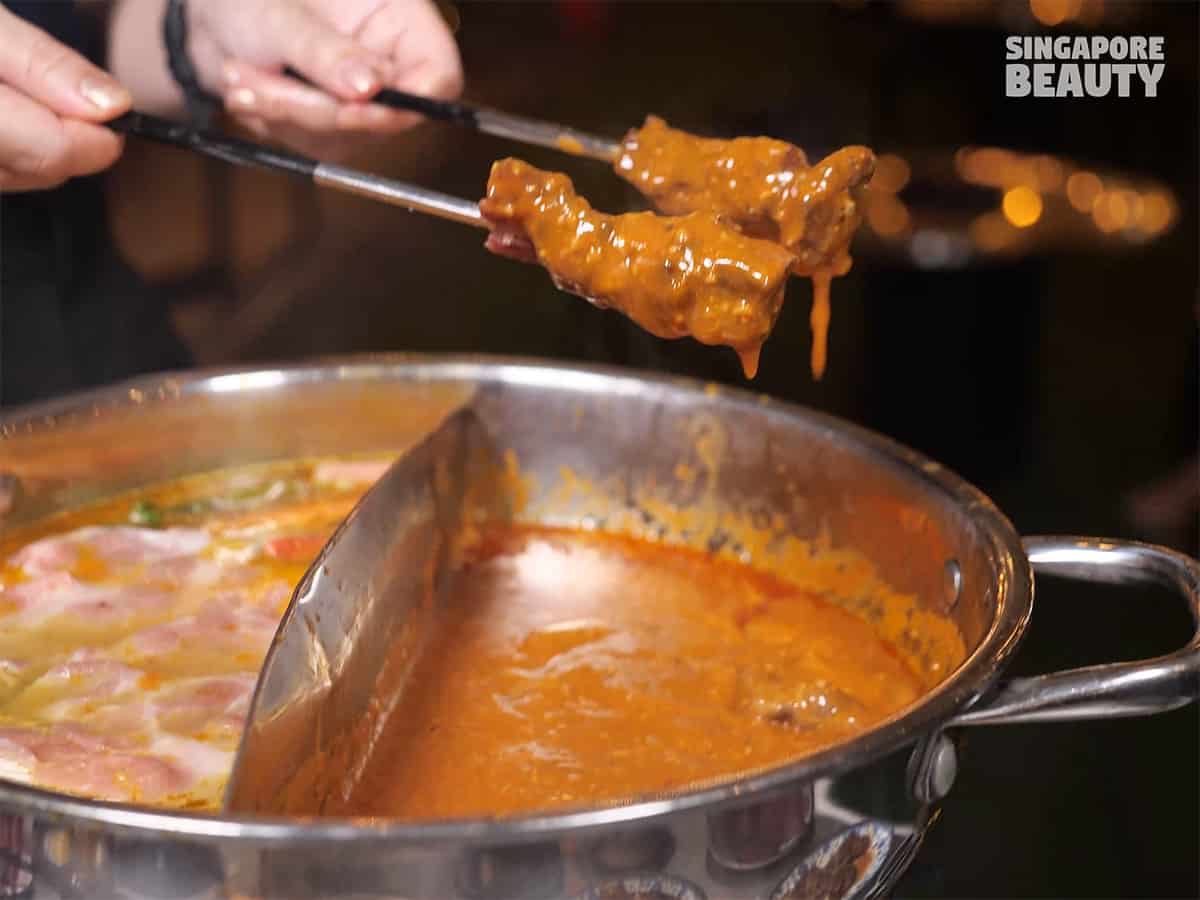 The Three Peacocks bbq buffet price starts from $30++ for children and from $45.50 for adults with special promotion till 9 Dec 2021.There is a hotpot option with a top up of $10 ++ for week days and $20 ++ for weekends per table. The soup bases available for now are sukiyaki and satay sauce with recipe from their Malaysian chef. The sukiyaki soup is great for the shabu shabu meat such as black pork and wagyu. The light sukiyaki soup base and the satay sauce which is thicker in consistency seem to pair well together. For those missing the Malaysian style satay sauce hotpot, you can get your craving fixed here.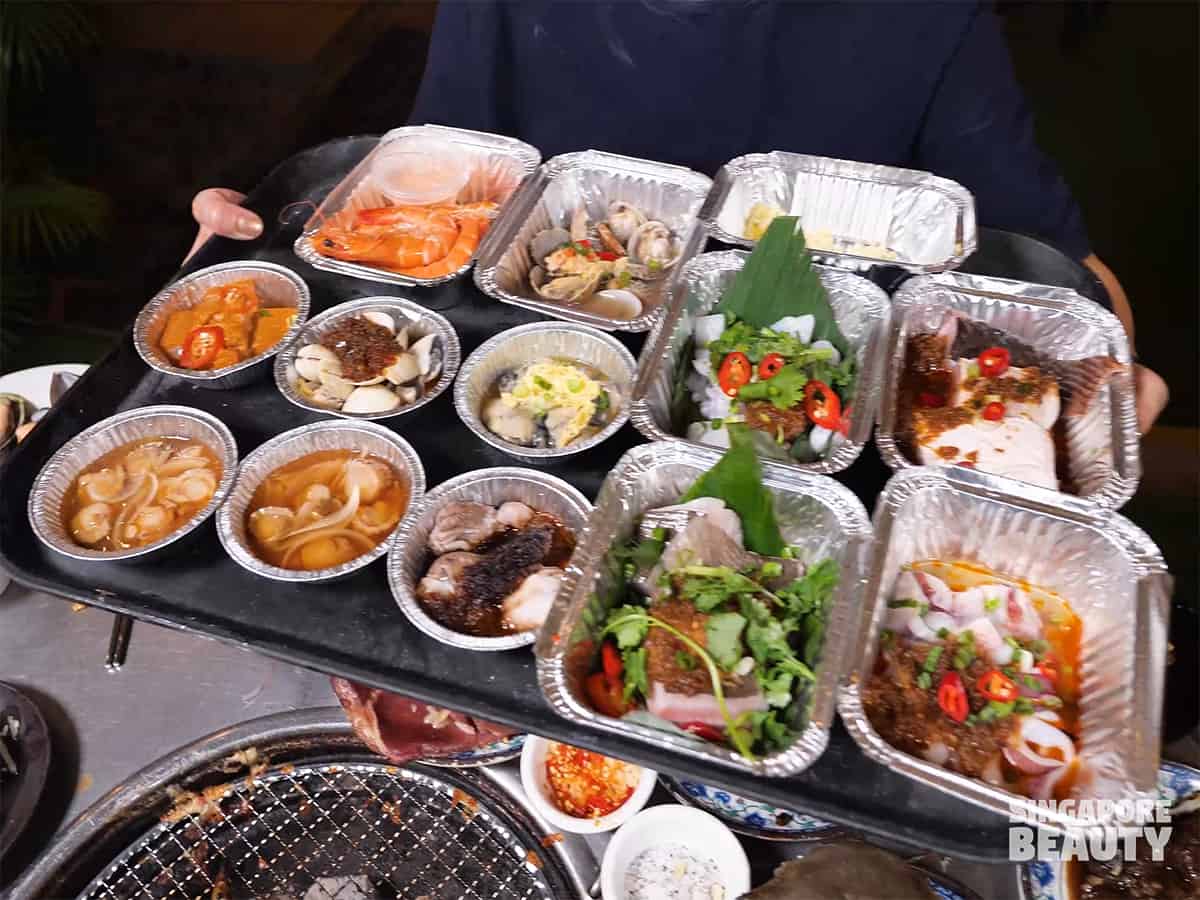 The Three Peacocks has also expanded their signature seafood boats to more than 13 varieties. Based on some reviews on The Three Peacocks, this is one of the popular items in this bbq buffet. These are designed to be on a rational basis based on the freshest seafood that is brought in that day. The regular dishes are stingray on banana leaves, sambal sotong, garlic butter oyster meat, sukiyaki hotate, clams, Muah otah, cooked vannamei prawns and more.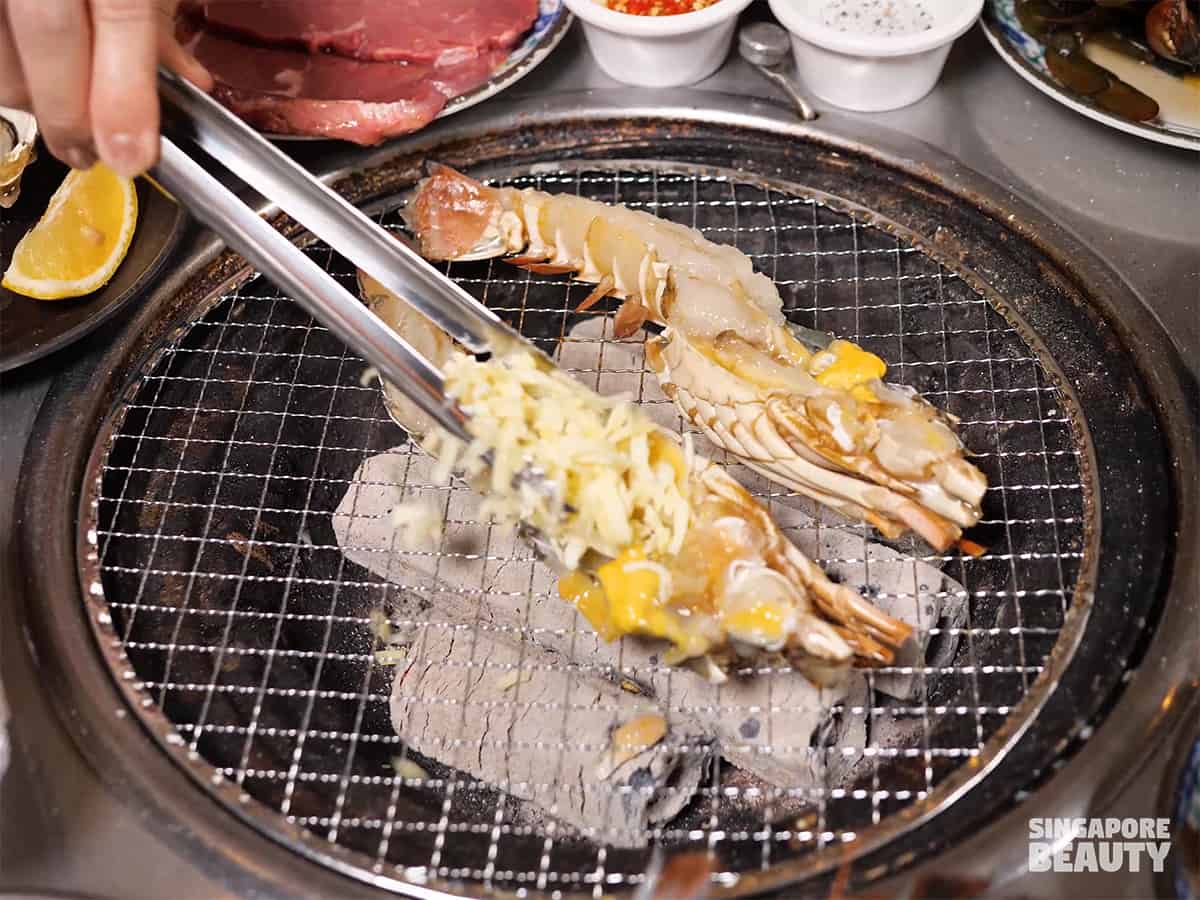 You get to redeem half a lobster of the day too in this buffet. The lobster of the day offered is either rock lobster or Boston lobster. You can zhng the lobster with the variety of condiments available at the sauce mixing station. The sauces available are cheese toppings, garlic butter, black pepper and even sambal. We like our lobster grilled with cheese corn for the sweet and melty flavour.
The Three Peacocks also have their hacks! Topped your scallops and lobster with cheese and they are not melting fast enough? Grab the right guy and he will assist to melt your cheese with a torch gun. Are you ready for some hot bubbling seafood with cheese pull? Sit back and relax while you watch the sparks fly!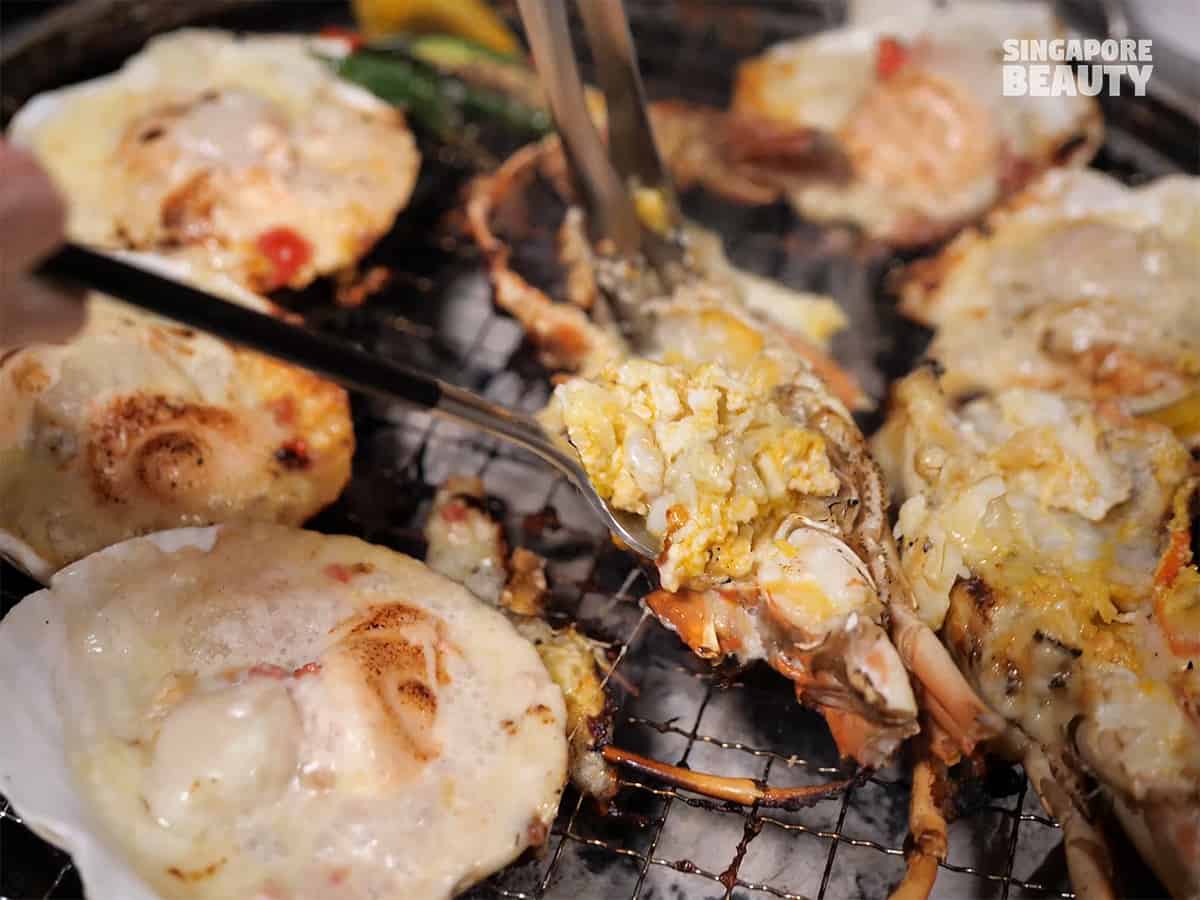 Here's how the torched scallops topped with cheese and corn looks like after the torching. The cheese has formed a cheese blanket over the plump scallop meat, still bubbling on the hot red charcoal stove. Get the tomalley from the lobster to spread on the scallop for some extra buttery rich texture. The texture of these barbecued and torched tomalley are the perfect balance of smokiness and intensity like caviar.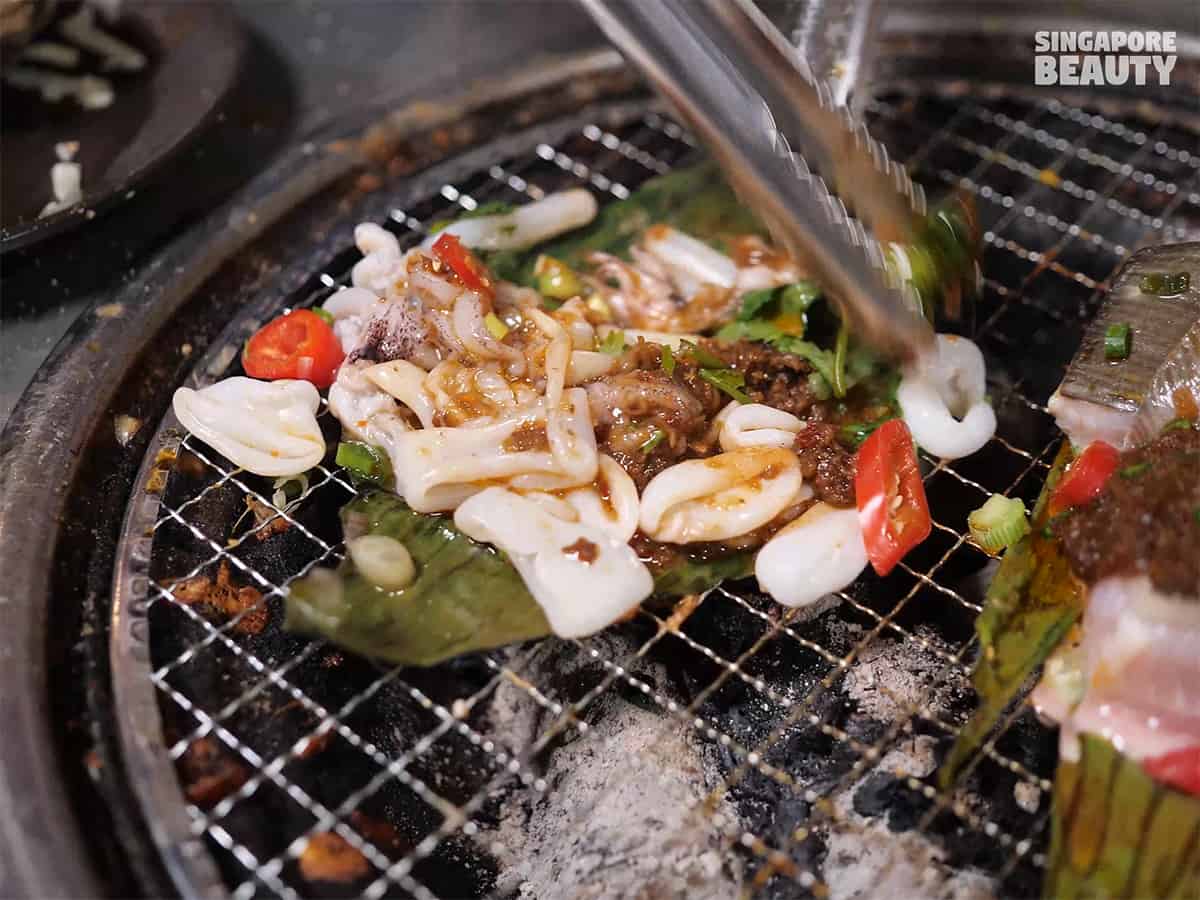 This is one of the seafood boat selections – sambal squid on banana leaf. Grill these succulent squid on the banana leaf around the edge of the charcoal stove. The banana leaf has a nice toasty aroma that is imparted to the squid while grilling. By creating a separation between the squid and the red hot coal, the resulting squid is more savoury in term of the sambal flavours. It also keeps the flesh soft and tender. Use the aluminium boat to cover them to create a mini convectional oven like environment for more even cooking and to lock in all the smoky flavours.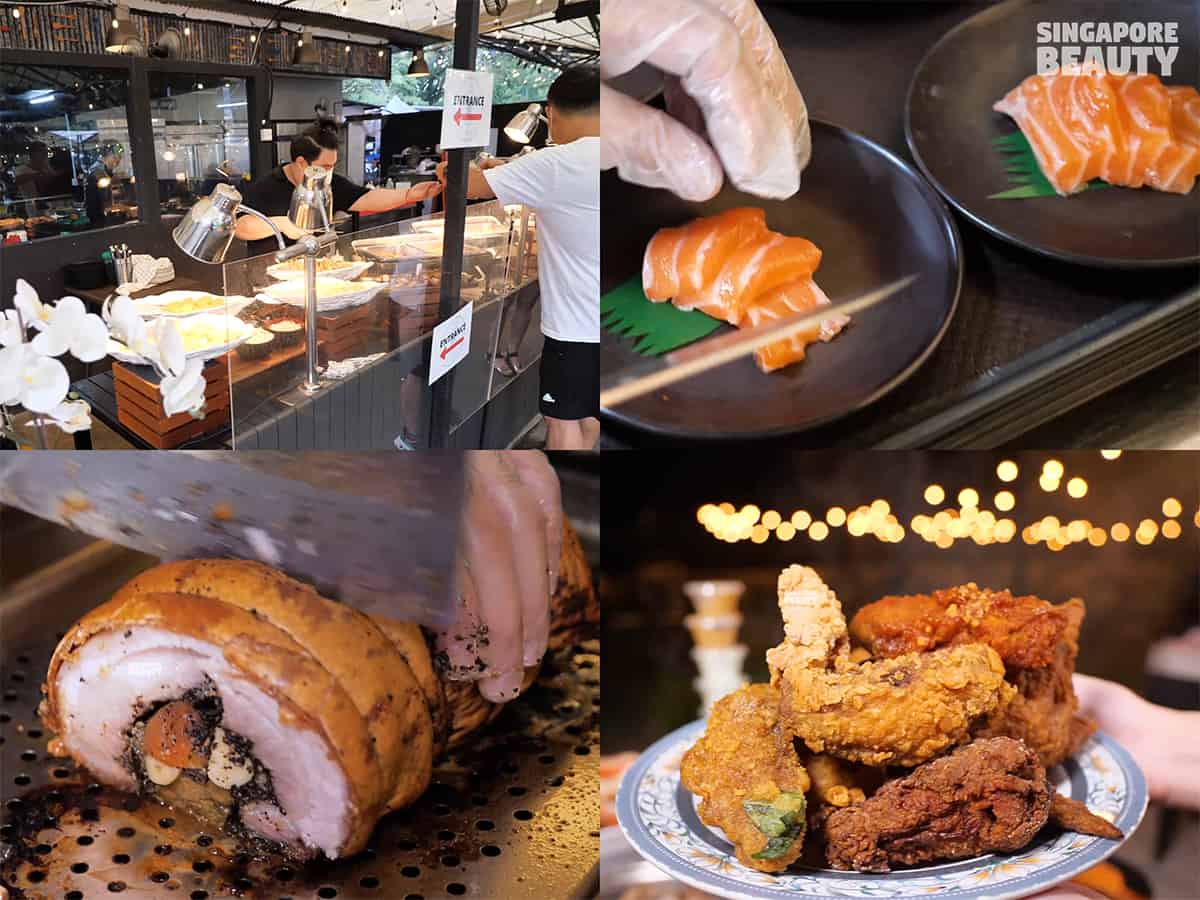 While waiting for the barbecue food to be ready on your table stove, you can whisk over to the hot station where all the cooked food are served hotel style from a 3m long international buffet spread. Here you can get some ready to eat food such as sambal fried rice, Hong Kong fried noodle, Korean fried wings, American pizza, Spanish Lechon, Japanese Sashimi and some Mexican finger food. You literally never stop eating at The Three Peacocks with so many choices of food available.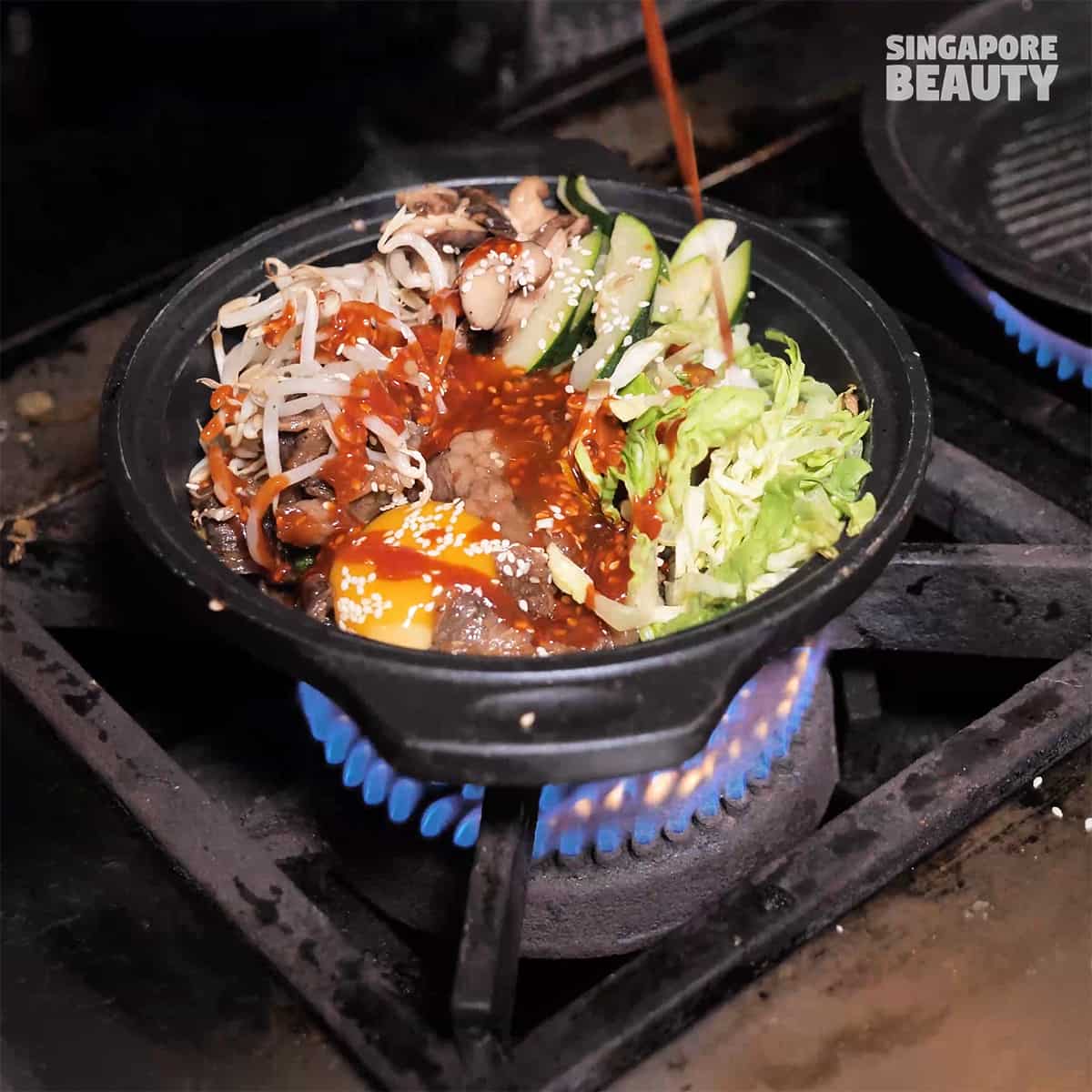 These are the hotplate cook for you dishes that you can order and collect via a food paging system at The Three Peacocks. The types of dishes are varied daily with hot favourites such as Korean bibimbap, Filipino dish sisig, western grilled beef steak and more.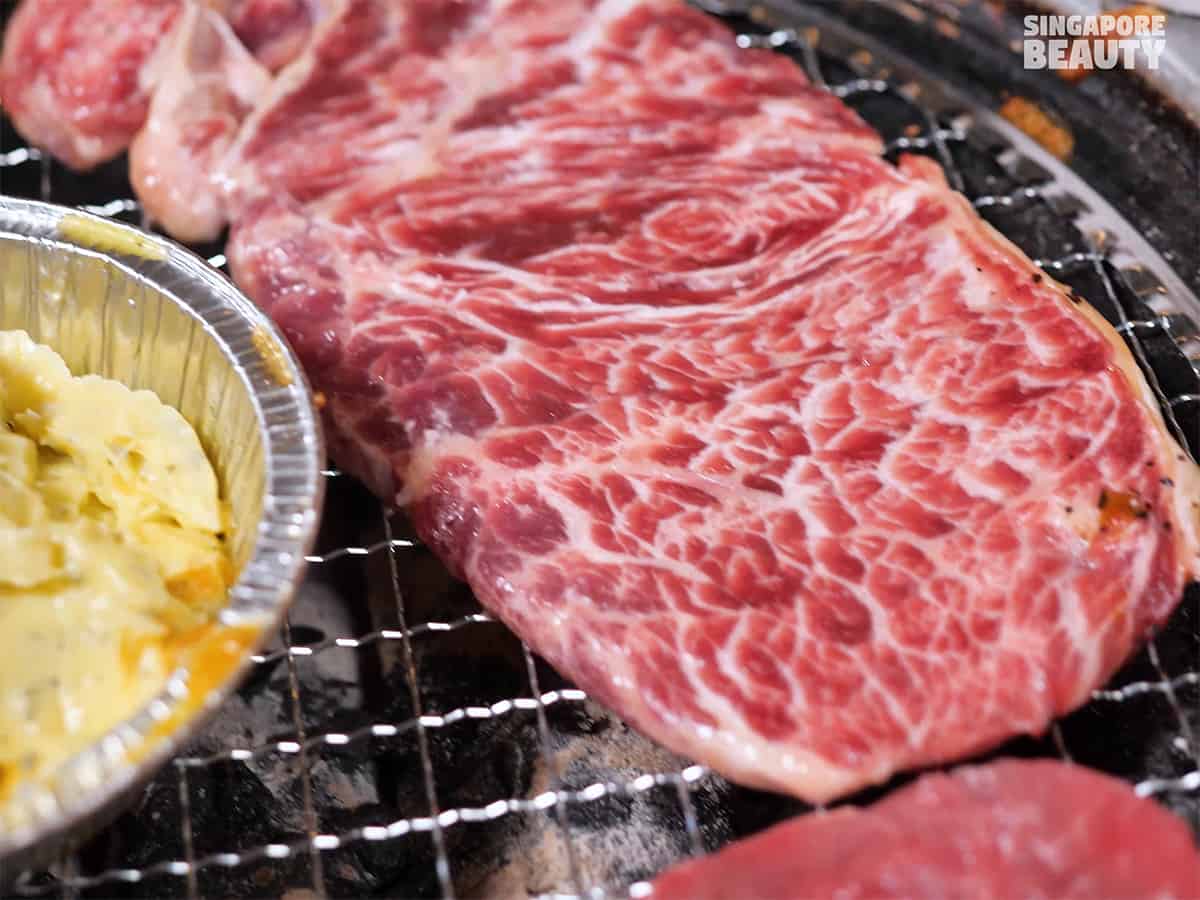 Check out the marbling on these steaks. The marbling on the steak keeps the barbecue steak soft and tender when cooked. The good news is that these steak and wagyu cubes are free flow from the Grocer and Gourmet bar. To best enjoy these, grill them to your preferred doneness with just a pinch of pepper salt. This is a bbq cum steakhouse experience in their lovely outdoor beer garden.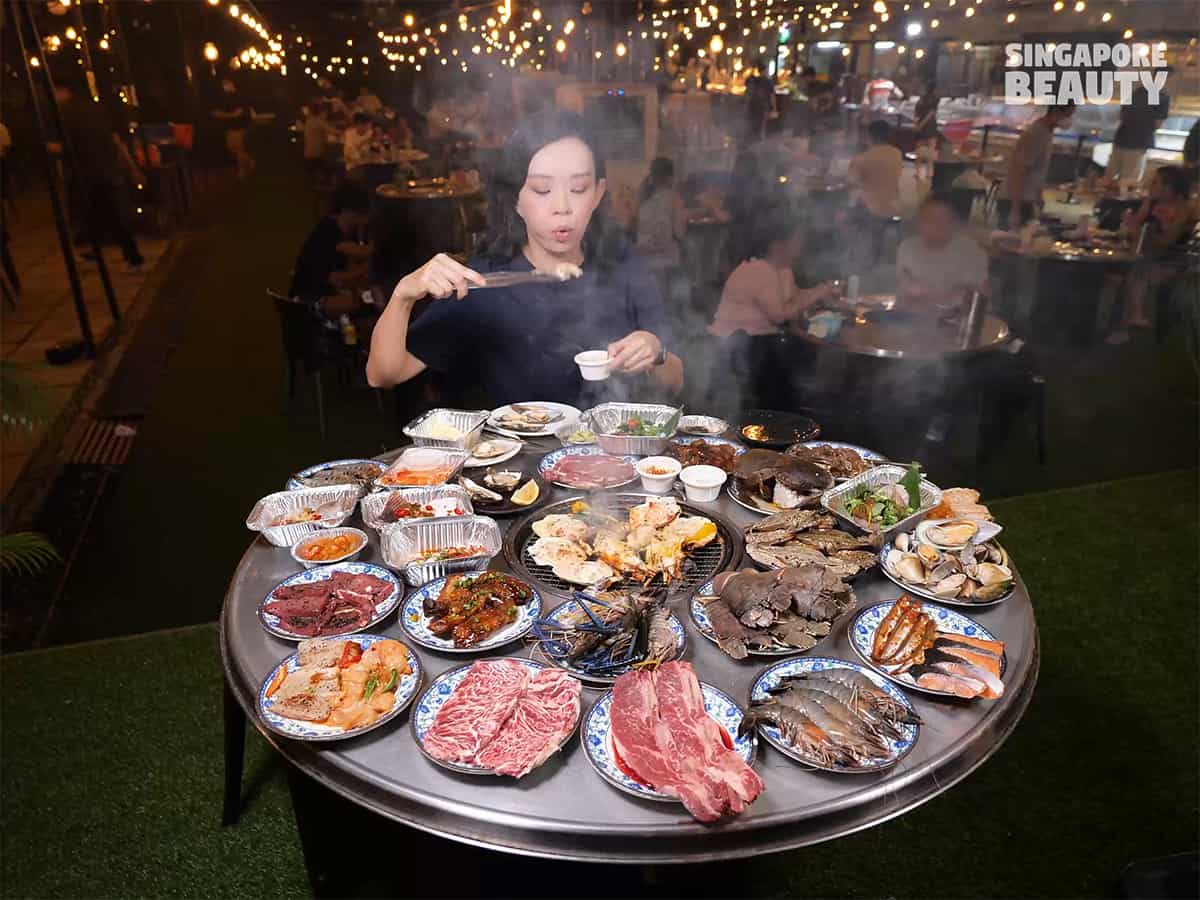 The Three Peacocks is the largest BBQ in Singapore you can find. For those who are new to the location of The Three Peacocks, here's how to go there. You can get a free shuttle bus ride from the Labrador Park MRT Exit A or drive in with free parking. Pictured here is a glimpse of what you are going to find at this buffet, as we are unable to showcase close to 100 items on this table. The range of food from fresh seafood, live seafood, premium cuts of meat, marinated meats, cooked food from their hot station with international buffet spread, appetisers, Japanese sashimi and sushi, seafood boats, unlimited shuck for you live oysters, dispatch live mud crabs and so much more.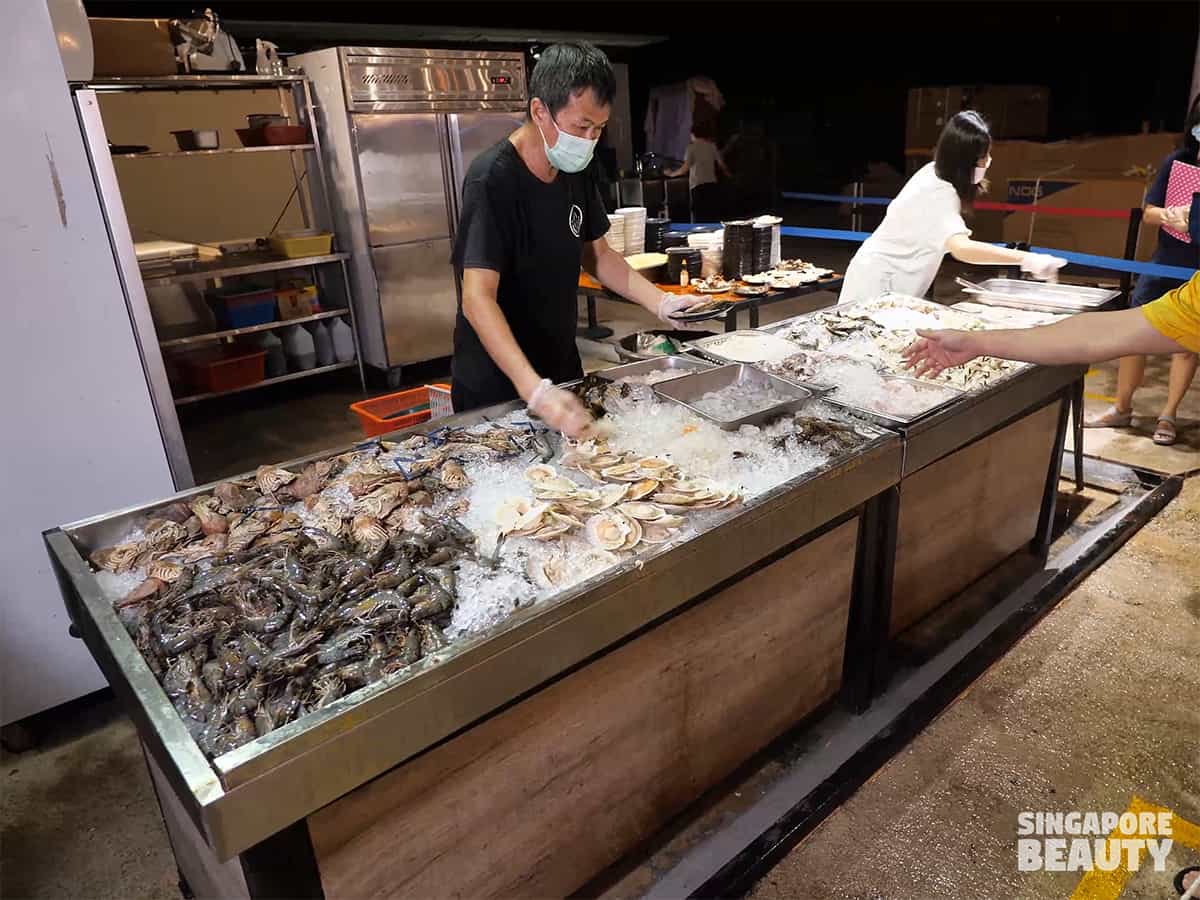 This is the 3 metre long seafood bar with over 15 type of seasonal seafood such as tiger prawns, glass prawns, scallops, giant river prawns, lala, gong gong, Pollock, salmon, slipper lobsters, squid, Pollock, live mud crabs, Japanese live oysters, shishamo and more.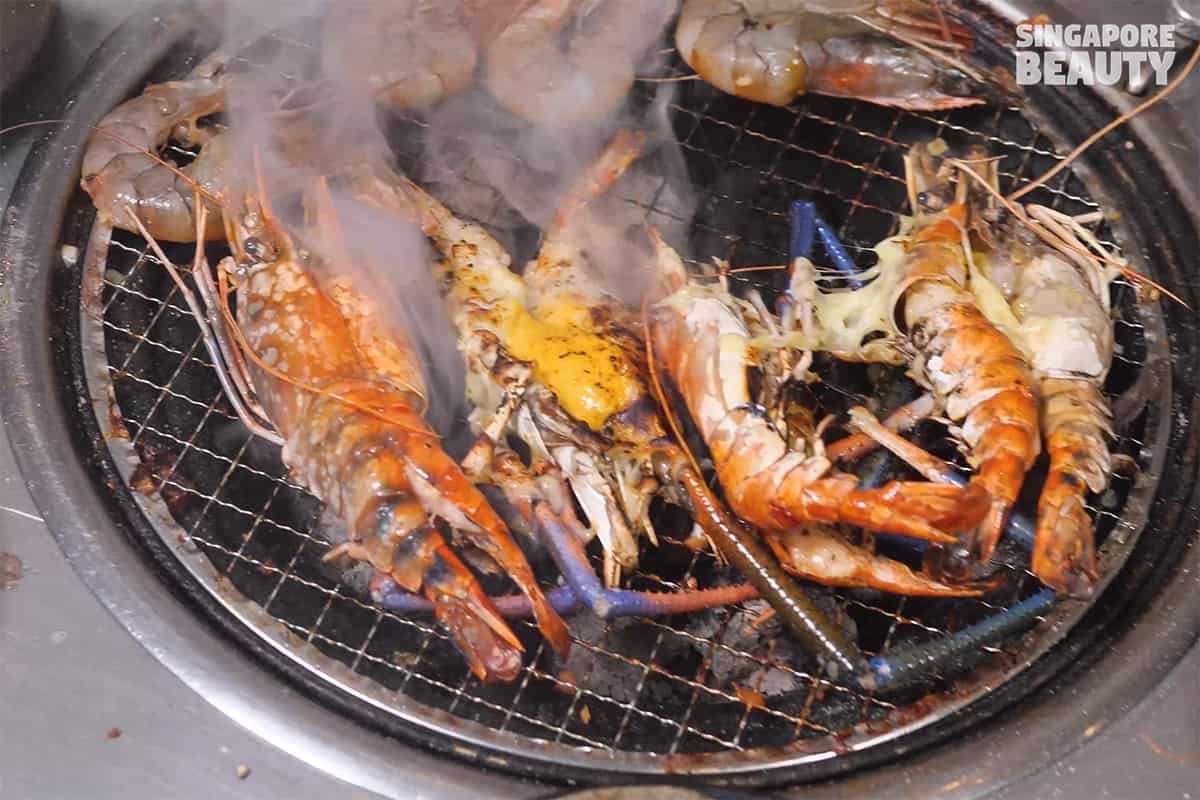 The popular items at this seafood bar are the premium giant river prawns, slipper lobsters, mud crabs with roe that is in season now and freshly shucked oysters. These are giant river prawns grilled with cheese and salt on the charcoal powered stove. The use of charcoal to grill these prawns really brings out the crustacean flavours. Enjoy the head butter of these giant river prawns and with some crunchy flesh.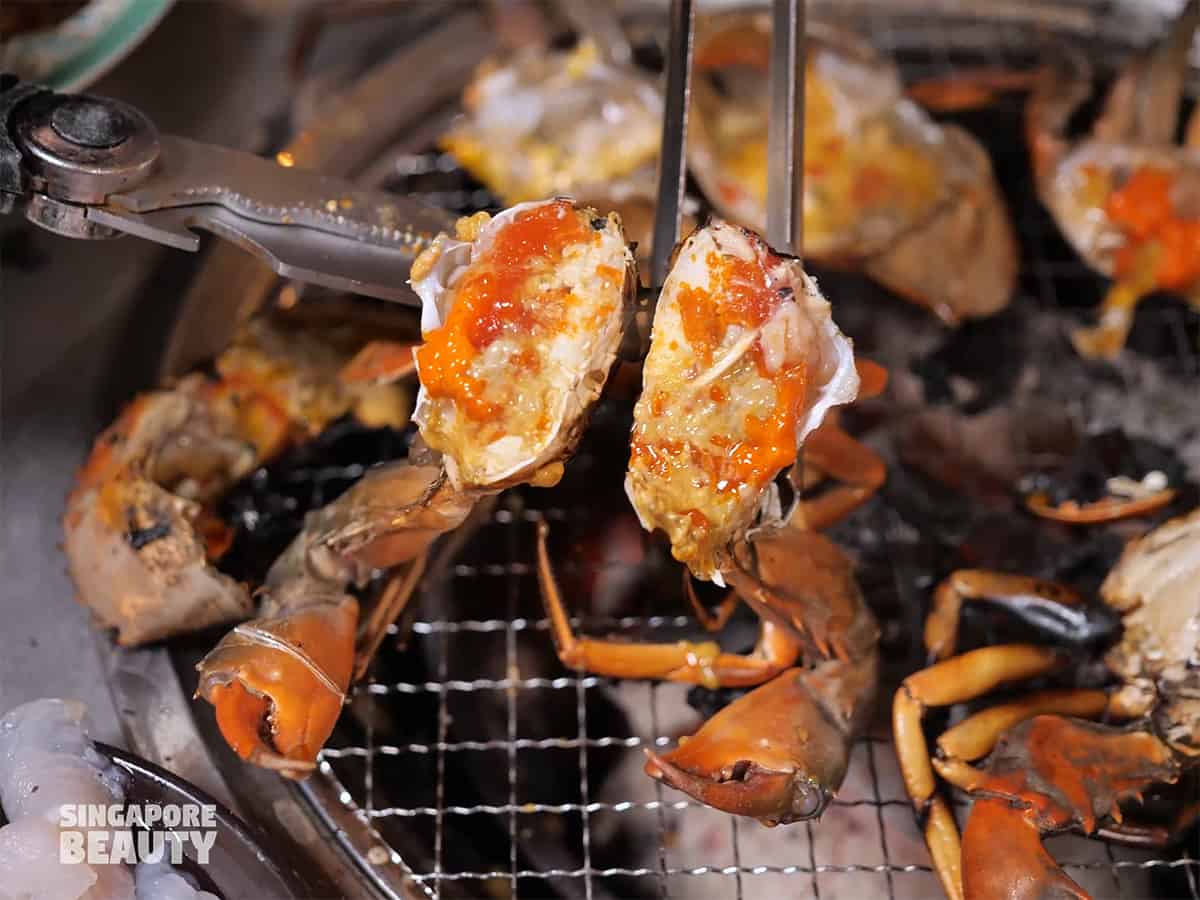 Check out these crab roe. Crab takes a slightly longer time to grill but it is all worth it at the end of the grilling. The sweet chunks of white crab flesh with a slightly saline crab roe that has a rich, fatty and mild gritty texture. These crab lollipops are conveniently dispatched into two halves exposing the meat and roe. This is a bbq buffet with live seafood on its buffet menu.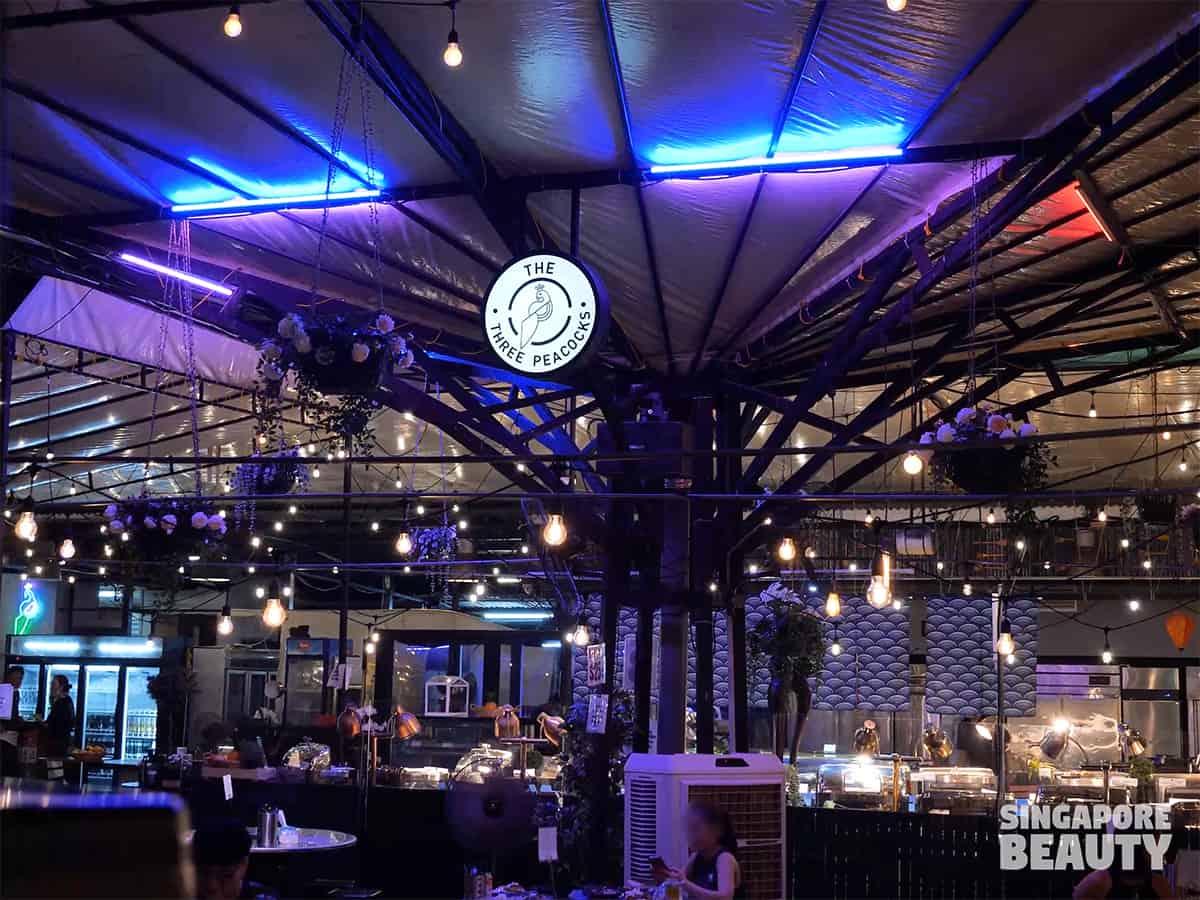 The Three Peacocks being the biggest barbecue buffet in Singapore is now part of the food bucket list for tourist. The atmosphere at The Three Peacocks is festive with its al fresco setting. They also provide free shuttle bus from the nearest Labrador park MRT Exit A to ferry you straight to their door step. If you are ever lost driving in, just give them a call at this number +65 3129 2374. Enjoy some casual no frills joy of barbecuing with real charcoal under a blanket of starry night with gentle seaward wind caressing your face. This place located a stone throw away from the Labrador Park with a sea view. Casual wear is recommended.
The Three Peacocks BBQ Buffet Price
Special Weekday Promo till 9 Dec
(Tues-Thursday)
Adult: $45.50++
Senior: $42.50++
Child (7-12 Years Old): $ 30.00++
Weekday Price
Adult: $50.90++
Senior: $47.50++
Child (7-12 Years Old): $ 33.00++
Weekend Price (Friday to Sunday)
Adult: $55.90++
Senior: $52.50++
Child (7-12 Years Old): $ 38.00++
PH Eve, PH & Festive
Adult: $58.90++
Senior: $55.50++
Child (7-12 Years Old): $41.00++
Dine in time : 2.5 hrs
Add on hotpot per table
Weekday $10 ++
Weekend $20 ++
The Three Peacocks Address :
8 Port Road, Singapore 117540
Free Parking & Shuttle bus
For reservations, pls call :
+65 3129 2374
Brought to you by The Three Peacocks