Yi Zi Wei 6-in-1 hotpot bbq buffet at Geylang is popular for their over the top choices in their buffet. They have bbq, steamboat, mala tang, mala xiang guo, fried skewers and lok lok in this buffet. The following is our Yiziwei review of the bbq and steamboat experience at Geylang outlet.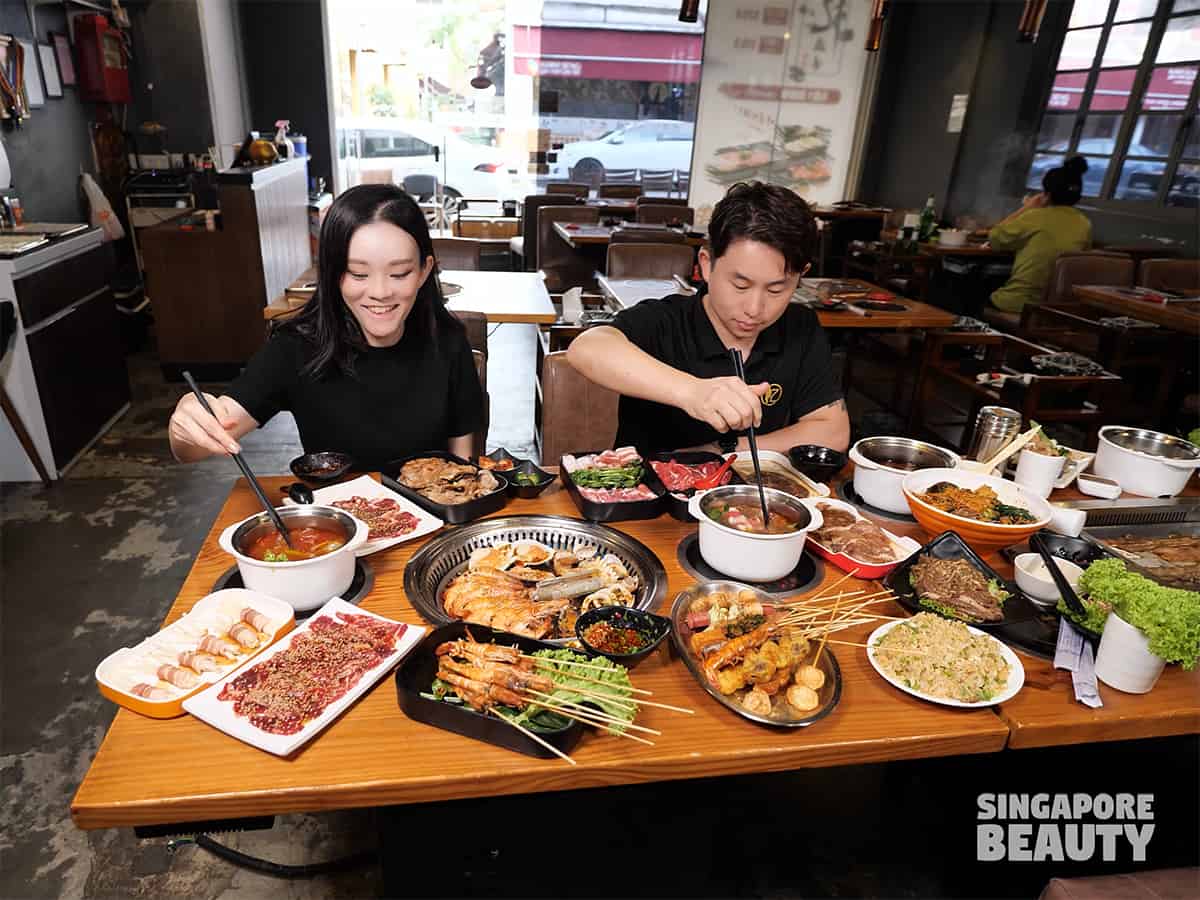 Yi Zi Wei buffet main outlet at Geylang is now having personal hotpot with a large circular or rectangular bbq grill to share. You can enjoy the cooked ingredients slowly in your own single soup pot. The large bbq grill is great for their large cut meat and can grill both seafood and meats at one go.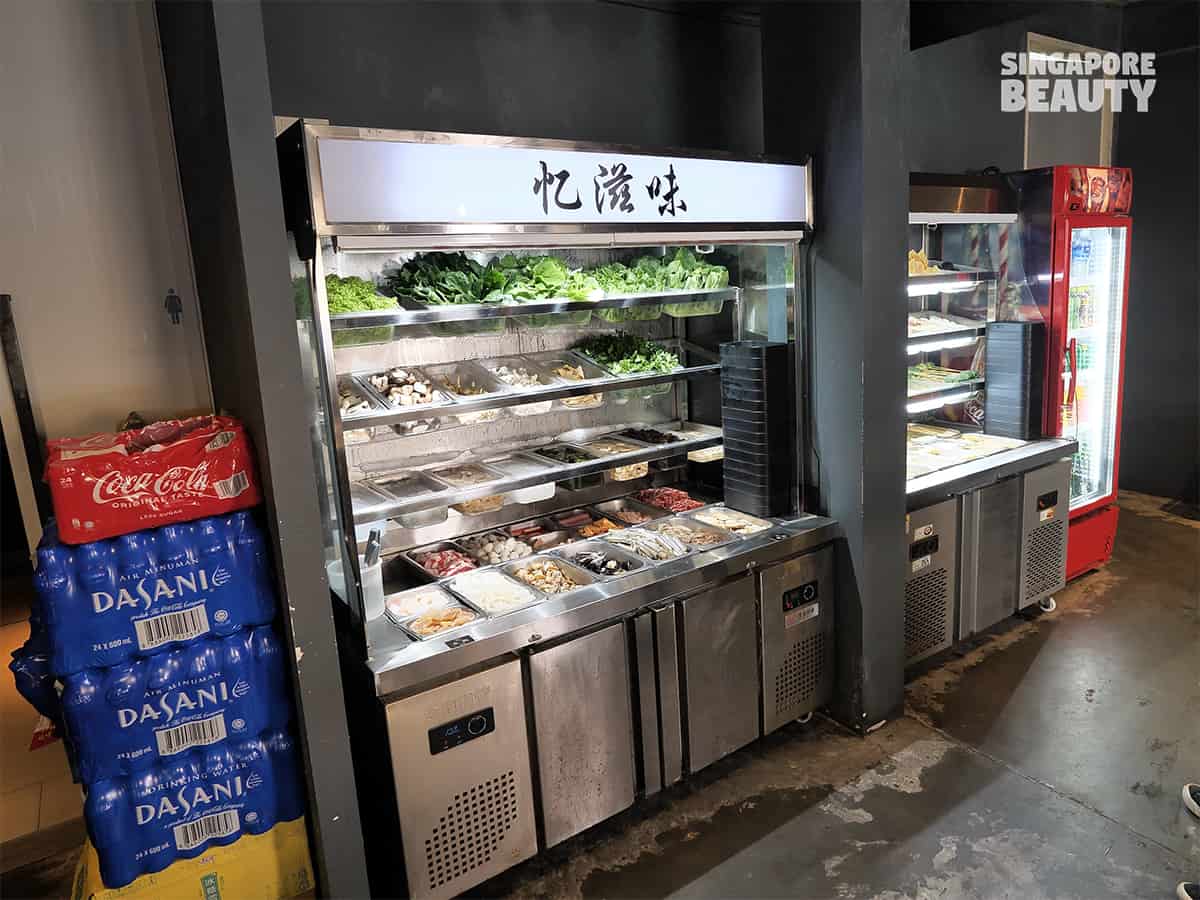 Head over to Yiziwei main outlet at Geylang with the closure of the other Yiziwei outlet at Peace centre. Equally conveniently located near city, you can enjoy the freedom of selecting your own variety of ingredients in your preferred amount here. The display fridges consist of greens, fungi, skewers, surimi, carbs noodles, shabu shabu meats, marinated meats and seafood.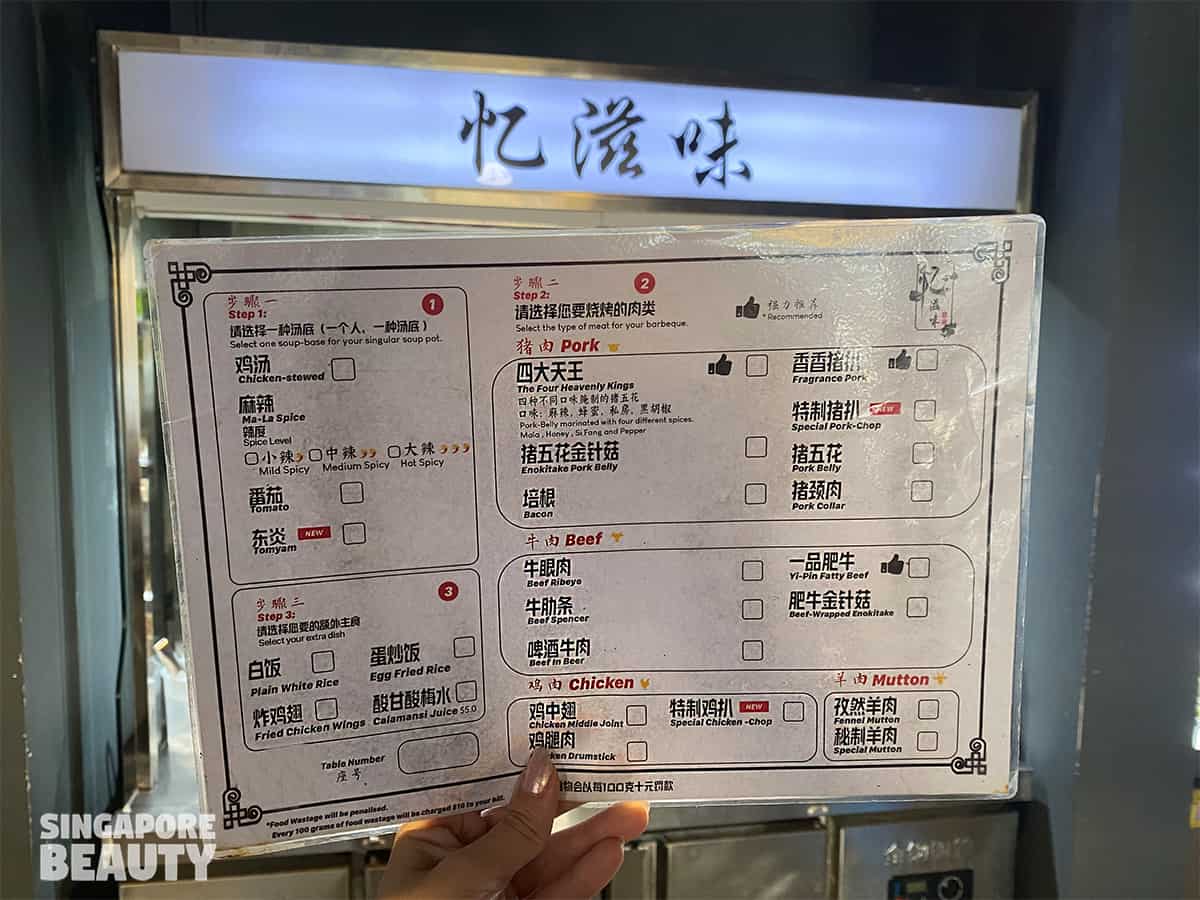 Yi zi wei price for lunch buffet for adults starts from $23.90++, this is Yi Zi Wei promotion price for 2022. This is Yiziwei menu with selection of meats included in the buffet that is not displayed in the chiller. You may tick and these will be served like ala carte buffet style to your table.
These are some of the marinate meats – chicken, mutton, beef and pork – are available. The meats are marinated with a savoury glaze and topped with sesame seeds, spices or rubs.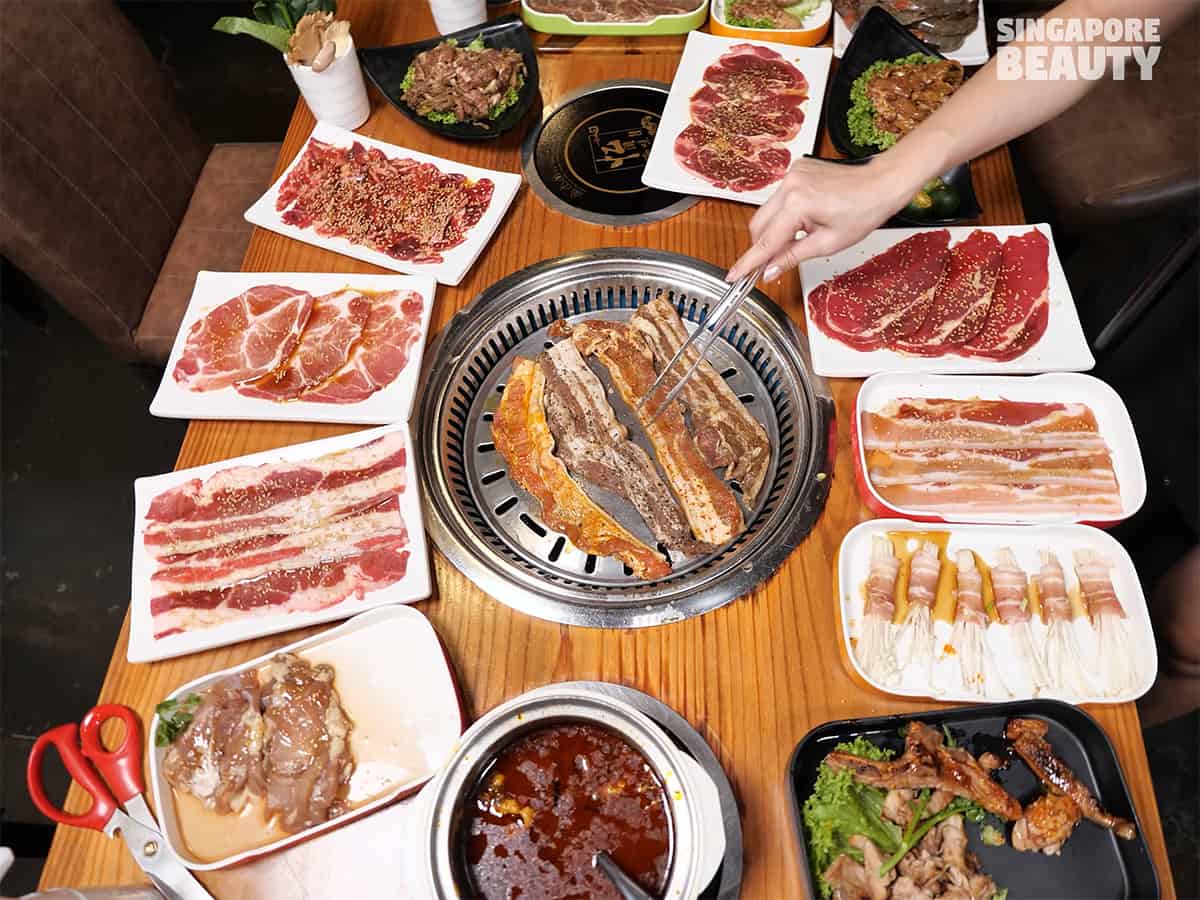 The Chef recommendation is their four heavenly Kings meat platter which consist of 4 types of thick cut pork belly in various marinades. Yi zhi wei buffet serves generous cuts of pork belly which is of a thick cut and in large serving. The four heavenly king meat platter are in black pepper, mala, sweet honey and "Si Fang" secret recipe flavour.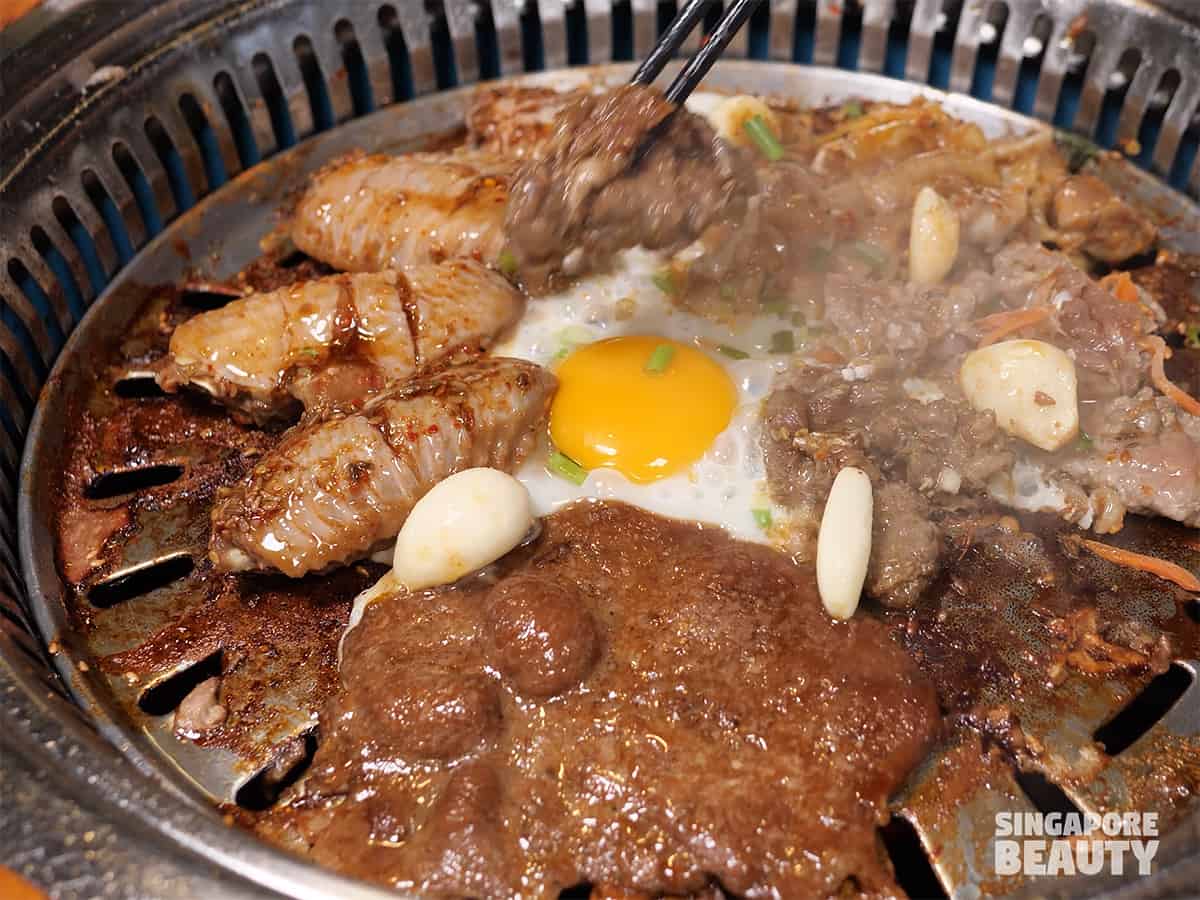 Enjoy your BBQ meat galore in a large bbq grill with your buffet buddies here. Unique bbq meat such as beef in beer, ribeye and bacon enoki. Their beef in beef is made with TsingTao beer, the texture is definitely tenderer than the usual marinated bbq beef. Some unique marinated meat to try while you are here..
Worth mentioning are their shabu shabu meats. These are pork collar, fatty beef, bacon and US beef. The wonderful bright red hue is a sign of freshly cut shabu meats and the marbling on the meat is indicative of the tenderness of the meats.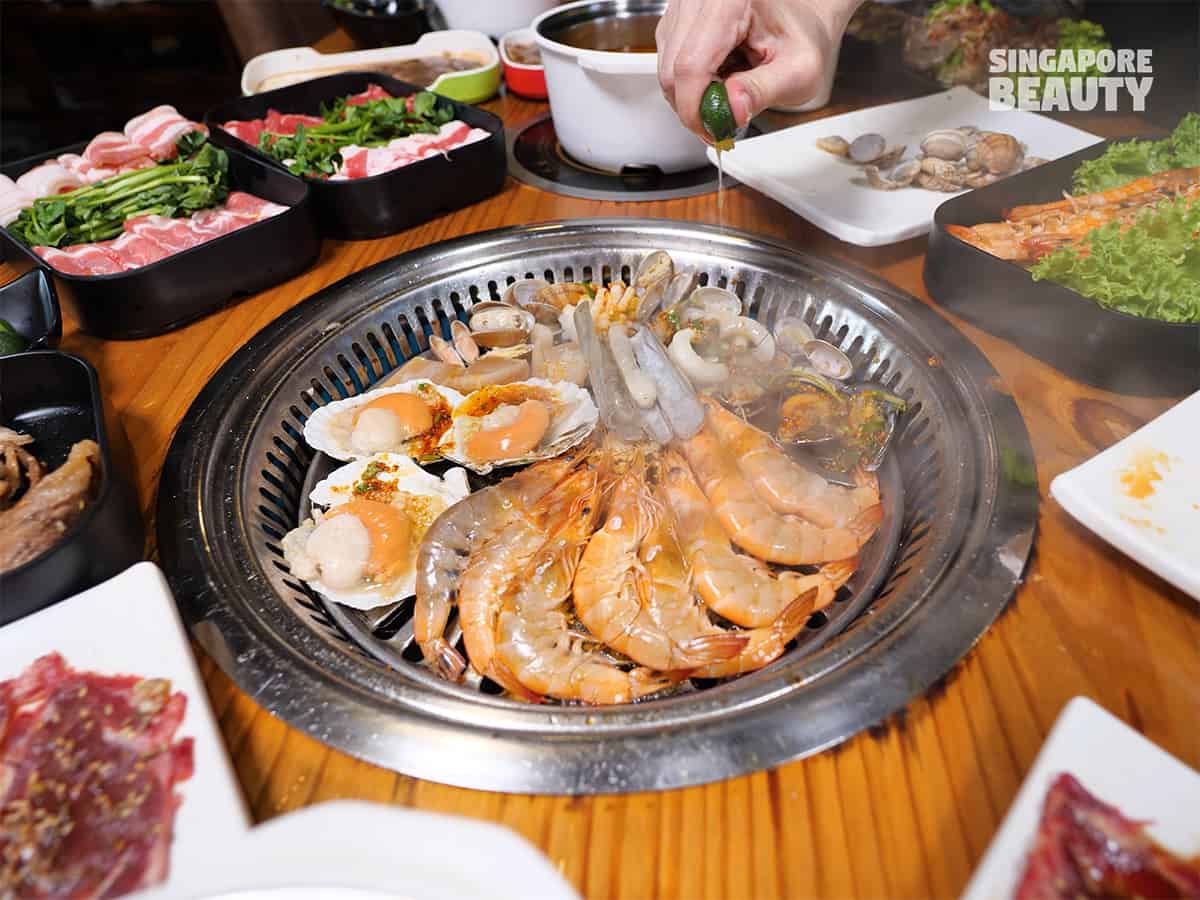 Next, turn your large bbq grill into a seafood grill. Pick your own seafood which includes bamboo clams, squid, cuttlefish, mussel, prawn, scallop and Asari clams. Do note that prawn and scallop are only available for dinner buffet. I love my grilled seafood with a splash of freshly squeezed lime juice, the zesty kick with sweet and briny seafood drives me crazy, especially grilled chilli squid with lime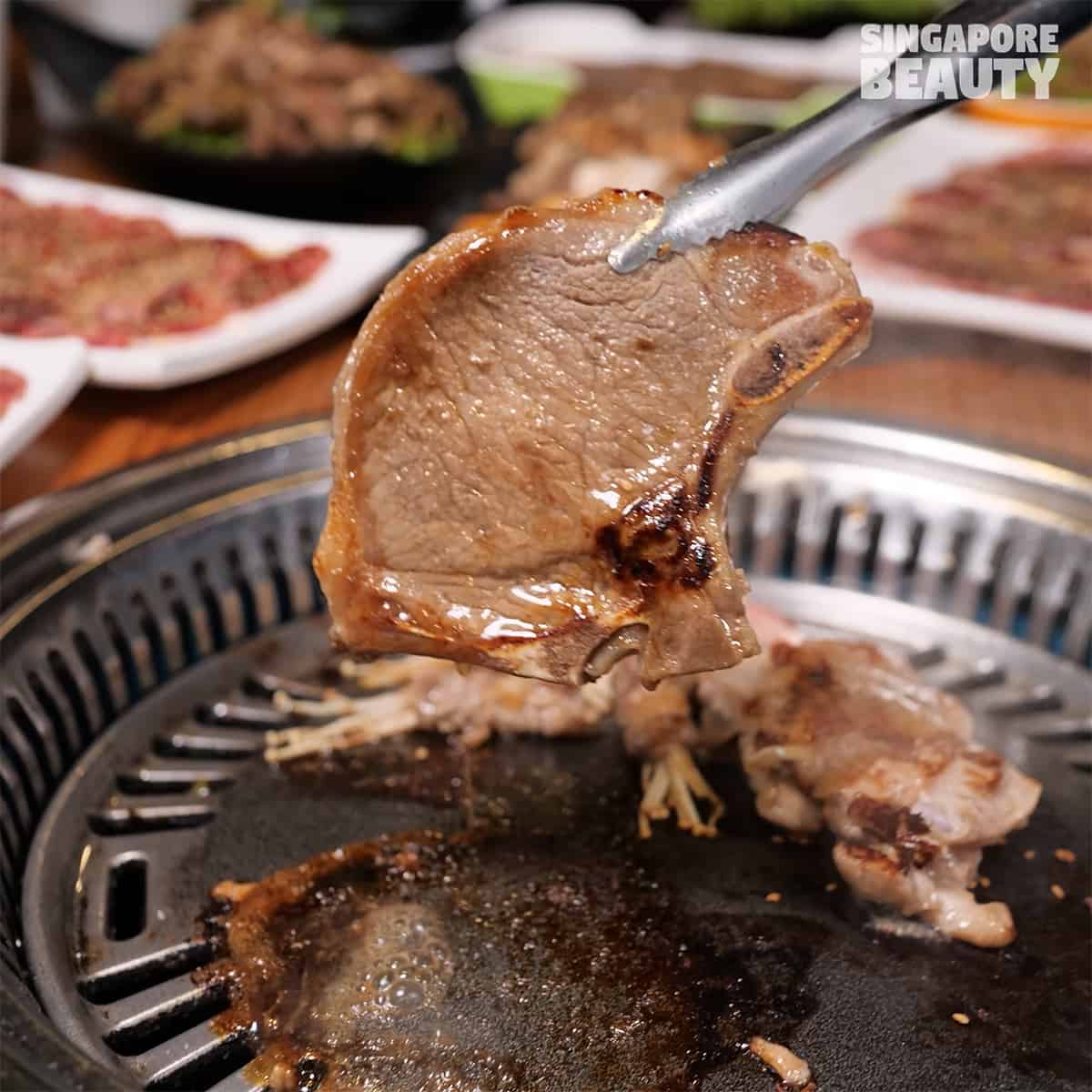 Cook a large whole pork belly on sizzling grill, make it crispy and flavourful. How about pork chop with ribs and superb tender chicken thigh chop that is so juicy? Get some Garlic fatty beef if you do not have a date after this buffet. Fancy some authentic Xin jiang style mutton in spices with fennel and cumin, they have it too!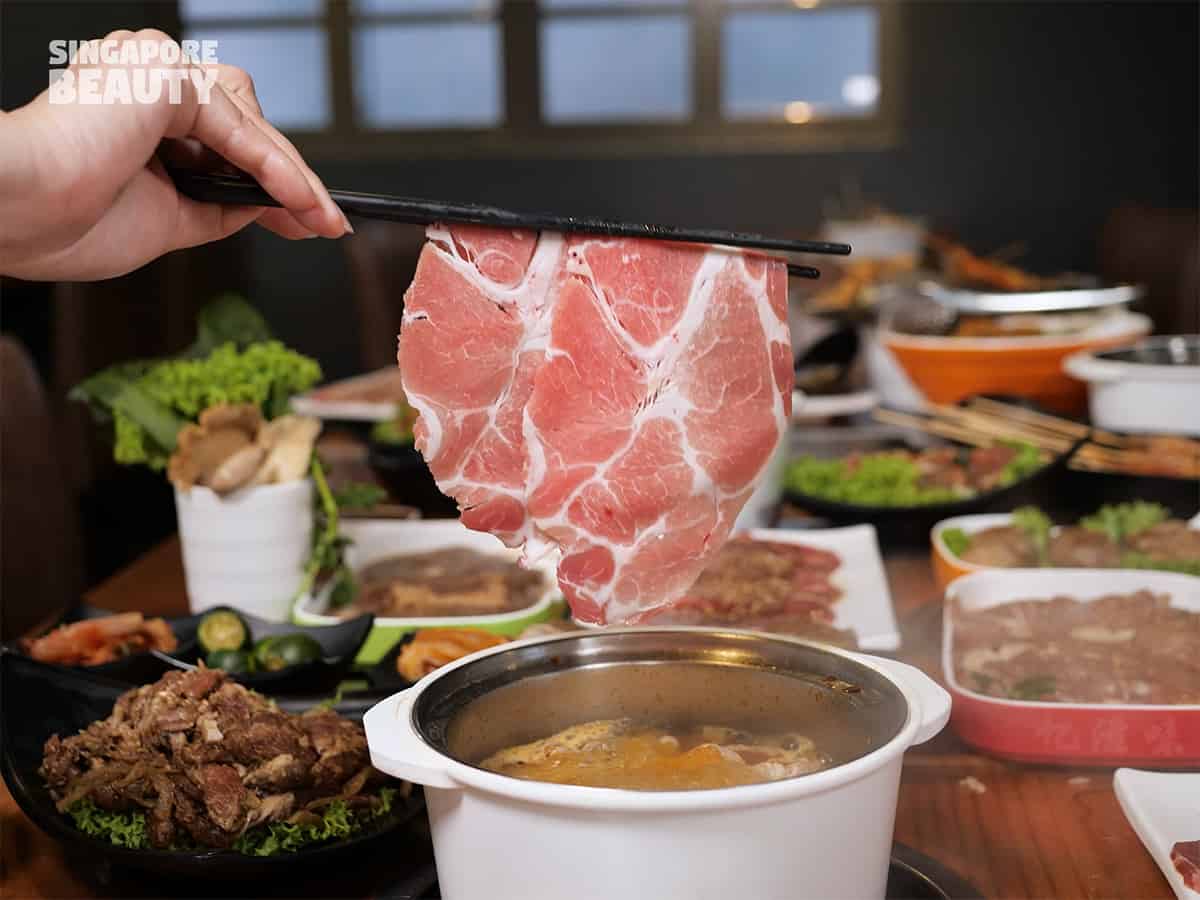 The pork collar are thin cut and ideal for hotpotting. The lean meat are held together preciously by a lace of fats. The meat cooks quickly with the flavour of the soup penetrating the thin layers. The cooked pork collar is immensely flavourful, tender and springy to the bite, just the way I love my shabu meats to be.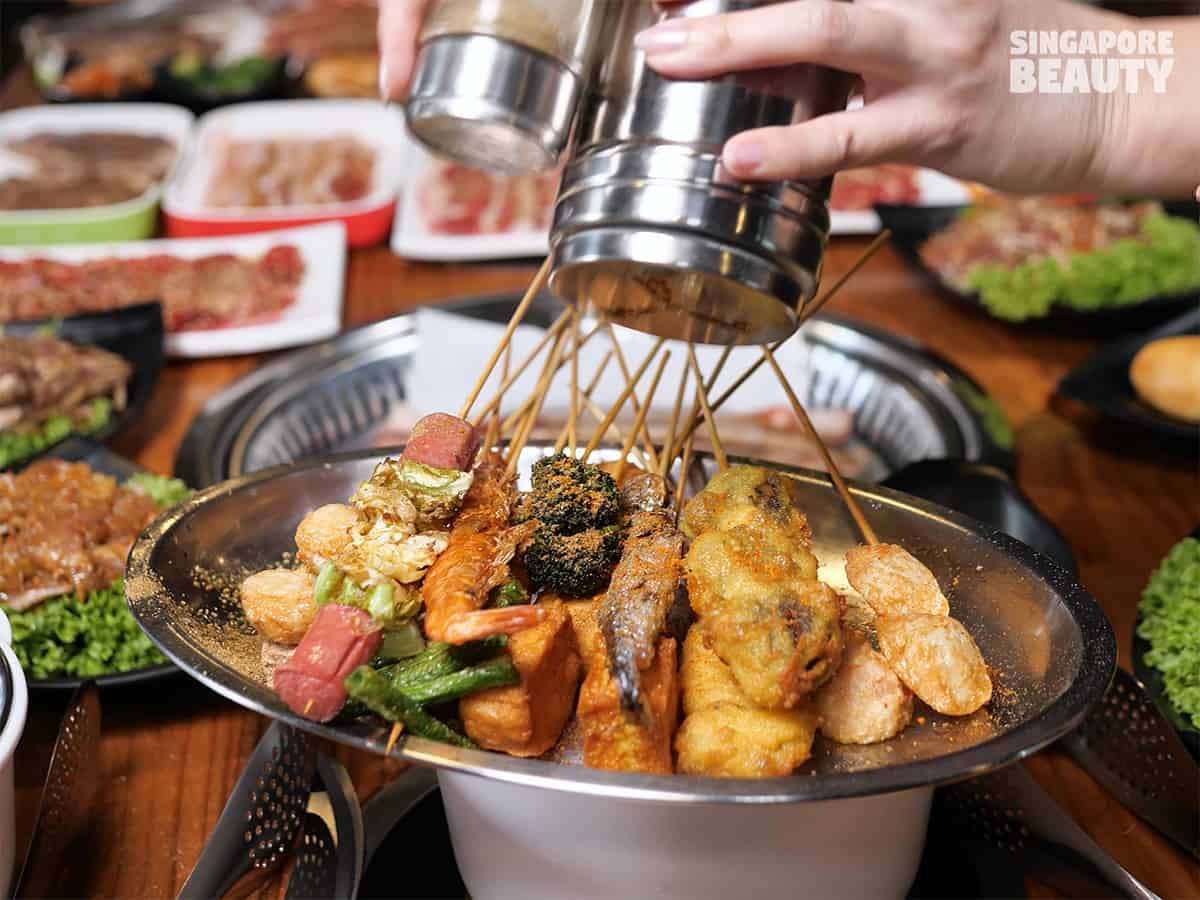 YiZiWei Fried skewers are free flow in this buffet too. That sounds like music to a skewers lovers like myself. The light thin crust of these skewers with the secret chilli and grounded spices dusted on it really made my day. The crunch of these skewers is like a stress reliever, the umaminess and the saline kick. A mug of fizzy cold beer with these fried skewers will make your day like a Friday chill out night. Check out their beer collection in house with TsingTao, Heineken, Tiger and more!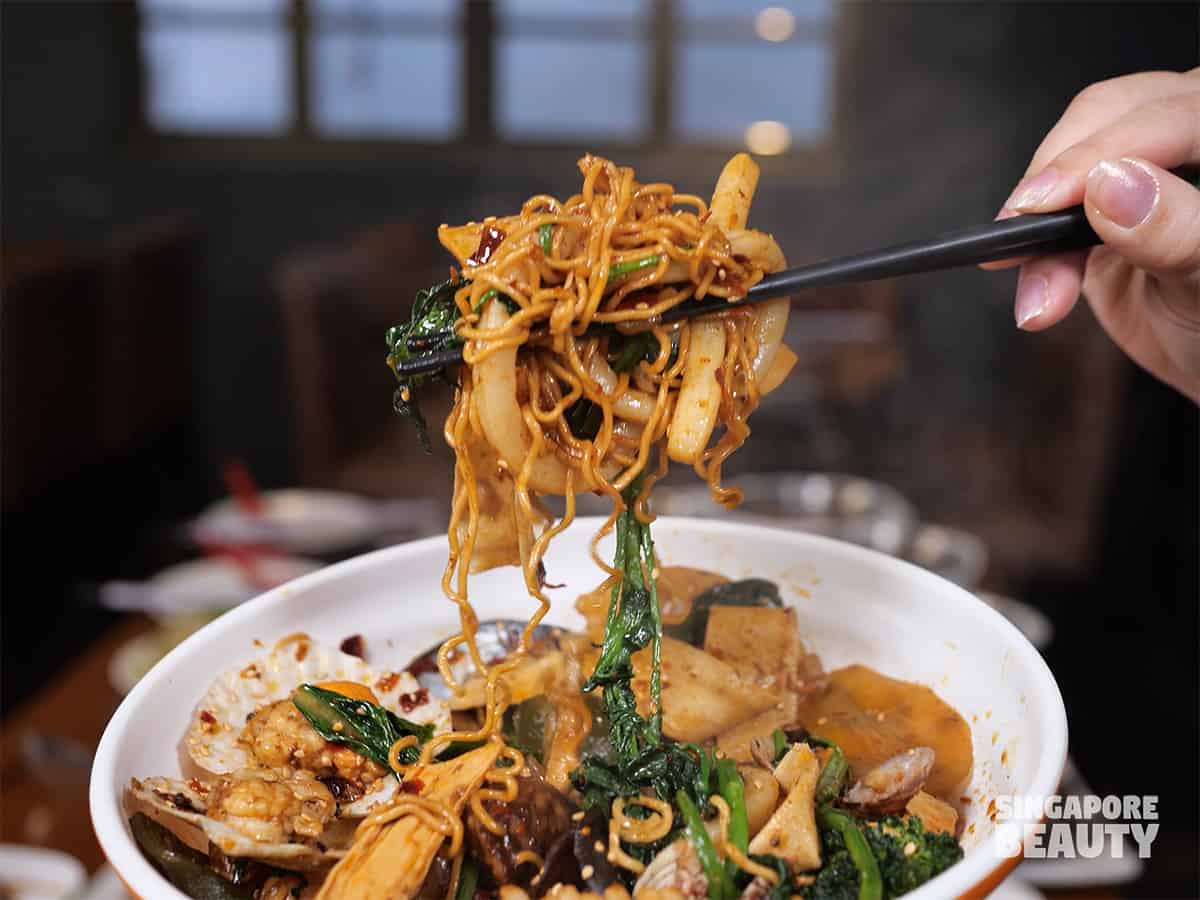 Choose your own ingredients for Mala xiang guo from the display fridge. Let the service crew know of your acceptable heat level. Go for beginner level of heat if this is your first time trying this popular Chinese stir fry dish with numbing chilli and oil. The ingredients are well cooked with each one laced with the mouth swelling and numbing chilli spices. If you overdo the heat, you may end up with sexy pouty lips for a while.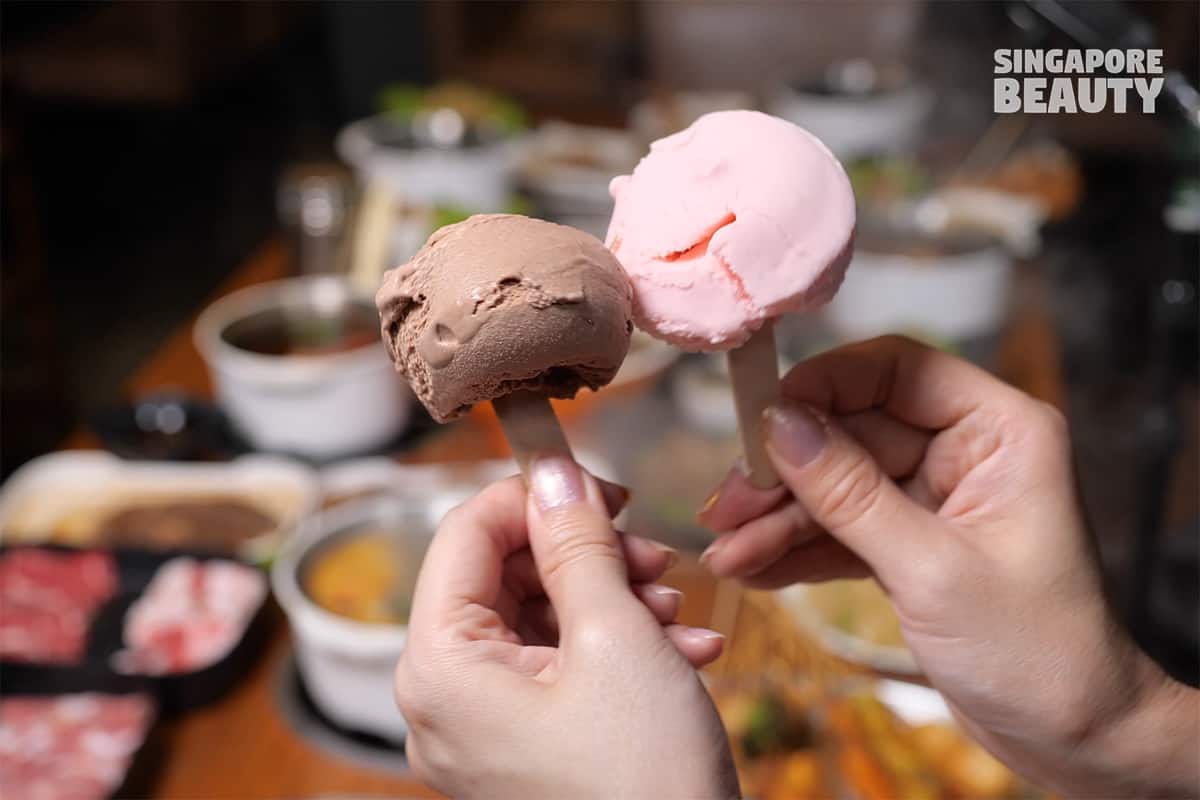 Ice Cream tubs are officially limited to 1 piece per customer. However, citing the spicy mala pot and with a pouty lips, the friendly service crew will be happy to give you more. There are four flavour of ice cream such as lime, strawberry, chocolate and vanilla.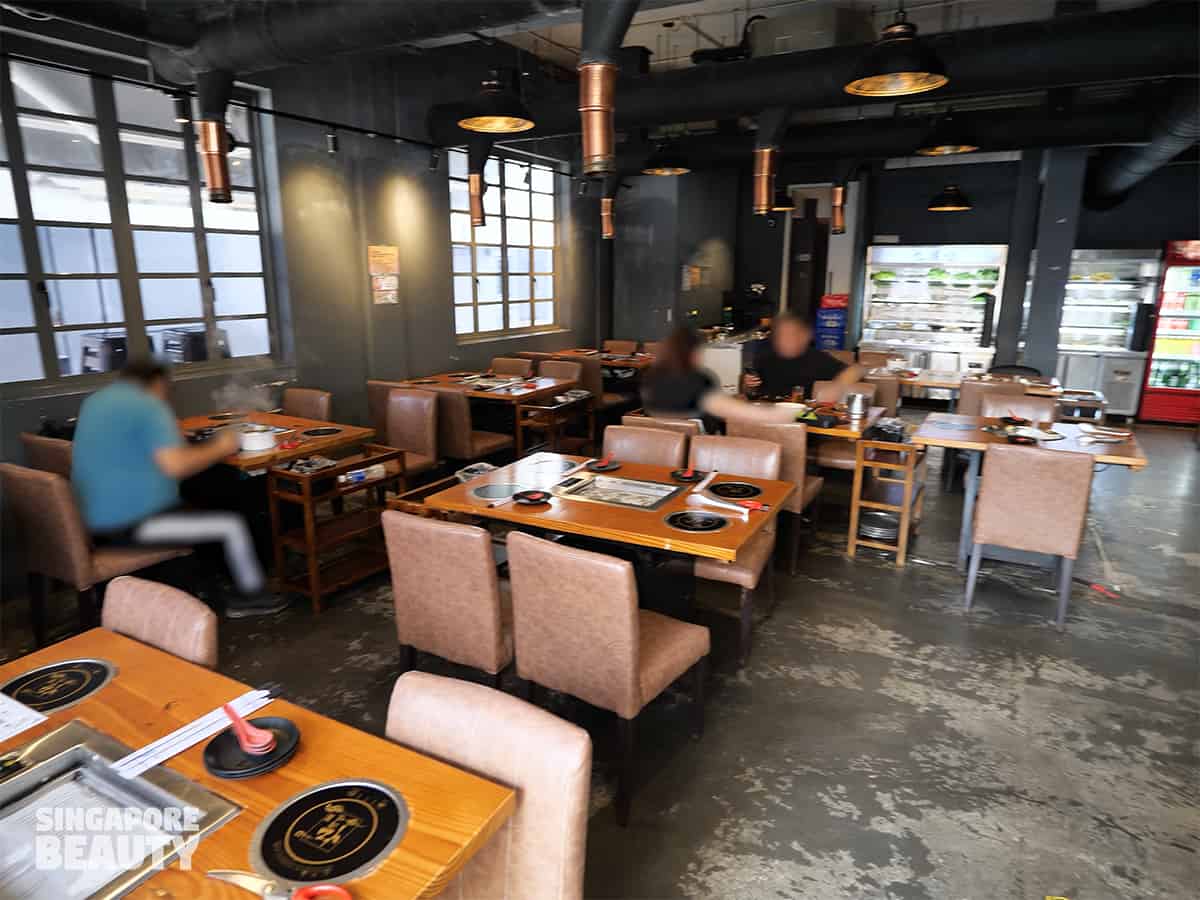 The dining ambience is that of casual cosy dining which is great for gathering. With high back pushie seat and relaxed dimmed interior, enjoy a peaceful hotpot session. The individual hotpot also means you can share 4 different flavours of soup with family without having soup boiling over another soup in a typical communal 4 slots hotpot.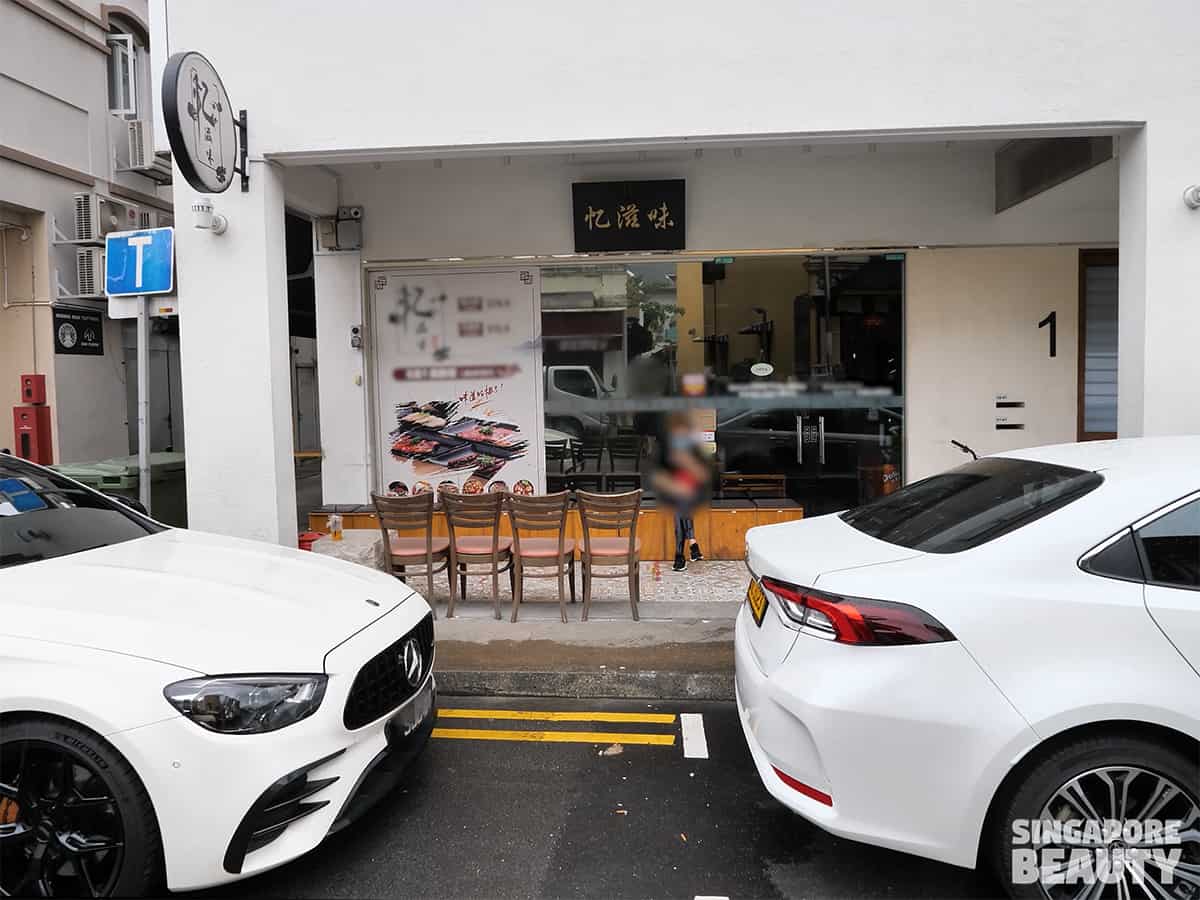 Yiziwei bbq steamboat 6-in-1 buffet at Geylang has so many choices. From fried skewers, satay lok lok, Mala xiang guo, Mala tang, all sorts of condiments to dip, Shabu shabu meat, shishamo and prawn skewers, unlimited Korean fried chicken, fried mantou, chicken popcorn, egg fried rice, noodle such as knife shaved noodle in peanut sauce, chilli oil and coriander and more. By the way, Kimchi, whole peeled garlic, bean sauce and fresh lettuce are included in the buffet. Enjoy your BBQ Korean style and any other way you prefer. Get your buffet buddies now!
YiZiWei 6 in 1 Buffet
BBQ, Steamboat (Individual Pot),Mala Tang (麻辣烫),Mala Xiang Guo (麻辣香锅),Fried Skewers (炸串) & Lok Lok (渌渌)
YiZiWei buffet price:
Mon-Thurs Lunch $23.9++
Kids: $12.9++ (6-12 Year Old)
Dinner $33.9++
Kids: $17.9++ (6-12 Year Old)
Dine in time : 2 hrs
Operation Hrs: 11am to 2am Open Daily
Lunch time : 11am to 3pm
Dinner time: 3.01pm to 2am
Address of YiZiWei 忆滋味 :
1 Lorong 13 Geylang #01-01
Singapore 388639
For Reservation, pls call: 9097 3288
Brought to you by Yi Zi Wei 忆滋味