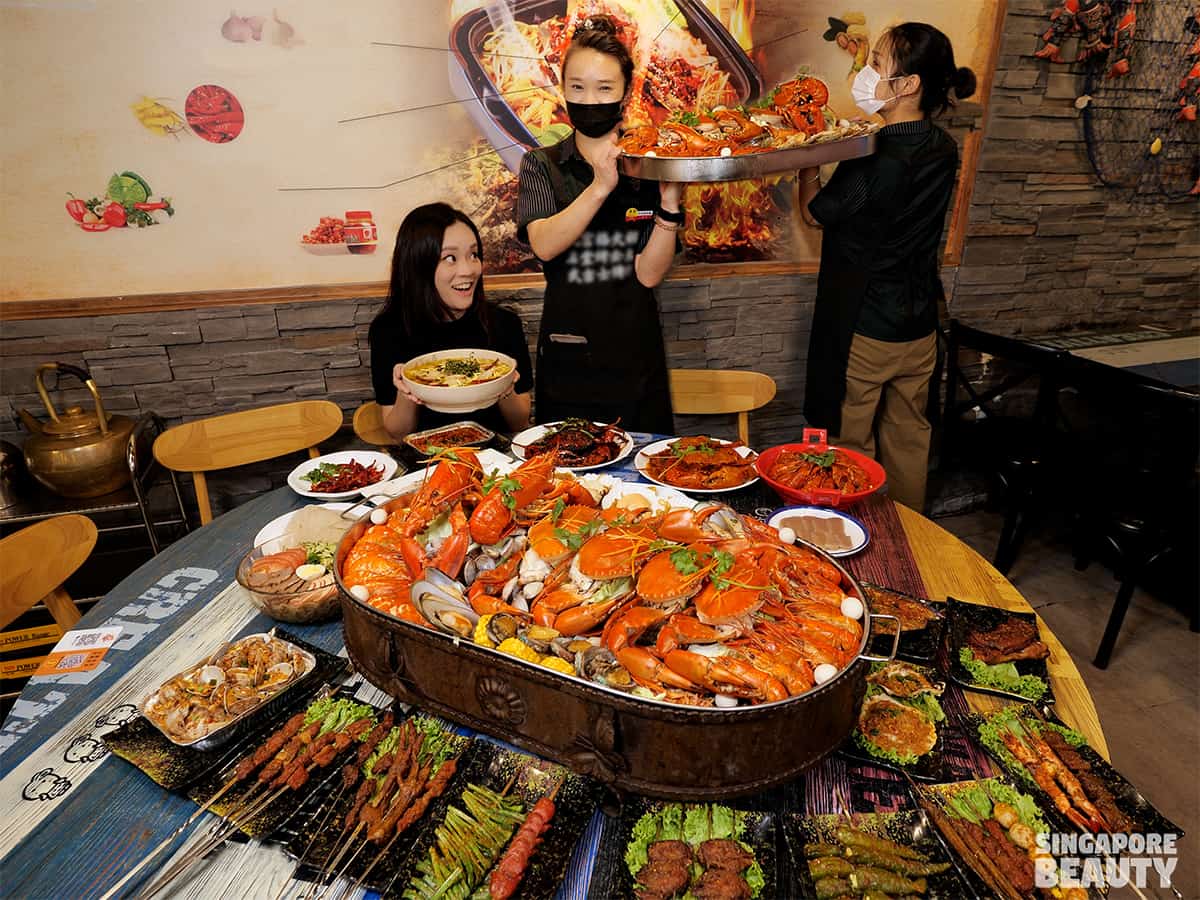 Jiu Gong Ge seafood at Bugis Cube is serving up giant seafood platter with Boston lobster and abalone this 2022. They are popular for their Jiu Gong Ge seafood platter and hotpot buffet. Besides that they also have authentic Chinese cuisines, Singapore style zi char and barbecued skewers.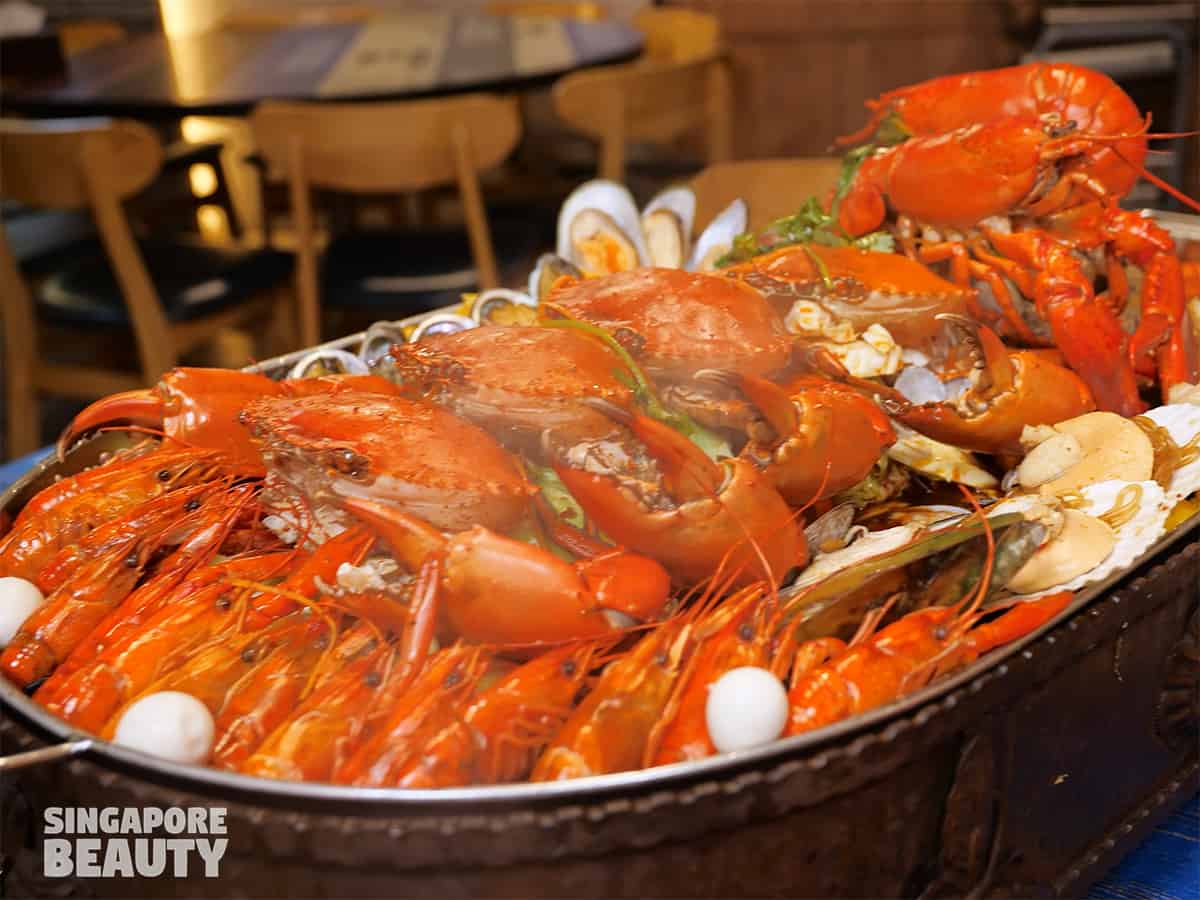 This Jiu Gong Ge giant seafood platter ($208) that feeds up to 6 pax. Dive into a pool of seafoods such as Boston lobsters, mud crabs, crawfish, prawns, scallops, Asari clams, green lipped mussels and abalone. These are served a top a bed of Napa cabbage, noodles, corns, shredded carrots and quail eggs.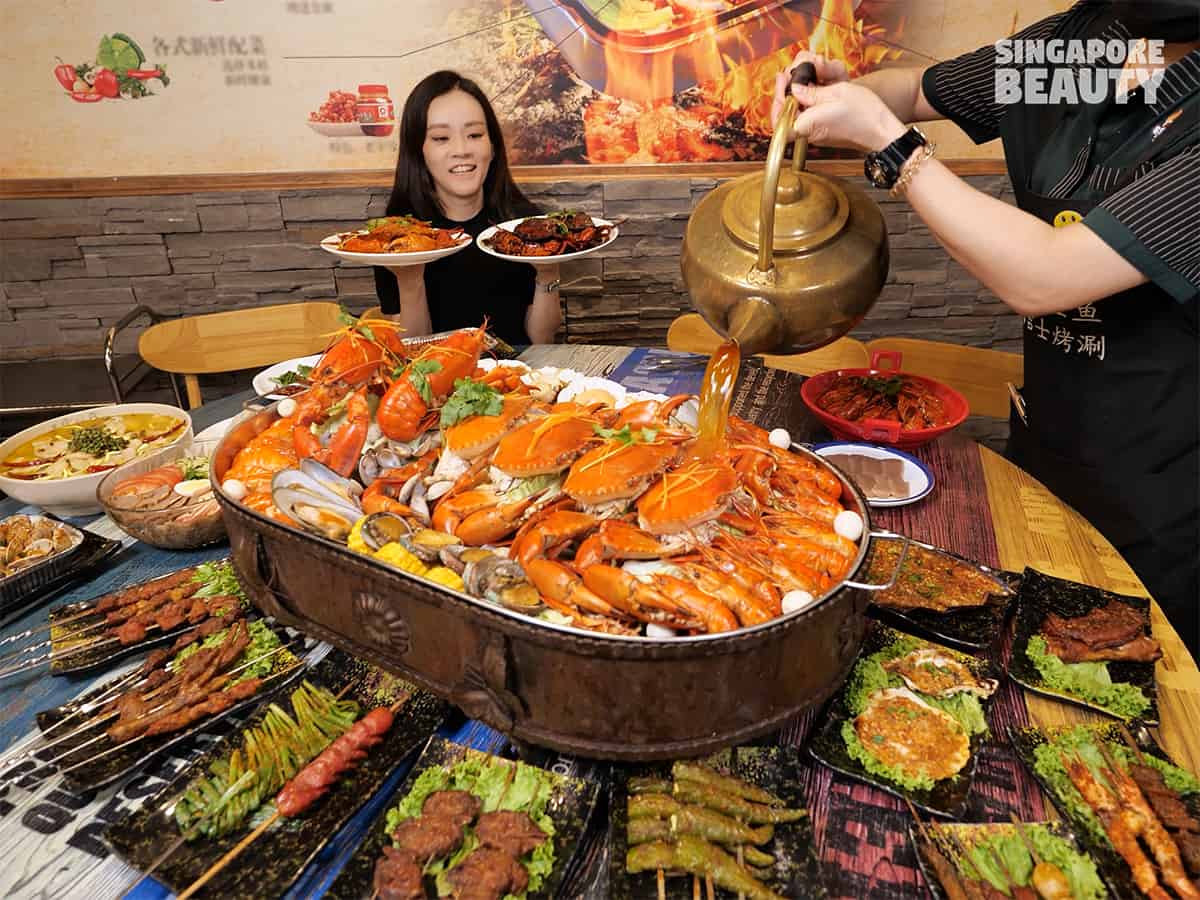 Enjoy this seafood in 3 choices of savoury broth – spicy fragrant, scallion and original steamed broth. The Jiu Gong Ge seafood platter is set atop warmers that keep the giant platter simmering while you enjoy the seafood. Enjoy these giant seafood platters only at Ming Tang Jiu Gong Ge Singapore seafood restaurant.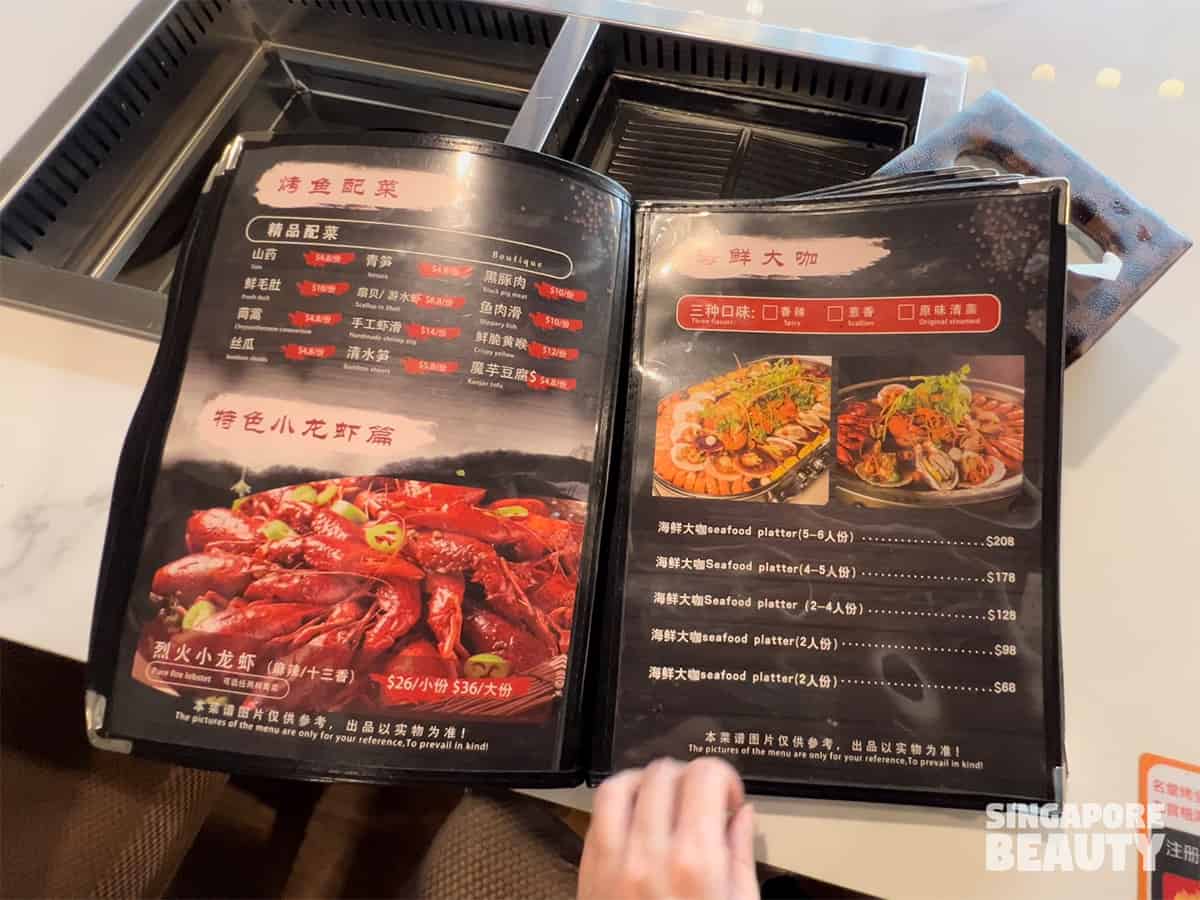 This is Jiu Gong Ge 2022 menu for the seafood platters. They are available in 5 sizes to cater to different diner group sizes from 2 to 6 pax. The menu price starts from $68 to $208 for the giant seafood platter that can feed up to 6 people. The type of seafood also varies with the price range, for instant the giant platter ($208) has 2 large Boston Lobsters while the small seafood platter ($68) has mud crab instead.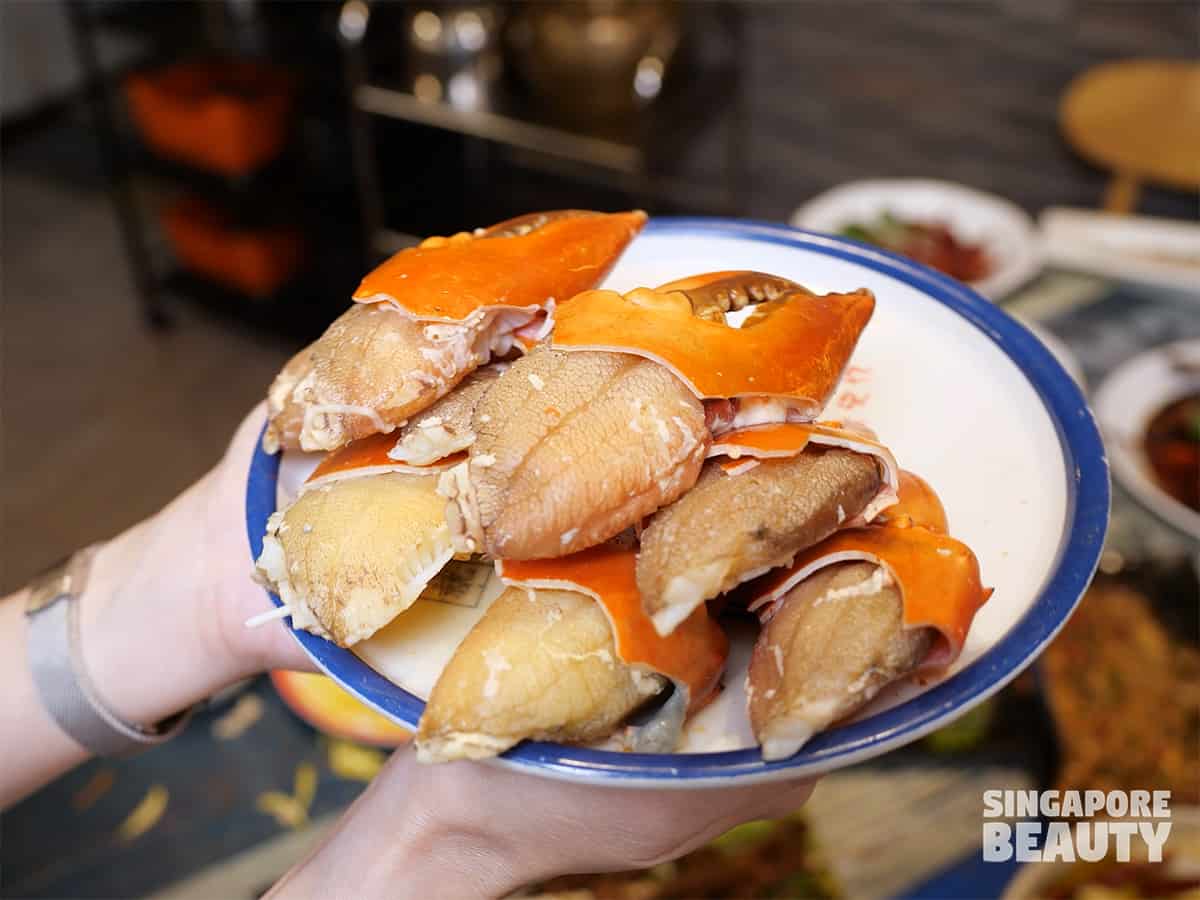 If you have a large group, it is recommended to get the giant seafood platter featured here to share. Check out these meaty crab claw lollipops that we cracked. The crab claws are succulent, meaty and briny. With 4 crabs in the platter, there are enough claws to go around for 5-6 pax sharing and keep everyone happy.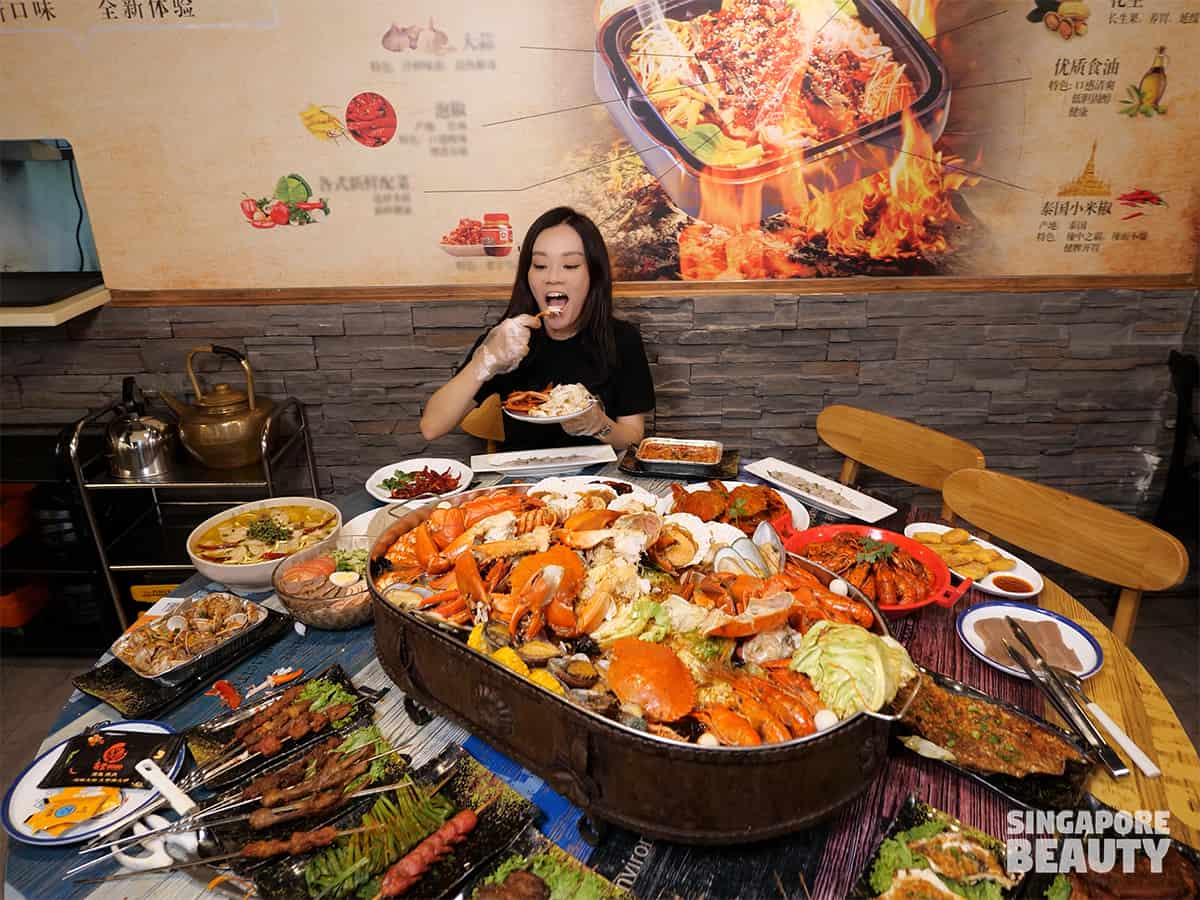 Here's our Jiu Gong Ge review on the feast we had. The seafood platter is really huge and needs to be brought to our table by 2 of their servers. It is certainty the show stopper of the day and definitely falls under instagrammable food and photo worthy dish. Besides that they are also popular for their good value Jiu Gong Ge hotpot buffet with more than 100 varieties inclusive of Australian Wagyu beef.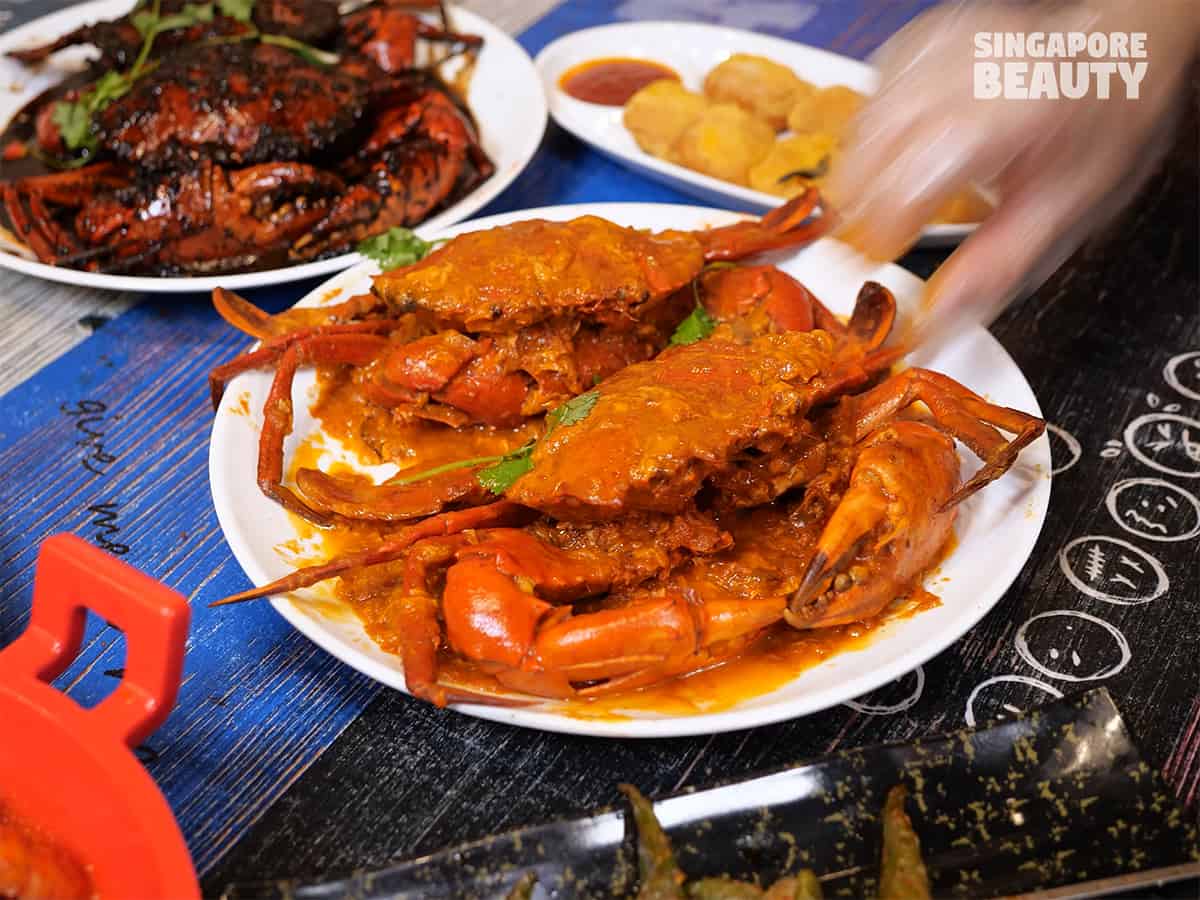 While you are there, indulge in local delights Singapore Style zi char too. They have whipped up some Singapore style chilli crab using live mud crabs and so very sinfully delicious black pepper crab too.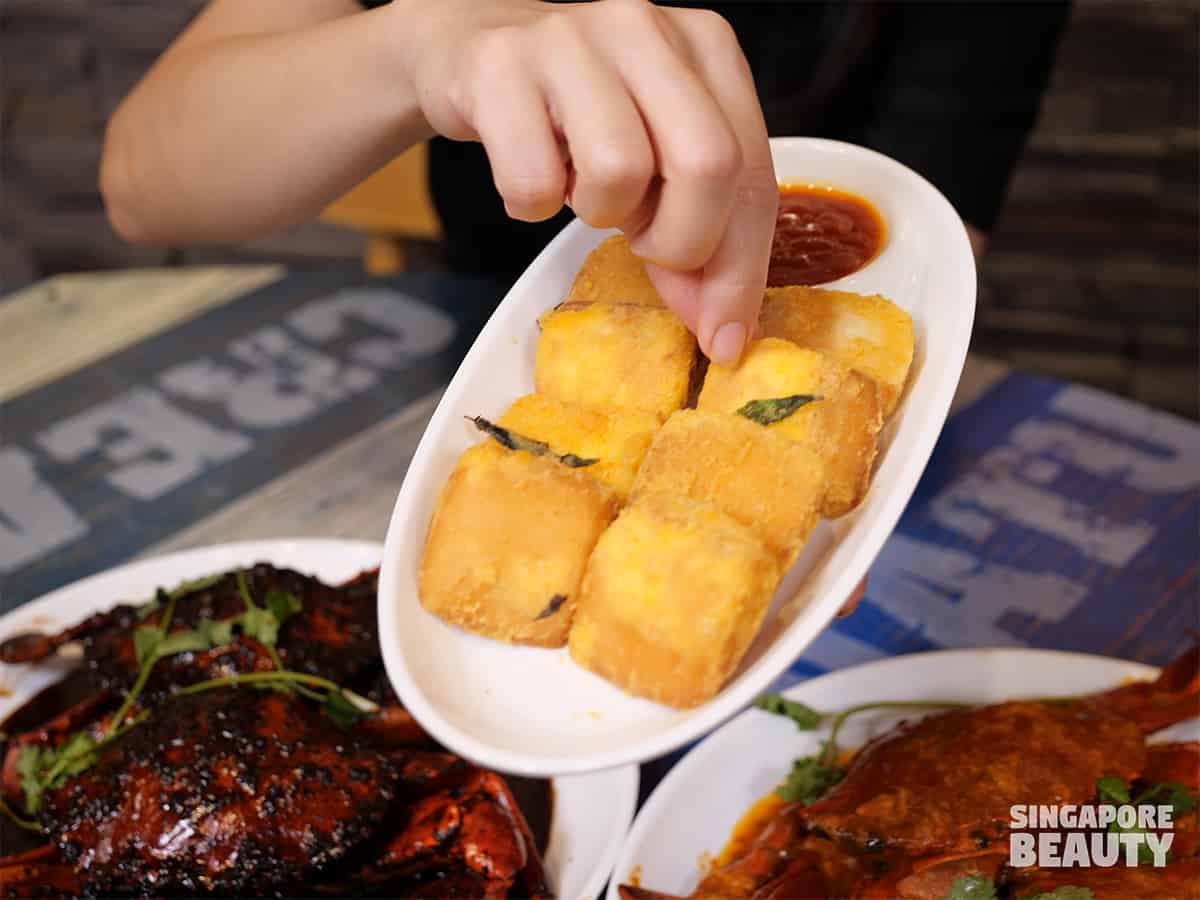 These are their in house special creation salted egg mantou ($8). These could be Singapore first salted egg mantou by Jiu Gong Ge Seafood. These golden pillowy mantou are coated in a crispy salted egg crust. The flavour of the salted egg is intense with a hint of curry leaves. The salinity and richness of the salted egg crust is addictively delicious. These are so good that I can wolf them down all by myself. Must try.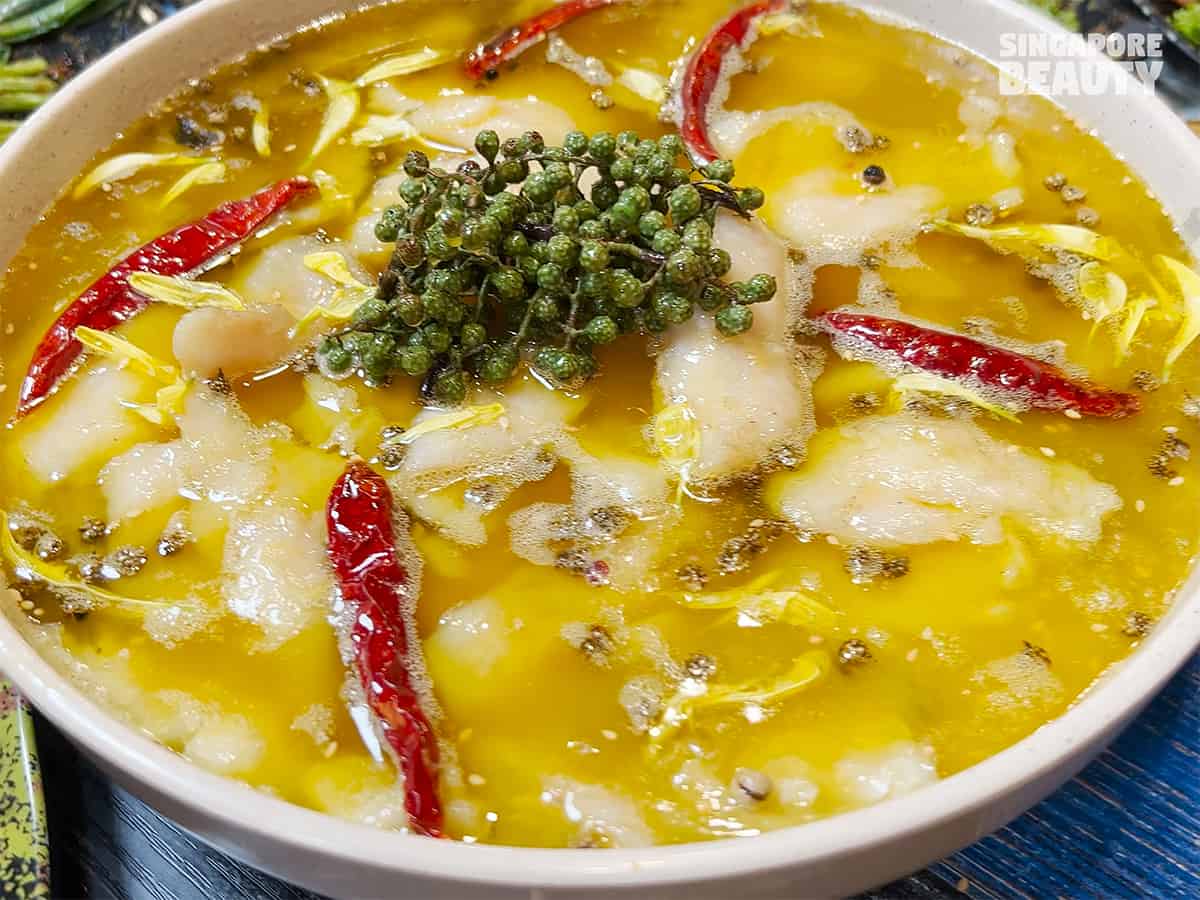 They are also great with their authentic Chinese Cuisines. Indulge in quality Chinese sauerkraut fish ($20) that is loaded with thick sliced white fish. The flavour has close resemblance to the one at Jewel with its pricking sharp sour flavour with a bit of heat from the peppercorns and dried chilli.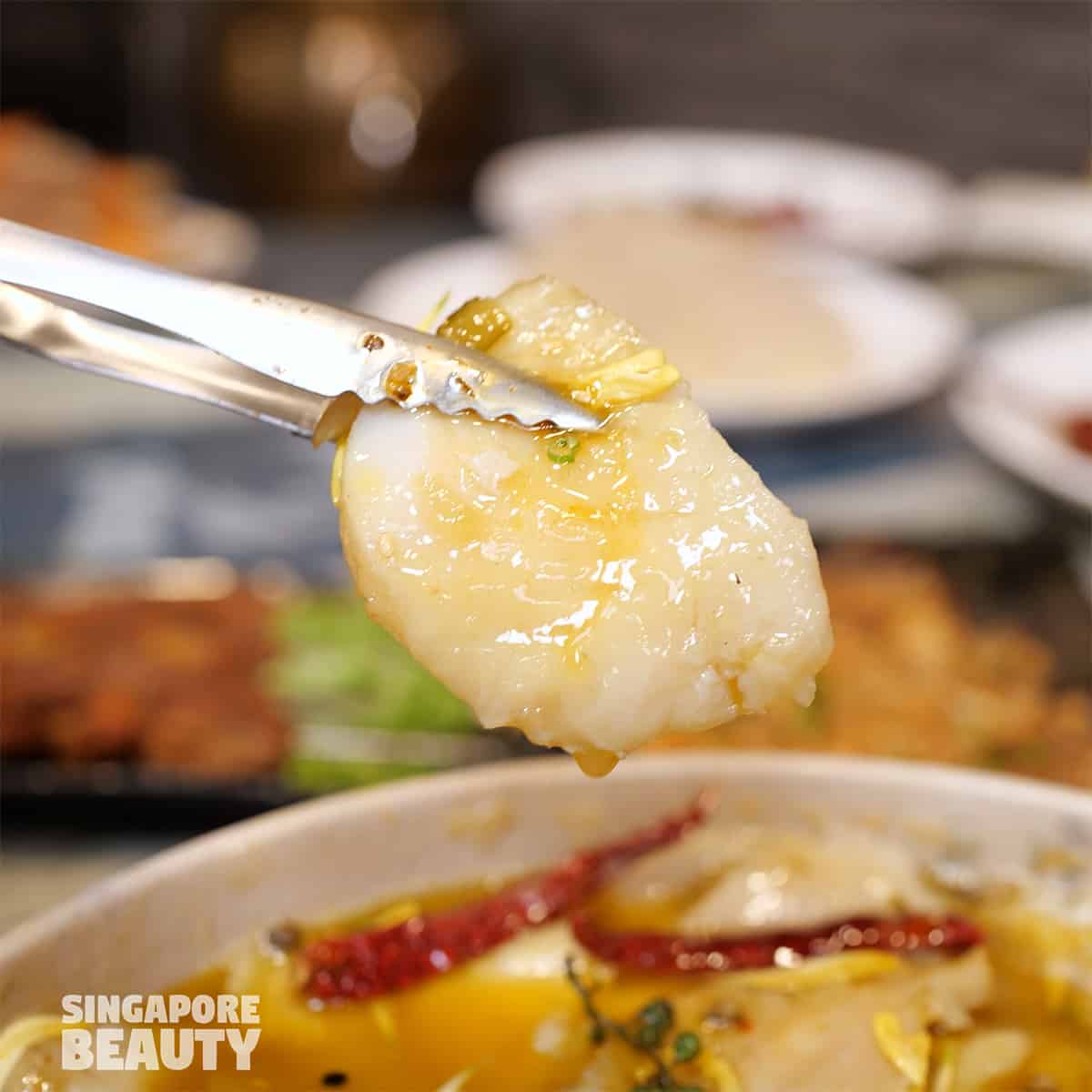 The amount of fish and sour sauerkraut is very generous in my opinion. The fish has a nice buttery and silky delicate texture. This goes great with a bowl of steamed rice which you can enjoy the golden broth with.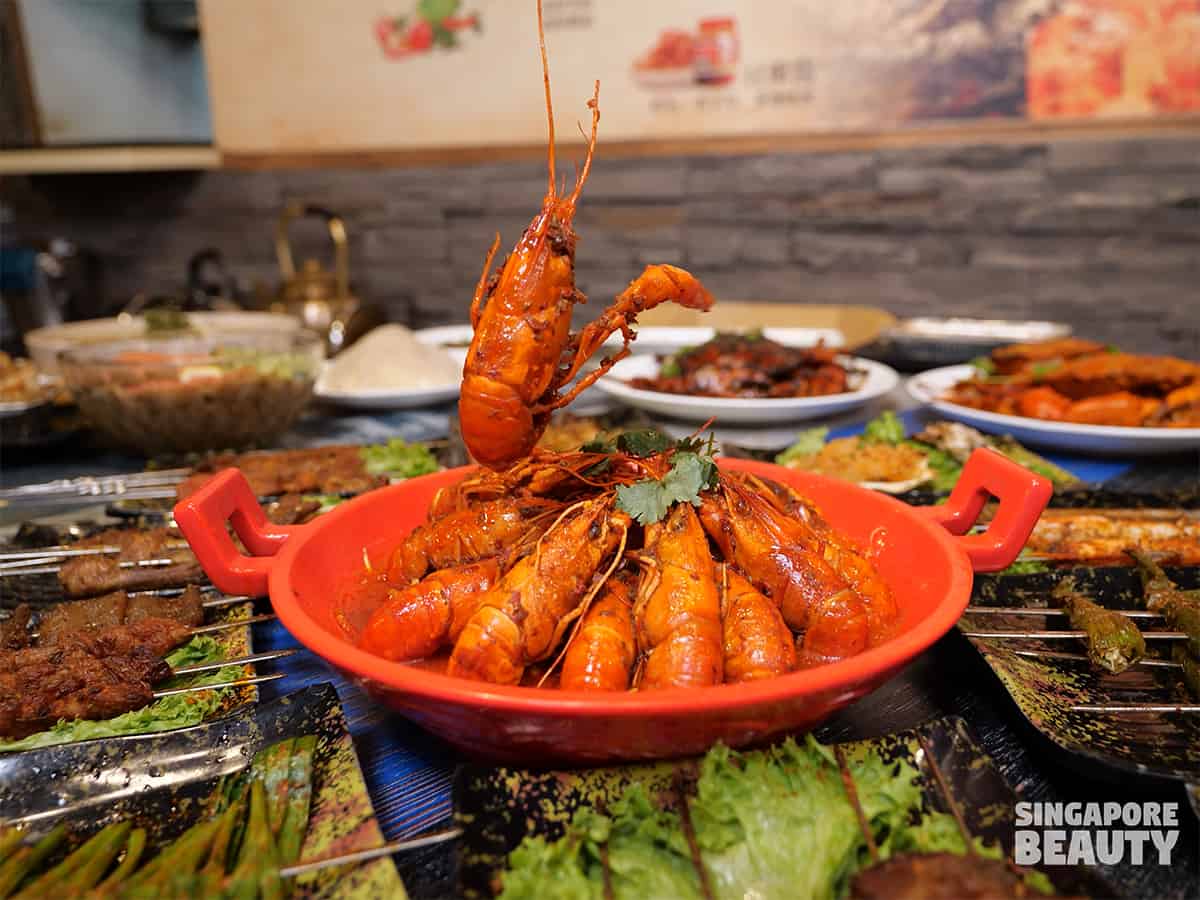 They also cater to crawfish lover here. They have spicy mala crawfish stir fried with numbing sauce. The crawfish are larger than the usual ones and offers a good morsel of meat after deshelling. Because of their close taste profile to lobsters, these crawfish is also known as "baby lobsters" in Chinese. With all crawfish connoisseur, the head butter of the crawfish is something to look forward to. The larger crawfish translates to more head butter isn't it? Yum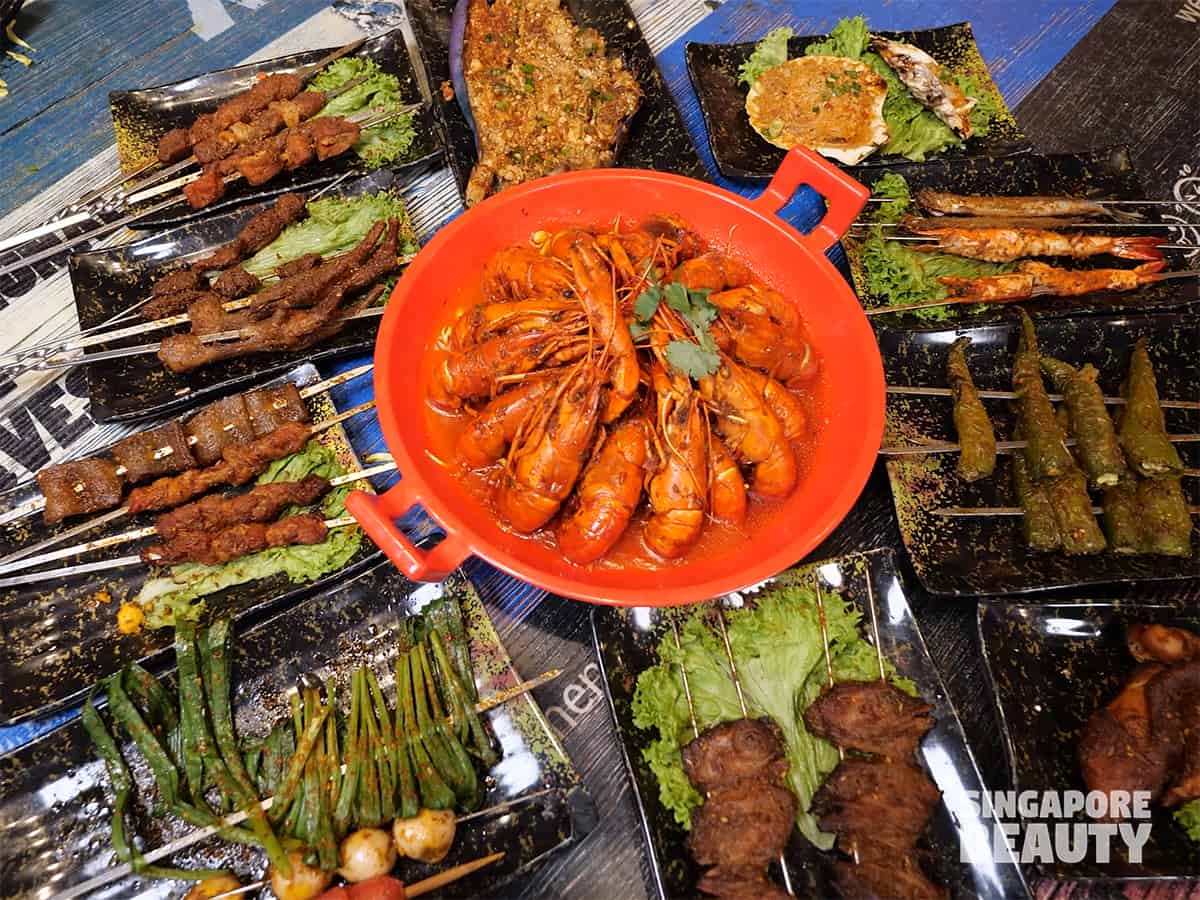 Since they are great with Chinese cuisines, the barbecued skewers are one of their popular side dish and finger food if you are chilling out with beer. They have grill to order 30 types of barbecued skewers, baked seafood tray and more grilled food available. From vegetables, meats, offals and more exotic bbq skewers. If you are in Bugis looking for a place to chill with authentic Chinese BBQ skewers and beer, you need to come to Jiu Gong Ge to try their barbecue skewers.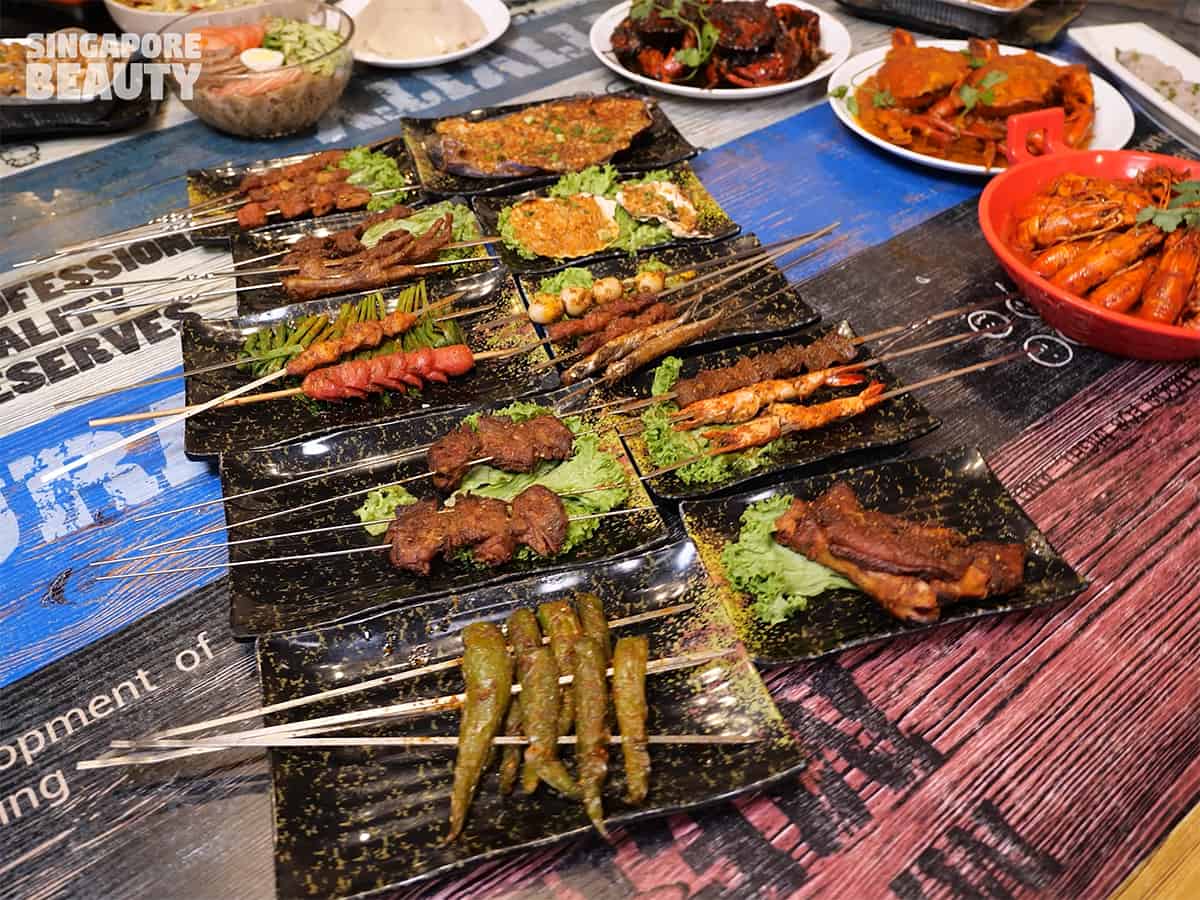 The 30 items in their bbq skewers are as pork belly, lamb, beef, chicken, shrimp, chicken gizzard, hot pepper, green beans, tofu skin, grilled shishamo, chicken feet, chicken head, wings, chicken neck, sausage, beef tendon, pineapple beef, quail eggs, scallops, oysters, eggplant, baked enoki tray, baked clams, pig trotter, pork intestines, pork belly and more. The look of these skewers with the brown hue, coated with grounded spices and chilli flakes just shouts flavours to me. The umaminess adds a nice kick to the skewers and definitely must have some icy beer to pair with it.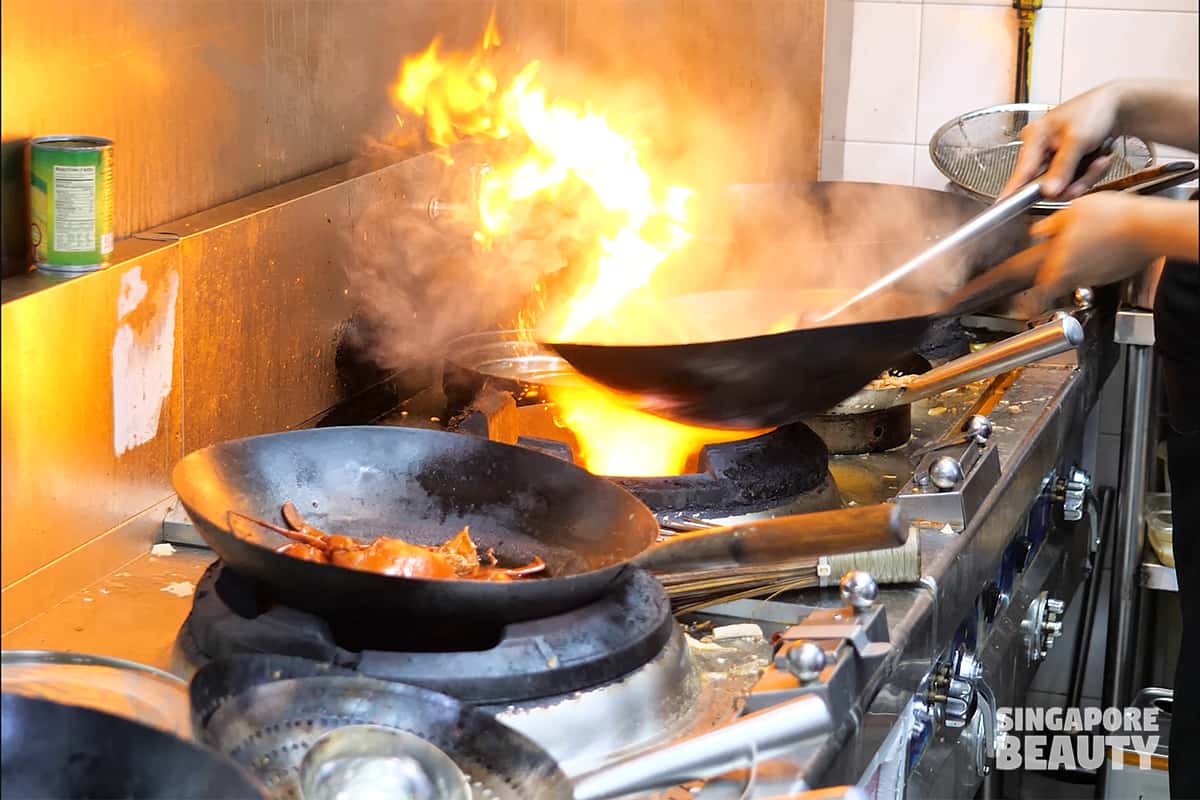 With a full fledge commercial kitchen and some really hot stoves, you can get your authentic Chinese cuisine and popular Singapore style zi char in Bugis at Jiu Gong Ge Seafood. With so many stoves in action, you can be assured the food will be served timely and piping hot. Looking for wok-hei in your zi-char dishes here, the chef is not shy to show off how much wok hei they can add to your dishes. Serving up fiery hot food straight to your tables, just sit tight!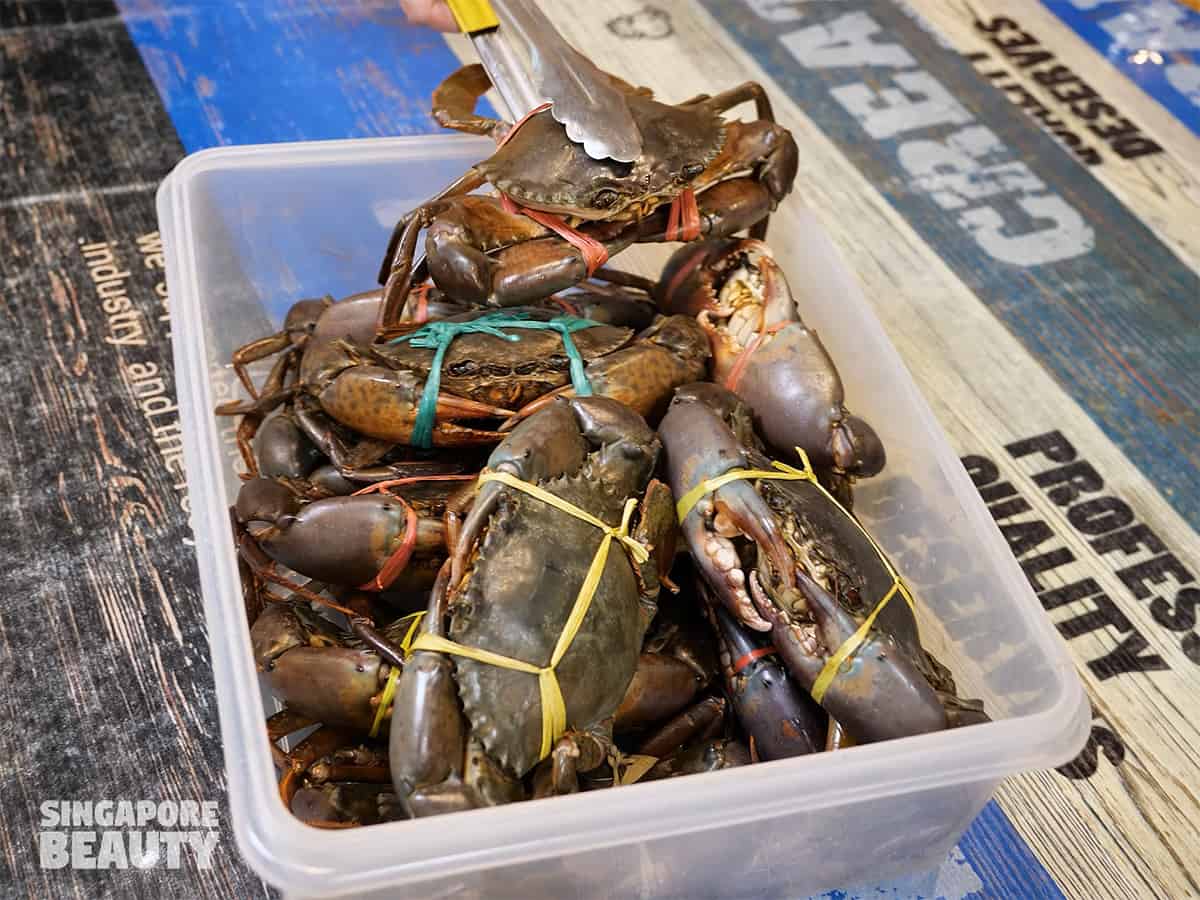 For those who are there for their crab dishes, we were informed that they use only live mud crab that are dispatched to order. So if you are a crab lover, definitely need to check out their Singapore chilli crabs and black pepper crab. If you are feeling the seafood mood, get their giant seafood platter and party with a variety of seafood inclusive of Boston Lobsters and abalone!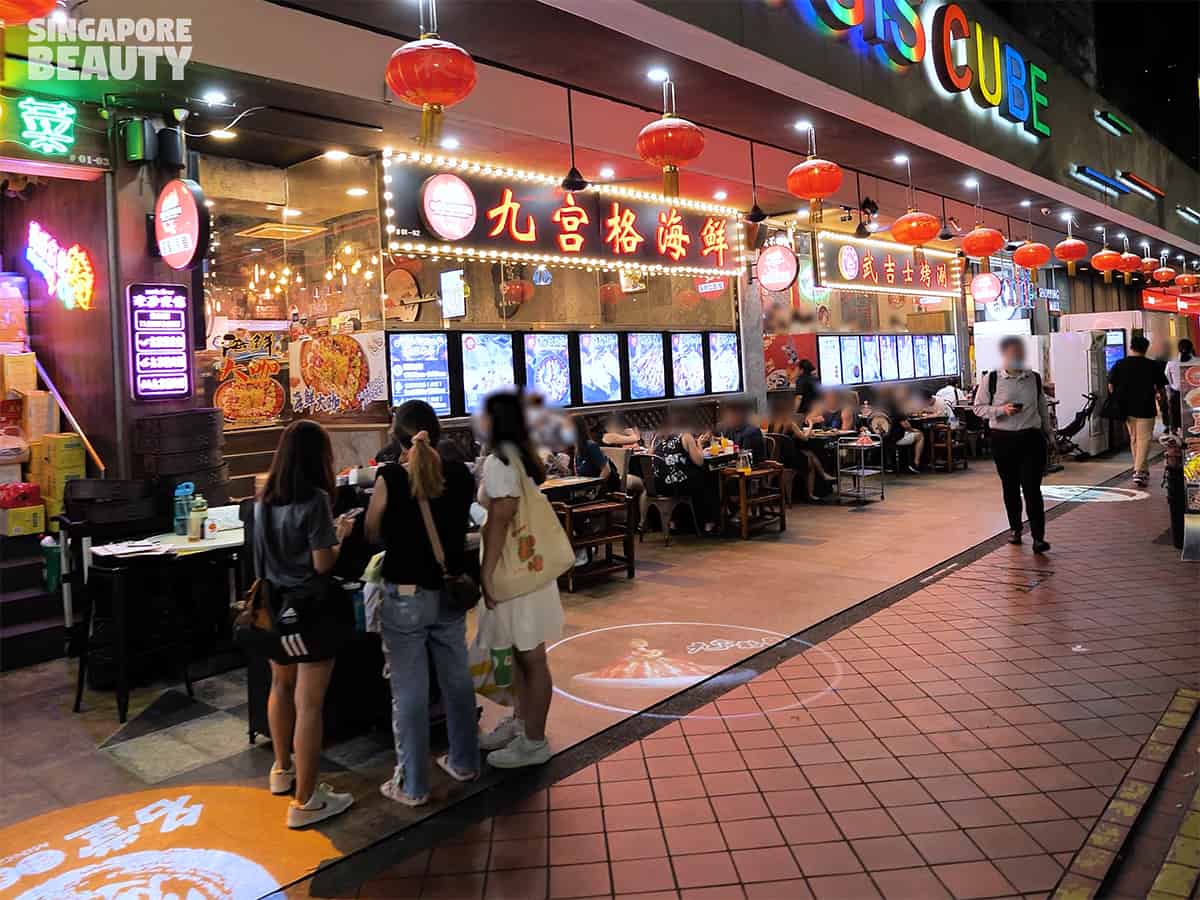 Jiu Gong Ge seafood platter at Bugis is one of the reasons why the whole stretches of shop are bustling daily. With so much variety of food from giant seafood platter, bbq skewers, authentic Chinese cuisines, Singapore style zi-char, hotpot buffet and grilled fish, Jiu Gong Ge is definitely a place to check out and hang out in Bugis for locals to visiting tourist.
Address of Jiu Gong Ge Seafood:
470 North Bridge Road #01-02
Bugis Cube, Singapore 188735
Opening Hours : 11.30am till 2 am Daily
Extended hours on Fridays till 2.30am
For reservations, please call: 6338 3405 / 8399 9127
Brought to you by Jiu Gong Ge Seafood 九宫格海鲜