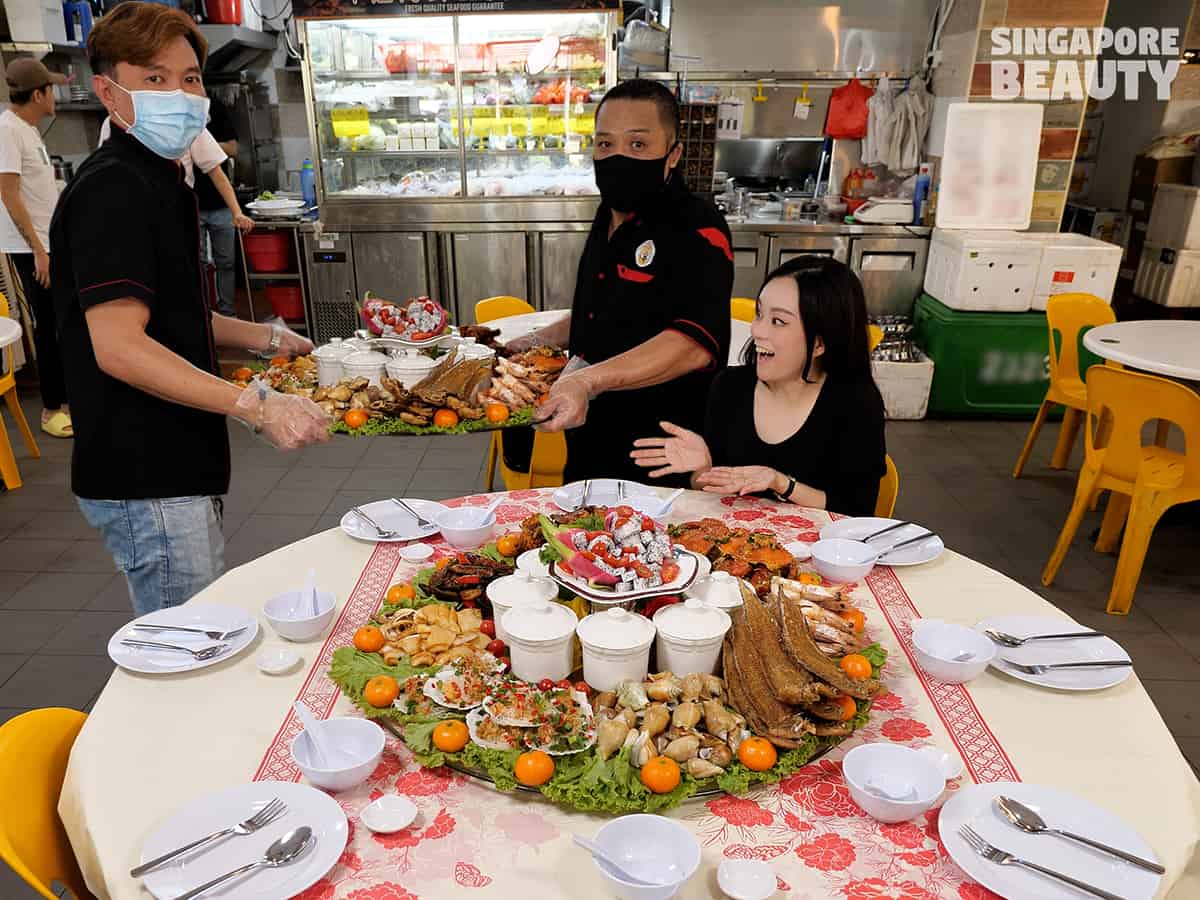 Er Ge seafood at Gambas Crescent is by Singaporean favourite JB restaurant Shan Ming. This is their first flagship restaurant in Singapore helmed by owner chef Lun and his team of chefs brought over from Johor Bahru restaurant. They are serving up their JB style Giant seafood platter on top of their old school JB zi char dishes.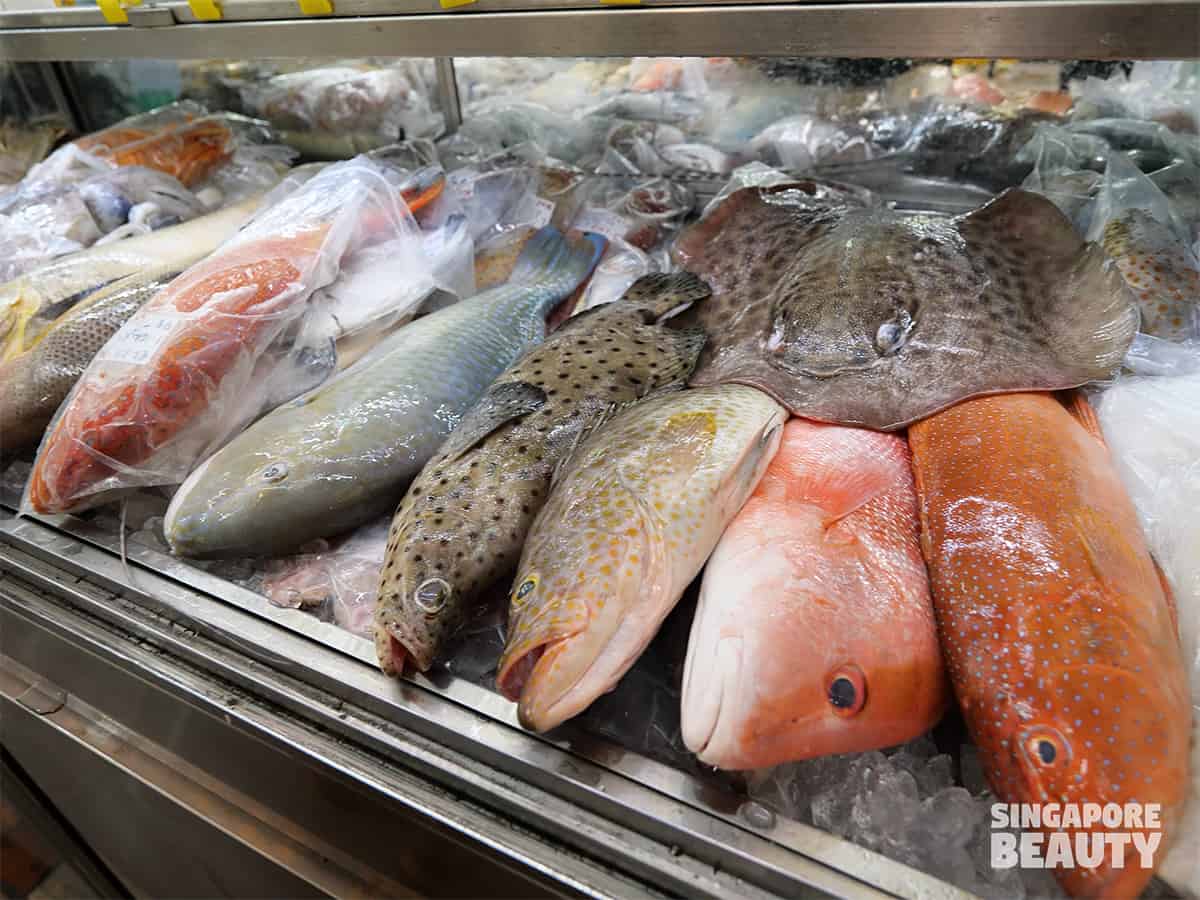 Er Ge Seafood is known for their wild caught fishes by their own fleet of fishing and prawning boats in Indonesia and Malaysia. They are popular for their fresh non frozen daily catch of wild fishes. They also specializes in big seafood and unique seafood caught by their own anglers. We heard that their wild caught fishes are sold out daily so there are no frozen ones that need to be stored overnight.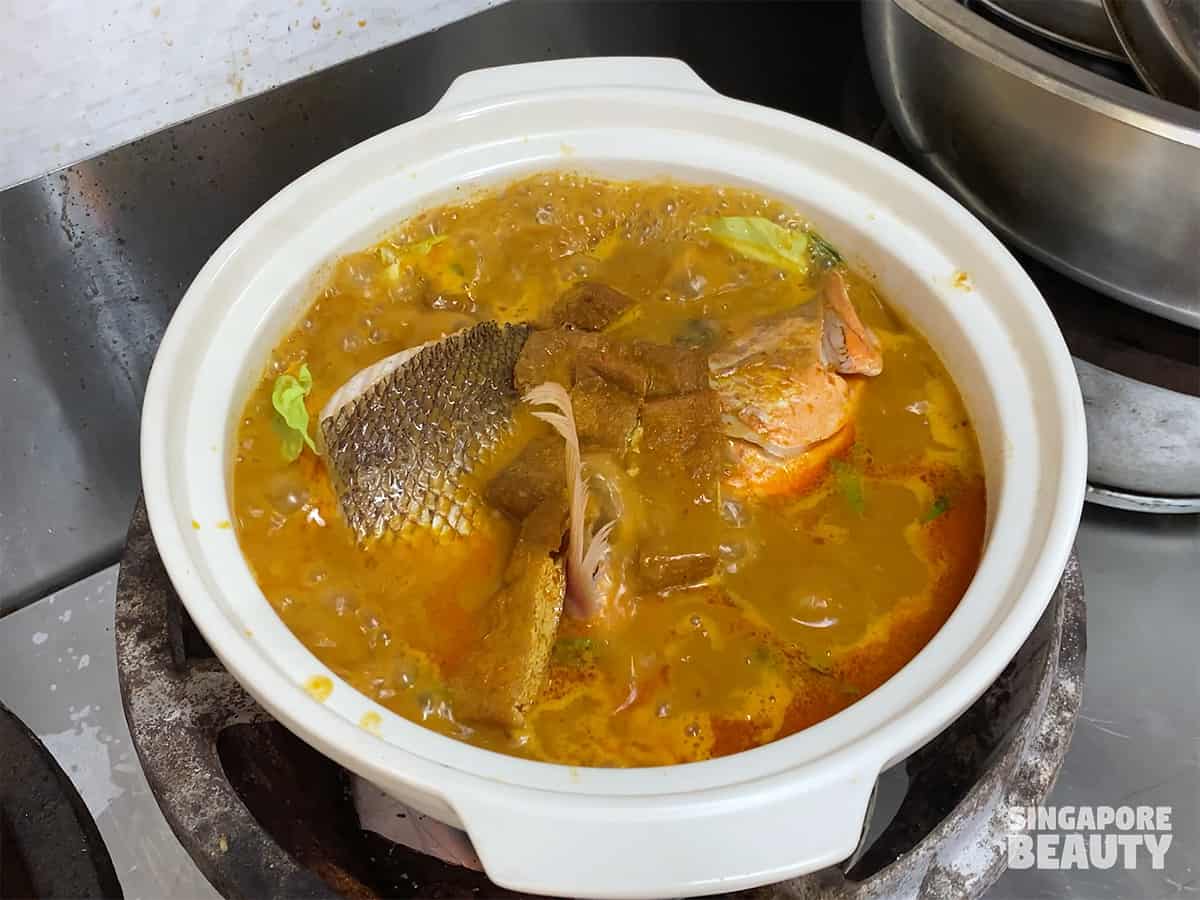 Er Ge seafood is the sole distributor of Famous Johor Bahru curry fish head of Kam Long Ah Zai at Jalan Wong Ah Fook(阿福街金龙咖喱). The curry is served in a claypot with the famous gravy and choice of red snapper or Ang Go Li fish head. The topping are egg plant, lady fingers, cabbage, tau pok, string beans and more. It is their must eat curry fish head in Singapore from JB over at Er Ge Seafood. This curry fish head ($28) is a must try.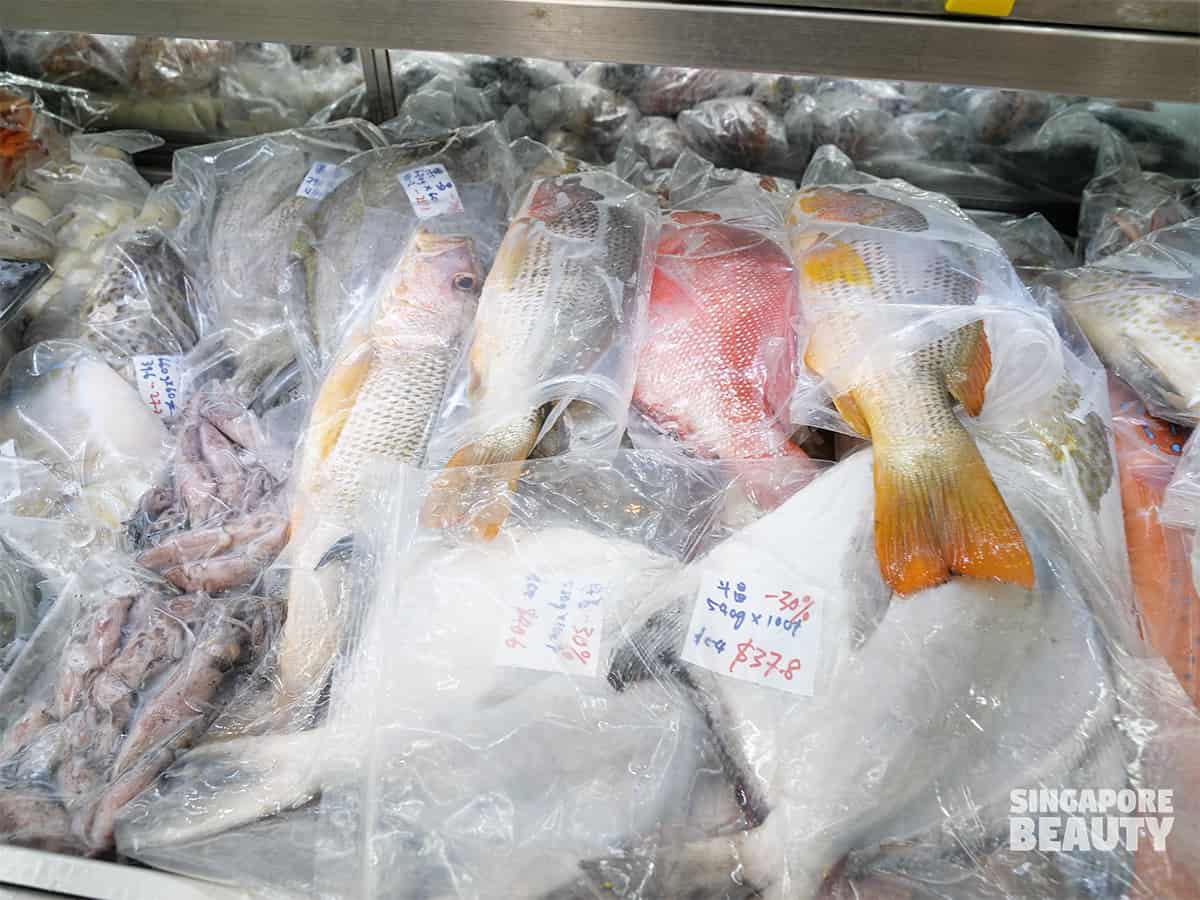 The prices of all these ala carte seafood and wild caught fish at Er Ge seafood are all tagged individually and openly displayed. You choose your preferred fish with the price in mind and will not get a rude shock when paying for them. From now till end November, they are having a 30% discount off these wild caught fishes. You are welcomed to buy them and get the chef to cook for you or bring home and make your own cuisines just like from the pasar.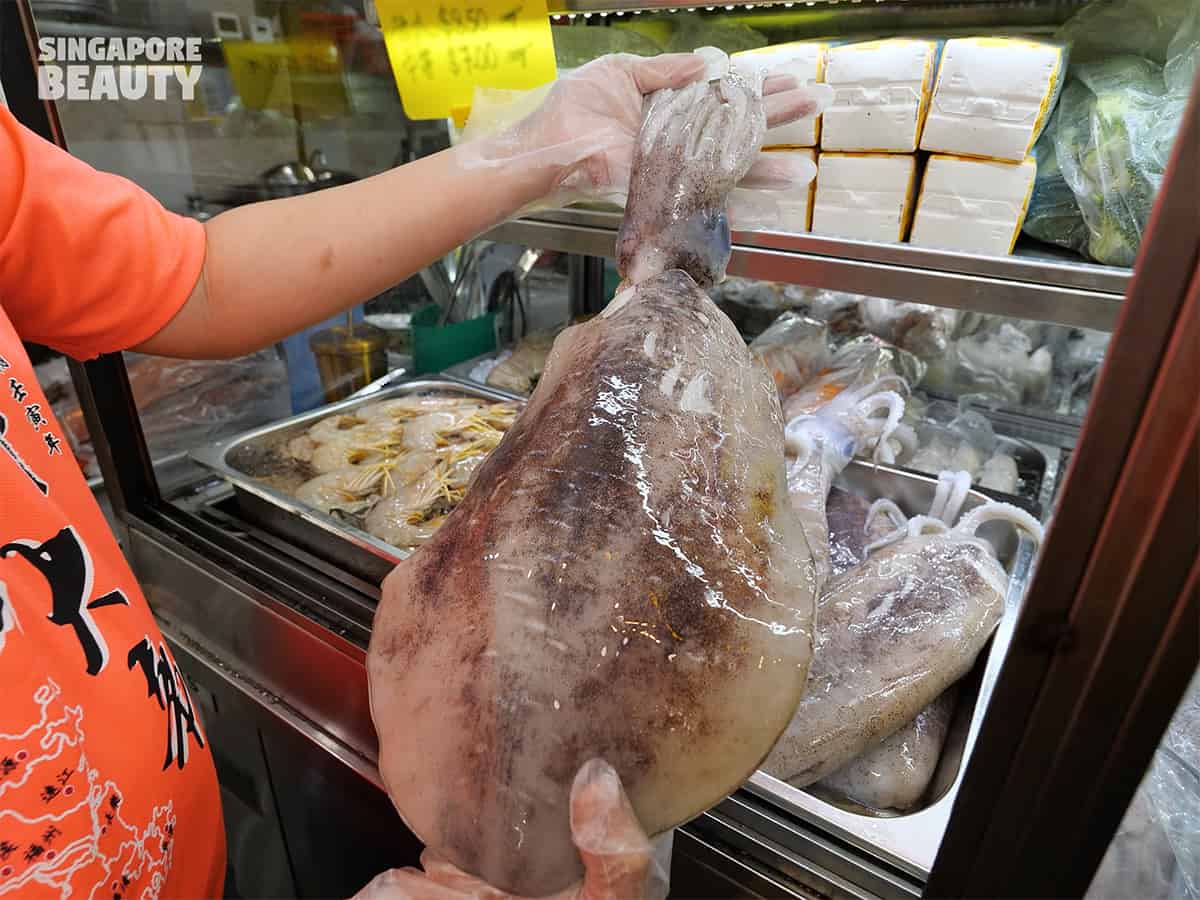 There is a wide selection of big seafood here in this restaurant. Some of which we have never seen before either in terms of variety or the size of it. They also have special catch of the day like XL Tiger stingray, XL deep sea Balai threadfin, Silver sillago smelt, Mouse grouper and XL parrot fish. You can get the mouse grouper (老鼠斑) which is the finest of all grouper and the atas dong xing ban (东星斑) type of grouper here. Check out the Bigfin reef squid pictured above that is used in the Giant seafood platter. Do call them for what seafood is available on that day before going down.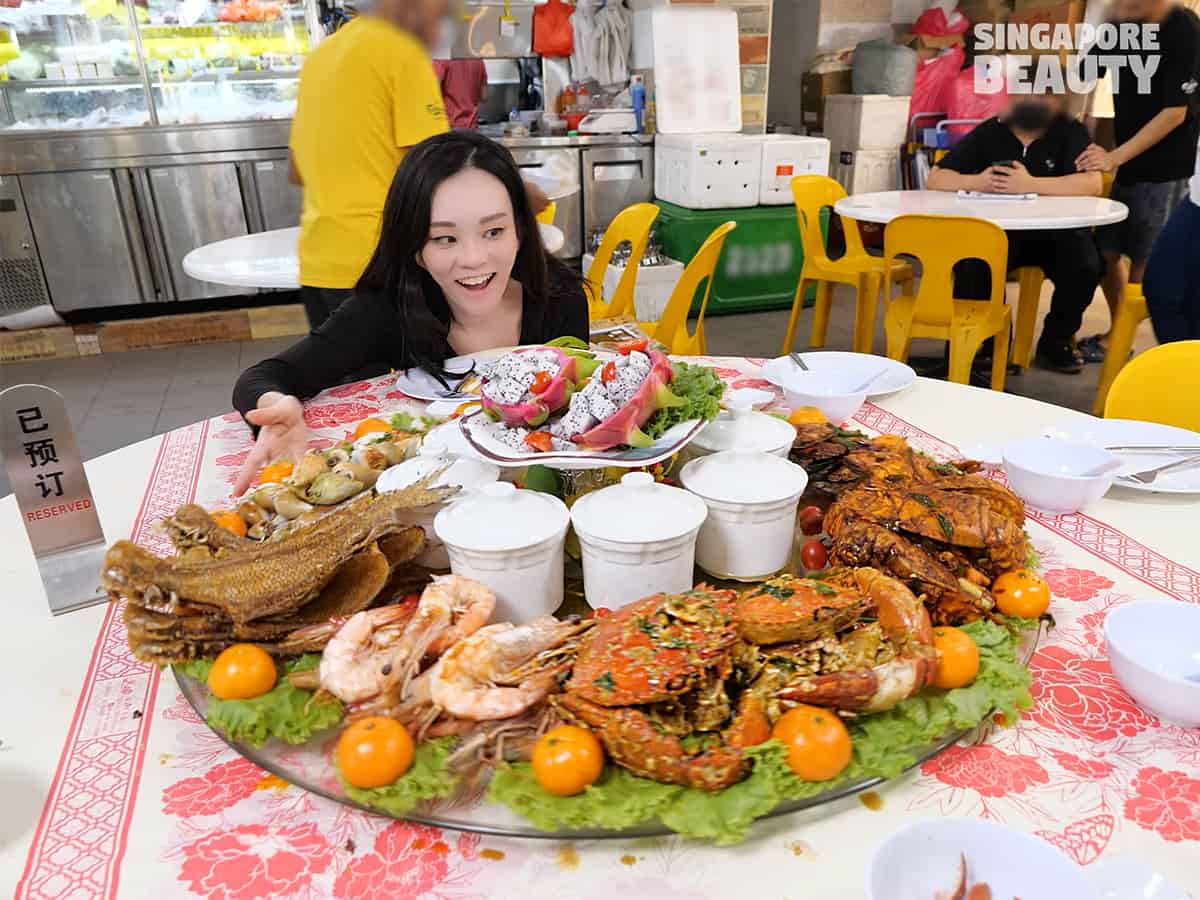 This is Er Ge Seafood Giant seafood platter ($788) for 10 pax. You may add on more at $78.80 per pax. This giant seafood platter need a 3 day advance booking as the premium seafood such as shark fin need a longer prior prep time to soak, soften and braise. You may call 81206933 to book, only limited sets of such giant seafood platter is available daily, if you need more, special arrangements need to be made. This is a great coffeeshop with restaurant vibe food that is great for company dinner, corporate events and family gatherings with more pocket friendly prices and fresh seafood.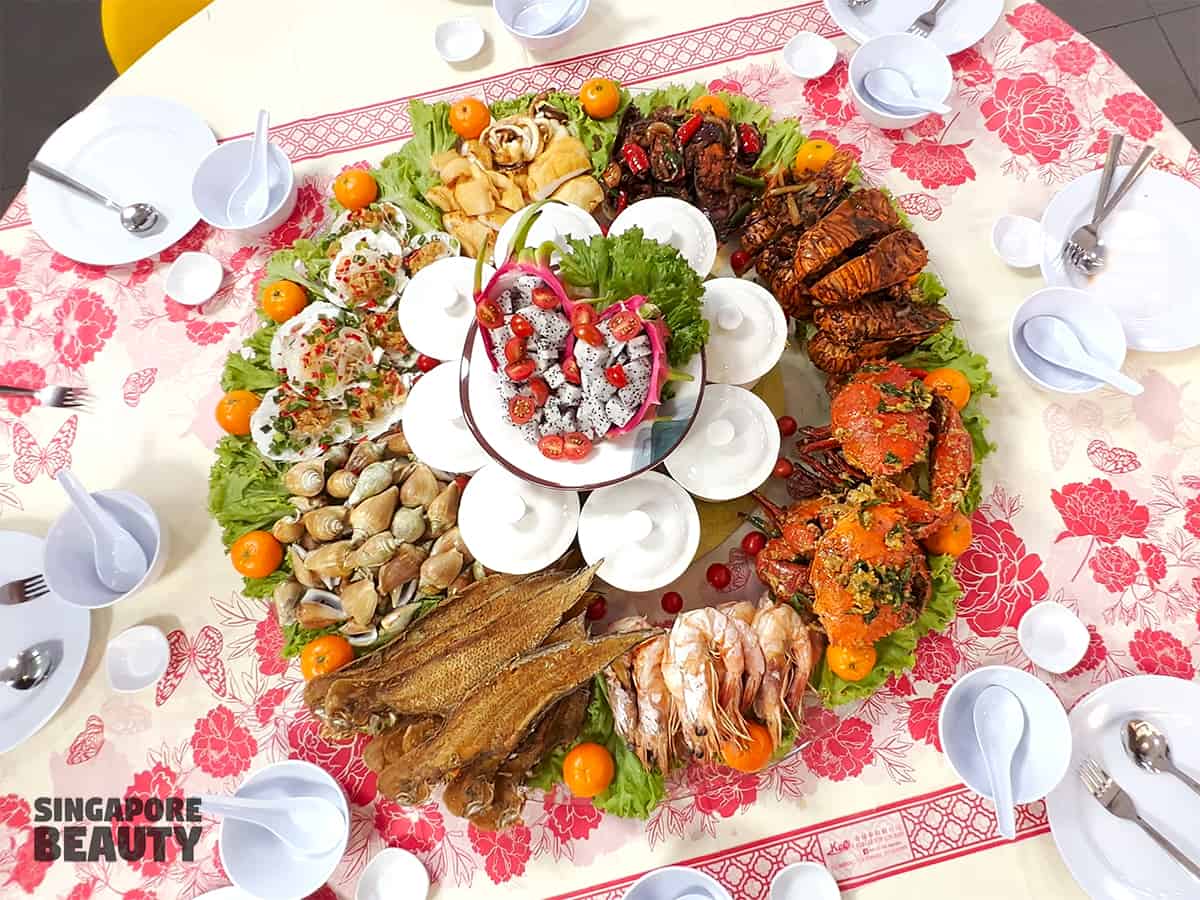 This massive giant platter is made up of 10 premium seafood such as abalone, crab meat, shark fin soup, Live XL mud crab in real salted egg sauce,  deep fried Dragon tongue fish, Bigfin reef squid with umami crust, Pontian wild king red leg prawns poached, XL slipper lobster In kam heong sauce, Scallop in garlic pepper, Gong gong fresh poached, green lipped mussel In sambal belacan and Dragon fruit bowl.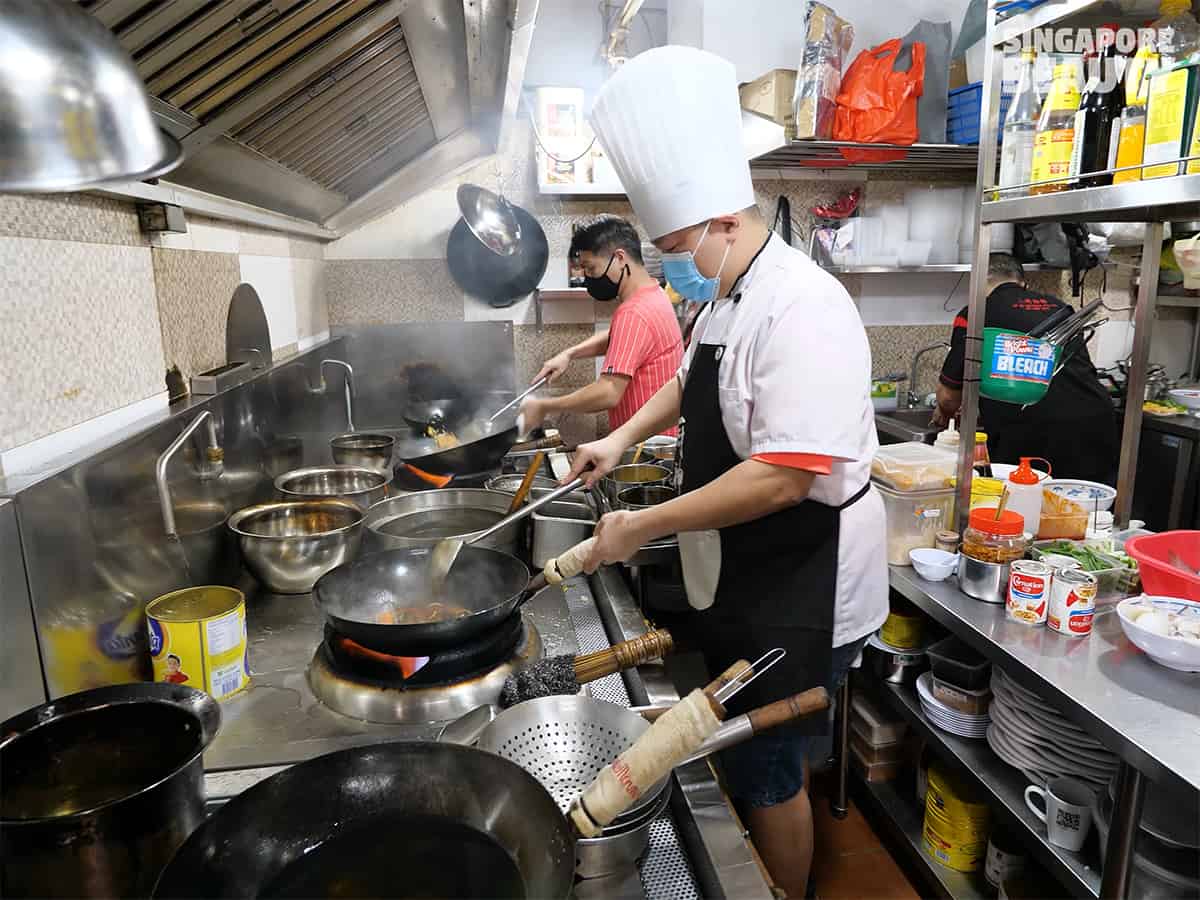 Er Ge Seafood is helmed by a 20 years experienced seasoned chef Lun who is also the famous restaurateur of legendary JB Shan Ming restaurant. If you have been to his JB restaurant, you will see a large standee of him on his breathtaking super large signboard. Yes, he is that famous in his Johor Bahru restaurant. This is his new flagship seafood place in Singapore with his JB style seafood and zi char to wow our locals.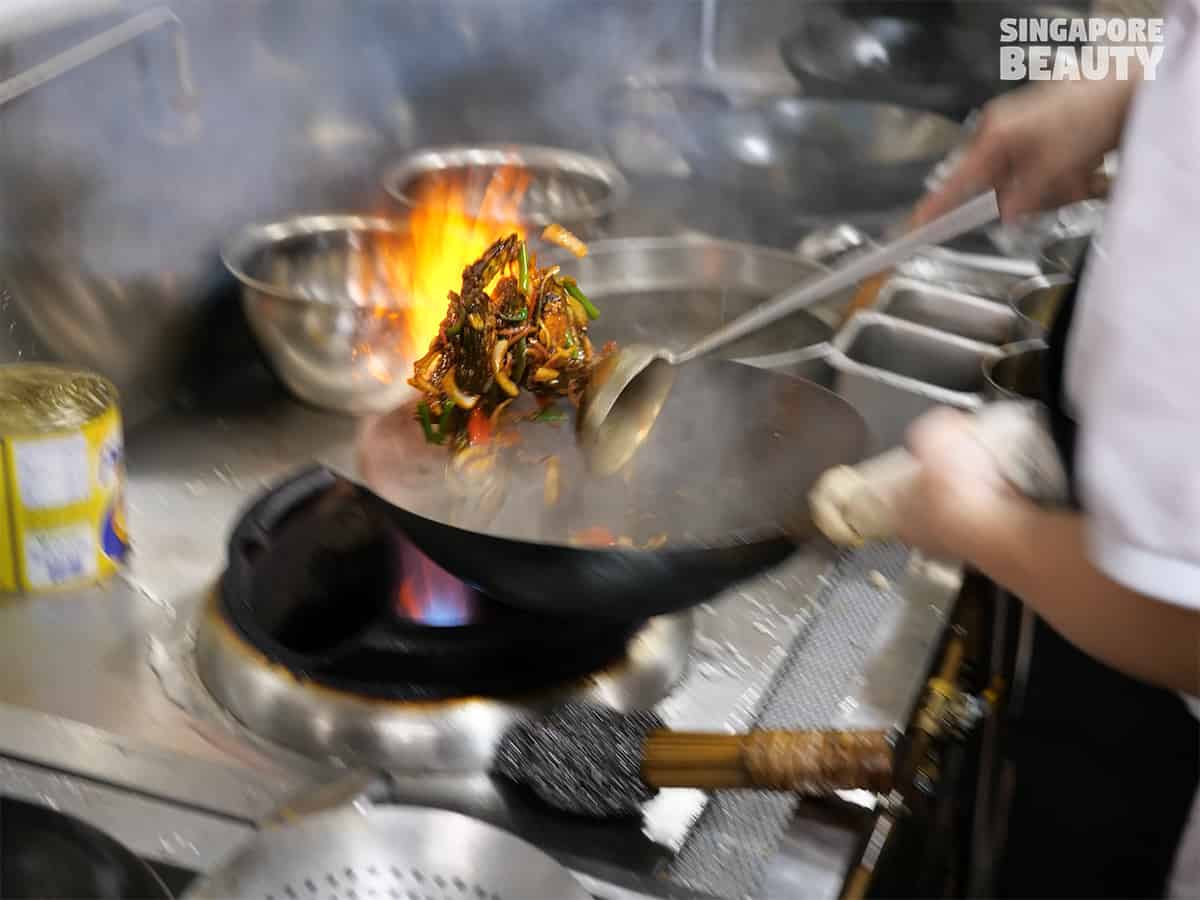 We were invited to watch Chef Lun cook the Giant seafood platter. Using his Heirloom old school recipe passed down from grandfather from the 20s, the style of his zi char seafood is a fusion of old school style with local trendy flavours. Combining a series of stir fry, deep fried, poaching and steamed to create the complexed individual dishes of the giant platter. We can tell he is very experienced by the smooth and fast execution of each dish. He is also very well versed with the seafood and knows the best ways to cook them to bring out their natural flavours.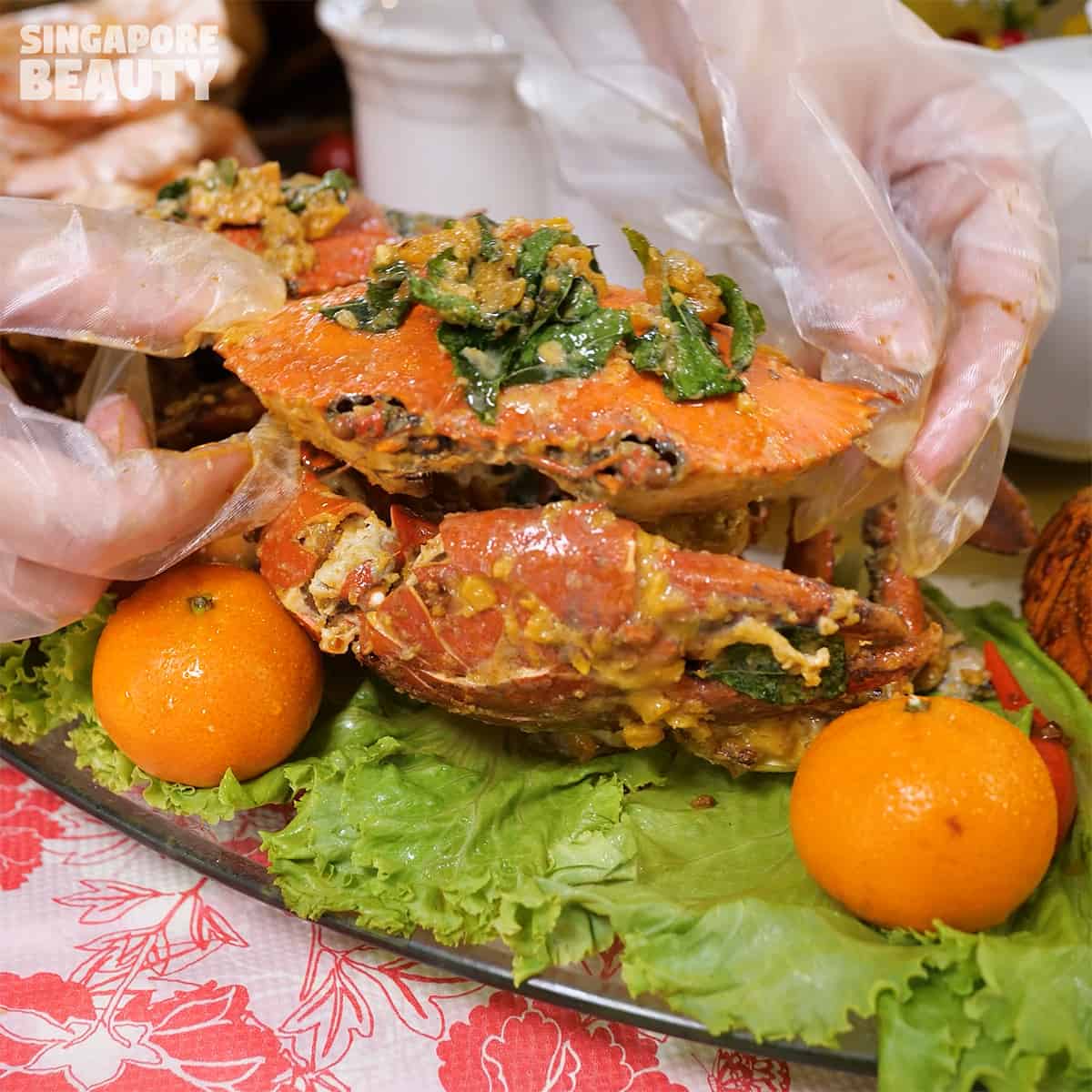 Salted egg crabs in the giant seafood platter. These are live mud crabs that are dispatched and cleaned on the spot. The claws are cracked to better infuse the flavours of the salted egg sauce. To bring out the aroma of the salted egg crab, they only used real salted egg yolk. I saw a huge container of pure salted egg yolk grains which they used to cook the crabs.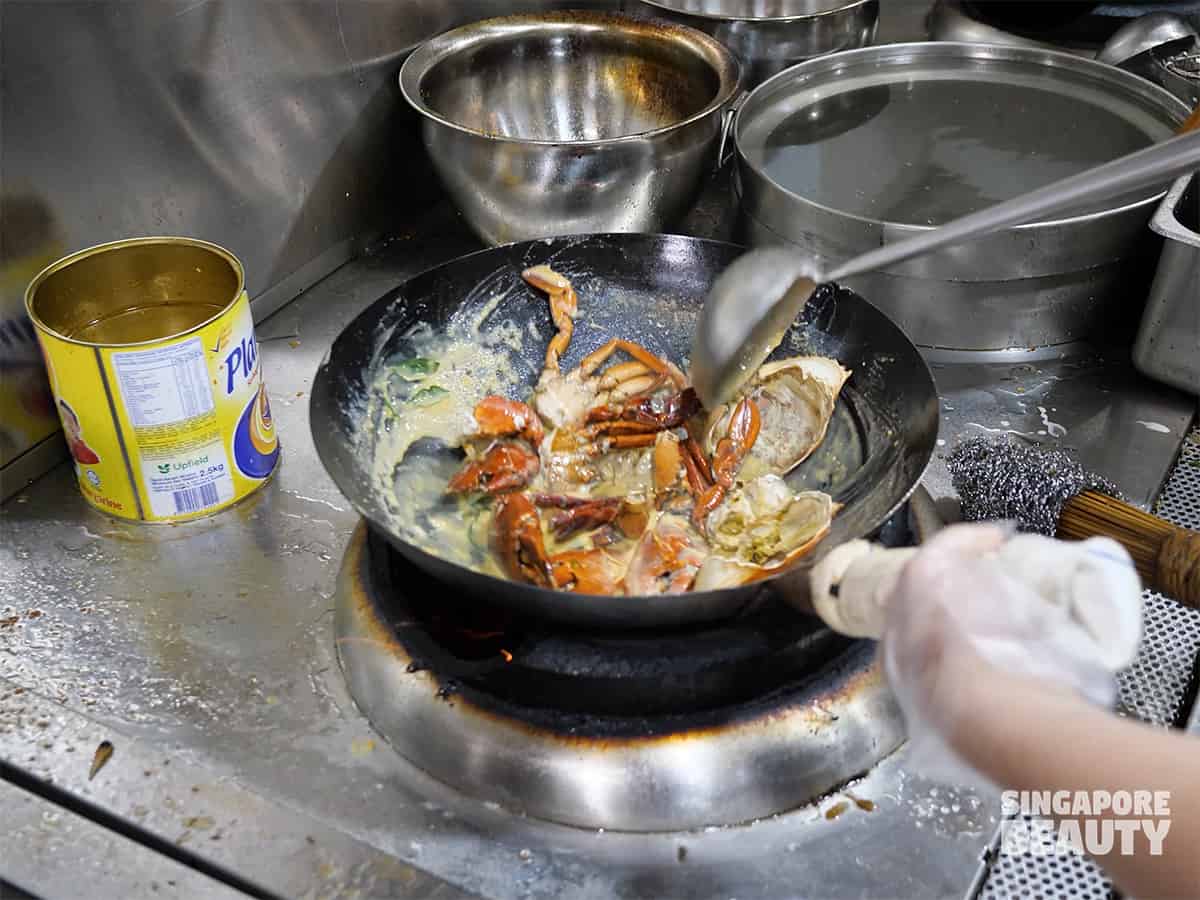 With a smoking white hot wok and a secretive starting greaser, he cooked the salted egg into creamy rich sauce. The aroma of the salted egg with curry leaves were drool inducing. In goes the mud crabs and with a few toss in the air, the salted egg crabs were served sliding velvety off onto the plate.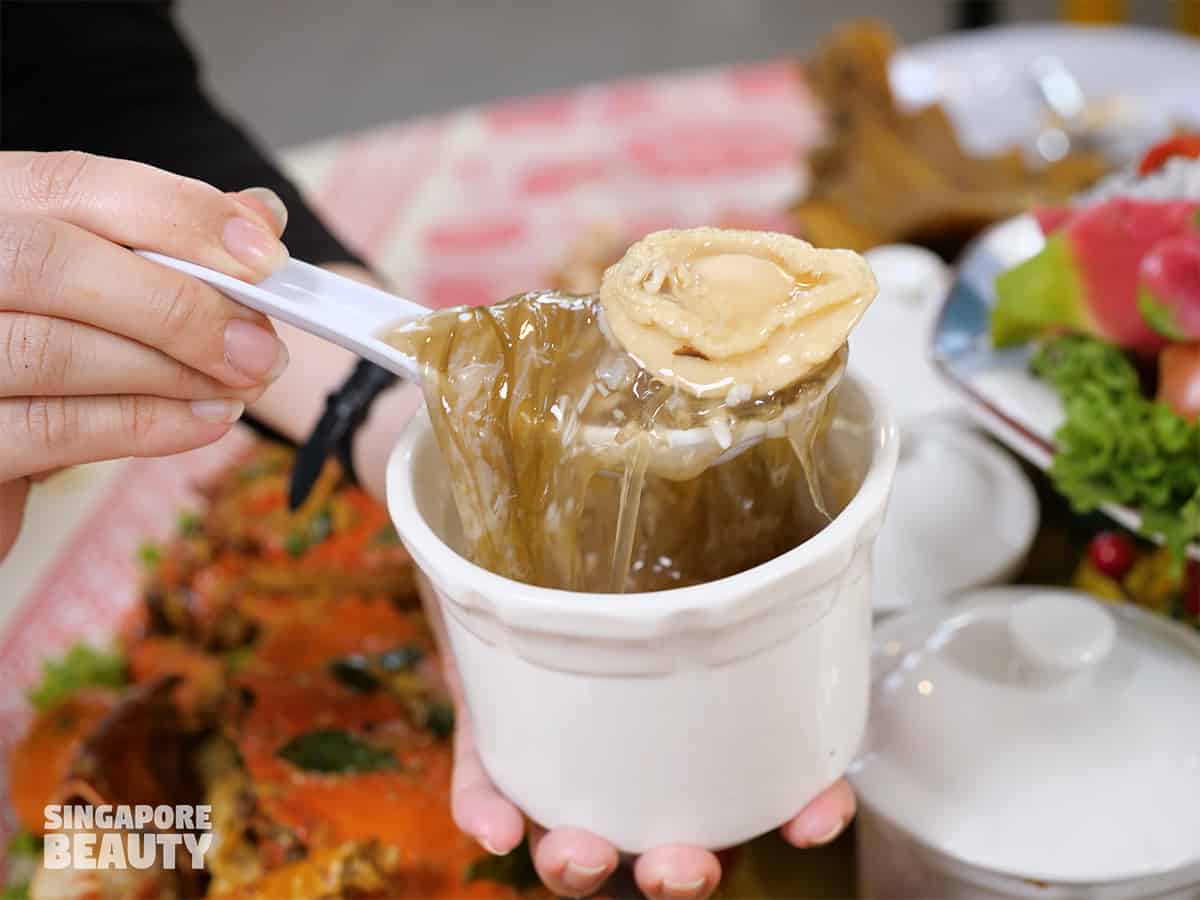 This is Er Ge Seafood shark fin soup that is a velvety soup of crab meat, generous amount of gelatinous shark fin cartilages and a briny tender baby abalone. The soup definitely feels luxurious with the amount of premium ingredients in it. These are served piping hot in personal soup pot so you can enjoy it slowly at your own pace with all the ingredients.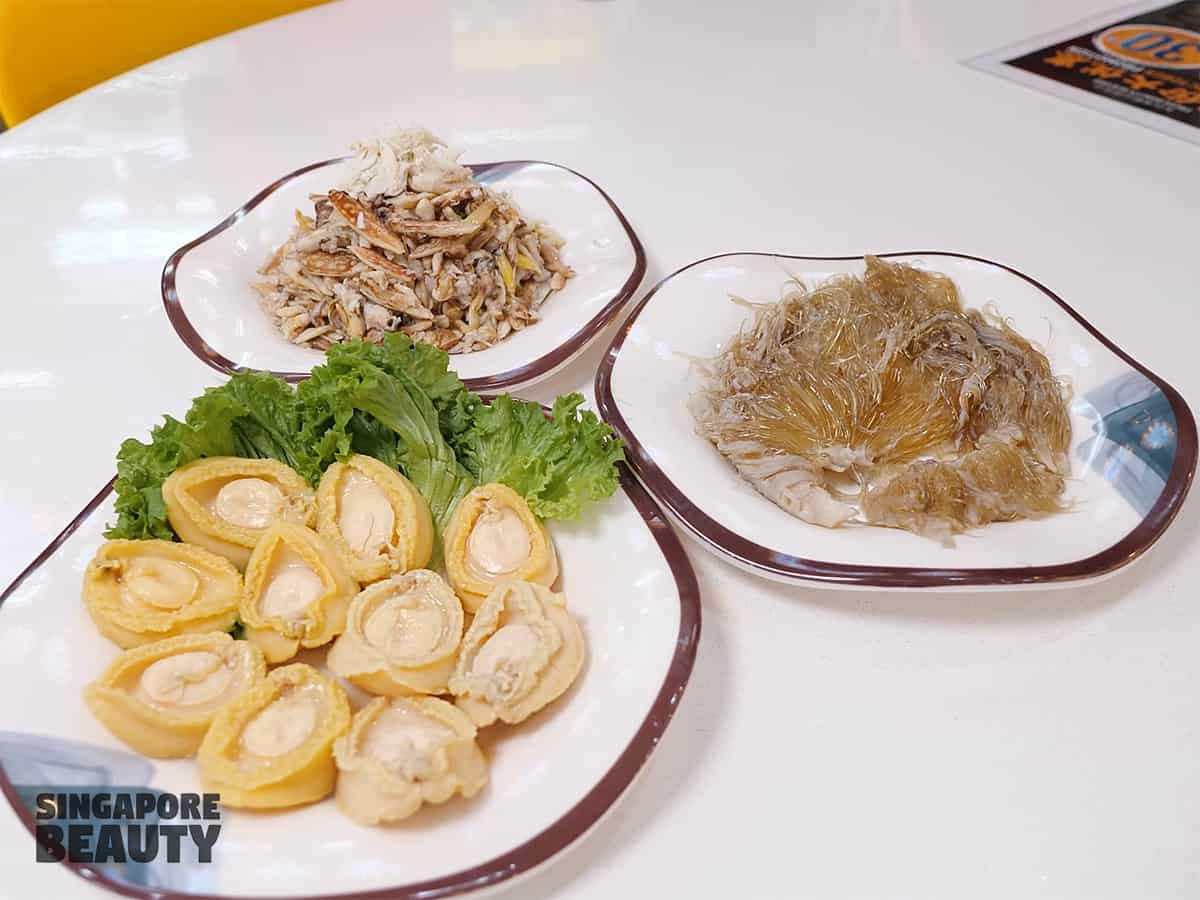 Pictured above is the amount of ingredients that goes into the sharkfin soup. The shark fin used is one whole fin that is soaked, soften, boiled, seasoned and steamed. Crab meat are handpicked and removed of all shells. Abalone are good size ones in brine.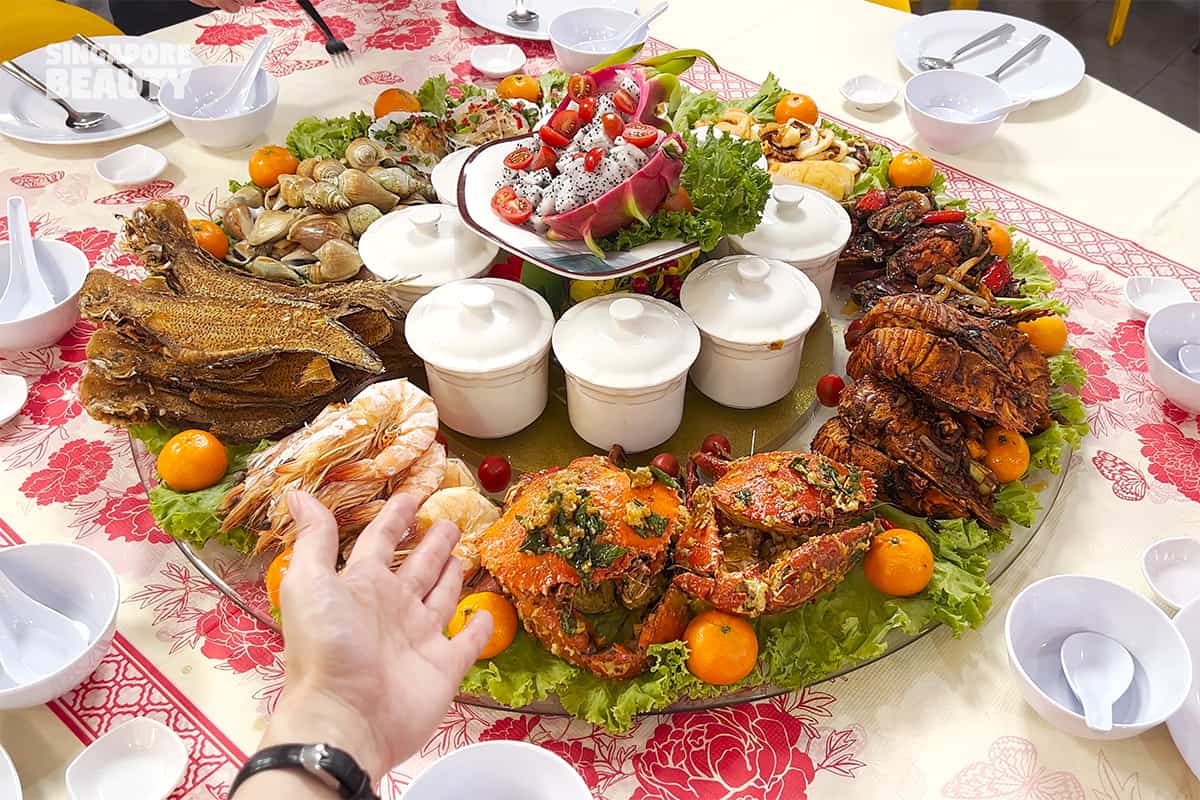 Here's our Er Ge Seafood review on their Giant Seafood Platter. The giant platter is good for 10 pax with a good variety of 10 types of seafood such as live mud crabs in salted egg sauce, XL slipper lobsters, shark fin soup and more. With a variety of seafood texture from deep fried crispy, to stir fry savoury, poached gong to retain their sweet flavour to steamed garlic scallops in their own fresh briny juices. The way of cooking is well planned for a myriad of texture and flavours. Plating is also a plus with vibrant festive colour to compliment the seafood.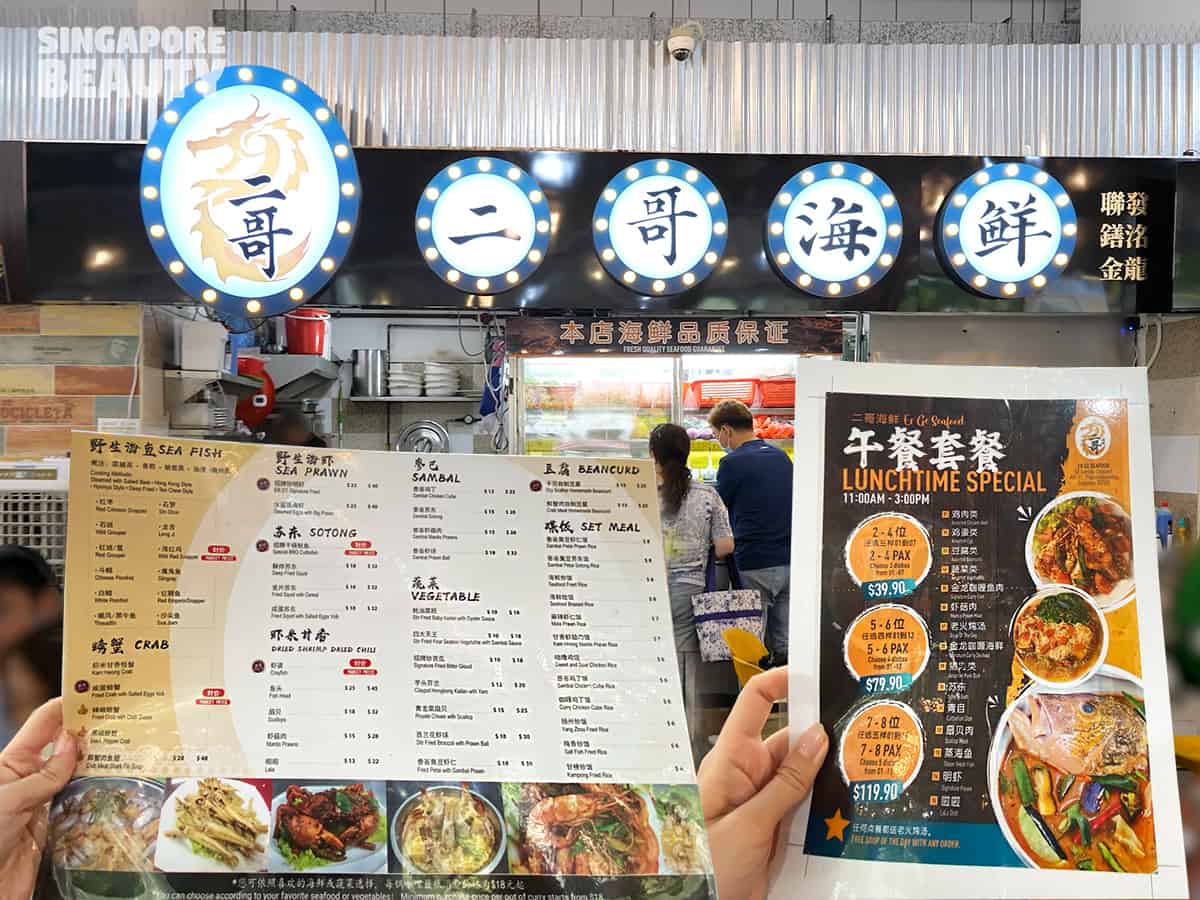 This is Er Ge Seafood menu price if you are looking to add on more zi char dishes to the giant seafood platter. They have signature mala, fish head curry, whole fish in different cooking method, crabs, sea prawns, sotong, dried shrimp dried chilli aka kam heong seafood, sambal seafood, stir fry vegetables, beancurd and set meals for lunch and dinner. They also have lunch set special for 2-8 pax from 11am till 3 pm with free soup of the day. Have a taste of JB without crossing the borders.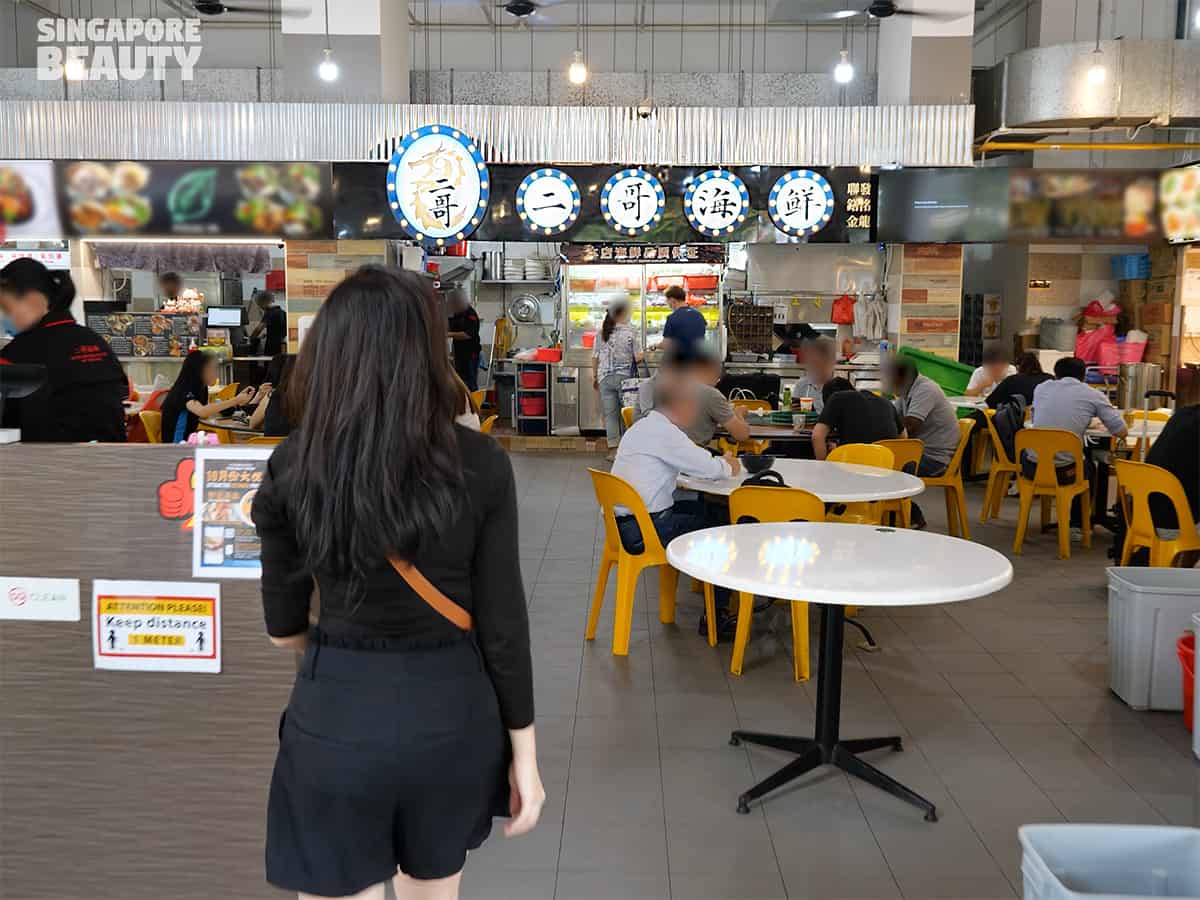 Head over to Er Ge Seafood at Gambas Crescent for some big seafood fresh from the sea that is not frozen, giant seafood platter feast, Famous Johor Bahru curry fish head of Kam Long Ah Zai at Jalan Wong Ah Fook(阿福街金龙咖喱) or some JB style Zi char with some fierce wok hei. This coffeeshop has a relaxed vibe with some Hong Kong 80s Oldies tunes playing softly in background while you dine.
Note:
Promotion: 30% off wild caught fish till End Nov 2022
For Giant Seafood Platter for 10 pax, 3 day advanced booking is required.
Address of Er Ge Seafood :
50 Gambas Crescent,
Proxima @Gambas
Singapore 757022
Opening Hours : 11.00am to 3pm , 5pm to 10pm Daily
For Reservation, pls call : 8120 6933
Parking available infront of coffeeshop or at any lots found around/inside the building.
Brought to you By Er Ge Seafood (二哥海鲜)