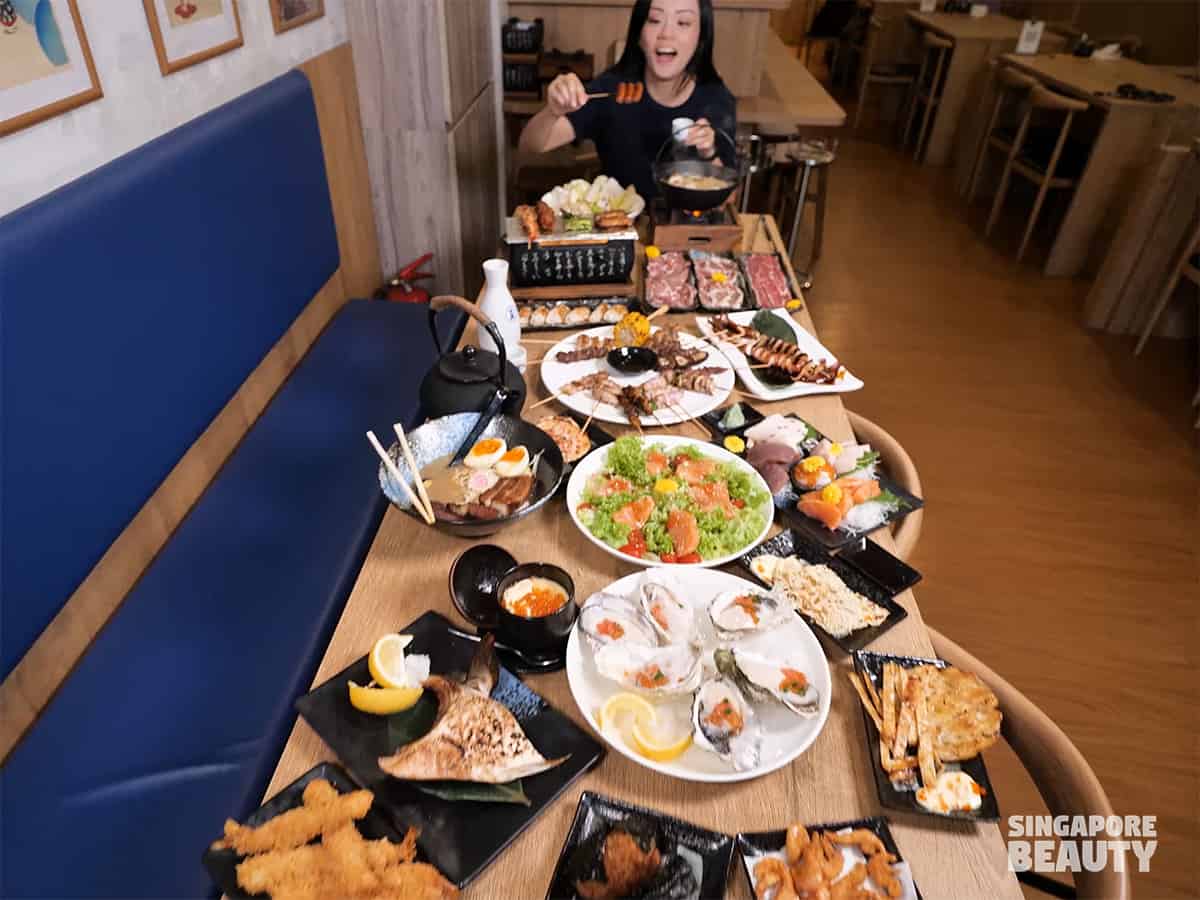 Ying Izakaya has 23 themed rooms and grill your own kushiyaki from $1 located conveniently in Bugis Point across Bugis Junction. As with izakaya, it is a bar where you can eat some Japanese food and enjoy alcoholic drinks casually. They have a wide variety on the menu including salad, light bites, kushiyaki, charcoal grilled items, GYO kushiyaki, agemono, tempura, sashimi, shabu shabu, yakisoba, ramen & udon, donburi, rice, gozen set, bar bites, desserts, lunch bentos sets and even omakase. With this amount of overwhelming types of Japanese cuisines to select, you will be spoilt for choice at Ying Izakaya.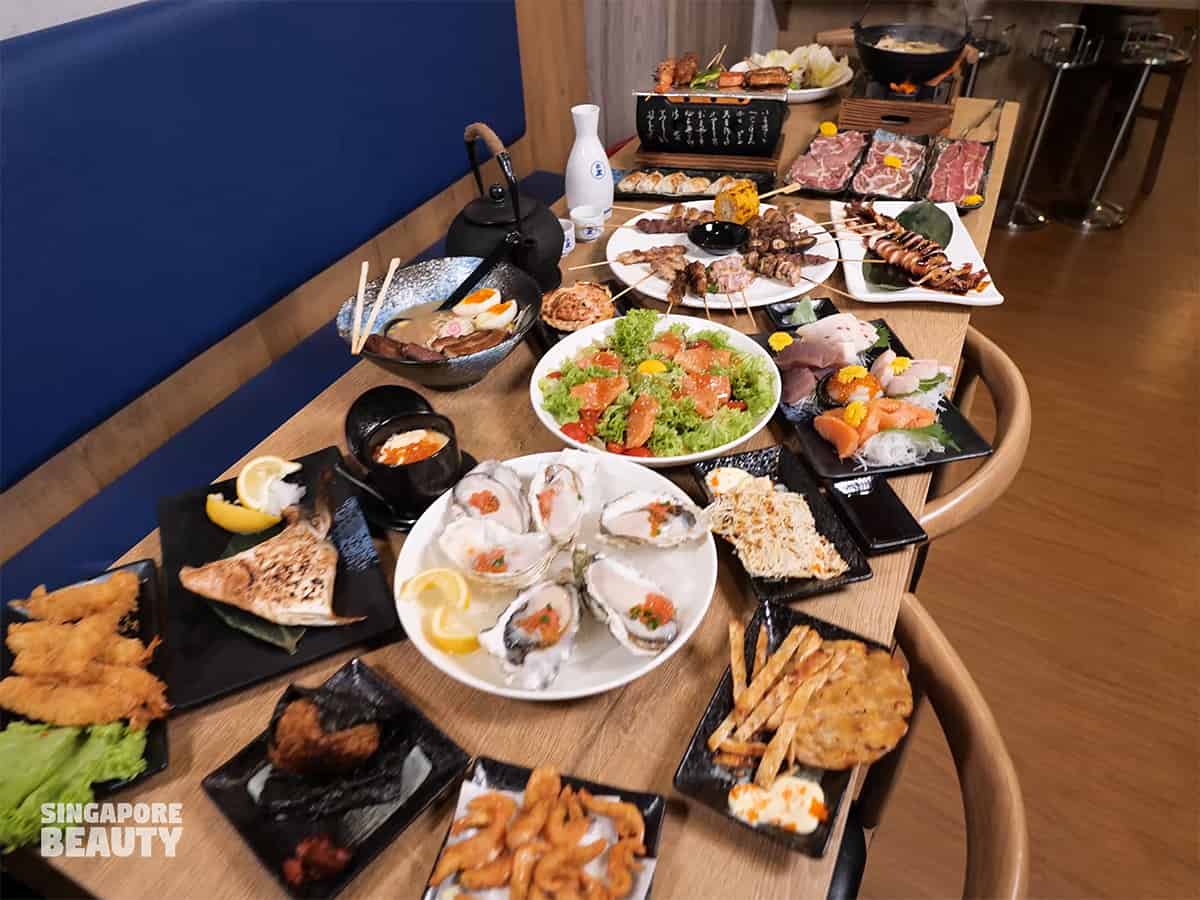 Presenting 181 in-house Japanese Izakaya Food, here are some of the signature picks by the chef. At Ying Izakaya, the chef recommendation are kushiyaki, yellowtail collar, sashimi, grilled squid in soya, shabu shabu and the imported sake.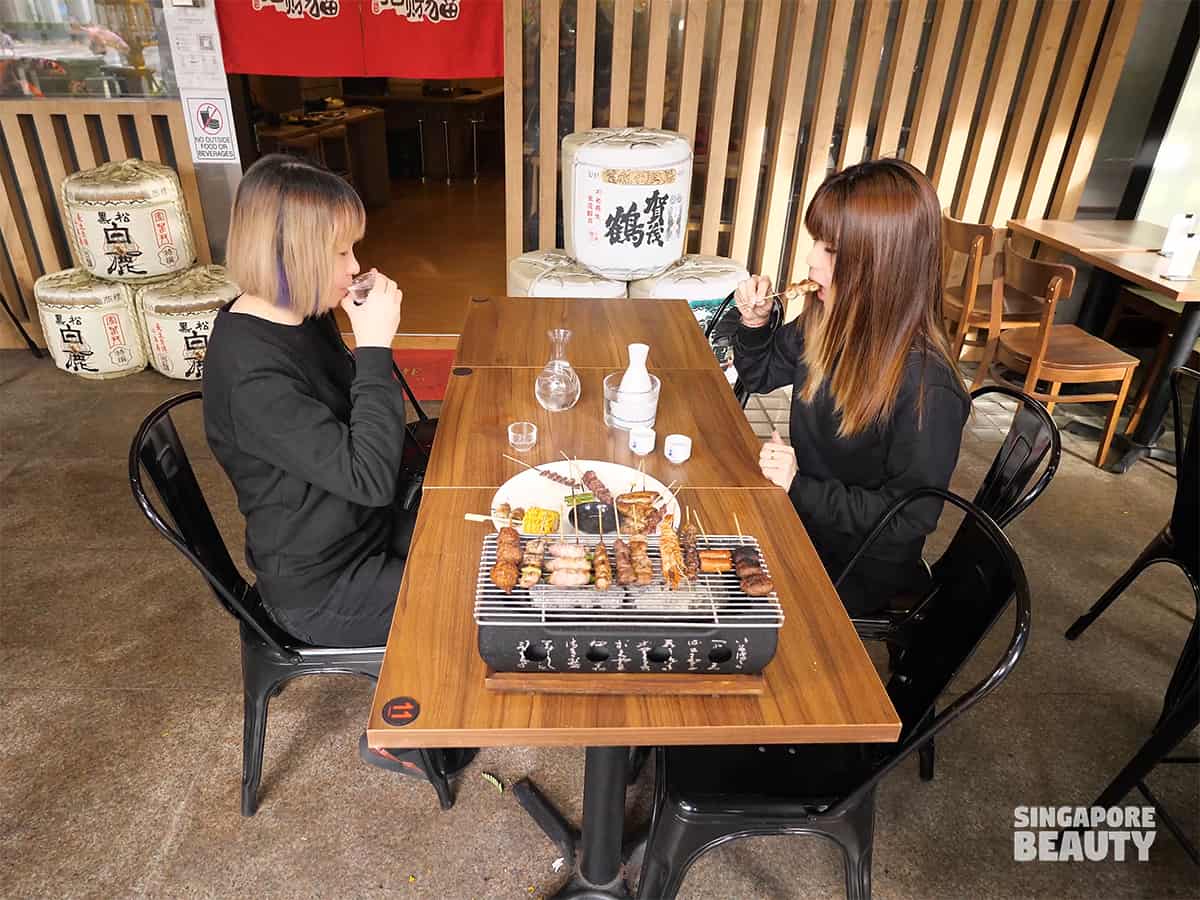 Currently Ying Izakaya is having a sake promotion. For every $150 spend, you get to enjoy 150ml of free sake on the house. For $250 spent, you get 300ml house pour of the day. Time to eat grills, drink sake and be merry.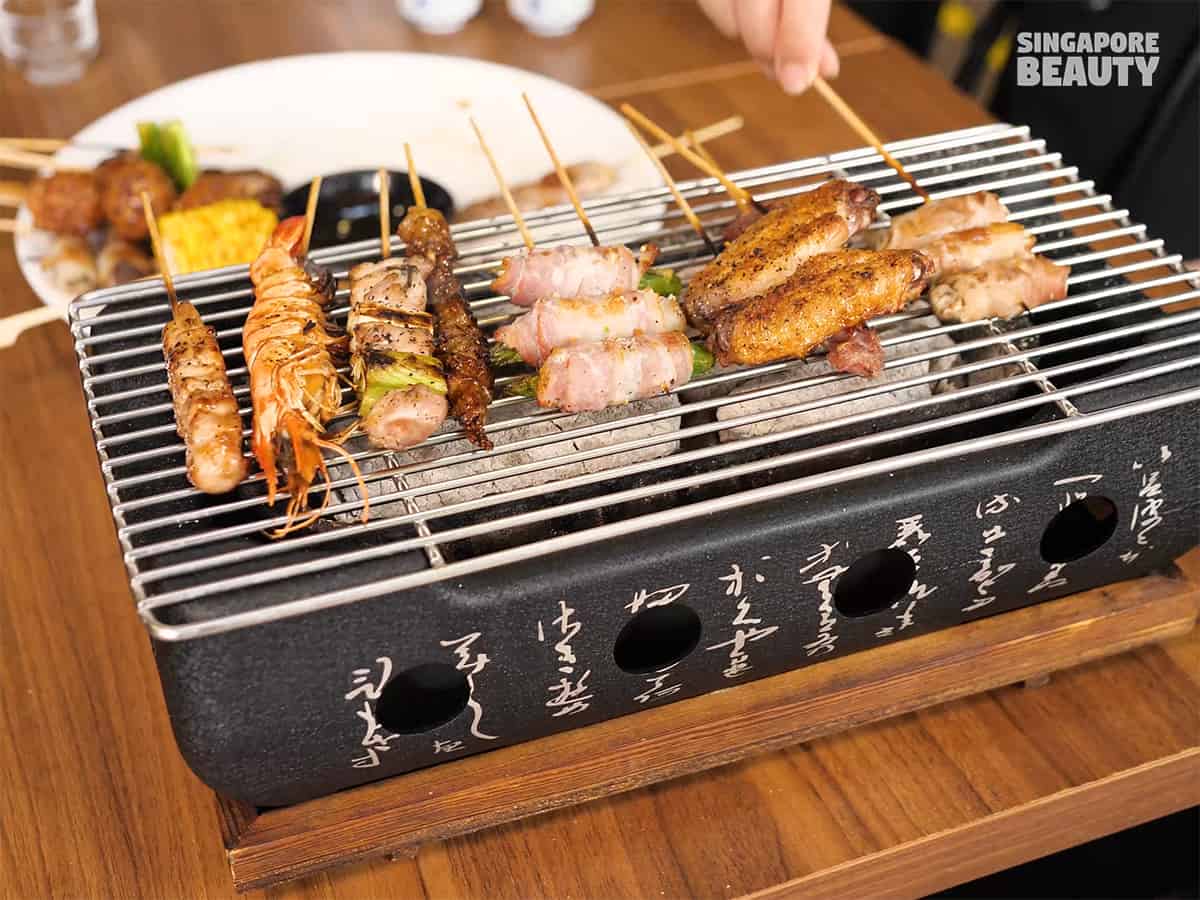 Enjoy grill your own (GYO) Kushiyaki on a personal Japanese stove with binchotan from $1. The Japanese stove is a add on of $5. The $1 kushiyaki includes teriyaki, mid wing, negi yakitori, sunazari,kawa, selected greens and more.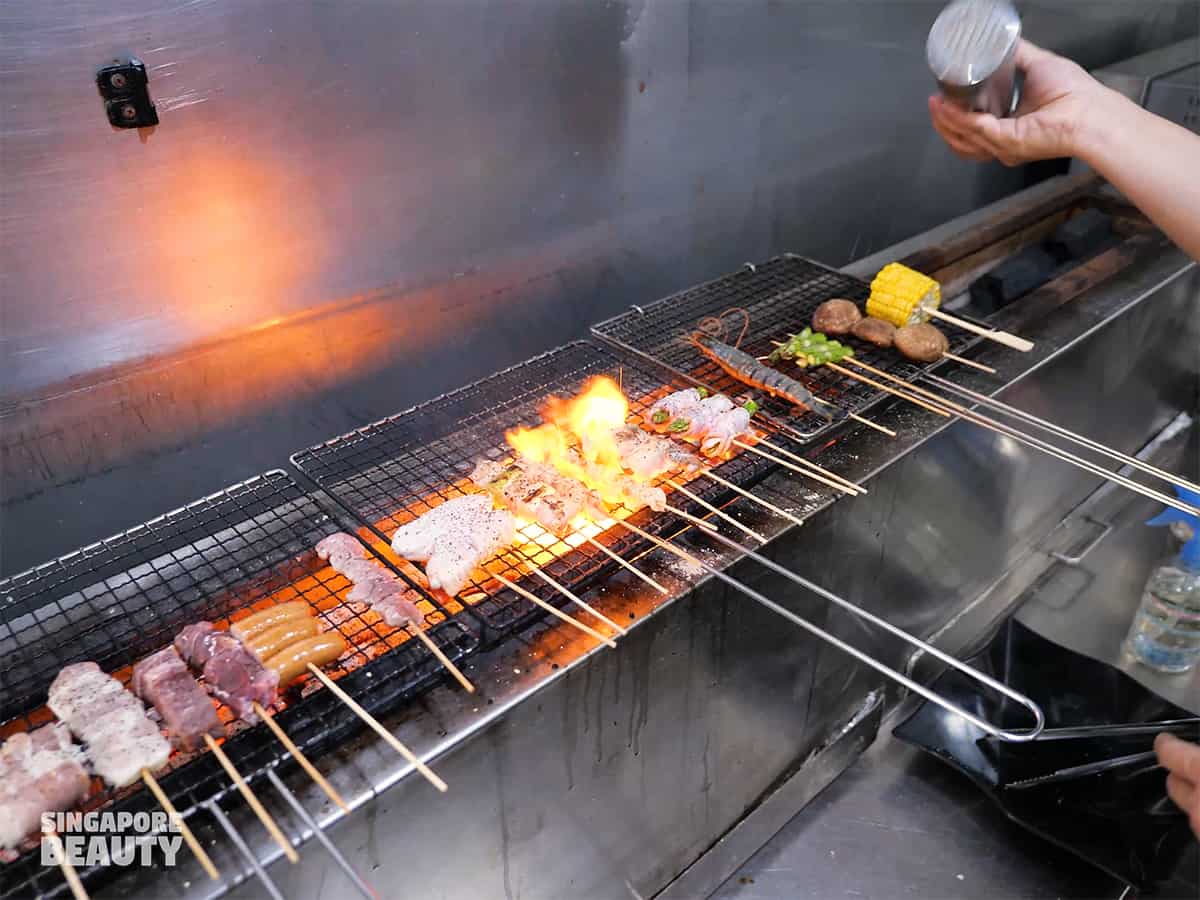 For those who love to sit back and get served, you can choose the chef cooked Kushiyaki with sake and shio. These Kushiyaki that starts from $2.90 and have wider variety of grills with sake compared to the GYO Kushiyaki.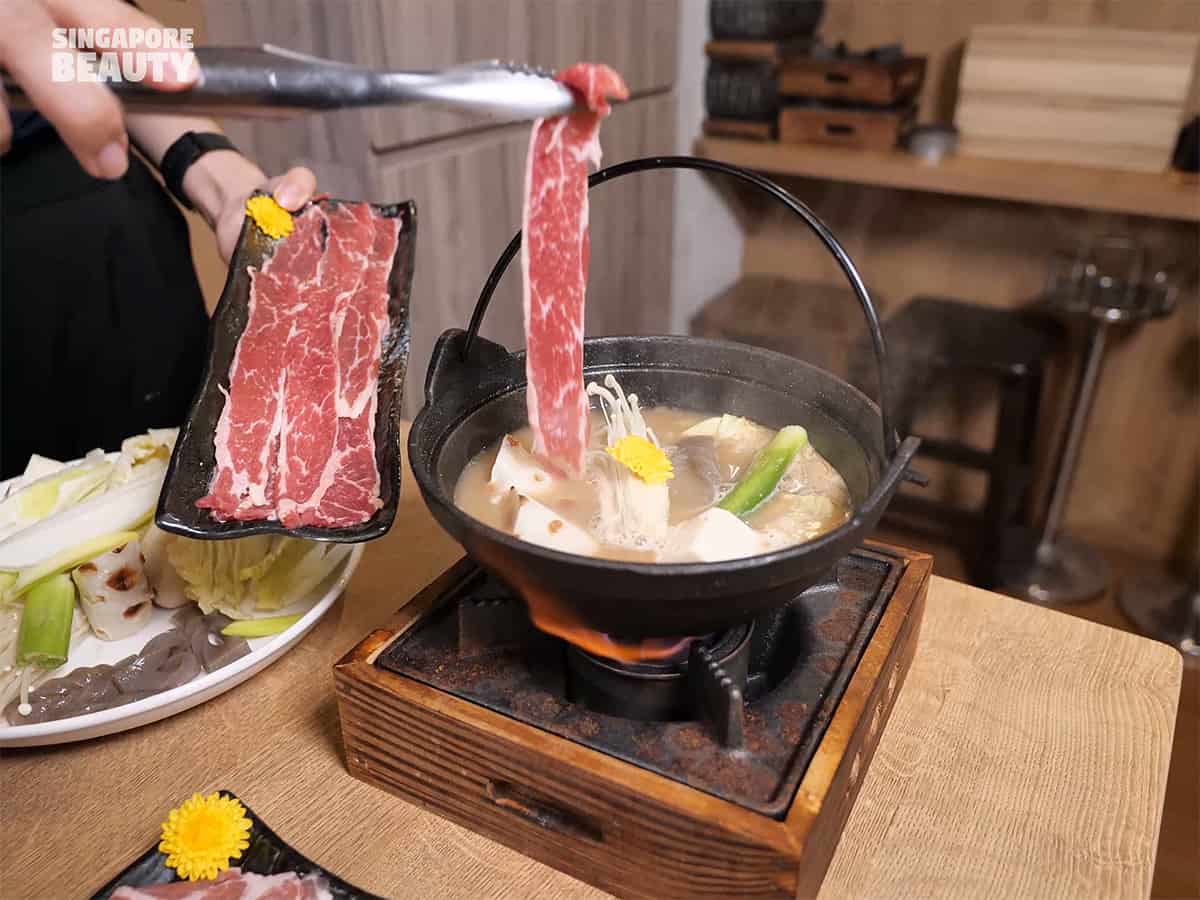 For those who like to get the best of both worlds at Ying Izakaya, try the Shabu shabu and kushiyaki to complement each other. Their ala carte shabu shabu meat starts from $6.80 or upgrade to premium selects such as shortribs or iberico. For those who prefers a wholesome meal with greens and meat, they also have shabu shabu sets starting from $22. The shabu shabu soup with stove is add on from $8.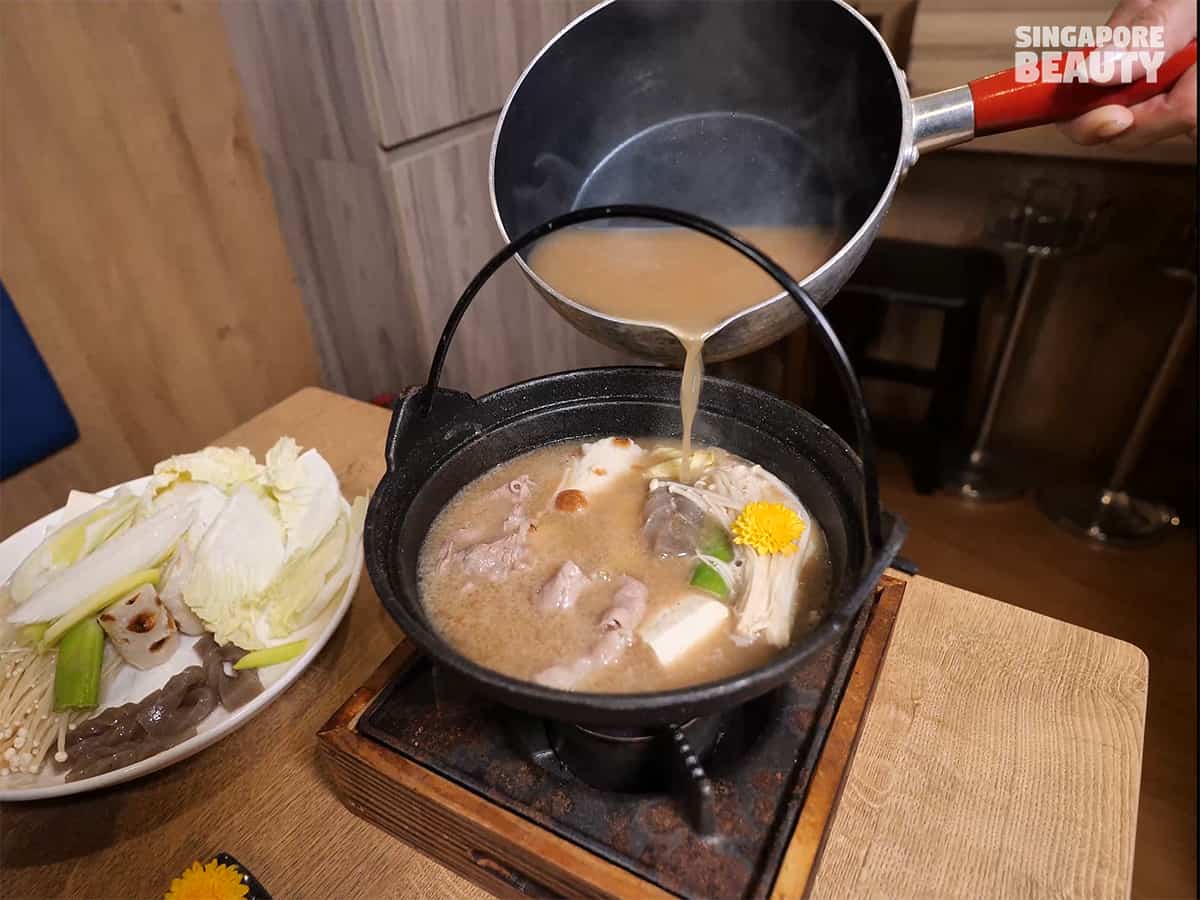 Soup base available for shabu shabu are miso($8) and tonkotsu($9). The tonkotsu soup base is made by boiling pork big bones and chicken bones over rolling heat for 12 hours over a span of 5 days. The final product is a thick and rich soup that is great for shabu shabu.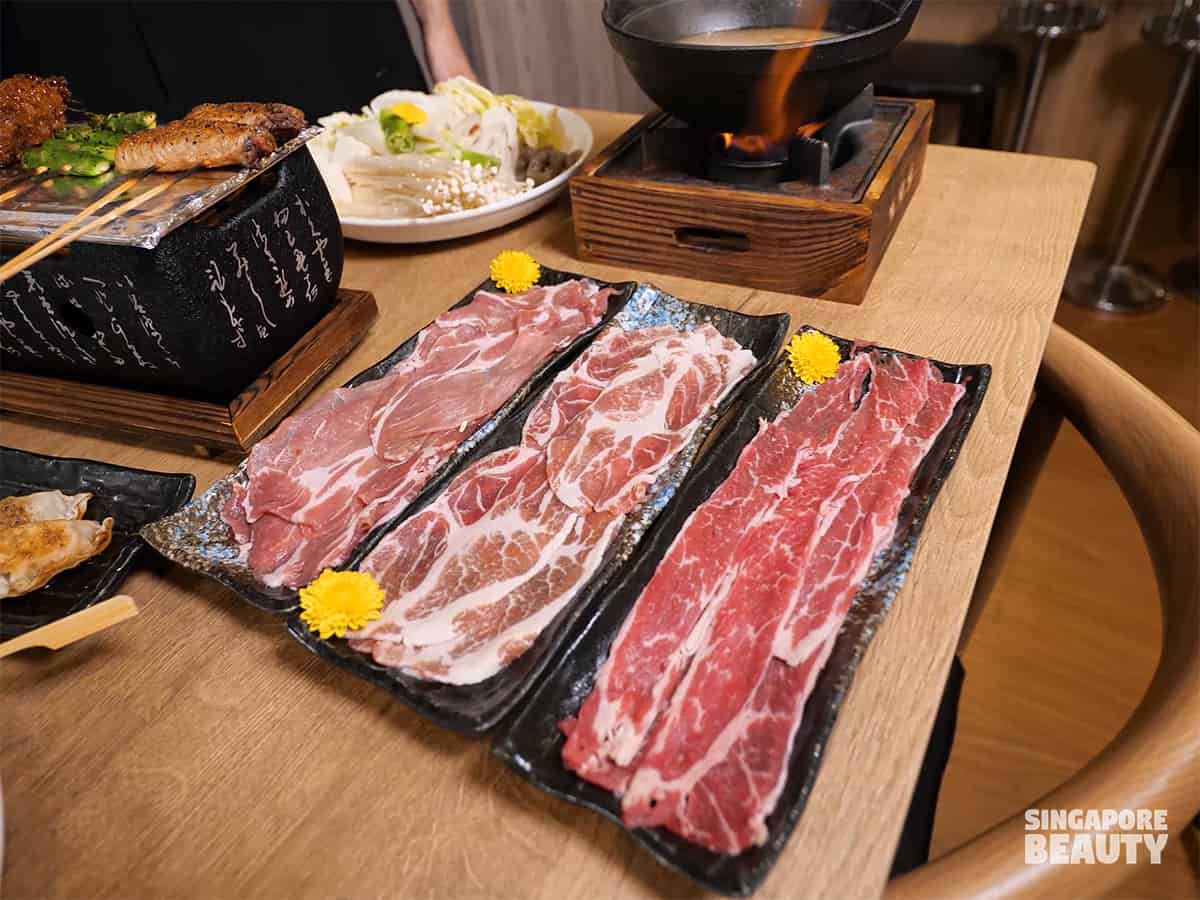 These are the shabu shabu meat (from left to right) namely pork collar, Iberico pork collar and premium shortribs. There are some good marbling on the meat and renders the cooked meat a tender delicate texture.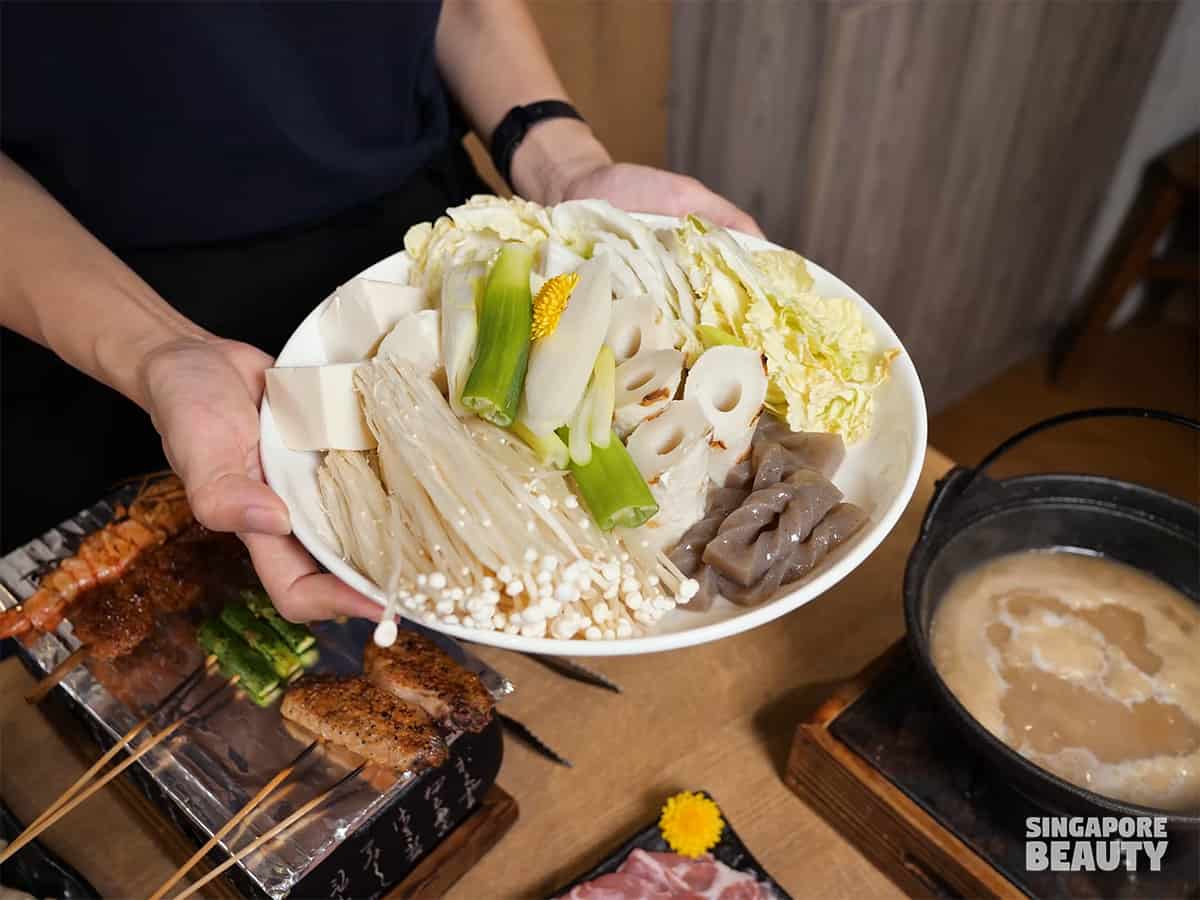 To enjoy this Japanese hotpot with flavourful broth to the max, you need to get some of the greens to go with it. A mix garden greens for shabu shabu comes with long cabbage, Japanese leek, enoki mushroom, silken tofu, chikuwa and konnyaku. The chikuwa add a nice umami to the soup and konnyaku for a fun spongy crunch.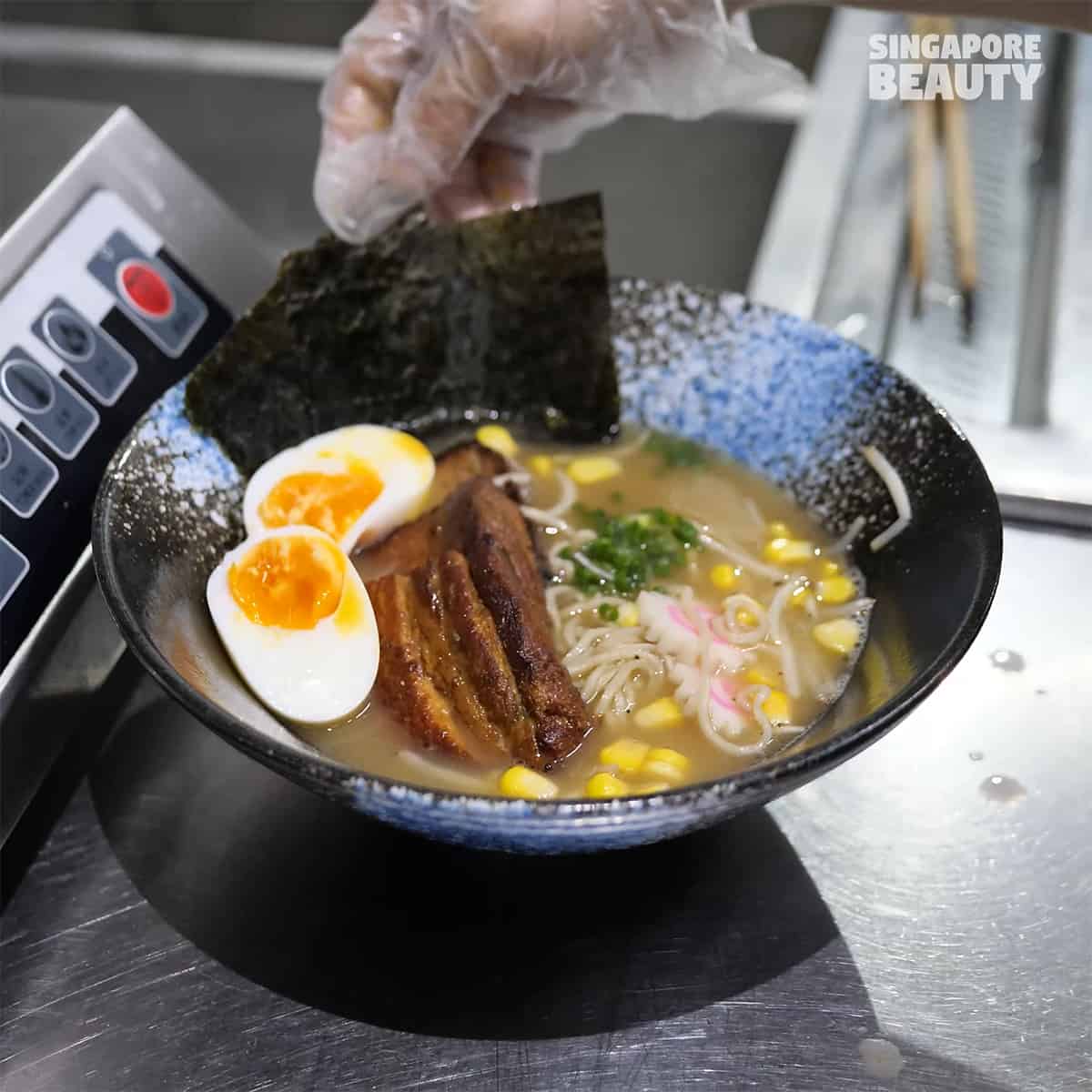 For those who are looking for quick lunch, they have several carb choices such as ramen, yakisoba, udon, donburi, rice, gozen sets, bento lunch sets and lunch specials. The lunch special starts from $6.90 to $16.90. Do drop by to try the lunch special which is a great deal when you are around the Bugis area looking for food and place to chill. Pictured above is the tonkutsu ramen with charsiew. The char siew has a nice smoky aroma as it is grilled over the charcoal bar.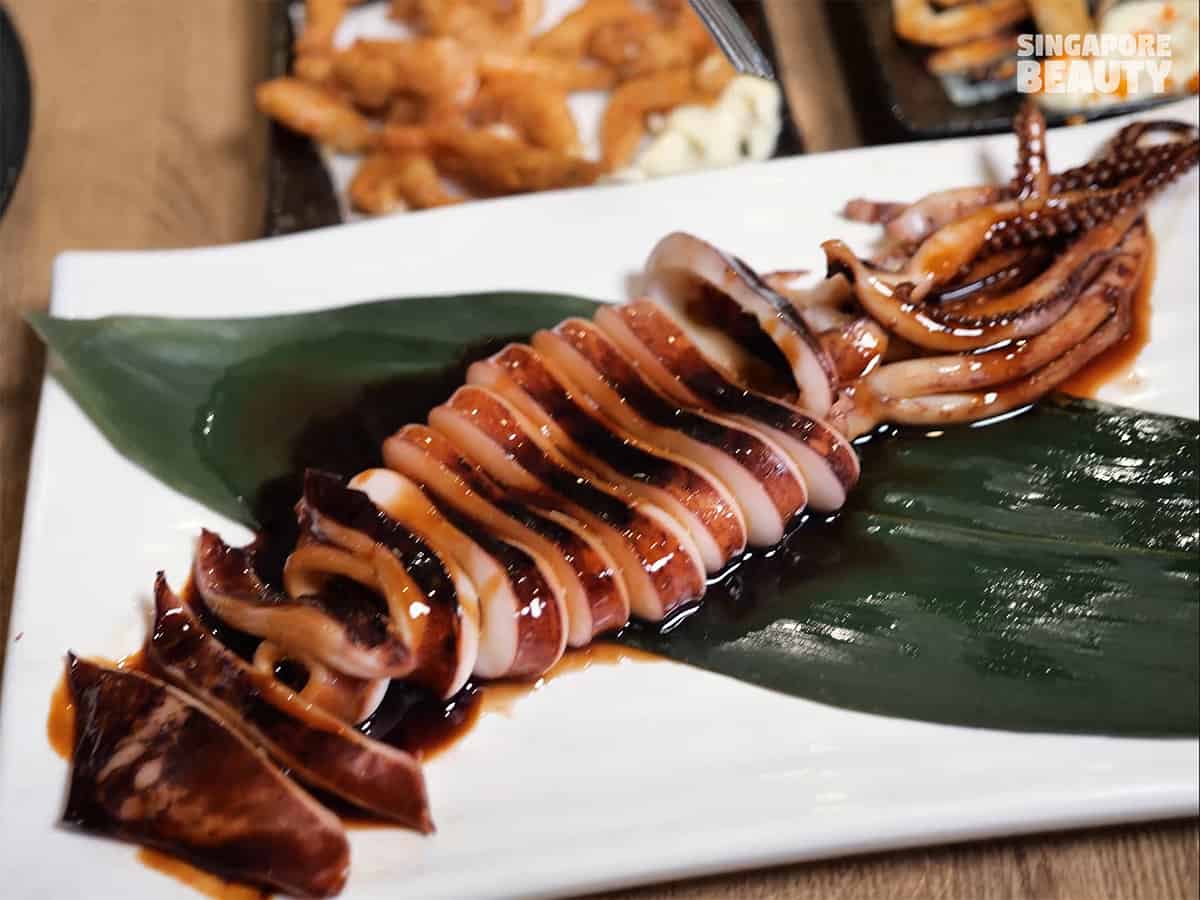 For those who are there to unwind and chill with beer and sake, here is one of the must order item on their menu. Surume ika ($18) uses sashimi grade squid and glazed in sweet and gooey shoyu dressing. The squid is done just right with tender succulent rings that is cooked perfectly.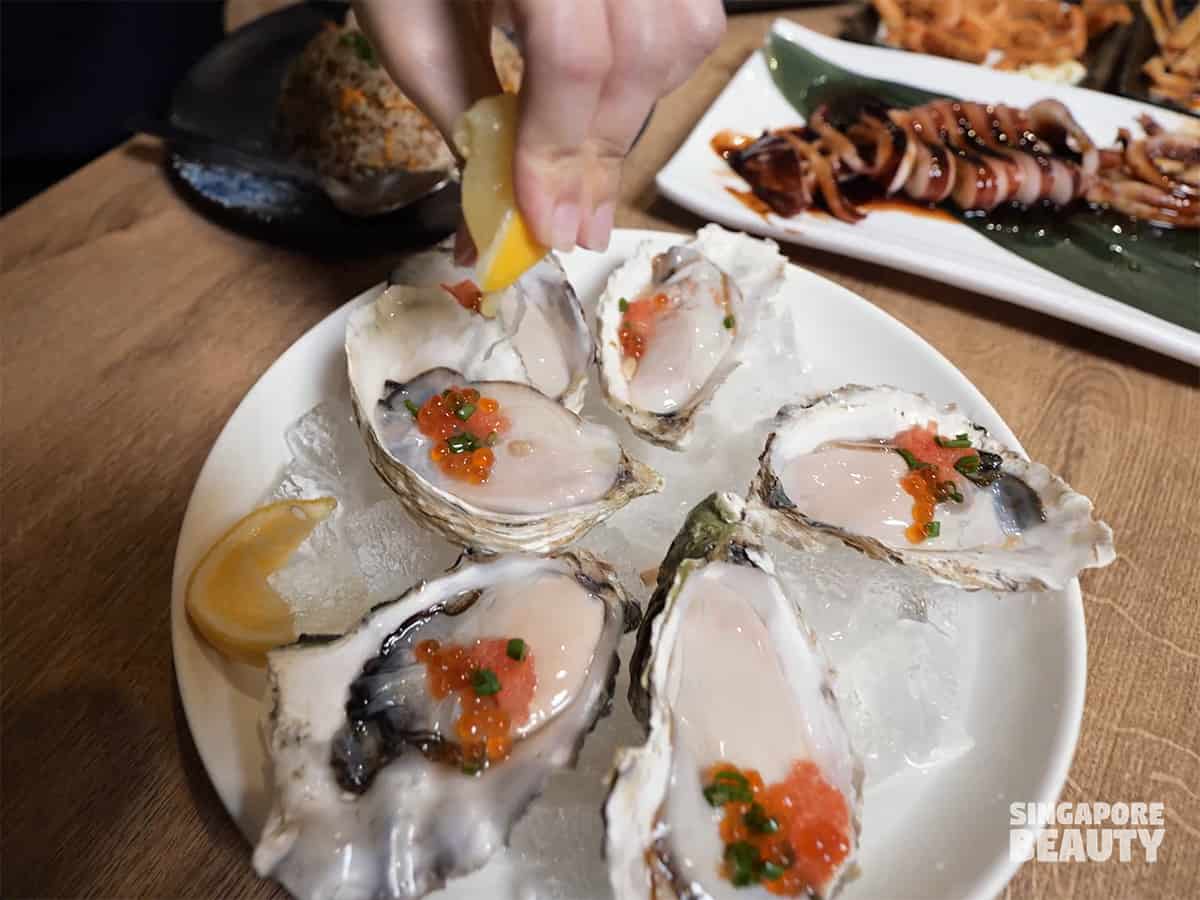 Freshly shucked oysters with Japanese dressing ($36 for half a dozen) is one of the popular picks by Ying Izakaya regulars to go with their in-house sake. These oysters are shucked fresh for each order and topped with ikura and their secret dressing. The oysters are plump and creamy with saline burst of ikura with each bite. Add a zest of lemon for extra tang.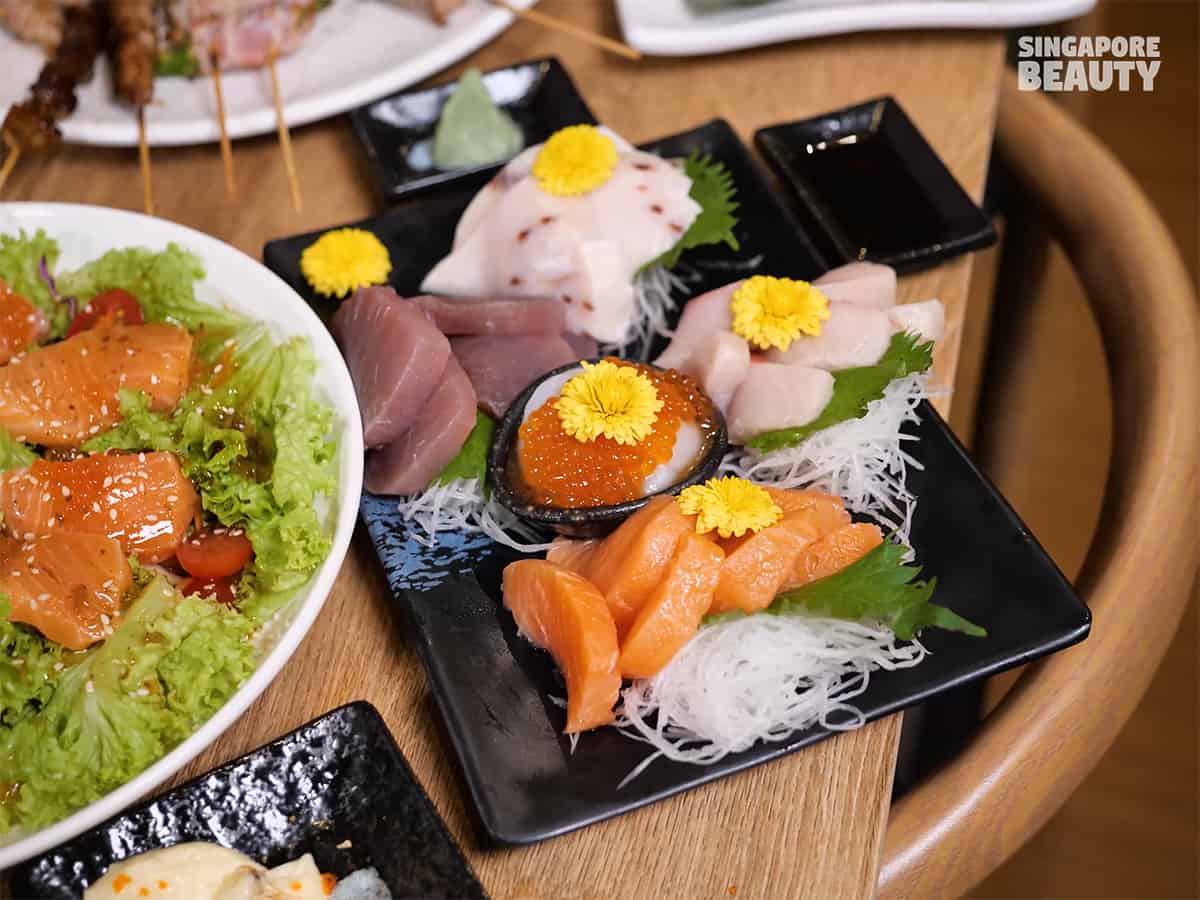 Sashimi Moriawase ($78) is a mixed platter of 5 types of sashimi. Sake(salmon), mekajiki (swordfish), Hamachi(yellowtail), maguro(tuna) and hotate(scallop) topped with ikura. These are cut super thick and has a melt in the mouth buttery texture.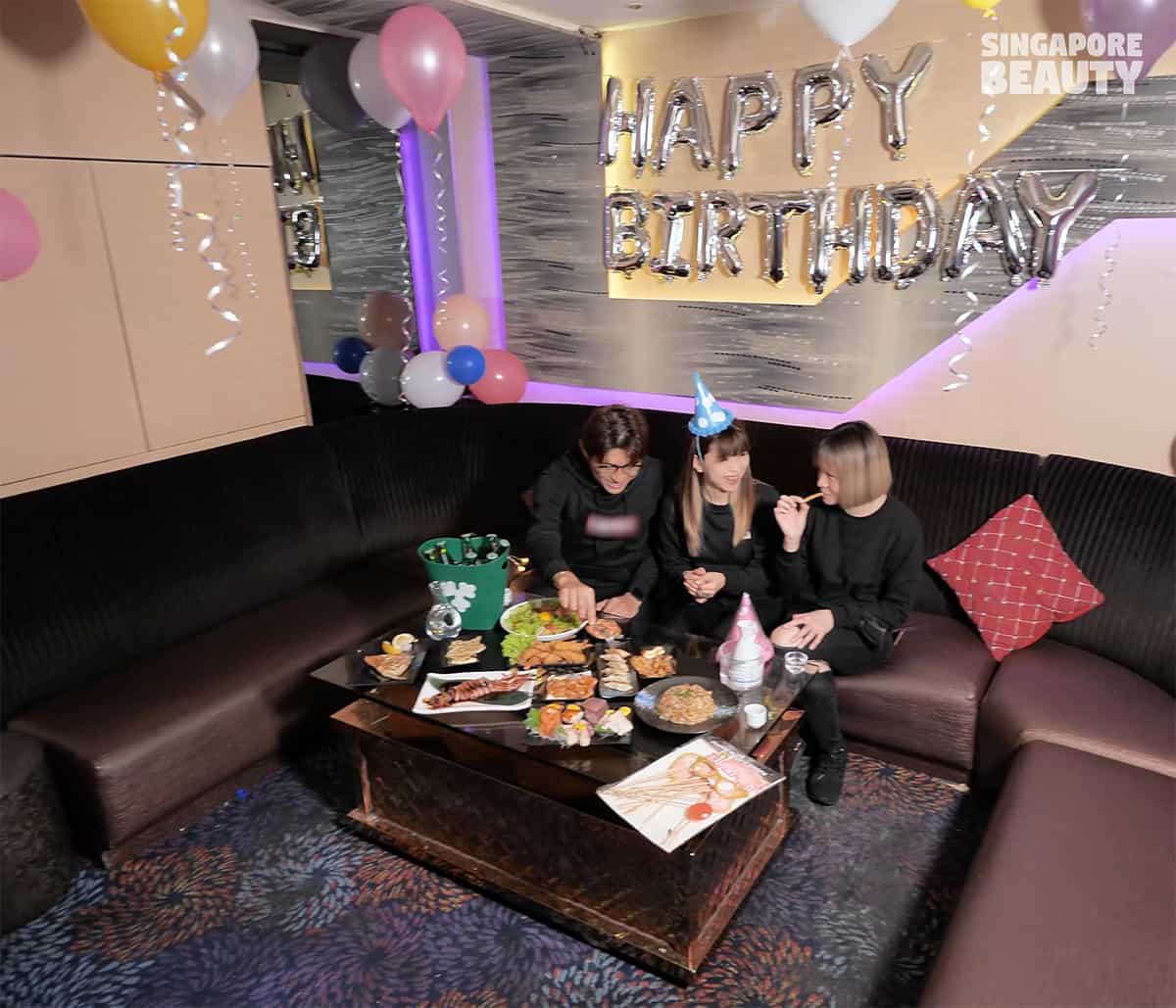 Ying Izakaya also has 23 themed rooms that are great for birthdays and special occasions. This is how it works, order via their food app and get the food sent to the rooms for your party. For a min spend of $300 on food, you can request for a regular size room subjected to their availability. For those who are requesting for themed rooms and an open dining hall, please reserve 1 day in advance with them. Do call and check with them what type of theme rooms are available. Pictured above is the Birthday themed room for min spend $500 (10% service charge applies) on food.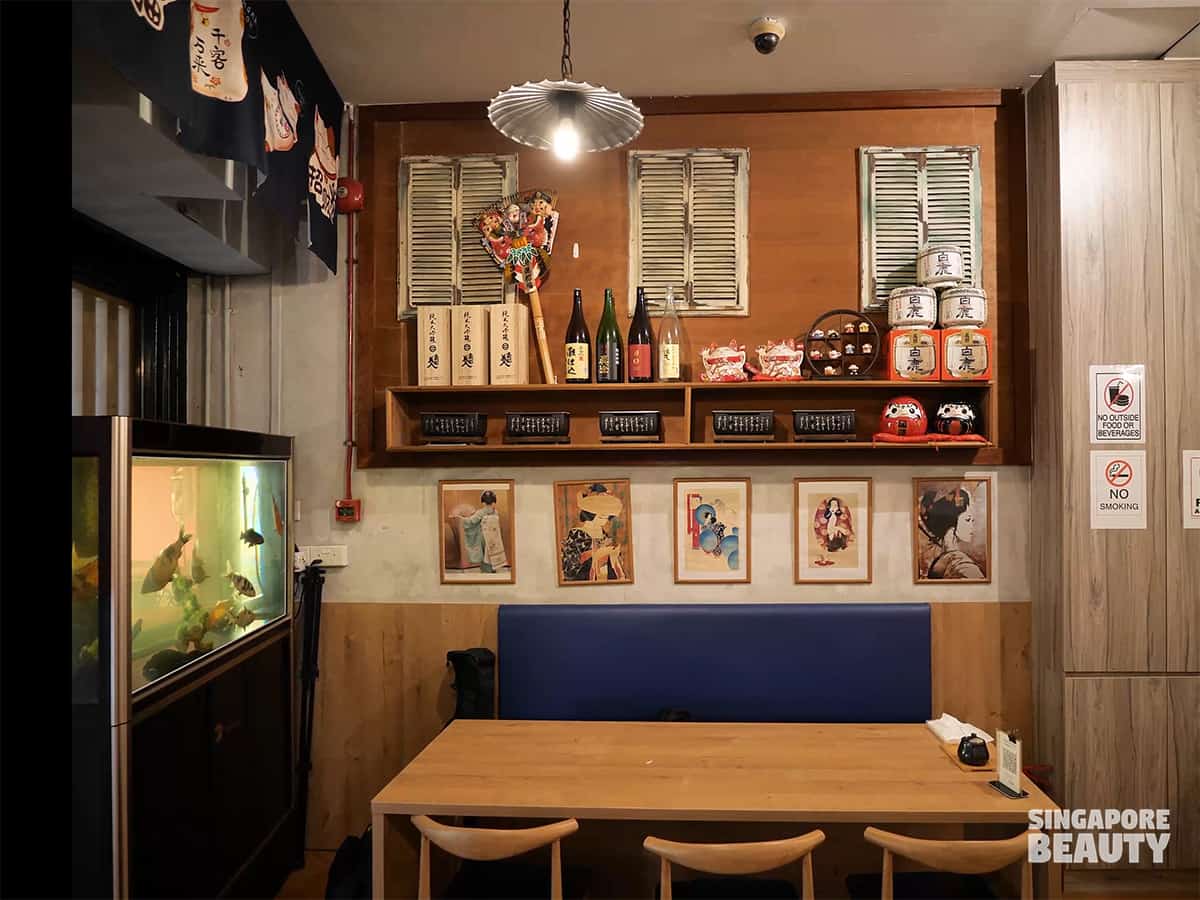 Great place to drink some sake, eat some grills and get comfortable at this intimate cosy setting of Izakaya dotted with vintage murals of Geisha and decorated with colourful Japanese culture elements. Feel teleported into the arms of a casual setting of an izakaya with dimmed lights away from the bustling street of Bugis.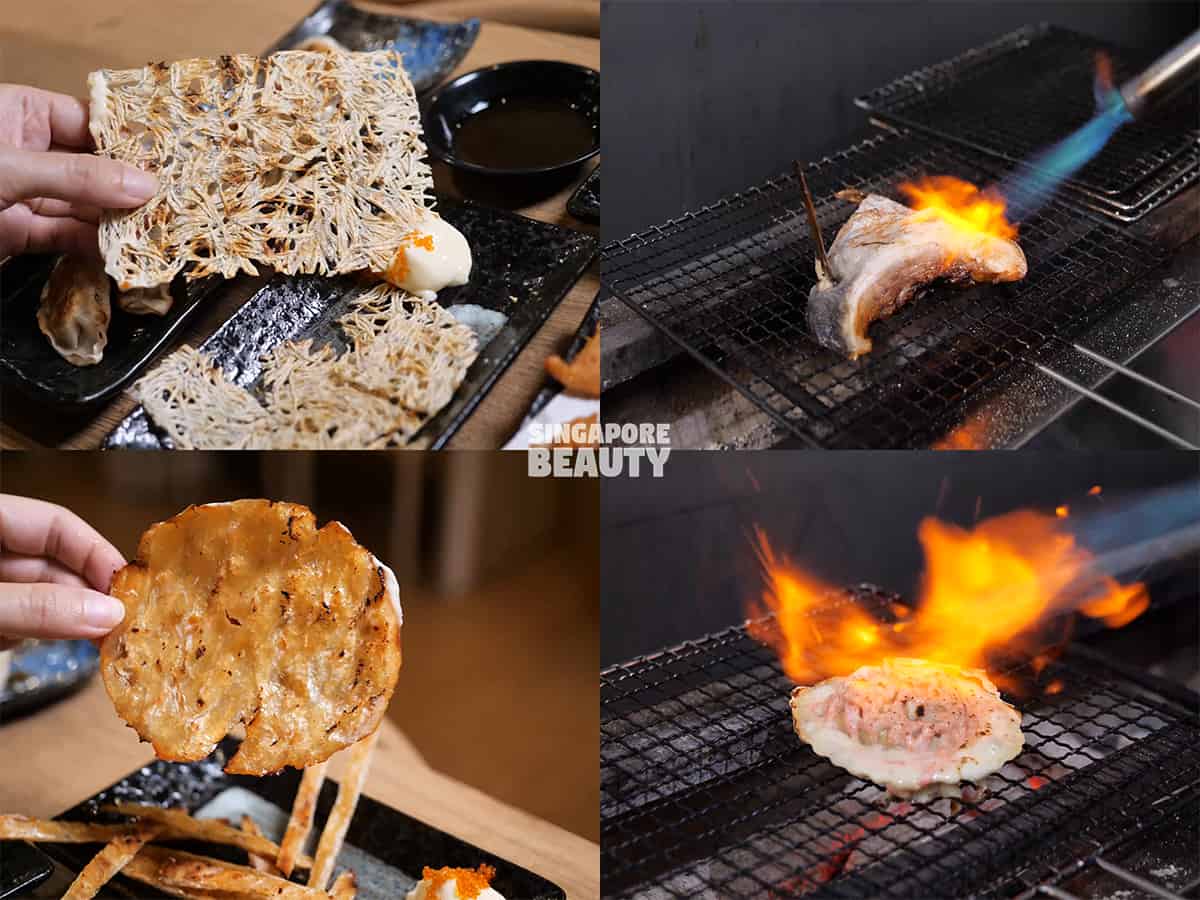 They have some no fuss light bites and food that are great for sharing such as Otoshi – grilled tatami Iwashi , Amaebi karaage – light and crunchy sweet shrimps, Kawahagi with texture and flavour like puffer fish. For seafood lovers, try the Char grilled hotate with mentaiko and mozzarella, Hamachi kama salt-grilled yellowtail collar and Fried ebi light and crunchy. Enjoy the Happy Hour Buy 2 get 1 free beer too when you are there. For those who love carbs, go straight for their Garlic fried rice with smoky aroma paired with Chawanmushi ikura.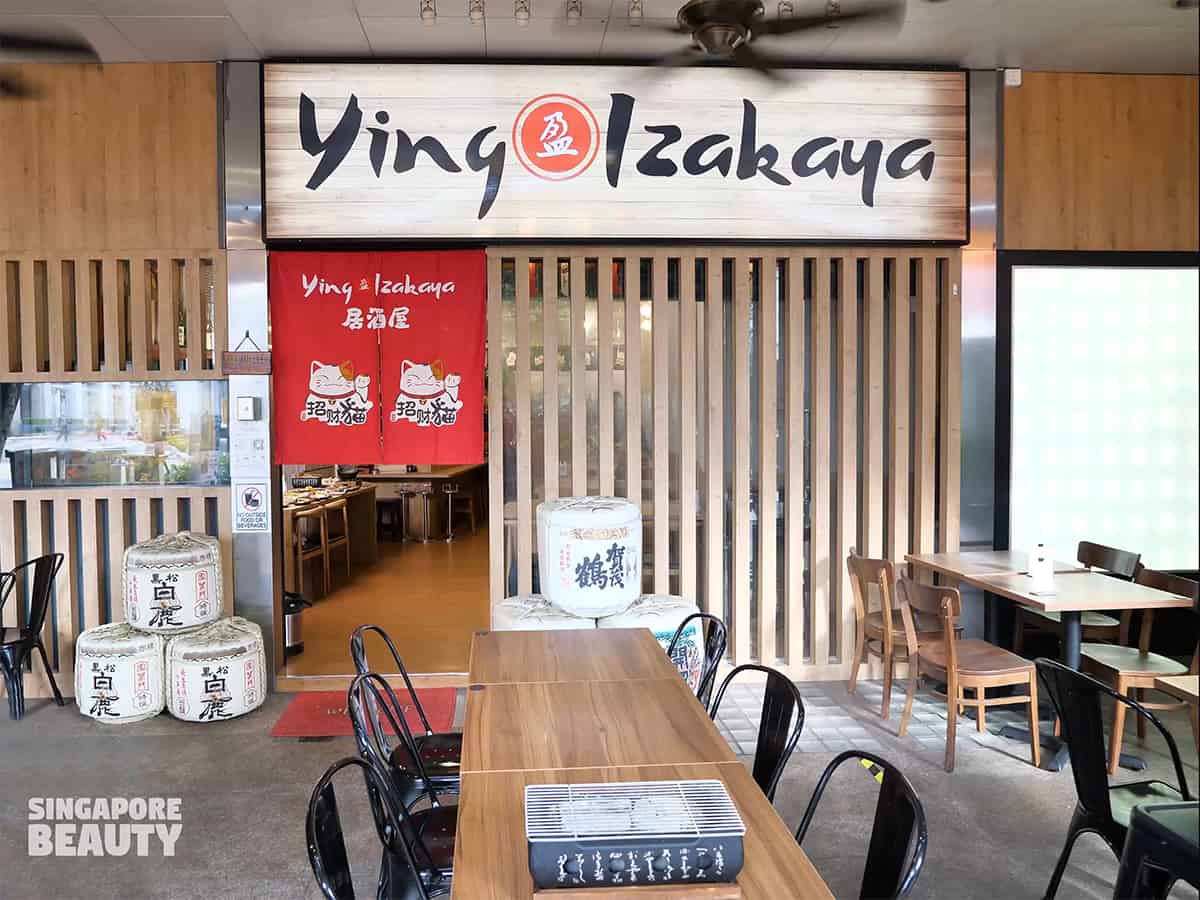 With stacks of Sake barrels flanking the entrance, you know that you have come to the place where sake is a great deal with them. They have indoor air conditioned seating and outdoor seating to people watch while you enjoy the GYO kushiyaki. See you at Ying Izakaya conveniently located across Bugis Junction at Bugis Point!
Address of Ying Izakaya:
530 North Bridge Rd, #01-01,
Bugis Point (Opposite Bugis Junction)
Singapore 188747
Opening Hours:
12 pm to 12 midnight (Monday to Saturday)
12pm to 11 am (Sunday)
For reservation or delivery pls call: 98178698
Brought to you by Ying Izakaya