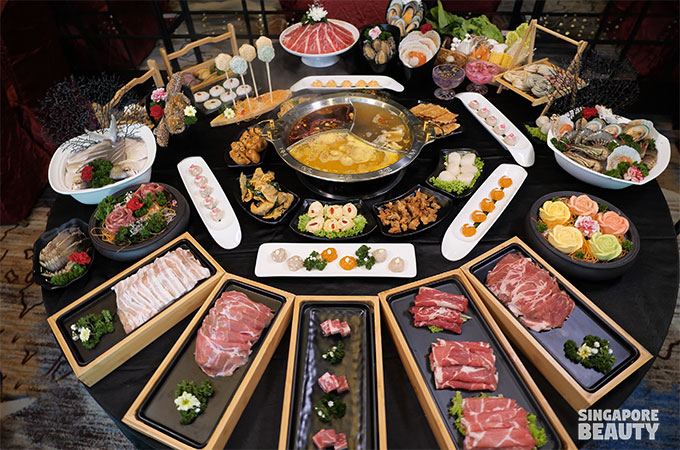 Yanxi Palace Steamboat is a newly opened steamboat restaurant located on a secluded hilltop surrounded by an enclave of tropical raintrees and landscape vegetation. It serves Chinese hotpot inside The Great Ballroom at Hotel Re! with complimentary parking for guest of Yanxi Palace Steamboat. They pride themselves on made from scratch double boiled soup base with curated ingredients that are fit for a king. Individual dishes are handcrafted and plated to the theme of an ancient Imperial feast with fresh edible flora. These are the brainchild of the in-house Executive chef and his team by adhering to Imperial related guidelines such as aesthetic of presentation, usage of curated unique ingredients, adding a unique twist to a common dish and usage of rare premium ingredients in the cuisine.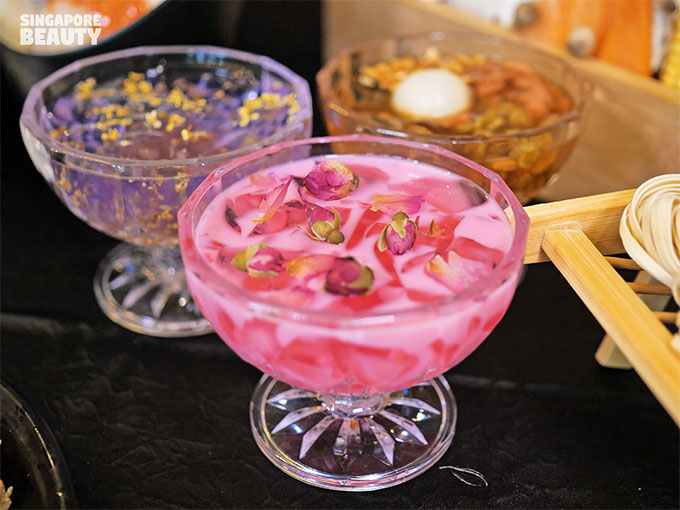 To celebrate their opening, they are giving away complimentary desserts (U.P $5 each) such as rose ice, signature ice and osmanthus ice jelly to diners at Yanxi Palace Steamboat whilst stocks last.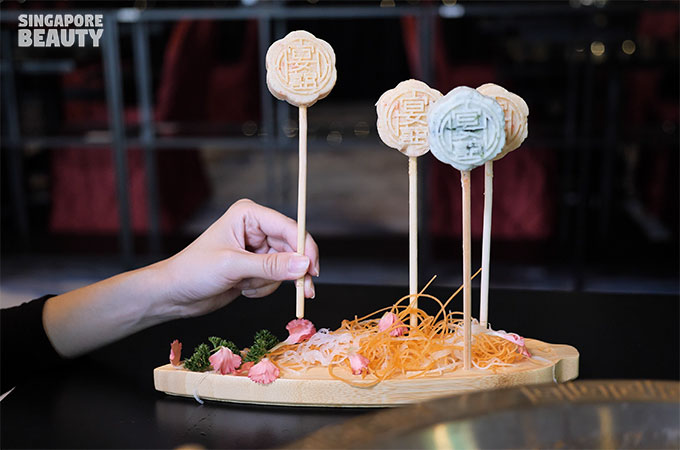 Seafood Lollipop ($12 for 5pcs) – these are hand whipped seafood paste that are hand moulded into the shape of a flower drum with Yanxi palace (gong) 宴喜宫 etched on it in Chinese characters.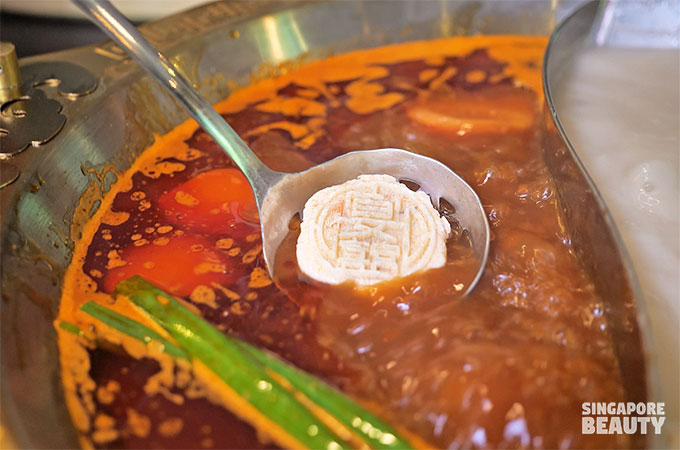 Remove this seafood lollipop from the holder and slowly lower the cake into the steamboat pot. When the cake floats to the surface, it is ready to be enjoyed.
Watch the Yanxi Palace Steamboat video here.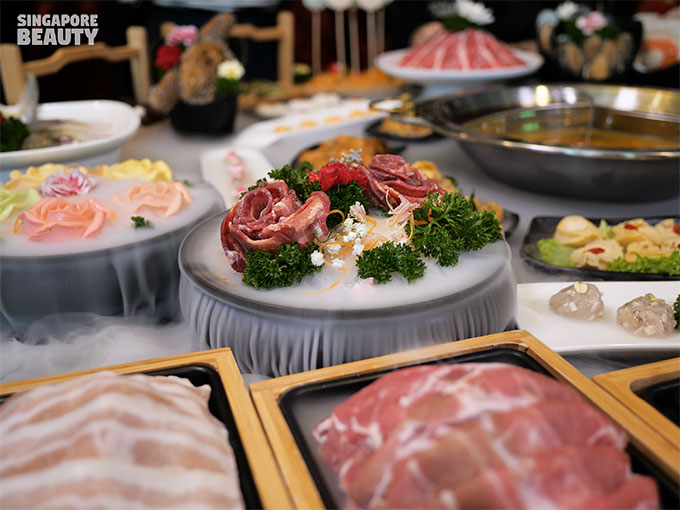 Rose Beef Tongue ($18) – These are handcrafted rose with petals of beef tongue. These have a unique buttery melt in mouth texture when cooked.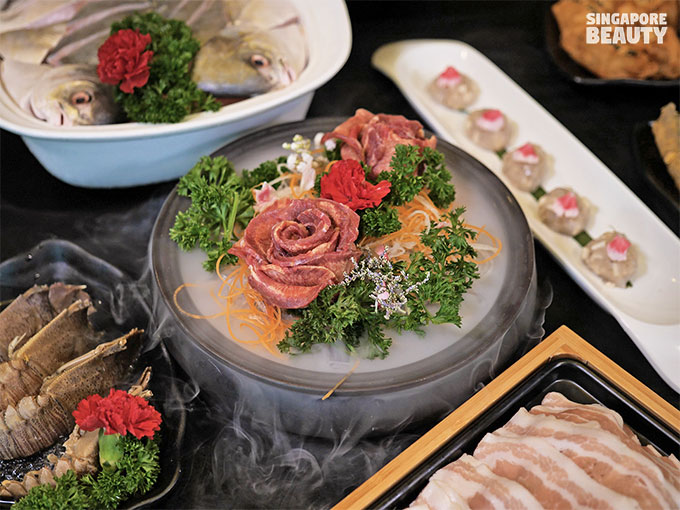 Plated to resemble a bouquet of rose blooming in a pool of cascading fog fountain.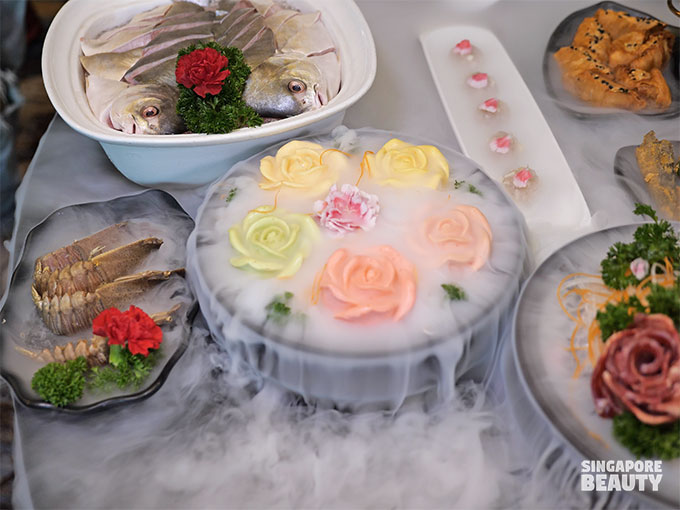 Rose Tofu ($8) – come in 5 pastel shades reminiscence of the bloom of flowers during Spring in The Imperial Courtyard. The petals are delicate and fragile.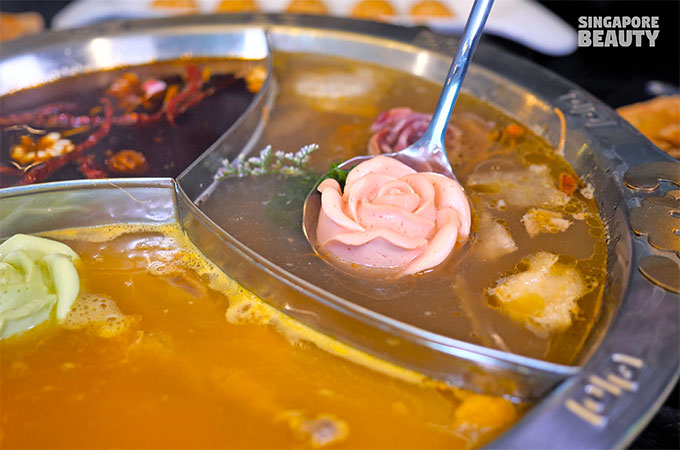 Lower these pieces of tofu art into the steamboat using the laced ladle. Watch this rose bloom inside the bubbling soup and enjoy its soft custardy texture.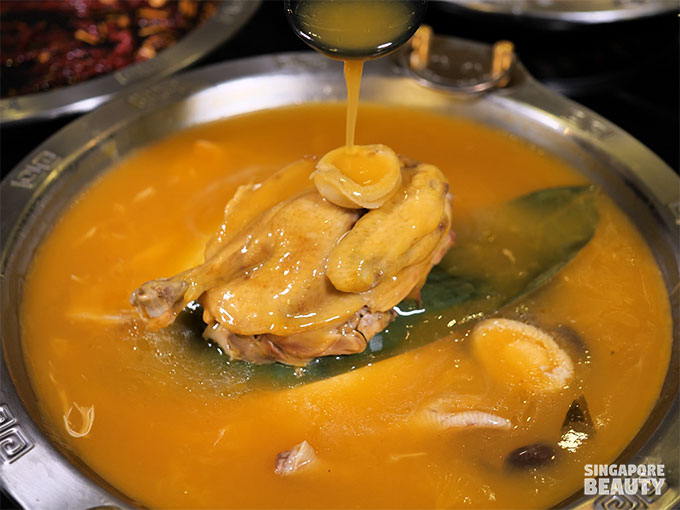 The chef recommended soups are the Buddha Jump Over The Wall and Imperial Elixir Youth soup. Other soup bases such as Tomato, mala, mushroom, Yanxi Treasure Pearl, pickled cabbage, pepper pork stomach & chicken are also available. Imperial Elixir Youth soup 宫廷花胶鸡 are double boiled with fish maw, kampong chicken, abalone, shark cartilage, conpoy, dried shiitake mushroom and more. The soup is rich with the essence of chicken and is gelatinous from the fish maw. The picture above are for illustration and the portion varies based on the soup type ordered.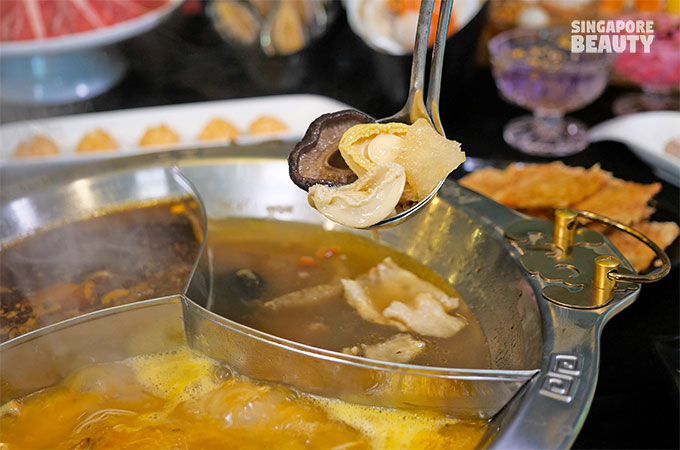 Yanxi Palace steamboat restaurant's signature Buddha Jump Over The Wall soup 御品佛跳墙 is made by slow boiling kampong chicken, shark cartilage, abalone, fish maw, dried shiitake mushroom, king oyster mushroom, conpoy, orange peel, ginseng, cordyceps and more. The soup is rich with oceanic umaminess and savoury with the nutty-earthy flavour distinctive of ginseng and cordyceps. This soup is loaded with properties that is beneficial to general health and nourishes the blood.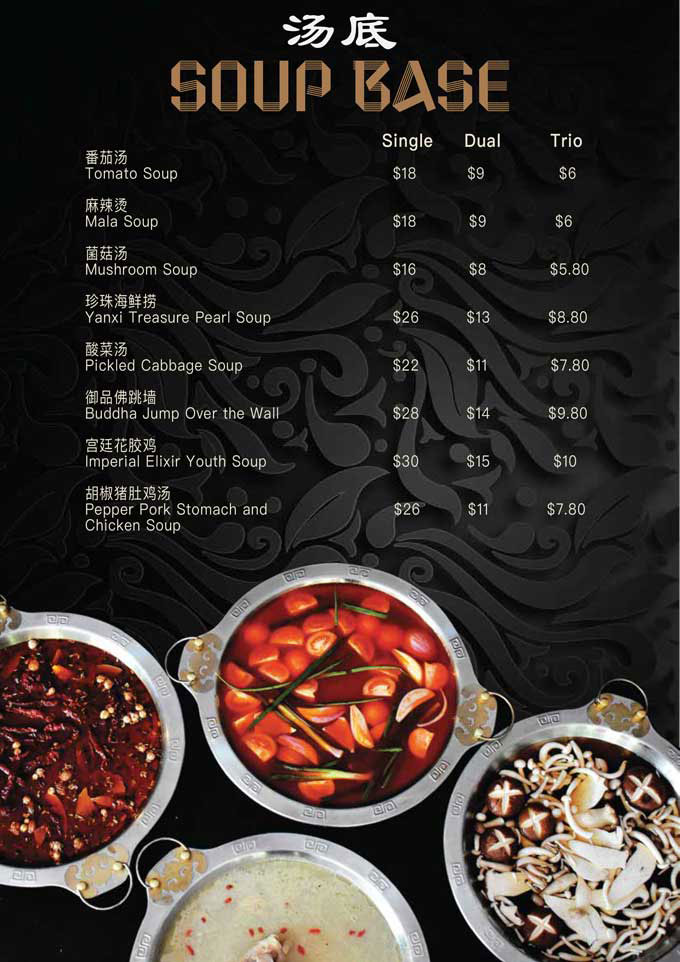 With a total of 8 soup base for steamboat, you will be spoilt for choice. The soup bases are charged by portion based on the type of pot that is chosen – single, dual or trio slot starting from $5.80 for trio pot and up to $30 for single soup base. The above is the soup menu of Yanxi Palace Steamboat.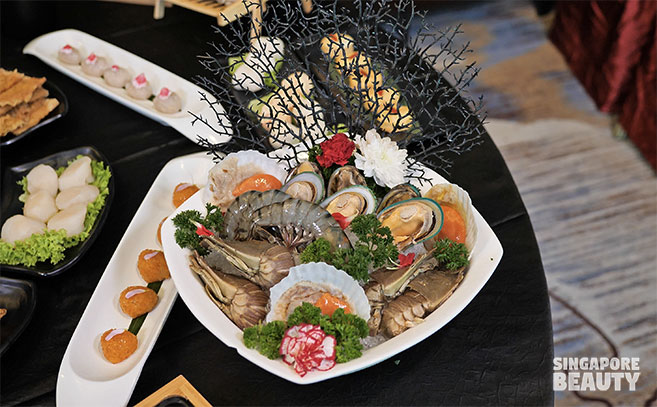 Seafood Platter ($68) – consist of a party of crayfish, tiger prawn, half shell scallop, half shell wild abalone and green lipped mussels in a deep ocean coral like plating.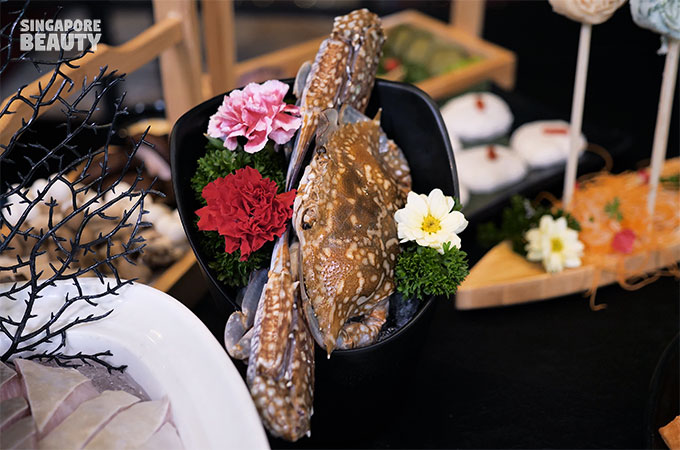 Flower Crab ($8) – are served a top a bucket of crushed ice to retain it freshness. For those who love some naturally sweet flavour to add to their Yanxi Treasure Pearl Soup, you can order these flower crabs to go with the seafood based soup.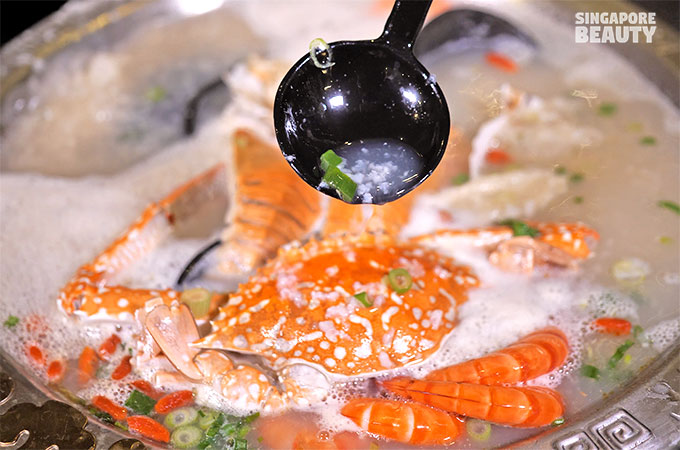 Yanxi Treasure Pearl Soup is a creamy soup made by simmering Japanese Calrose rice, Thai Hom Rice, Jasmine rice and conpoy.
This soup base pair well with the seafood variety such as flower crabs, scallops, wild abalone, tiger prawns and golden pomfret fish ($26) that is available on Yanxi Palace Steamboat menu. The fish is butterflied and presented in chopstick friendly bite size fillet for ease of cooking and consumption.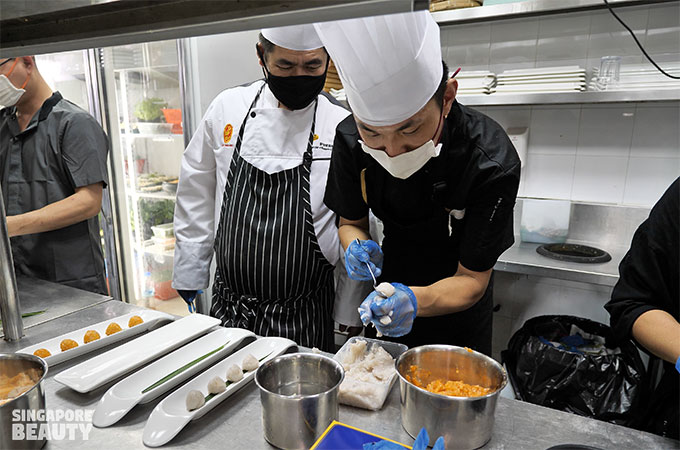 Yanxi Palace Steamboat also has a variety of handmade minced seafood balls and cakes. There are 7 varieties of minced meat such as minced shrimp, cuttlefish cakes, minced shrimp with chestnuts and roe and more.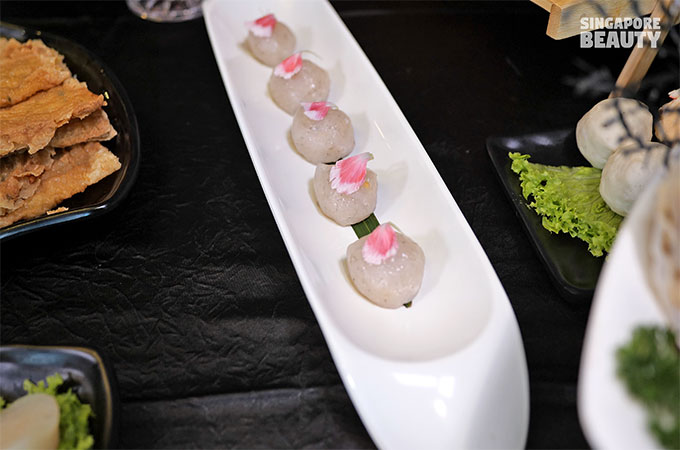 These are hand whipped seafood paste and hand moulded into balls by the chef. The minced shrimp balls ($8) are springy and have an interesting bite to them. The rest of the minced seafood balls have 6 other varieties – with bits of chestnut, some with bursting saline roe, some cuttlefish bits and some with melty cheese. It is an interesting collection of seafood paste balls.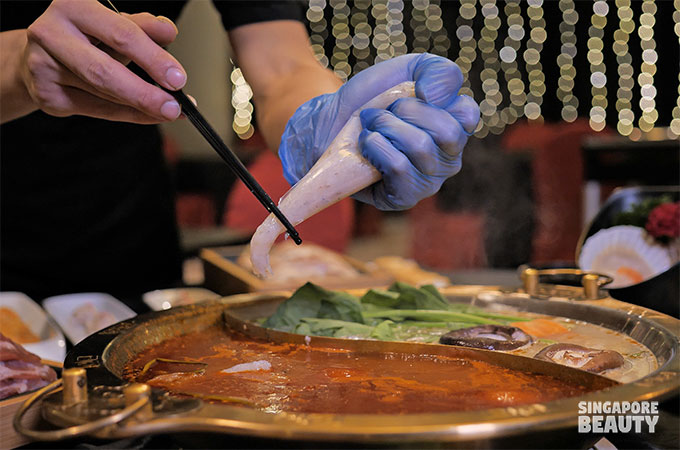 Do try the chef recommendation of shrimp and fish noodles where the seafood paste is piped straight into the piping hot soup to create some short springy seafood noodles.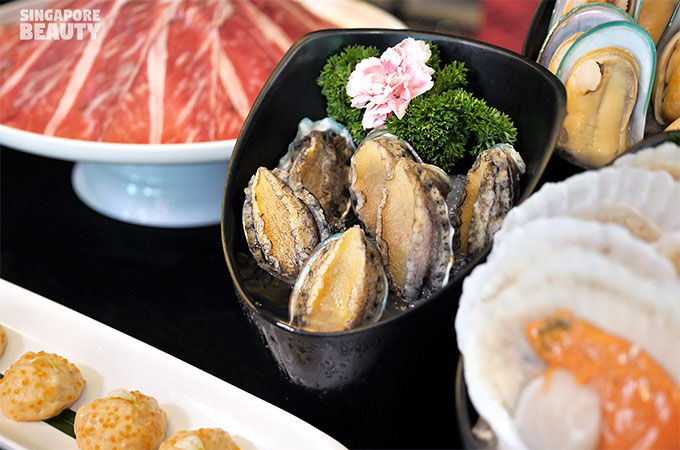 Wild Abalone ($13-$26) – if you are craving for some springy succulent abalone, do give these a try. The wild abalones are almost fork tender and crunchy texture when well cooked.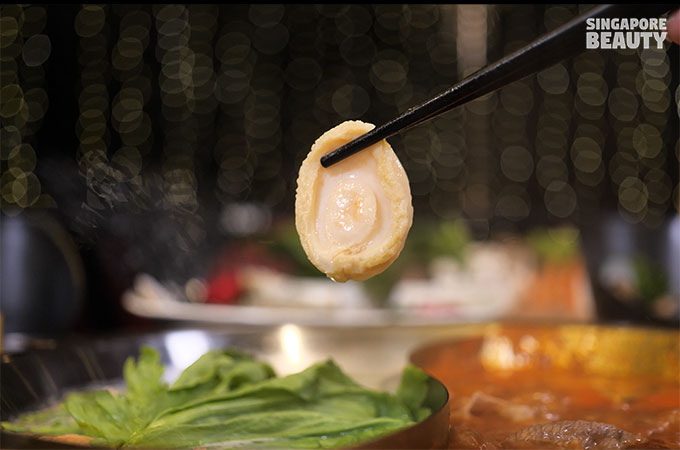 For those who prefer the CNY type of abalone, they are also available. The canned abalones are served in platter ($13-$26) and have a briny umami flavour that is good enough to even be eaten off the plate without cooking. Tender and savoury.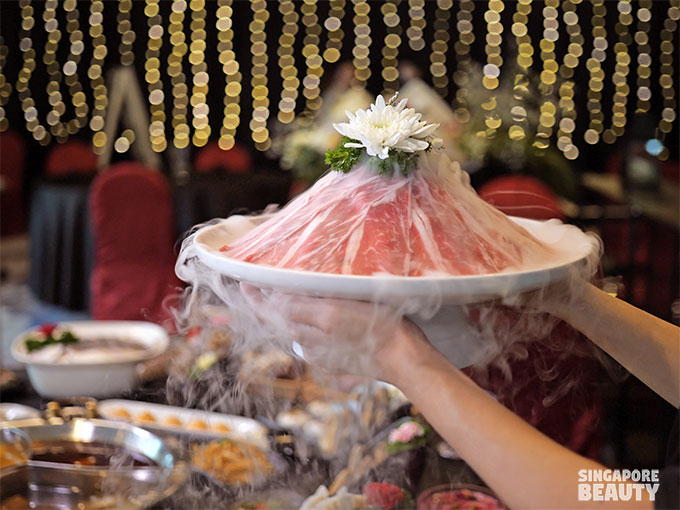 Selected US Wagyu Beef Slice ($38) – shabu shabu beef slice with marbling served as a mystical snowing meat mountain topped with pick of the day fresh flora. Perfect balance of fats and lean meat ratio for the melty and buttery texture after cooking.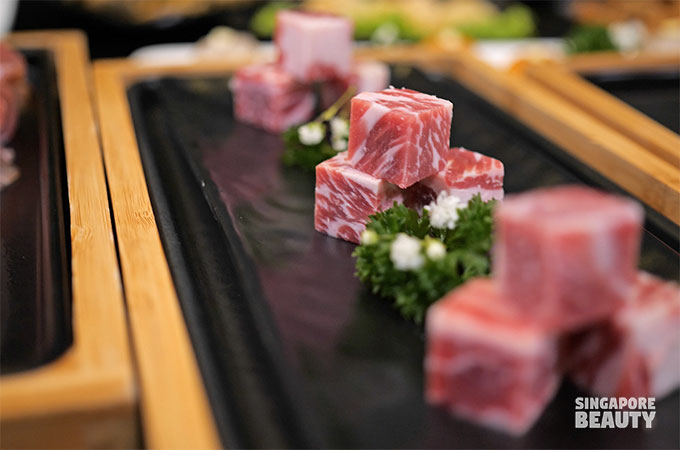 Selected Diced Wagyu Beef ($24) – with a high amount of fatty marbling, this cubes are blocks of melting meat with a natural sweetness and pleasant umami flavour that is distinctive of wagyu.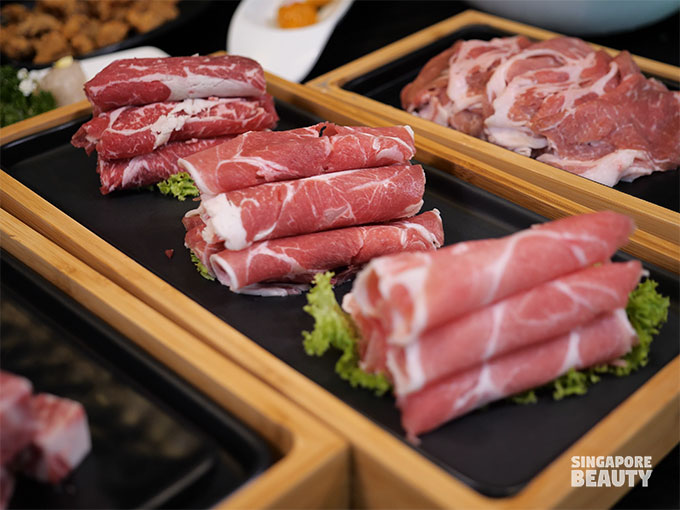 Meat Brothers ($24) – consist of a platter of the best of three worlds with sliced lamb, selected beef slice and sliced pork collar.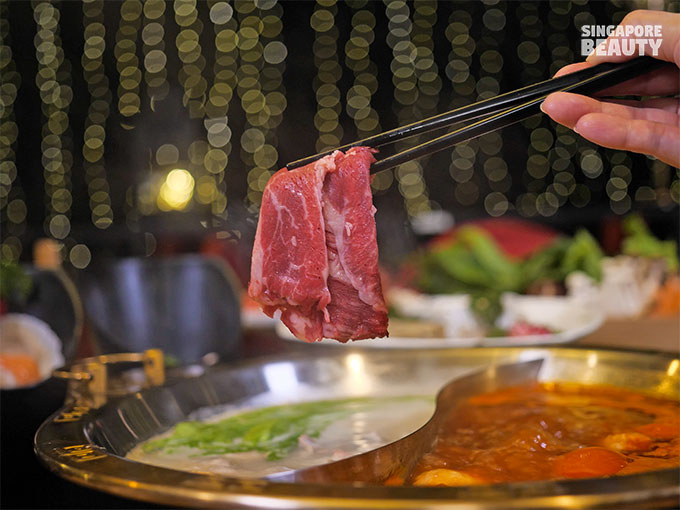 These are shabu shabu meats that are best for steamboating.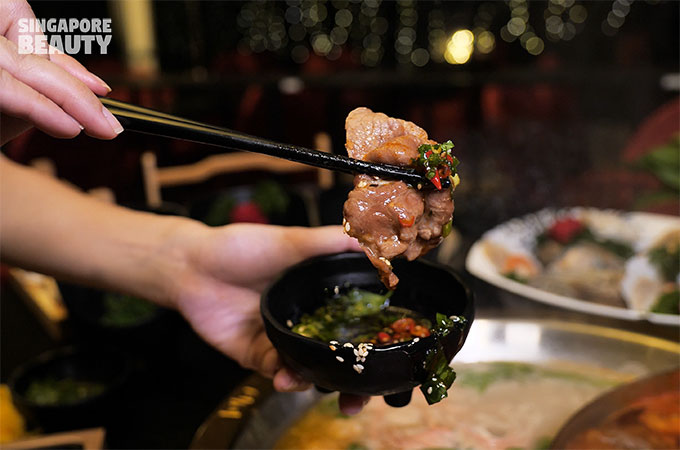 The sliced meats are well proportioned with lean meat and fat muscles for a tender texture after cooking. Pair these with the Yanxi Palace signature meat dip for the extra oomph.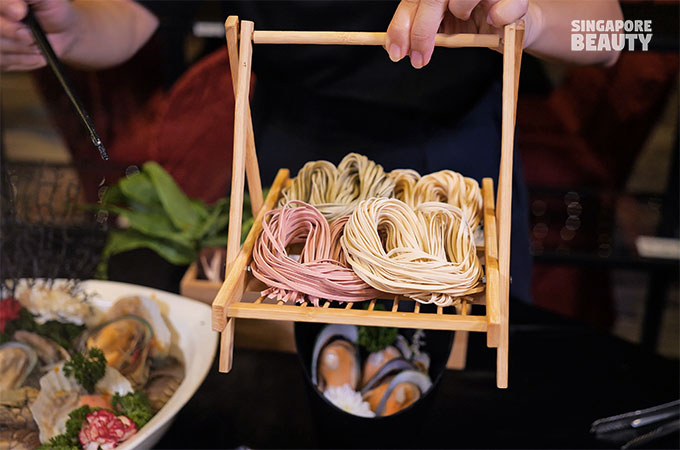 Organic Handmade Rainbow Noodles ($12) – get a tray of air dried handmade noodles made with fresh vegetable puree and organic Australian flour. The noodle has a mild sweetness and is available in four healthy flavours – carrot, pumpkin, spinach and beetroot.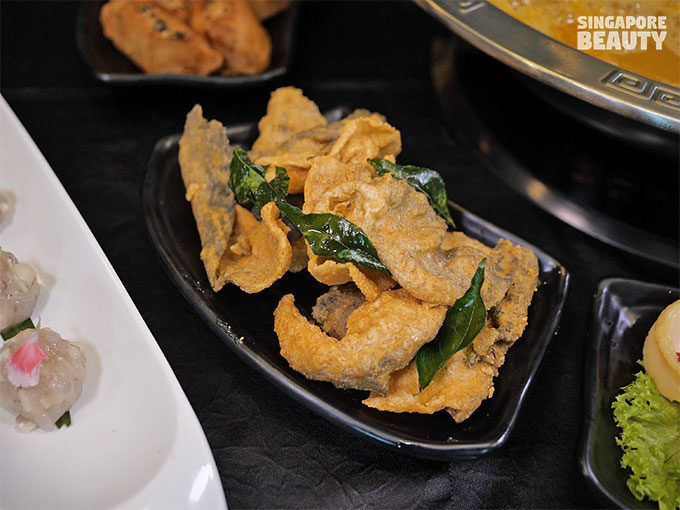 For those craving for some finger food snacks, you can try the salted egg fish skin ($8) that has an intense coating of rich creamy salt egg yolk flavour with crisp aromatic curry leaves. The crunch of these fried fish skin is intense and the fish skin disintegrates like crackers with each bite. Some other snacks such as crispy pork, sotong you tiao and crispy beancurd skin with fish paste is also available.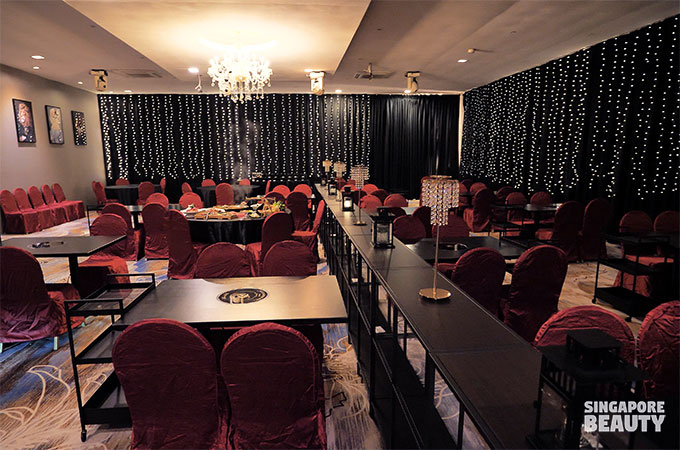 A newly established Yanxi Palace steamboat restaurant in a grand ballroom setting with lush woven carpet and banquet seating. They have banquet round tables for family and intimate four seaters for smaller groups. Unique dining experience where the East meets West, cosy lit interiors with crystal chandeliers.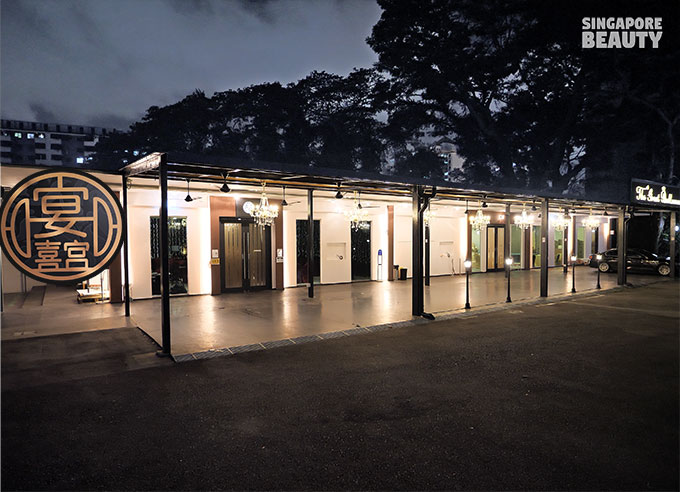 The décor with its timeless crystal table lamps and wall art alludes an ambience of romanticism and elegance.  This is a relative undisturbed hilltop restaurant that still retains it sense of calm and serenity almost isolated like a safari in the woods. Complimentary parking is available next to the restaurant.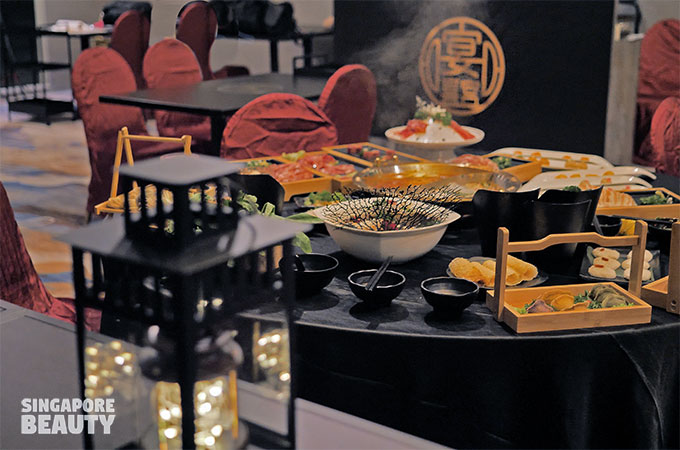 The Imperial style feast with over 100 gracefully dished selections is waiting for you. See you there at Yanxi Palace Steamboat inside The Great Ballroom in Hotel Re! at Chin Swee Road.
Operating Hours:
Open daily 12pm-12.30am (Sun to Thurs)
12pm-2am (Fri, Sat, Eve & PH)
Location:
The Great Ballroom At Hotel Re!
175A Chin Swee Road, Singapore 169879
Reservation:
(+65) 8858 9711
Brought to you by Yanxi Palace Steamboat (宴喜宫火锅).