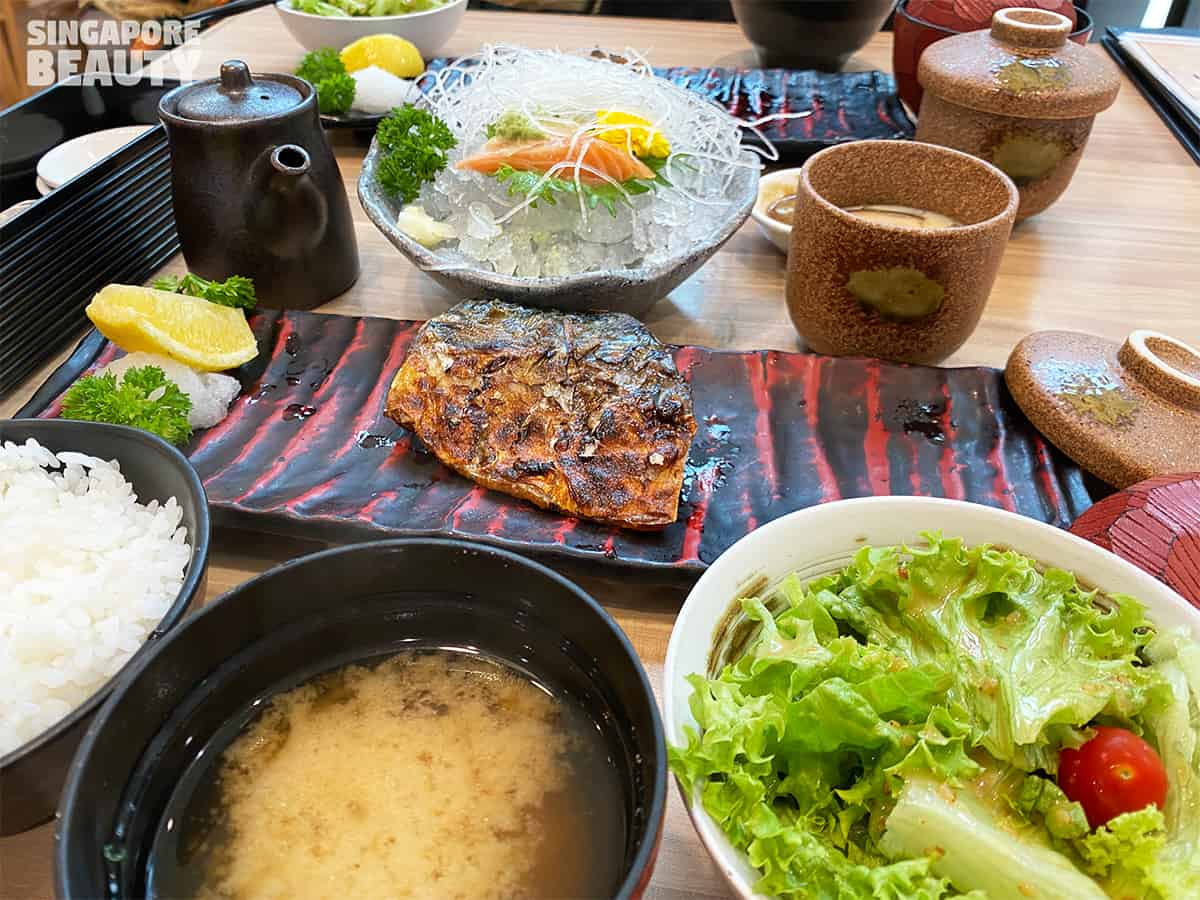 Kai Sushi & Robatayaki is situated at the extension wing of Plaza Singapura that is next to Dhoby Ghaut MRT Station. This is a under rated gem serving authentic Japanese cuisine at affordable price and some of the set menu at food court prices. It is one of the restaurants where the queue for tables are more manageable and is a must eat at Plaza Singapura.
We decided to do lunch at Kai Sushi & Robatayaki and were quickly ushered in as there is no queue. It is an open concept restaurant with good circulation of air and somehow peaceful dining ambience since there are no walls to contain the sound of conversation between diners. The tables are nicely spaced out with great circulation space between tables. Interior layout has a cosy feel with oak like floorings. The furniture are light oak coloured wood with some hanging pendant light in rice paper like lamp shade for a nice weak dispersed ambience light.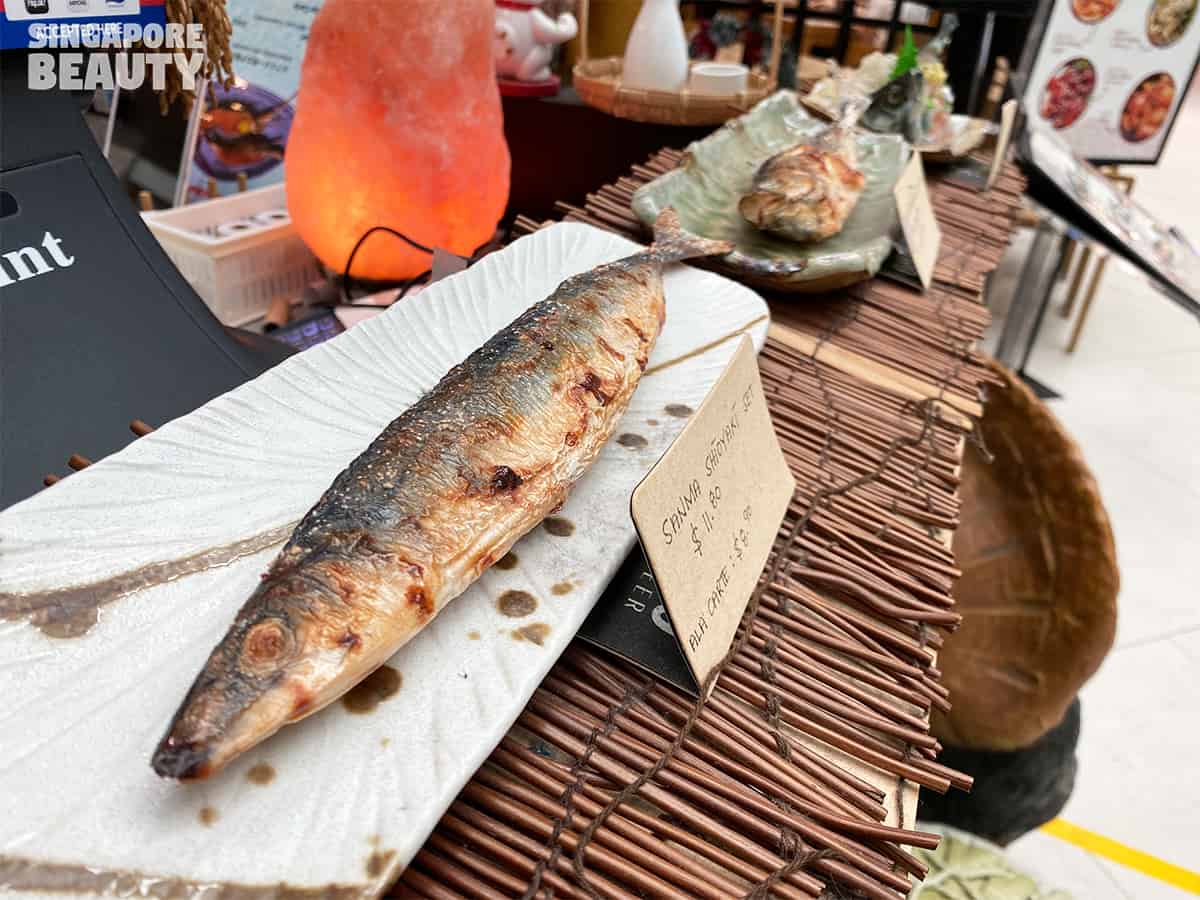 Sanma Shoyaki grilled pacific saury with salt ala carte starts from only $8.90 or you can order the cheap set meal that comes with 4 sides for $11.80. This is the dummy food set that is displayed at the entrance of the restaurant and I must say the real cooked Sanma Shoyaki look just as good. I am kind of drawn into the Japanese restaurant by this dummy display too.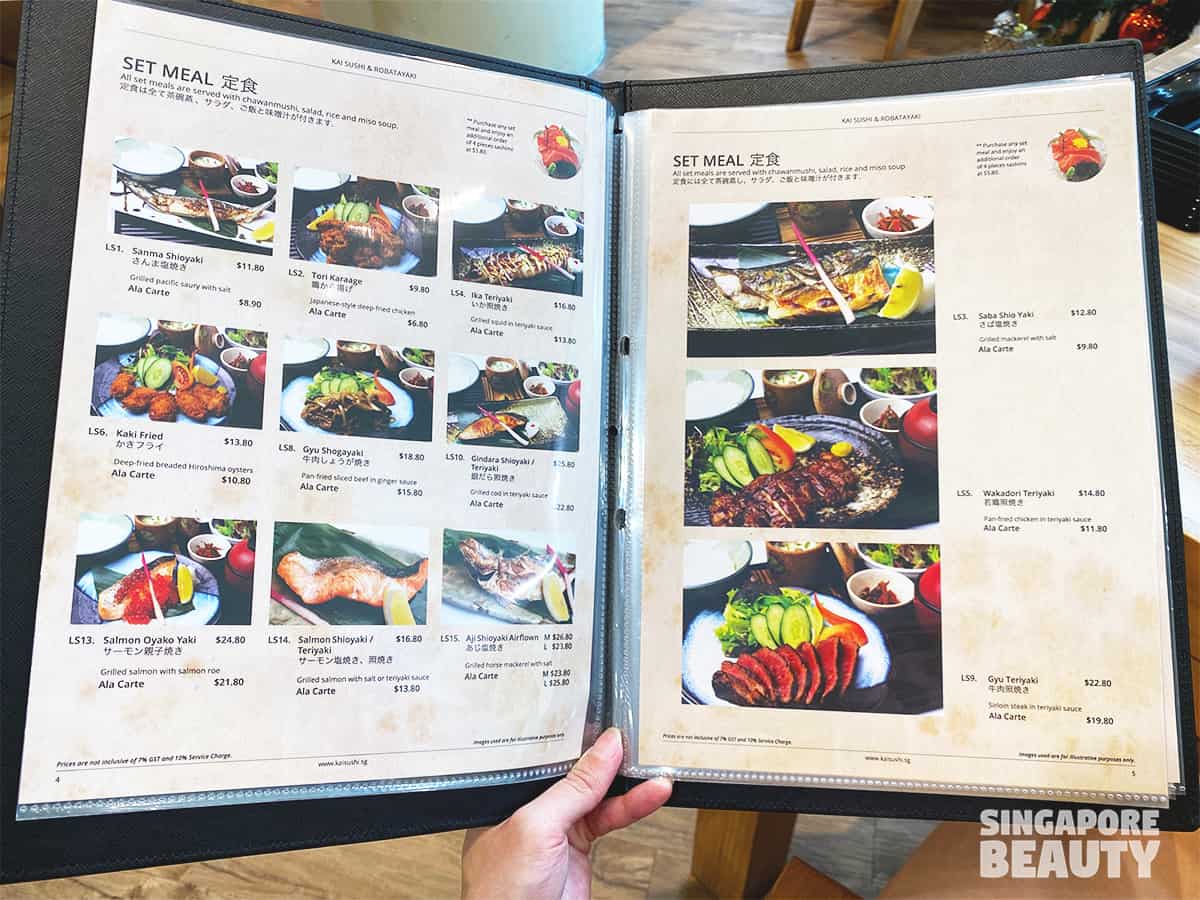 Here is the menu of Kai Sushi & Robatayaki with the set meals starting from $9.80.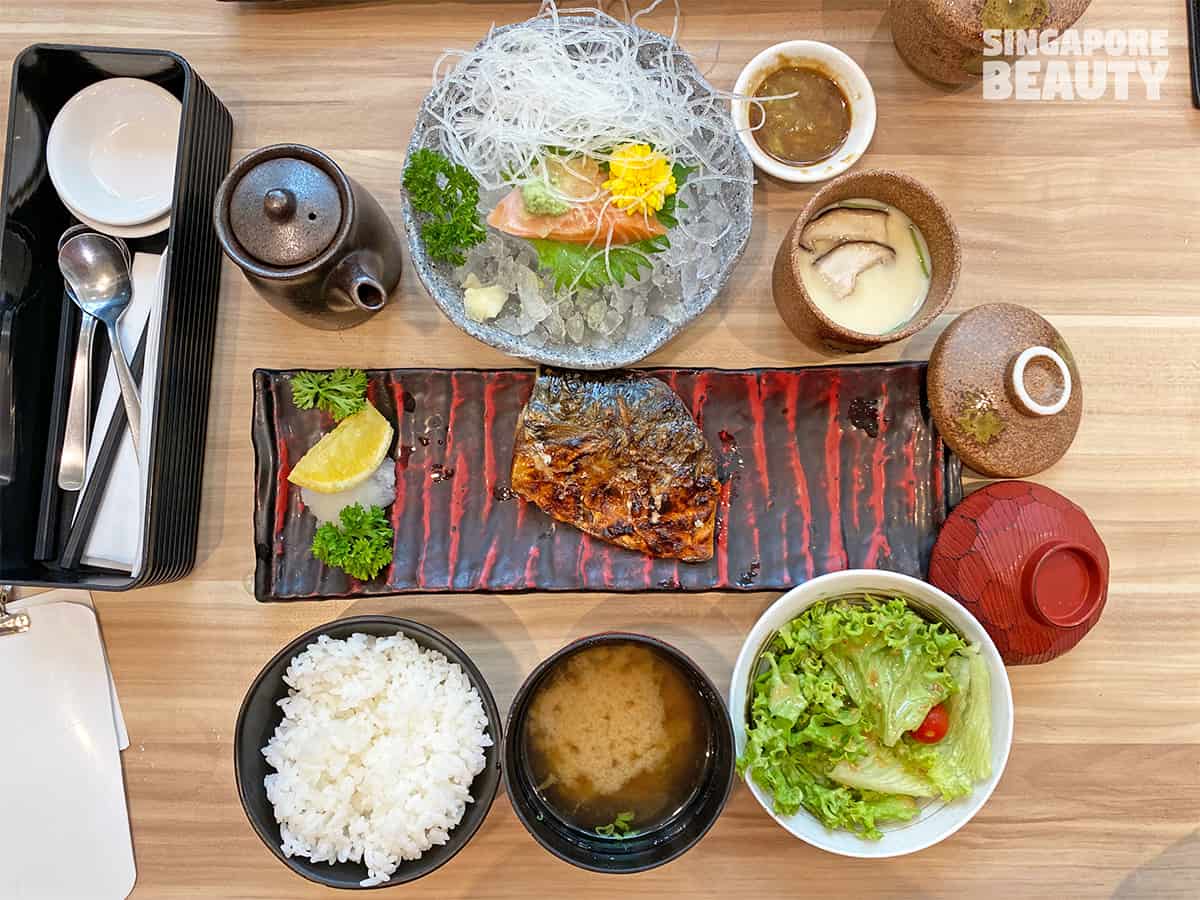 The other plus point about Kai Sushi & Robatayaki is that they have some valued promo set meals that are offered all day on the menu that can rival other Japanese restaurants with their excellent flavour and freshness. This is the saba shio Yaki grilled mackerel with salt set meal at $12.80 that's comes with chawanmushi, salad, rice and miso soup. I added on a side of 4 piece sashimi for $5.80. I ate most of the salmon sashimi before the set meal came as they are so delicious.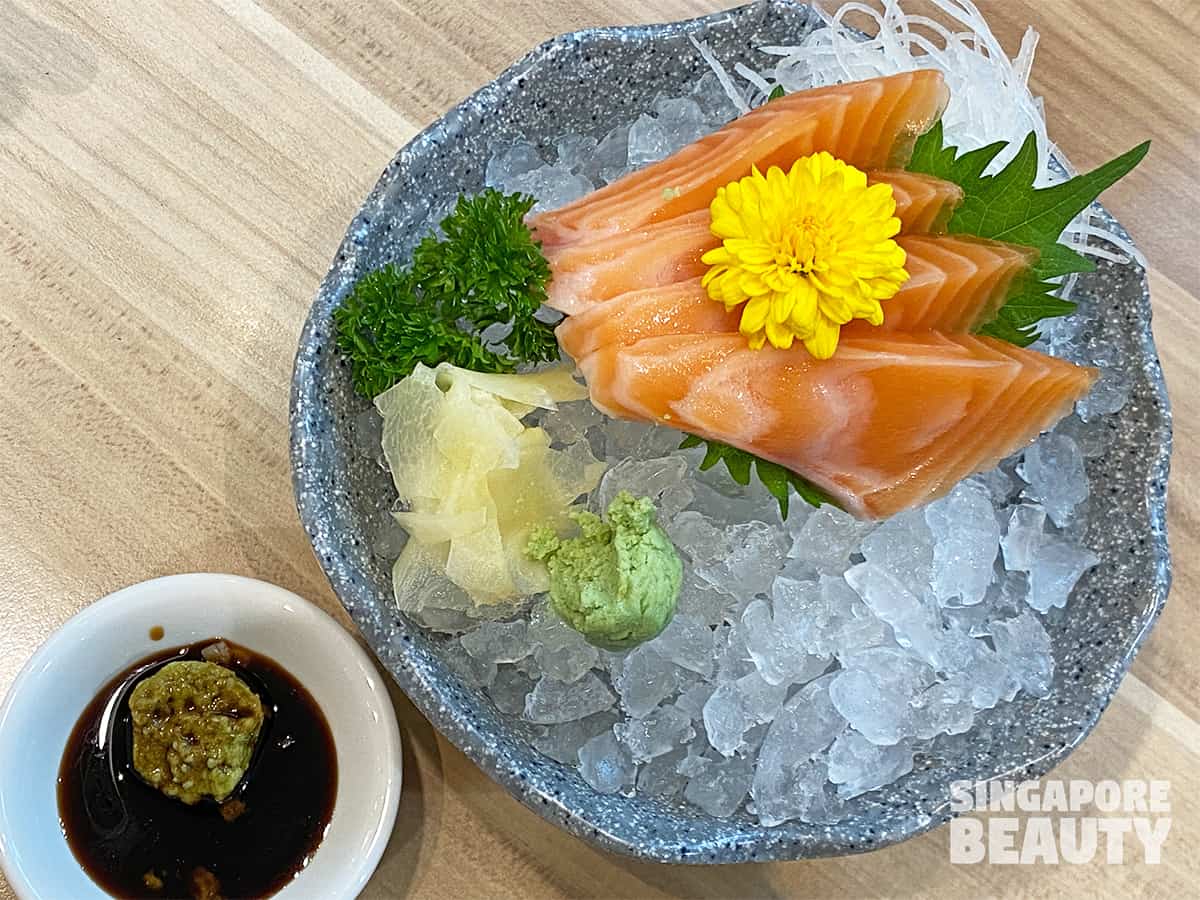 The salmon sashimi is presented atop crushed ice in stoneware like bowl. The crushed ice pebble helps to keep the salmon at premium freshness while you dine.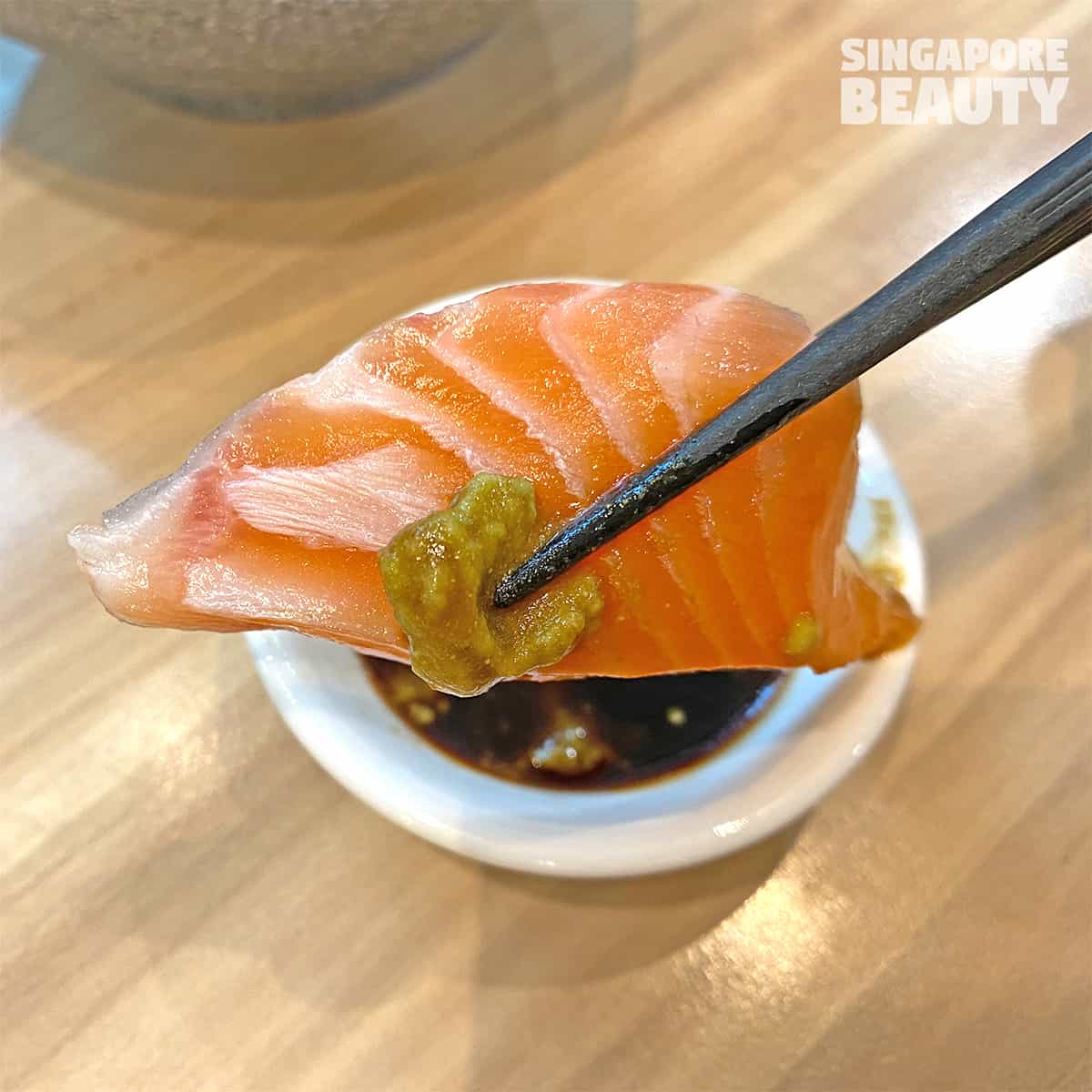 There is a small Japanese soy sauce shoyu dispenser for some dips for the salmon sashimi. Besides that the sashimi also comes with grated horseradish wasabi, pickled ginger slices and white shredded radish.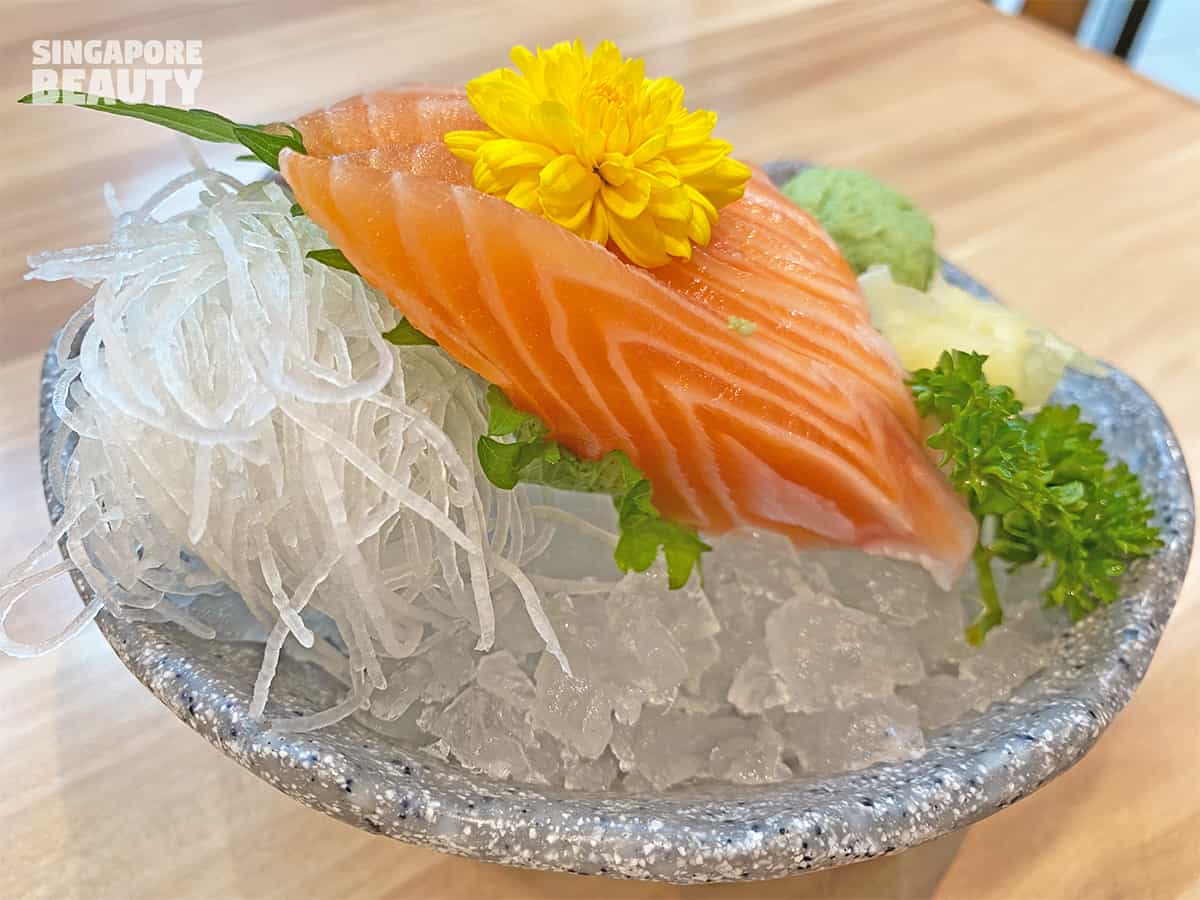 The plating is delicately planned with attention to details such as having a nicely proportioned chrysanthemum bloom atop the salmon and an ooba green leaf to separate the sashimi from direct contact with the ice pebbles.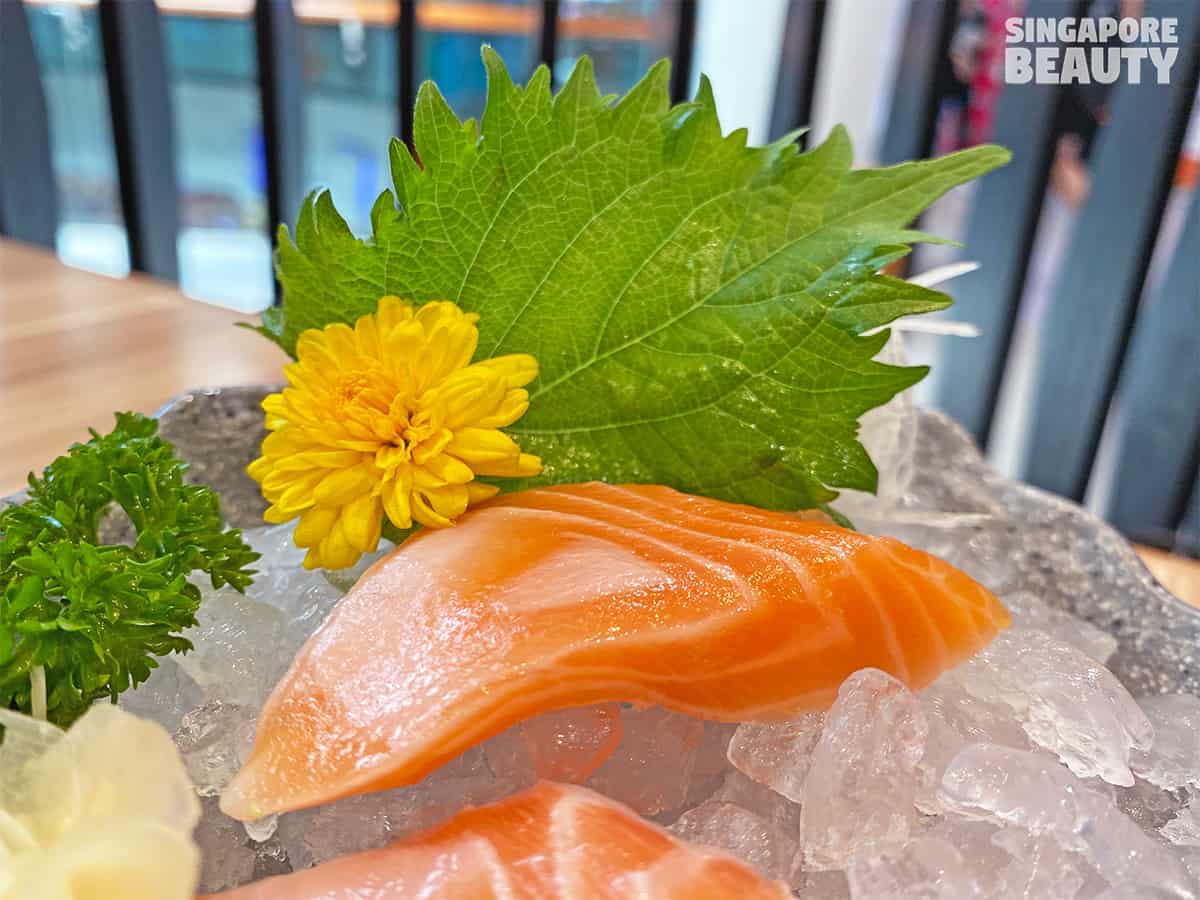 Each slice of salmon sashimi is quite thick and succulent. It is cool to the bite and has a sweet moist buttery flavour to it.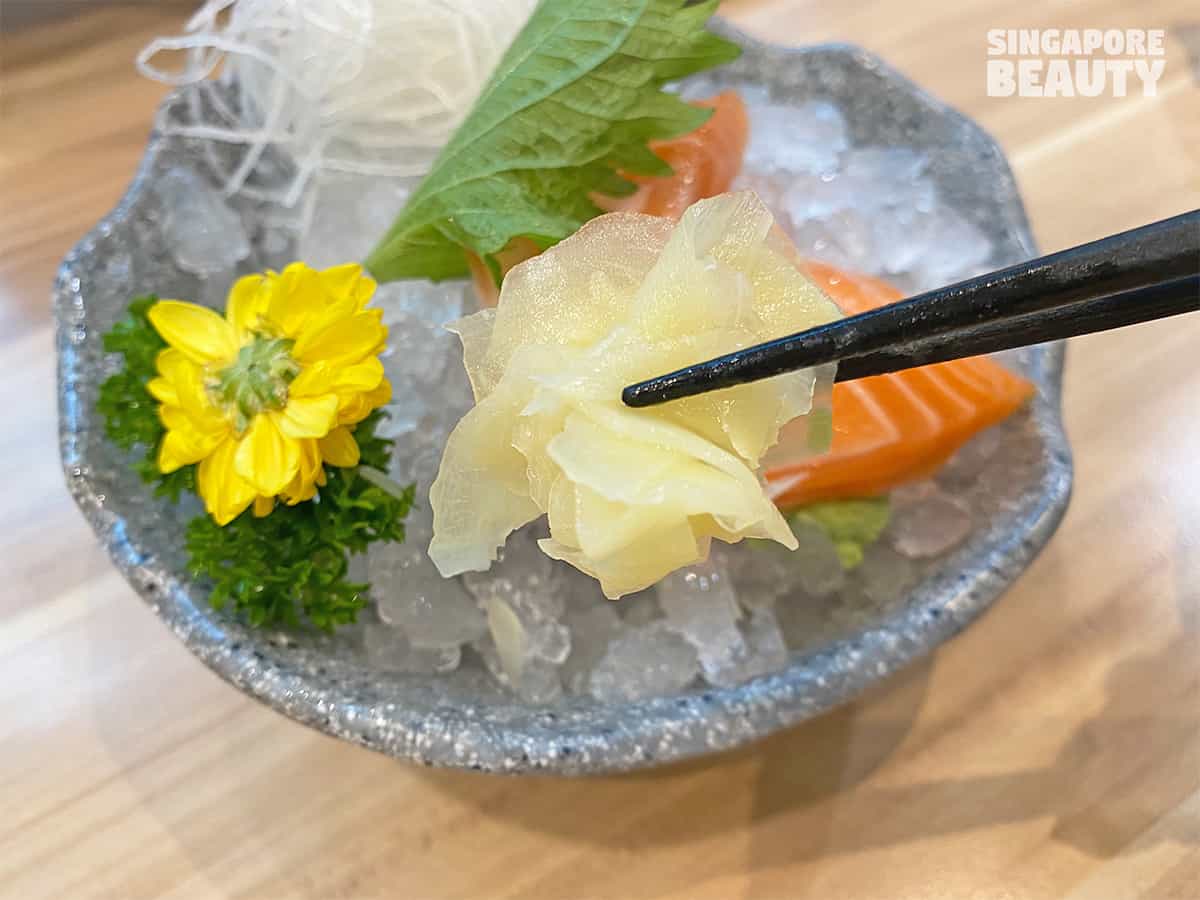 The pickled ginger is sweet and tangy. The ginger is sliced paper thin and has a light crunch to it. Paired with the sashimi, it gives a bit of lemony zest to the sweet fatty fish. It tastes kind of like a freshly pickled sliced ginger which is wonderful.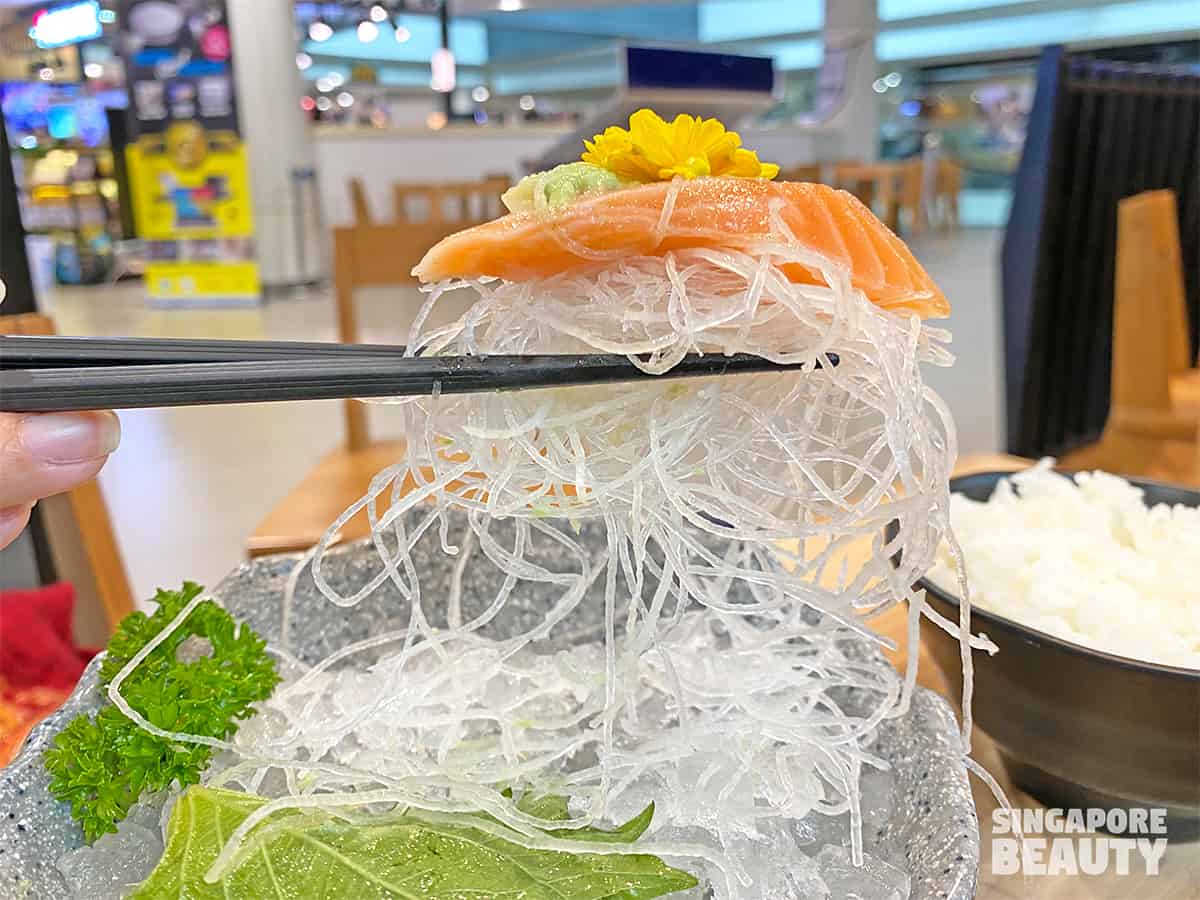 The salmon slice can also be paired with the shredded radish for an extra refreshing bite and a mild sweet crunch.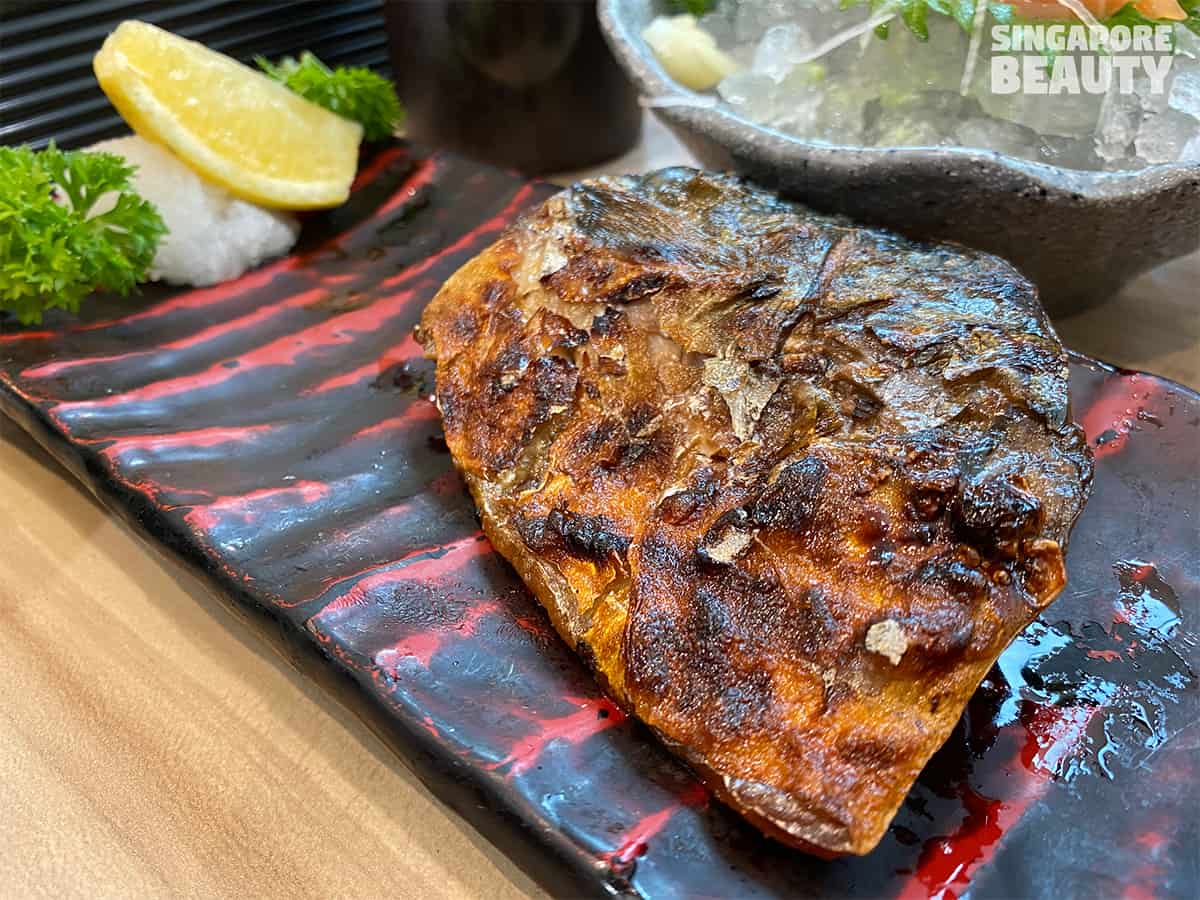 The grilled Saba fish fillet in this restaurant has a nice crisp up skin with a light enjoyable crunch to it. Slightly saline with a charred flavour. It comes with a wedge of lemon and some finely grated juicy smooth textured radish.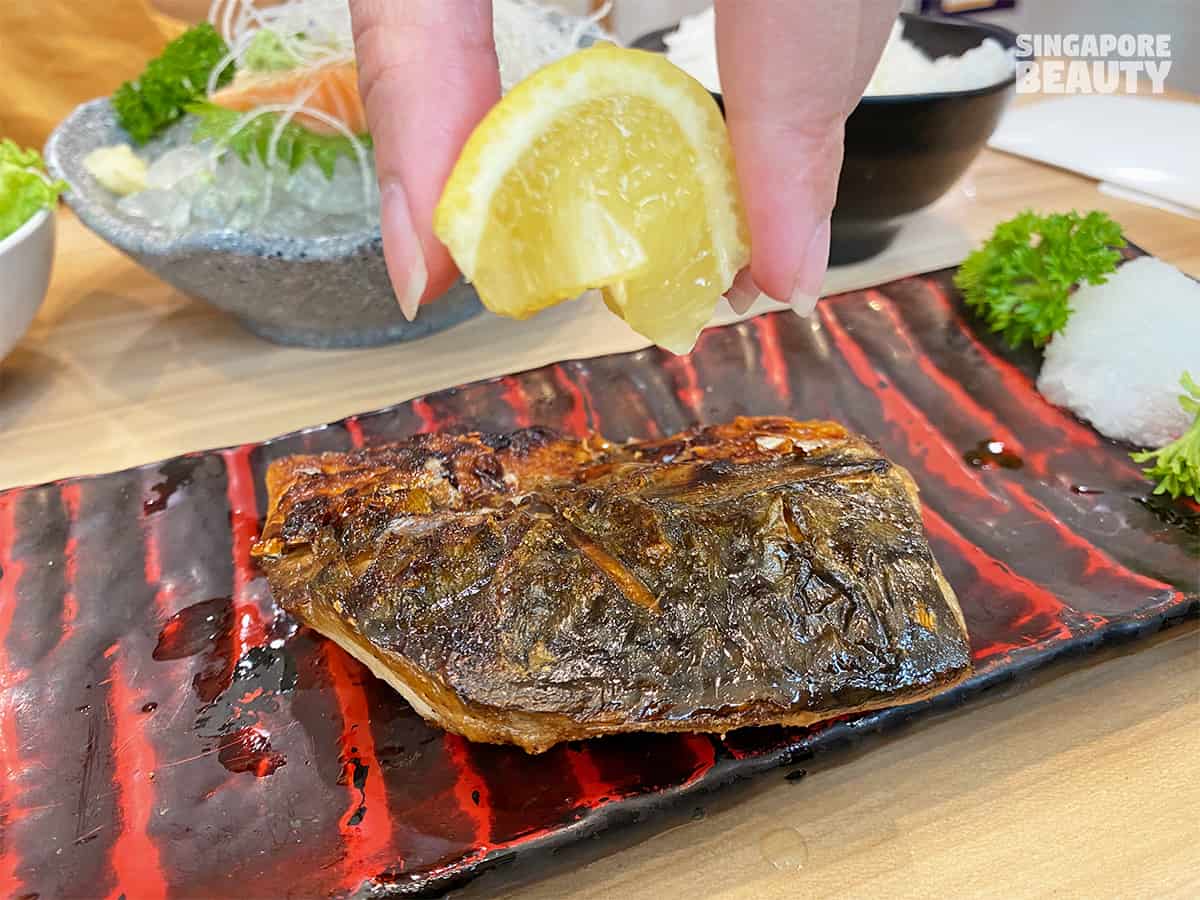 The wedge of lemon given for the grilled Saba is also generous. You can literally enjoy every mouthful of meat with some juice form the lemon together with the salt that is used to grill the Saba. It gives the meat a nice sweet, saline and tangy flavour that is so appetising.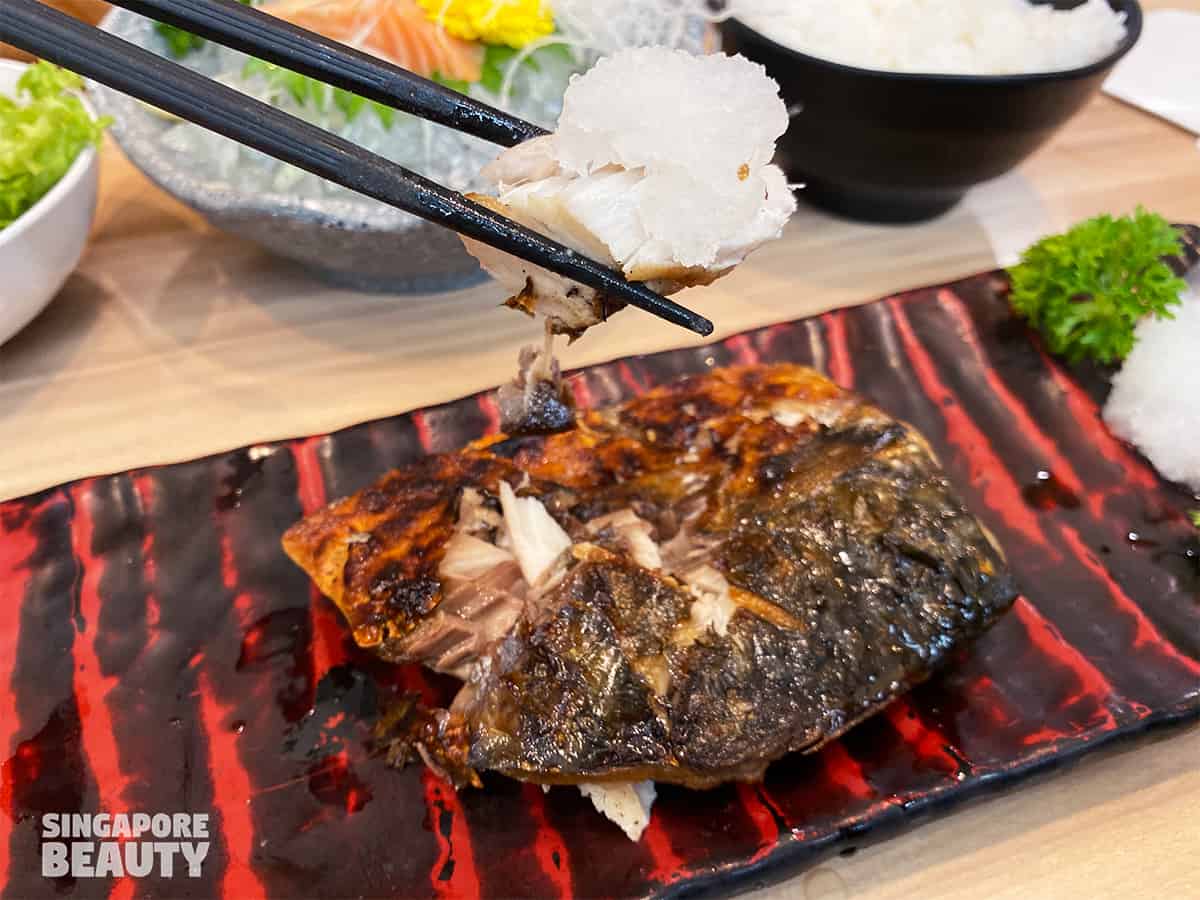 Alternately, you can also eat the Saba meat by pairing it with the grated white radish. The juicy grated radish is smooth and sweet. Although the Saba fillet is grilled to a crisp, the meat remains tender, moist and succulent. There is no fishy flavour to this fillet of Saba which says much about the freshness of it served by this restaurant in Plaza Sing.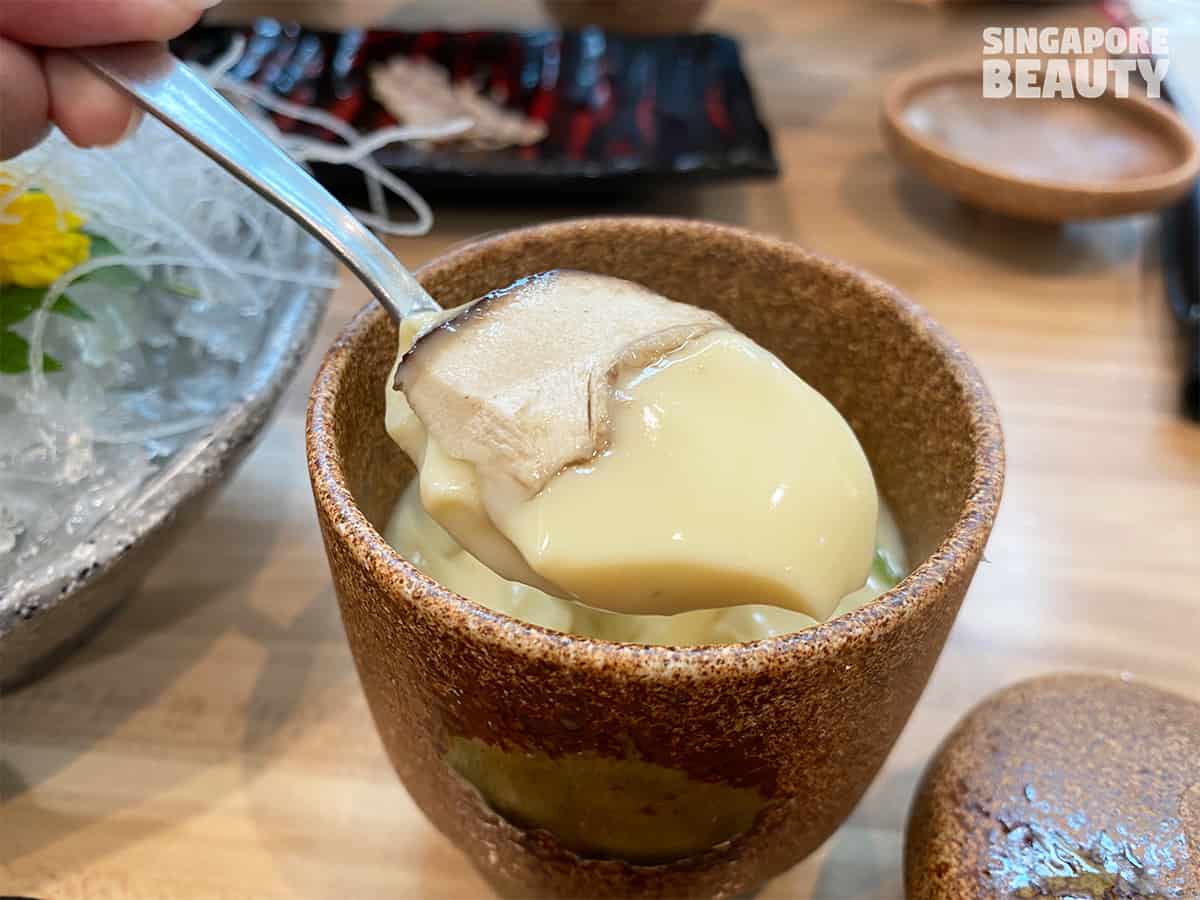 The chawanmushi comes in a nice amber stoneware holding some really jiggly egg custard. So smooth and silky that almost melts in the mouth. We are lucky to get a chawanmushi that is straight out of the steamer as they just made a new batch.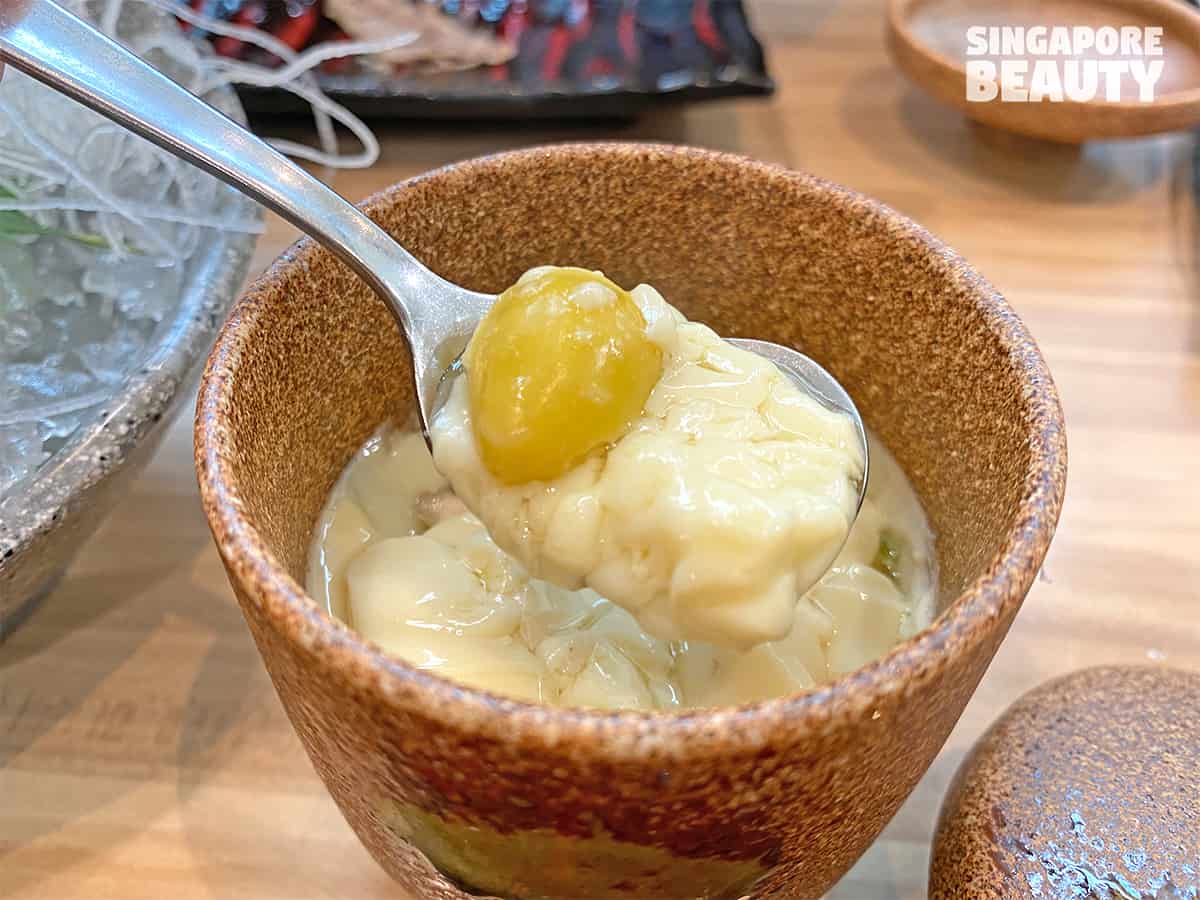 The chawanmushi has some sliced shitake mushroom, a chunk of chicken, ginkgo in some clear umami soup.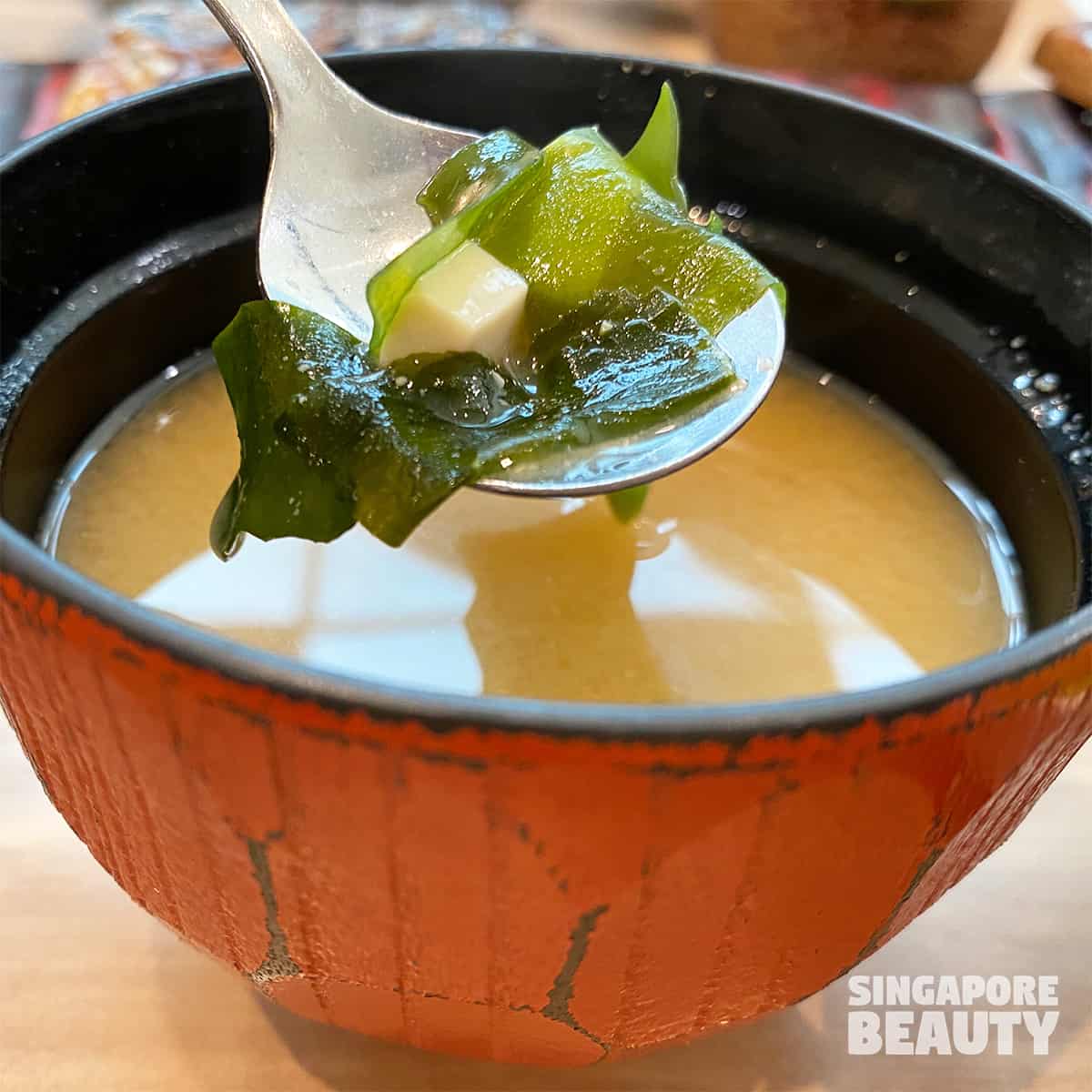 The miso soup came piping hot with a strong aroma of sake Japanese wine when you lift the lids. The soup is thick and clouded with finely meshed miso, diced silken bean curd and wakame.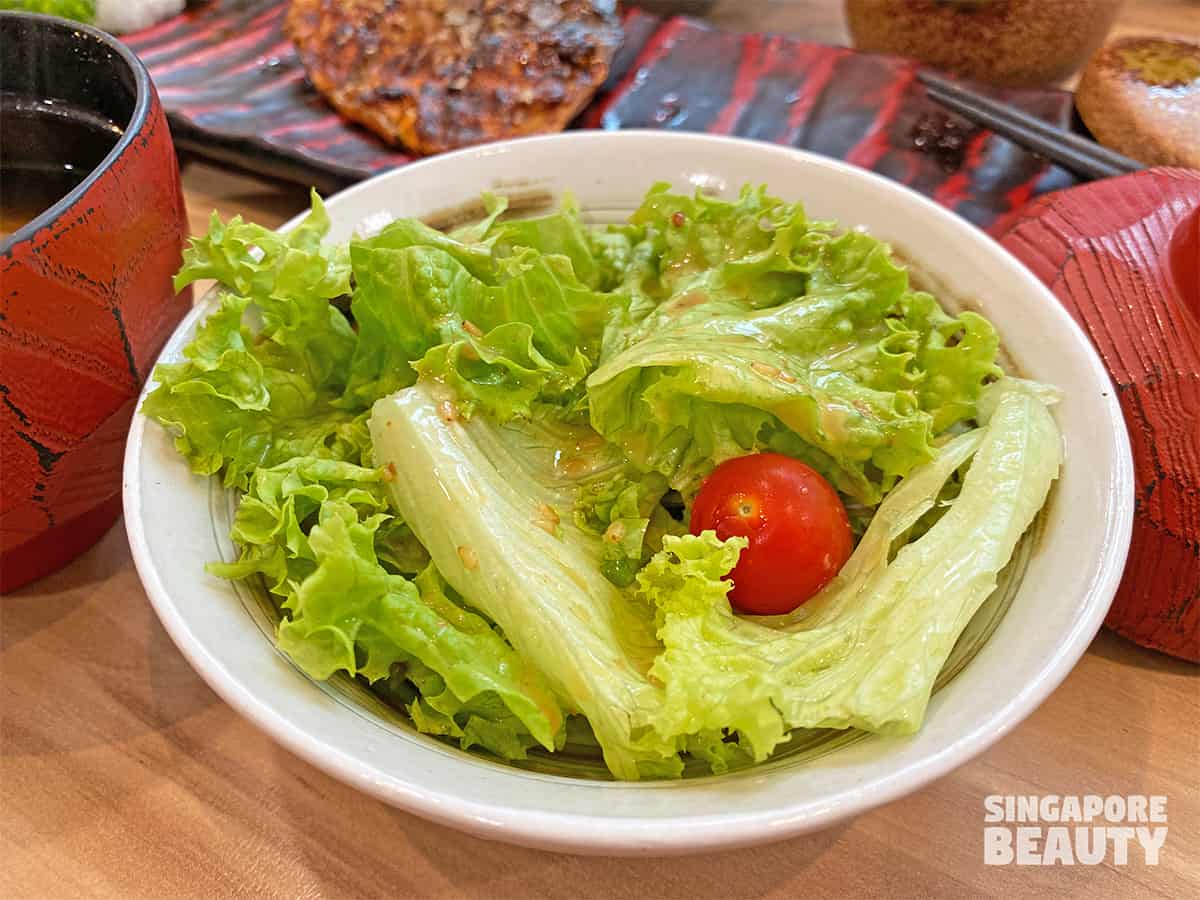 Salad is a light refreshing lettuce greens and cherry tomato with sesame dressing. The salad is cool and flavourful with fresh crunchy sweet lettuce.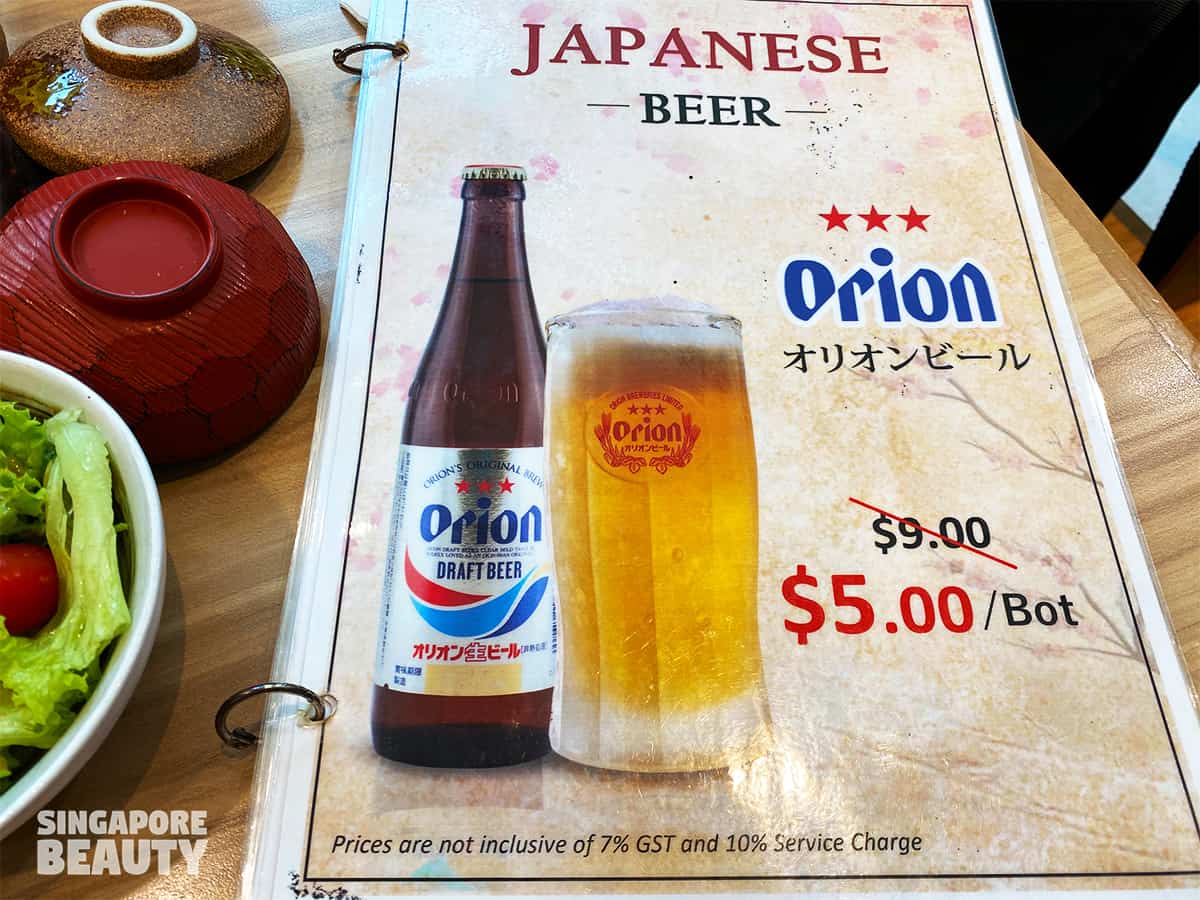 During Kai Sushi & Robatayaki happy hour special, you can also order a bottle of Orion draft beer at only $5 where the UP is $9.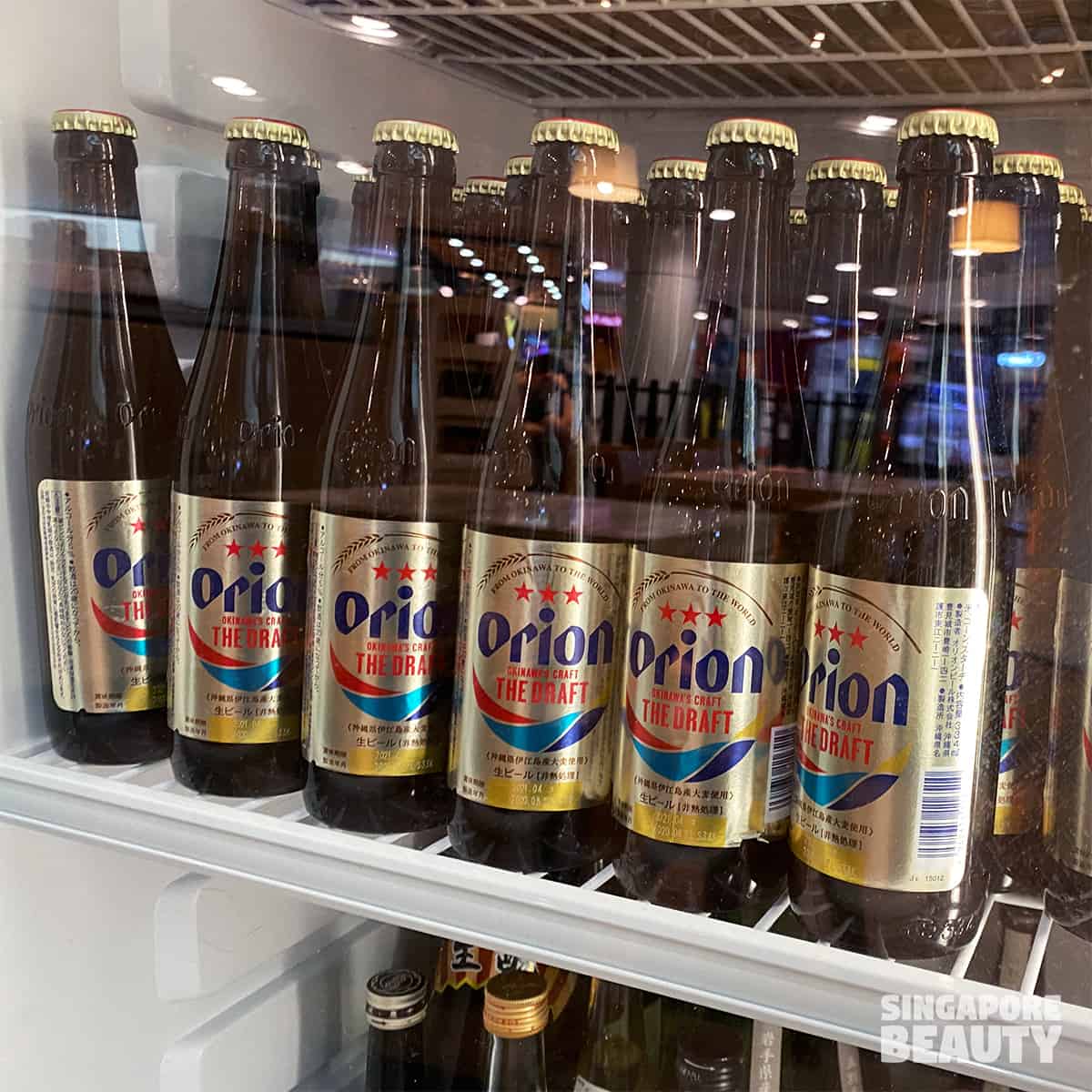 Great way to end the meal on a mug of cool booze with this great beer promo in a mall like plaza singapura.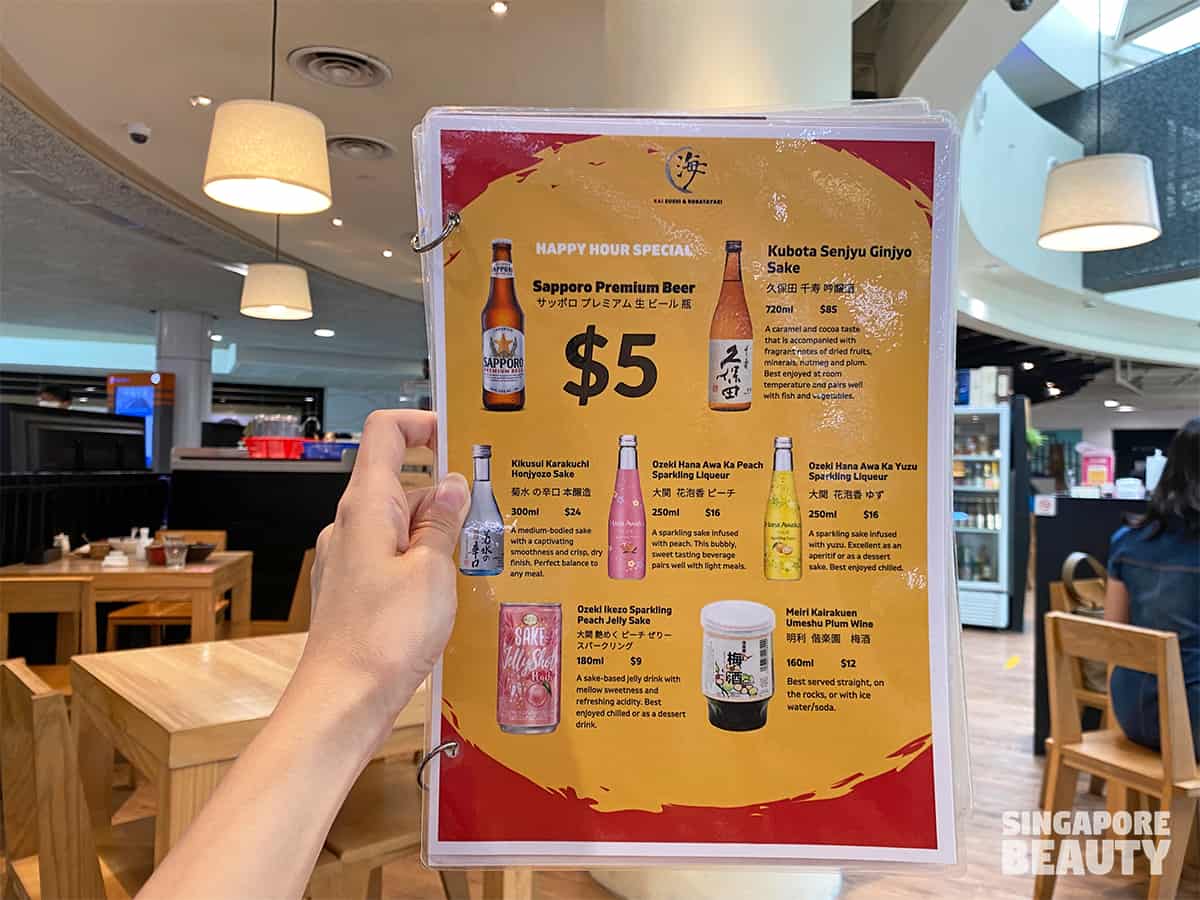 Beside this Orion beer, they also have promo for Sapporo premium beer also at $5 during happy hours. Here is the Kai Sushi & Robatayaki menu for drinks.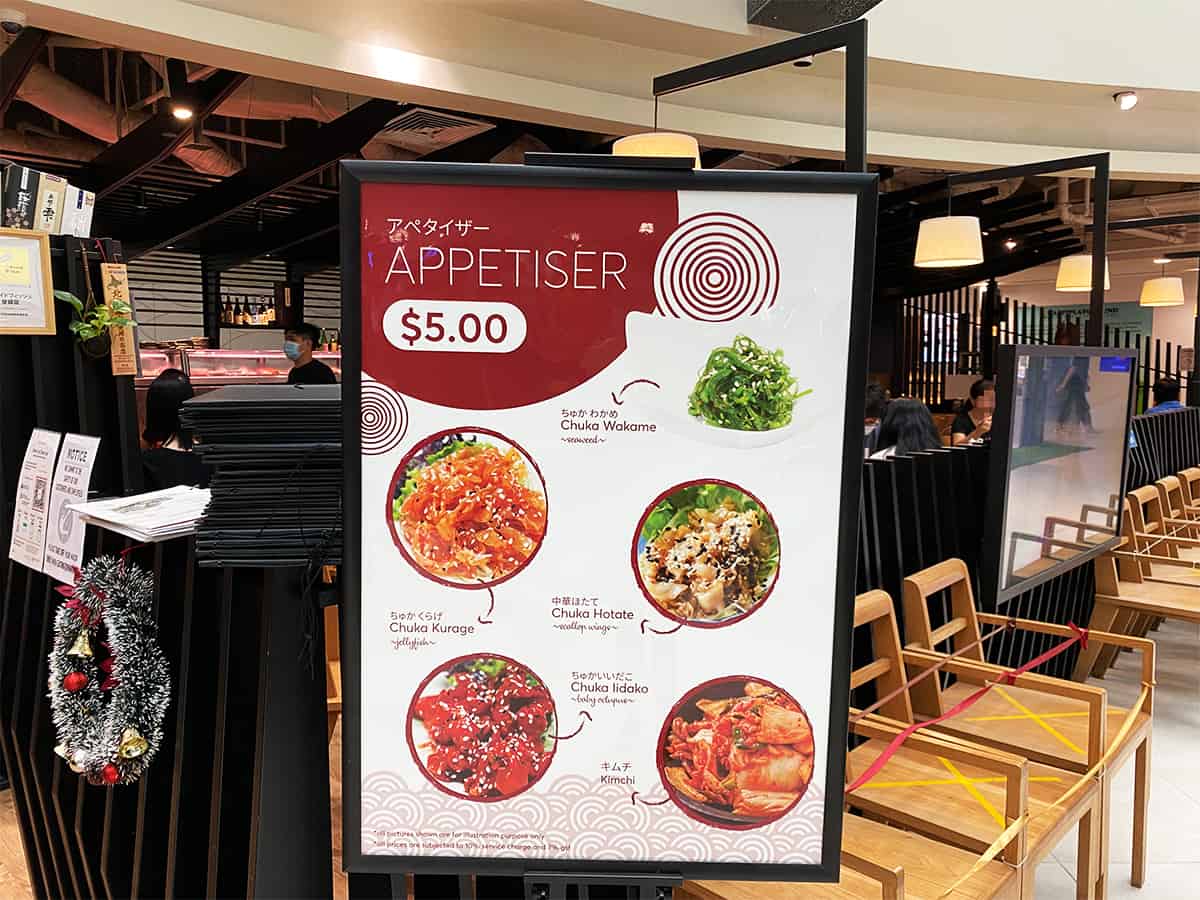 Here is another $5 appetiser menu of Kai Sushi & Robatayaki. The menu includes chukka hotate, lidako, kimchi, kurage and wakame.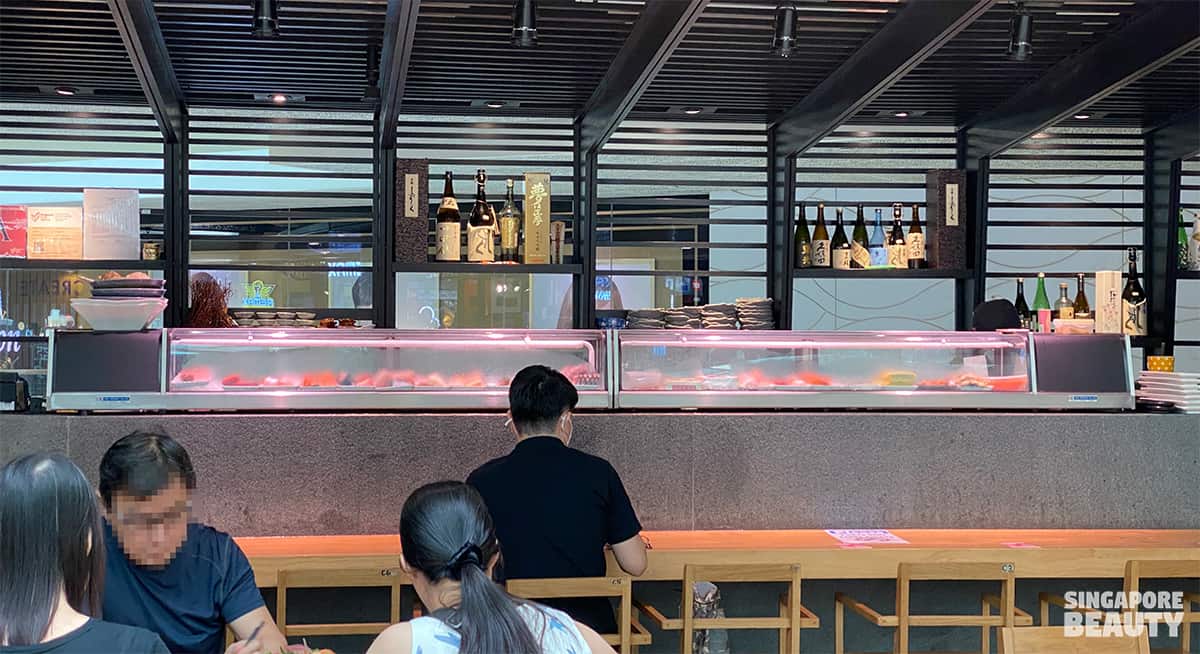 At Kai Sushi & Robatayaki, they also have a live bar concept where the sashimi chef cut to order sashimi from a display chiller in front of a row of bar seats.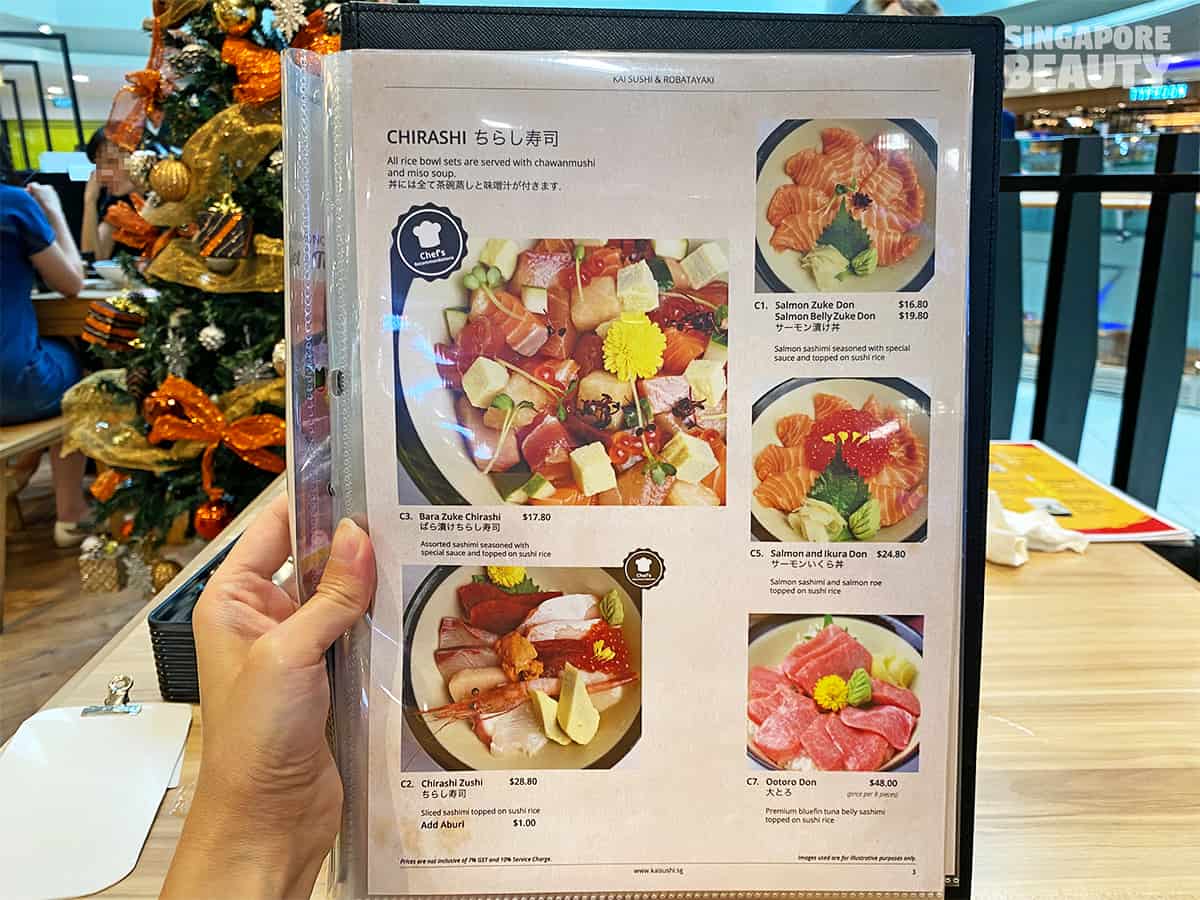 The chef recommendation at Kai Sushi & Robatayaki is the popular bara zuke chirashi $17.80 – a sushi bowl of mixed sashimi seasoned with a special inhouse sauce. If you love sweet shrimp like me, you can try the chirashi zushi that comes with some fresh sliced sashimi, scallop, hamachi, egg tamagoyaki, salmon roe and a shrimp.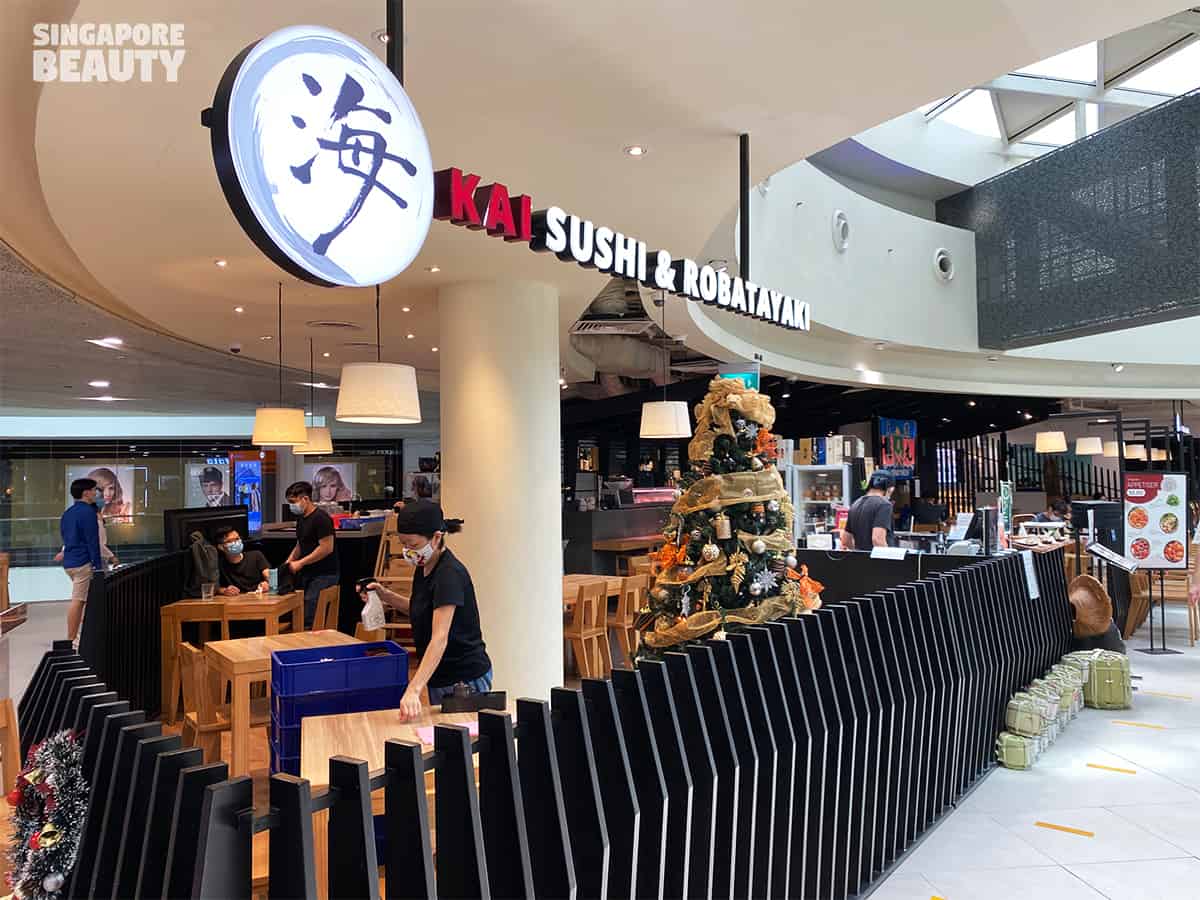 Do come over to Kai Sushi & Robatayaki if you are craving for some Japanese cuisine at Plaza Singapura, Dhoby Ghaut.
Operating hours:
11.30 am to 10pm
Location:
Kai Sushi & Robatayaki
Plaza Singapura, 68 Orchard Road, #04-68,singapore 238839