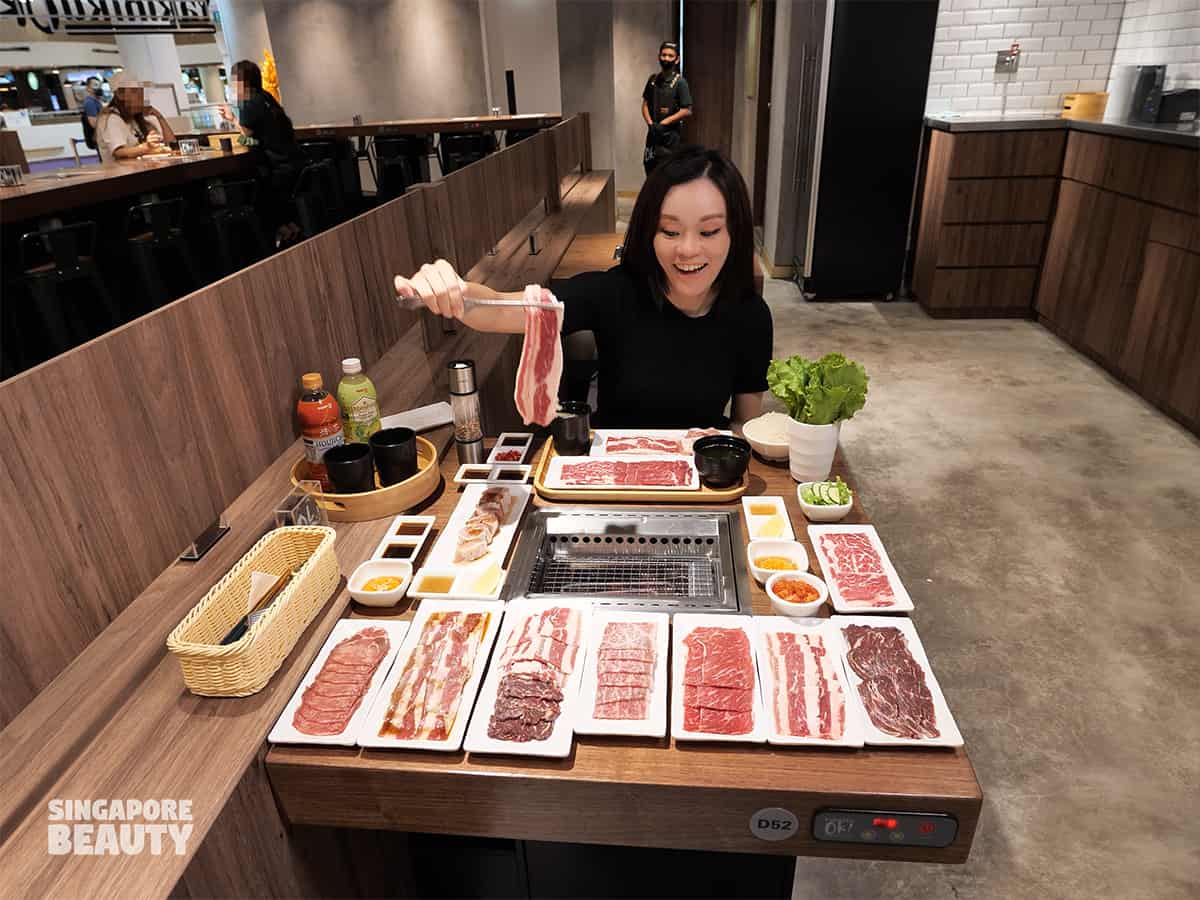 Yakiniku Ok is a newly opened yakiniku place that serves various beef cuts and chicken thighs. They are celebrating their 1st month anniversary with a 1 For 1 promotion with their Toriniku chicken set ($9.80) and Karubi beef set ($10.80) for a limited time only. Your approximately damage is about $5.40 per set. These are all nett prices with no GST and no Service charge.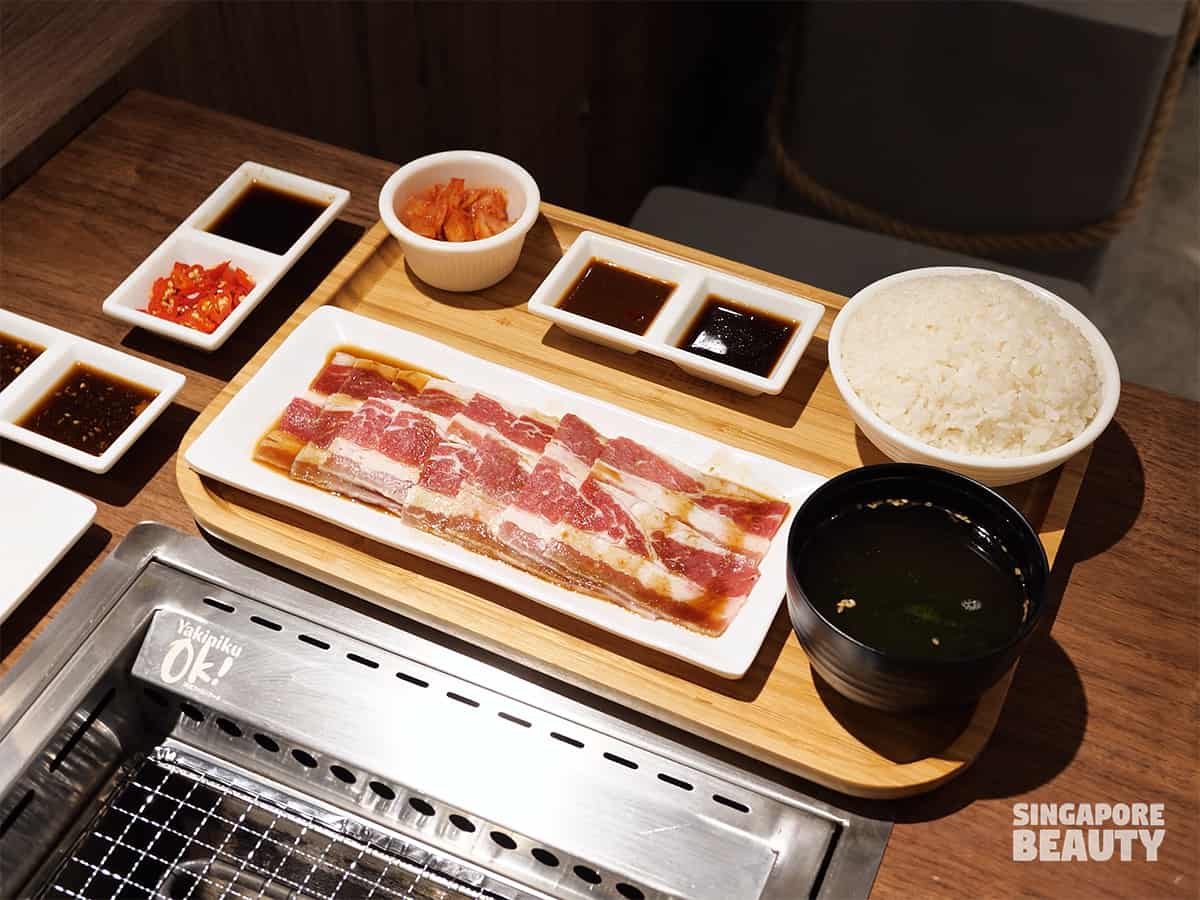 This is Yakiniku Ok 1 For 1 promotion. Each customer is entitled to one set of 1-For-1 PROMO. The set with the higher price will be used as the paying price for this dine-in promotion. Paying the price of one set, either $9.80 or $10.80, you get to eat 2 set meals. Choice of either set meals with 100 gm of Toriniku (chicken thigh) or 100gm of Karubi (beef short plate). Each set meal consists of a plate of selected meat, seaweed soup, a bowl of steamed rice, two choices of dipping sauce, kimchi or a mini salad. The above pictured is their 200gm karubi set.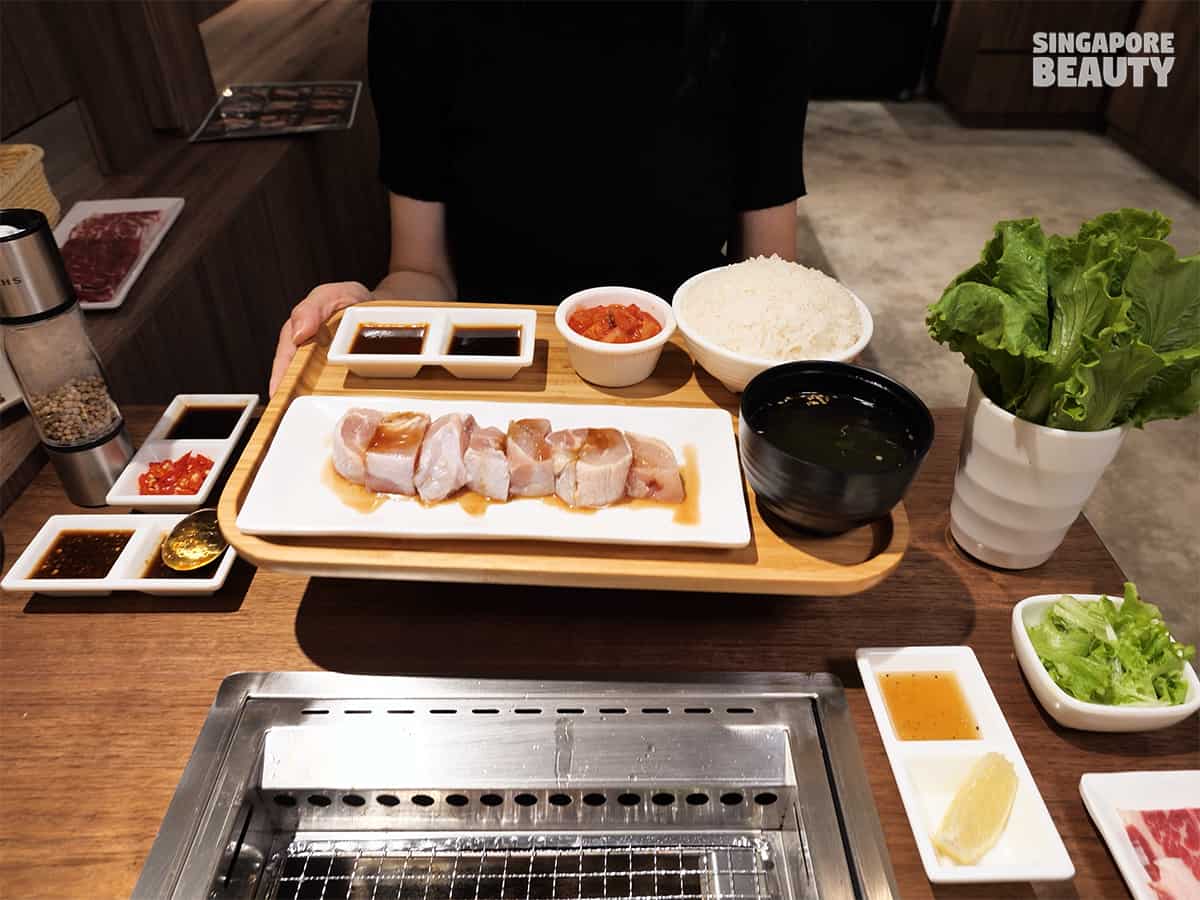 This Yakiniku Ok promotion is a celebration of their 1st month anniversary and runs from 30 July till 5 August 2022. Yakiniku for this price for two is definitely a steal. If you are looking for more variety of meats, feel free to add on more ala carte meats, sides or set meals to complete the Yakiniku Ok experience. The above pictured is their 200gm toriniku (chicken thigh) set.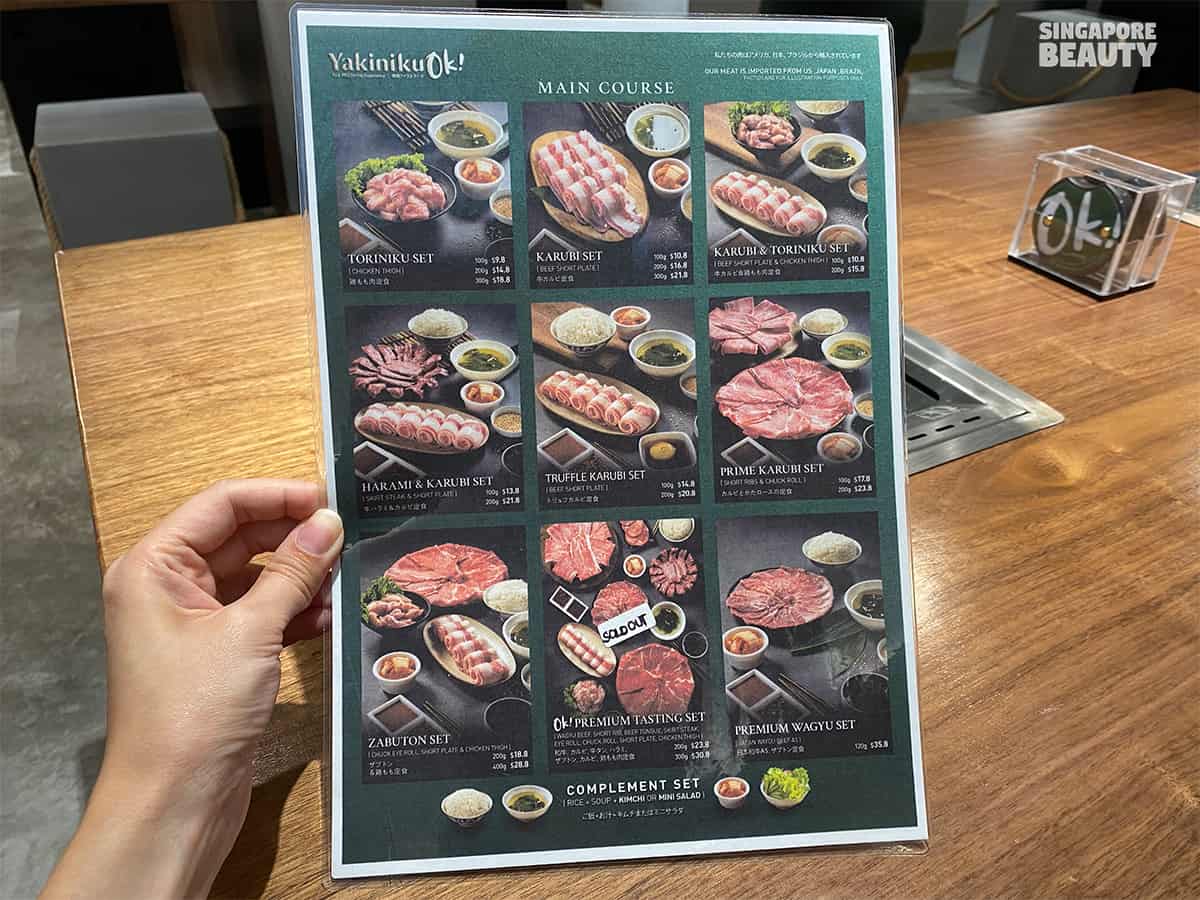 For those who are wondering what Yakiniku Ok has on their menu, you can check out this set meal menu. The set meal main course menu starts from $9.80 for the Toriniku set. If you are looking for some Japanese A5 Wagyu to yakiniku with, you can try their premium wagyu set at $35.80. They have eight choices for set meals. The other sets are Karubi, Karubi & Toriniku, harami & karubi, truffle karubi, prime karubi and zabuton set.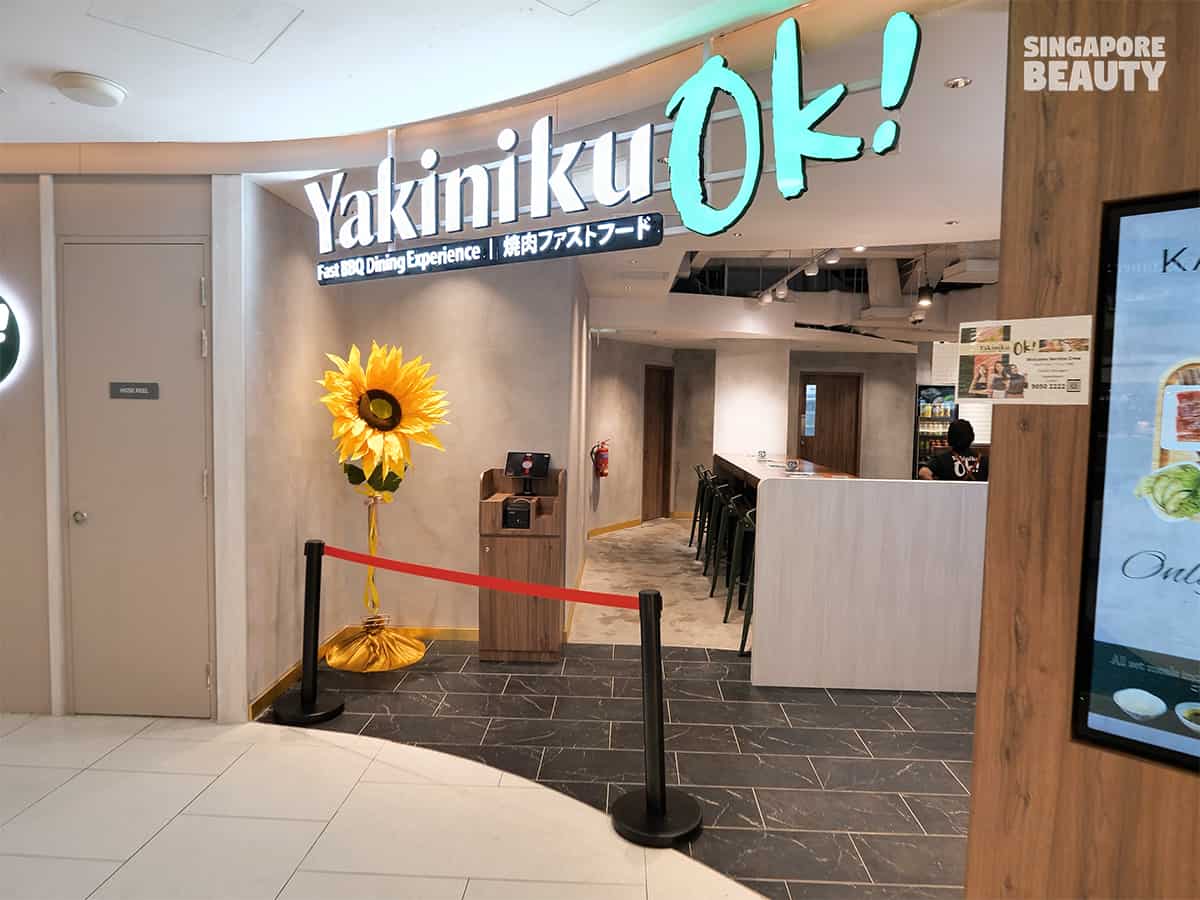 Yakiniku Ok is a no pork no lard yakiniku joint. They are in the process of getting it to be a Halal certified yakiniku restaurant. They only serve different cuts of beef and chicken as their main meats options. Located on the 2nd floor of WhiteSands shopping mall, it is a really convenient and comfortable place to satisfy your yakiniku cravings.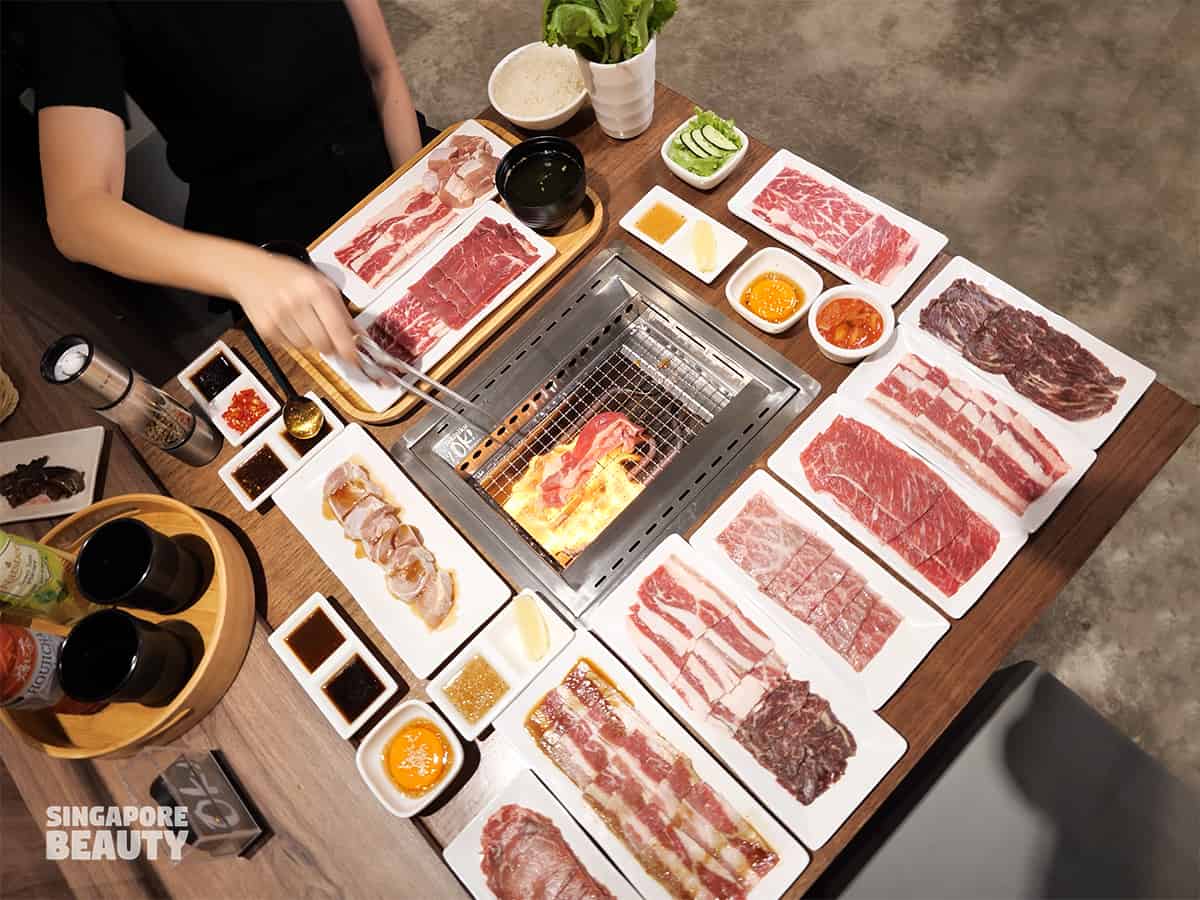 Here's our Yakiniku Ok review after trying all the meats on their menu. The meats are carefully seasoned with a drizzle of grill sauce without overwhelming the natural sweetness of the meats. Dip sauces are curated to enhance the flavours of the cooked meats. They have since changed all the stove grills following feedbacks that the stove grills are not hot enough. Now, the grill stove is pretty hot so you can be assured you will get your grills cooked quickly and nicely done too.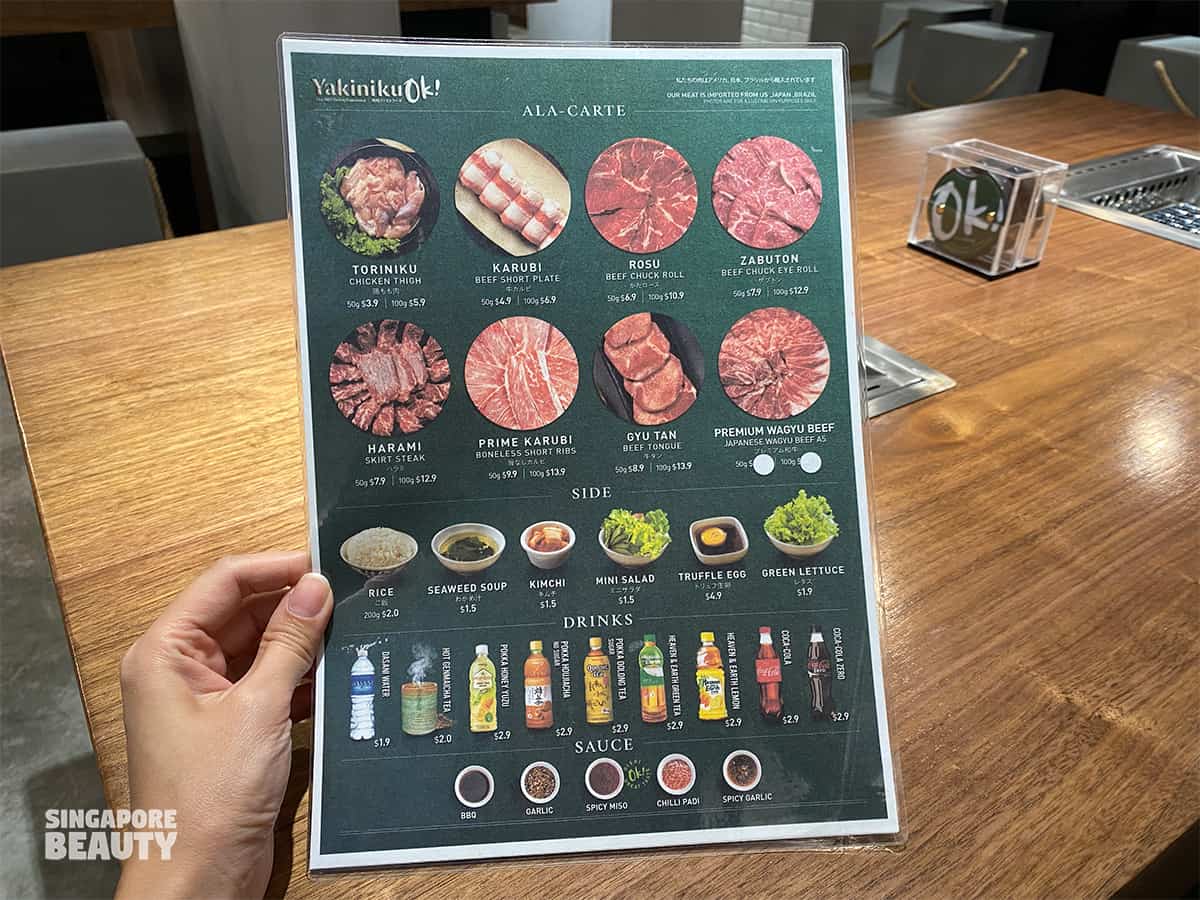 Here's Yakiniku Ok ala carte menu which starts from $3.90 for a plate of toriniku chicken thighs. The price range for different cuts of beef starts from $4.90 for a plate of Karubi beef short plate. The price for ala carte meats ranges from $3.90 to $13.90. The ala carte menu for meats are pretty affordable for those who are not into the main course sets. These are great for someone who would like to have a tasting menu of different cuts of meats in either 50 or 100 grams portions.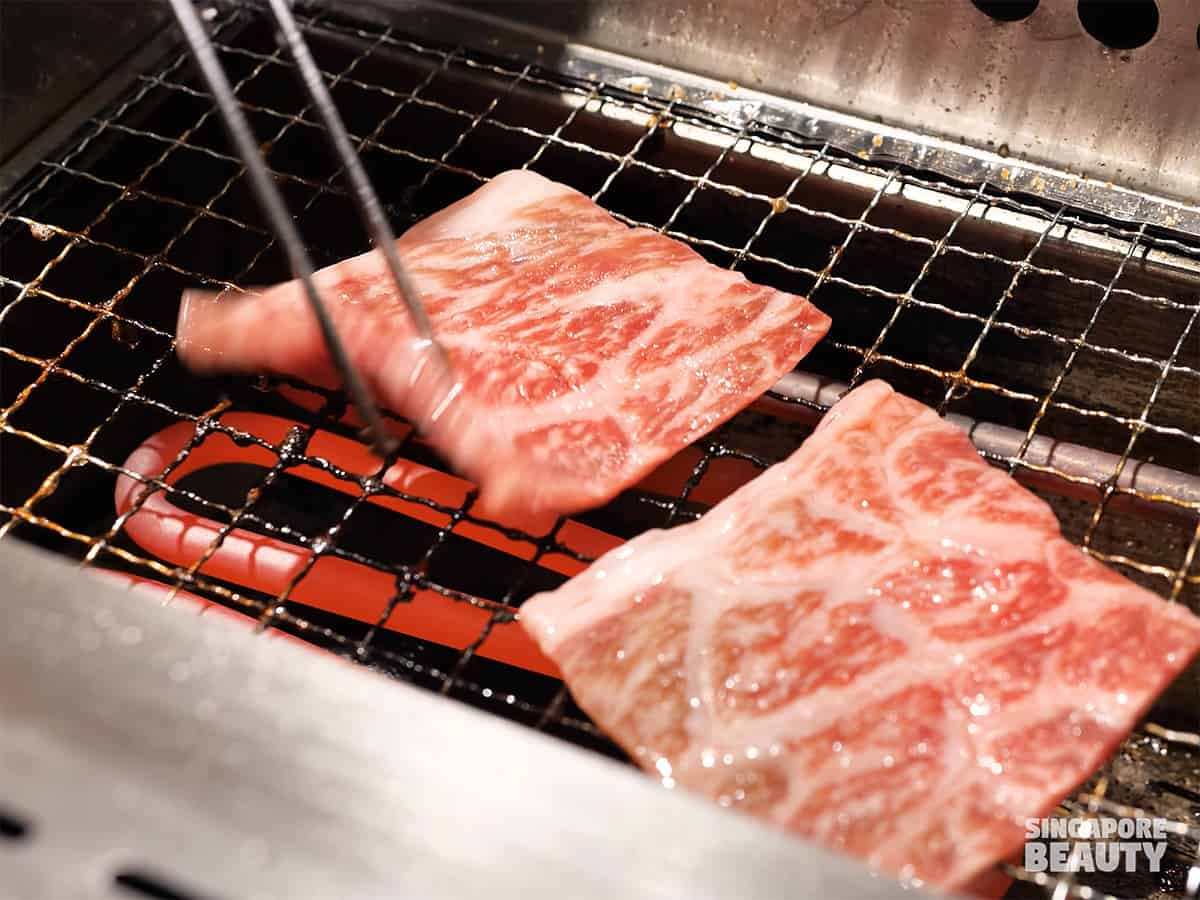 This is their premium wagyu set at $35.80. These are Japanese A5 grade wagyu directly imported from Japan. Check out the excellent marbling on every slice of these wagyu. It is soft and tender with melt in the mouth texture. To ensure you get the best quality Japanese A5 wagyu, the restaurant only serves fresh batch of wagyu for each order in portion of 120 grams. An unique umami taste without the need for any seasoning. It is considered the gold standard for a beef lover. It is a must try here.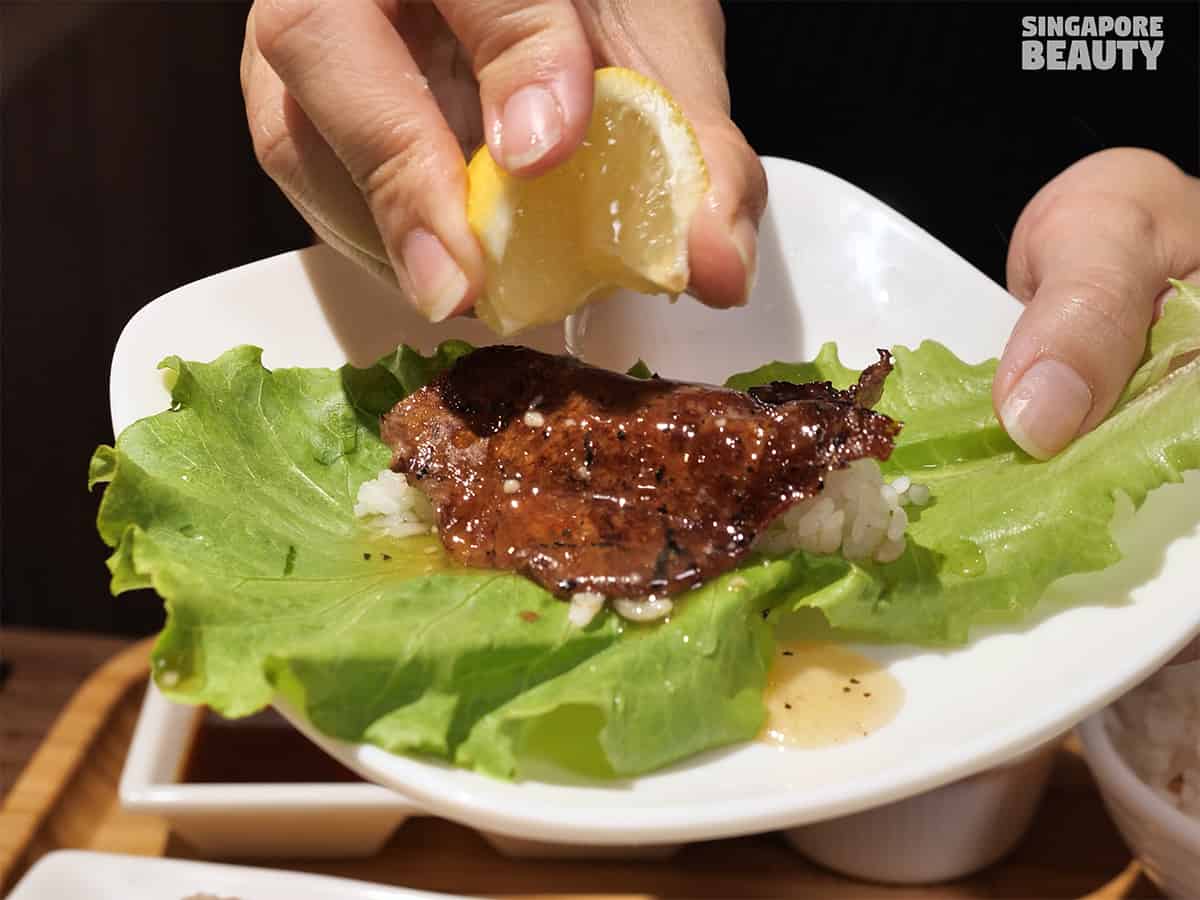 Gyu Tan (beef tongue) ala carte servings starts from $8.90. These are served with lemon and yuzu dipping sauce to go with the springy texture of the meat. The texture is likened to cooked liver that is fatty and chewy. The richer beef flavour is best enjoyed with fresh lemon juice and citrusy yuzu sauce.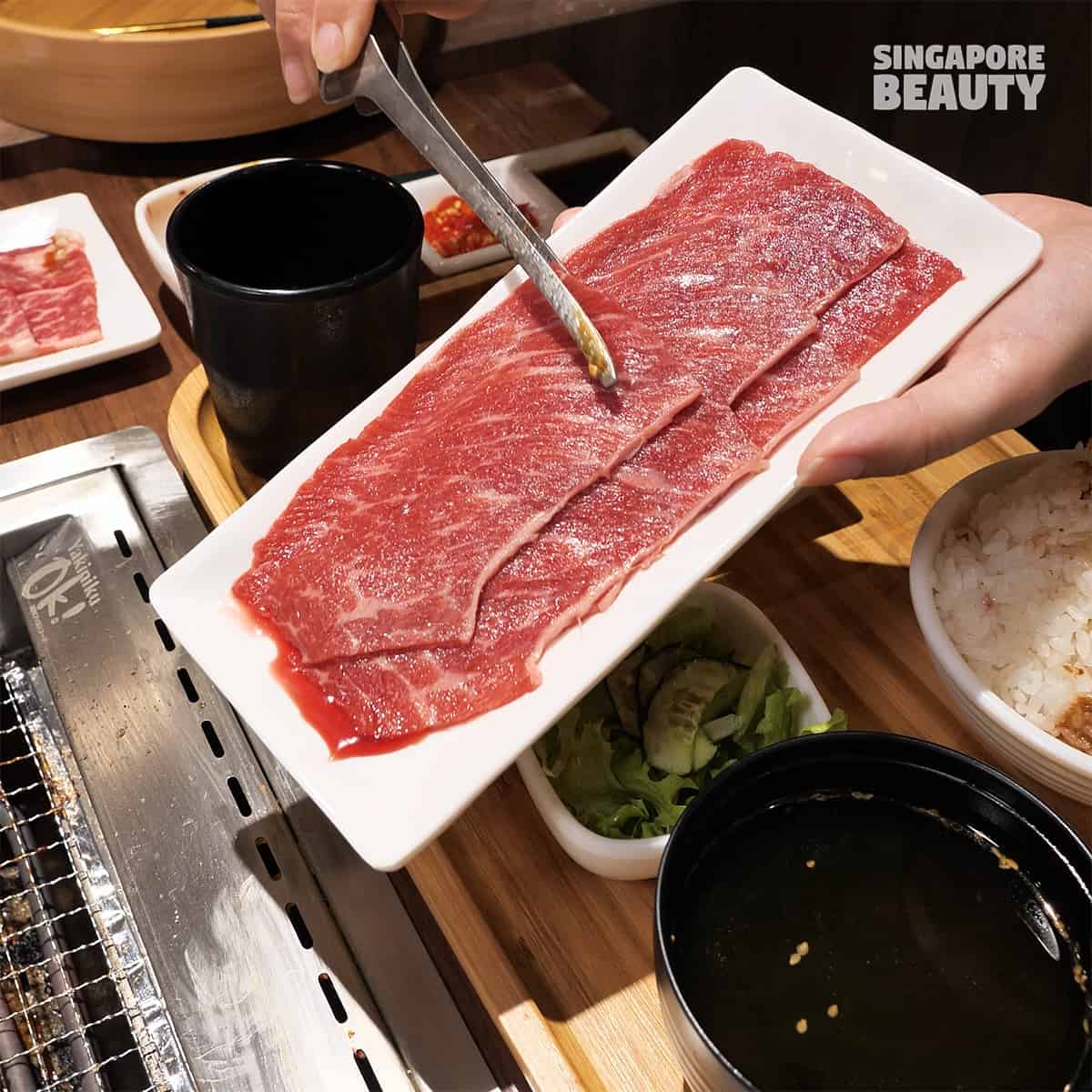 Rosu (beef chuck roll) are the beef with leaner beef and is more filling for your tummy. It has a higher meat ratio than fats in this cut of beef. If you are on a lean meat diet, this will be your choice of meat.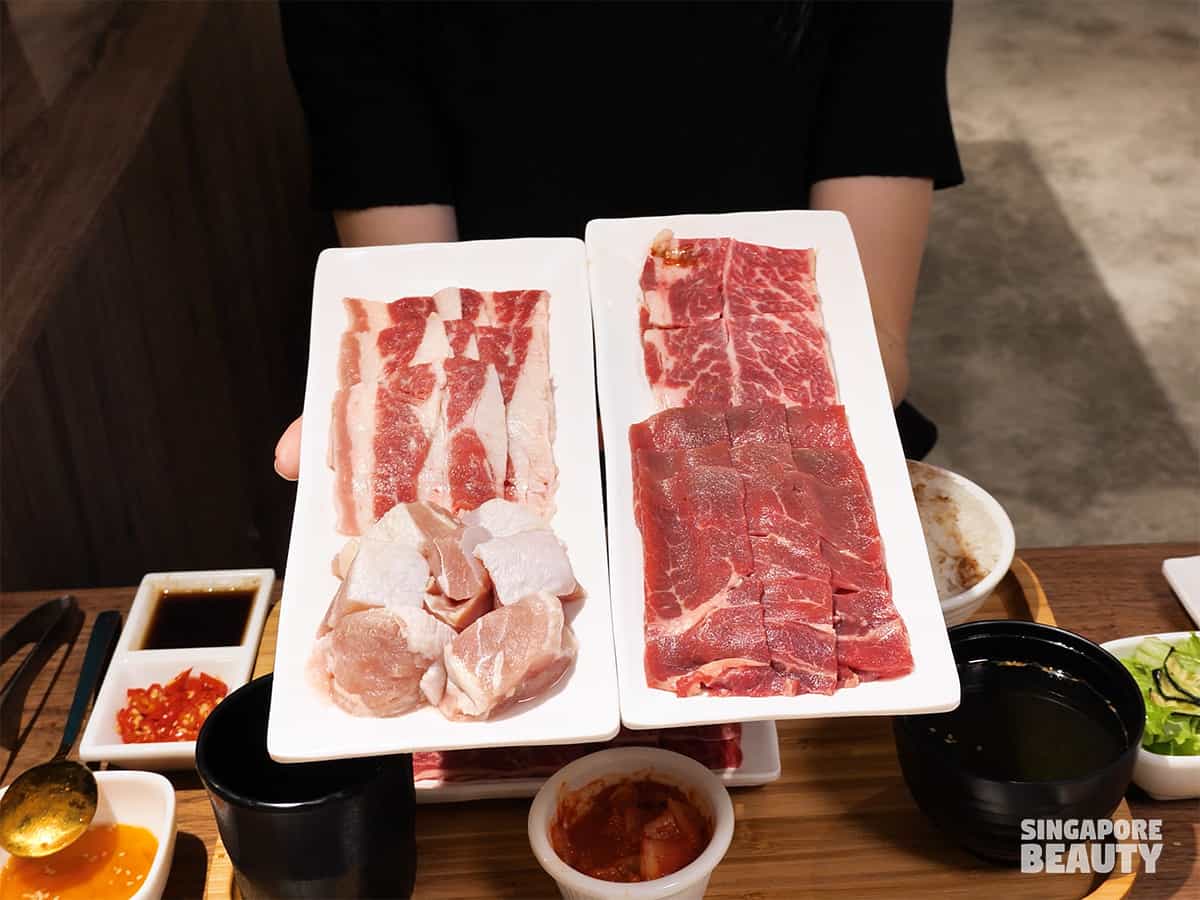 If you are someone who loves a mixture of different cuts of meats, you can choose their mixed cut meats sets. They have karubi (beef short plate) & toriniku(chicken thigh) set from $10.80, Harami (shirt steak) & Karubi (short plate) set from $13.80, Prime set (short ribs & chuck roll) from $17.80 or Zabuton set(chuck eye roll, short plate & chicken thigh) from $18.80. The difference between these sets are the varying ratios of lean meat versus fat proportion. Pictured above are karubi & toriniku set- beef short plate and chicken thigh (on left) , Prime Karubi set- beef short ribs & beef chuck roll (on right).
Yakiniku Ok Singapore has a no frills Japanese BBQ concept with simple joy of grilling different cuts of meats and enjoying them with Japanese dipping sauce. The dual table top grill is great for couples with a spacious table to enjoy your meal. Get serenaded by soft calm peaceful music while you bbq in a Zen Muji-looking setting. The built in stove has a strong but almost slient exhaust suction to remove bbq fumes while you grill. This yakiniku restaurant has a good capacity for large crowds with dual rows of bar top grills and 4 columns of bench seating grills.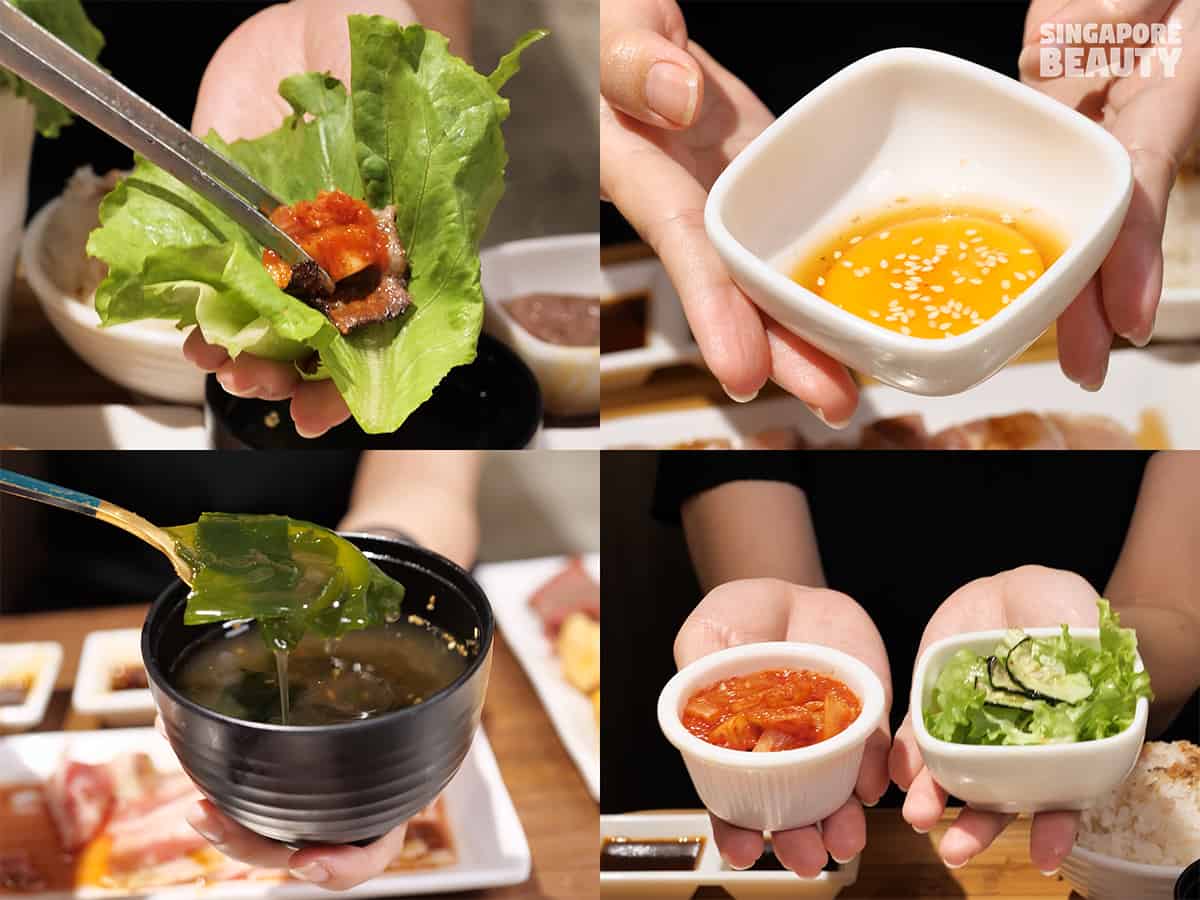 There are various ala carte sides that comes with different set meals. The sides starts from $1.50 with choices like kimchi, mini salad, short grain steamed rice, seaweed soup, truffle egg and green lettuce. Our personal favourites are the kimchi, seaweed soup and truffle egg.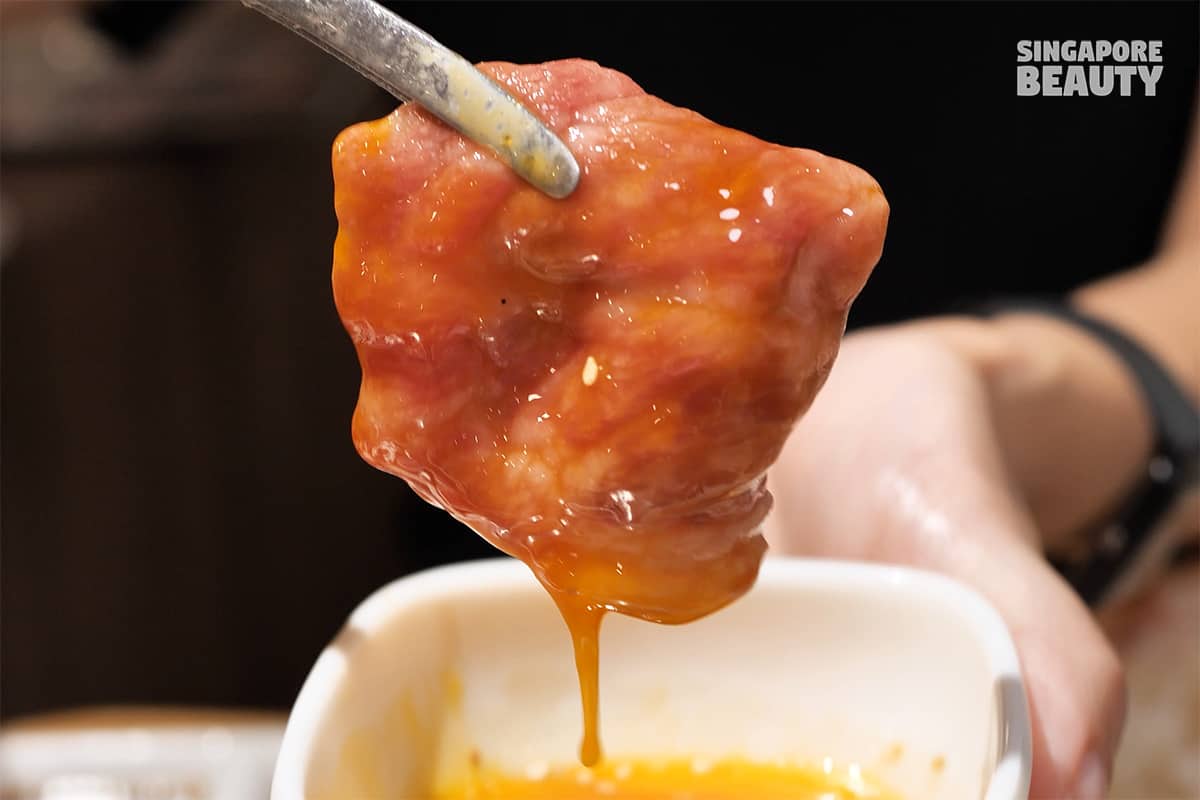 The truffle egg dip comes with the Truffle karubi set. However if you are a truffle egg lover, this is recommended for any other grilled meats. This truffle egg dip coats the meat with a sweet velvety glazing and has a nice earthy aroma. Besides this dip, they also have bbq, garlic, spicy miso, chilli padi aka chopped chillies and spicy garlic dip. The other dip that is not on the menu is the yuzu sauce and a wedge of fresh zesty lemon which is only offered with orders of Gyu Tan beef tongue meat platters. Do note that dipping sauce are not included for some ala carte meat.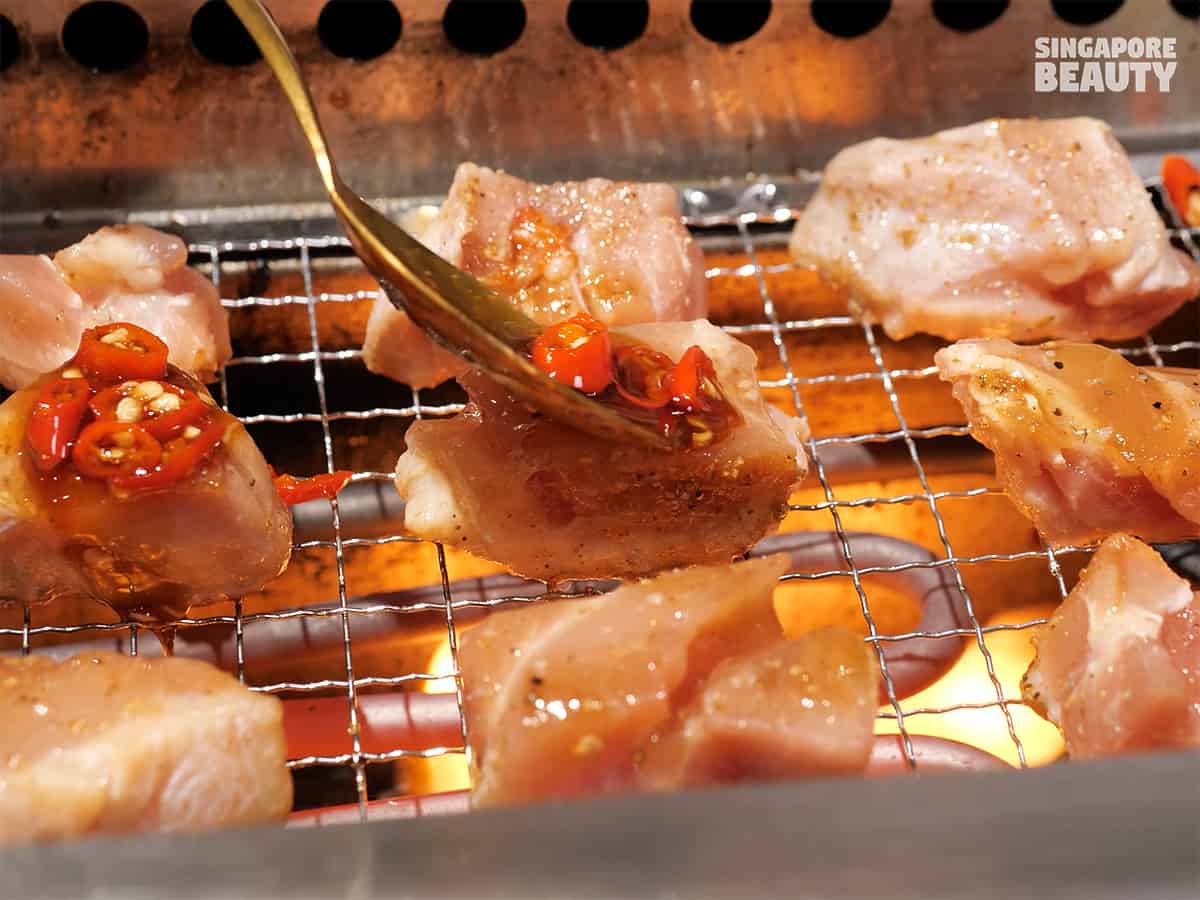 These are Toriniku chicken thigh. Grill these with the skin on the grill first for a nice charred skin and proceed to grill all sides of the chicken thigh cube till cooked. The chicken thigh are tender after grilling due to the high fat content. For some extra kick, drizzle on some chilli padi and BBQ dipping sauce. Wait for the chicken chunks to char and caramelised before enjoying.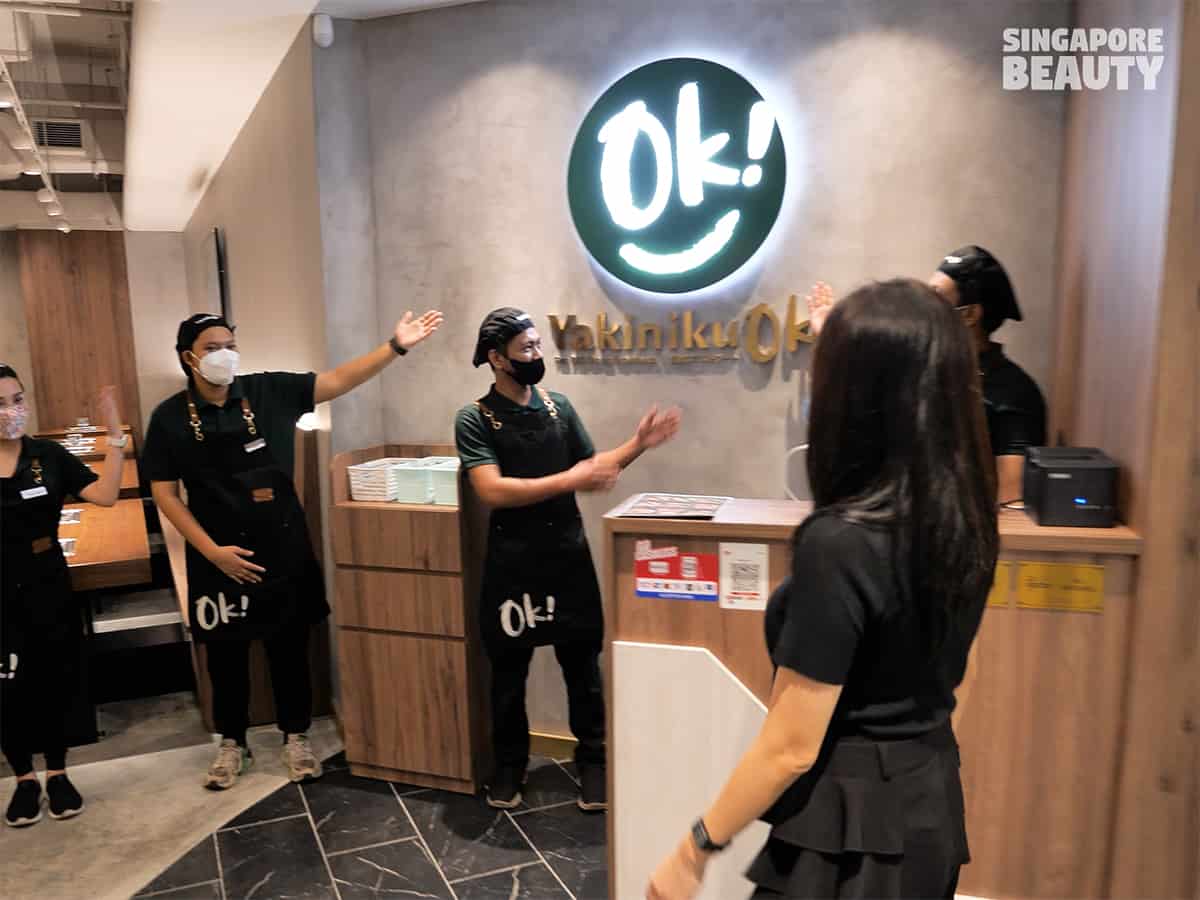 Yakiniku Ok is a newly opened restaurant at Whitesands, Singapore. This is a no frills affordable Japanese BBQ fast food concept yakiniku with nett prices on all its items. Simply order and collect your food at the pick up counter. Starting from $9.80 nett set meal that consist of short grain fluffy rice, seaweed soup, mini salad or kimchi, 2 dip sauces and a meat platter. It is now running a 1st month anniversary 1 FOR 1 promotion selected set meal for limited time only. Each selected set meal averages to not more than $5.40 nett per pax.
Yakiniku Ok Address:
#02-12/13/14 White Sands
1 Pasir Ris Central Street 3
Singapore 518457
Call for enquires: 6844 9003 (walk in only)
Opening hours :11 am -10.00 pm Daily
(last order at 9pm)
Promotion:
1st month Anniversary 1 FOR 1 for selected set meal
Pay price of 1 set meal to enjoy two set meals. *Choice of either 100gm Toriniku(chicken Thighs) Set @ $9.80 Nett and/ or 100 gm karubi(Beef Short Plate) Set @$10.80 Nett. Each set comes with meat platter of your choice, seaweed soup, steamed pearl rice, kimchi/mini salad, 2 dip sauces. Each customer is entitled to 1 set of (1 FOR 1 PROMO) for dine-in only. The higher price set will be used as the paying price for the promo. This Promotion runs from 30 July 2022 till 5 August 2022.
Brought to you by Yakiniku Ok!