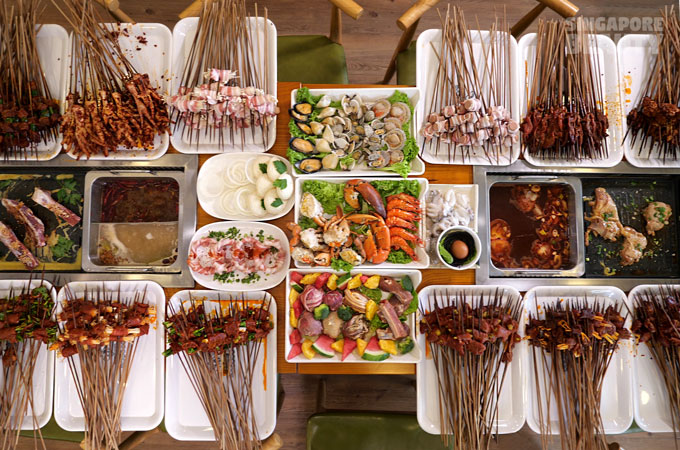 Xiao Jun Gan (小郡肝) is a 24 hours 3-in-1 hotpot and BBQ buffet restaurant that serves over 100 types of unlimited skewers, shabu shabu meat and seafood located right in Beach road, 3 minutes walk from shopping belt, Bugis MRT station.[Restaurant is permanently closed.]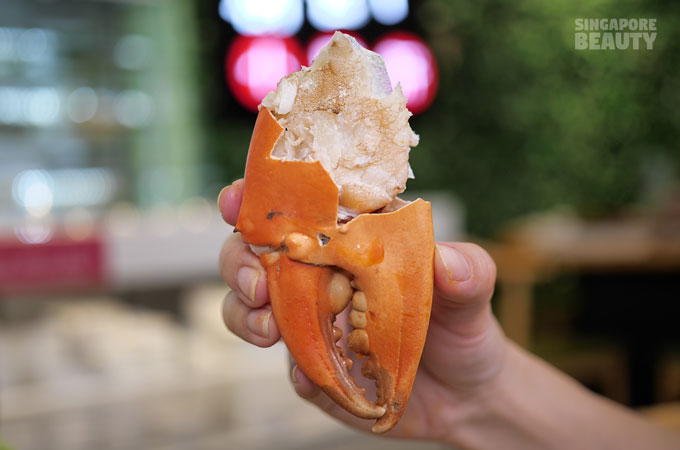 Help yourselves to free flow mud crab that is included in the buffet. They have extra large crab claws, medium size mud crabs and roe crabs when the season is near.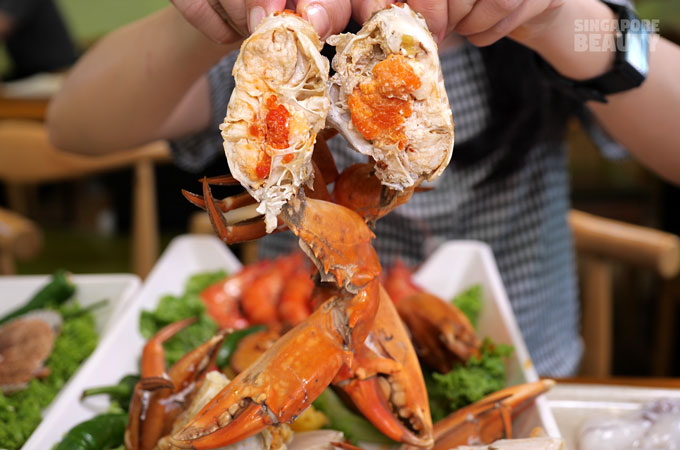 For those who loves the grainy and slightly saline texture of mud crab roe, this is where you might get some of these when the roe crabs are in season.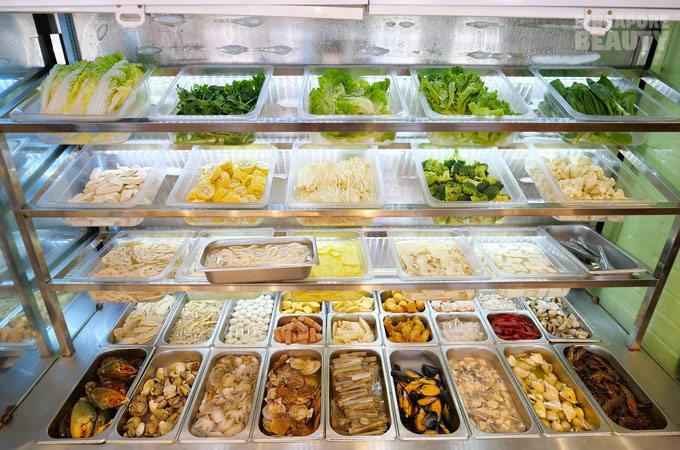 With up to 14 types of seafood for you to pick and choose, the seafood lover can rejoice at this restaurant.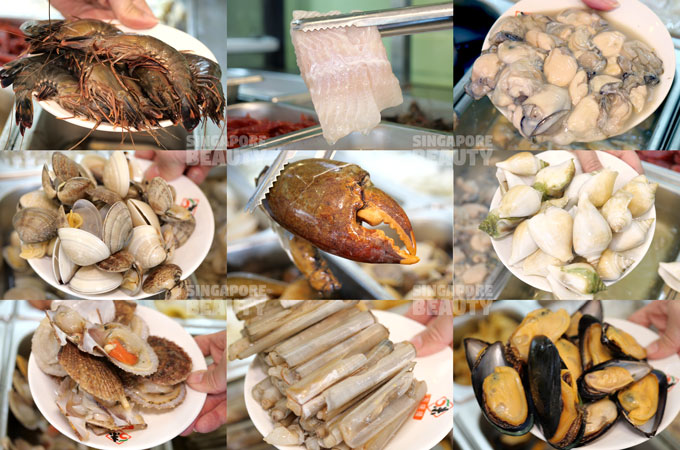 Load up on plenty of mud crabs, tiger prawns, white venus clams, squid rings, squid rolls, asari clams, baby octopus, scallops, bamboo clams, mussels, oysters, gong gong, dory fish, and baby cuttlefish.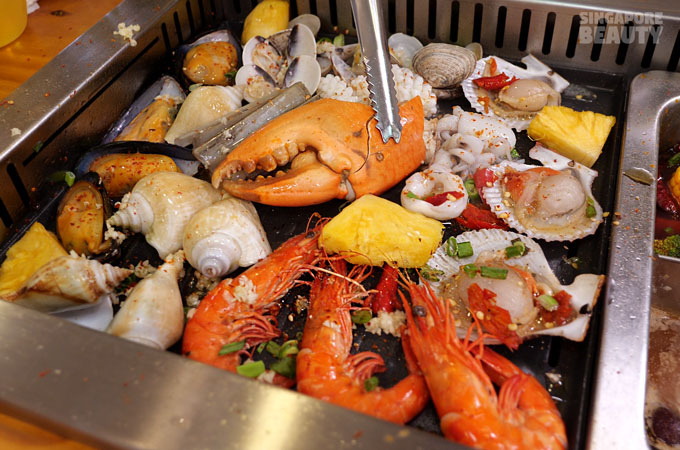 Time to get your seafood fiesta started!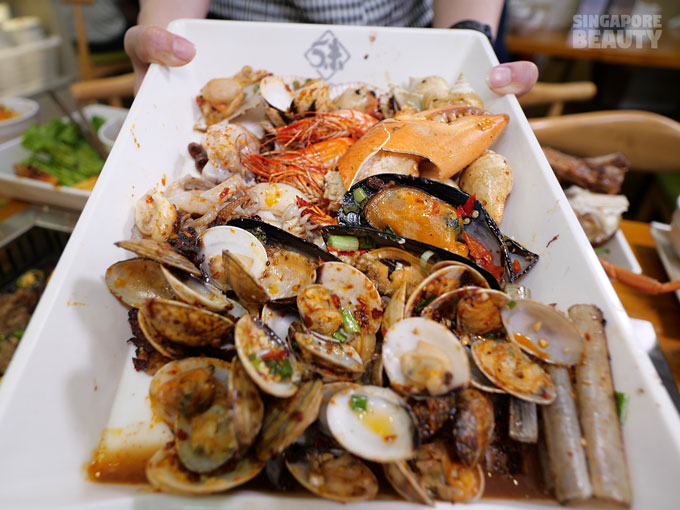 Create your own giant seafood platter.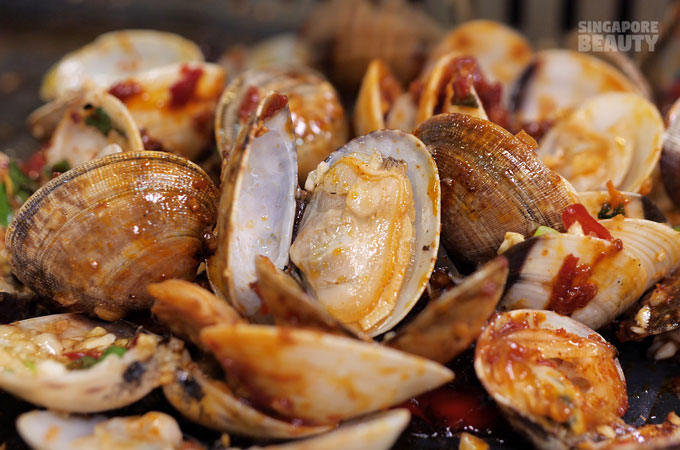 Stir fry asari clams with samba sauce at the condiments counter.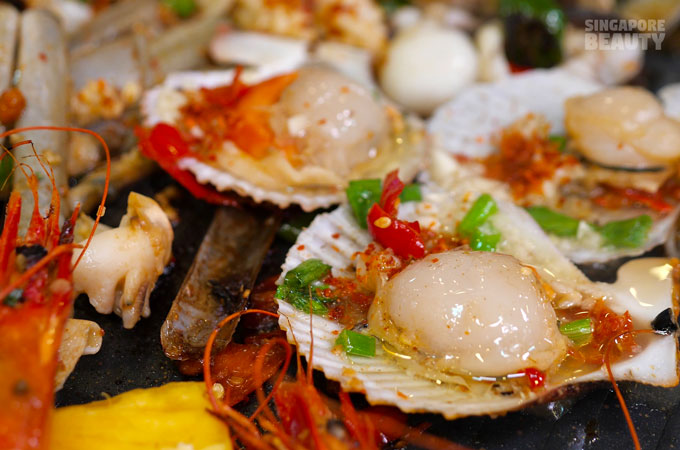 Grilled scallops with garlic oil, chopped chilli and scallions.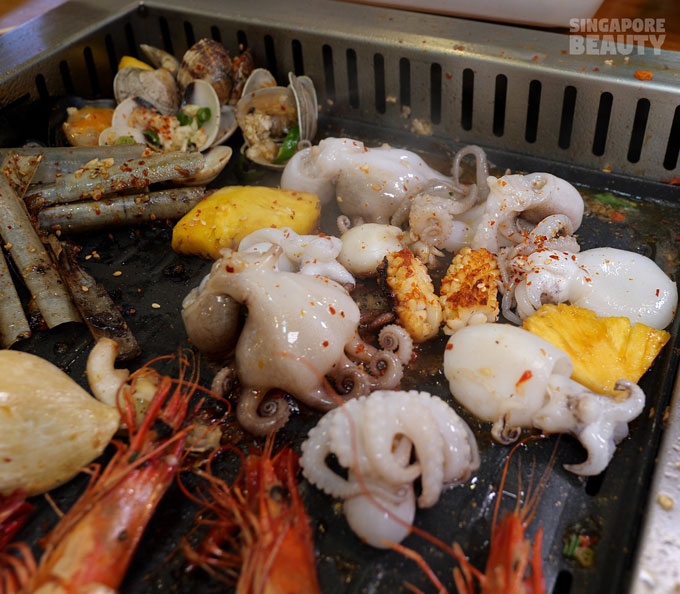 Baby octopus, cuttlefish and squid rings in sea salt and chilli flakes.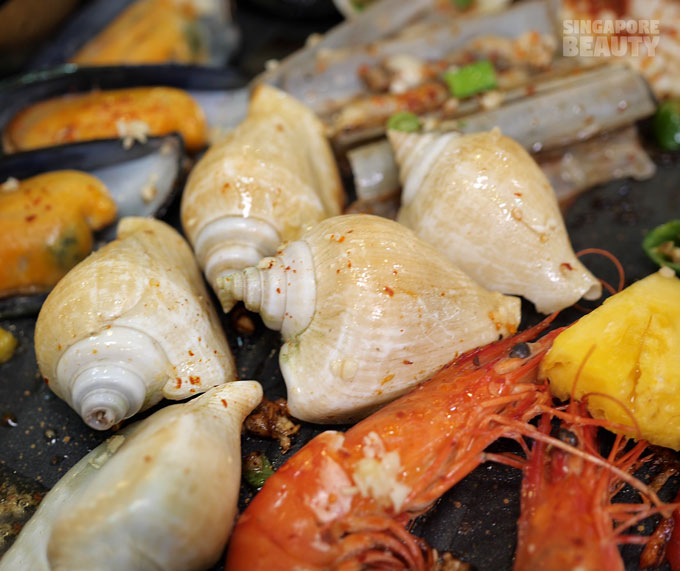 Gong gong grilled in its own saline juices.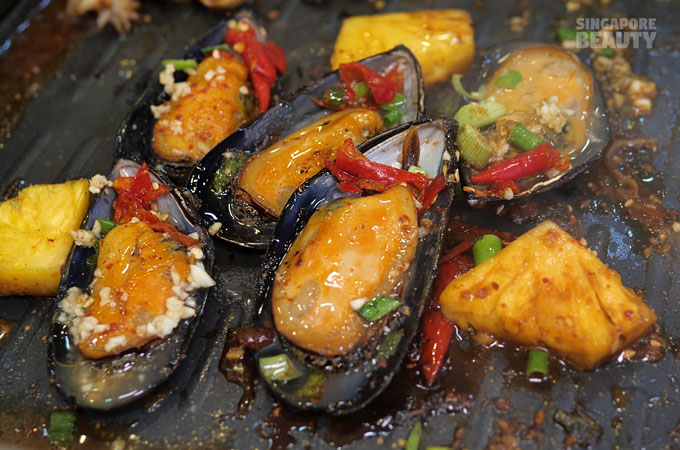 Mussels barbequed in tangy Thai fish sauce, pineapple, garlic and chilli.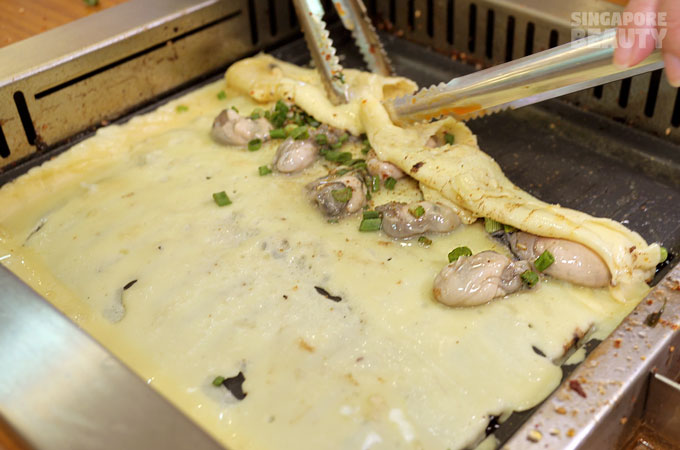 Create your own oyster egg crepe with batter provided and fresh plump oyster from the display chiller.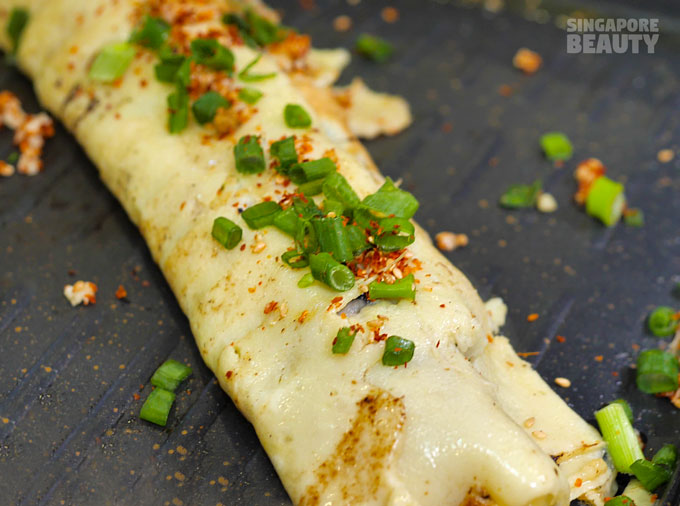 Season it with some scallions, salt and pepper when it is ready.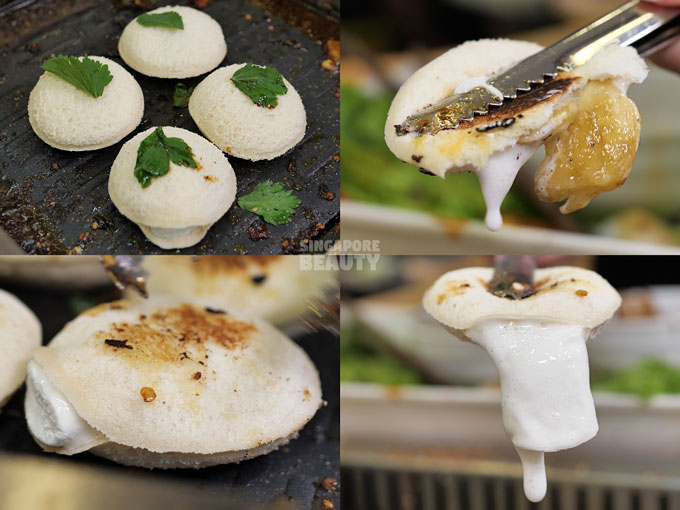 They also have some interesting creation and DIY fluffy banana dorayaki. Diy your own fluffy banana dorayaki that oozes melty caramelised stretchy fluffy fillings.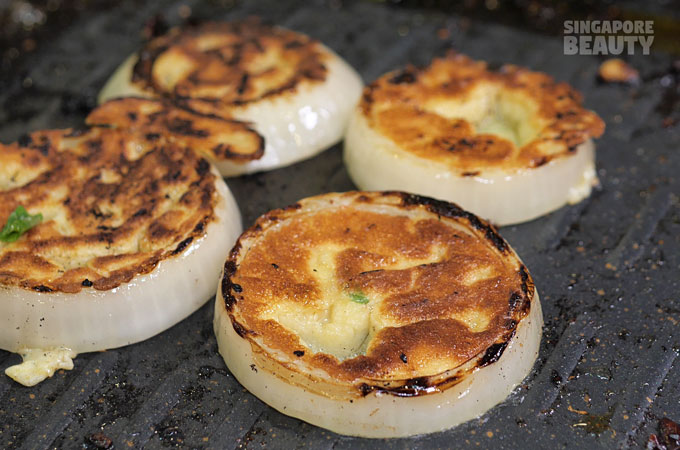 DIY your own onion pancakes with the special batter provided. Crispy egg pancakes in sweet caramelised onion and aromatic scallions. Do add some red hot chilli oil to add a kick to it.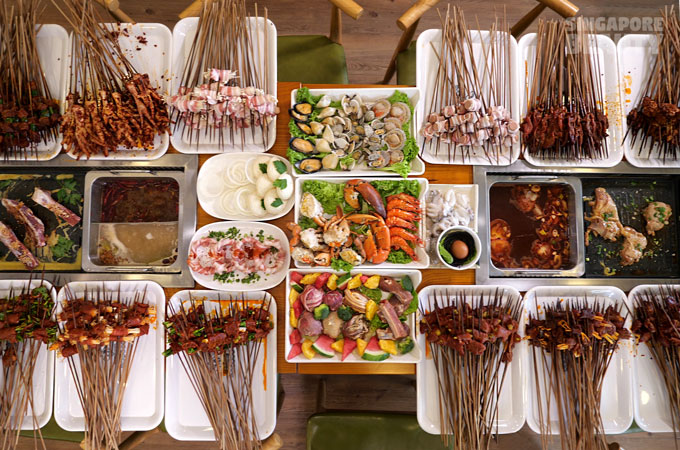 Besides seafood, they also have up to 16 types of lok lok (skewers) to choose from as part of the buffet.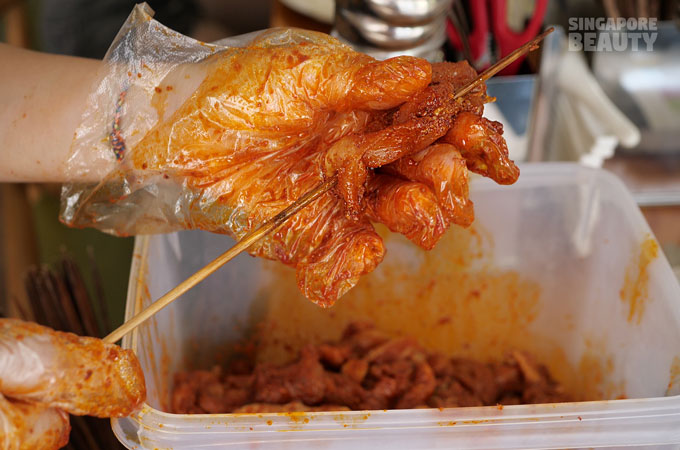 These skewers are marinated with their secret recipe and skewered by hand in house daily to ensure consistency in terms of flavour and freshness.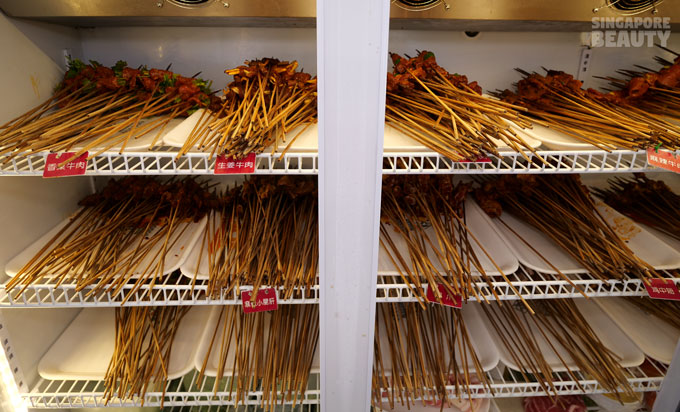 Help yourselves to as many lok lok as you can eat.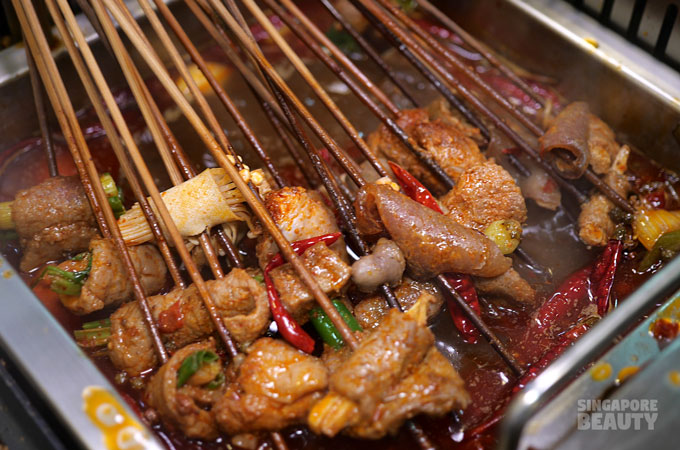 Create your ideal lok lok Mala Tang (麻辣烫) with your favourite skewers.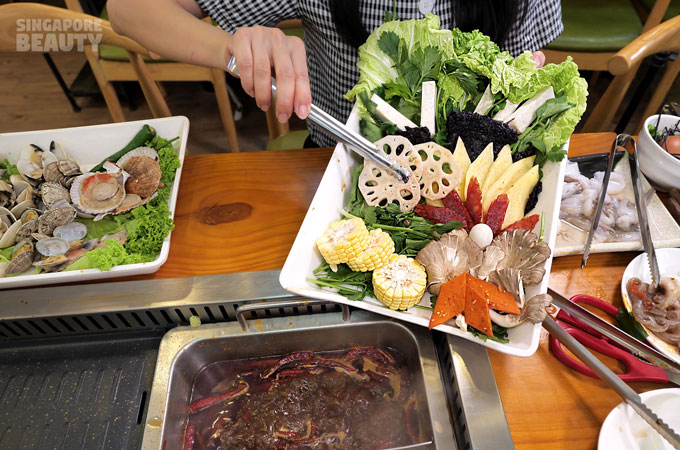 How about a vege pot of mala tang to soak up the flavourful meat broth at the end of the hotpotting session?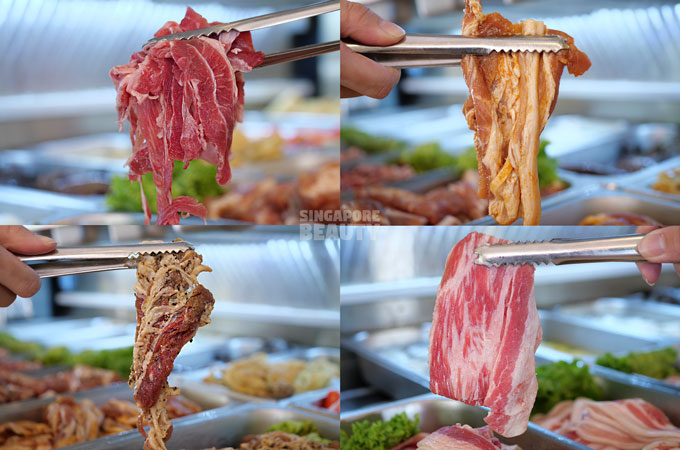 There are also a good variety of marinated and shabu shabu meat for grilling and hotpotting.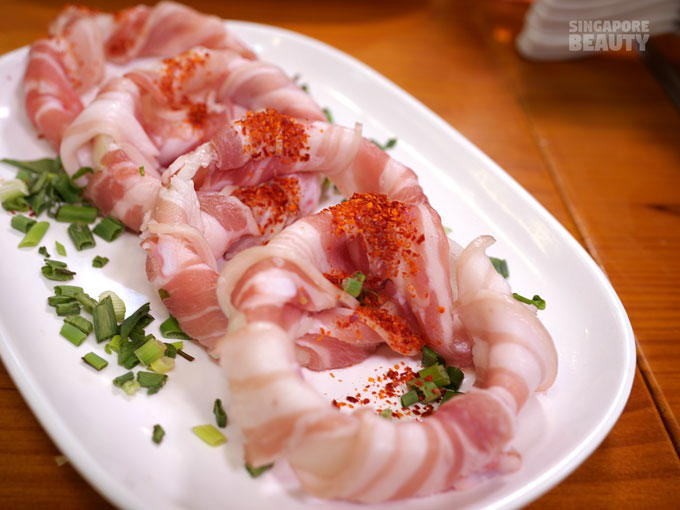 Look out for the new item on the menu – crispy pork belly donuts.
Grill them till they are crispy and golden brown for a smoky flavour.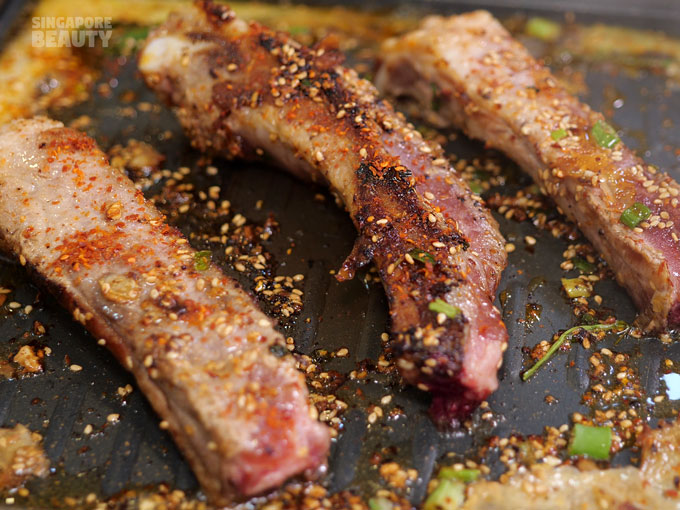 Grill the signature pork ribs seasoned with some sesame, chilli flakes and a dash of soya sauce with sugar for some umami candied ribs with a slight kick. Must try.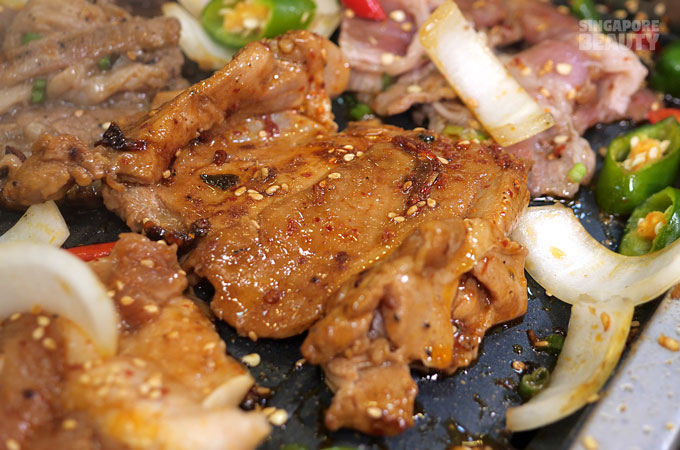 The other must try is the signature chicken thighs marinated with a secret sweet sauce. The chicken thighs remain juicy and tender even with no cooking skills. Must try.
BBQ these marinated meats in Korean style with onions, green pepper and garlic, Hawaiian style pork ribs with pineapples or any other way you fancy.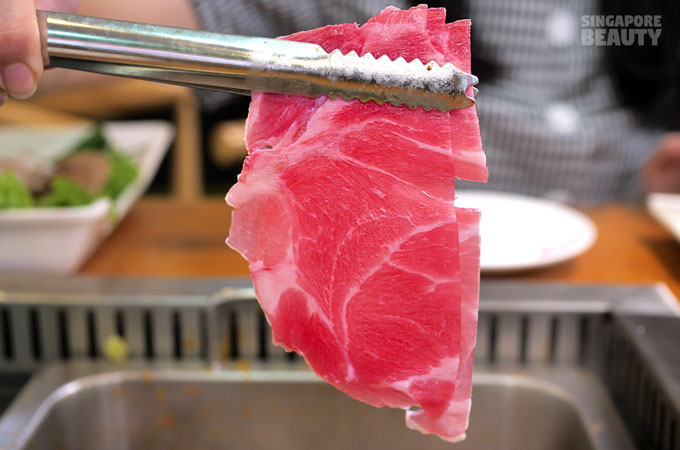 There is a good variety of shabu shabu meat (pork and beef) for hotpotting as well.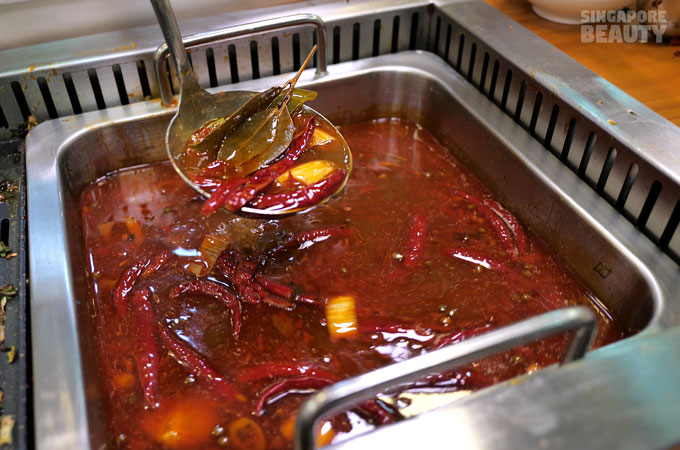 The chef recommended soup base is the duo pot – mala and nourishing pot. If you are a heat lover, try their single super hot Mala soup base shown above. Choose a single or duo soup bases in the buffet at no extra charge.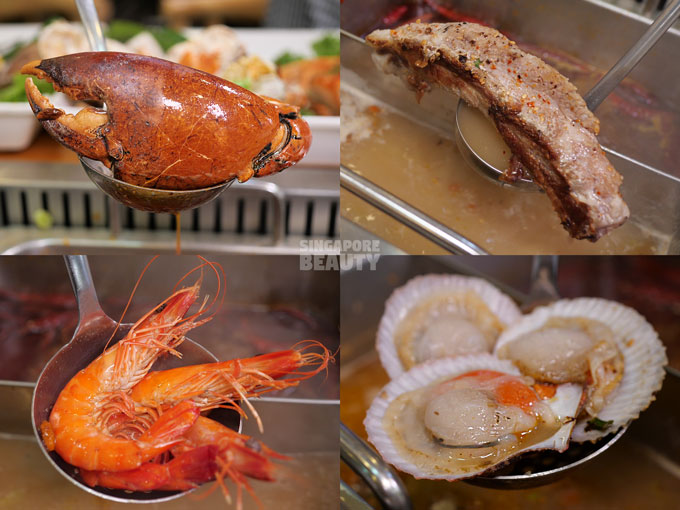 If you love a prawn base soup hotpot, add seafood and pork ribs into the nourishing soup base to enjoy sweet oceanic goodness.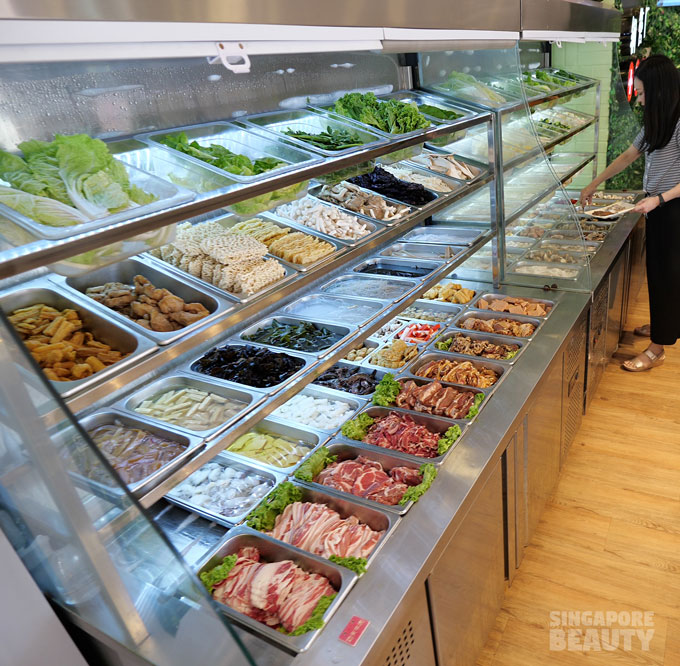 Sides such as surimi, fungi, root vege, noodles and soya produce are also available from the 5 metre x 2m high long display chiller.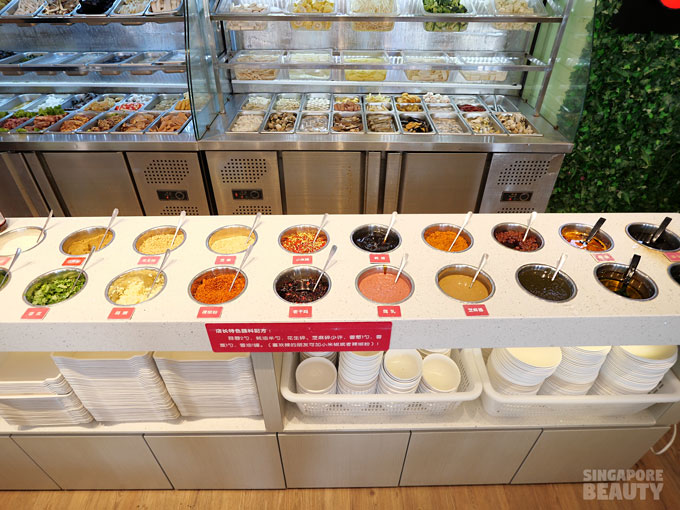 Over 20 types of condiments to choose from to bbq the food with and as dips. You can try creating their signature sauce with the how-to board on this sauce counter.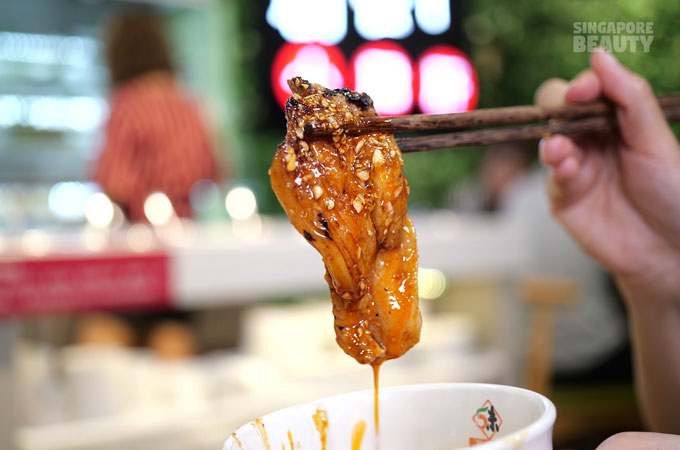 The formula for the signature in house sauce is 2 tsp of chopped garlic, half tsp oyster sauce, a pinch of crushed peanuts and sesame seeds, 1 tsp of scallions and parsley, one can of sesame oil and a dash of spicy chilli oil or chilli powder to spice it up (optional).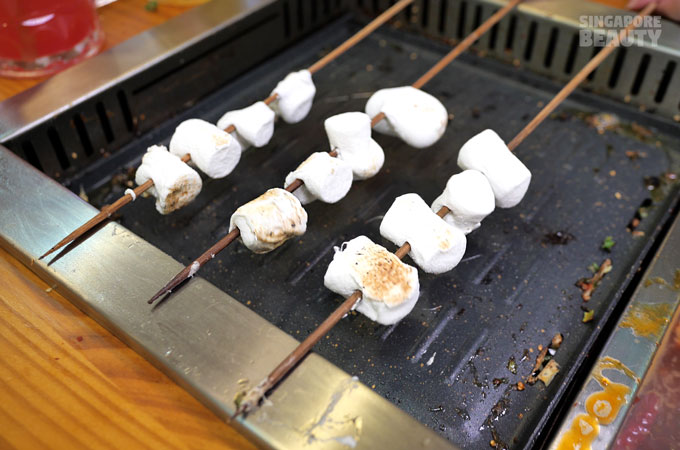 Relive the childhood memories of barbecuing some marshmallows over the heat from the grill pans, gooey stringy melted marshmallows with a light brown crisp skin.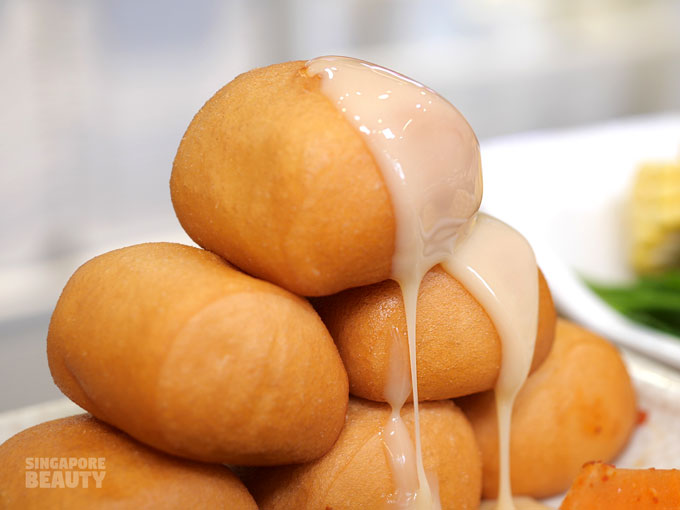 Cooked food such as condensed milk golden buns, spring rolls and ngoh hiang are also available on a rotational basis.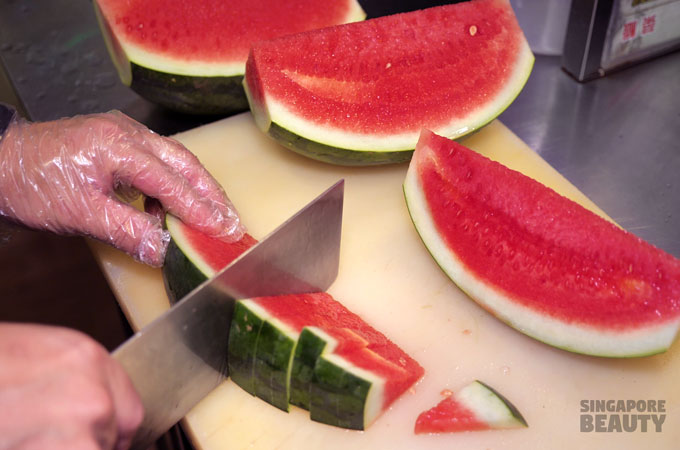 Seasonal tropical fruits such as watermelon, pineapple and rock melon are also part of the buffet on a rotational basis.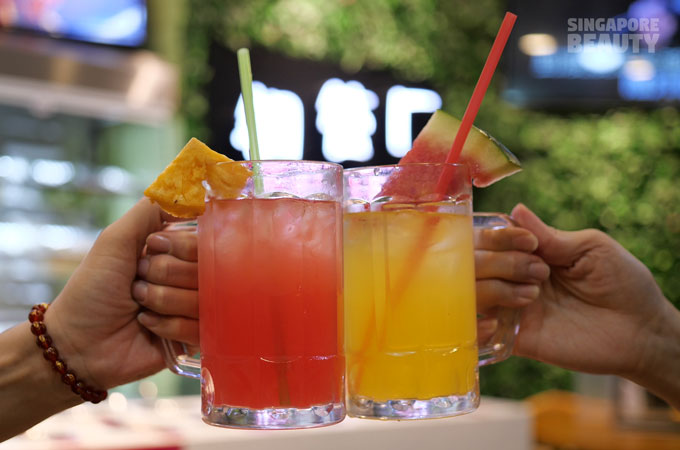 Two types of free flow fruit punch and iced water included in buffet too.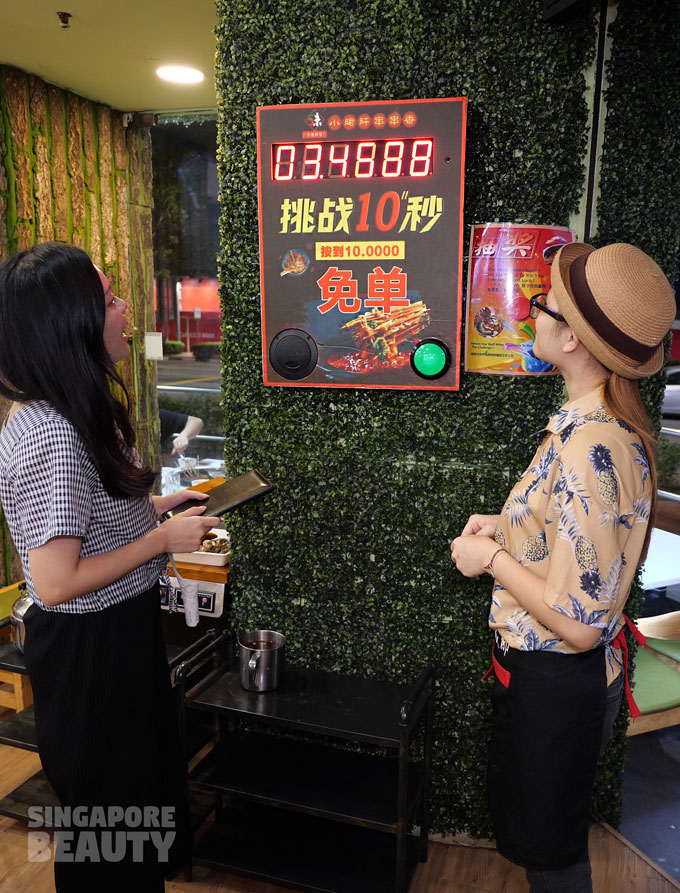 There is an ongoing challenge to score a perfect 10 seconds for a meal on the house for the challenger who got a 10 score. This is how it works: when you are ready to bill, tap the timer clock board in the presence of a crew, stop the clock at the 10th second, you get your bill waived (1pax). You only get one chance. Simple and fun game to end the meal! Try it. you can also register to be their VIP members and accumulate 500 points for a free meal.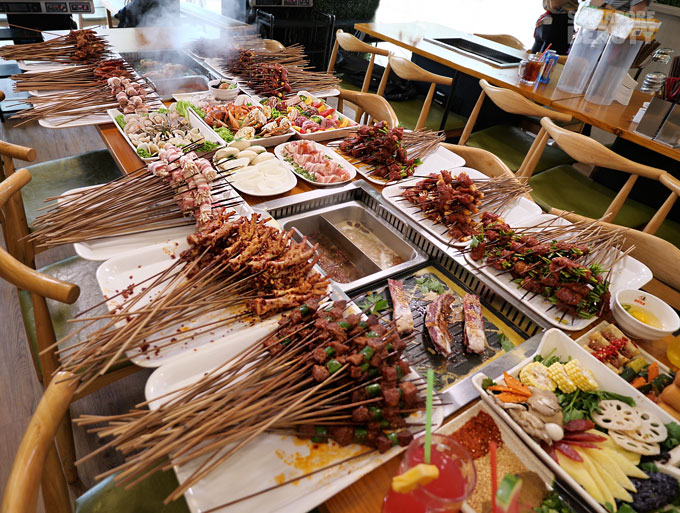 For 22.80+*, you get to enjoy this 3 in 1 feast with unlimited lok lok, seafood, meats, selected fruit punch and soup bases all included.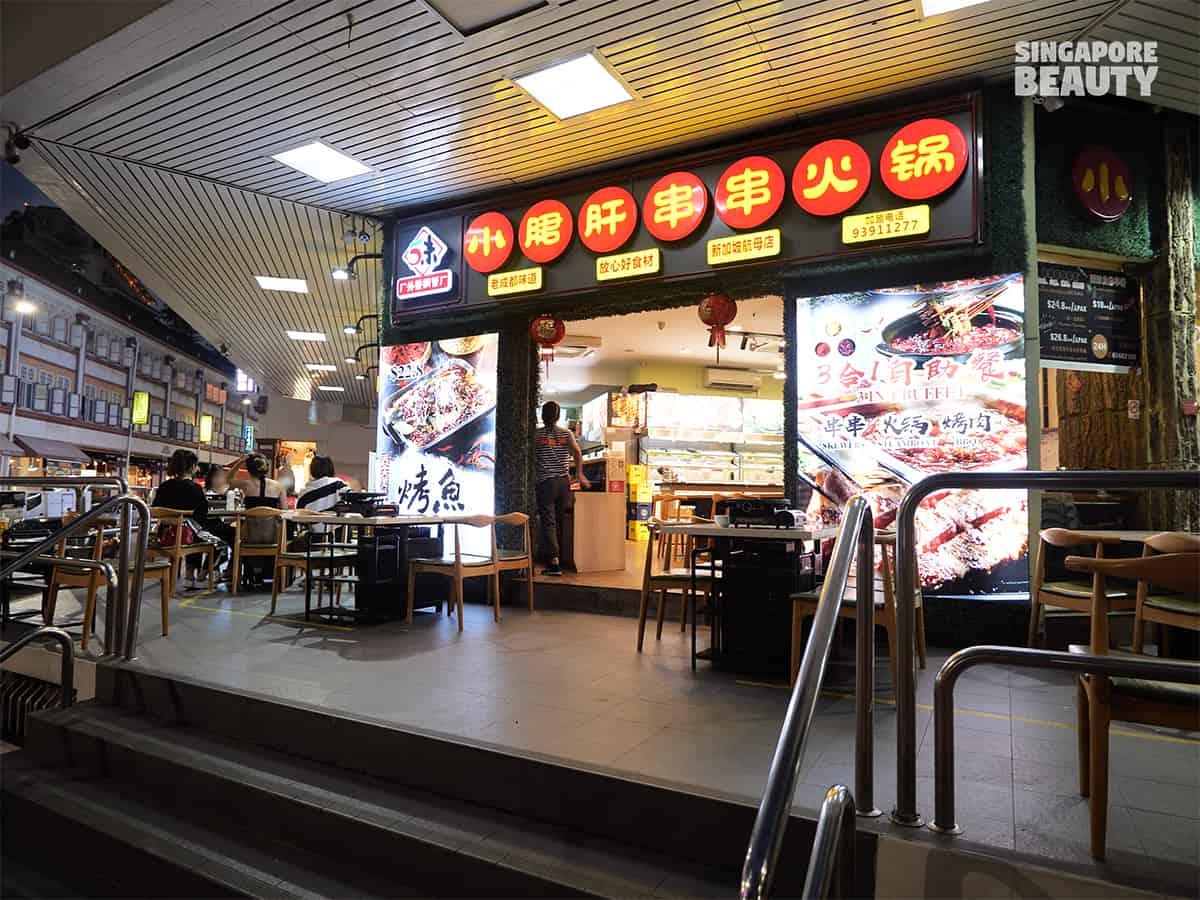 Completed with new interior finishing and seating for an enjoyable experience. Big groups are welcomed too!
Head over to Xiao Jun Gan – open 24 hours daily.
*Adult buffet price:
Mon-Thurs: $22.80+
Fri-Sun, Eves & PH: $25.80+
But if you quote SingaporeBeauty, you get all days for $22.80+!
(except Eve & Ph)
All prices subject to 10% service charge.
Dine time: 2hrs
Soup and drinks are included in buffet.
Choice of 5 soup bases- signature Sichuan special mala, nourishing beauty pot, tomato, clear soup, double boiled mushroom soup. You can choose either single or duo soup.
Location:
101 Beach Rd, #01-01, Singapore 189703 [Restaurant is permanently closed.]
3 mins walk from Bugis station (EW12/DT14) Exit D
Reservations:
Call them at (+65) 65662188
Brought to you by Xiao Jun Gan.