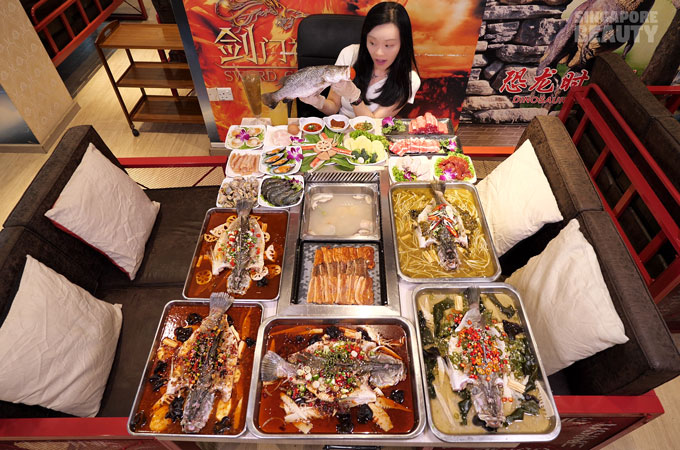 Ding Garden restaurant is a 3-in-1 buffet restaurant serving roasted fish buffet, seafood hotpot and BBQ meats. They are adding a new flavour to their roast fish buffet with a total of 5 flavours to choose from – Mala, fragrant spicy, pickled cabbage, bean paste and new flavour of duo chilli.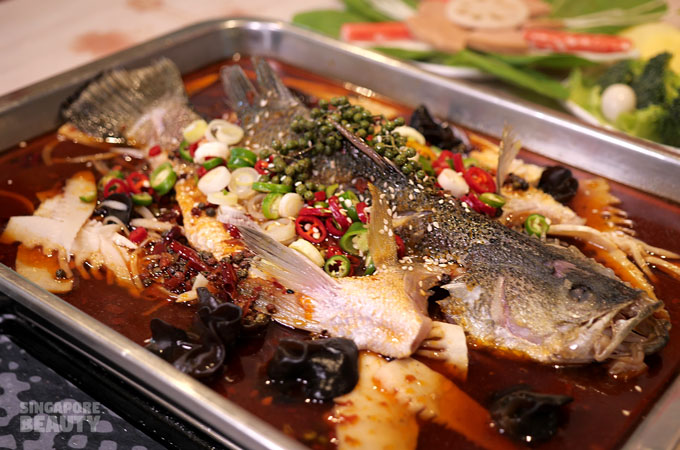 Mala roasted fish is one of the chef recommendation in this fish buffet. The mala broth is cooked with real spices and herbs and strained to remove the spices and herbs for ease of consumption.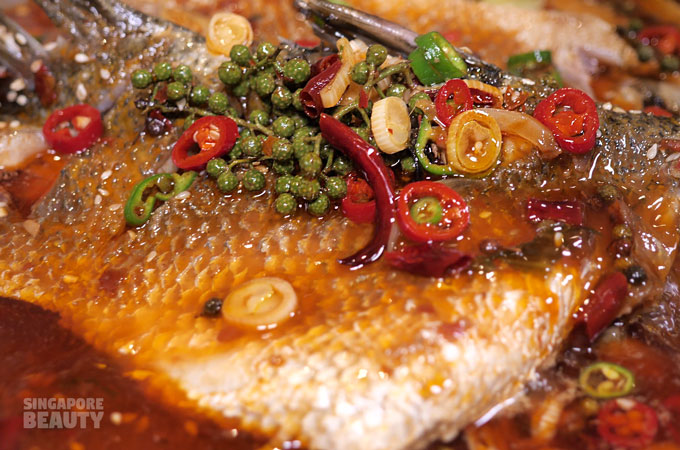 The mala gravy is mildly spicy and savoury. With so much peppercorns, chilli, chilli padi, spring onion and spices, the fish is infused with an array of flavours.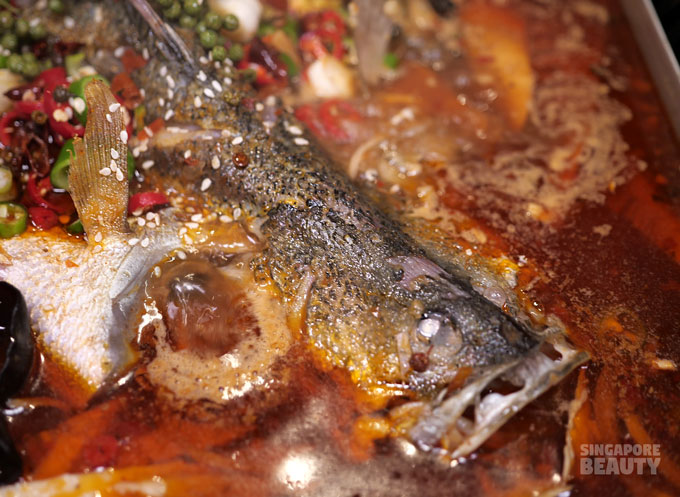 These grilled fish are served simmering in a hotpot with the gravy and some sides such as black baby fungus, slices of bamboo shoots, potatoes, soy bean sprouts and many more.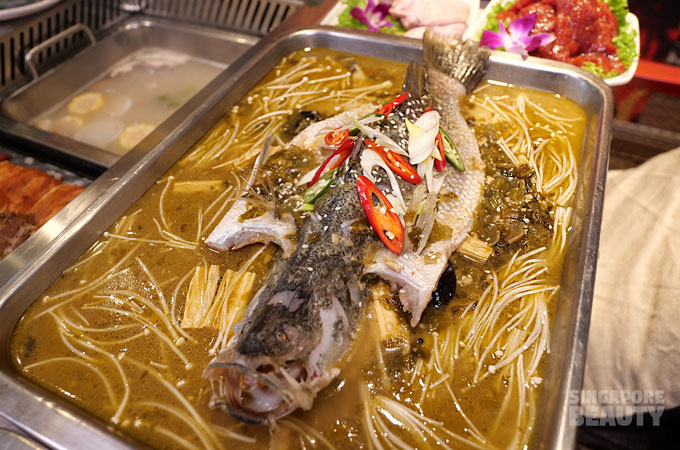 Pickled cabbage fish is sweet and sour with occasional sharp contrast from the pickles against the sweet gravy. The enoki mushroom and bean curd skin are scattered around the fish to add an earthy flavour to the gravy.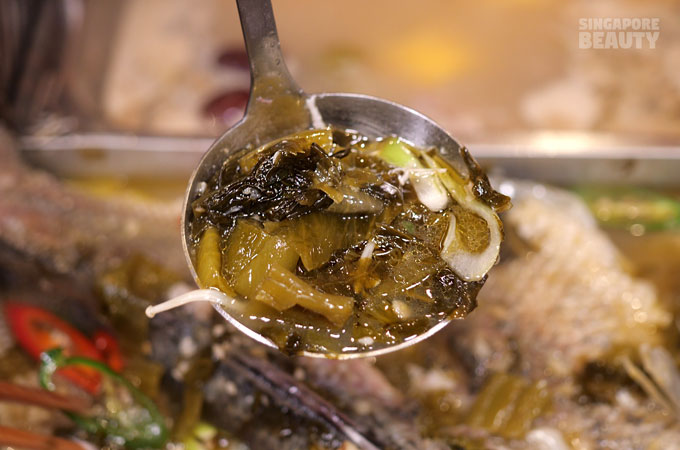 These pickled olive green cabbages are soft and melts in your mouth type. Perfect toppers for the fish and some steamed rice.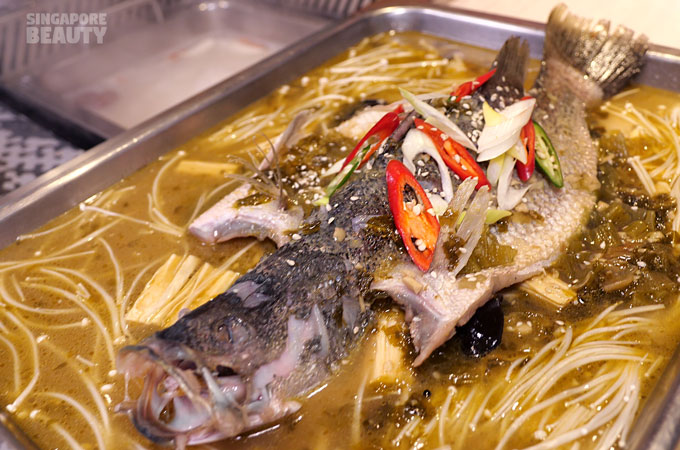 The red and green chilli help to balance the otherwise pure tangy gravy with a hint of heat.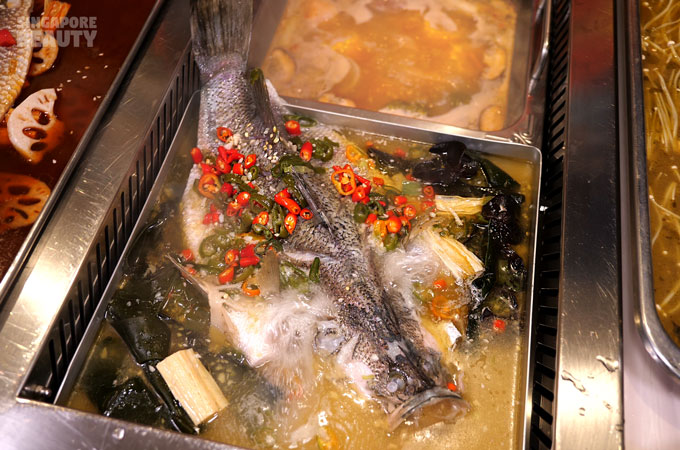 Double chilli roasted fish is a covered with a blanket of chopped red and green chilli, a good mix of heat and refreshing crunch. Simmering in a broth from kelp knots, beancurd skins and pork broth, this fish is for those who love a light flavour type of roasted fish.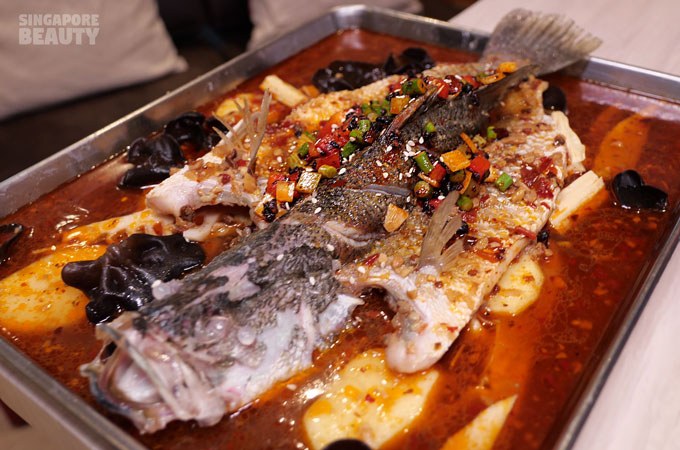 Bean paste roasted fish is more on the briny end of the spectrum of grilled fish. These fermented black beans are salt bombs that add a briny flavour to the spicy flavoured fish.
It also adds a nutty and grainy texture to the gravy. The thicken gravy is great for the roasted fish and coats the fish with a nice nutty flavour beside being spicy. (zoom in on the picture)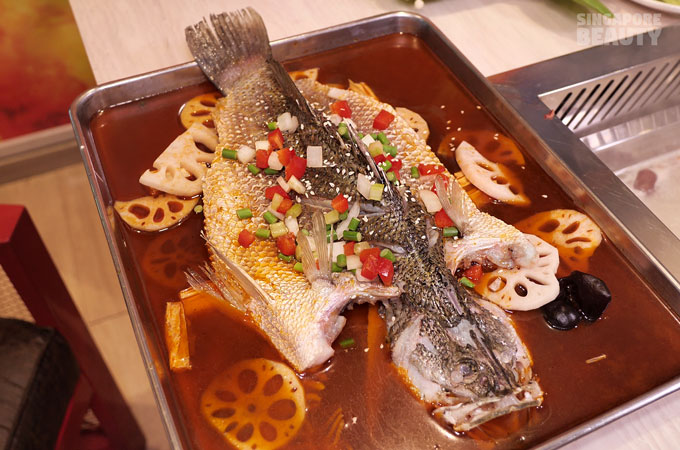 Spicy fragrant roasted fish is great for those who does not enjoy the numbing sensation of peppercorns but want the kick of a mala roasted fish. Paired with lotus roots, the spicy gravy has a sweet undertone to it and a certain nutritional value too because of the lotus roots.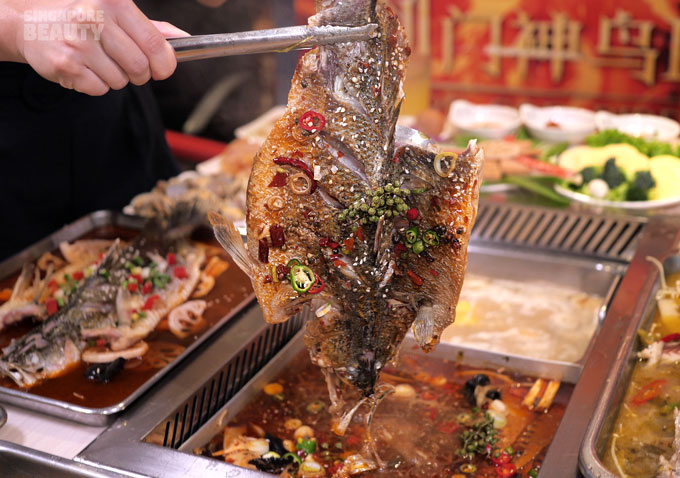 The size of these grilled fish are considered fleshy enough to be shared among 2 pax or more.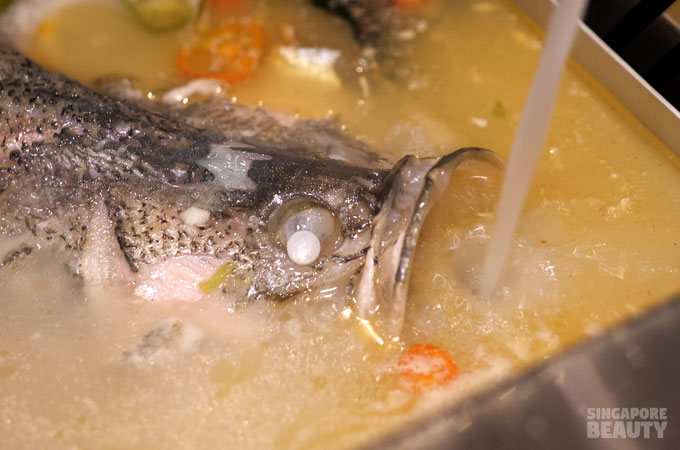 When you are running low on the fish broth, feel free to top up with the milky broth to cook more seafood, meats or greens that are part of the buffet.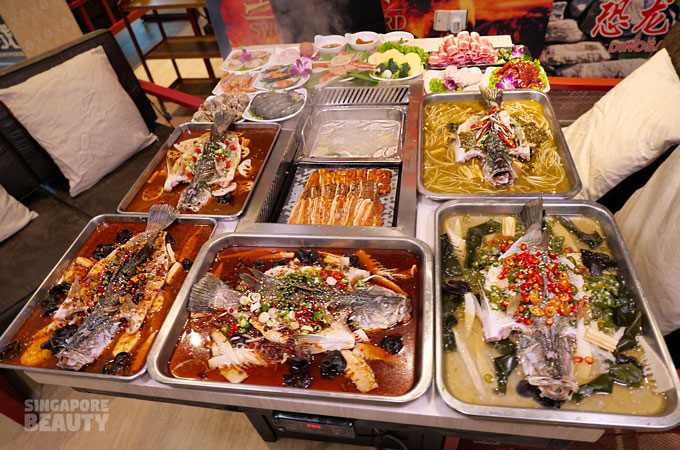 Six types of seafood (included in buffet) are cuttlefish, prawns, fish chunks, scallops, mussels and lala.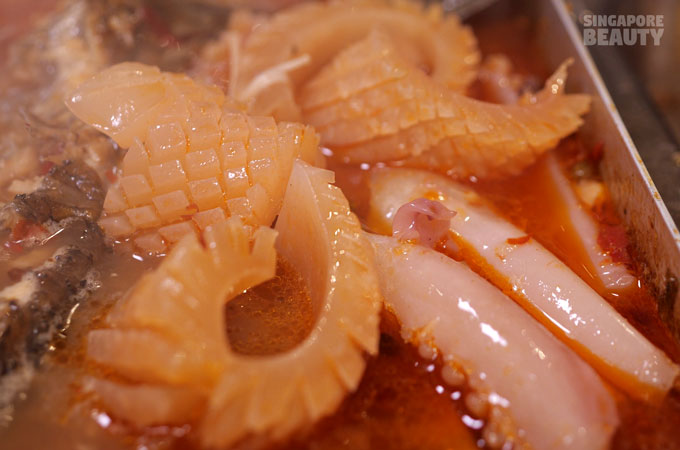 The cuttlefish goes well with the mala gravy and is a joy to eat. Once they curled up, they should be pretty ready to be enjoyed.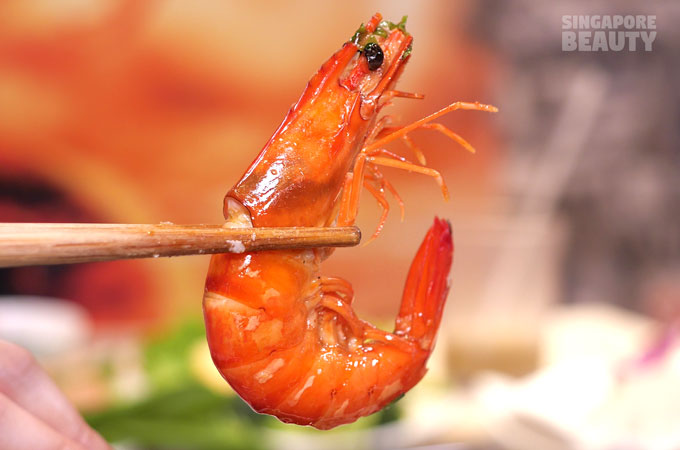 How about some mala prawns?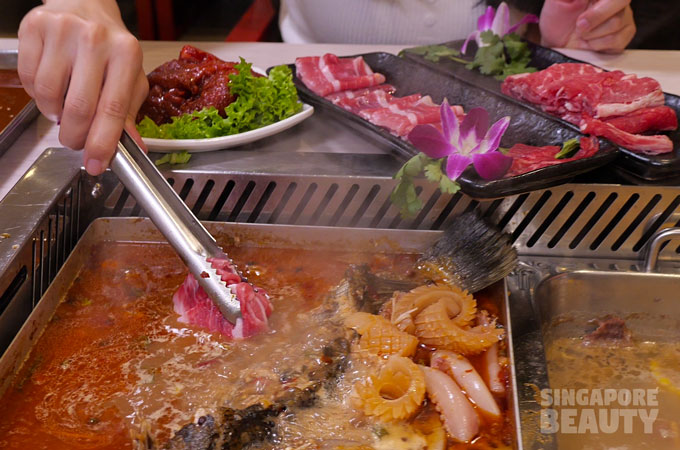 They have 9 types of sides(included) for shabu shabu.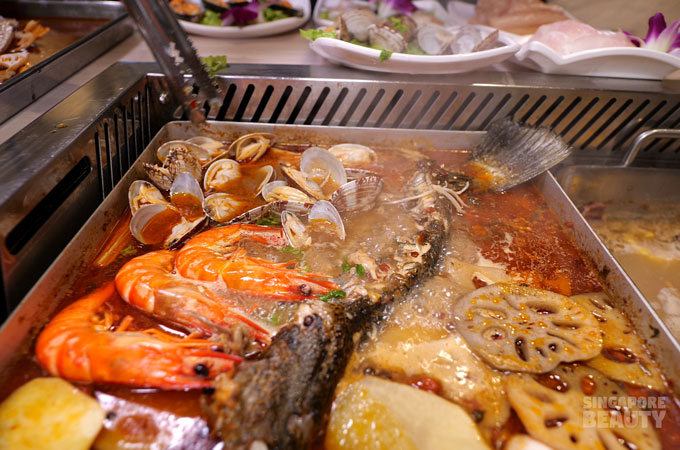 Soak up the flavourful fish gravy with seafood, meats and greens of your choice.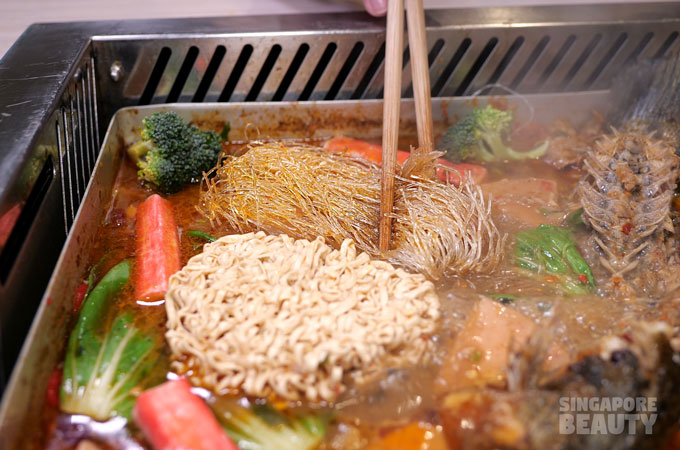 Noodles are best added last to soak up the last bit of concentrated thicken broth.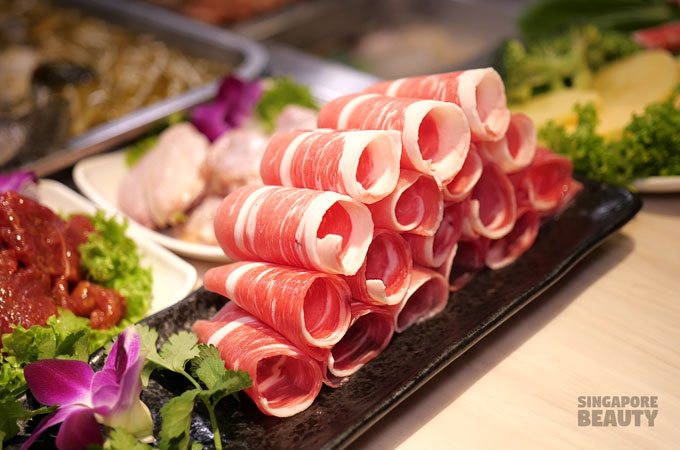 Sliced pork belly, sliced beef, sliced mutton, US beef, meat balls, beef balls, pork offals(kidneys) and 2 types of beef offals.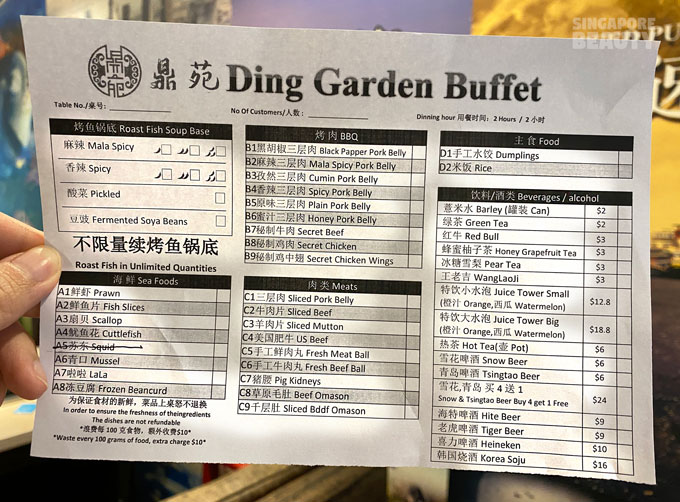 The meat and seafood items are buffet ala carte style.
When you are done with the grilled fish, time to BBQ some marinated meats on the grill pan. Pork belly are available in 6 flavours (black pepper, mala spicy, cumin, spicy, plain, honey). Beef, chicken and mid wings are marinated with their secret recipe. You can grill some seafood like prawns, scallops, lala and cuttlefish too.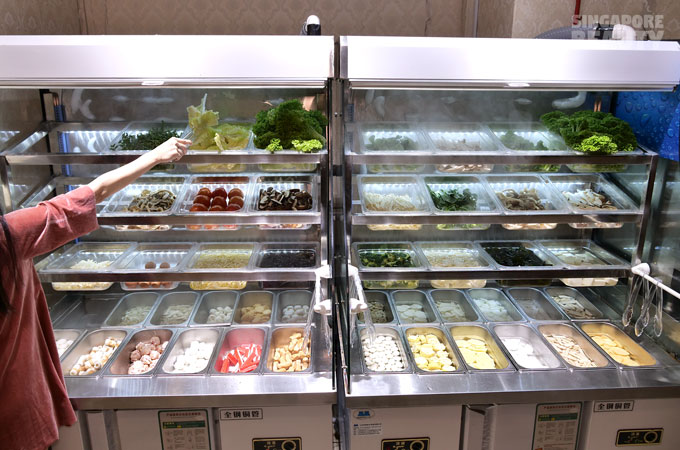 The 36 types of greens, noodles and surimi are DIY style at the double display chiller.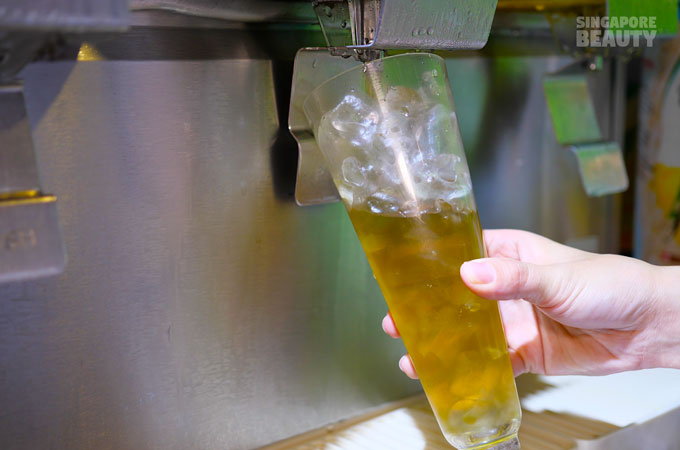 Drinks includes iced soft drinks from dispenser and 3 homemade cold drinks. Many other alcoholic and non-alcoholic drinks are also available as add-ons (not part of buffet).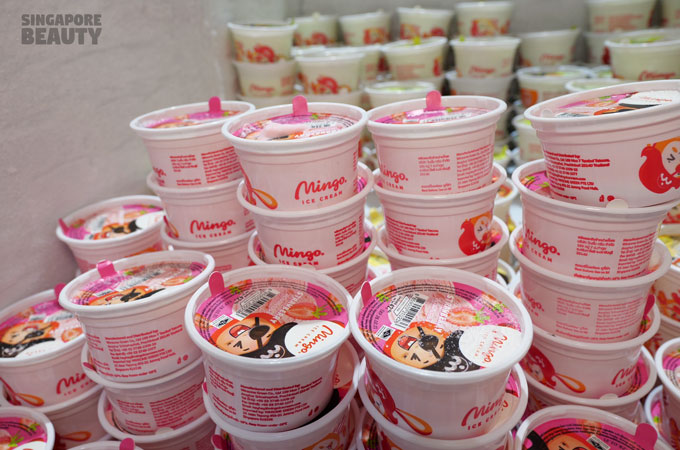 Free flow ice cream of 3 flavours of the day and cut tropical fruits too!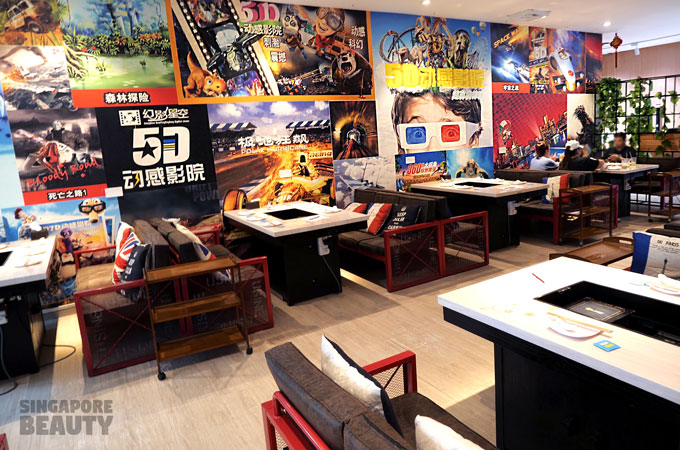 Spacious seating for large groups with engaging game posters as wallpapers.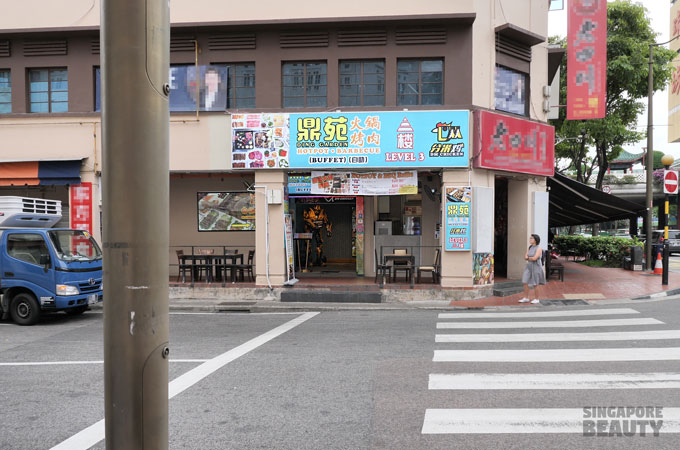 Head over soon! Located at 191B New Bridge Road (take their lift up to level 3).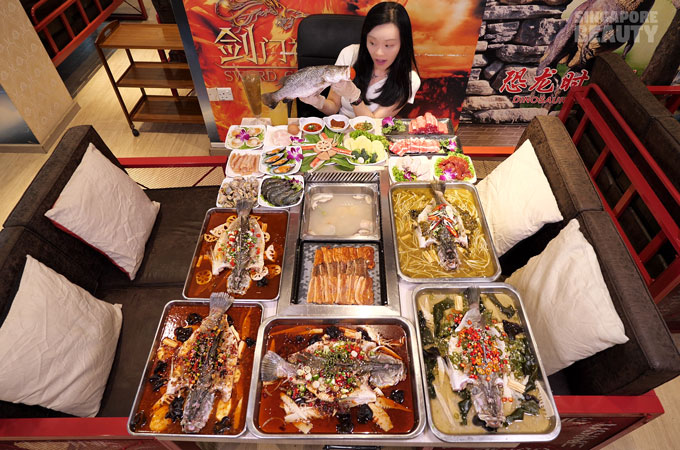 This 3-in-1, five flavours roasted fish buffet, seafood hotpot and BBQ meat feast is waiting for you.
Drinks are included in the following buffet price per pax.
Buffet Price Per Pax:
Mon-Fri Lunch buffet (exclude PH)
Adult at $25.90++
Kids (5-12 years old) at $13.90++
Mon-Fri Dinner Buffet,
Sat & Sun & PH Buffet (lunch and dinner same price):
Adult at $35.90++
Kids (5-12 years old) at $17.90++
One free round of pork base soup hotpot included (free refill). Subsequent soup change and other soup base are chargeable.
All price in SGD and subject to 10% service charge and 7% GST.
They have a lower priced buffet excluding the roast fish, do check out with them.
Time limit: 120mins
Minimum 2 pax to dine
Operating Hours:
Lunch time 11.30-3pm (last order)
Dinner time 3.01pm-1am
Location:
191B New Bridge Road, Singapore 059423
(take their lift up to level 3)
Exit E or exit A from Chinatown MRT.
Reservations:
69092758
Brought to you by Ding Garden (formerly known as DM Steamboat & BBQ Buffet)