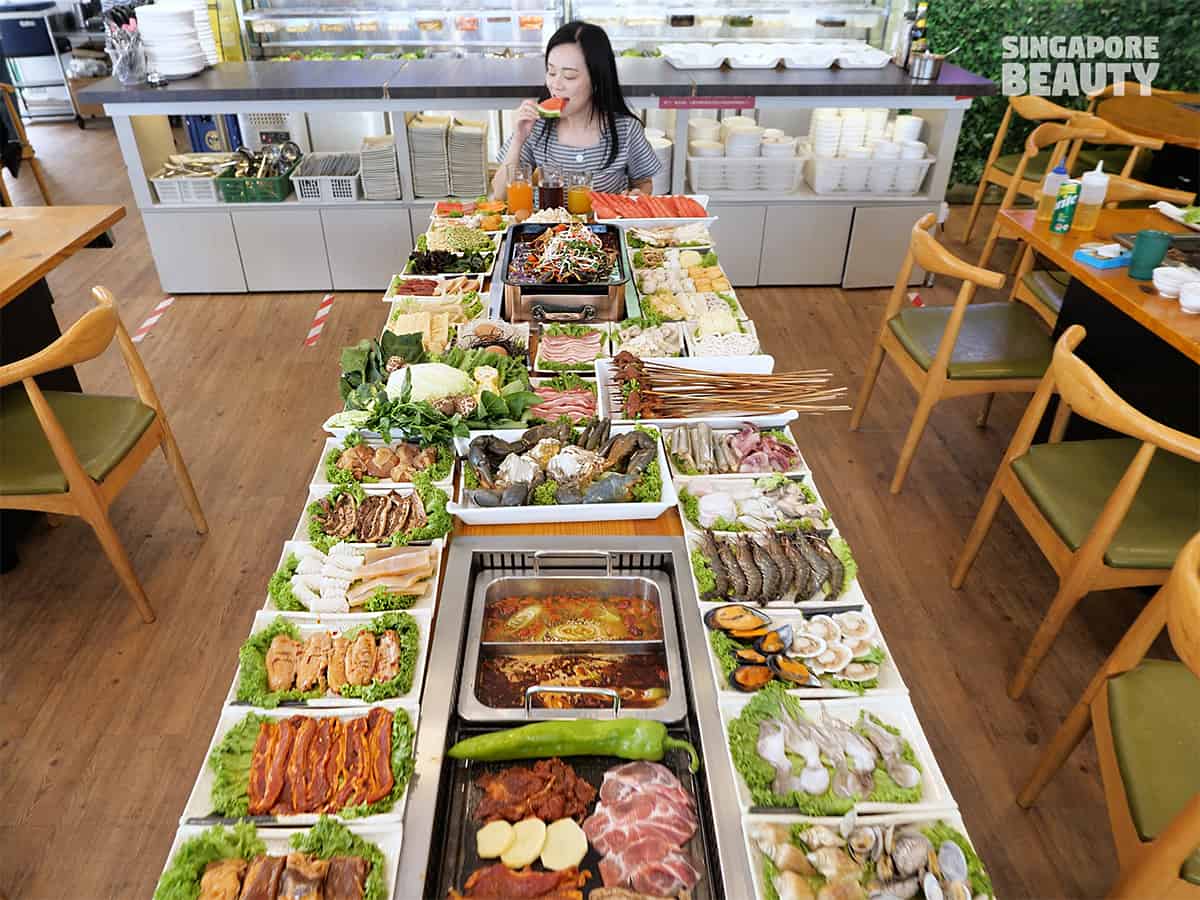 Xiao Jun Gan (小郡肝) is a 3-in-1 buffet restaurant that let you hotpot, bbq & lok lok at the same time. This is a supper place to get your late night craving fixed after your shopping, movies or work. It is a stone throw from Bugis Junction and Bugis plus shopping mall.[Restaurant is permanently closed.]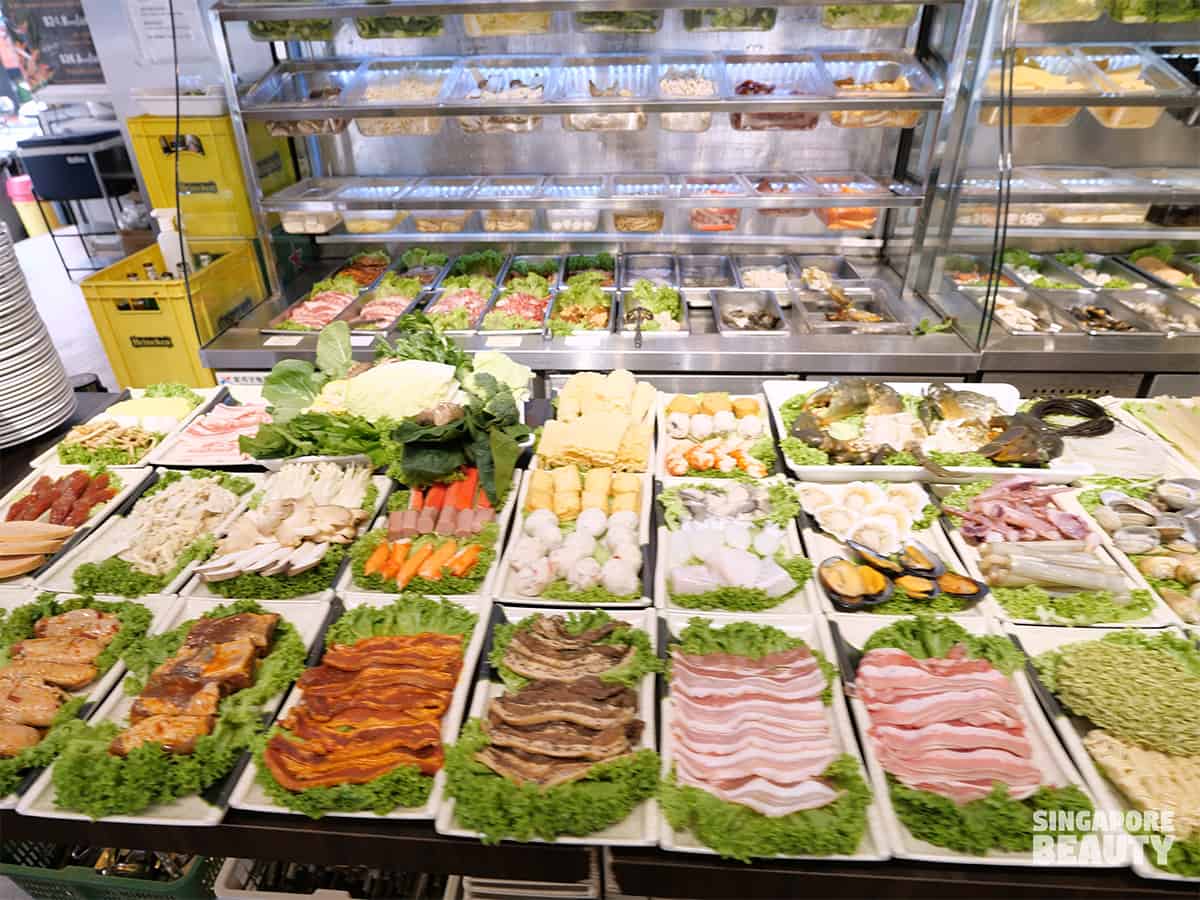 Xiao Jun Gan buffet has over 100 items such as seafood, skewers, marinated bbq meats, shabu shabu hotpot meat and more for you to choose from.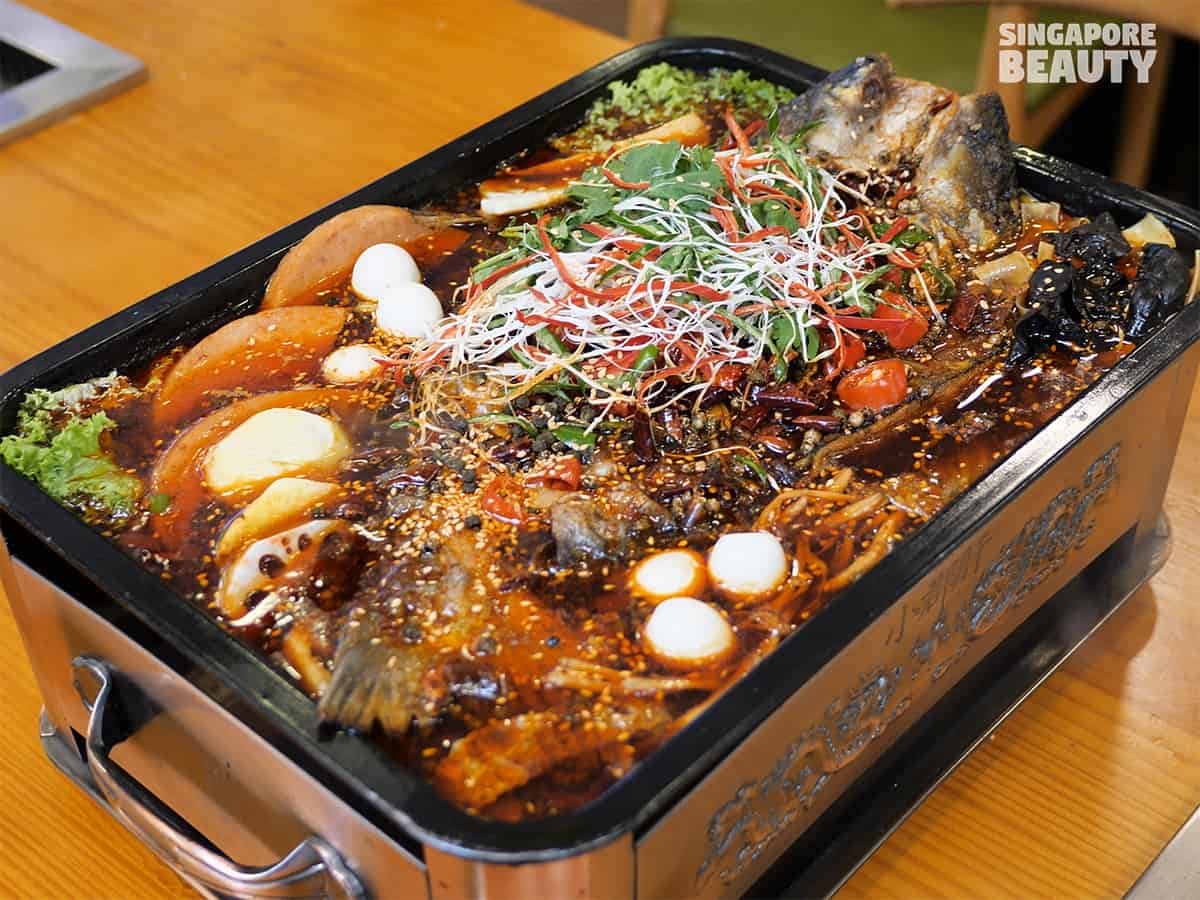 This is an all you can eat bbq & hotpot buffet with no time limit at Bugis during off peak hours. If there are no waiting customers or queue, you can eat till the cow comes home. Xiao Jun Gan buffet is also having promotion where you get to redeem a grilled fish for dine in, applies to every four or more paying adults. Available in numbing mala or sharp pickled mustard green flavour.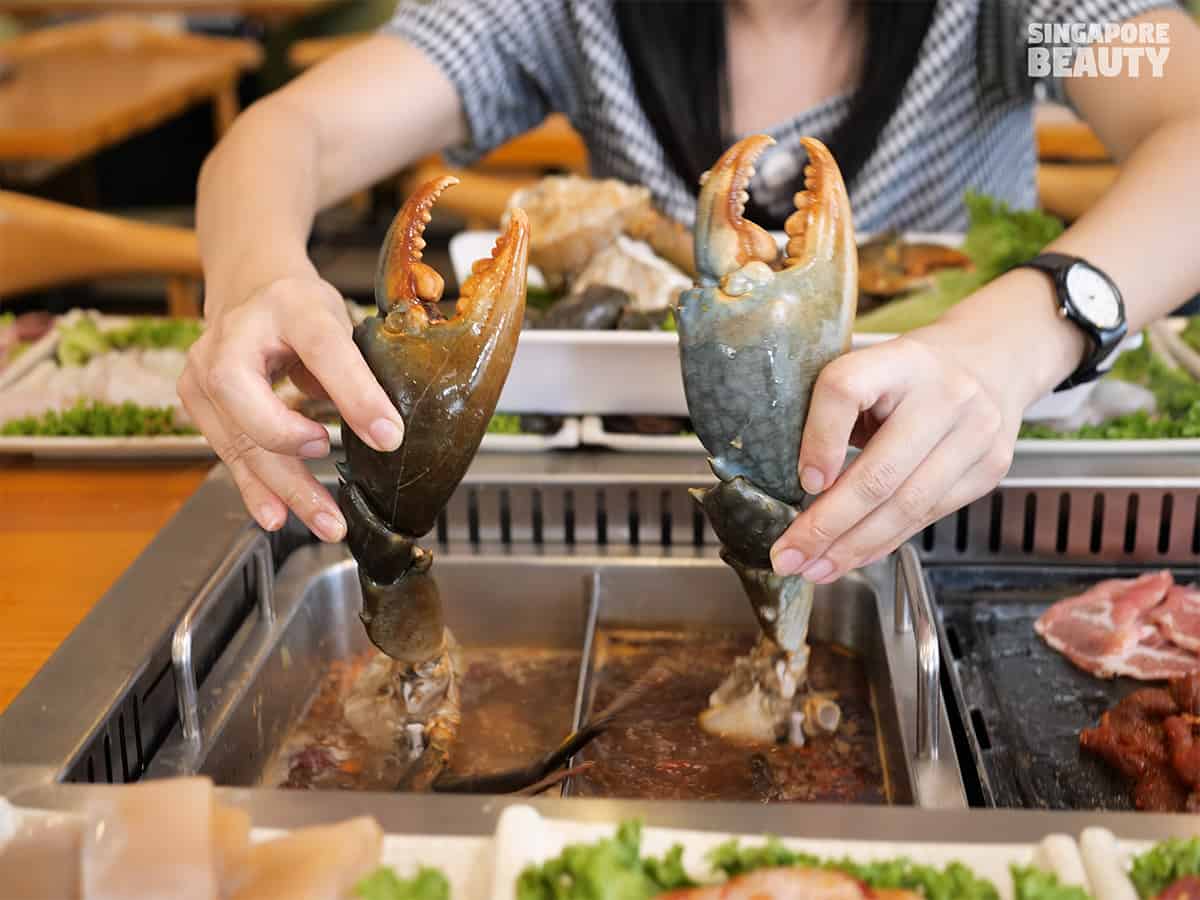 Another reason for going to this Xiao Jun Gan buffet is that they have free flow extra large mud crab claws included in buffet.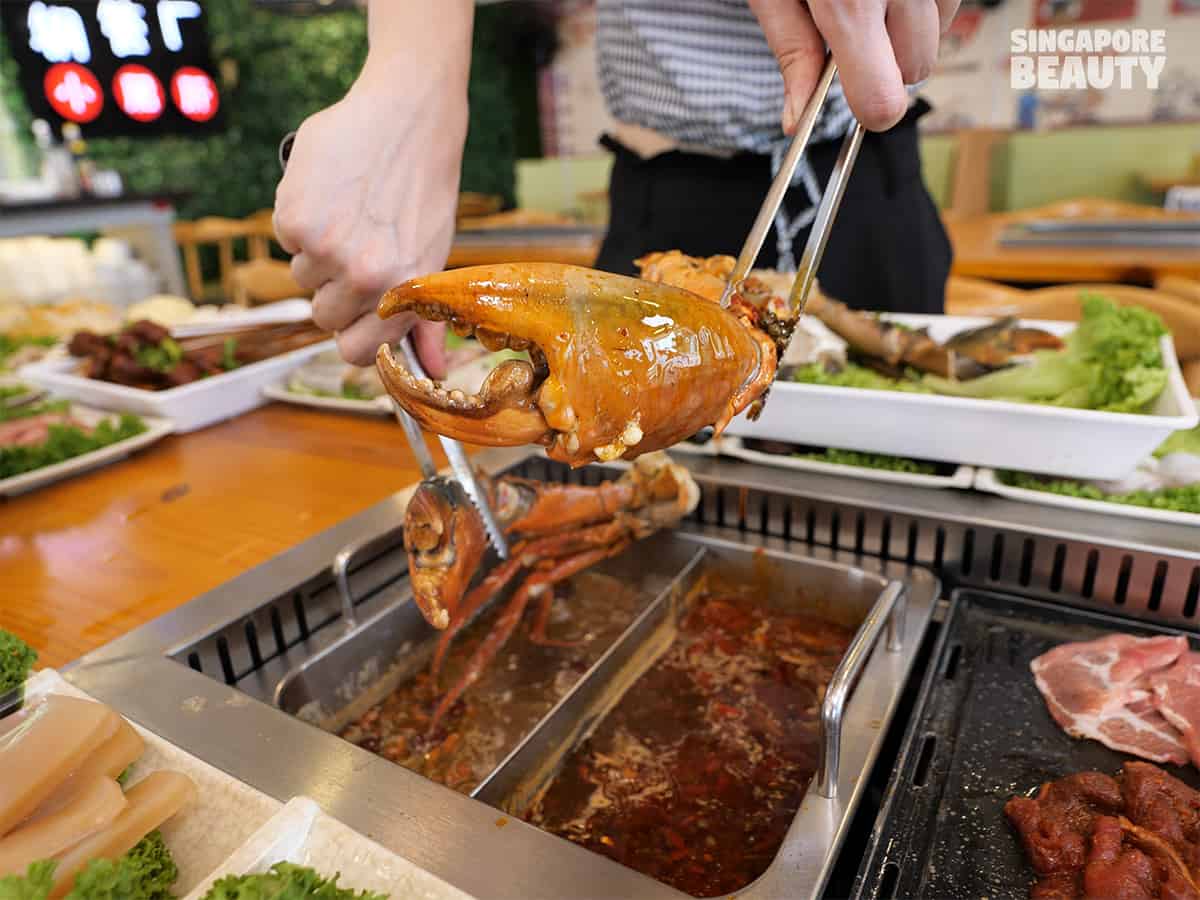 Check out the size of the mud crab claws!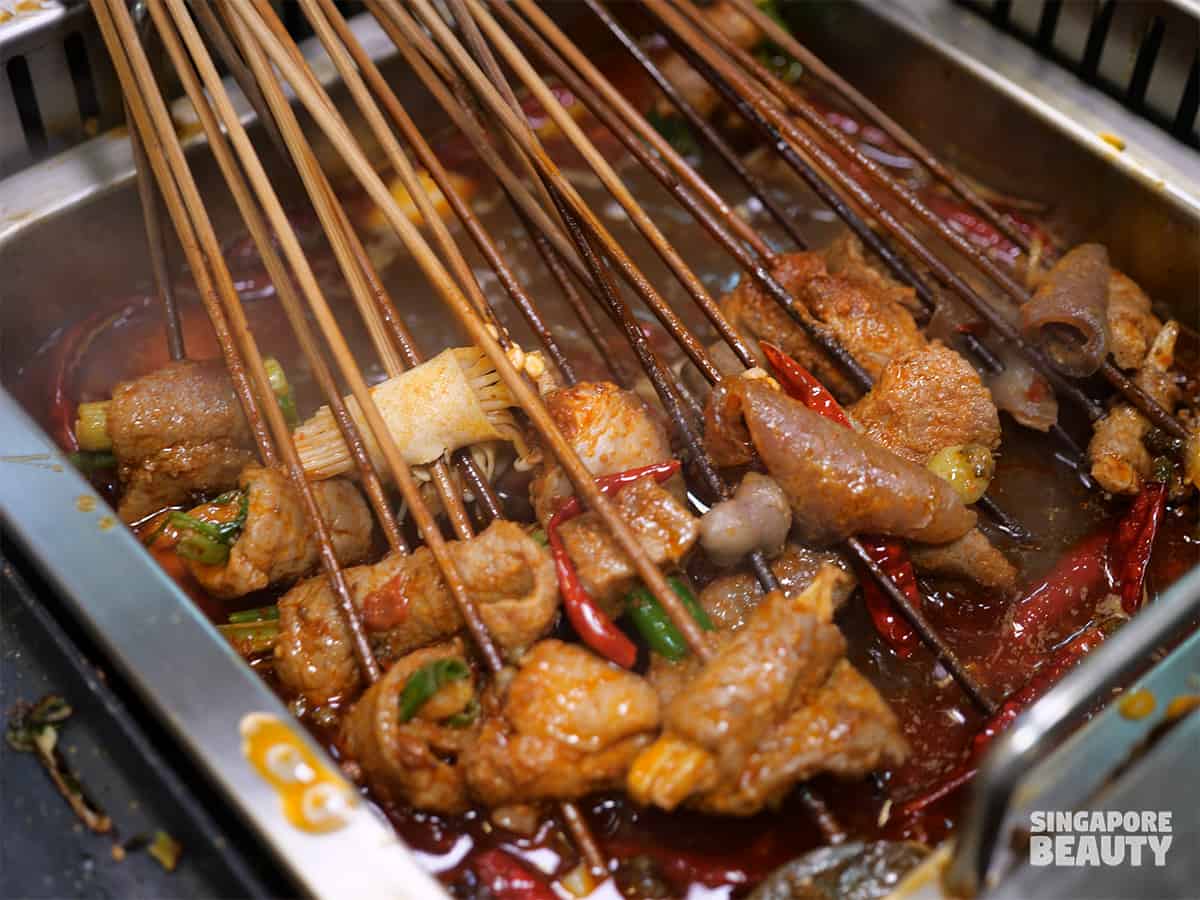 Xiao Jun Gan is also famous for their lok lok or chuan chuan which is also part of the buffet. They have up to 10 types of chuan chuan that is skewered by hand daily. The skewers are available as marinated spiced meats such as chicken, beef and pork with pickled chilli, enoki, bacon, leeks, offals and more.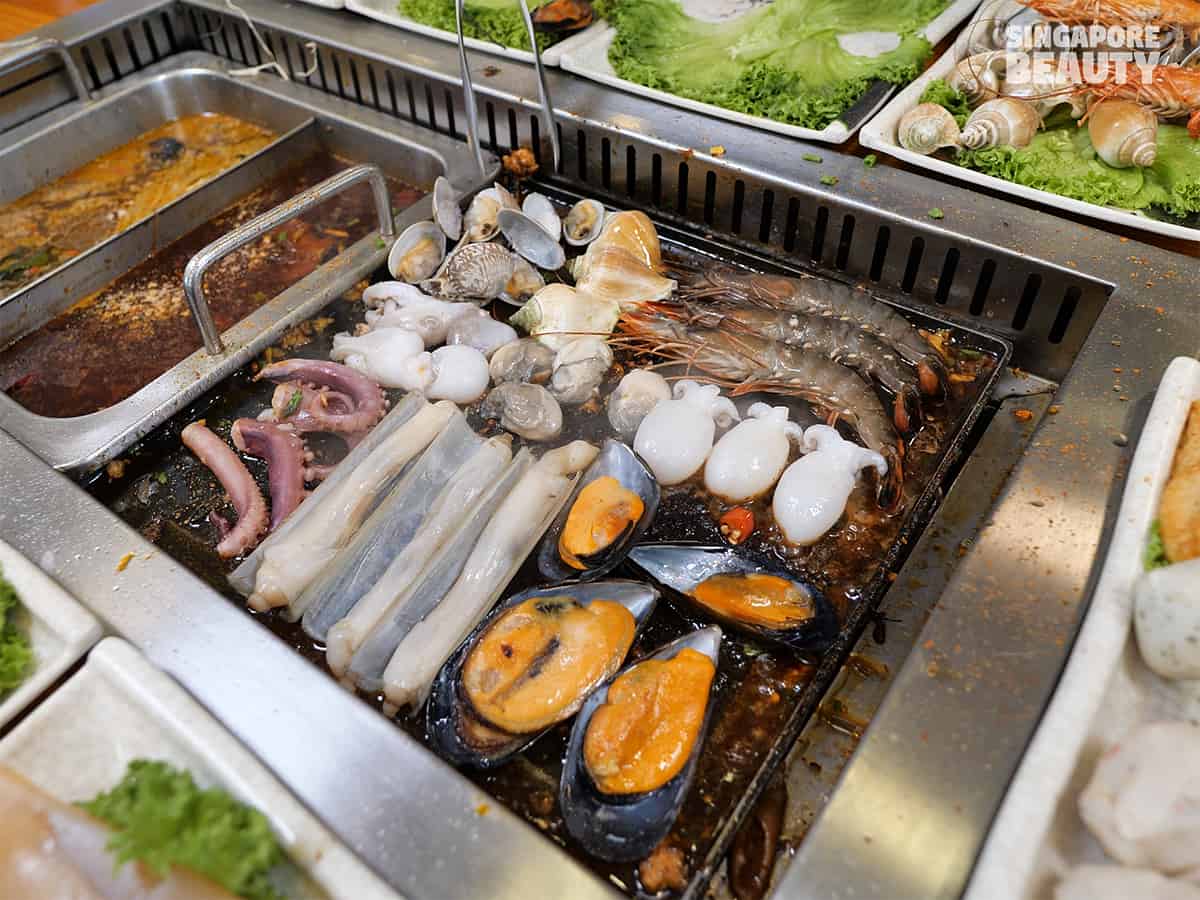 15 types of free flow seafood including mud crab for your grilling or hotpot needs. They have mud crab big crab claw, scallop, baby cuttlefish, tiger prawn, bamboo clams, tako, baby octopus, bamboo clam, oysters and more.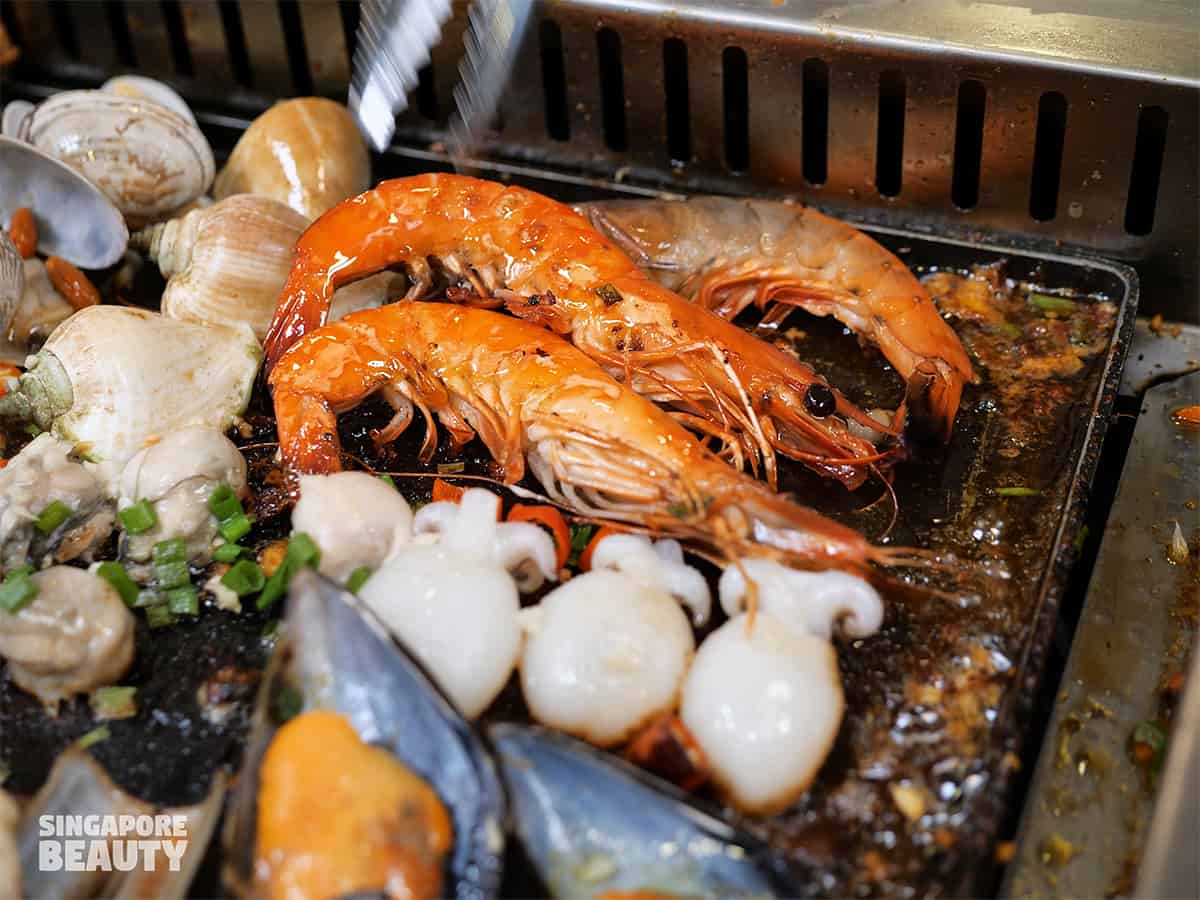 These tiger prawns are great for grilling and have crunchy texture with bitter sweet buttery head roe.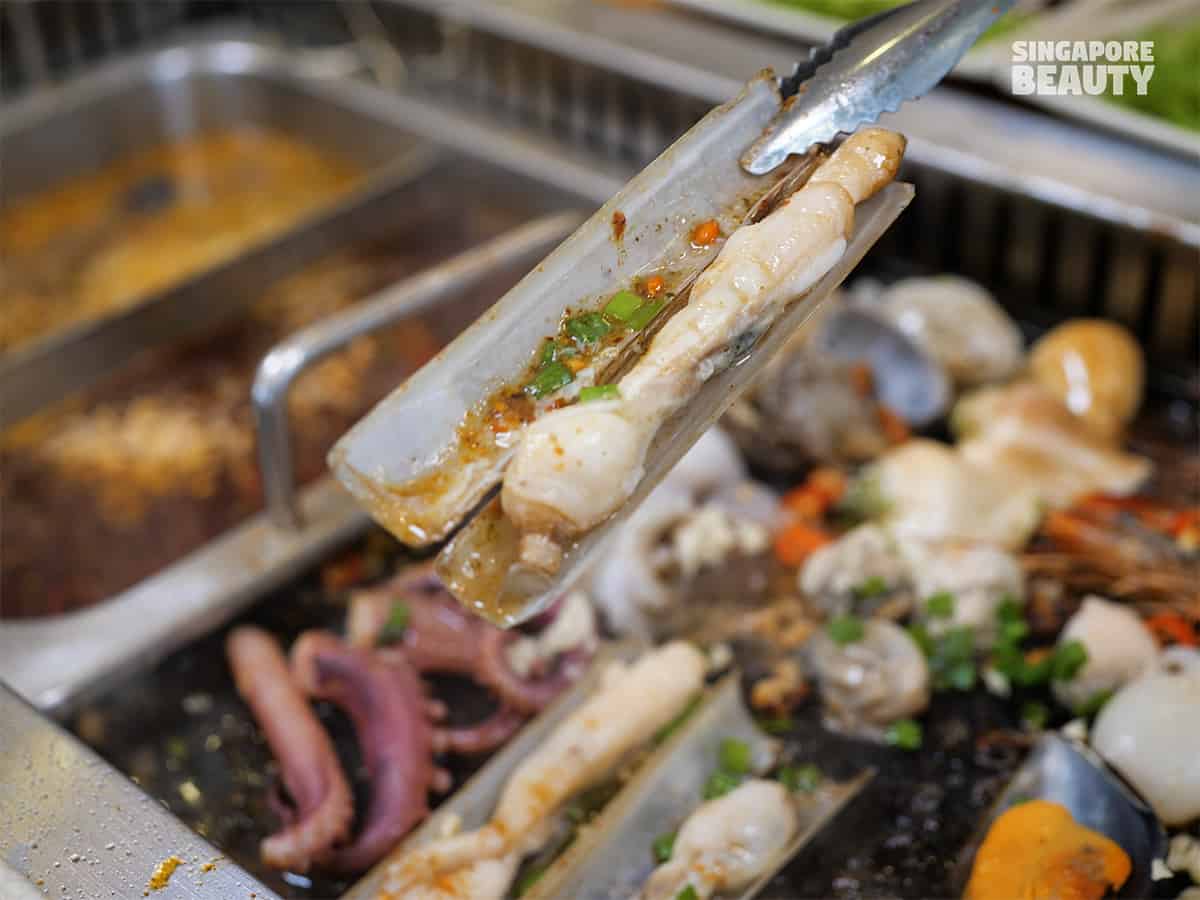 These bamboo clams are best grilled with some chopped garlic and spices from their condiments corner. Enjoy briny burst of juicy clam flavour after barbecuing them.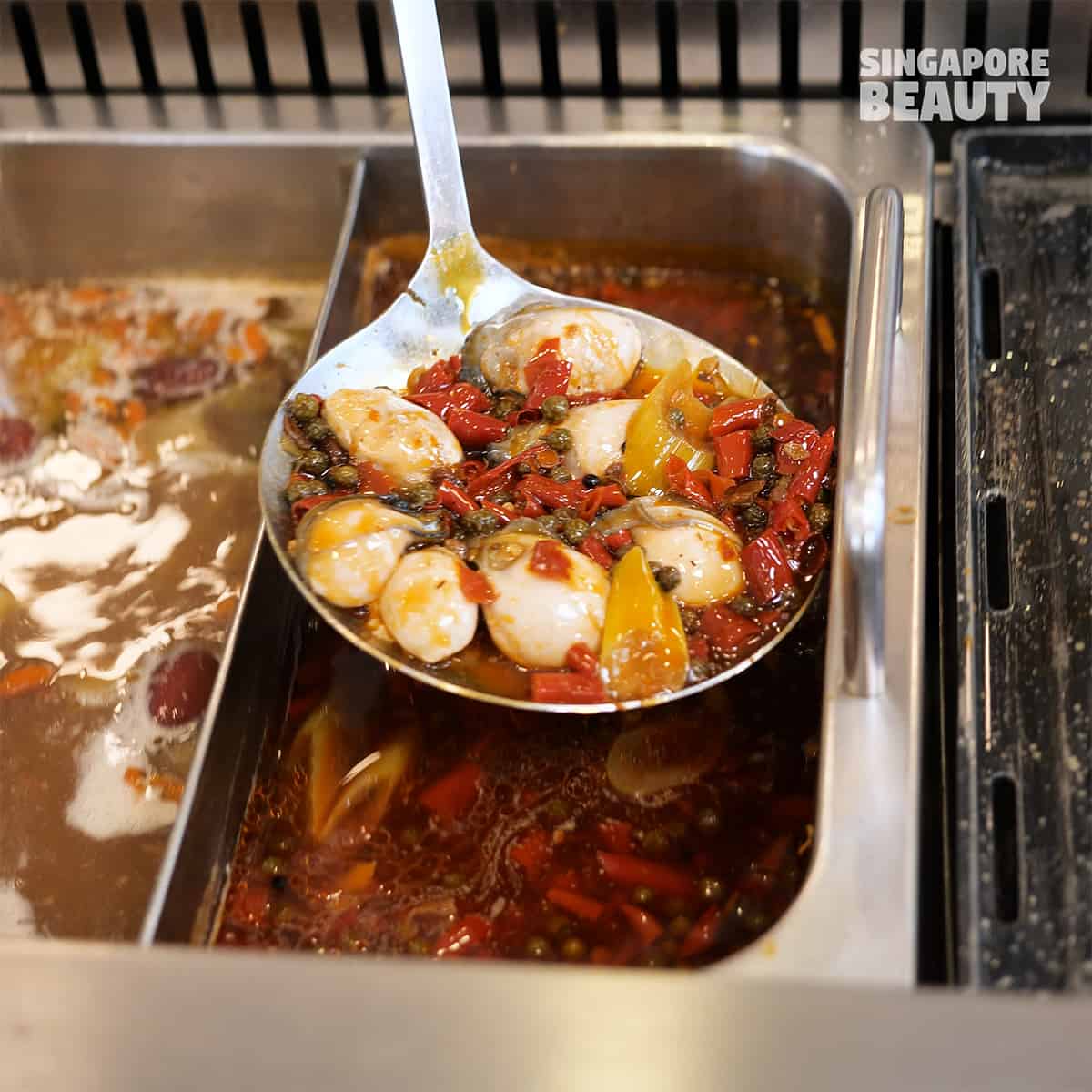 If you are an oyster lover, load on more of their oyster into your hotpot. Succulent and creamy plump morsels of oceanic flavours with the kick of umami mala broth.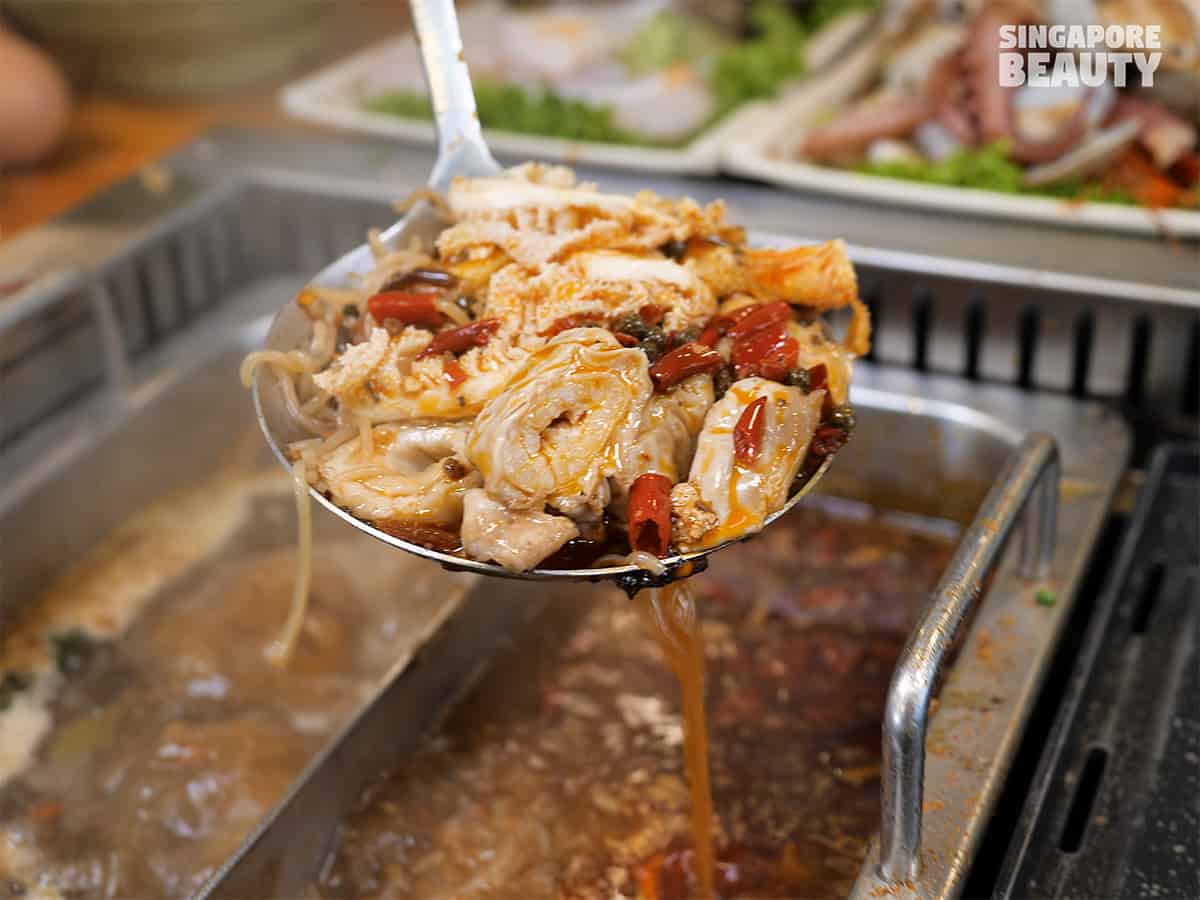 For those who love offals or innards, they have some exotic innards such as large pork intestines and beef tripes for you to hotpot with.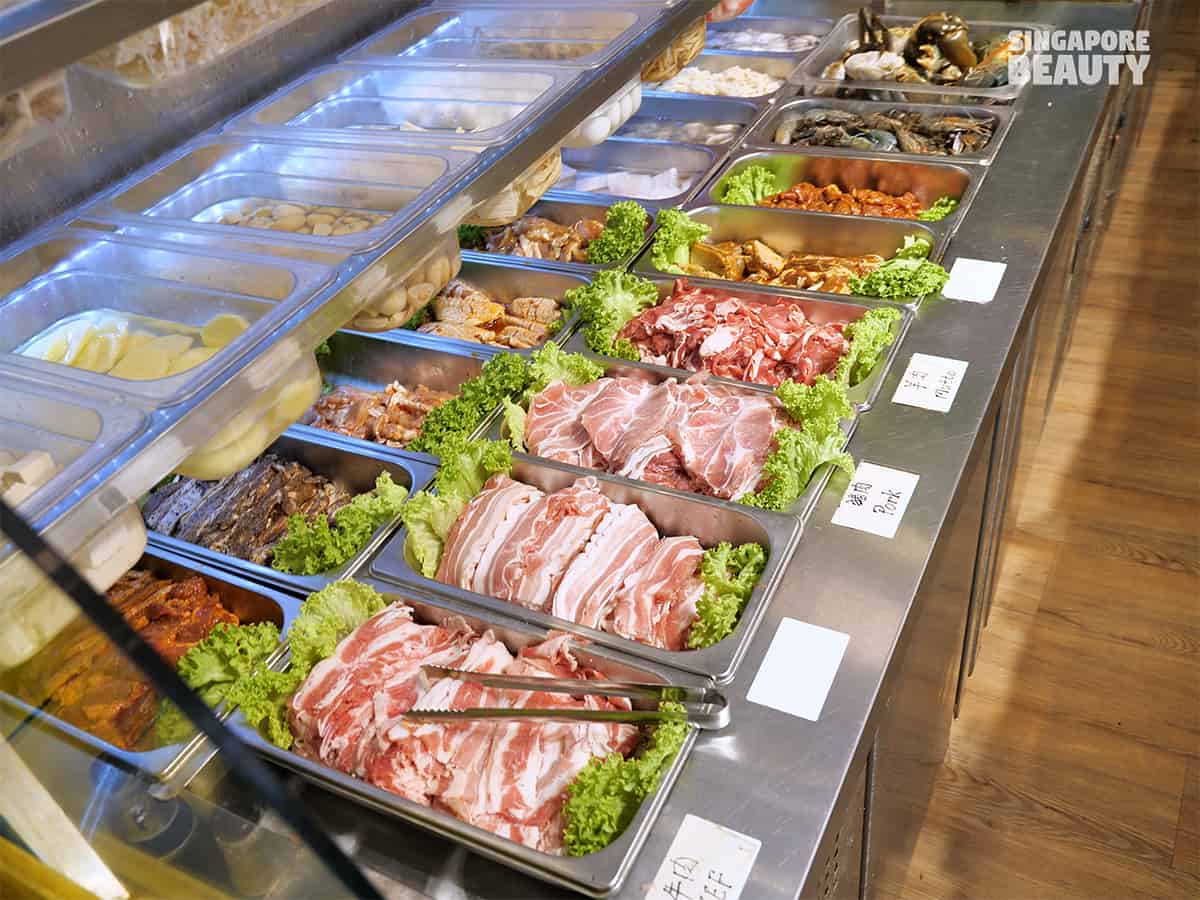 There are four types of meat available such as chicken, beef, mutton and pork for your hotpot or bbq needs at Xiao Jun Gan meat buffet. Choose from over 10 types of their spiced, marinated bbq meats or the shabu shabu type. The server at the buffet display chiller will assist to plate your selection.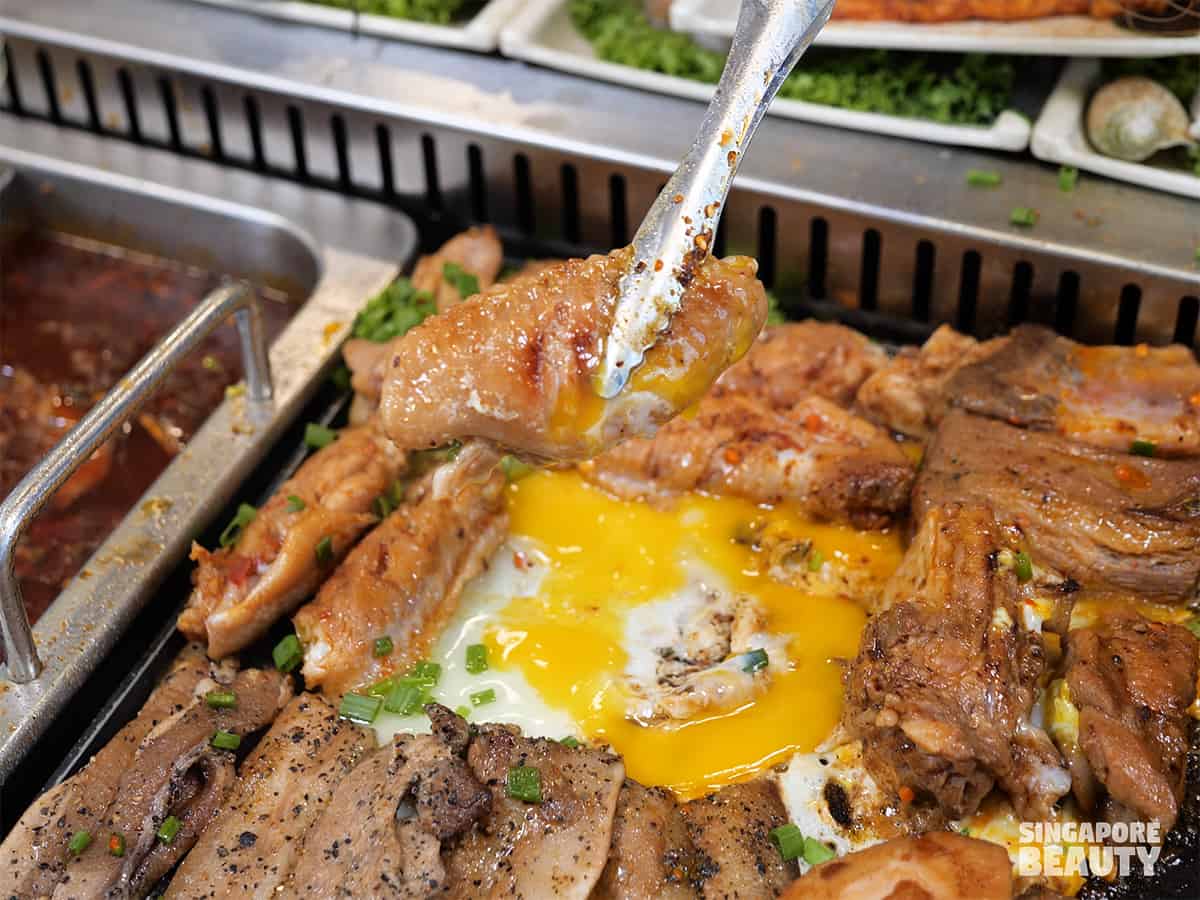 Grill all the meats on the sizzling hot plate. Indulge in some black pepper pork ribs, honeyed wings & thighs, cumin pork belly, soy braised beef, marinated cumin mutton and more.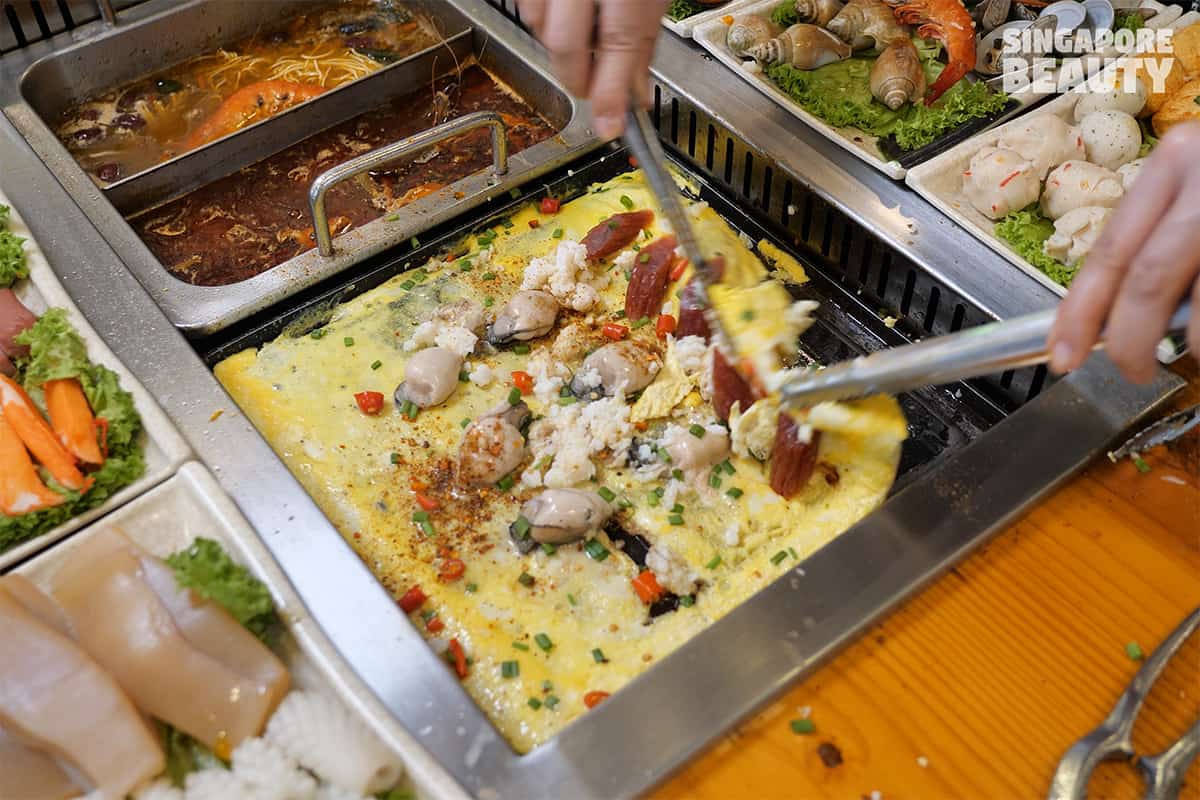 Enjoy a crab meat oyster omelette when you are done with grilling. Here's how to create the Xiao Jun Gan oyster & crab egg omelette with Thai fish sauce. Whisk some egg, lay the sizzling hot plate with an egg blanket, and spread it out. While the egg is grilling, add all the oysters, Chinese sausage, crab meat on the omelette. Drizzle some Thai fish sauce from their condiment counter and add some spring onion for extra aroma. Lightly lift the edges of the egg and roll into a wrap. Cut the fluffy roll and enjoy!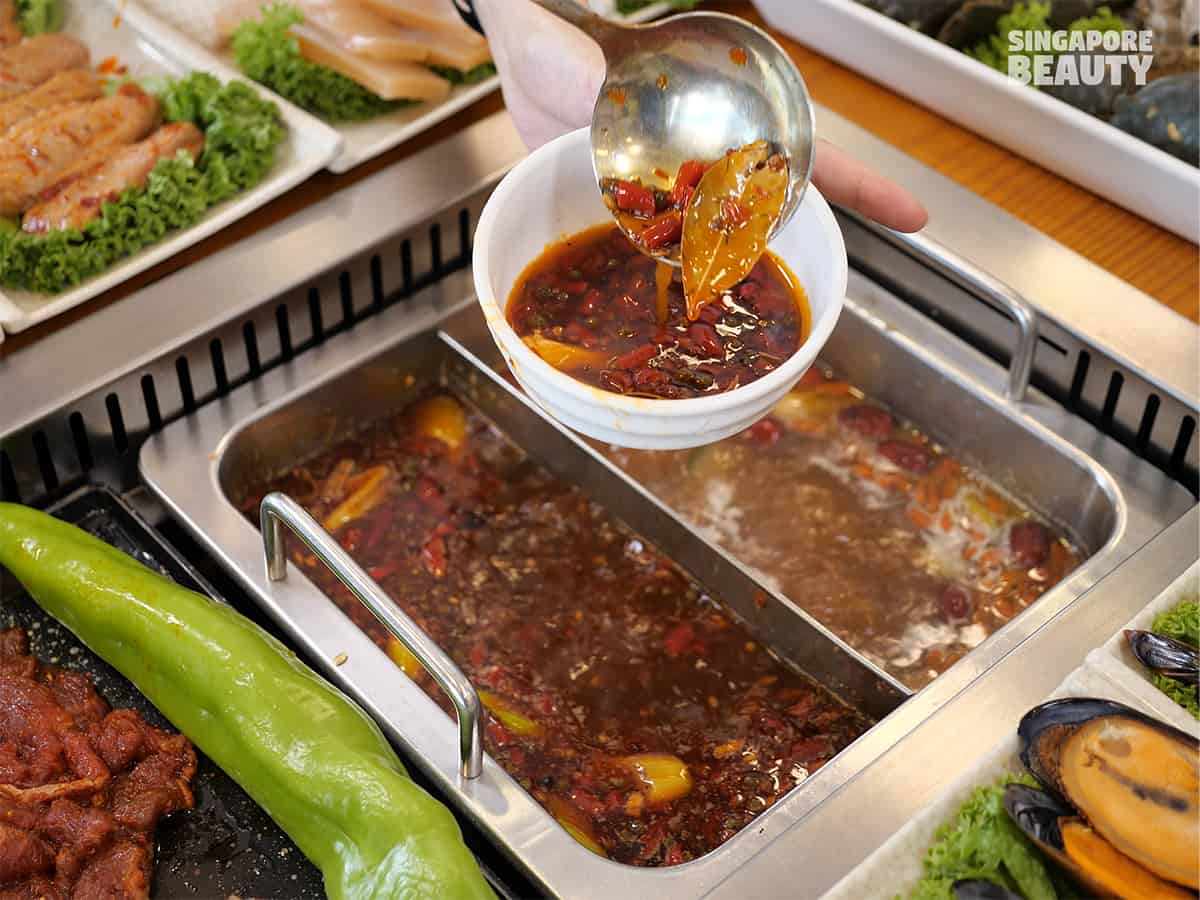 Enjoy a single or dual soup base with a top up of $6++ only. There are 6 type of soup to choose from such red oil mala, nourishing chicken soup, tomato soup, wild mushroom soup, herbal soup & tom yum.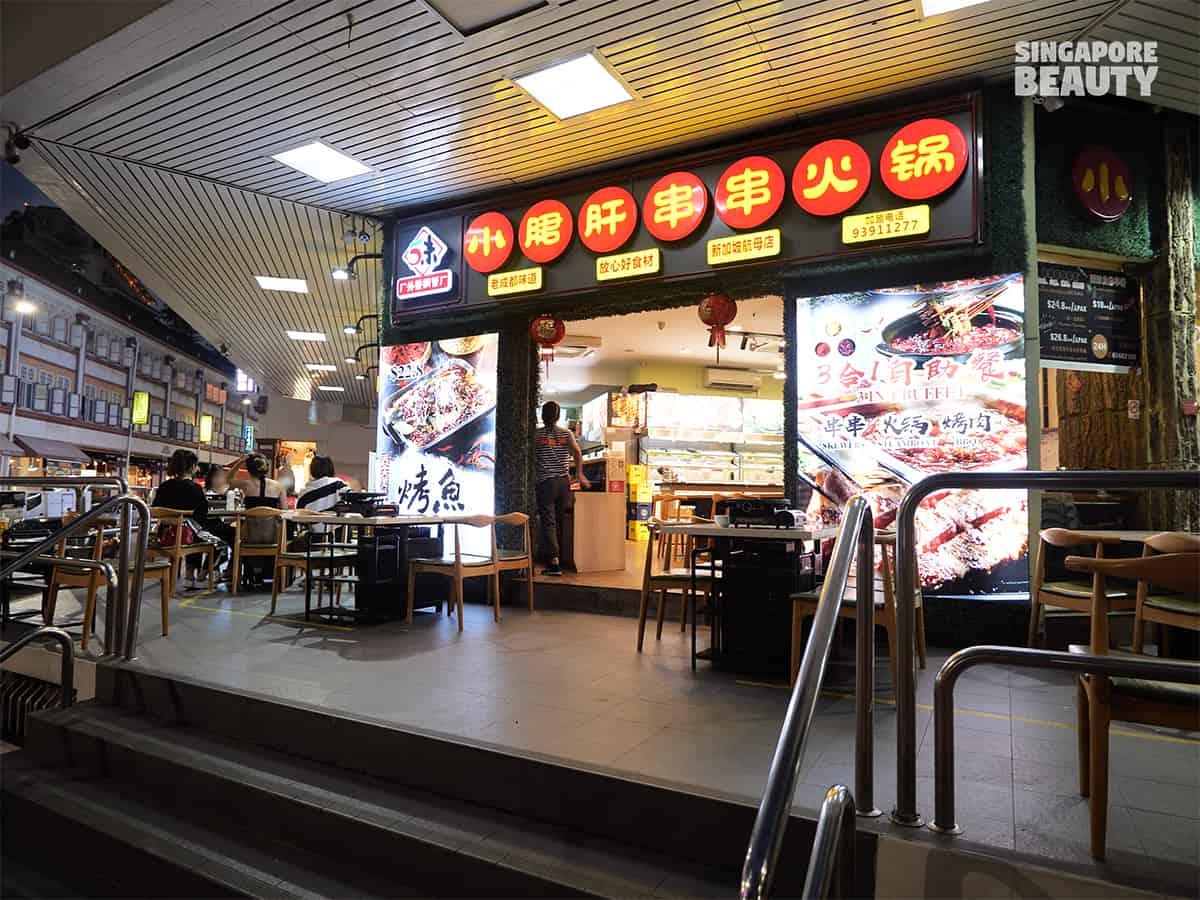 Head over to Xiao Jun Gan 3 in 1 buffet today that is open till the wee hours 3am for your supper needs. They have indoor and outdoor seating for those who love some nice cooling night breeze and people watch while you hotpot and barbecue. See you there!
Xiao Jun Gan (小郡肝) 3 in 1 BBQ, Hotpot & Lok Lok skewers Buffet
Mon-Thurs
Adult price $24.80++
Fri, Sat,Sun,PH
Adult price $26.80++
Kids (below 1.3m)
Kids price daily $14.80++
Top up $6++ for either single or dual soup. 6 Soup bases available are red oil mala, nourishing chicken soup, tomato soup, wild mushroom soup, herbal soup & tom yum.
Promotion 1:
Redeem 1 Grilled fish worth $22.80++ for every 4 paying adults, only for dine in.
Or
Promotion 2:
Get 10% off bill for adult buffet pricing
Fruit punch included in buffet. Canned drinks are ala carte.
Opening hours:
11.30 am till 3am daily
Dine in time:
No time limit during off-peak hours
2 hours during peak hours
Ala carte Beers & alcohol available
Xiao Jun Gan [Restaurant is permanently closed.]
101 Beach Rd
#01-01, Singapore 189703
Opening hours: 1130am till 3 am
Call: 65662188
Brought to you by Xiao Jun Gan (小郡肝)