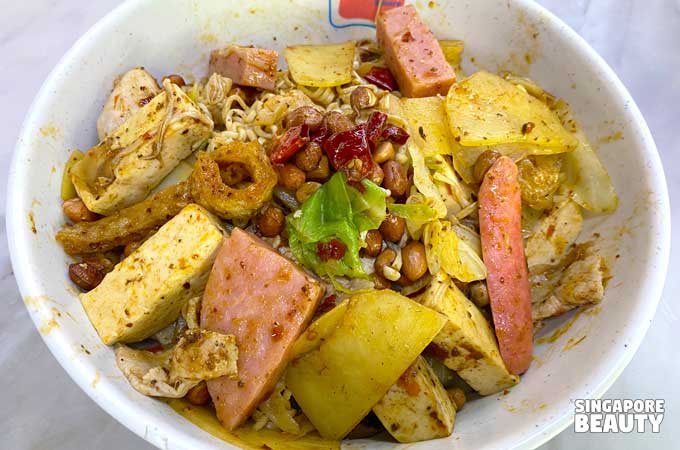 Xiang piao piao mala hotpot (香飘飘麻辣香锅) at kopitiam square has over 50 types of ingredients to choose from to curb your mala cravings.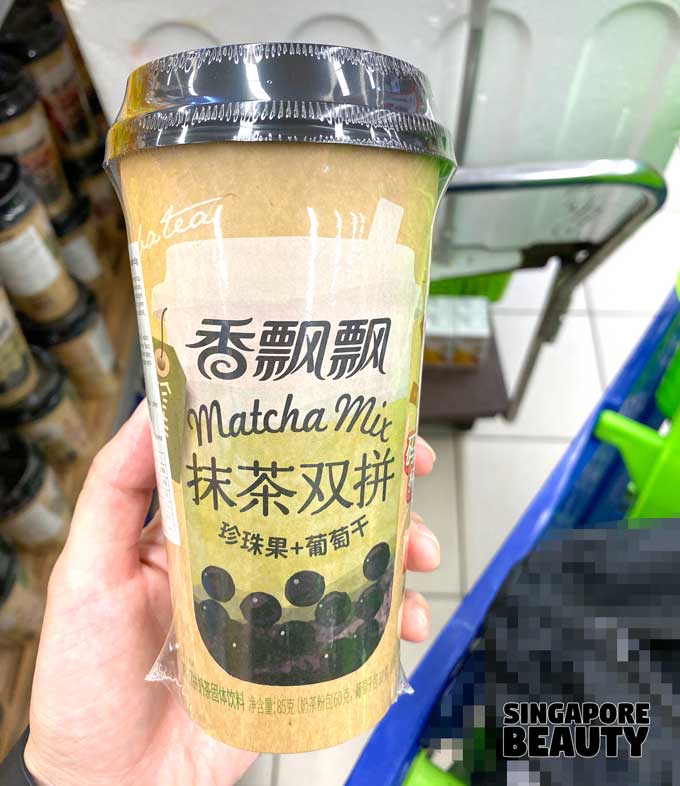 The name may sound familiar to some fans of the xiang piao piao milk tea but my guess is that they are not related. There are a few other kopitiam square mala store but seeing the variety they have here makes me gravitate towards this stall. The queue can be quite daunting at time especially during dinner time where the queue is insane.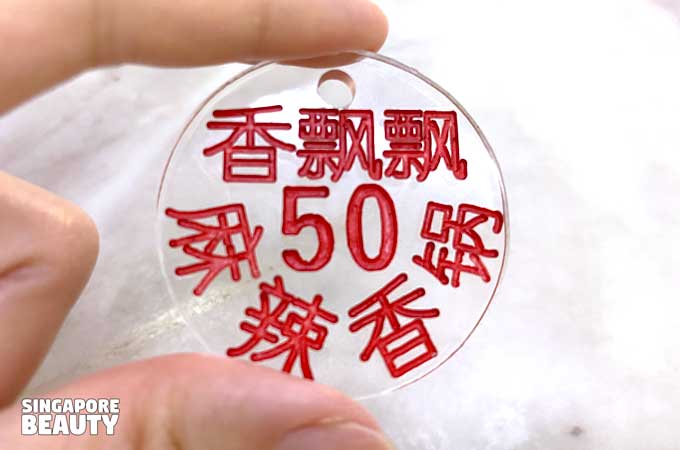 To make your mala experience a more sane one, the stall holders have a number calling system where you will be issued a number tag to your order. The stall name Xiang Piao Piao Mala Xiang Guo is engraved on it.
This calling system will call out your number in mandarin along the line of "number say 50, please collect your meal", so that you do not have to keep checking the number display for your number, you just need to keep your ears peeled.
This is how it works: collect a metal plate near the cashier and a tong. Select the ingredients you desire and let the cashier weigh your items when it is your turn. For kopitiam card holders, you will get a 10% kopitiam card discount to your order, if you pay using the card.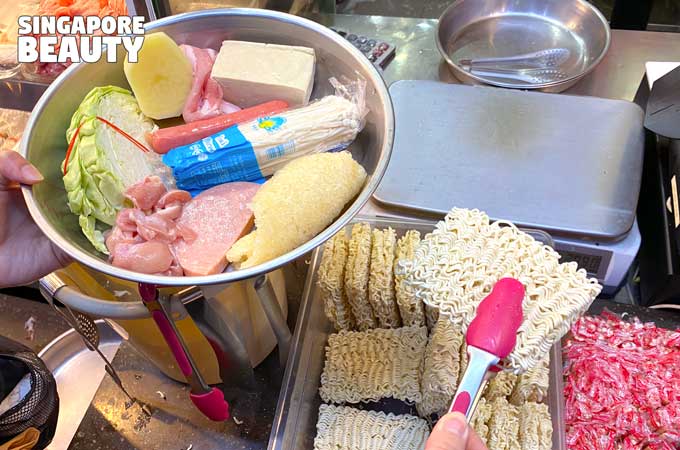 For instant noodle, just add it from the tray nearest the cashier. For other carbs such as steamed rice, please let the cashier know at the counter before payment.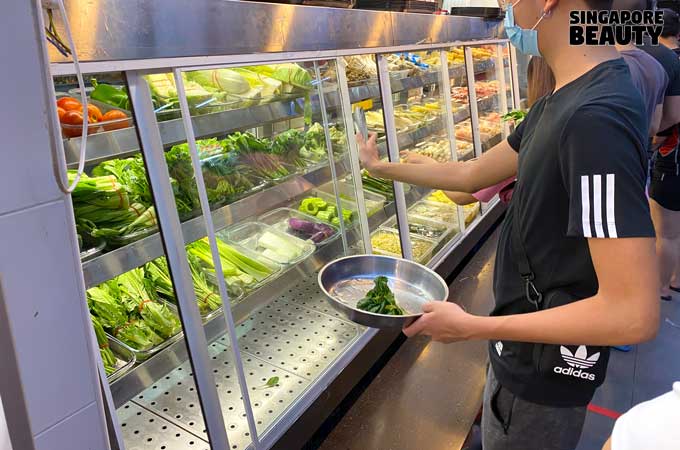 These are the selections for green which includes tomato, capsicum, cabbage, naibai, green chilli, xiao bai cai, dou miao, cai xin, broccoli, cauliflower, butterheads, celery, winter melon, egg plant, bitter gourd and many more.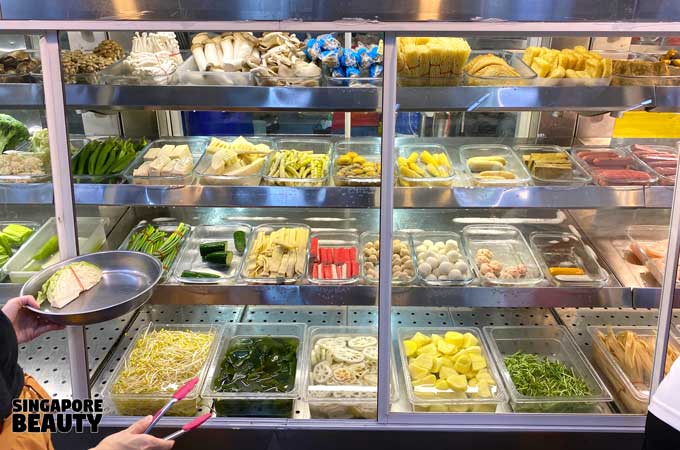 These are the selection for surimi, bean produce, root vegetables and some others. They have enoki, oyster mushroom, king mushroom, white shimeji, brown shimeji, beancurd skin, tau pok, fish cake, fried beancurd, tofu, okra, bamboo shoots, button mushroom, baby corn, fish sticks, fermented tofu cake, otah fish cake, lobster balls, fishballs, meat balls, crab sticks, cucumber, leeks, soya bean sprouts, seaweed, lotus roots, potato and pea shoots.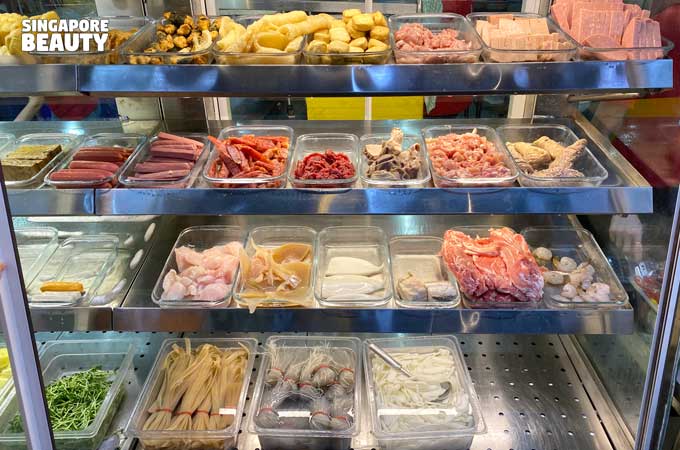 These are the selections for seafood, meat, carbs and others. There are seaweed chicken, pork skin, cheese tofu, sliced pork, luncheon meat (two types), hotdogs, Taiwan sausage, Chinese sausage, beef, pork stomach, chicken fillets, pork large intestines, dory fish, cuttlefish, squid, pork belly, shabu pork, shrimps, potato noodles, sweet potato noodles and rice cake.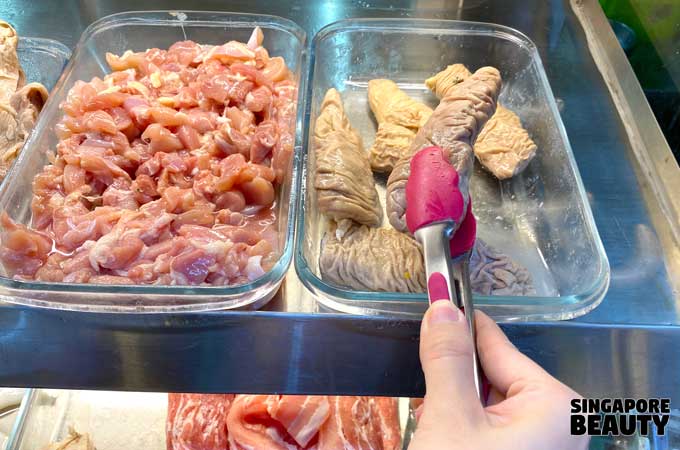 Here's the close up of the pork large intestine that is a rare find in a mala hotpot stall. This seems to be a popular item as the supply is running low compare to other items.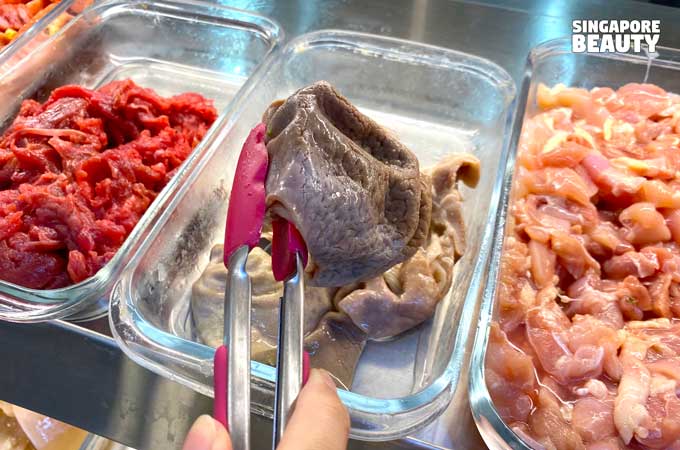 This seems to be another popular pick – pig stomach – which looks pretty clean and unsoiled from my close inspection. For those who love their pig innards, you can give these a try.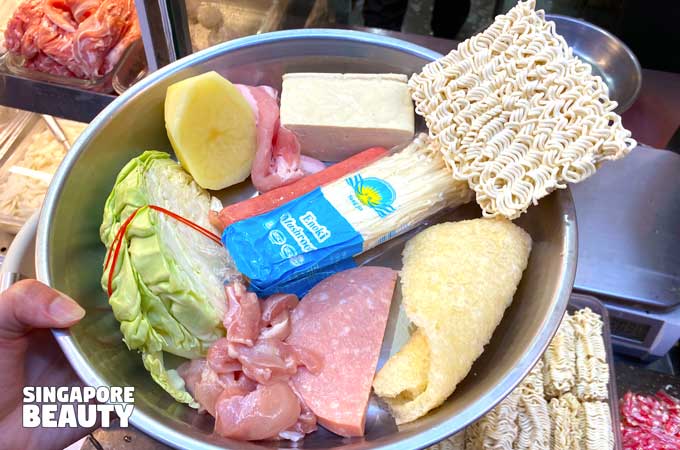 Here's what we chose for the mala dry pot. They have two version of mala, one is stir fry mala xiang guo hotpot, the other one is the soup mala hotpot. Actually these are served in a bowl and there is no hotpot, it is just a generic name for mala stir fry pot.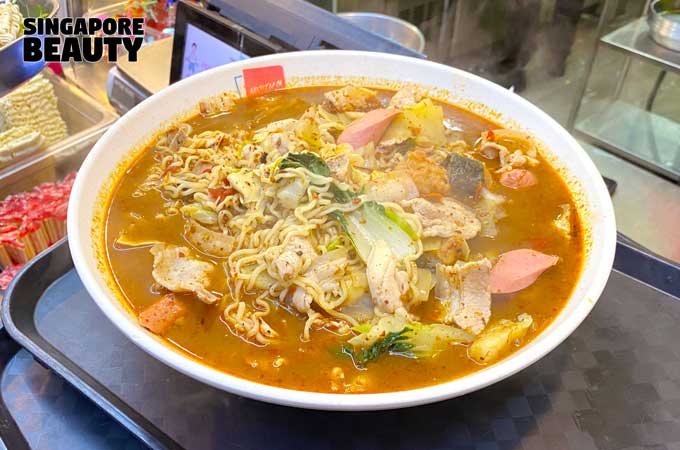 For those who are not familiar with the jargon, this is the soup mala hotpot also know as mala tang. The ingredients are simmered in a pot of mala broth.
The one we ordered is the stir fry mala xiang guo hotpot – the dry one – where the ingredients are stir fried with mala chilli, spices and fragrant oil. The damage for this is $14 after 10% kopitiam card discount. For this mala xiang guo, you can choose your heat level from xiao la小辣, zhong la 中辣 to da la 大辣 which translate to less spicy, medium spicy or extremely spicy. We tried the medium spicy and it is still bearable and no need to call ambulance yet.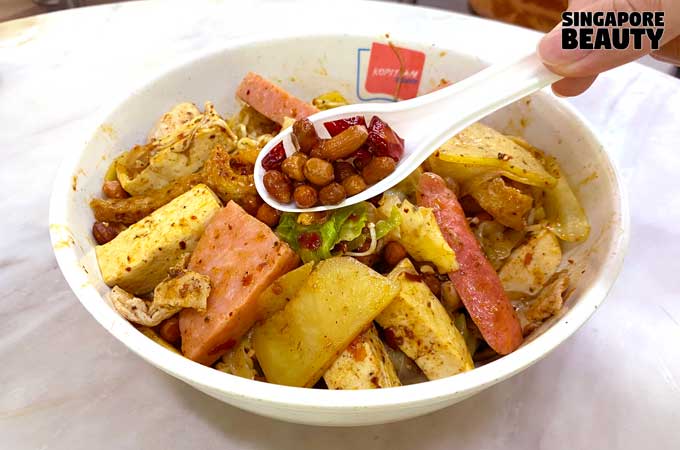 The flavour of this mala xiang guo is considered above average but lacks the numbness of the peppercorn. We like it as it is not overly oily nor salty. The ingredients are coated with just enough mala so that the ingredient's taste still shines through. Topped with some really crunchy peanut and dried chilli to add a nutty creamy body and smoky flavour to the dish.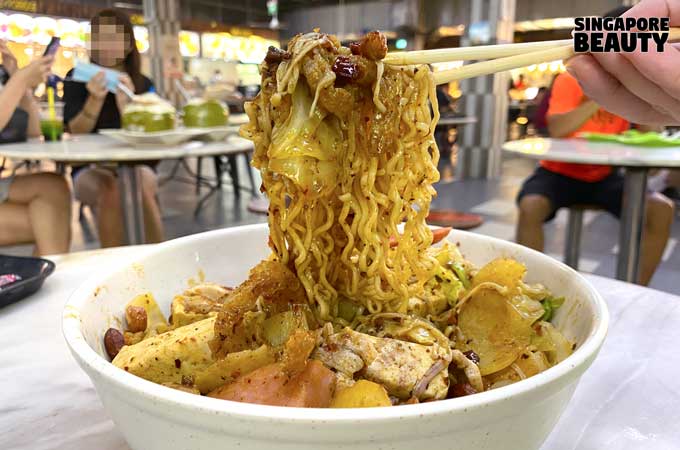 Noodles are well cooked with a springy texture and infused with the chilli oil and grounded spices. The crimson coloured noodle peppered with chilli bits is a tell tale signs of how savoury it is.
They also added this broad bean for extra umami flavour to the dish. It is taste fermented and lends a deep buttery flavour to the other ingredients.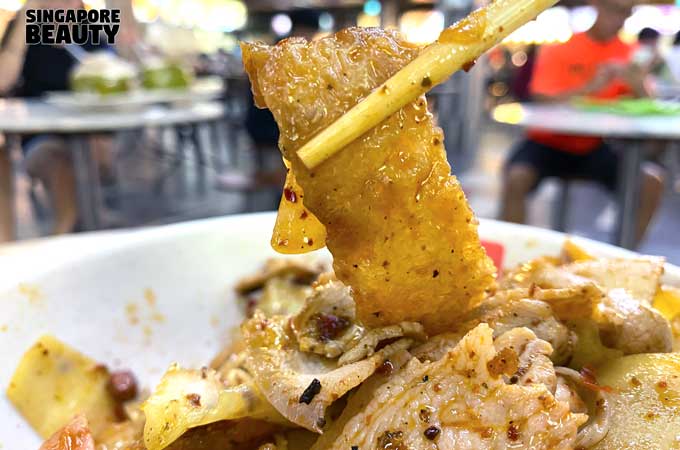 The pork skin is soft and has a QQ texture to it. It soaks up the savoury sauce with it porous spongy structure and is a joy to eat.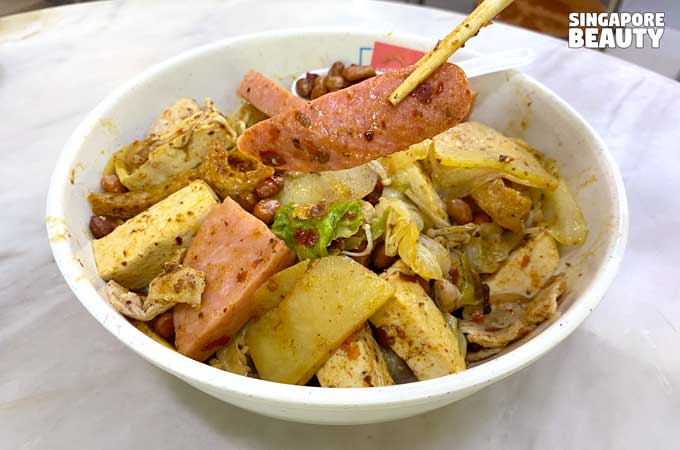 As with all mala lovers, we know that the dish is not completed without some luncheon meat and Taiwan sausages. The Taiwan sausage has a sweet and chewy texture to it with some mild after tone of Chinese wine.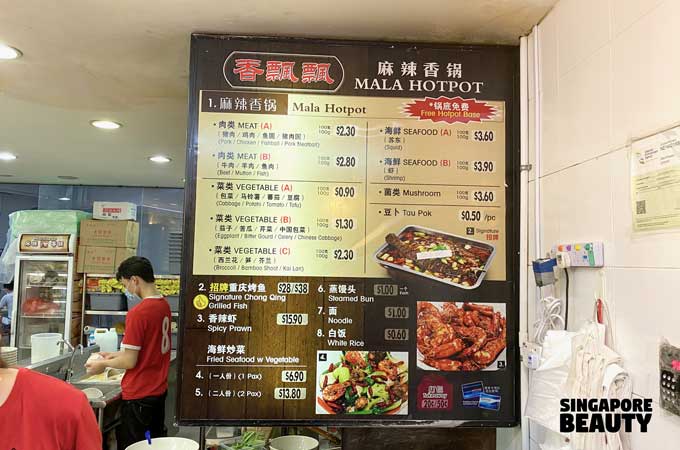 Here the menu for Xiang piao piao mala hotpot at kopitiam square. They also have ala carte signature Chong Qing grilled fish and spicy prawns. The carbs to order from the cashier are steamed rice, noodles or steamed mantou bun. See you at kopitiam square mala xiang guo(MLXG)!
Operating hours:
11am till 11.30pm
Location:
Kopitiam Square
Xiang Piao Piao Mala Hotpot (香飘飘麻辣香锅)
10 Sengkang Square, #01-03,
Singapore 544829
Xiang Piao Piao Mala Hotpot number :
98809430