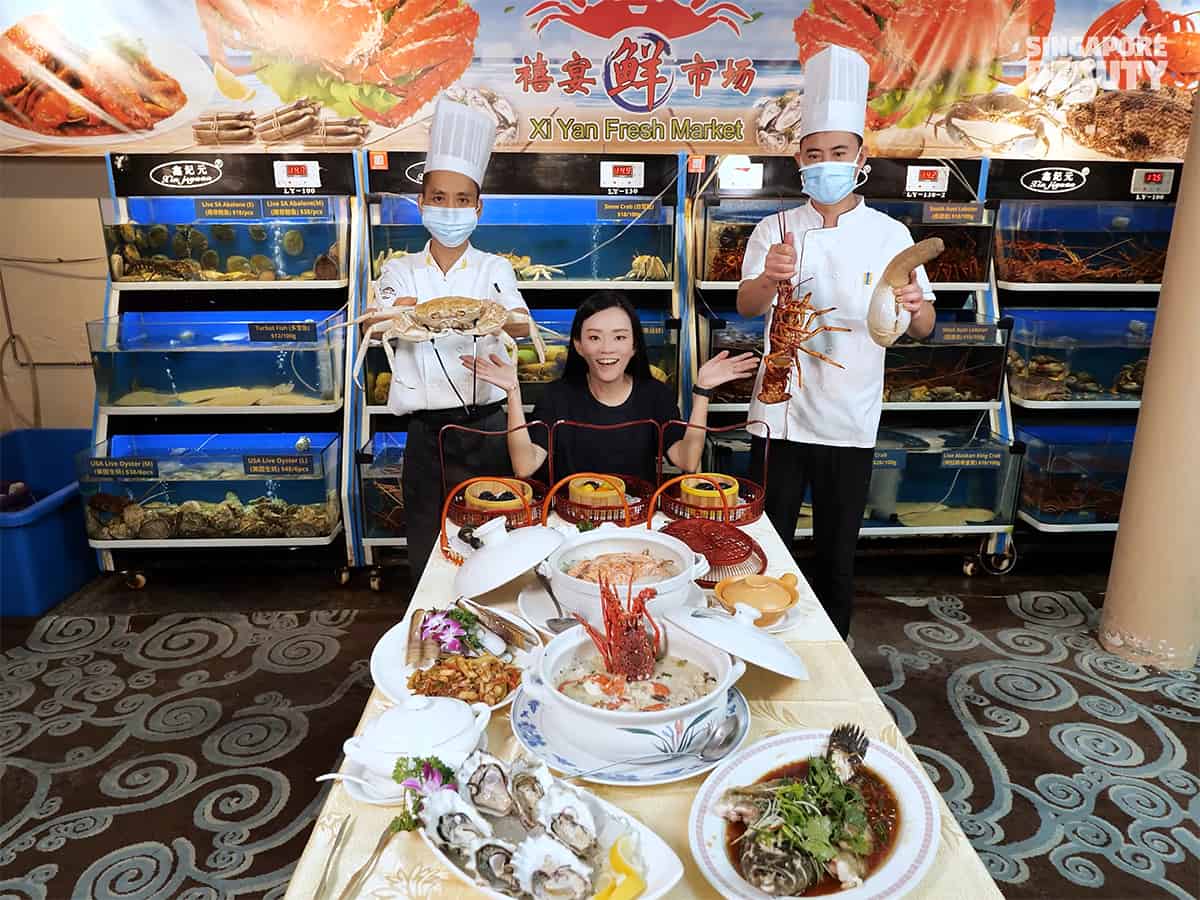 Singapore's most epic live seafood hideout in the west, Xi Yan Seafood Restaurant is having a 20% off all live seafood. They are also having a Promotion of the month for bamboo clams, marble goby (soon hock), seafood or Australian lobster congee or pao fan that comes with free half dozen USA live oyster. Not only that, Xi Yan Seafood Restaurant is offering islandwide free delivery above $120. Also check out their high tea dim sum selections with close to 50 varieties.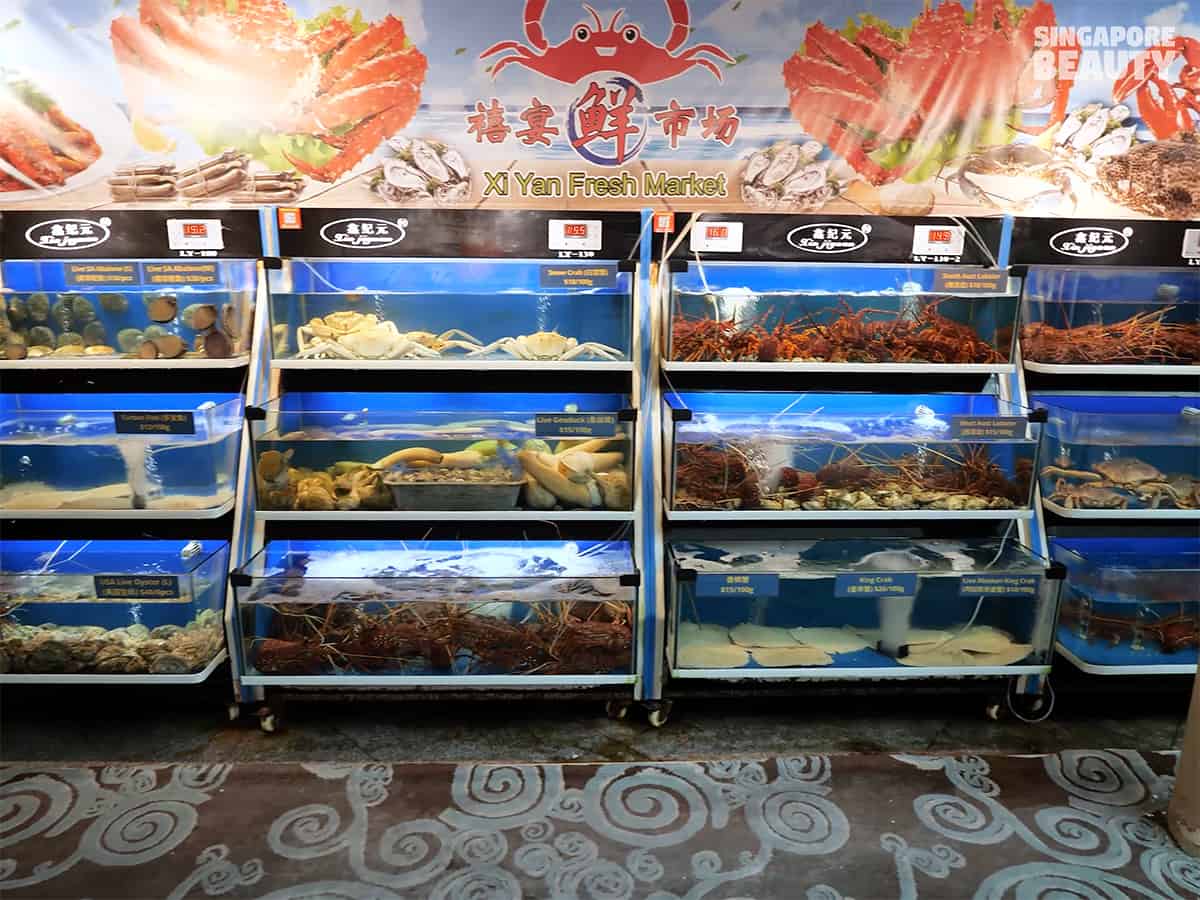 Xi Yan Seafood Restaurant is also a fresh seafood market place in the west of Jurong Singapore where you can just walk in and buy their live seafood by weight. The prices of the seafood are seasonal and indicated on the aquarium-like tank. You can either bring the seafood home to prepare or get their chef to cook for you.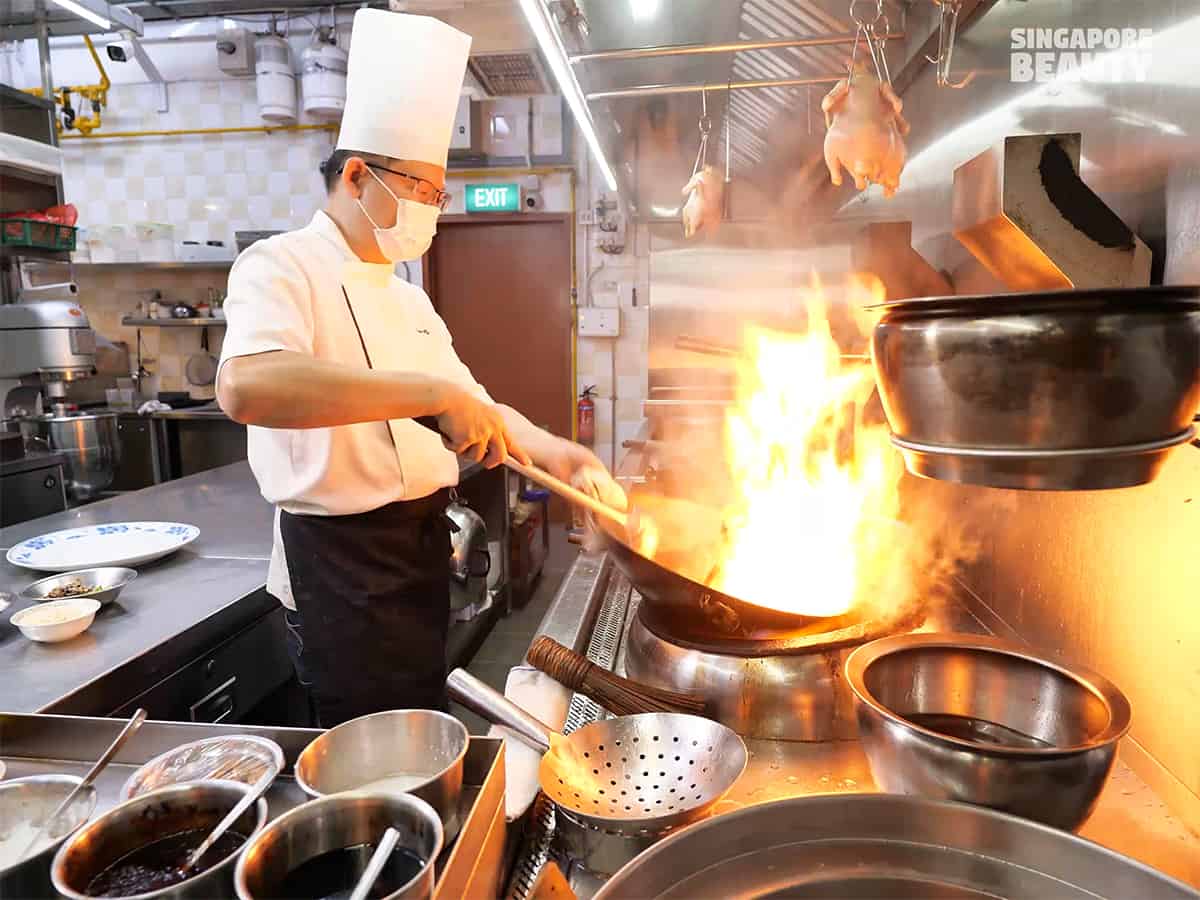 The prices of Xi Yan Seafood Restaurant live seafood include cook-for-you service at the restaurant. Either way, it is a good opportunity to explore the rare and exotic seafood they have in house now with the 20 % off all live seafood promotion ongoing now. Chef will whip up a seafood feast based on your selection.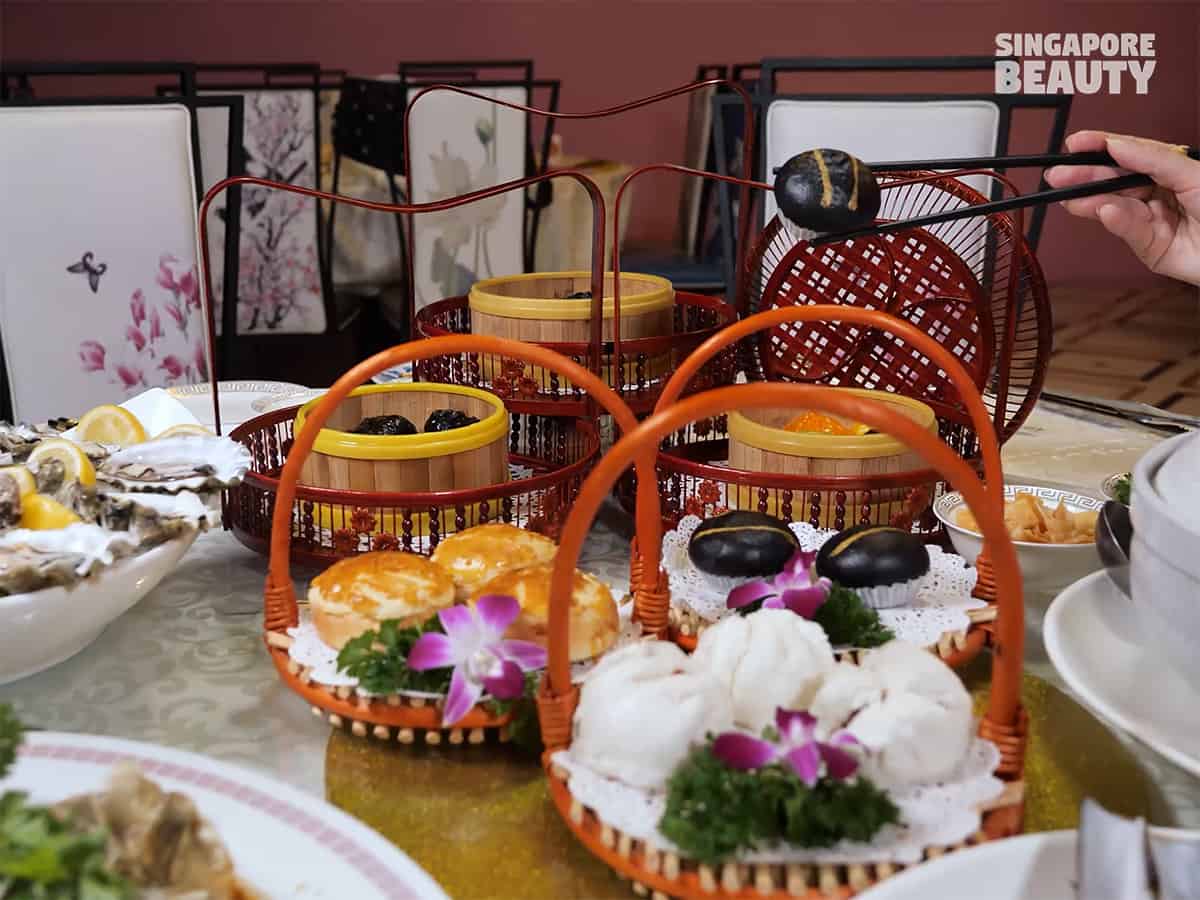 This is where you can eat after visiting Jurong Bird Park, Xi Yan Seafood Restaurant is located next to the open air carpark of Jurong Bird Park. They have handmade Hong Kong style Dim Sum high tea for week day and weekends.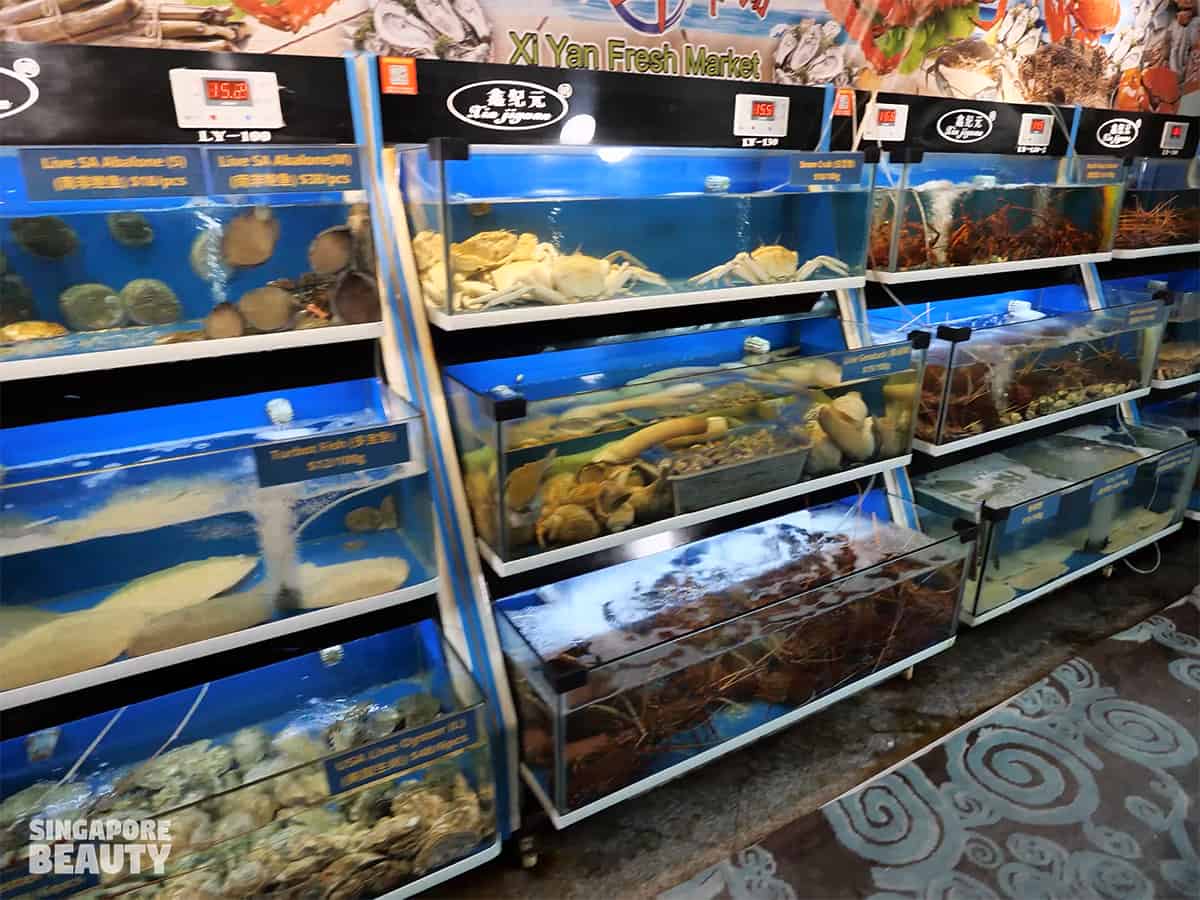 They have a large ballroom size area dedicated to their live seafood aquarium and fish ponds. Besides getting a seafood feast here, you can also get to feast your eyes on one of the largest live seafood selection in Singapore. They have rare and premium live seafood that is imported from all over the world. This can be considered an educational trip on seafood as well with the variety available.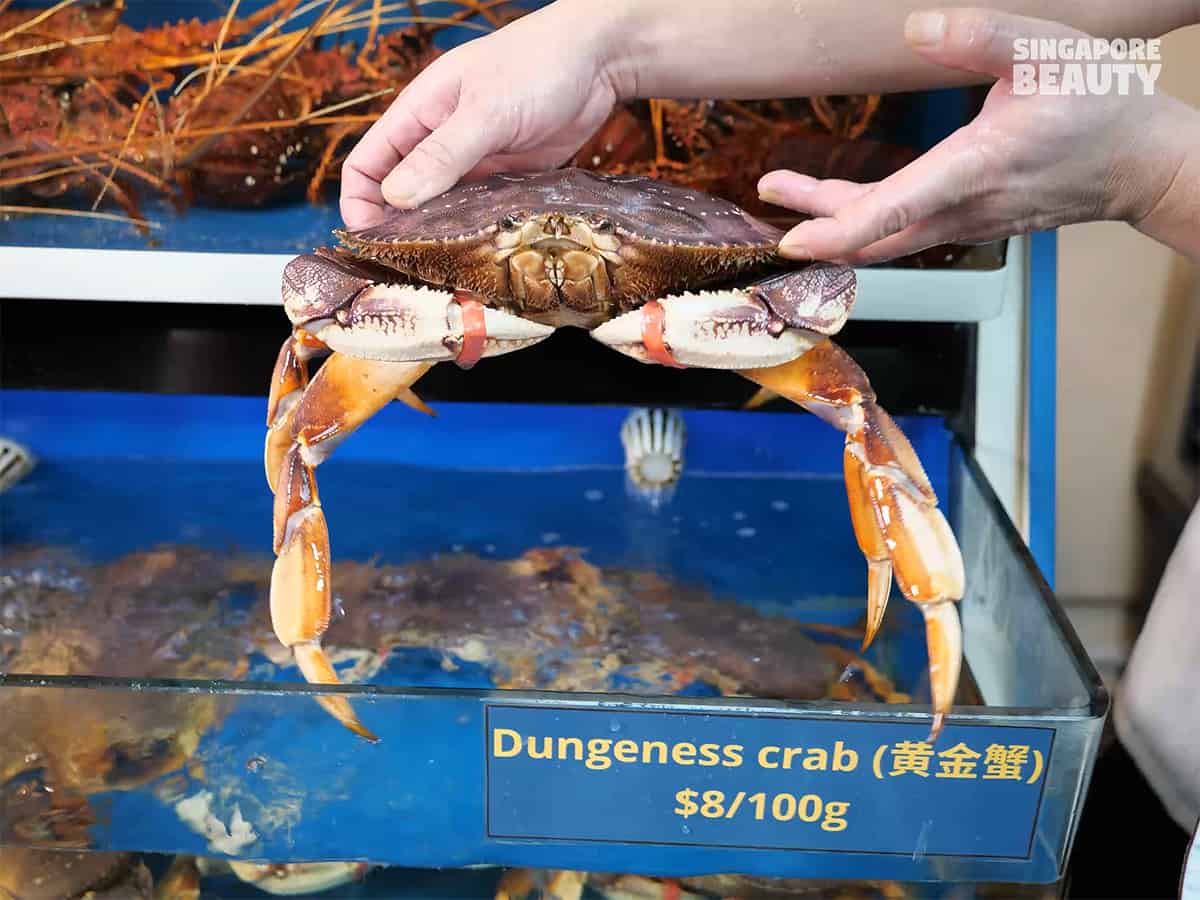 Let's check out and explore seafood in Singapore with Xi Yan Seafood Restaurant now. The seafood they have in-house do vary from time to time based on seasons, if you are going there for specific seafood, do a call check with them for the availability. The seafood in season are Snow crab, Dungeness crab, south Australian lobster, geoduck, turbot fish, South Africa abalone, USA oyster, marble goby (soon hock), giant conch and flower crab.
Let's take a look at the Promotion of the month's menu. This fusion seafood feast consist of steamed marble goby (soon hock), stir-fried bamboo clams with XO sauce, seafood congee, Australian lobster pao fan, a set of complimentary live oysters on ice and their regular Hong Kong handmade dim sum in Singapore.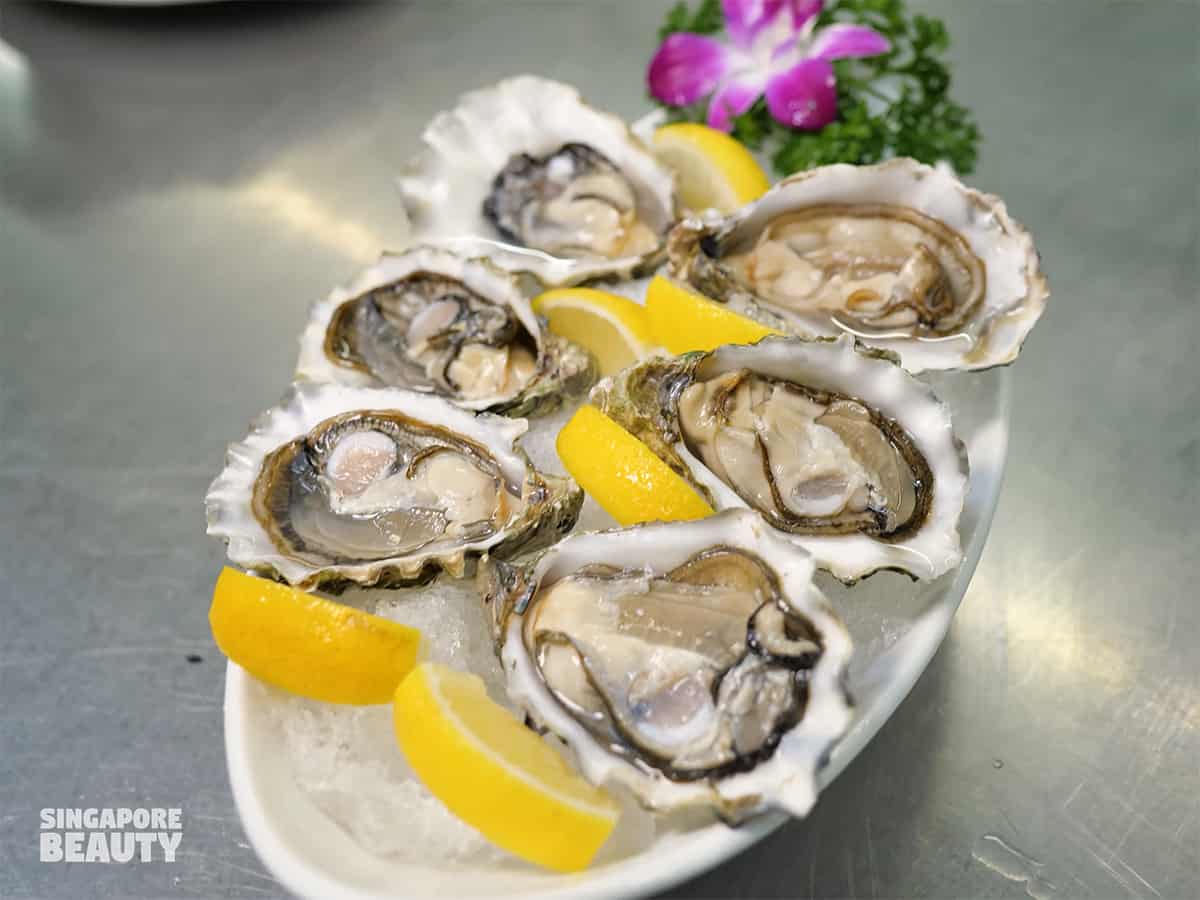 Free Oysters! For every seafood congee/ pao fan or Australian lobster pao fan/congee, you are entitled to a set of free USA live oyster that is shucked and served on ice with lemon and Tabasco sauce.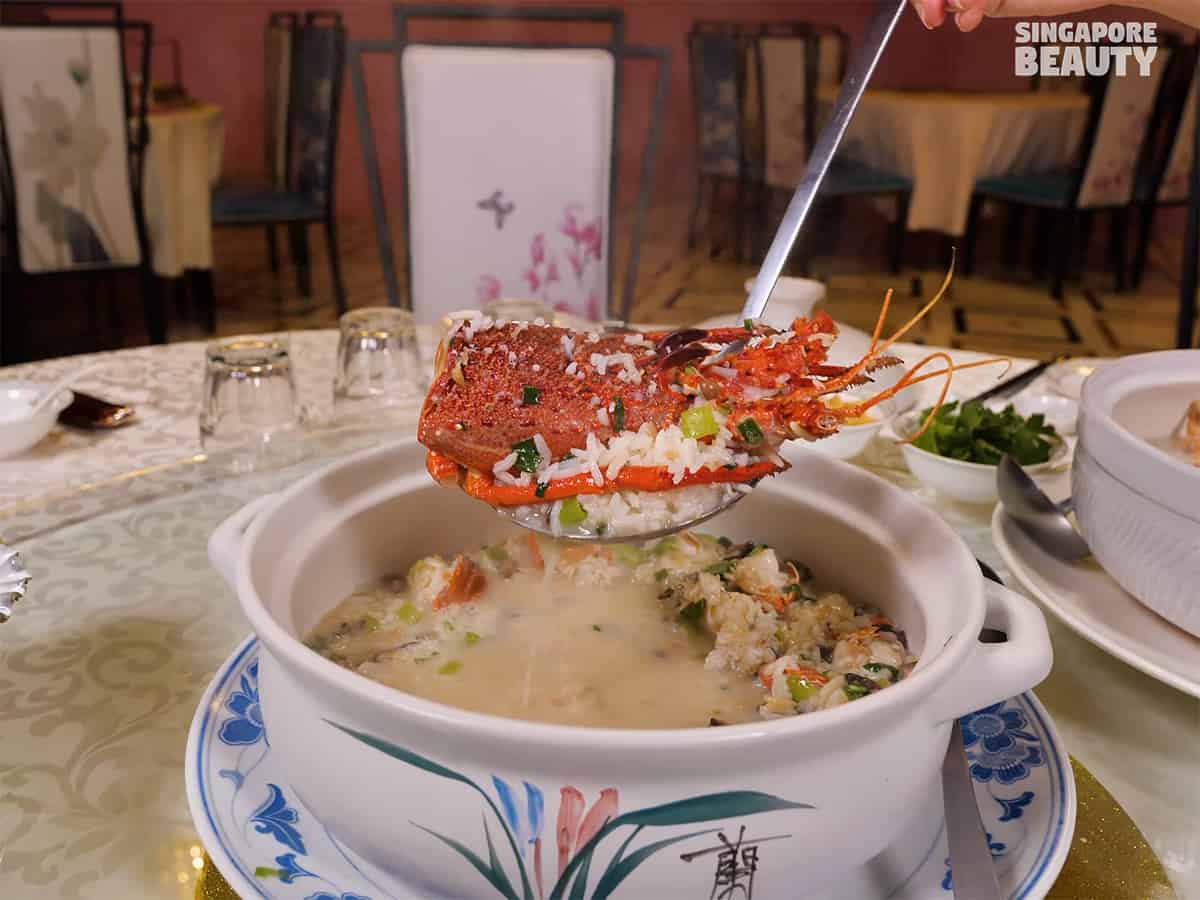 Australian Lobster Pao fan $88+ serves 3-4 pax comes with 6 live USA oysters on ice. This is a whole lobster that is cut to bite size and simmered in steamed rice with a meat broth. The oceanic goodness of the lobster shell is fully infused into the soft fluffy steamed rice that is "pao"  aka soaking up the rich broth.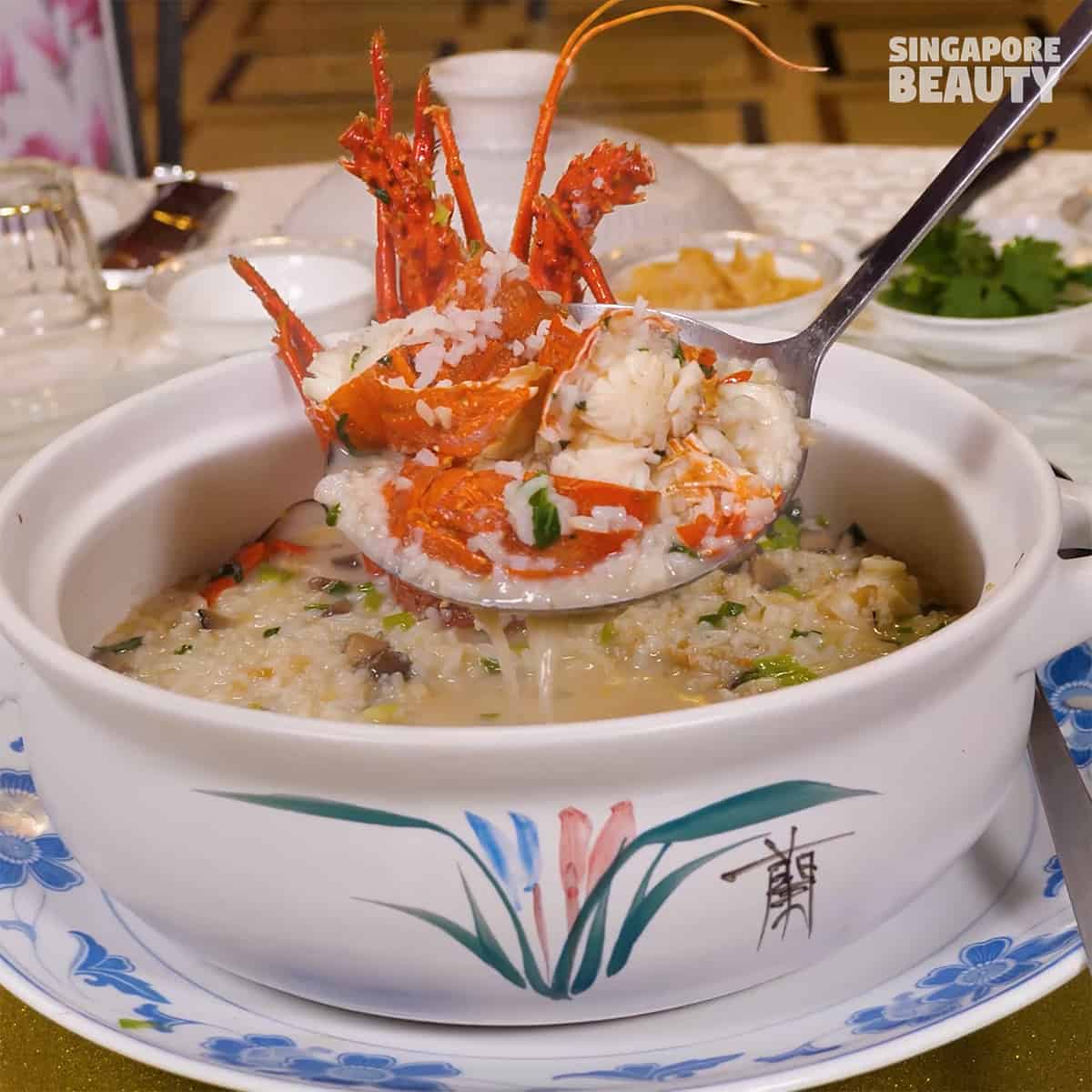 Enjoy the umami savoury lobster chunks that are cooked just right for the succulent delicate bite. The additional of crispy rice pops adds an interesting crunch to the pao fan. Succulent lobster chunks in piping hot broth, what's not to like about this pao fan?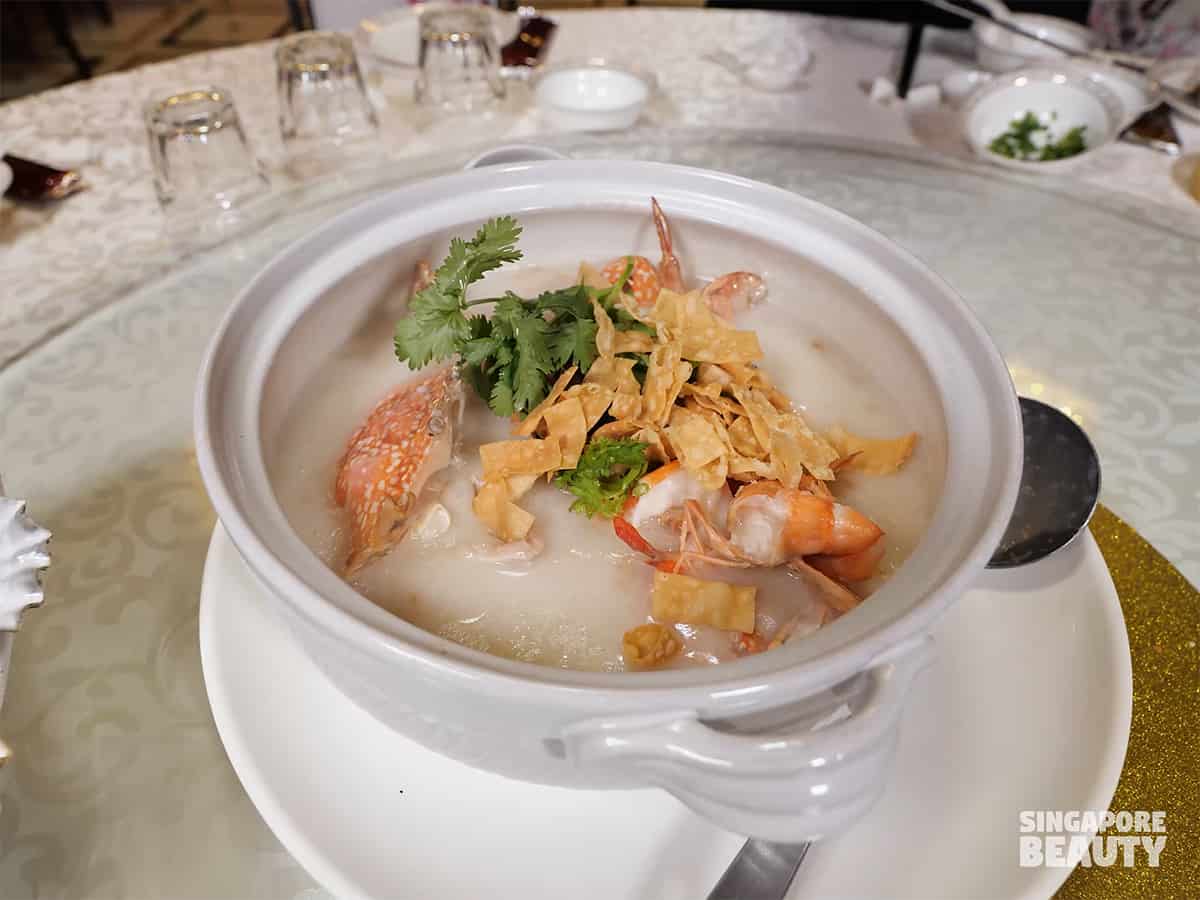 Seafood congee/ poached rice $68+ is great for sharing for 3-4 pax comes with 6 live USA oysters on ice. Velvety congee with flower crab, prawn and clam served piping hot. Topped with crunchy fried dough chips and freshly chopped cilantro for extra burst of Asian traditional congee flavours.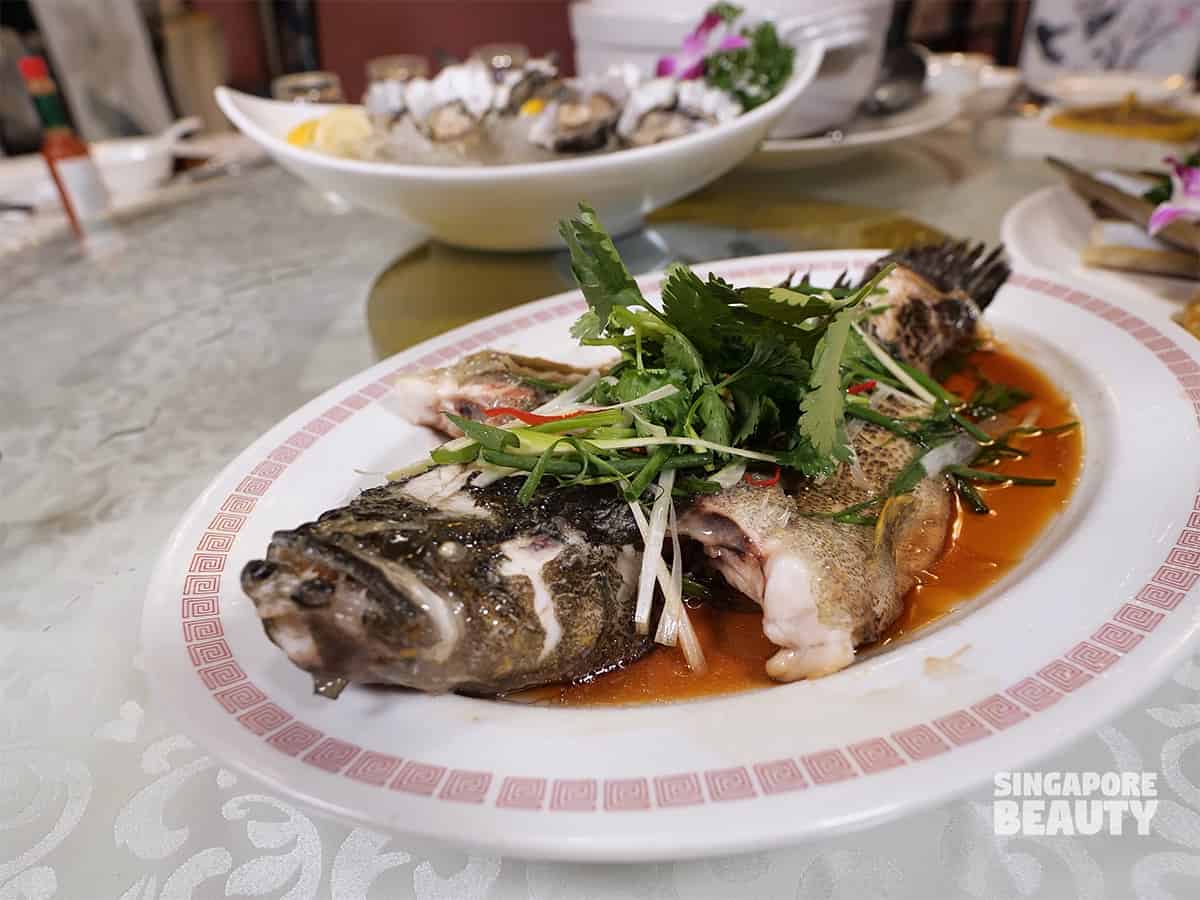 If you are looking for a decent Hong Kong Style steamed marble goby aka soon hock starting from $28+, try it at Xi Yan Seafood Restaurant. This fierce swimmer is steamed and drizzle with an in house special mix of soy sauce gravy. The meat is super sweet and delicate with pronounced notes of fragrant scallion aroma.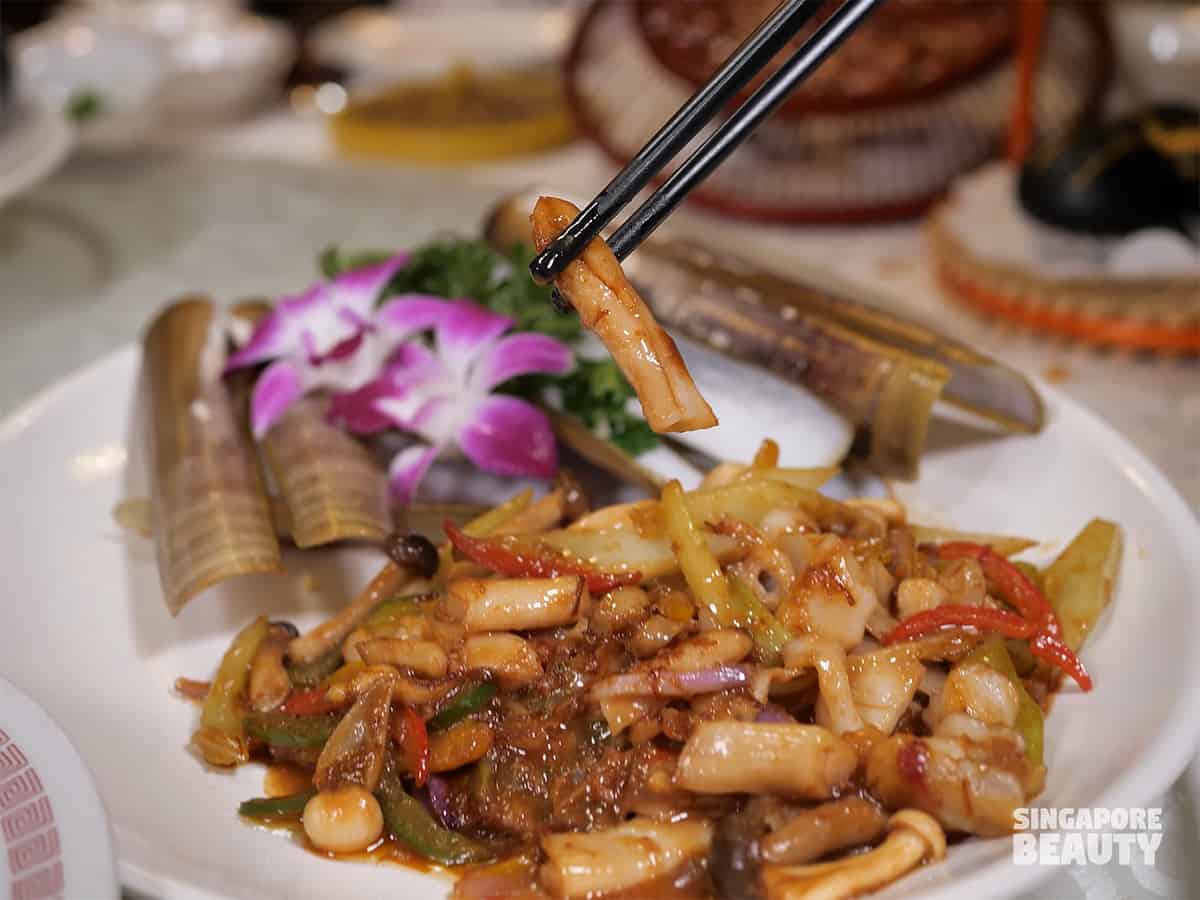 Stir-fried Scotland bamboo clam with XO sauce $38+ for 5 pcs. This is dish that goes well with some of  their in-house wine and booze for an extra shiok kick. The bamboo clams are cut to bite size and coated with a savoury XO shrimp glaze.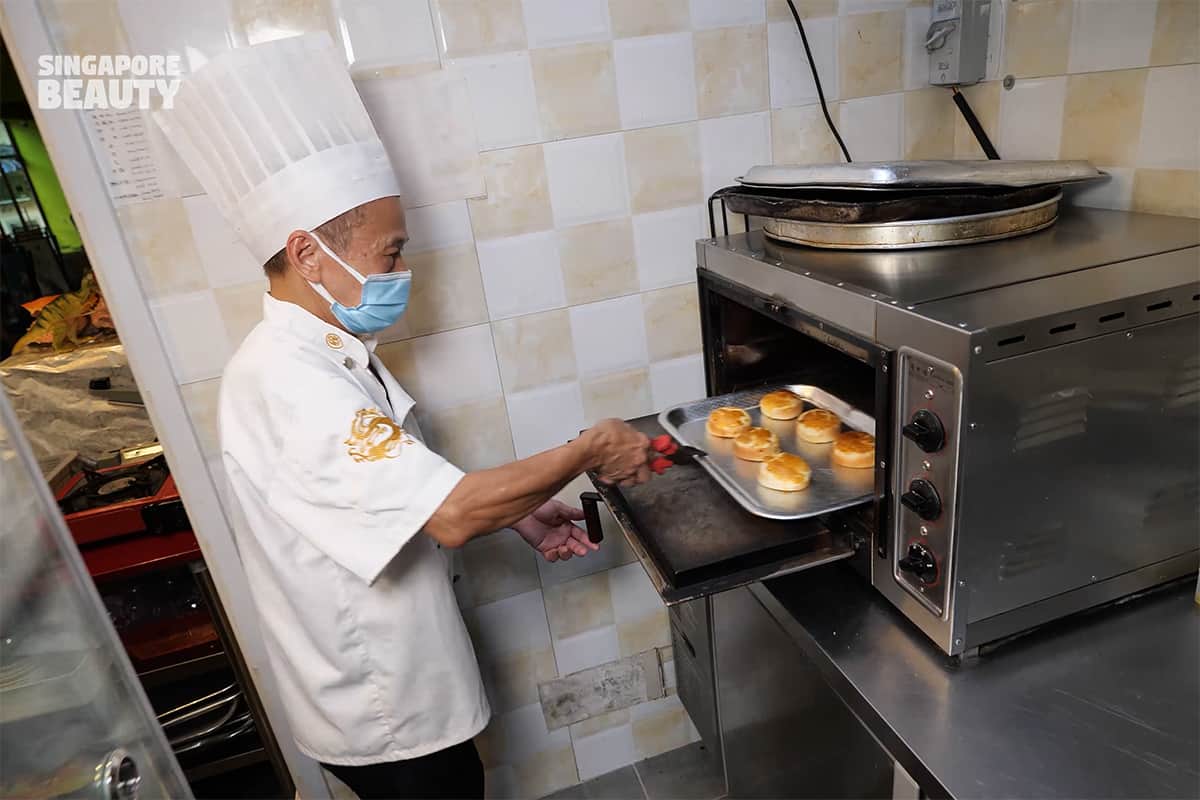 Last but not least, check out their handmade Hong Kong Dim Sum. These dim sum are made by their in house chef from dough to finish. These unique handmade goodies ranges from steamed dim sum, appetizers, desserts, pan-fried to baked pastry with over 48 type of high tea selections.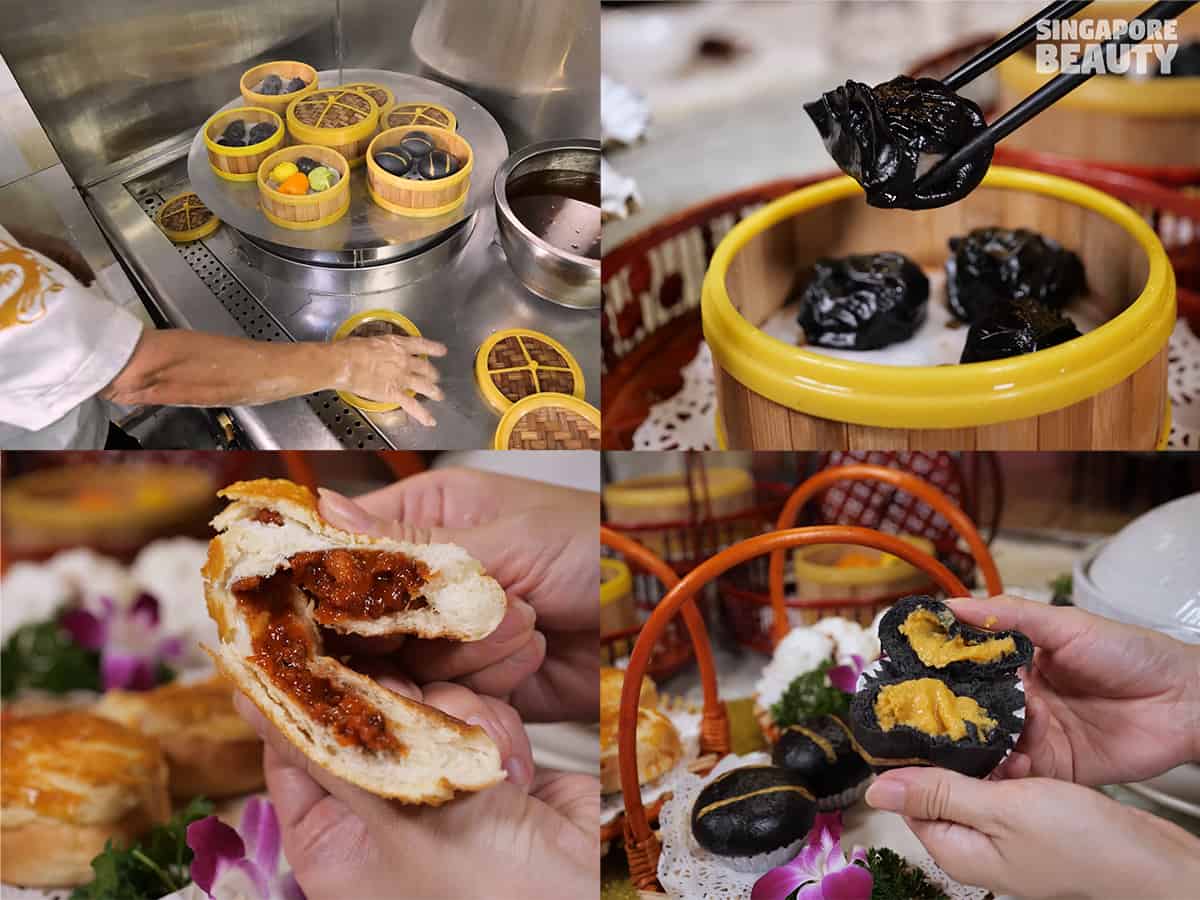 With unique dim sum creations such as black truffle dumplings, steamed custard buns, steamed lovely pork buns, baked egg tarts and more. Buns with bursting goodness, buttery flaky pastry with moist barbecued pork fillings and melty handmade egg tarts that are fresh out of the oven. These are ala carte dim sum not buffet, but quality over quantity matters when it comes to dim sum.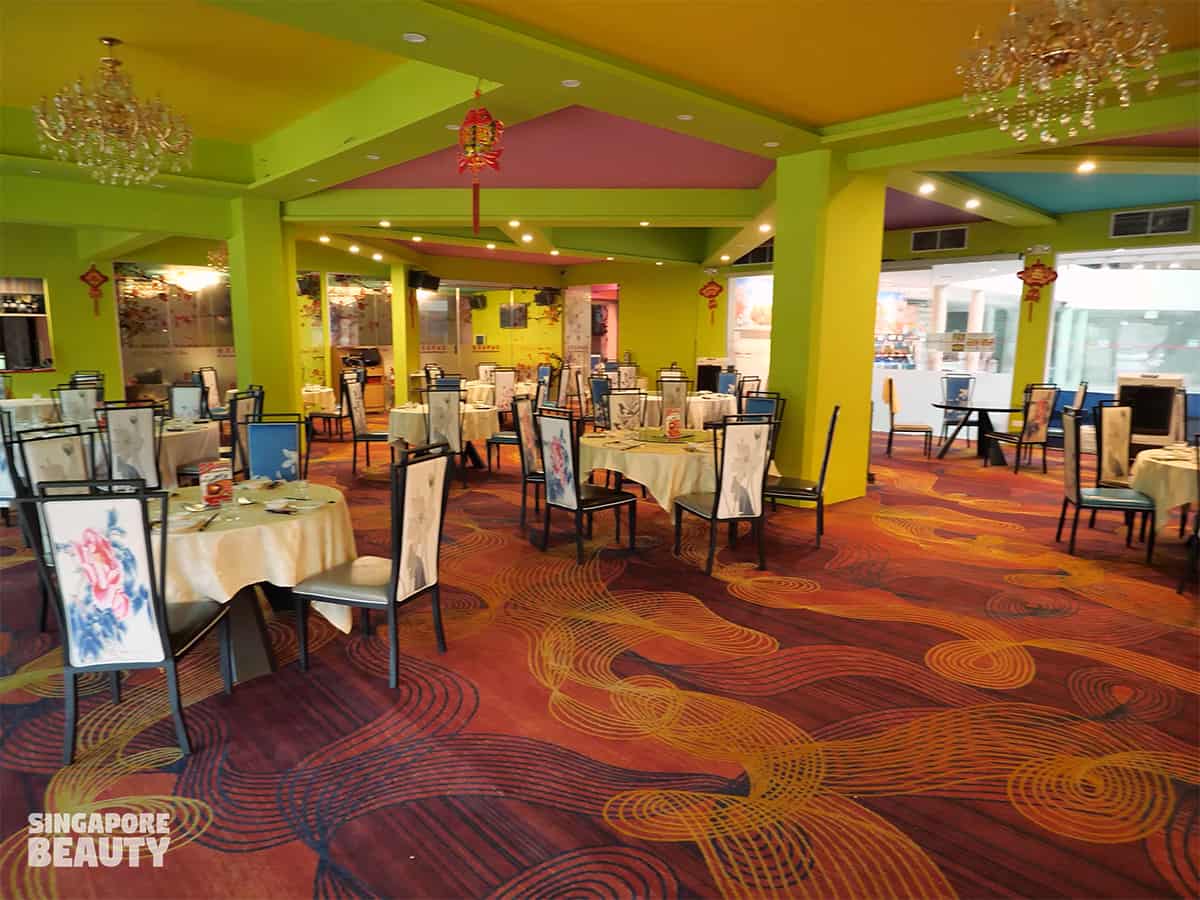 This is also a great venue for corporate booking of company lunch or dinner with ample dining hall ballroom size for special events and VIP room to host guest in Singapore. However do remember to keep to the allowable size for these special events.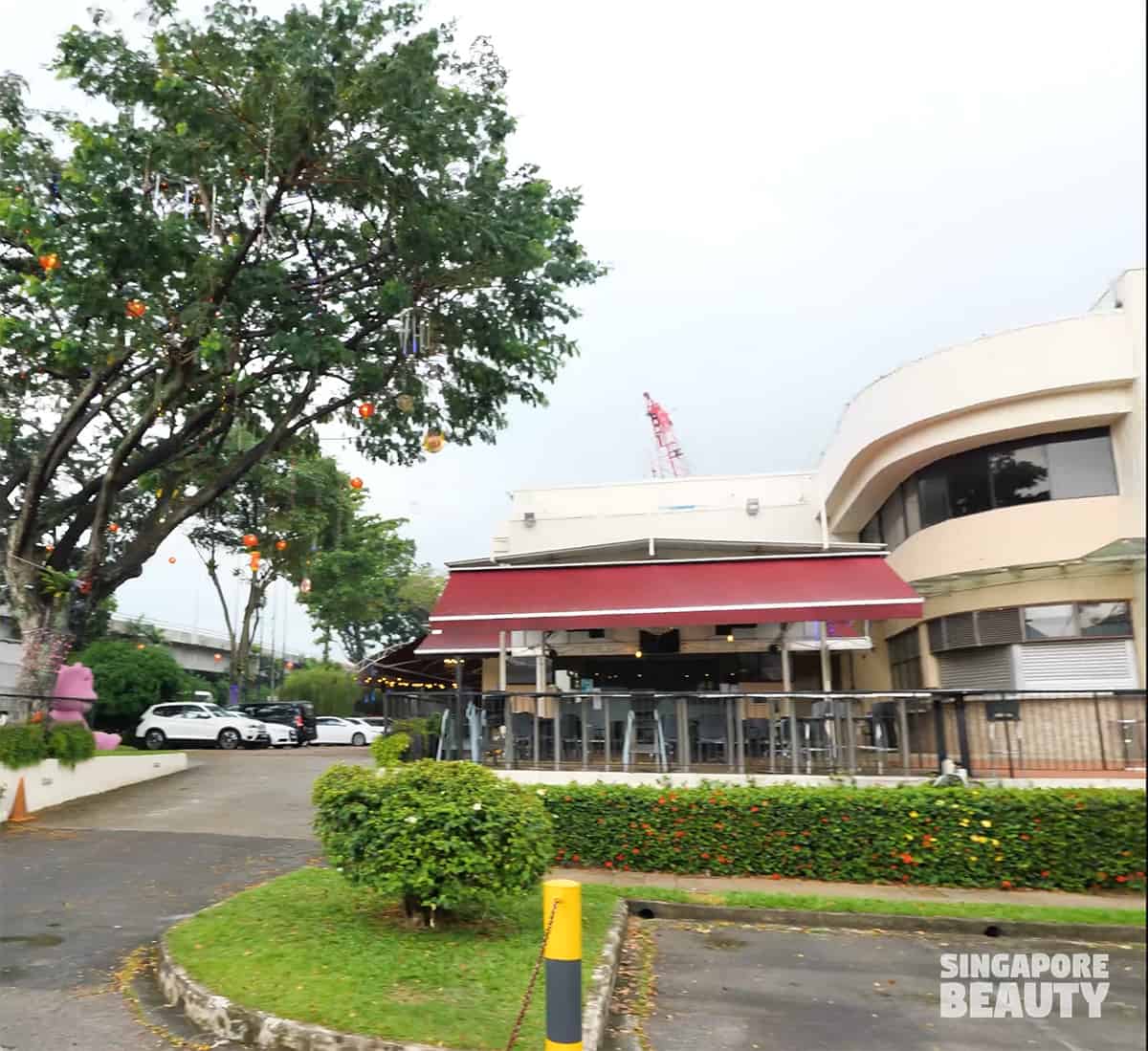 Whether you are the seafood feast team or the handmade Hong Kong dim sum team, you need to add this to one of the place to visit in Jurong, West of Singapore for your food bucket list. Xi Yan Seafood Restaurant is waiting for you and free parking is available in front of the restaurant.
Location of Xi Yan Seafood Restaurant:
241 Jalan Ahmad Ibrahim
Singapore 629143
Next to Jurong Bird Park
Free Parking & No GST. Great for corporate bookings or small intimate gathering.
Free Islandwide delivery available with more than $120 purchase.
Call: 67921118
Brought to you by Xi Yan Seafood Restaurant