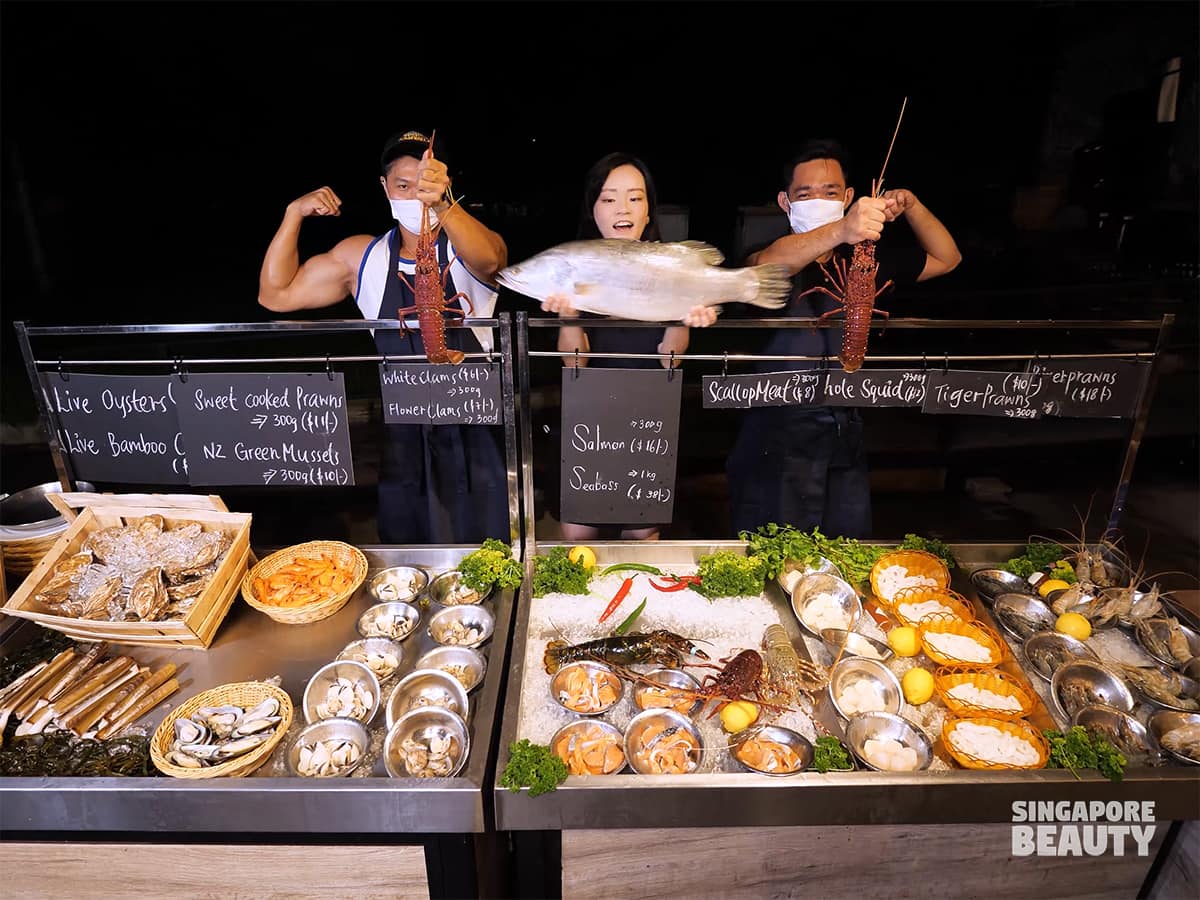 The Three Peacocks has a new pick and cook live seafood market tank on their menu. Popular for their barbecue seafood buffet in Singapore, this is a different type of live seafood experience offered by them. This is to cater to food lovers that want an Ala Carte option but not the buffet. You can get your live seafood craving fixed by choosing the freshest catch of the day in a seafood night market style of display and cooked the way you want it. Note: Contact them for what live seafood is available on the day for the Ala Carte menu. Certain live seafood supplies are limited and might not be available.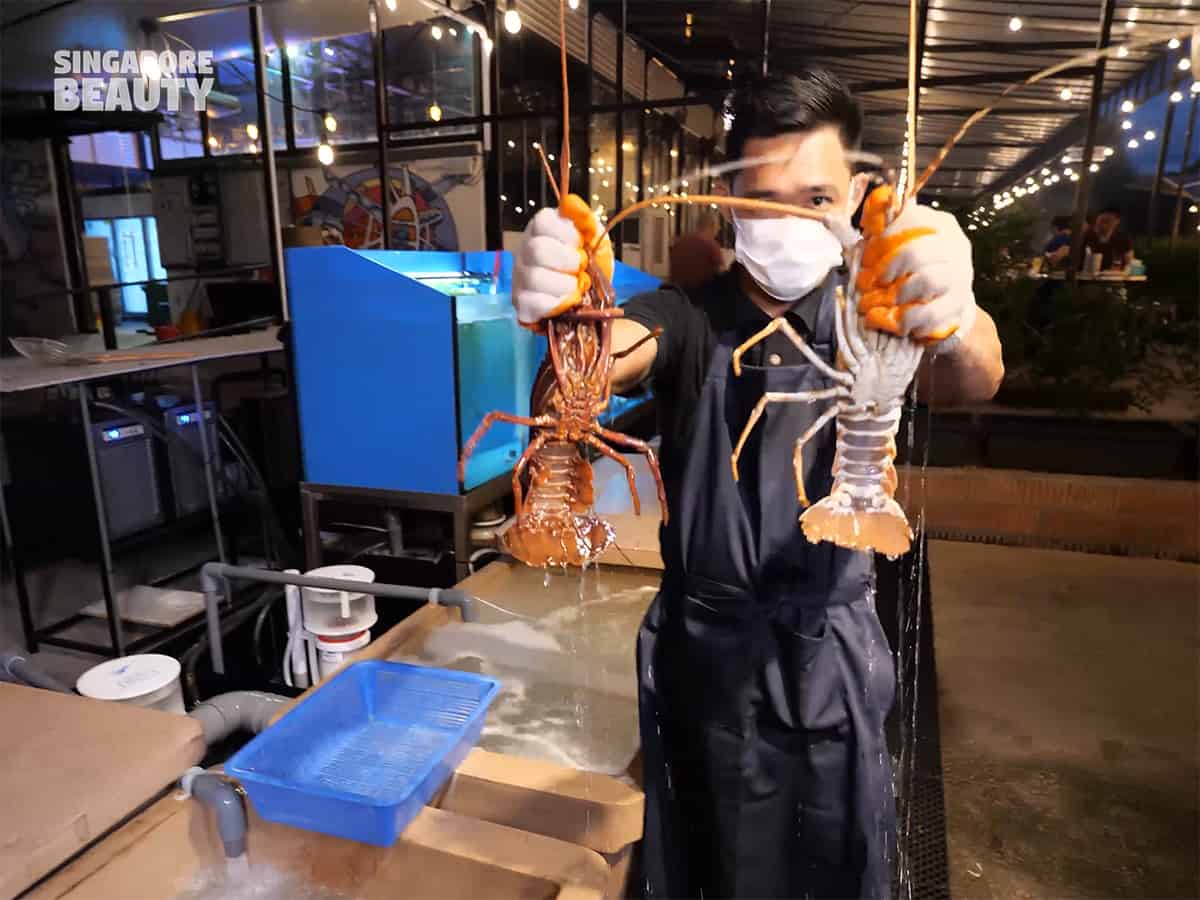 This is The Three Peacocks' newly launched ice bed and live tank seafood. The live seafood available are seasonal catch such as Boston lobster, Indonesian spiny lobster, huge Sri Lanka mud crabs, freshwater bamboo clams and even whole fish of the day.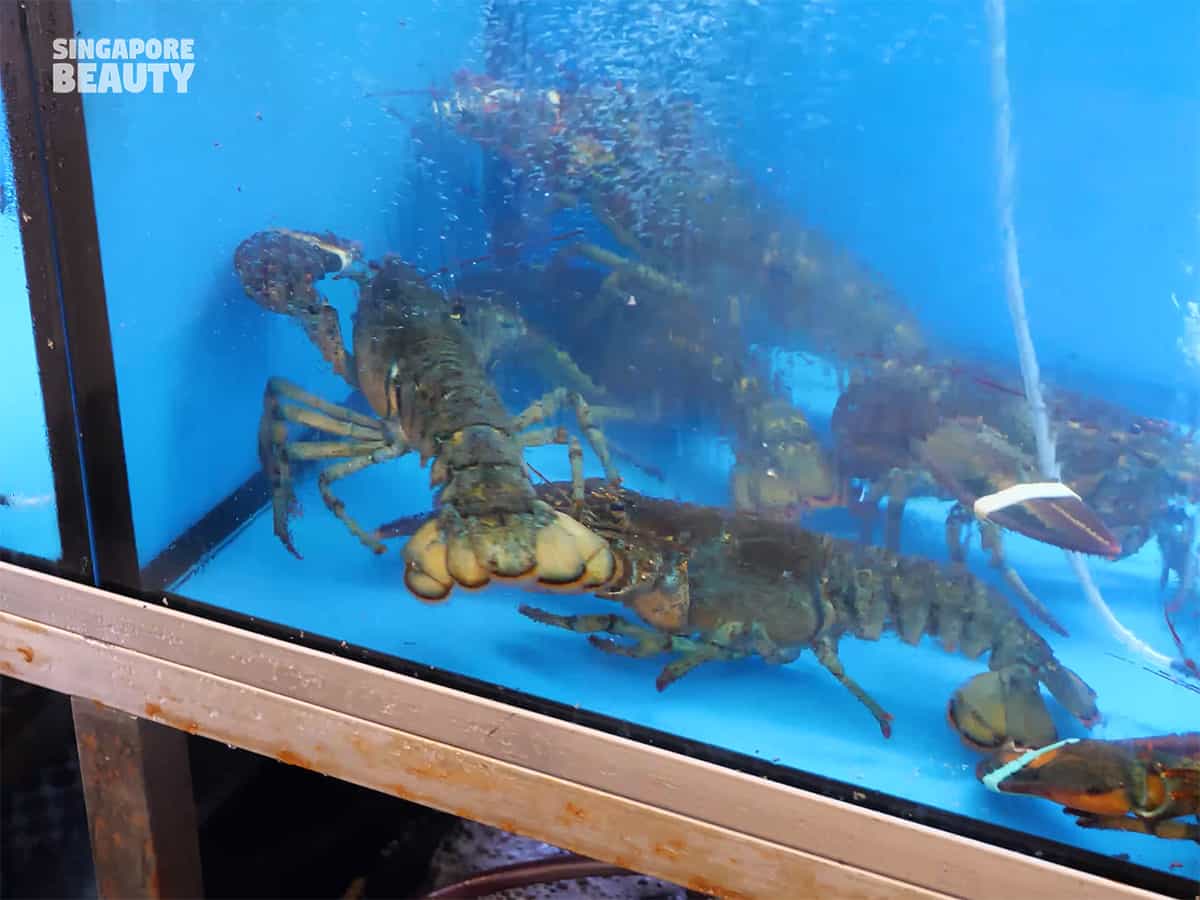 These seafood at The Three Peacocks are kept in freshwater tank and deep insulated tank to mimic the live seafood natural environment.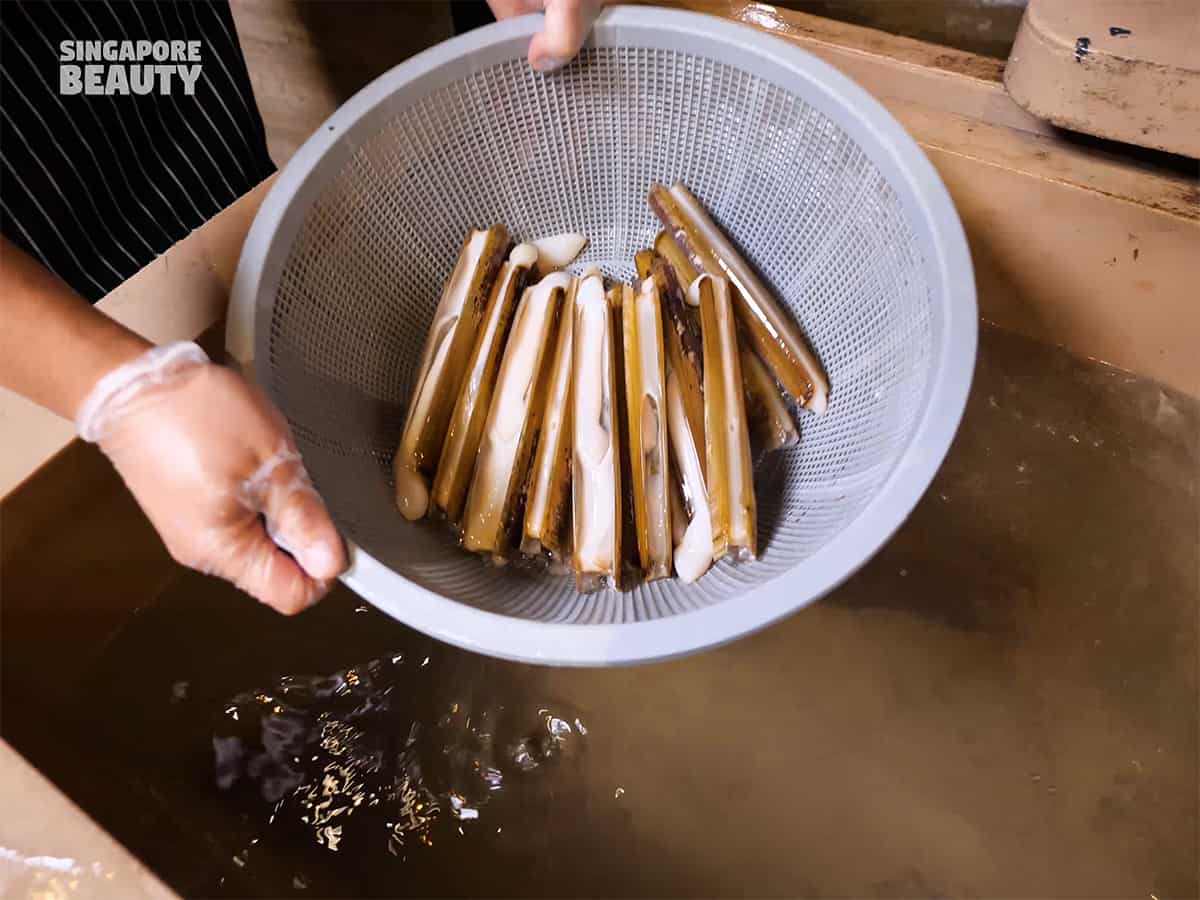 At The Three Peacocks, you can also find seasonal rare live bamboo clams that are palm size long with plump flesh. These bamboo clam are sold in basket by weight are best steamed to enjoy the fresh briny flavours.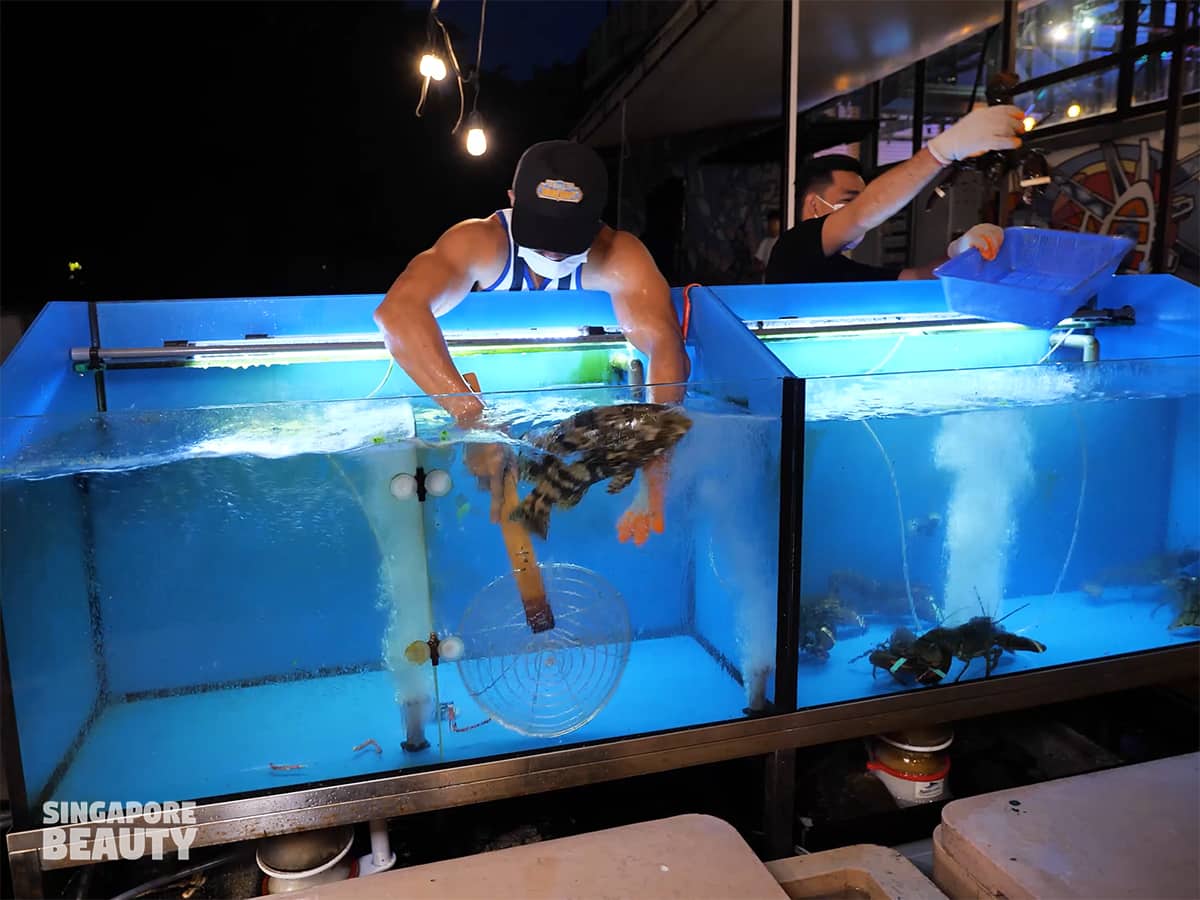 For those who are going there to celebrate a special occasion, do splurge on some live groupers and have them steamed the way you want it. Steamed grouper brings out the delicate meat texture of the fish and its natural oceanic sweetness. Be ready for some splashing good time while their "fishmonger" gets his catch!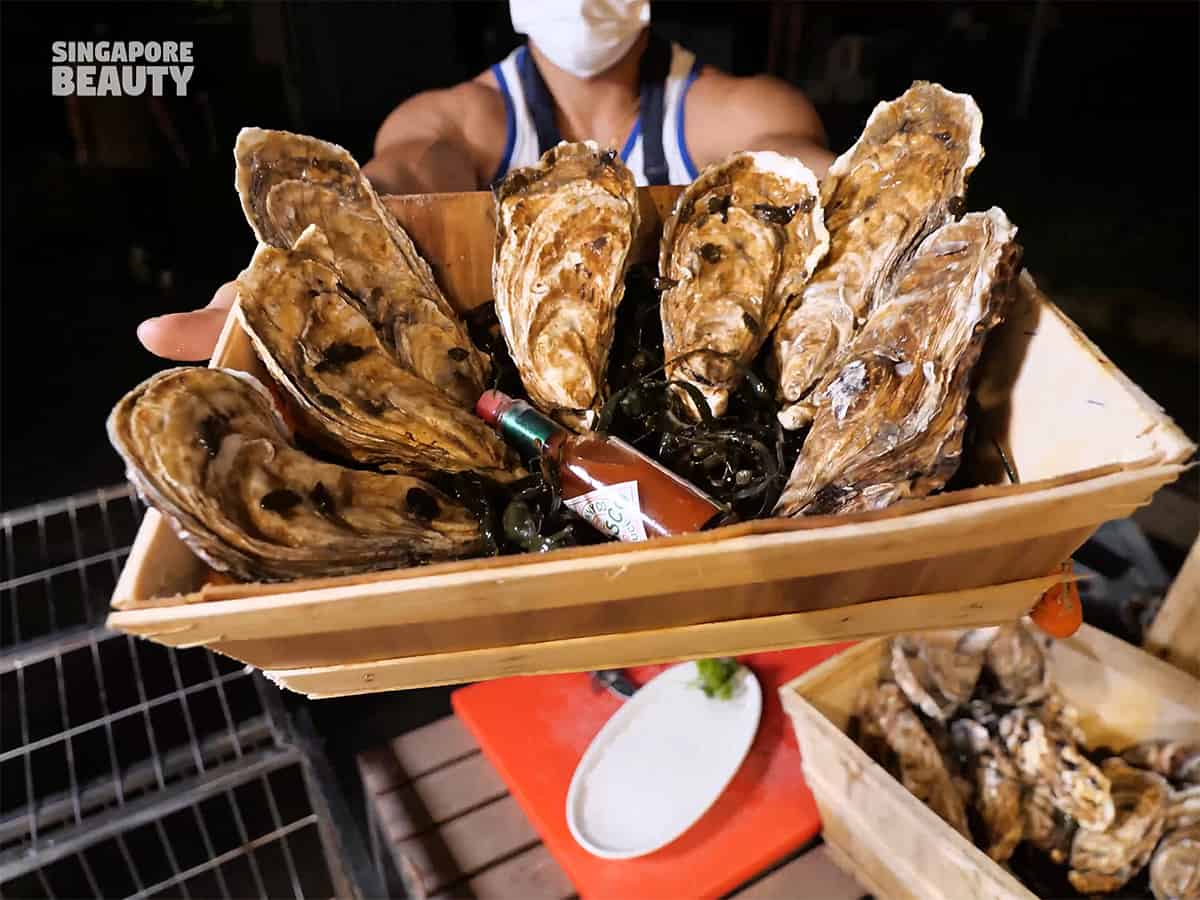 Get the party started with a basket of these live palm size oysters at The Three Peacocks. These appetisers are best eaten as oysters on ice as the service crew shuck each live oyster for you.
You can get some condiments such as lemon wedges, tabasco sauce to go with these succulent gems. Their regulars love these shuck for you live oysters on rocks.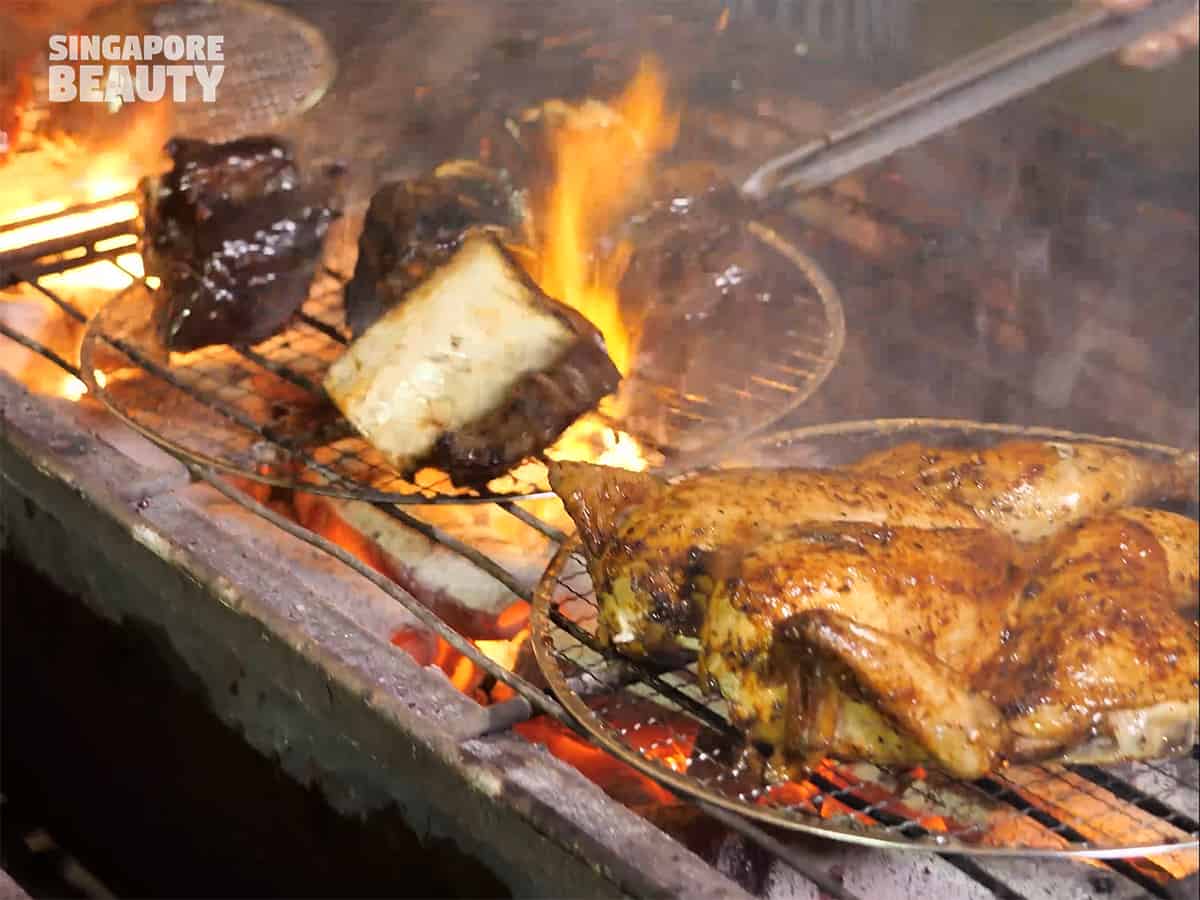 This is how this pick and cook live seafood market tank at The Three Peacocks works. The service crew will bring you to the live seafood display for selection. Pick the seafood based on your preference and select your preferred cooking method as per their menu. These seafood can be steamed, barbecued, stir fried in many International flavours such as local Singaporean, Japanese, Korean, Thai and Spanish.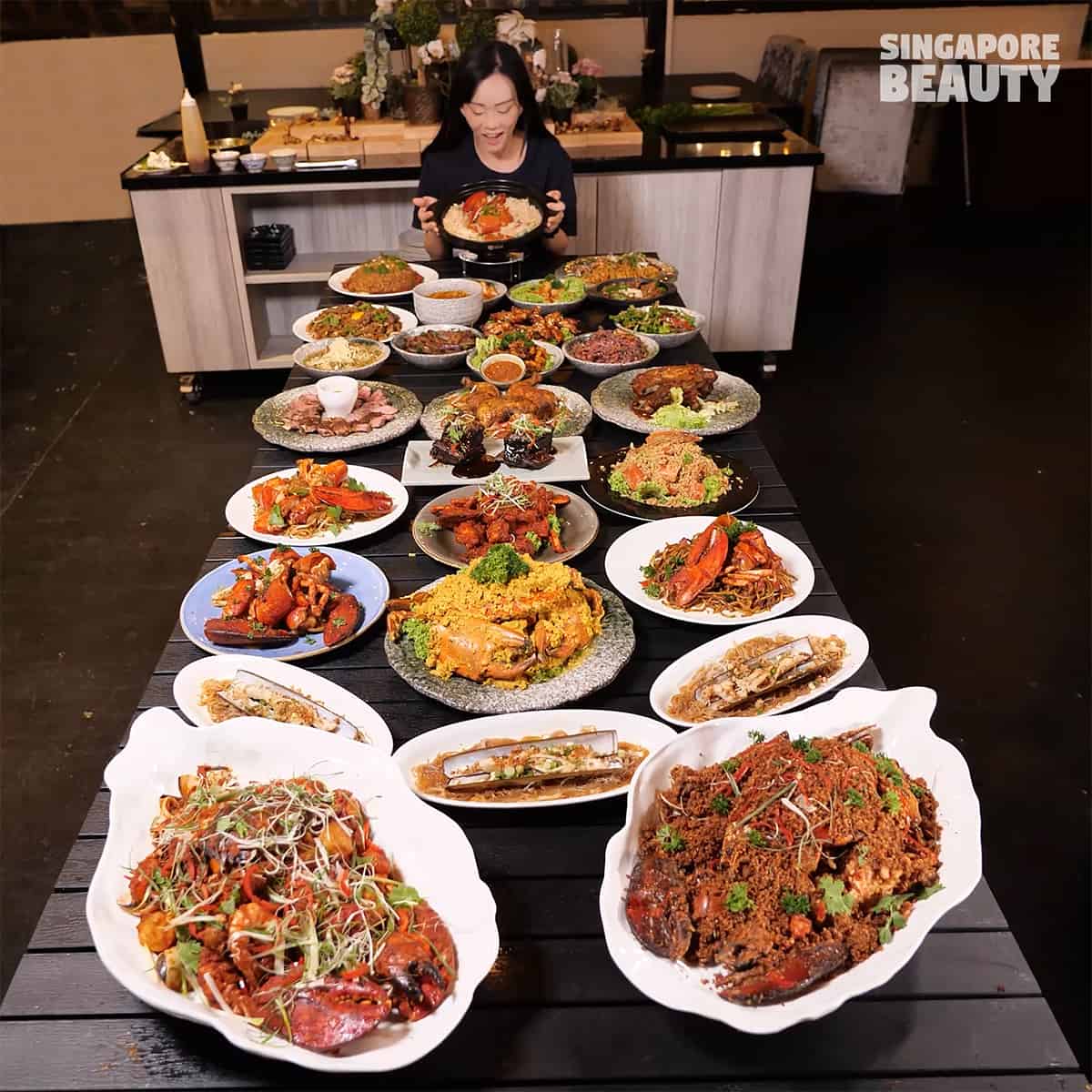 Let's dive into The Three Peacocks menu of international seafood feast. We have seafood combo platter in Spanish sauce, in Hong Kong Typhoon style, Thai yellow curry crab, live lobster pao fan, Grilled chicken with Indonesian chilli, barbecued galbi gui, lobsters in several style, Soy tiger prawns and more.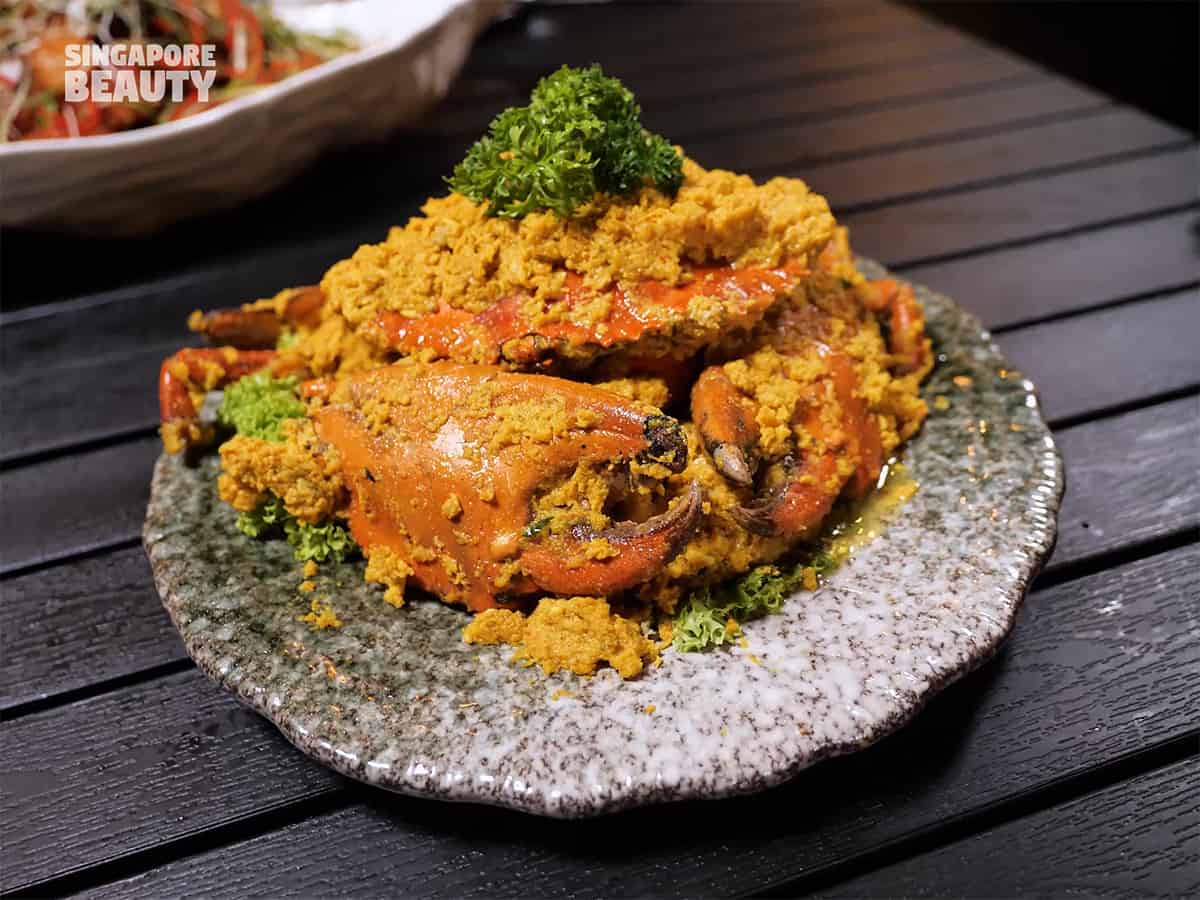 Thai yellow curry crab is made with live mud crab and stir fry in housemade Thai yellow curry. The yellow curry paste is made by pounding fresh turmeric, dried red chillies, lemon grass, galangal, coriander leaves, lime leaves and more to create the unique yellow curry aroma.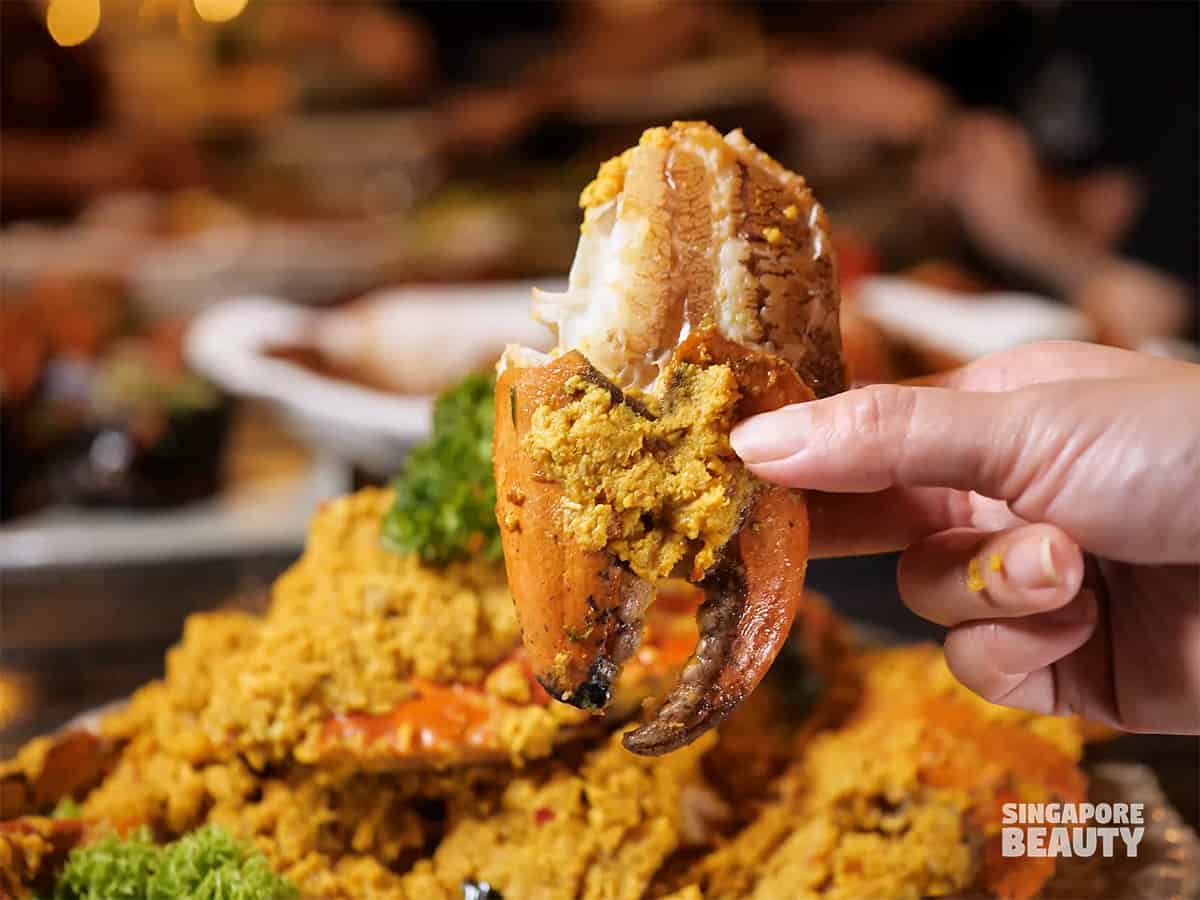 Check out the size of their mud crab claws. Enjoy mouthful of firm and succulent meat clusters from the meat claws. You can also enjoy these as chilli crab in Singapore style.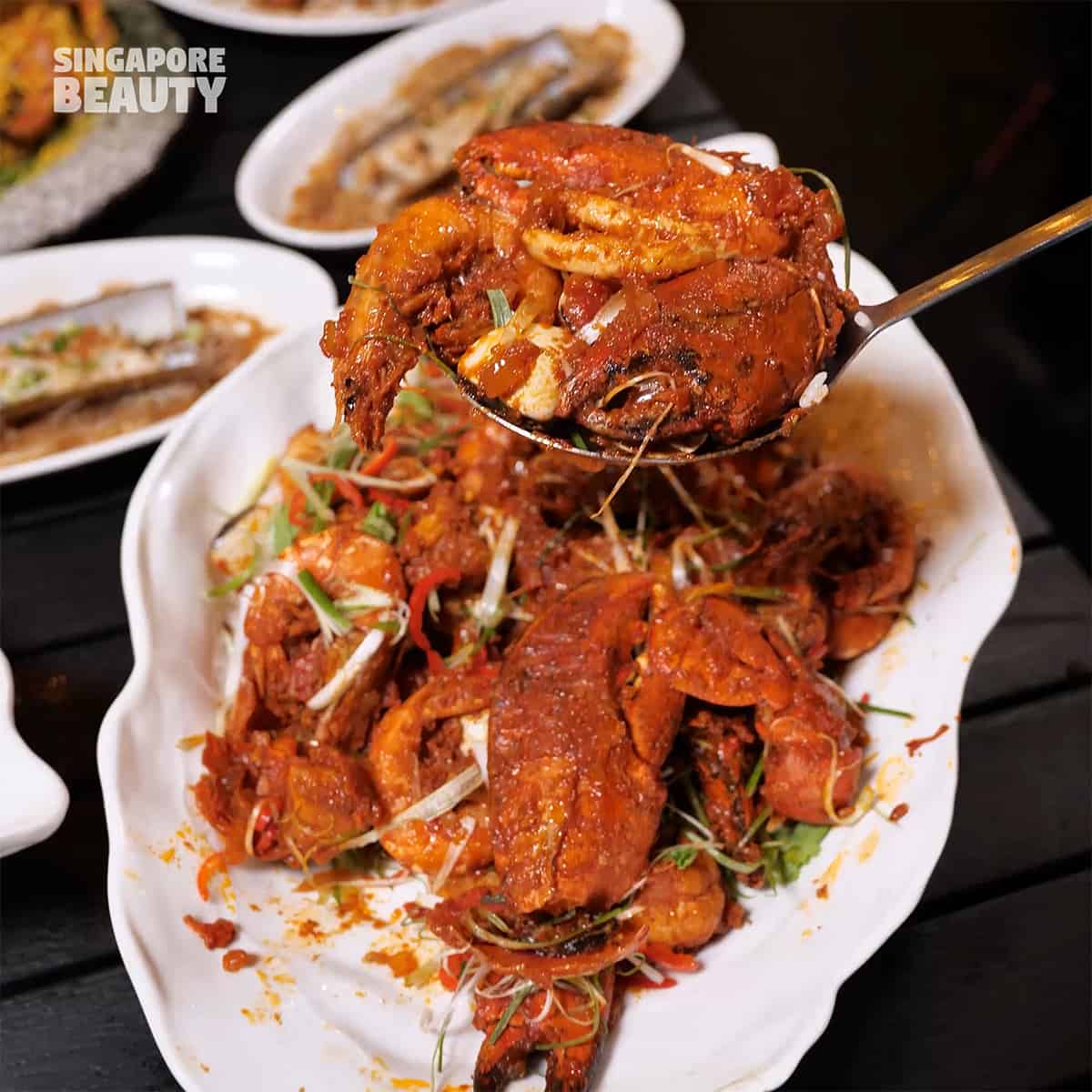 Get The Three Peacocks signature seafood combo platter in Spanish sauce or in Hong Kong Typhoon stir fry style. These platter is a party of their prized seafood gems such as prawns, crab, clam, squid, scallop, Boston or spiny lobster in a savoury tangy tomato based sauce.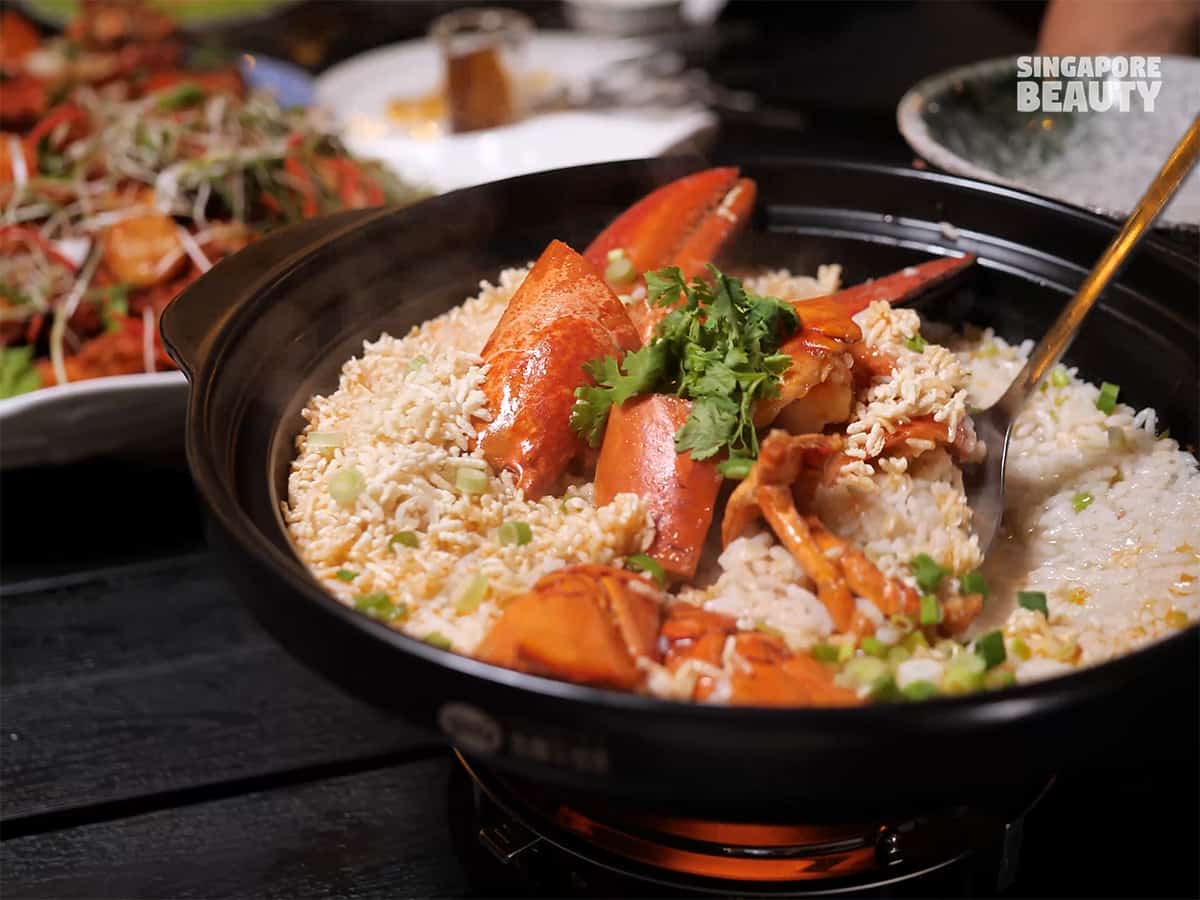 Live Boston lobster pao fan simmered in piping hot oceanic broth with fluffy soft grains and crispy rice pops. Served in a claypot on a gas heater to keep every mouth of this pao fan piping hot .Great for sharing among 3-4 pax.
If you are a fan of live bamboo clams, get these steamed with glass noodle in garlic and soy sauce. The best way to enjoy these tender chunks of slightly briny sea treasures. The crunch of fresh green onions, pungent chopped garlic and sweet bamboo clams sings a beautiful tune together.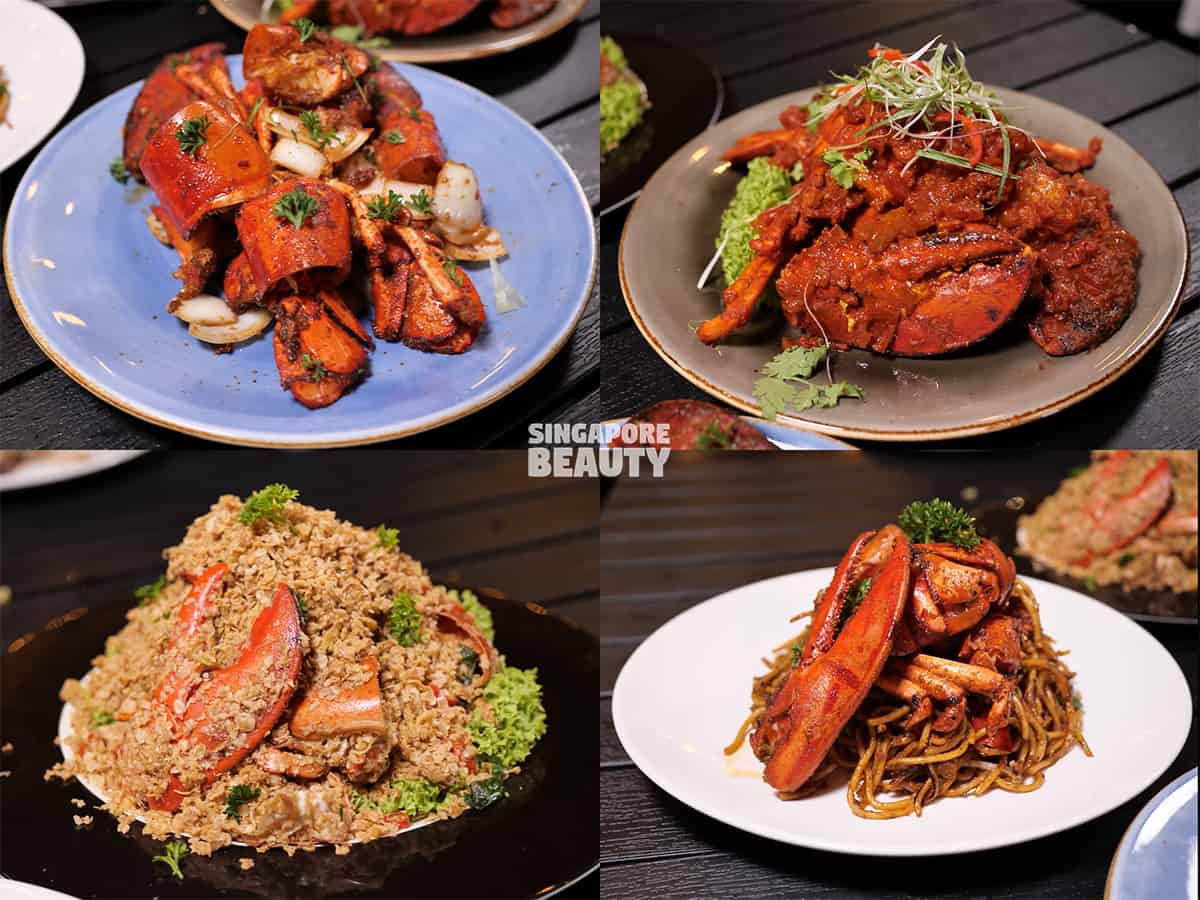 Check out their Boston lobster dishes too! You can get your Boston lobster prepared in many ways such as with Mee goreng lobster, Cereal Boston lobster, Sambal lobster, Pad Thai with lobster and so much more.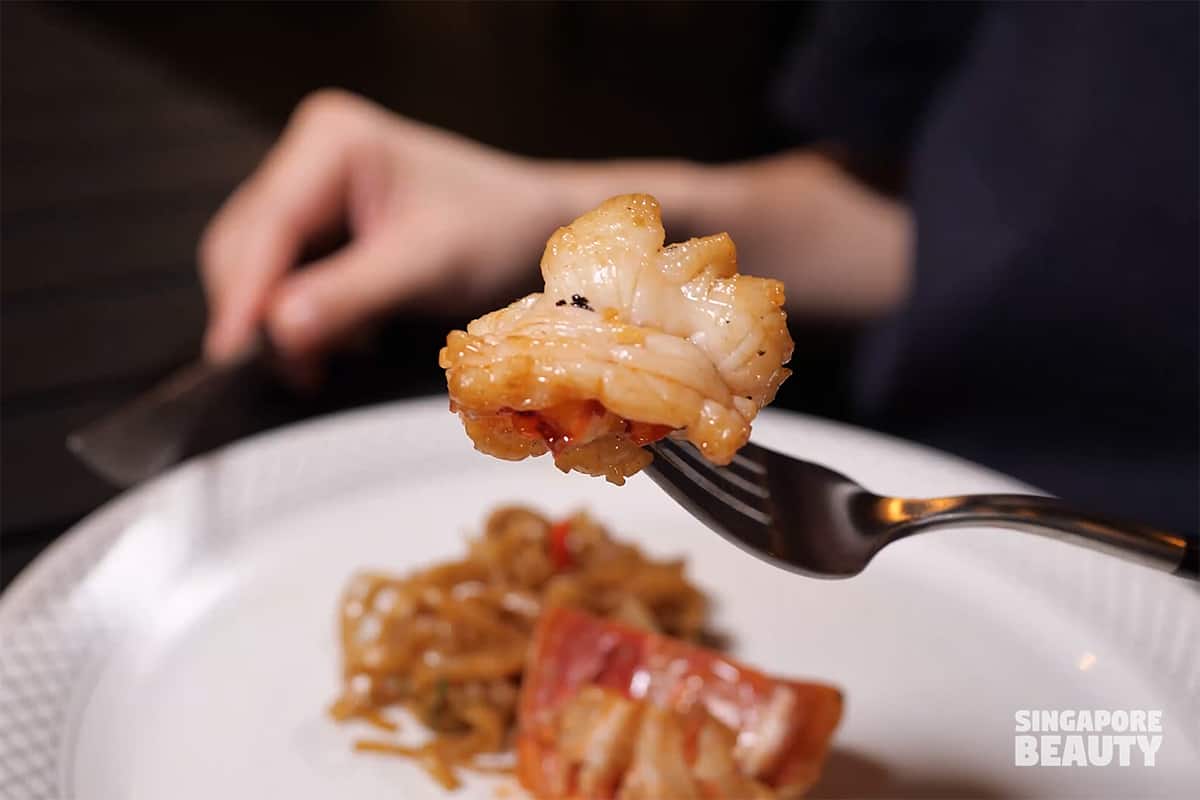 Enjoy these crunchy chunky lobster meat dressed in so many savoury flavours inspired by International style of cooking such as Malay, Chinese, Thai, Spanish and more. This is a fusion of our Local food with a twist of western plating.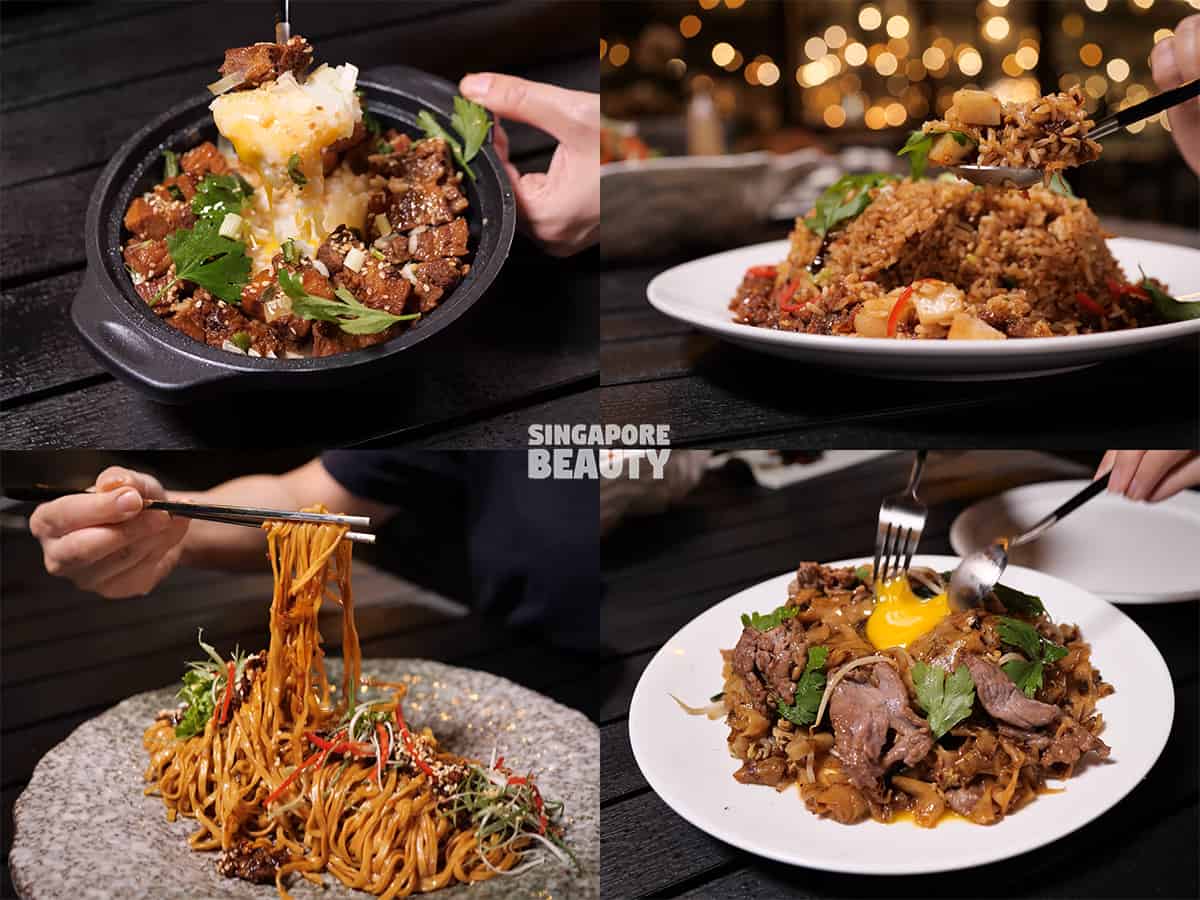 Get your craving for carbs at The Three Peacocks Singapore local style noodle dished fixed with these crab heavy dishes such as Wagyu moonlight wok hei hor fun, Mala noodles with Sichuan Koushui sauce, Braised pork belly donabe, Scallop Xo fried rice and more.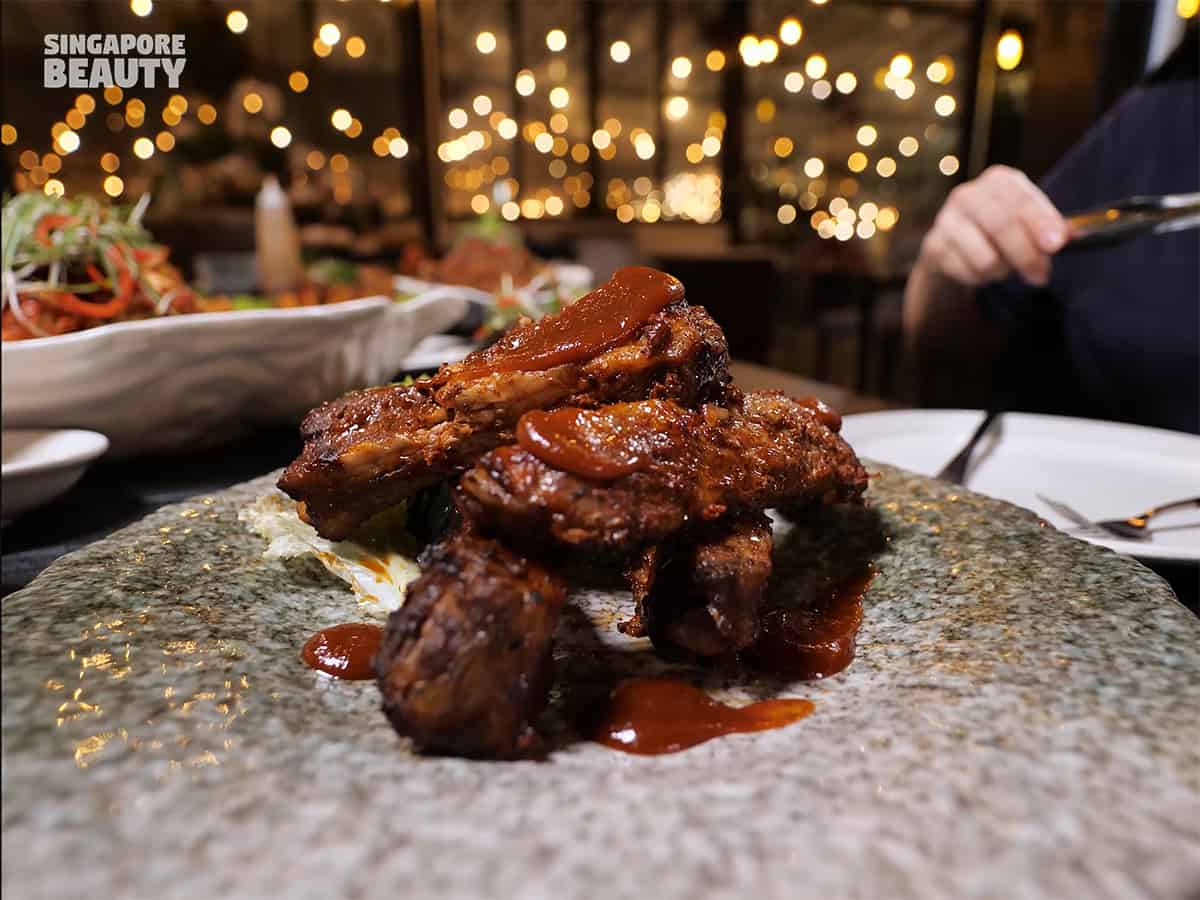 For those who knows The Three Peacocks, they are famous for their barbecued seafood and grilled. For this indoor dining, they have their barbecued galbi gui in hoisin sauce, BBQ steak sirloin with Dongbei sauce, Grilled chicken with Indonesian chilli, American BBQ pork ribs. The highly recommended bbq dish by the chef is the American BBQ pork ribs.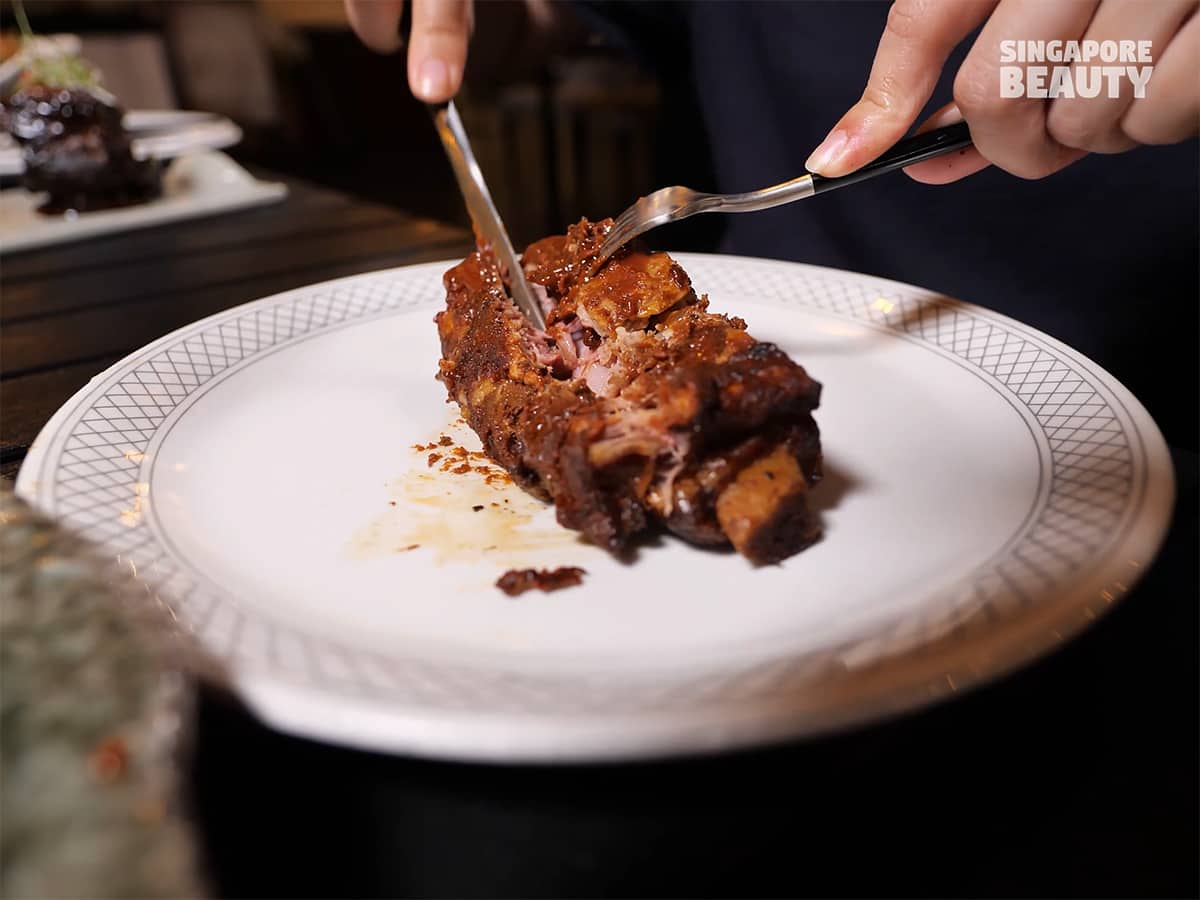 These whole long pork ribs are cooked till fork tender with a fall off the bone texture. The barbecued sauce add a char grilled smoky flavour to each ribs with a tangy twist undertone. Thick and luxurious grilled ribs that is worth every single calorie!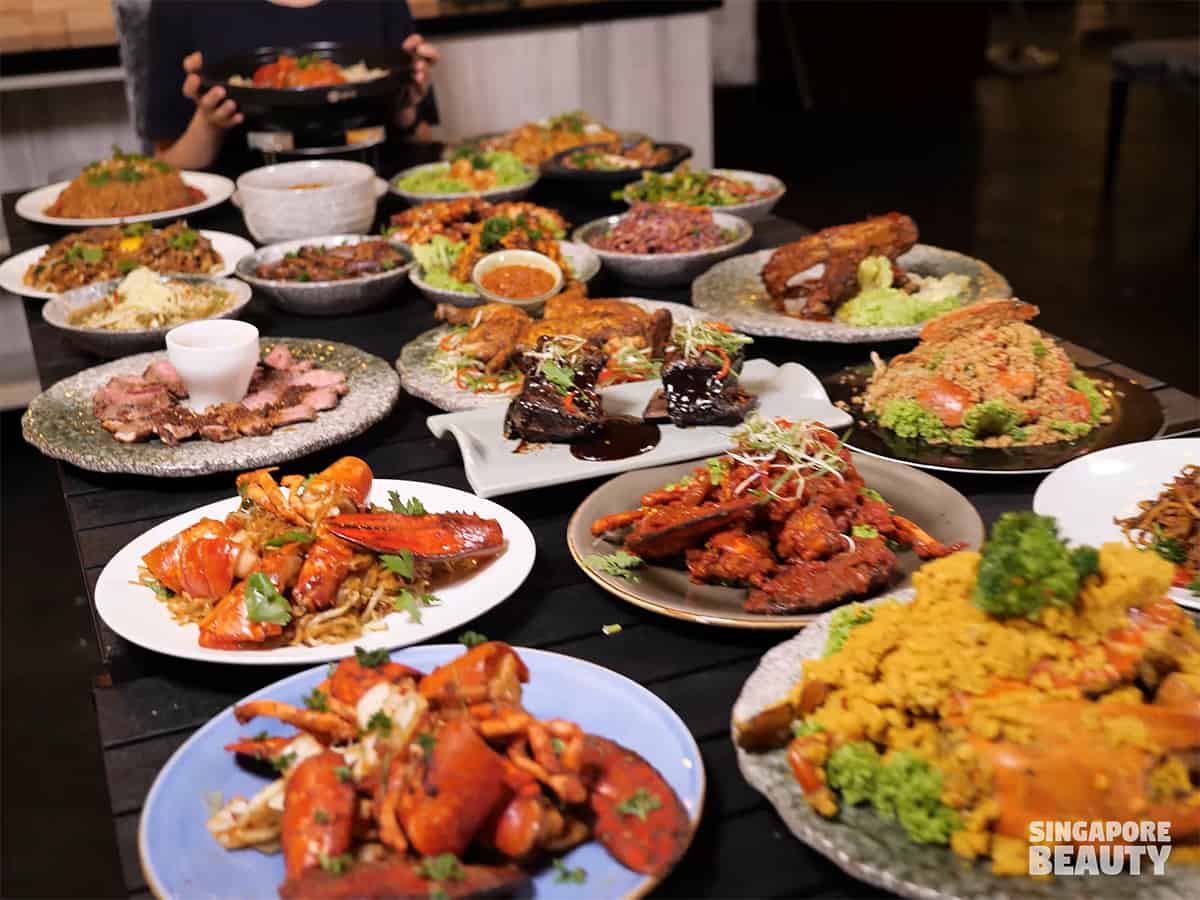 Come enjoy The Three Peacock live seafood Feast with them for a refreshing and savoury seafood dining experience.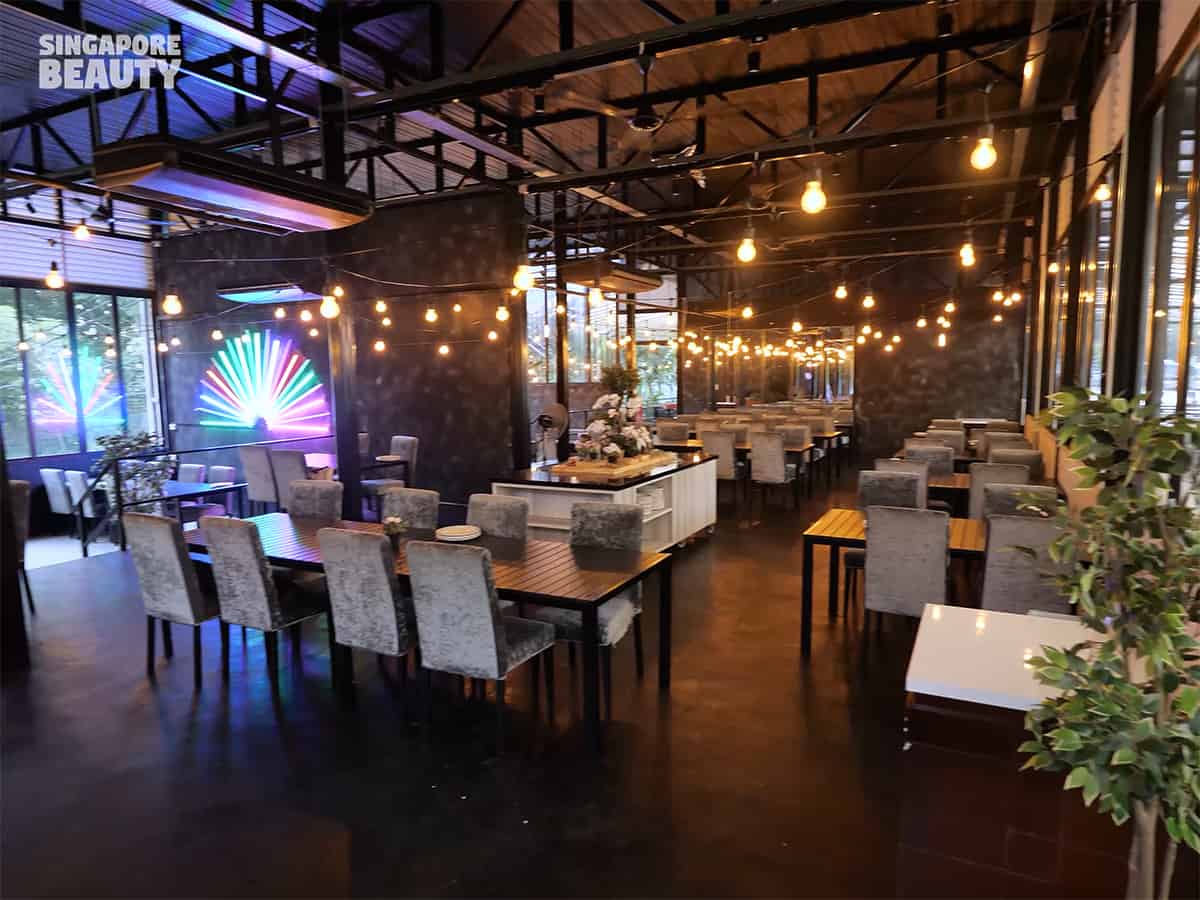 Ask for the indoor ala carte dining to enjoy this live seafood feast at The Three Peacocks exclusively whipped up new menu to delight your senses. The dining area is an air conditioned longhouse that is set like a dimmed romantic night market with cushioned high backs and woody resort tables. See you there!
The Three Peacocks Location:
8 Port Road, Singapore 117540
Free Parking and shuttle bus available
Reservation: 6251 0213
Request for indoor ala carte
Brought to you by The Three Peacocks