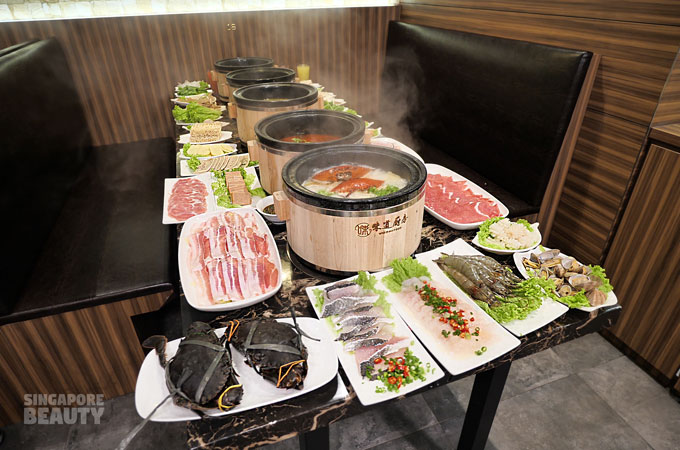 Wei Dao Food is a newly opened restaurant serving Singapore's first stone sauna fish hotpot buffet at an incredible price from $15+.
[Restaurant permanently closed]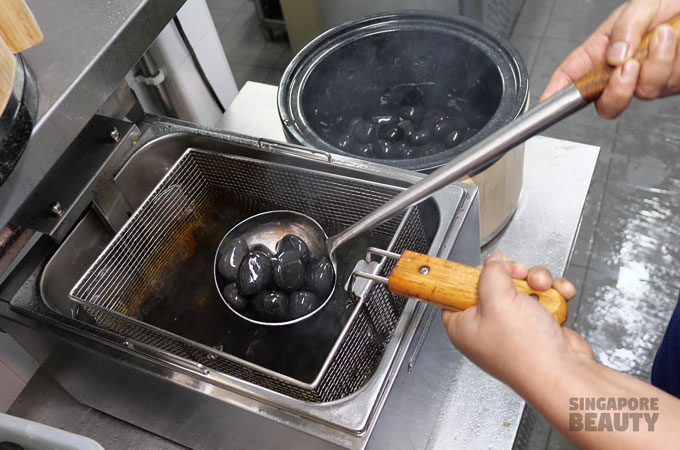 This is how it works: stones are heated to 300-400 degree celsius and lowered in a stone pot with a bamboo cladding.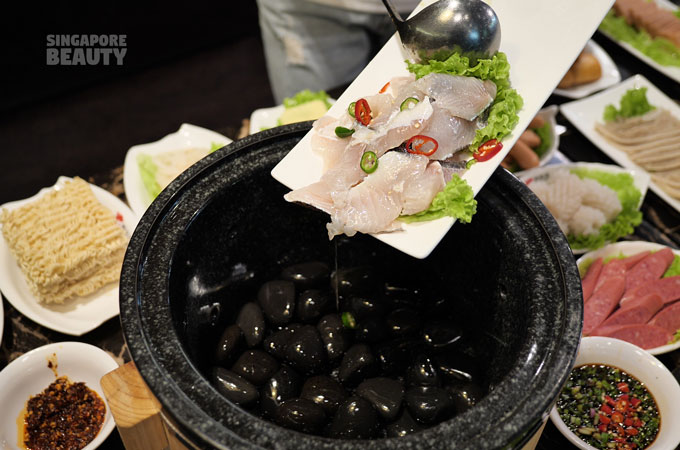 Snakehead (Toman) 生鱼片 or dory fish chunks are then added into the hot pot of stones.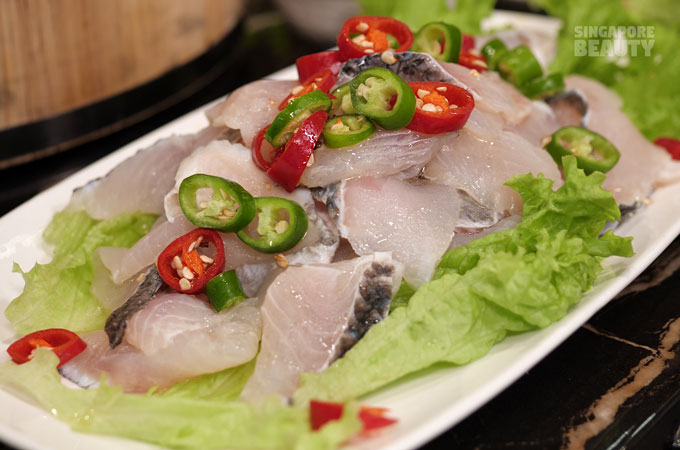 These sliced toman are tender and firm when cooked on top of the stones.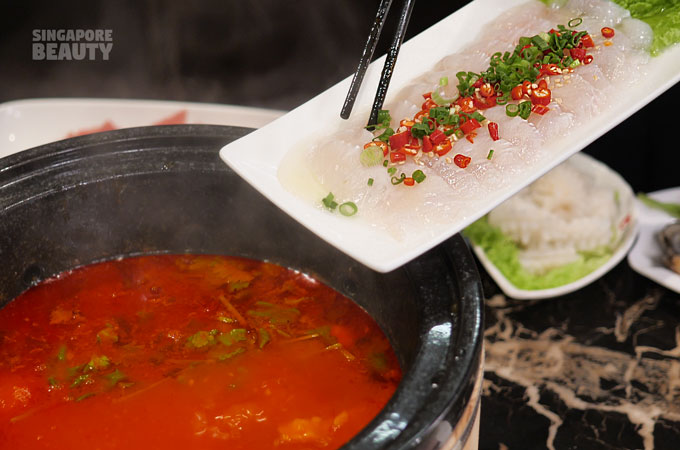 You can also opt for dory fish chunks if you prefer melt in the mouth type of fish.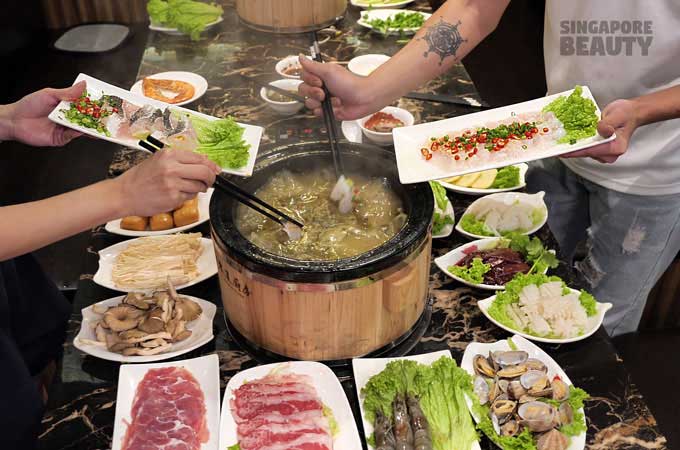 Since this is a buffet, these fishes are free flow and you can eat to your heart's delight.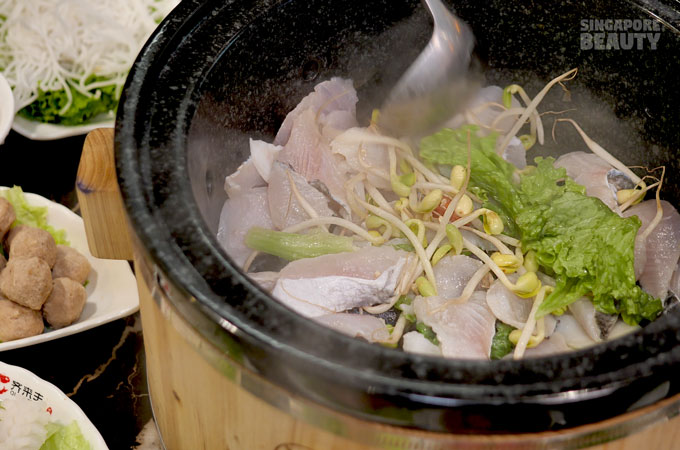 The fish chunks and soy bean sprouts(optional) are stir fried briefly in the stone pot to bring out the aroma.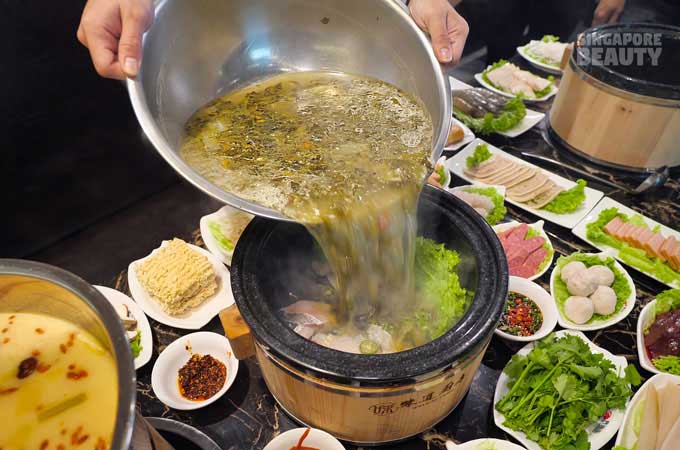 Piping hot soup(starts from $8.80 +) of your choice is then poured into the hot stone pot.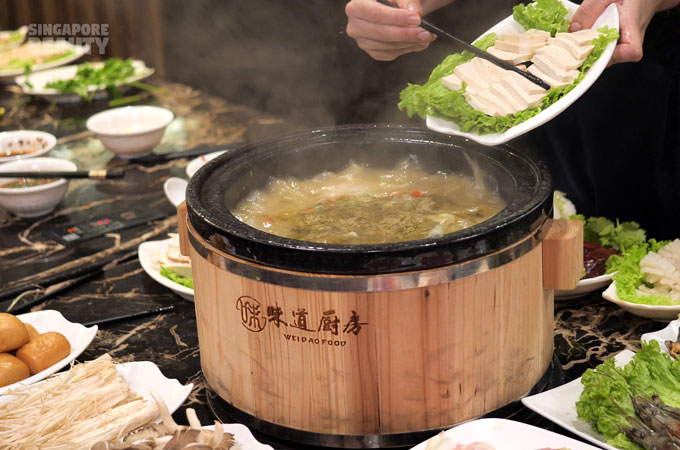 Add in some silken tofu to better enhance the fish soup.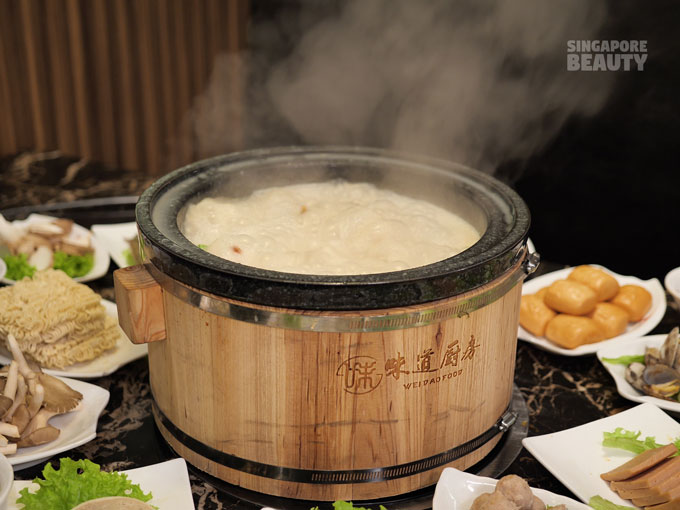 The result is a bubbling fish hotpot.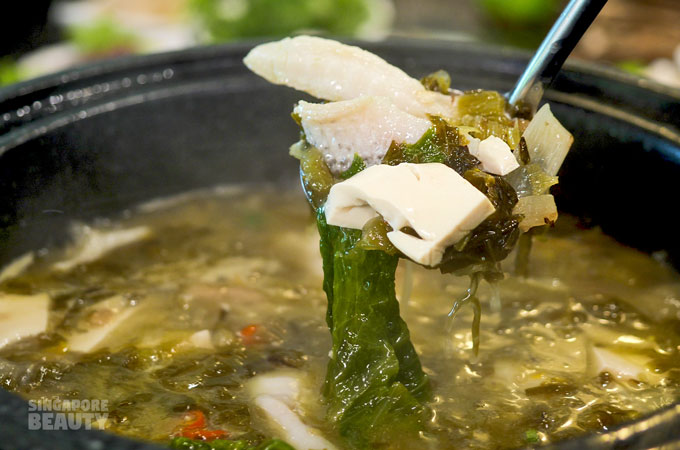 The fish meat is extremely tender and firm at the same time.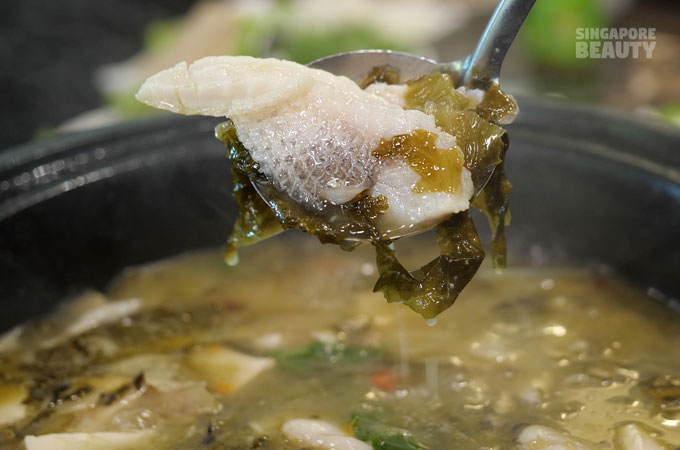 The soft and tart pickled cabbage compliments the tender fish meat well.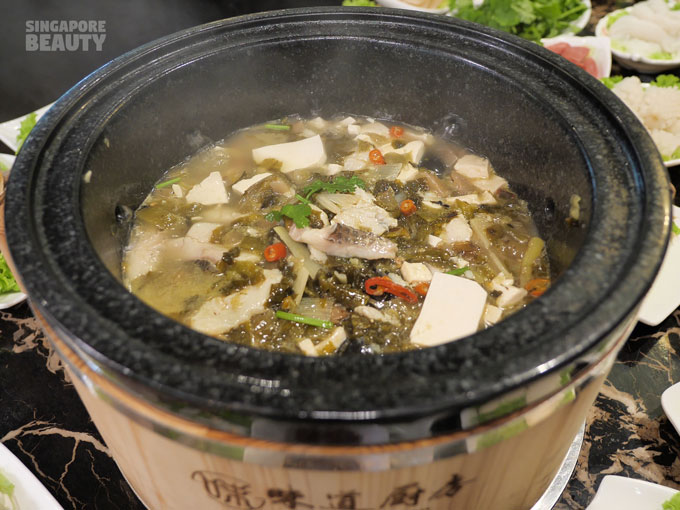 The chef recommendation for the soup flavour is Chinese Sauerkraut soup aka pickled cabbage soup.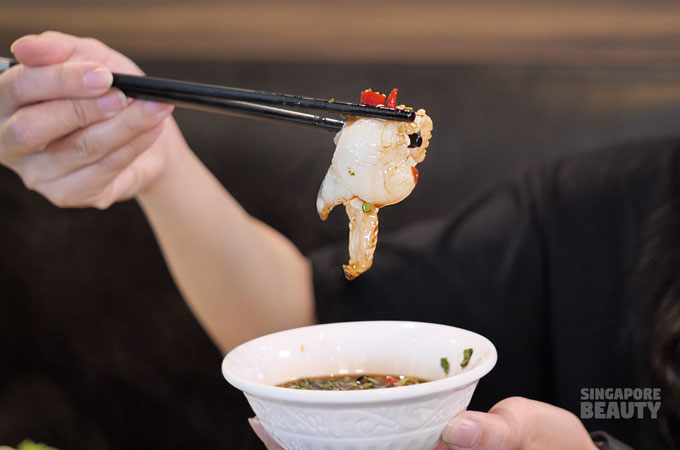 The best dips for this fish meat is no other than some simple soya sauce in red cut chilli padi and chopped parsley.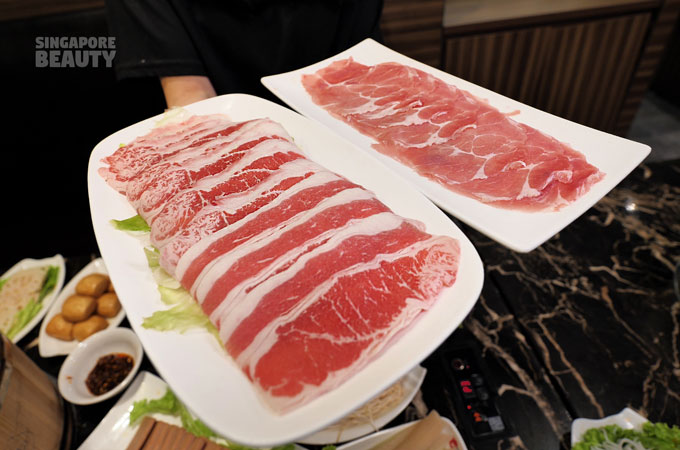 Included in the buffet are shabu shabu meats such as beef, fatty beef, mutton and pork collar and belly.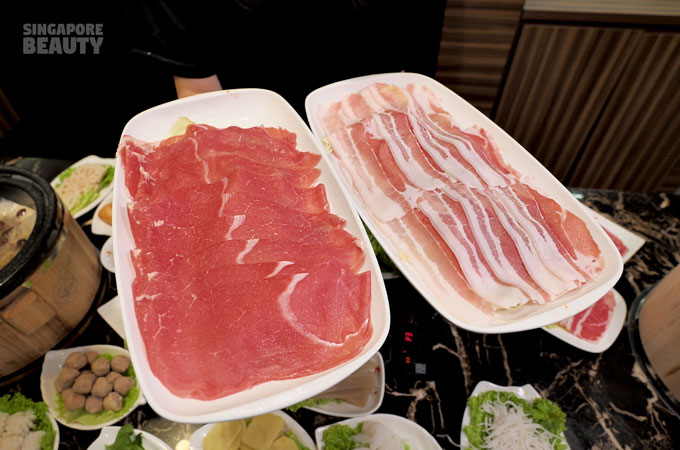 These meats are the melt in the mouth type with a good amount of meat versus fats ratio. Cooks quickly and remain tender due to the thickness and cuts of meats.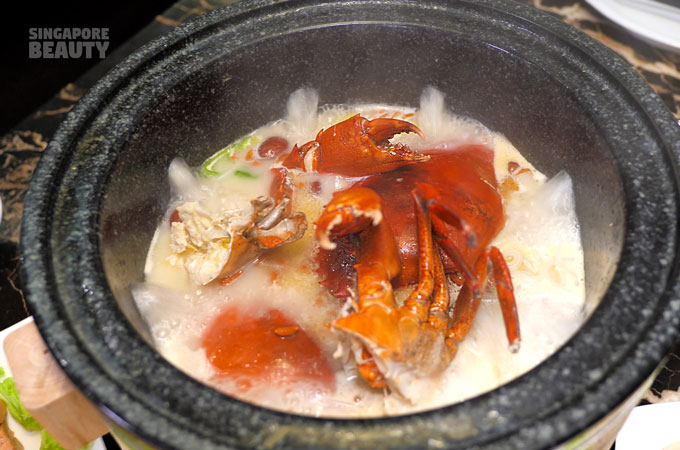 The other chef recommendation is the crab soup beehoon (add $18 +) made with two live mud crabs. Only the crabs are not free flow, however the crab soup is free flow.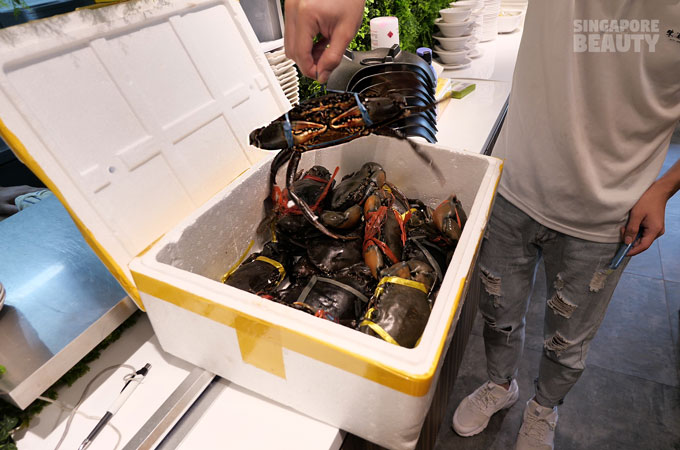 These mud crabs are delivered to the shop and limited quantity daily.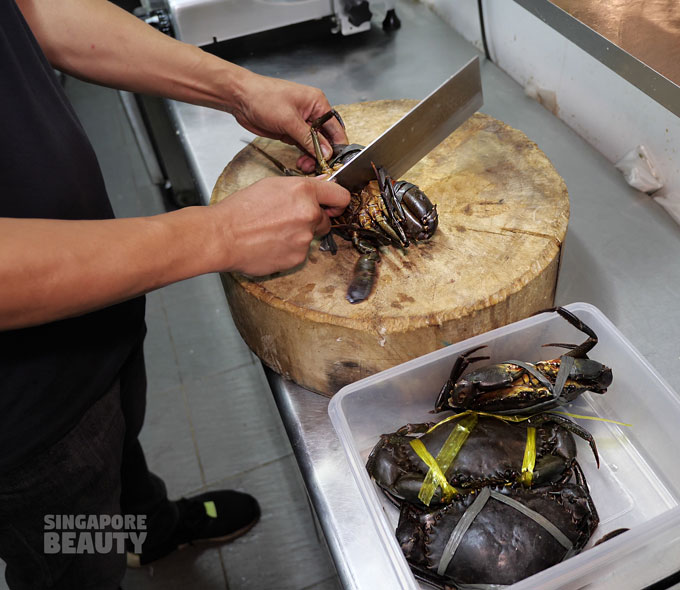 Dispatch for each order to ensure the freshest quality served for each crab soup beehoon.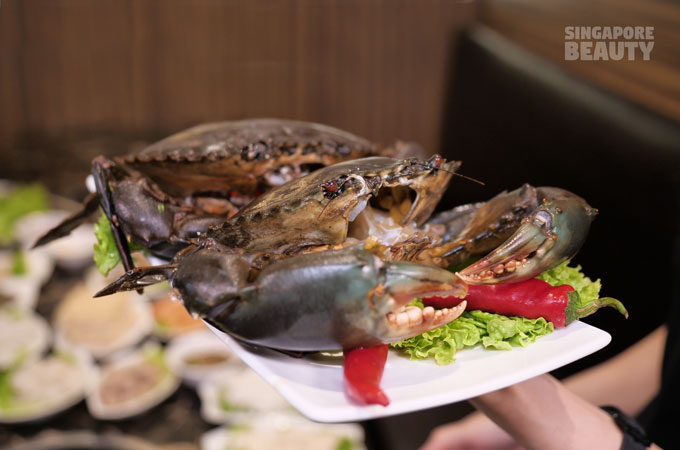 Plated and serve together with the boiling soup base.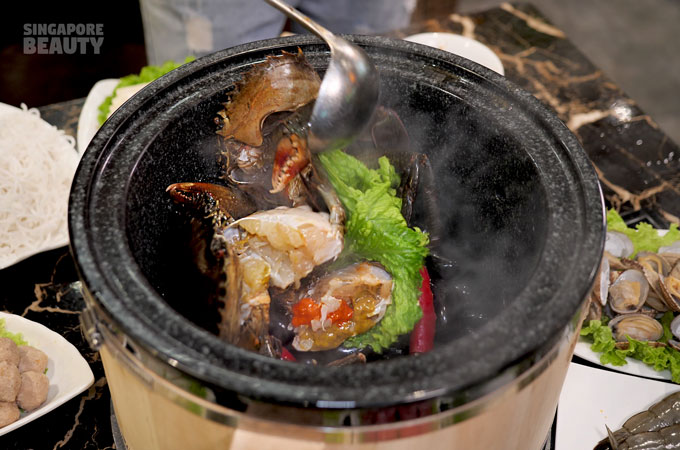 The usual stir frying on the hot stone is done before pouring in the herbal soup base.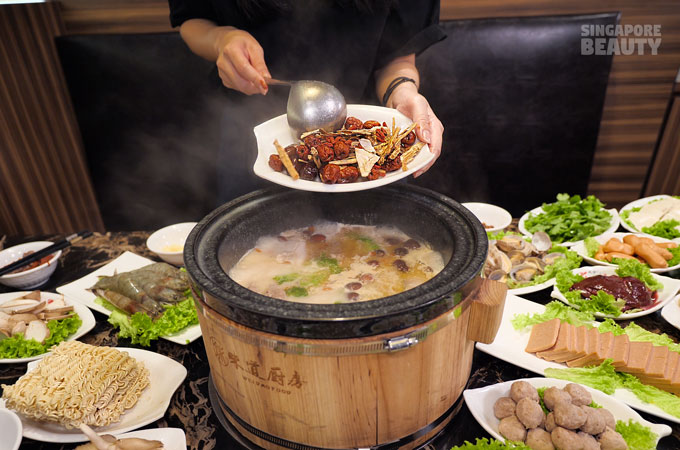 The herbal soup is made with real herbs such as dang gui, dangsheng, yangsheng, dates and wolfberry.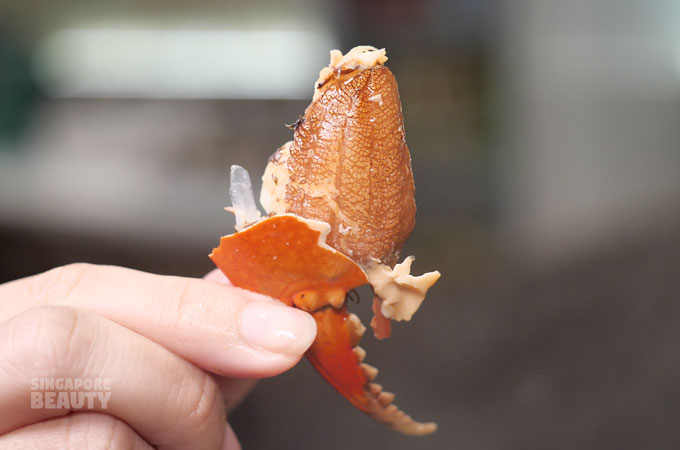 Check out these succulent crab claws with the beautiful meat grains.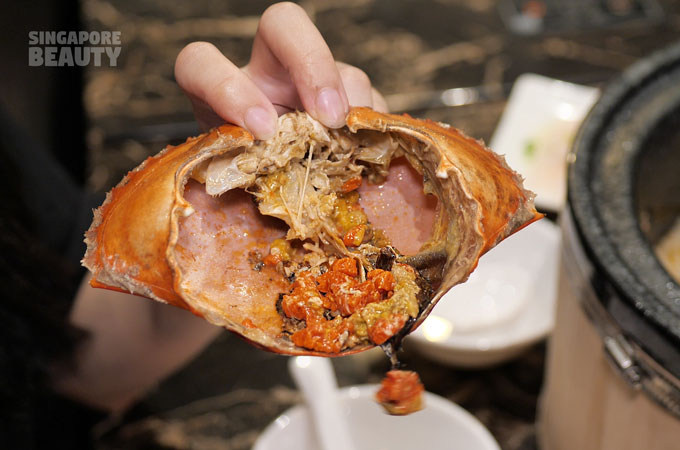 A good amount of crab roe too if you are lucky enough to get a roe-carrying hen crab.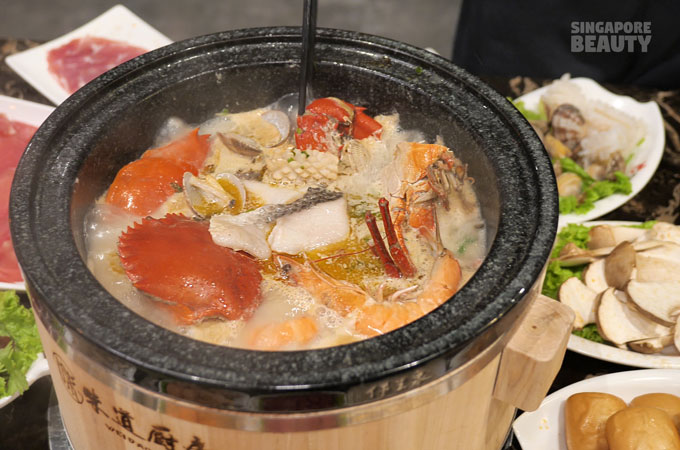 Create your party pot of seafood with the free flow prawns, squid, fish and asari clams in the strong crab flavour broth.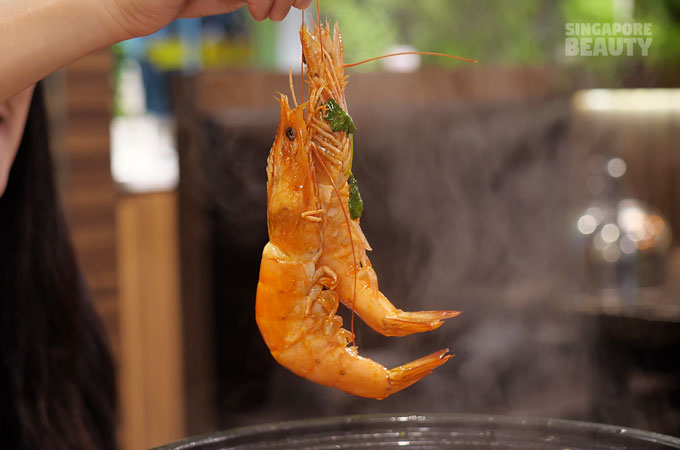 Fat and succulent prawns.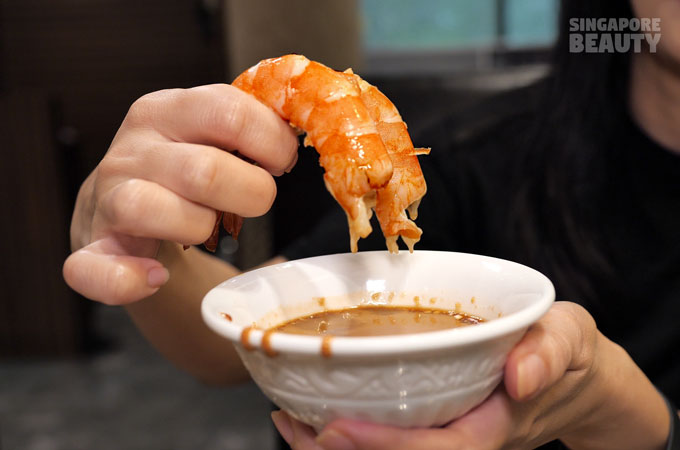 Love the sesame sauce to dip the prawn in, authentic thick creamy aromatic sesame sauce with a sweet tone.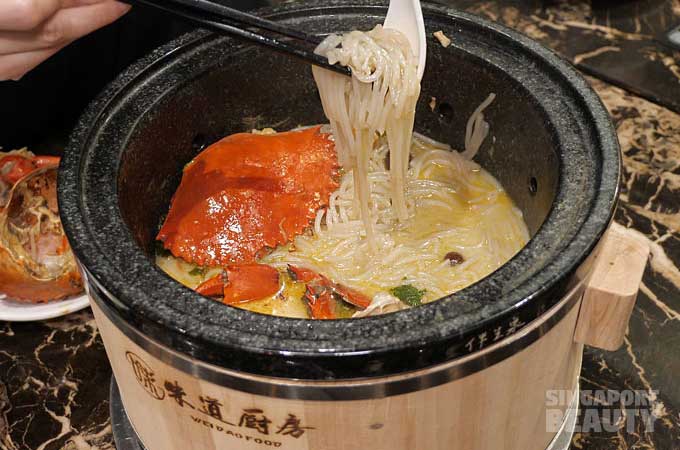 Enjoy some savoury crab beehoon when you are done with all the seafood. The broth is really intense with a strong crab flavour in view of the proportion of small amount of soup versus 2 mud crabs.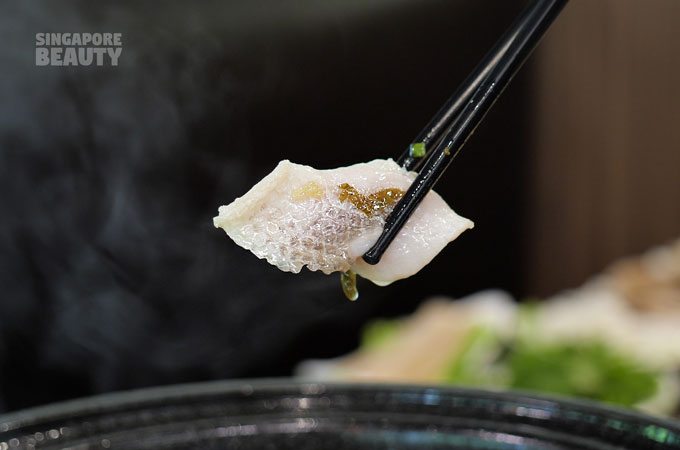 If you are allegic to crabs, they also have herbal soup with fish of your choice.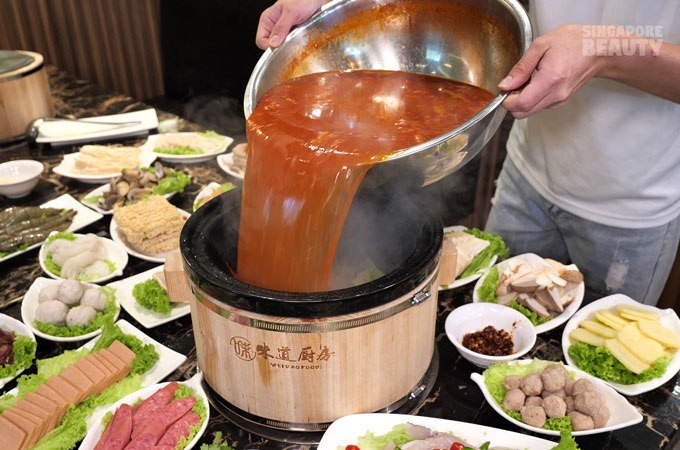 The next tomato soup is for those who like tomato base with fish. The tomato soup is of a thicker consistency and slightly on the sweet than tangy end.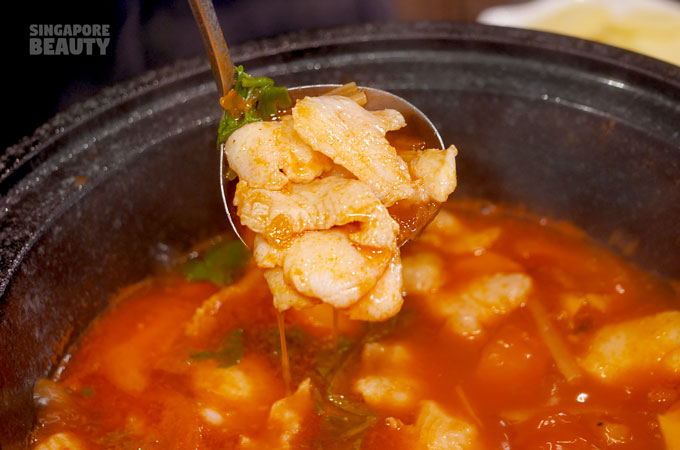 The thick soup base coats the fish well.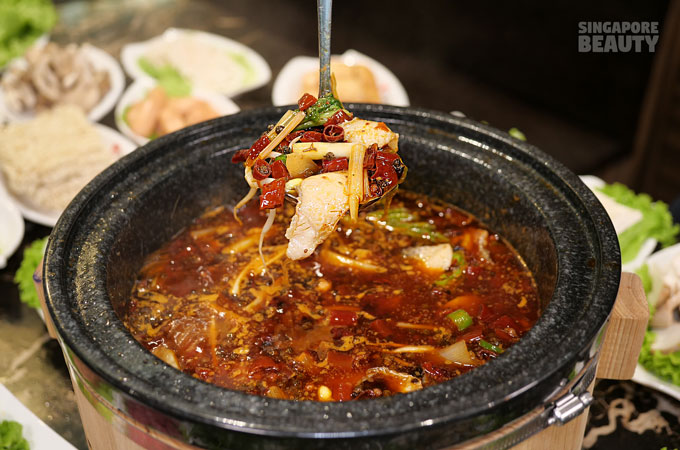 The next soup is sure to please those who can take heat and spice well. The mala soup base with lots of heat and high on flavour.
Enjoy your mala with lots of shabu shabu beef. The mala goes well with the beef.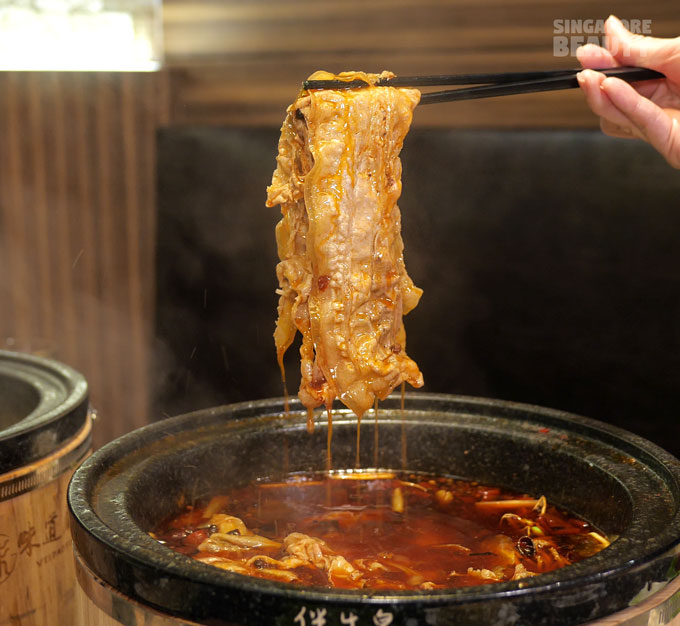 Pork belly too to soak up the mala flavour.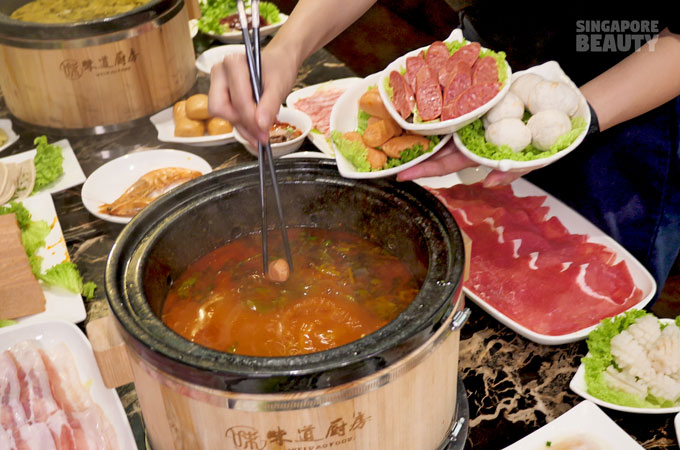 Add lot of surimi and sausages too to your mala.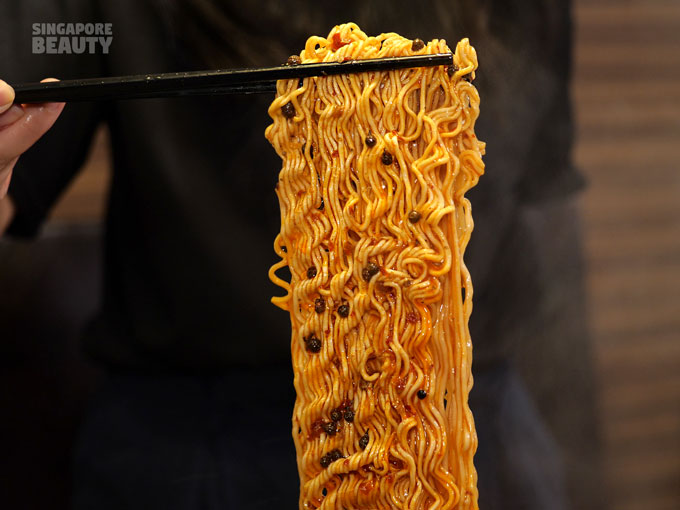 Check out the intense flavour of the mala on this noodles, with so much spices and peppercorn on it. I would advise to proceed with caution while you enjoy the numbing sensation on your lips later.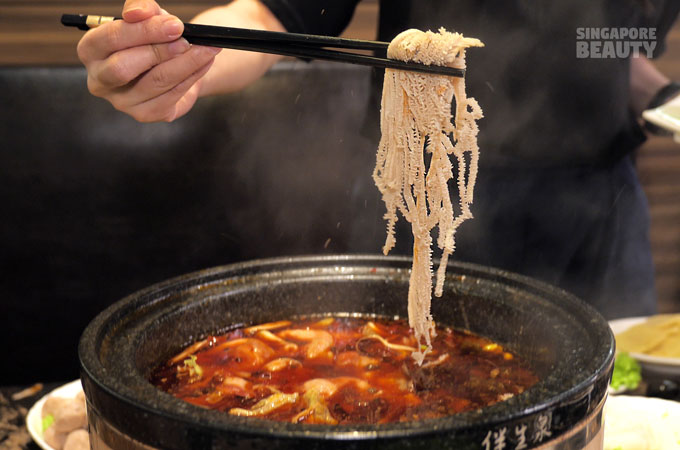 They also have beef omasum and pork liver for those who loves offals.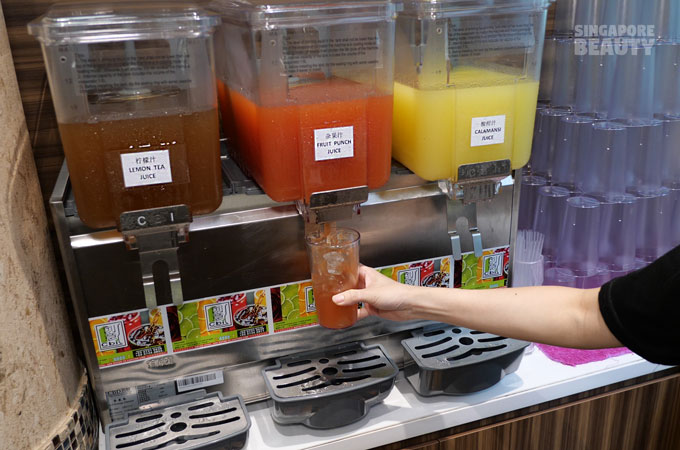 Three types of drinks – lemon tea, fruit punch and calamansi are included in this buffet.
The buffet is waiting for you.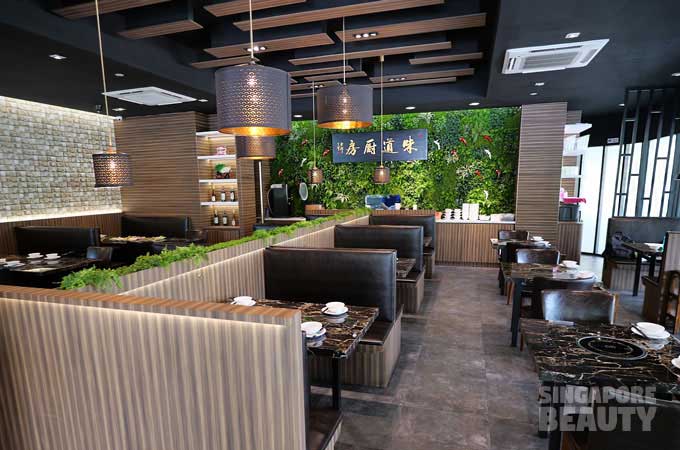 Nice cosy high backed cushioned seats with faux marble top and induction pads to keep the hotpot hot while you enjoy.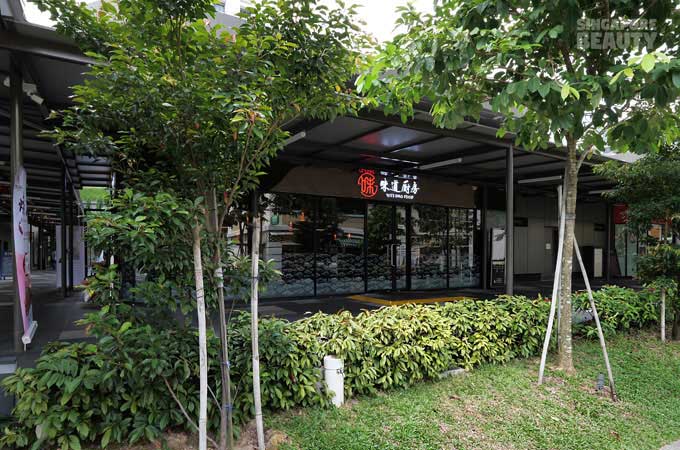 Wei Dao Food restaurant is a stand alone shop conveniently located at Yishun town hall and beside NorthPoint City Shopping Mall. 5-8 minutes walk from Yishun MRT.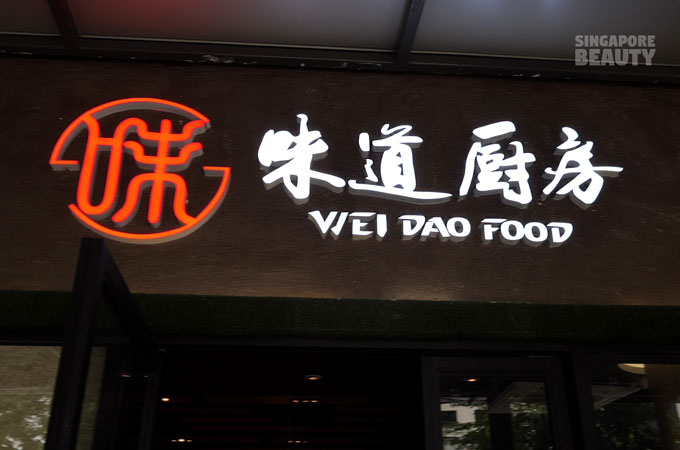 See you soon!
3 housemade drinks & condiments are included in the following buffet price per pax.
Buffet Price Per Pax:
Mon-Fri Lunch – $15 +
Sat –Sunday lunch – $19.90 +
Mon – Sunday Dinner – $24.90+
Surcharge for Eve, PH & CNY period (24,25,26,27)- $2
Lunch hours – 11.30 am till 3pm
Dinner hours – 3.30pm till 10.30pm
Soup $8.80+
Soup choices – herbal chicken, Chinese sauerkraut, spicy, tomato soup
Crab beehoon soup $18 +
Accepts Reservation.
All price in SGD and subject to 10% service charge
Time limit: 2 hours
Operating Hours:
Lunch time 11.30-3pm
Dinner time 3.30pm-10.30pm
Location:
3 Northpoint Drive, Yishun Town Square, #01-02
Singapore 768020
Yishun Bus Interchange Exit 6
Opposite NorthPoint City
8 mins walk from Yishun Mrt.
Reservations: 9452 3105
Brought to you by Wei Dao Food (味道厨房)