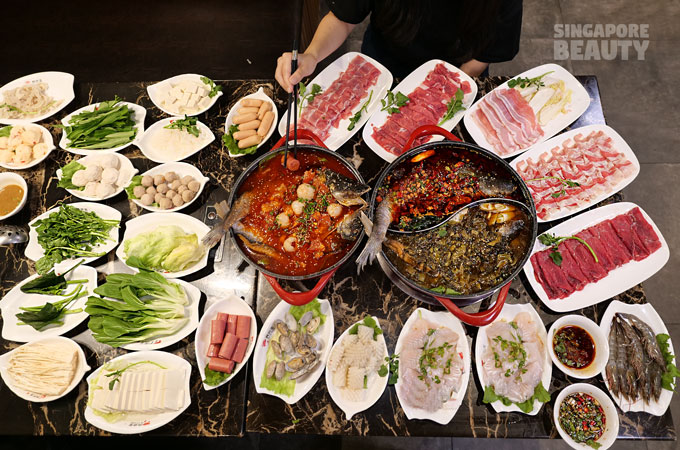 Wei Dao Food (味道厨房) have two choices of buffet – sauna fish stone hotpot buffet and grilled fish pot buffet. Both comes with unlimited sides. You can switch from stone pot to fish pot for additional $8.80+ and vice versa.
[Restaurant permanently closed]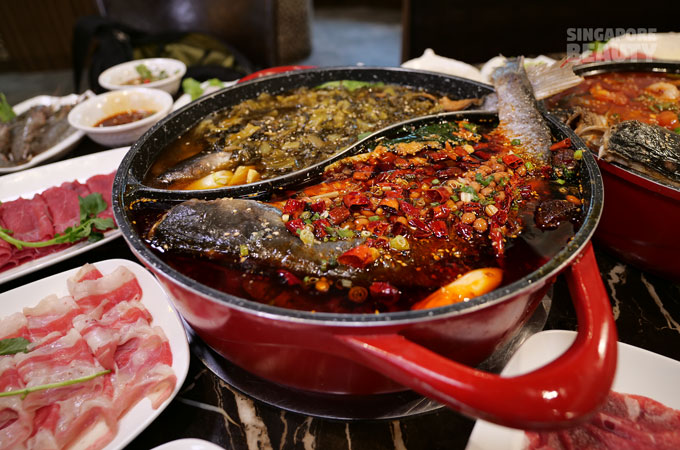 The grilled fish pot buffet includes a one-time whole grilled fish with unlimited sides buffet.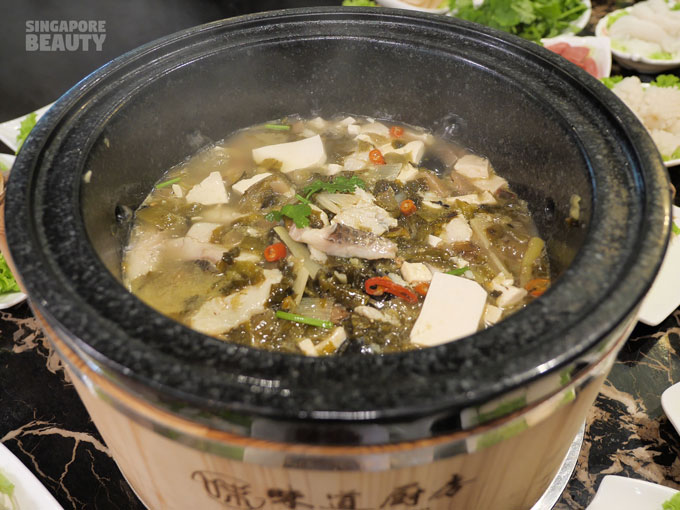 For those having sauna fish stone hotpot, the hotpot comes with a complimentary Snakehead (Toman) 生鱼片 platter per pot.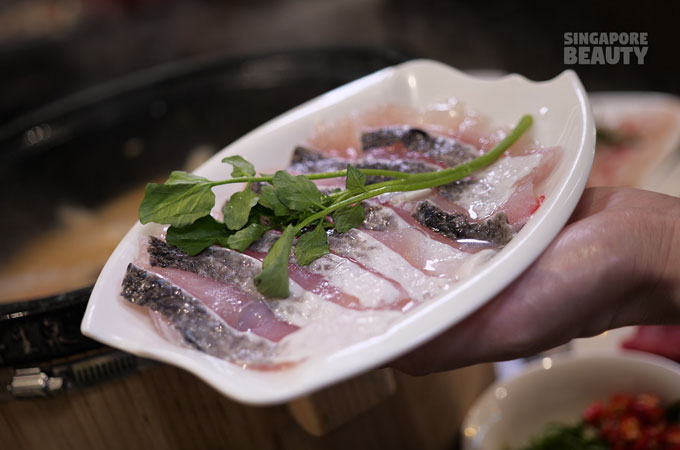 This is the complimentary one time Snakehead (Toman) 生鱼片 platter.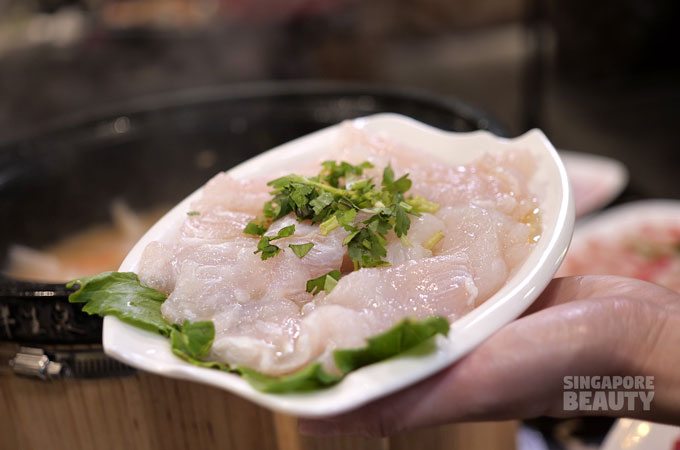 These dory fish chunks are free flow for both buffet.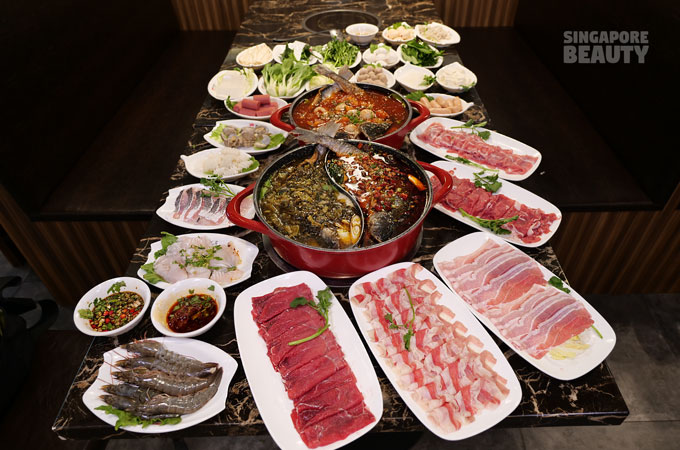 The sides for either buffet are free flow including selected seafood, meat, greens, bean produce, surimi, pork & beef offals.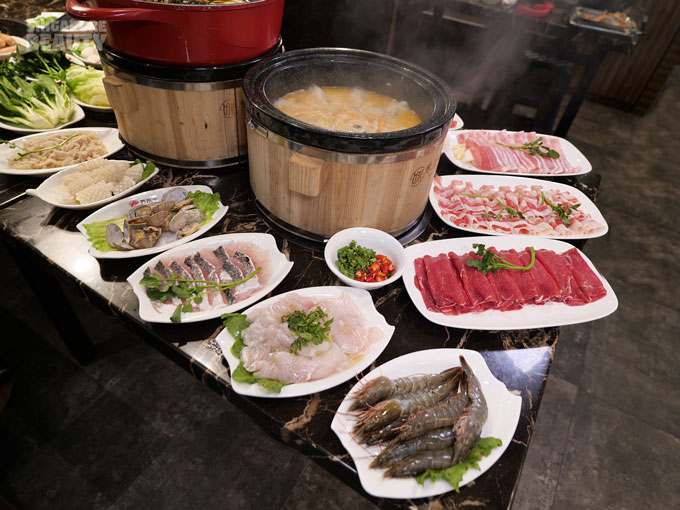 The selected seafood includes prawns, dory fish, clams and squid curls.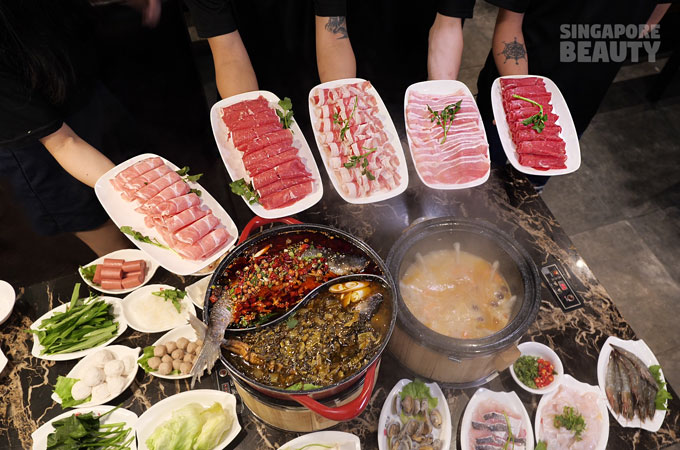 The shabu shabu meats are free flow inclusive of beef, fatty beef, mutton, pork collar and pork belly.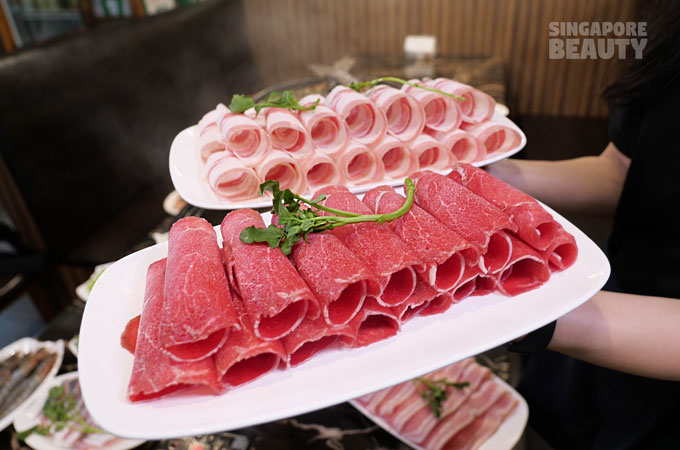 Check out these meat rolls.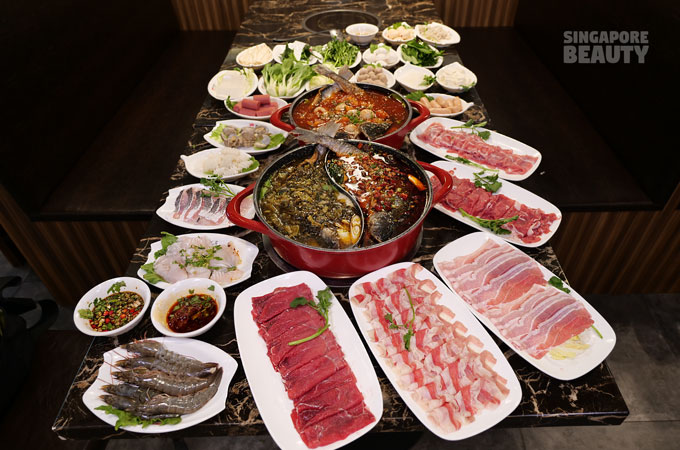 Meat lovers will love the variety of shabu shabu meat that is offered in this buffet.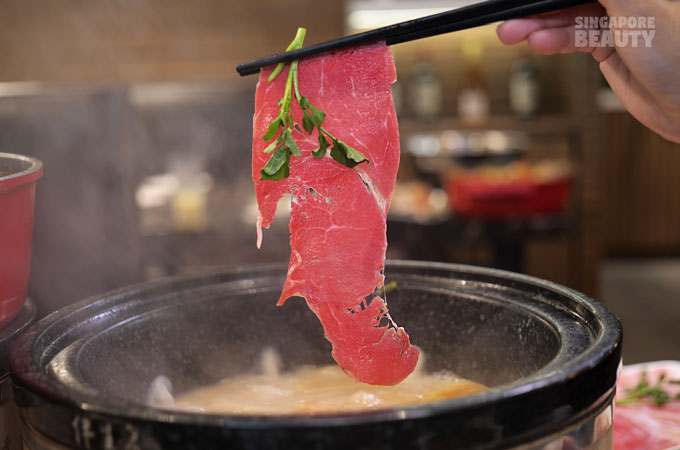 These meat are cut thin to reduce the cooking time and retain the meat tender and chewy texture.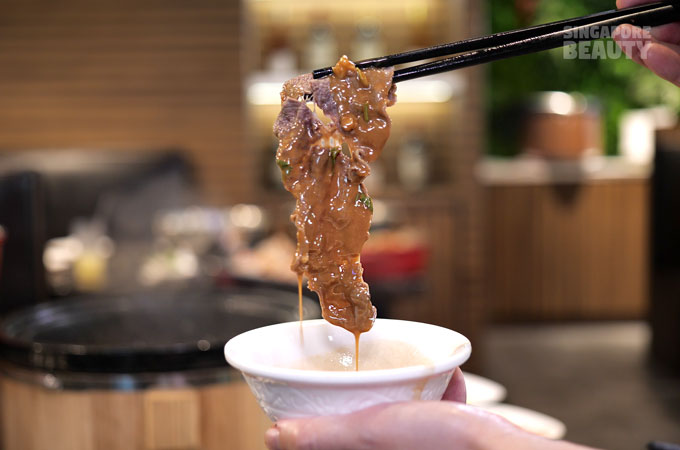 Enjoy these meats with some flavourful dips from the DIY condiments counter that is included in the buffet.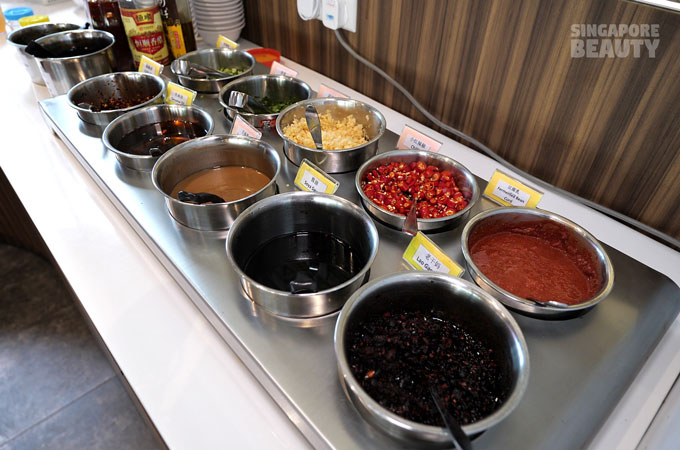 There are 15 types of condiments, the one that goes best with the shabu shabu meat should be the sesame sauce. The coat of sesame sauce is thick and buttery, goes with with the savoury meat.
For the fish chunks, we will stick to the chilli, spring onion soya dips to best enhance the sweet undertones of the chunks.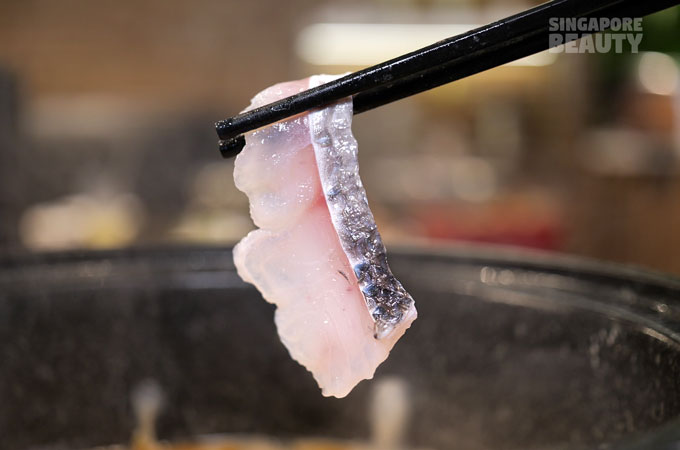 Check out the pinkist tones of these Snakehead (Toman) 生鱼片 fillets.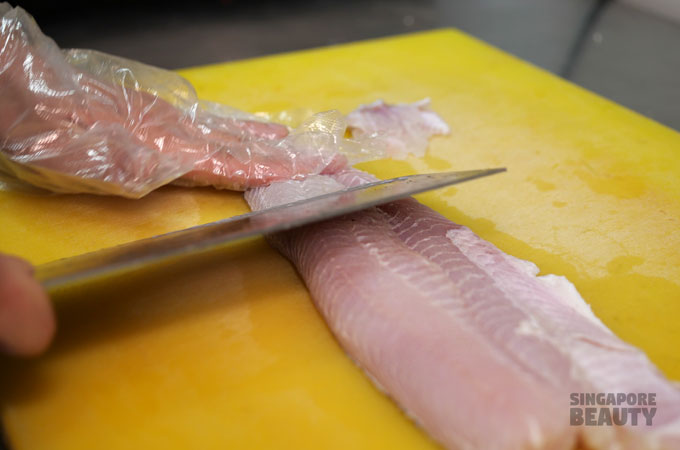 These Toman fillets are hand cut daily in house and serve as a complimentary platter to the sauna fish stone hotpot buffet.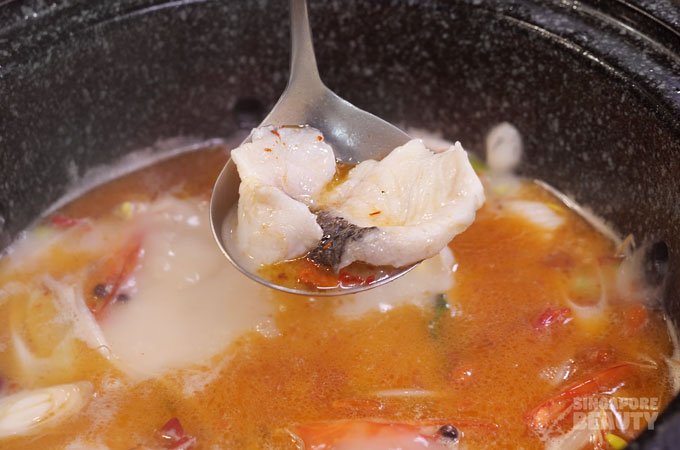 These fillets are firm yet flaky, great fish to go with the savoury soup base.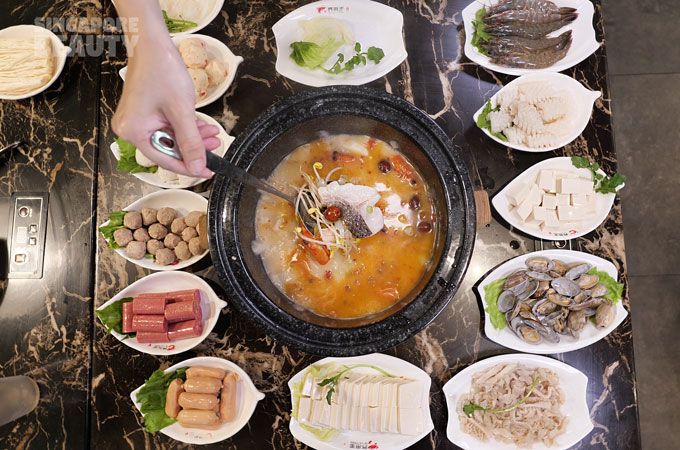 For first timers who are having the sauna fish stone hotpot, this is how the sauna fish gets the name.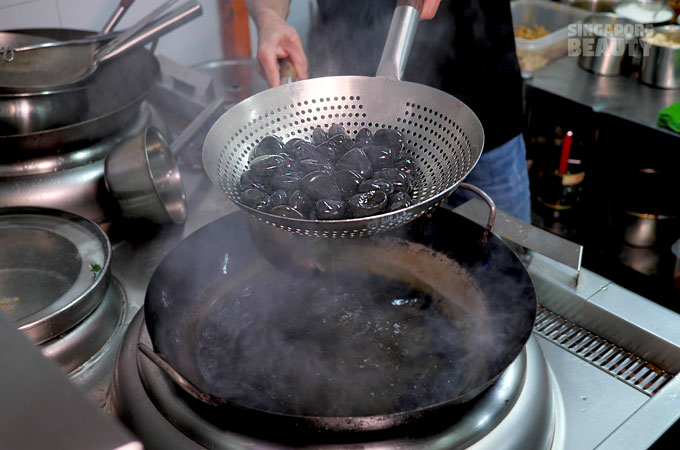 Firstly the stones are deep fried to 300-400 degree Celsius in a wok of hot cooking oil.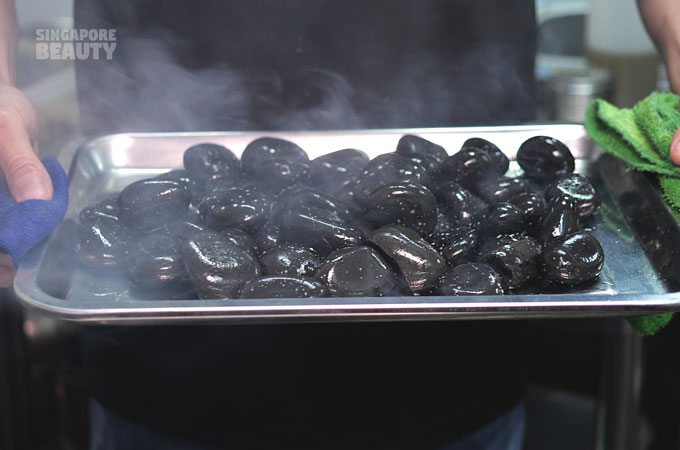 This is how smoking hot these stones are.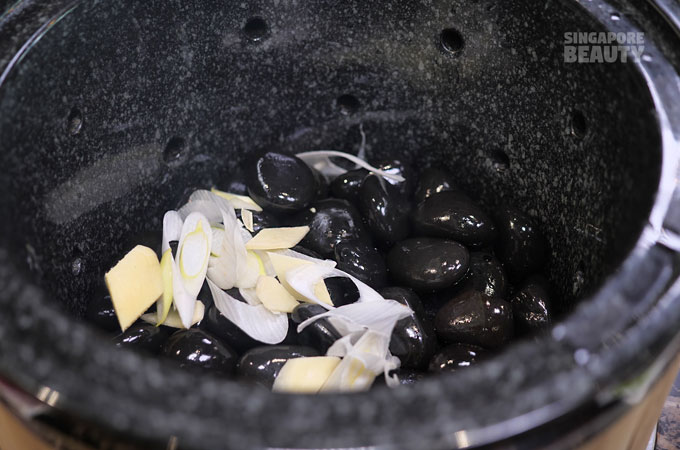 These stones are then transferred to a stone pot with bamboo cladding and in goes some ginger and onions to 'sautéed' them.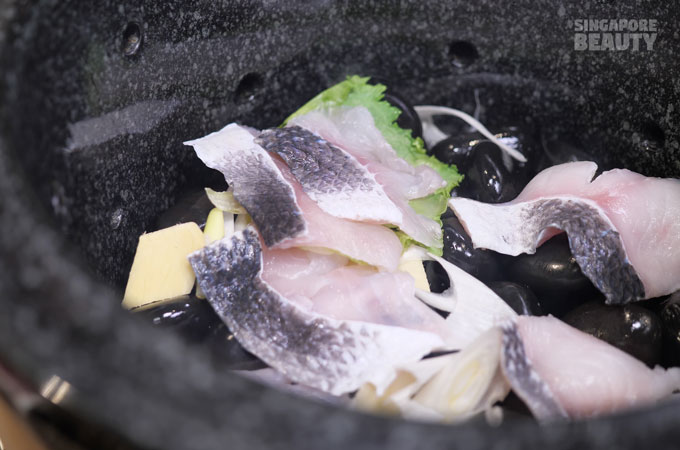 The toman fillets are then added and stir fry briefly with the ginger and onions.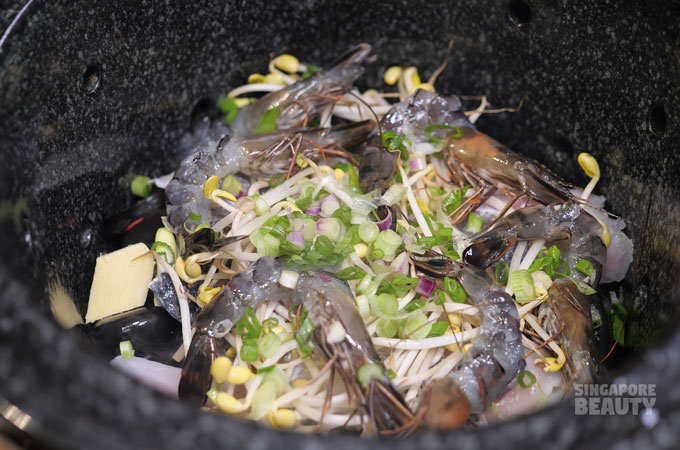 Prawns (optional), bean sprouts, chopped spring onions are added quickly.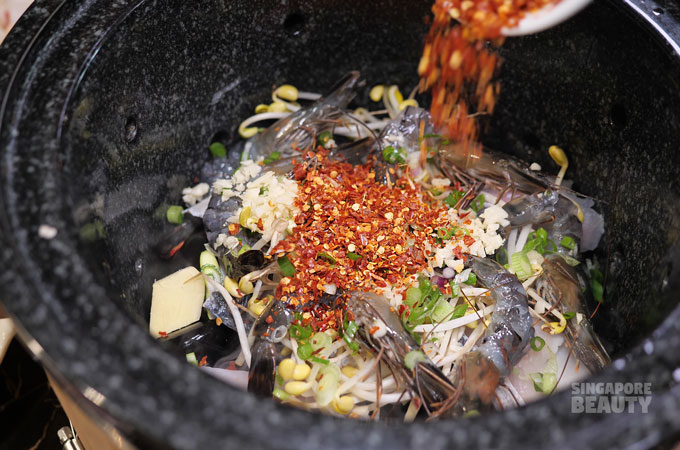 Choose from spicy to non-spicy soup base, those who love the spicy soup base can request for some dried chilli pepper powder to be added.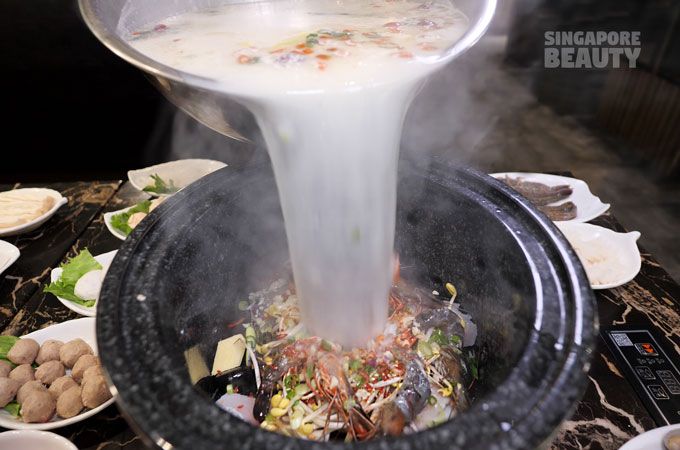 The last step is to add in your choice of soup base, onto the piping hot stones. The steam and the soup will cook the ingredients within the pot. There are 5 soup bases to choose from – Chicken soup, pickled vegetable soup, mala soup, lychee tomato soup and crab soup. Soup base cost $8.80+ with exception of the crab soup base at ($18+). Chargeable per table.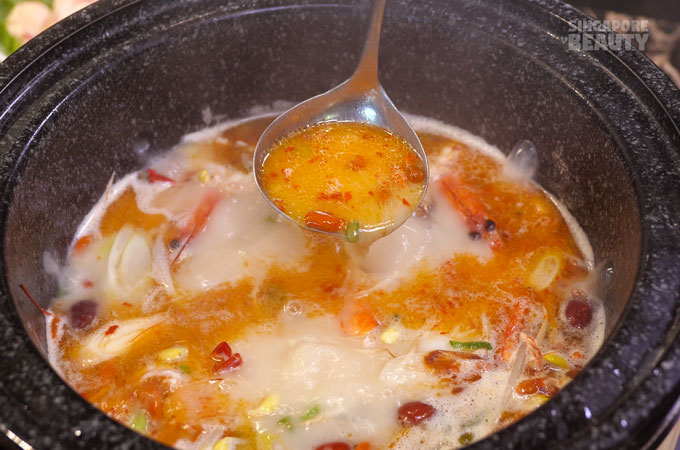 The soup will continue to boil on an electrical heat pad on the table top while you enjoy the hotpot.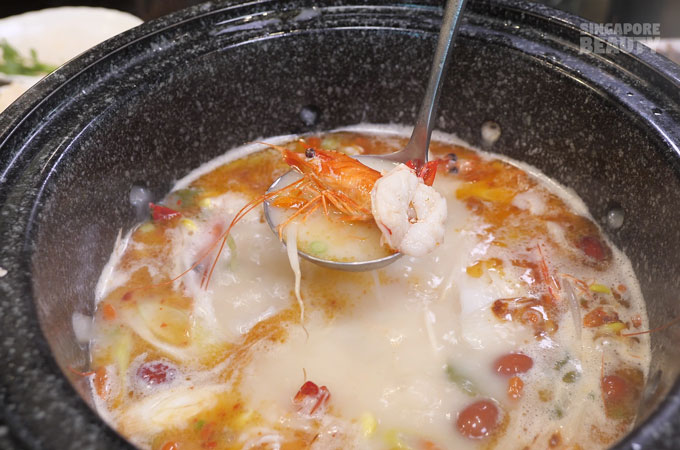 Enjoy these seafood cooked in the most pseudo style.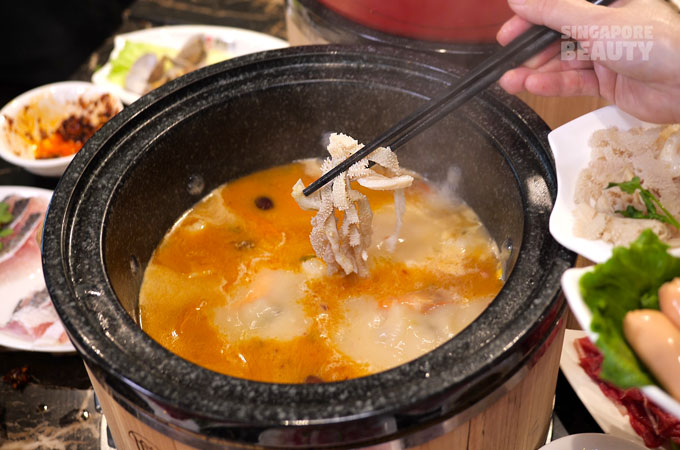 For those who loves pork or beef offals, you can now add them into the bubbling pot of seafood goodness.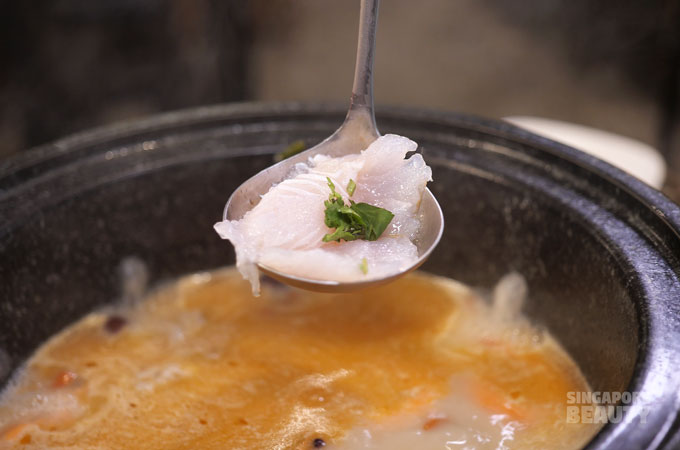 Add more dory fish chunks when you are done with your one time platter of Toman fish fillets.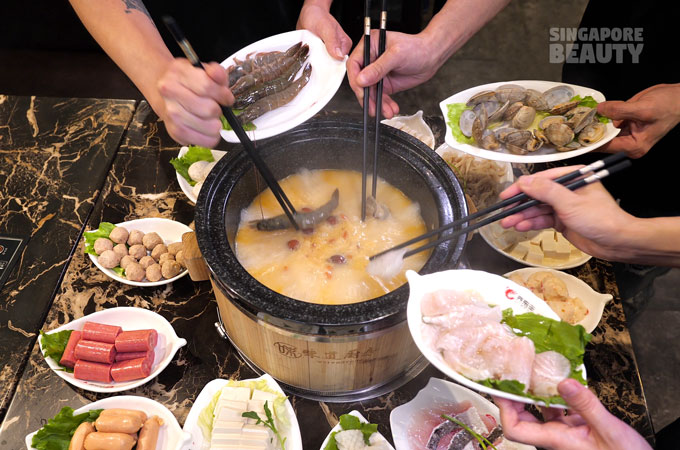 Add in unlimited seafood such as dory fish, clams, squids rolls and prawns.
Enjoy your shabu shabu meat party too for meat lovers.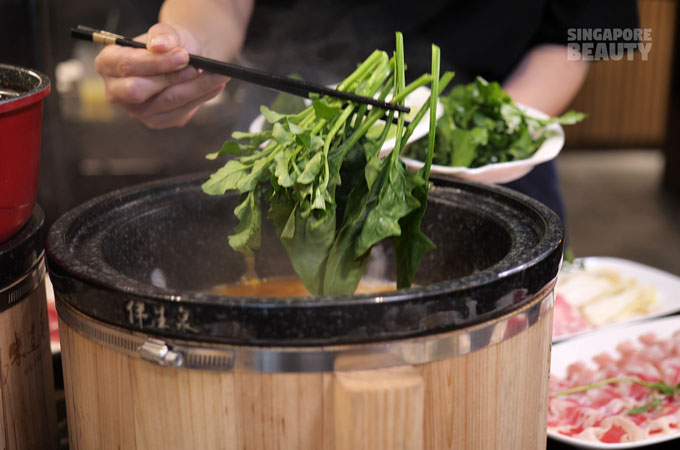 Remember to get your greens as well.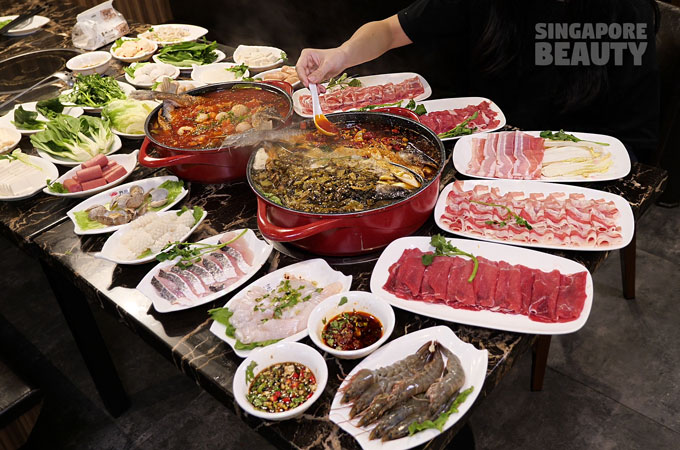 For the grilled fish with unlimited sides buffet, the sides are pretty much the same as the sauna fish stone pot buffet.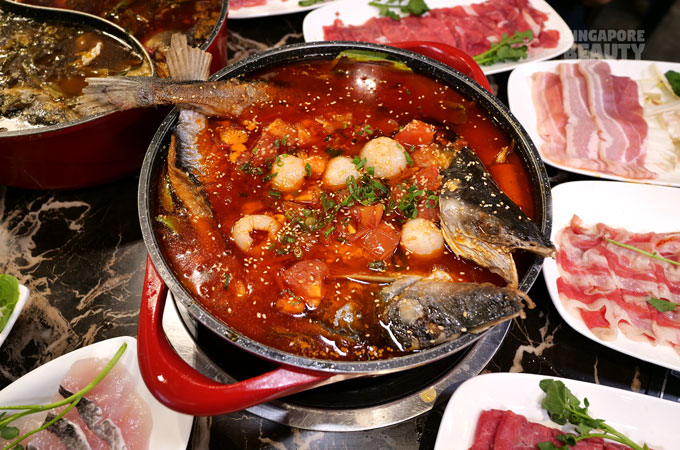 The grilled fish comes in 4 soup base such as mala, pickled vegetable, spicy fragrant and lychee tomato.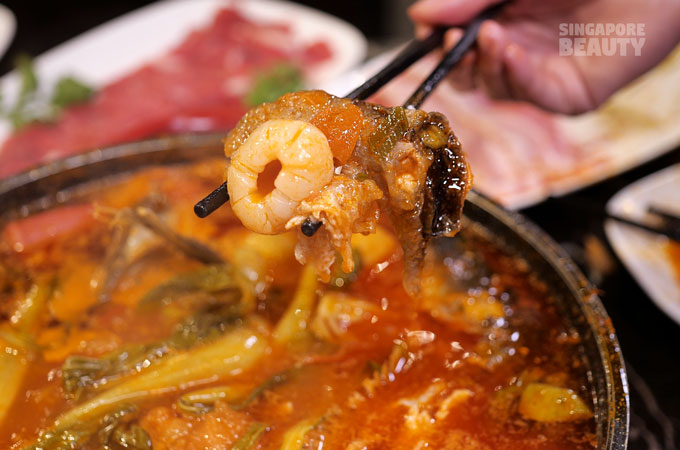 Enjoy chunks of these gelatinous fish meat with chunks of tangy soft tomatoes and lychee.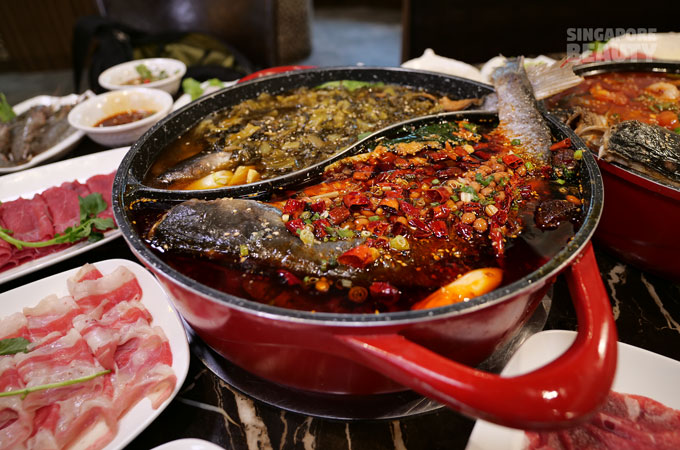 Get either a dual fish flavours or a single fish flavour with add-on of $8.80+ for the soup base. The chef recommendation is the mala fish flavour with the pickled cabbage flavour.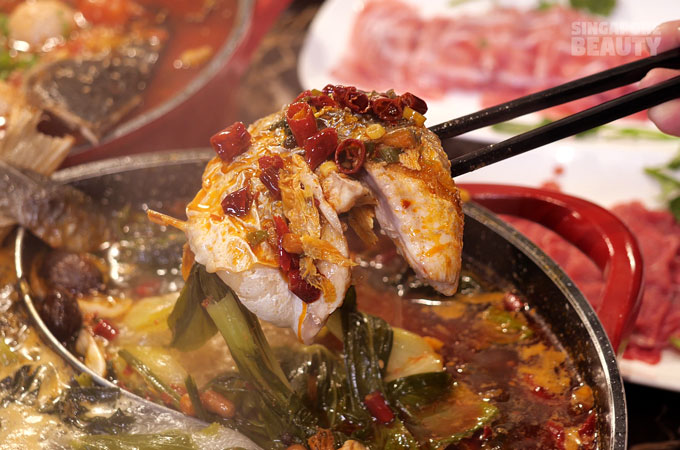 Check out these chunky meats with the spicy chilli and spices.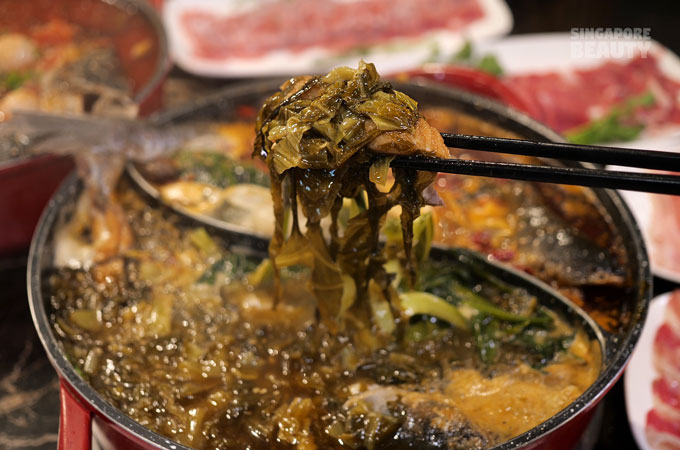 Check out these flavourful tart pickled cabbages from the grilled fish flavour.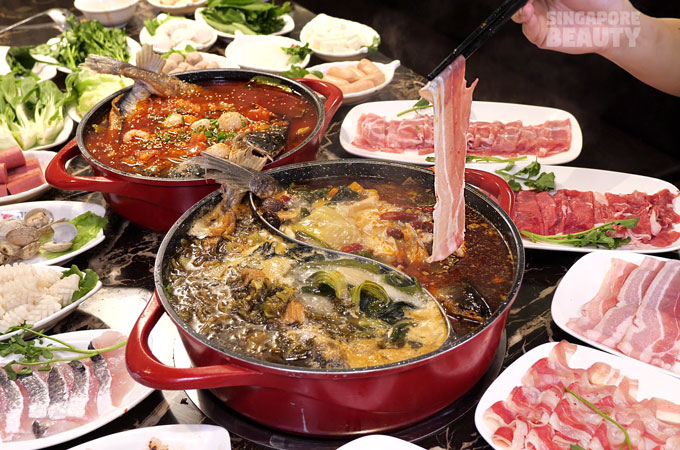 When you are done with the whole grilled fish, continue to shabu shabu the unlimited sides.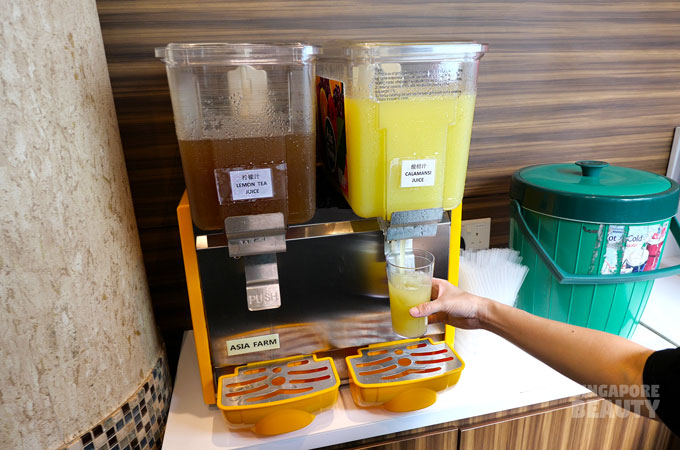 Two drinks of the day are included in this buffets from the dispensers. Ice-cream included too!
Head over to enjoy the best of both worlds today.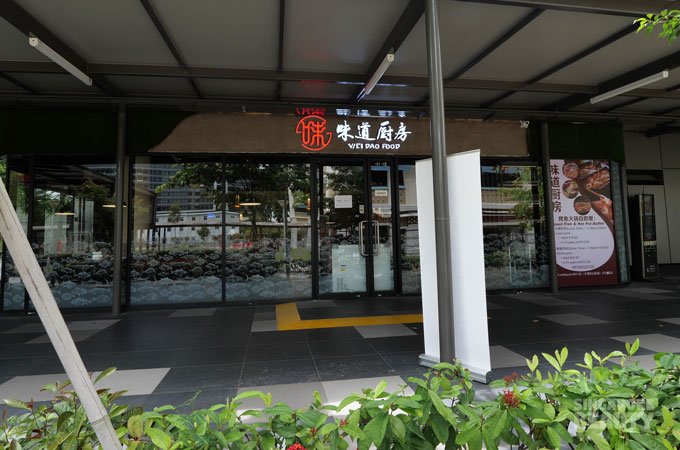 They are conveniently located behind Northpoint City shopping centre and a 8 mins walk from the nearest Yishun MRT station.
Roast fish or Hot stone sauna fish hotpot Buffet
Buffet Price Per Pax:
Lunch $19.90+
Dinner $24.90+
Lunch hours – 11.30 am till 3pm
Dinner hours – 3.30pm till 10.30pm
Children (5-10yrs) $12.90+
Soup $8.80+ per table.
Soup choices – chicken, pickled vegetable, spicy, lychee tomato soup
Crab soup $18+
You can switch to grilled fish pot for $8.80+
One grilled fish will be included. And you can continue to add the menu buffet items as usual.
Vice versa, you can start the buffet with grilled fish pot. And switch to stone sauna pot for $8.80+.
All price in SGD and subject to 10% service charge
Time limit: 2 hours
Location:
Wei Dao Food
3 Northpoint Drive, Yishun Town Square, #01-02
Singapore 768020
Yishun Bus Interchange Exit 6
5mins walk from NorthPoint City.
Reservations:
94523105
Brought to you by Wei Dao Food (味道厨房)