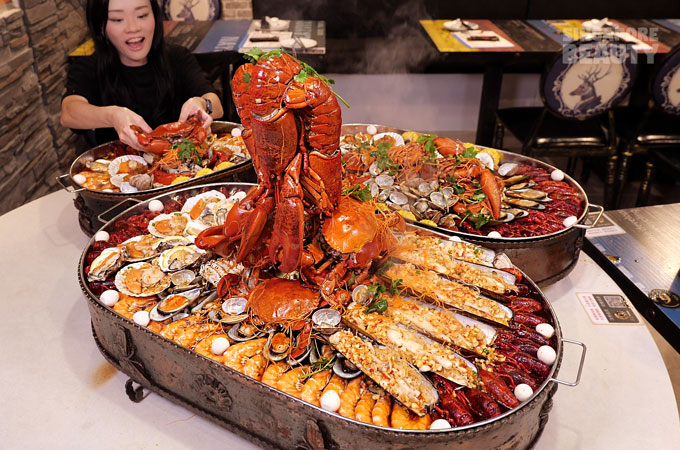 Jiu Gong Ge (九宫格火锅) serves one jumbo size seafood platter that is not on their menu and warrant youtubers to fly over to the restaurant just to try this jumbo seafood platter.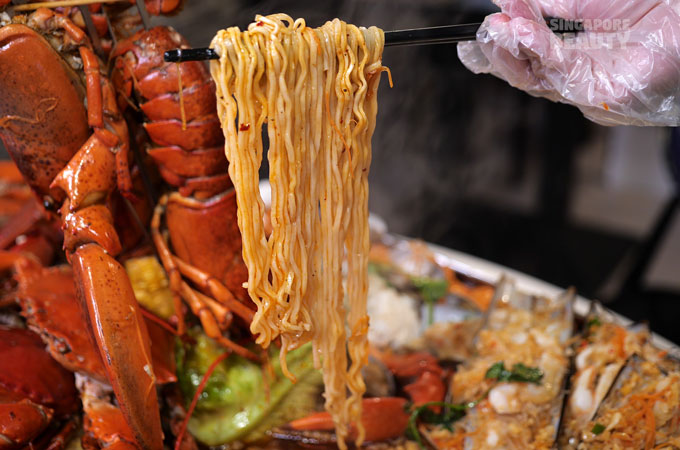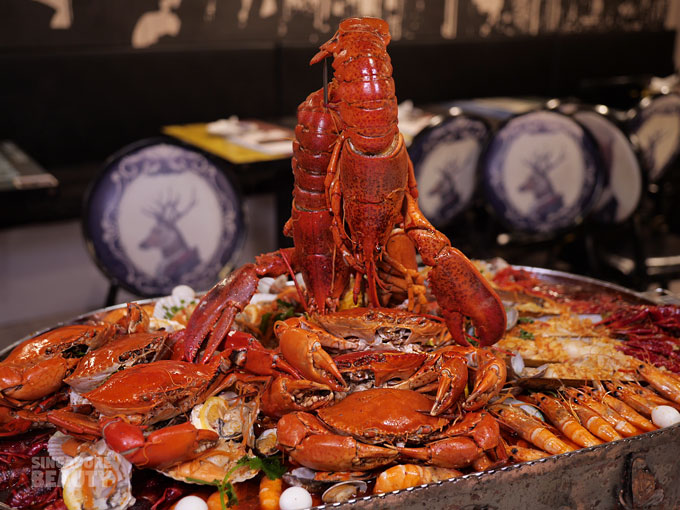 The jumbo size seafood platter consist of over 10 types of seafood served simmering on a large tray with warmers. The jumbo lobster platter (Set E) consist of large Boston Lobsters, prawns, crawfish, extra large bamboo clams, a heap of Asari clams, a pool of mussels, palm size oysters, live mud crabs, scallops, noodles, quail eggs, carrots, vermicelli and sweet corns in a spicy soup base.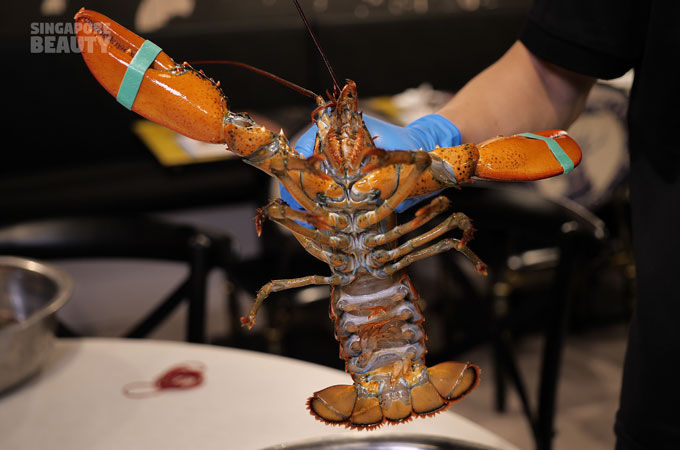 This jumbo size platter needs advance order of 2 days for them to bring in the live Boston lobsters for this curated dish.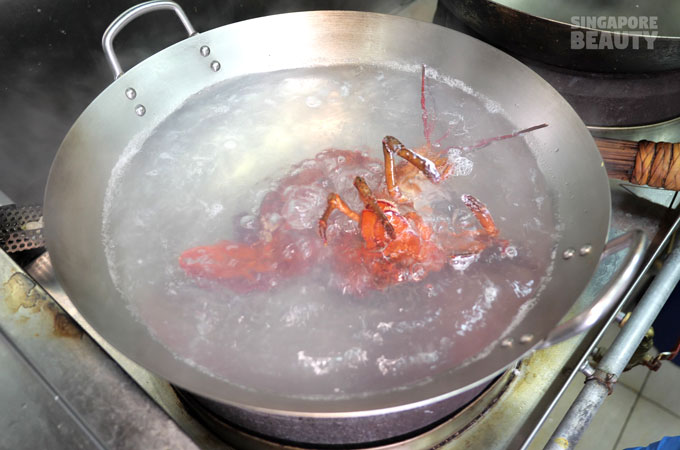 These lobsters are then dispatched by driving the tip of a chef knife between the eyes on the head. Boiled quickly in water to keep the lobster at its optimum quality.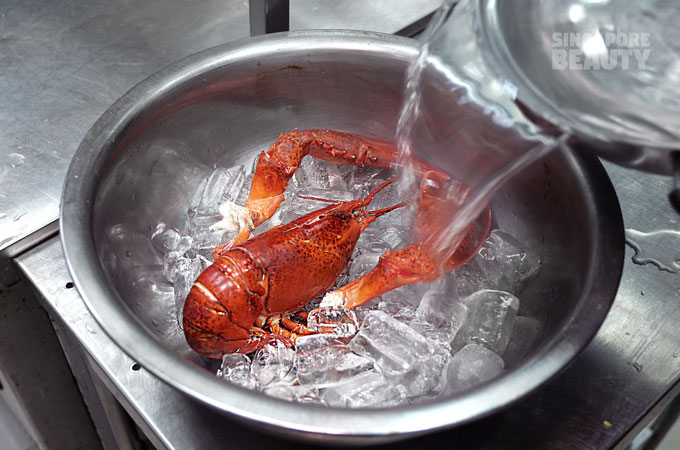 The whole lobster is then removed from the poaching and immersed in a ice bath to stop the cooking process.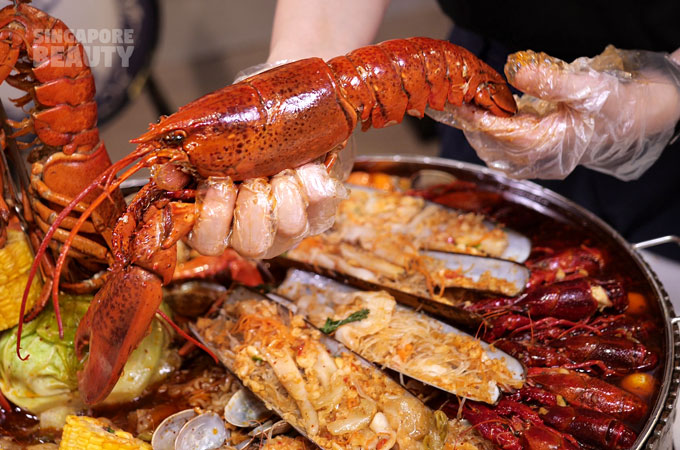 The Boston lobster is served whole during platting and you can request it to be halved for ease of consumption after you have taken the instagram-worthy picture with the lobsters tower.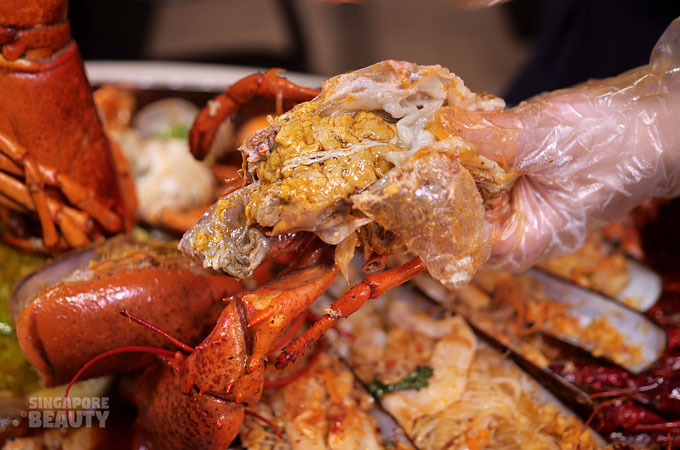 The Boston lobster is also prized for the head butter or tomalley. Buttery and creamy consistence that can be scoop up using a spoon and consider delicacy by many lobster aficionados.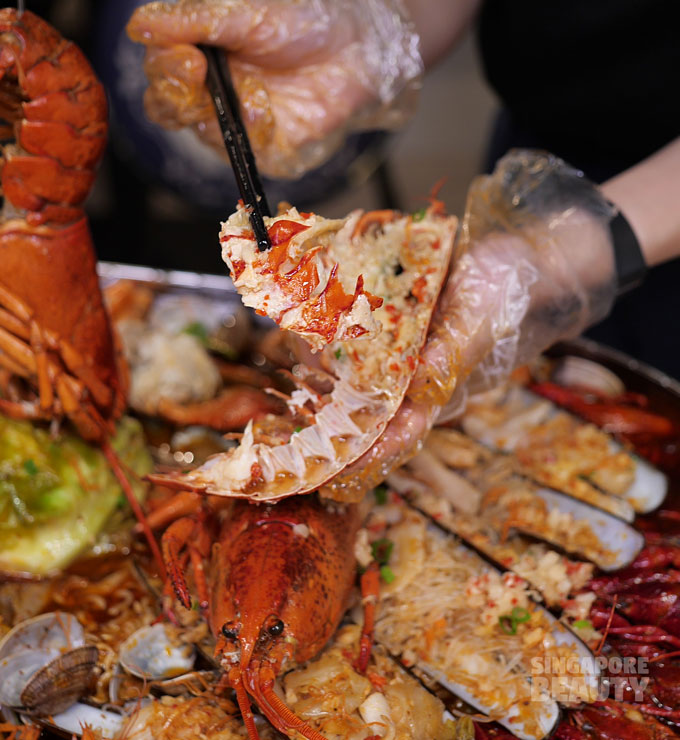 The lobster tail is easily lifted off the shell and meat is fork tender.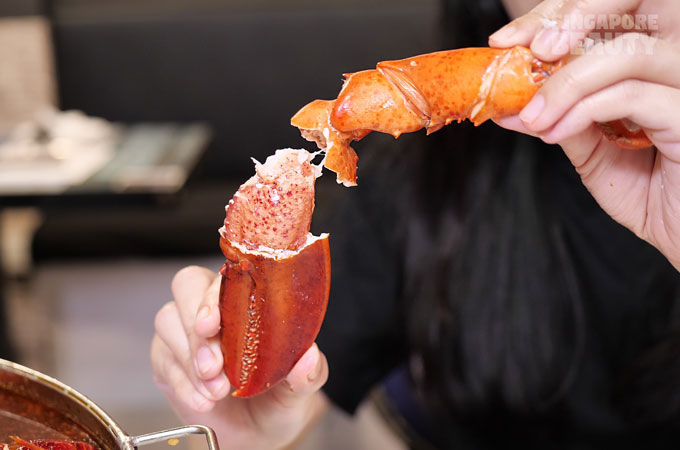 Deshell the Boston lobster claw and enjoy it by dipping it in the spicy umami soup broth in the seafood platter. The meat claw wins the meat tail of the lobster hands down as it is softer and more tender, whereas the tail is more of a crunchy firm texture.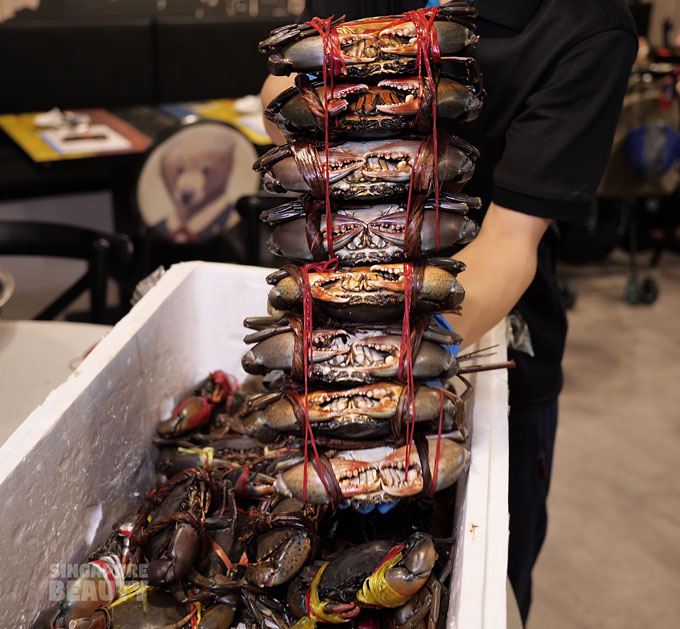 Live mud crabs are used for this jumbo size platter. For crab lovers, you can enjoy a good amount of mud crabs in this platter.
Check out this mountain of mud crabs in this jumbo platter.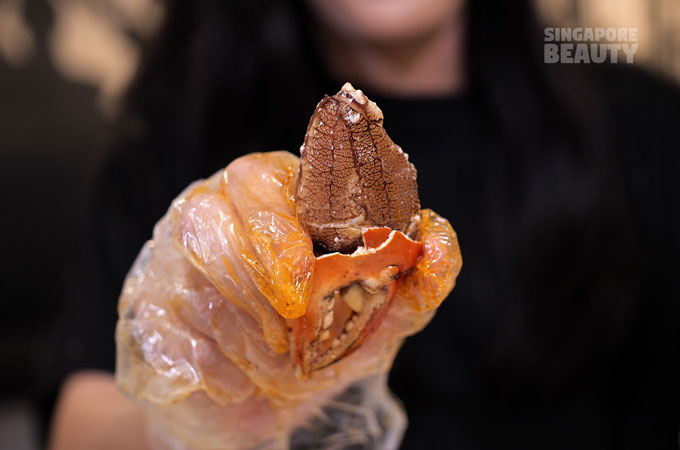 The crab claw with its clean deshell pincer spotting distinct dark fine mesh over the delicate flaky moist meat is a tell tale sign of a succulent texture.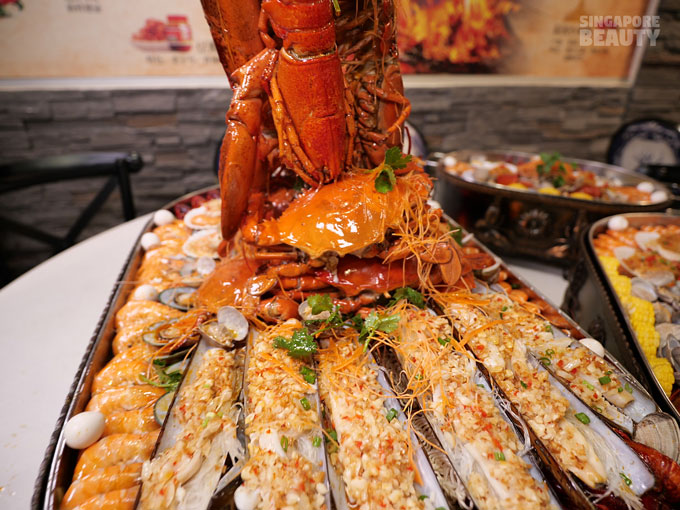 Extra large bamboo clams are steamed with chopped garlic and chilli and topped with vermicelli to soak up the briny seafood juice.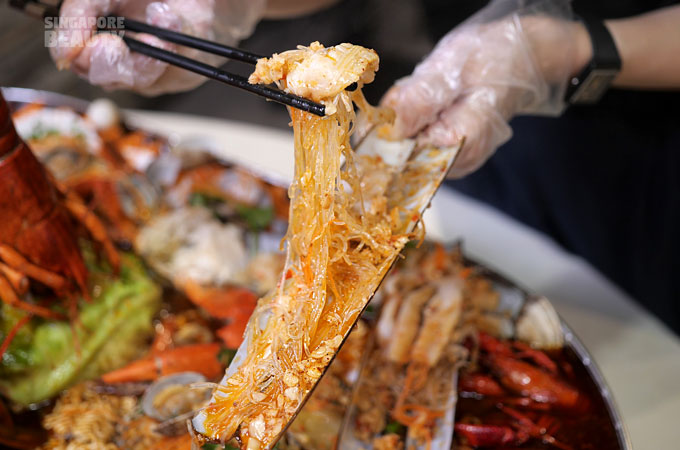 Check out these melt in your mouth flavourful vermicelli with the chewy soft clam meat.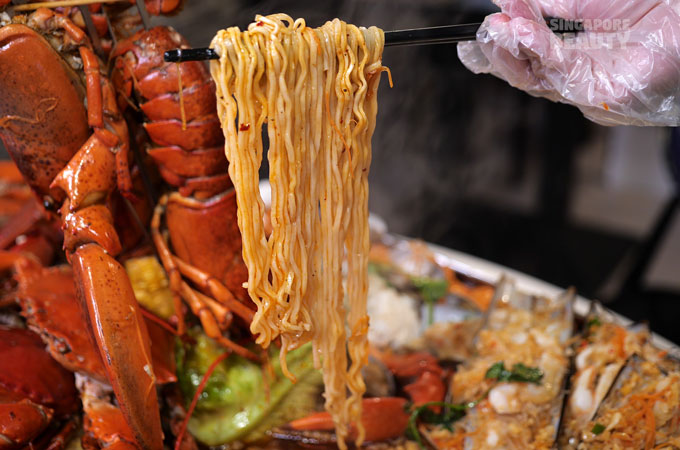 Dive into some spicy savoury noodle that has been soaking up the seafood juices.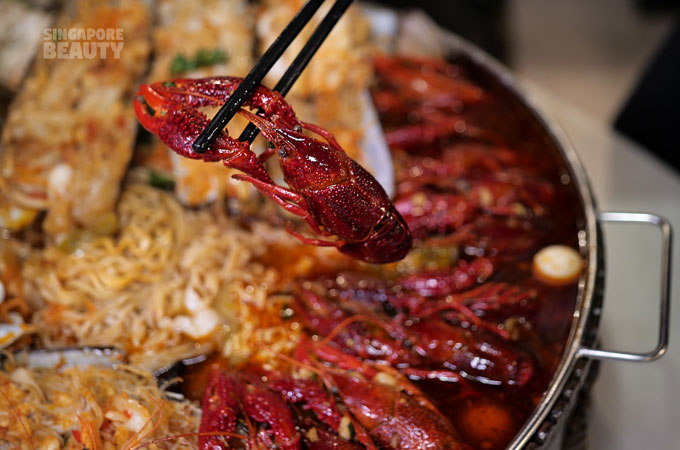 You cannot go wrong with baby crawfish in fragrant spicy sauce. Loads of these little sweet morsels of meats to enjoy too.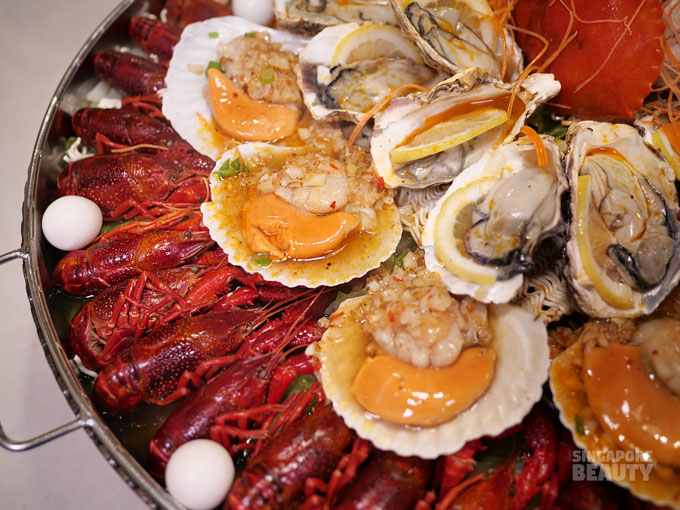 Half shell scallops in minced garlic sauce with soft chewy meat and custardy roe.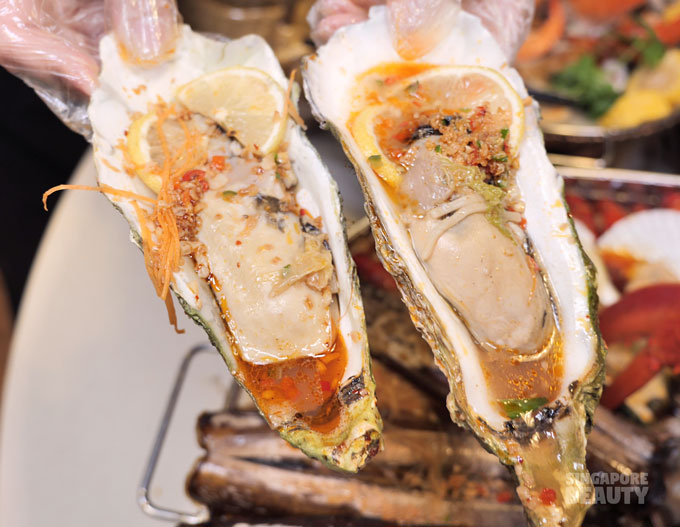 Large creamy oysters with a hint of fresh lemon citrus.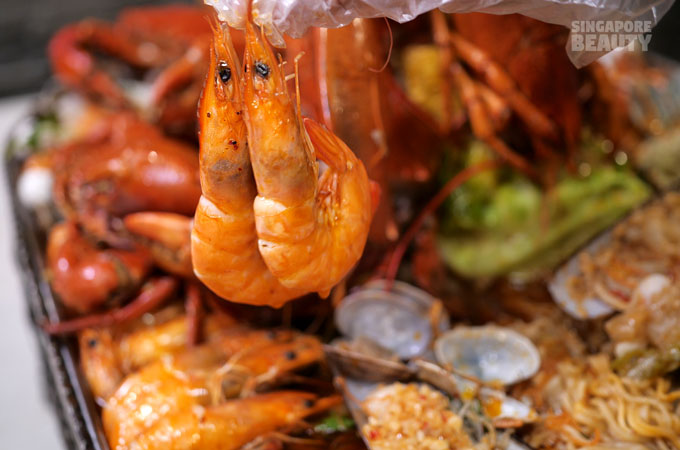 How to resist some succulent prawns with firm and sweet flesh?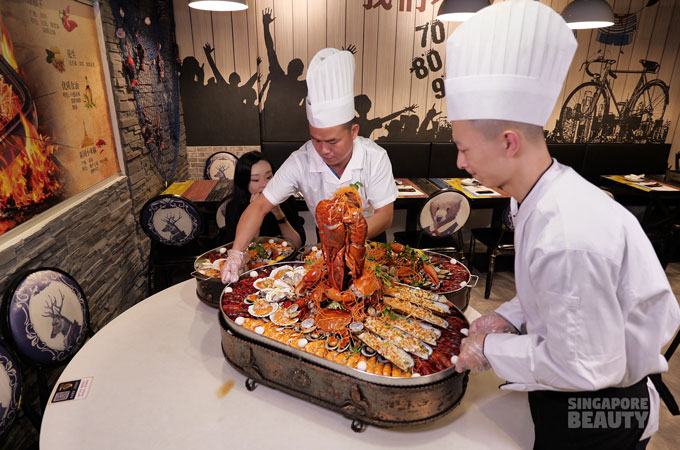 This jumbo platter is a labour of love by a team of chefs.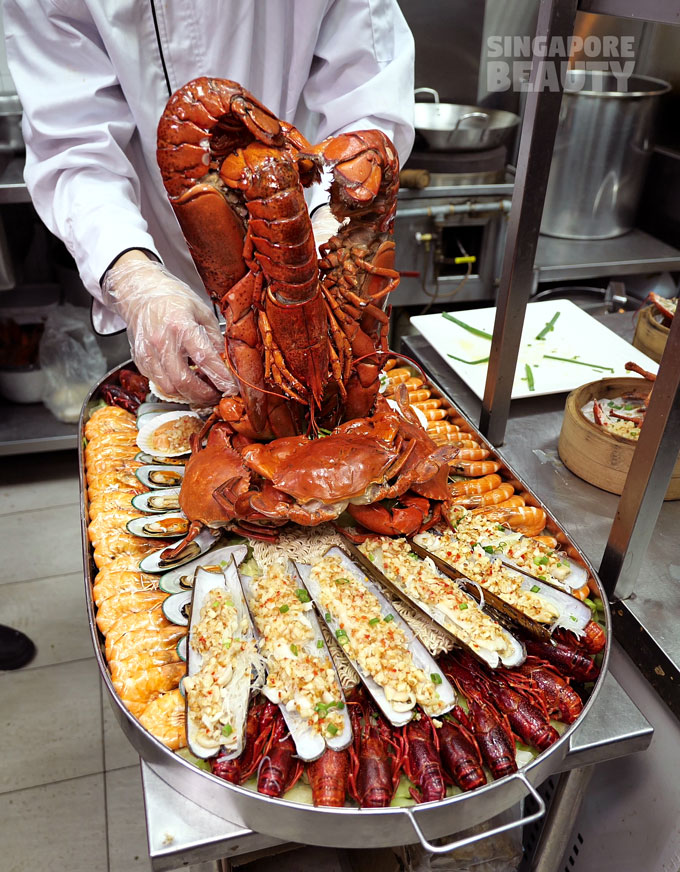 Prepared upon orders and gracefully assembled together in an amazing display of seafood galore.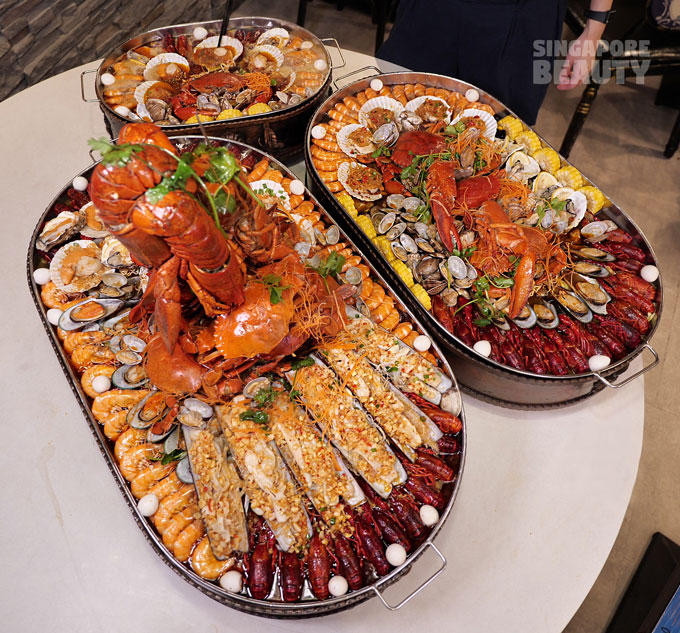 Besides the jumbo seafood platter, they also come in 4 other seafood platter size that feeds from 2 pax onwards.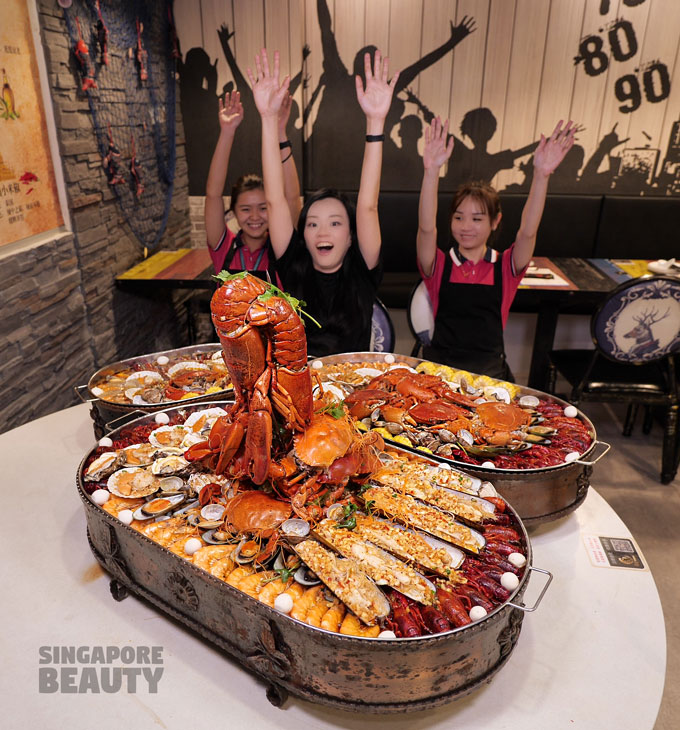 Hooray to this seafood party, come and try this epic curated jumbo seafood platter that is not in the menu.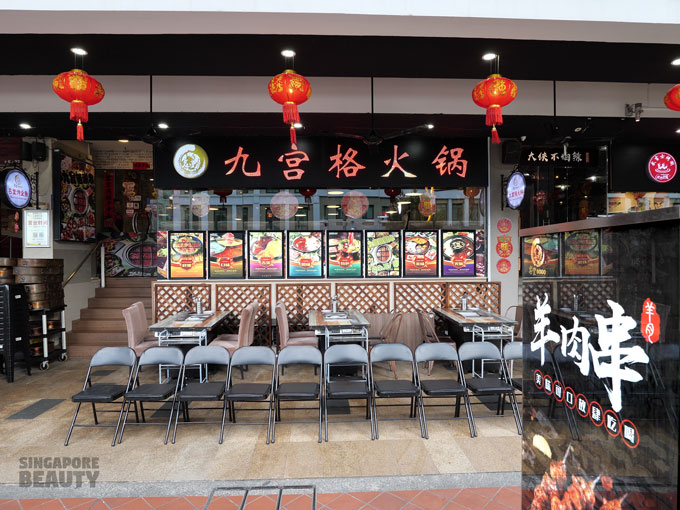 The jumbo seafood platter is waiting for you, head over now for this seafood experience at Jiu Gong Ge (九宫格火锅).
Set A $58++ (2pax) – no lobsters. Weekday lunch 20% promo = $46.40++ when you quote Singaporebeauty. Exclude PH and Eve.
Set B $118++ (3-4pax)
Set C $198++ (6pax)
Set D $238++ (7-8pax)
Set E $338++ (8pax) – only set with boston lobsters and require two days advanced booking.(special platter not in menu)
Location:
470 North Bridge Road #01-02 , Bugis Cube, S188735
Operating Hours:
Open 11.30 am to 2am Daily
Reservation:
63383405
Brought to you by Jiu Gong Ge (九宫格火锅)