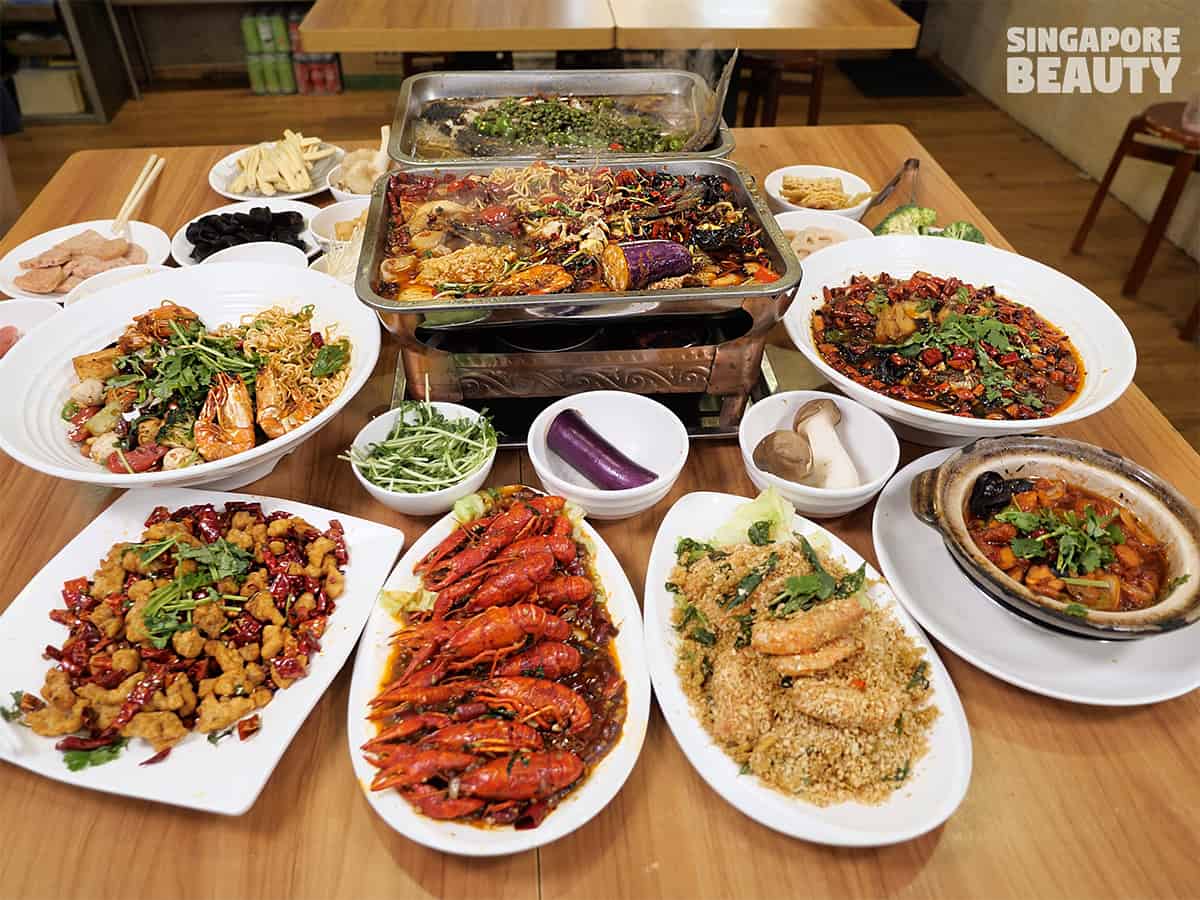 Wang Xing Mala Kitchen (旺兴麻辣小厨) is famous for their handpicked Mala dry pot, soup pot, Singapore-Sichuan fusion zi char dishes and their newly launched fire grilled fish.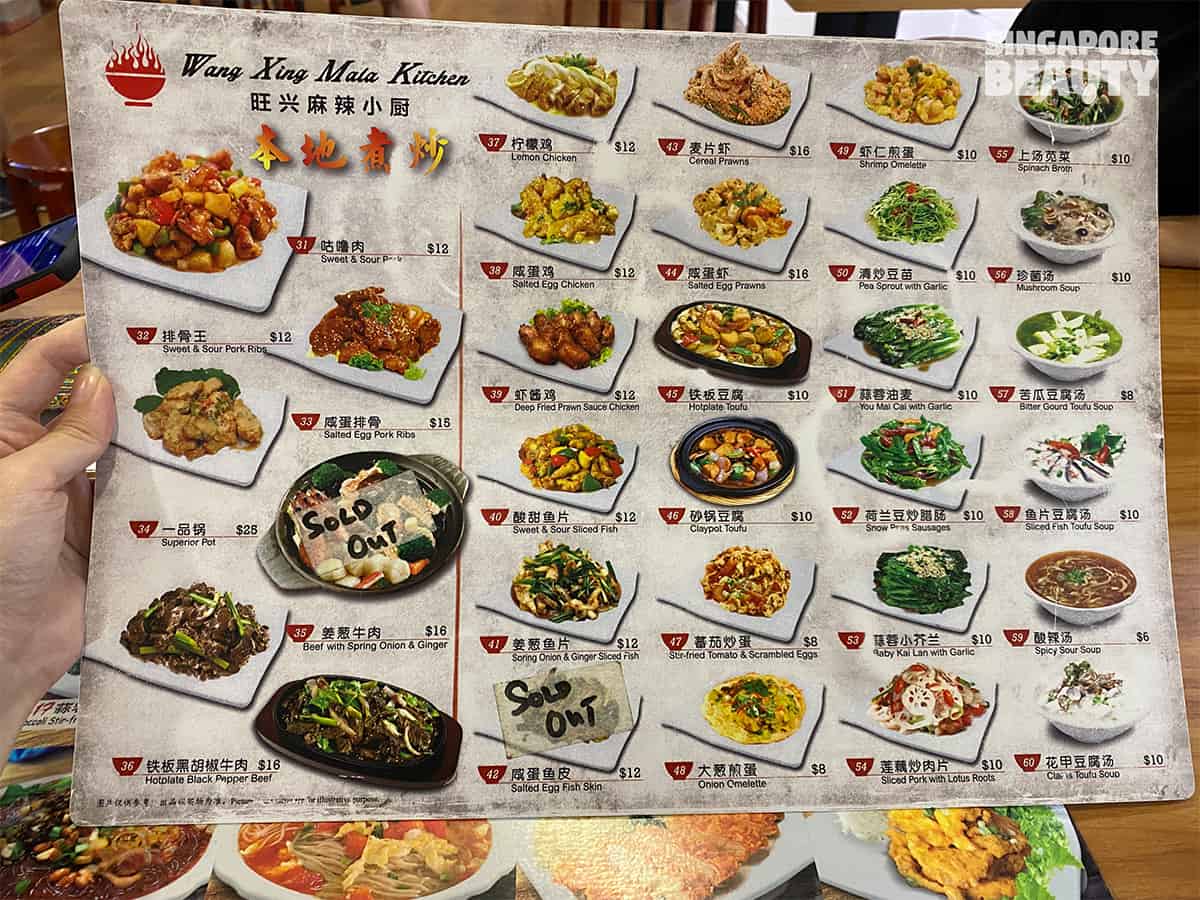 Wang Xing Mala Kitchen menu consist of a variety of zi char dishes such as Singapore favourite cereal prawns, sweet sour pork, hotplate tofu, salted egg chicken and more.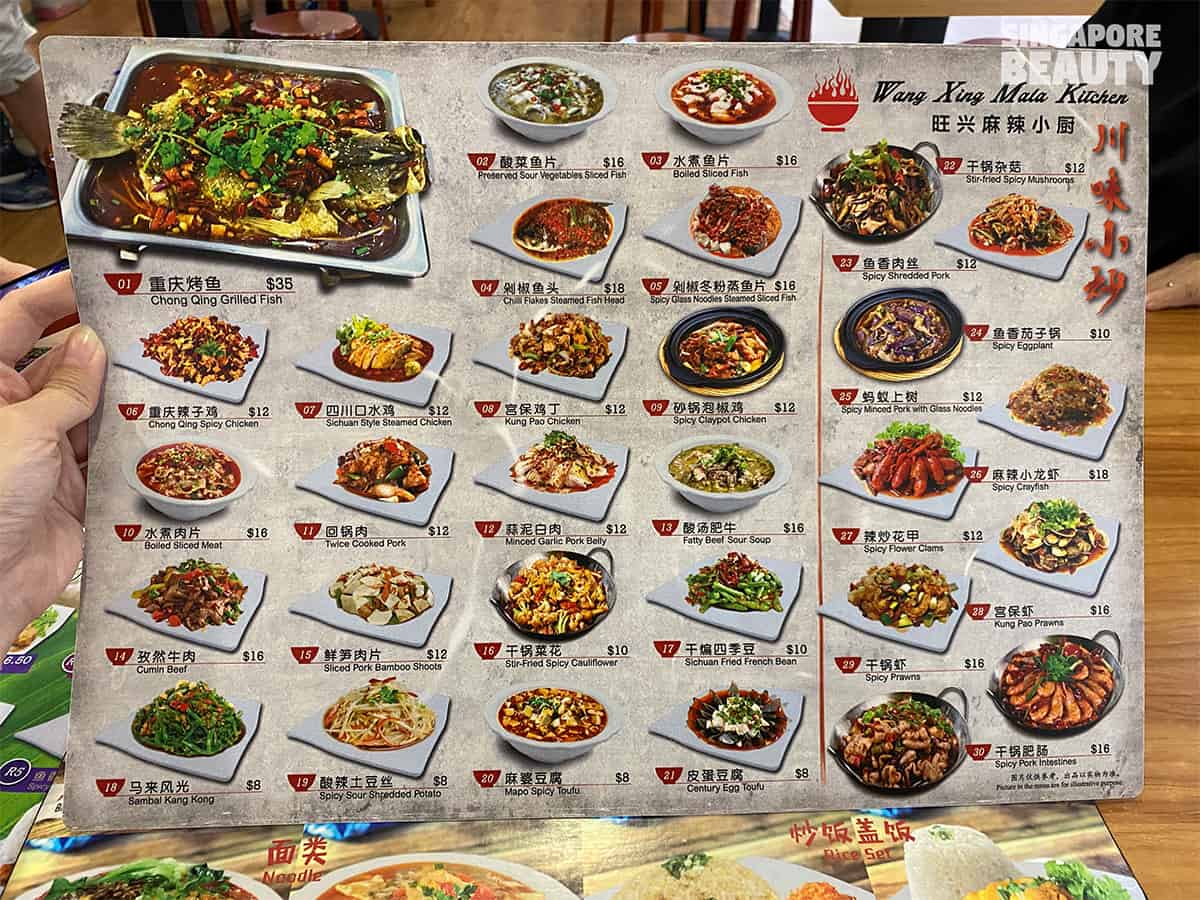 Since Wang Xing Mala Kitchen is famous for its Sichuan-Singapore zi char dishes, they also have a menu that offers authentic Sichuan dishes such as chef recommended Chong Qing Spicy chicken, grilled fish, spicy crawfish, spicy pork intestines and more.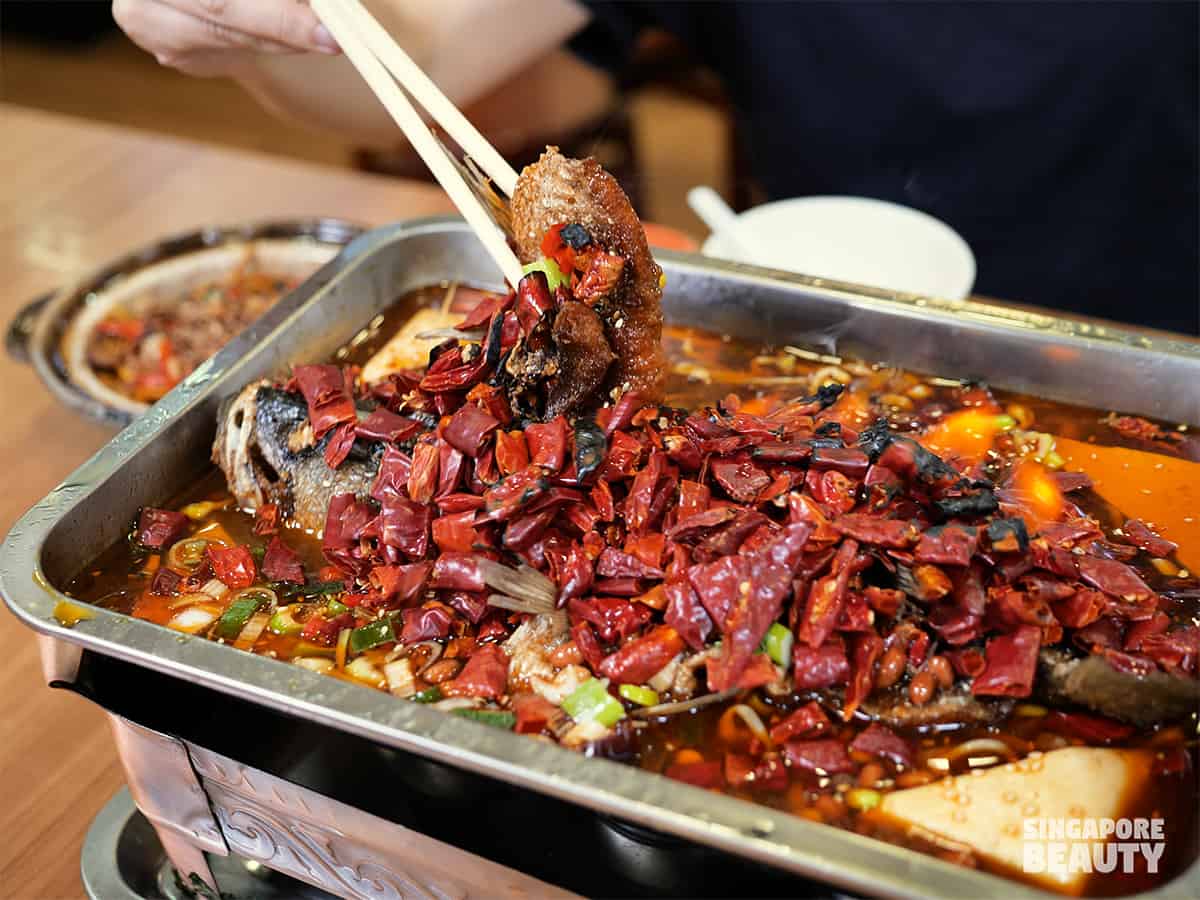 Here are some of must-eat dishes at Wang Xing Mala Kitchen. The newly added Singapore First Fire grilled fish ($22).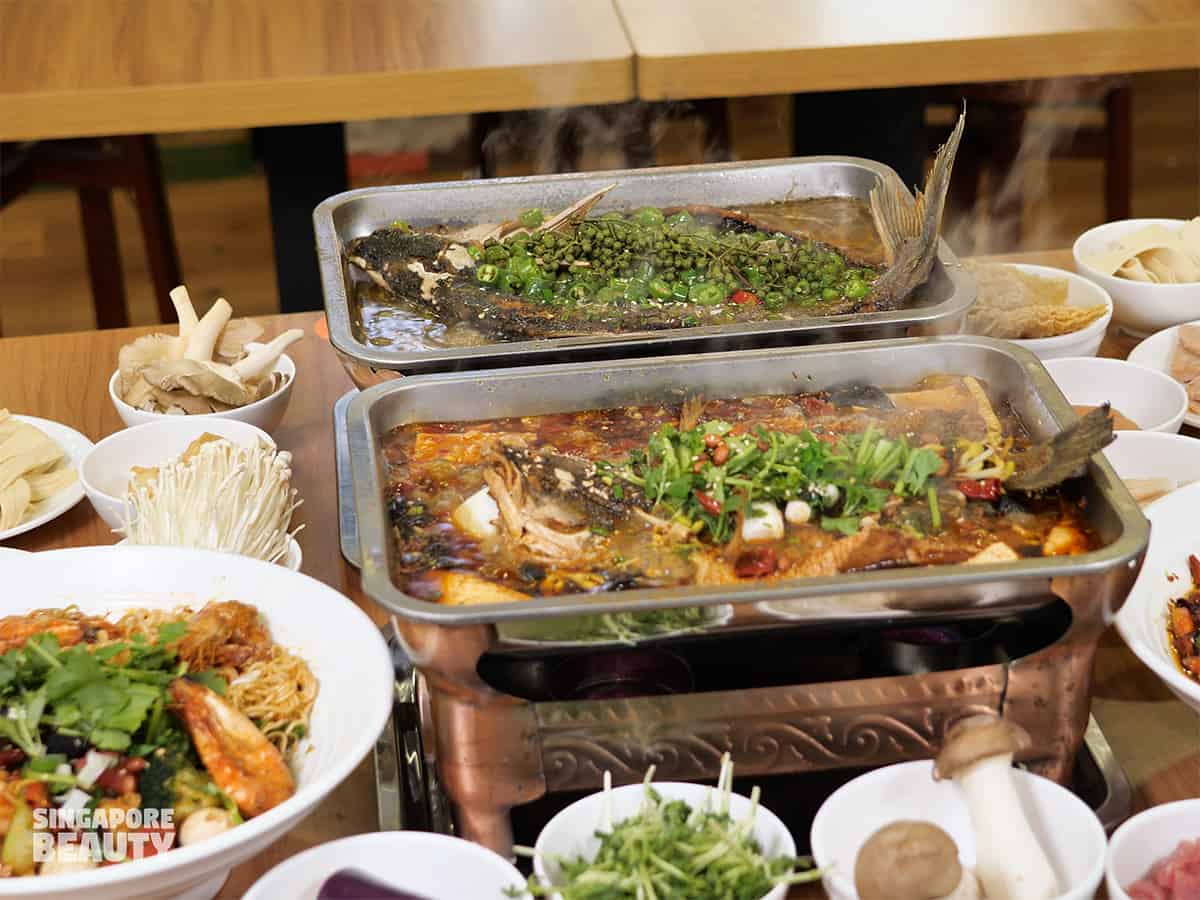 These grilled fishes come in 2 flavours – pickled mustard green and mala flavour.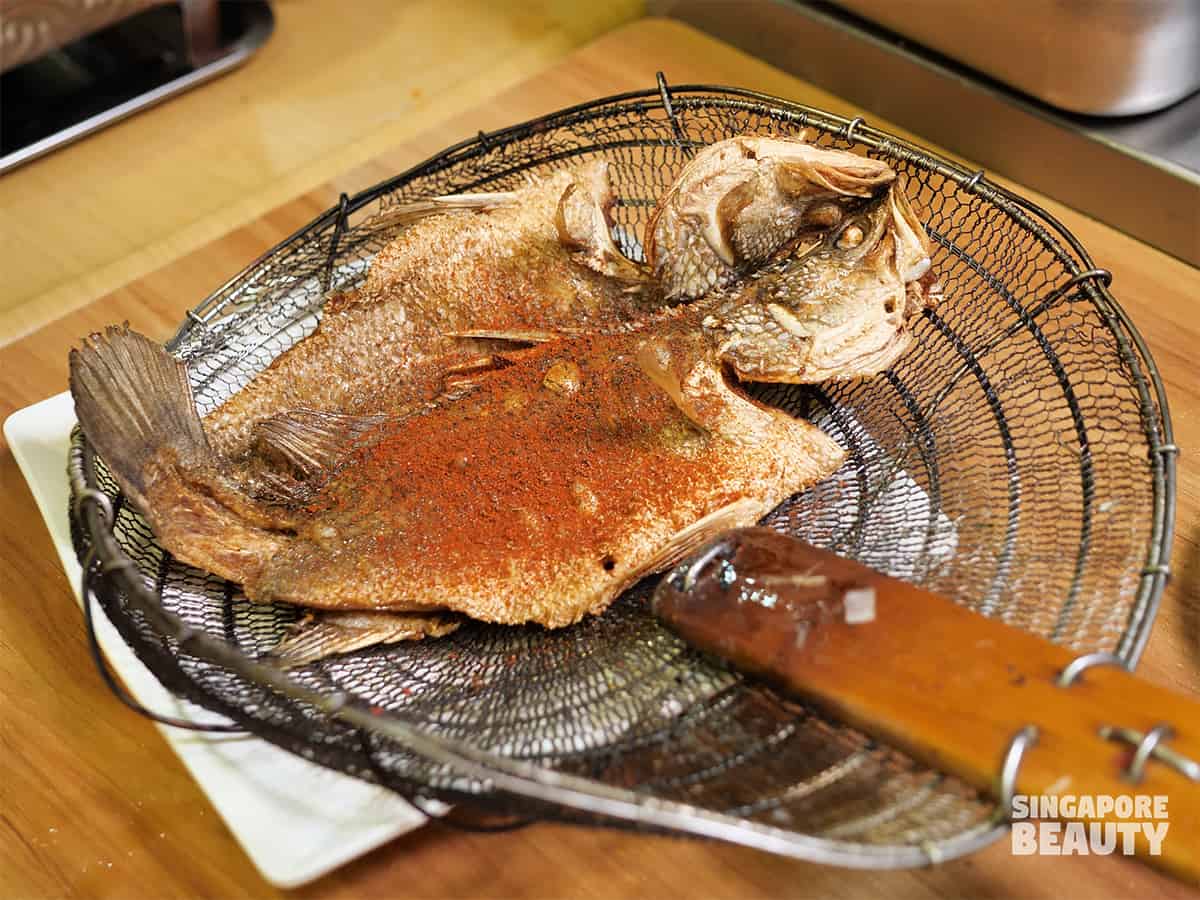 These Wang Xing Mala Kitchen spicy grilled fish are butterflied and seasoned with a secret mixed ground spices and chilli powder for extra flavours.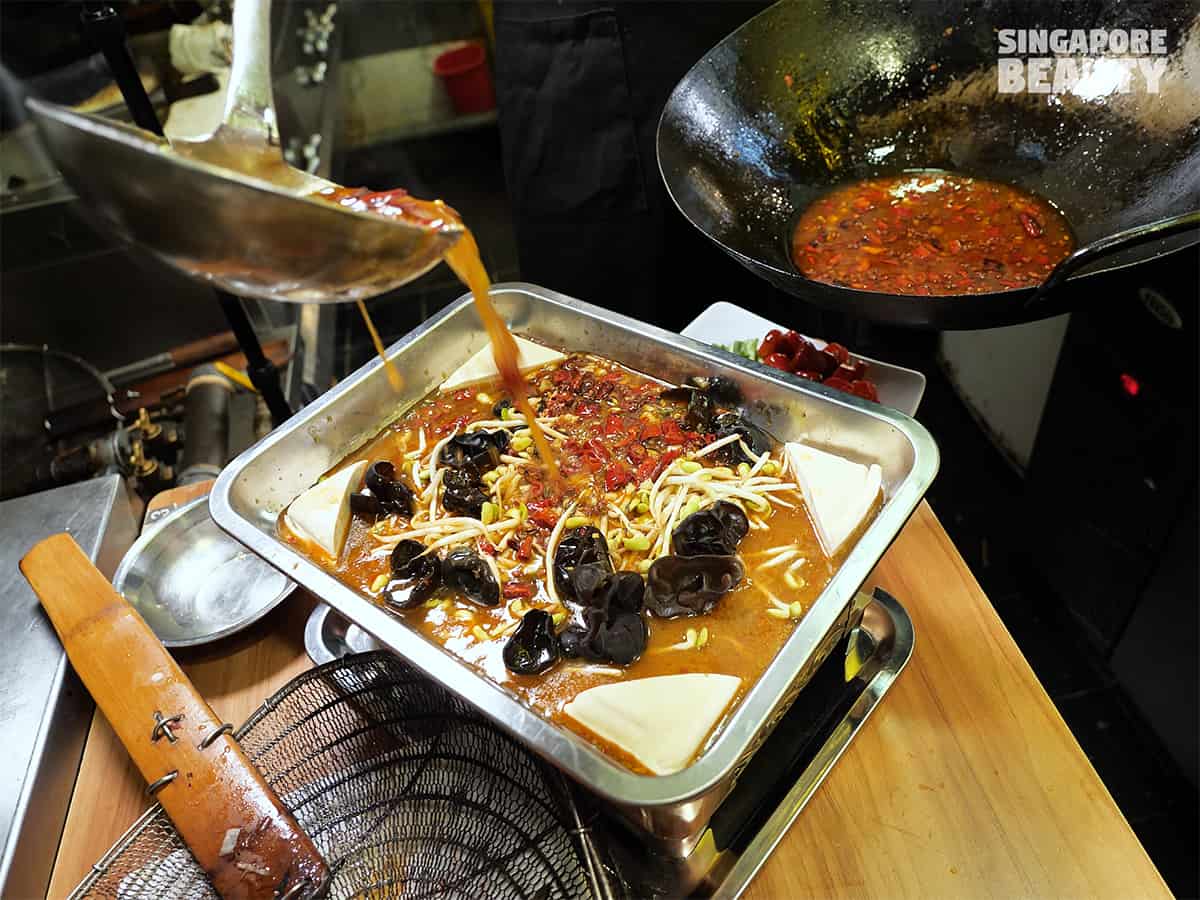 The tofu grilled fish for mala flavour comes with crunchy black fungus, tofu, soy sprout in a savoury mala broth made with chicken stock.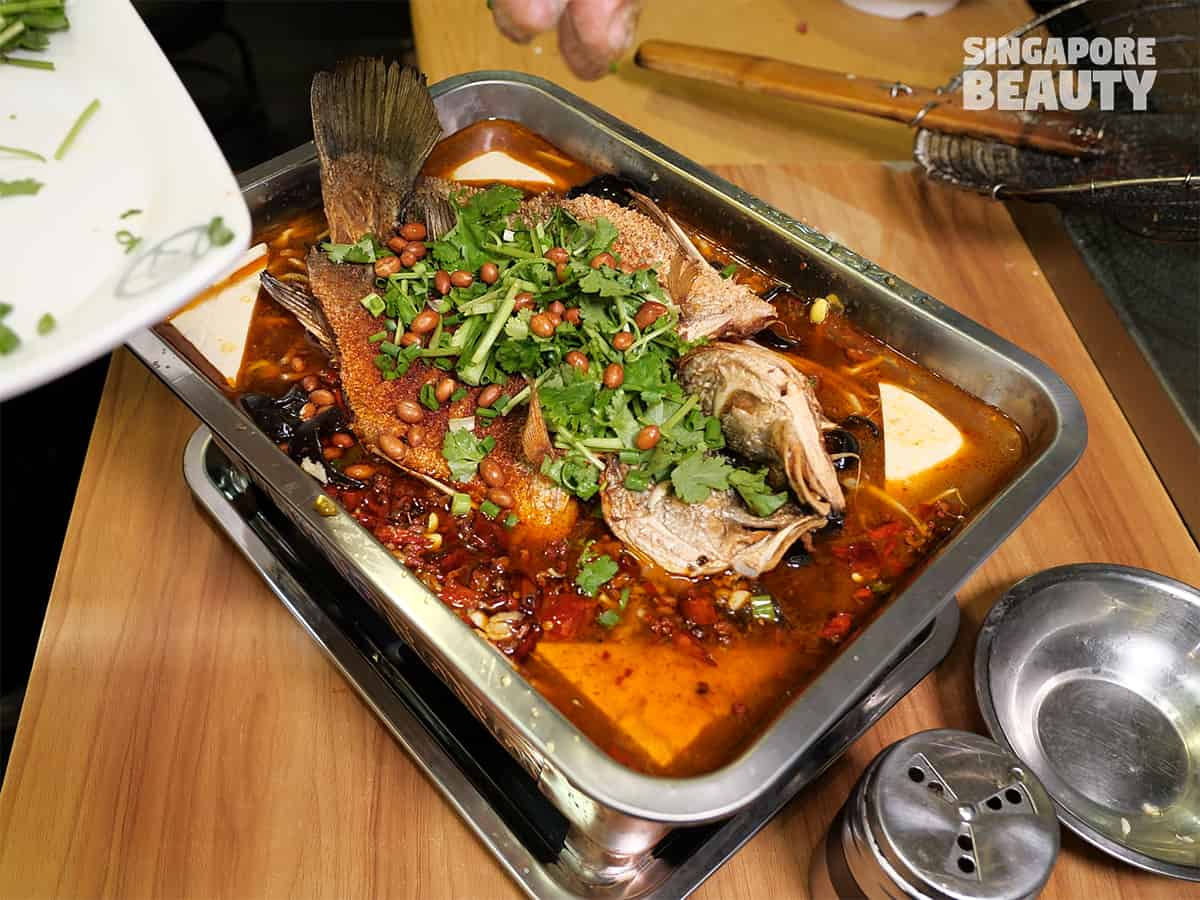 Garnish such as crunchy peanuts, chopped fresh parsley, toasted sesame seeds, red chilli pepper and dried chilli pepper are added for extra oomph and nutty flavour to the mala fish.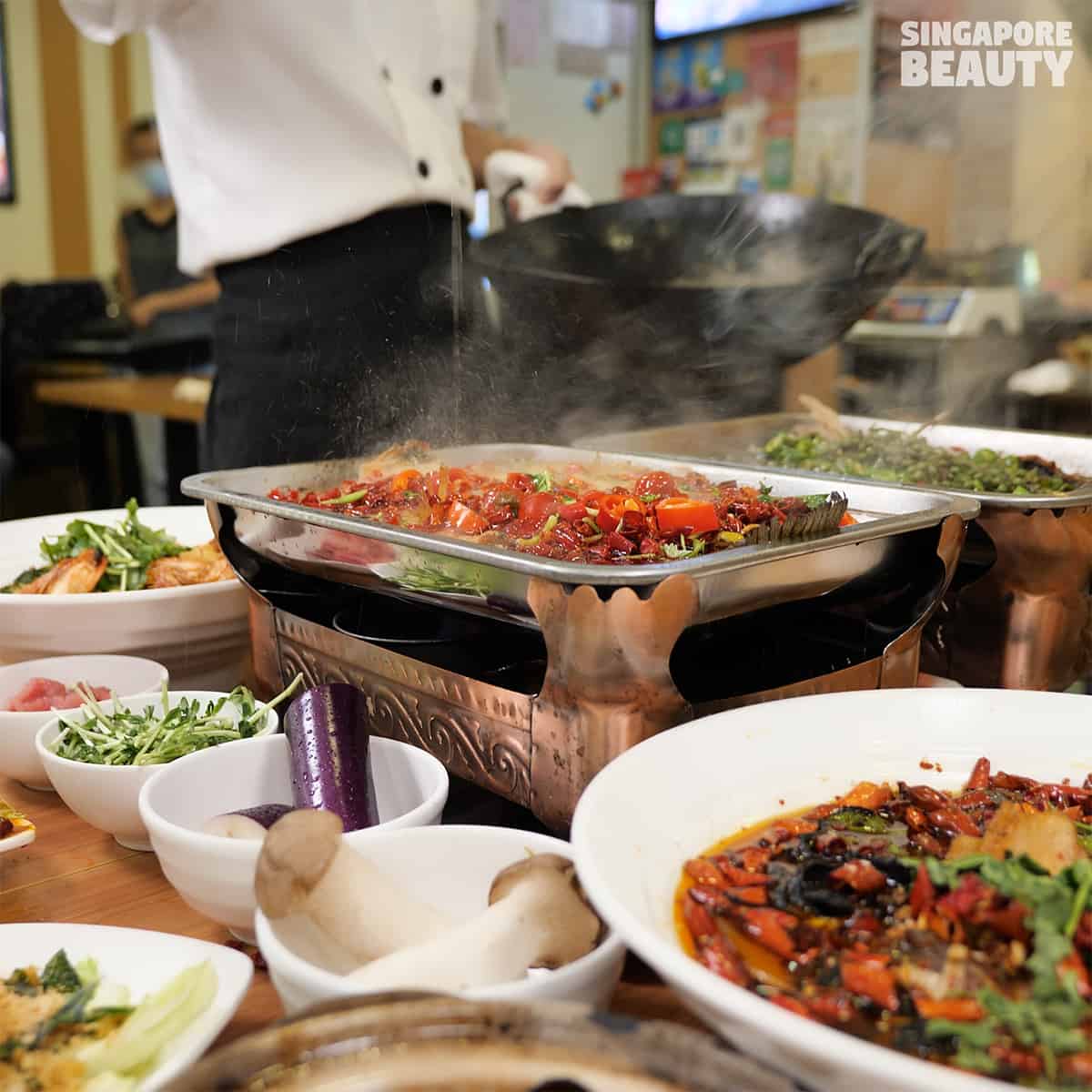 This is followed by a ladle of hot fragrant oil to bring out the aroma of the numbing spices and the dried chilli pepper. Enjoy the sizzling hot grilled fish.
Enjoy mouthful of savoury and Wang Xing Mala Kitchen numbing mala fish chunks with slightly elastic fish skin.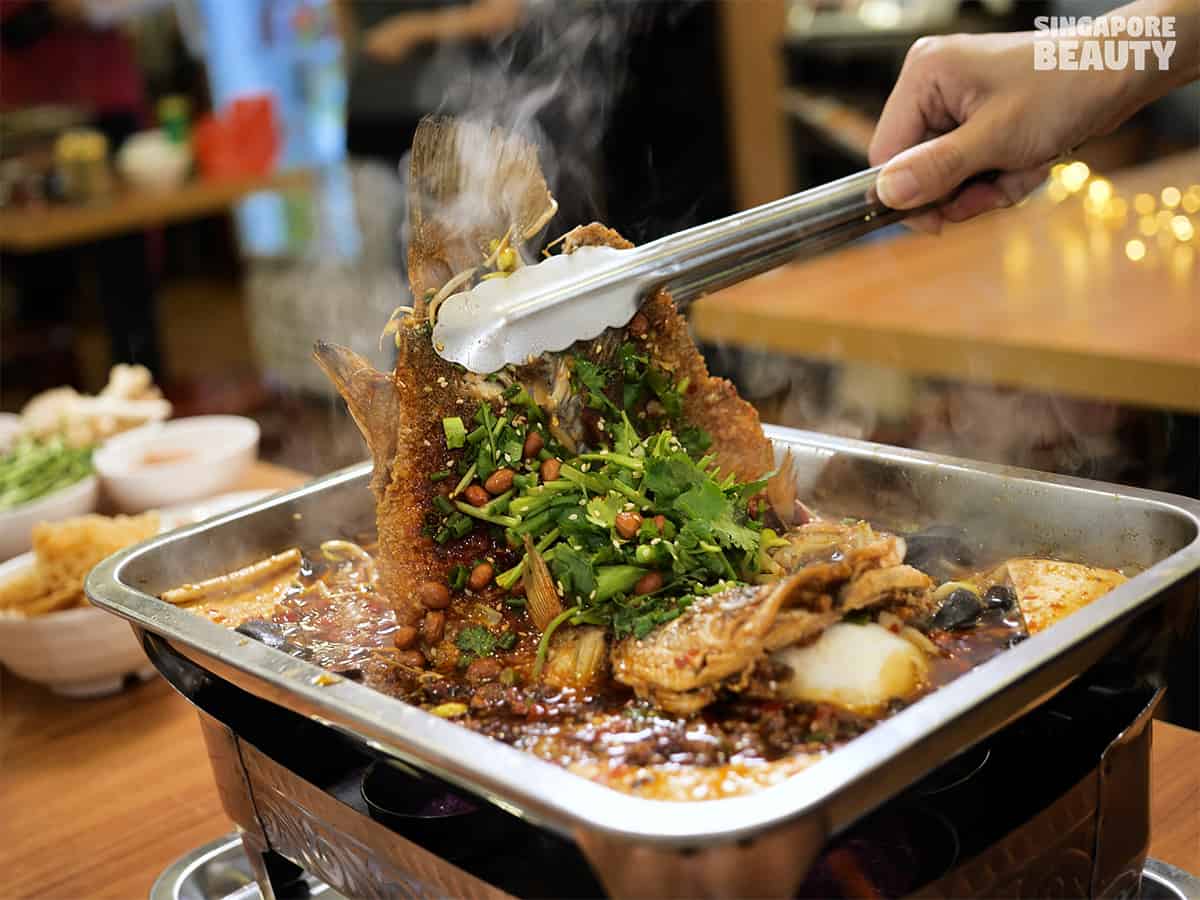 For their regular grilled fish ($18 nett), you get one whole grilled fish that is set on a base of cabbage, tofu, sprouts and black fungus. Very value for money and tasty too.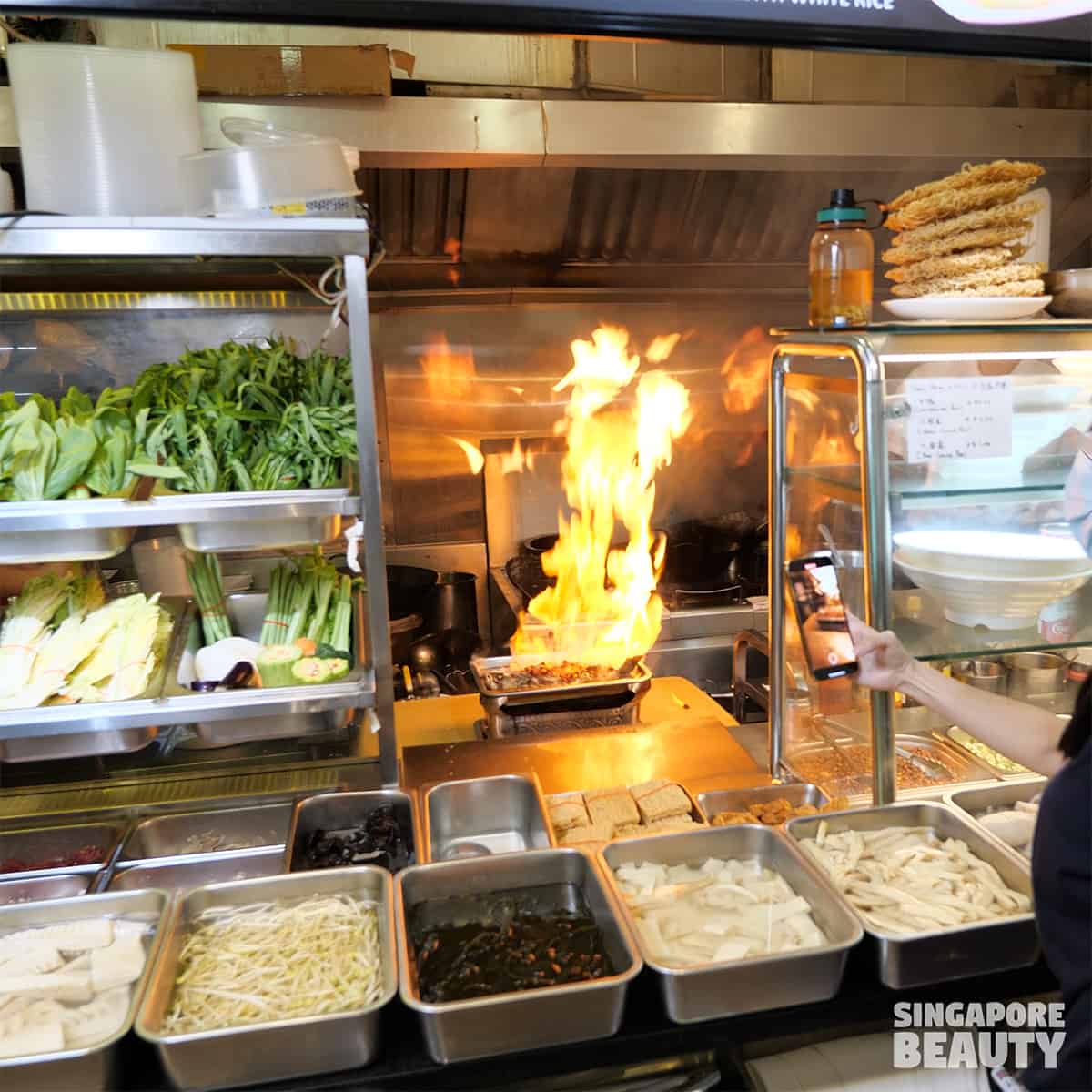 Treat yourself to a visual feast as well when you order the famous Wang Xing Mala Kitchen Singapore first fire grilled mala fish ($22 nett). The chef will literally set your mala on fire within the kitchen. Get ready to whip out your phone to catch this amazing display of culinary showmanship.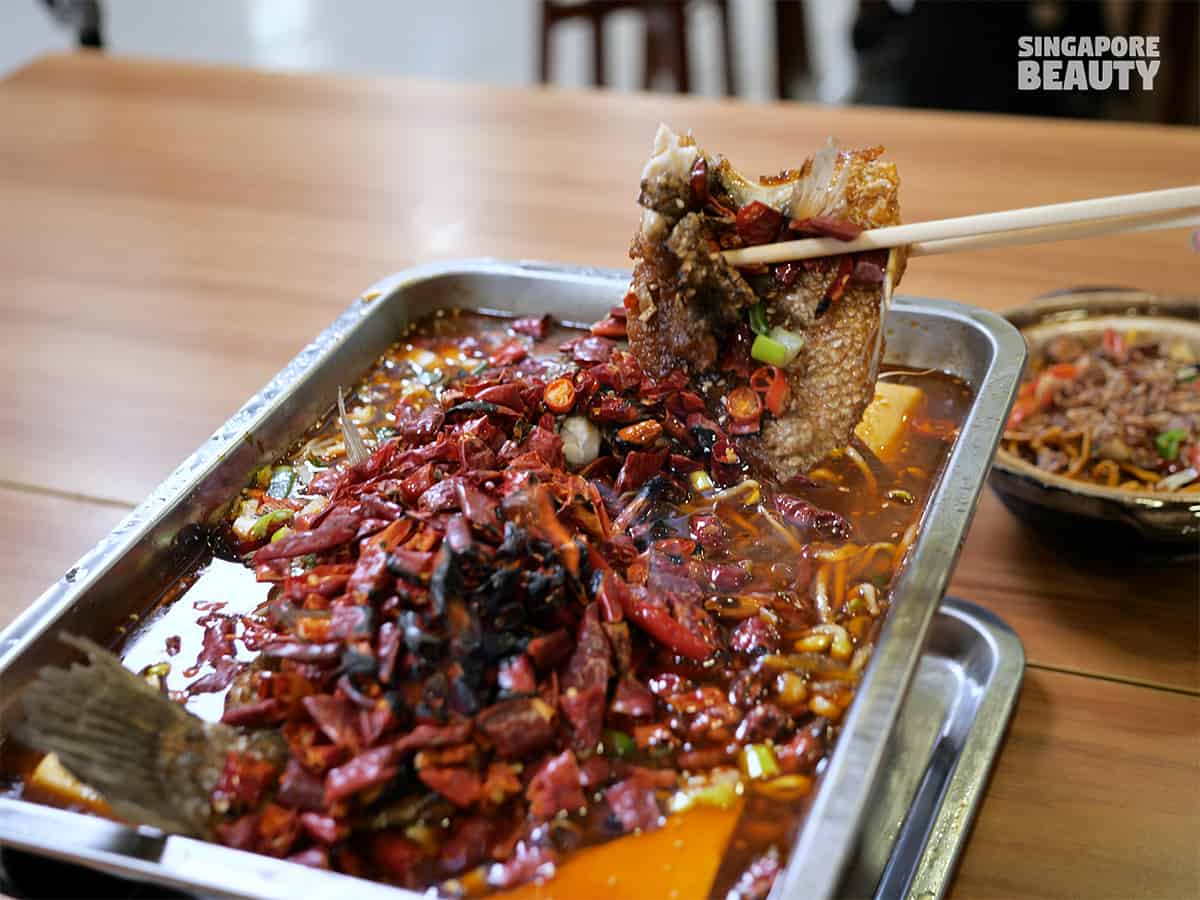 This method of setting the grilled fish on fire creates an extra crispy and crunchy fish skin right before your eyes. The fish meat has a nice char flavour to it imparted by the fire-kissed toasted chilli flakes. Recommended if you have not tried Singapore First Fire Grilled fish.
Wang Xing Mala Kitchen is famous for their mala dry pot fondly known as mala xiang guo. If you are craving for mala xiang guo in orchard road, you need to try their famous pot.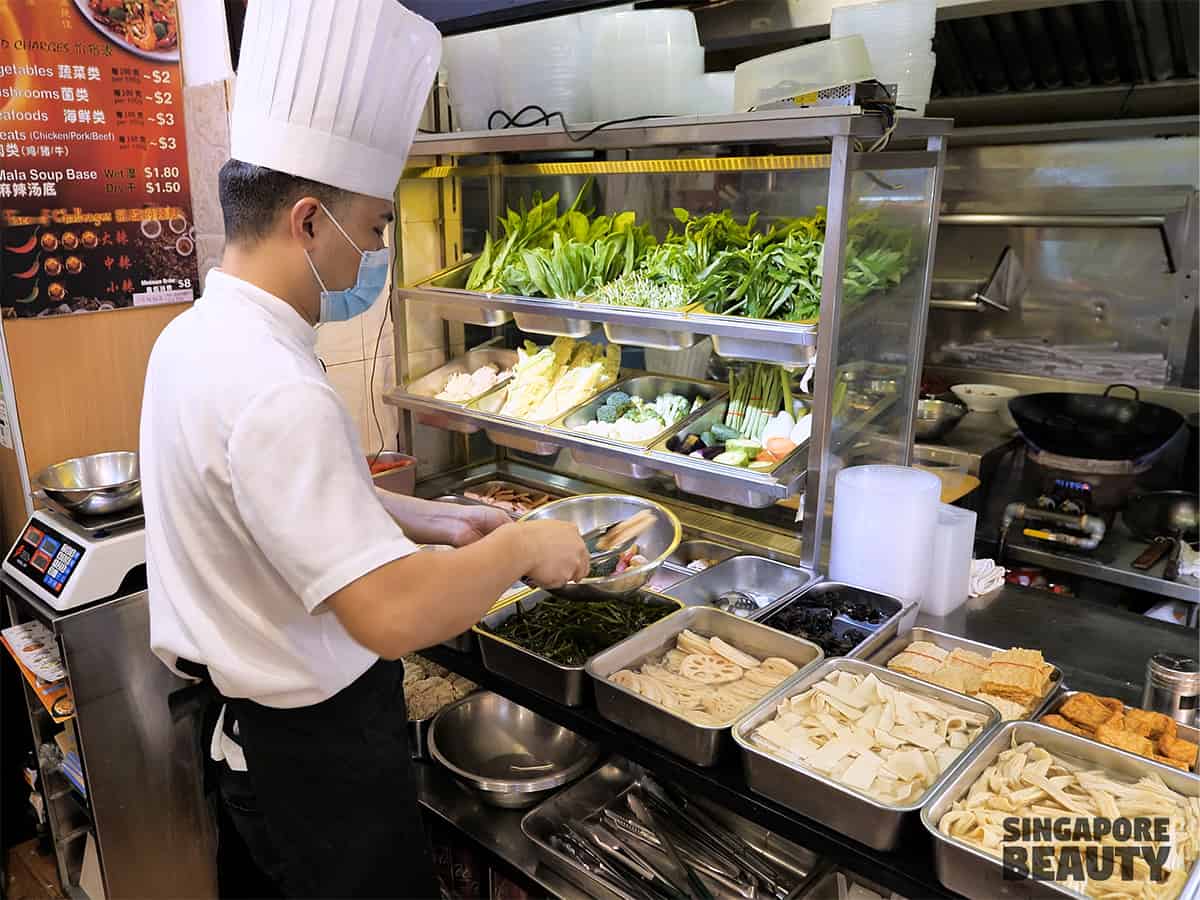 They will help to handpick your preferred combination of ingredients and serve up some fry to order mala guo with an addictive numbing and spicy flavour.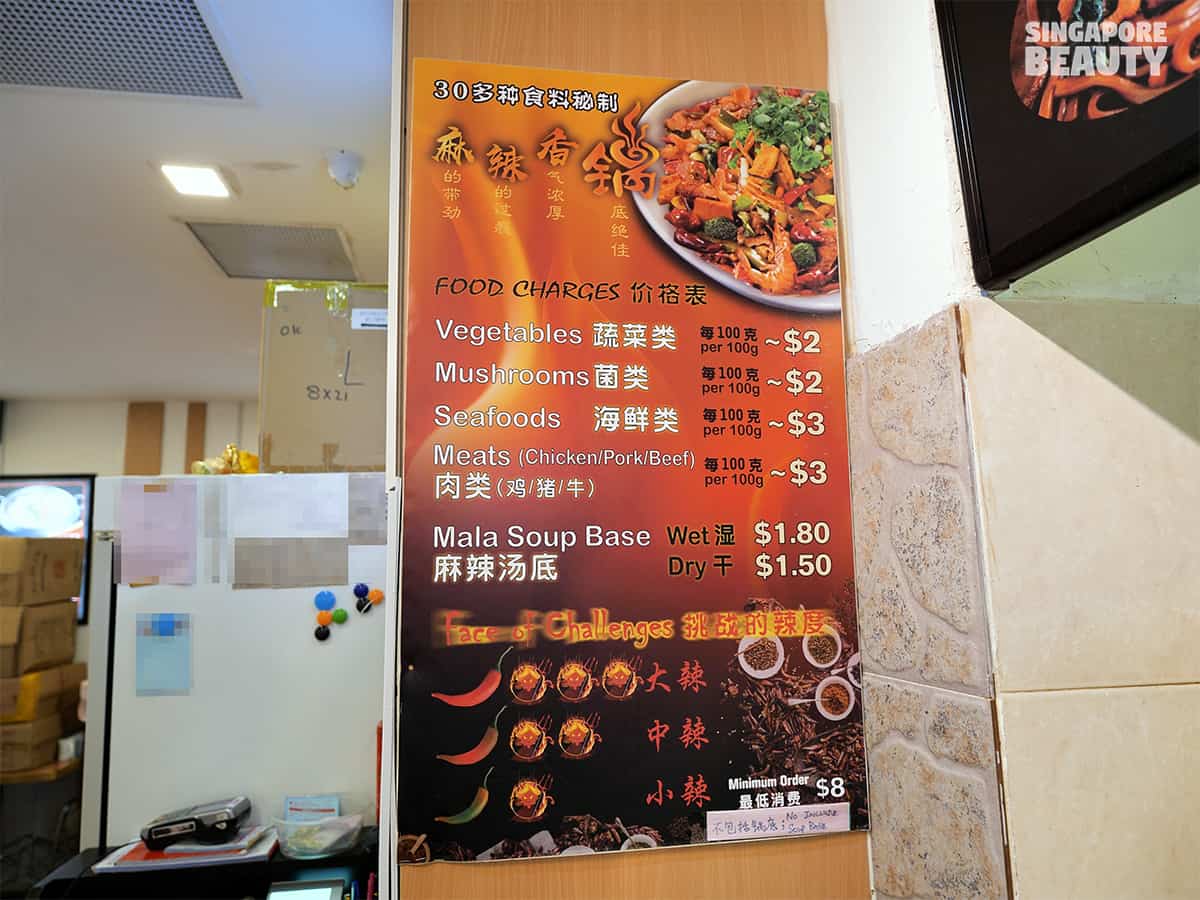 You can customise it to your acceptable level of heat for each pot. This is the price menu for Wang Xing Mala Kitchen popular mala xiang guo pot.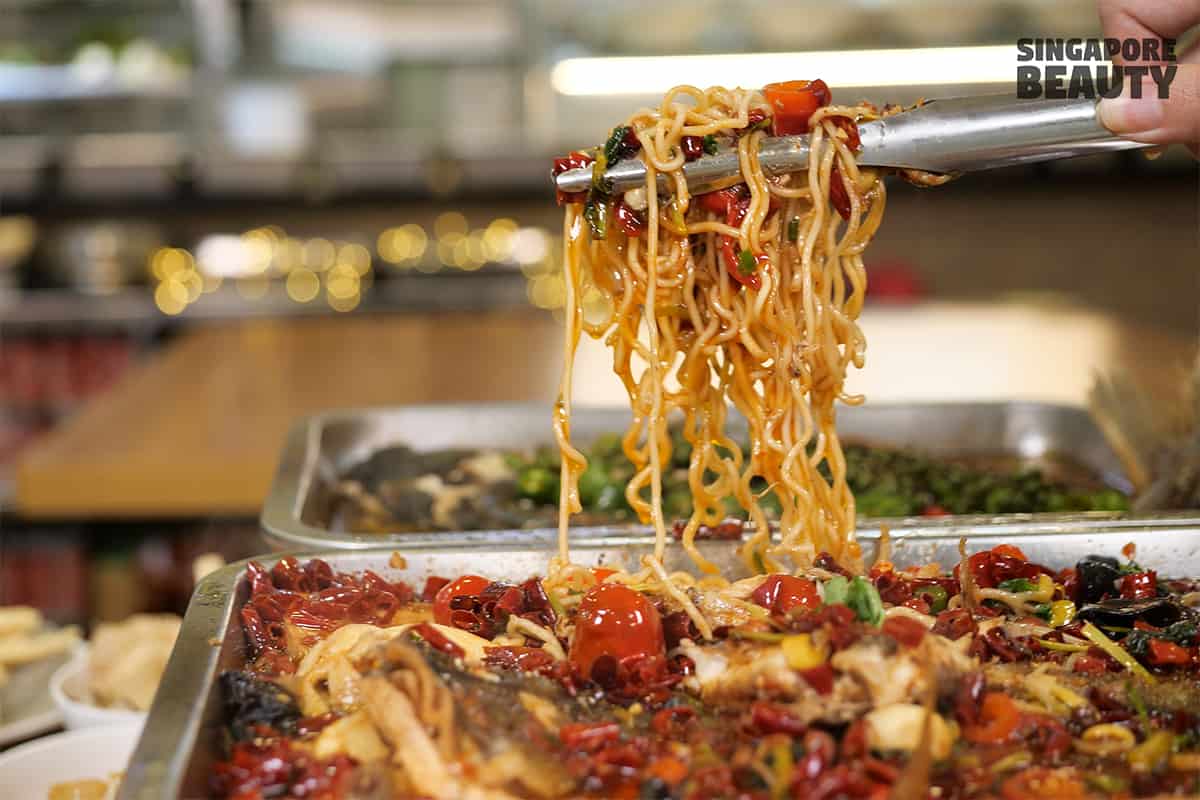 Feel free to add on any of these mala pot ingredients to your grilled fish starting from $2 per portion. For seafood such as prawns, per portion starts from $3.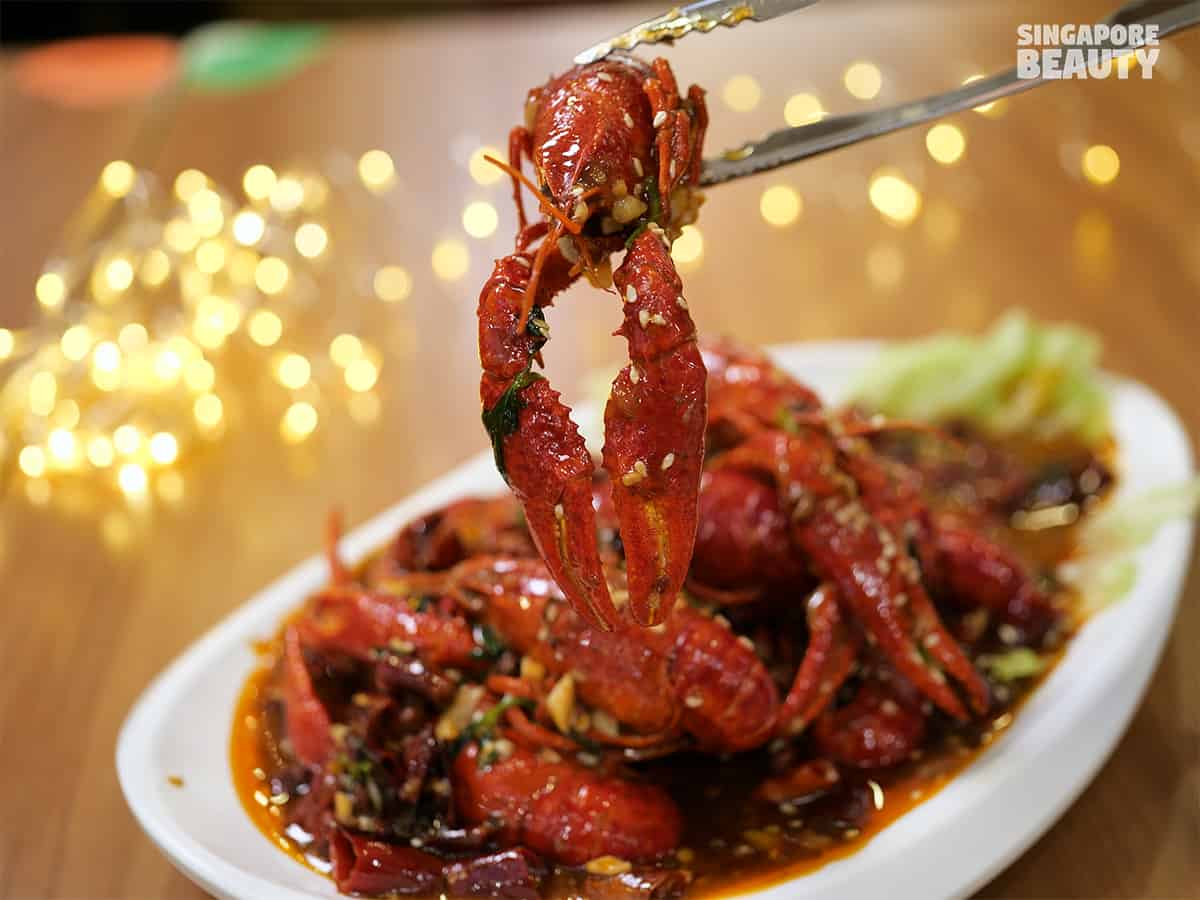 This is one of their popular Sichuan spicy crawfish found in Wang Xing Mala Kitchen in Orchard road.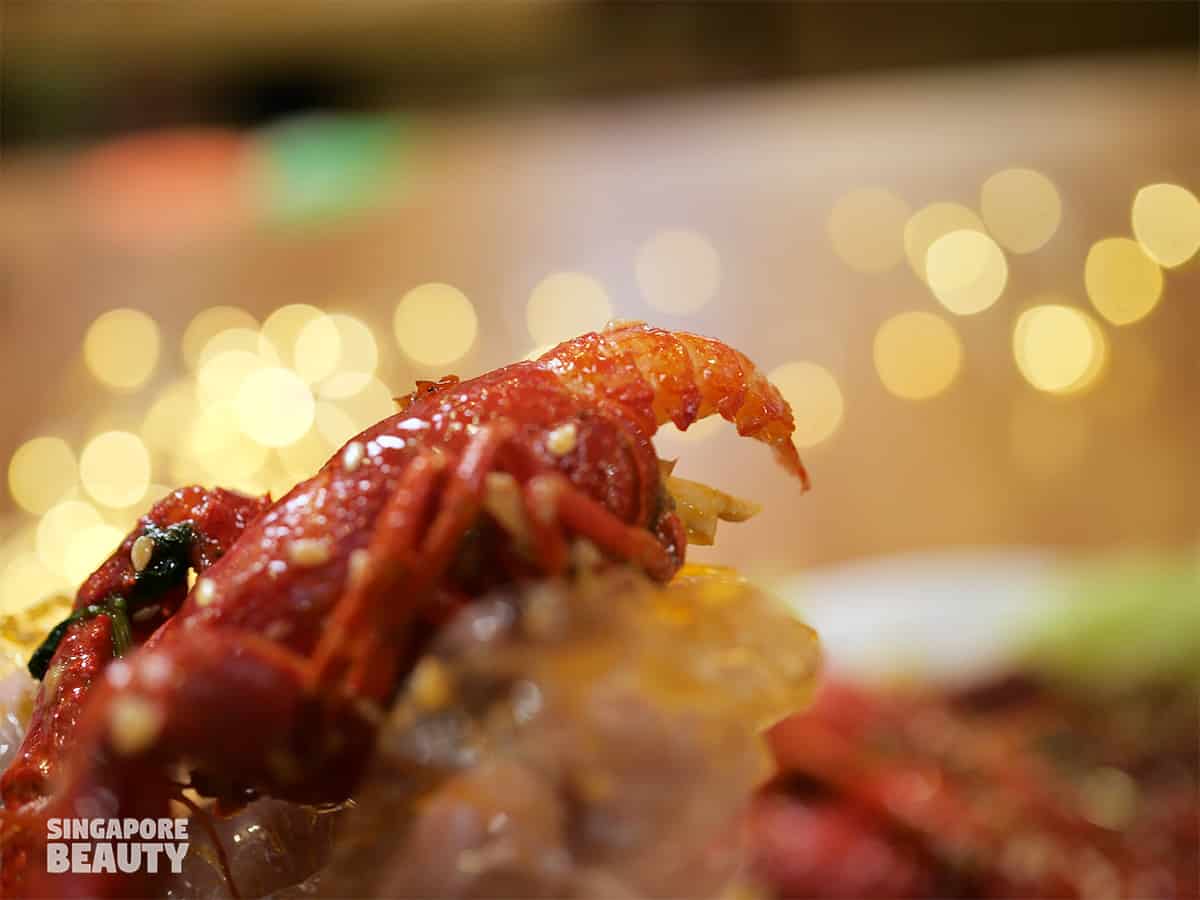 Sweet succulent morsel of crustacean meat in savoury sauce.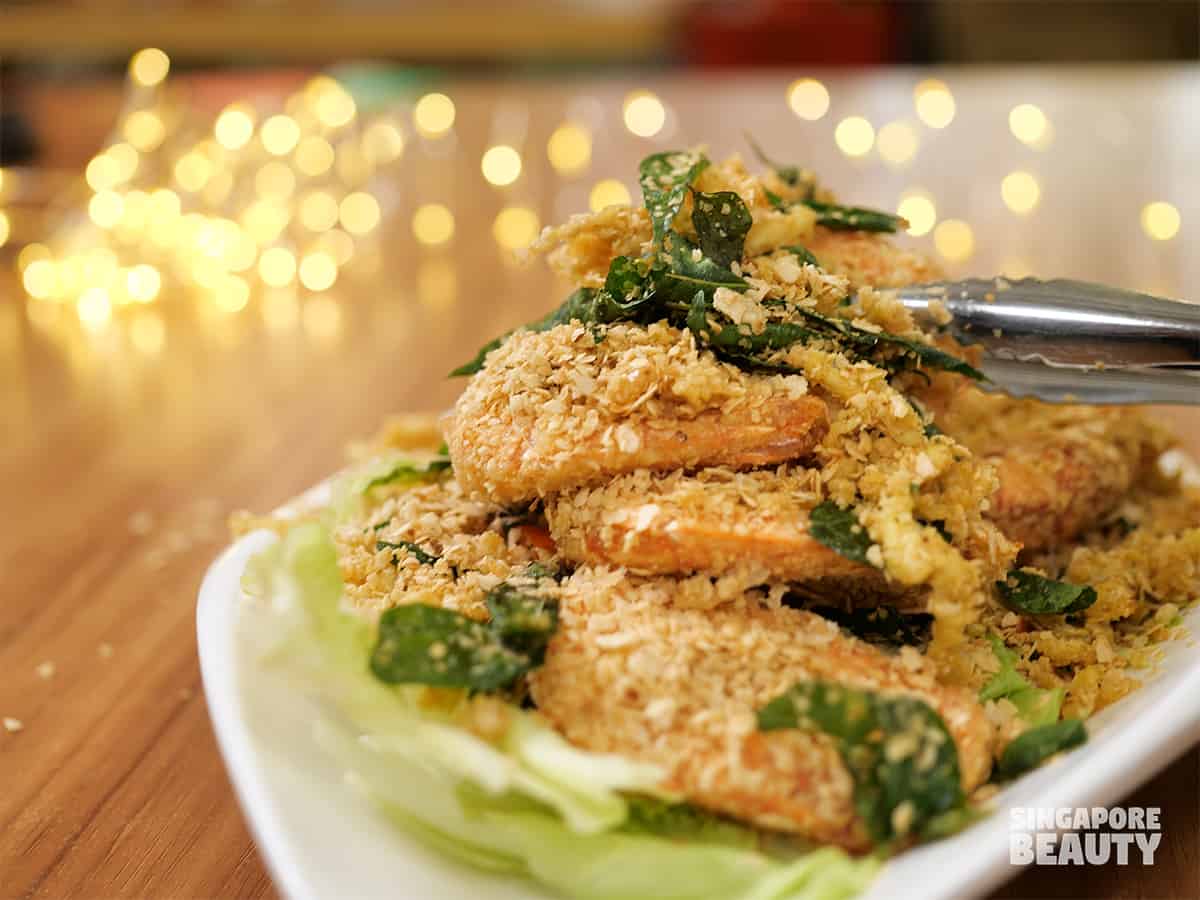 Popular on the list of Singapore zi char dish in Wang Xing Mala Kitchen is their Singapore style cereal prawns. Succulent crunchy prawns encased in a light and crispy cereal battered shell. Top with lots of aroma curry leaves with a hint of heat from the red chilli padi rings.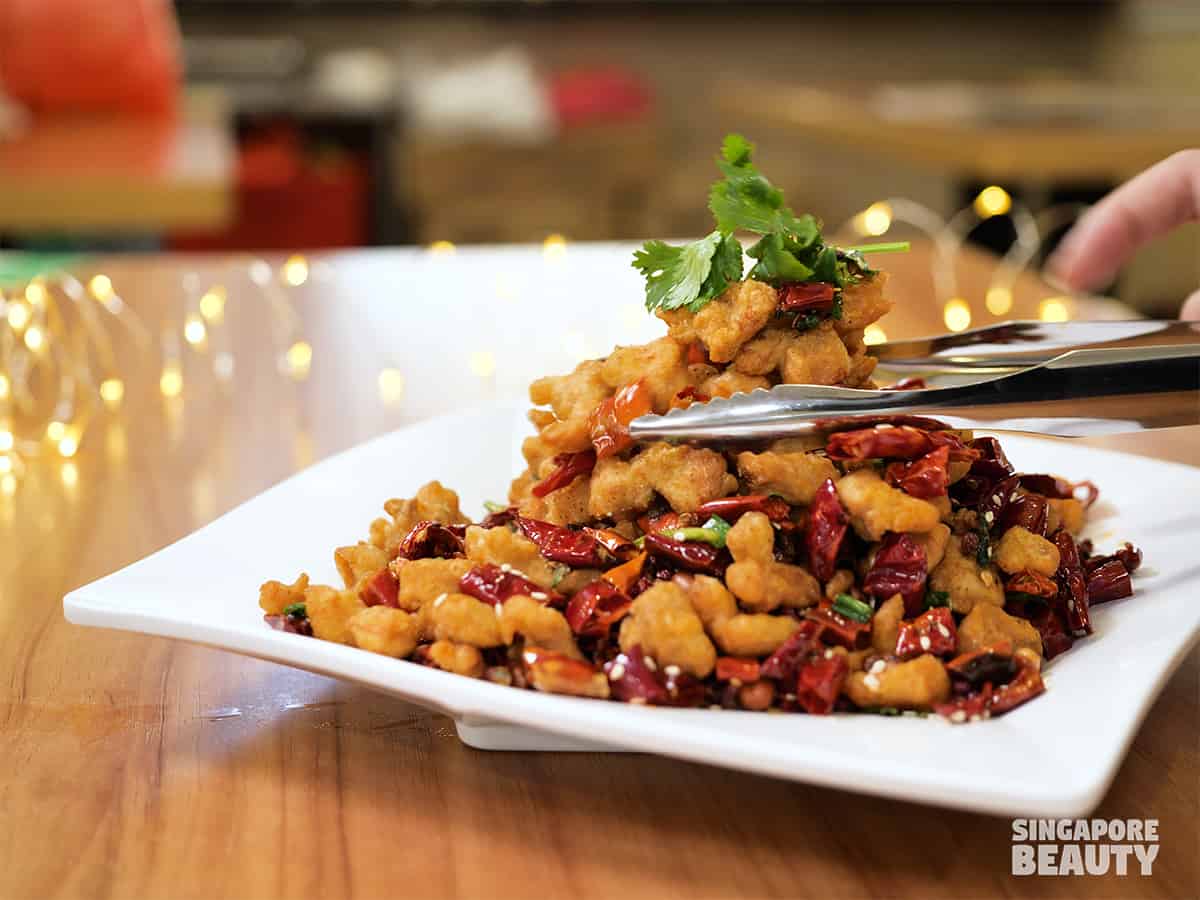 This is Chong Qing Spicy chicken and one of the must order dishes. It has a light crunchy crust chicken meat with a nice savoury saline flavour together with a numbing sensation from grounded peppercorns. Very addictive and highly recommended.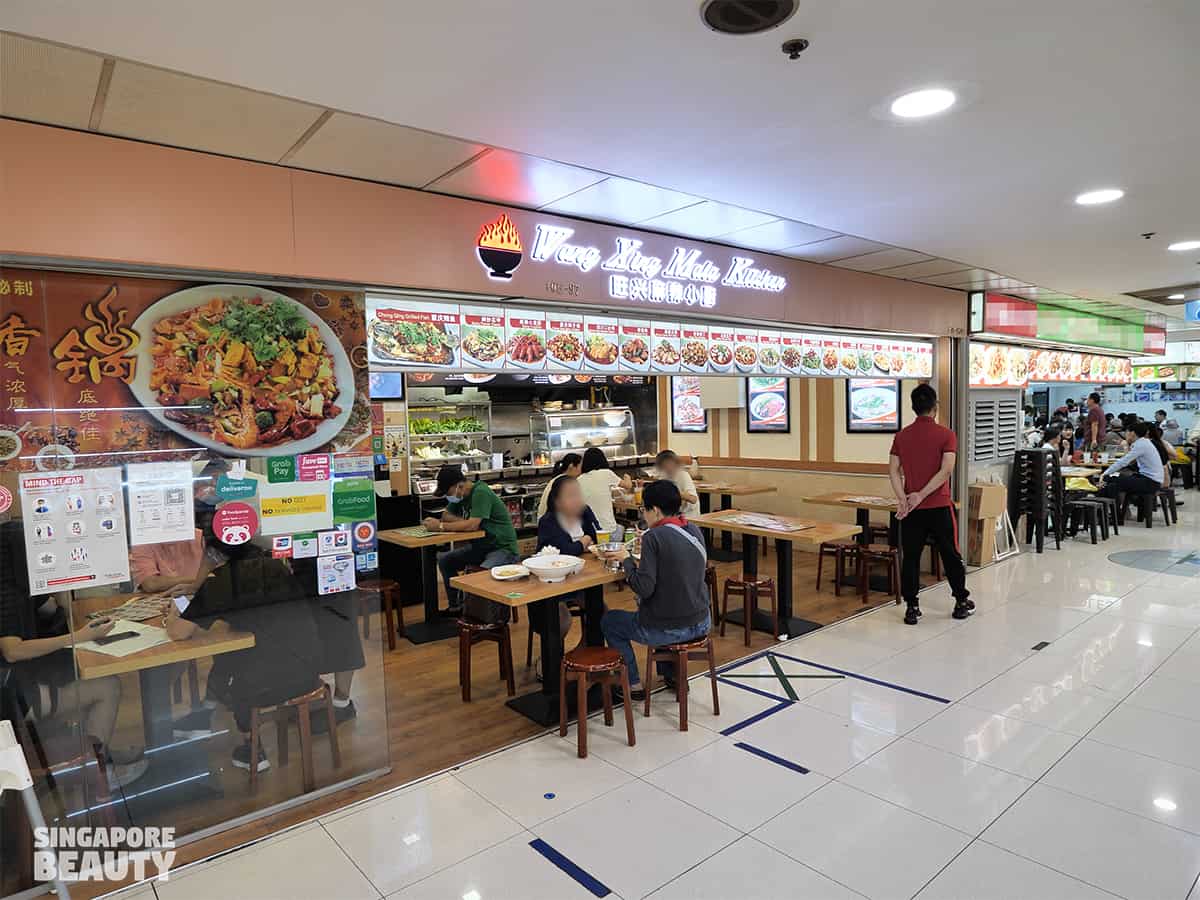 Head over to Wang Xing Mala Kitchen today to enjoy the best of both worlds – Sichuan styled grilled fish, zi char, mala xiang guo and Singapore style zi char dishes all conveniently located in Orchard Road Far East Plaza with affordable prices.
Wang Xing Mala Kitchen Location:
Far East Plaza
14 Scotts Rd #05-96/97
Singapore 228213
Opening Hours:
1030am to 930pm
Telephone : (+65) 6732 0026
Brought to you by Wang Xing Mala Kitchen