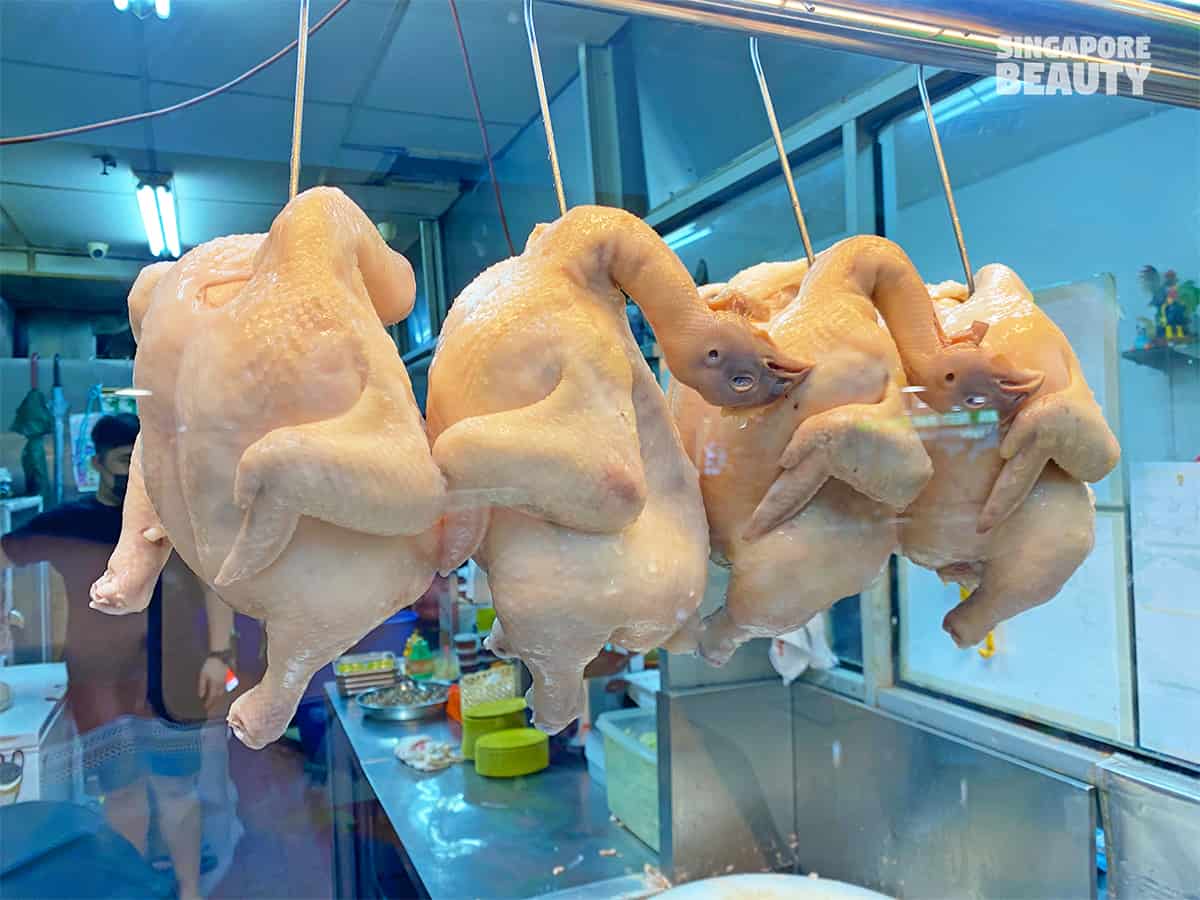 When we think of Far East Food, this Hainanese Delicacy chicken rice, Wang Xing Mala Kitchen's mala xiang guo, grilled fish and some others are the top picks on the regulars list of must eat food.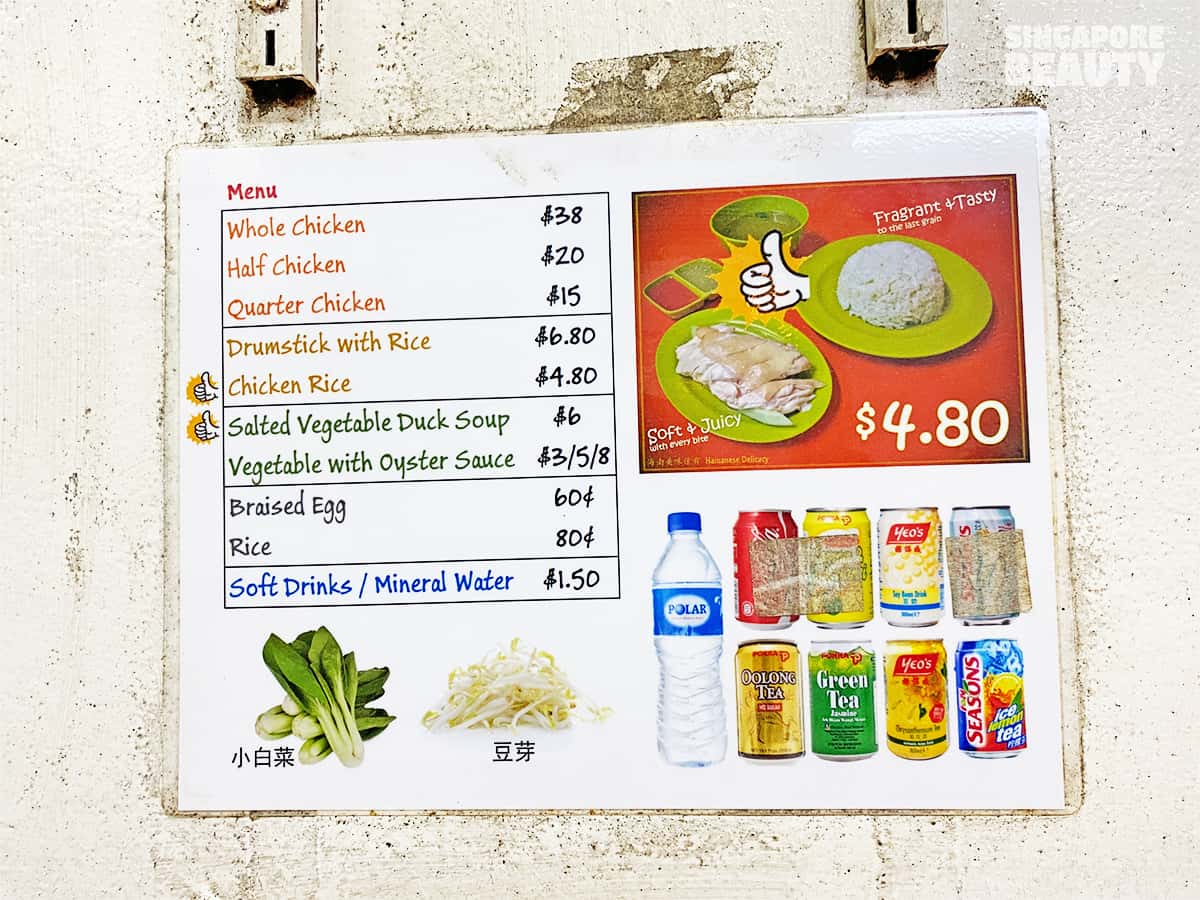 Here's the menu of Hainanese Delicacy menu. If you are unable to dine in, Hainanese Delicacy delivery is also available on Food Delivery apps such as deliveroo.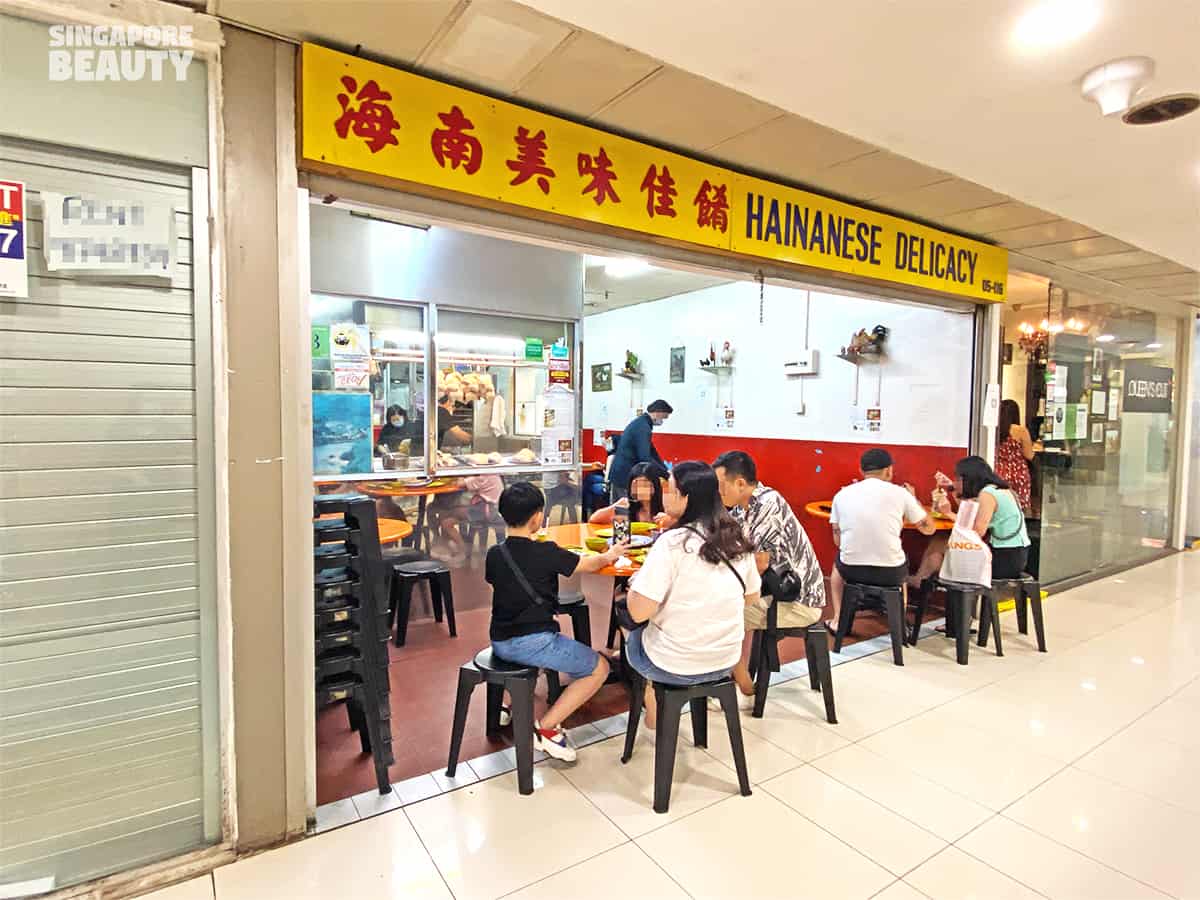 This famous and popular Hainanese Delicacy Far East chicken rice is often crowded during lunch hours and more manageable during off peak hours after 2.30pm.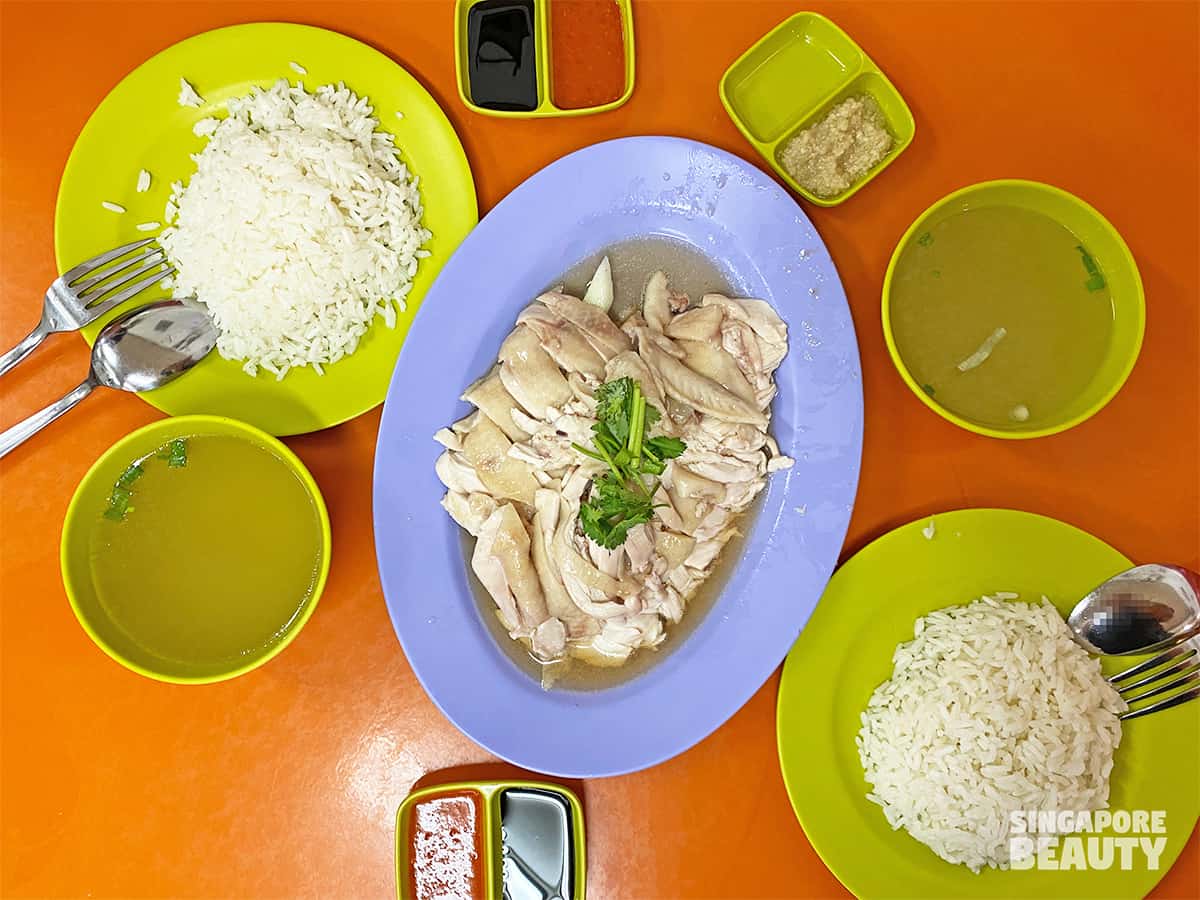 If you are looking for food around Far East Plaza, you may wish to give this Hainanese Delicacy chicken rice a try. Check out these supple plump moist chicken hang at the show kitchen.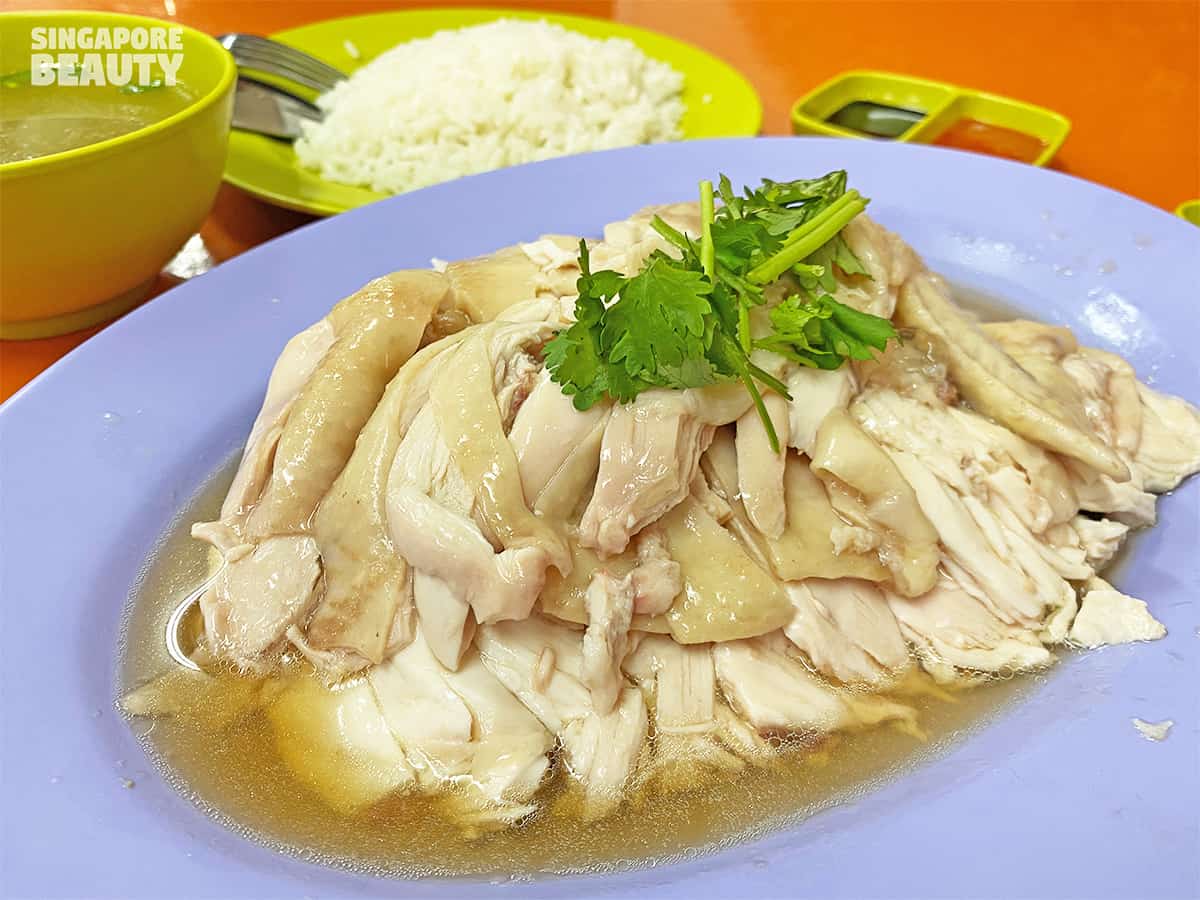 Hainanese chicken rice usually comes in 3 parts – steamed flavoured chicken rice, poached steamed chicken and a side of chicken soup. The condiments are usually red chilli sauce, black sweet sauce and ginger paste.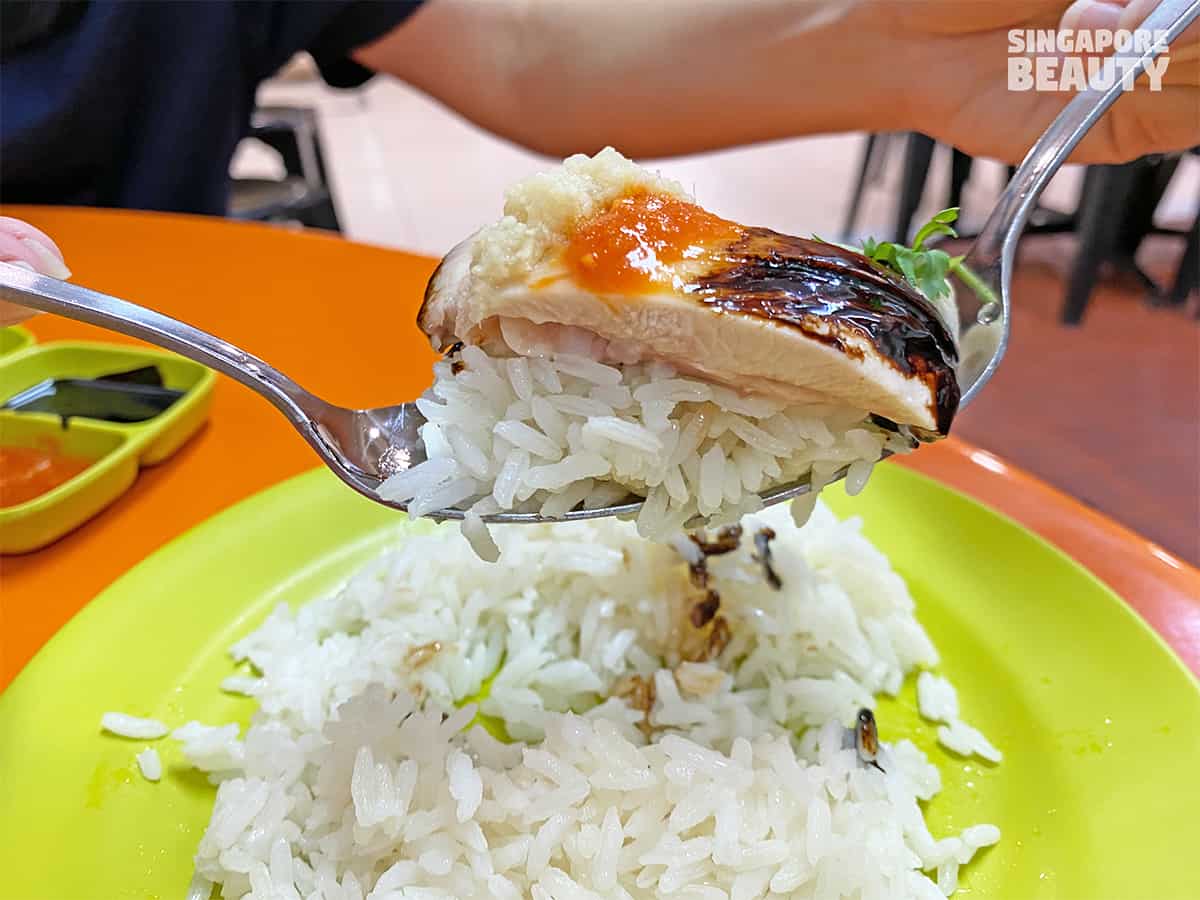 The rice at Hainanese Delicacy are prepared using chicken stock, chicken fats, with some pounded stir fried ginger and panda leaves for extra aroma. These three elements of chicken rice form the quintessential of a good plate of chicken rice. Try eating Hainanese chicken with plain rice, you will soon know why the flavoured chicken rice is a must to complete the experience.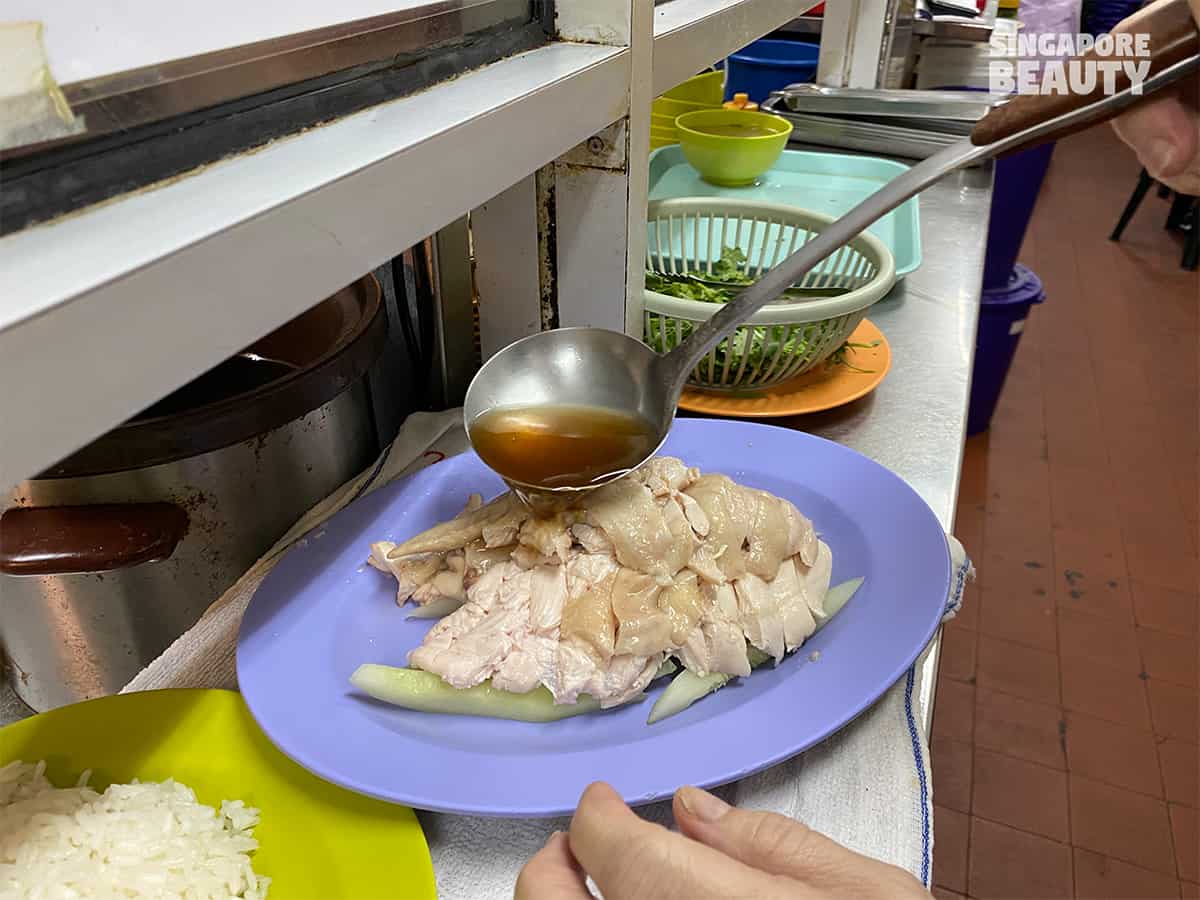 The chicken is poached to just the right consistency that remains tender and still juicy. A ladle of light soya sauce is added atop the chopped Hainanese chicken before serving.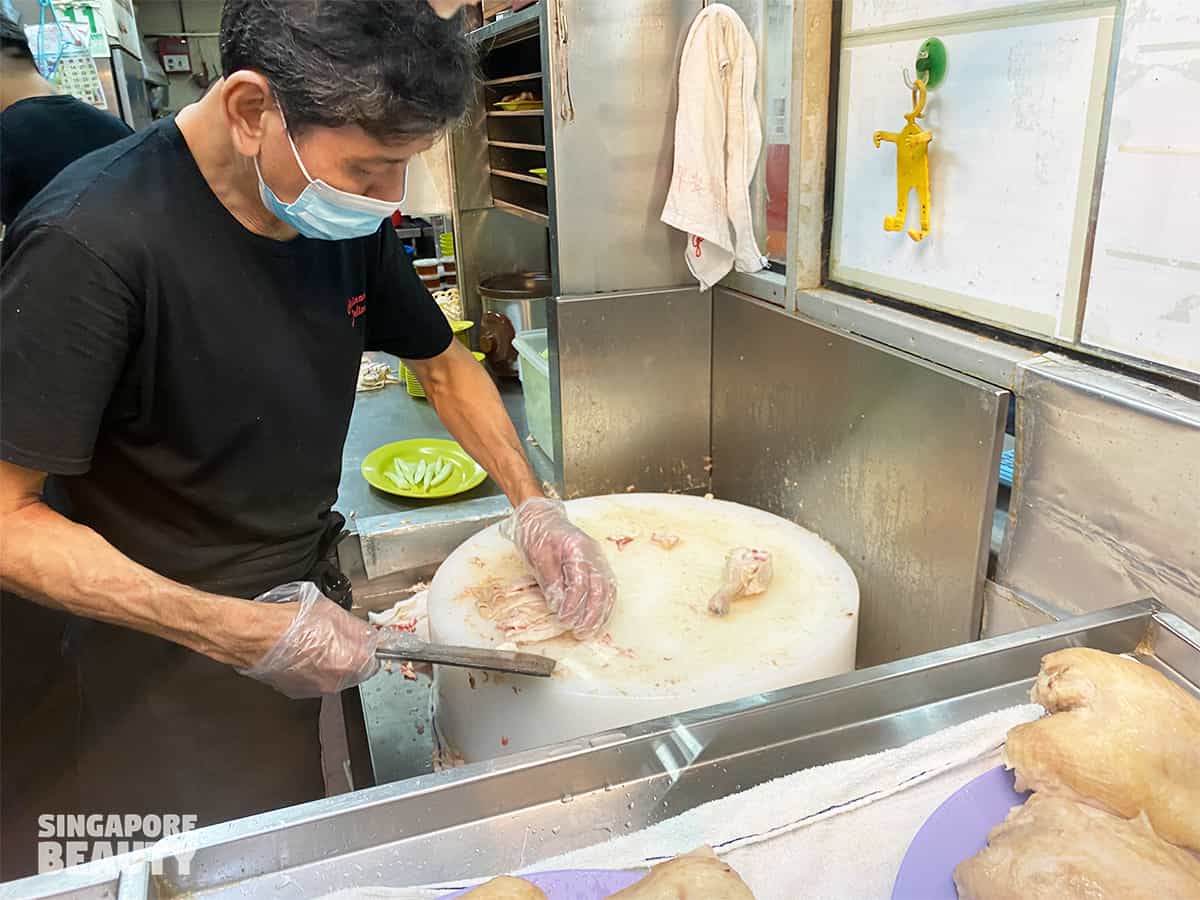 The chicken is served boneless and this also removes the likelihood of any trace of gamey blood going into the sauce.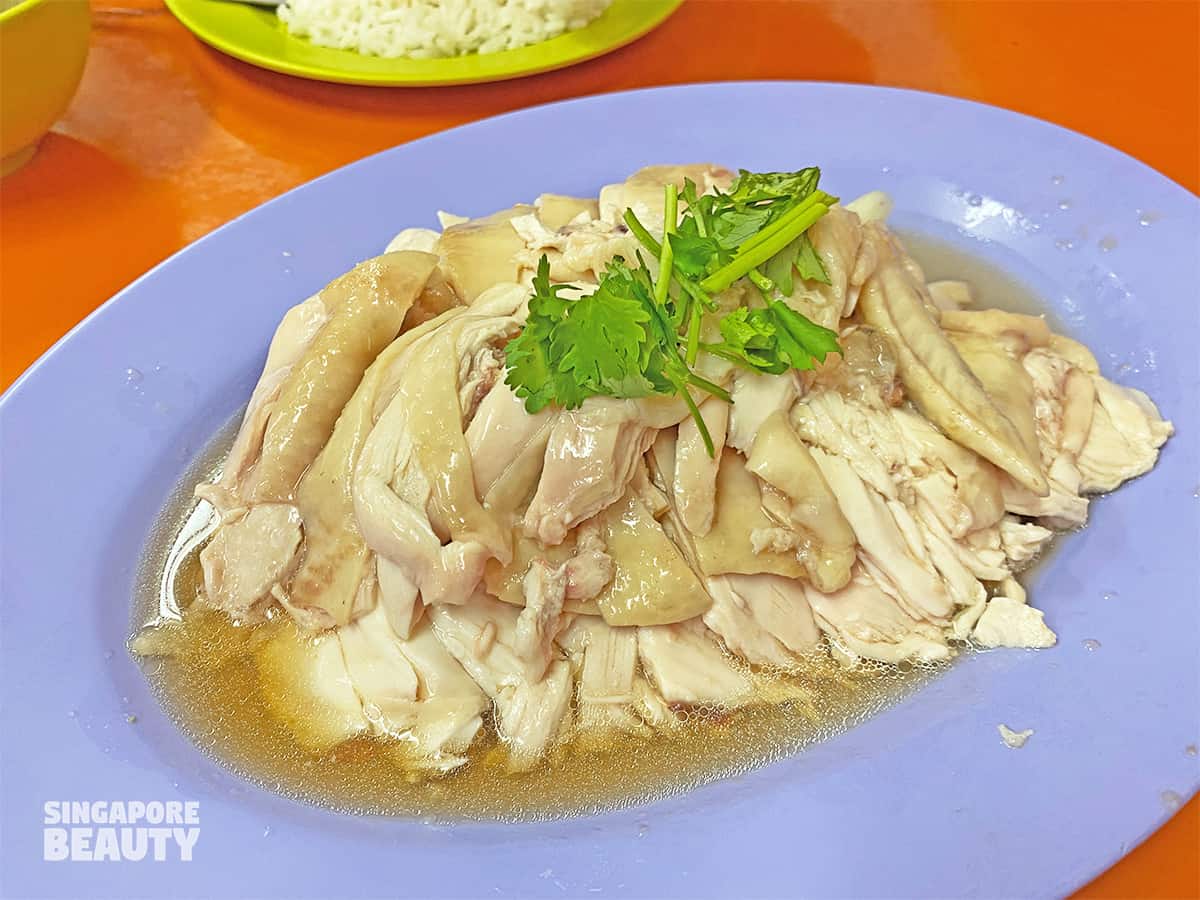 The poached chicken is considered neat in flavour with just a hint of the light soya sauce. There is not much gamey flavour to it which is a relief for chicken rice lovers. The chicken served here is on the less oily end of chicken rice that we usually get. It is almost like how an old school chicken rice is, chicken is clean and non greasy.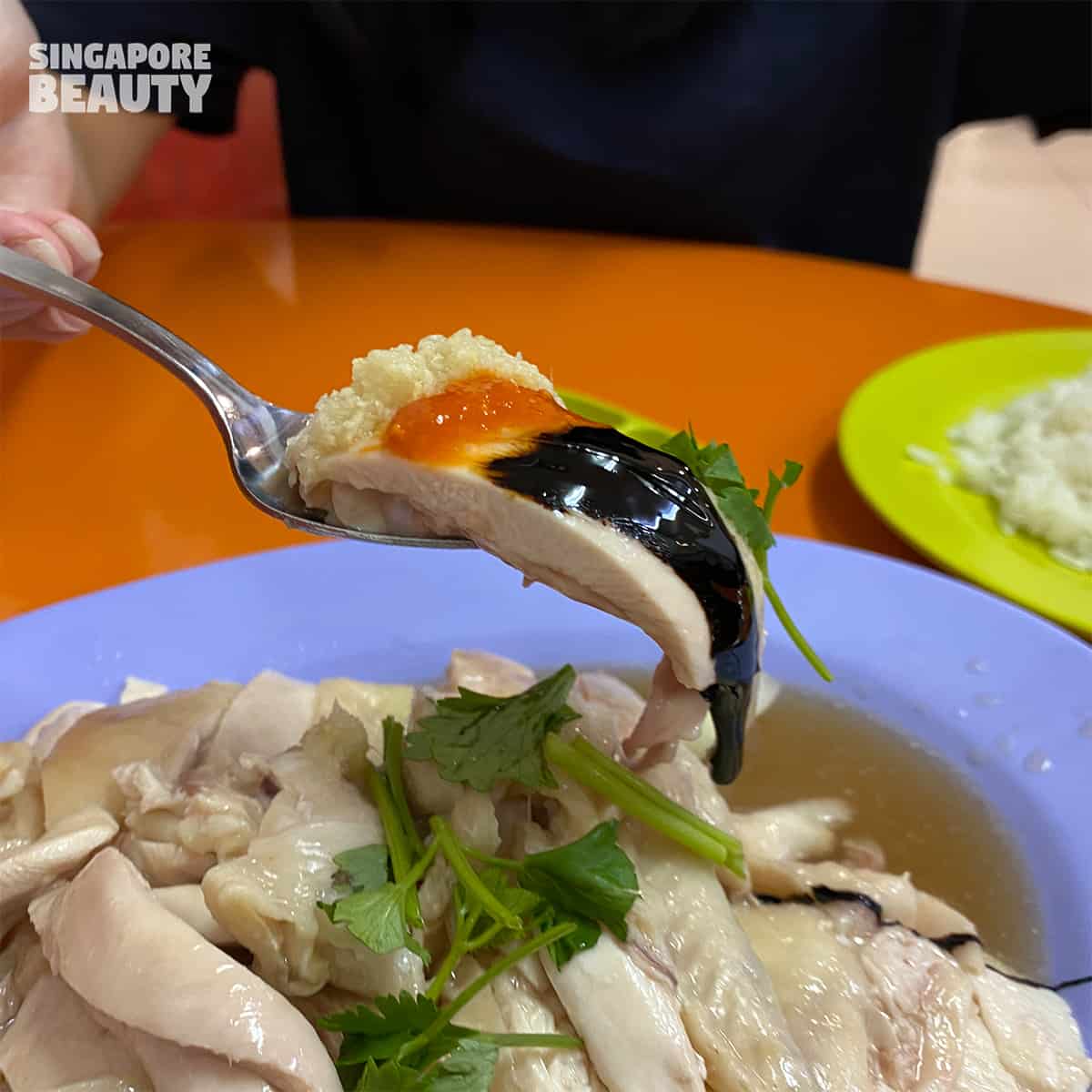 As with most of Hainanese chicken rice, the chicken is served cold, best eaten with a combination of the trio sauce – chilli, ginger and dark sweet sauce.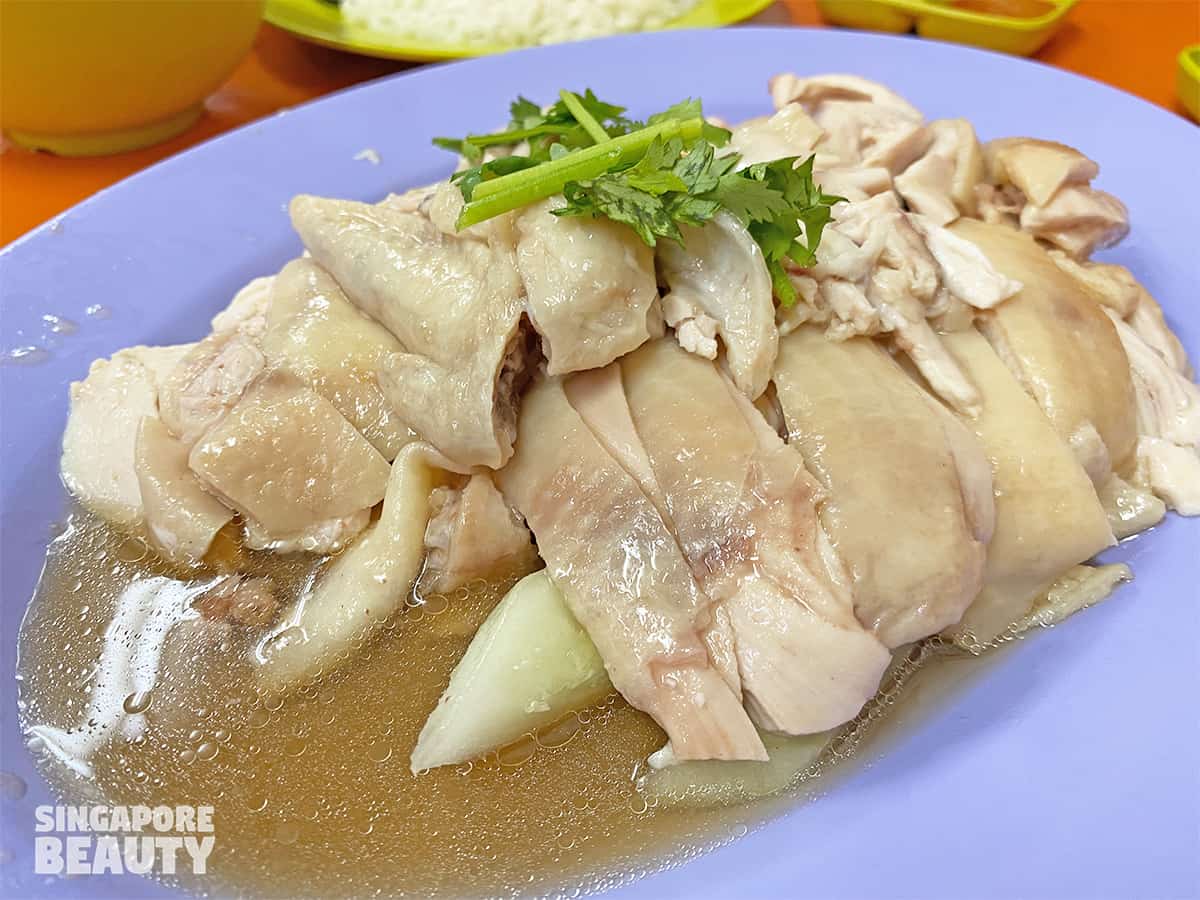 Skin of the chicken is cooked till an almost translucent consistency with the lattice like structure holding up the skin subtly visible. The skin has a smooth and silk texture.
Hainanese delicacy chilli sauce is the thick type with very finely grounded chilli, a hint of ginger and a light tang to it. Best paired with the thick gooey sweet sauce for the best of both worlds, sweet and spicy. For those who love grated ginger to go with your chicken, they also have homemade ginger sauce with some fine textured ginger fibers.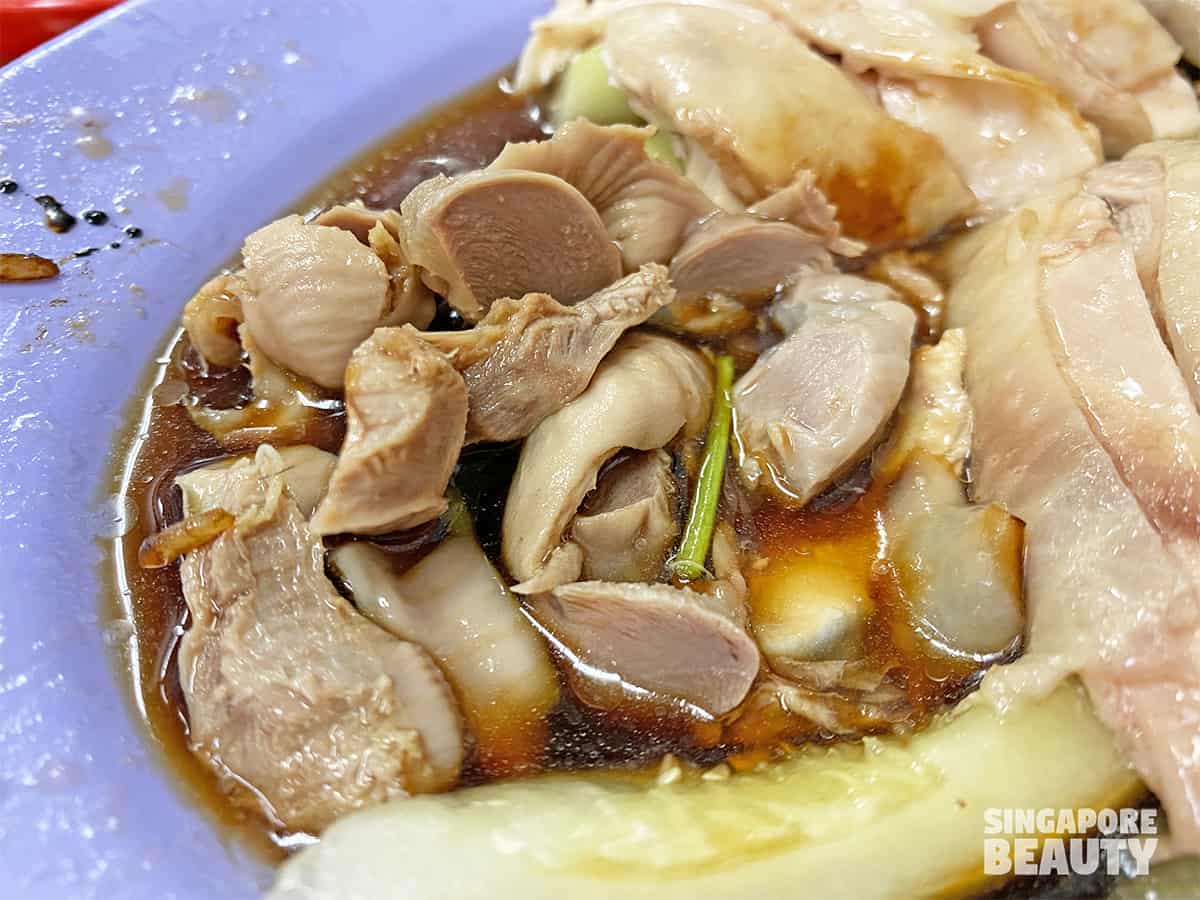 Do order some of the chicken gizzards to if you love some crunchy texture with your chicken.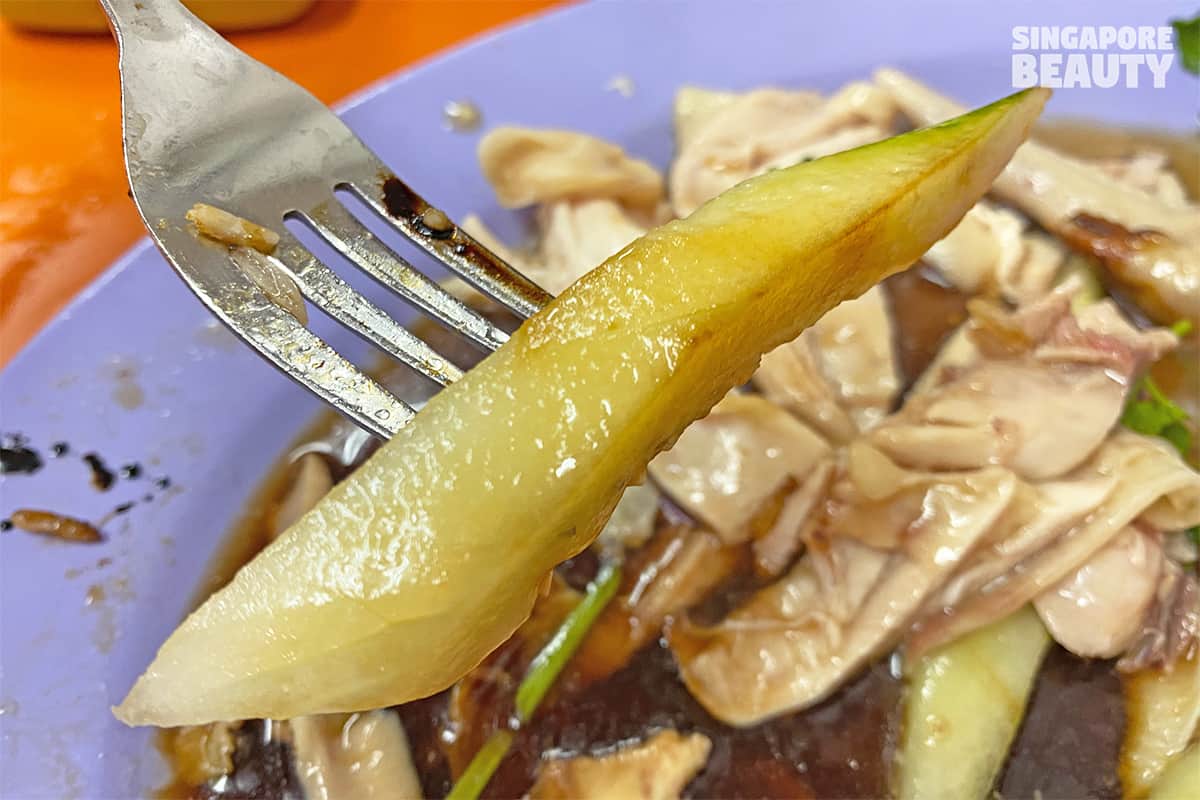 Cucumbers are sliced in a particular fashion to take in all the soya sauce and the sweet juice from the chicken and yet retain a nice refreshing crunch.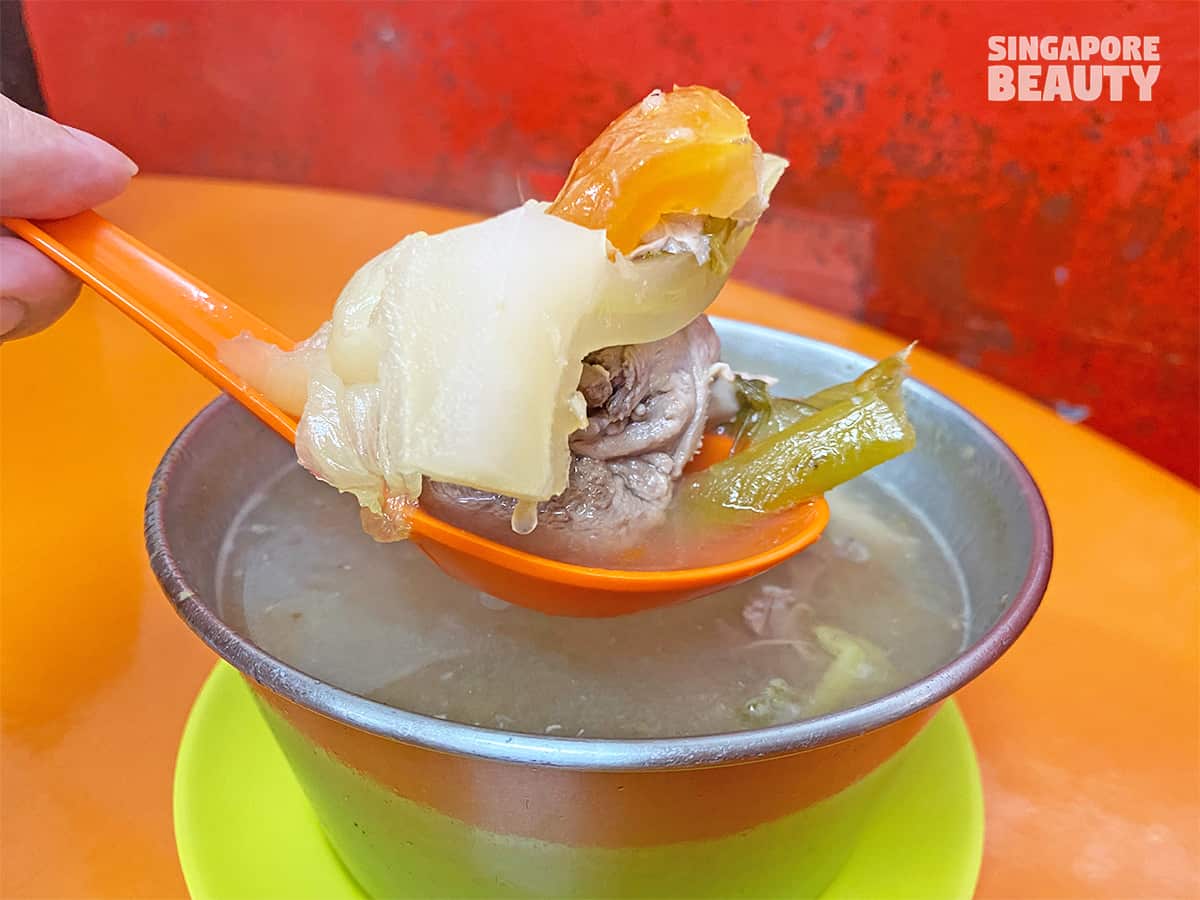 At Hainanese Delicacy, the must order items on the menu is the salted vegetable duck soup. Served in a steel bowl, the duck, salted vegetables and tomatoes are boiled till almost soft and disintegrating into the soup. The soup has an extremely old school flavour to it. The tangy of the salted vegetables, the fats of the ducks, sour and sweet overripe tomato flavours and a strong hint of ginger. This soup is enough to be shared among 2 pax and is very addictive. Highly recommended.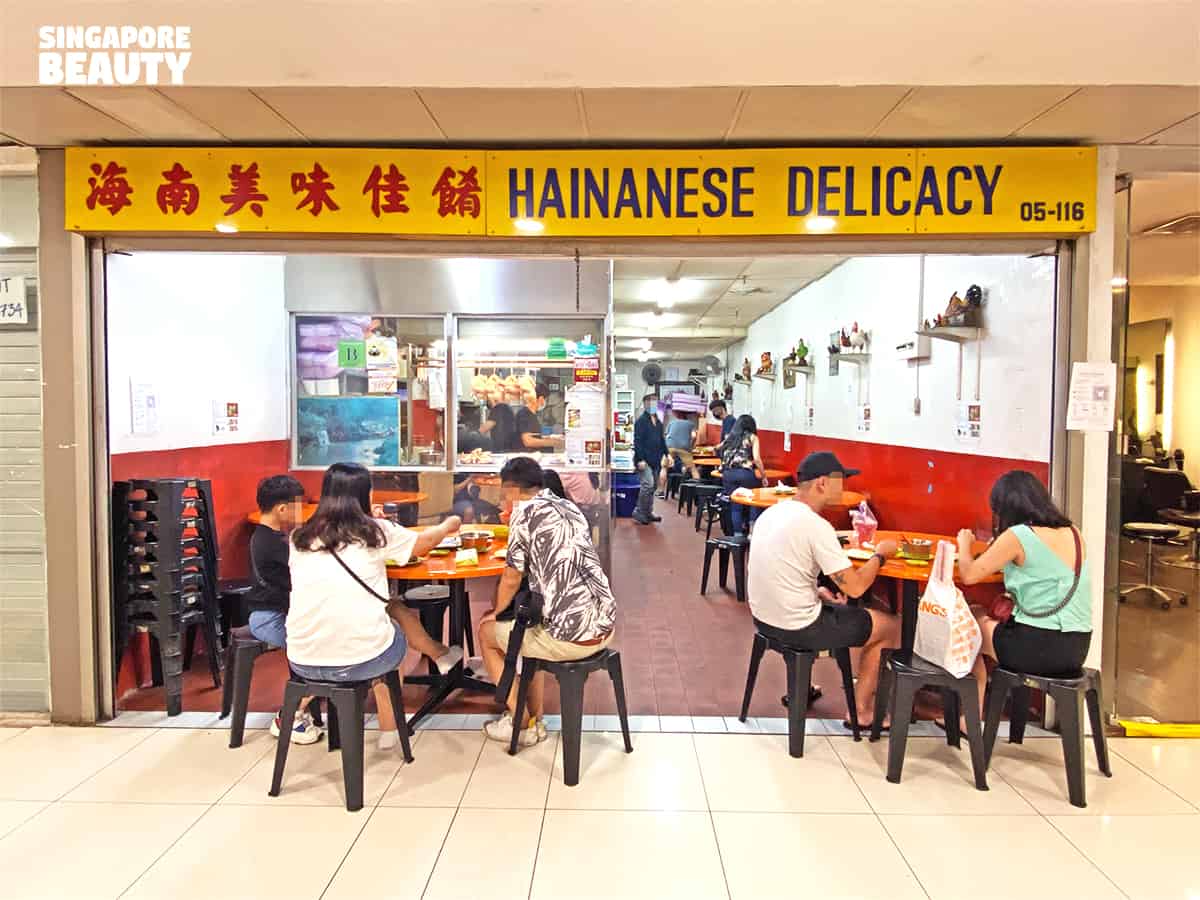 Do head over to try this old school Hainanese Delicacy boneless chicken rice in Far East Plaza, Orchard Singapore.
Hainanese Delicacy Location:
14 Scotts Road, #05-116, Far East Plaza
Opening Hours: 11am to 8pm
Telephone : (+65) 6734 0639