This is a beginner's guide to top 10 types of fish that is commonly found in our wet market, the supermarket and online seafood suppliers. The price of these fishes are indicative guides and usually seasonal. It is controlled by the yields, availability and greatly affected by the weather conditions. The indicative price may aid you with the planning of your marketing budget for your meals. We get to know how to select the correct fish to use in our cooking. There are also recommended method to cook them and add to your expanding collection of fish recipes. Get to know what type of fish is used in your favourite yong tau fu, congee, hotpot fish head, Assam curry, in nasi lemak and in your claypot rice.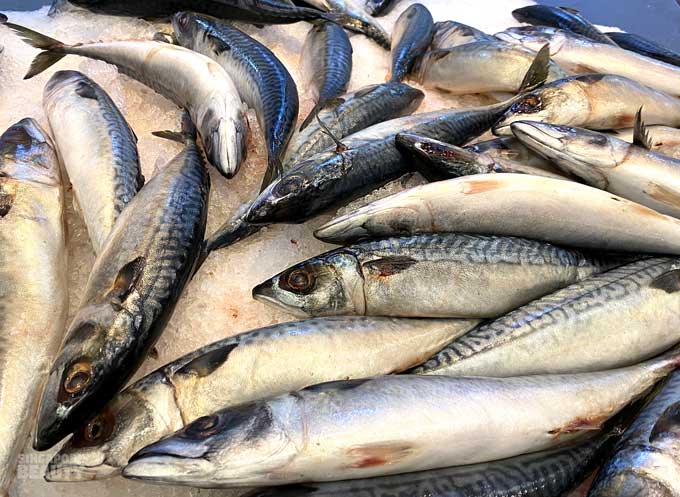 Saba Mackerel
Saba mackerel is also commonly known 鲭鱼 or Ikan Tenggiri. They are usually sold for $2 to $4 each as shown. These fish are good as salt grilled saba shioyaki with grated radish, baked with a dash of salt and pepper, simmered in miso, deep fried fish steak with turmeric curry, stir fry black bean saba with bitter gourd, char-grilled with garlic rosemary stuffings, cooked in Assam and even as sashimi with sushi grade mackerel.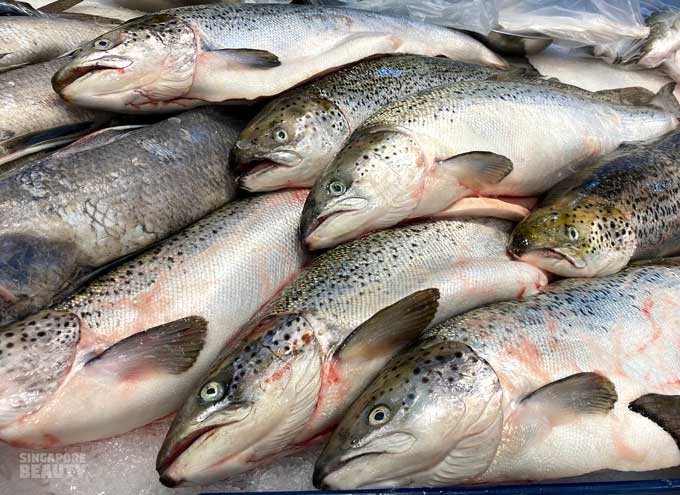 Tasmanian Salmon
Tasmanian salmon are also known as鲑鱼. Tasmanian salmon are usually sold between $1.60 to $2 per 100 gram. These fish are often prepared as baked steak with lemon butter sauce, soy grilled with lime, fish corn chowder, grilled fish head with rock salt, steamed in ginger and lemongrass gravy, honey lemon grilled, smoked salmon pasta, poached with lemon butter dill sauce, poke bowl and sashimi with sushi grade salmon.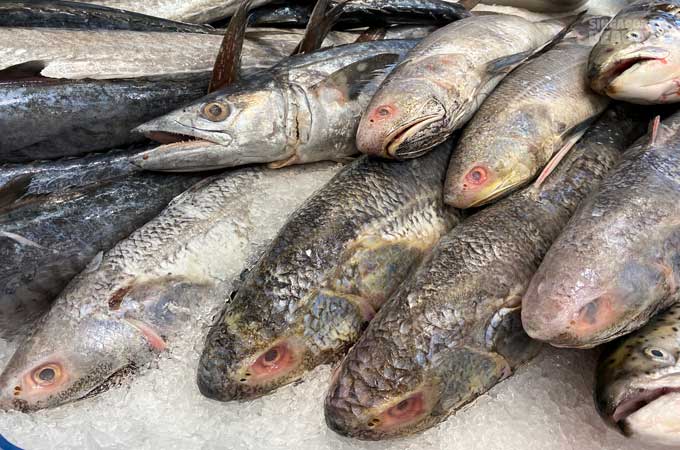 Threadfin
Threadfin are also known as Ngor Hu, 午鱼 or Ikan Kurau. These are sold between $3.20 to $3.50 per 100 gram. They can be eaten in various ways such as steamed and topped with sour cabbage, pan fried steak in soya ginger sauce, deep fried with curry powder, turmeric and lemongrass, as salted fish steak used in claypot rice, Teochew style steamed fish with salted cabbage, shitake mushroom, tomato and sour plums and green papaya threadfin soup for confinement that claims to boost milk production.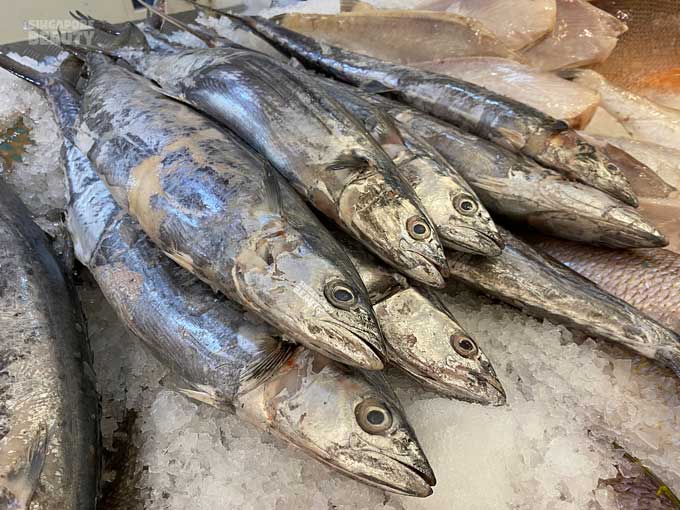 Batang
Batang are also known as Spanish mackerel, Ma Kau Yu (dialect), 马鲛鱼or Ikan Tenggiri. They usually go for as low as 89cents to $1.40 per 100 grams. They are great as deep fried fish steak and serve with sweet and sour chilli sauce, in fish noodle soup inside our hawkers and food courts, pan fried and glazed with fermented bean sauce, assam curry, braised with dark soy sauce, sugar and vinegar, air fried steak with turmeric garlic powder.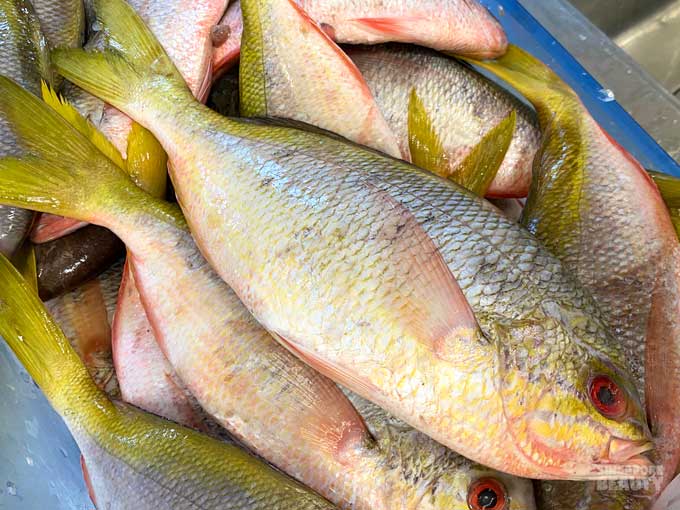 Yellow Tail Fish
Yellow tail fish are known as tau hoo her(dialect), 黄尾鱼,豆腐鱼 or Ikan Delah. These are usually priced between $1.15 to $1.30 per 100gram. Best enjoyed grilled with parsley, lemon butter and herbs, pan fried in teriyaki sauce, made into a fish paste to create fishballs and yong tau foo.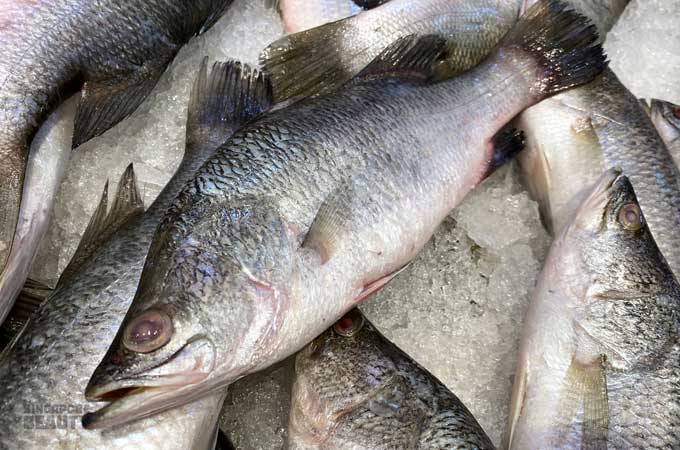 Seabass
Seabass are also known as barramundi, kim bak lor(dialect), 金目鲈or Ikan Siakap. These are reasonably priced from $4.50 to $6.60 for whole fish between 400 to 500 grams each. They are the top picks for deep fried fish in Thai cuisine, pan fried fillet with lemon garlic butter sauce, steamed in garlic chilli lemongrass gravy, Hong Kong style with soya sauce and spring onions, Mala spicy grilled fish, deep fried with sweet and sour sauce and spicy ikan bakar.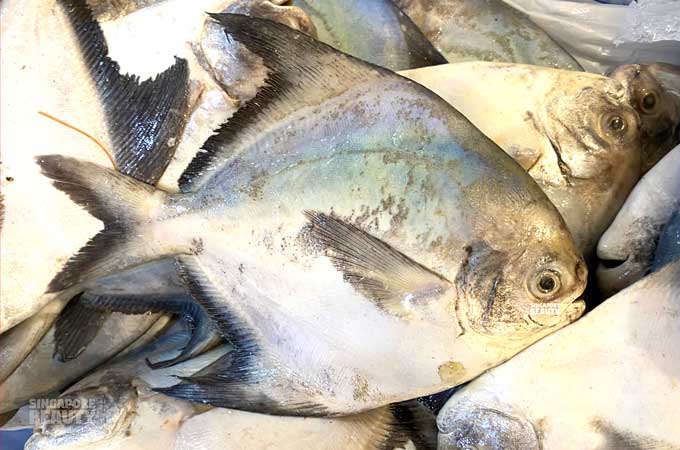 White Pomfret
White pomfret are known as dao Chior (dialect), 斗鲳 or Ikan Bawal Tambak. They are found priced between 2.60 to 2.90 per 100 grams. This is the top pick for Hong Kong style steamed fish in Chinese restaurant, Teochew style steamed fish, deep fried whole fish in sweet and sour dark sauce and choice of fish for fish head steamboat.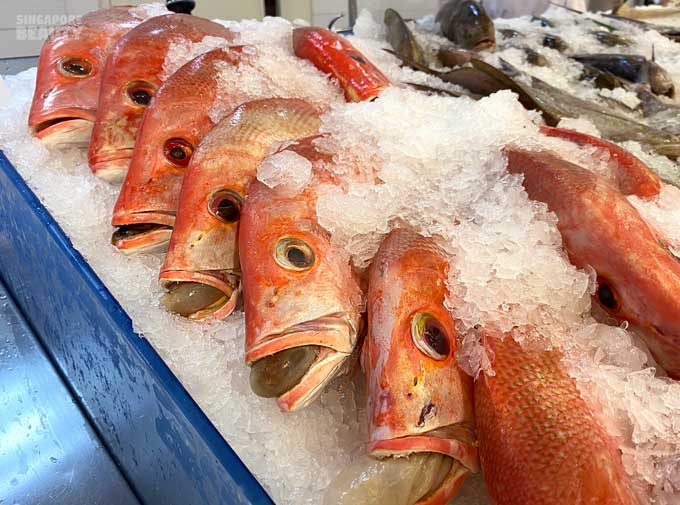 Red Snapper
Red Snapper is also known as ang kuey (dialect), 红鸡 or Ikan Merah. Priced at $1.58 to $1.80 per 100grams, they are usually steamed with soya sauce, made into curry fish head, pan fried and served with deep fried ginger in soya sauce, stuffed and baked with garlic herbs.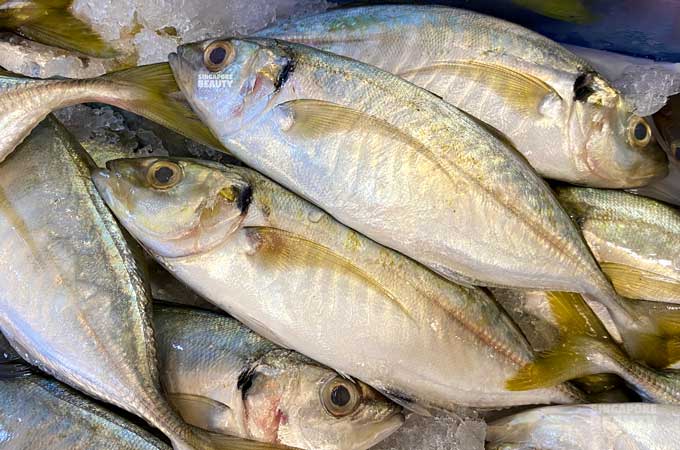 Horse Mackerel
Horse mackerel are also known as yellow stripe scad, sek la(dialect), 色拉, Ikan Selar Kuning. Selar fish are a good buy for $1.10-$1.30 per 100grams. These are commonly used fish in nasi lemak, deep fried to a crisp and still has some tender morsel of meat to enjoy. These fish are also a staple fish for assam puteh, rempah fish stuffed with sambal or pan fried chilli fish stuffed with chilli paste(Ikan Sumbat).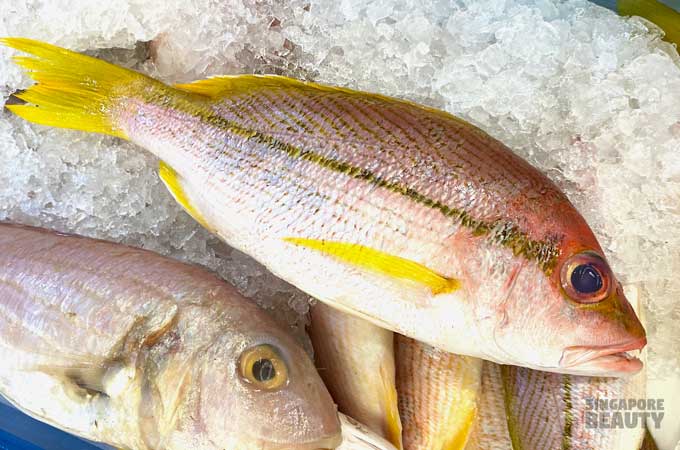 Kee Fish
Kee fish are also known as yellow fin snapper, Ang Chor Kee(dialect), 记鱼 or Ikan kunyit. These fish go for as low as $1.15 per 100 gram. They are best steamed with soy sauce to retain the sweetness of the meat, salted baked, made into fish head curry and cooked as Nonya-style curry fish.
With so many fish oriented dishes, we have no problem buying the correct type for our home cooked cuisine and a new found knowledge of the kind of fishes we are eating when we dine out.