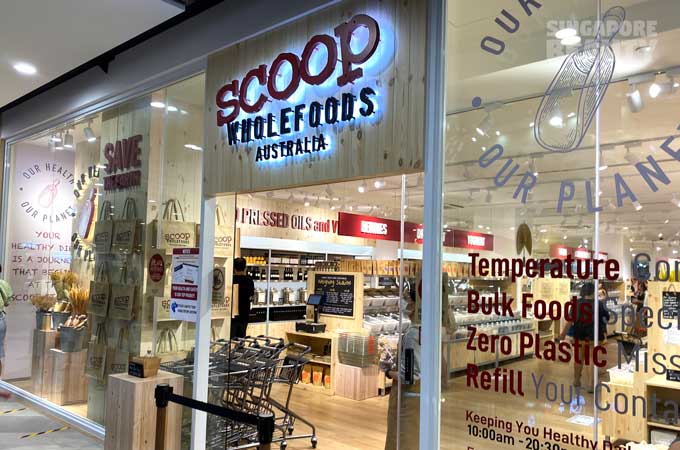 Always wanted to eat healthy, buy in small quantity and minimise plastic waste? We found Scoop Wholefoods supermarket those house bulk products, a fermentary and a "washroom". Scoop Wholefoods was started in 2013 to create better diets and make Earth more sustainable by minimising waste. They are family run and Australian owned.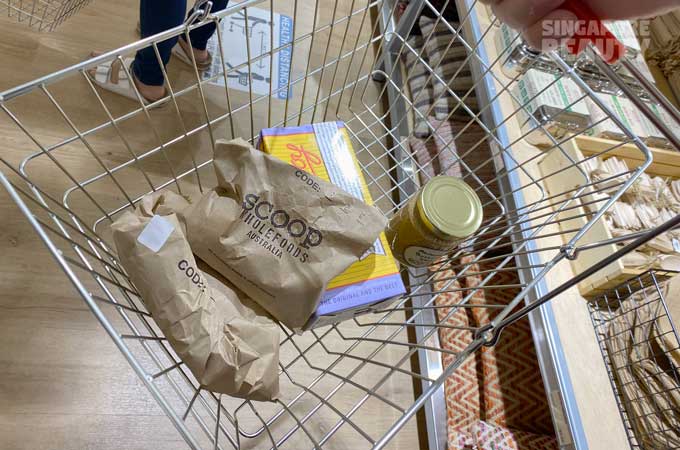 Minimising food waste by buying only what you need, encouraging reusable containers and paper packaging.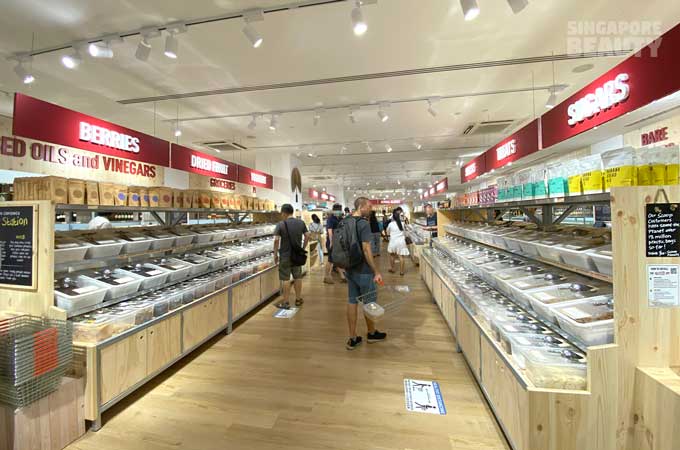 Scoop Wholefoods store is categorised into Bulk Products, the Fermentary and the Washroom.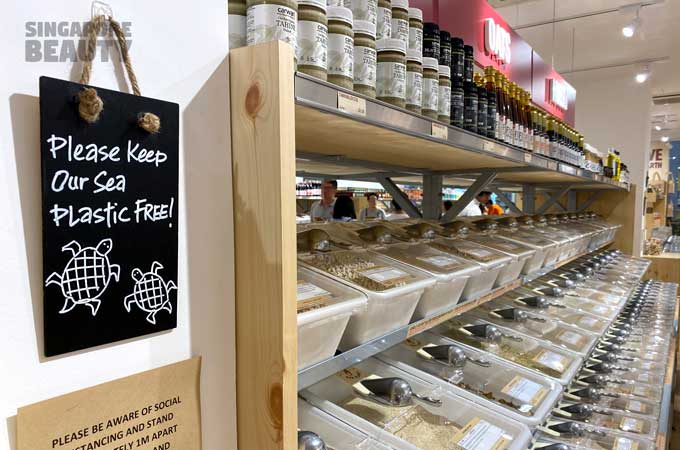 At the Bulk Production section, aisle are neatly lined and categorised into dried fruits, nut, grains, chocolates, teas, spices, flour, herbs, carob, baking needs, granola, pasta, muesli, cereal, yogurt, seeds, beans, lentils, and super foods.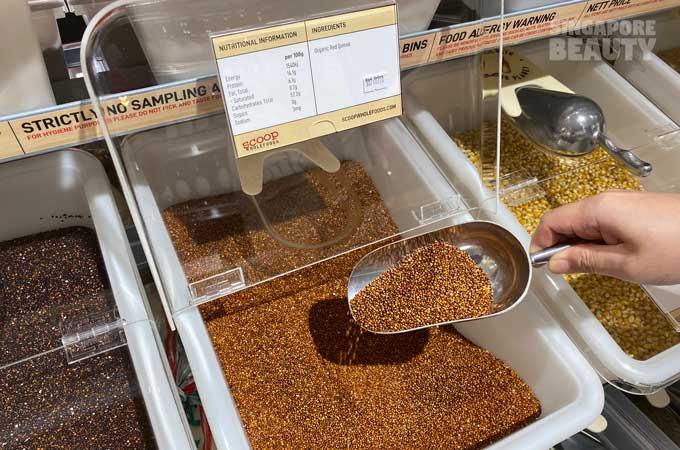 This is how it works: scoop your desired product into the recyclable paper bag, write the code of the product, weigh and tag it before heading to the cashier.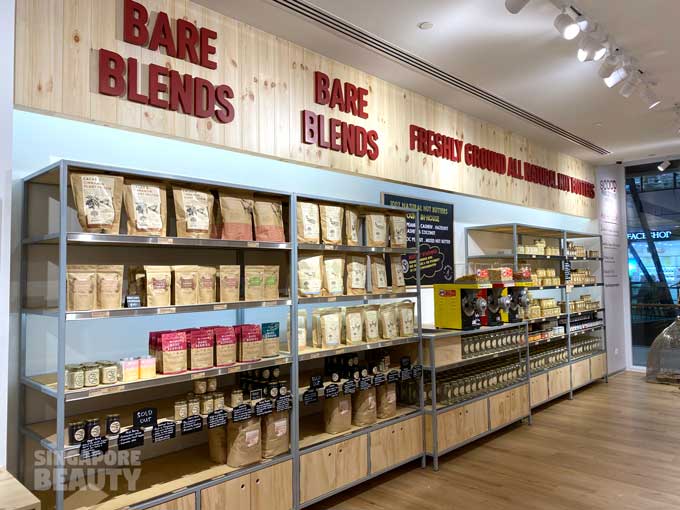 At Scoop Wholefoods, you get to bring home the freshest ground in house natural nut butter. You can customise your nut butter to your preferred consistency from smooth, medium to crunchy.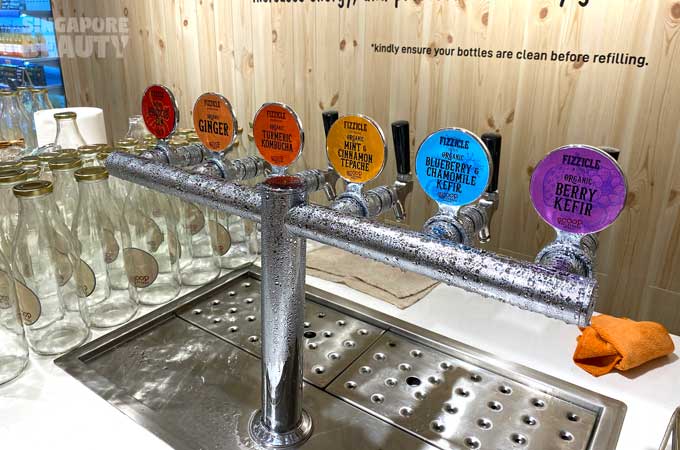 At The Fermentary, you can find a large range of fermented kombucha, Junboocha or Kefir. Tepache drinks on taps in unique flavours such as super greens, tropical, lime and mint, lemongrass, pink guava, turmeric, hibiscus, ginger, mint and cinnamon, blueberry and chamomile and berry kefir. Fermented drinks are full of healthy probiotics that can lead to a healthier gut, better digestive system and increased energy level. So if you are one who is always feeling lethargic, time to get your hand on their fermented drinks.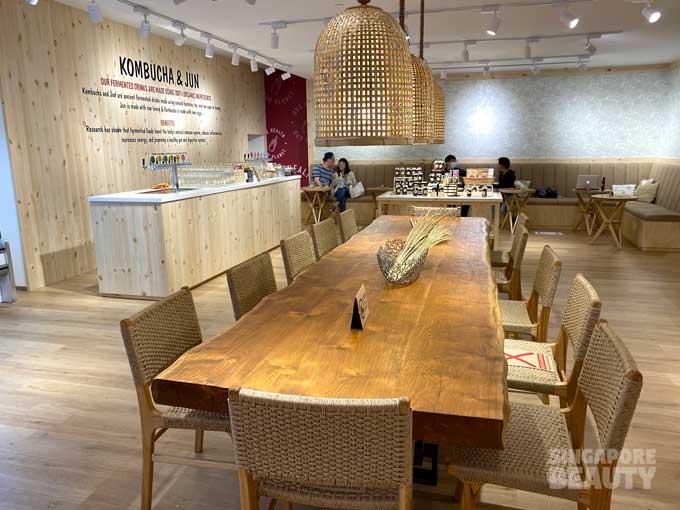 They have a co-working space with free wifi to enjoy your fermented drinks or a hot flora tea pot selection from their bulk section.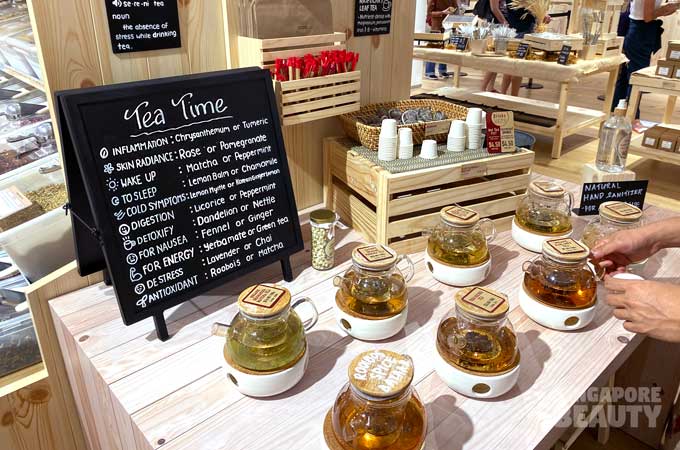 At this tea tasting counter, you can taste-test some of the teas to decide which tea to get for your morning cuppa of wake me up and feel good to go. These different tea comes with various health benefits such as anti-inflammation properties, for skin radiance, wake and shake me up, for good night rest, flu, digestion, detox, for nausea, increase energy level, distress and for a good source of anti-oxidant.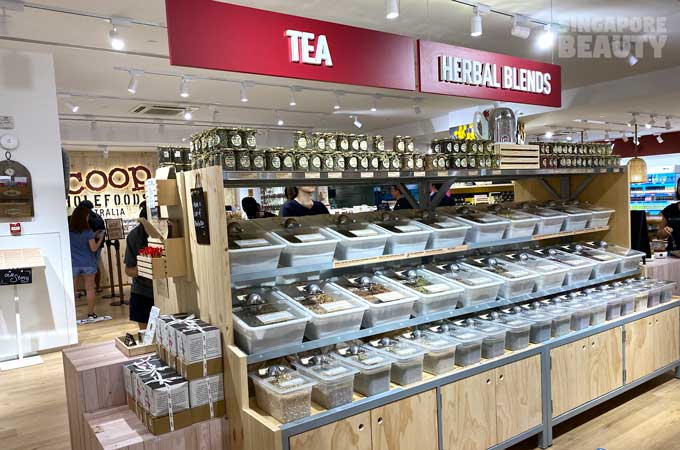 Choose from a wide selection of tea, herbal blends, dried flowers and chai for your hot tea pot. Selection of tea are assam, chai, eucalyptus, blend of earl grey, rose and lavender, sencha, jade oolong and a series of organic tea such as hibiscus, raspberry and many more.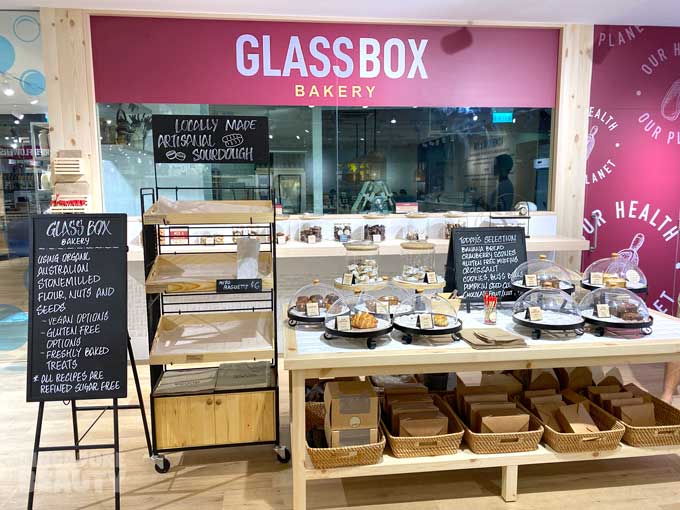 Get some fresh bakes from their in-house Glassbox Bakery to go with your drinks.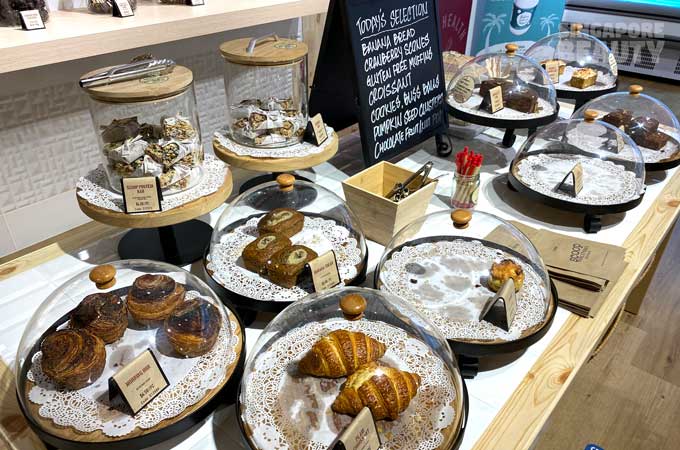 The selection varies day to day from biscuits, cakes to bread. Selection are on rotational basis such as protein bars, croissant, buns, banana bread, cranberry scones, gluten free muffins, chocolate fruit nut rolls and many more.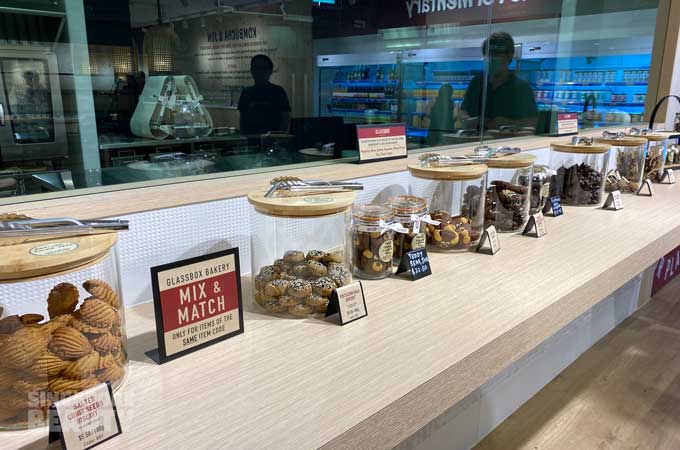 Take away some ready to eat biscuits in flavours such as salted cumin seeds, pistachio goji, double chocolate chips and cake pop sticks.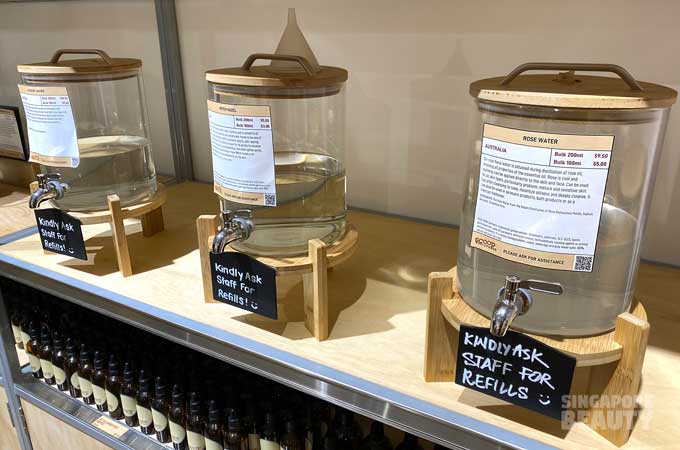 At the Washroom, they house a series of organic and natural products for personal hygiene, cleaning and beauty routine. Since these are organic and natural products, they are free from chemicals such as parabens, sulphates and others. These are great for children, pets and those with sensitive skins.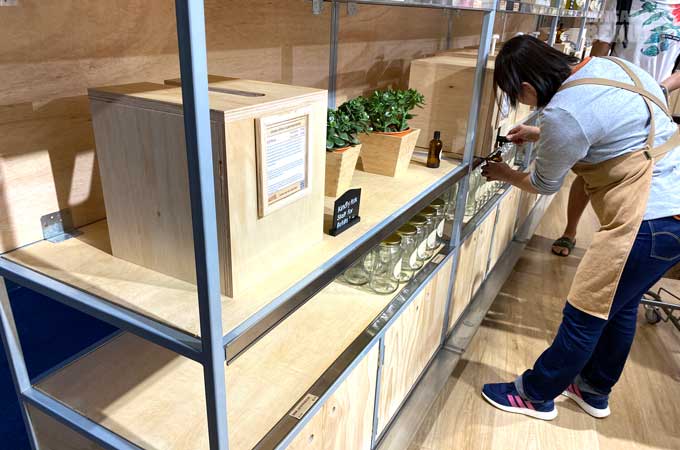 Their crew will assist to customise your own preferred facial wash, hand and body wash, shampoo and conditioner, moisturiser, lip balm, soap bars and face and body scrubs.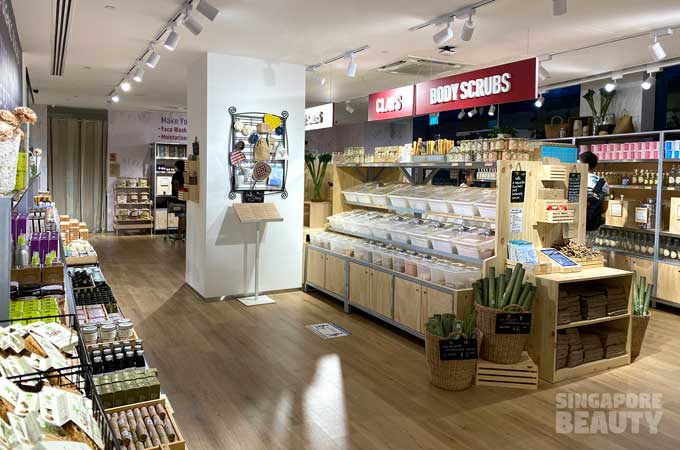 Scoops Wholefoods Washroom carries an interesting range of hygiene and beauty care such as rose water, witch hazel, bath bombs, bath salts, essential oils and even beeswax.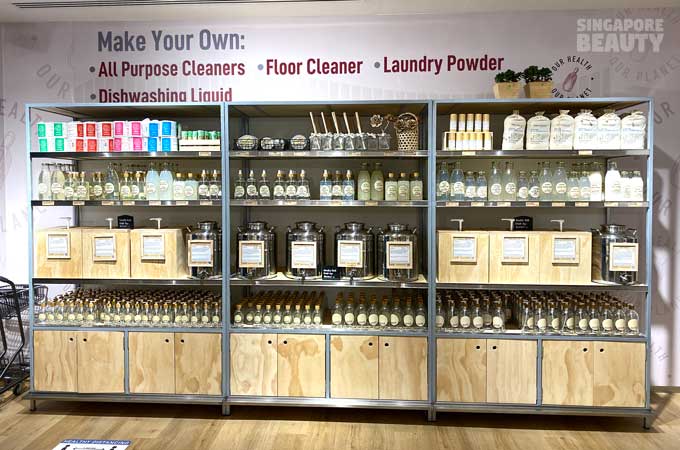 Customise your plant based and environment friendly household cleaning products here. You can find vegetable wash, laundry needs, liquid castile soap, dishwashing liquid and many more. These are obtained from sustainable sources with the least carbon footprint.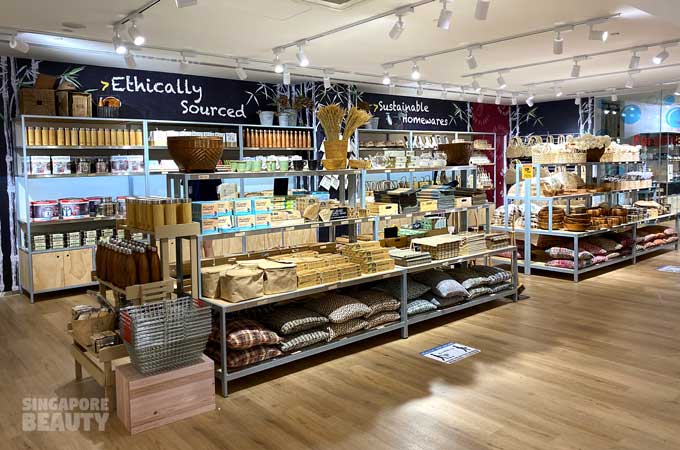 Sustainable home wares are also available in this Scoops Wholefoods store. Basically these are fair trade products made in a sustainable way with minimum negative impact to the environment and society. Production of these produce help to benefits the local community and make their livelihood better.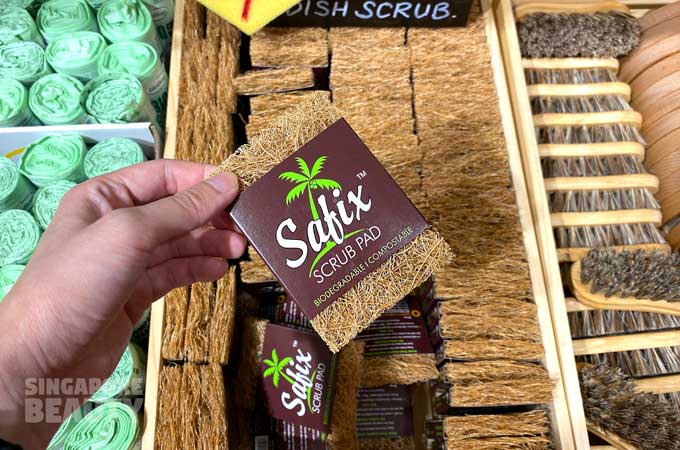 From clockwise, this is a scrub pad made from biodegradable coconut fibres. These are pure fibres obtained from a coconut and held with non-toxic glue.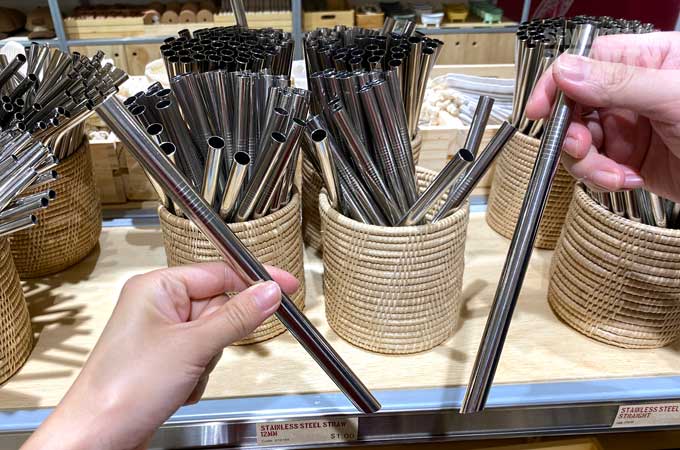 They even have 12 mm diameter stainless steel straws for bubble tea lovers.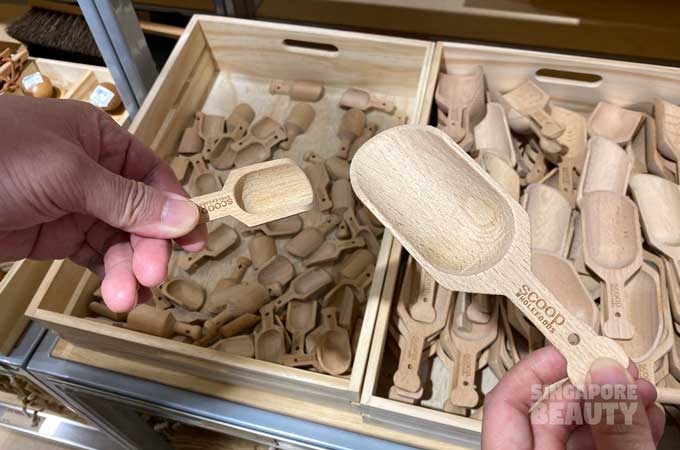 These are some wooden scoops made for scooping up tea, grains or flour. Light weight, functional and aesthetically pleasing.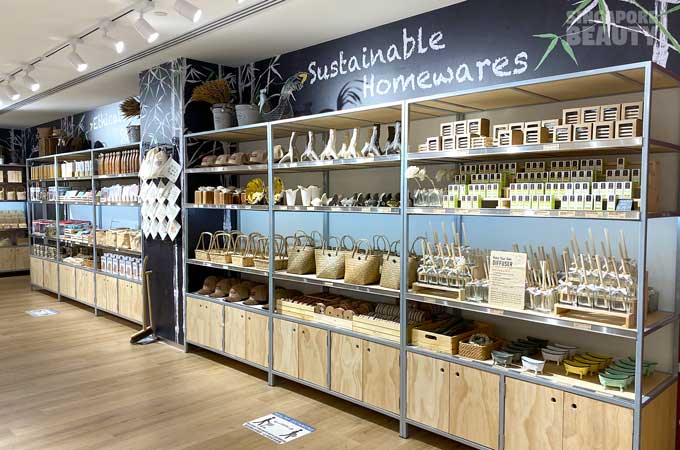 They carry a range of handcrafted baskets, environmentally friendly home decor, aroma diffusers; carry alls, bamboo woven tissue holders, placemats and many more on a rotational basis. Time to makeover your home with these simple creations using materials sourced from nature for healthier living in a sustainable way.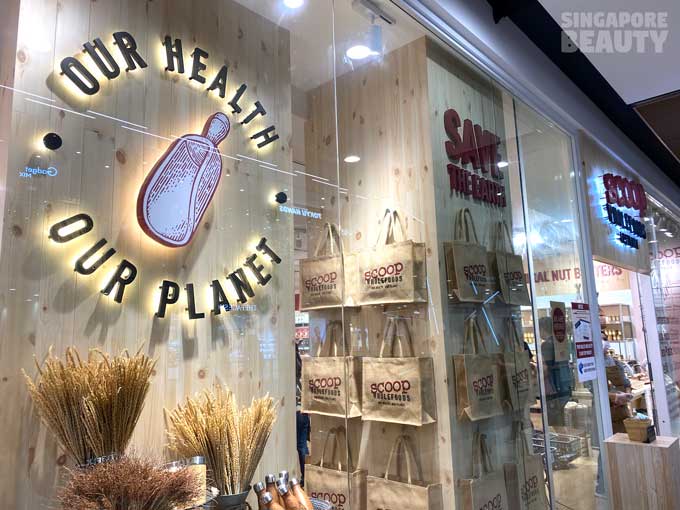 Do your part to reduce plastic waste, save the only planet that keeps us alive and a better Earth for our children. Be environmentally responsible while keeping ourselves healthy too.
Featured Location: Great World City store at 1 Kim Seng Promenade ,#01-148, Singapore 237994.
This is a non-sponsored post.