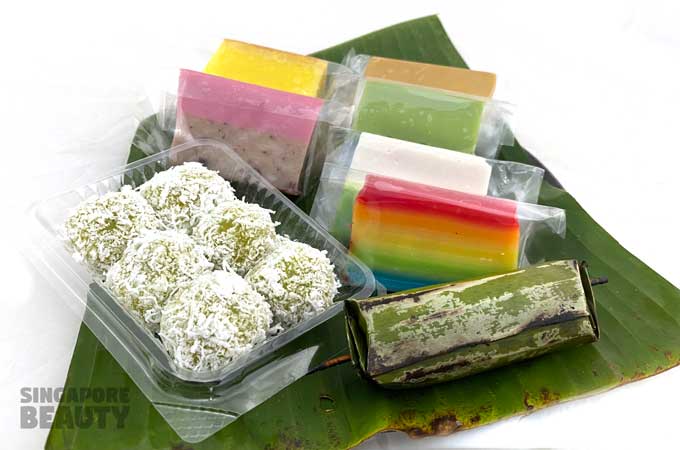 Many Singaporeans grew up with these simple and cheap sweet treats as after school snack, during birthdays, baby full month celebration and as offerings to gods during special occasions. These nonya kueh are nostalgic and a reminder to the simple joy in life despite of the humble beginnings of our grandparents and forefathers. These nonya kueh are still being sold at affordable price starting from 80 cents in some coffeeshop so that people of all ages can continue to enjoy them despite their more expensive cake cousins.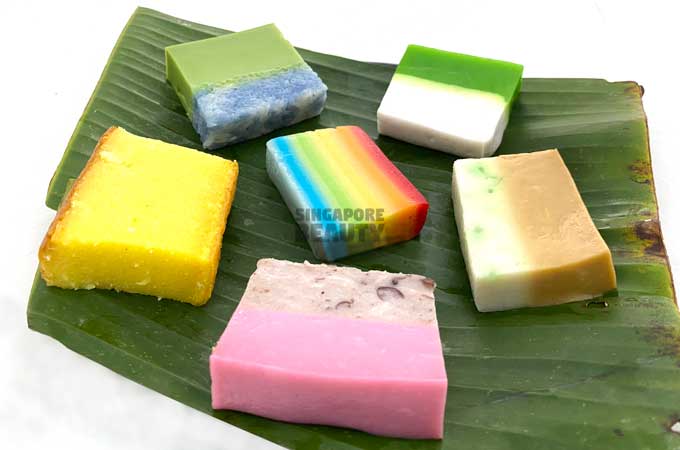 These nonya kueh come in a myriad of colours such as shades of red, pink, blue, violet, beige, brown, yellow, orange and green. In most traditional nonya kueh shop that sells these nonya kueh, the colours used in the kueh are very often derived from natural ingredients.
For example, blue from butterfly pea flower, green from pandan leaves, white from coconut gravy, pink from rose syrup and brown from gula Melaka.
These Nonya kueh are made from simple and easily available ingredients such as flour (rice, glutinous, tapioca and mung bean), sugar (palm or gula Melaka, brown, black, cane), pinch of salt, coconut (juiced as milk, grated as coating), beans (mashed red, green pulp or paste), root vegetables and fruits (yam, sweet potato, tapioca, cempedak, durian) savoury fillings such as shrimps and chilli and natural occurring colours from plants and fruits. However, the disclaimer here is that, some kueh makers have turned to using articial food grade colouring for convenience, to minimise labour and to control cost.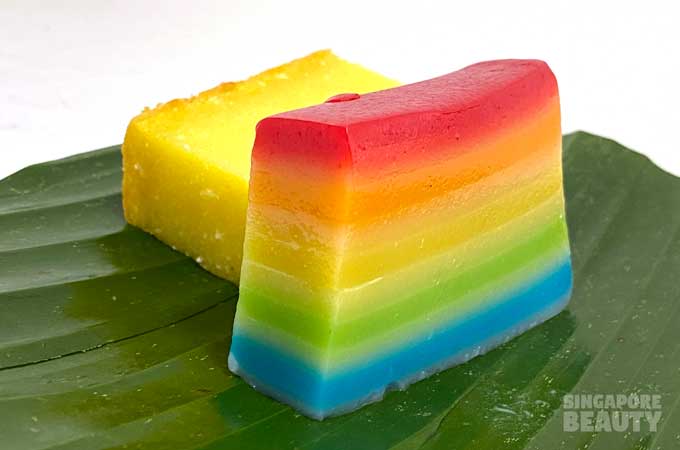 Rainbow steamed Lapis (nine-layer cake, lapis sagu) are made by whisking coconut milk, sugar, salt, tapioca rice flour and boiling water together to form a thick liquid mixture. These mixtures are then divided into 9 equal portion and food colours are added to create 9 coloured mixtures. These 9 colour chosen are usually red, shades of orange, yellow, green, blue and white. Steam each layer of these coloured mixtures in deep tray for 8 minutes each. Starting from the white mixture and spreading a layer of pandan oil before adding the next layer of mixture. This needs to be repeated 9 times.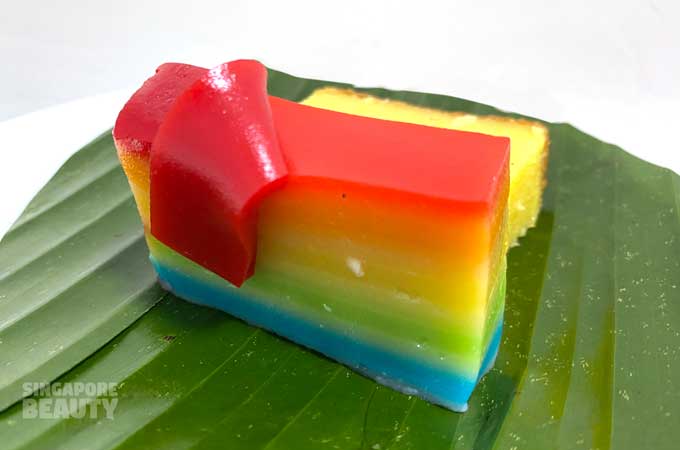 The coloured layers should be progressively steamed from white to the brightest mixture in red to stimulate the rainbow aesthetic. This is how it gets it name of 9 layered cake. Enjoy the cake by peeling each layer off just like the kids do in olden times. The rainbow lapis is a joy to eat with its elastic, sticky and sweet coconut flavour.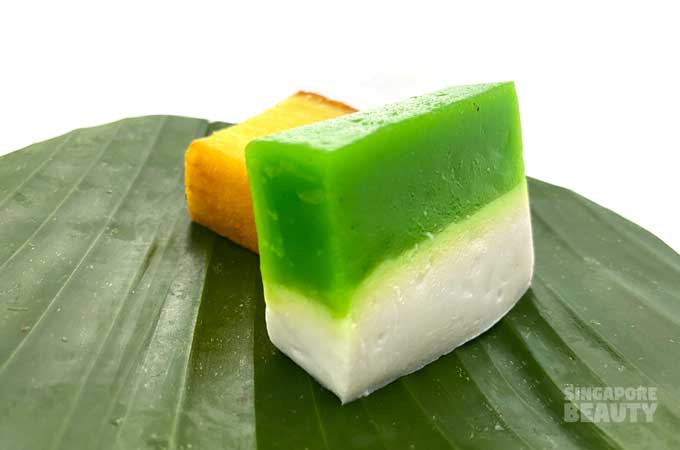 Kueh Talam is consist of 2 layers that are steamed together. White layer is made by steaming on top of coconut milk, rice mung bean flour, salt and hot water. The green layer is made by steaming a mixture of pandan juice, lye water, rice tapioca mung bean flour, sugar and salt together after thickening it using a double boiler. The white layer mixture is thicken using the same method. It will then be layered on top of the green layer to create the Kueh Talam. The Kueh Talam is usually steamed in a rectangular or square tray, this is how it gets its name, talam means tray. The green layer has a strong pandan aroma with a chewy texture as compared to the white coconut layer which is creamier, mushy with a hint of saline flavour.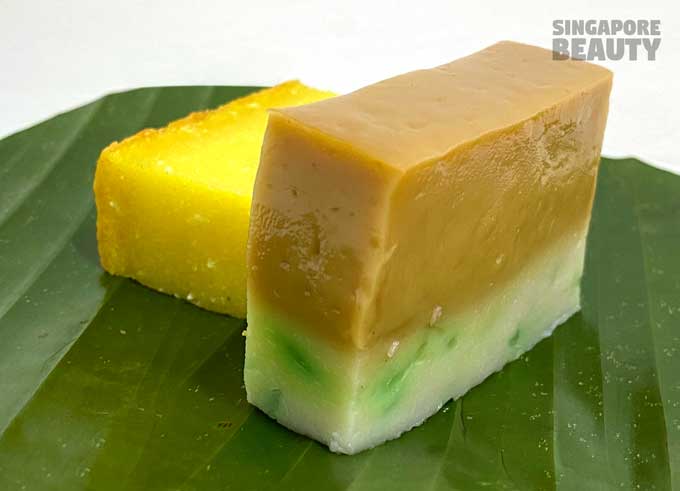 Kueh chendol is a reinterpretation of Singaporean favourite iced chendol into solid kueh form. Kueh chendol is made by steaming a thicken mixture of gula melaka, water, pandan leaves water, rice tapioca flour, green pea flour, coconut cream and lye water to create the brown layer. Steam a second white layer on top of the brown layer by pouring a thicken layer of tapioca rice pea flour, thicken coconut milk, chendol, salt, sugar and water. The kueh chendol is now ready to be cut and served after it is fully cooled. The gula Melaka has a rich coconutty aroma to it and a rich coconut white layer with jelly-like chendol bits with a light pandan flavour. The kueh is that of a creamy, moist and soft texture.
kueh bingka ubi (baked tapioca cake) is made by baking mixing tapioca starch, grated tapioca, sugar, pandan juice, eggs, coconut milk and salt. It has a hearty kueh with a fibrous texture from the grated tapioca and full of coconutty flavour. The kueh has an elastic heavy texture and the caramelized top has a nutty flavour.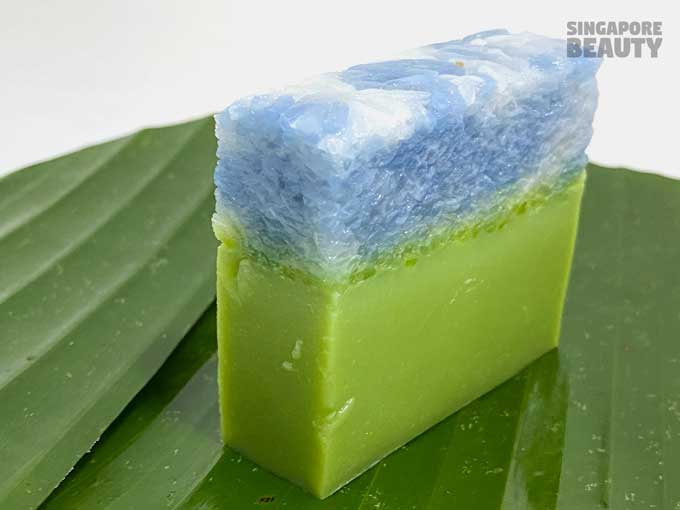 Kueh salat is made up of a layer of cooked compressed glutinous rice that is steamed with coconut milk, sugar and salt. The blue marbling is created by tinting the cooked glutinous rice with a natural blue colouring extracted from butterfly pea flowers (bunga telang). Create the second green layer by steaming a thicken mixture of egg, coconut milk, sugar, salt, pandan juice atop the hot dense glutinous rice block. Cool the kueh at room temperature before serving. The glutinous rice has a sticky and chewy texture, a stark contrast to the buttery kaya pudding texture of the green layer.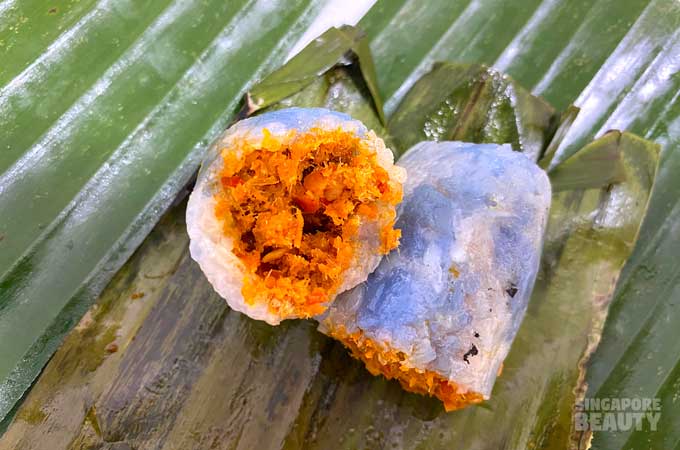 Rempah Udang (spicy shrimp glutinous rice roll) is grilled glutinous rice roll in banana leaves with spicy shrimp,kerisik (fried toasted coconut paste) and candied melon as fillings. The glutinous rice is steamed with salt, sugar, coconut milk and tinted with blutterfly pea flower ink.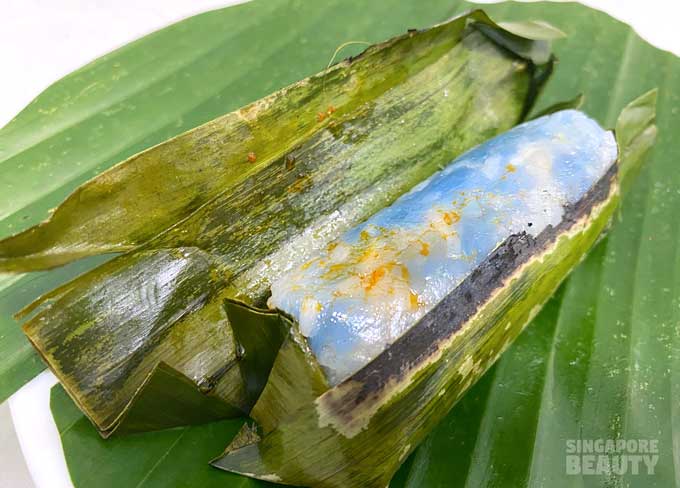 Using a banana leave as a wrapper, spread the soft rice and adds fillings and roll into a small tight tube.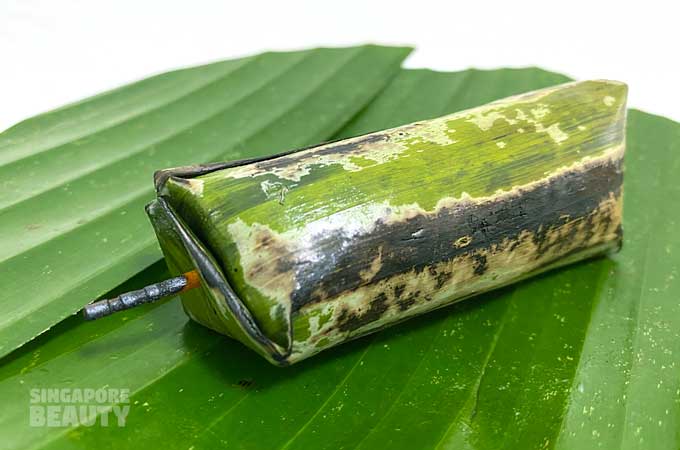 Secure the end of the roll with picks and proceed to grill the banana leaves rolls till it gives of a nice aromatic fragrance.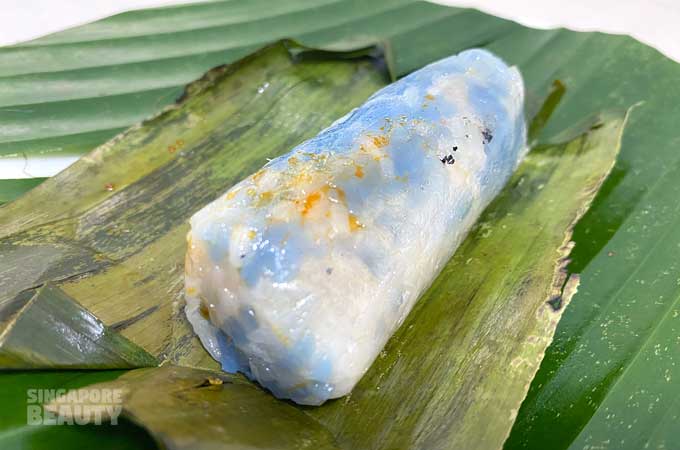 The rempah udang is a chewy rice roll with a spicy kick and umaminess briny flavour of the shrimps.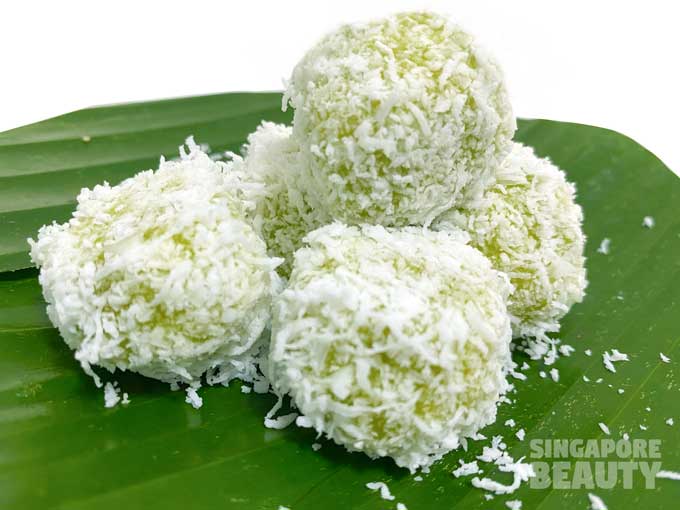 Ondeh Ondeh (Klepon) are soft chewy balls coated with grated coconut. Here's how these delicious balls are made. Make a skin with a dough from glutinous rice flour and pandan juice.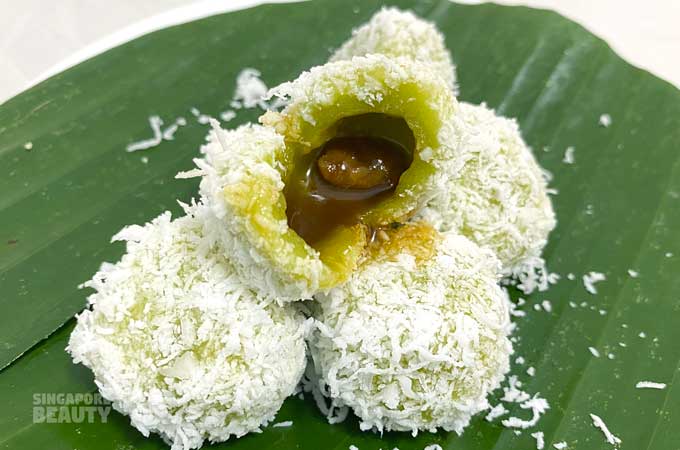 Fill the skin with roughly chopped cubes of gula Melaka (palm sugar) and roll into a bite size ball. Cook these balls in boiling water and coat them with salted grated coconut. They boost of a molten Gula Melaka centre with crunchy bits of palm sugar.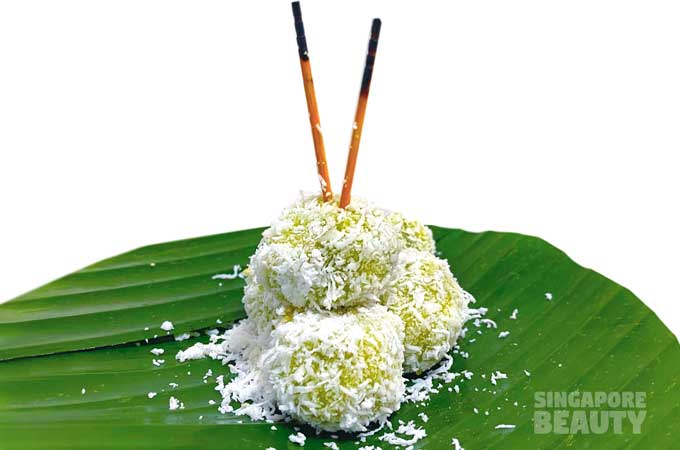 These are best eaten with toothpicks. Be surprised by the explosive nature of the molten gula Melaka centre when you bite into it.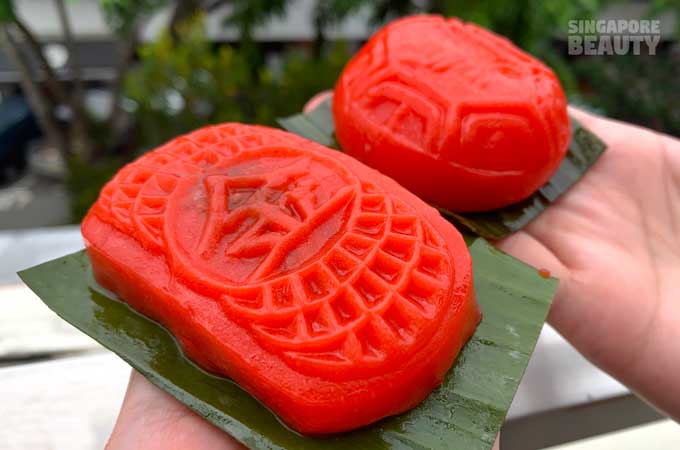 Ang Ku Kueh is kueh that symbolize blessing, prosperity and good fortune. These are usually red and moulded into the shape of a tortoise shell atop a banana leaf. The skin is a soft dough made out of sweet potato, coconut milk, oil, salt, sugar and glutinous rice flour.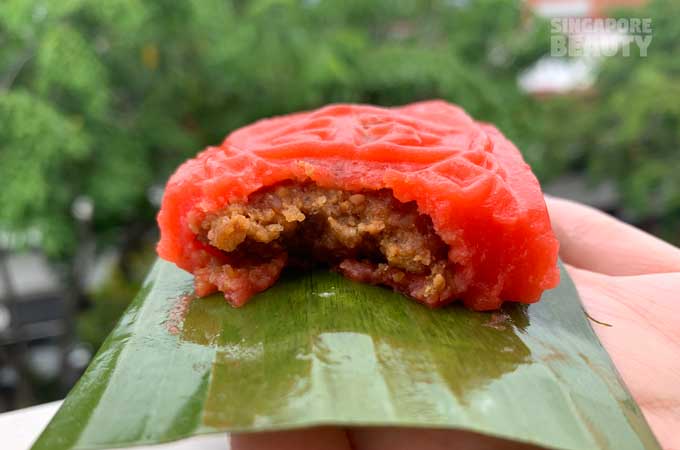 Traditional filling is usually made of blended mixture of mung beans, sugar, pandan juice, coconut milk, sweet potato paste and wheat starch. However to evolve with time, more flavours are now available. Durian, black sesame, coconut, red bean and mango are some of the newer flavours to cater to a new crowd. These kuehs are chewy, sticky and more on the oily side then the usual kueh.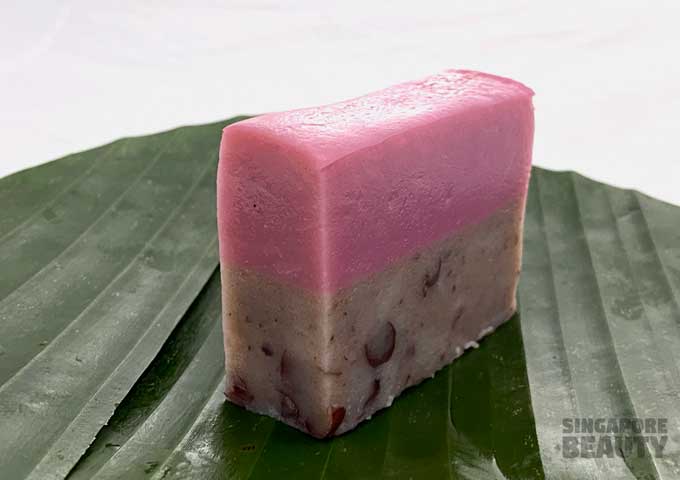 Pink Fairy is a reinterpretation of the red bean potong ice cream we usually have as kids but in semi-solid kueh form. This is made by steaming a thicken mixture of pink coconut cream, glutinous rice flour with soft adzuki beans as the base. The kueh is a creamy soft coconutty flavour with the rich pasty texture with a light flora accent.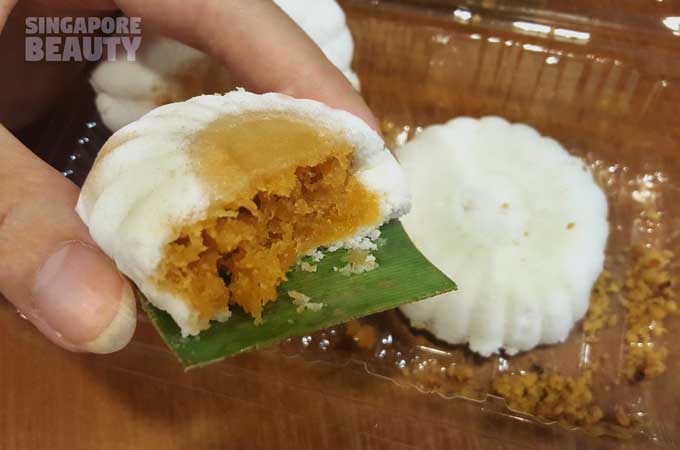 Kueh TuTu is a steamed rice cake fillings. The fillings are either grated coconut with palm sugar or toasted crushed peanut with sugar. It is made by moulding powdery rice flour with fillings into chrysanthemum shaped cake mould.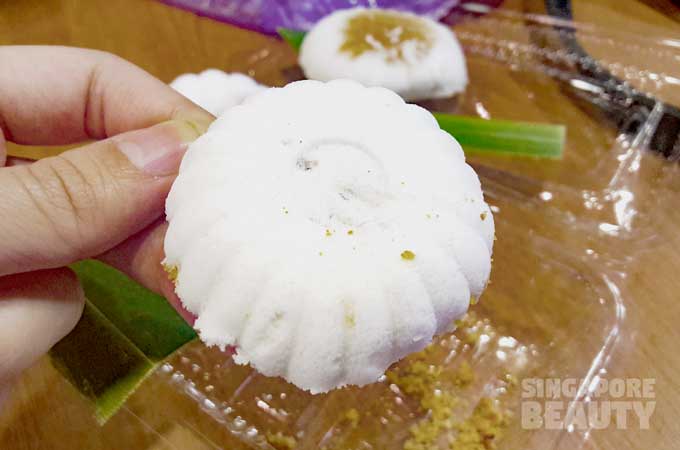 After which, sealed it with a piece of cheese cloth and steamed till a semi-soft cake forms. The flower shaped cake is then removed and laid on square pieces of pandan leaves to serve. The kueh tutu is light like a snow flake has a fluffy spongy texture. Served hot off the steamer with a strong aroma of pandan leaves.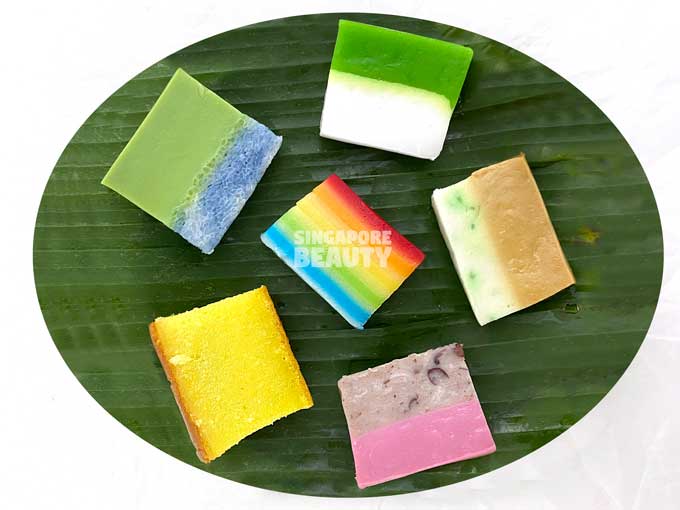 All these kueh are great idea for an afternoon snack to go with some piping hot tea. These kueh are packaged so nicely nowadays that it will be a crowd pleaser at any party or as a door gift when visiting someone. Let's eat some today to keep the traditional kueh makers going!