The daiso of BBQ has now landed in Chinatown. Top up $2 per pax for a BBQ buffet of unlimited roasted fish, meat, sides and steamboat at Orchid Roast fish.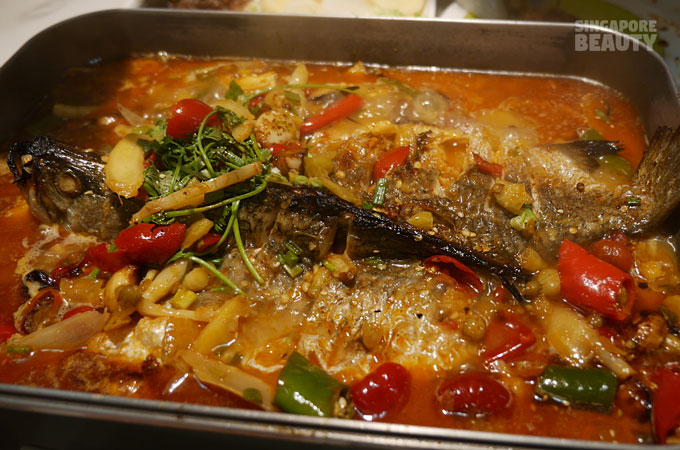 The roast fish steamboat buffet inclusive of roasted fish and unlimited sides starts from $18.80+ per pax.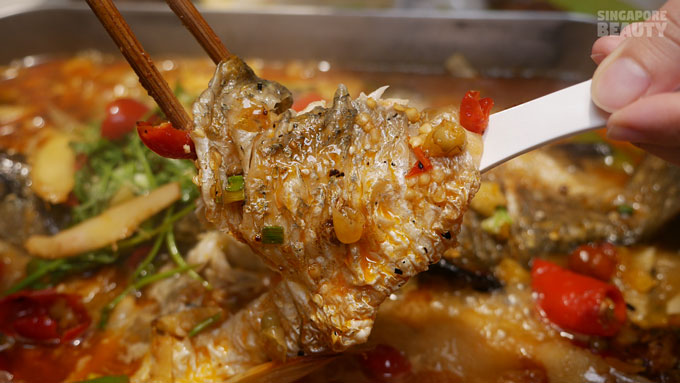 Savoury flesh that packs a punch with the amount of chilli peppers, onions, gingers, cilantros and hot oil.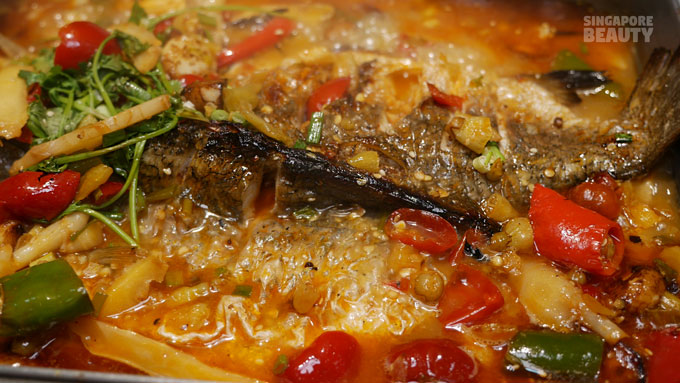 The Chef advised us against trying the spiciest flavoured roast fish as that can be beyond our tolerance level for heat. But if you love spicy food, do go for it.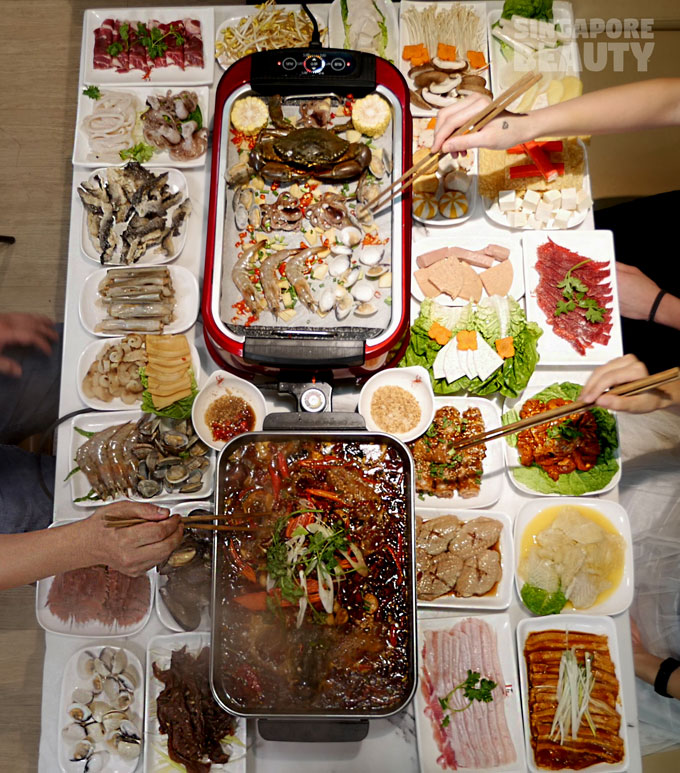 Unlimited Seafood and Roast fish steamboat buffet is $36.80 + per pax. Roast fish comes in 10 different flavours and varying degree of spiciness. Top up $2 per pax for this feast is considered a steal!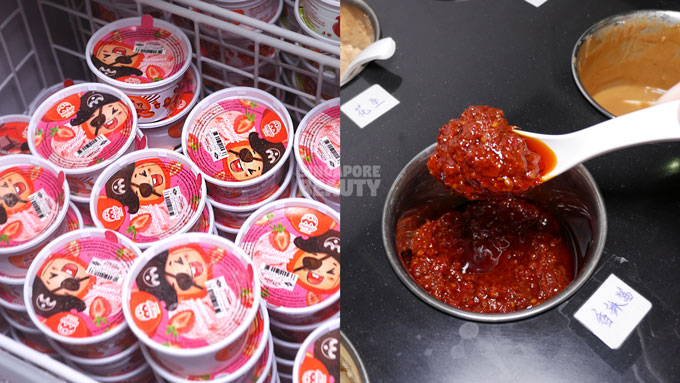 Drinks, fruits, condiments and ice creams are add-ons in this buffet.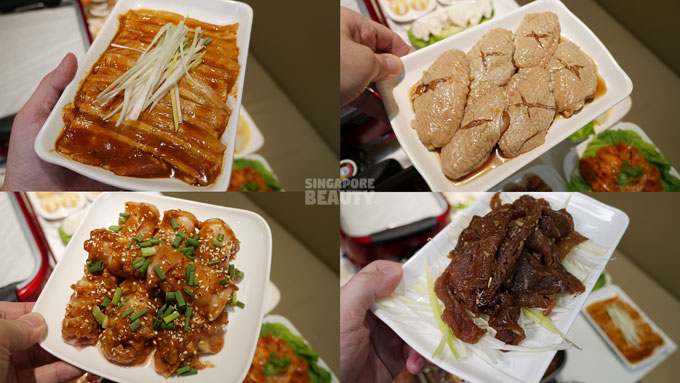 Newly added in the menu are the marinated meats for BBQ.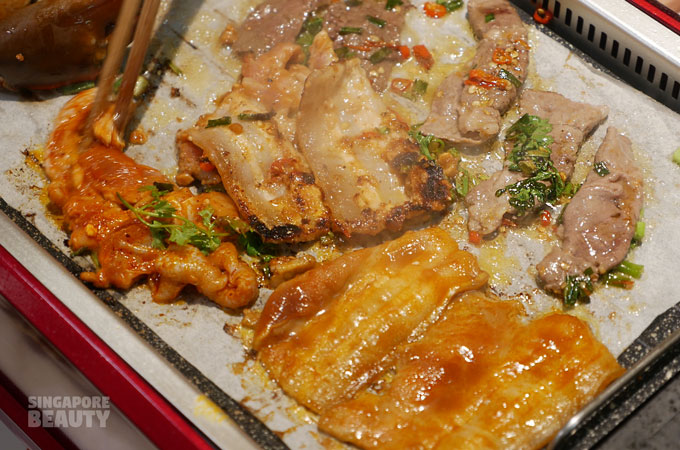 Lamb rolls, cola chicken wings, fish fillets in egg yolk, Korean chicken, nutty pork belly, beef in secret sauce and curry pork belly are free flow in this buffet.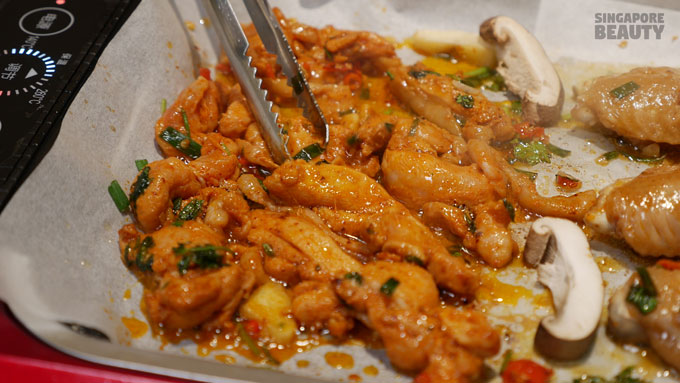 The Korean chicken thighs are well marinated, tender and juicy. These bite size portions cook quickly and evenly.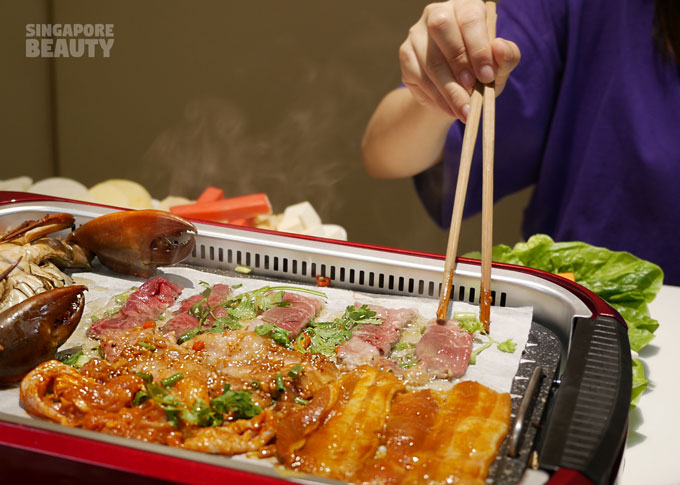 Watch these meats get cooked into curls of ribbons and dip into your d-i-y sauce.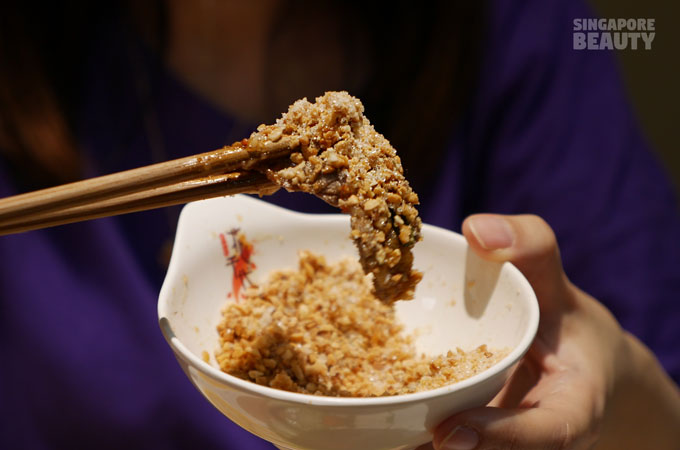 Peanut-sugar dips – Coat the meat to enjoy the crunch and nutty flavour with bits of cracking sugar.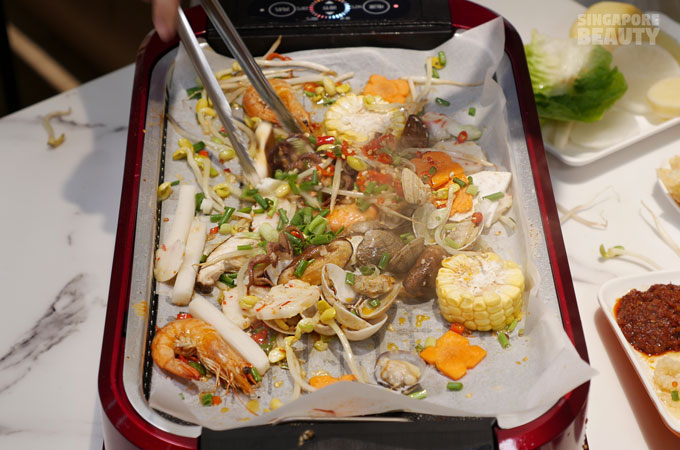 Add a good variety of greens to stir fry with the seafood in garlic oil for a change after the meat BBQ.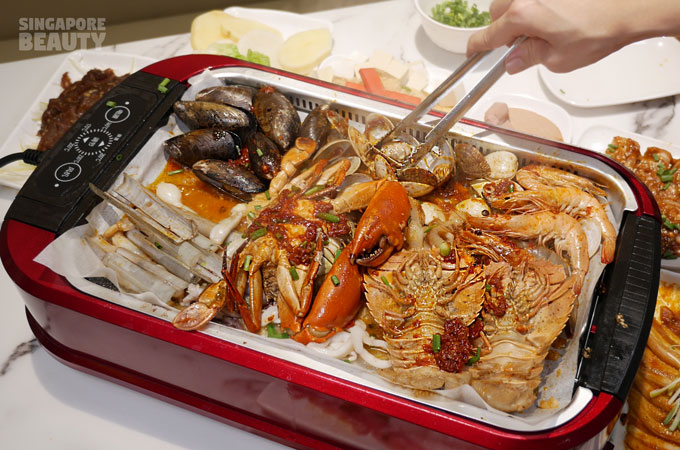 You can choose to BBQ some sambal squid, la la, prawns and mussels too.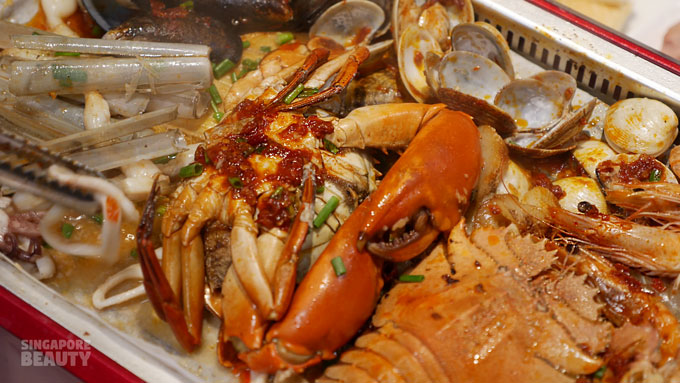 Spicy and sweet sambal sauce with barbequed seafood.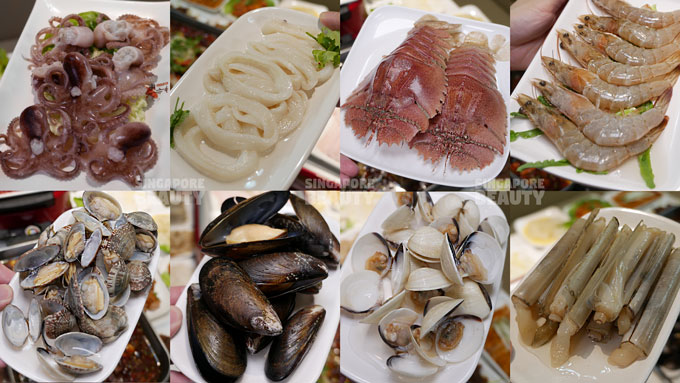 With a total of 11 types of seafood to choose from for this BBQ, you can have a seafood party here.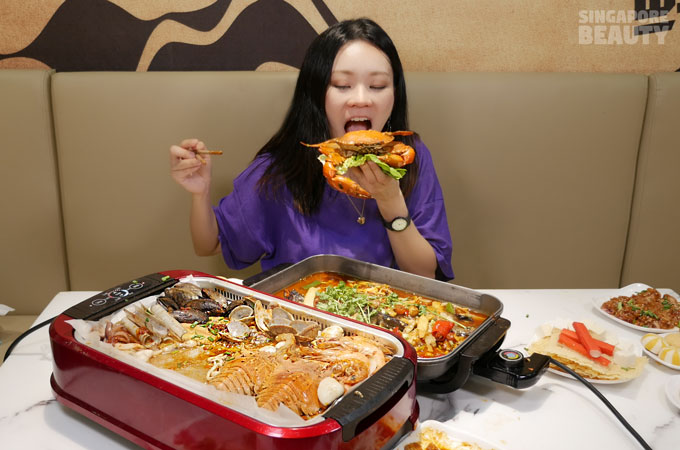 Order some of the romaine lettuce for some vege wraps with the seafood and barbequed meat.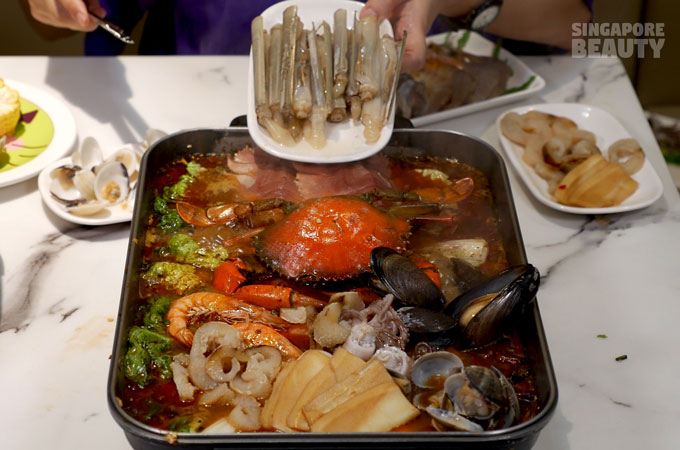 For those who love seafood in a steamboat, you can make use of the roast fish gravy to cook the seafood. With unlimited top up for the gravy, you can enjoy copious amount of seafood.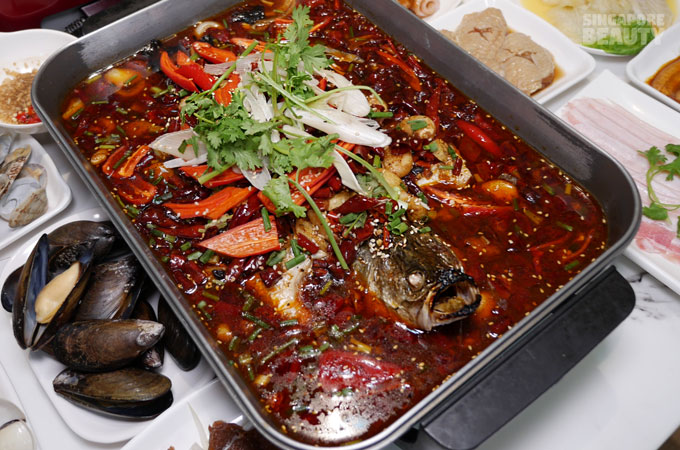 A fresh serving of roasted fish for those who wish to try the roasted fish in other flavours.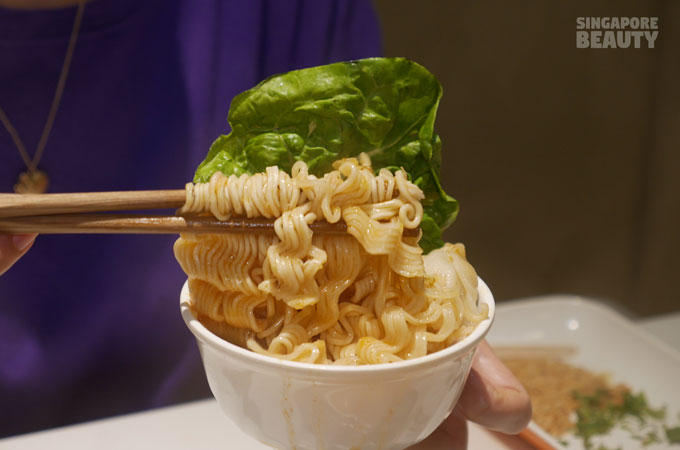 Create your own spicy noodle with their dumplings. Let the noodles soak up the intense roasted fish gravy.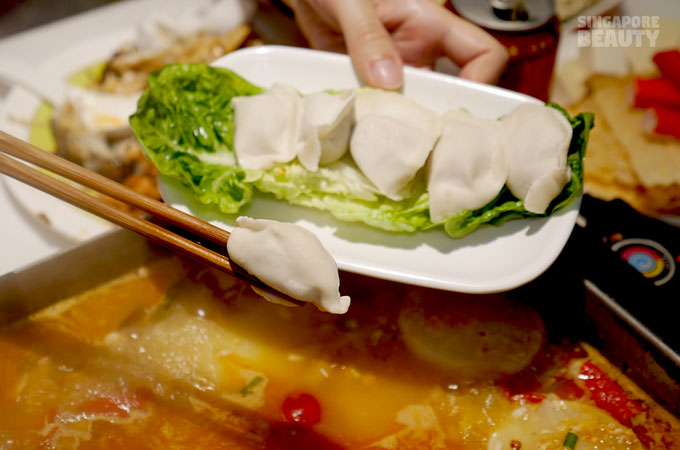 Handmade dumplings noodle to be exact.
Enjoy the best of both worlds with Orchid Roast Fish – The buffet of BBQ seafood cum meat and roasted fish steamboat.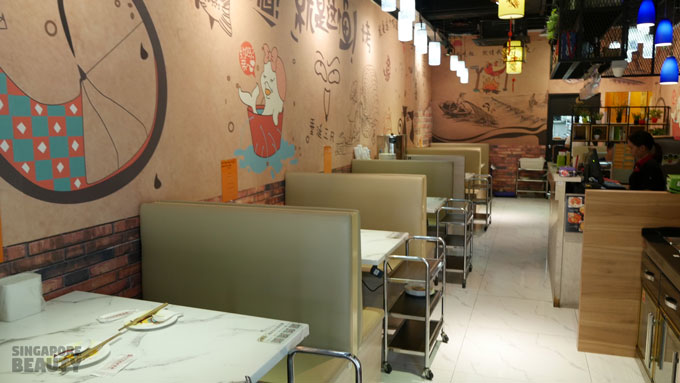 This is two storey air-conditioned restaurant with cushioned bench seating is great for small to medium size gathering.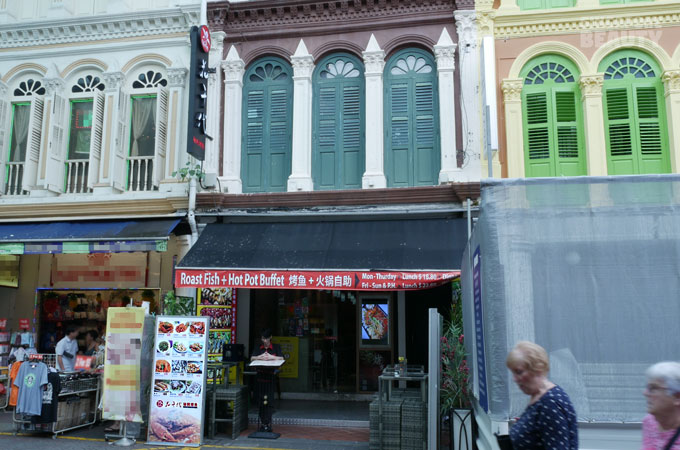 Orchid Roast Fish is on the left of Chinatown MRT Exit A. Hurry over today or make a reservation now. It is time to feast!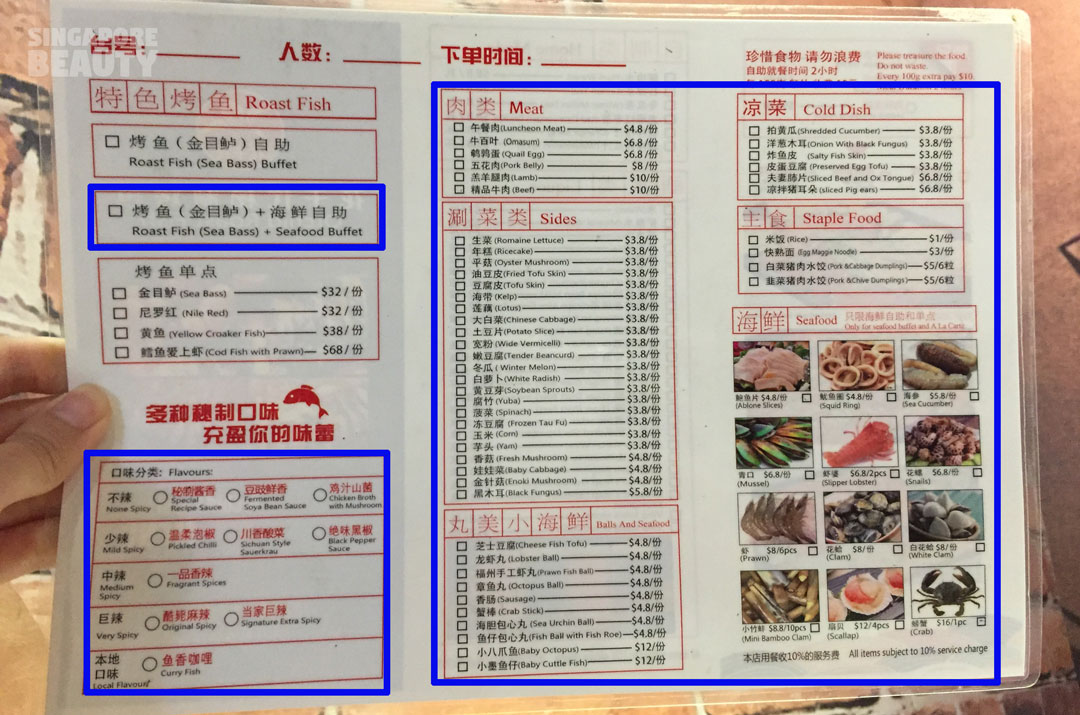 This is the menu of Orchid Roast Fish. Items boxed in blue are included in the Seafood and Roast Fish Buffet. If you are going for only the Roast Fish Buffet which includes unlimited serving of roasted seabass and sides, seafoods are excluded. Top up $2 per pax for BBQ (inclusive of unlimited marinated meats-chicken, lamb, beef, fish and pork)
If you want both Grilled fish Buffet and BBQ Buffet, simply add $2 per pax to the following pricing.
Choose either Grilled fish Buffet or BBQ Buffet – Adult:
Monday to Thursday & Eve Lunch – $18.80+/pax
Monday to Thursday & Eve Dinner – $20.80+/pax
Friday to Sunday & PH Lunch – $22.80+/pax
Friday to Sunday & PH Dinner – $24.80+/pax
Choose either Grilled fish Buffet or BBQ Buffet– Child:
Age 12 and below – $12.8+/pax
Age 8 and below – $8.8+/pax
Age 4 and below – free
Seafood + Grilled fish Buffet or BBQ Buffet– Adult:
Monday to Sunday– $36.80+/pax
Seafood + Grilled fish Buffet or BBQ Buffet– Child:
Age 8 to 12 – $18.8+/pax
Age 4 to 7 – $12.8+/pax
Age 4 and below – free
Operating Hours:
Mon-Thurs & Eve: 11.30am – 10.30pm
Fri-Sun & PH: 11.30am – 11pm
2hrs dine-in time limit
Location:
68 Pagoda St, S059227
Chinatown MRT Exit A (left side)
Restaurant permanently closed
Reservation:
(+65) 6221 6369
Brought to you by Orchid Roast Fish