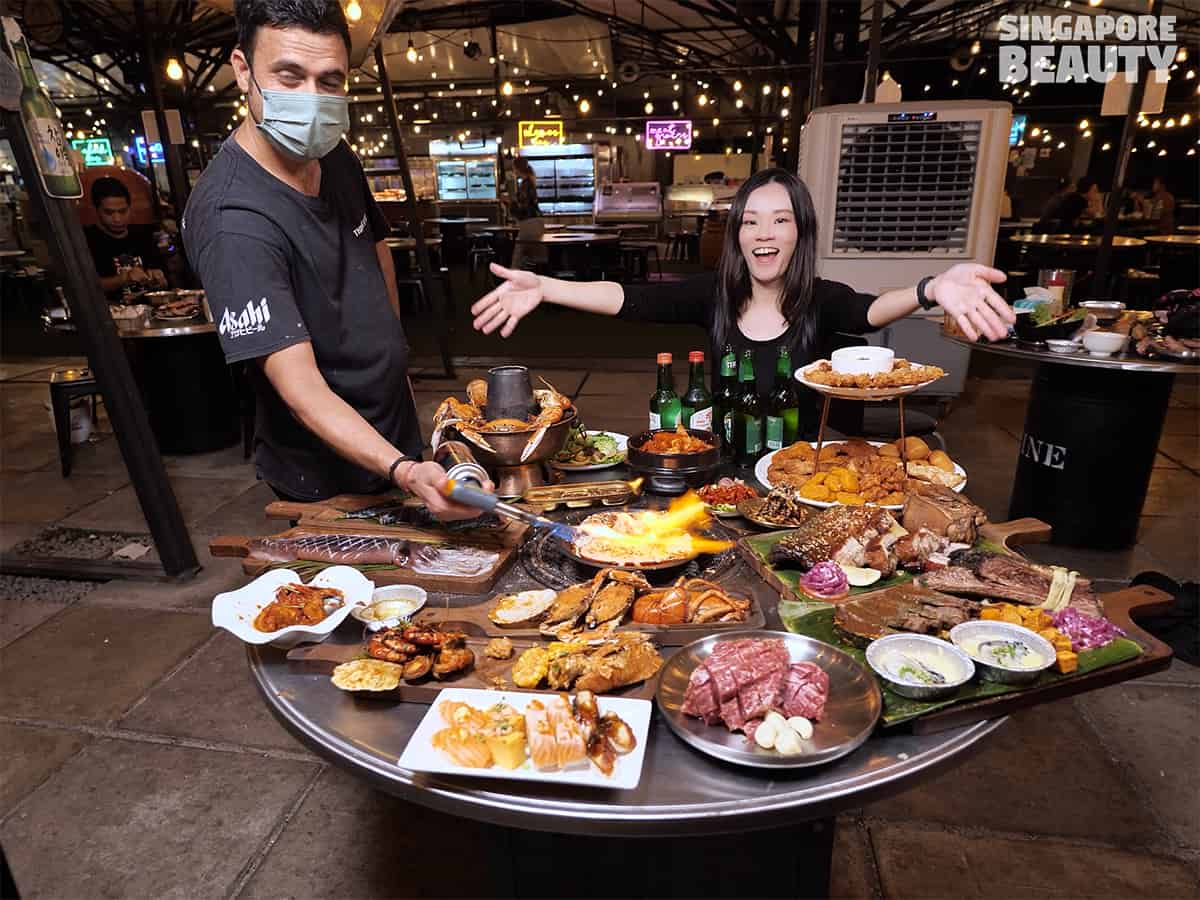 The Three Peacocks is back with more exciting food spread this time round. From catch-your-own-live-prawns, smoked roasted meats, seafood hotpot, fried seafood, table side torching service for mentaiko lobster, carving station, hotplate cheese, Korean dishes and a buffet spread of sauces to whip up your own bbq meat and seafood dishes.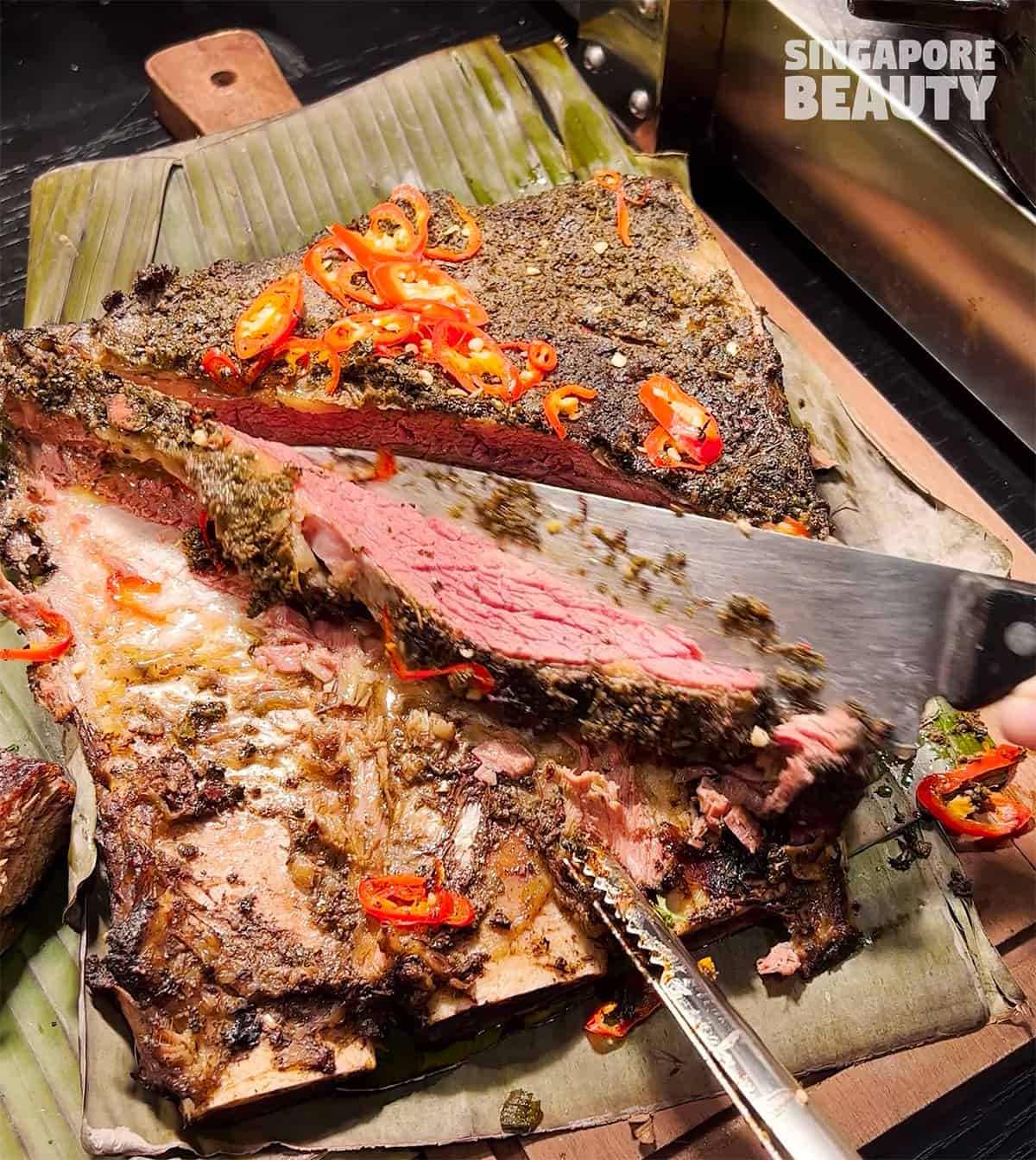 Enjoy freshly roasted pork belly, grilled bbq baby back ribs, smoked bone in beef brisket, local roasted herbal whole duck, German pork knuckles that are newly added into The Three Peacocks latest menu. Do note that these meats at their carving station are on rotational basis and you may find different offerings on different days of buffet.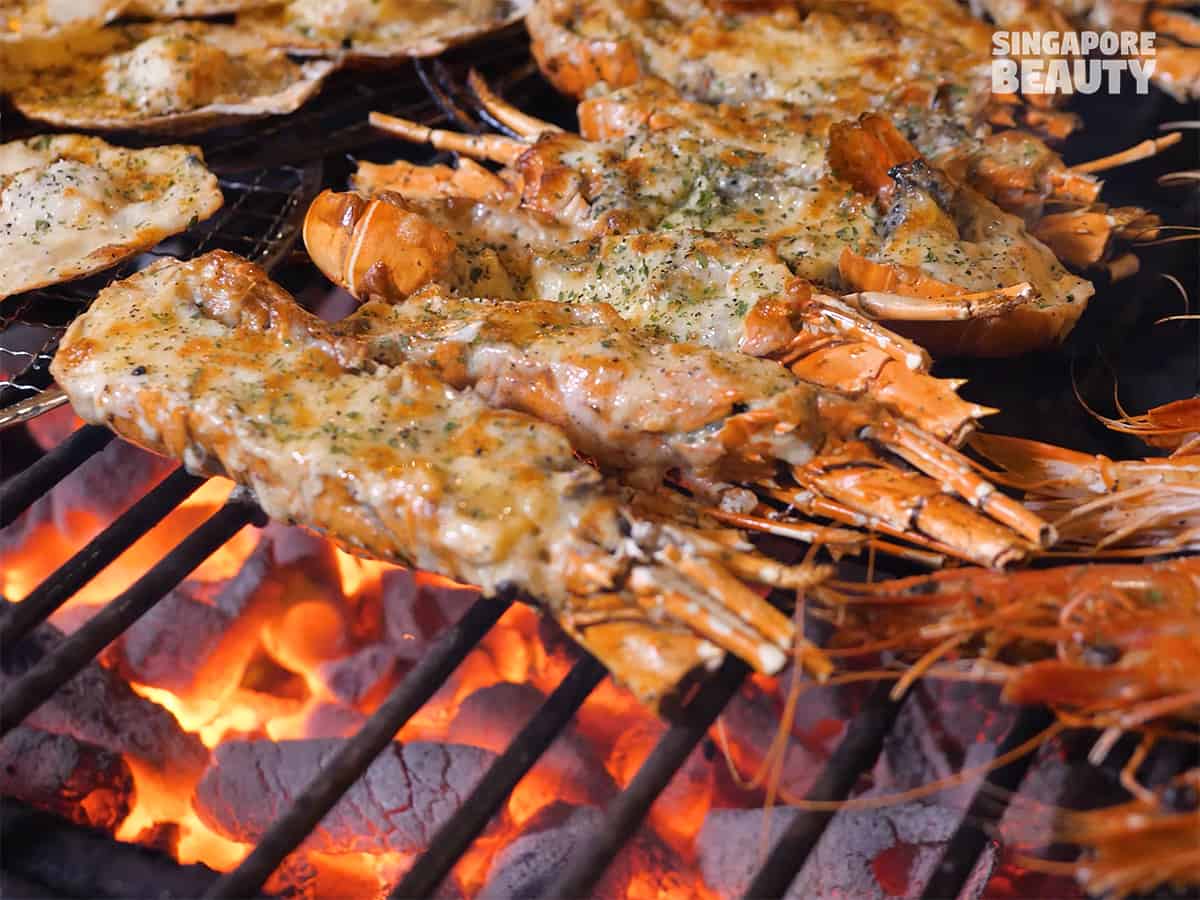 Seafood lovers can also rejoice with redemption of half lobster of the day, only for Friday to Sunday, Eve and PH. The lobster can be either Bamboo lobster or Boston lobster. These halved lobsters will be topped with mentaiko cream and table service torching by the service crew will be provided at your bbq stove. Enjoy rich melting mentaiko cream with chunks of sweet lobster flesh. Get your hands on more ala carte half lobster at only $4.90 each with The Three Peacocks Lobster's Promotion to go with your other buffet items.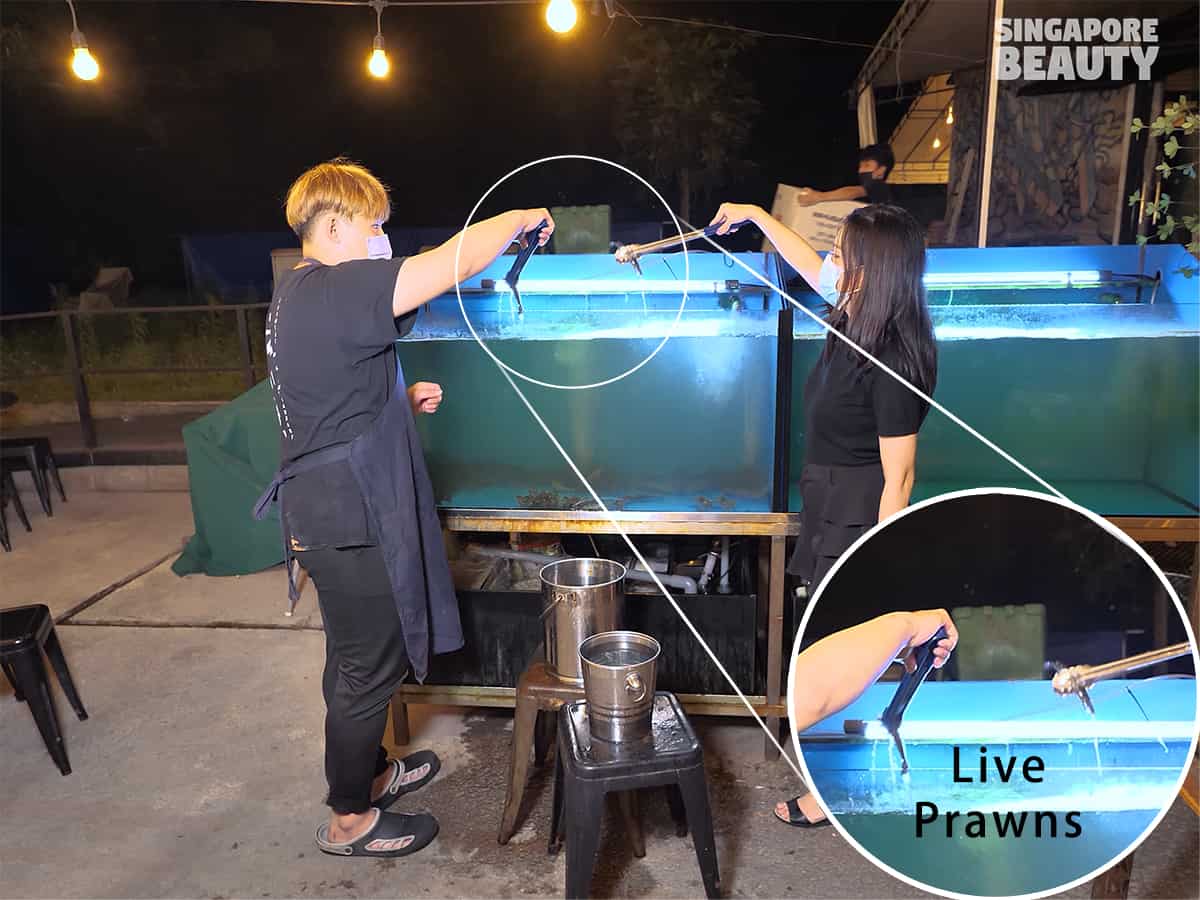 The much anticipated catch your own live seafood buffet is back (only from Fri-Sun). You are able to catch your own live prawns from these tanks opposite the seafood ice bed. Use the tongs and ice bucket provided to catch these live seafood. Knock out the live prawns by immersing them in the bucket of cold ice before barbecuing.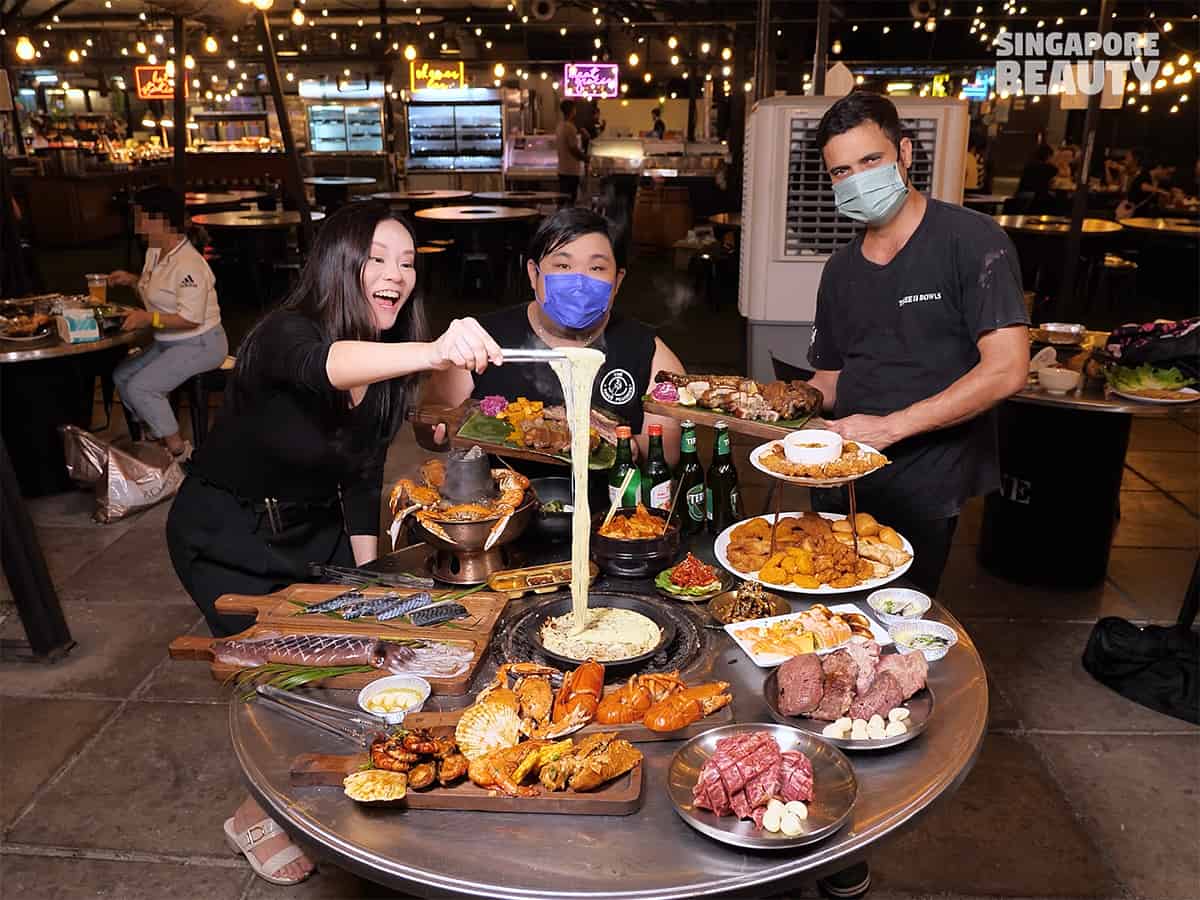 The Three Peacocks buffet price from $39.90++ now also include many new items like this waterfall cheese in a hotplate to elevate the Korean BBQ vibe and experience. Do not forget to add on some ala carte Korean Soju and Terra beer, check out for their daily bucket beer promotion in house.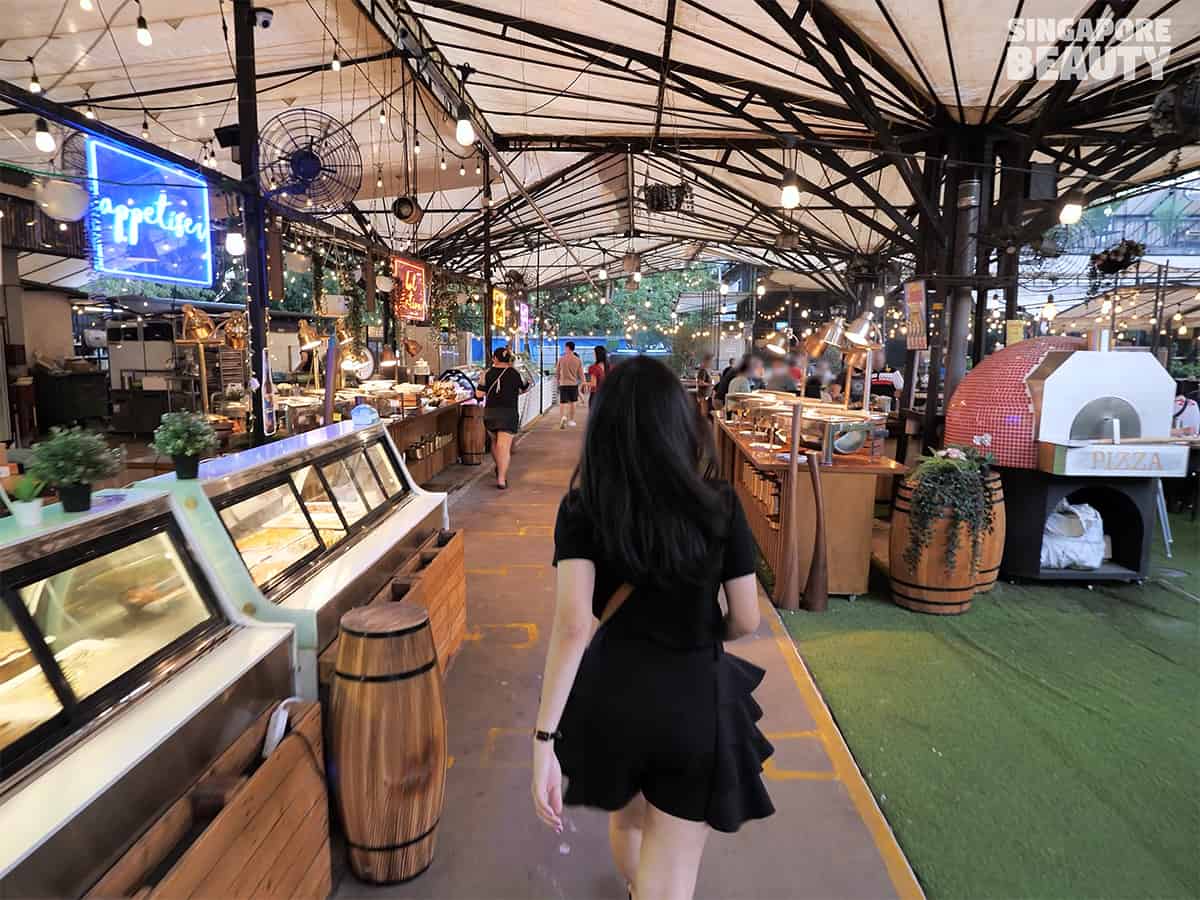 The Three peacocks at Labrador Park is also well known for their amazing spread of over 100 items.  The food spread extends from the entrance and stretches all the way till the end of the whole buffet area.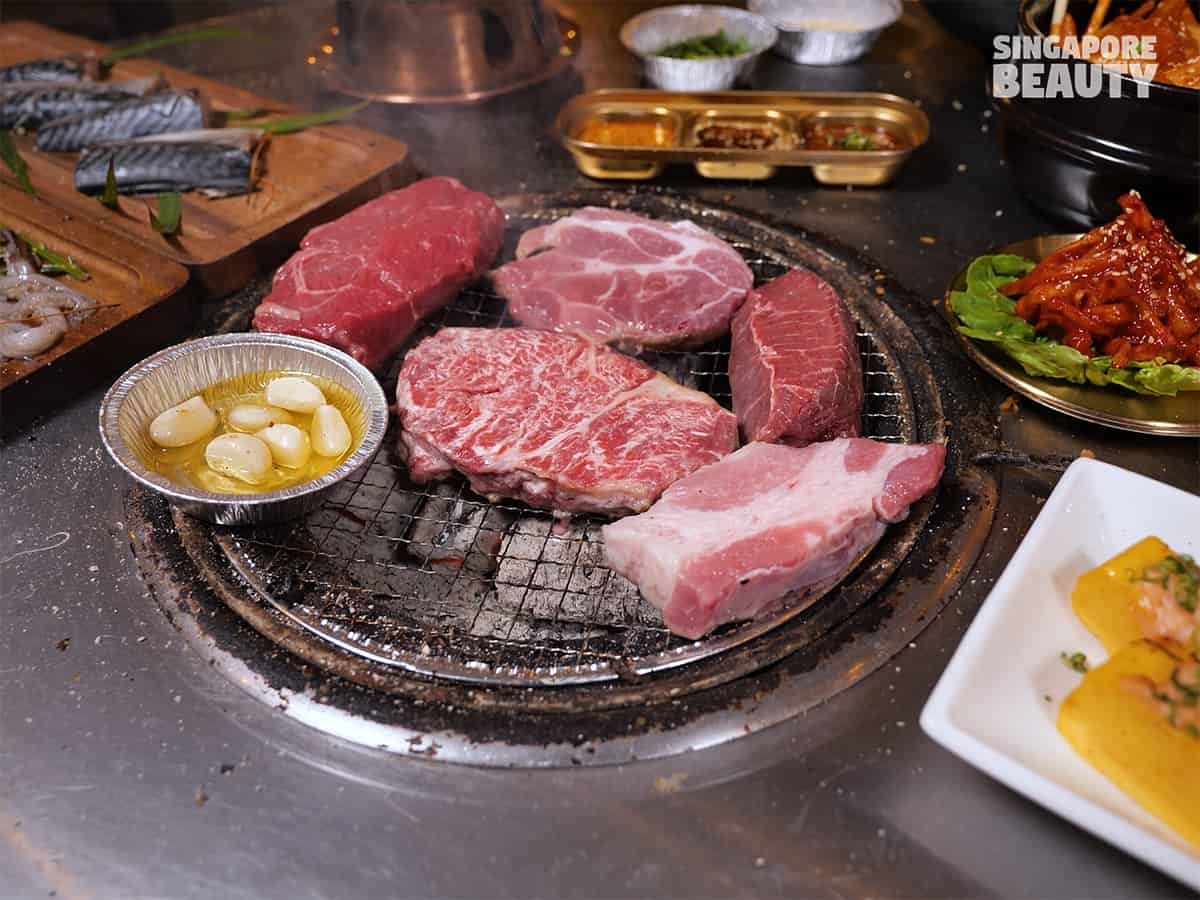 Enjoy premium meats such as steak cut brisket, Spanish pork collar, boneless ribs, galbi gui thick cut steak beef brisket, Melty beef cubes, pork jowl & more from the meat Grocer bar. Spice up these cuts with garlic oil, salt & pepper, teriyaki sauce and more from the condiments counter.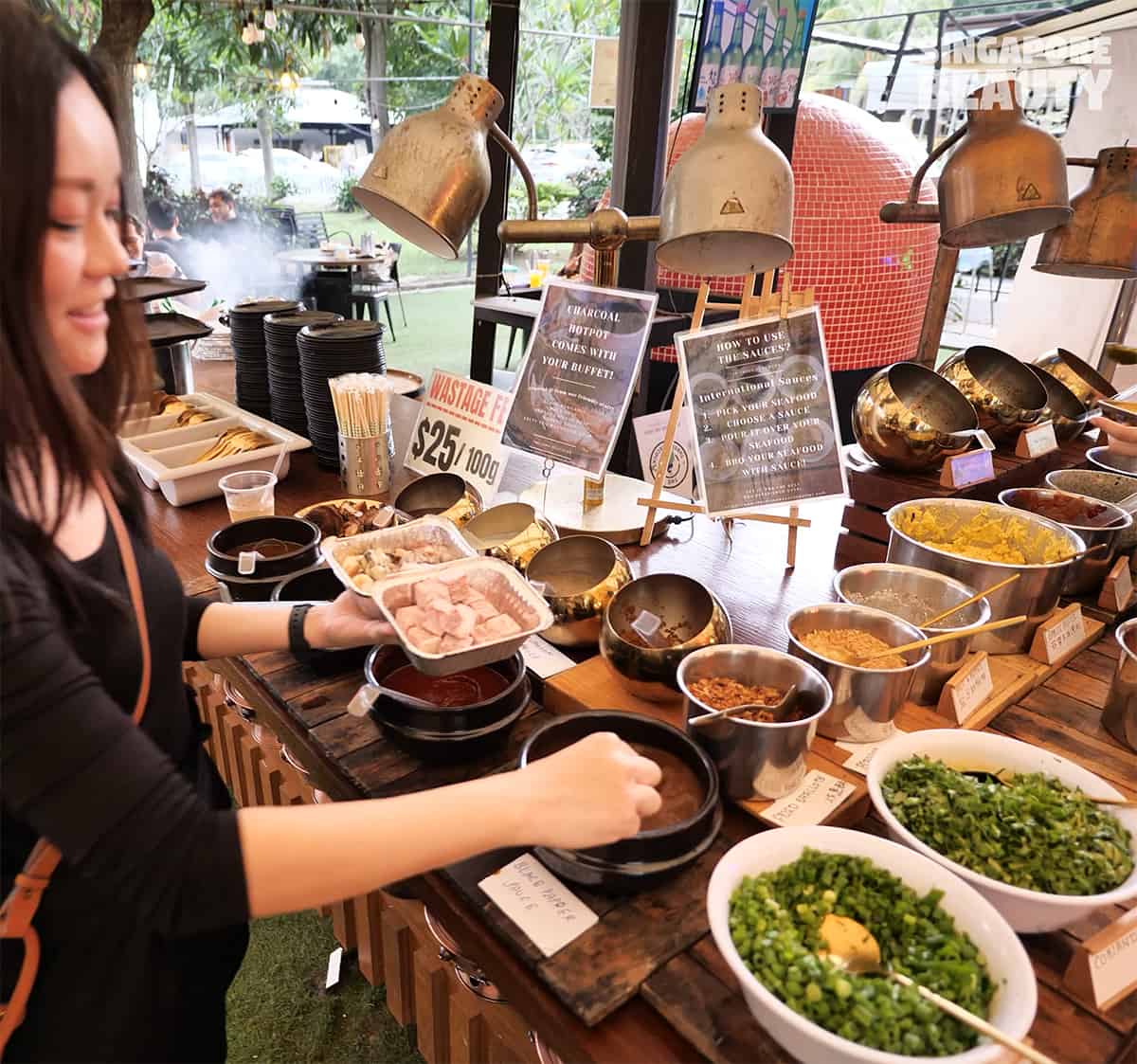 They have a wide range of sauces to season the meat and seafood with. Pick your items from seafood bar & meat grocer and sauce it up with the seasonings to create your unique dishes from many different countries. Sauces available are Korean – Gochujiang & cheese dip, Japanese- Kabayaki, teriyaki, yuzu ponzu sauce, Indonesian – Kecap manis, Chinese – Garlic rub, Vietnamese – sweet & tangy Fish sauce, Thailand – Namjin sauce, suki mookata sauce, seafood sauce, Western – black pepper, French cream, tomato verde, mushroom truffle cream, red wine sauce, demi glaze sauce, local – chilli crab sauce, salted egg sauce, garlic sweet chilli and more on rotational basis.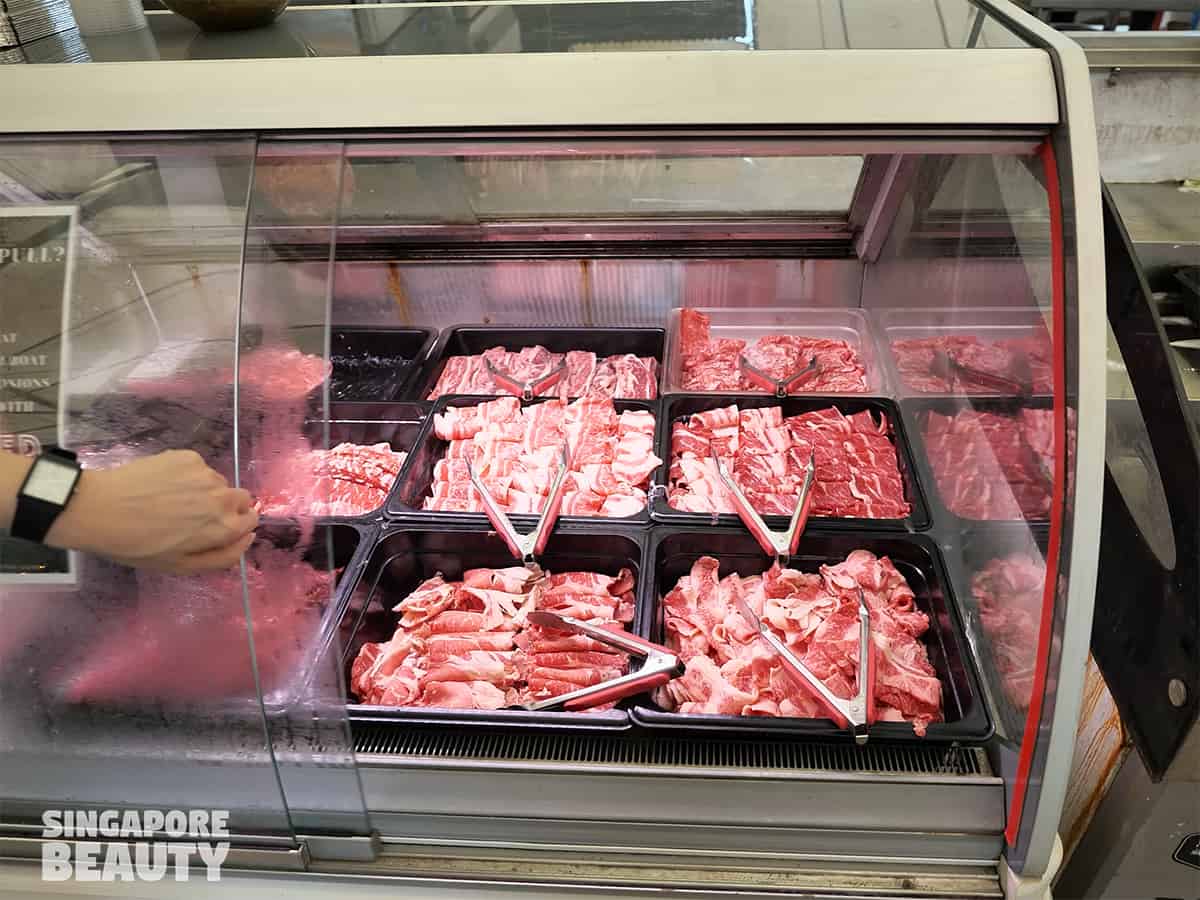 You can also choose your own meat freshly cut shabu shabu meat rolls from the premium meat Grocer bar as your hotpot ingredients. Meats available are thin cut Spanish pork collar, pork belly, beef briskets, rib steaks, beef roll, melty beef cuts, sirloin, and various premium selections.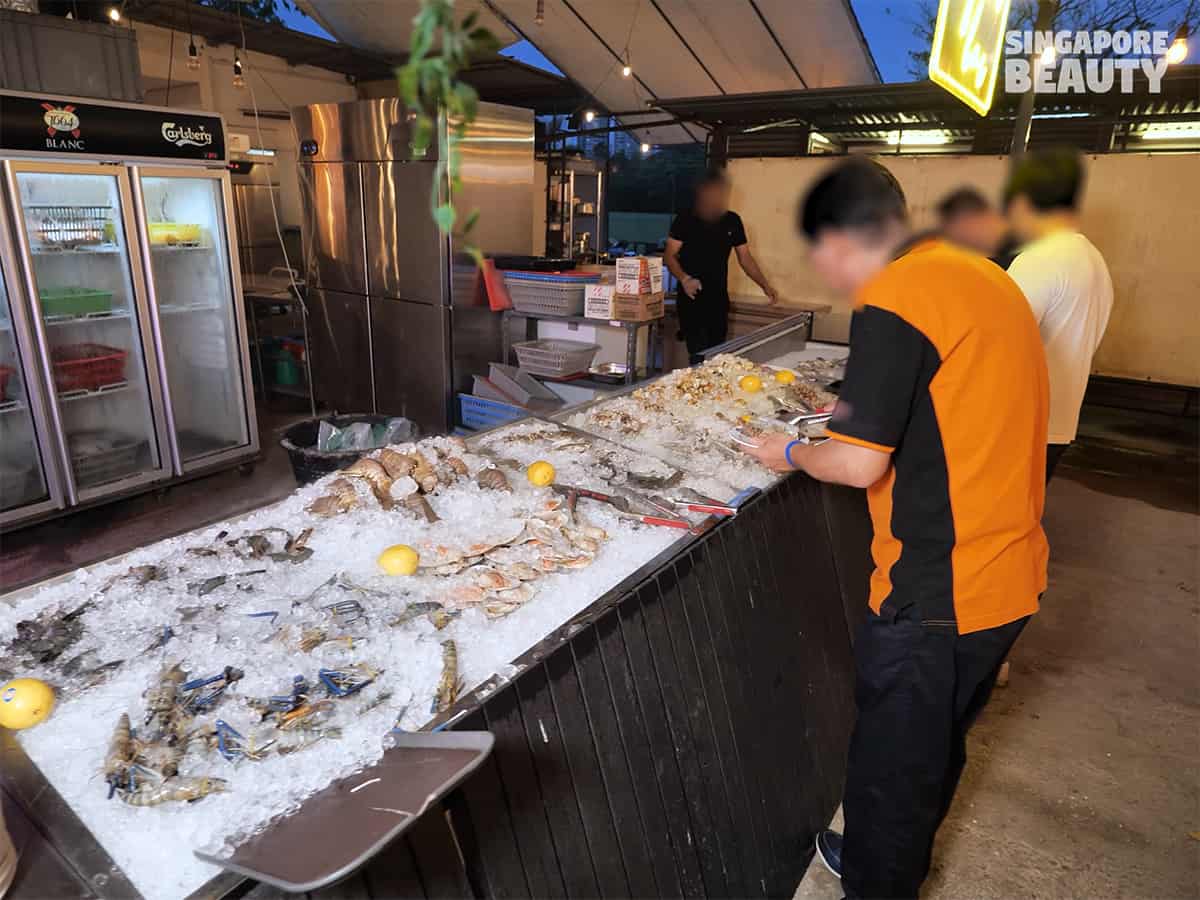 Get unlimited seafood for hotpot or to grill your own sea salt slipper lobster, grilled scallop with cheese & herbs, grilled giant river prawn with Thai chilli & sambal, butter garlic oysters , seasonal catch giant squid & saba, grill crab in own briny juices and more. Our favourites are their slipper lobster, shucked oysters with lemon & Tabasco and crabs.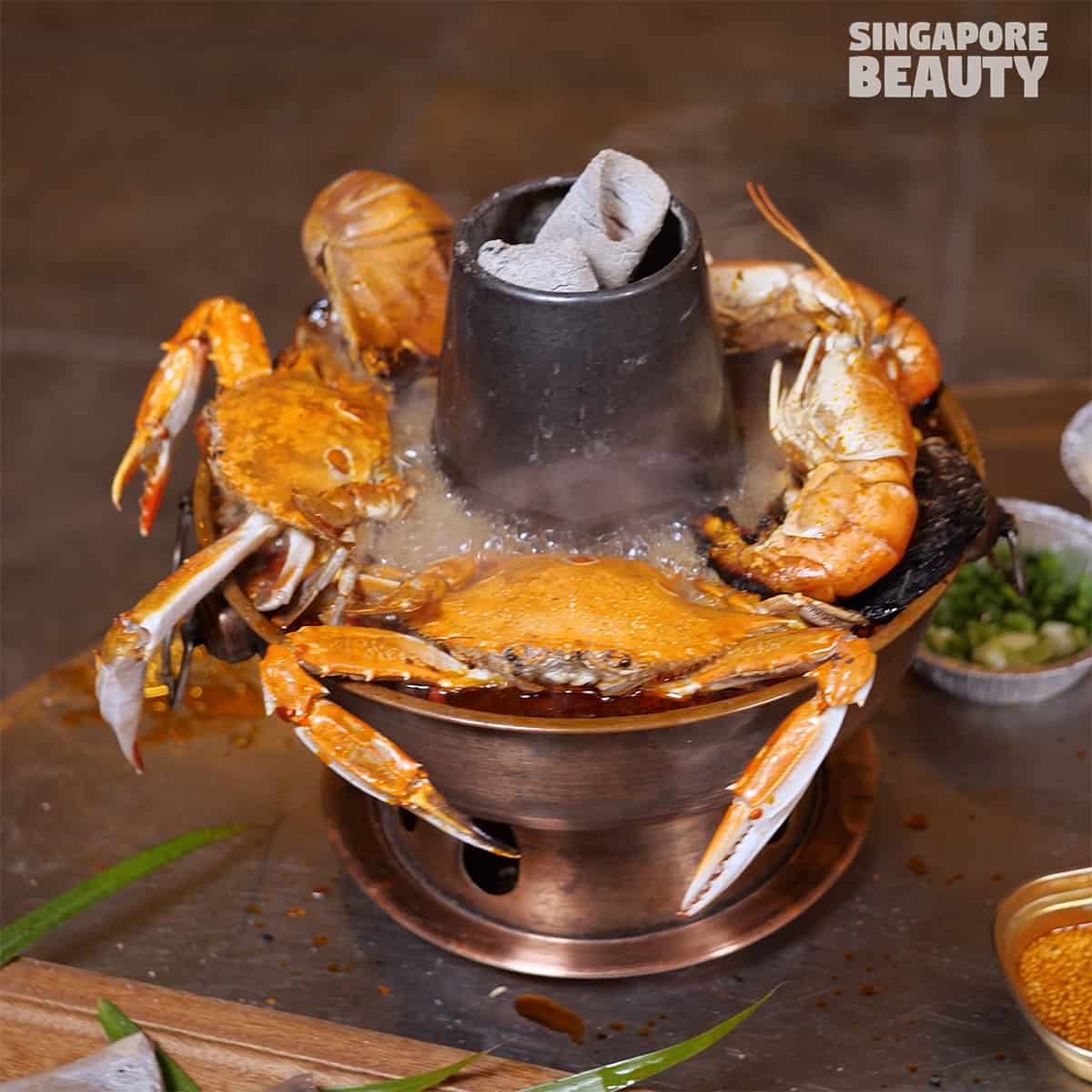 Enjoy charcoal chimney seafood hotpot or shabu shabu with chicken or mala soup. Get some seafood, shabu shabu meats, surimi, Japanese sukiyaki greens, carbs & Chinese style special meats to hotpot with as well.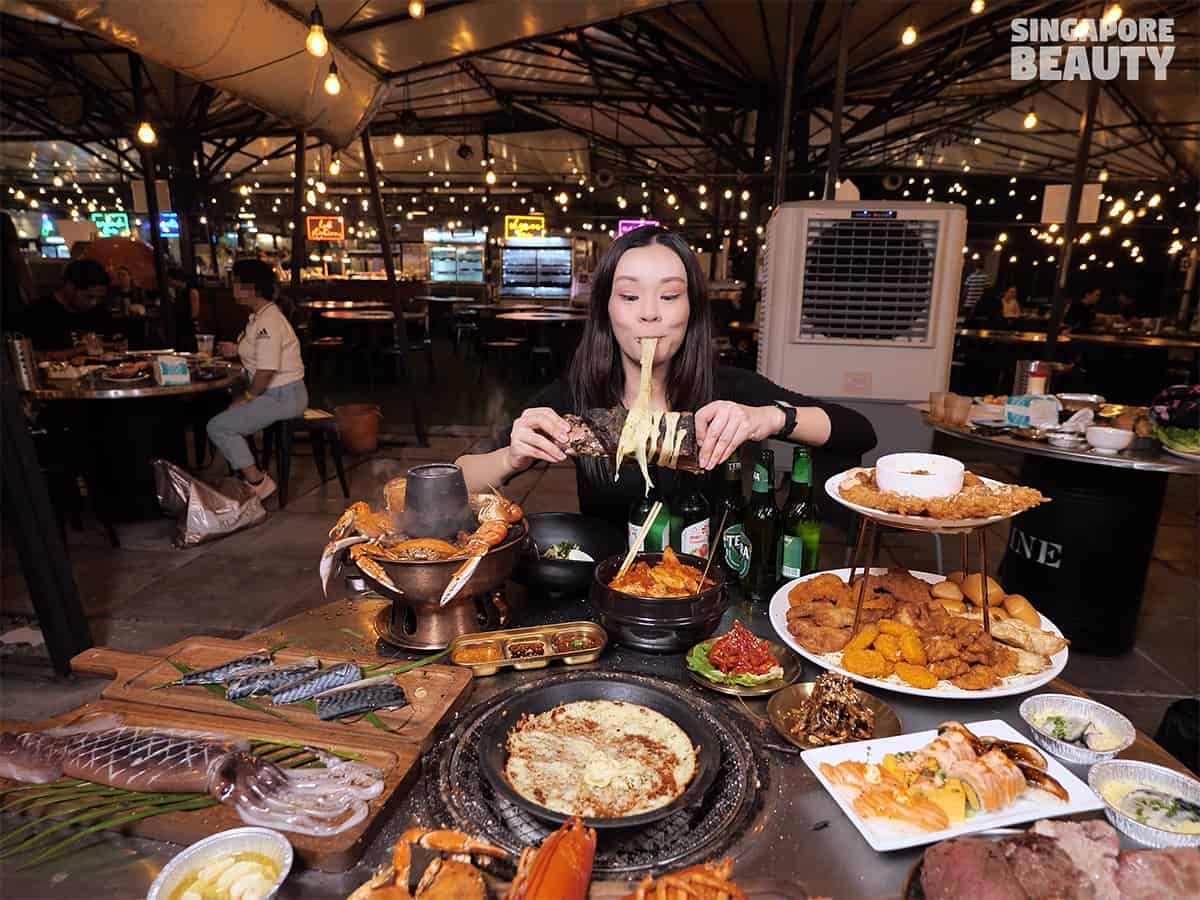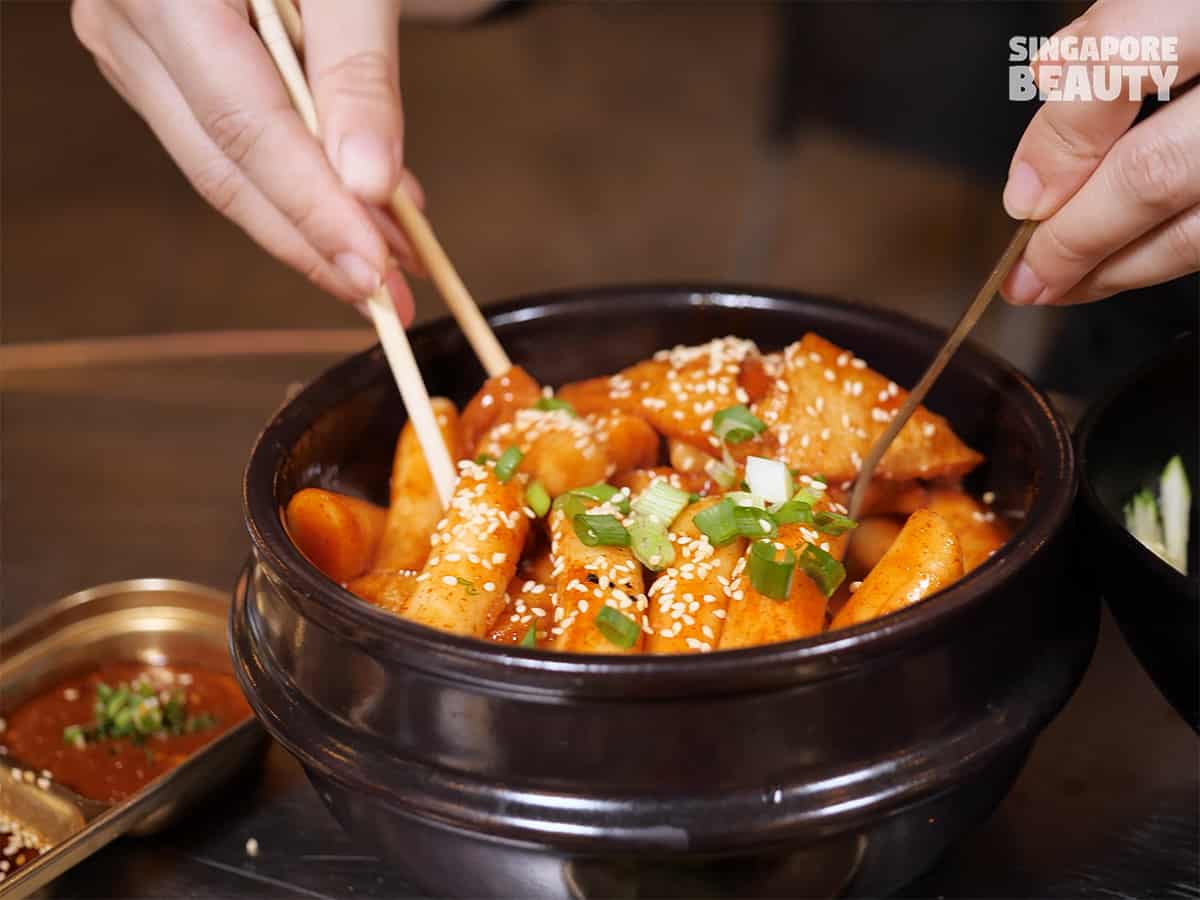 Indulge in The Three Peacocks new Korean buffet delights such as Korean dishes Tteokbokki, Korean spicy cold noodle with your own barbecued beef steak, cheese hotplate, Korean cold noodle in chilled beef stock, lettuce wrap with marinated beef & pork belly, banchan, galbi-gui ribs in soy & honey.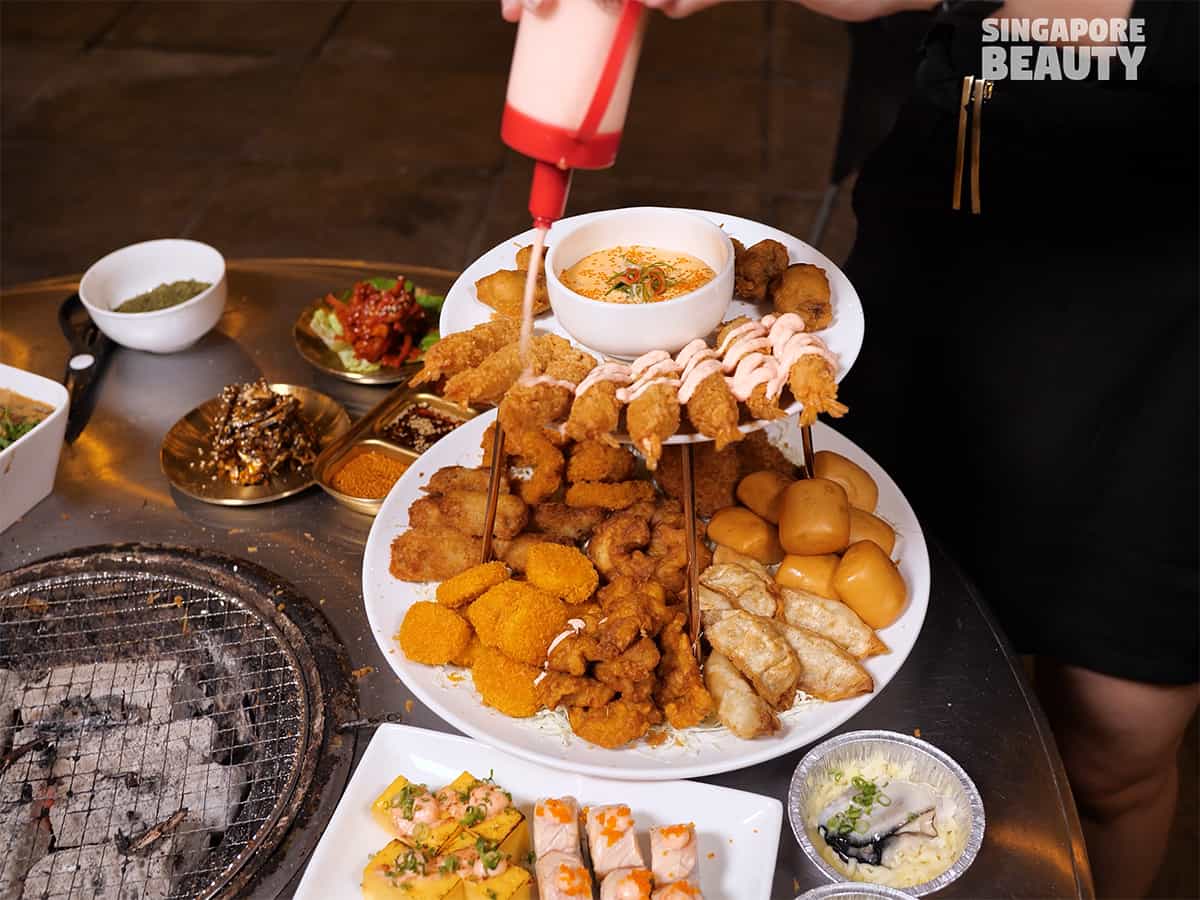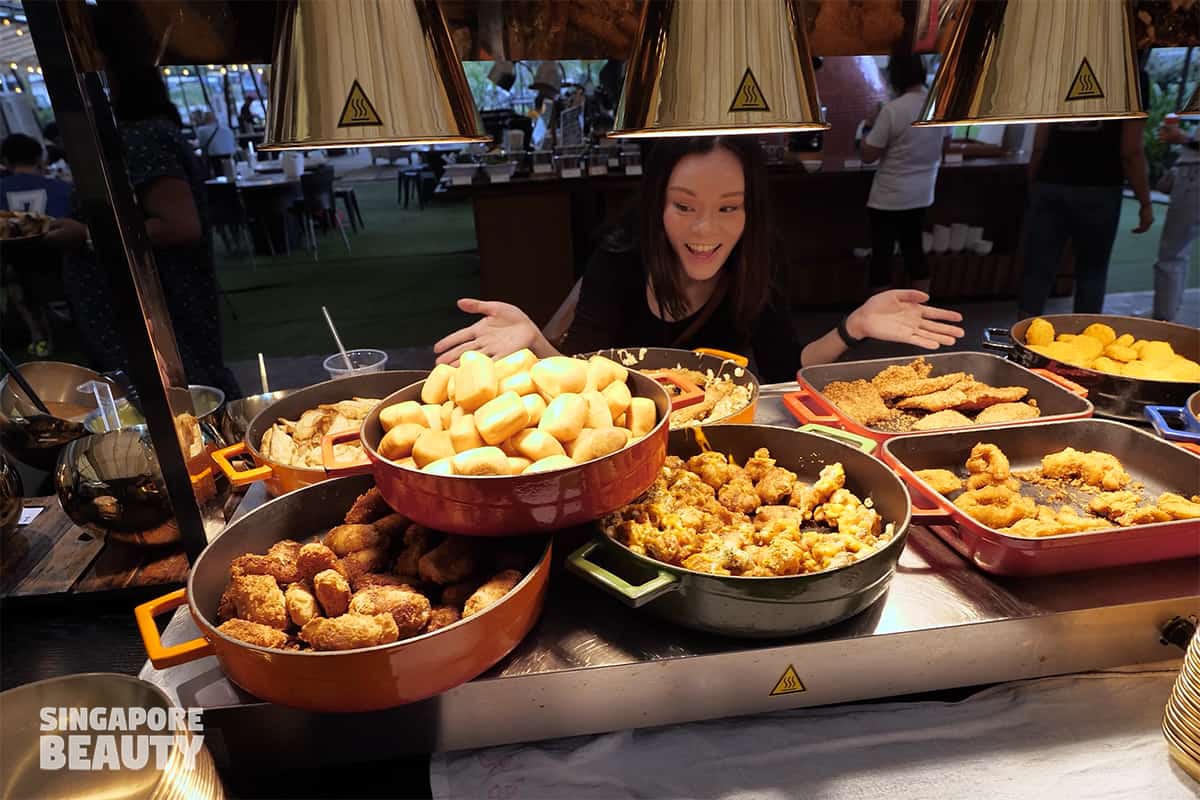 Deep Fried station are freshly fried calamari, oyster, tempura, squid, mussel, oyster, hotate, shrimp, shishamo, prawn and more. Best enjoyed with mint sauce, fresh herbs, ketchup, Thai chilli, mentaiko mayo, lemon cream or just a drizzle of zesty lemon juice.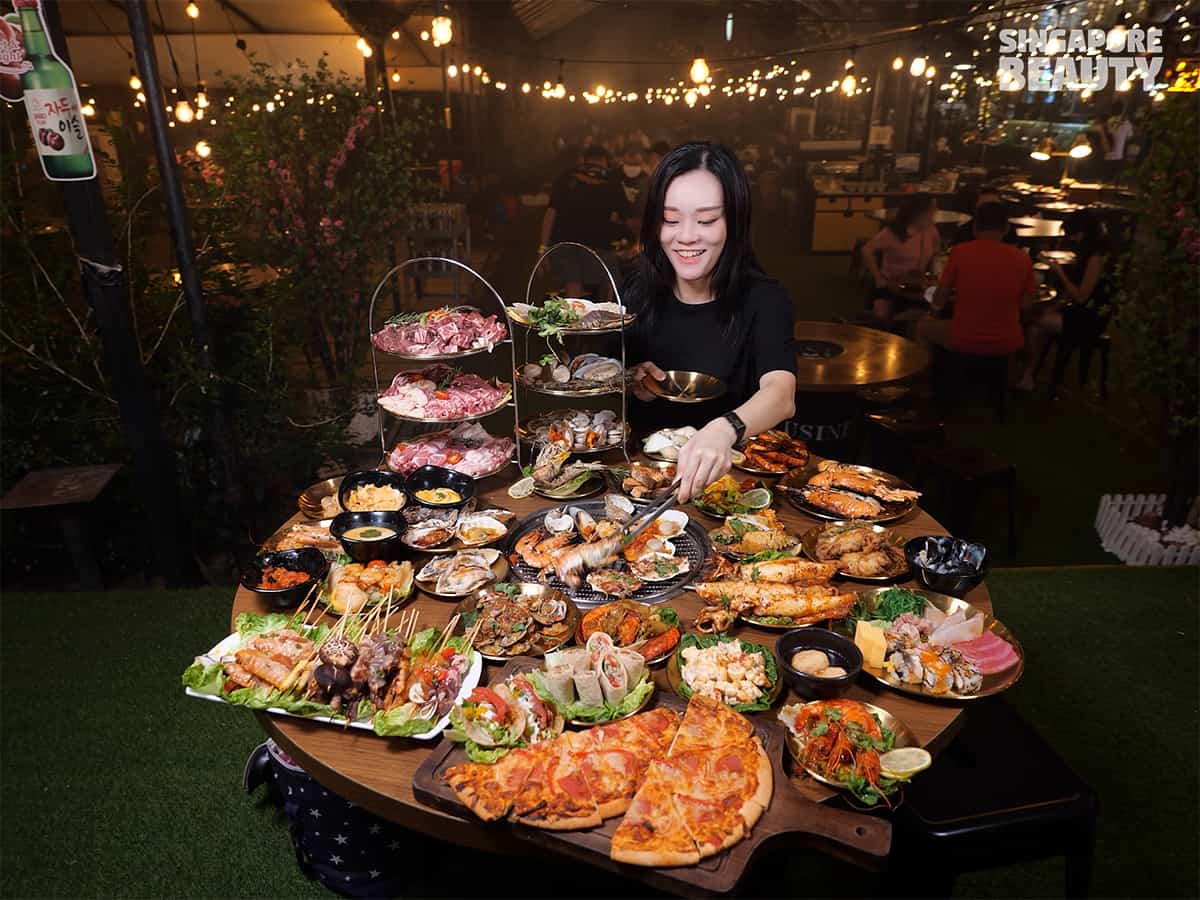 There are so much food in this buffet. They will be served on a rotational basis to ensure the food is always fresh, hot and varied throughout the buffet. From seafood for bbq, hotpot ingredients, special meats, appetizers, cakes, sushi, sashimi, ready to eat food at their Hot Stations, fried seafood, Local favourite picks, Korean food, Italian roasted dishes, roasted meats, smoked bbq ribs, marinated seafood & meats, shabu shabu meats and seafood on ice.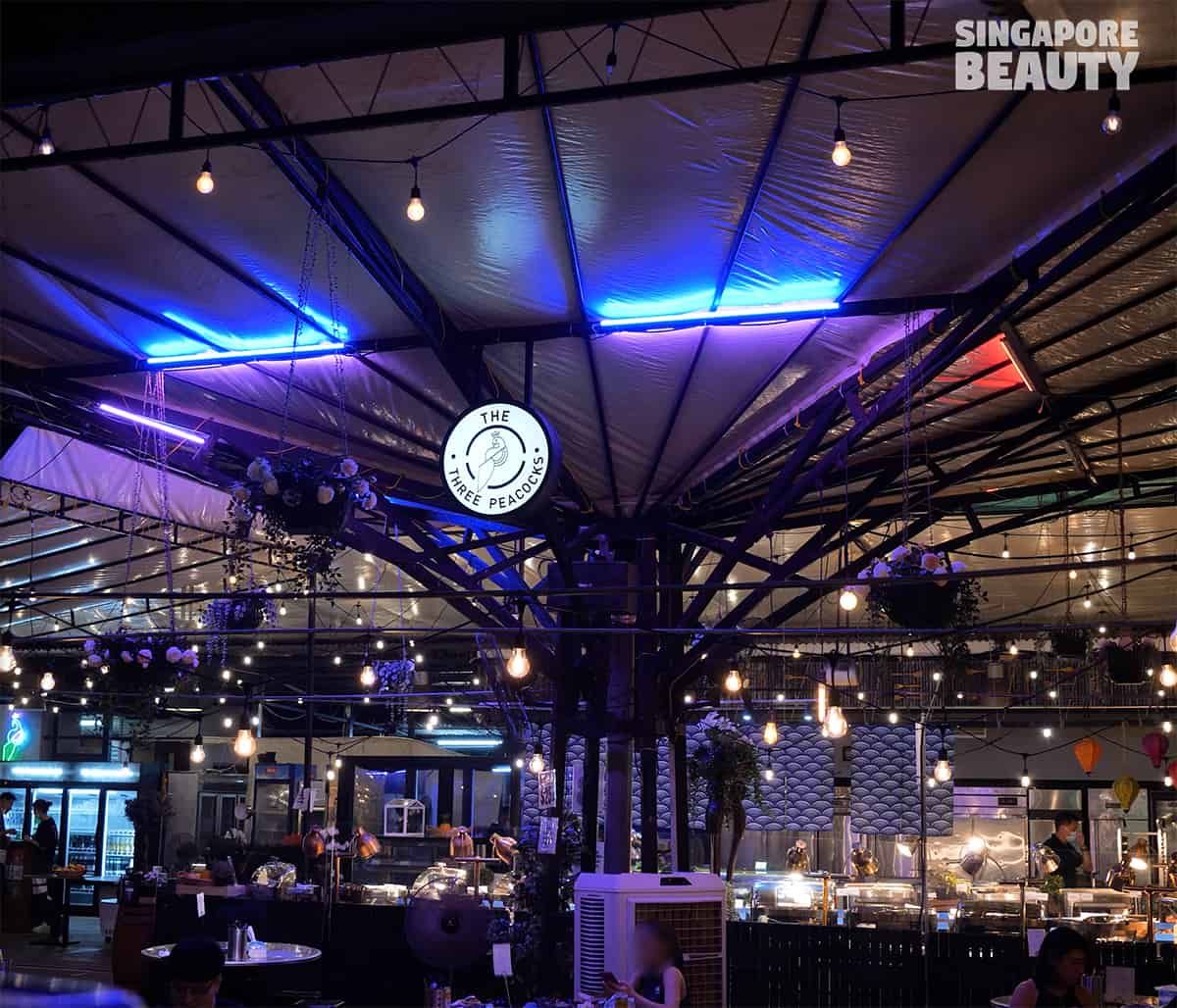 You will be spoilt for choice with the buffet spread and needs to come experience Singapore's largest outdoor charcoal bbq buffet with premium meats, iced seafood and selected live seafood. A feast of unlimited seafood & meat. Now, hop on for a night of fun feasting with your love ones and family. Reservations are available for large group gatherings with large event space.
The Three Peacocks Address :
8 Port Road, Labrador Park Singapore 117540
The Three Peacocks @ Labrador Park
Seafood & Meat Buffet Price
Weekdays (Mon-Thurs)(Lobster redemption, live prawns not available)
Adult: $ 39.90++
Senior: $ 36.90++
Kids: $ 23.00++
Add-On: free flow drinks: $2.90++
Lobster(half): $4.90++
Weekends (Fri – Sun)(Lobster redemption, live prawns available)
Adult: $55.90++
Senior: $ 52.90+
Kids:$ 38.00++
PH, PH Eve & Festive
Adult: $ 60.90++
Senior: $ 57.90++
Kids: $41.00++
*Kids 7- 12 years old.
Children under age of 6 years old dine for free.
Drinks included for Fri-Sun, PH & Eve & Festive.
Meat BBQ Buffet Price
Weekdays (Mon-Thurs)
Adult & Senior: $ 29.90+
Kids: $ 19.90++
Add-On: free flow drinks: $2.90++
Weekends (Fri – Sun)
Adult & Senior: $37.90++
Kids:$ 27.90++
Drinks included for Fri-Sun, PH & Eve & Festive.
Not available on PH/ Festive
Dine in time :
3 Pax < = 2 hours
4 Pax > = 2.5 hours
All prices are subjected to service charge and prevailing GST.
Opening Hours :
5.30pm to 10.30 pm (Mon to Friday)
5 pm to 10.30 (Sat and Sun)
For enquiry & reservation call: 3129 2374 / 8870 3998
How to get to The Three Peacocks:
Ample Free Parking available or take shuttle bus at Labrador Park MRT Exit A from 5.30pm-10.30 pm (every 30 minutes intervals)
Brought to you by The Three Peacocks