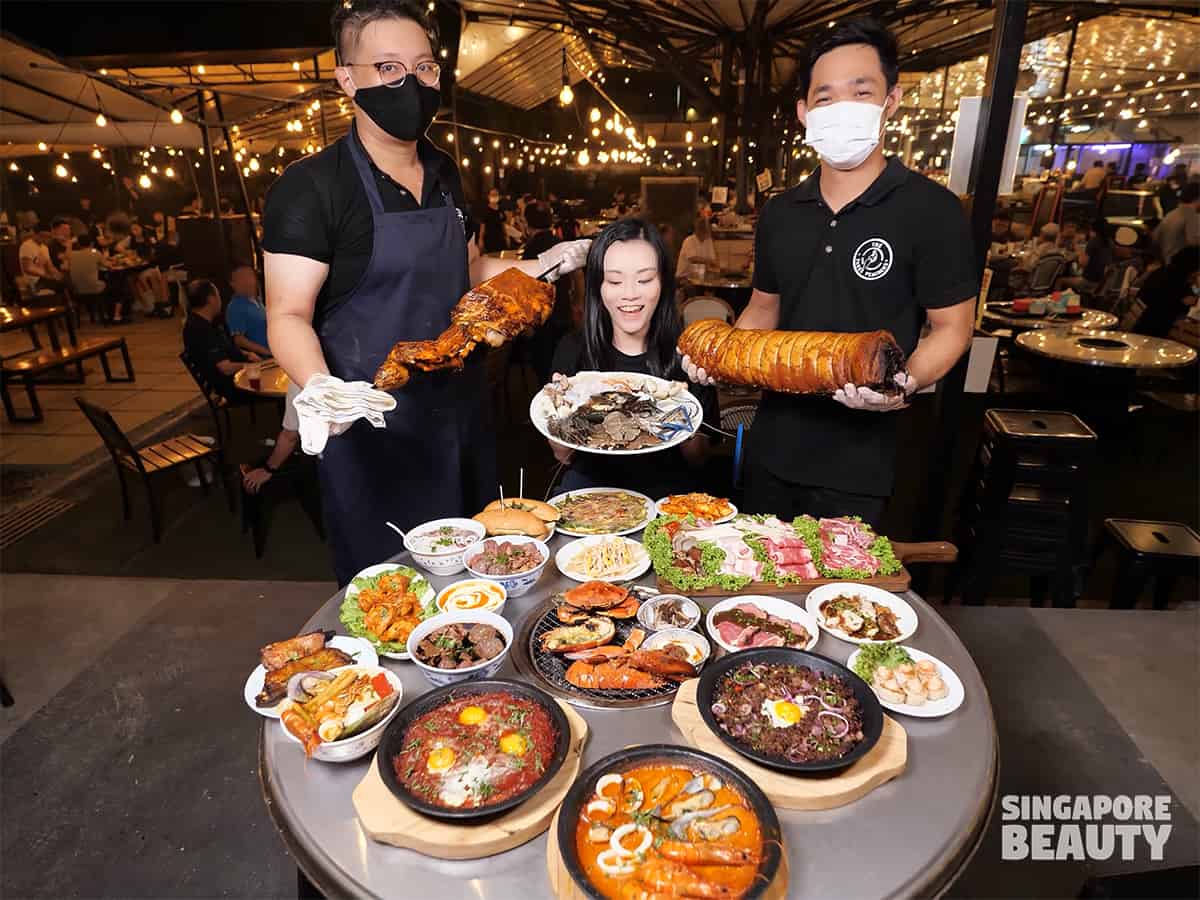 Singapore's largest international BBQ buffet, The Three Peacocks has added new international cuisines live stations feast to its menu. The popular menu of barbecued meats and seafood buffet is now bigger and better.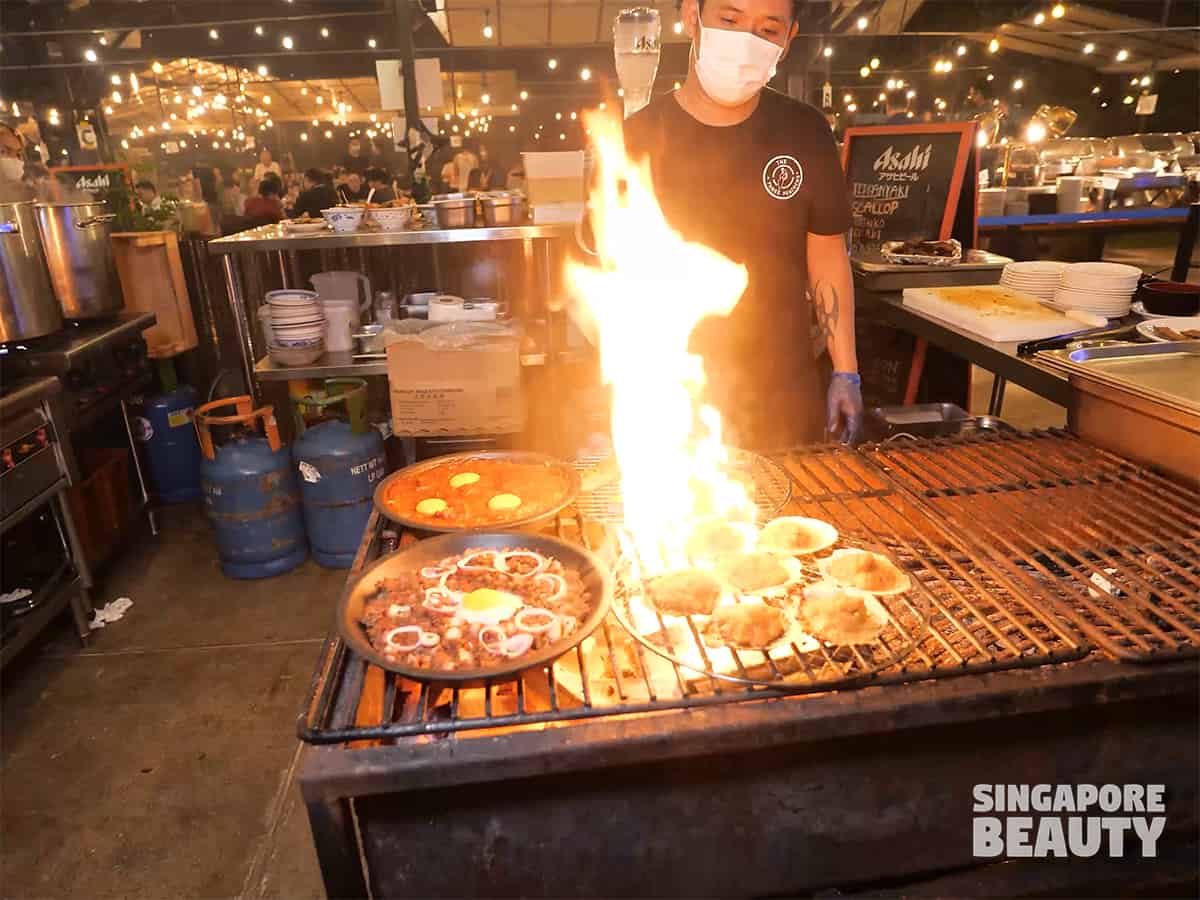 With over 100 items all you can eat and live station with worldwide international cuisines in buffet style, you will be spoilt for choice. The Three Peacocks has brought cuisines from all over the world such as Japanese, Korean, Filipino, Mediterranean, Thai, western, Chinese and Indian all to one place.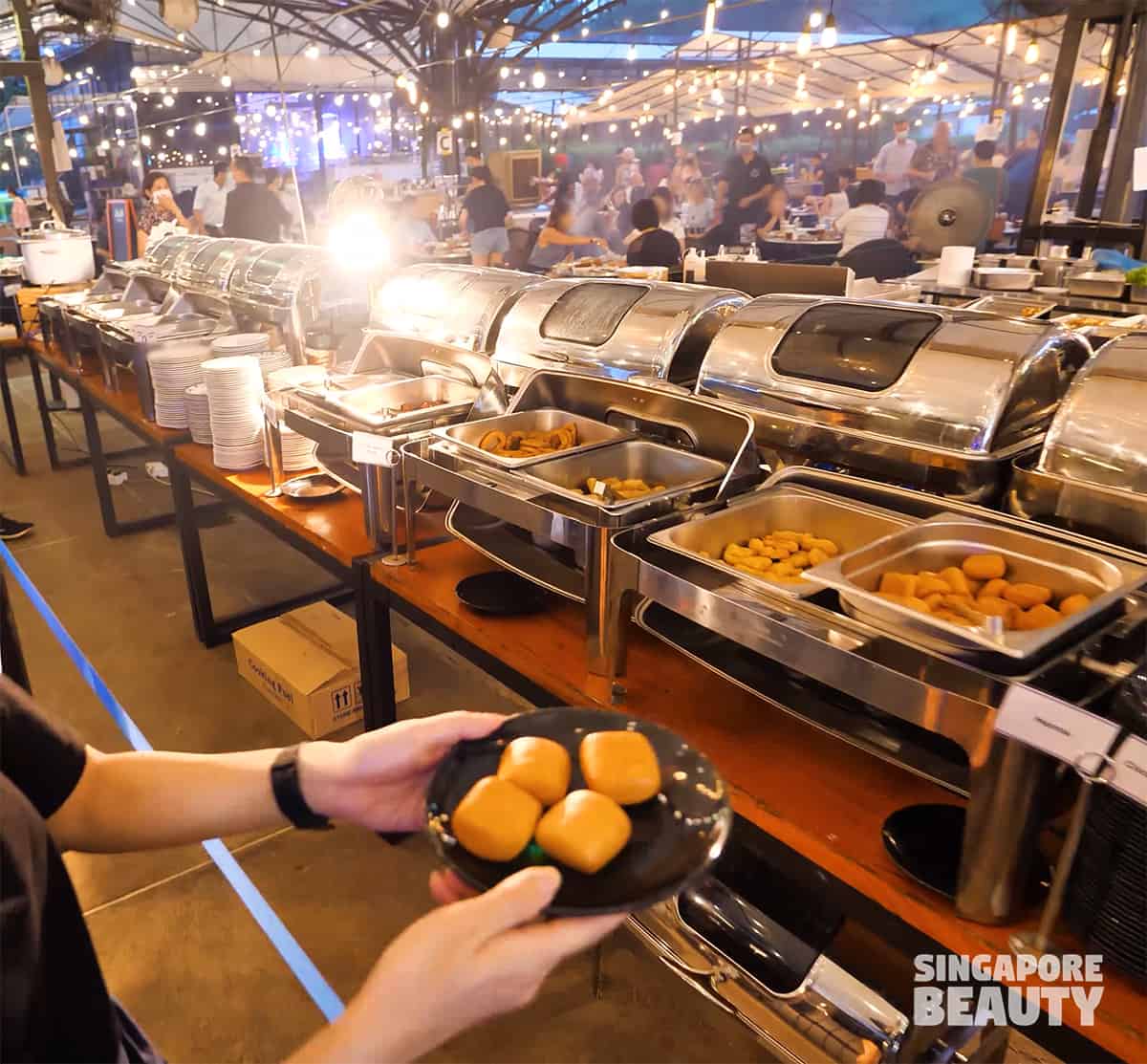 In additional to the international cuisines live station, The Three Peacocks also has a cooked ready to eat buffet line with a daily menu that is on rotational basis, so every time there is a new experience.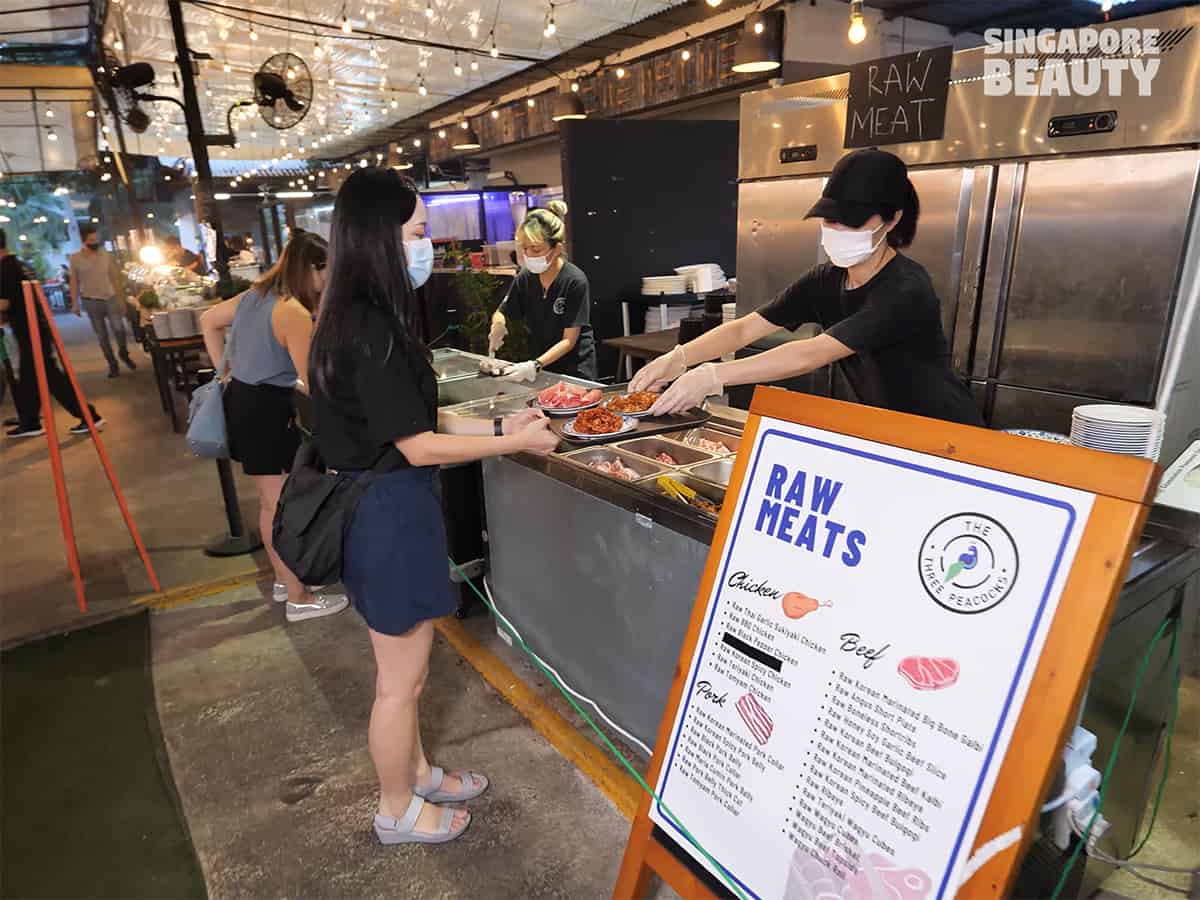 At The Three Peacocks, get up to 26 cuts of meat including wagyu and iberico for your bbq needs and you can now self service at The Three Peacocks staff assisted buffet line with safe distancing in place. Choose your preferred cuts of meat and quantity as you please.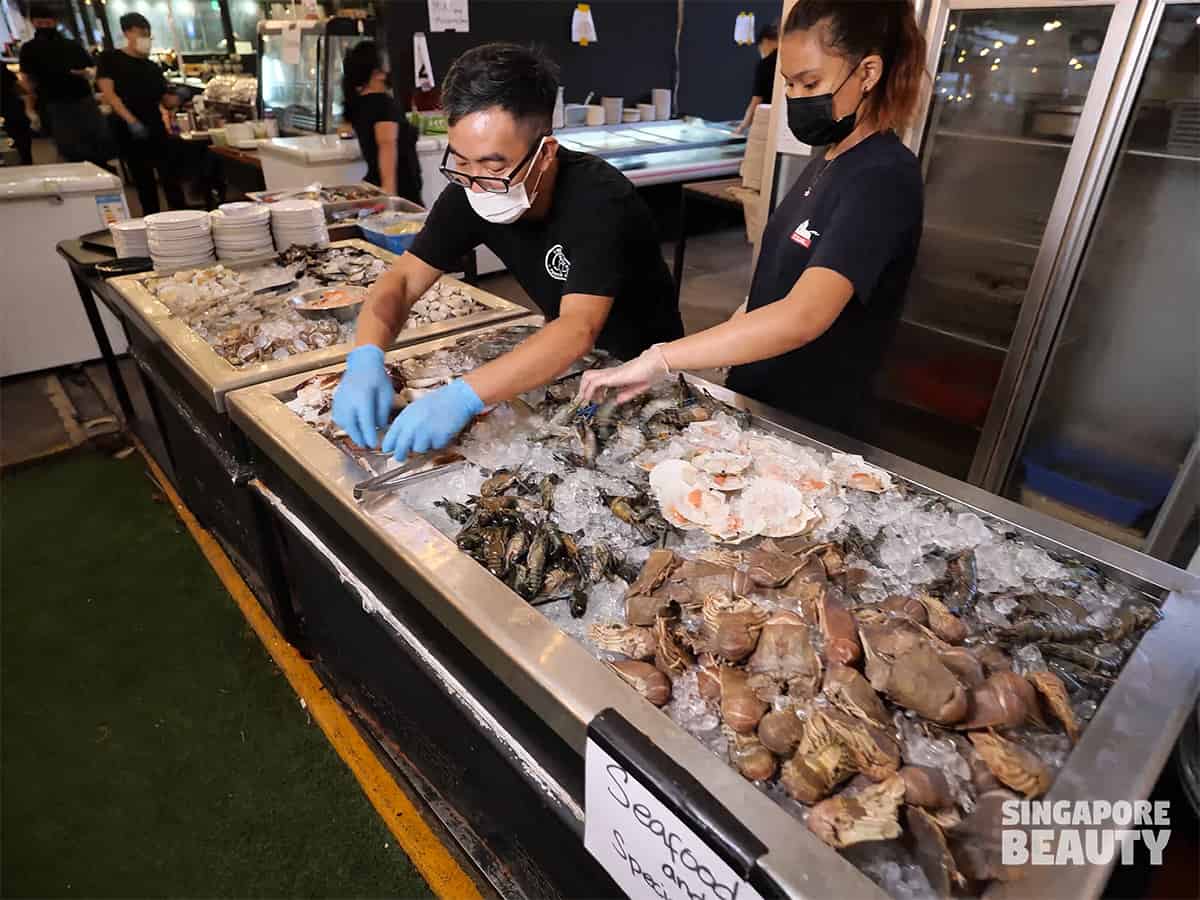 Popular for their bbq seafood buffet with free flow seafood such as slipper lobsters, Thai river prawns, live oysters, live mud crabs, tiger prawns, scallops, all kinds of shellfish, salmon, dory chunks and more. This is truly an epic al fresco buffet.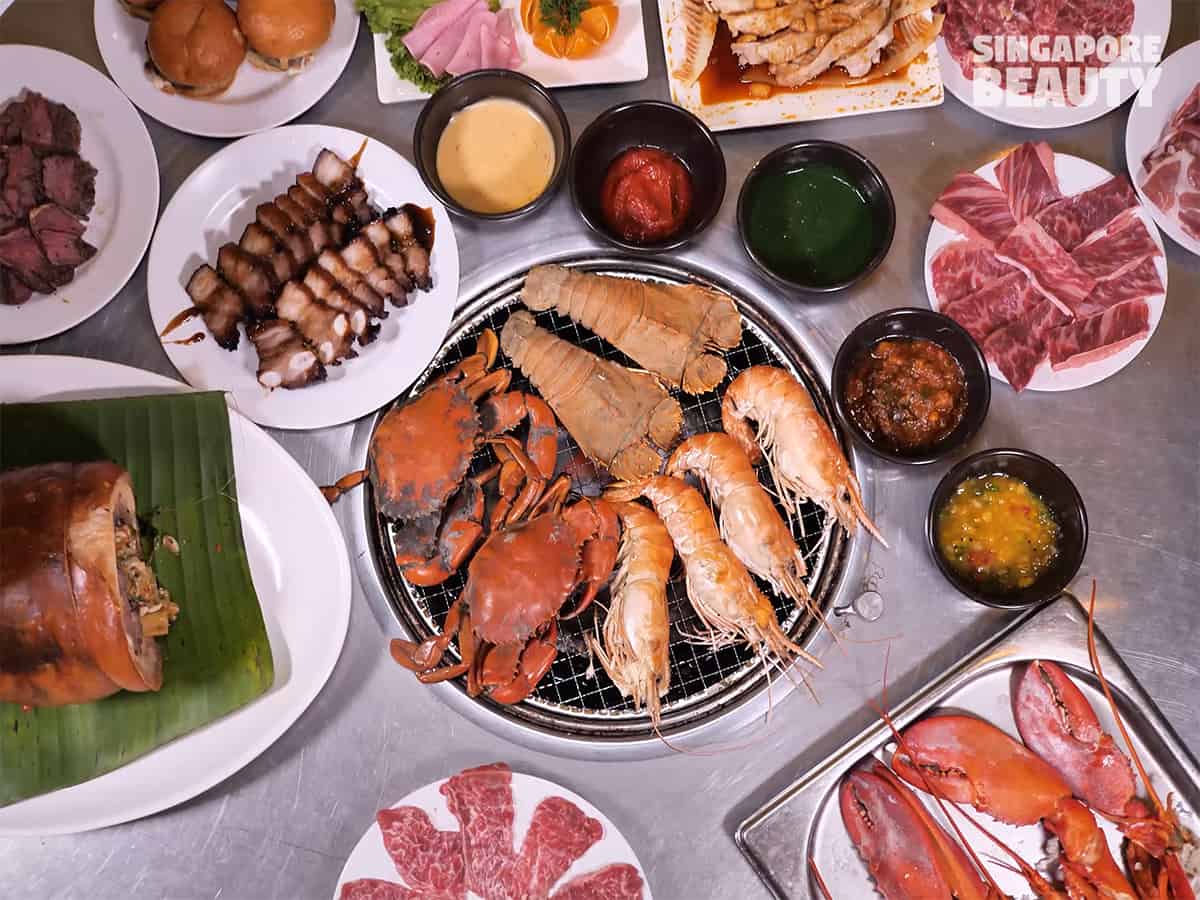 Enjoy this Bbq galore and ignite the flame in you. Grill all these seafood and meats at The Three Peacocks with their charcoal grill for the lovely smoky bbq flavour.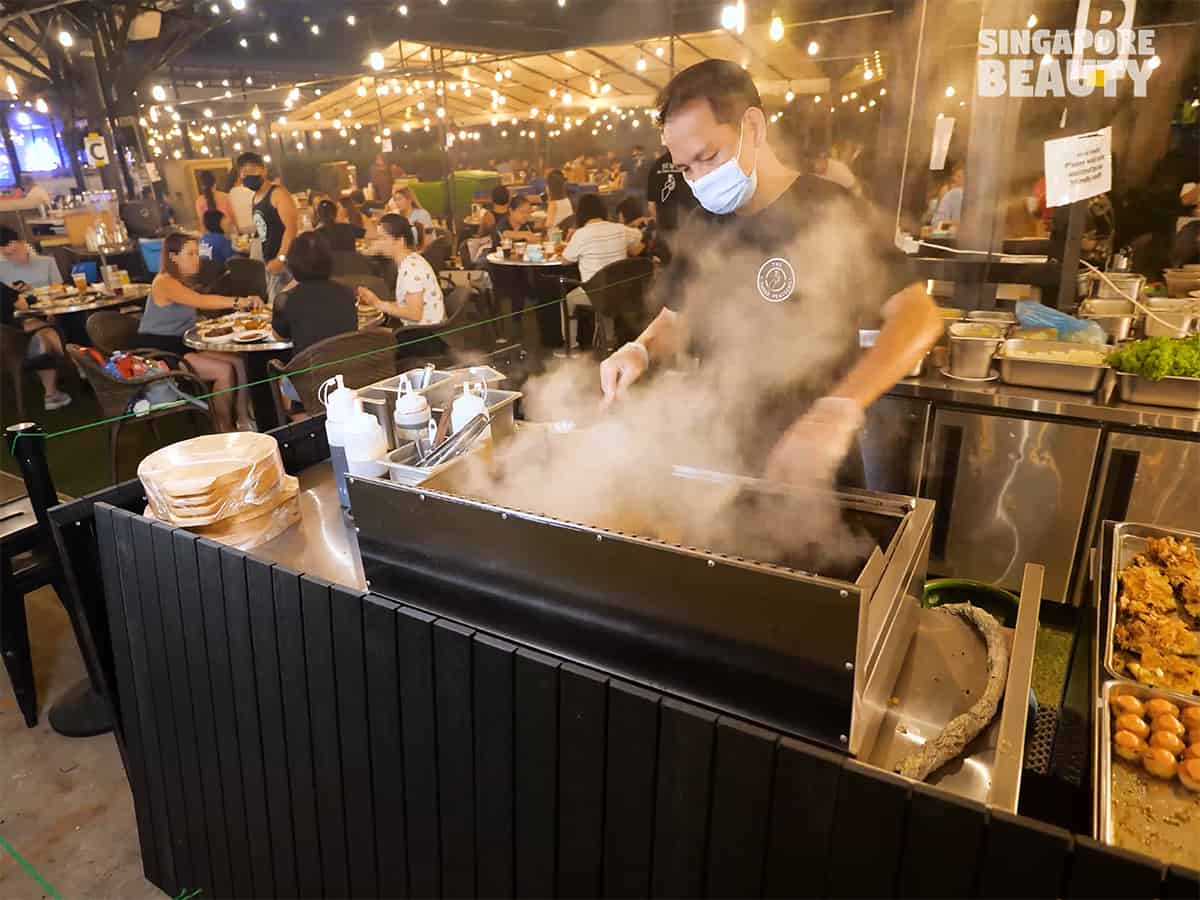 While your meats and seafood are grilling at the charcoal fired pits, time to go around the live stations and check out their amazing spread of international cuisines. Check out the mentaiko scallops, okonomiyaki, beef teriyaki and more at the Japanese cuisine live station.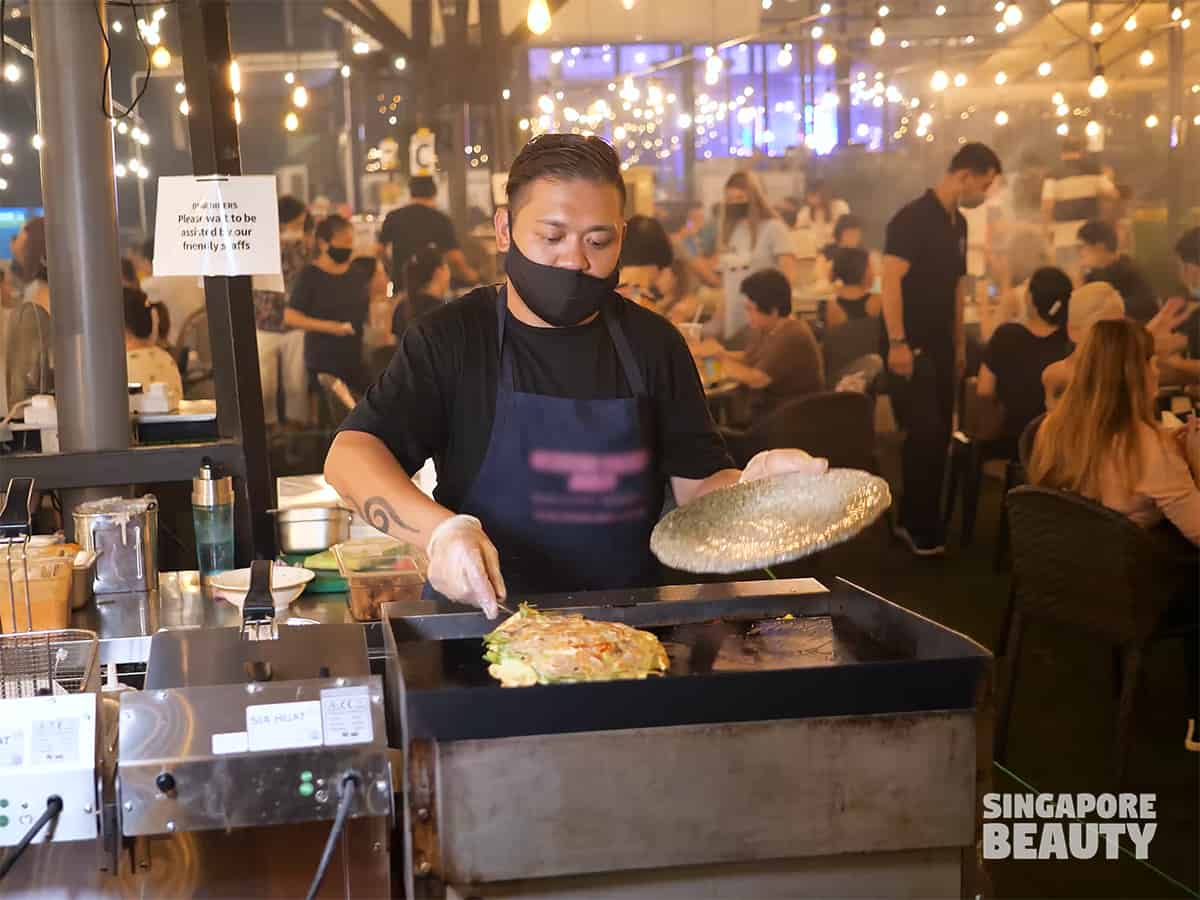 Check out the freshly made Buchimgae in original or kimichi flavour, stir fry cheese topped topokki, cheese fries and mandu at the Korean cuisine live station. Place your order with the chef and he will prepare fresh off the grills for you.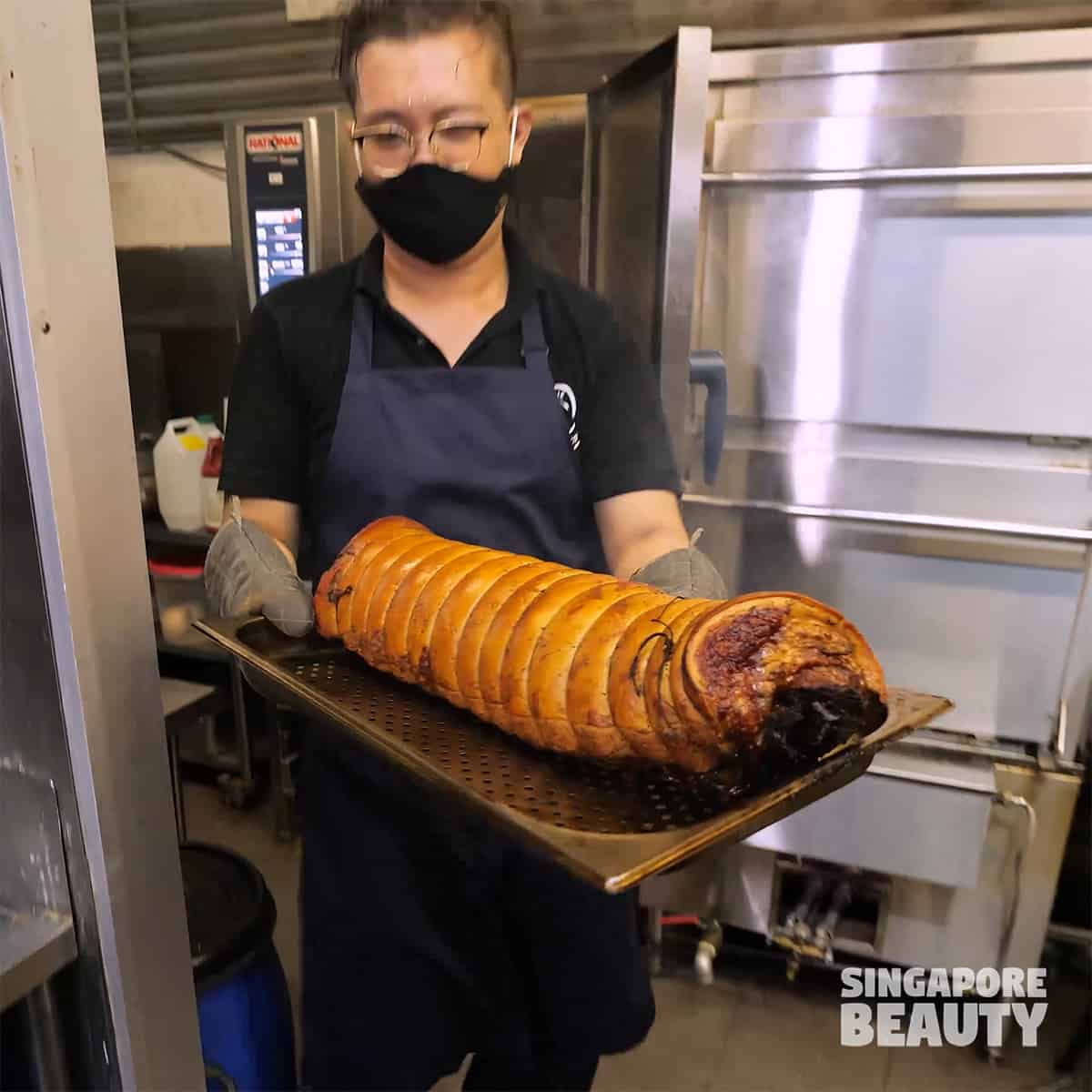 Not to forget is their Filipino buffet cuisine. They have Lechon belly roll and hot plate pork sisig. These lechon are made fresh daily in their kitchen and grilled till crispy and crunchy. The meats are juicy and tender with a unique lemon grass and aroma of spices.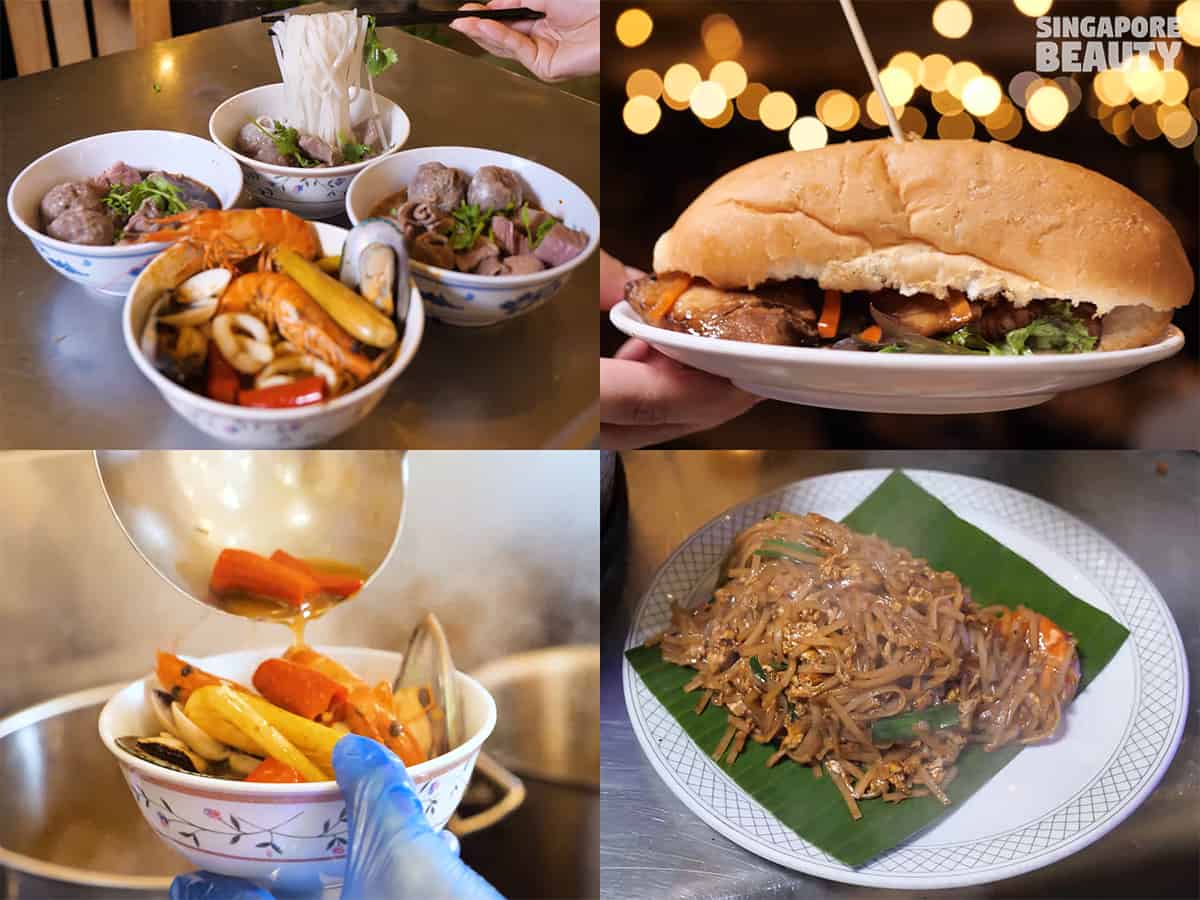 Check out their Thai and Vietnamese cuisines buffet live stations. Find Singapore's favourite Thai dishes such as Pad Thai, moo ping, tom yum noodles and spicy boat noodle bowls. You can also get the Vietnamese popular staple food Bahn mi and pho here.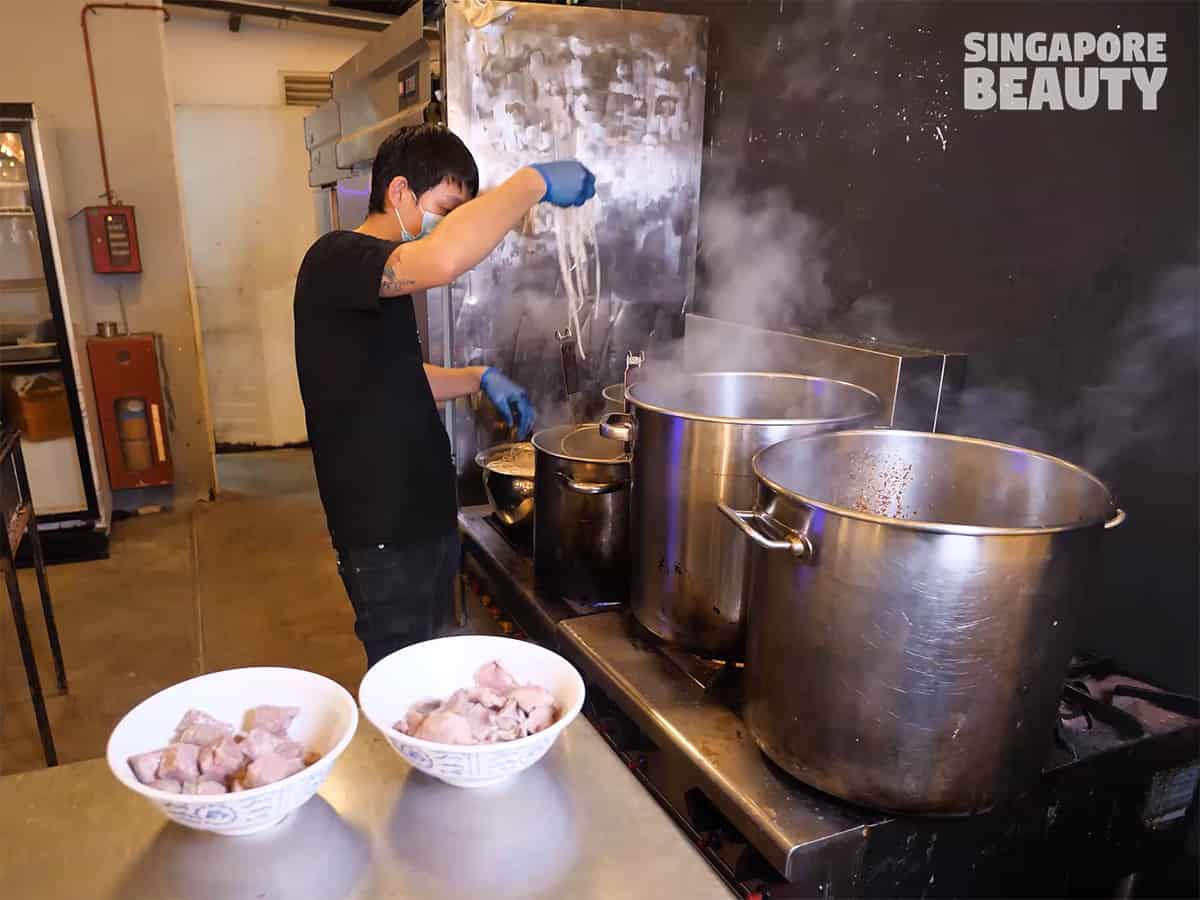 Check out these Pad Thai, tom yum noodles, spicy boat noodle bowls, Bahn mi and pho here.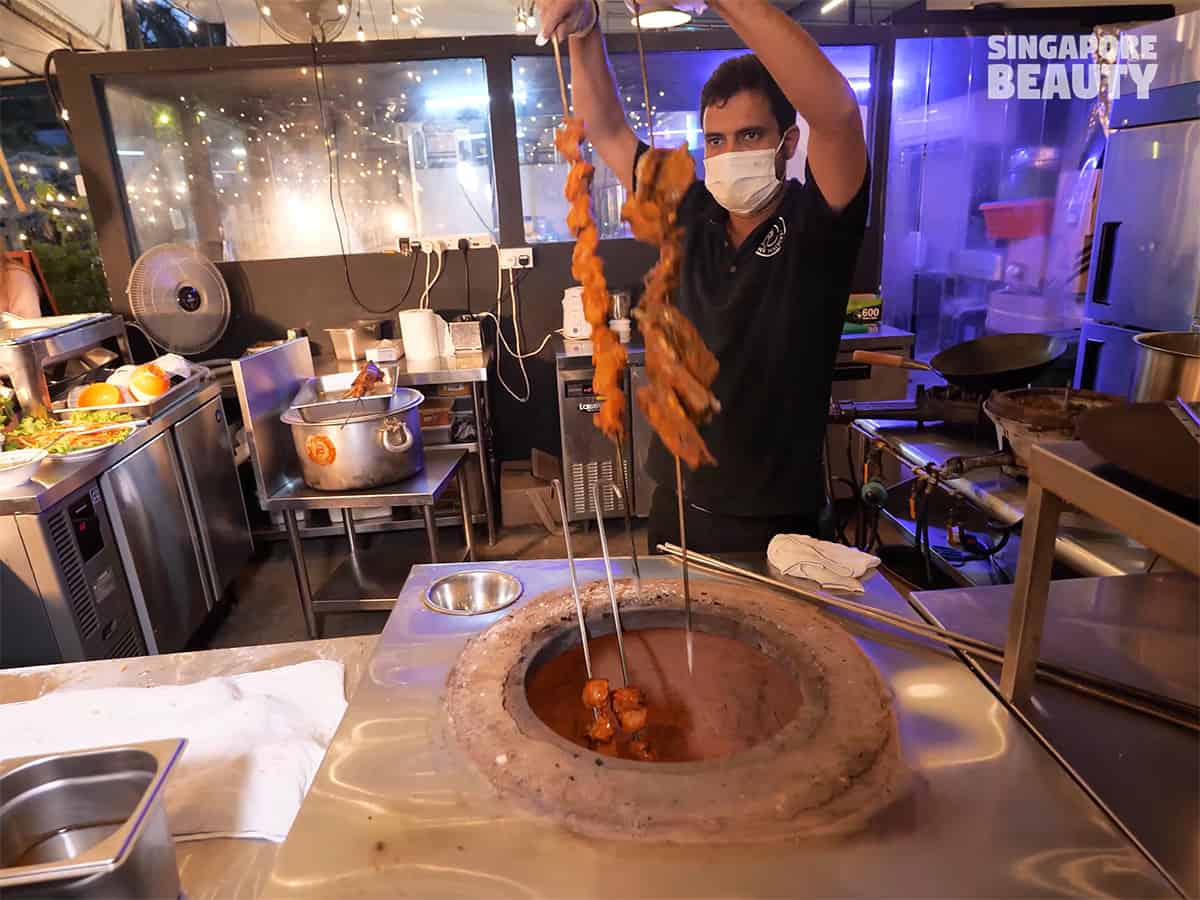 Get their exotic handmade on the spot naan with fresh herbs and grill for you lamb racks and Tandoori chicken made by The Three Peacocks in house chef, right before your eyes. This is a visual and sensory international feast as you watch him stretch and flip the naan from dough to loading in into the sides of the charcoal fired clay pit. The naan is served hot and toasted from the pit right after cooking. Enjoy it with the lamb, chicken or beef curry of the day.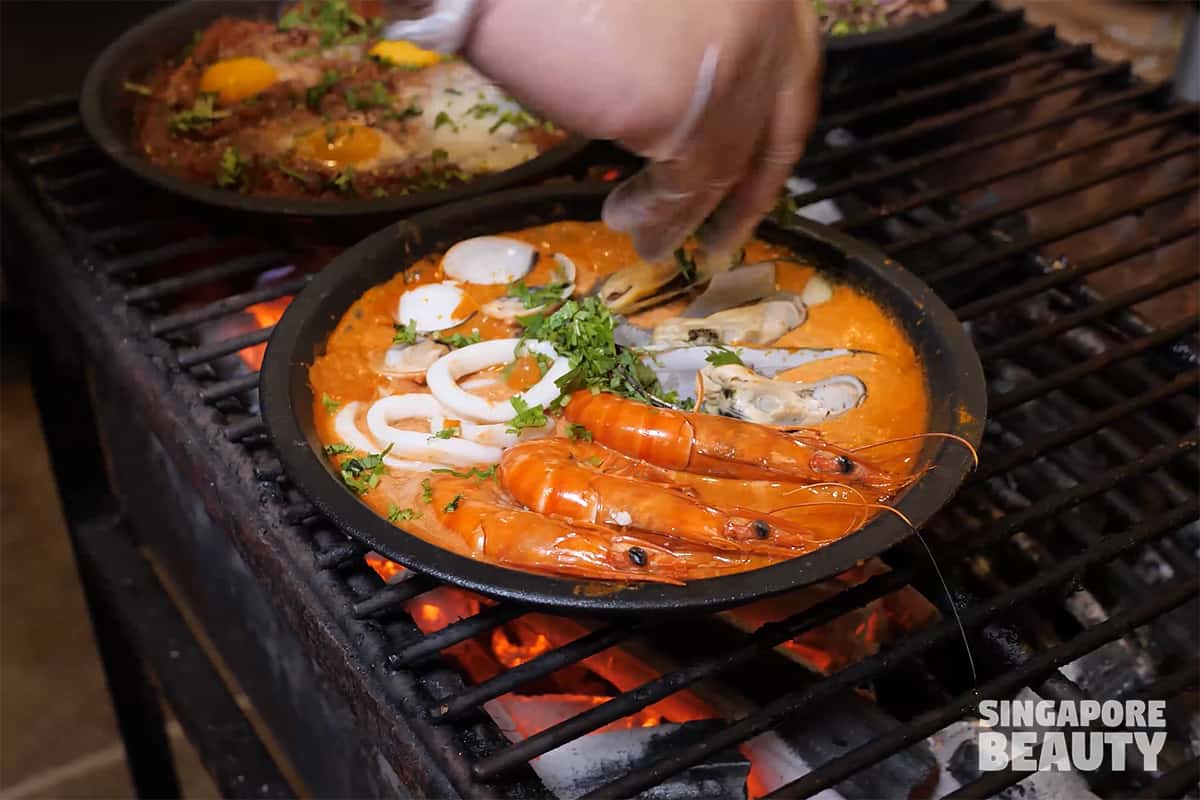 Check out their other cuisines such as Garlic eggplant, scallop, chuan chuan skewers Chinese cuisines, Seafood stew Mediterranean, Carving station western cuisine and more.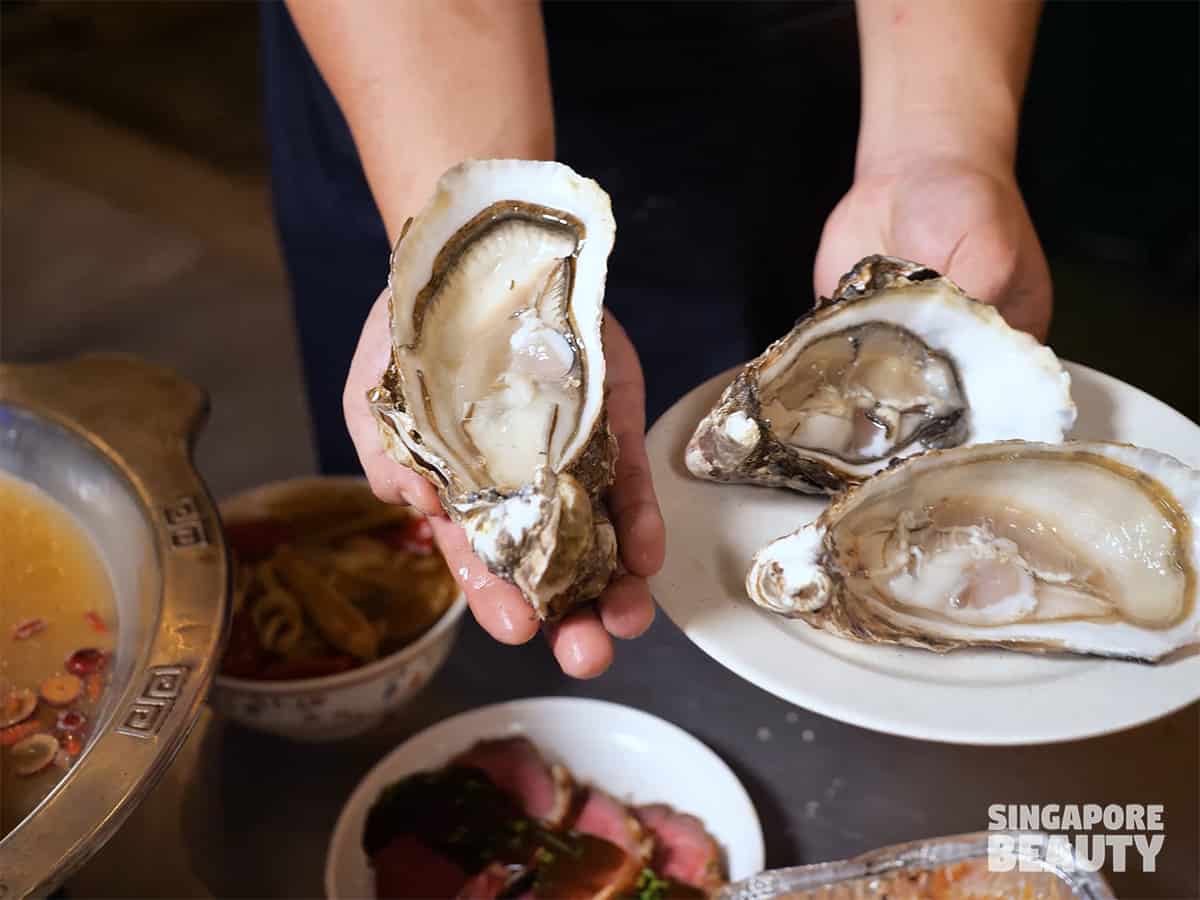 Each adult diner at The Three Peacocks is entitled to redeem a half Boston lobster served with a dressing of the day such as garlic butter, mixed melted cheese that is ready to eat. You can also add on their palm size live oysters at $5.50 nett each or their live Boston lobsters at $33 nett each to up your BBQ game. For those who love a BBQ and hotpot combo, simply add on $20 for the hotpot to shabu shabu the meats and seafood with for a more wholesome varied experience. Unlimited branded canned drinks are also included in this buffet in a large ice tub with free flow ice cream.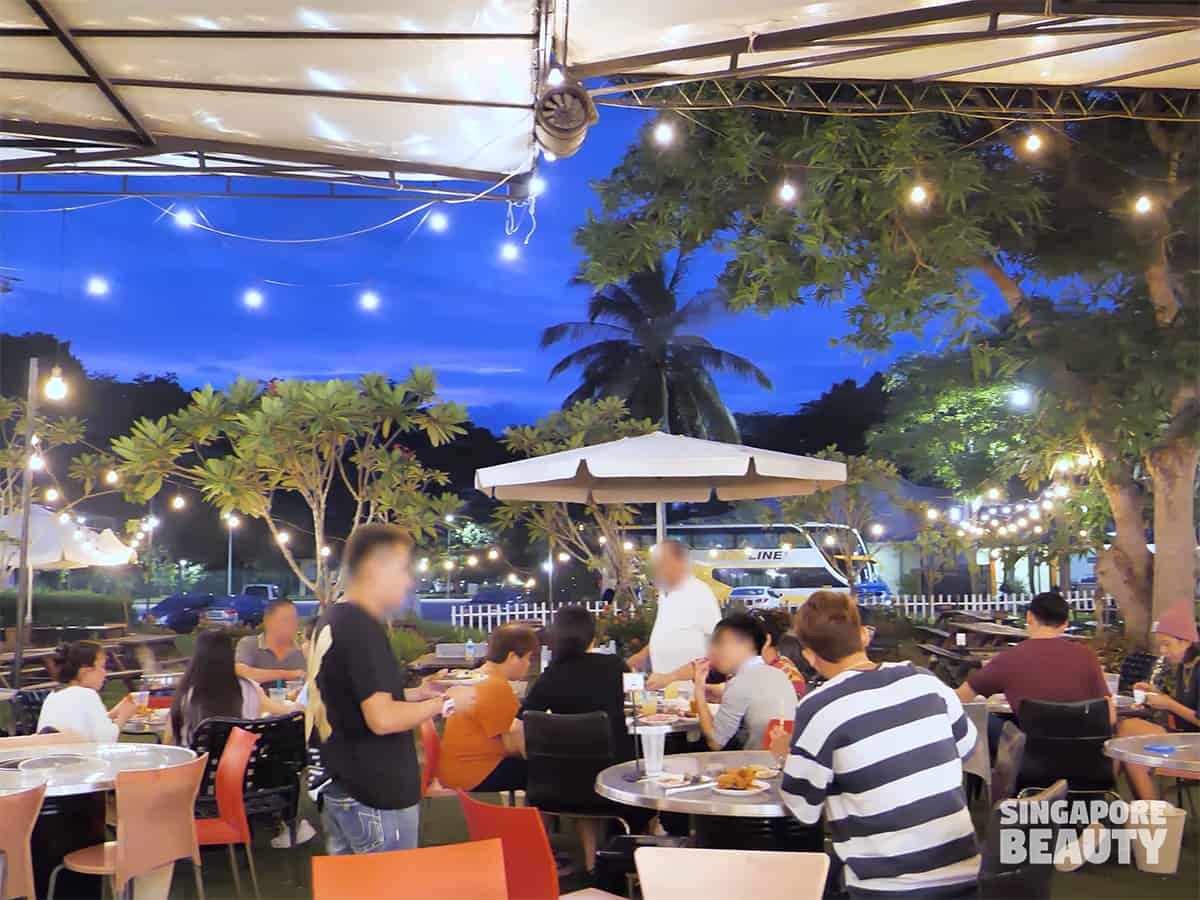 With free Shuttle bus serve and ample parking space for The Three Peacocks customers only, you need to come and experience this Singapore's largest international BBQ buffet at this resort like setting and crisp night breeze to blow you away. International cuisine buffet, bbq meat, hotpot and a night to grow your food baby is waiting for you. Come over today.
Self service is back, *STAFF ASSISTED BUFFET LINE, No more QR code.
LIVE SEAFOOD, PRAWNS, CRABS, LIVE OYSTER, SCALLOPS, CRAYFISH, TIGER PRAWNS and more
WAGYU BEEF, IBERICO PORK, Korean Marinated Meats, Japanese Yakiniku Meats, Thai-Style Marinated Meats
JAPANESE, KOREAN, PHILLIPINES, THAILAND, VIETNAM, AMERICAN Live Stations
Buffet Comes with half Boston Lobster each guest, unlimited table service request of Mentaiko Seafood
BELOW PRICE IS EXCLUDING PH OR PH EVE
Weekday (Mon – Thu) Weekend (Fri – Sun)
(Weekday) – Time Limit: 3 Hours  – $58.17 Nett
(Weekend) – Time Limit: 2.5 Hours – $63.67 Nett
Adult: $58.17 Nett
Kids: $36.85 Nett
Senior : $52.80 Nett
Weekend +$5.50 Nett Surcharge
Public Holiday & Public Holiday Eve will be charge at usual price of $69.90 NETT****
Add on Live Boston Lobster at $33 nett each, Add on Live Oysters(palm size) at $5.50nett per piece
Choose either hotpot buffet or bbq buffet or both by adding on $20+
Contact : 6251 0213 (Only available after 12 pm)
Walk Ins are subjected to availability
Opening hours:
5pm to 11 pm daily
Last reservation @ 9.00 pm
Last Order @ 10.00 pm (Weekday)
Last Order @ 10.30 pm (Weekend)
Location of The Three Peacocks:
8 Port Rd, Singapore 117540
Labrador Park
Free parking (lots of space)
Shuttle bus is available at Labrador  Park MRT Exit A
Shuttle bus timing 5.30 pm to 10.30 pm (every 30 minutes intervals)
Brought to you by The Three Peacocks