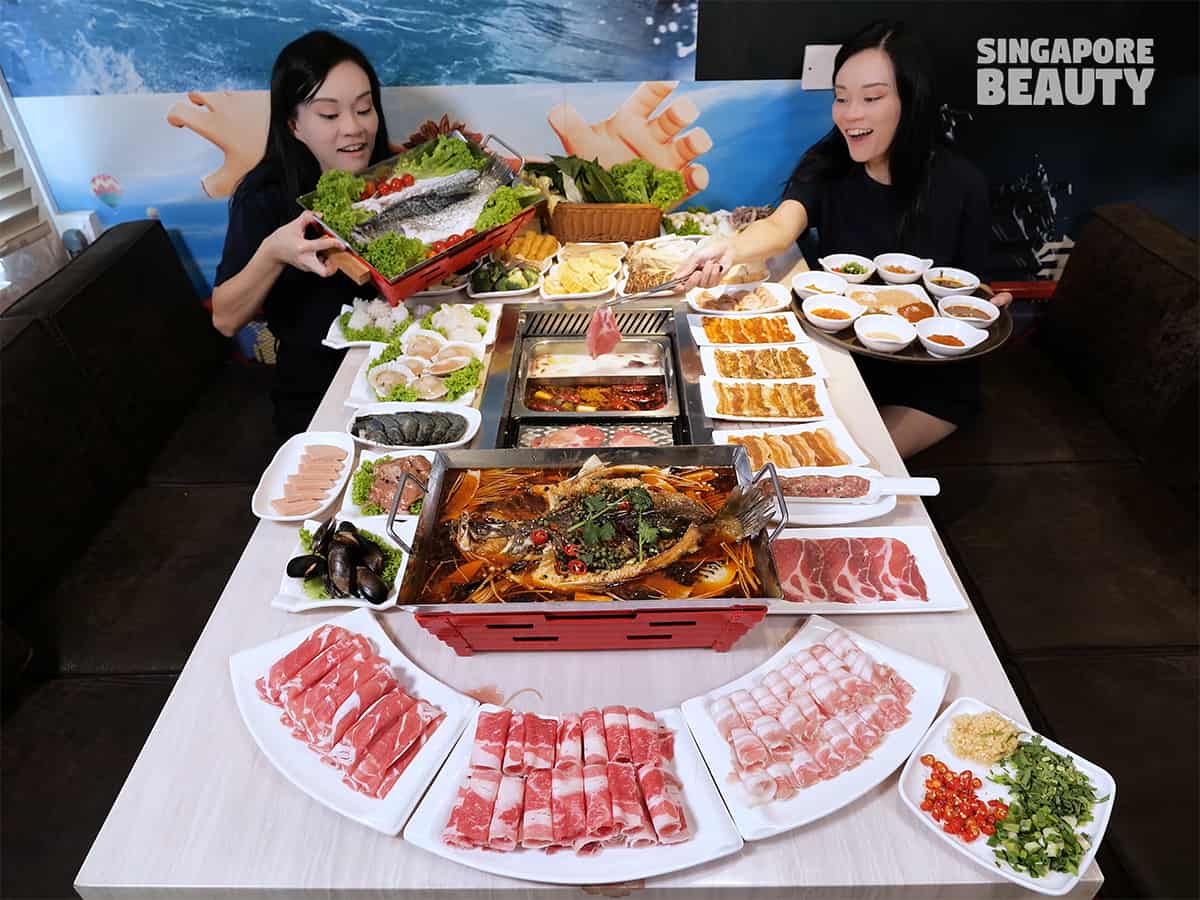 Ding Garden has a 3 in 1 buffet with BBQ, hotpot and unlimited grilled fish. You can enjoy these three all at one go. Located at Chinatown, this is a hidden buffet eating place from the main street. To get there, take the private lift from their level 1 entrance to level 3, main dining hall.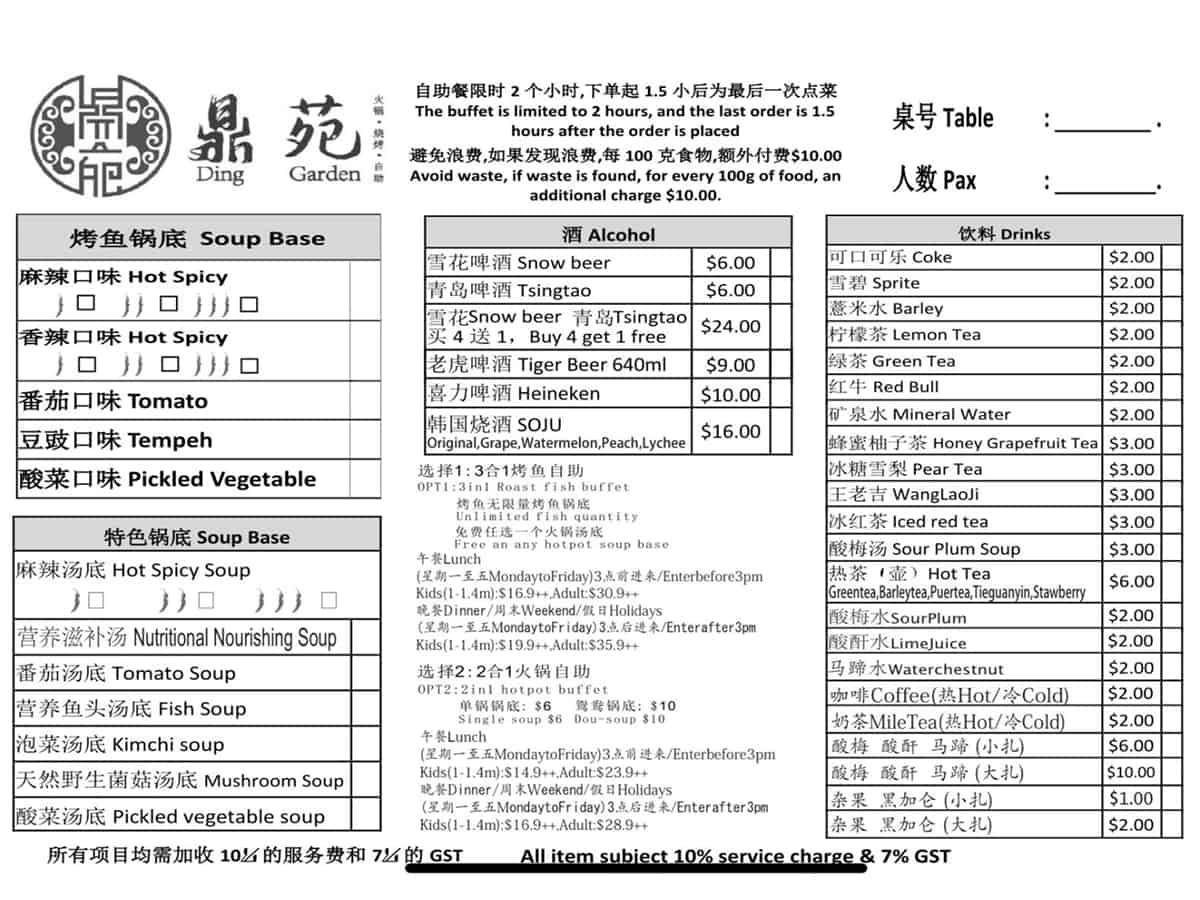 This grilled fish 3 in 1 buffet menu at Ding Garden has up to 5 flavours to choose from. The signature grilled fish is the peppercorn hot and spicy flavour. You can have unlimited grilled fish flavours in this buffet, each grilled fish order is served fresh with a whole seabass in a gravy of your choice.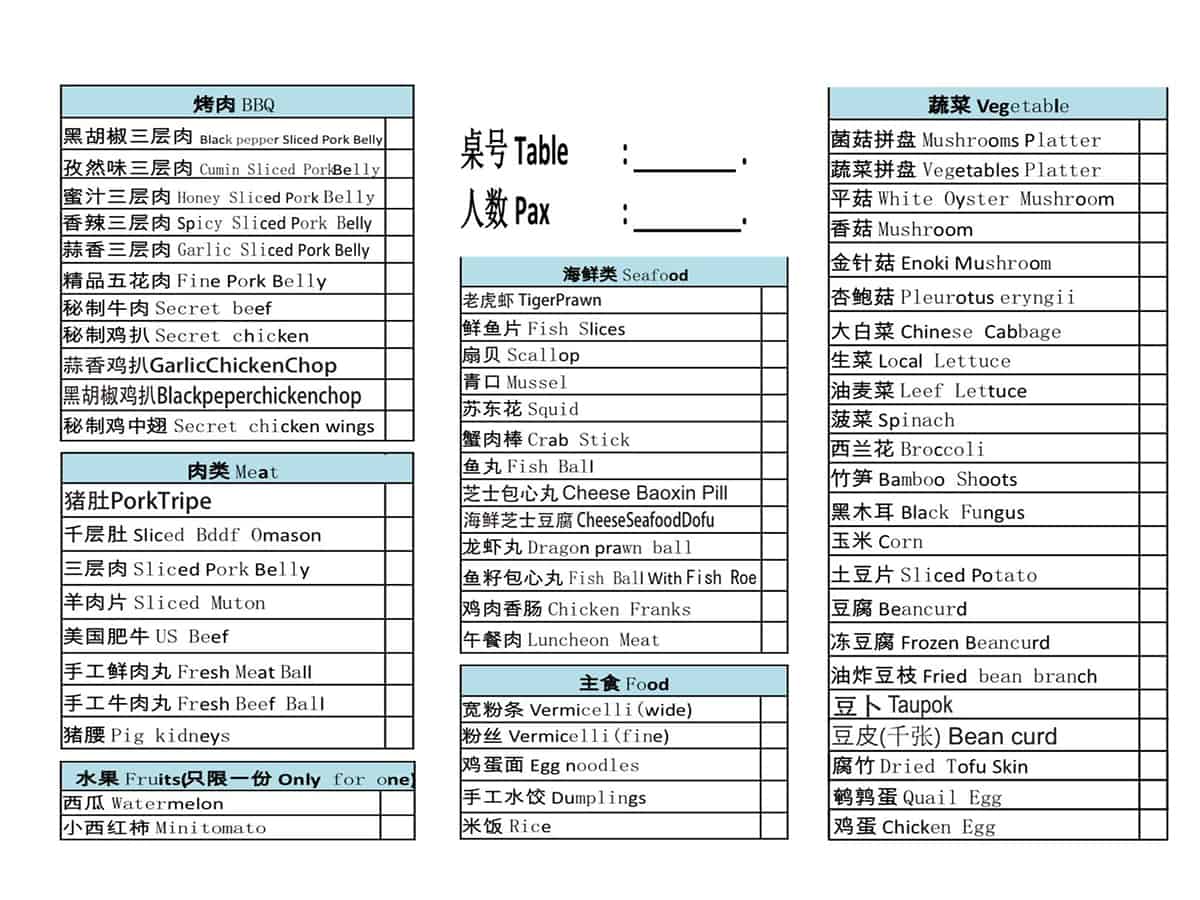 Ding Garden buffet has a menu with more than 60 varieties from grilled fish flavours, bbq marinated meats, shabu shabu meats, seafood, surimi, carbs and greens. The grilled fish is available for delivery too!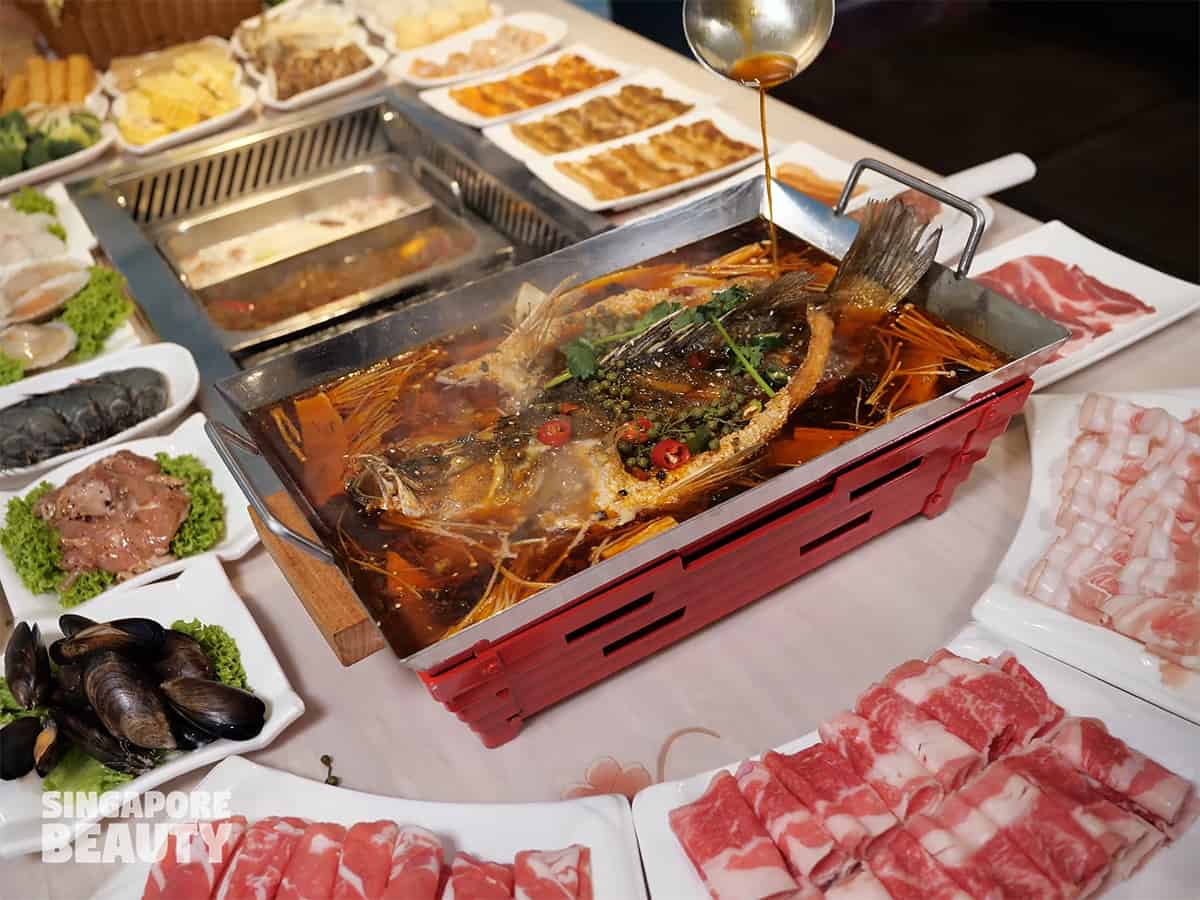 At Ding Garden 3 in 1 buffet, the choice of grilled fish gravy available are peppercorn hot spicy, cilantro hot spicy, tomato, fermented bean and pickled mustard flavour. If you are there for the grilled fish buffet, their advice is to start from the least spicy fish flavours and slowly build up to the numbing spicy and hot flavours for the best grilled fish buffet experience.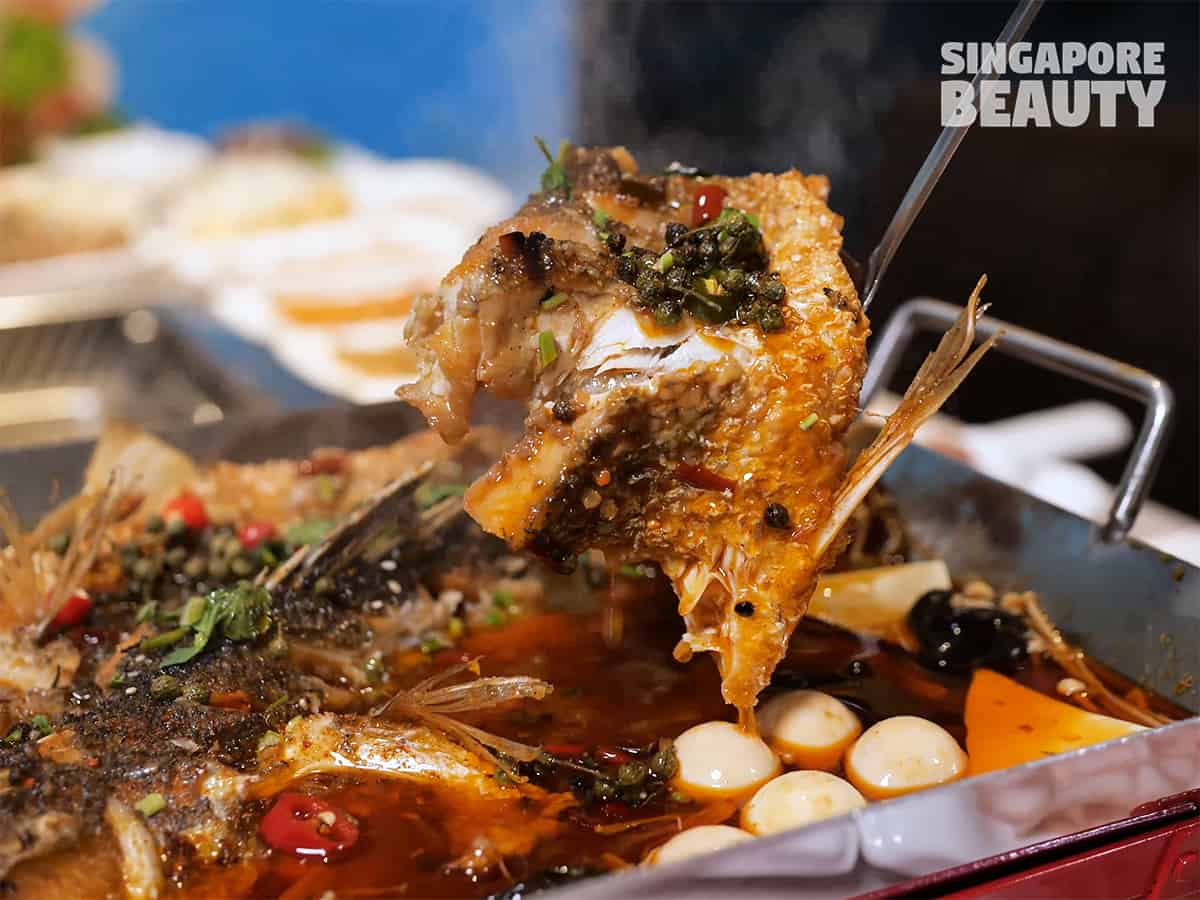 The peppercorn spicy and hot flavour grilled fish is immersed in a tray of red hot chilli oil with a savoury broth. Chunks of tender fish meat infused with umaminess from the broth and an enjoyable kick of heat from the hot oil. For the adventurous eater, you might want to challenge yourself by chomping some of the fresh peppercorn cluster with the meat for the intense lip numbing sensation.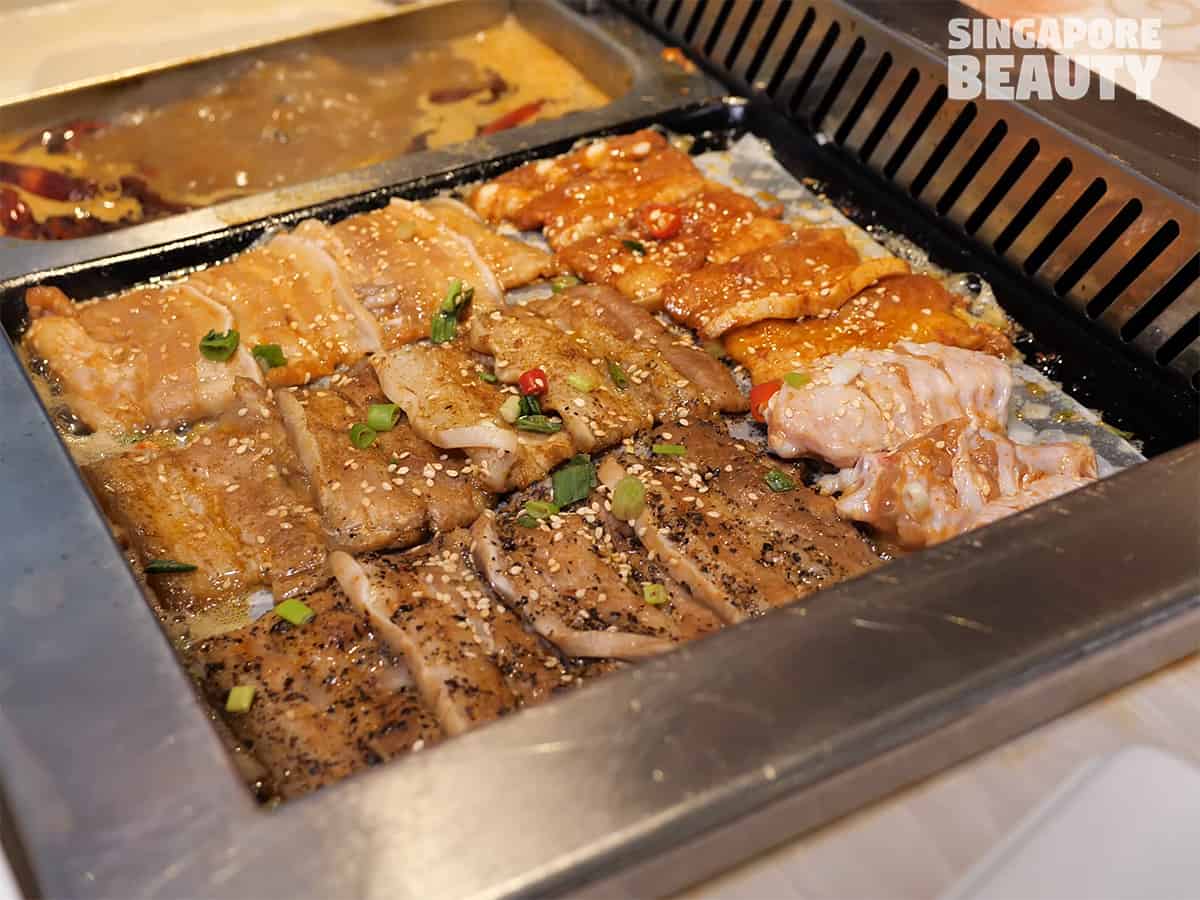 At Ding Garden 3 in 1 buffet, it is a meat lover's heaven. Get all the bbq marinated meat on their menu and start your own bbq meat feast on the hot grill plates. They have 4 types of meat namely pork, beef, mutton and chicken. These are marinated in black pepper, cumin, honey, garlic and homemade "secret" recipe flavours. With so many flavours, you will be spoilt for choice.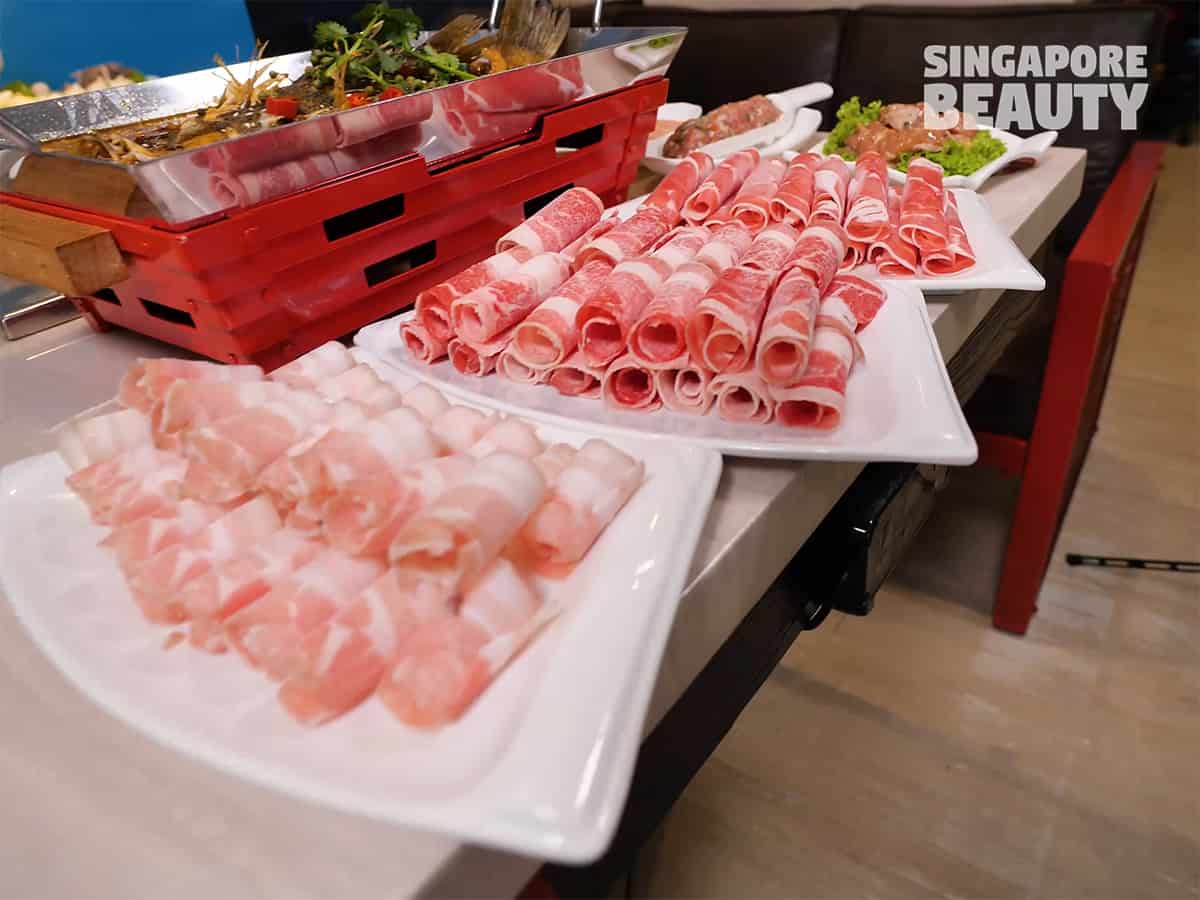 If you are a meat lover, the shabu shabu meat is also a must get at this buffet. These are available in beef, pork and mutton.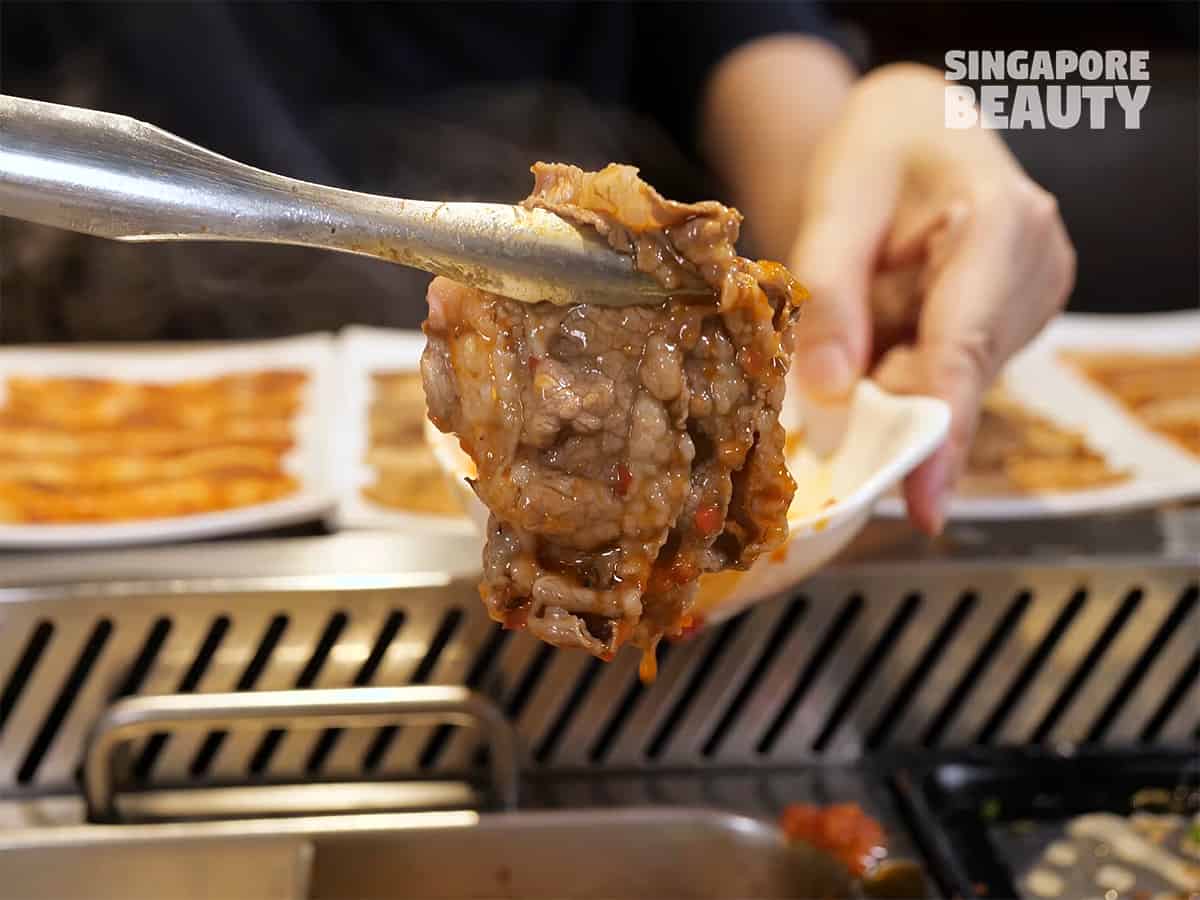 The shabu shabu meats are carved using a machine for the best chew and texture. These ribbons of meat cook quickly and have a chewy soft melt in the mouth texture.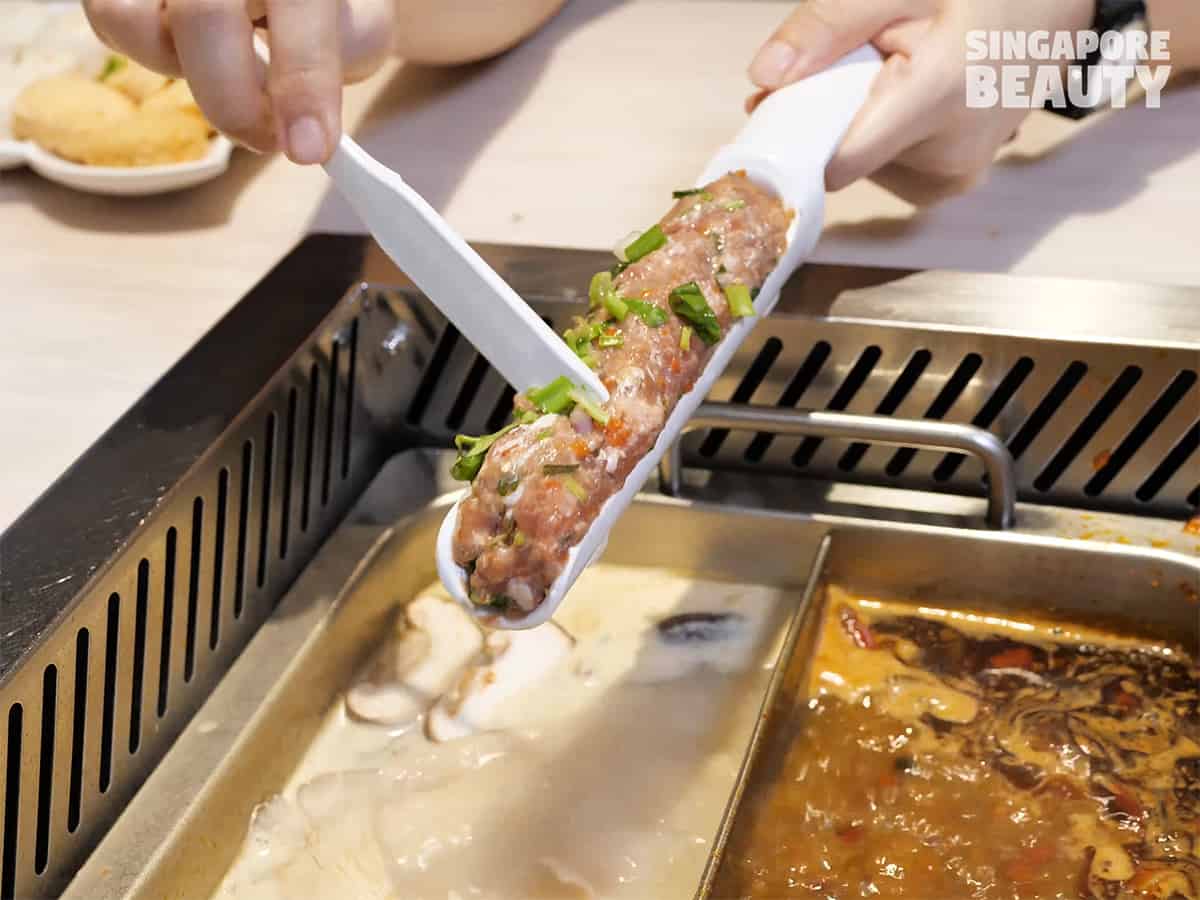 They also have some handmade meat ball paste that let you DIY your own meat balls. These meat balls are well marinated with a nice springy texture.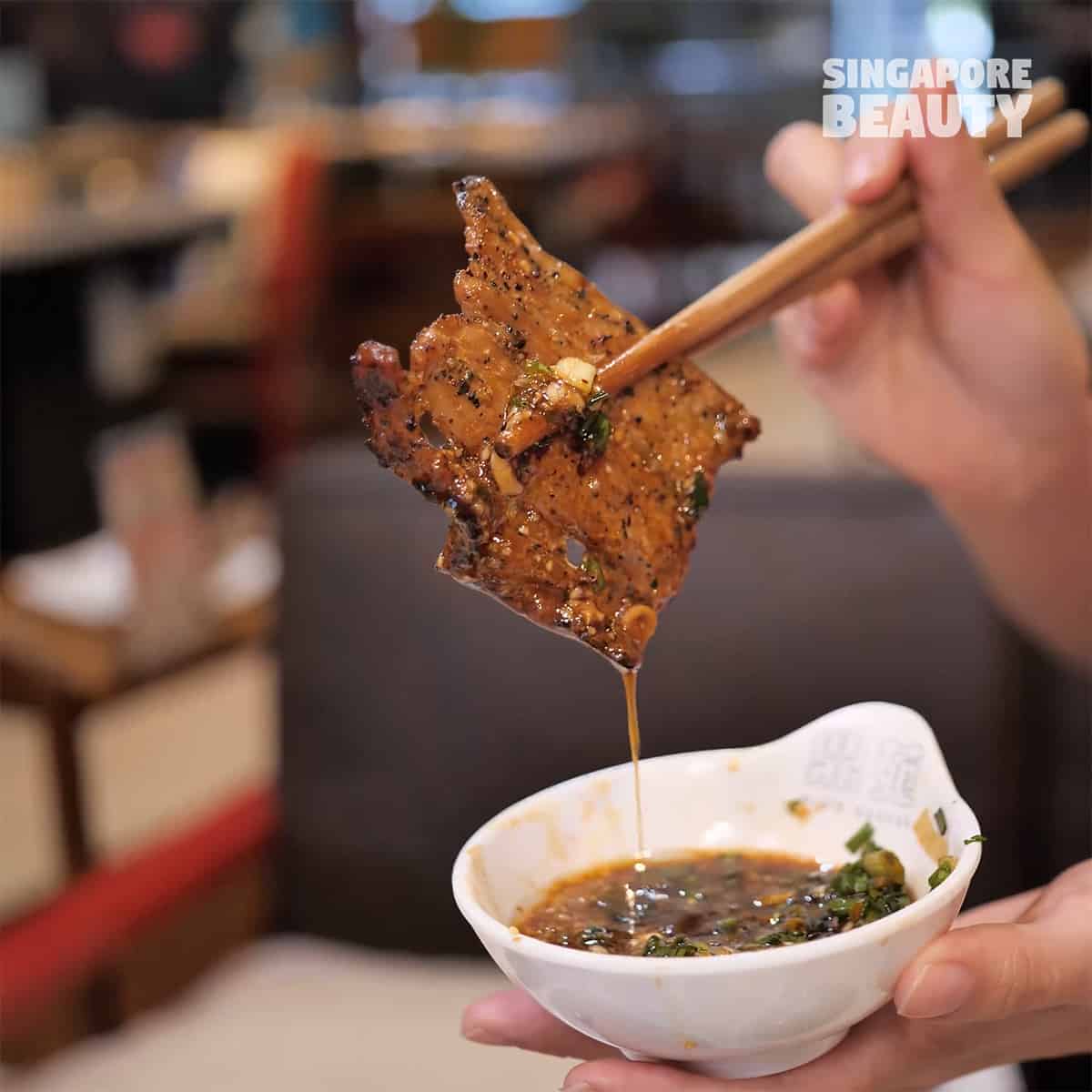 Remember to get some of their condiments from the sauce counter. You may approach the staff to assist you with the mixing of some of their signature sauce to go with the bbq and shabu meats.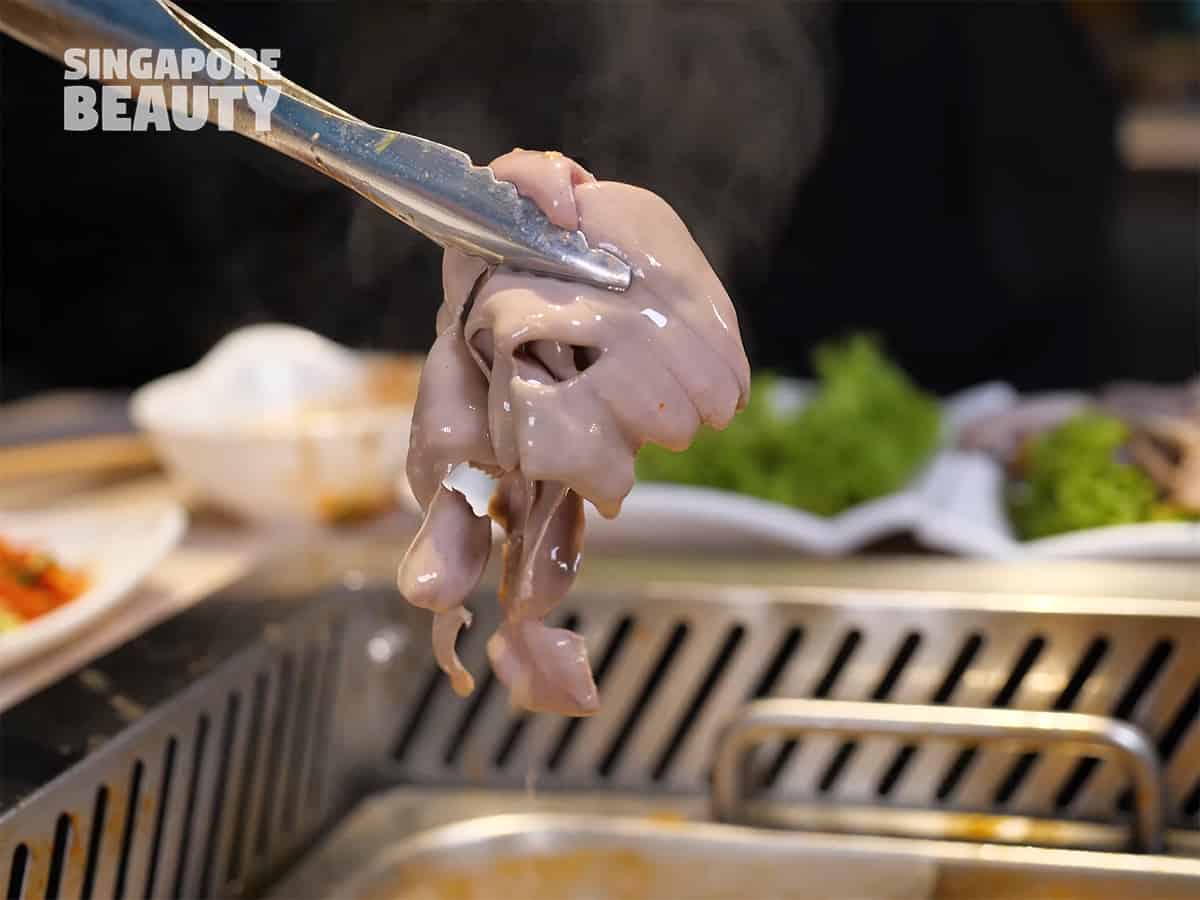 Newly added on the menu are some pork offal such as pork kidney, tripe (stomach) and beef omasum. These are great for hotpot and enjoy the ultimate soft melty bite of kidney and crunch for the tripe and omasum. These pairs well with the mala soup base that helps to mask any gamey flavours if any.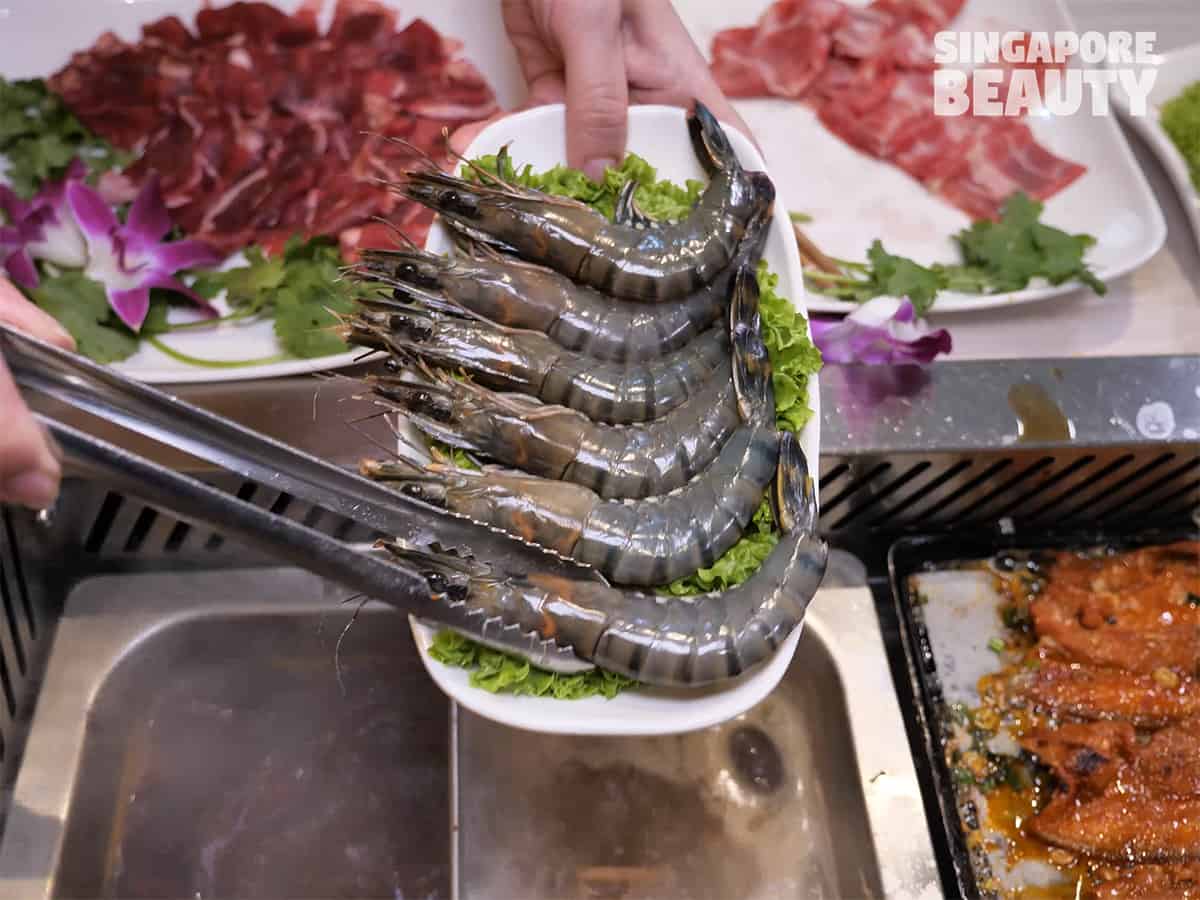 The seafood available are tiger prawns, fish chunks, scallop, mussel, squid and some seafood flavoured surimi such as fish ball with roe. At Ding Garden 3 in 1 buffet, these seafood are a must for hotpotting. The regulars love their tiger prawns and scallops for the succulent meat texture.
Come and enjoy this 3 in 1 grilled fish, hotpot and bbq buffet. With so many choices, you need to come really hungry to eat them all.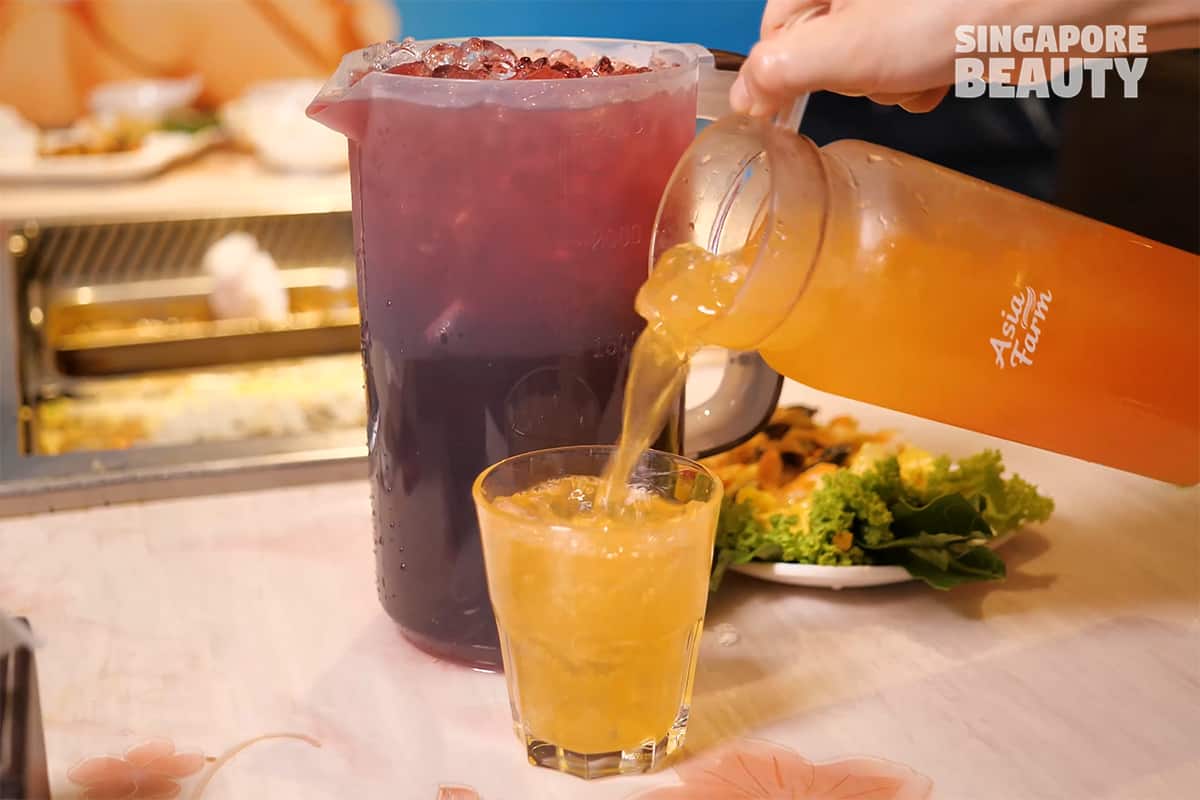 Drinks are not included in the buffet, however the drinks are pretty affordable. Get a small jar for $1 and $2 for a big jar. Available in fruit punch and blackcurrant flavours.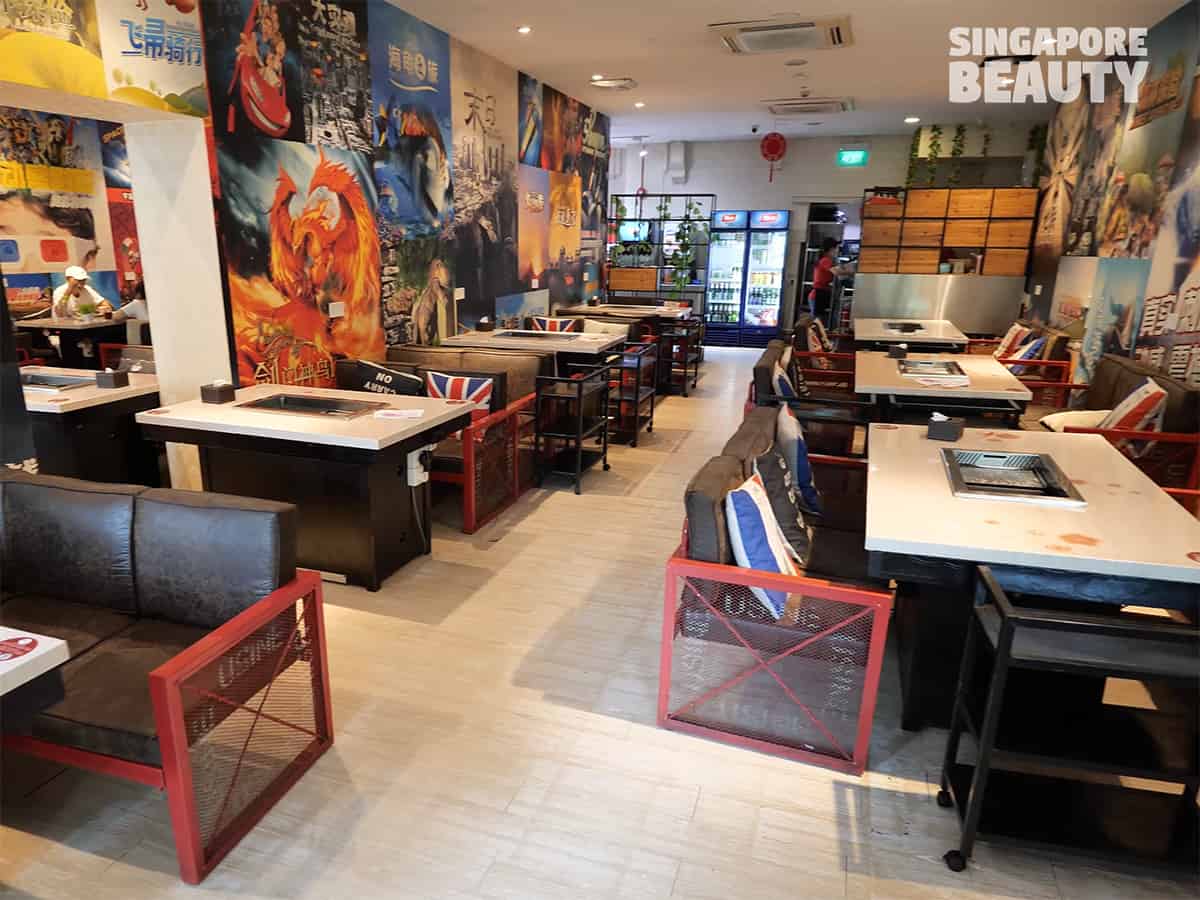 The dining hall is spacious and can accommodate large groups with their flexible table configurations. The interiors is wallpapered with game posters for a vibrate backdrop for your gram.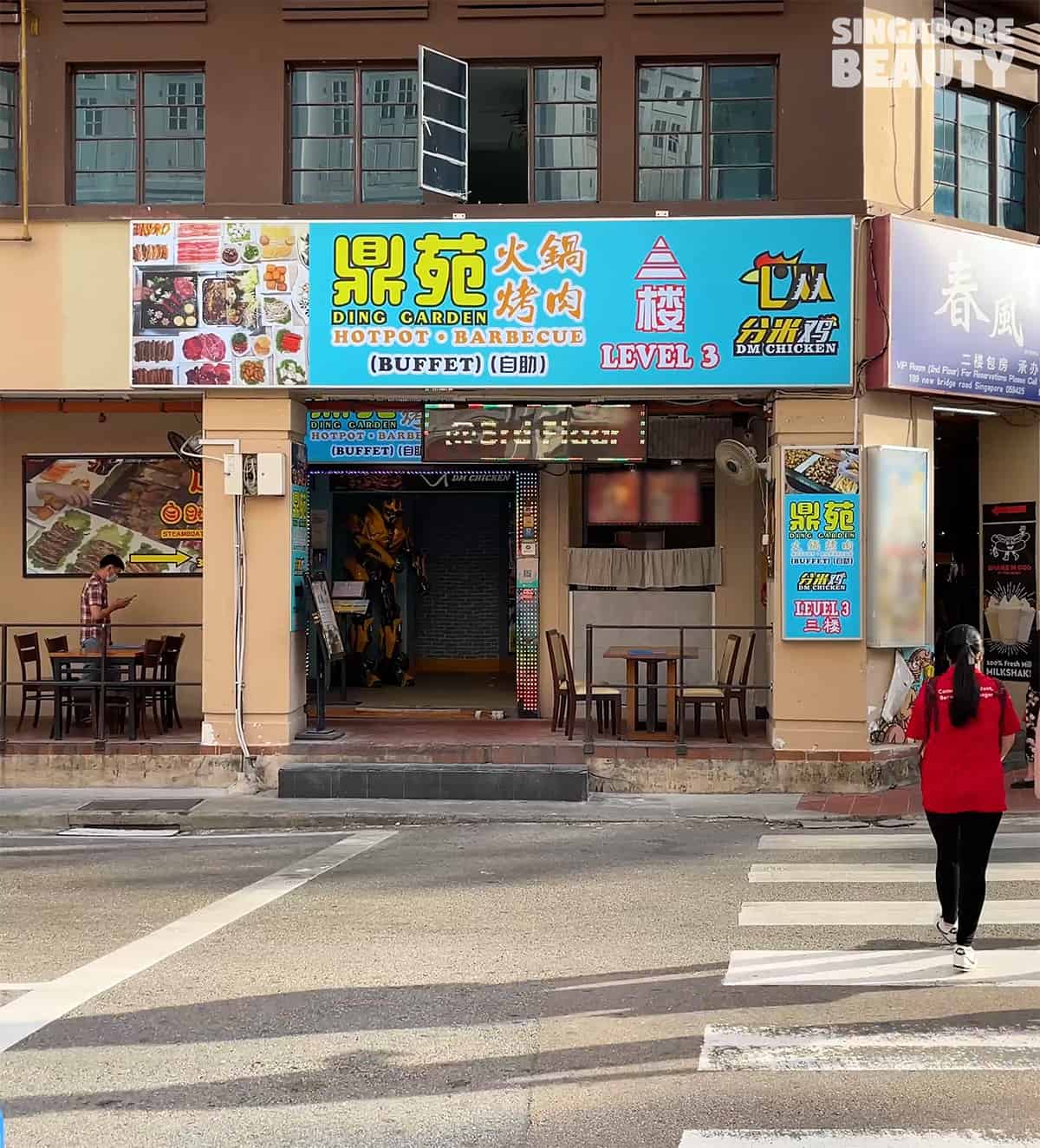 Head over to Ding Garden in Chinatown for the 3 in 1 grilled fish, hotpot and bbq buffet. In view of the current situation, the buffet might not be available for takeaway or dine in. However, they still have take away in terms of chicken or seafood platters from DM Chicken(same location under the same brand owner). Do swing by to support them by doing their DM chicken takeaway while Ding Garden takes a back seat. See you soon.
Location of Ding Garden:
191B New Bridge Road, Singapore 059423
(Take lift up to level 3)
3 in 1 Bbq, hotpot and grilled fish buffet price
Weekday lunch $30.90++
All other times $35.90++
Grilled fish delivery available.
Drinks not included
Call: 69092758
Brought to you by Ding Garden