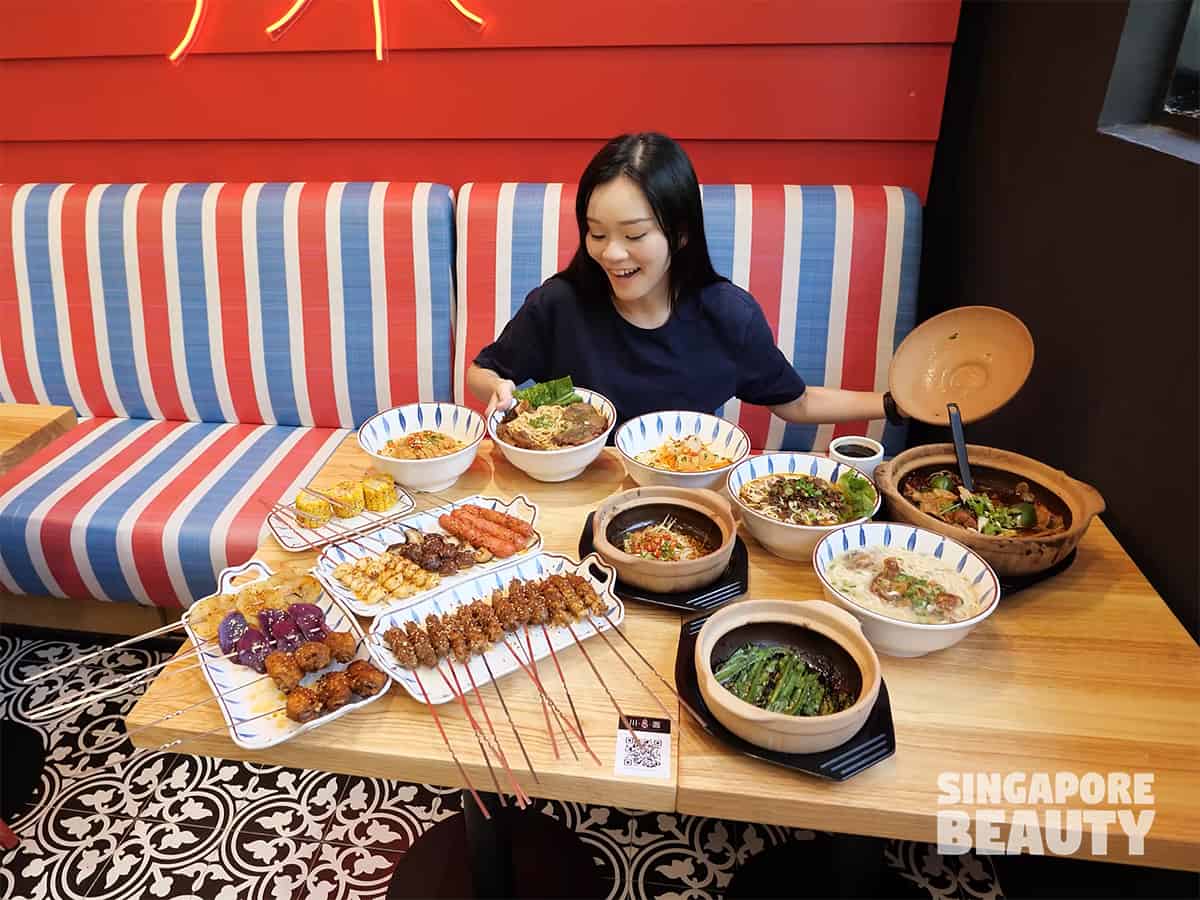 Chuan Grill and Noodle Bar is serving Singapore's favourite food piping hot all in one place. Located in Far East Plaza, orchard road, this is one eatery that serves affordable chicken pot, noodles, grilled skewers chuan chuan and cheap barista handcrafted brewed coffee.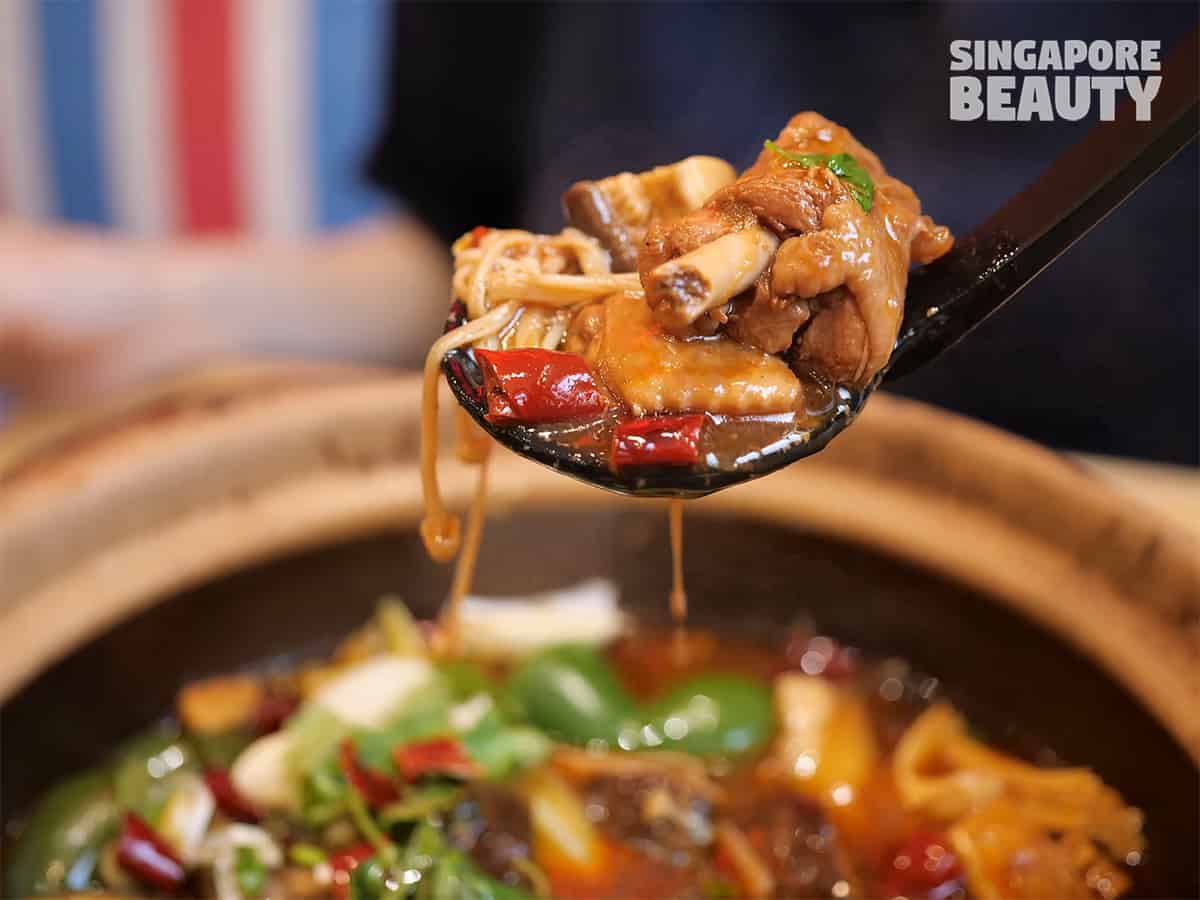 Cooked and served in traditional claypot, the chicken pot Ji Gong Bao at Chuan. Grill and Noodle Bar is one of the must eat at Orchard road, Far East plaza.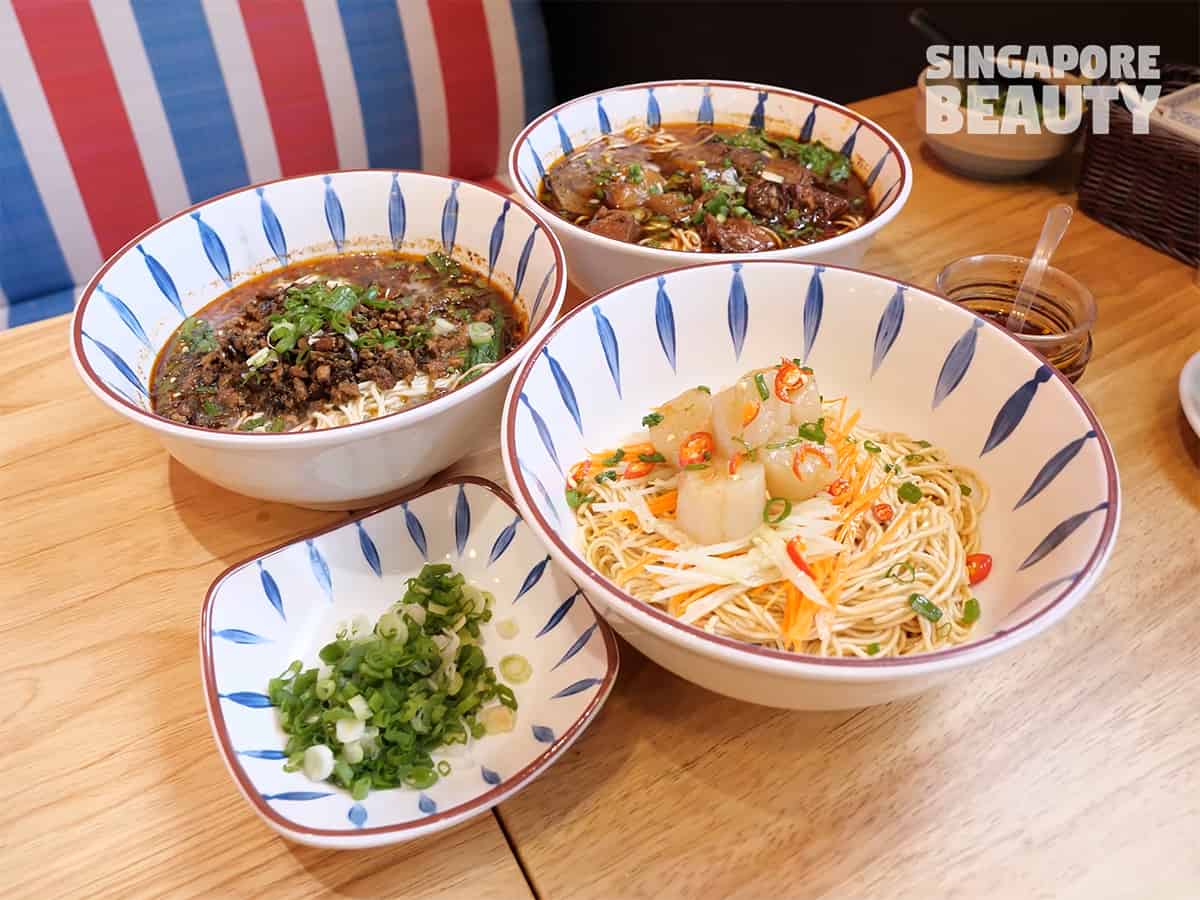 Chuan Grill and Noodle Bar also specialise in noodles and grilled skewers. 8 types of noodles in beef or pork broth or as tossed dry noodle is available on their menu.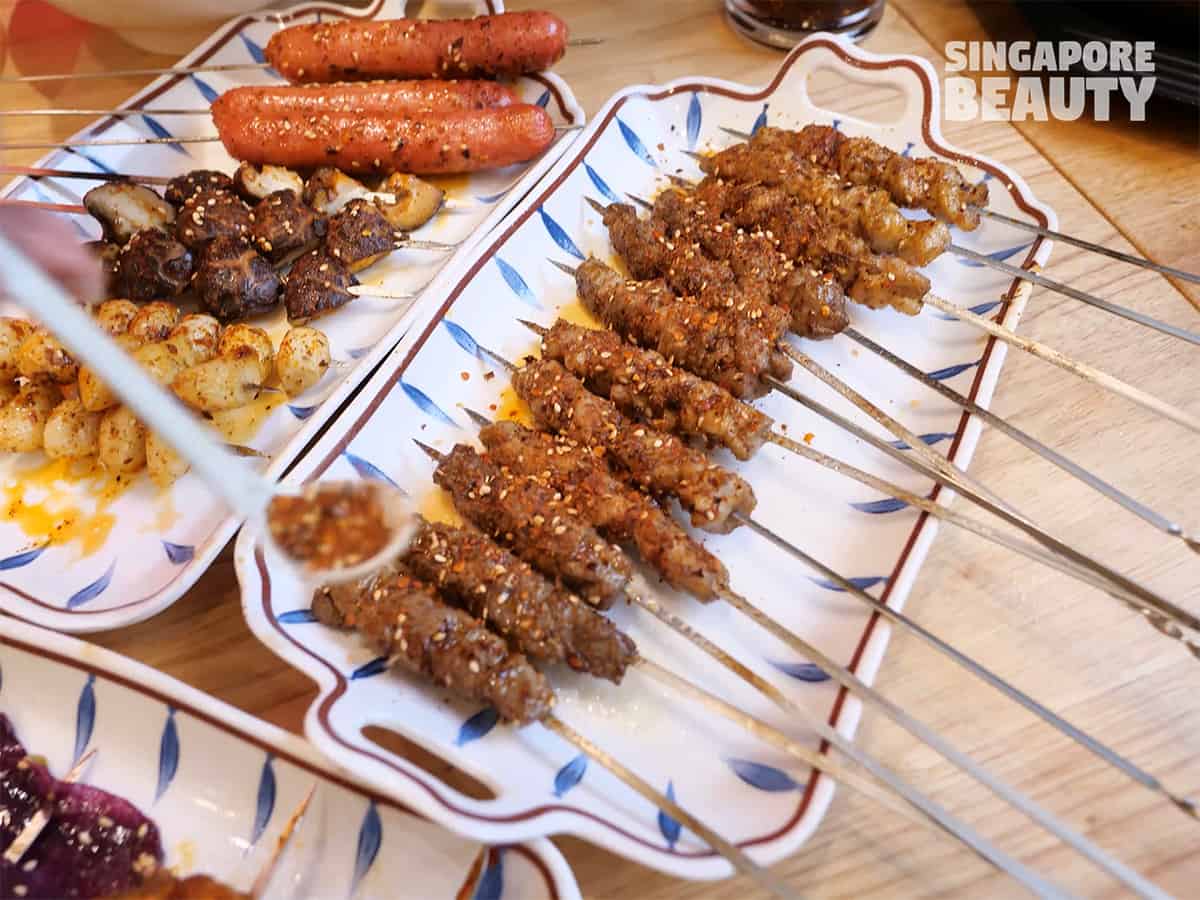 Currently at Chuan Grill and Noodle Bar, they are having an upsize option, where with any noodle bowl ordered, you can get 3 meat skewers of your choice at $3. The skewers come in option of chicken, beef, mutton or pork. Up the spicy level with the ground chilli pepper spice condiments provided on your table for extra heat and umaminess to the skewers.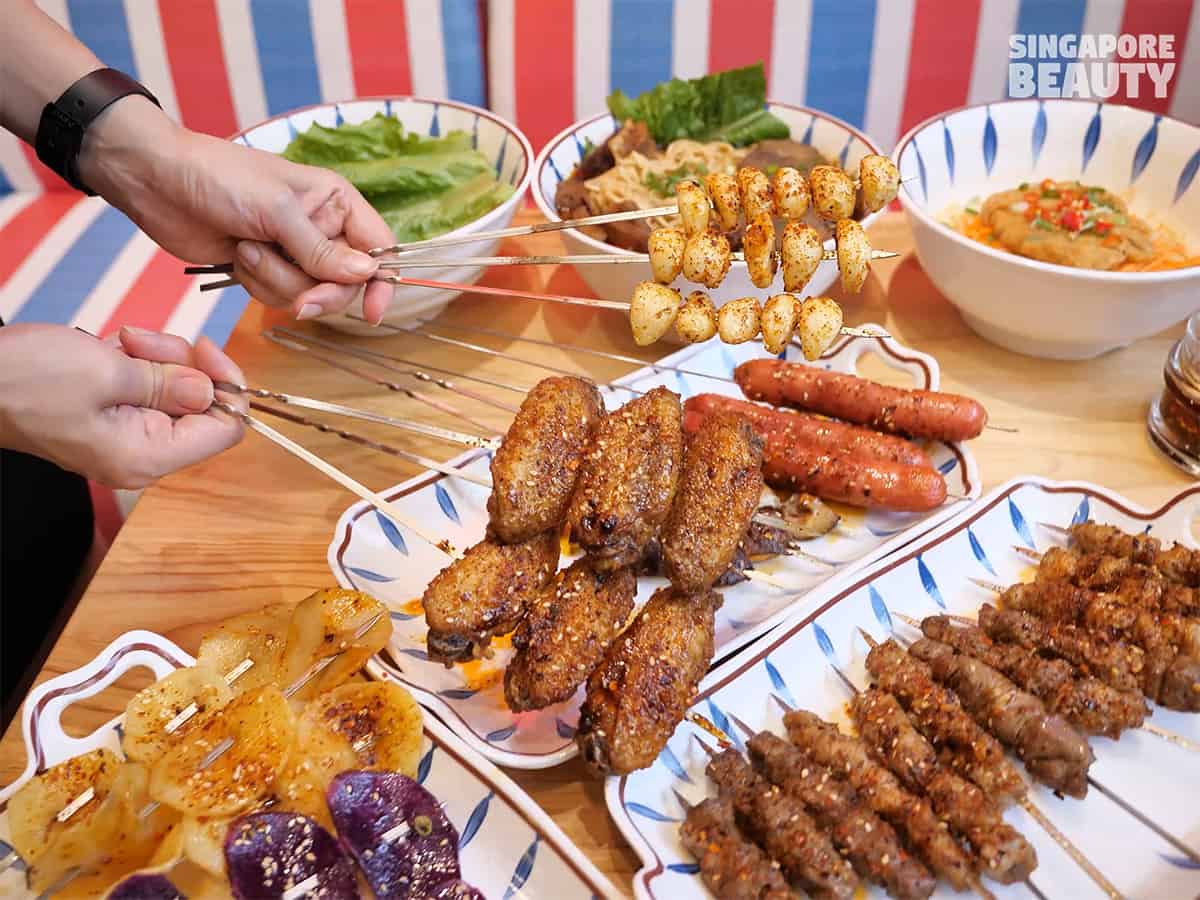 There are a total of 14 types of curated marinated meat and greens skewers grilled to order. These are seasoned with home made grounded mixed spices and glazed with smoky sauce. The other options of skewers available are Mala wings, garlic, shiitake, potato, sweet potato, Taiwan sausage and more.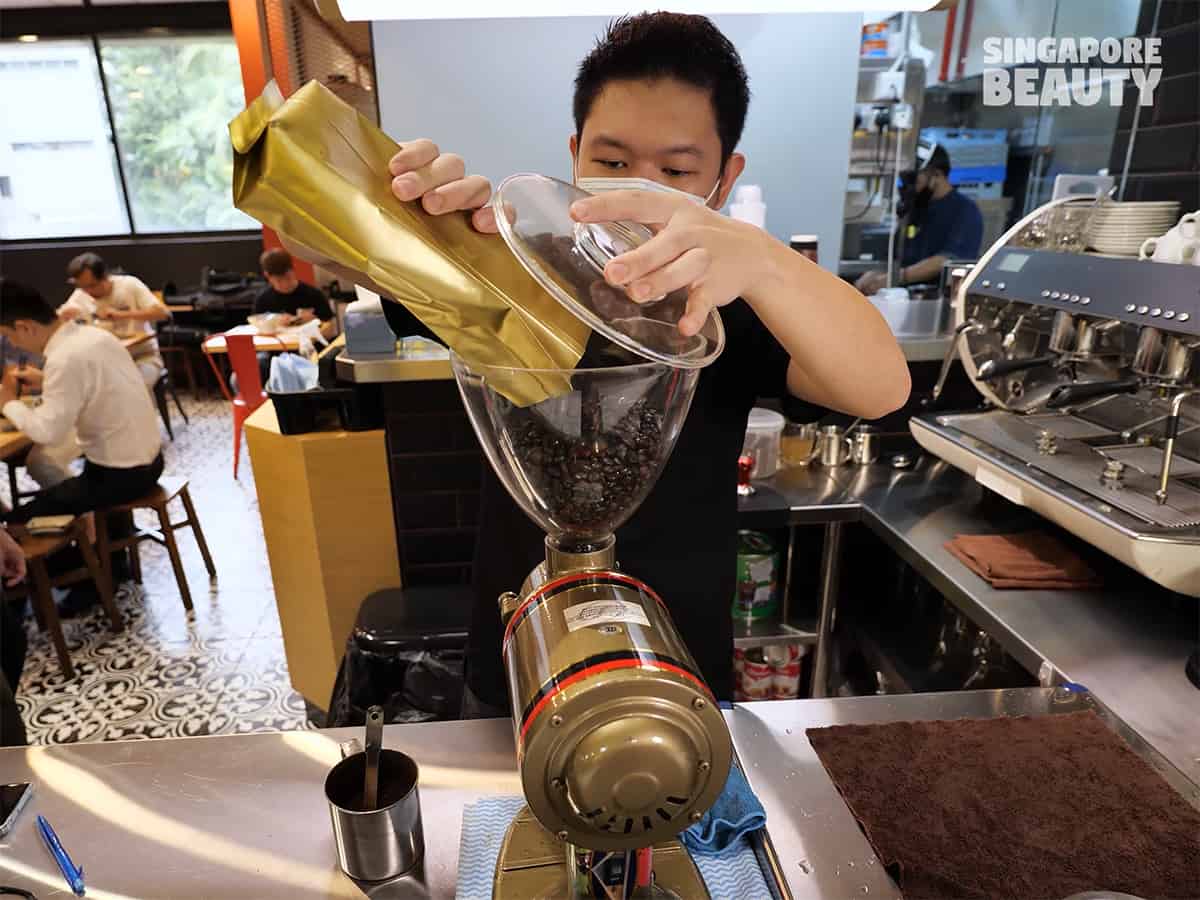 Chuan Grill and Noodle Bar also serves one of the cheapest aromatic barista handcrafted brewed coffee in the area according to the owner.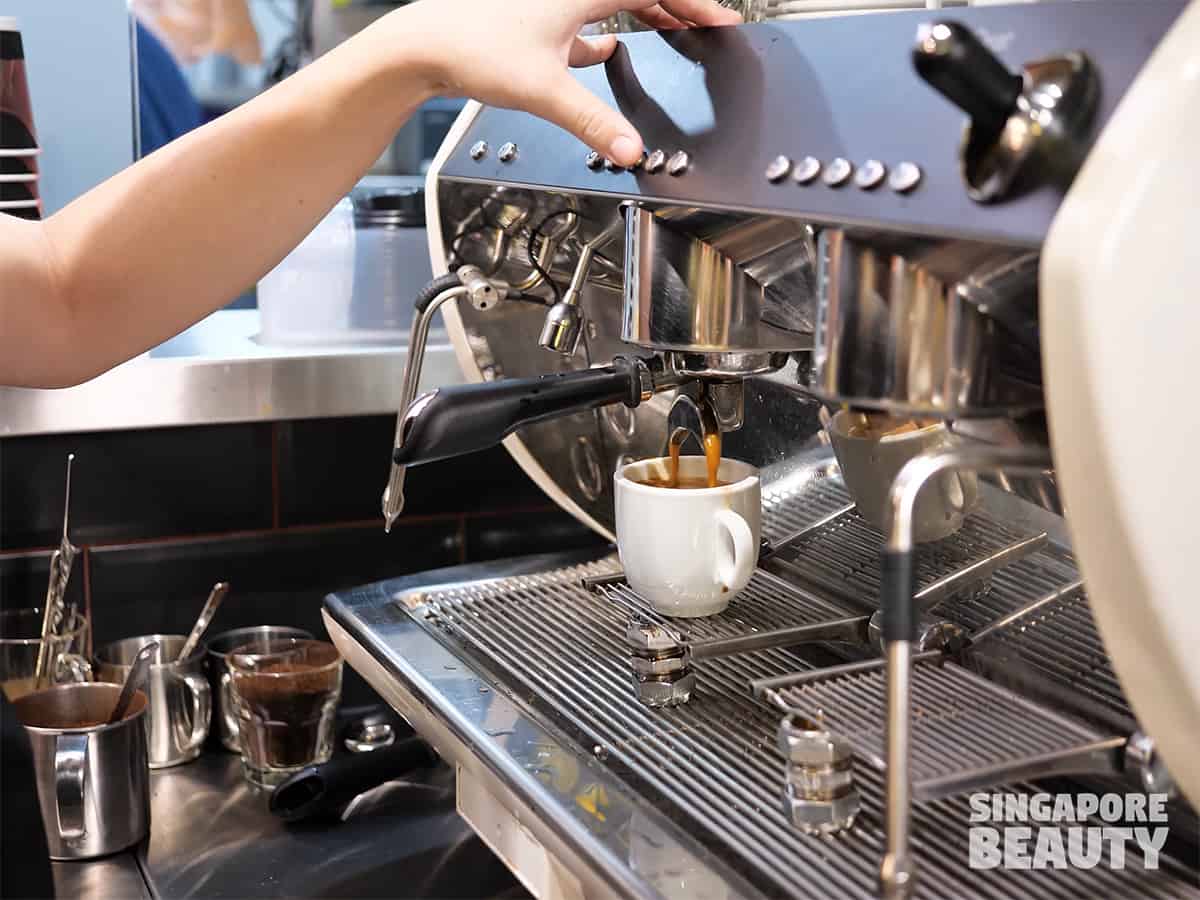 Get the barista local blends and sourced coffee brews for a rich caffeine kick. Made with real roasted coffee beans grounded in house for brewing and prepared fresh for each cuppa. Rich and thick brewed coffee from $1.90 nett, this Kopi Soon by Chuan Grill and Noodle Bar is a lunch crowd magnet that draws many at Far East Plaza with their strong brew aroma in the air.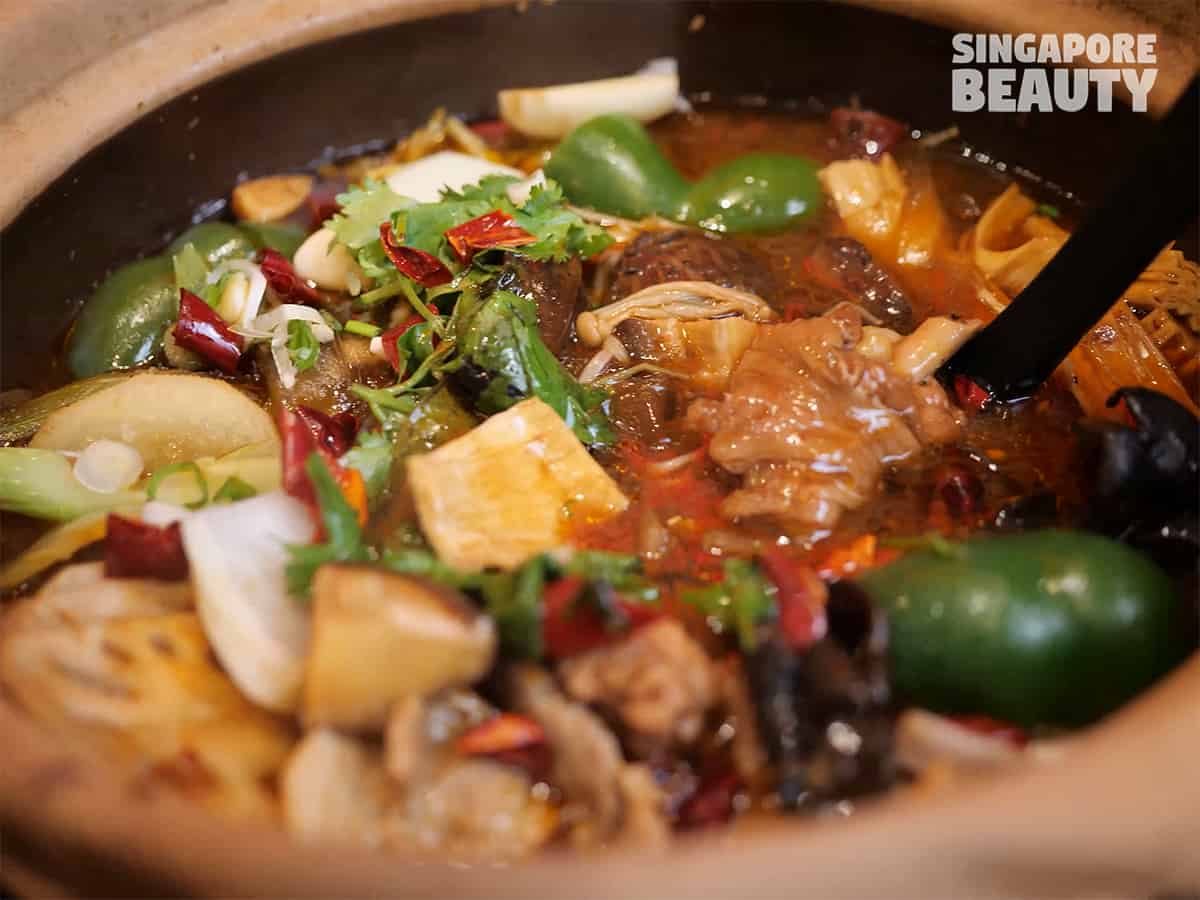 Let's check out their chicken pot Ji Gong Bao. Here's how they make their chicken pot, kitchen prepares fresh chicken daily and marinate the chicken with their secret dark sauce. Each order is prepared from scratch by sautéed ginger, garlic and onions to create fragrant oil as base. Stir fry the marinated chicken with the oil, cover and simmer the chicken in their own juice till aroma of chicken is released. Multiply the savoury factor by adding thick meat broth and add some dried chilli and parsley before serving.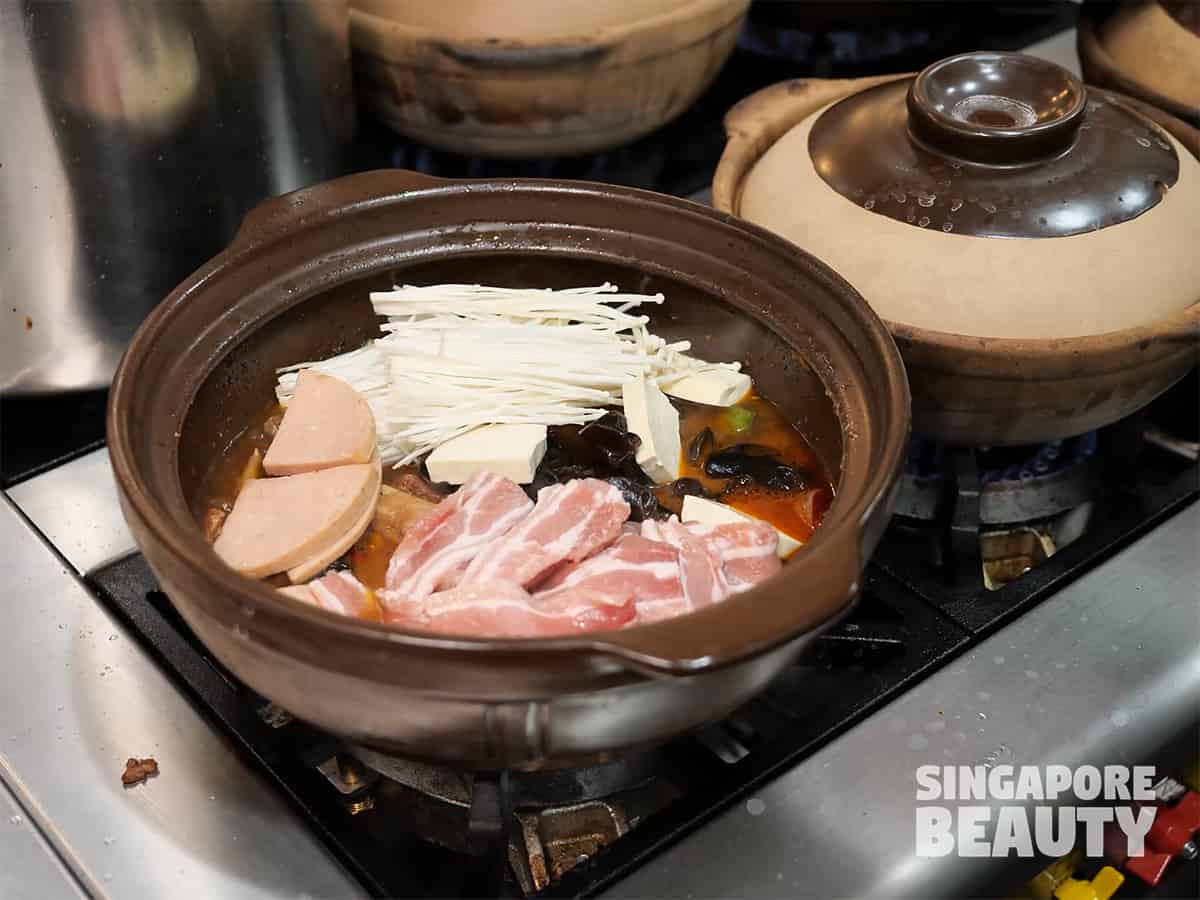 Upsize the chicken pot to large with add on luncheon, pork belly, mushroom, beancurd skin, vege, potato and more. Boost your chicken pot with 18 add on sides from $1 onwards.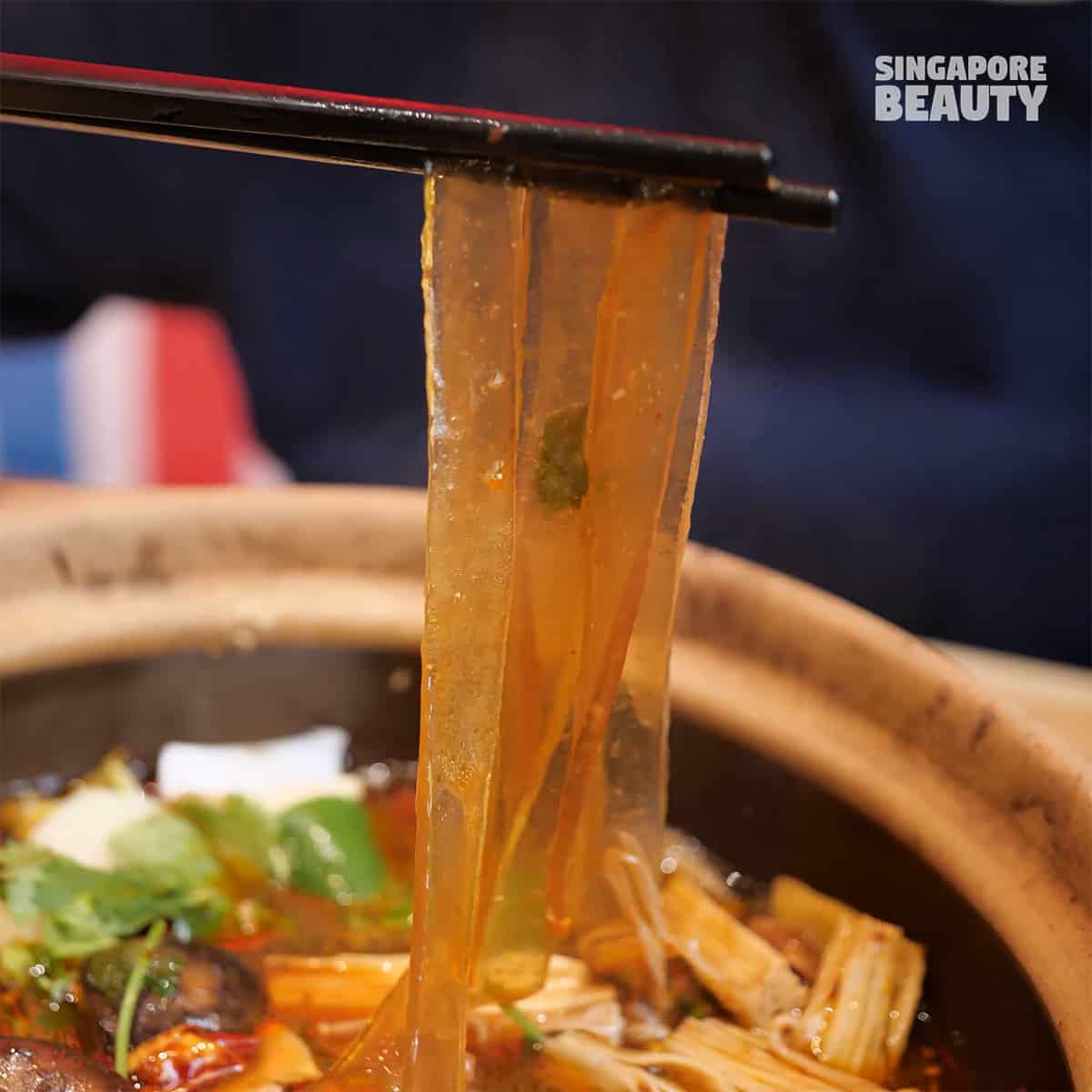 Served bubbling hot from the boiler to you. Signature spicy chicken claypot Ji Gong Bao with super chewy potato noodle, melt in mouth potato and crunchy lotus roots. Love the Drizzle the thick spicy chicken gravy over steamed white pearl rice.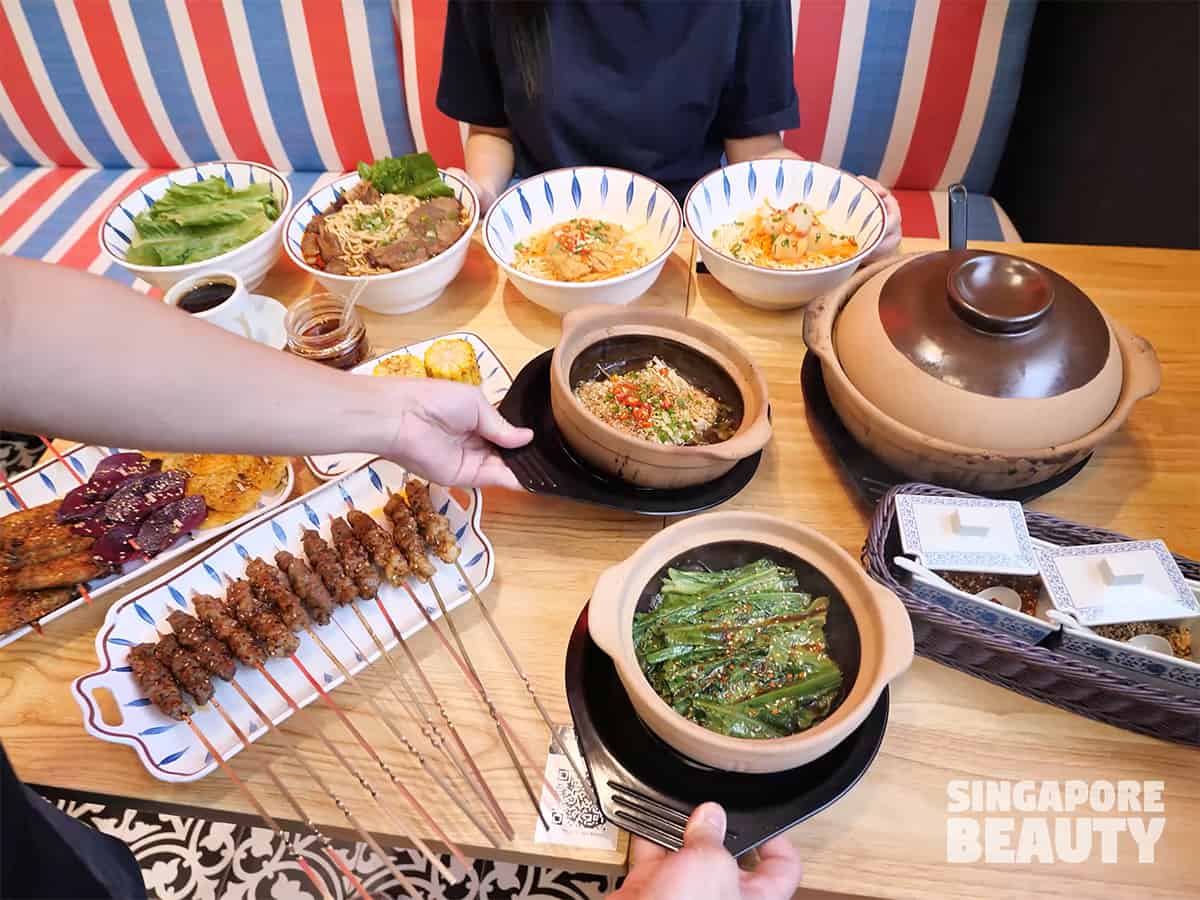 They also have unique sizzling personal size claypot sides such as sizzling lettuce served in claypot for extra crunch and umami to complement your noodle bowls, skewers and chicken pot, ji gong bao.
Chuan Grill & Noodle bar is also popular for their noodle bowl. The chef recommendation is the Signature beef combo noodle $10.50 with beef shank, brisket and tendon in spicy beef broth.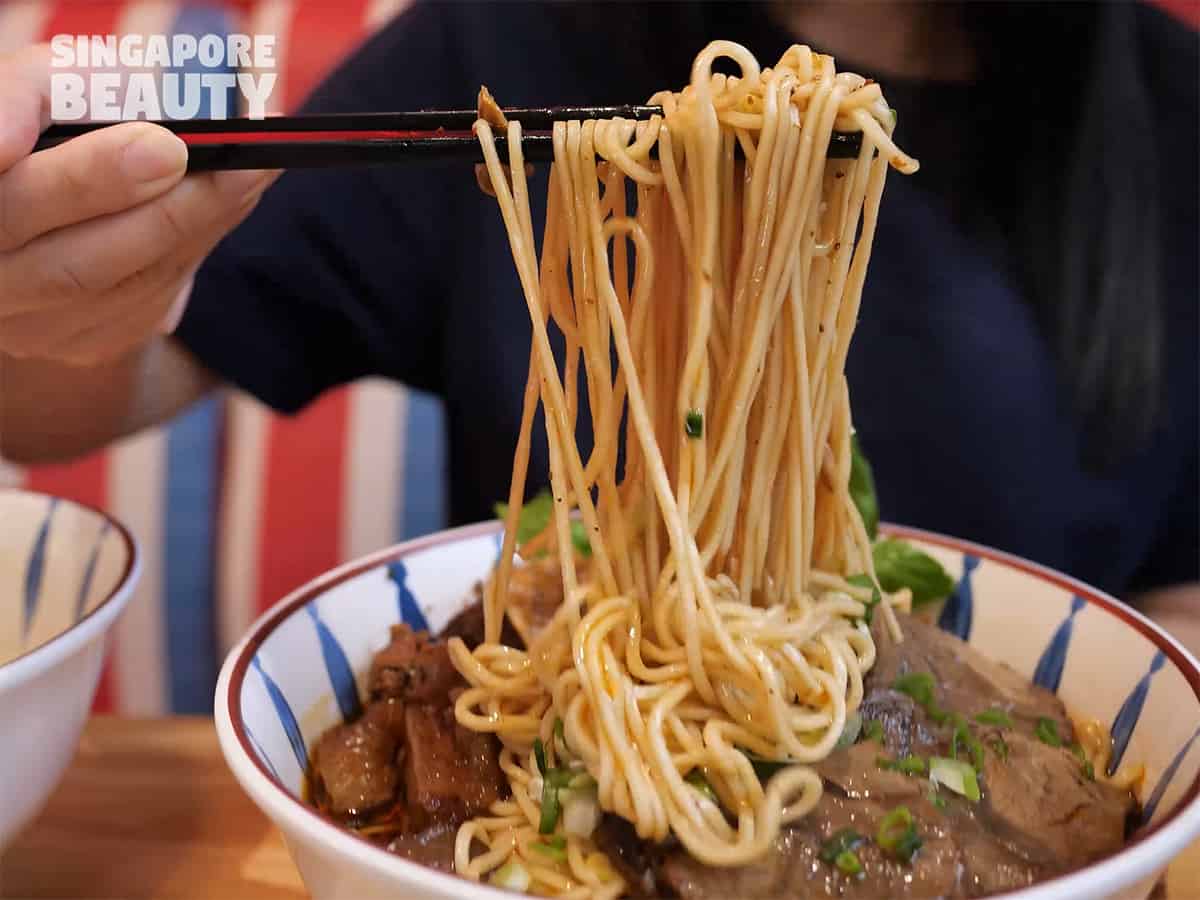 Enjoy these savoury soft beef chunks with al dente noodles.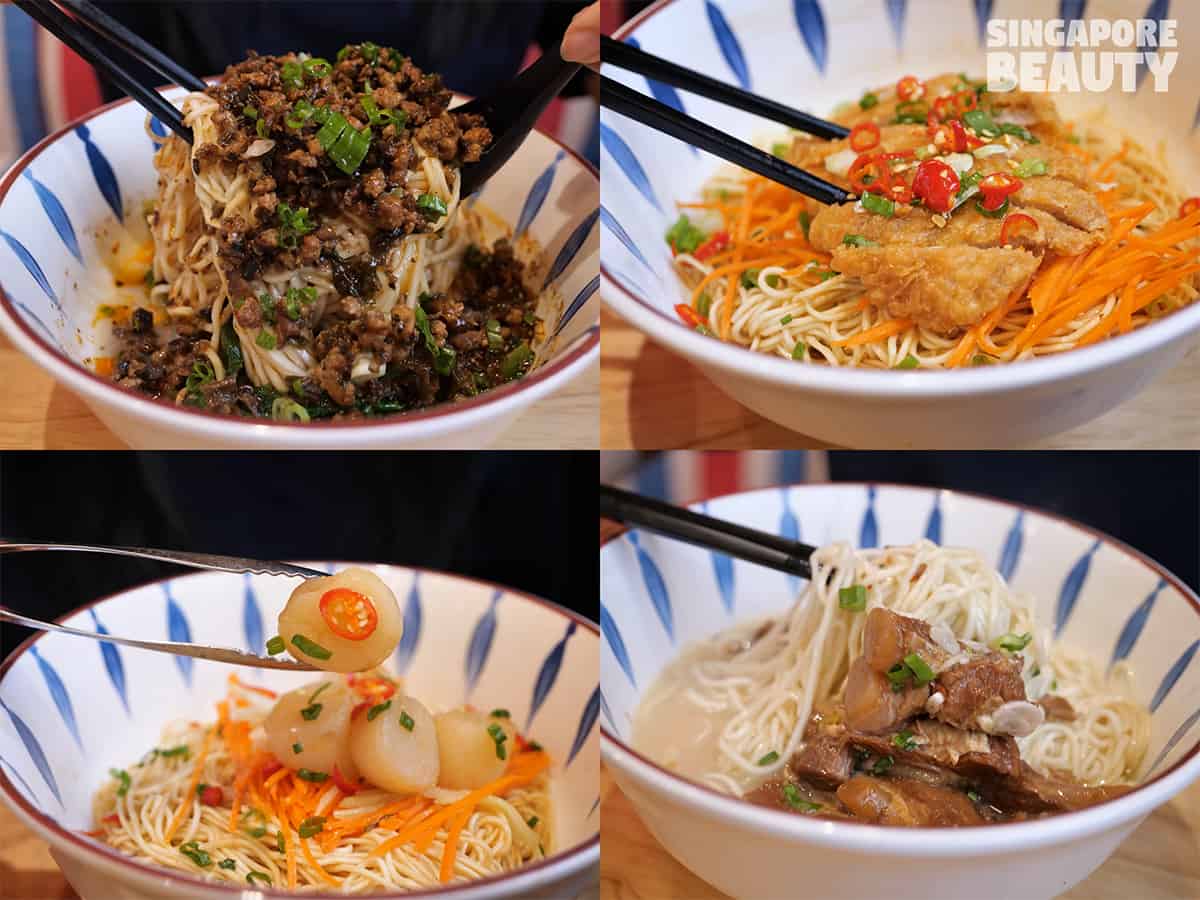 They also have other option of noodles such as Dan Dan noodles ($7.50) tossed in rich nutty sesame spicy sauce and topped with braised minced pork. Japanese scallop noodle dry version ($11.50) tossed in savoury soy chilli sauce and topped with poached scallops. Sichuan crispy chicken noodle ($7.50) noodles tossed in Sichuan chilli, topped with julienned greens and crispy chicken cutlet. Soft bone pork ribs noodle ($7.50) in pork broth. For vegan, they have a dried vegetarian noodle ($6.50) with assorted mushroom. With so many options, there is one that will suit your taste palate.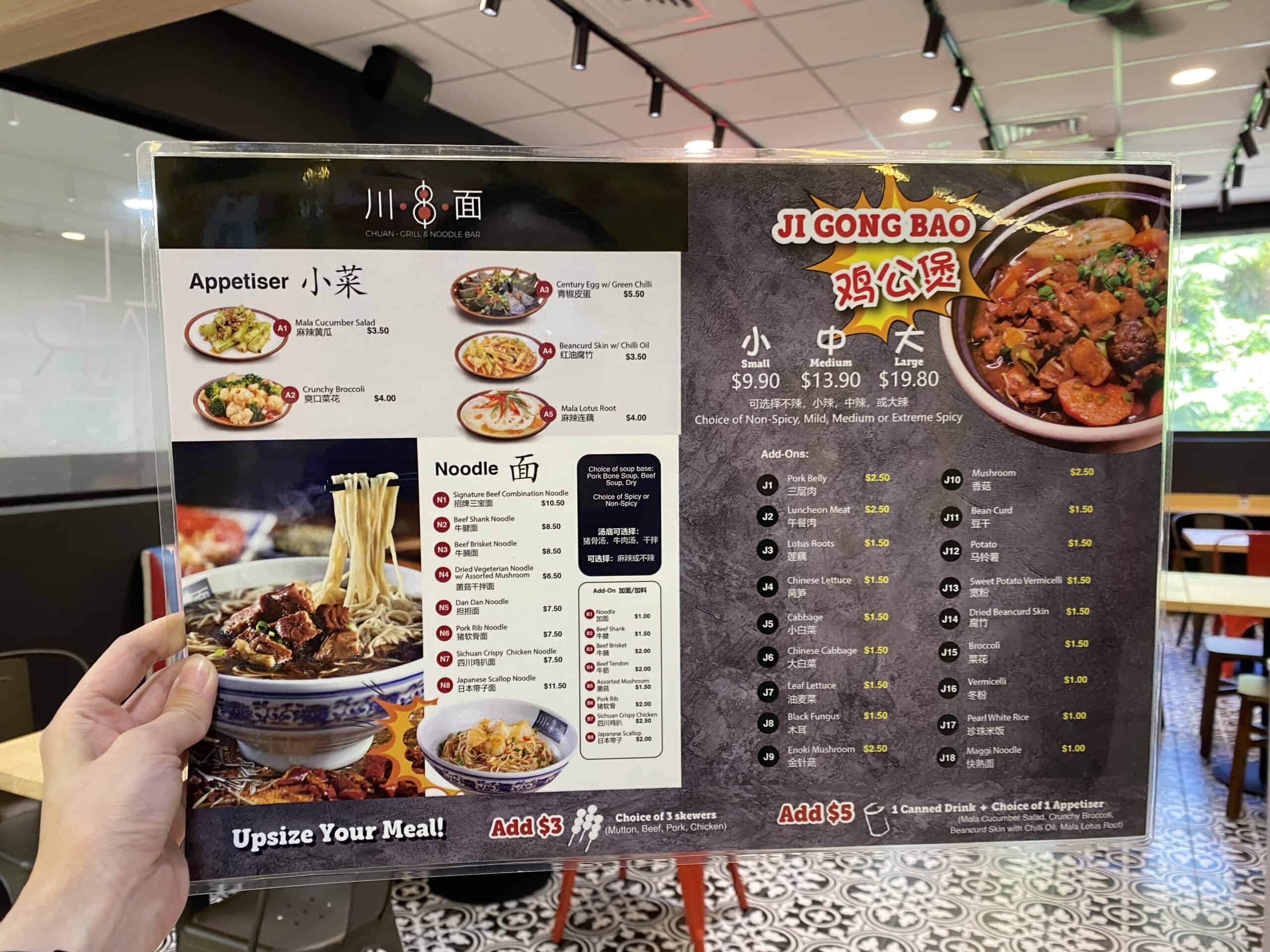 Here's the noodle and chicken pot ji gong bao menu of  Chuan Grill & Noodle bar at Far East Plaza, Orchard.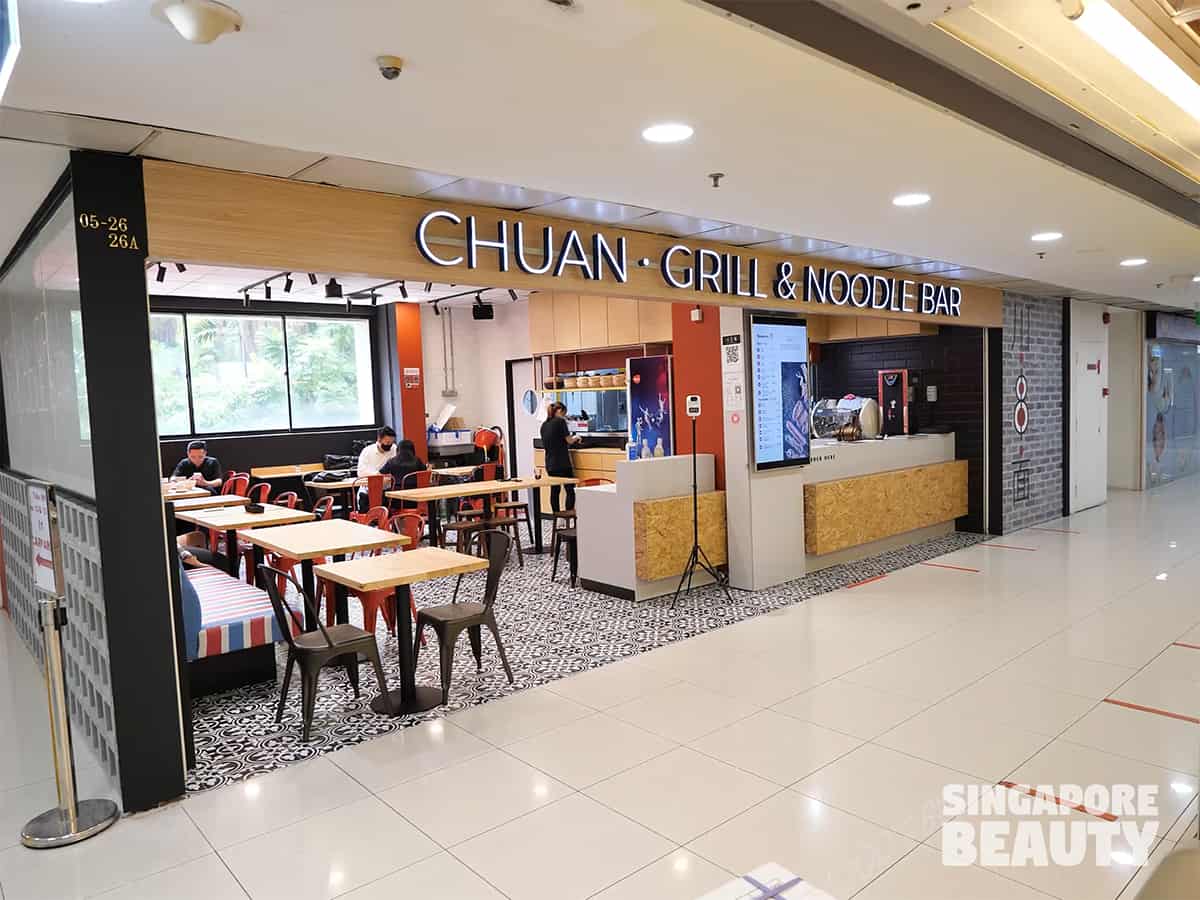 Let's get the party started with claypots, grills and noodles at Chuan Grill & Noodle bar now open at Far East Plaza! With catchy neon and carnival print cushion settee and a new menu with spicy chicken pot, grills and noodles. Have a slurp worthy time at this popular spot and see you there today.
Location of Chuan. Grill & Noodle Bar :
14 Scotts Road, Far East Plaza #05-26/26A
Singapore 228213
Daily: 9.30am to 10 pm
Tel 62538849
Brought to you by Chuan. Grill & Noodle Bar