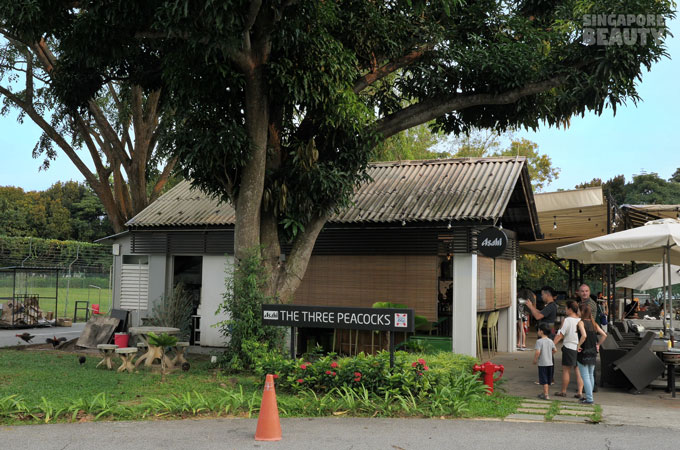 The Three Peacocks is a great place to count down to Christmas and gather for the yearly gift exchange with your love ones.
Great chill out place with lush greens, flourishing flora, wild life roam the grounds freely, fighting cocks, peacock, the occasional squirrels, pop music and light crisp night breeze caressing your face while you feast. This is the perfect place to unwind and reconnect with nature after a day of work right in the central region of Singapore but away from the hustle and bustle.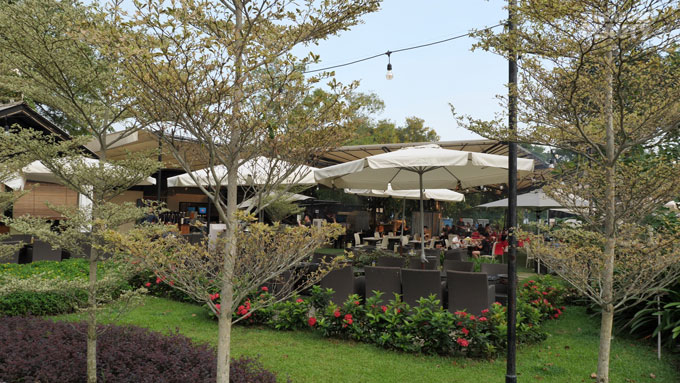 They also have sheltered seating under a cream coloured canvas canopy. This indoor space transform to a magic star studded fairy lit food heaven.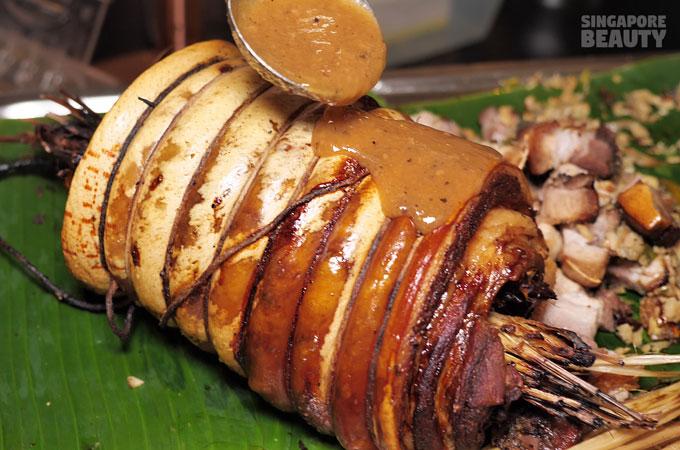 This year, they are offering hotel style international buffet with an amazing range of festive food for Christmas in additional to the live seafood, meat, cooked food and cook for you live station buffet. You are literally surrounded by food. Dive right into the festive food on display.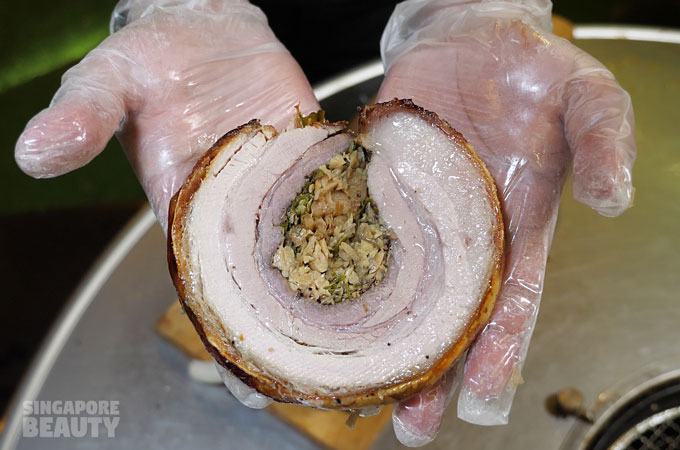 Festive food #1 Lech on belly – crispy pork belly that is rubbed and stuffed with spices and herbs. Rolled into a festive log and baked for hours on a roasting pan till the skin turn golden brown. Sliced into slabs of delicious juicy tender pork belly oozing with lemony flavour and aroma of toasty scallions. This is one of the must-have dishes for Filipino on Christmas. The browned skin is so crispy that it breaks apart like glass shattering. If you like roasted pork, you will love this.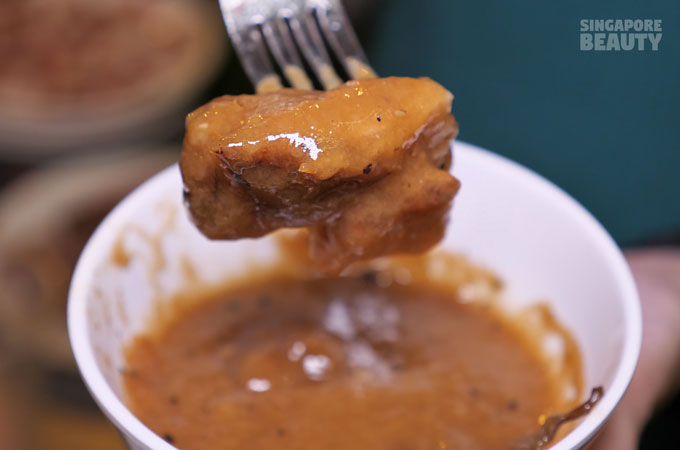 Dip chunks of this tender and crispy pork belly into the savoury garlicky sauce provided.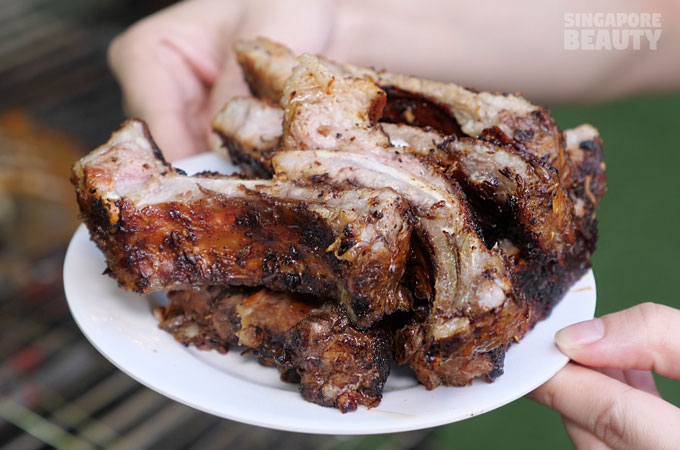 Festive food #2 Barbeque honeyed ribs- slabs of pork ribs brushed with thick barbeque sauce and glazed with honey served sizzling right off the racks. Unlimited servings of barbecued ribs crunchy roasted fats and tender meat. Savoury barbequed meat with char bits of fats and meat.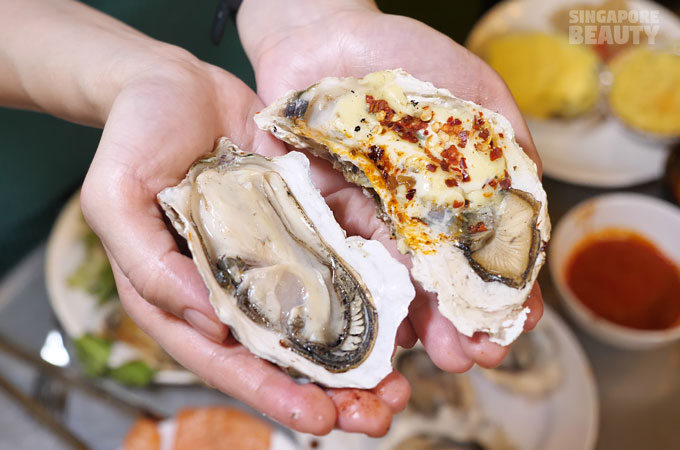 Festive food #3 Barbequed Japanese Oysters in four ways with cheese, caramelised onions, salt and garlic oil. These oysters are the size of a lady's palm. Love that cheese strings with the plump and creamy oyster. Enjoy the briny flavours of the oysters with the chewy cheese.
You can either pick these up at the cook for you live station or DIY with the condiments (garlic, chilli flakes and onions) from the sauce counter. Cheese and butter trays are available near the cashier counter.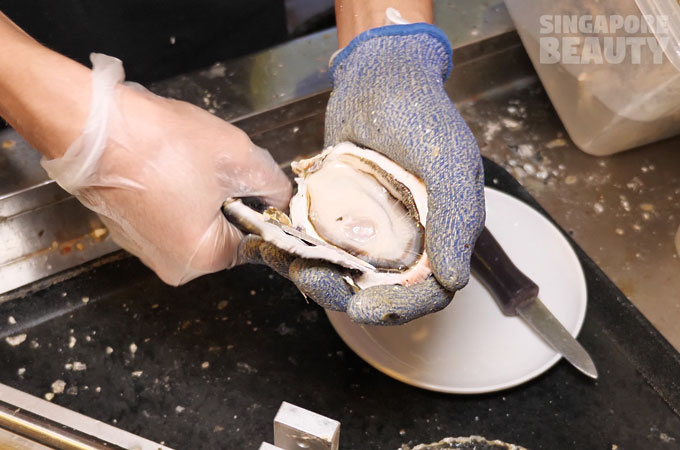 Festive food #4 Live Japanese Oysters – these are shucked fresh at the live station near the live seafood tanks. These are so fresh they just slide down your throat with a dash of lemon and Tabasco sauce. You can only take 2 oysters each time so that the wait is shorter if there is a queue. This is a must-eat at The Three Peacocks.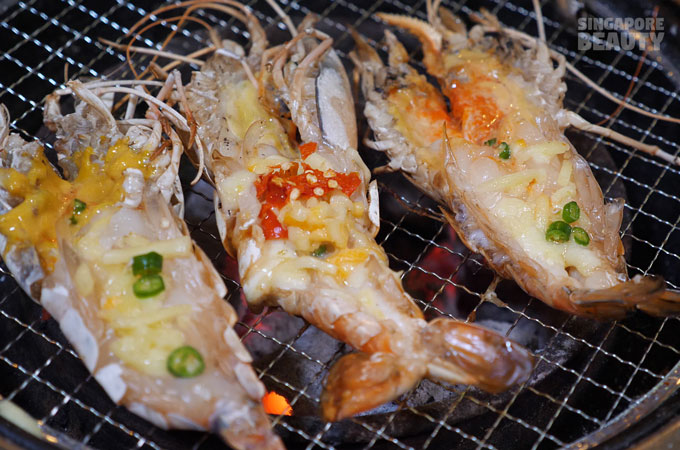 Festive food #5 Grilled Cheese Thai River roe prawns – Halved these with the scissors provided and grill them slowly with cheese and cut chilli. Check out these oozing prawn roe with the melty cheese. These are also the must- haves at The Three Peacocks. Crispy prawn shells are like crackers if you cook them well.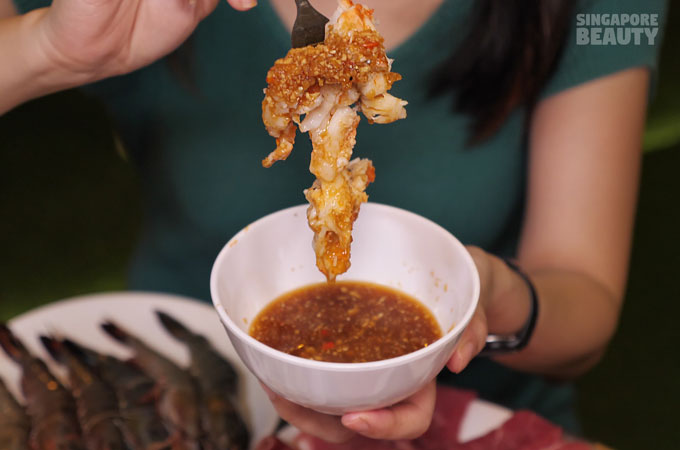 Dip this heavenly flesh into the garlicky vinaigrette Thai sauce.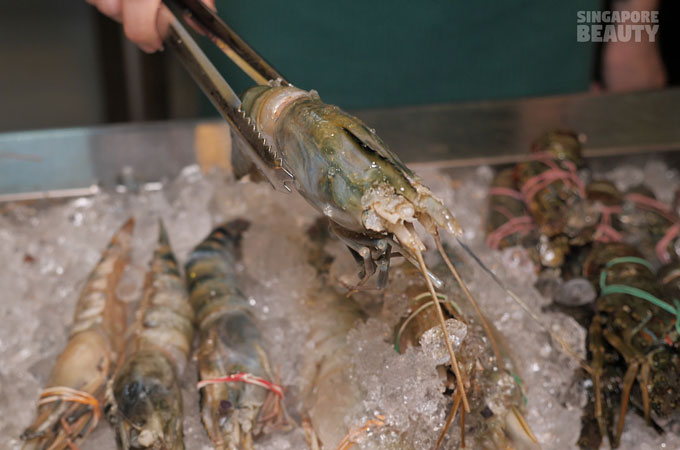 These Thai river prawns are about the length of a lady's palm so you can be assured that you will get a good amount of flesh from them. Succulent and crunchy flesh that glisters in the night. These are so good I can have loads of these Thai River prawns. Cook these lightly and they are ready to be eaten when they flesh turns snowy white.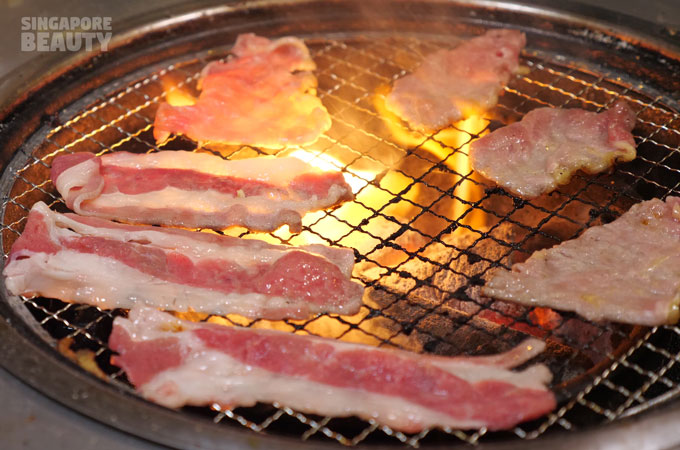 Festive food #5 bacon – Watch these bacon curls and they are ready to be eaten. Good news for bacon lovers, you can have truck loads of bacon here.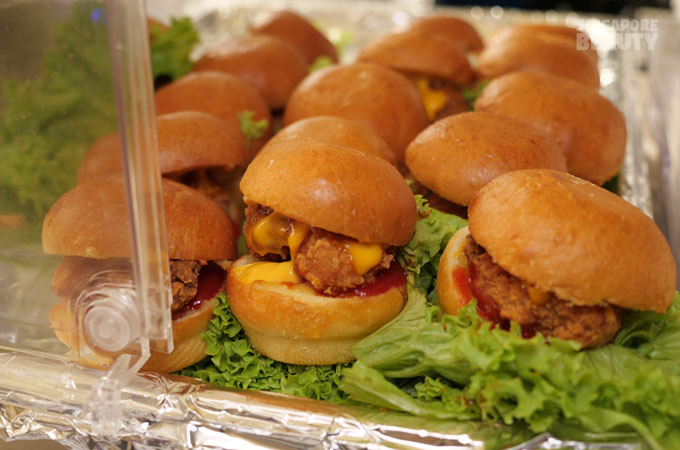 Eat these bacon with the mini chicken chunks cheese burgers at the hot stations.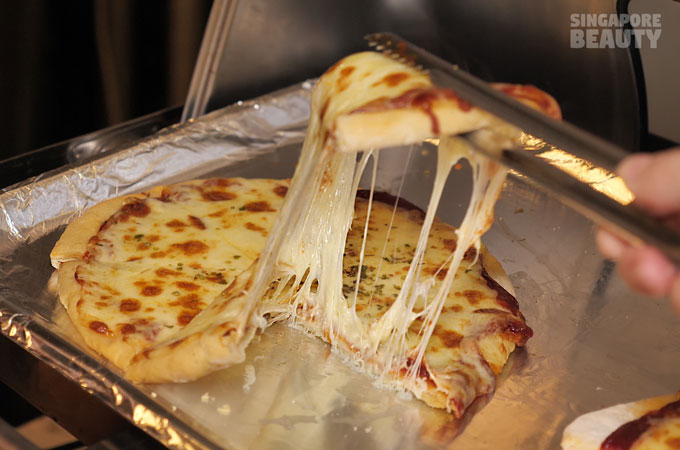 Wrap the bacons in the double cheese Marinara pizza with cheese pulls. These are made fresh in house and served hot and melty from the oven.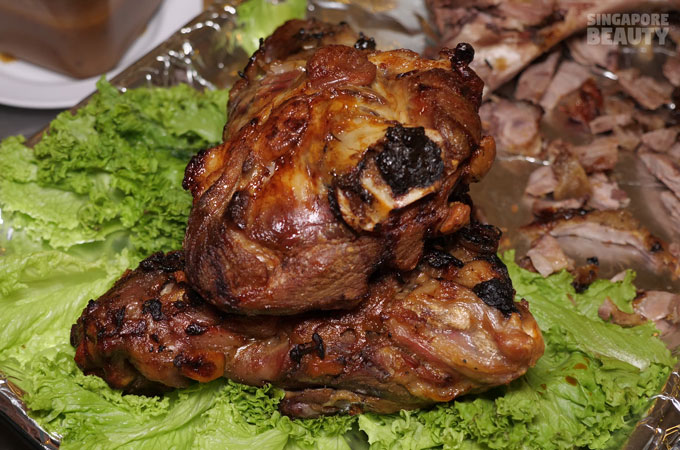 Festive food #6 – Grilled German pork knuckles – these pork pulls are great to go with the burgers and pizza too as toppings or wash them down with some draft beers ordered separately from the bar. Why is everything so big at The Three Peacocks? So that you will leave this place happy and full like a stuffed turkey!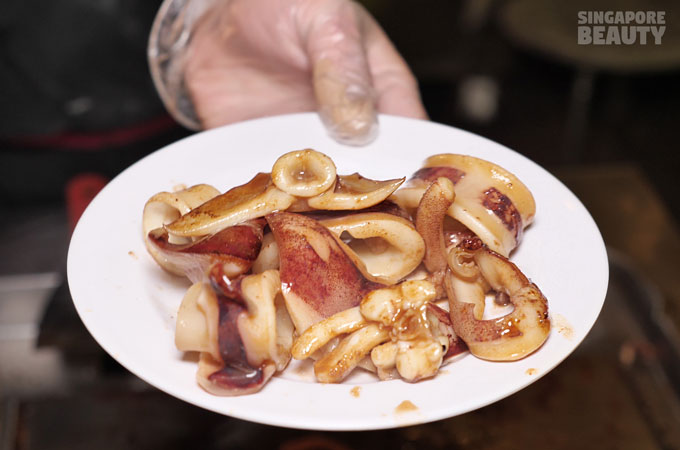 Festive food #7 Squid Rings – The Three Peacocks will give you Teppanyaki squid rings instead of golden rings this Christmas. Enjoy these marinated tender squid rings that melts in your mouth.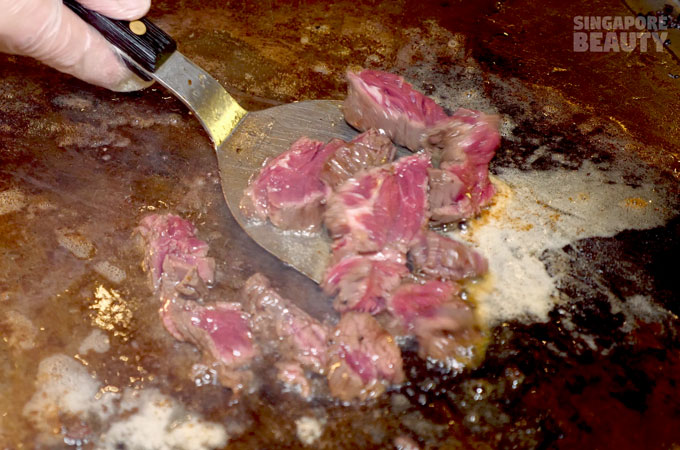 Festive food #8 wagyu beef cubes – These wagyu cubes are part of the buffet too. It will set you back $7 for each portion if you ate in some shopping mall.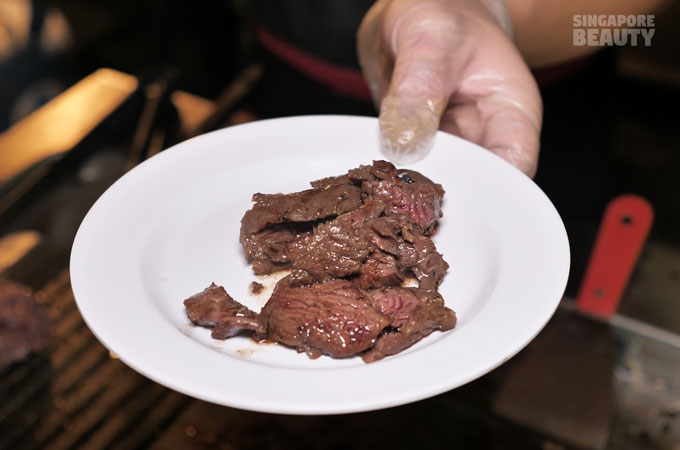 Thumb up for these juicy medium raw beef cubes. See for yourselves how juicy these beefs chunks are.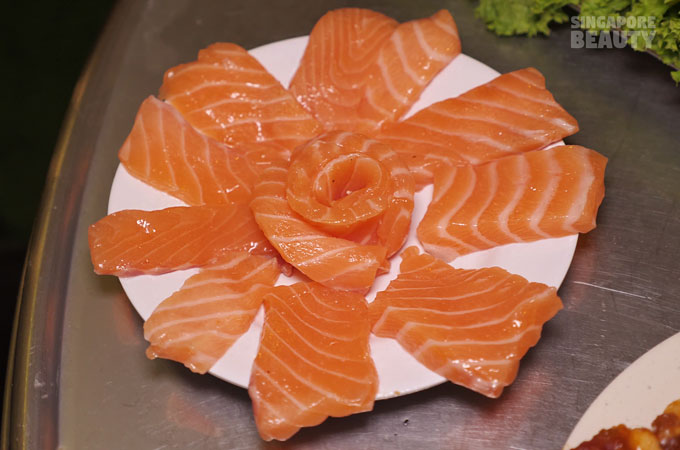 Festive food #9 salmon sashimi – These are found in the chill display cabinet near the live Teppanyaki station.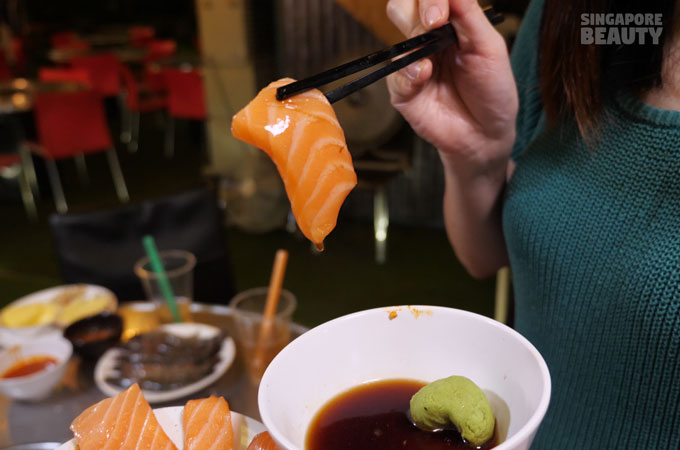 Melts in your mouth sweet fatty salmon sashimi with Japanese soya sauce and wasabi.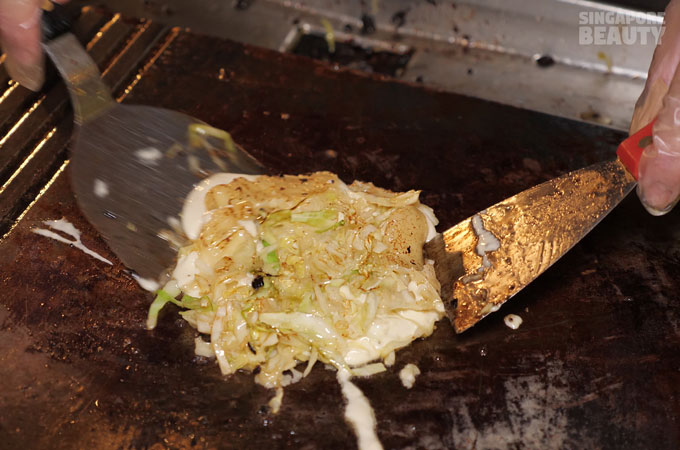 Festive food #10 Japanese cabbage mayo pancake – dig into these chewy pancakes with creamy mayonnaise.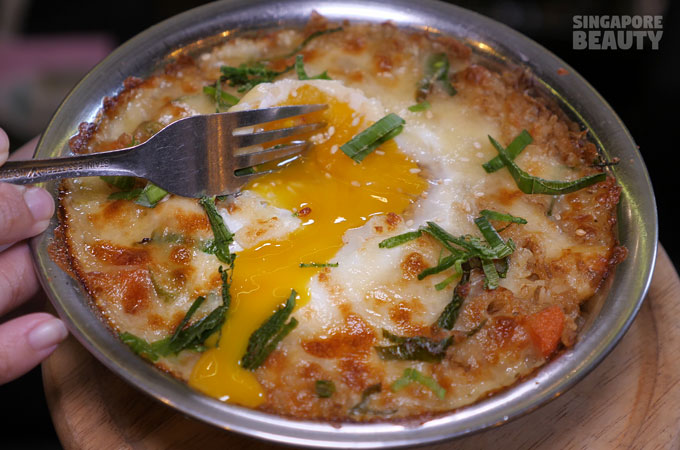 Festive food #11 – baked rice with cheese and runny yolk. These are so rich you need to share these with 3- 4 pax.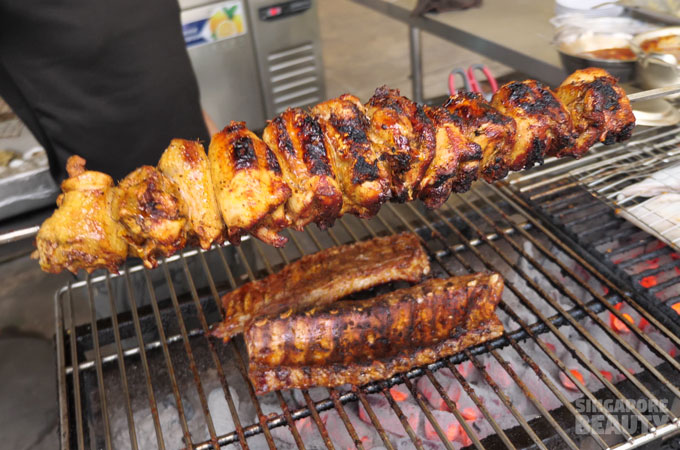 Festive food #12 – Mexican grilled chicken thighs – marinated with lots of spices, chilli powder, honey, garlic and black pepper and roasted till brown and crispy.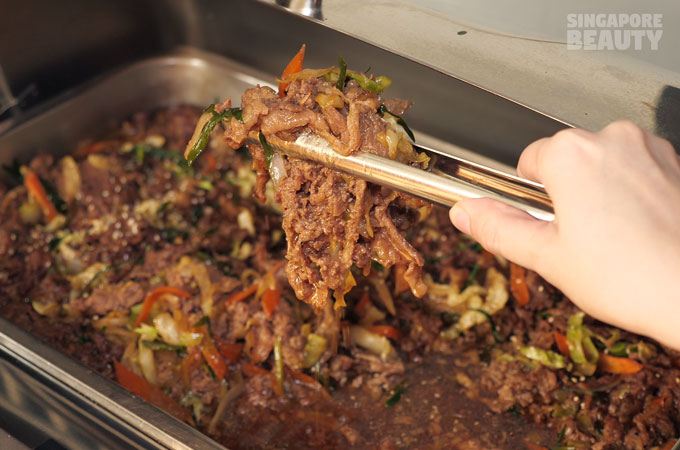 We are finally done with the festive specials; now let's head to the Three Peacocks staples buffet items. These are items served in additional to the festive specials and part of the buffet. These are stew beef strips like those served on Japanese rice bowls. Juicy and paper thin strips of fats and melt in the mouth meat best eaten with the Japanese curry rice.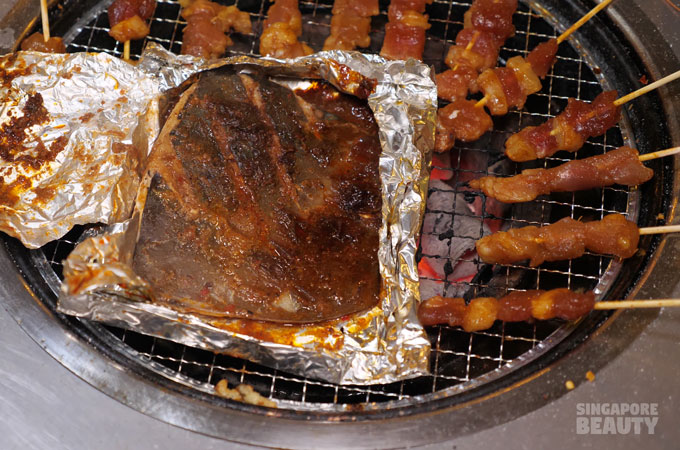 Local delights are also included in the buffet. Grilled sambal stingrays and satay chunks. Barbeque these till the fats are translucent and the meat is slight char to get the best flavours as satay should have.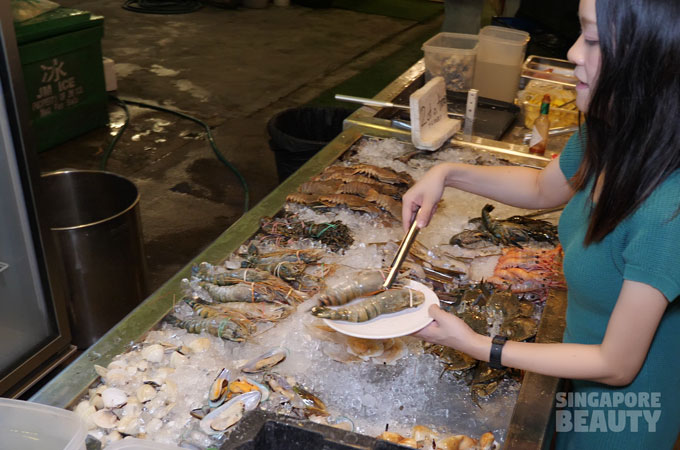 White venus clams, Thai river prawns, baby lobsters, slipper lobsters, tiger prawns, mussels, half shell scallops, scampi, crabs, gong gong, bamboo clams and many more can be picked up at the iced sea bed. These are free- flow seafood items for the barbeque buffet. You can either catch your own live tiger prawns from the live tank or pick from the iced seafood bed. Barbeque some cheese tiger prawns. Mmmmm.. so yummy.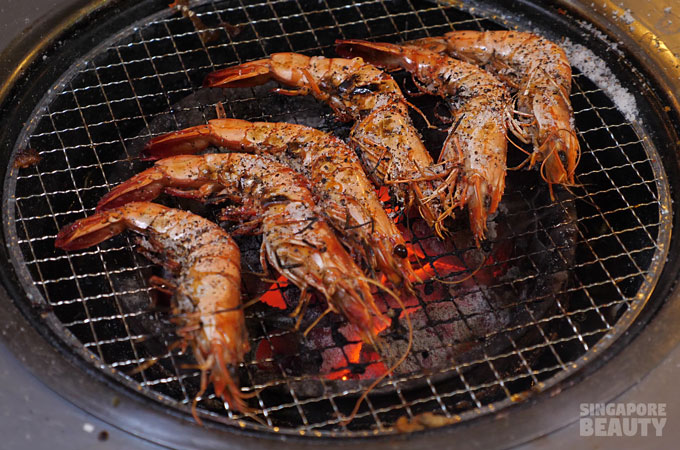 Black pepper prawns anyone?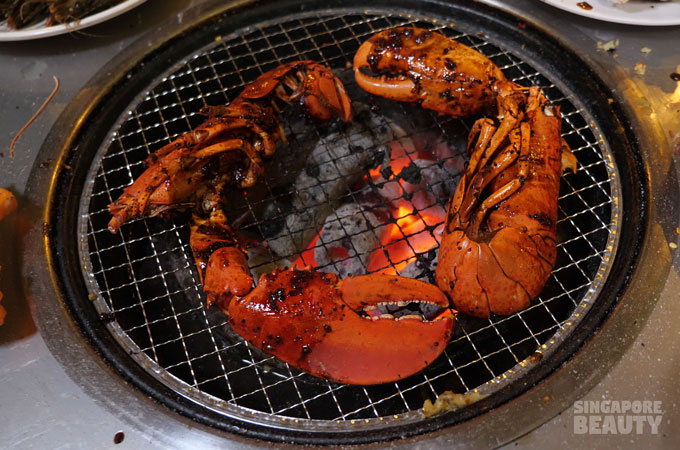 For each patron, you are entitled to half a Boston lobster each while stocks last. Create your own black pepper, salted egg yolk or chilli crab sauce Boston lobsters with the sauce provided at the hot station.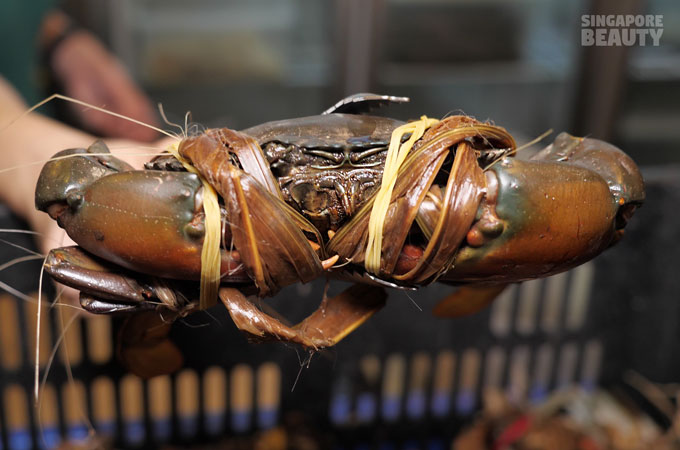 Choose your own live mud crabs at the live seafood station. They will dispatch for you on the spot before you bring them back to your BBQ pit. These crabs are of a good size. Look at the claws!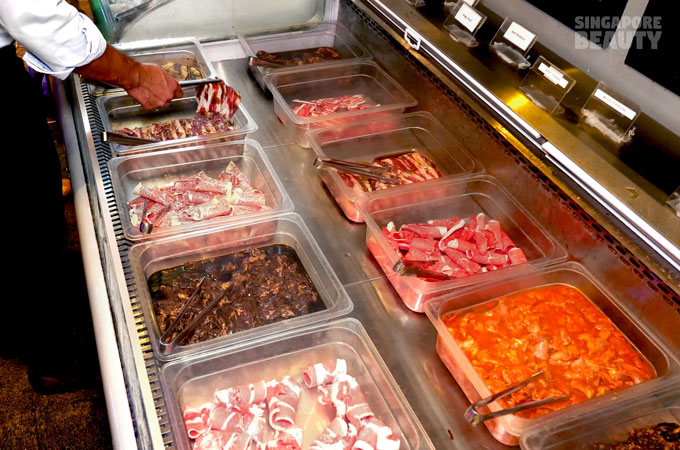 With over 20 cuts of marinated and pure meat (chicken, pork, beef) for you to barbeque with, you are spoilt for choice. Let the meat feast begin.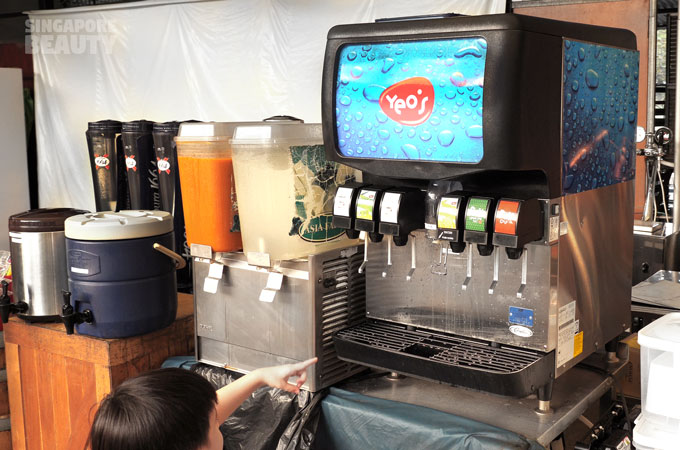 Drinks are add on of $3.99+ per pax. Free flow Yeo's green tea, soft drinks, Thai milk tea, lime juice, bubble teas and many more. Grab all you can eat ice cream sticks and tubs in assorted flavours. These flavours are legit good, lime taste like lime and chocolate taste like chocolate, if you know what I meant, not the sugary type.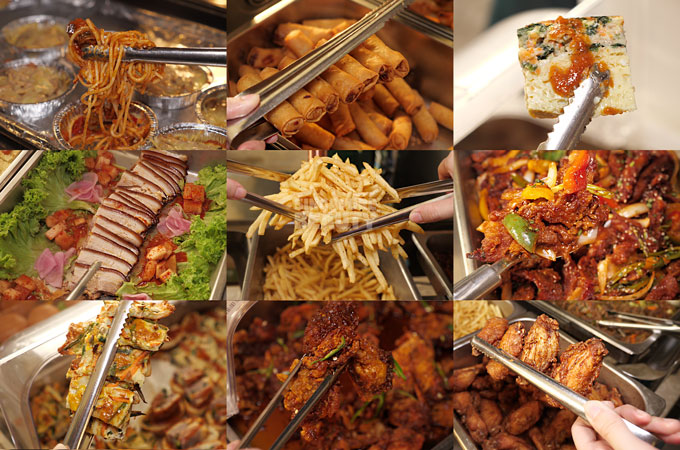 A endless train of ever changing cooked food at their hot station whenever the current servings run low. The hot favourites like baked pasta, braised five spice meat, French fries, Kimichi pancakes, spring rolls, soft shell crabs, Korean steamed egg custard cake, sweet sour pork, mid wings, potato wedges, barbeque wings and many more.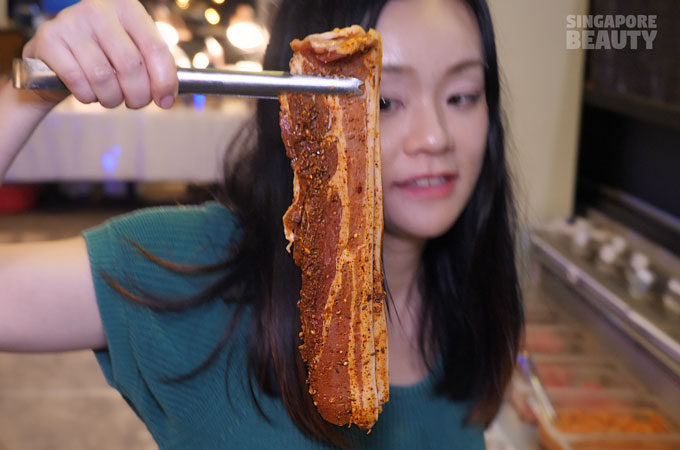 Korean pork belly as thick and long as the model's hair.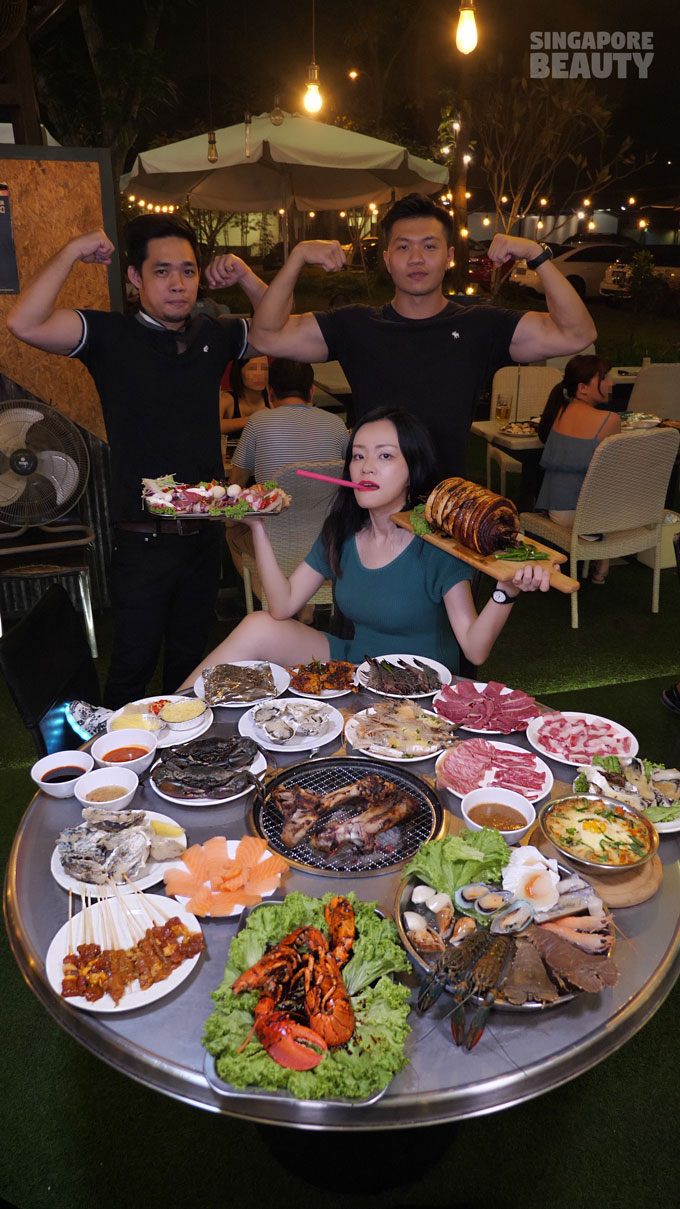 Time to flex your jaw muscles and eat your fill at The Three Peacocks!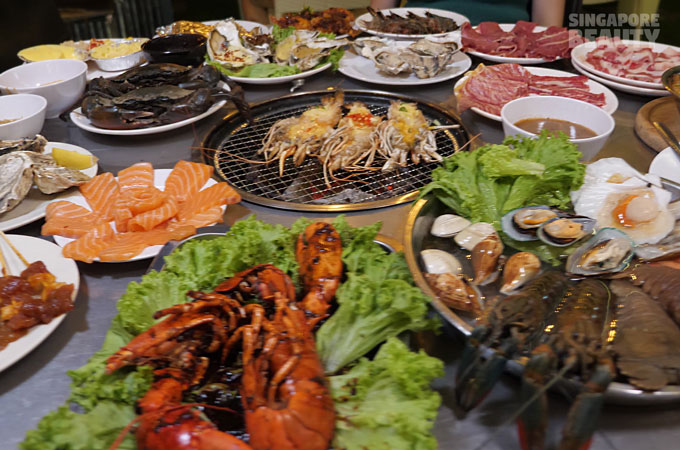 The foods are unlimited so is your dining time. Eat from sunset to dusk!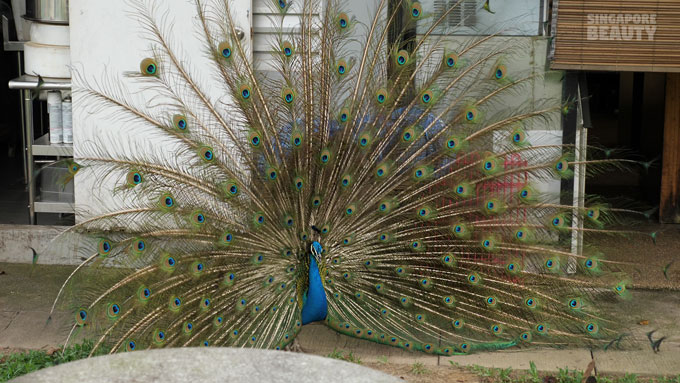 You get the occasional Peacock dance too if you are lucky.
Seats are unlimited at this alfresco BBQ and Steamboat buffet. Big groups are welcomed too and you can choose the newly added large picnic bench seats with patio umbrellas. Head over to The Three Peacocks today.
Adult buffet price
Mon-Sun $41+
Kids (7-12 years old) get 50% off the normal price!
Kids (6 and below) eats free!
Add 3.99 for free-flow drinks
Dine time
No time limit
Promo 1
Free Boston lobster per pax
Promo 2
1 bucket of Heineken (5 btls)$20
Free 1 Hotpot for 6 pax ~
Additional Hotpot @ Only $11 Nett! ~
(Mala Soup, Chicken Soup & Kimchi and Pork bone Soup Available)
Buffet operating hours
Monday – Thursday: 5pm – 12am
Friday & Saturday: 5pm – 1am
Sunday: 5pm – 12am
Location
8 Port Rd, Singapore 117540
(Close proximity to Labrador Nature Reserve)
If you are driving, plenty of parking space available.
15 mins walk from Labrador MRT station (CC27)
Reservations
Whatsapp (+65) 98511802 for reservations/ call them at 62510213
Brought to you by The Three Peacocks