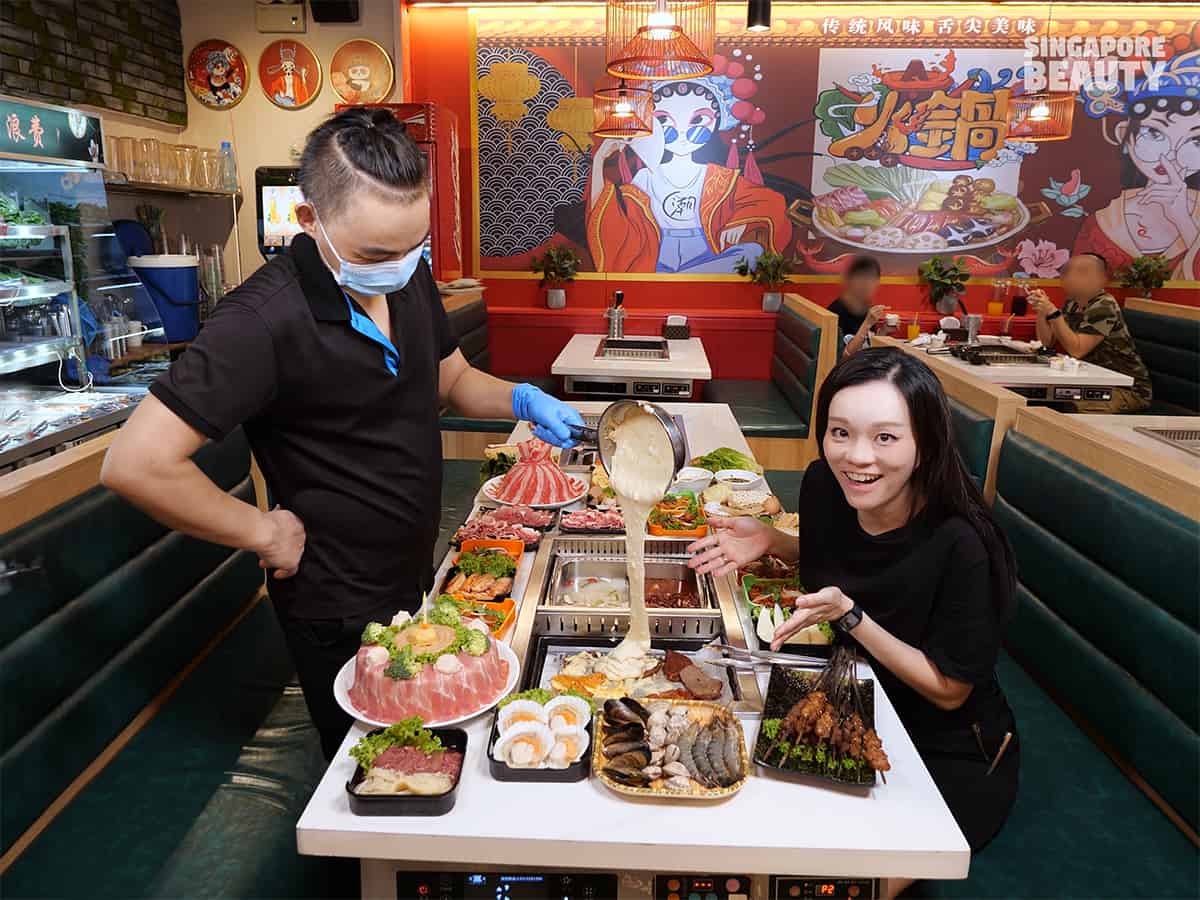 Bugis BBQ & Hotpot buffet has added new crab buffet with cheese waterfall to their hotpot menu. You can now enjoy the barbecue and hot experience with melty Mozzarella cheese. They also have some special items like birthday meat cake, meat doll and shabu shabu meat roll platters. With newly renovated interiors, this face lift has brought in some new excitement to dining in these whimsical wallpapered interiors.
Bugis BBQ & Hotpot buffet has both grill and hotpot options to cook the seafood and meats. They have a large variety of meats such as pork, chicken, beef and mutton. The chicken wings are marinated in a sweet Korean sauce, spicy sweet Thai marinated pork belly, garlic black pepper beef, mala chicken and savoury Korean marinated pork and many more. Enjoy the best of both worlds with various types of marinated meats, shabu shabu meats and seafood. For Bugis BBQ & Hotpot reservation, please call 83999127.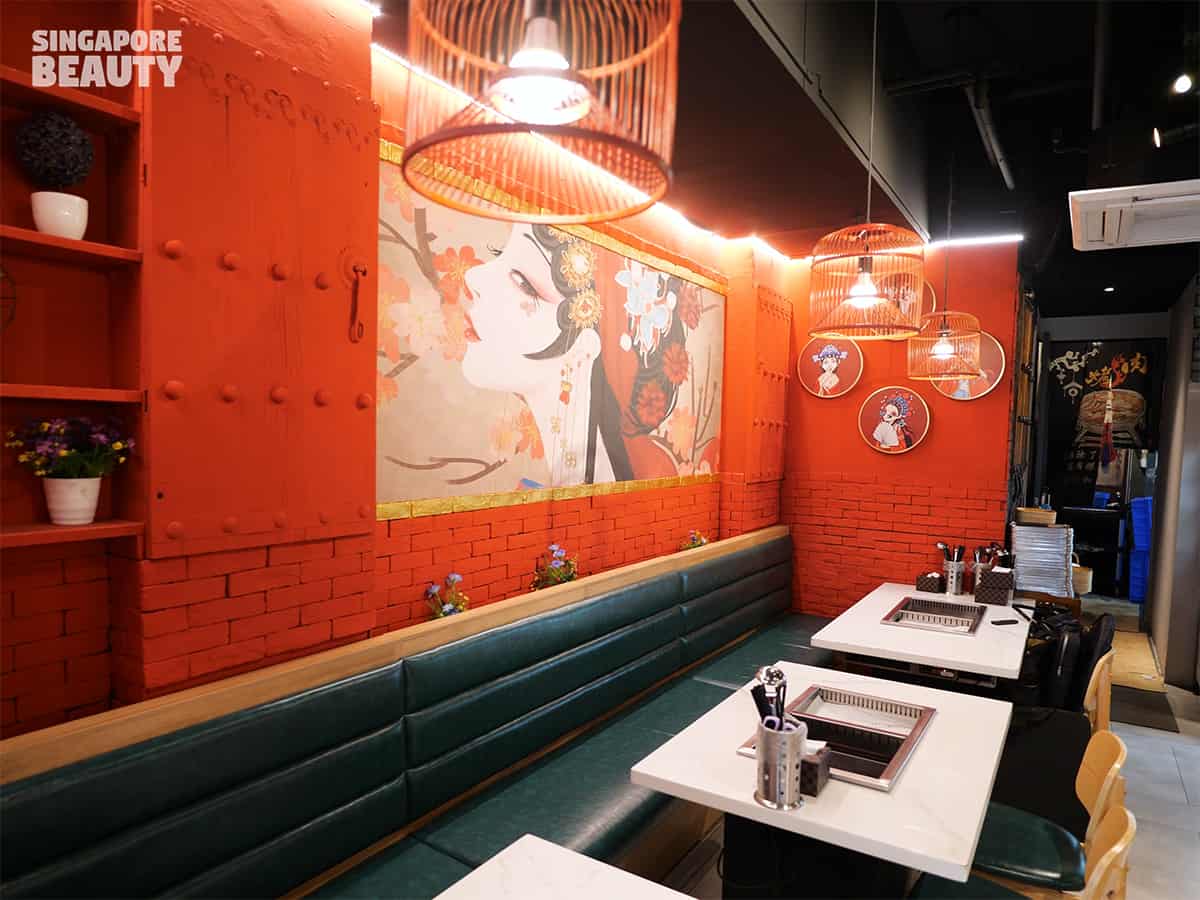 Bugis BBQ & Hotpot buffet with her newly renovated oriental anime interior. The interior of the restaurant has undergone a major face lift with ancient beauty rendered in an anime fashion and red brick walls as backing. The lights are dimmed and softer for a more cosy and relaxed dining experience. The shadow play casted from the lamp shades adds a mysterious dimension to the interiors. With a pocket friendly price, this newly renovated place remains a favourite among shoppers along Bugis stretch.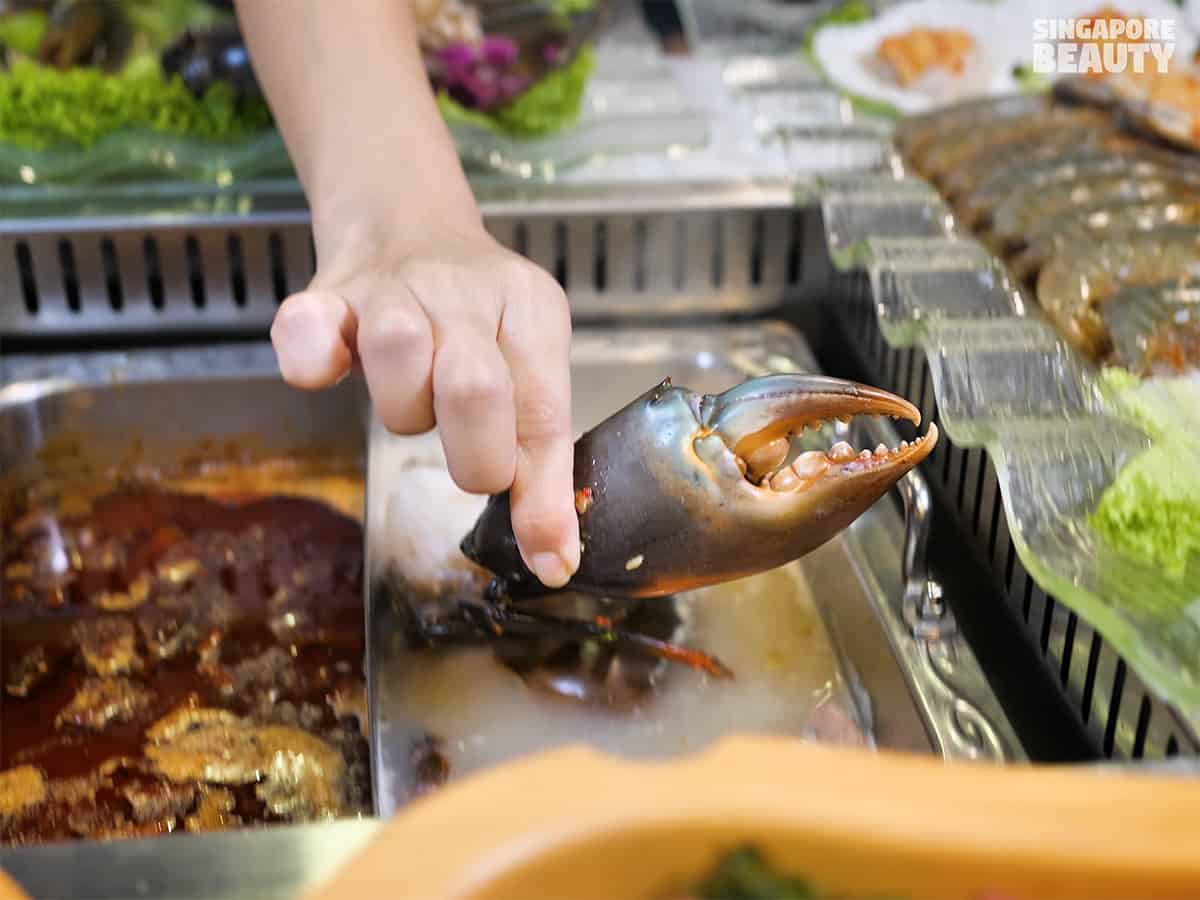 Enjoy unlimited crabs buffet at Bugis BBQ & Hotpot. The previous crab buffet they had more than a year ago received positive review, so here they go again for the crab buffet this year. Add on $4 per pax for unlimited all you can eat crabs. You can either barbecue the crab claws or hotpot them in a soup of your choice. The condiments for barbecue includes cumin spices, chilli powder, Korean spicy sauce, chilli sauce or just salt grill them. They have 7 types of soup base such as big bone soup, tom yum , tomato, chicken, sour and spicy soup, mala soup, sour pickled fish soup, mushroom soup and more.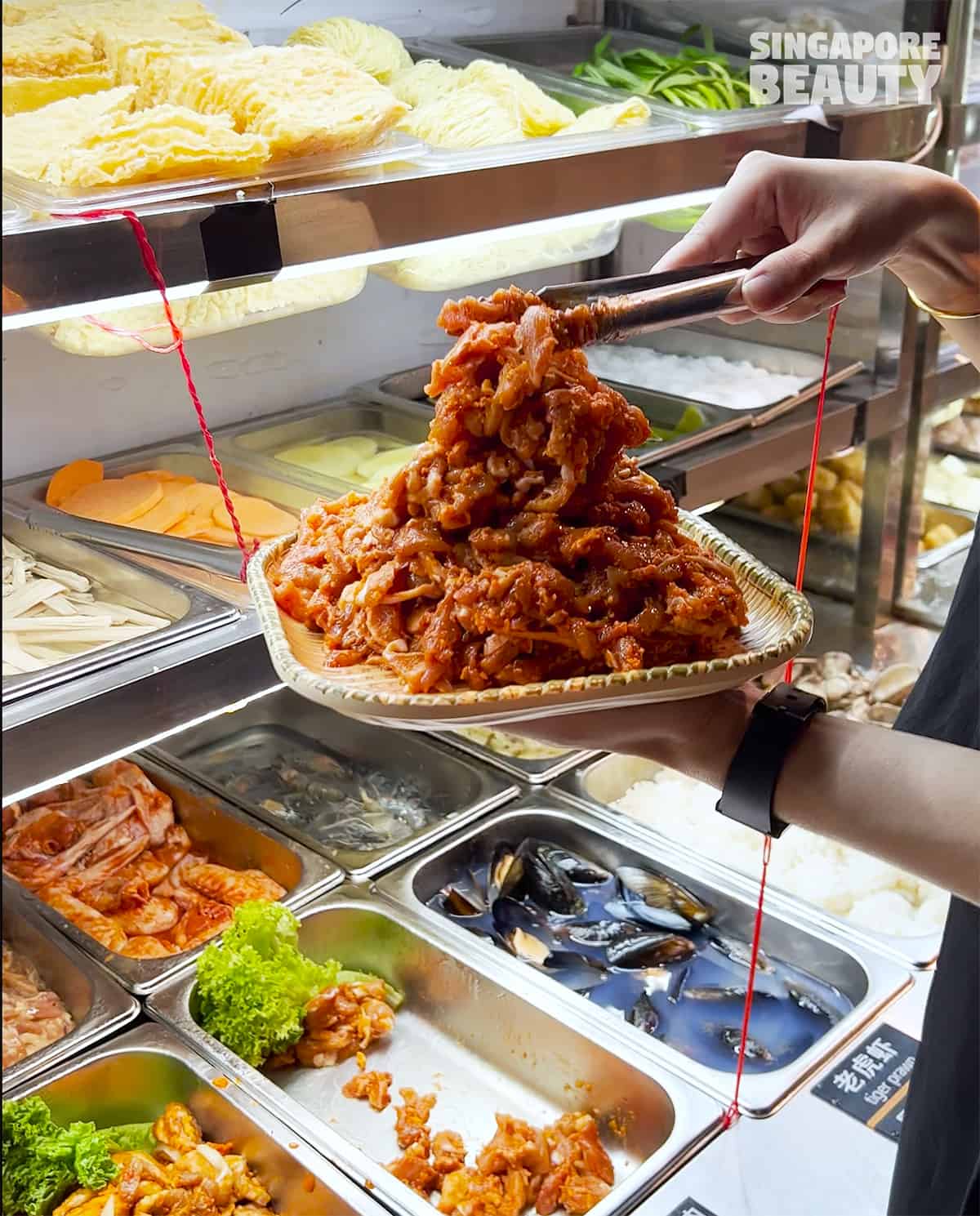 Self served buffet is finally back after a two years hiatus. This is what most buffet lovers look forward to – the joy of choosing your own food, parts of foods and portions. You can create your own meat mountains and pump up on your protein intake. Do not forget to get some greens too to add some crunch to the meats and seafood. This also helps to minimise wastage as you only take what you can finish.
For seafood lovers on a budget, this is seafood paradise for you. Eat all you can seafood at Bugis BBQ & Hotpot buffet without burning a hole in your pocket. They have a good variety of seafood such as prawns, mussels, scallops, clams, and squid and dory fish. Those who loves crabs, could have free flow crabs for an add-on of $4 per pax. Think bubbling cheesed scallops, chilli crabs and salt grilled prawns at a buffet, these are the best bang for your bucks.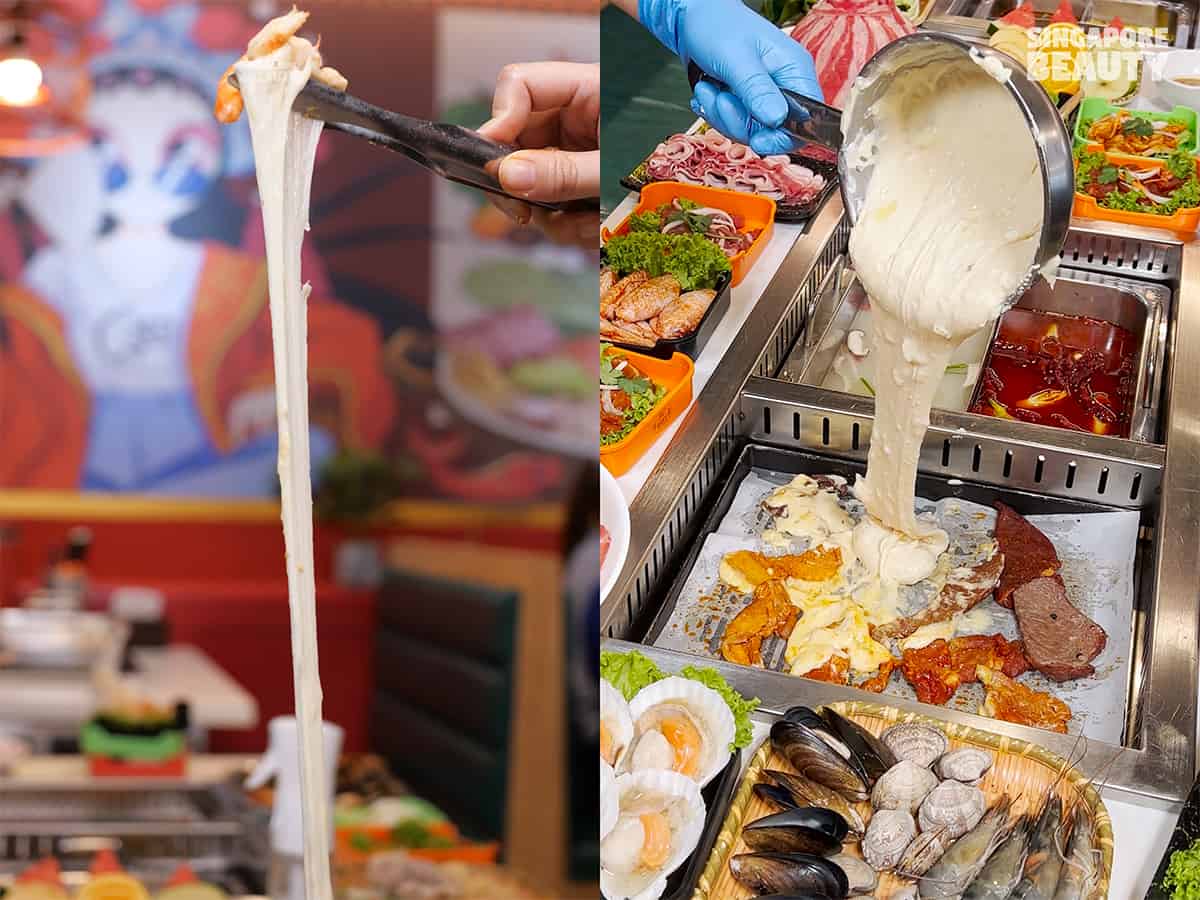 Add on $2 for a cheese tray and $5 for a pot of waterfall cheese fondue (cheese are not free-flow). Say cheese to greater heights where these cheese pull can stretch to 1 metre. Wrap your meats and seafood in them for delicate, rich and savoury bite with a salty undertone. Get your camera ready for a waterfall cheese fondue on your bbq grill plate, grill them for a crusty cheese skirt to go with your meats. Limited cheese waterfall fondue daily, reservations for it is encouraged.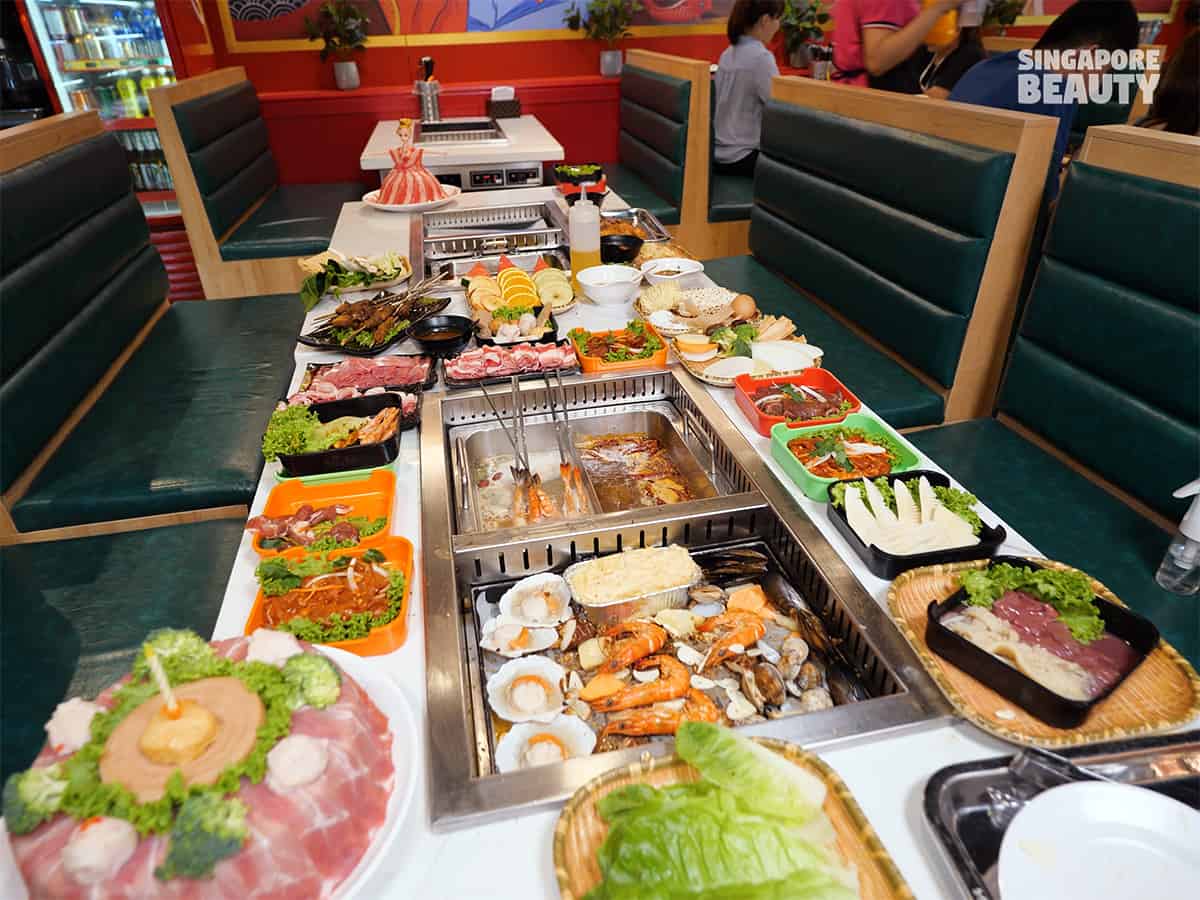 With so many variety of food selection at Bugis BBQ & hotpot buffet, you will be spoilt for choice. They also have some rare food selections like pork liver, beef tripes, bamboo shoots, fresh whole fruits, butterhead lettuce for a vege meat wrap, surimi, carbs and many more.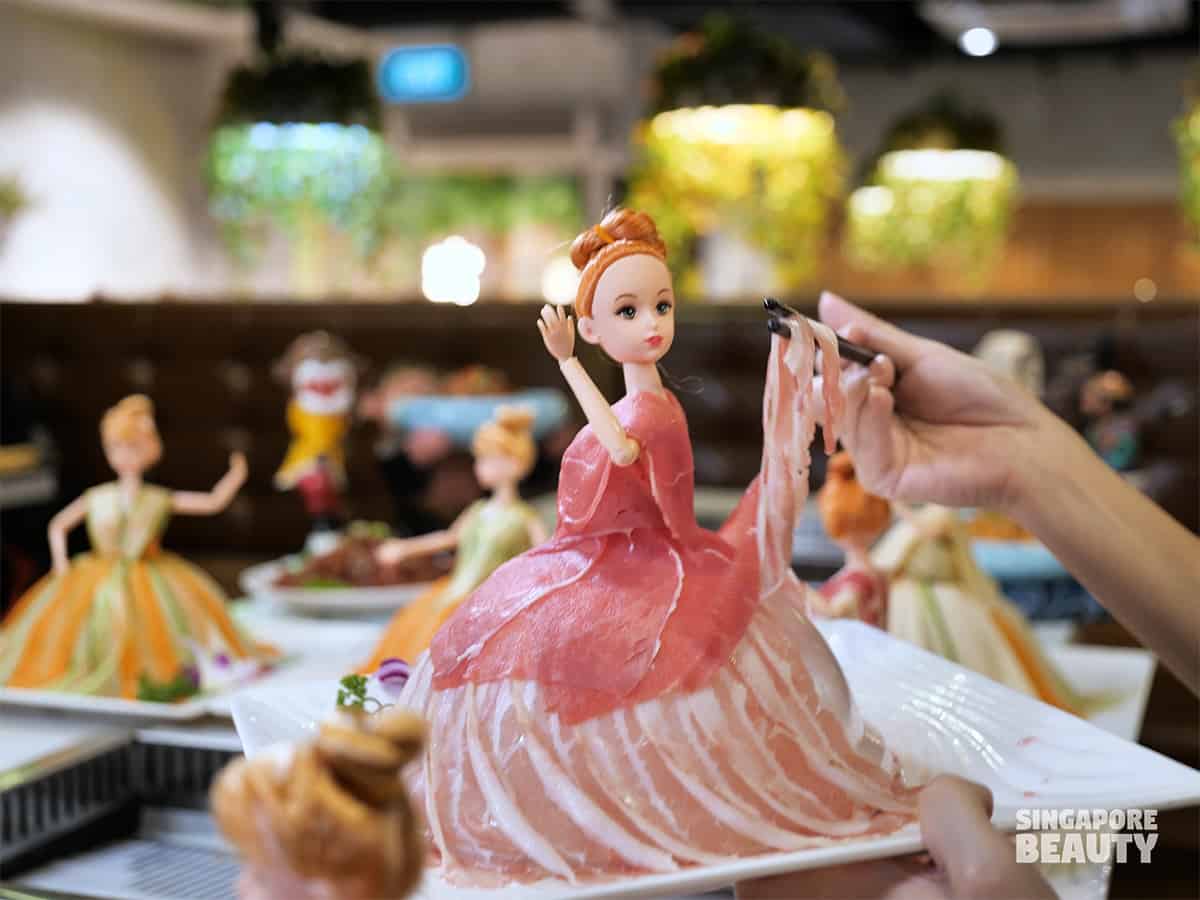 Get a creative meat doll limited to 1 redemption per table. Choice of meat can be either beef, pork collar, pork belly or their vege doll with carrots and cucumbers. This meat doll makes hotpotting fun for kids where they can play and eat at the same time.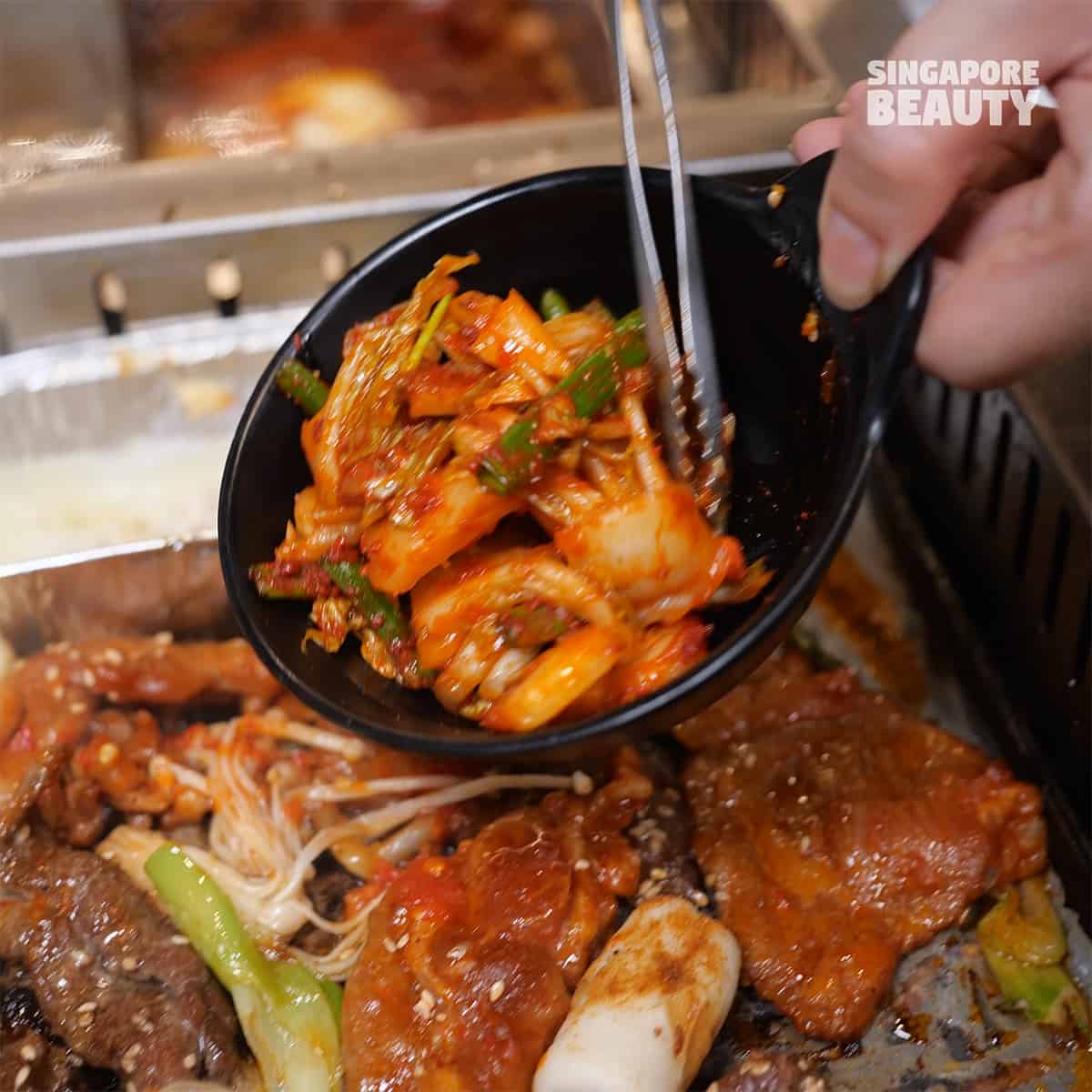 Korean style BBQ is best enjoyed with their homemade kimchi. Grill some of these kimchi to heighten the sourness and tangy tones. These goes well with the smoky barbecued marinated meats to add some sharp tones to the sweet and spicy meats. Now, we can enjoy some Korean style BBQ Buffet at Bugis too.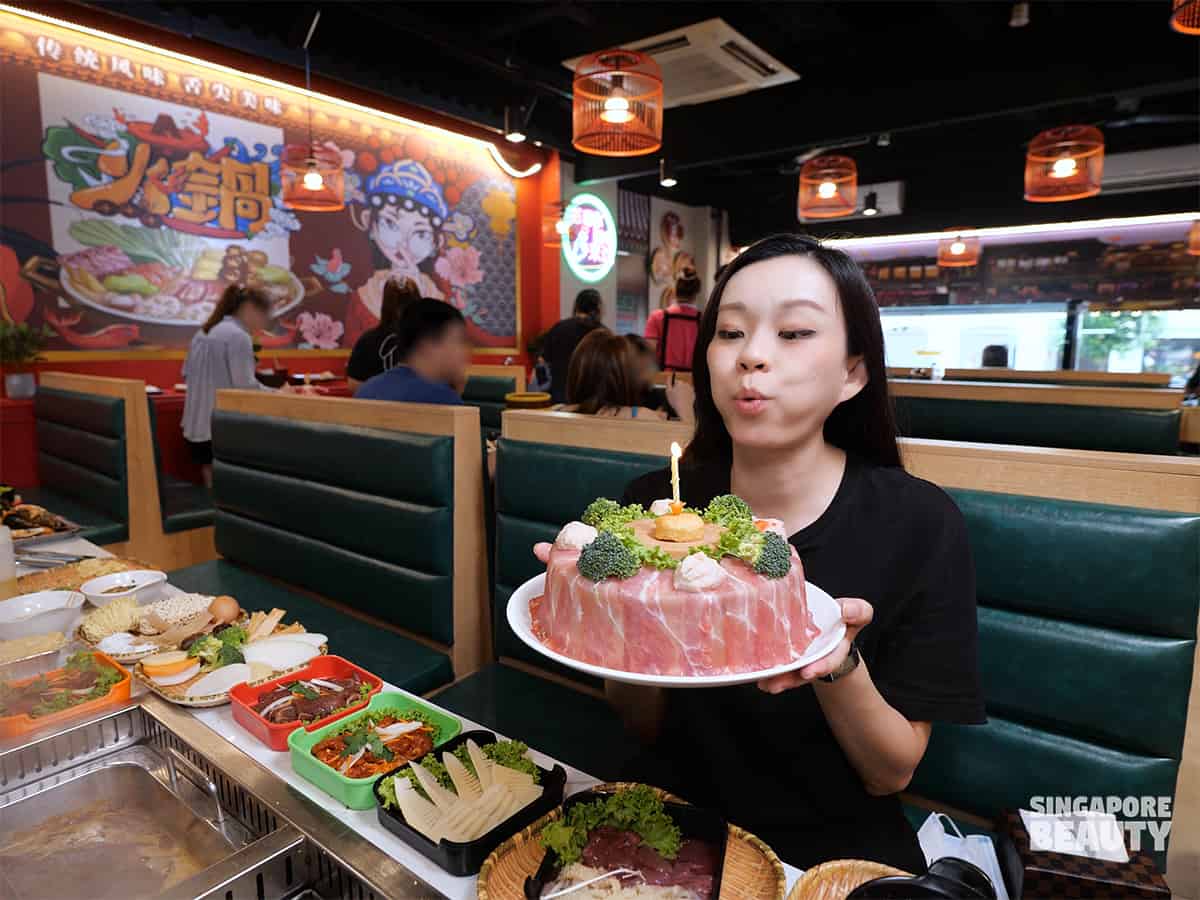 For those who are celebrating birthdays, you will be able to redeem a dine-in only birthday meat cake with reservation for 4 paying adults. The meat cake is handcrafted with shabu shabu meats with choice of pork or beef. Make your birthday a special one with this cake. You are welcomed to make a wish and blow out some candles too.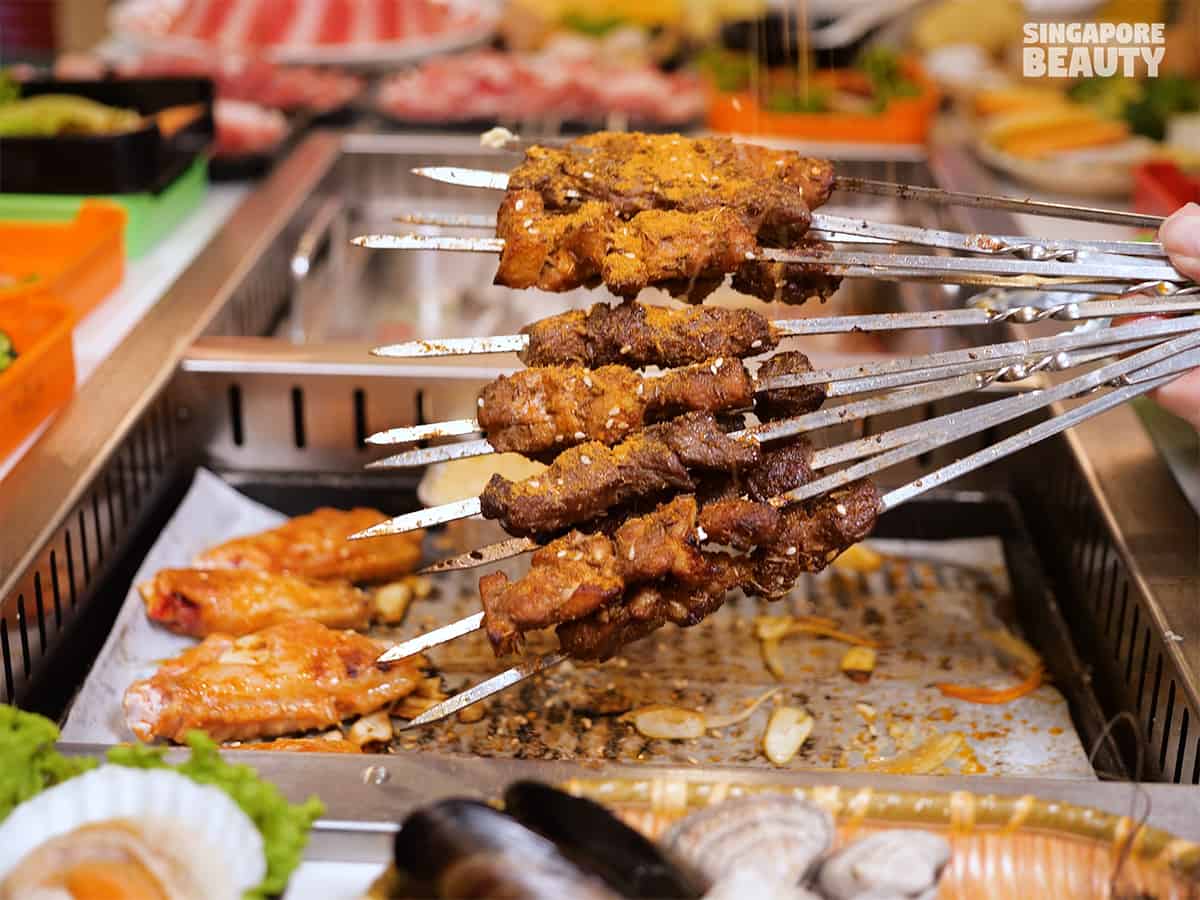 Looking for a place to enjoy bbq skewers at Bugis? You can now order BBQ skewers ala carte also at Bugis BBQ & Hotpot. The variety of skewers includes pork belly, mutton, beef, pork, chicken at only $1 each. Grilled tofu skin is at 80cents each. Some unique bbq skewers to try are the beef tendons, pineapple beef, pig trotters, pork intestines, oysters and so much more. They have grilled seafood, meats and greens on their ala carte bbq skewers menu.
Fresh butterhead lettuce is also provided for you to do a Korean vegetable meat wrap. To enjoy it Korean style, place grilled marinated meats on vege, add whole garlic, leeks, Korean sauce and kimchi. The refreshing cool crunch with the hot meat is addictive. The pungent and spicy kick of the garlic also give a kick to this vege wrap.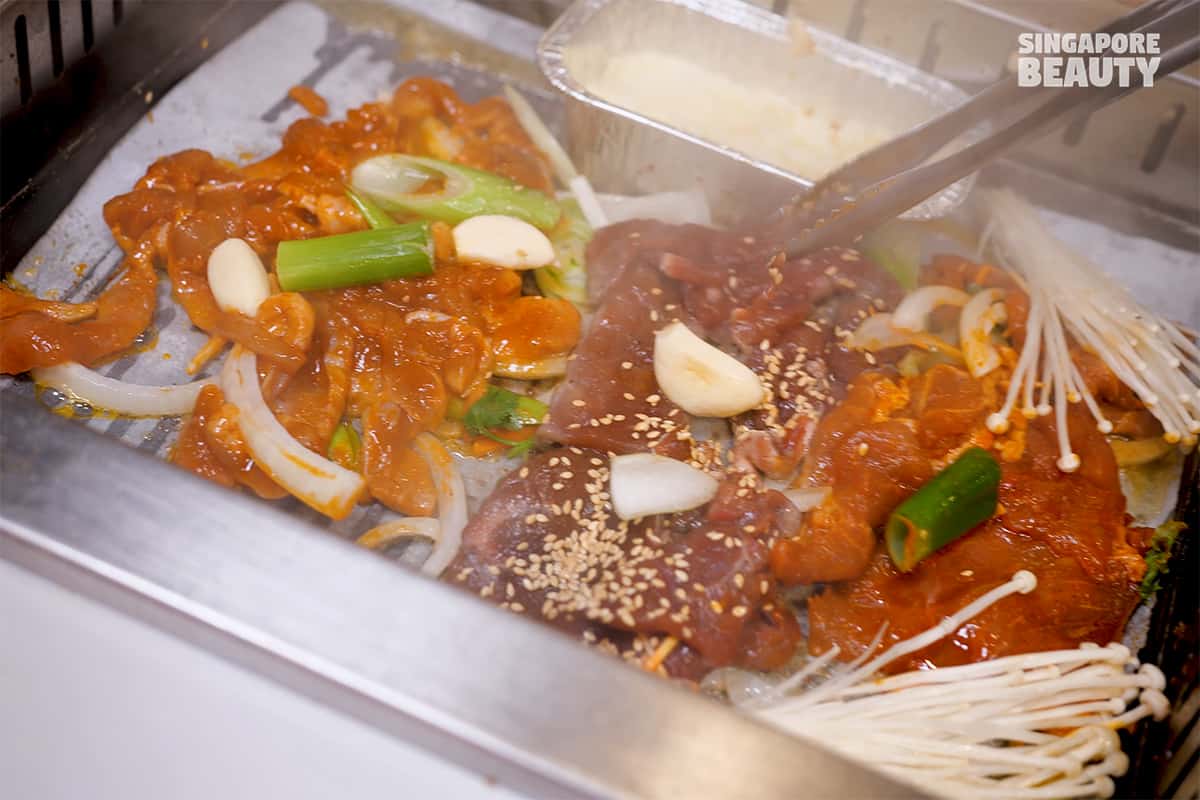 There are many type of marinated meats in Korean, Thai and Chinese Style. There are Thai black pepper beef, garlic pork belly, Korean style beef, sweet & spicy pork belly, Teriyaki pork, Korean wings, Thai garlic chicken and more. Ask for some fresh leeks, sweet onions, sesame and garlic for extra kick to the marinated meats.
Meat lover paradise is here! They have all kinds of shabu shabu meats such as fine beef, sliced lamb, pork belly and more. These are part of the buffet and sliced fresh upon each request. These are part of the buffet (not displayed on the food station) and you need to order from the service crews. For a full menu of the shabu shabu meats items available, please check with the crew.
Discover this newly renovated gem at Bugis cube. Bugis BBQ & Hotpot is the place to reignite your love for seafood, meat buffet in Korean, Thai, Chinese style. They also have many unique food choices like bamboo shoots, beef tripes, carbs, beautiful greens, birthday meat cake, many types of condiments for grilling and hotpotting, fruits, drinks and ice cream for buffet lovers. See you there!
Bugis BBQ & Hotpot 武吉士烤涮
(1) buffet price
Lunch
Adult-$20.80++
kid(1.1m-1.4m)$14.80++
Dinner
Adult-$24.80++
Kid(1.1m-1.4m)$14.80++
(2) free flow crabs add $4/pax
(3) self serve drinks dispenser (orange & grape flavour)$1/pax includes ice cream
(4) add $8 dual soup ,$9/ 4soup bases, 7 types to choose from.
(5) cheese bed small $2/tray, cheese waterfall $5/pot
(6) dine in time 90min
(7) Complimentary meat birthday cake with reservations for 4 pax & above on day of birthday. choice of beef or pork.
(8) ala carte bbq skewers available too from $1
Bugis BBQ & Hotpot 武吉士烤涮 address:
Bugis Cube, 470 North Bridge Road,#01-01,S188735
For reservations, pls call:
63383405/ 83999127
Brought to you by
Bugis BBQ & Hotpot