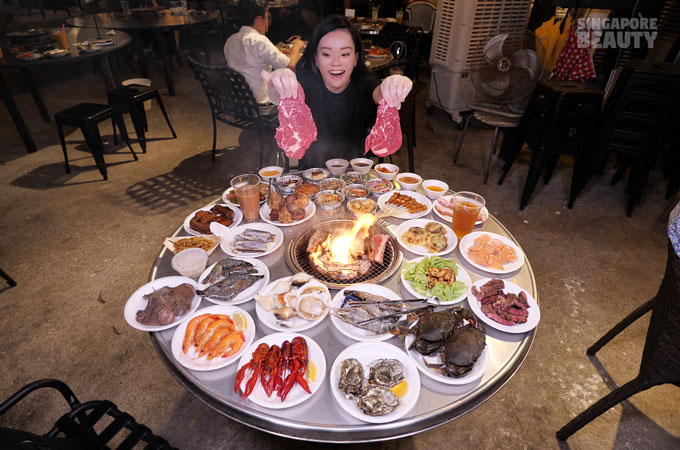 The Three Peacocks seafood & meat Barbecue Buffet with International spread has added a new beef steak and a taster menu of salad, carbs and meats.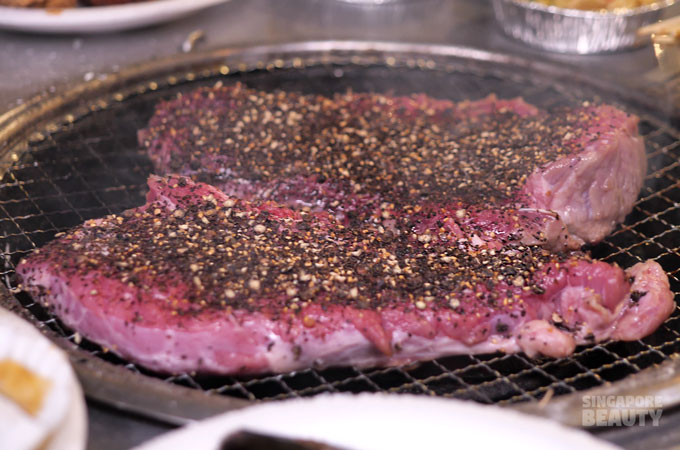 They have added a cook for you Brazilian beef steak at the butler station.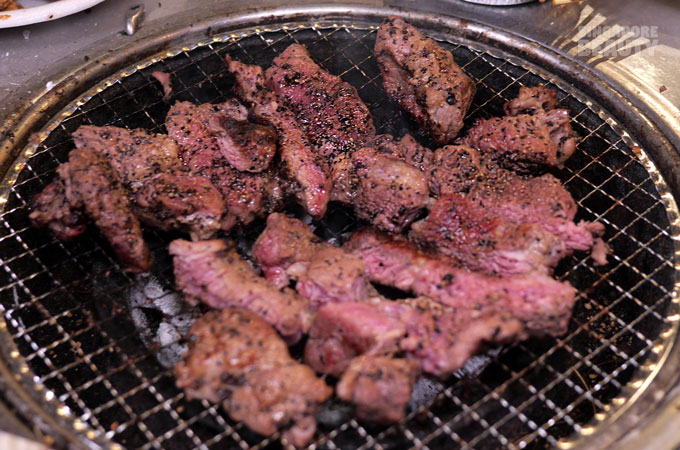 Char-grilled on white hot charcoal coated with ground black peppercorn crust and a pinch of salt.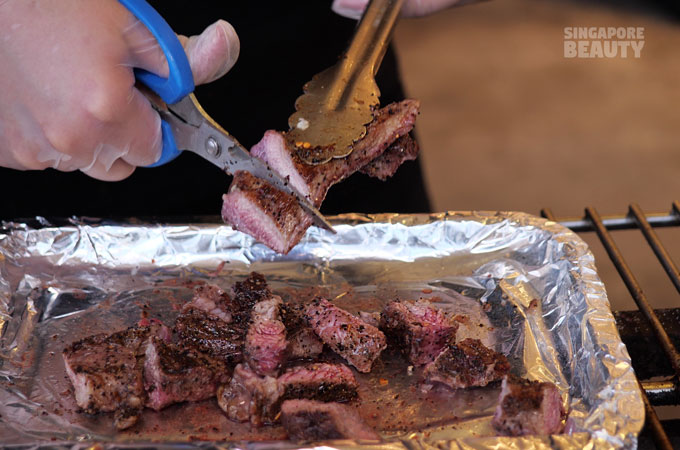 Smoky exterior with tender juicy core, scissor-cut to bite size.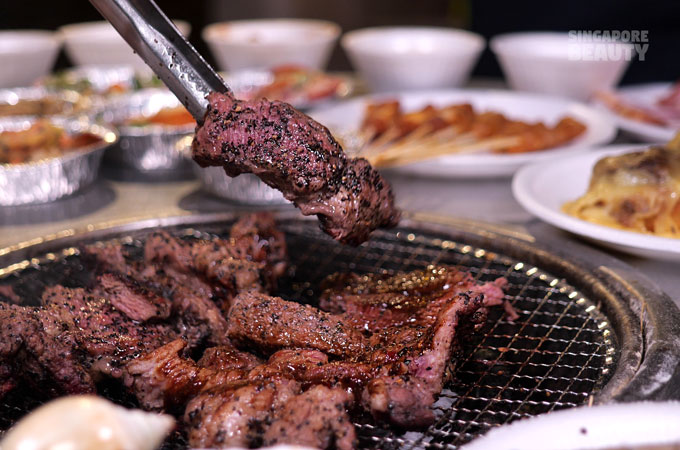 These steaks have a good mix of lean meat with connective fatty tissues that add some interesting chew to them.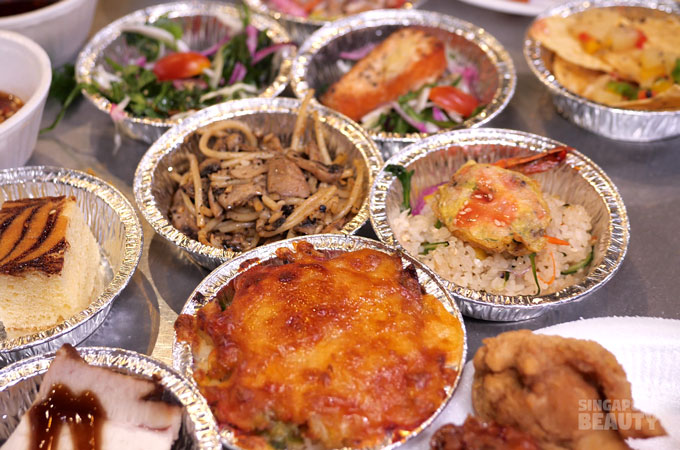 Complete your steak night with the magnitude of sides tasting menu of carbs, salads and sides served at the International buffet spread that is part of The Three Peacock Buffet.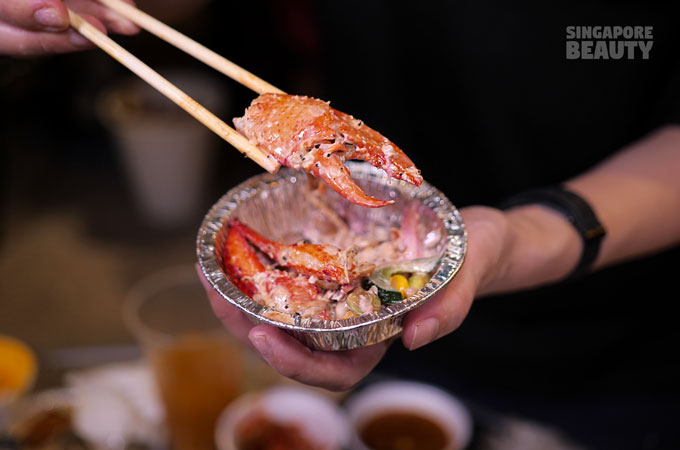 You can find some hidden gems like Boston lobster meat claw salad within their salad selection.
While at The Three Peacocks, you need to check out the Live station manned by a butler who does teppanyaki and Grill-for-you station that dishes out hot piping barbecued and hot plate items.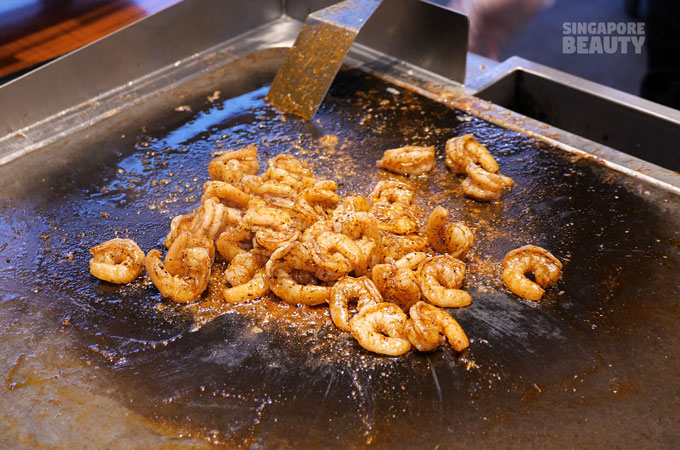 Teppanyaki prawns with cayenne pepper and Cajun sauce, crunchy texture with a slight kick of heat.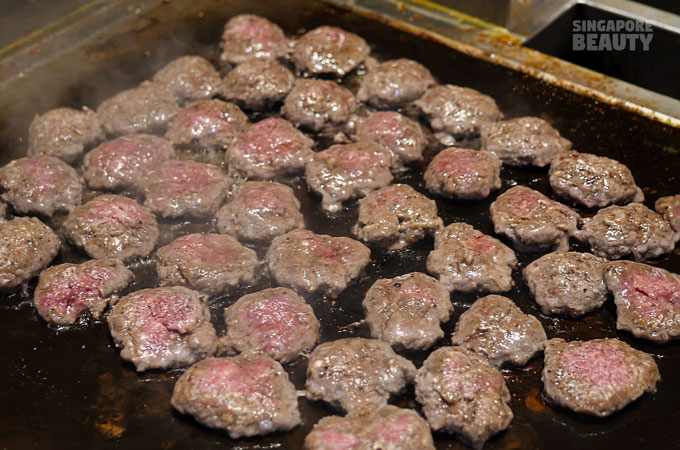 How about some juicy mini ground wagyu beef burgers patties sizzling away on a teppanyaki griddle hot plate?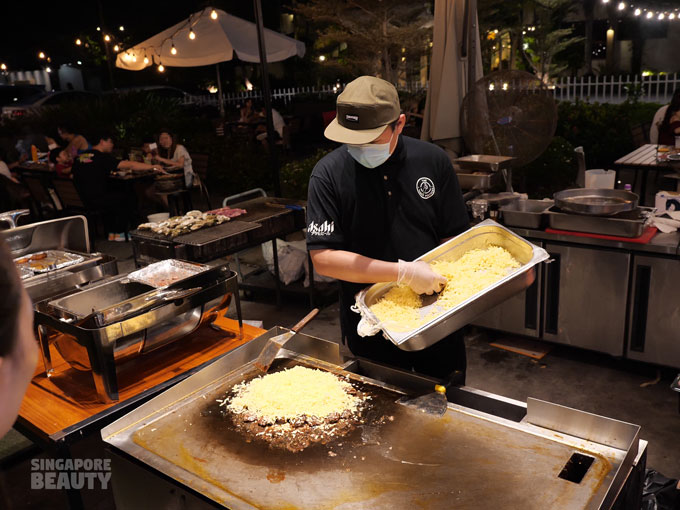 These wagyu beef patties are topped with a luxurious thick blanket of shredded Mozzarella cheese.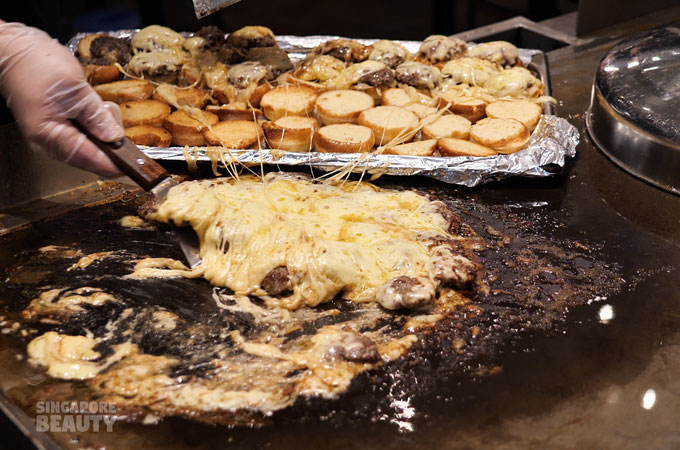 The rich and melty cheese topped Wagyu patty is then laid atop butter toasted mini burger buns.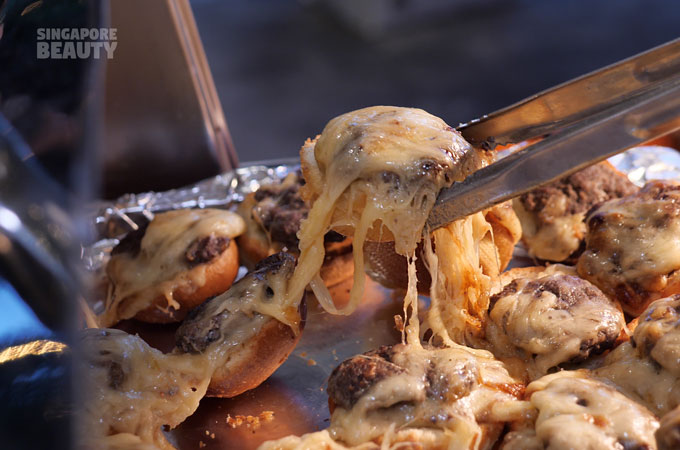 Check out the extremely stringy cheese pull that screams tasty.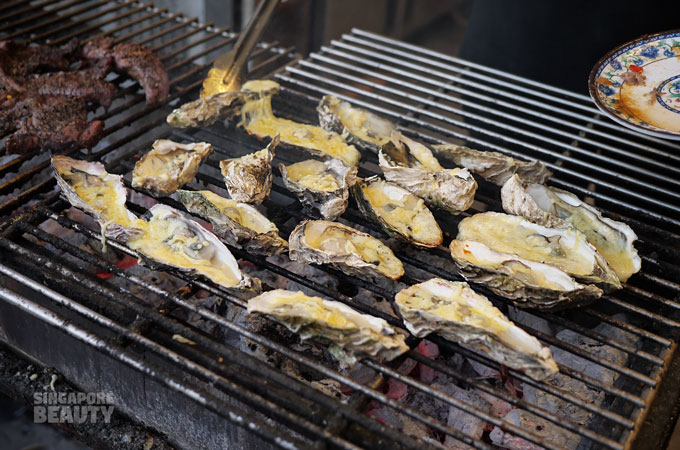 At the Grill-for-you station, they serve cheese topped large oysters, local delights otah, chargrilled Brazilian beef steak with pepper and spices.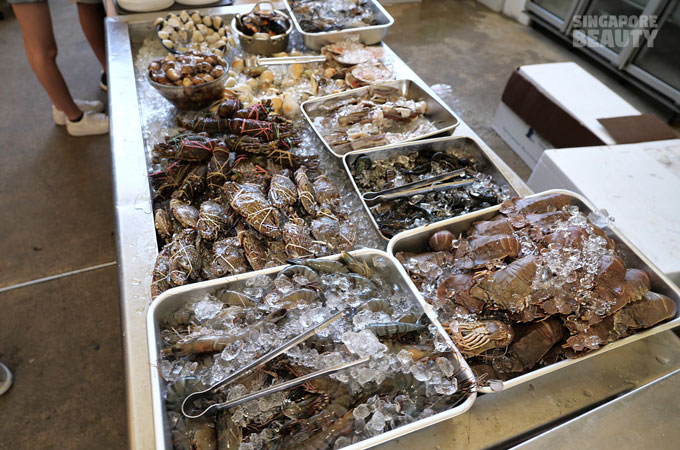 The iced seabed of seafood is one of the highlights of The Three Peacocks experience.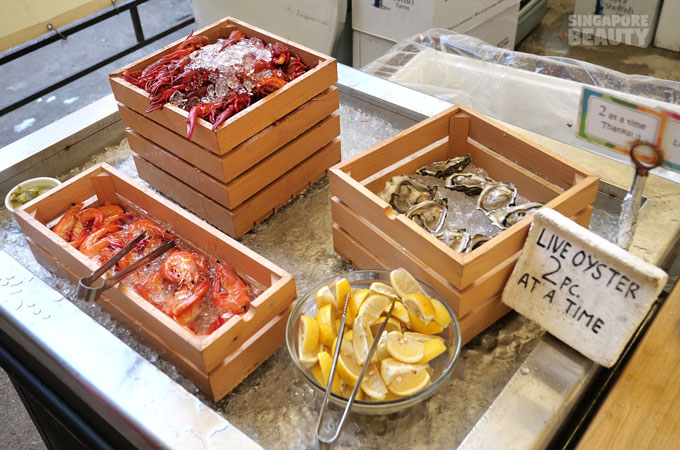 Alongside the seabed are ready to eat live oysters, vannamei prawns and crawfish, to be enjoyed with some fresh blast of lemon juice and wasabi over them.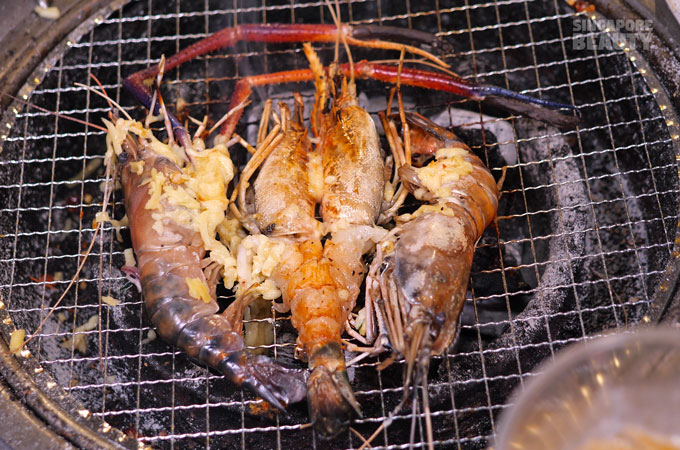 Enjoy some grilled Thai river prawns with shredded mozzarella cheese with the creamy head butter.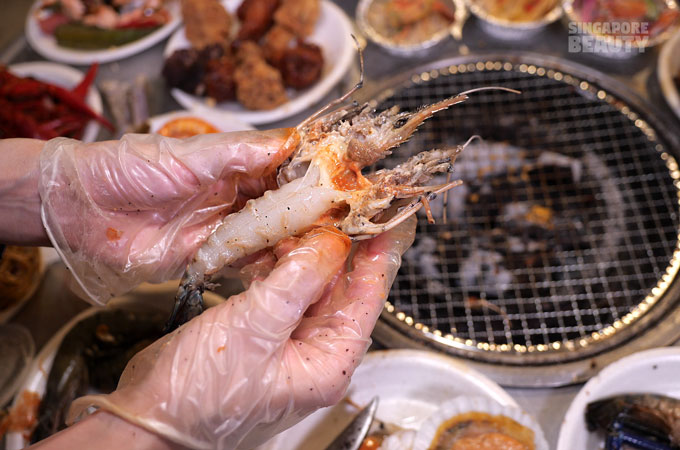 Check out these rich creamy head butter from the Thai river prawns.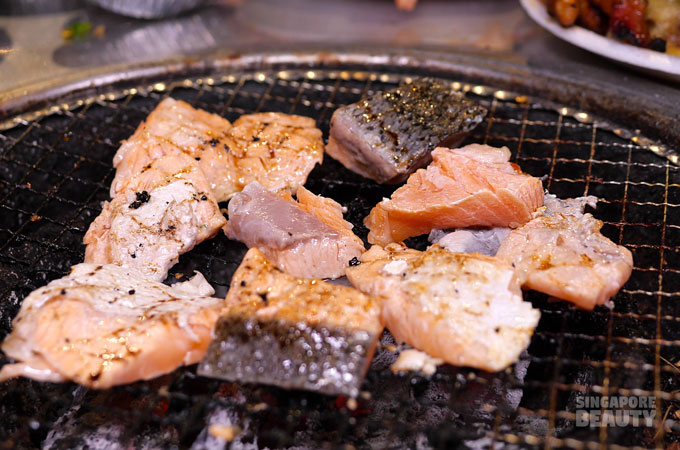 Grill some fatty salmon with salt and pepper for some melt in your mouth buttery chunks.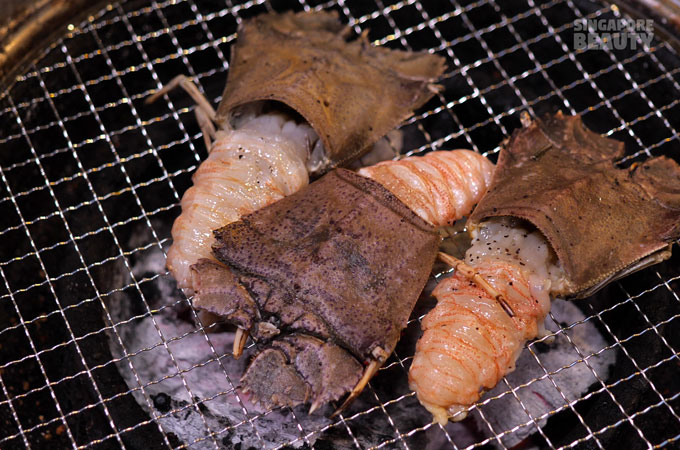 Deshell some slipper lobsters and grill these moist succulent meat, watch them curl and they will be ready to eat soon.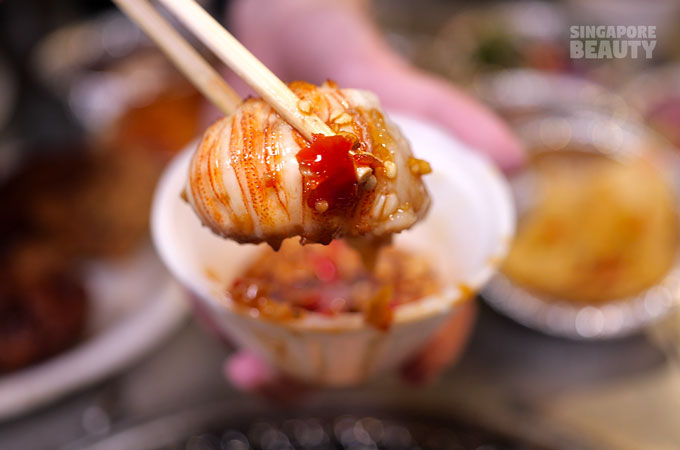 Get a saline base dipping sauce to bring out the natural sweet taste of the morsel of meat.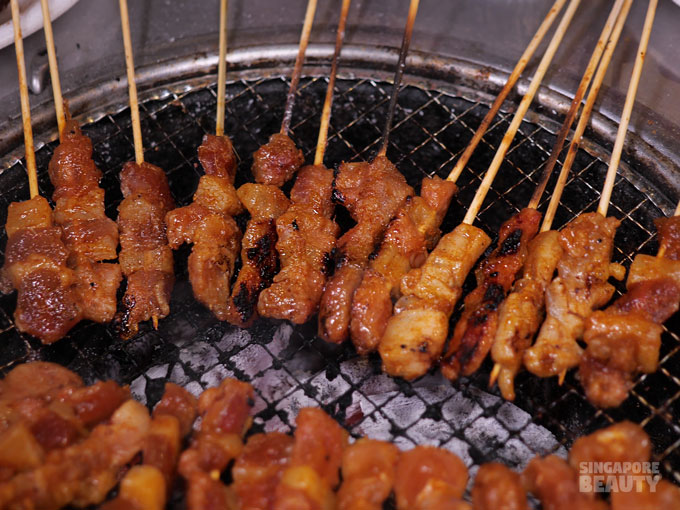 Enjoy some satay (morsel of tender marinated meats on sticks with cubes of fats) with crunchy bites of browned cubed fats and flavourful tender lean meat.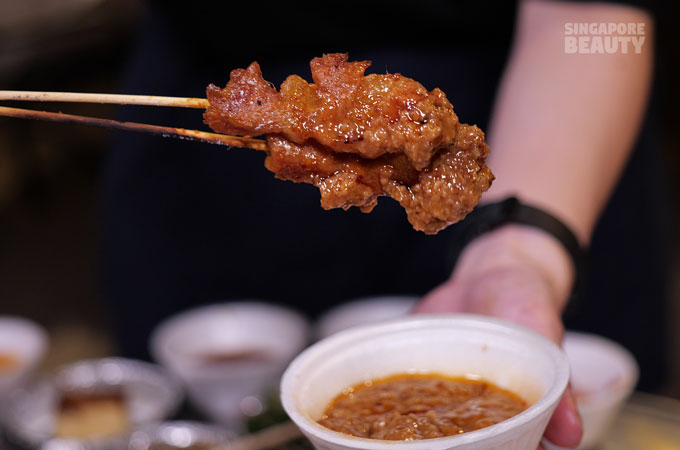 Pair these satay with the thick chunky peanut sauce at the condiment counter.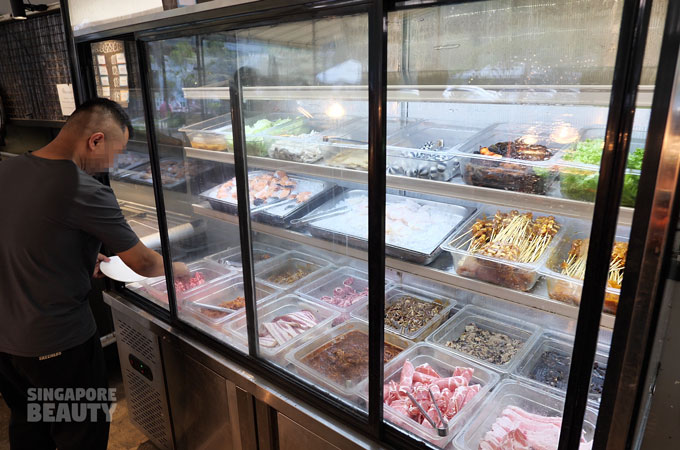 Get loads of marinated, shabu shabu meats, green & surimi from their new full height chiller display.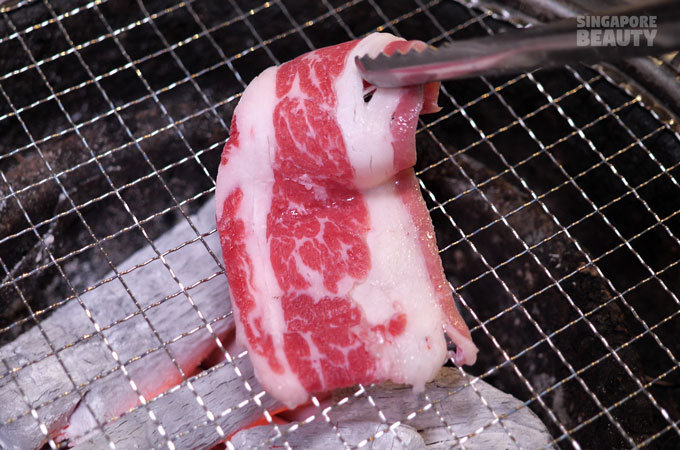 Get some of the freshly cut shabu shabu meats on the grills too.
Thin slices of meat sizzling in its own fat with a smoky flavour and crispy browned edges.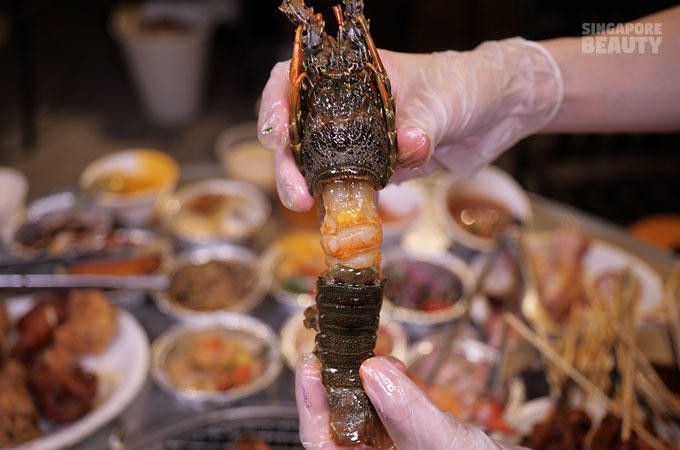 The highlight of the seafood has to be the baby lobsters.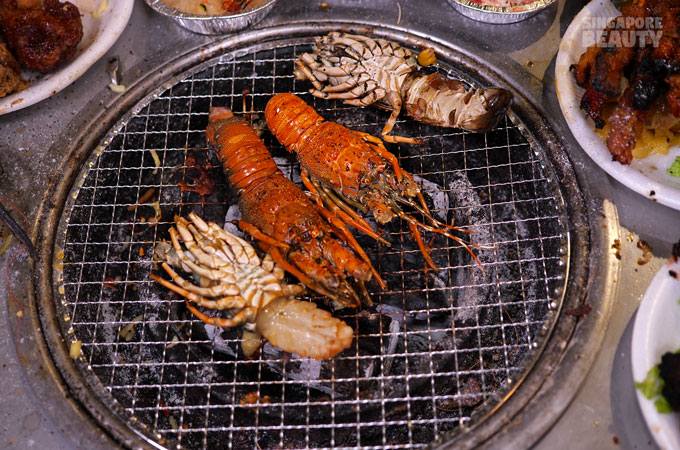 Free flow baby lobster, grill them whole or deshelled.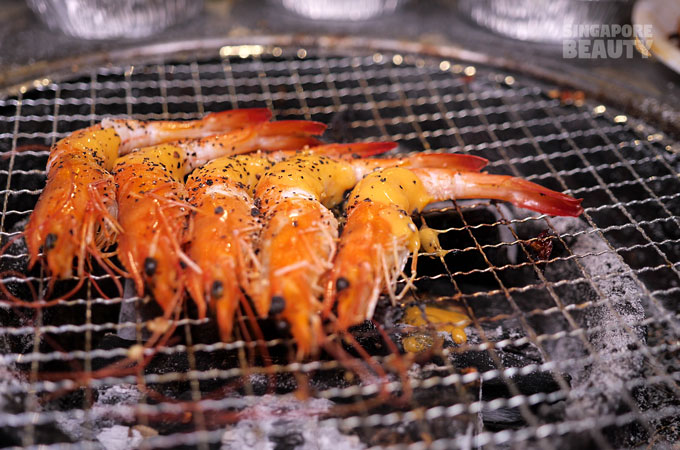 Enjoy these live tiger prawns on a grill, extremely crunchy and fresh.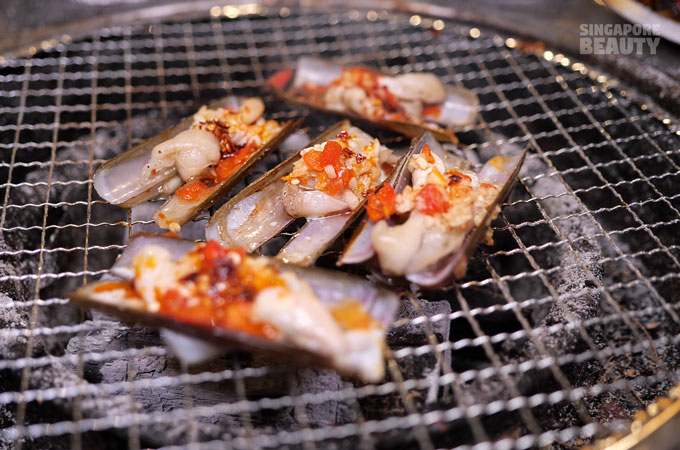 Bamboo clams sizzling in their own briny juice topped with garlic chilli for extra kick.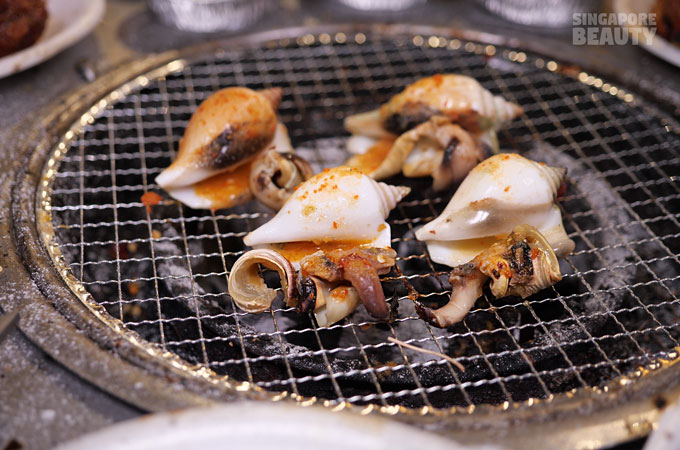 Grilling these gong gong with their chewy tender meats.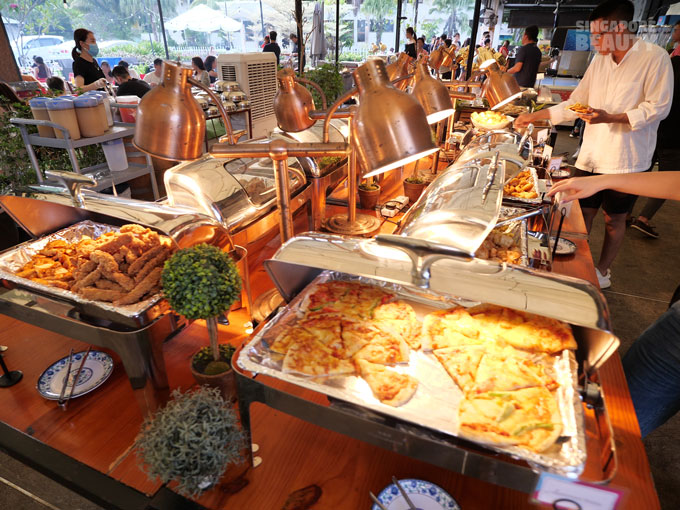 These are the hot station selection that is on a rational basis with International menu.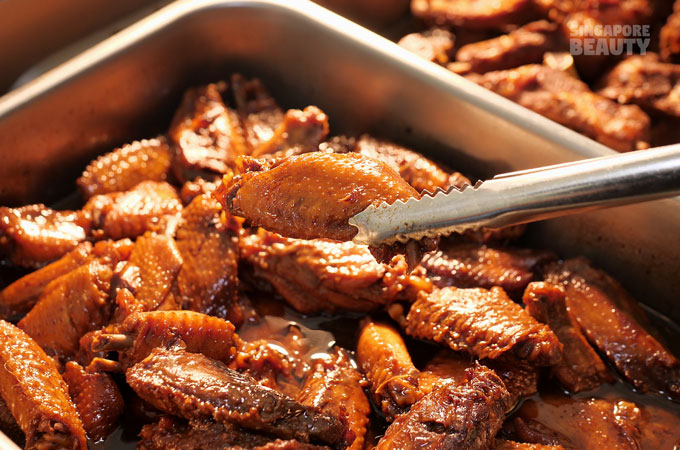 There is a mix of south east asia food and western food at the international buffet hot station, such as beef curry, Lechon, spaghetti, finger food, pizza, five spices braised wings and pork ribs, roasted pork belly and sushi, Japanese fried noodles, mantou with chilli crab sauce and many more.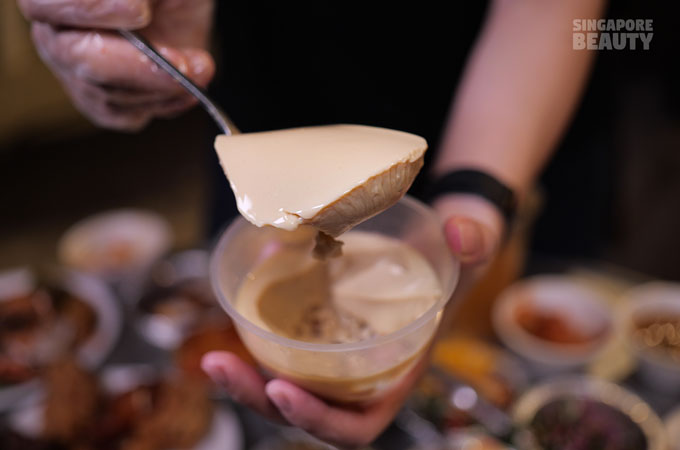 They have caramel egg pudding, marbled cake, ice cream, popsticks and freshly cut tropical fruits as dessert.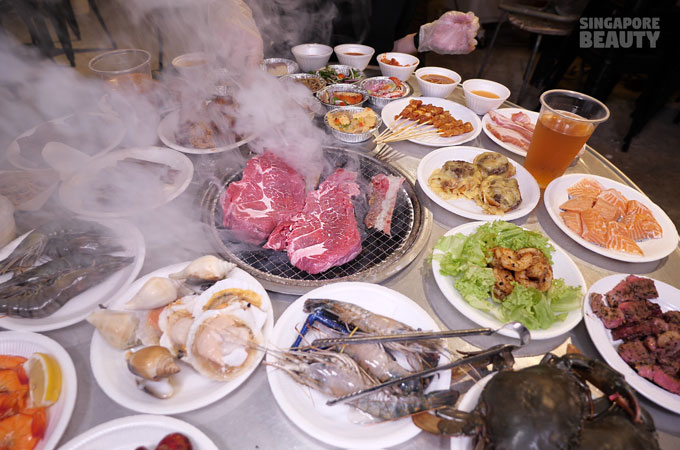 Enjoy a meat feast here, sizzling meats and steaks.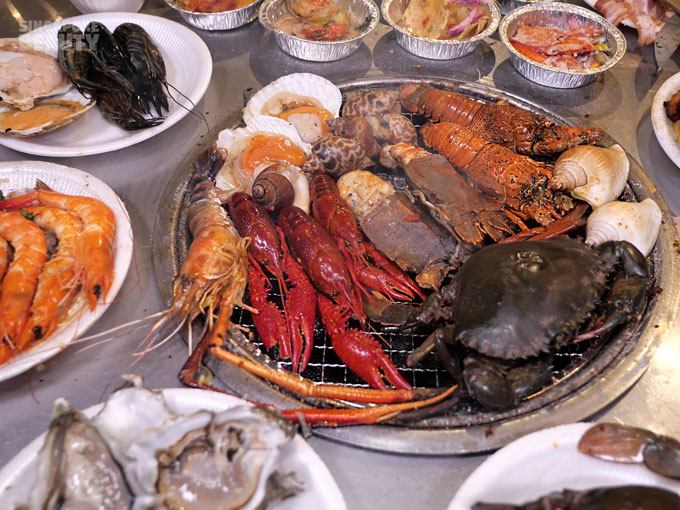 For seafood lovers, get a magnitude of ocean gems that includes crawfish, slipper lobsters, baby lobsters, vannamei, gong gong, scallops, mussels, bamboo clams, Thai river prawns, sea conch, live tiger prawns, live mud crabs and live oysters.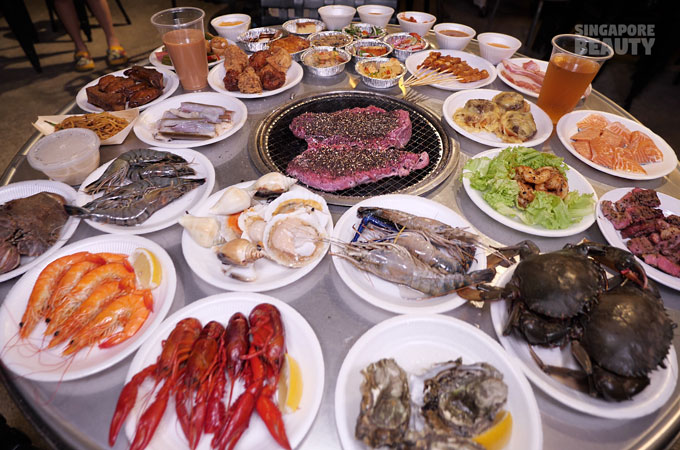 Head over to The Three Peacocks today.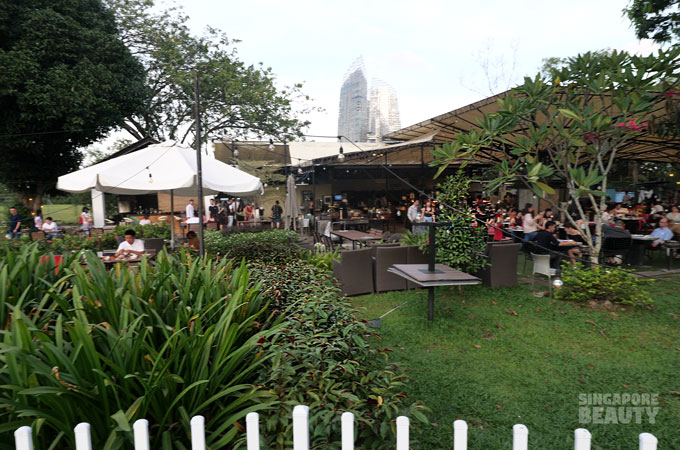 Enjoy an epic feast of meats and seafood in this lush al fresco oasis!
The Three Peacocks Buffet
Mon – Sun (including PH and Eve)
Usual Price 41+
New Promo till 31March:
Mon-Thurs 15% off = 34.85+
Fri-Sun 10% off! = 36.90+
Senior (60 and above) 31+
Kids (7-12 years old) 20.50+
Kids (6 and below) FOC
Free-flow Drinks add $4+
Price in SGD per pax.
+ indicates 10% service charge.
No time limit for buffet.
Buffet operating hours
Open daily: 5pm – 1am
Last walk-in: 10pm
Location
The Three Peacocks
8 Port Rd, Singapore 117540
(Close proximity to Labrador Nature Reserve)
If you are driving, parking is free with lots of space.
Shuttle bus every 15 mins from Labrador MRT station (CC27) from 530pm to 1030pm.
Reservations
Call them at 62510213
Brought to you by The Three Peacocks