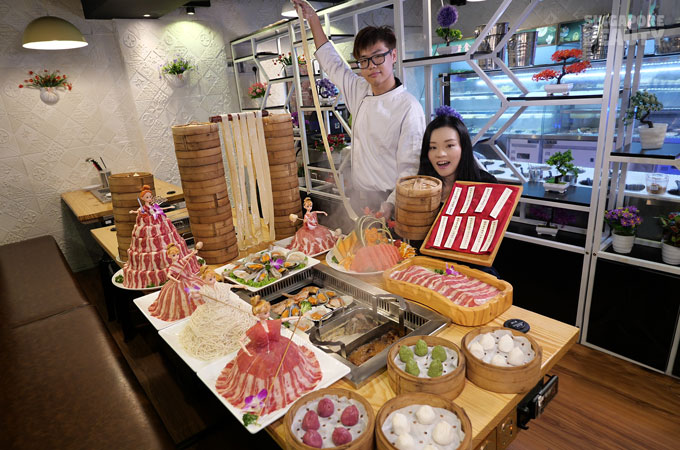 Hot Pot & BBQ Buffet (火锅烤肉自助餐)has added a new handmade noodle into their menu with unlimited xiao long bao or Chinese steamed buns, in additional to the doll themed buffet and a whole new selection of seafood on ice for the dinner menu.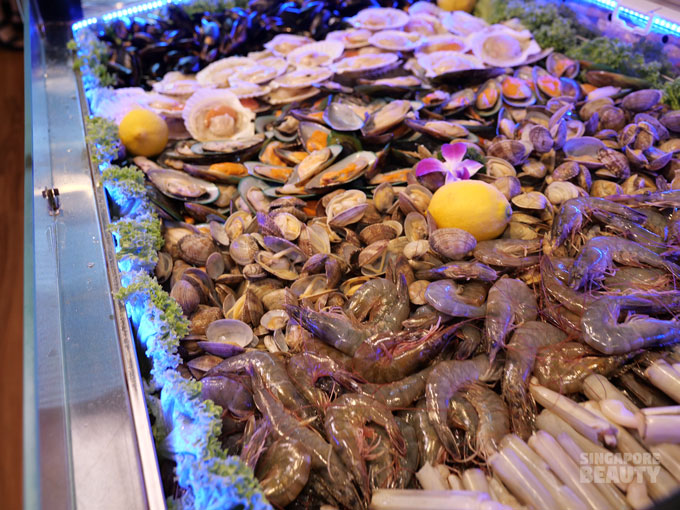 Seafood is displayed on icebed for the dinner menu. They have prawns, scallops, mussels, bamboo clams and lala to choose from. These are great for barbecue on the grills.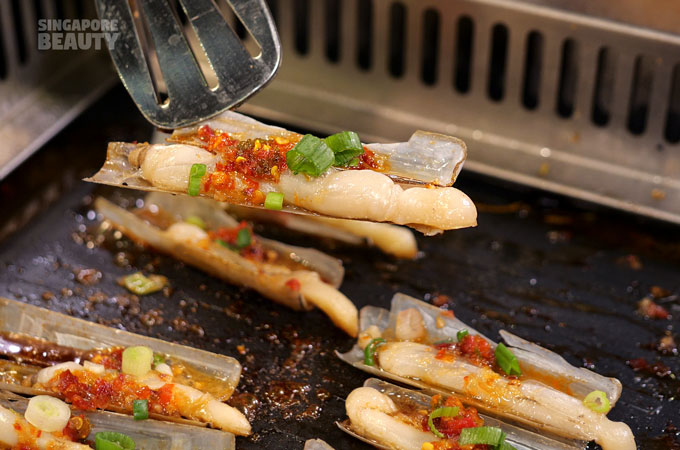 Enjoy some sizzling tender bamboo clams on the grills, top these with condiments from the counter for extra dimension to these gems.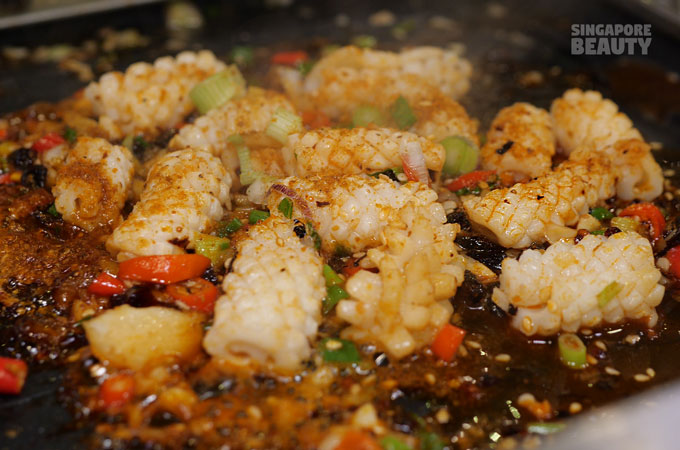 Grill some squid rings with some a dash of chilli pepper, sambal sauce and a spray of citrus.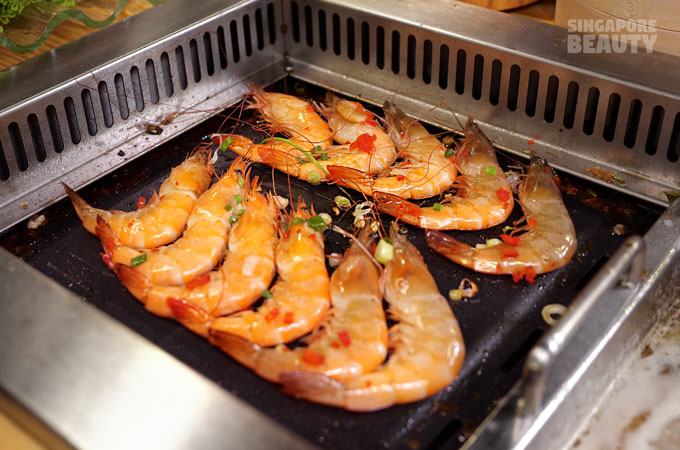 Grilled prawns are flavourful with natural sweet undertones, dip these in chilli garlic soya sauce to best enjoy these sweet crustaceans.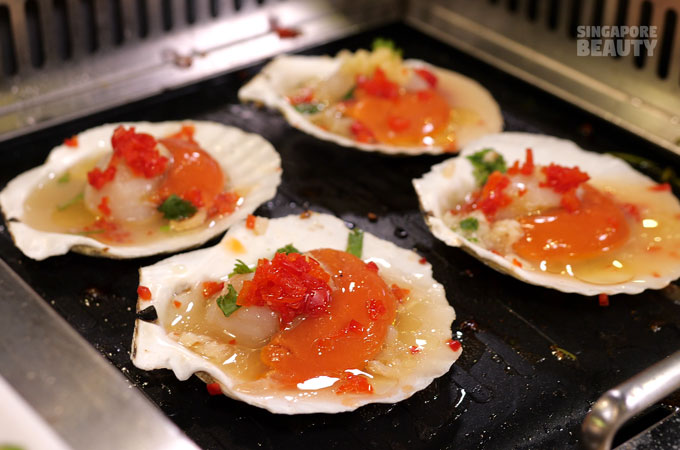 These half shell scallops are good size and great for grills too, must try from the iced seafood bed.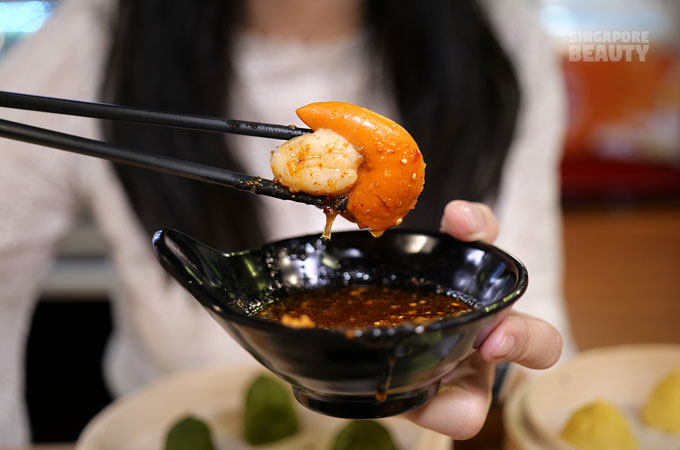 Dip these creamy custardy scallops with stringy texture into the gooey sweet and tangy Thai chilli sauce.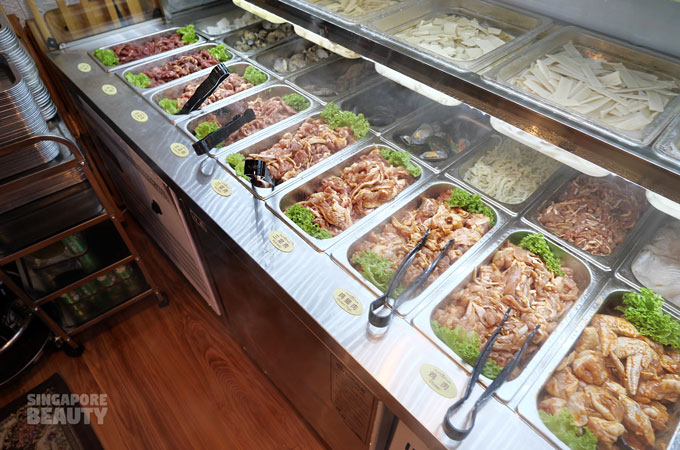 For meat lovers, there are over 15 types of marinated and shabu shabu meat to choose from at the full height display chiller.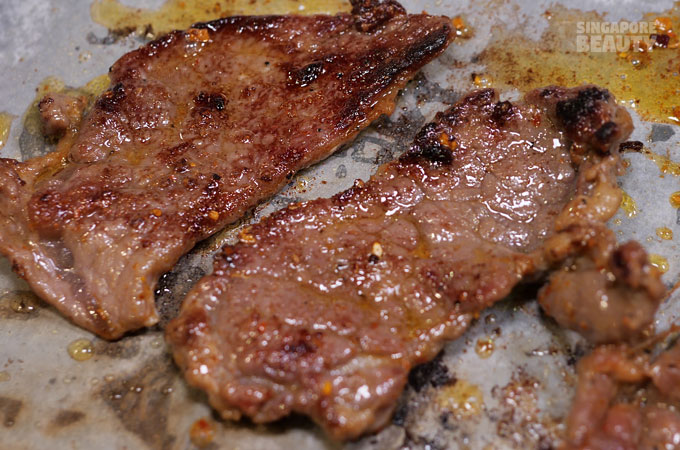 Check out this cut of marinated beef that oozes savoury juices while on the grill. The grains on the beef is a tell tale sign of how tender this cooked beef is. The beef is well marinated with their in house secret recipe.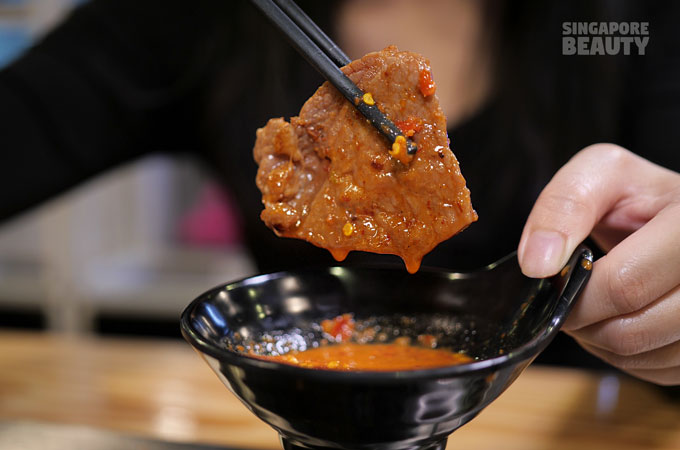 For love of a savoury beef, do DIY some of the in house sauce by following the sauce recipe they have at the condiment counter.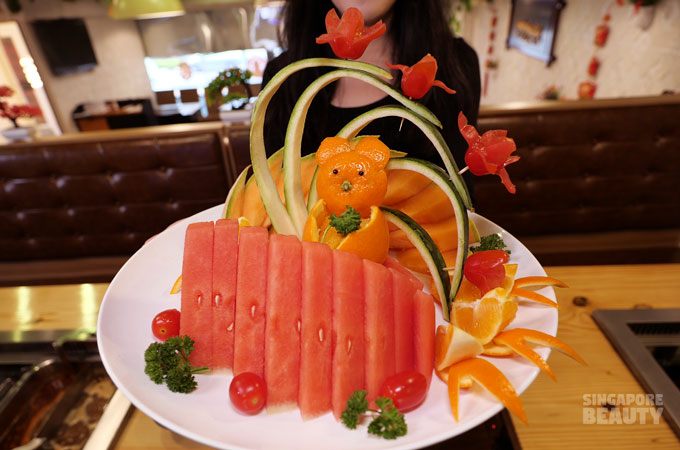 Birthday is a big deal at this restaurant. Expect surprise such as customised fancy animal themed fruit platter, noodle with well wishes to be served with advance notice during your reservation or add ($38) for a 5 tiered meat doll birthday cake. This is a fruity birthday cake carved out of fruits such as melon, rock melon, oranges and cherry tomato, to mimic flowers, birds, mountains and rainbows. The theme of the fruit platter may vary according to the fruit of the day on a rational basis.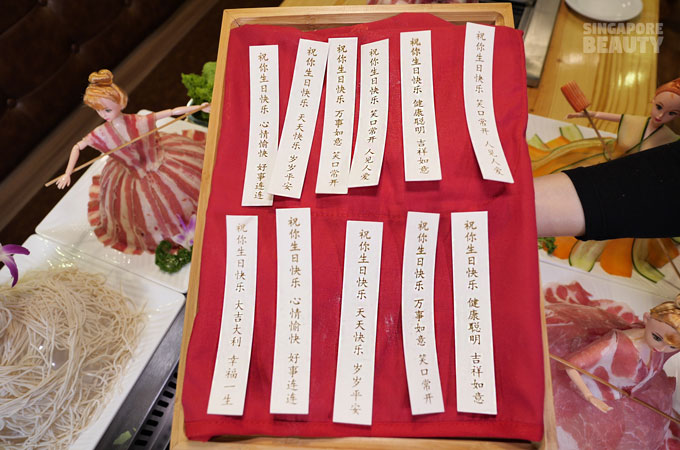 You also get to choose a noodle enscripted with well wishes such as happiness, joy, prosperity, luck and more on your birthday.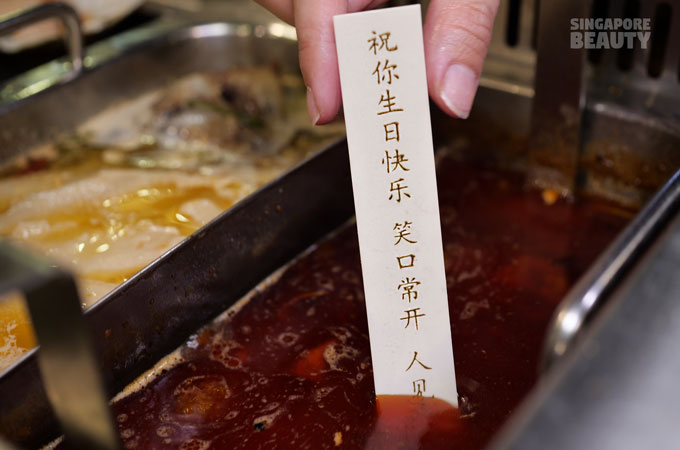 Cook the noodle, eat it and get the well wishes upon yourself literally.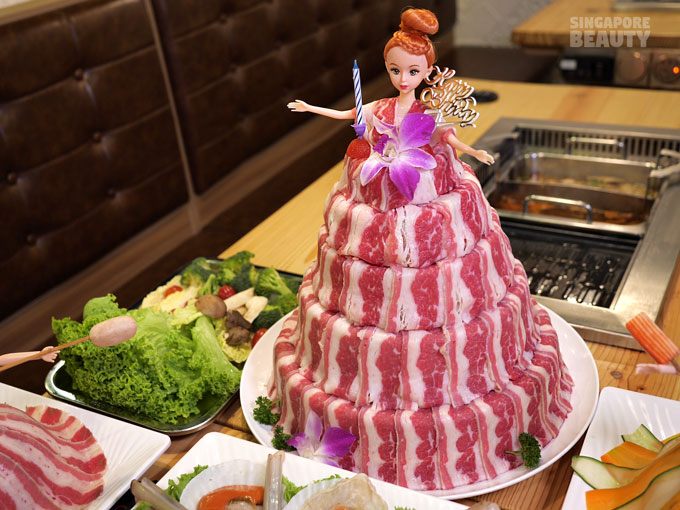 Add on a 5 tiered lit with a birthday candle meat doll for $38 with a meat of your choice for a picture perfect birthday photo.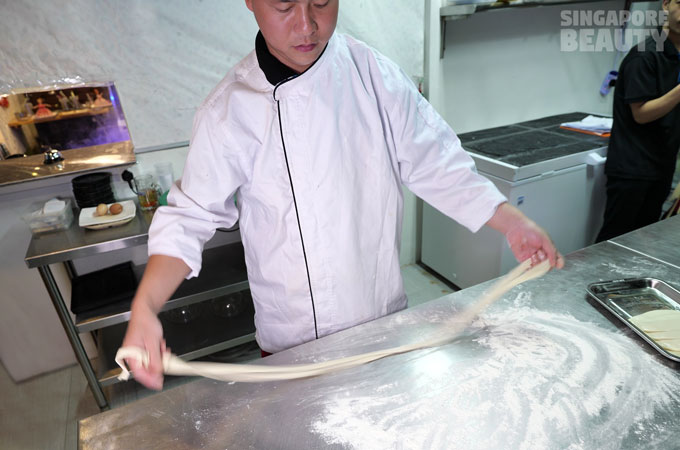 Enjoy some daily handmade noodles straight from the kitchen.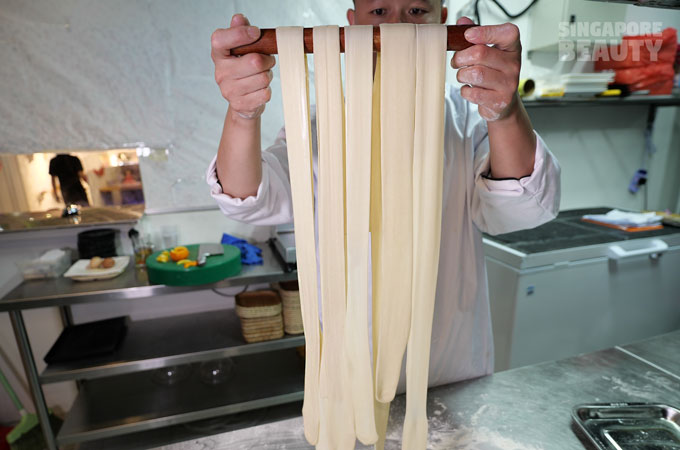 These noodles are great for the mala hotpot soup base, the noodle has an interesting chewy texture with thinned out edges liken to that of a scallop fins.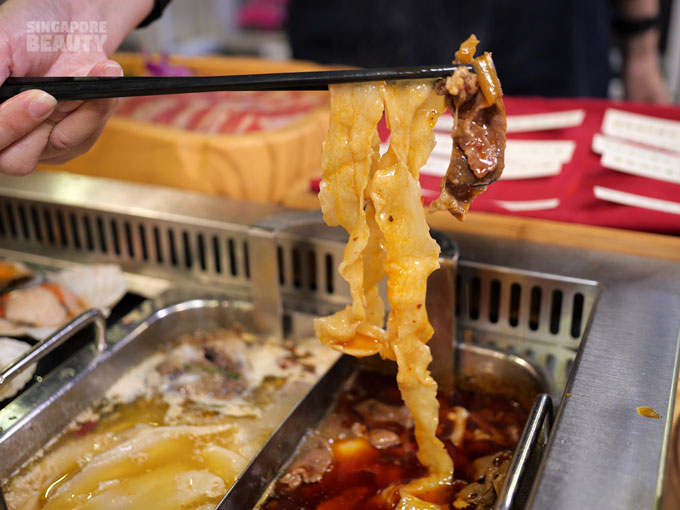 These noodles soak up the flavourful mala broth with an interesting springy chew to them.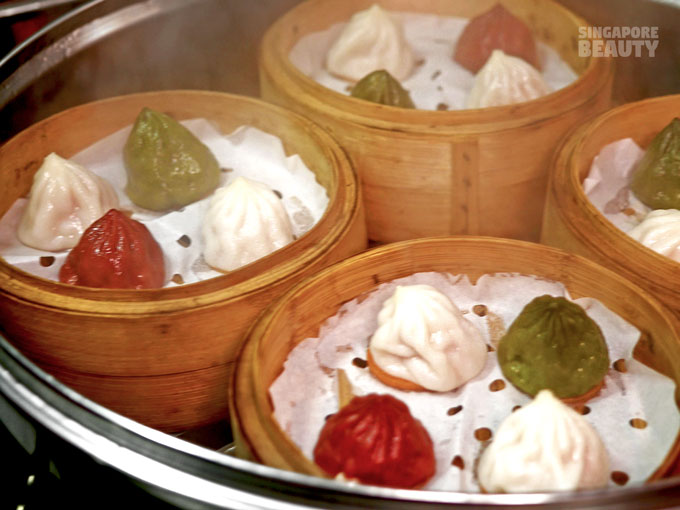 Free flow xiao long bao for every diner steamed in bamboo dim sum tray.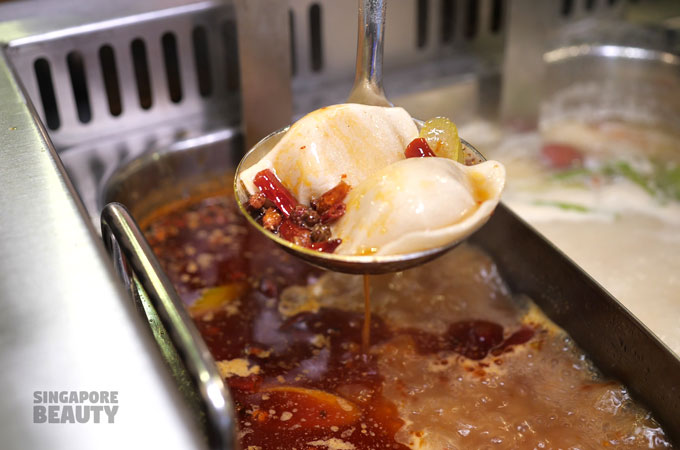 They also have dumplings with pork and cabbage fillings to hotpot too.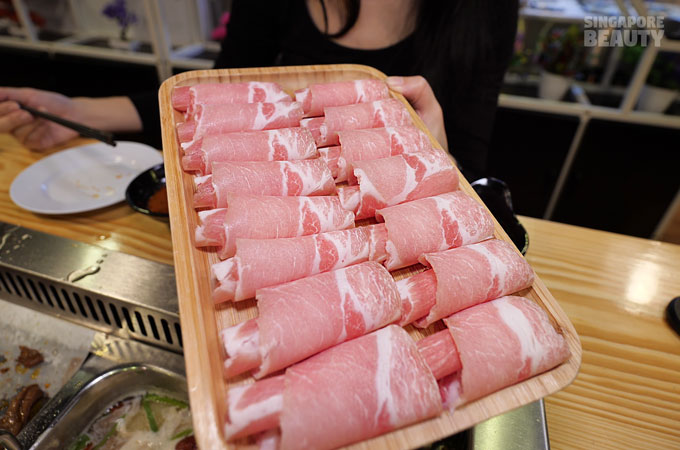 Shabu shabu pork collar that are great for hotpot.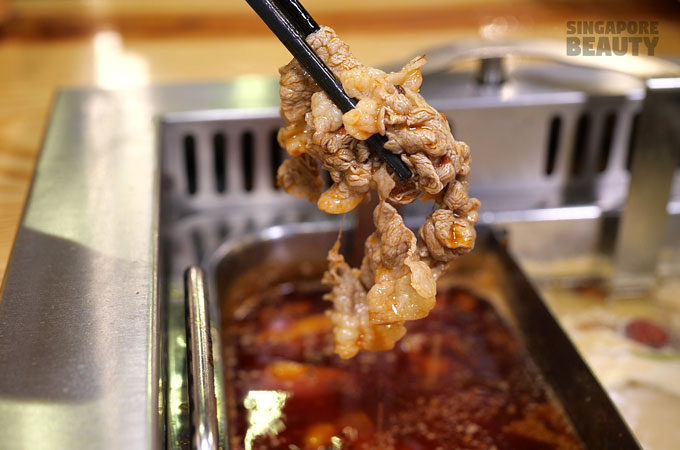 Thin ribbons of pork collars curls when cooked and melts in the mouth.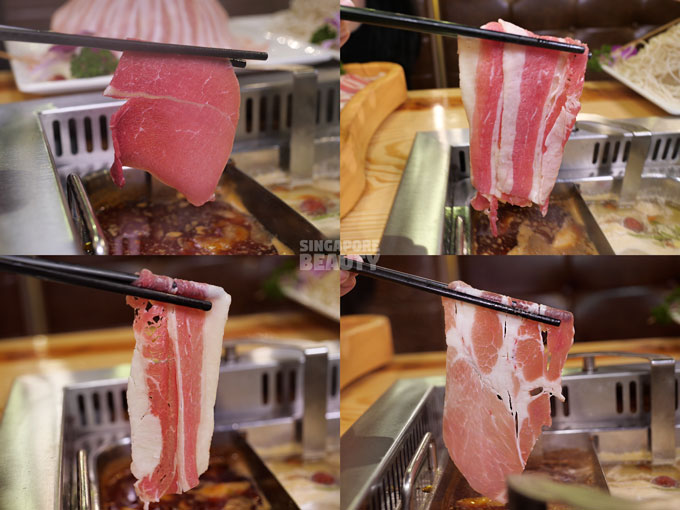 So many cuts of shabu shabu meats, you will be spoilt for choice.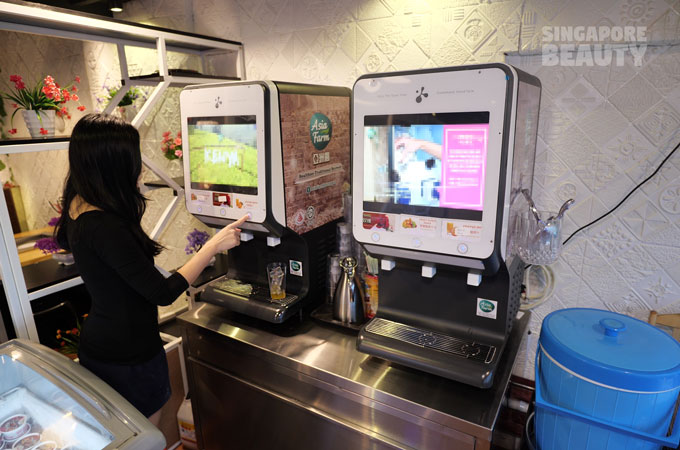 Dispenser drinks are included too.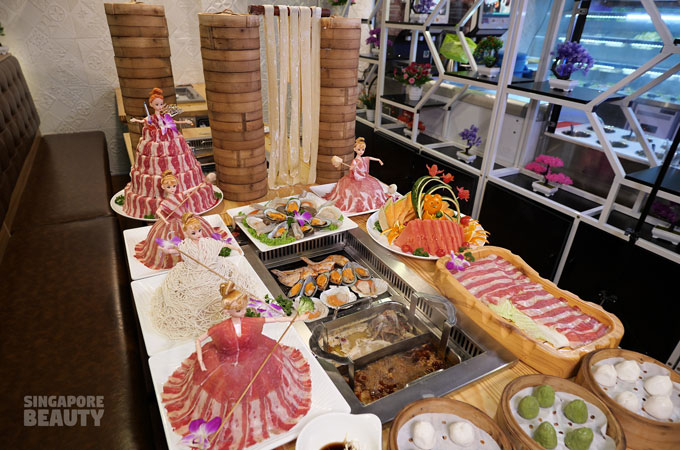 Enjoy this doll themed BBQ & hotpot buffet today. Meat doll is limited to 1 per table, however shabu shabu meat is free flow.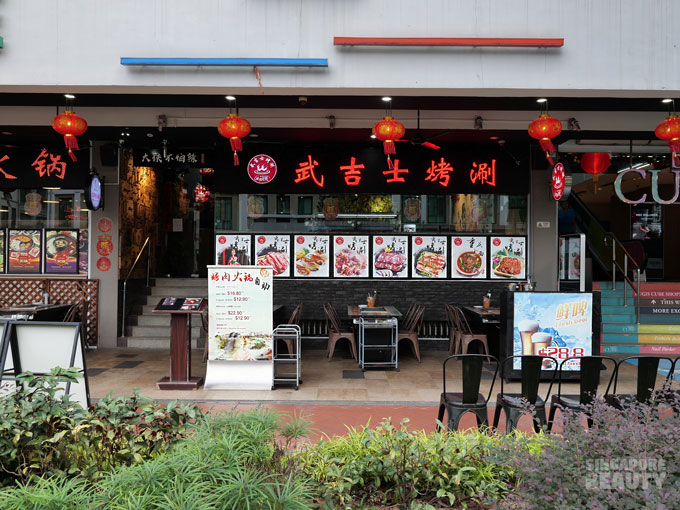 Head over to Hot Pot & BBQ Buffet (火锅烤肉自助餐)at Bugis cube now!
Adult Daily(includes Eve & PH) Buffet Price:
Lunch Buffet $19.90++
Dinner Buffet $24.90++
Children (5-12 years old) Daily Buffet Price :
Lunch or Dinner $15.90++
Others:
Single/Dual soup add $9++ per table
++All prices subject to 10% service charge and 7% GST
Dine time:
90 mins
Minimum 2 pax to dine.
Dispenser drinks are included.
1 gown meat doll per table
Mermaid fish is complimentary for 6 pax and above.
5-tier meat doll at $38++ each.
All price in SGD$ and subject to 10% service charge and 7% GST.
Buffet operating hours:
Lunch hours: 11.30am till 3pm daily
Dinner hours: 3.30pm till 2am daily
Location:
Hot Pot & BBQ Buffet
470 North Bridge Road #01-05 , Bugis Cube, S188735
For Enquires:
Call them at (+65) 63383405
Brought to you by Hot Pot & BBQ Buffet (火锅烤肉自助餐)