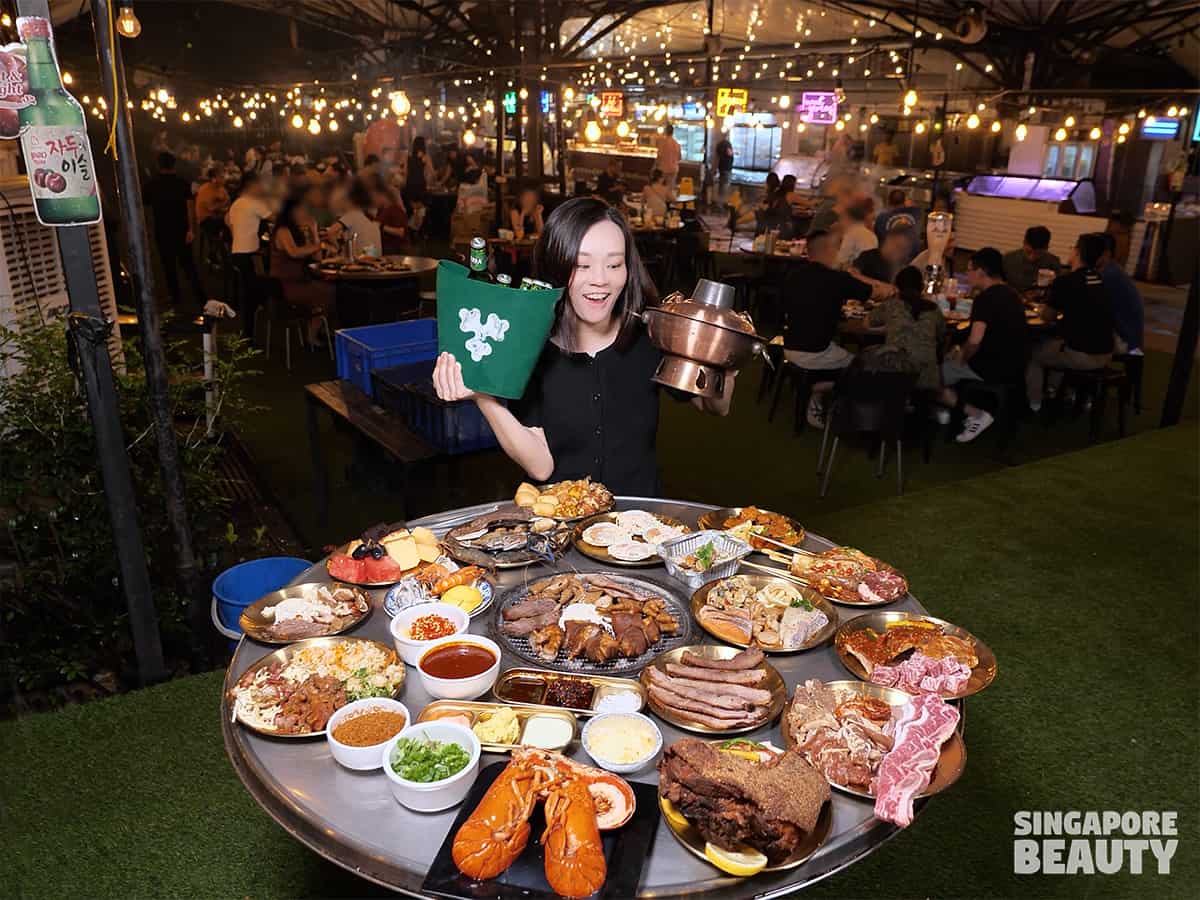 The Three Peacocks at Labrador Park is Singapore's Largest Outdoor Seafood, Meat BBQ and Shabu Shabu Buffet In Singapore. Enjoy a wide variety of cooked food from their hot station, seafood bed, meat grocery, shabu shabu counter, a massive selection of international sauces and DIY your own dips. This is their outdoor alfresco style seafood and meat bbq outlet, they also have an indoor outlet which serves a different menu at The Three Peacocks at Marina One, Singapore.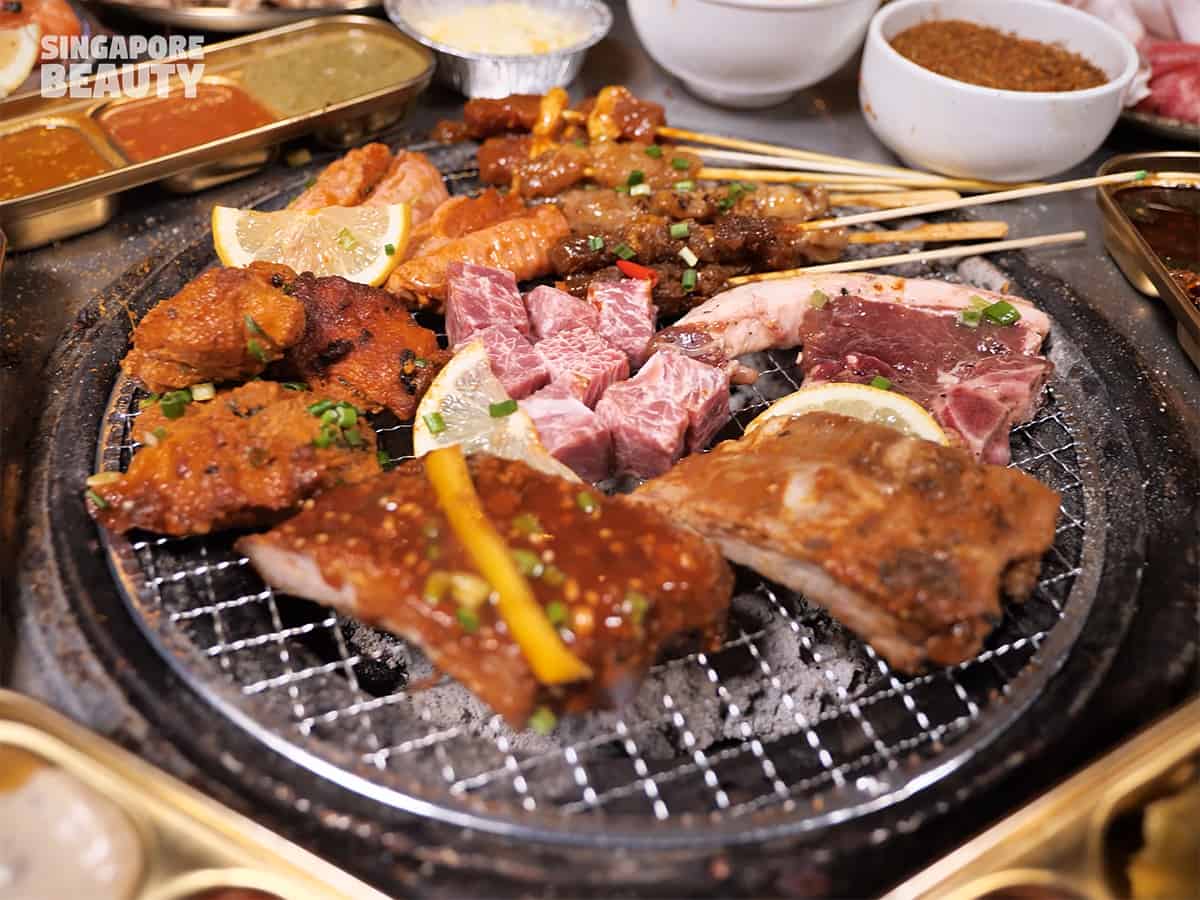 For those of you who are new to The Three Peacocks at Labrador Park, now is a good time to try out this buffet with their very cheap buffet promotion. Currently they are running a Meat buffet for meat lovers who are not into seafood from $28.90++ on weekdays (Monday to Thursday).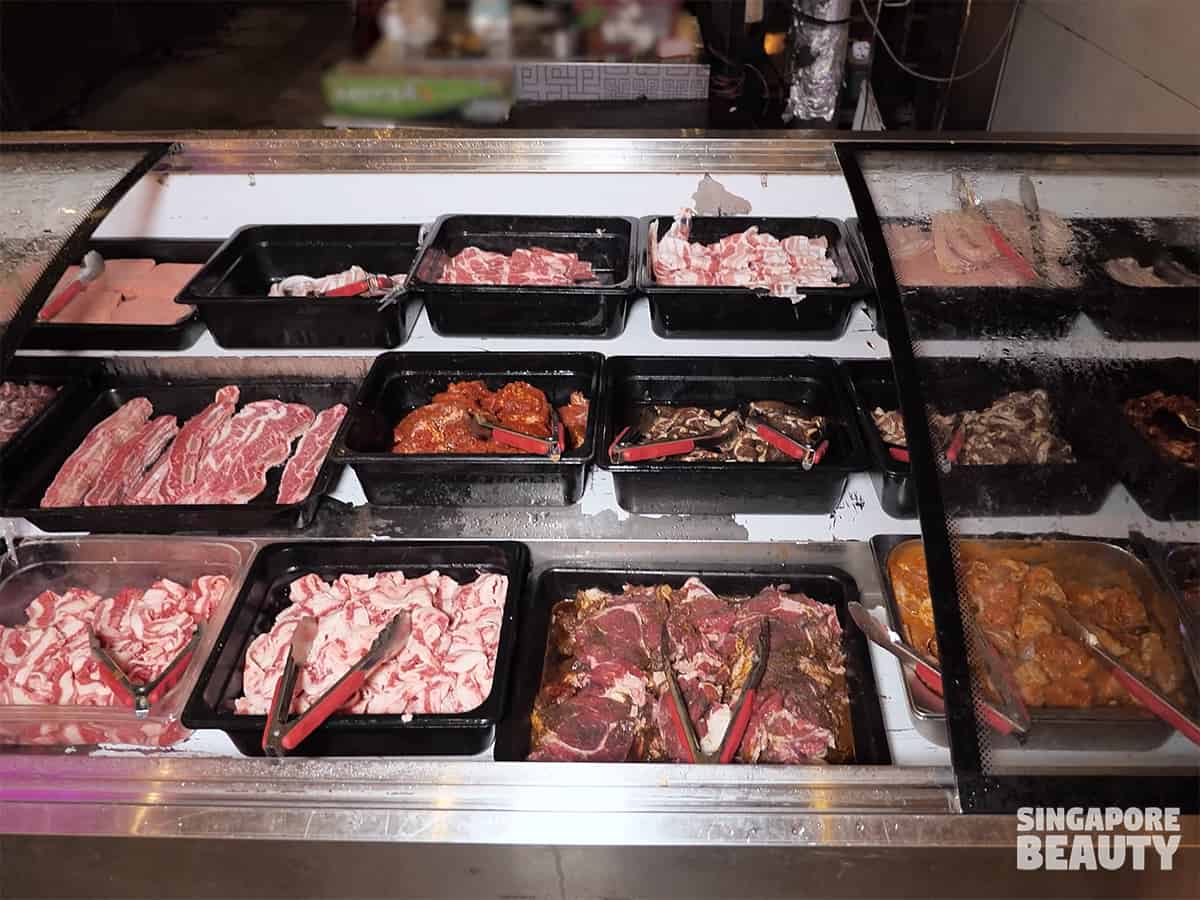 They have a good selection of over 30 meats choices with premium meat choices such as Australian Wagyu Beef, Angus short ribs, pork ribs, US Prime beef, premium pork chops, chicken chops, melty beef cubes, Kurobuta Pork belly, honey shoyu chicken, short plate bulgogi, lamb skewers and more. The Three Peacocks is well known for their vast selection of meat choices.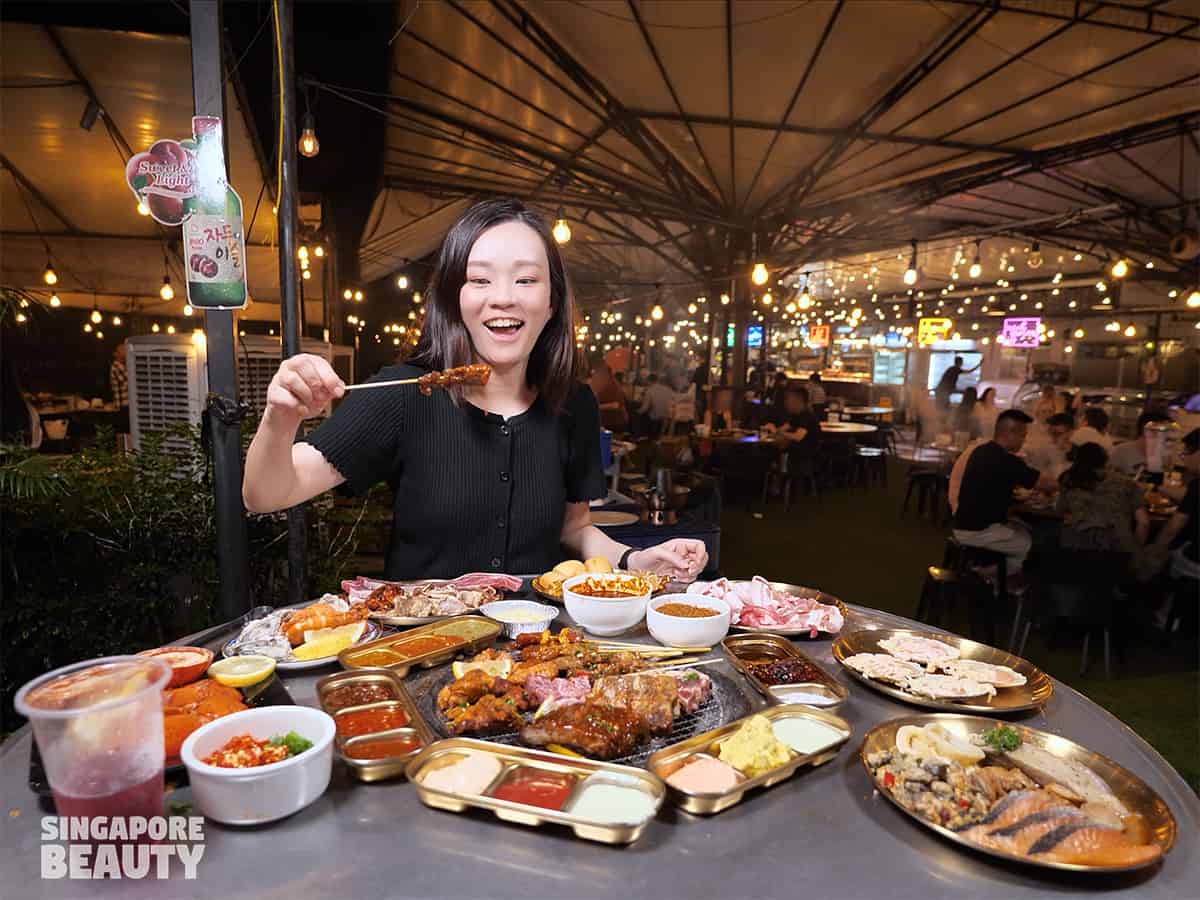 Here's our review of The Three Peacocks. We love their pick your own seafood from the seafood bed with free flow seafood, oysters, sashimi and large selection of meats. It is now elevated with a complimentary shabu shabu traditional chimney charcoal hotpot for every table. You get the best of both worlds – BBQ and hotpot! Get their pure meat buffet at the price of only $28.90++ (Mon to Thurs only).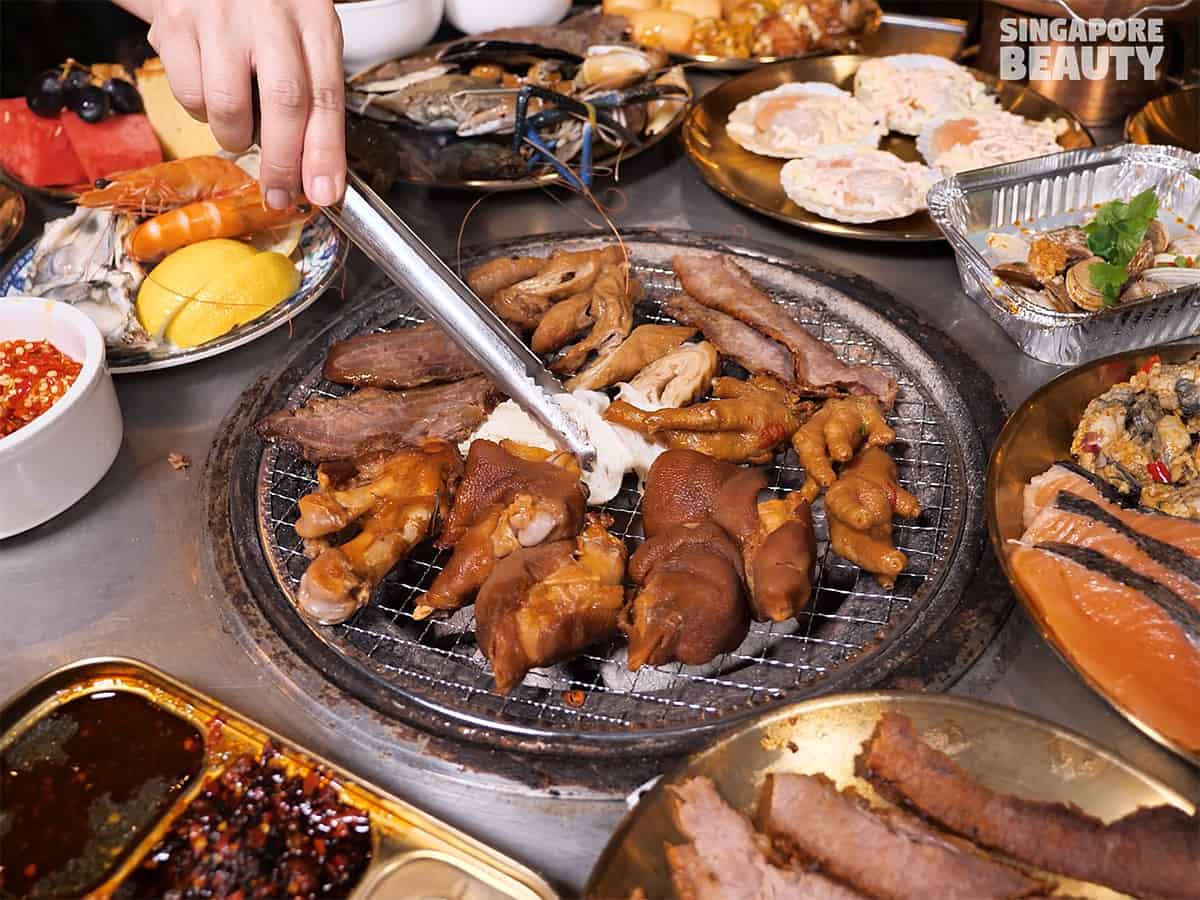 They have now introduced a selection of "unique meats" to please every taste palate in the house. Enjoy unique tender meats and marinated braised offals like pork ribs, beef shanks, braised pork trotter, large intestines, liver, tripes. Spice it up with cumin powder drizzles while you BBQ to get that authentic BBQ offal experience on the grills. The flavour and aroma is irresistible with this spice rub on the meat, works for the satay too.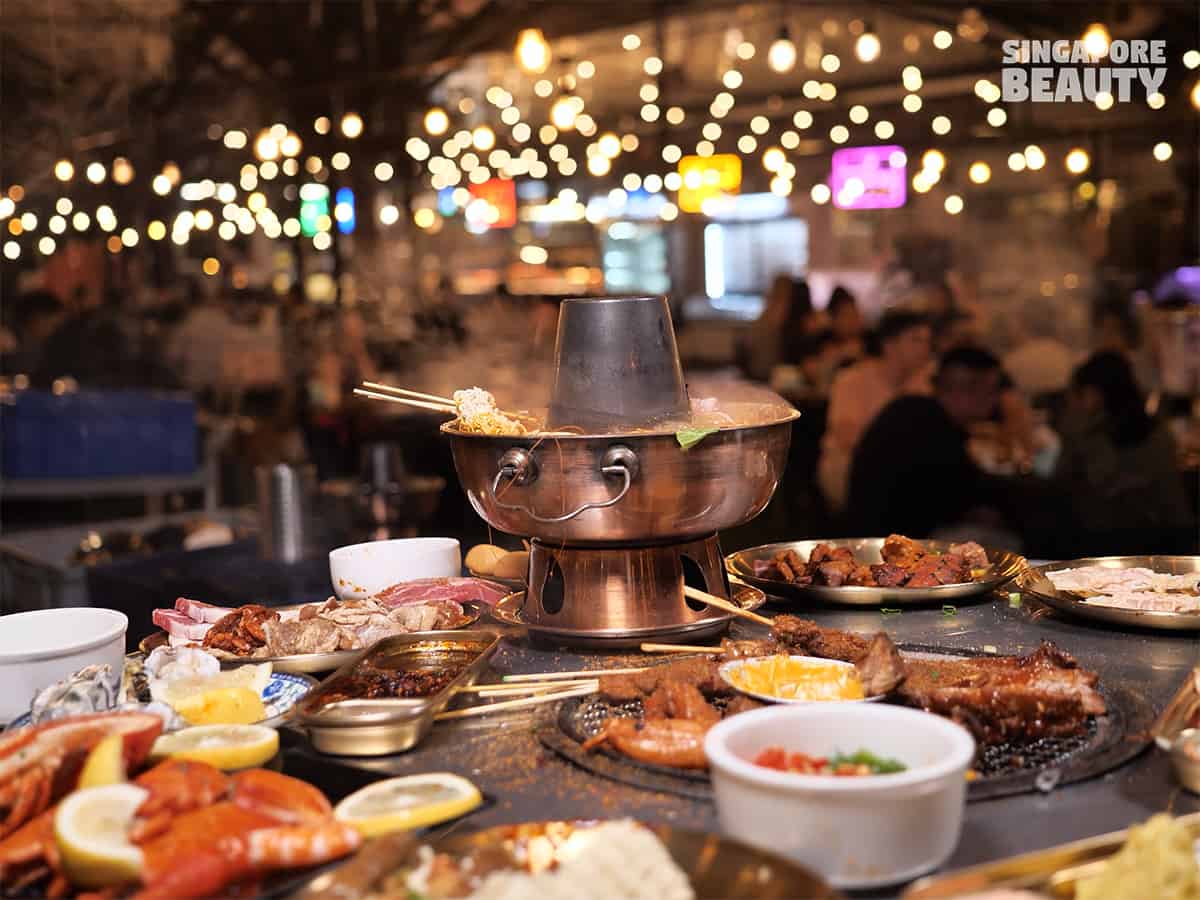 There will be a free hotpot with choice of mala or chicken soup as the base for every table that visit The Three Peacocks this season. Enjoy traditional chimney charcoal hotpot with bubbling soup, go for the mala soup base if you enjoy strong flavours of a spicy hotpot, like me.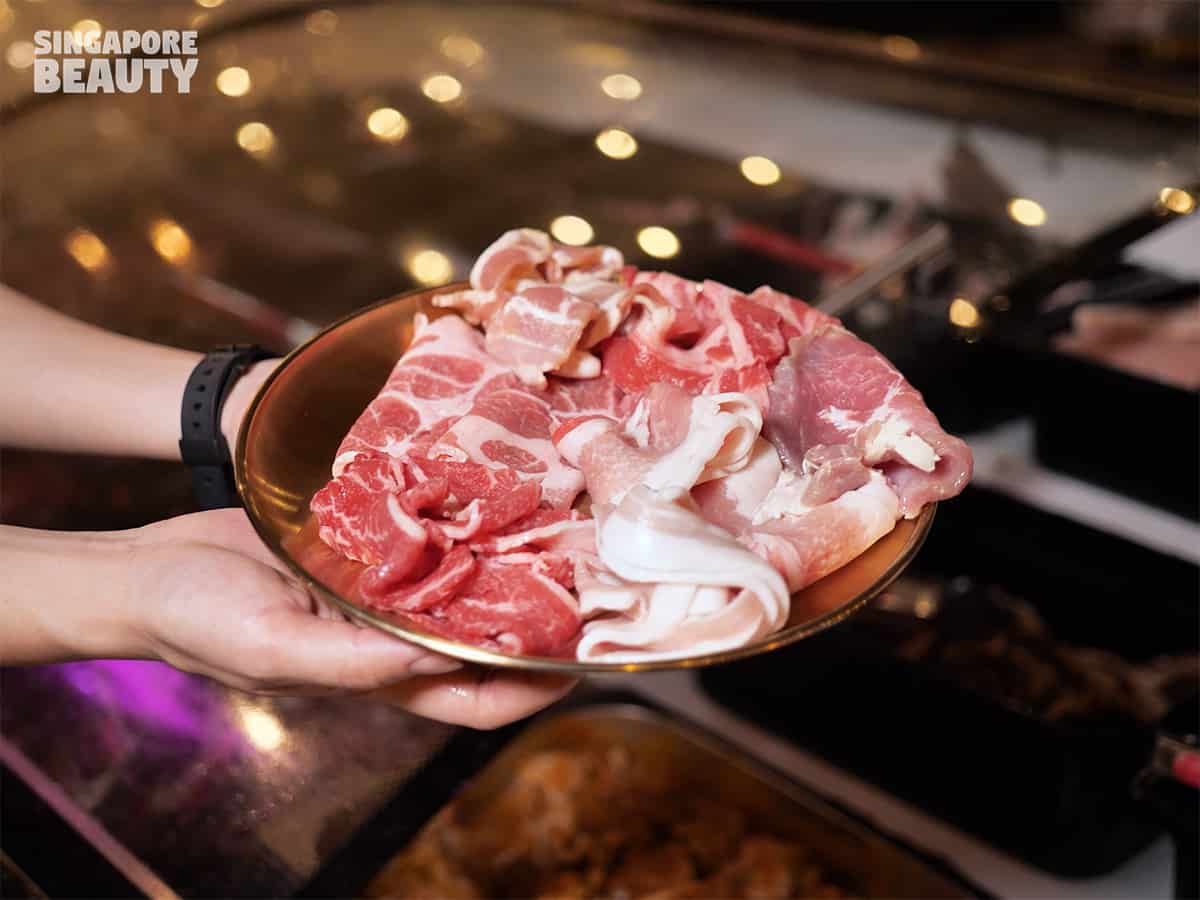 Enjoy a wide variety of shabu shabu meats and greens that is essential for every good hotpot experience. Shabu shabu meats are available in pork, beef and chicken. If you opt for the main buffet option that includes seafood, you can enjoy some mala seafood hotpot too. My personal preference is that everything that goes into a mala hotpot is heavenly good, especially seafood, yum.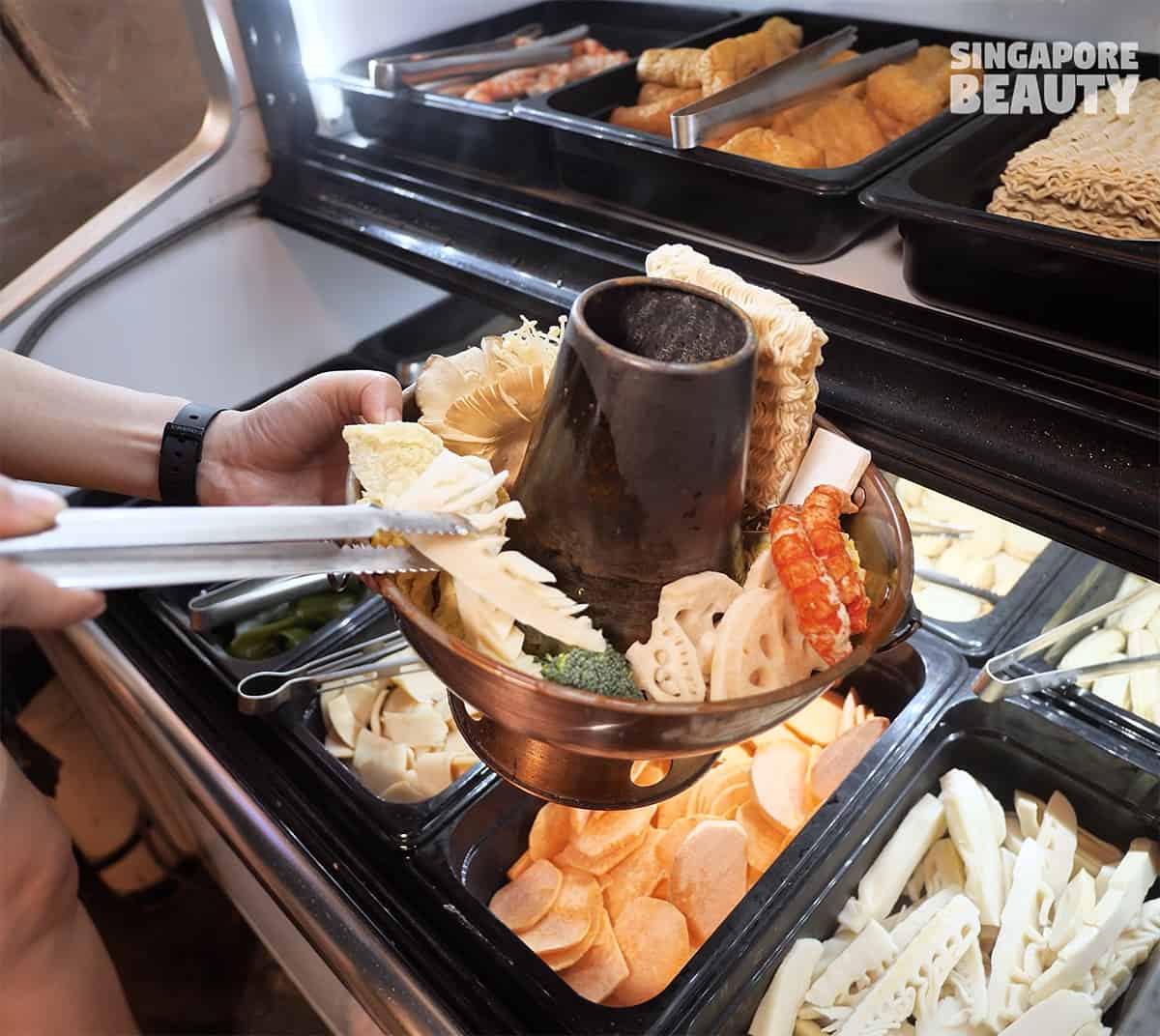 The shabu shabu charcoal hotpot ingredients are Japanese style with healthy selections such as black fungus, lettuce, pumpkin, sweet potato, shiitake mushroom, corn, oyster mushroom, lotus roots and more greens. Add their wide selection of surimi as well for some addition burst of umaminess. These go best with the chicken soup base so you can enjoy the sweetness of the greens and the shabu shabu meats.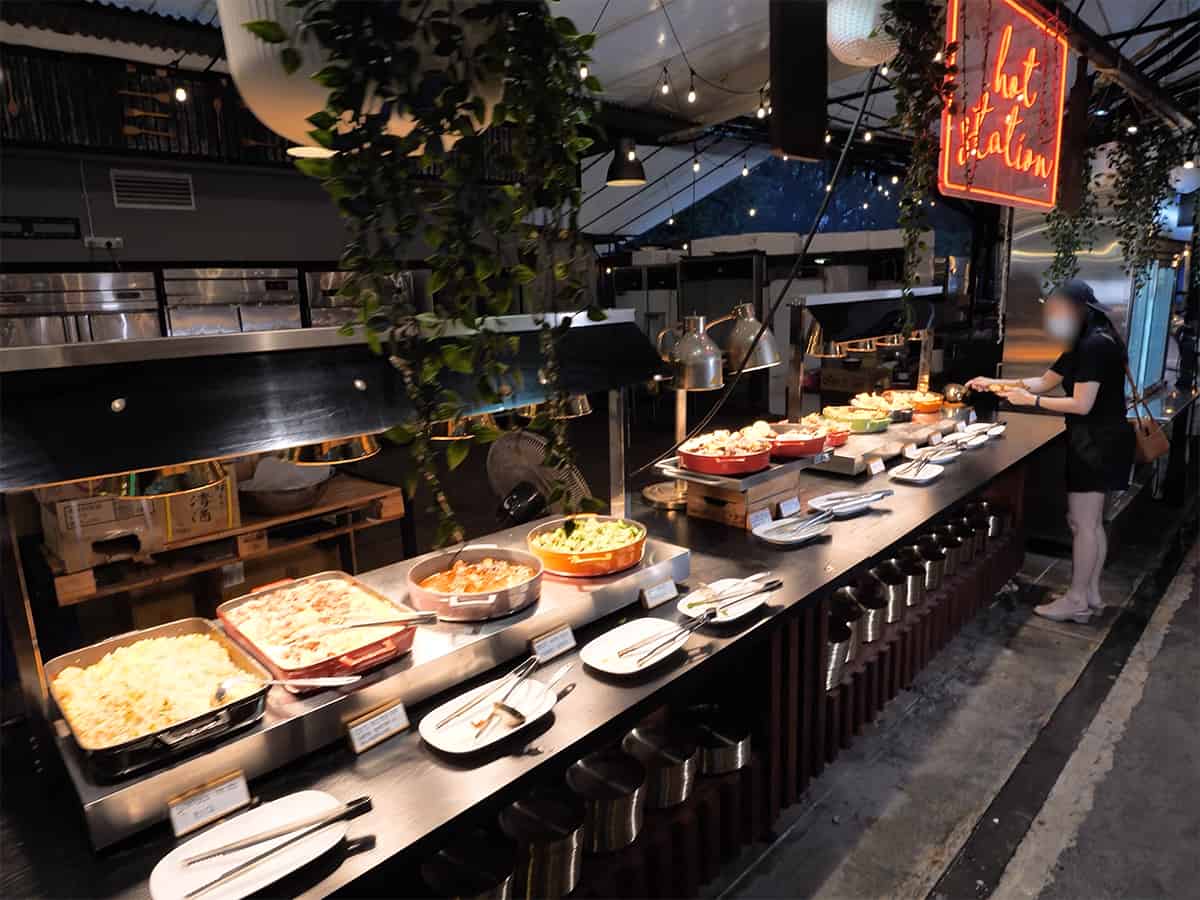 Waste no time while your food cook on the grill and in the hotpot. Check out their hot stations with exciting line up like Roast Pork, Deep fried Knuckle, bbq cha siew and beef jerky. They also have other selections such as carbonara with crispy bacon, takoyaki with bonito flakes, tempura, mentaiko cheese chicken chops and more on the day we visited. These hot station dishes are served on a rotational basis so each visit to The Three Peacocks will be a unique one with new dishes on their food line.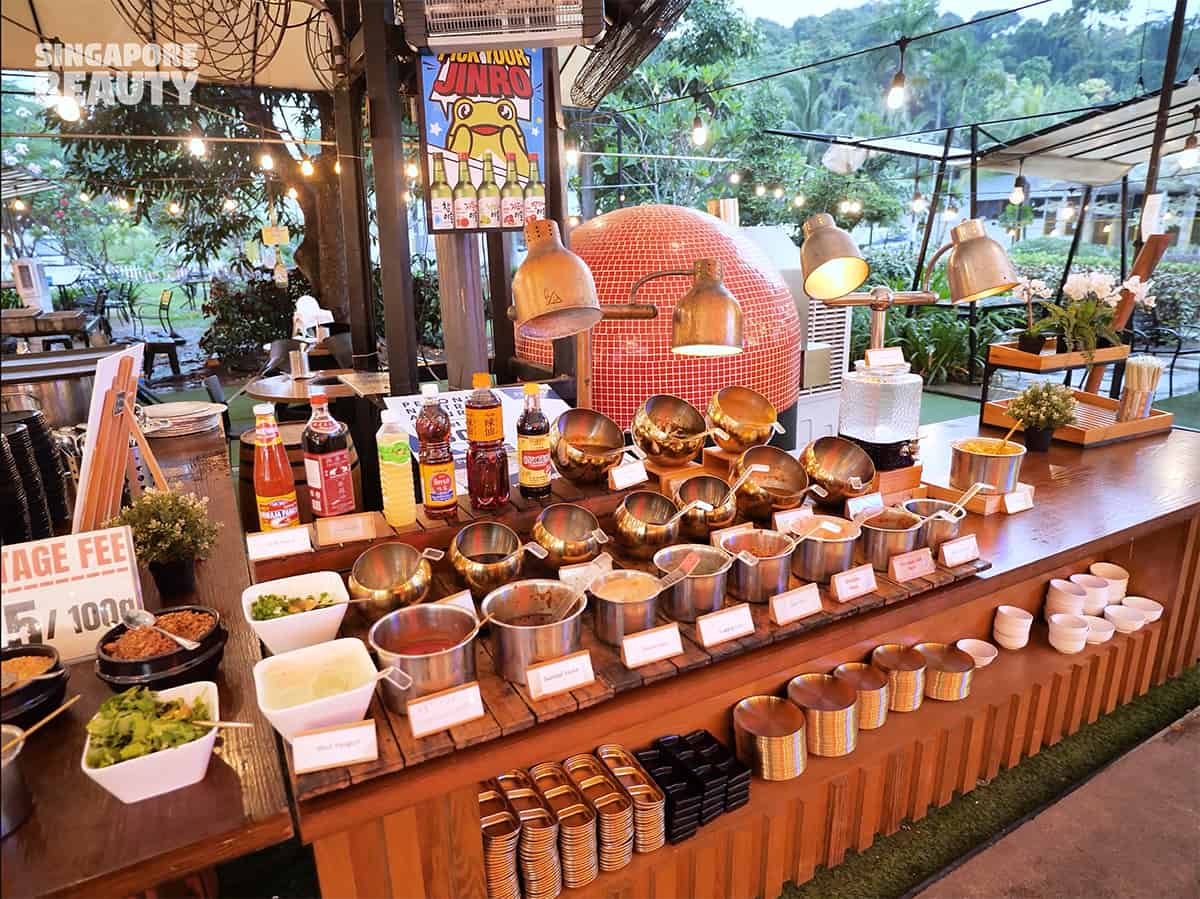 They have a variety of sauces or dips so that you can enhance the bbq meat and seafood experience. You are encouraged to  barbecue the meats with their mala, kechap manis sauce and spice rub over the grill. My personal favourite is their bbq spice rub with a variety of grounded spices such as cumin, fennel and more.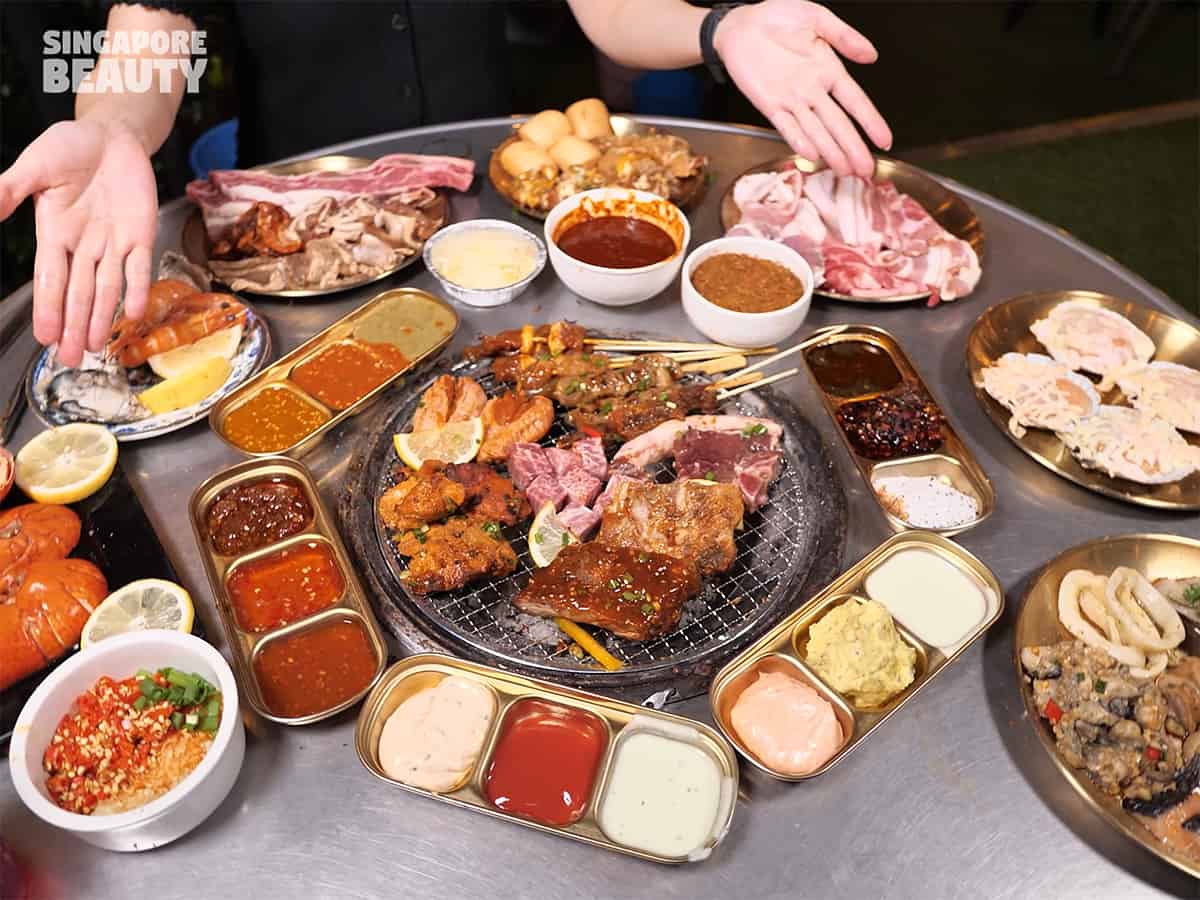 Check out the huge variety of international sauces and you are able to DIY your own sauce too. The unique sauce includes sambal sauce, mint yogurt, mentaiko sauce, Thai sweet chilli, their special in house Peacock sauce and more.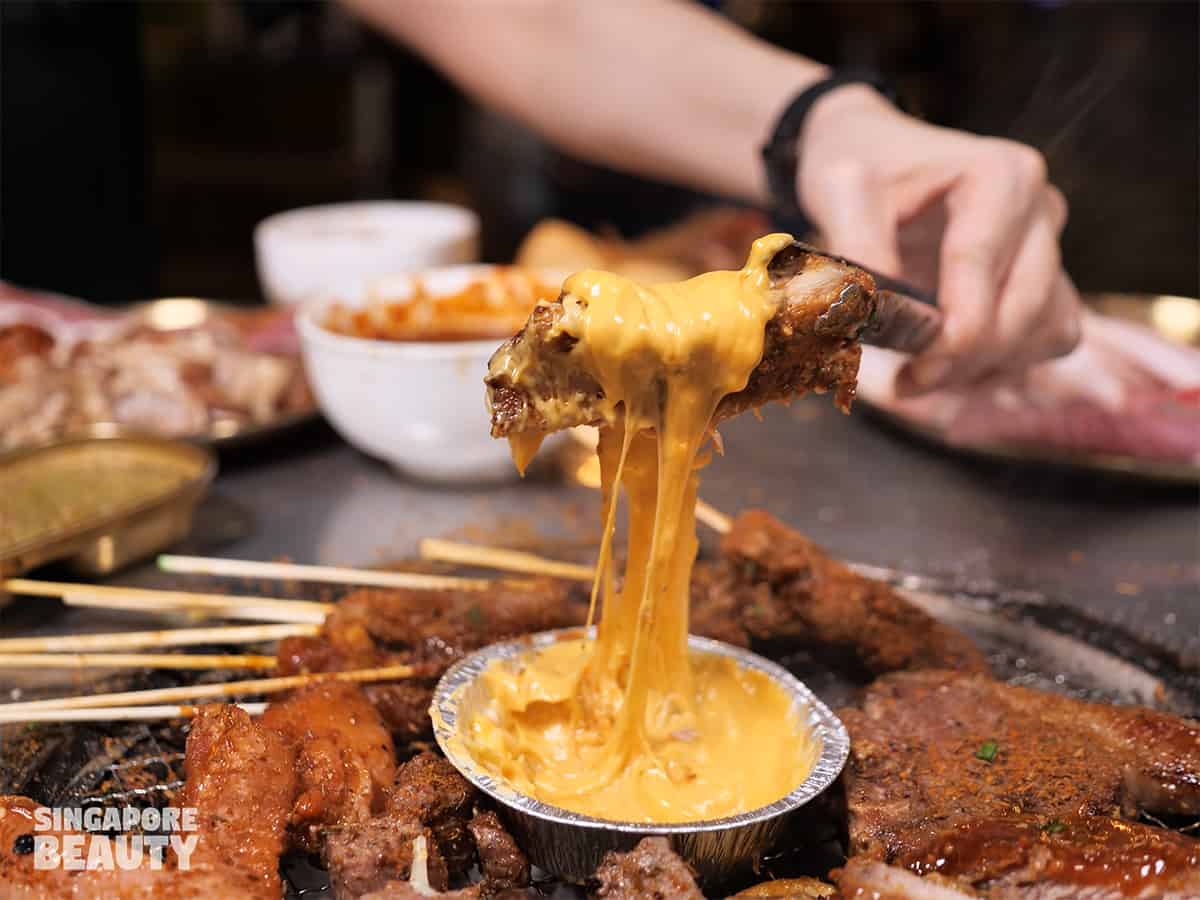 Cheese lovers can now rejoice at the cheese dip that is included in the buffet. Enjoy unlimited cheese pull with pork ribs, cheesy noodles and cheese dip with the fried Korean style chicken wings. Simply warm and melt the cheese over the bbq grills and voila the ultimate cheese pull. The Three Peacocks new price for the Meat lover buffet is at its new low now at only $28.90++, this is the cheapest buffet price at The Three Peacocks. With so much food on the menu, this in my opinion is a really good deal, please chiong there now.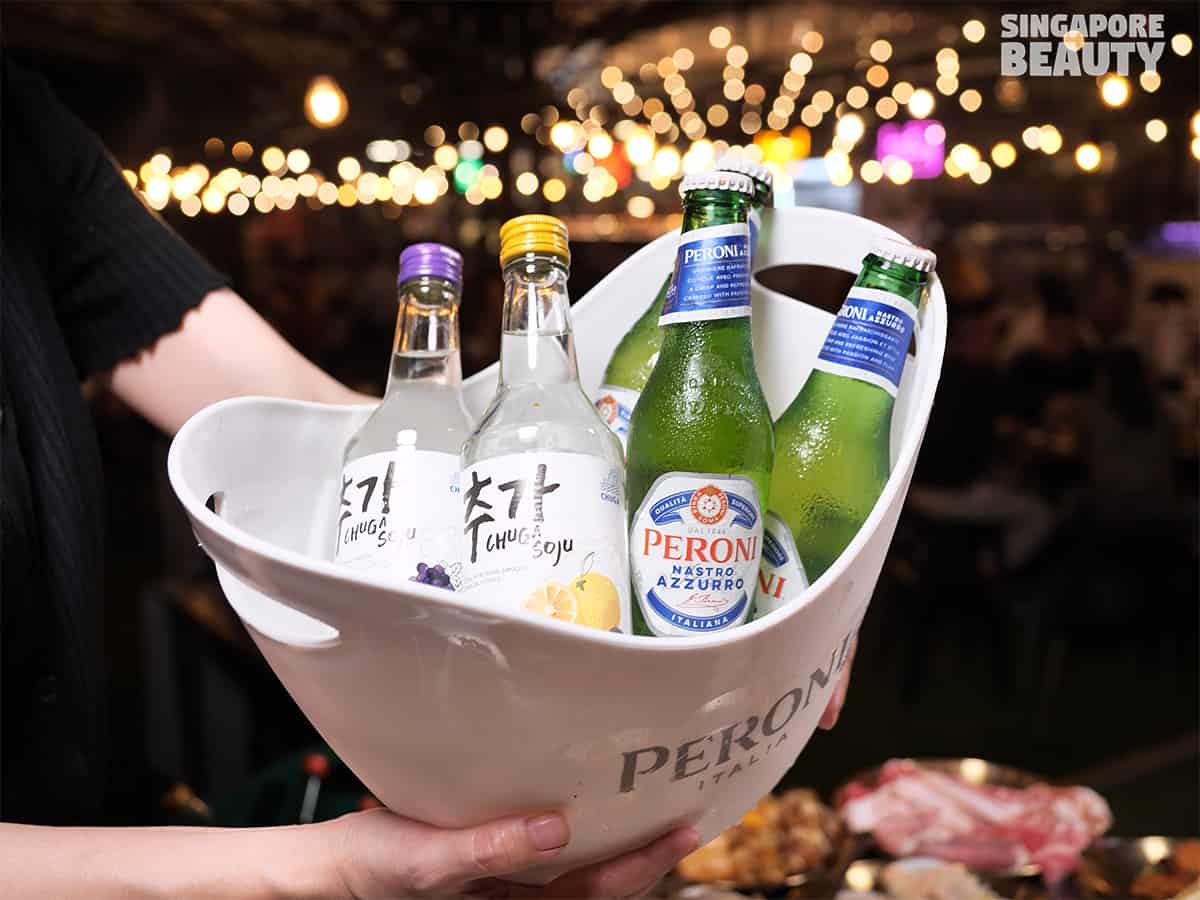 They also have a giveaway of a bucket of 5 bottles of beers (Terra) for min of 5 pax diners. You just need to quote SingaporeBeauty, like and share the video to get your free beer (Tuesday to Thursday only). Enjoy some cold booze on the house with hot bbq bites and piping charcoal hotpot buffet, with some chilling breeze from the night. The best place to unwind in Singapore with a beer in hand and rock music too. Get their ala carte beer promotion bucket 2 soju and 3 peroni for $40++ (image shown above) to make your own somaek.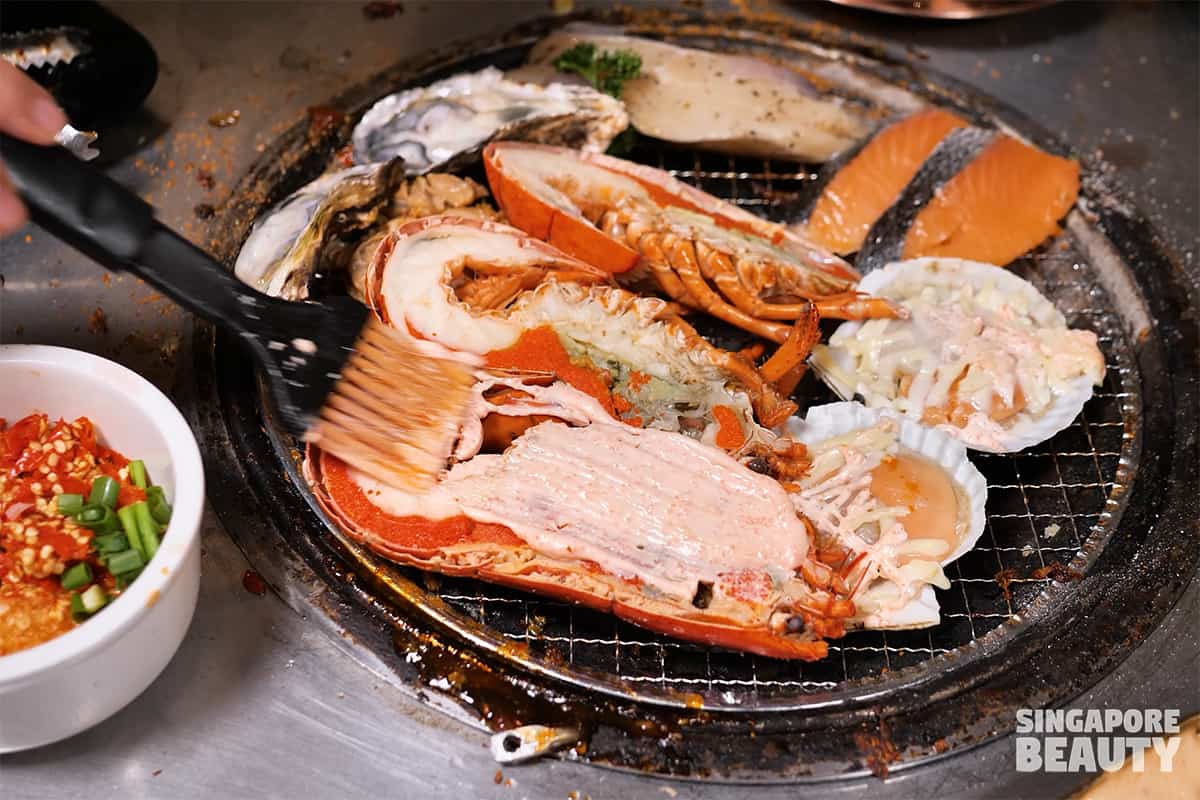 For those having the main Buffet, do remember to redeem your prized half lobster each, near the cashier counter with your receipt. The lobster is poached for you, all you have to do is get your choice of sauce from their international sauces counter and bbq it. My go to is their mentaiko sauce with cheddar and mozzarella cheese atop these lobsters.
Enjoy a wide variety of seafood such as oyster, scallops, shell fishes, giant river prawns, slipper lobsters, tiger prawns, vannamei prawns, squid, salmon, cod fillet and more. The best part of their seafood bed is that you get to pick your own seafood. Get as much seafood as you like and bbq them all.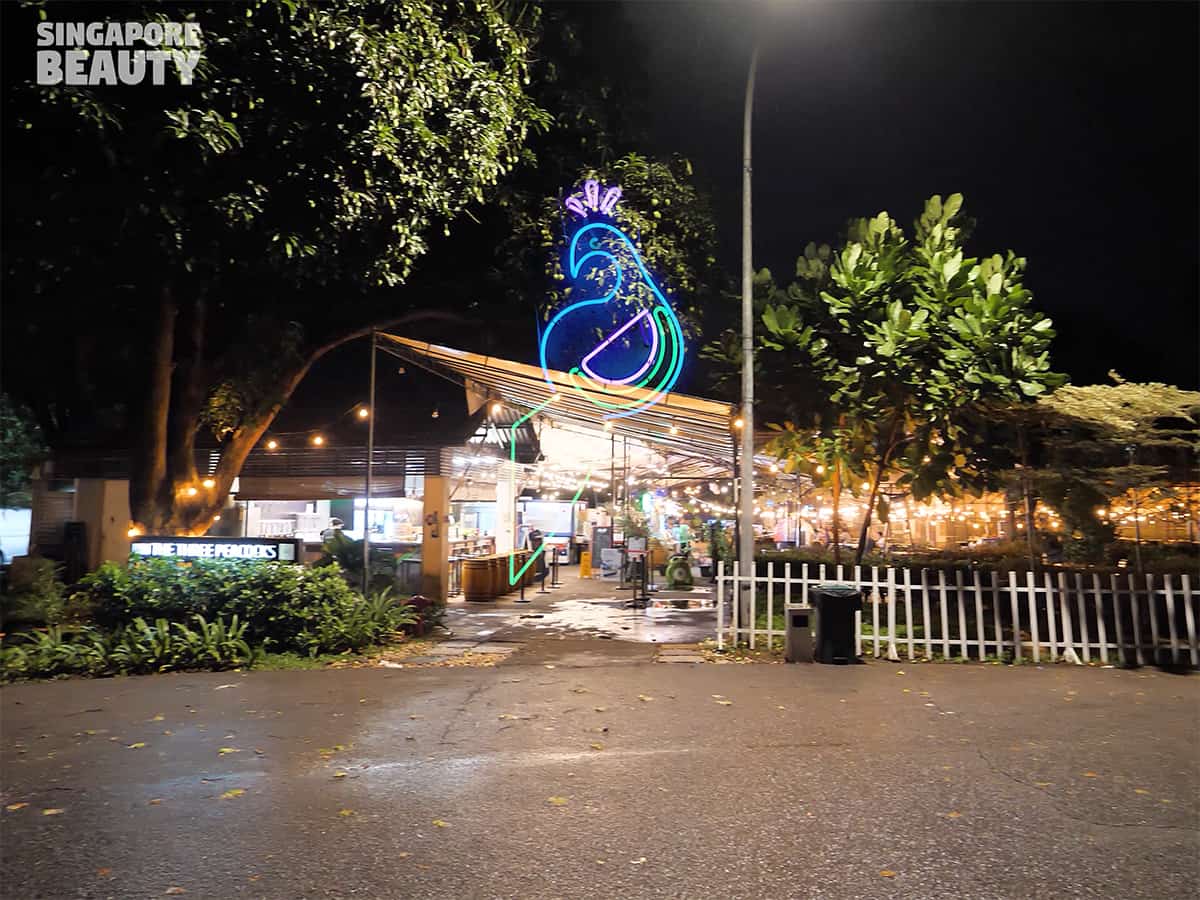 Come and experience The Three Peacocks at Labrador Park – Largest Outdoor Seafood and Meat BBQ and Shabu Buffet In Singapore. Meat lover needs to get their hands on this new pure meat buffet promotion from only $28.90++ weekdays (Monday to Thursday) exclude PH & festive period. The meat buffet also includes sashimi, hot station cooked food, greens, appetisers and more, except seafood. If you love everything we reviewed here, you can go for their main buffet inclusive of seafood from $49.90++.
The Three Peacocks Address :
8 Port Road, Labrador Park Singapore 117540
The Three Peacocks  @ Labrador Park New Buffet Price (includes seafood and all in the buffet)
Weekdays (Mon-Thurs)
Adult: $ 49.90++
Senior: $ 47.50++
Kids: $ 33.00++
Weekends (Fri – Sun)
Adult: $55.90++
Senior: $ 52.50++
Kids:$ 38.00++
PH, PH Eve & Festive
Adult: $ 60.90++
Senior: $ 57.50++
Kids: $41.00++
*Kids 7- 12 years old.
Children under age of 6 years old dine for free.
The Three Peacocks  @ Labrador Park Promotion Pure meat Buffet Price (excludes seafood and lobsters redemption but includes sashimi)
Weekday (Mon-Thurs)
Adult and Senior: $ 28.90++
Child: $ 18.80++
Weekend (Fri-Sun)
Adult and Senior: $ 35.90++
Child: $ 23.00++
Meat buffet not available during PH, PH Eve & Festive
Dine in time :
3 Pax < = 2 hours
4 Pax > = 2.5 hours
Top up $3.90 for dispenser drinks
Redeem 1 Free beer bucket (5 bottles of Terra) from Tuesday to Thursday with min of 5 paying adults per table.
All prices are subjected to service charge and prevailing GST.
Opening Hours :
5.30pm to 10.30 pm (Mon to Friday)
5 pm to 10.30 (Sat and Sun)
For enquiry & reservation call: 3129 2374 / 8870 3998
How to get to The Three Peacocks:
Free Parking available or take shuttle bus at Labrador Park MRT Exit A from 5.30pm-10.30 pm (every 30 minutes intervals)
Brought to you by The Three Peacocks