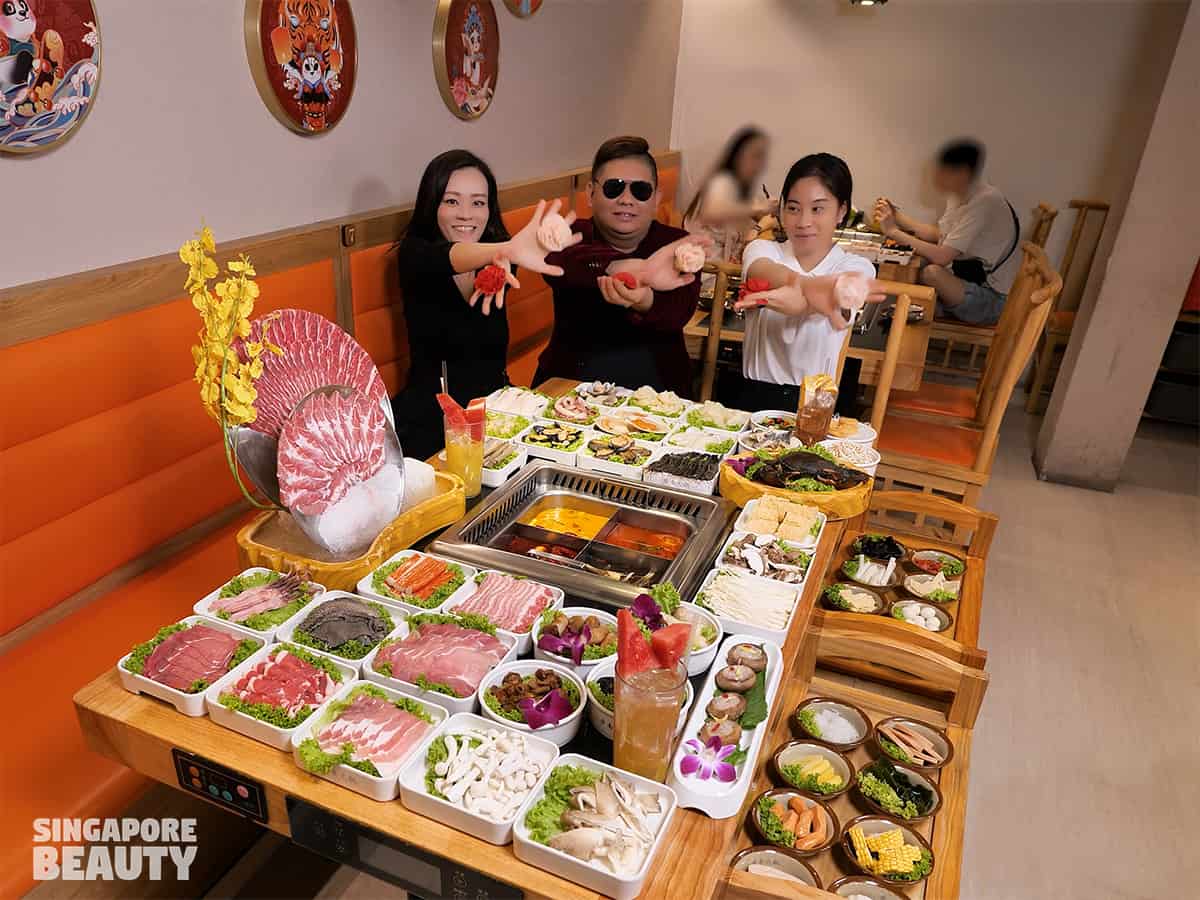 Ah Ma Shi Yunnan Hotpot is a popular hotpot buffet that is known for her wild mushroom soup base. This buffet deal is now sweeten with live mud crab, abalone and mala crawfish redemptions for their wagyu buffet diners based on headcount.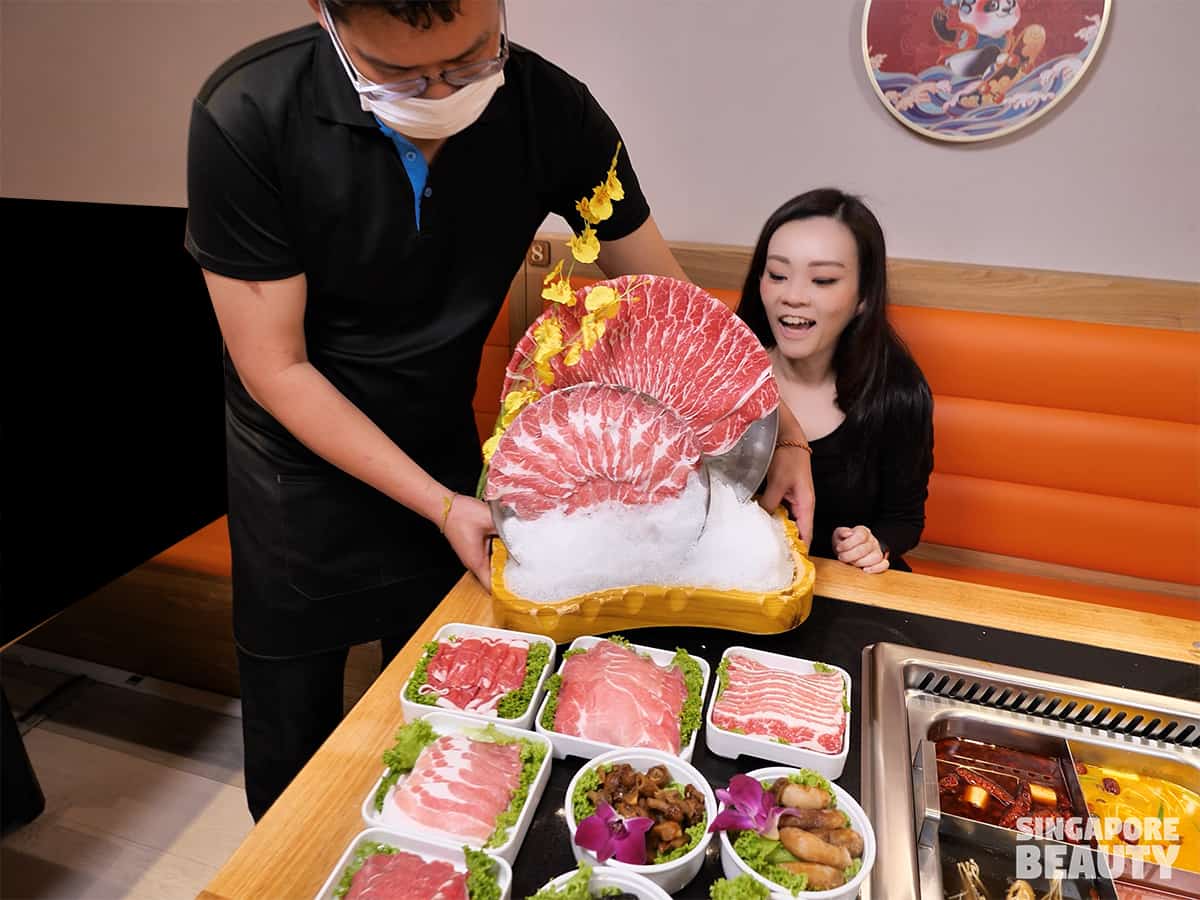 Enjoy unlimited Premium wagyu and Spanish black pork shabu shabu for hotpot buffet B at Ah Ma Shi Yun nan Hotpot. The premium wagyu beef and Spanish black pork have marbled grains holding together the leaner parts. These are cut to order with a fresh brilliant red hue and best for hotpotting in chicken or mala soup base.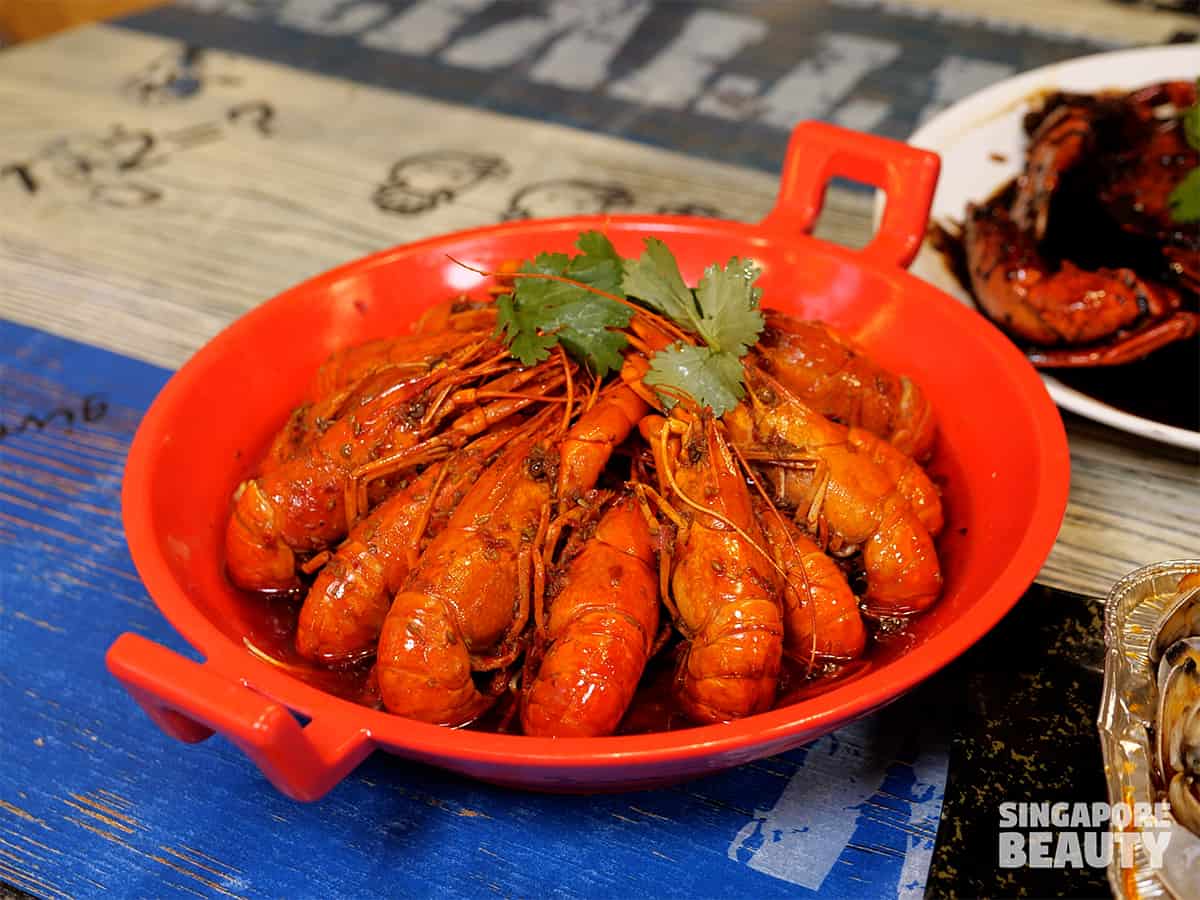 For a limited period, Yunnan Ah Ma Shi Hotpot buffet at Bugis- Liang Seah Street, Singapore is serving mala crawfish for diner of Buffet B. For every 2 or more pax diners, you are entitled to redeem a mala crawfish or xiao long xia aka baby lobster in Asian market for Monday to Thursday lunch and dinner buffet B. The mala crawfish is savoury and spicy, goes well with an ice cold beer. It is very addictive once you start you can't stop.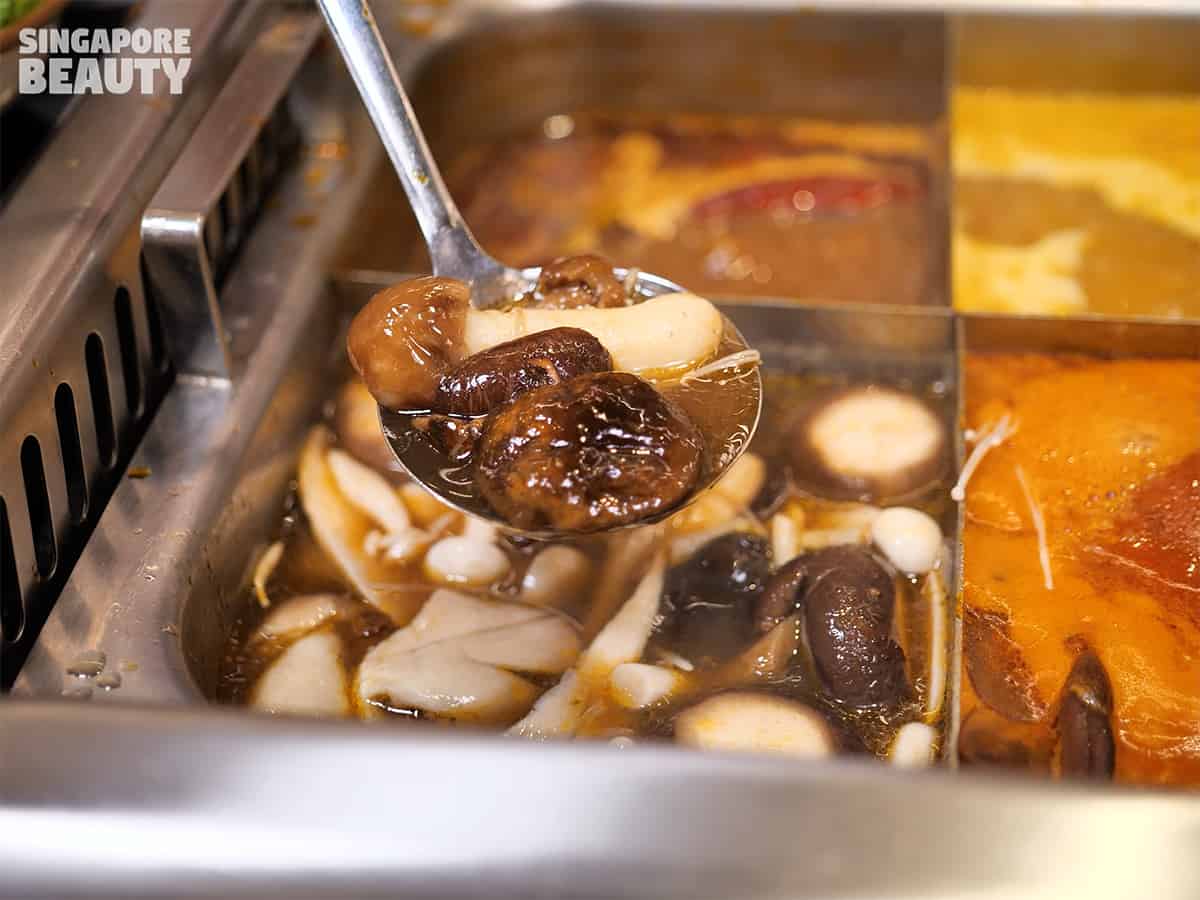 Ah Ma Shi YunNan Hotpot buffet is a place where their signature soup is their wild mushroom soup. Enjoy a nourishing bowl of wild mushroom soup with up to 6 types of wild mushrooms for diners 6 pax and above. The wild mushroom hotpot buffet is very popular in Bugis due to it savoury, rich flavours and health benefits as a superfood.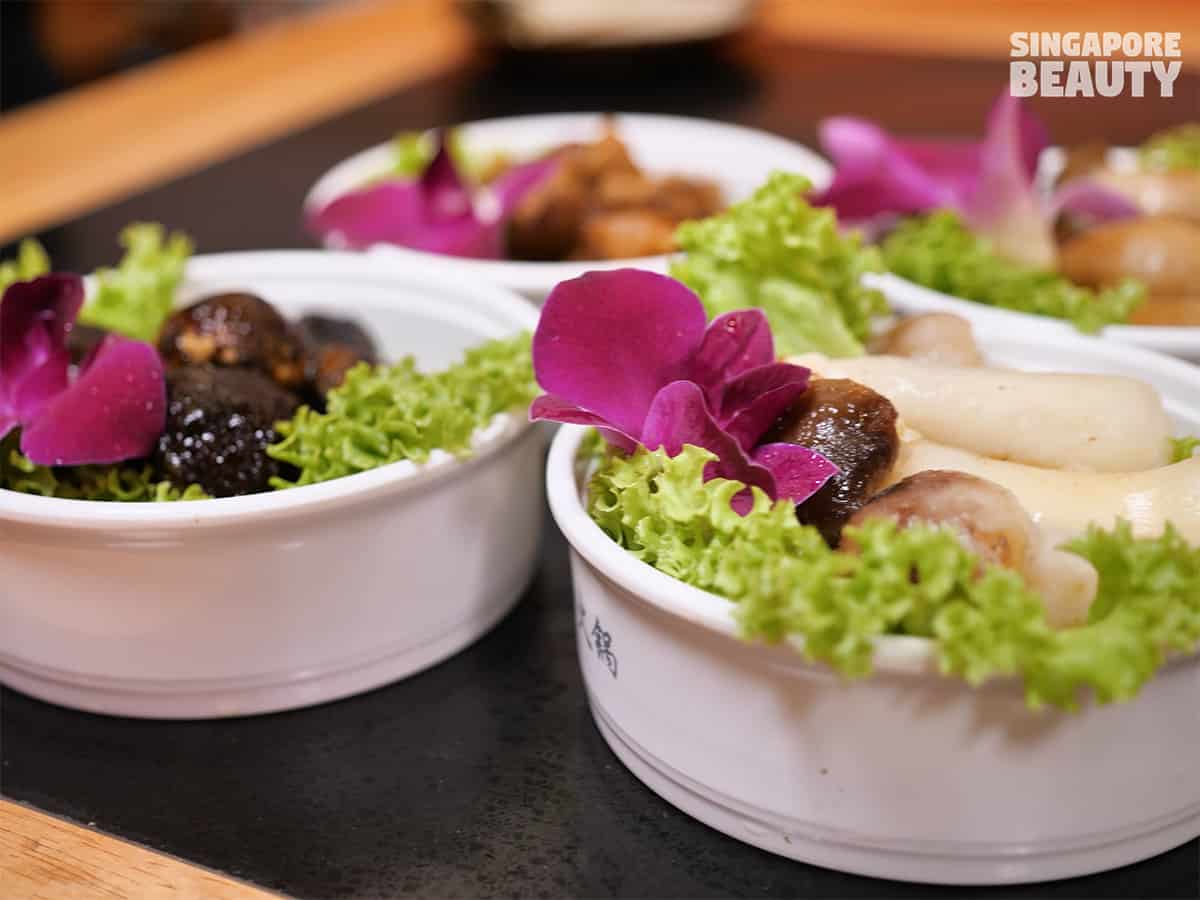 The redemption of the mushrooms is based on the numbers of diners at each table. For example, 2-3 pax will redeem a 4 types of wild mushrooms platter, 4-5 pax is 5 types of wild mushrooms and 6 pax above is 6 types of wild mushrooms platter. The more mushrooms and the longer you cook them, the more tasty the soup became. Besides the wild mushrooms, the buffet also includes our daily fungi picks such as oyster, shiitake, king, white shimeji and enoki mushrooms.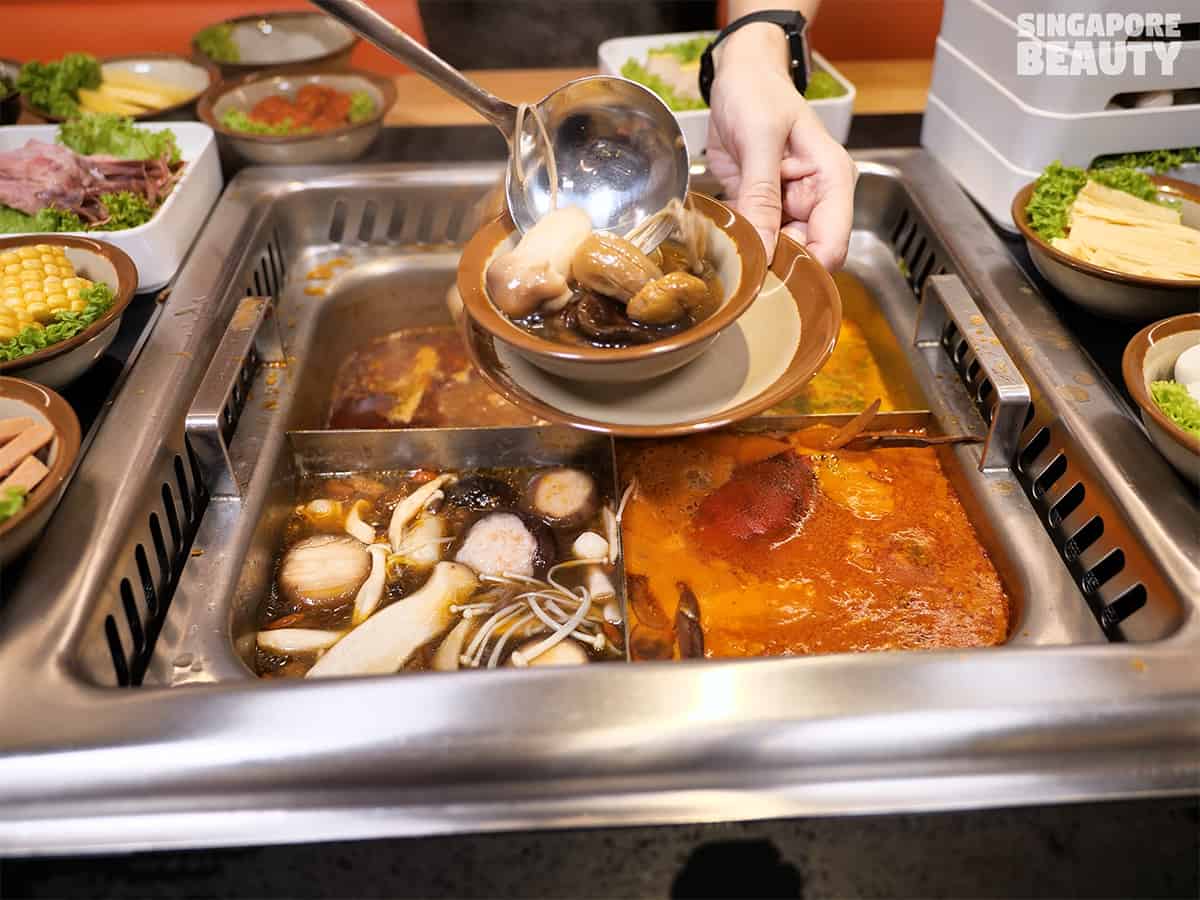 They also have tricholoma matsutake – the world's most expensive mushroom and wild morchella which has anti-oxidant and anti-inflammatory properties, to add on as ala carte if you want more of these wild mushrooms in your hotpot buffet. We were told by the store manager that these mushrooms are pricier than most meat in the market.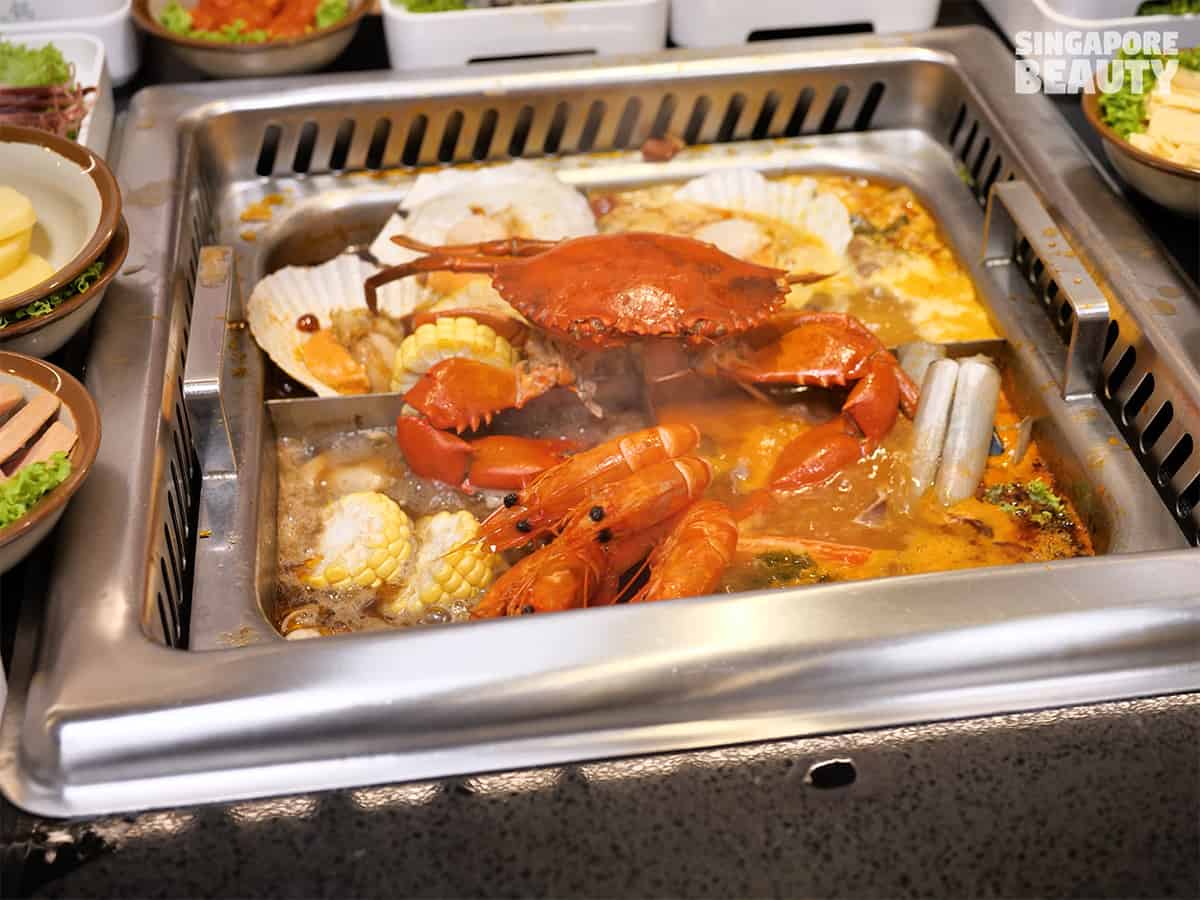 Enjoy a savoury pot of succulent seafood in 4 soup flavours – the chef recommendation is mala spicy soup, chicken soup, tomato soup and their signature wild mushroom soup. They have more than 12 types of seafoods in the hotpot buffet B such as sliced dory fish, baby cuttlefish, fresh prawn, squid rings, crab sticks, green lipped mussels, lala clams, fish maw, tiger prawns, scallops, razor clams and more.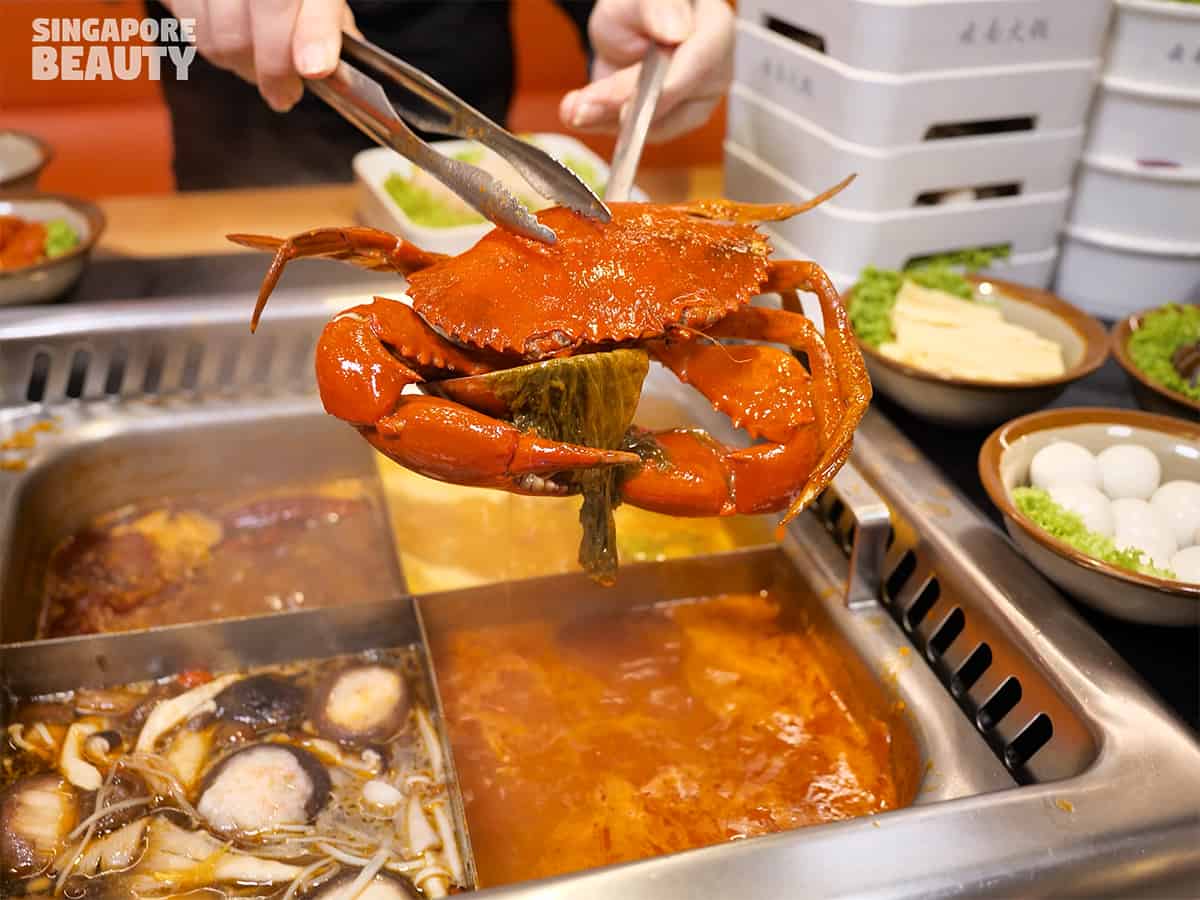 Live mud crab, abalone and mala crawfish is under 1-time redemption seafoods. The live mud crab redemption is based on the number of diners at each table. Get 3 live mud crabs for 6 pax and above, 2 crabs for 4 to 5 pax and 1 for 2-3 diners. These are live mud crabs that are delivered daily to ensure the freshest quality for hotpotting. Dispatched to order, the crab after cooking is a bright red hue. Meat is sweet, firm and succulent.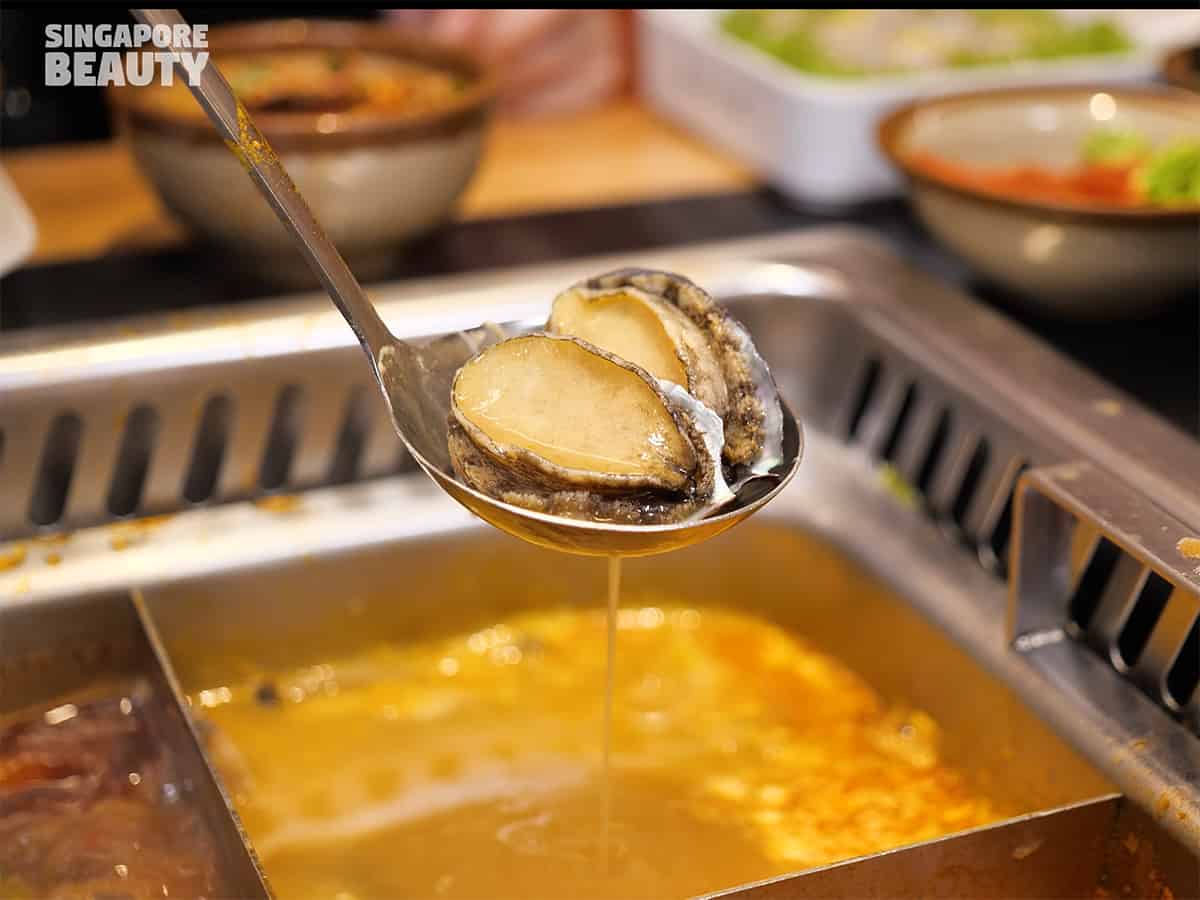 For buffet B, each diner is able to redeem one abalone per person. These are baby abalone in half shell that is commonly used in Korean seafood stew. They take on the flavour of the soup base that you cook them in. The abalone has a tender and snappy texture.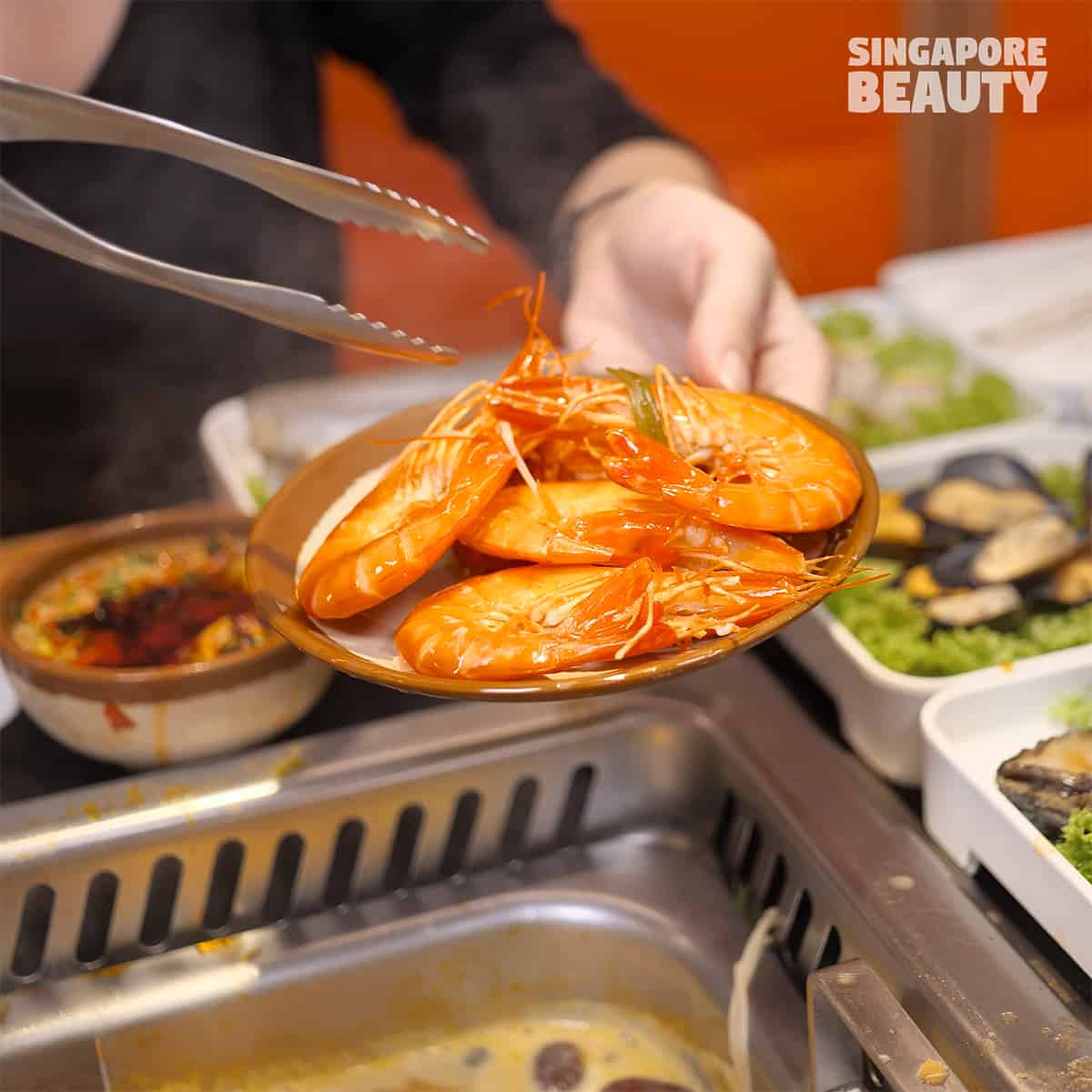 There are many seafood to choose from in buffet B, the tiger prawns are crunchy and sweet with lots of head butter. Enjoy these with the diy dips from their condiments counter for more kick.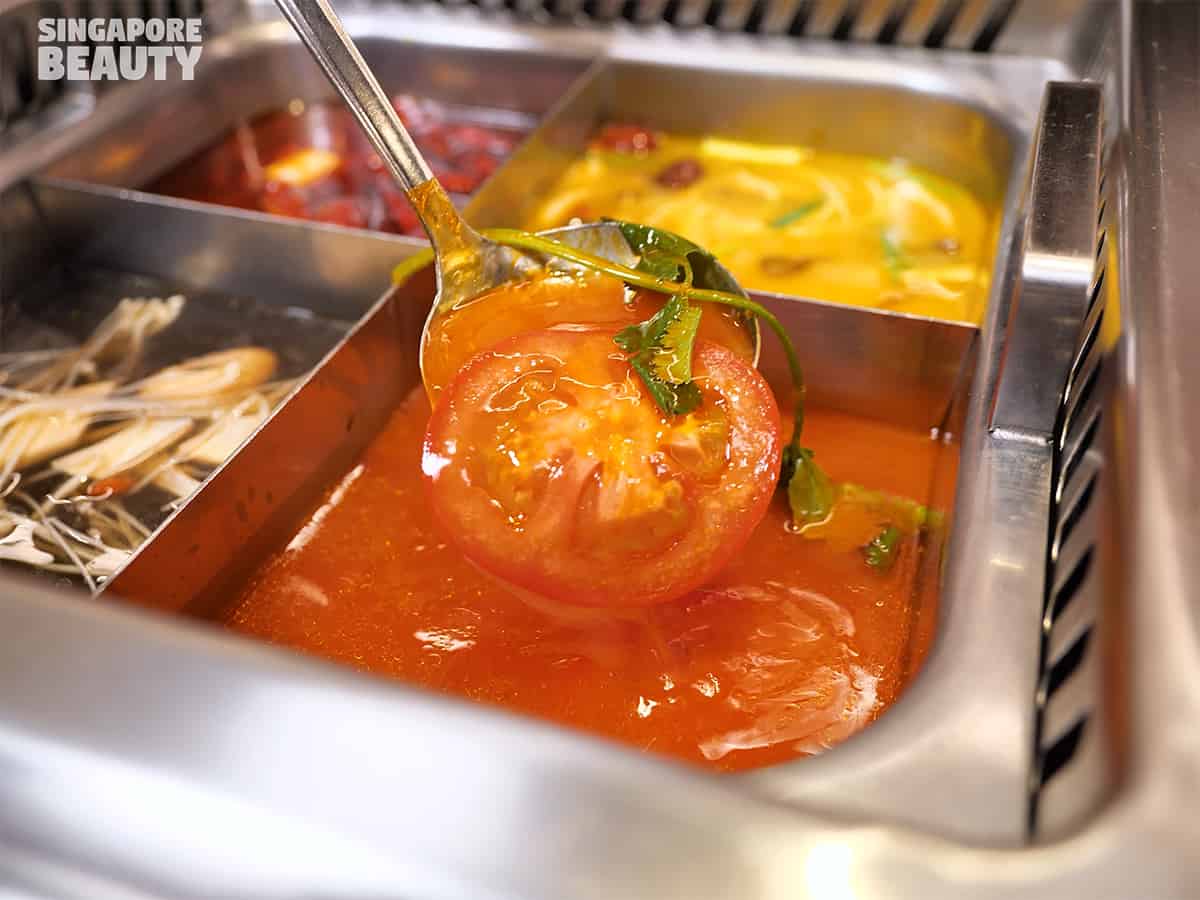 There are 8 types of soup bases you can choose from, such as wild mushroom soup, hot & sour, mala spicy, chicken, tomato, tom yum, pig bone and pickled cabbage. They also have an option for water base for those who are into creating their own soup bases with the condiments or wants to taste the original flavours of the ingredients. Soup bases are at $8 for 3 or 4 soup bases of your choice.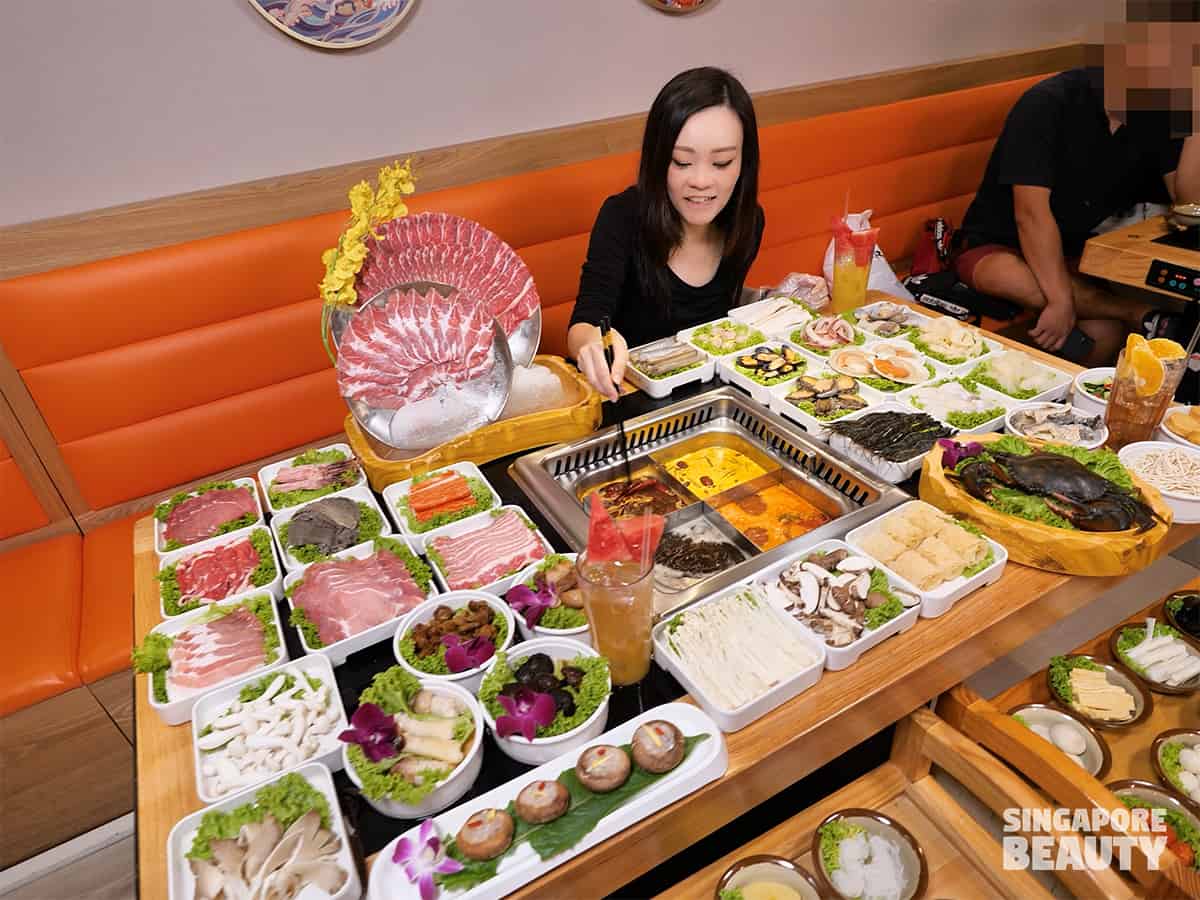 Here's our Ah Ma Shi YunNan Hotpot buffet review. We tried their Premium Wagyu, Spanish Black Pork Yun Nan Hotpot buffet B, we love the wide variety of more than 90 ingredients which includes premium meats, seafood and desserts. We cannot decide which is better the wagyu or Spanish black pork, hence both are crowned the winners in meat category in this hotpot experience.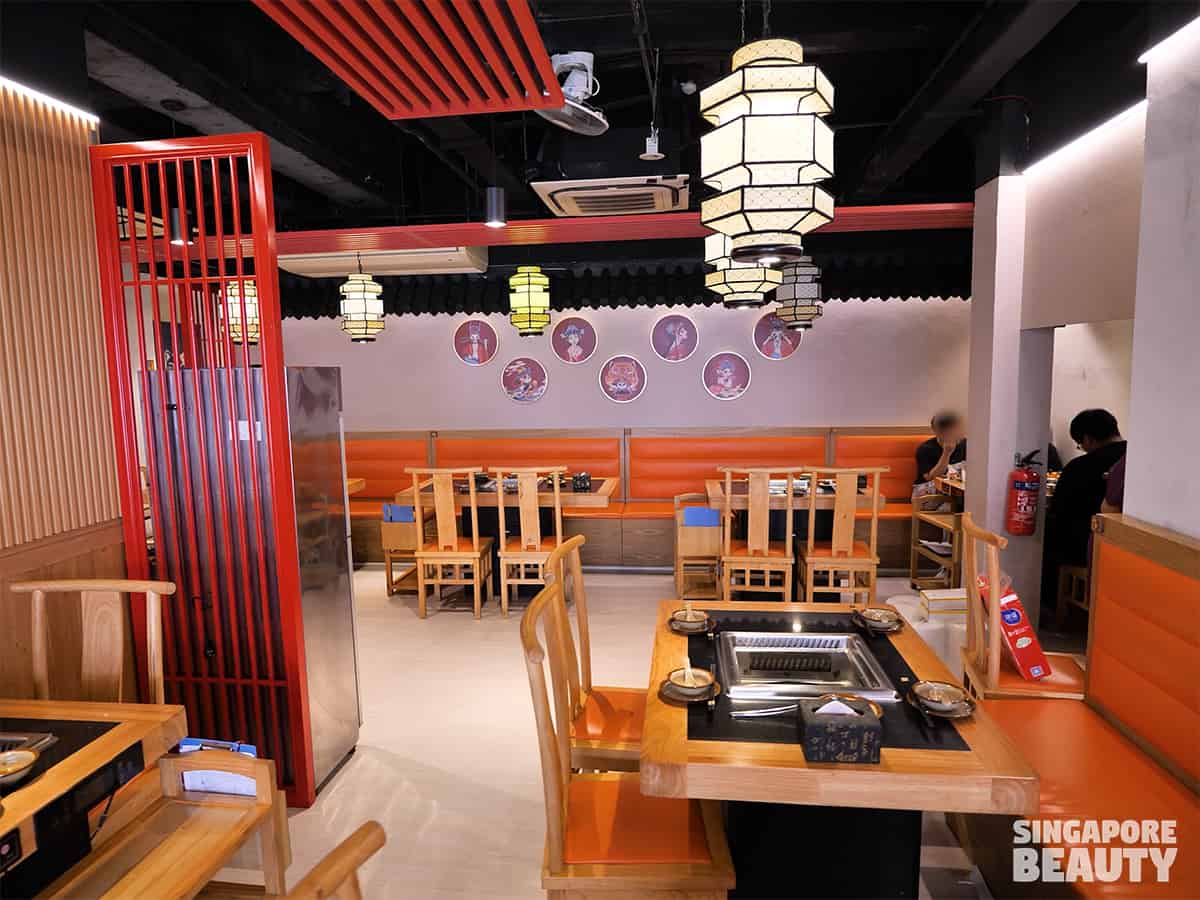 The interior is of bright orange padded carved wood settee bench with accents of red lattice screens and traditional Ancient roof tile eaves. Sporting a relaxed dining ambience with mandopop background music while you hotpot.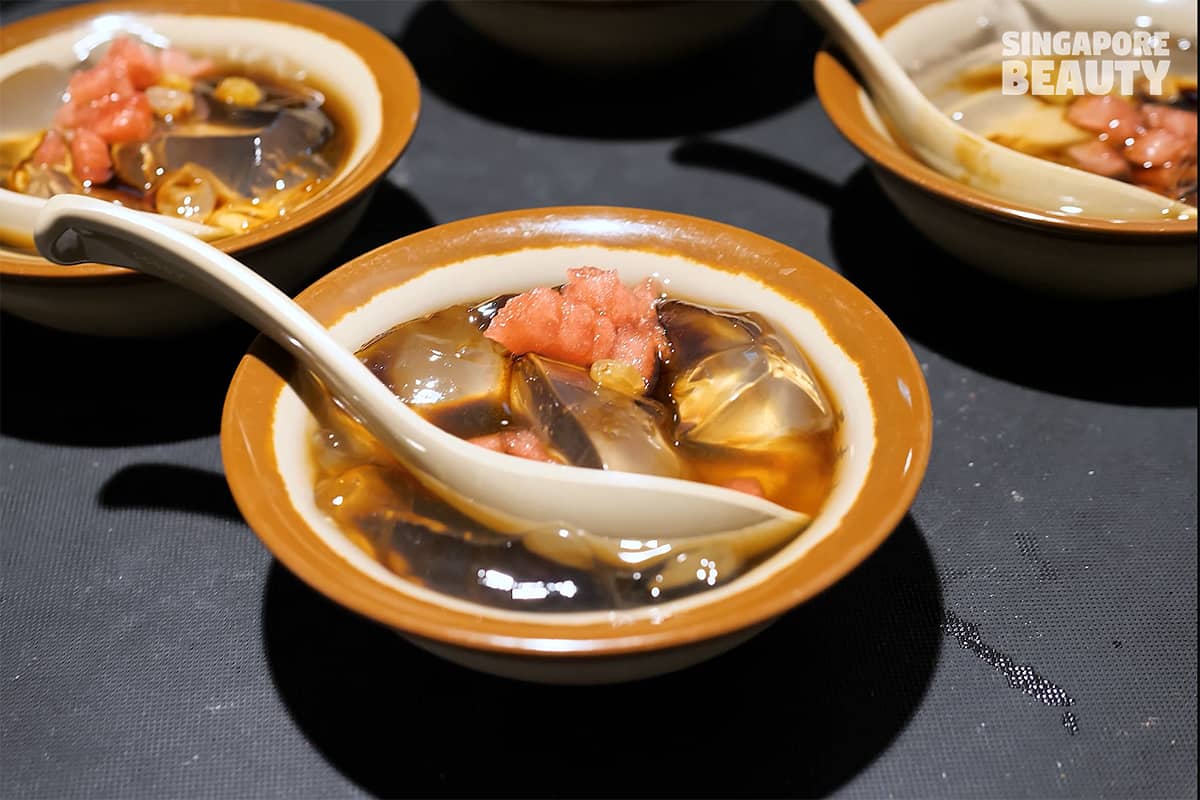 End your hotpot buffet on a sweet note with their ice jelly dessert. This is like the viral rain drop jelly with a brown sugar dressing, nuts, raisins, hawthorn cubes and more. It has a jiggy texture and mildly sweet flavour.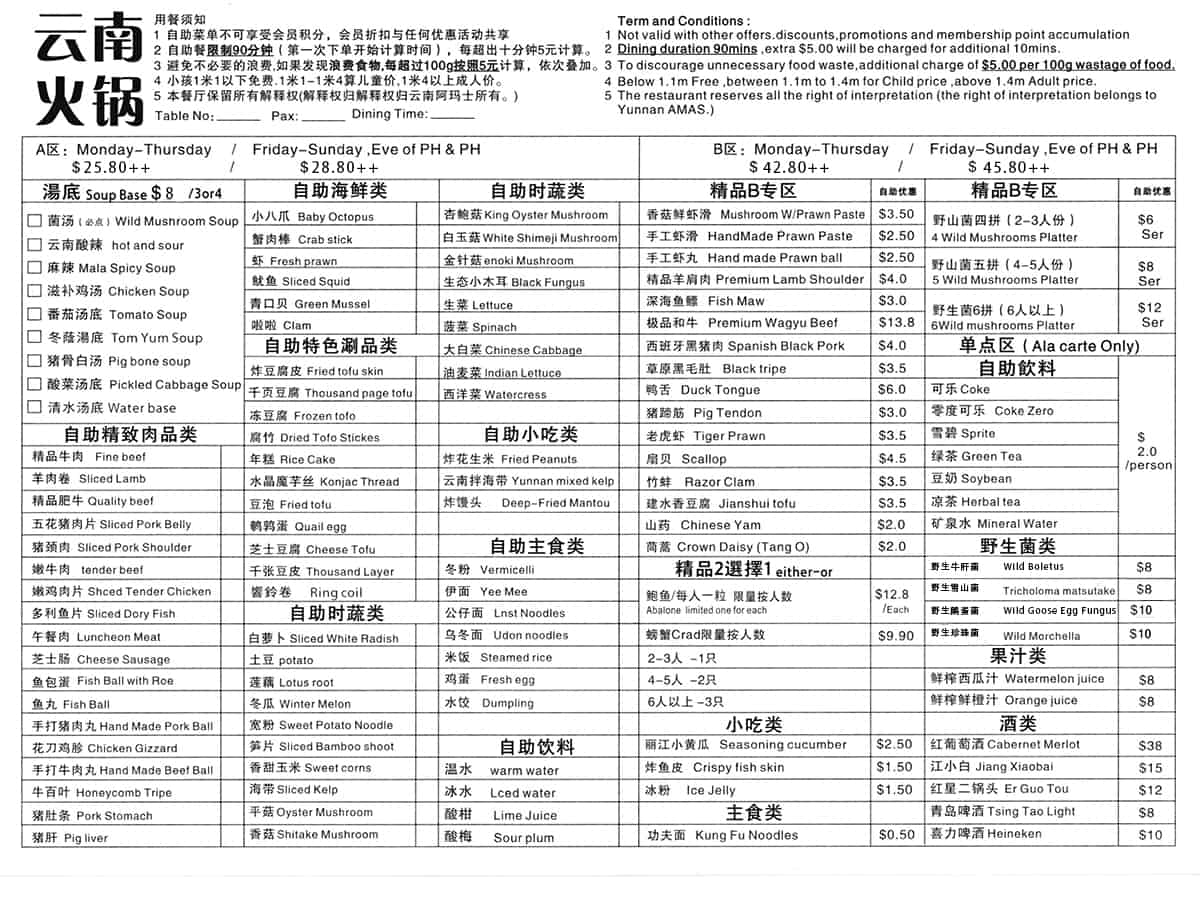 Here's the price and menu of Yunnan Ah Ma Shi Hotpot buffet at Bugis – Liang Seah street. There is an option of Buffet Zone A and Buffet Zone B. If you take the buffet Zone B like us, you get to enjoy all the items on the menu with exception of those that stated ala carte. Can drinks are free flow for buffet Zone B at $2 per pax, or you can just enjoy the dispenser drinks (lime juice, sour plum etc) that is included in the buffet. Personally, I prefer to get their can drinks which includes soya milk, green tea, herbal tea and more. Buffet A starts from $25.80++, buffet B starts from 42.80++.
Head over to Ah Ma Shi Yunnan Hotpot buffet along Liang Seah Street in Bugis, Singapore for this wild mushroom hotpot experience with hotpot lovers. This is a 3 storey buffet restaurant with level 1 and 2 open for buffet, open concept private room for larger groups available. They are open from 11.30 am till 2am, great place to have supper in Bugis. Parking is also available along the restaurant with its distinct bright orange colour theme frontage.
Ah Ma Shi Yunnan Hotpot Price:
Buffet A
Adult buffet price
(Mon-Thurs) $25.80++
Fri-Sun / Eve of PH & PH $28.80++
Top up $8 for 3-4 soups
Premium Buffet B (with wagyu, black pork & more seafood)
– Redeem mud crab/abalone, wild mushroom platter and mala crawfish.
Adult buffet price
(Mon-Thurs) $42.80++
Fri-Sun / Eve of PH & PH $45.80++
Top up $8 for 3-4 soups
Dine in time : 90 minutes
Live Mud Crab & wild mushroom redemption for Buffet B only
2-3 pax – 1 crab, 4 wild mushroom platter
4-5 pax – 2 crabs , 5 wild mushroom platter
6 pax above – 3 crabs , 6 wild mushroom platter
Dispenser drinks & Ice cream included
Opening Hours : 11.30am to 2am daily
Address of Ah Ma Shi Yunnan Hotpot 阿玛士火锅 :
26 Liang Seah Street
Singapore 189047
Call for Reservations : 6980 6856 / 8399 9127
Brought to you by Ah Ma Shi Yunnan Hotpot