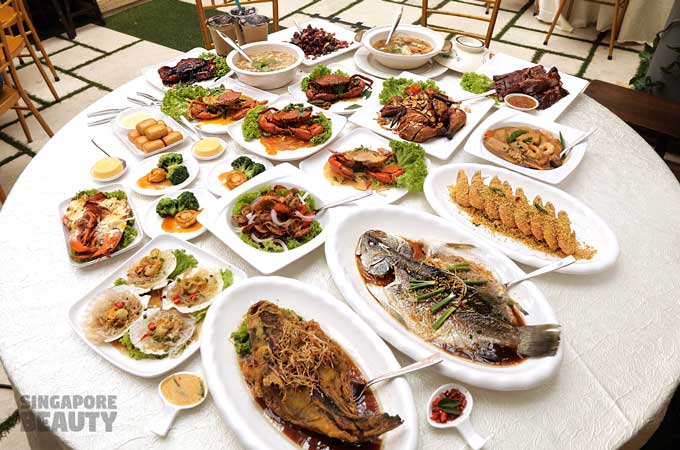 The Garden Kitchen is having an ala carte all-you-can-eat ala carte buffet that includes a premium selection for dinner buffet and 60 choices of dishes. In this dinner buffet, you can choose either a mud crab or a lobster to share, unlimited mock shark fin soup, a one time serving of abalone per pax, a marble goby per table and a steamed scallop per pax and free flow bubble tea. This buffet needs a minimum of 2 pax to dine. [Restaurant Permanently Closed]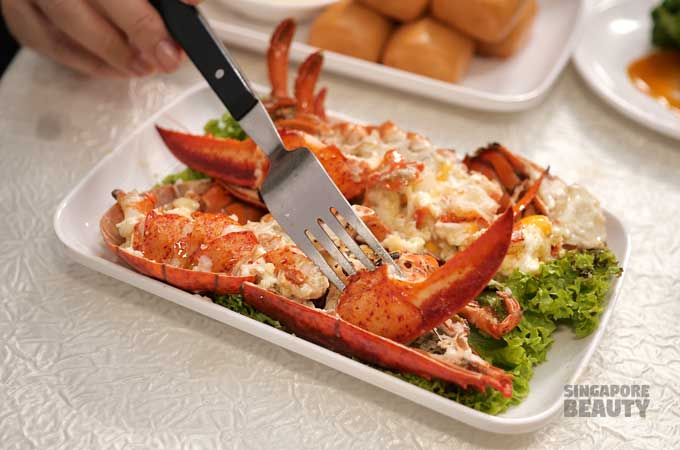 For those heading over for the dinner buffet, you get to choose either a lobster or a mud crab available in 5 flavours to share among 2 diners from the premium selection. The lobster is deshelled and plated back on the shell for ease of consumption.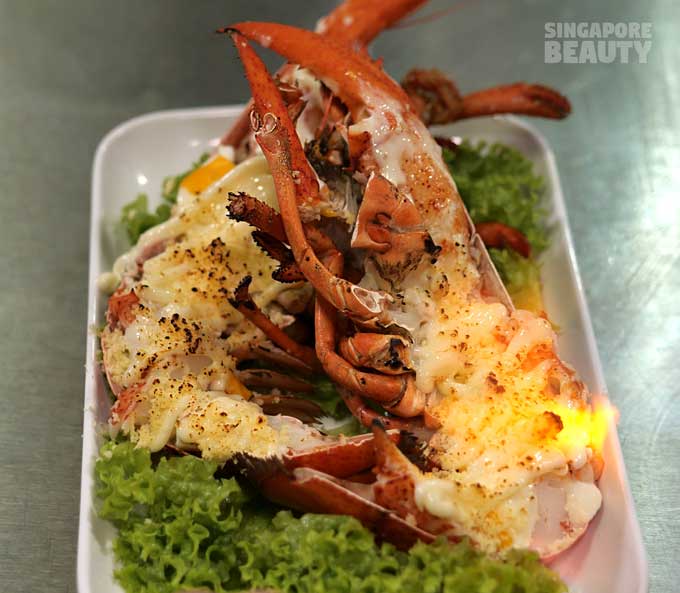 Topped with cheese and torched to a melty texture to give the lobster meat a rich creamy flavour.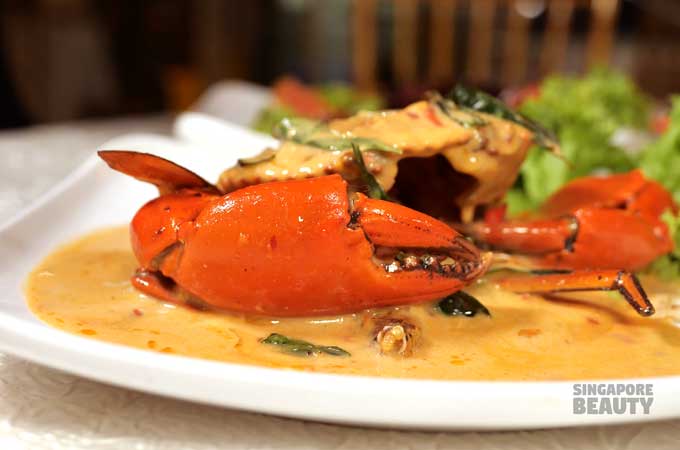 For diner who prefers mud crab, the crab comes in chilli, salted egg, gan xiang, black pepper or butter flavour.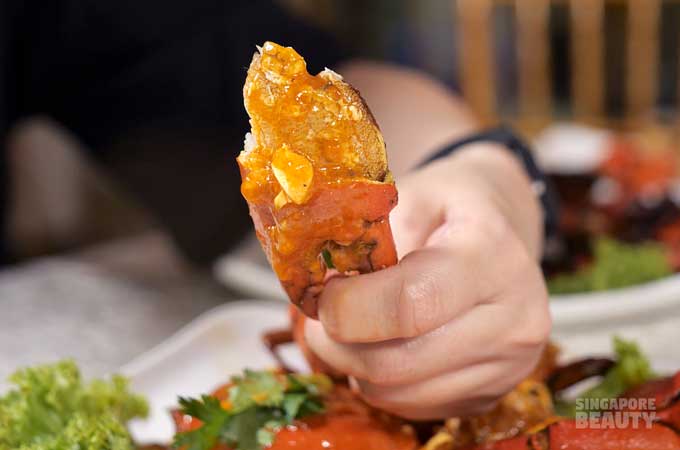 You get a crab to share for every 2 diners.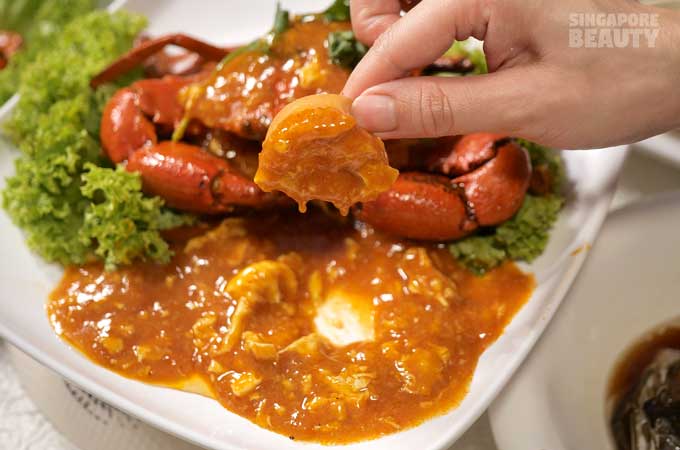 Order a plate of deep fried mantou to soak up the savoury gravy especially if you are ordering the chilli crab or the salted egg flavour. The mantou also comes with a thick milk dipping sauce, you can either have the mantou sweet or savoury.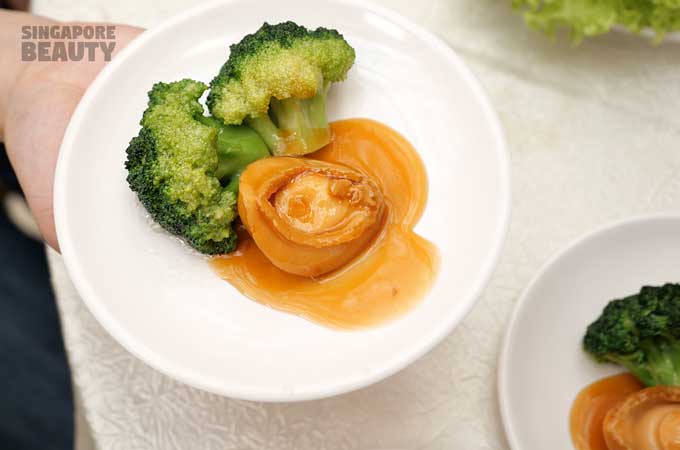 The premium selection also includes a set of baby abalone in savoury abalone sauce per diner. This abalone is braised and is tender to the bite. The steamed broccoli brings out the natural briny flavour of the abalone with the silky texture of the dressing sauce.
Mock shark fin is also included and free flow too. The mock shark fin with rings of soft pillowy fish maw, shredded crab meat and silky ribbons of egg white in a thick gelatinous savoury chicken stock is best enjoyed over a hot bowl of steamed rice. Add some vinegar and white pepper for extra kick and a hint of tartness to the stew.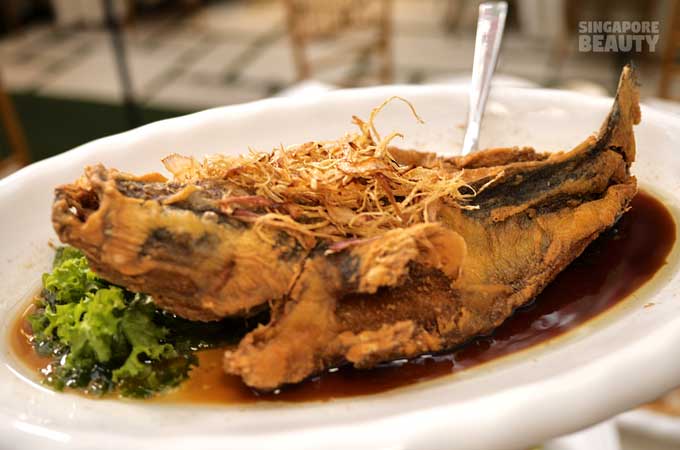 Marble goby also known as soon hock is a premium freshwater fish sought after by many in traditional Chinese 10 course dinner for its sweet and delicate meat that melts in the mouth.  The marble goby is served deep fried atop a pool of fragrant gingery soy sauce oil.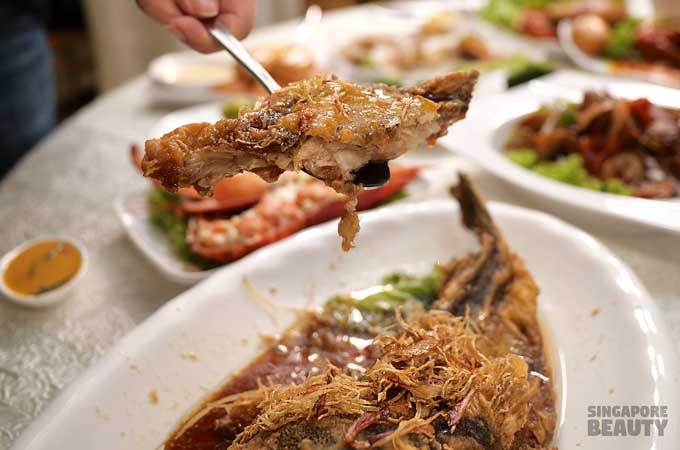 Topped with crispy shredded ginger, the crispy crust is like a savoury piece of fish cracker. Under the crust holds some tender juicy meat and best enjoyed with a drizzle of savoury soy sauce oil. Each table is entitled to one marble goby.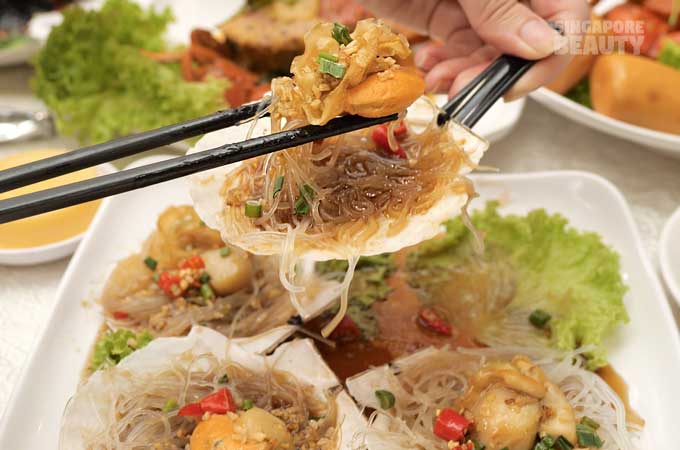 This is steamed scallops with minced garlic and glass noodle to soak up the sweet seafood juices. Limited to one steamed scallop per diner as this is part of the premium menu. It has some chewy scallop fin with some contrast from the custardy roe.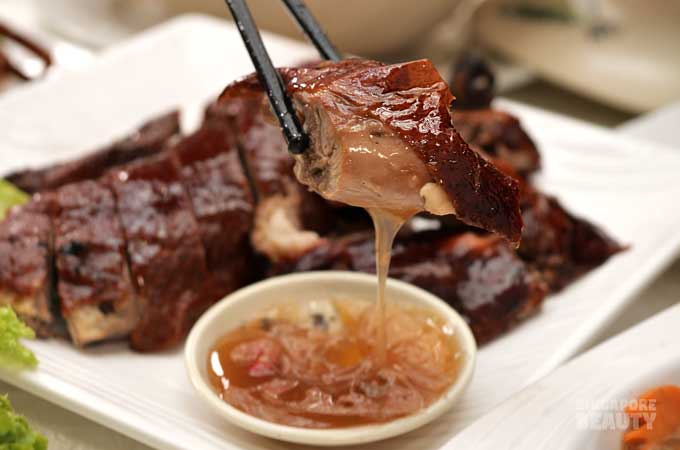 Beside the premium selection that is available only during dinner buffet, the Garden Kitchen also has a unlimited selection of over 60 types of seafood, meat, roasted meat, greens and toufu, soup and stew, appetisers, desserts, rice, noodle and bubble tea that is available for both lunch and dinner buffet. Order a portion of roast duck to share among your friends, comes with nostalgic type of plum sauce as dip. The meat is savoury and tender with a caramelised skin that holds an interesting deep five spice flavour.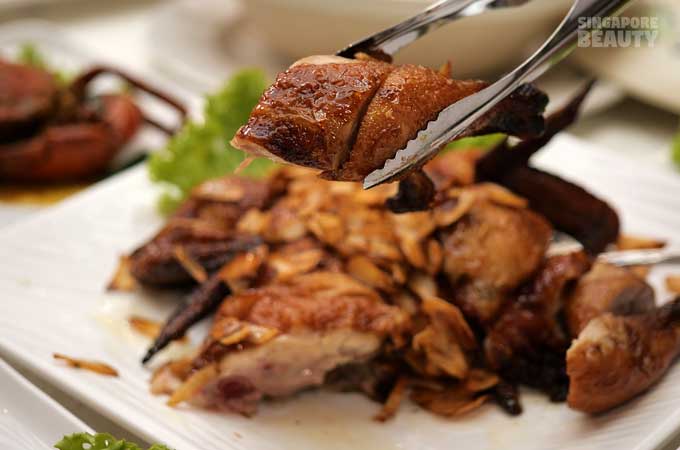 Another popular item on the buffet menu is the garlic herbs roasted chicken. The chicken is deep fried to create a paper thin glistering browned skin and some savoury meat.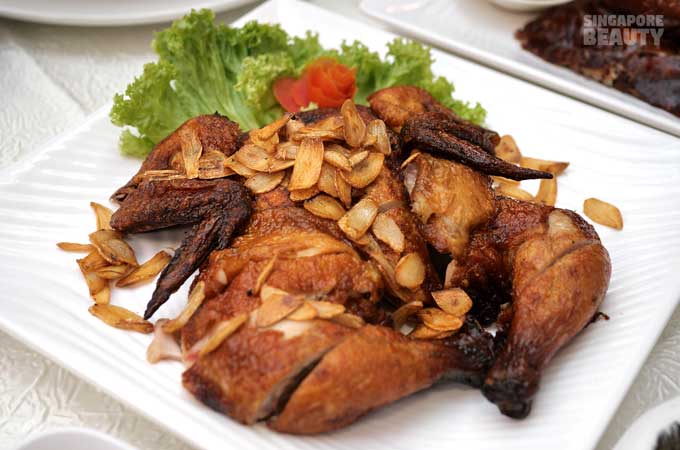 Topped with some crispy garlic chips for extra umami flavour and a sweet garlic kick.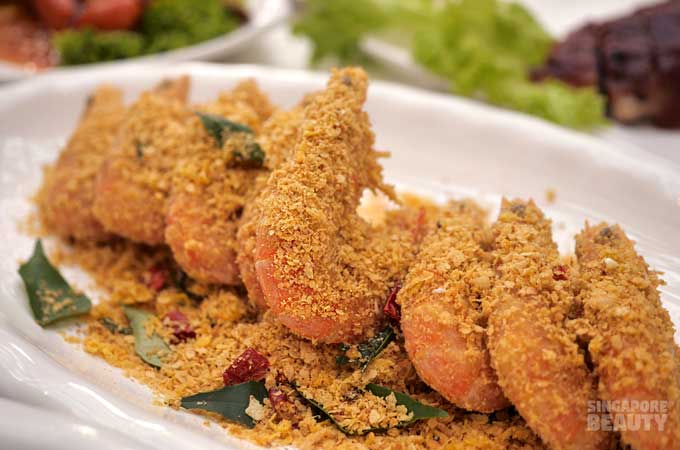 Those who love prawns, this is something you should order during the buffet. The cereal prawn is butter coated with savoury crisp baby oats with strong aroma from the curry leaves and a light hint of heat from the chill padi. With unlimited servings, feel free to stack up on your protein during this buffet.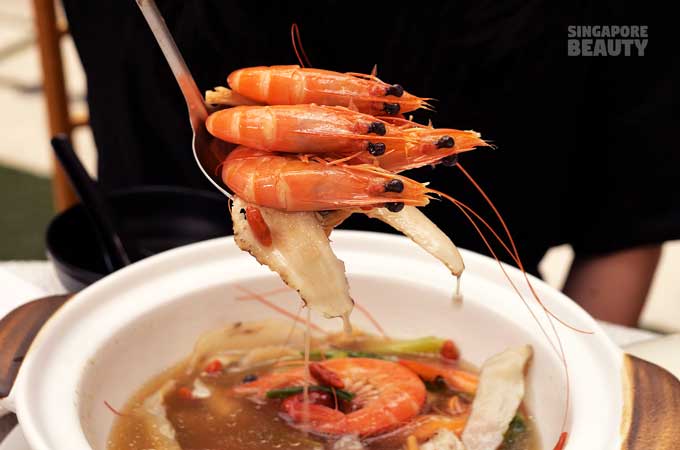 Made with more than 5 types of herbs such as yuzhu, wolfberries, dates, dangsheng, enjoy a hot pot of sweet herb prawn soup to warm up your body if you are feeling the chills. It is also believe that herbal prawn soup helps with blood circulation and vitality.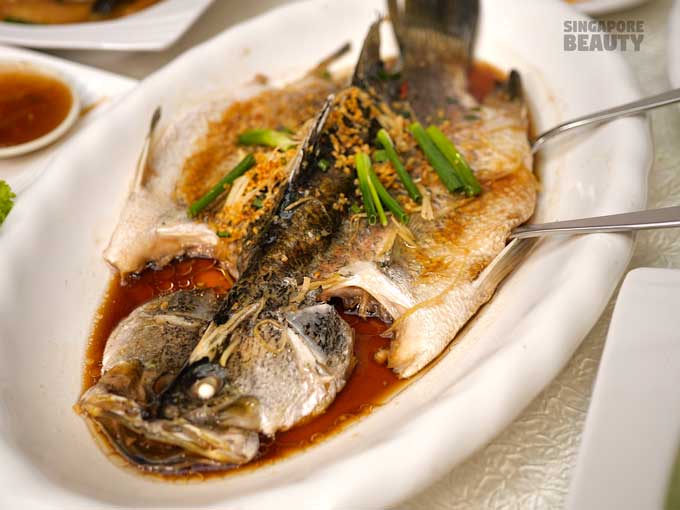 Want more fish? Have unlimited servings of freshly steamed seabass Hong Kong Style in brewed light soya sauce drizzled with hot spring onion oil.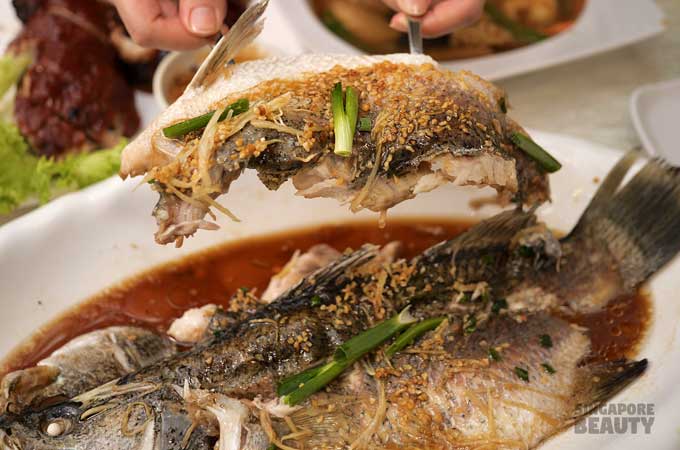 Topped with sweet garlic, shredded paper thin young ginger for extra crunch and a hint of spicy aroma.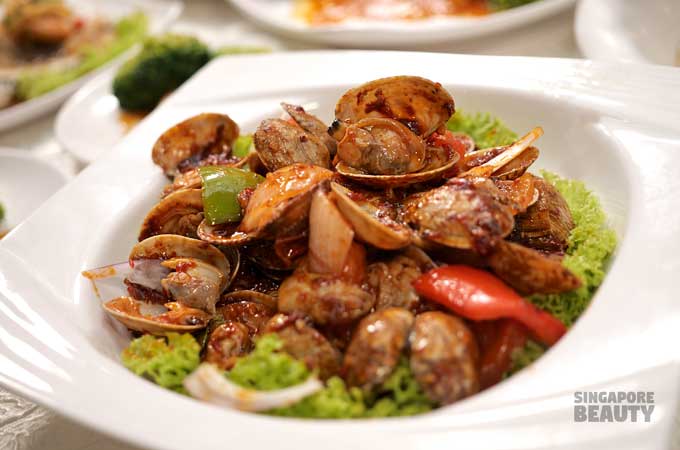 Sambal or gan xiang stir fry lala is also on their popular list in this buffet. Fat morsel of lala in rich sambal sauce is really addictive.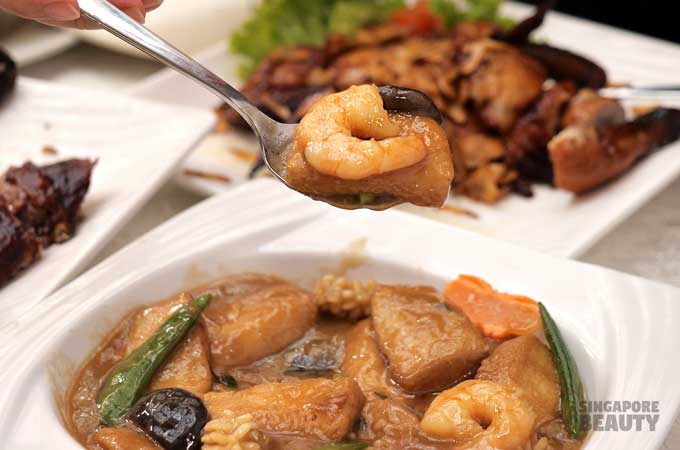 End the buffet with some light stir fry greens or braised tofu with seafood. Pillows of egg tofu that melts in your mouth with an interesting elastic tofu skin.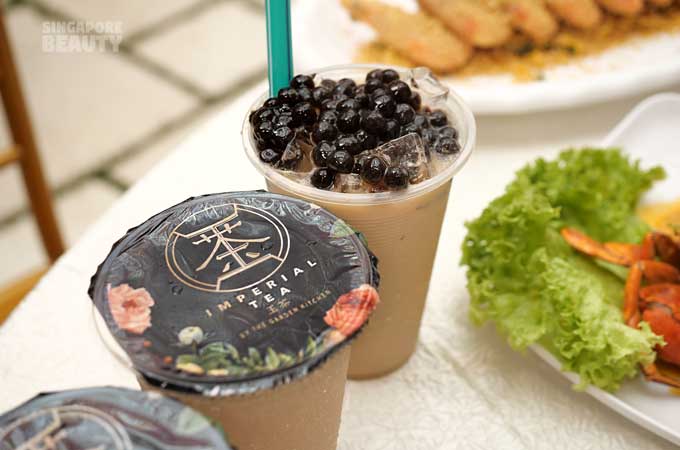 Gulp down unlimited cups of ice cold bubble tea that is extra light, airy and rich with some black chewy boba pearls. The bubble tea comes in classic, earl grey, roasted Oolong, matcha flavour and is part of the buffet.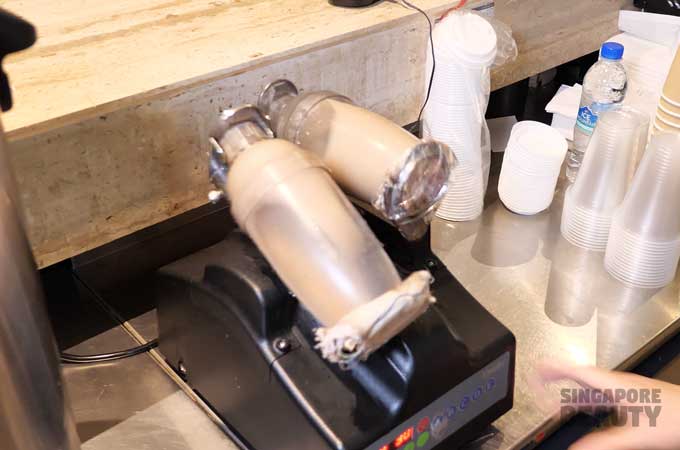 This shaker is the magic behind the light and foamy bubble tea texture. The bubble tea gets shaken repeatedly by this shaker machine to induce air into the drink, just like teh tarik.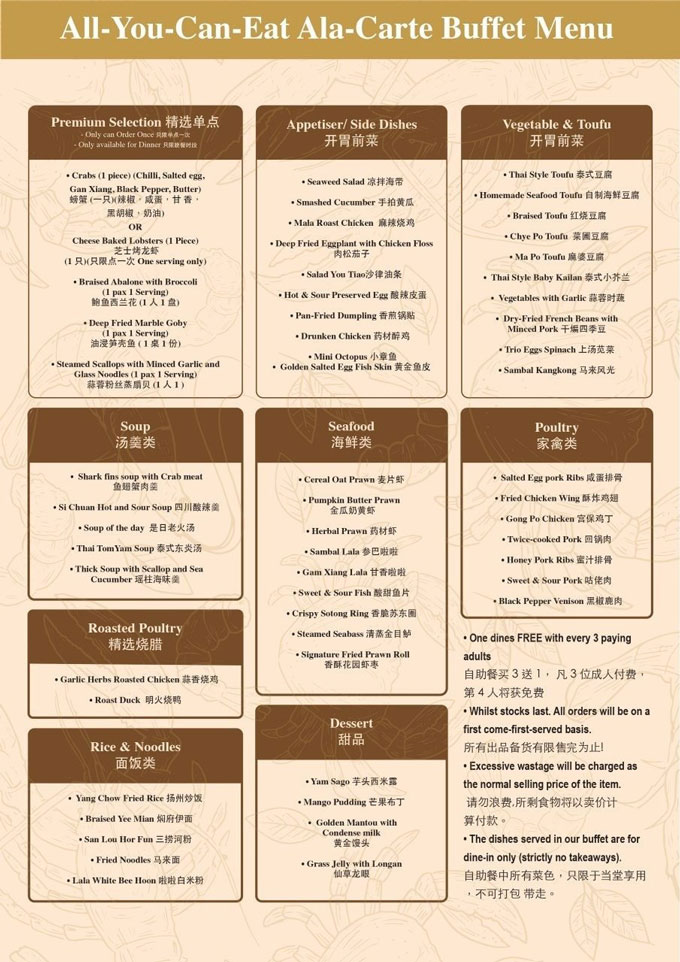 Here is the menu for the dinner and lunch ala carte buffet. The premium selection is only available during dinner. Menu image courtesy of The Garden Kitchen.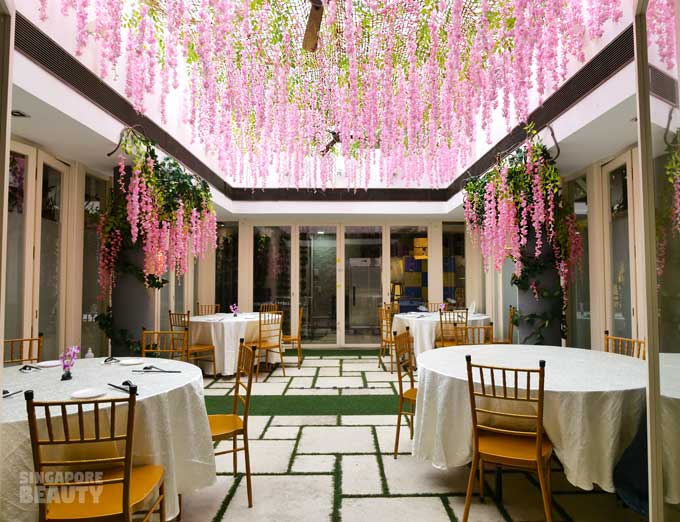 The Garden Kitchen has two internal dining hall, the sky lit cascading pink sakura room with tiffany chairs and the cosy dimmed summer hall with summer coloured hanging roses.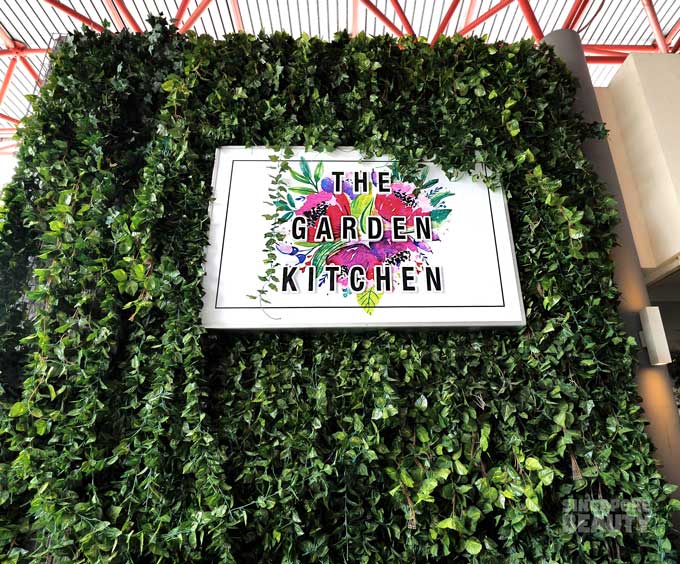 See you at the Garden Kitchen and make a reservation before heading over to secure a table at your preferred dining hall.
The Garden Kitchen Ala Carte Buffet
Adult Lunch Buffet Price:
$19.90 nett weekday
$23.90 nett weekend, Eve & PH
Adult Dinner Buffet Price (include premium items):
$39.90 nett weekday
$43.90 nett weekend, Eve & PH
Children(3-12 years old)
$15.90 nett daily includes Eve & PH
Below 3 years old eats free
No service charge and GST
Promo 1:
With 3 Paying Adults, the 4th dine free. Only for dinner.
Dine time:
90 mins
Minimum 2 pax to dine.
Unlimited bubble tea drinks are included.
Premium selection (Not unlimited)
a) to d) only available for dinner buffet:
a) Choice of 1 crab or 1 baked cheese lobster per 2 diners
b) 1 braised abalone per diner
c) 1 deep fried marble goby (soon hock) per table
d) Single serving of steamed scallops with minced garlic and glass noodle per diner
Buffet starts from 1 July 2020 until further notice.
Buffet operating hours:
Lunch hours: 11am till 3pm daily
Dinner hours: 6pm till 10pm daily
Location:
The Garden Kitchen [Restaurant no longer exist]
10 Raeburn Park #01-28, Singapore 088702
Fully air-conditioned indoor dining with flora theme
Weekday Shuttle bus is available from 7.30 am to 8.05pm
Pickup point is at Outram Park MRT exit H ground level and drop off at Blk A of Raeburn Park next to the Garden Kitchen. Bus interval of 10 minutes. Bus break from 10.10am to 12.30 pm.
For bookings:
Call them at (+65) 81258827
Brought to you by The Garden Kitchen