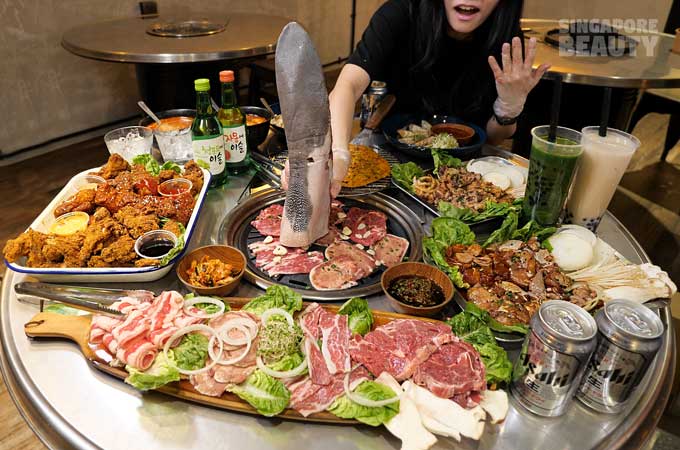 91 Korean BBQ has launched a new Korean style ala carte menu of beef barbecue platter, 4 types of marinated beef short plates and ribs, 4 types of marinated chicken for the new BBQ outlet at 91 Pasir Panjang Road. You also get to enjoy Korean chicken platter in 4 flavours, Korean kimchi and tofu stew, pan fried mandu pot stickers and gyoza, kimchi pancakes, boba bubble milk tea, beer and Soju. For those who want to try the premium cuts, try the spicy bulgogi in short ribs, spicy prawns, spicy squid, spicy duck and bone in short ribs big bone.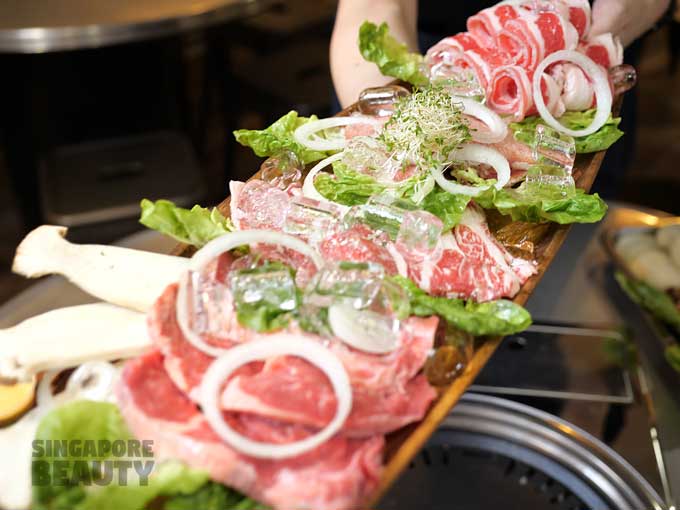 This is the chef's recommended platter – the All Beef Platter- which consist of beef steak, US beef short plate, beef tongue, beef brisket, lettuce, onions and king mushroom.
These beef parts are best grilled in their own fats and with a dash of salt, pepper and garlic for a stronger flavour.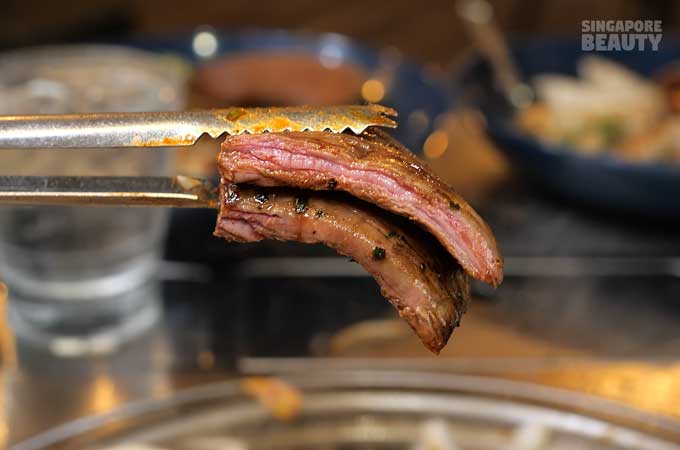 Cut these up with the cutter provided into bite size and enjoy it with some Soju or beer.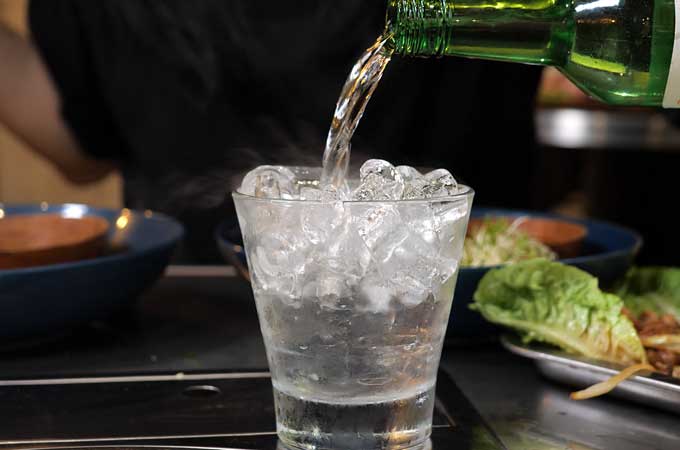 The frizz from the soju is refreshing and enhances the savoury grilled beef steaks of a juicy chewy texture.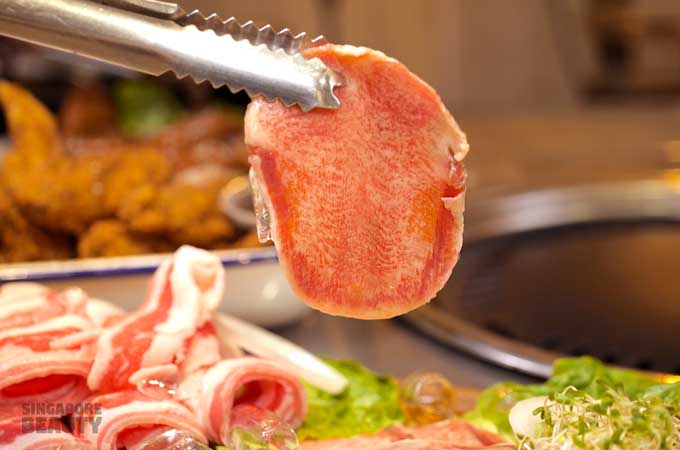 They also offer the sliced beef tongue which yields a much more tender texture after grilling.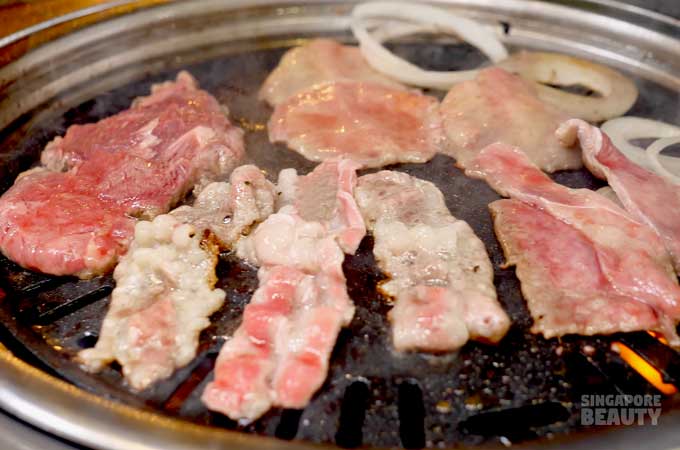 The beef briskets are easy to chew and literally melts in the mouth type. Watch them sizzles on the grill pans and ready to eat when they starts to curls into meat waves.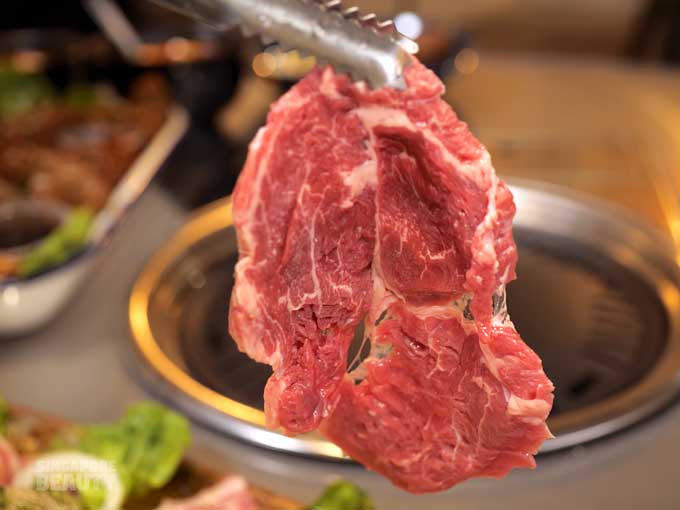 Beef steak are made of meat and marbled grains of fats. Grill these on low heat to retain the juices and still get some golden char-grilled flavour on it.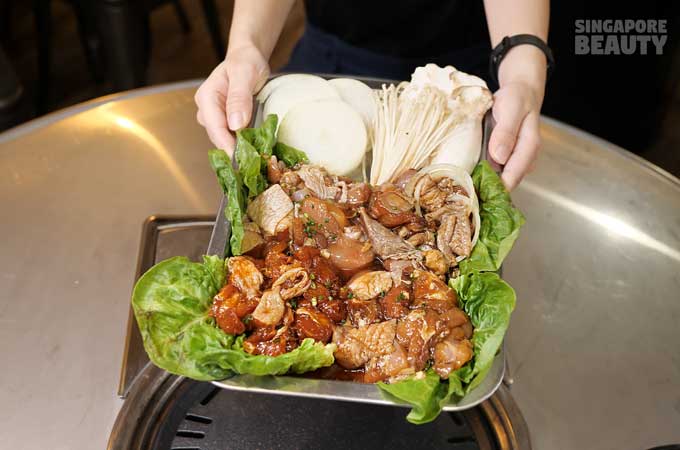 Marinated chicken platter is served in meat tray with 4 types of marinated chicken thighs in honey soya, onion, garlic and spicy chicken flavour.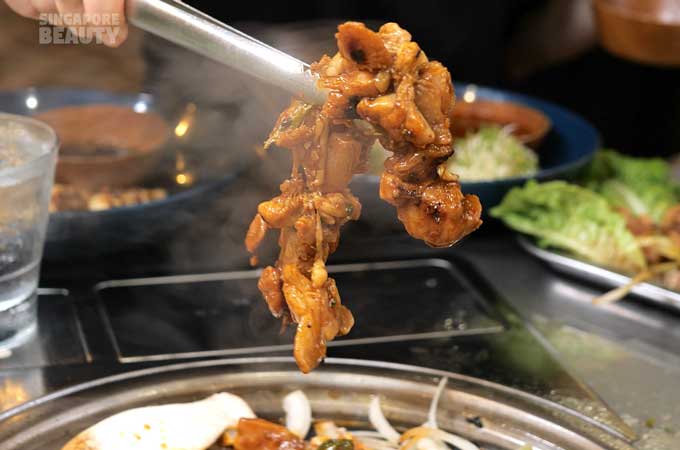 These are cut into bite size pieces with skin on for added chew.  The strings of chicken tenders are well marinated for at least a day and cooks quickly on the hot grill pan.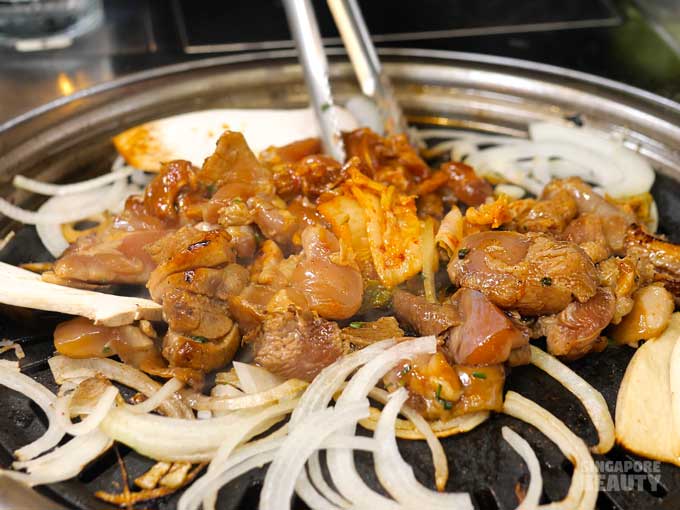 Throw in the sweet onions, king mushroom slices, enoki, kimchi and garlic slices for extra flavour to the grilled chicken thighs. The sweet caramelised onions after some grilling go well with the marinated chicken offering an added bite to the savoury chicken.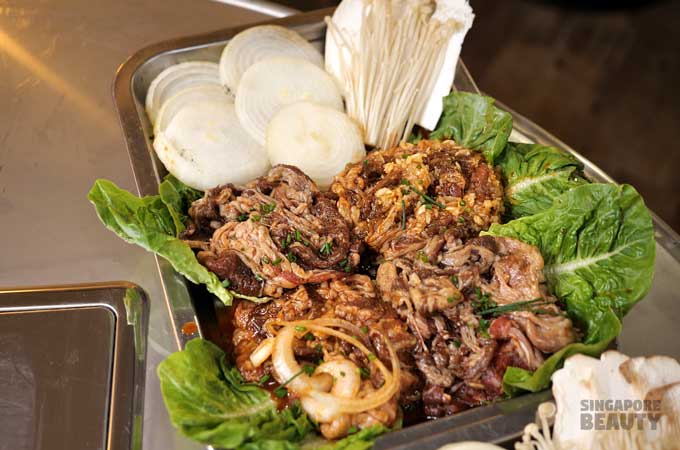 This is the marinated mixed beef platter with four flavours – bulgogi, honey soya, onion and spicy beef with sliced king mushroom, enoki, lettuce and onion rings. This platter is good for sharing for 3-4 pax in additional to the other Korean sharing sides that is available.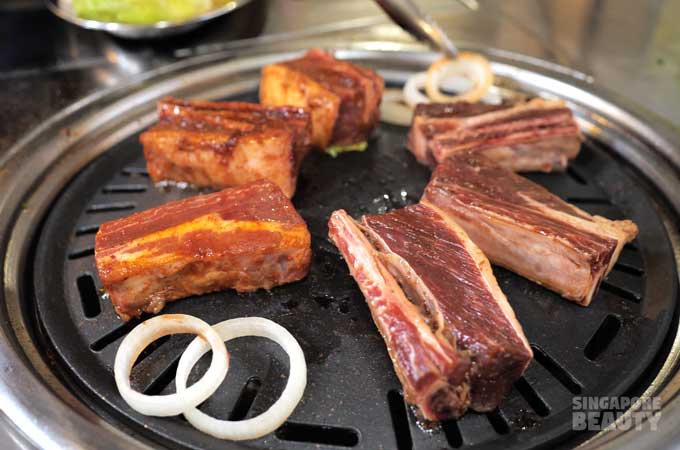 Enjoy some bone in short ribs big bone steak style by grilling these with a pinch of salt and black pepper.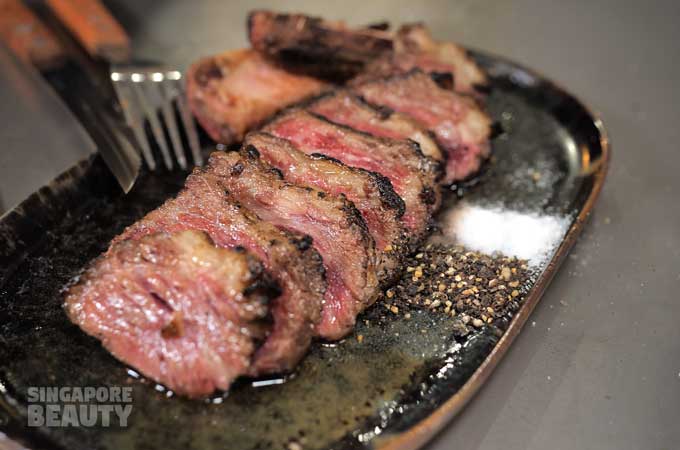 Tender meat with good amount of fats.
These are bone in short ribs with some marbling fats to give it a tender and moist texture after grilling.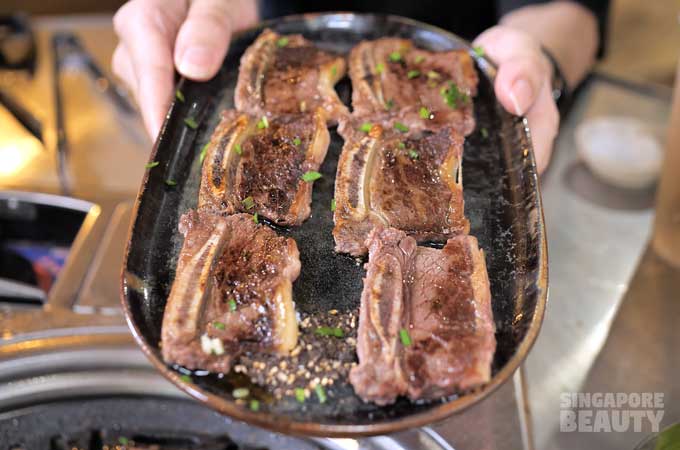 Moist slabs of beef with some chewy flavour from the tissue connecting the bones to the meat.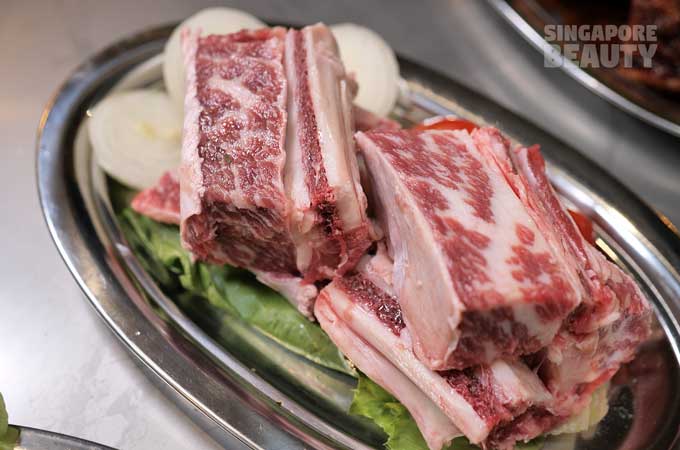 These are bone in short ribs big bone. The chunks of meat are heavily marbled and oozes some nice aroma of beef fats when grilled.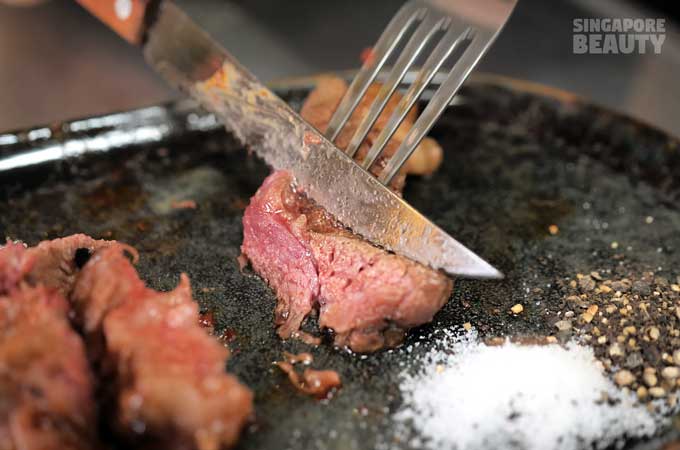 The big bones in meat adds to the flavour of the meat while grilling keeping it moist.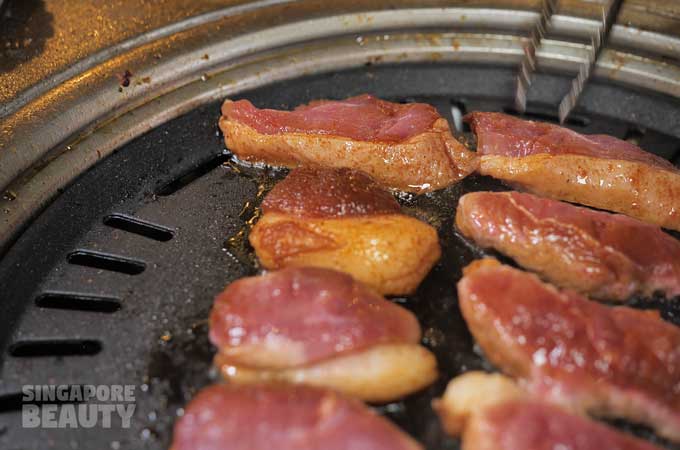 Spicy marinated duck is also available for those who love some well marinated duck tenders with a layer of smoky duck fats.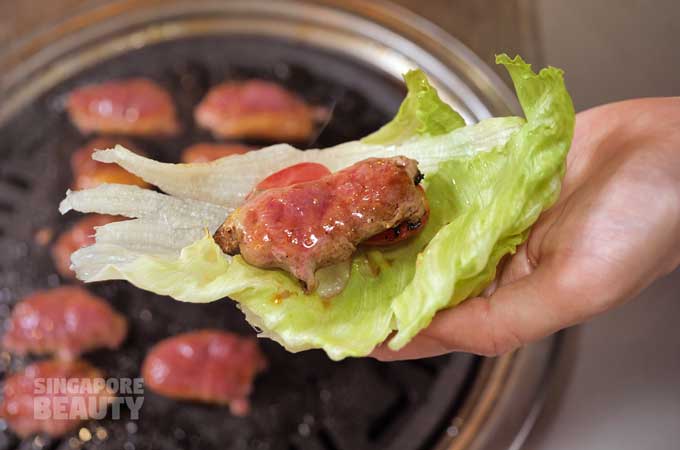 Enjoy the savoury duck bite with a lettuce wrap and some red cherry tomatoes that comes with the platter.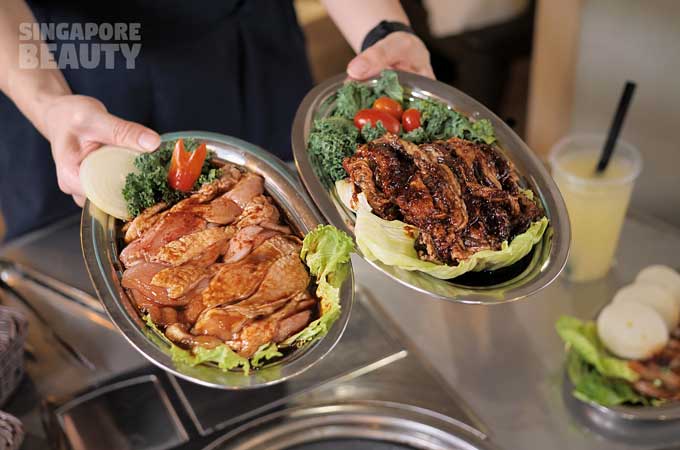 For those in the mood for bulgogi meats, they have a choice of chicken, beef or bones in short ribs.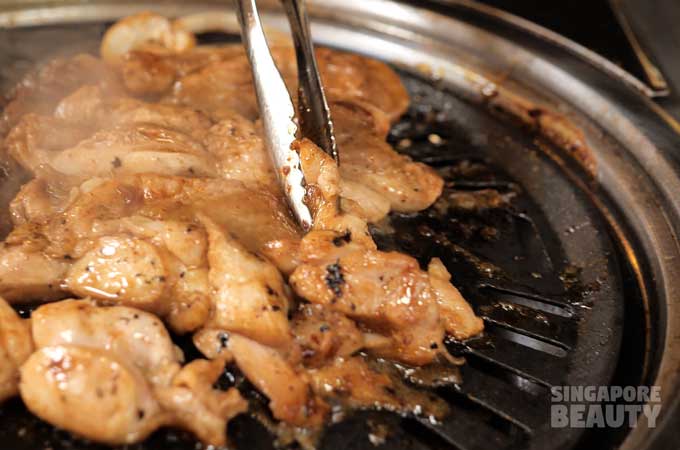 The bulgogi meats are a good mix of tender chicken thighs and skin well marinated in bulgogi sauce.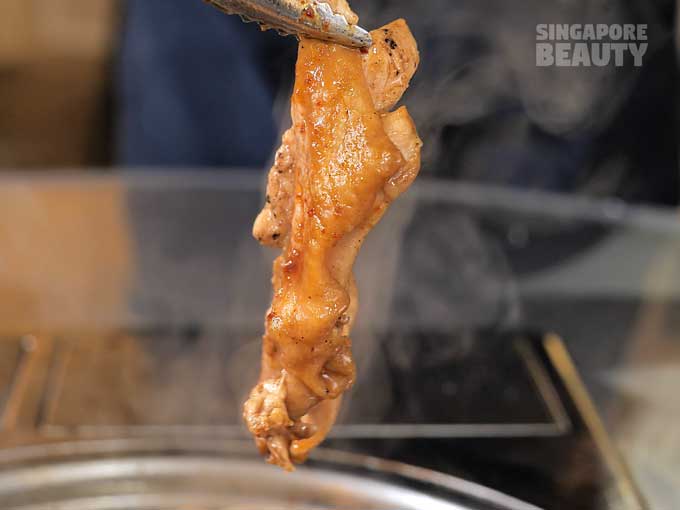 The chicken tenders moist and tender held together by some elastic soft chicken skin.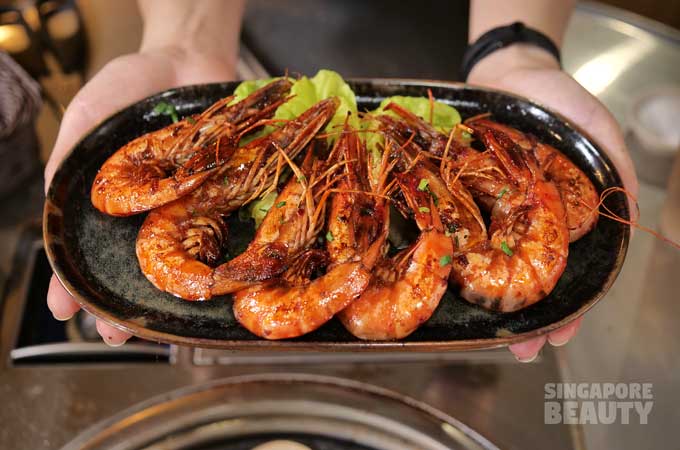 For those in the mood for some seafood, try the spicy prawns and the spicy squid rings.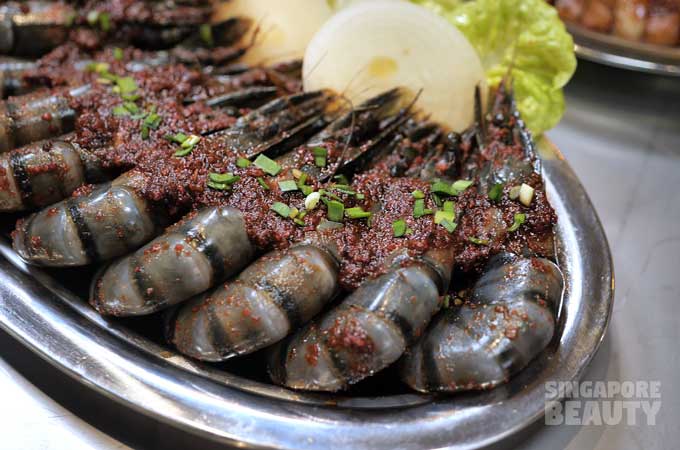 The portion is relatively generous enough for 2 pax to share with some good size tiger prawns topped with spicy chilli paste in oil.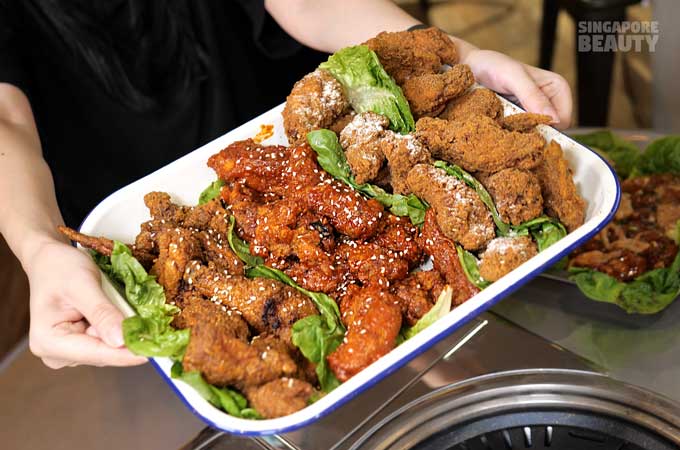 Korean fried chicken platter in 4 flavours is also available on their menu.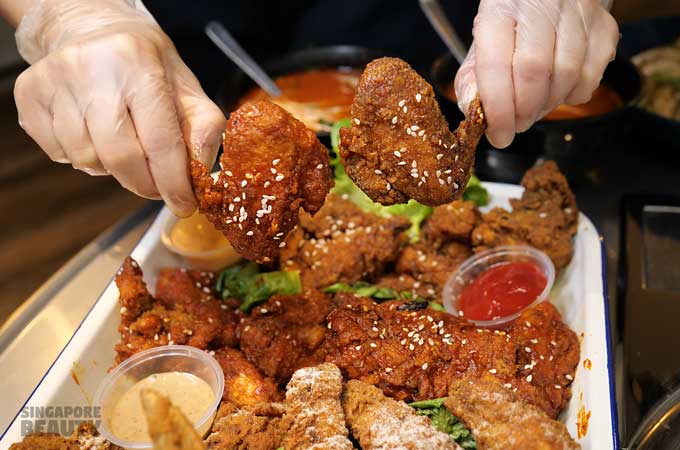 Choice of four flavours from curry, cheese, yangnyeom, honey soya flavour or original.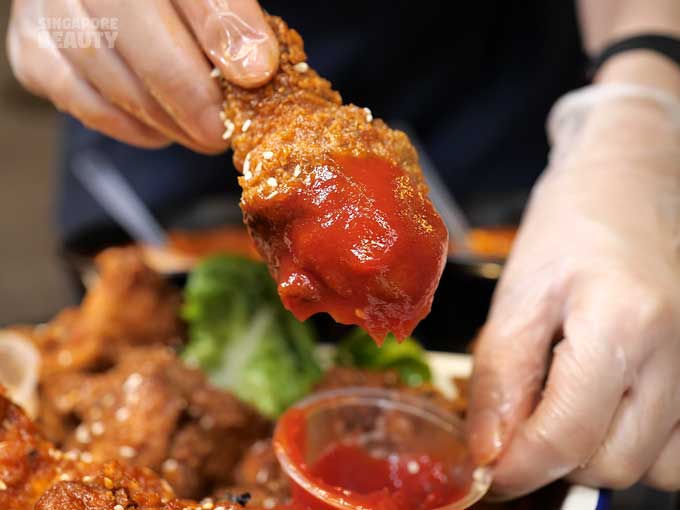 Enjoy these fried chicken with the customised cheese, ketchup, chilli and soy dip.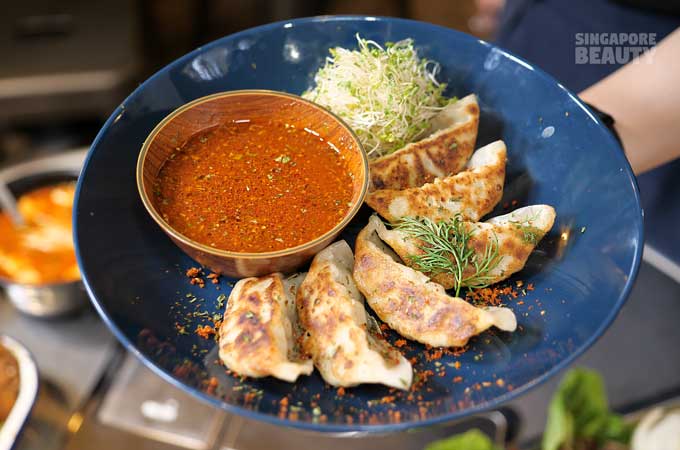 Besides the Korean style fried chicken, pot stickers, mandu and gyoza are also available.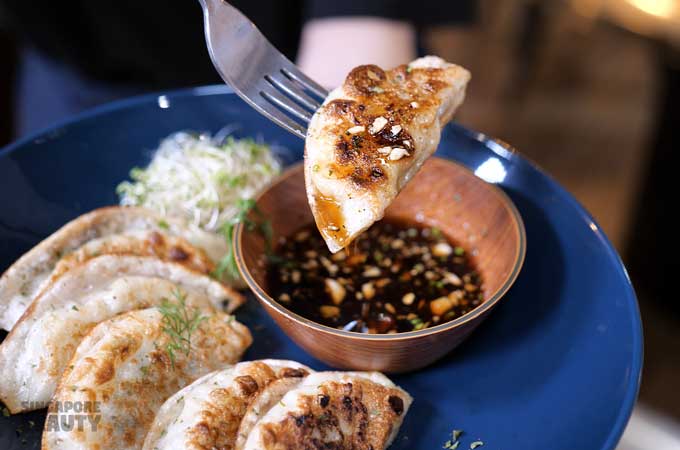 Come in pate of 6 pieces to share and a dipping sauce of your choice of either spicy tangy dip or soya garlic flavour.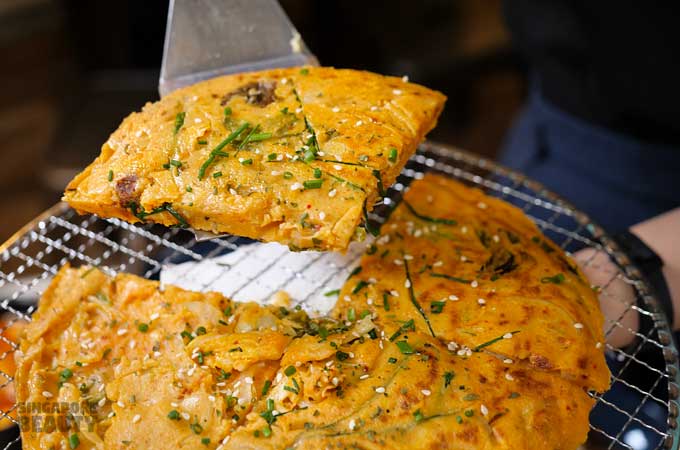 Kimchi pancakes that are made to order are also available. These are great finger food to go with the soju and Asahi beer.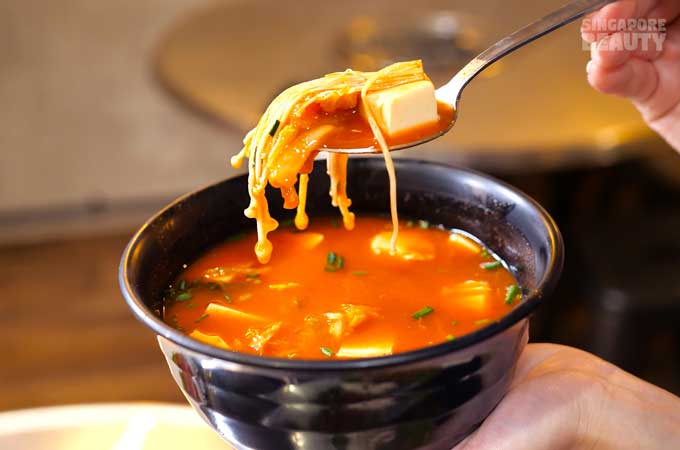 Thick pancakes that are great to go with the in-house kimchi or tofu stew.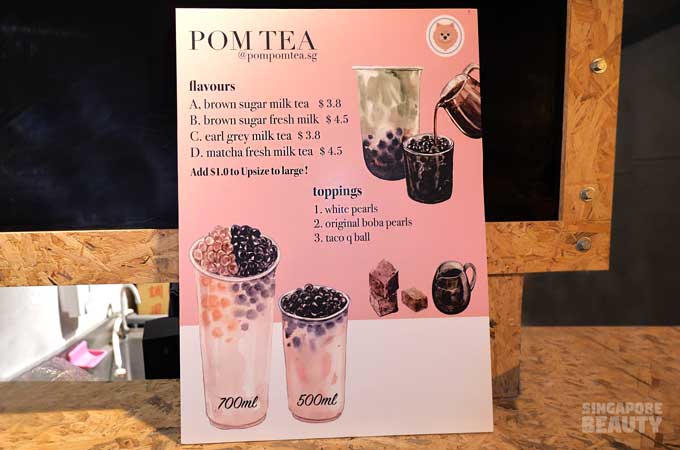 For those who are craving for boba milk tea, they have two cup sizes of boba milk tea to choose from, and four flavours with topping to add on too.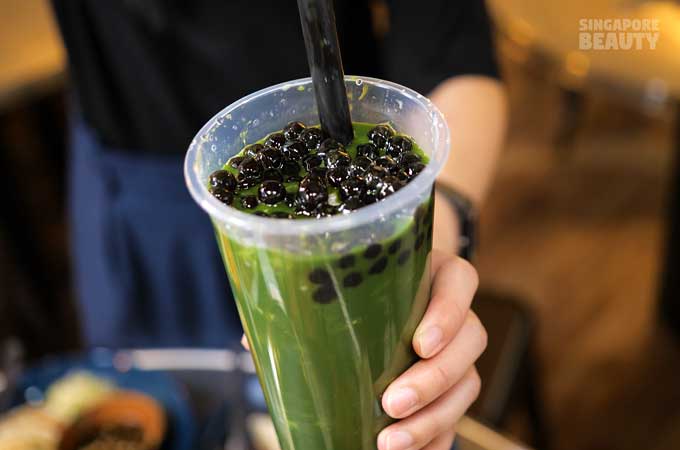 This is matcha fresh milk tea with original boba pearls added.
Time to gather your five friends and enjoy this Korean BBQ feast together.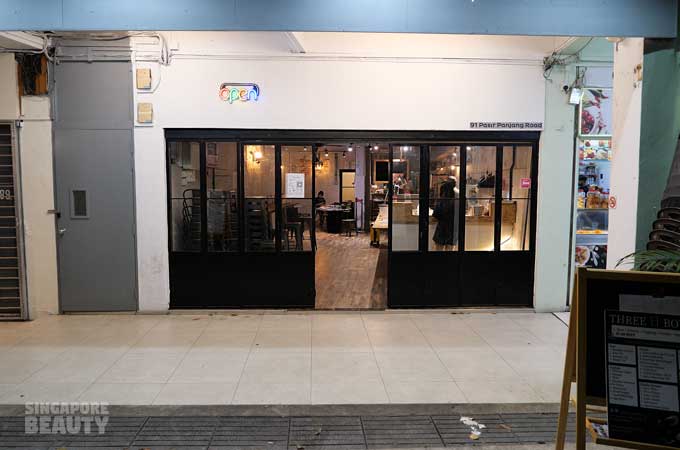 Book early as seats are limited to conform to social distancing measures within the restaurant. They are located at 91 Pasir Panjang Road, above is the industrial minimalistic shop front. Ample open air public parking is available adjacent to the restaurant.
Location:
91 Pasir Panjang Road Singapore 118512
(Nearest MRT Station Pasir Panjang)
Operating Hours:
Mon-Fri: 5pm to 12am
Sat-Sun: 12pm to 12am
10% service charge, No GST.
Reservation: 81802370
Brought to you by 91 Korean BBQ