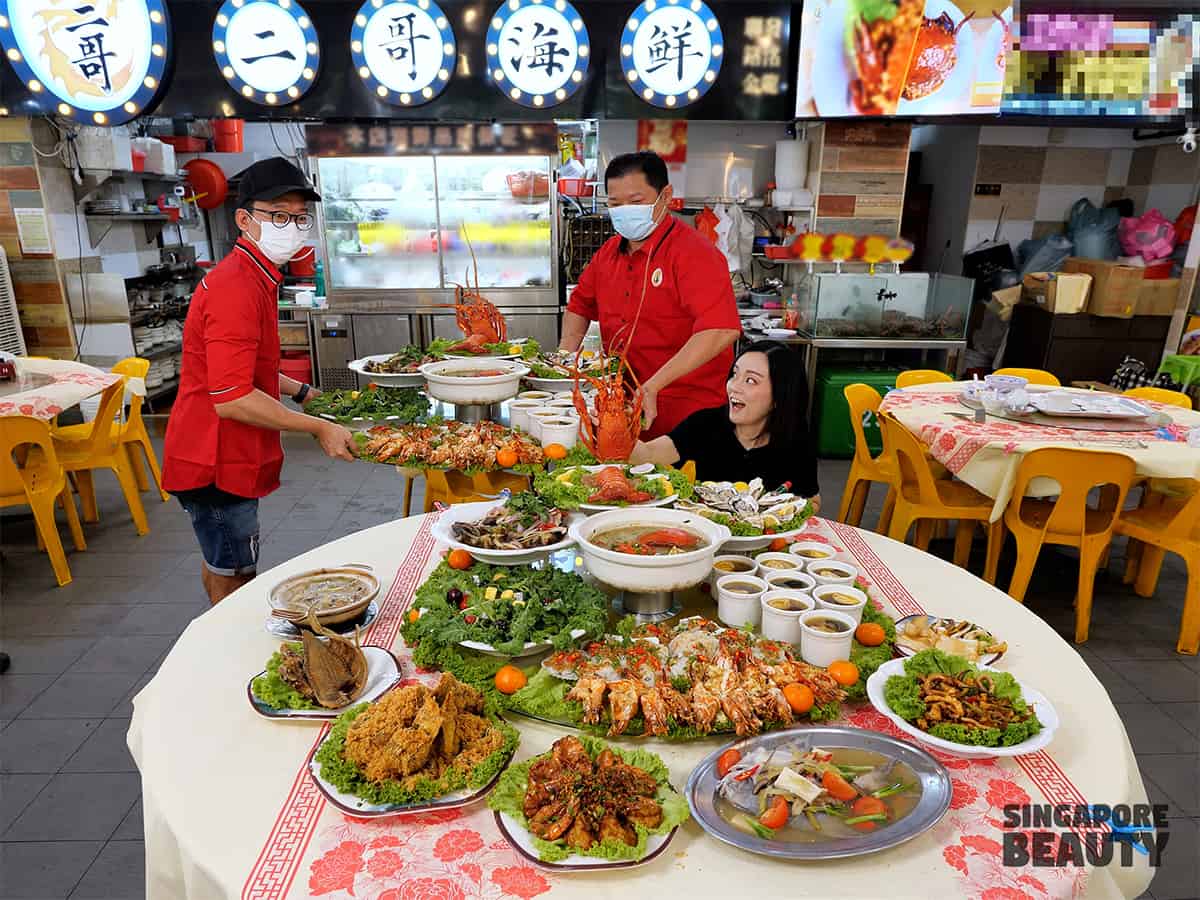 Er Ge Seafood at Gambas Crescent is fully operated by Singaporean favourite JB restaurant Shan Ming. This is their largest flagship restaurant in Singapore helmed by owner chef Lun and his team from their Johor Bahru restaurant. This is the second time we are doing a food review for Er Ge Seafood. This time round, they decided to wow us with a powered up giant seafood platter – bigger, better & more unique XL size seafood. They also wanted to showcase their forte – JB style zi char dishes to Singaporeans so that we can enjoy these dishes with our family without travelling across the borders.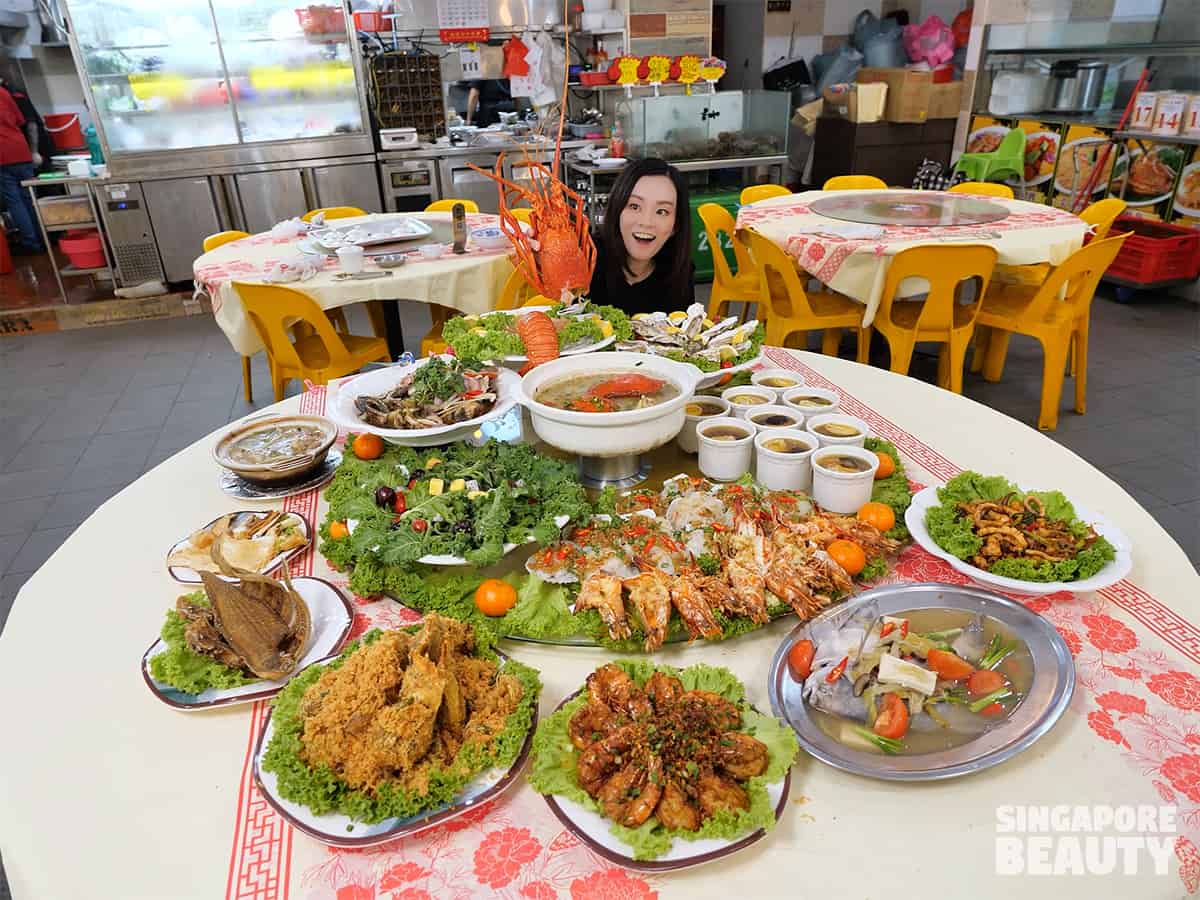 Er Ge Seafood menu consist of giant seafood platter for 10 pax and some ala carte zi-char dishes that you can add on. The new giant seafood platter aka 星级版海鲜大拼盘 ($1188) starring 8 dishes – live red roe crab claypot congee, live Australia lobster hand carved sashimi, Deep sea Giant Grouper head in onion lime sauce, huge Pontian wild King prawn fried & steam with cheese pull, steamed scallop in spicy garlic, Japanese live oysters, abalone sea cucumber Buddha jumps over the wall & Ice plant & jackfruit salad from Cameron highlands. 3 days advance booking is required for this Giant Seafood platter.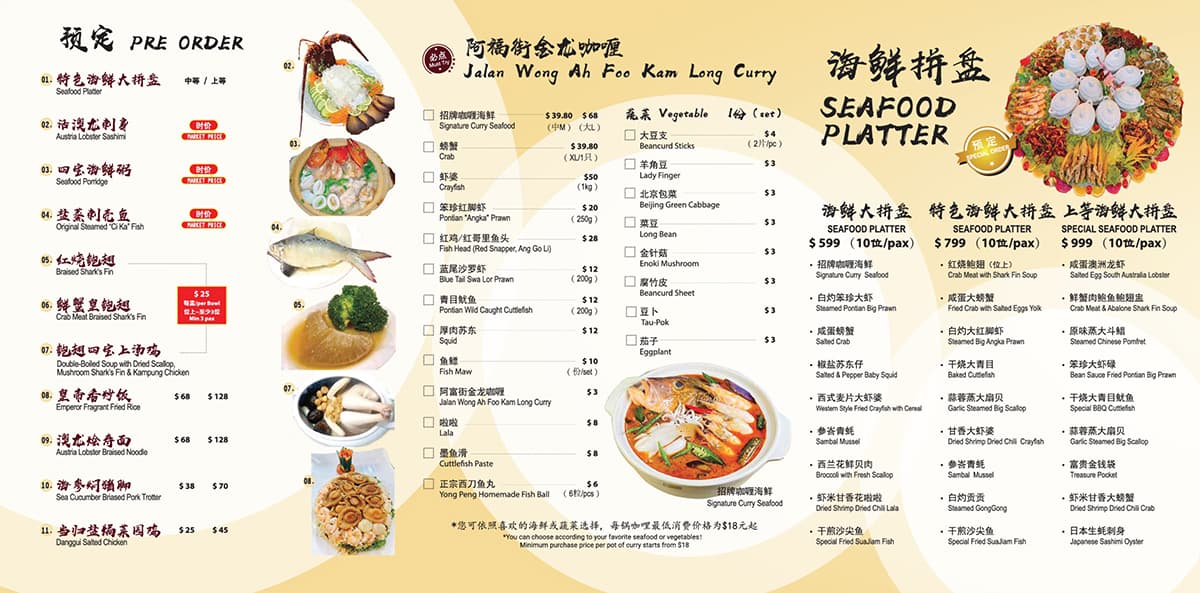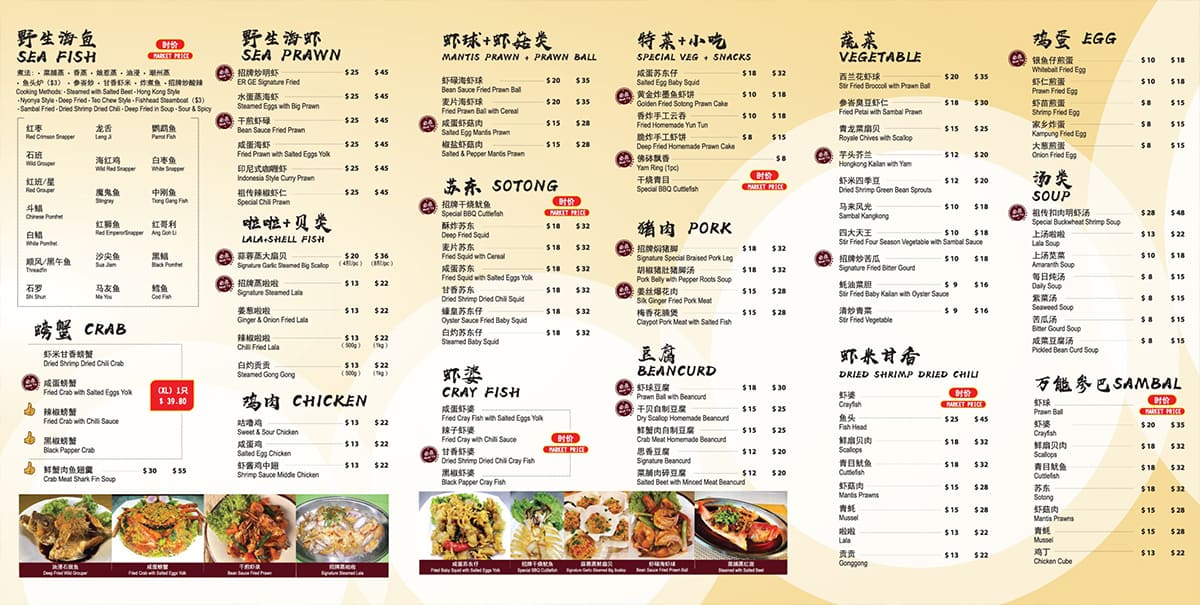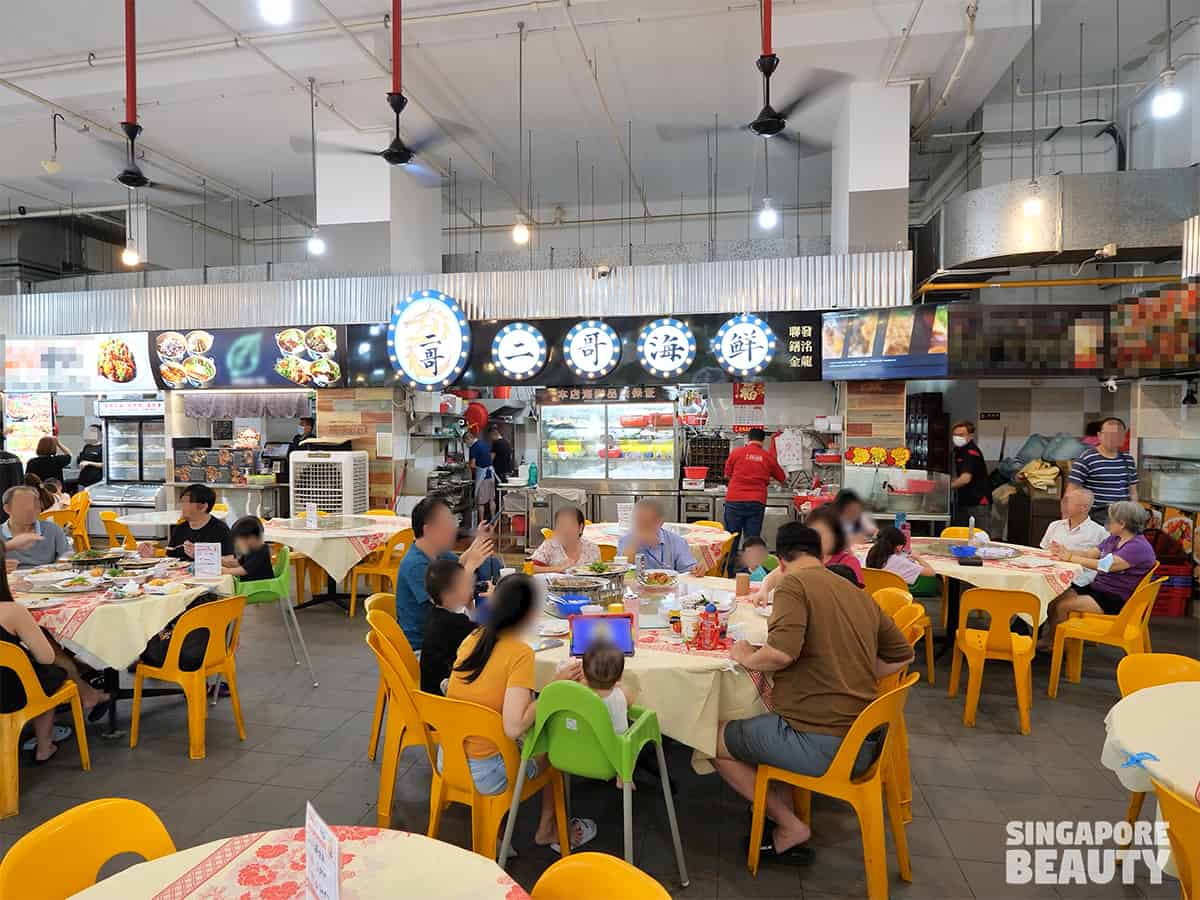 Er Ge Seafood is fast becoming a popular zi char place in Singapore with dinner crowds occupying the entire eatery. This is a large place with banquet size tables that can accommodate big family gatherings with young and old in tow. We are overwhelmed by the numbers of booked tables for dinners during our visit. Every table is set and reserved with a name tab indicating the numbers of diners and the family name of the reservation for that night. Reservation is preferred if you are heading over to try their JB style zi char food.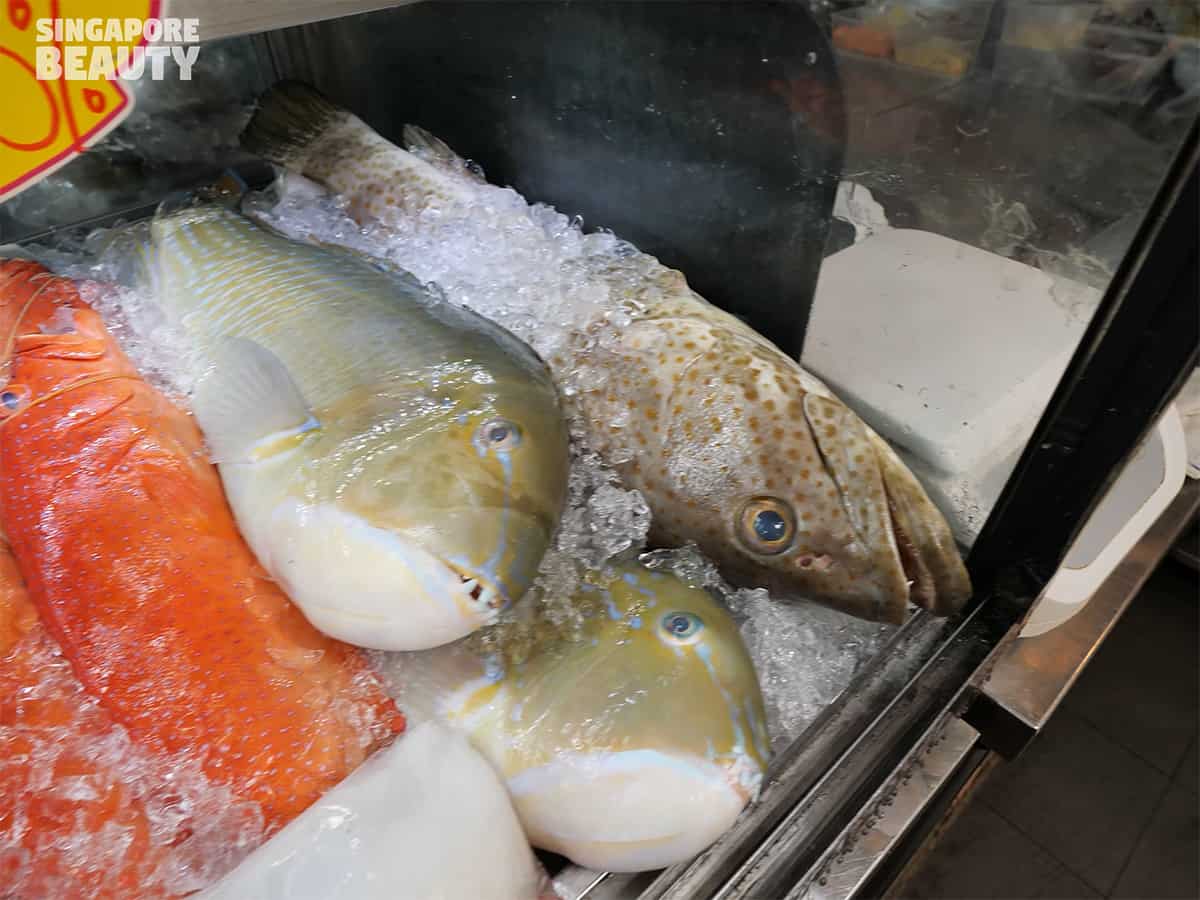 Er Ge Seafood has unique big size catch like deep sea fishes, squid and more. These are brought in by their own fleet of fishing and prawning boats in Indonesia and Malaysia. Daily catch of wild fishes are fresh and non frozen. We were told that their wild caught fishes are sold out daily that why they do not store their fishes in freezers overnight. While we were there, we notice some of the diners also bought fishes from them like from a fish grocer due to their wholesale prices. Every whole fish is tagged with price, buying fish here is fuss and stress free – just grab and pay. Look out for periodic irresistible discounts on wild caught fishes up to 30% on good days of big haul at sea. The fish definitely looks super fresh with crystal clear eyes, glistening scales and bright red gills.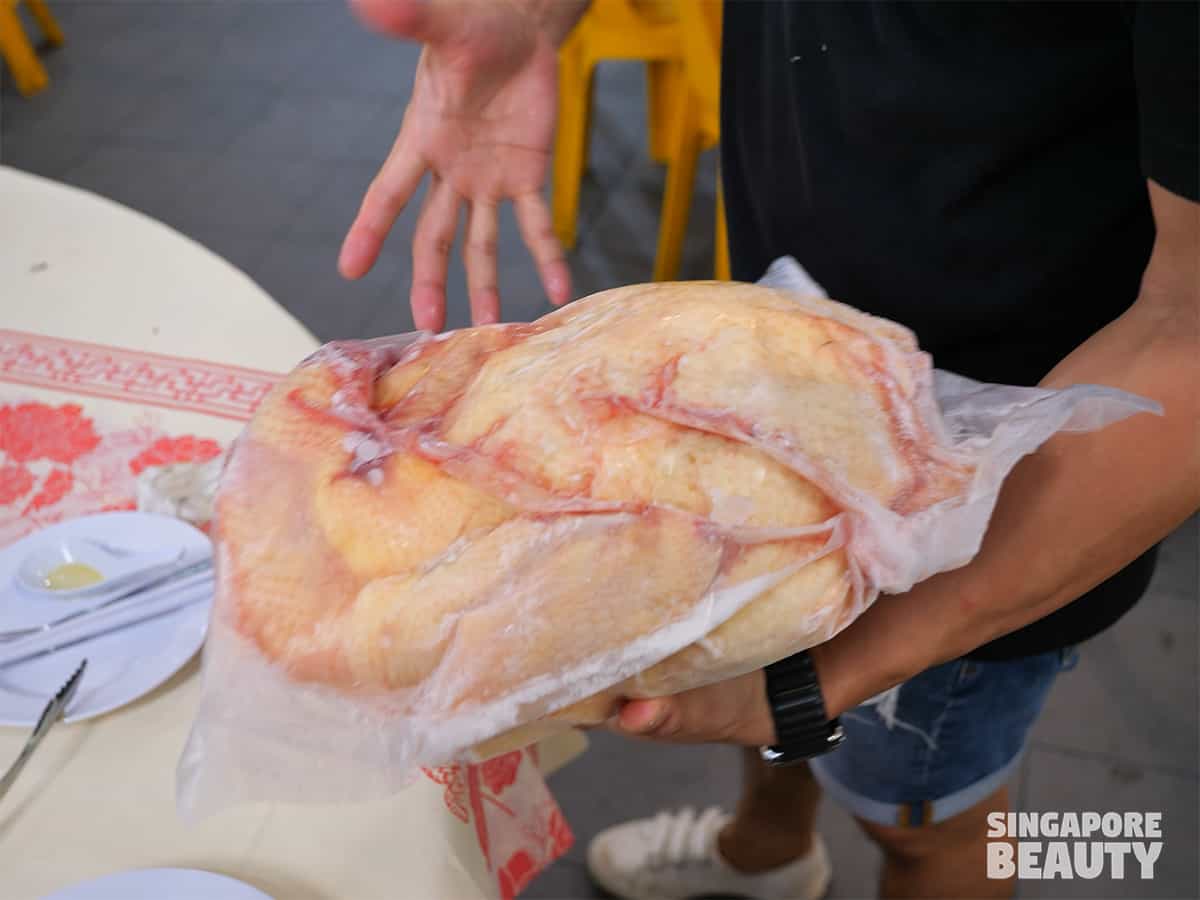 Eating at this new eatery gem is like going on a food education & experience journey – you are learning new types of seafood and unique ingredients from our neighbouring country. While were were waiting for the food, the friendly staff showed us this capon and the story behind it. This special capon – put simply is a male chicken that has been neutered or castrated. These chickens are extremely tender and juicy.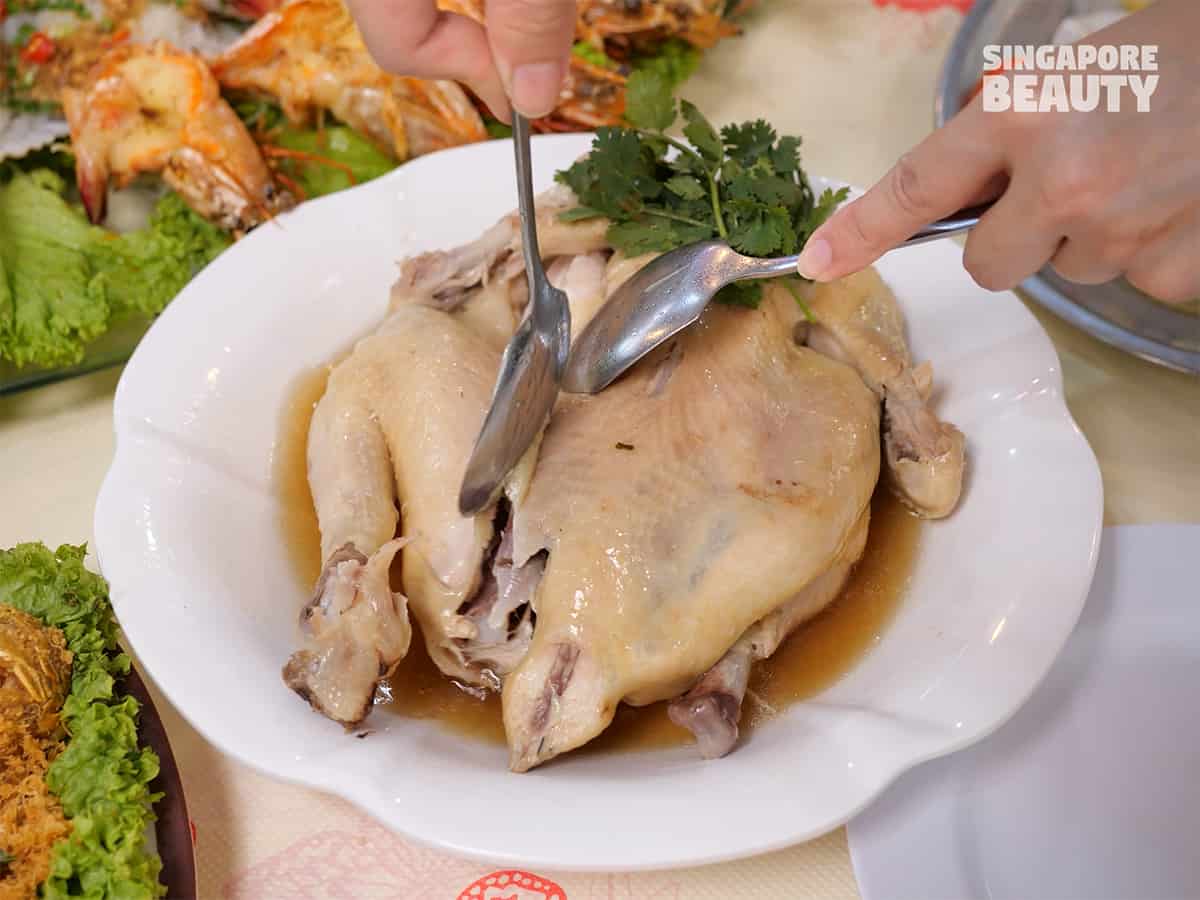 Dang Gui Salt Baked Kampong Free Range Capon Chicken (whole $45, half $25). These are baked with dang Gui aka female ginseng, wolf berries and some other premium herbs. It is served in a concentrated strong ginseng flavour broth from steaming with invigorating ginseng aroma that I enjoyed. The chicken is so fork tender that you can part with serving spoons. This is one of the signature dishes to order at Er Ge Seafood.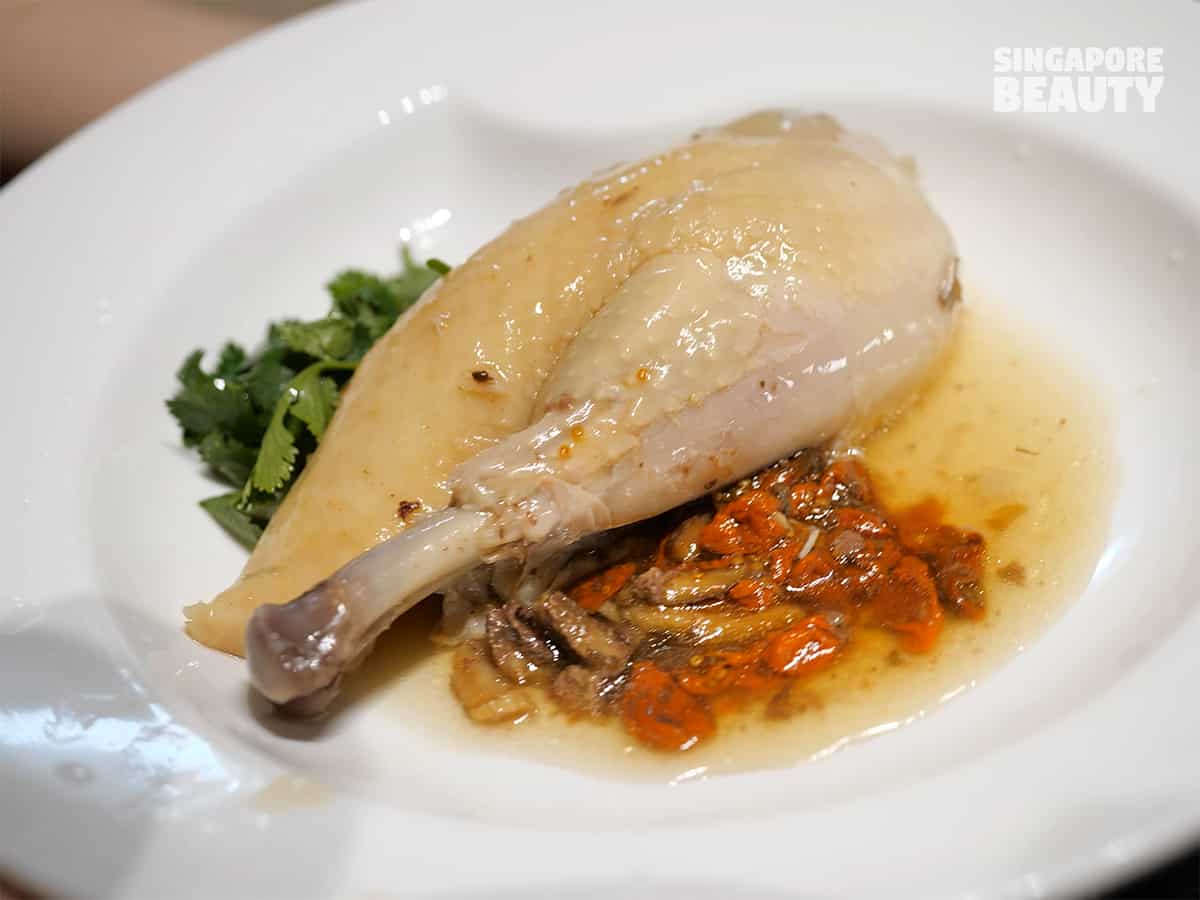 The size of these chickens is like a duck but with super tender flesh. They are priced for their high fat content and void of any gamey flavours. These are free range chickens that are allowed to roam the kampong and the meat has a mild springy texture like that of an athletic chicken. The picture speaks for itself and no words are needed. The translucent skin holds an immense amount of chicken essence juices that raptures when you sink your teeth in it. A deep saline and herbal flavour is how I love my herbal chicken to be. Must try!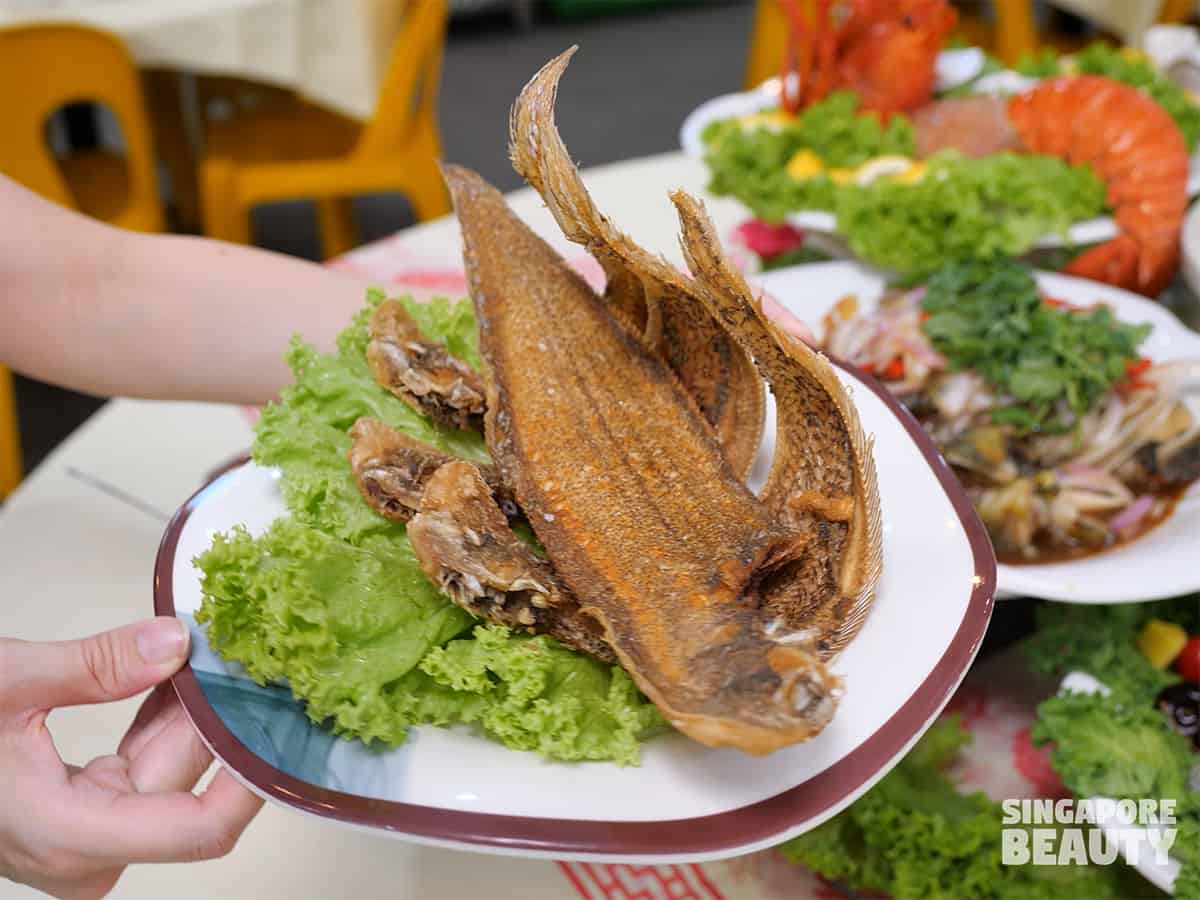 Dragon Tongue Fish ($24 small, $48 big) – is a fish that the chef recommends every time we are there. This could secretly be his secret stash of unique seafood that is available while stocks last, that he gate keeps for the early birds only. The fish is deep fried to a crisp with a superb crunch that you can eat the fin and tail like ikan bilis.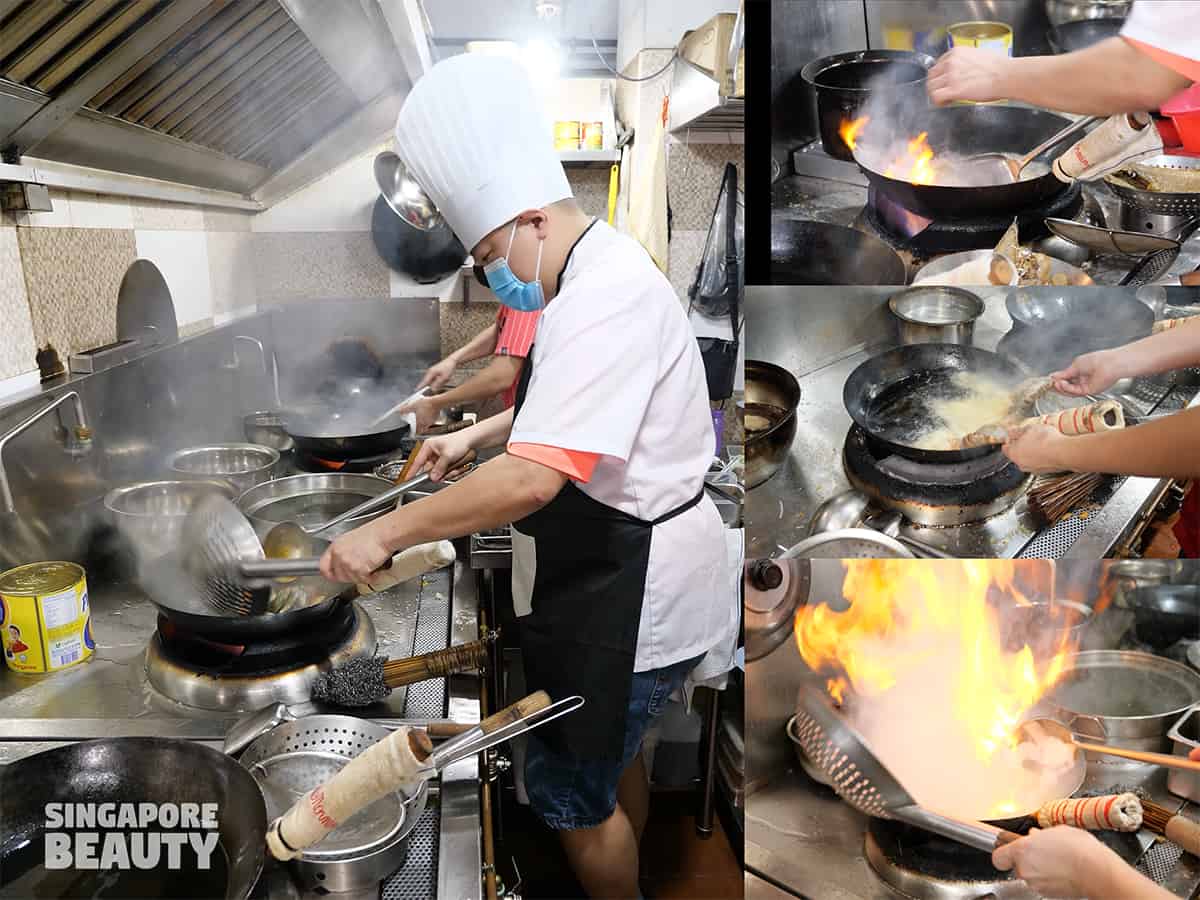 The meat is tender and delicate, presentation wise is tip top with the fish fried to a sexy curve like that of a dragon tongue that spits fire, hence the name? This fish really "spits" fire to the heated oil while Chef Lun from JB Shan Ming (aka head chef cum restaurateur) is frying it. It was a showmanship of his cooking skills as a seasoned chef. He knows the way and language of the Chinese wok like a kungfu master.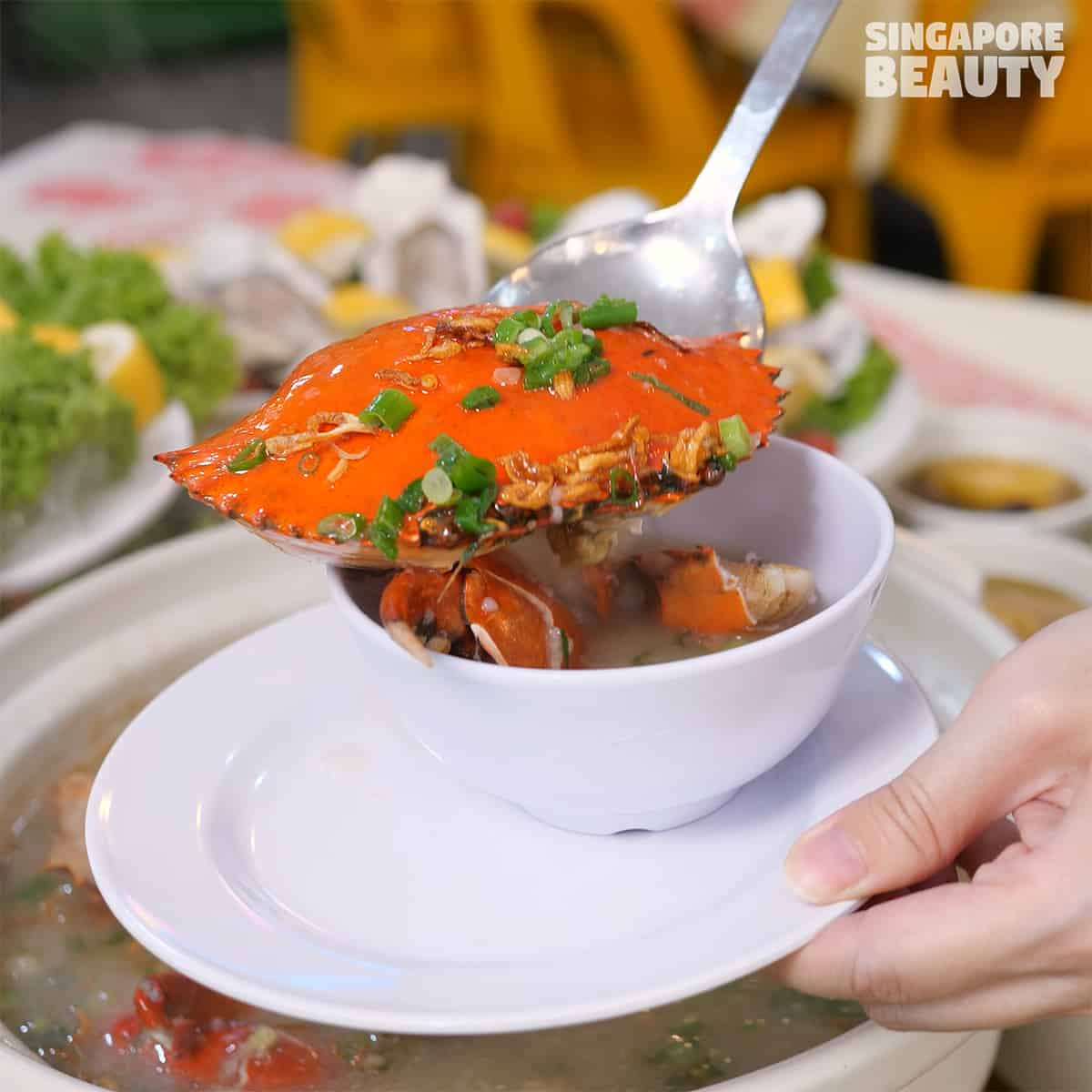 There are 8 dishes in Er Ge Seafood Giant seafood platter this season, using only live red roe crab for their claypot congee, the congee is smooth and savoury with large crabs meat shell on type. The live crab is dispatched on the spot, scrub clean and steamed with wine in their commercial steamer. After which the red roe is removed and fried lightly to bring out the rich roe flavour. These roes are added to rice and boiled with chicken broth till smooth and velvety congee forms. A bowl of this piping hot crab roe claypot congee with delicate crab meat really re-energises the body on a cold day.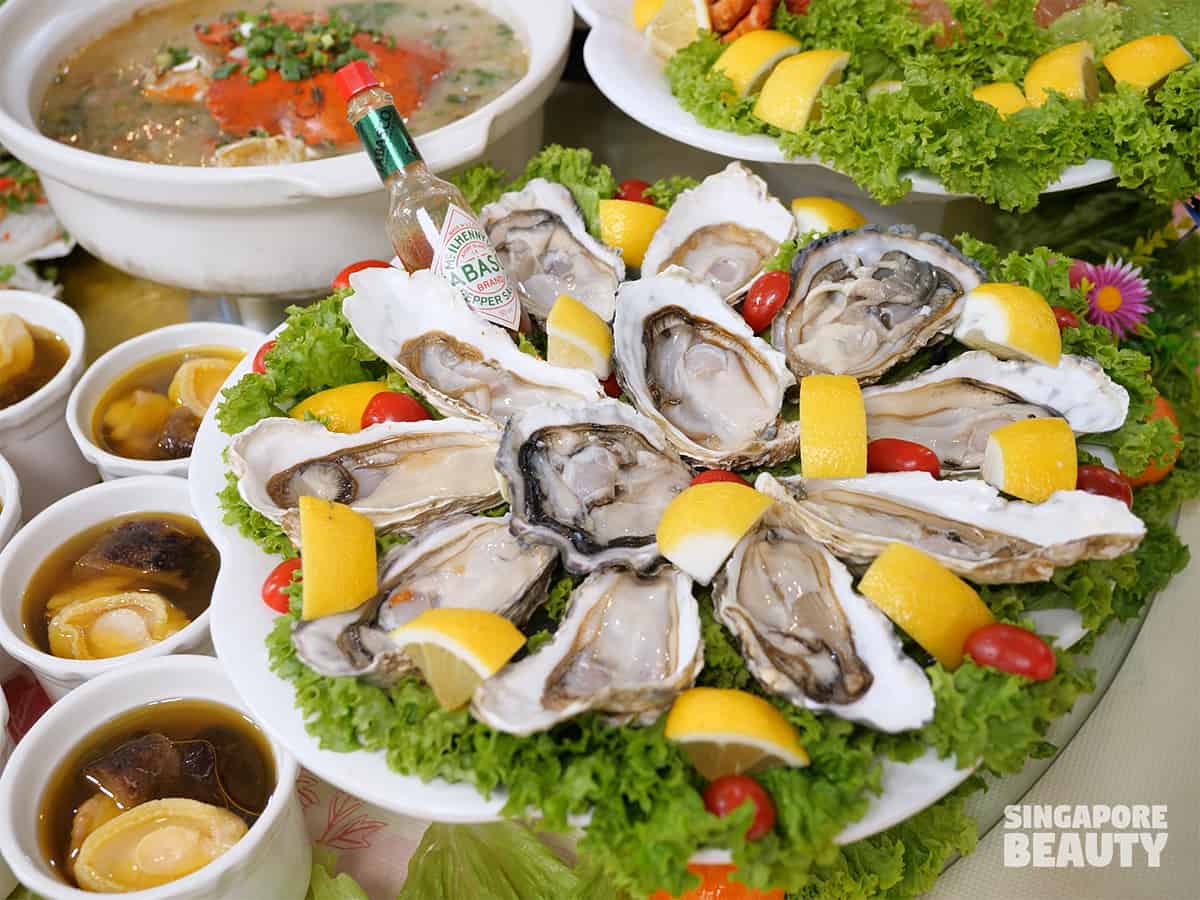 Since these are specially brought daily only for the Giant seafood platter, these sashimi grade live Japanese oyster are freshly shucked for the occasion. The oyster has a mild saline flavour and you are welcomed to enjoy it with zesty lemon juice or with Tabasco. Now, bring your lips to the shell and slurp the oyster.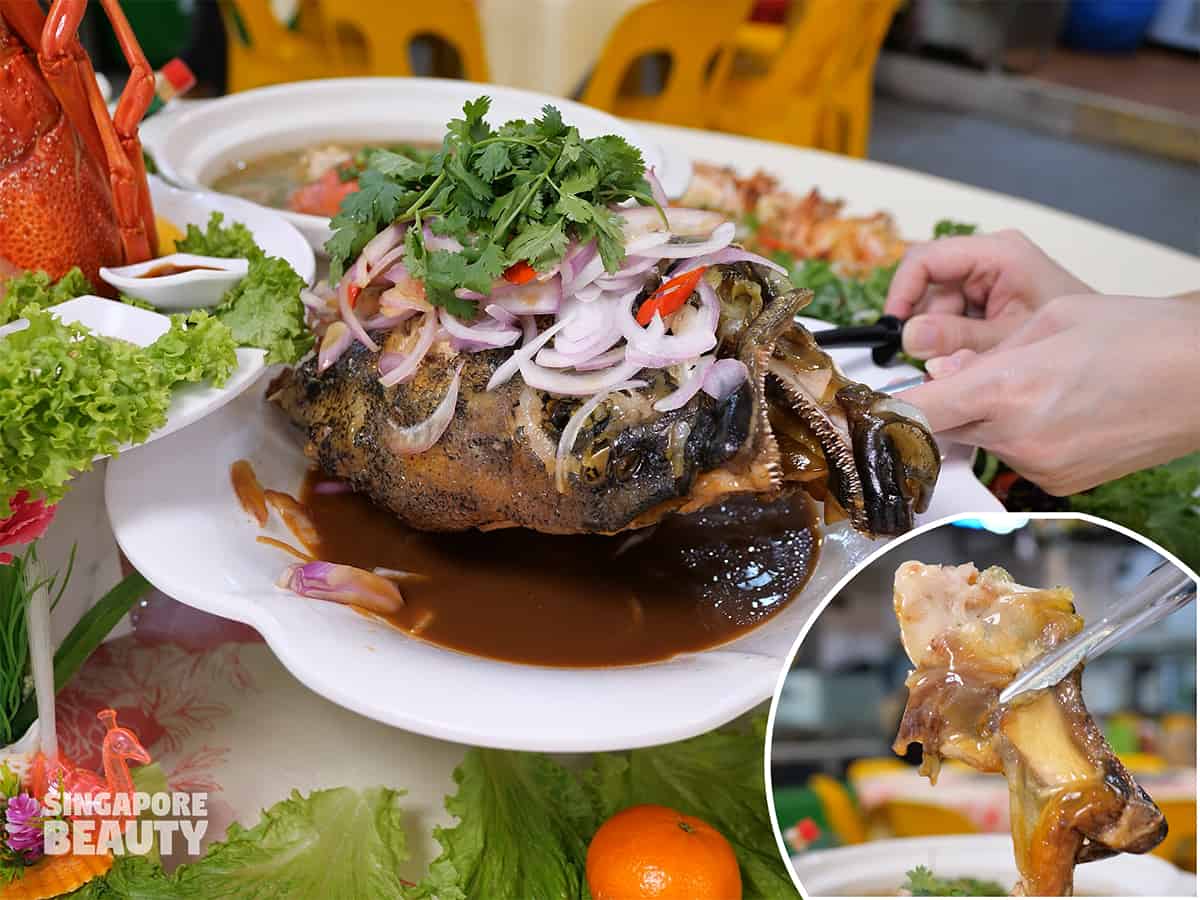 Deep sea Giant Grouper head in onion lime sauce (part of the giant seafood platter)- is a large deep sea grouper fish head that is dressed in sweet red onions, red chilli, freshly squeezed lime gravy topped with cilantro. The fish meat has layer of gelatinous flesh encased with delicate translucent fish skin rich with collagen. Dive right into the fish head lower jaws for the best cut from this dish. I am surprised by how good this dressing pairs with the steamed fish head and is a new taste palate for me that I enjoyed. Er Ge Seafood is the place where you can explore new grounds of zi char near Sembawang.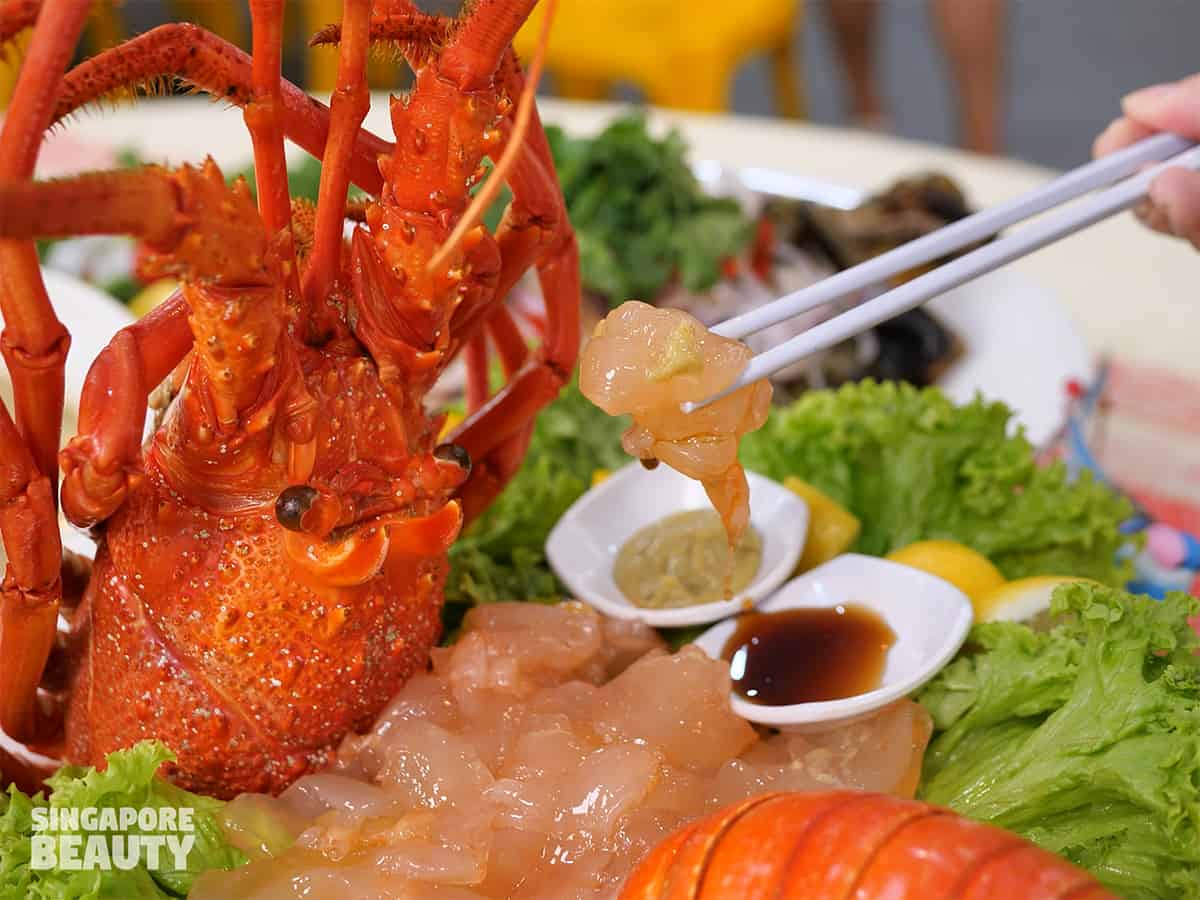 Live Australia lobster hand carved sashimi (Part of Giant seafood platter) – sashimi-grade lobster carved by hand into slices of melt in the mouth sweet meats. Pair this clean tasting lobster sashimi with a nibble of wasabi and dipping soy sauce to best enjoy the flavour. This is a show stopper starter that deserved some photo worthy moments with it before devouring it. The lobster is huge and weigh more than 1kg.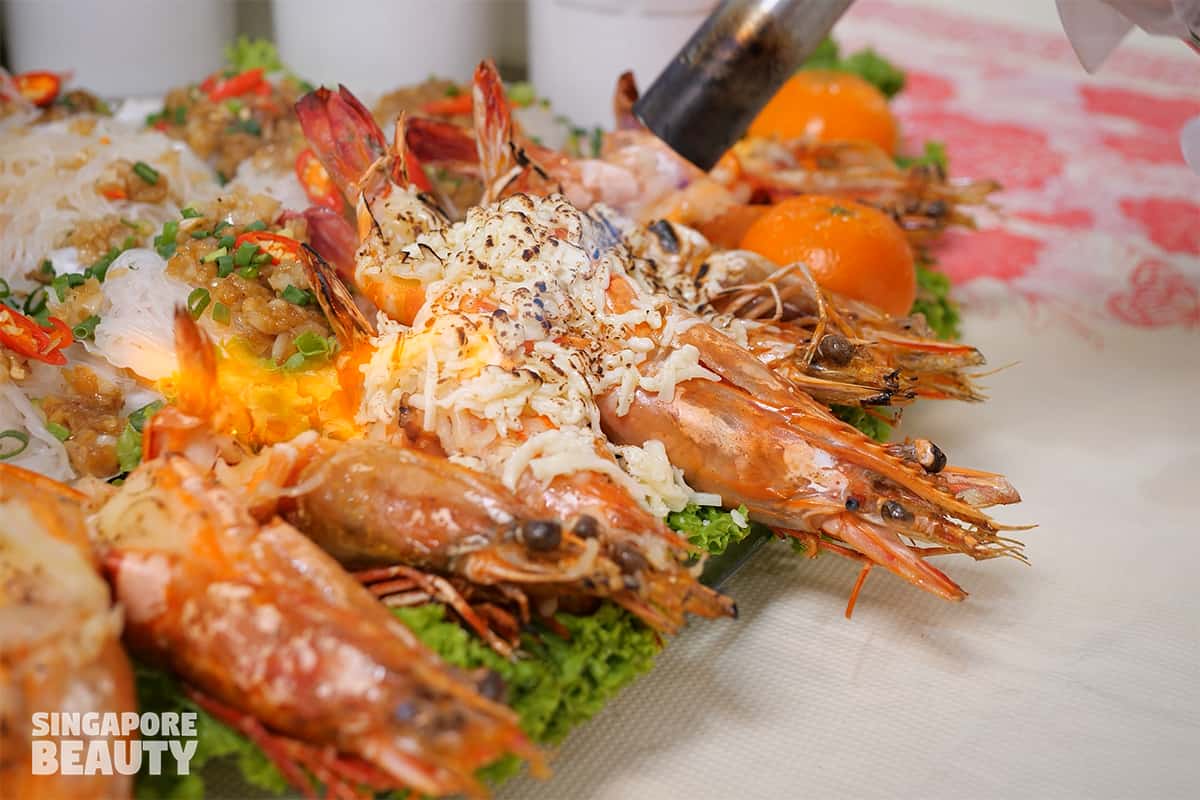 Huge Pontian wild King prawn fried & steam with cheese pull (part of Giant seafood platter) – large prawns are butterflied, deep fried and steamed for the best of both worlds – crunchy head with buttery roe and tender succulent flesh. The finishing touch is a melted cheese that has a good amount of savoury smoky cheese pull. Get some icy cool booze to go with this!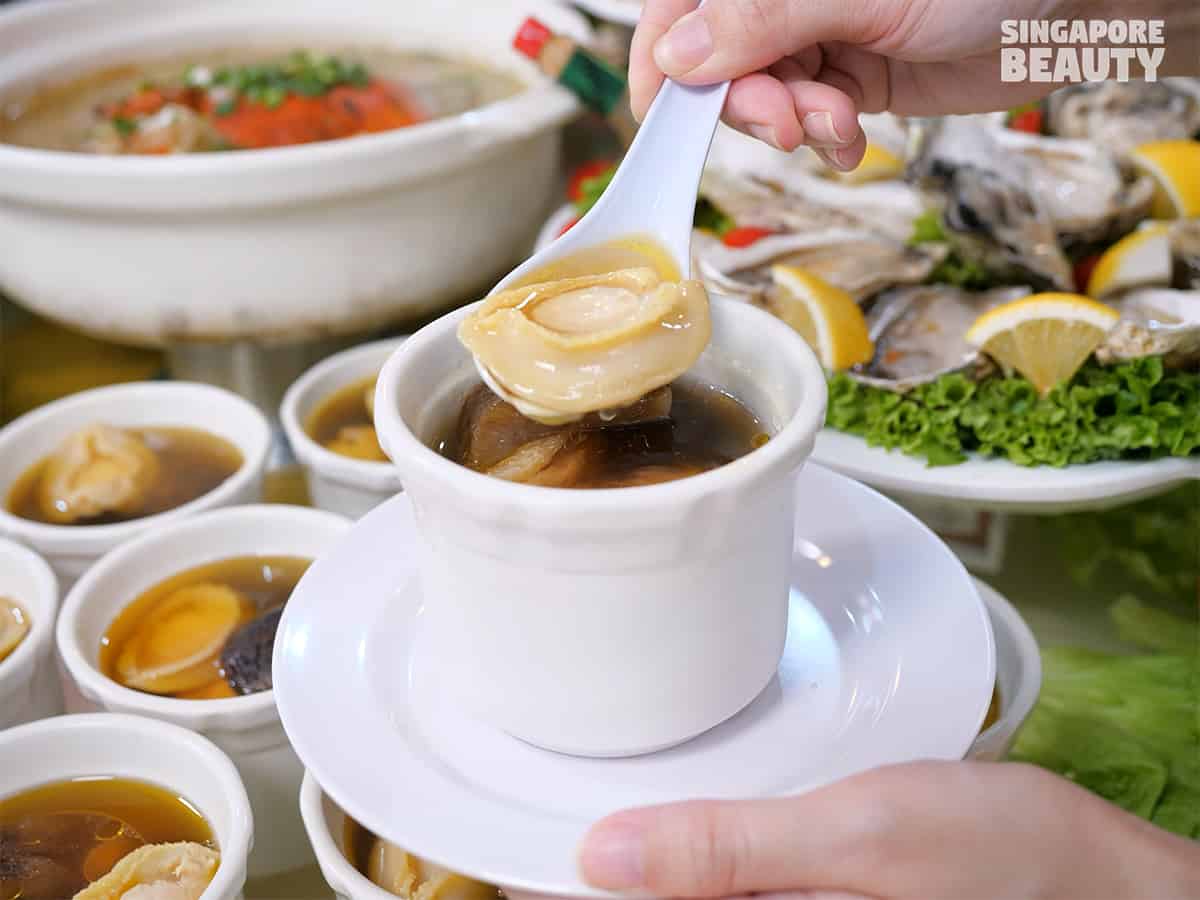 Buddha jumps over the wall (Part of Giant seafood platter) – is a individual pot soup stew of premium ingredients such as conpoy, sea cucumber, chicken and vegetable stock, shittake mushroom and abalone. The soup has a deep flavour with a good size baby abalone and cucumber. This soup is nourishing and great for complexion.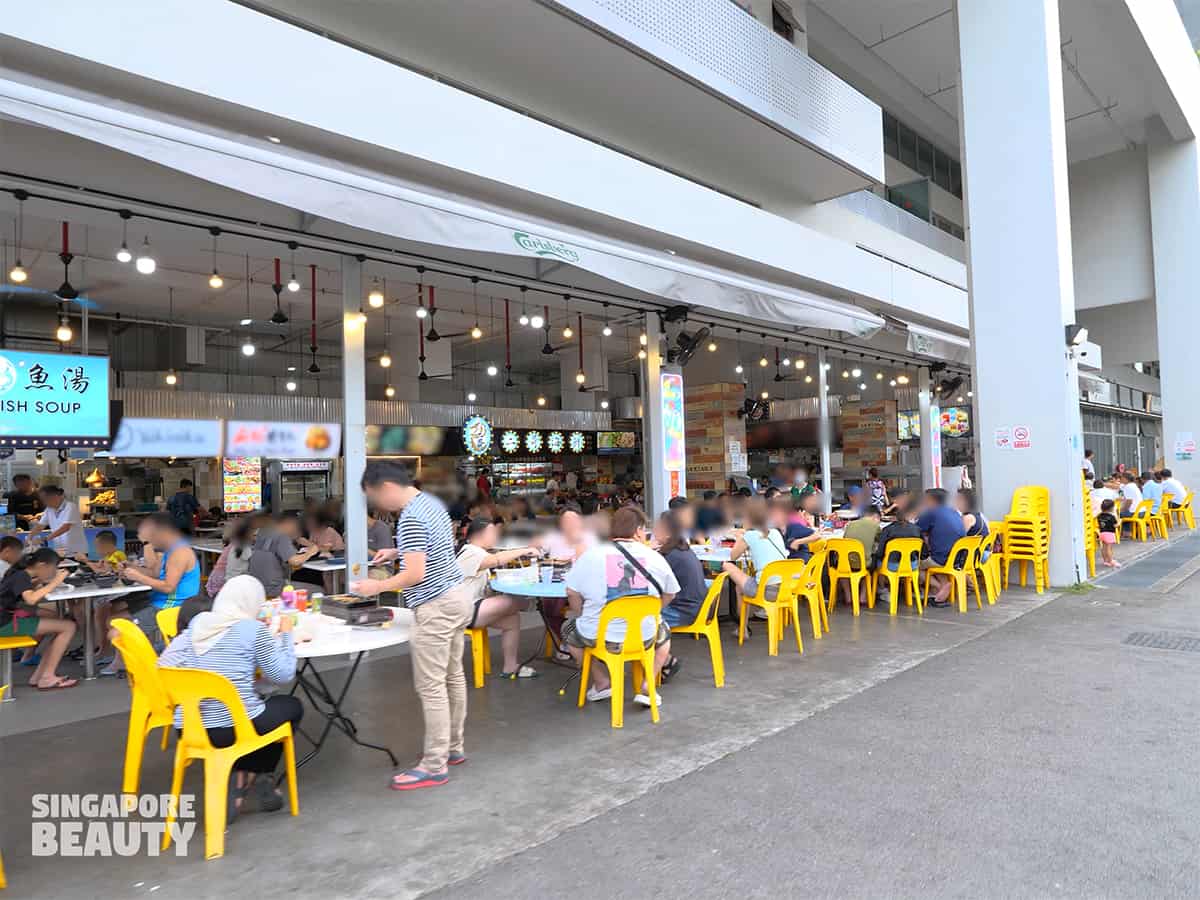 Head over to Er Ge Seafood for their giant seafood platter or even their ala carte JB Malaysian style zi char in Singapore near Sembawang. This is a new hidden gem for zi char and seafood in Singapore. Check out their self explanatory dinner crowd here and you can see the soaring popularity it is enjoying in Singapore. With so many unique seafood, large big fresh seafood, new flavours and old school dishes from JB to please everyone, they are fast becoming one of the most popular spot for zi char place in Singapore.
Address of Er Ge Seafood :
50 Gambas Crescent, #01-01
Proxima @Gambas
Singapore 757022
Giant Seafood Platter starts from $599, $799, $999 & $1188 (As featured in video & above)
Menu of 星级版海鲜大拼盘
(giant seafood platter featured in video)
$1188 10位 (至少6位)
皇太后糕蚧粥 -2只
活澳洲龙虾刺生- 1Kg 以上
祖传蒸龙趸鱼 -1Kg
芝士㶽特大虾 -10只大
蒜蓉辣蒸大扇贝 -12粒
日本活生蚝 -12粒
佛跳墙 盅子位上 -10盅
鲍鱼,干貝,花菇,海参,
万能参峇大尤鱿 -800g
上等冰菜水果沙律
Promotion for month of March 2023 :
wild caught deep sea fish 30% off, crabs 20 % off.
XL or XXXL crab -buy 2 get 20% off.
Parking available adjacent to the coffeeshop or at the multi-storey carpark.
Opening Hours : 11.00am to 3pm , 5pm to 10pm Daily
For Reservation, pls call: 8120 6933
Brought to you By Er Ge Seafood (二哥海鲜)