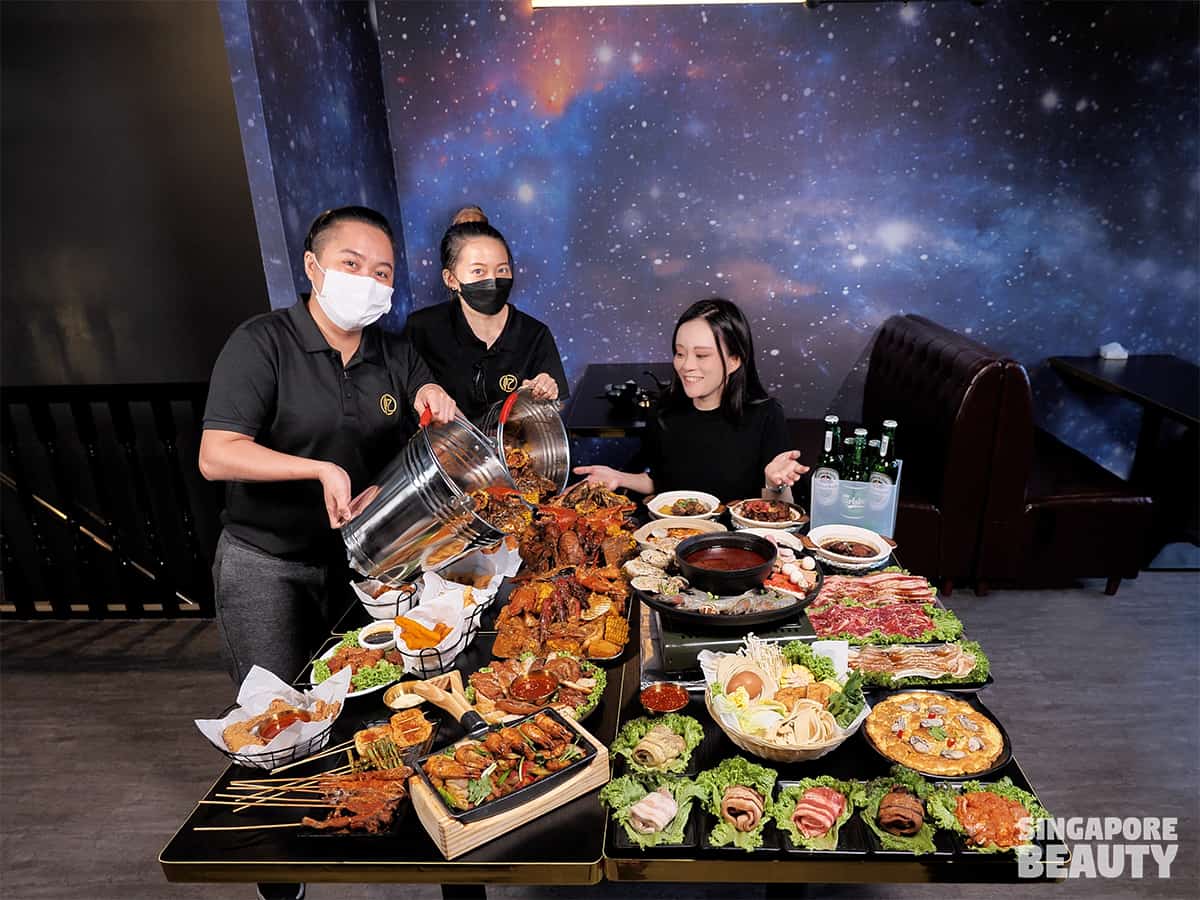 This is an all in one buffet with choice of either 1 seafood bucket or 1 set of BBQ steamboat every 2 pax. The buffet also included unlimited claypot dishes, zichar dishes, finger food, local dishes, wu xiang 5 spices platter, stir fried vegetables, skewers lok lok and Chinese style dry pot. You might be asking which buffet is this, the name of the buffet place is called That1.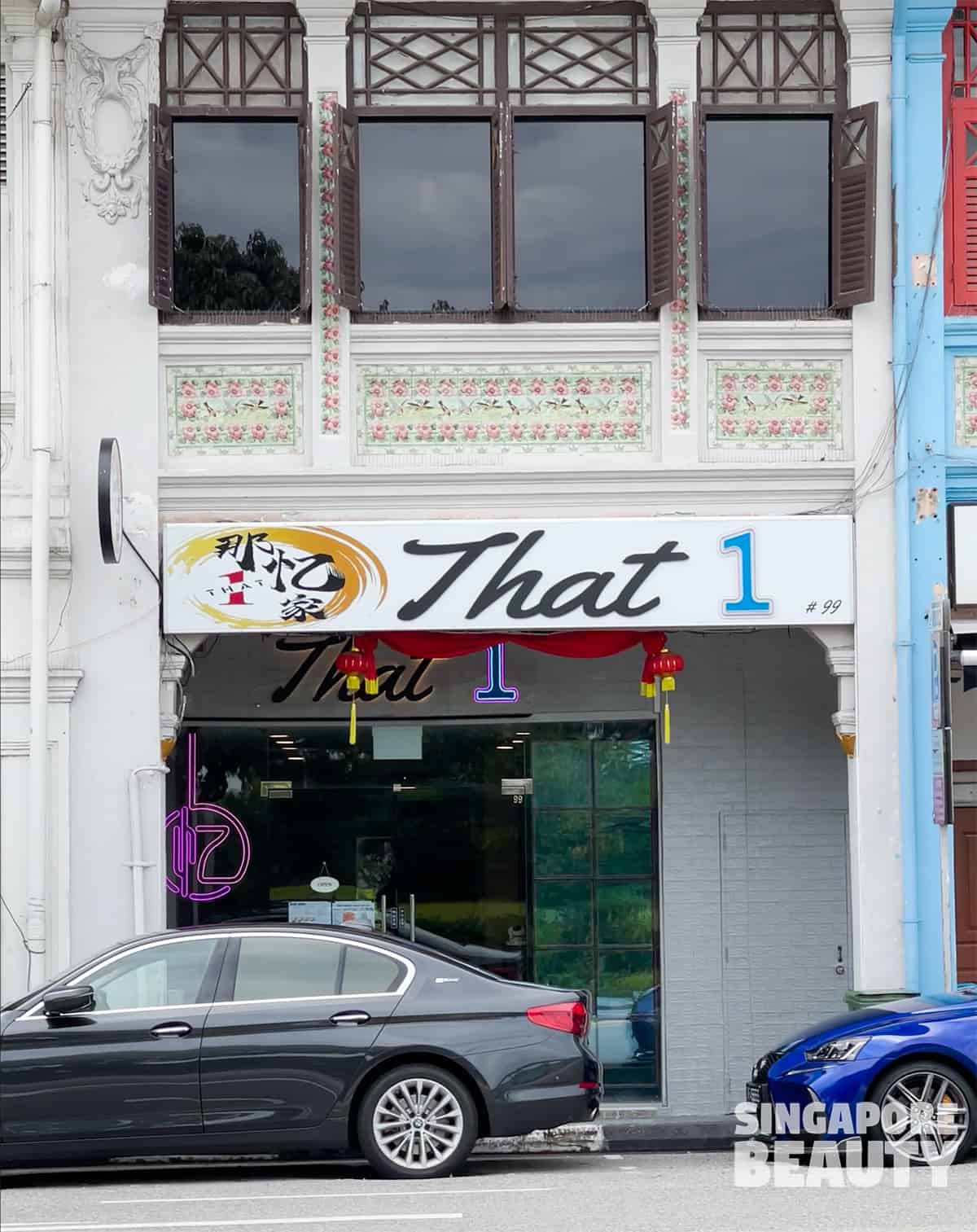 That1 buffet restaurant is a 2 storey shophouse located at Geylang. Here's how to get to That1 – the nearest MRT to That1 is Kallang MRT station(EW10), public parking is available at a nearby open air car park next to the bus depot or parallel parking outside the shop.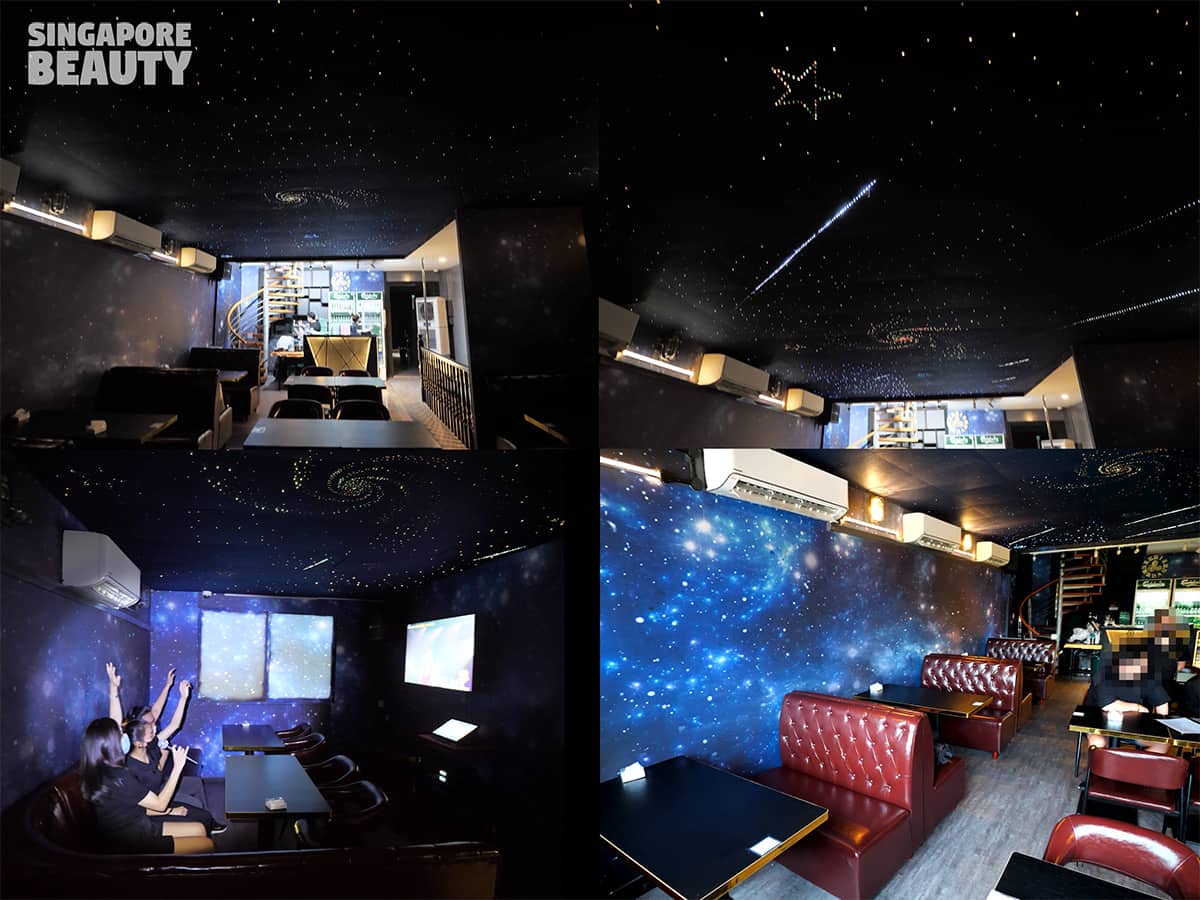 That1 is housed within a 3 storey space themed restaurant, there is a VIP KTV room, 2 floors of dine in space and one very Instagrammable spiral staircase. The ceiling of the 2nd floor of the restaurant is a mesmerizing display of a night sky. The ceiling is interpreted as a night sky with shooting stars, the milky way in some far away secret galaxy. The vibe of this buffet restaurant is romantic, mysterious and relaxed dimmed ambience with surround soothing music in the background. KTV needs advance booking with minimum spend of $300.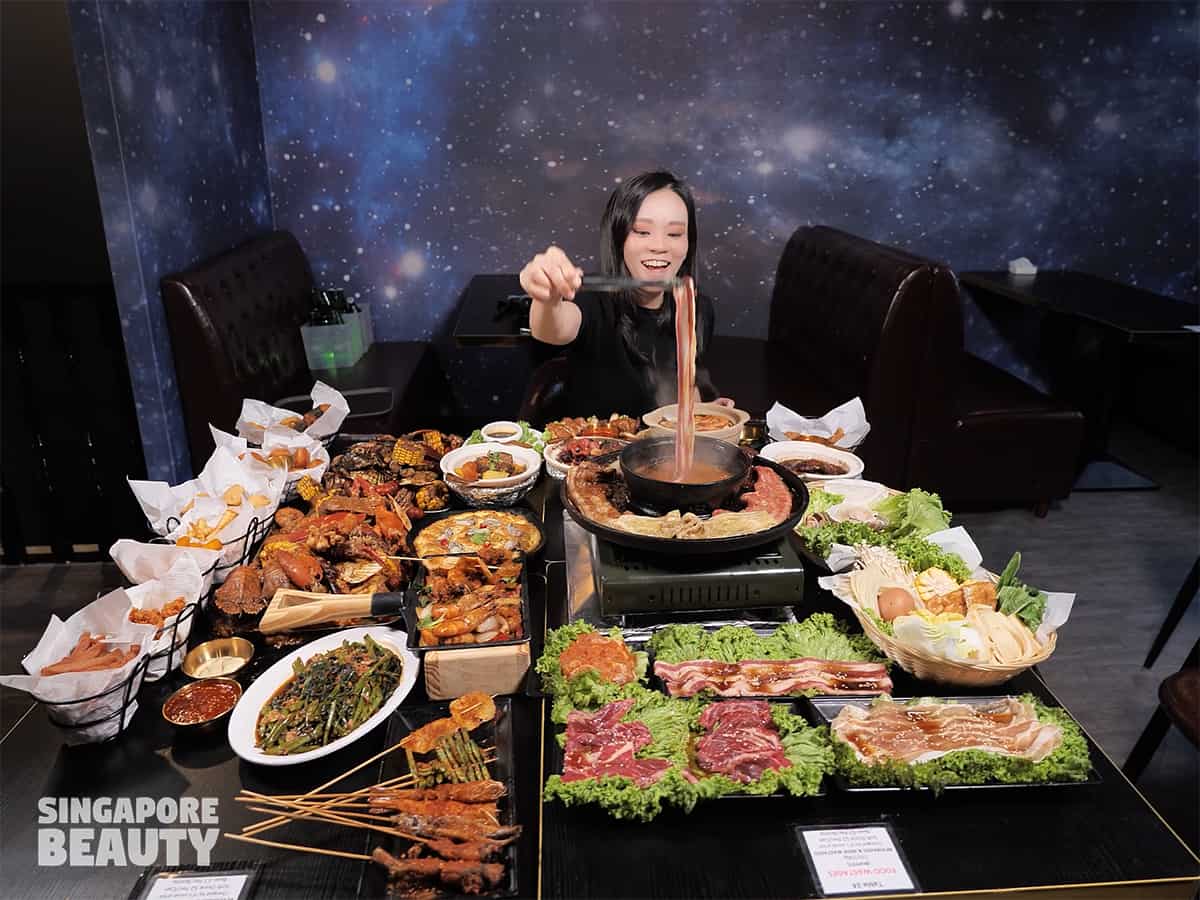 This is a buffet with more than 50 items on the menu. This is how That1 buffet works – every 2 diners are entitled to choose either 1 set of seafood bucket or 1 set of bbq steamboat. If you have 4 dinning buddies, you can 2 seafood buckets or 2 bbq steamboat set or have the best of both worlds – 1 seafood bucket and 1 steamboat bbq set. The rest of the other 48 dishes on the menu are all free flow. That sounds like music to every buffet lovers.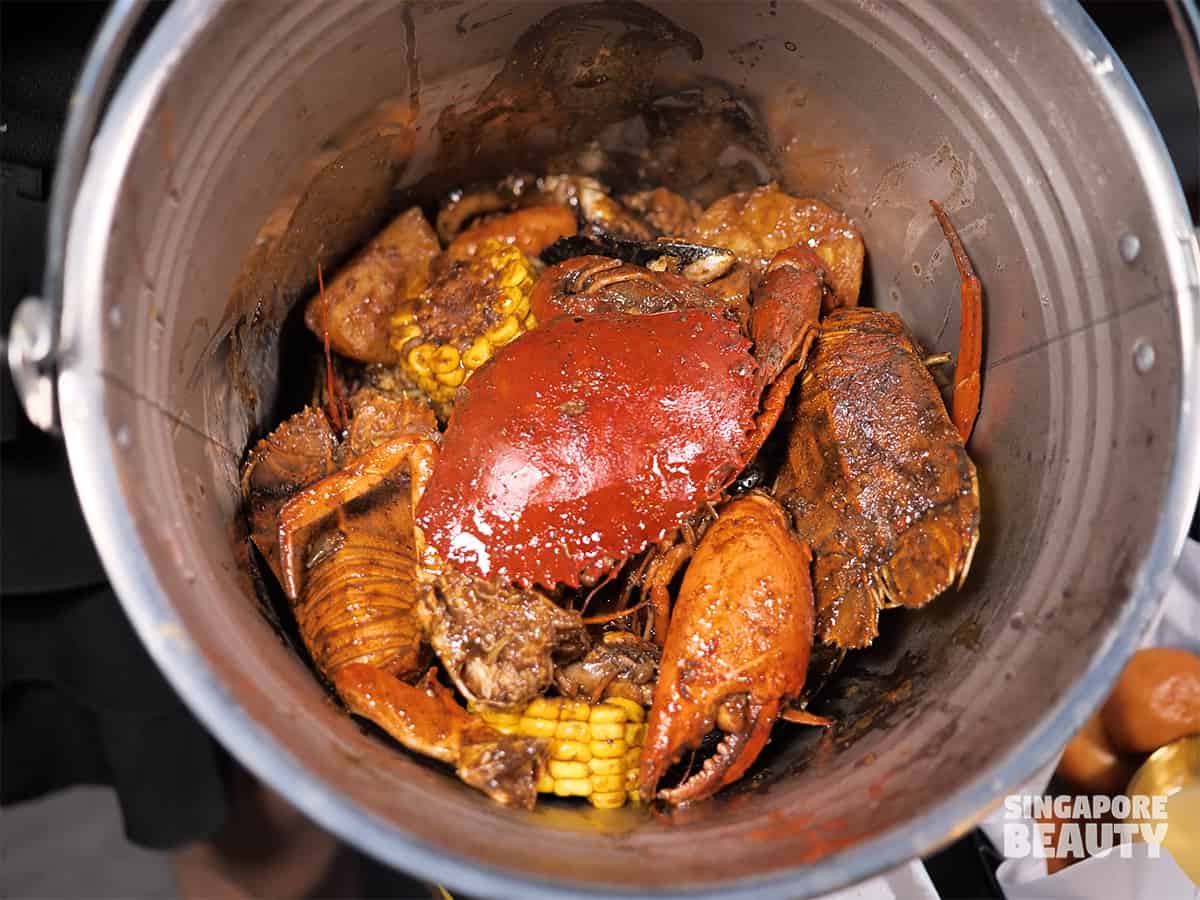 The seafood is served in a bucket and pours on a tray to be enjoyed. Choose from local flavours such as chilli crab sauce, black pepper sauce, mala curry aka mala xiangguo and butter tomato. We were told that the chilli crab and black pepper were popular choices for the seafood bucket buffet.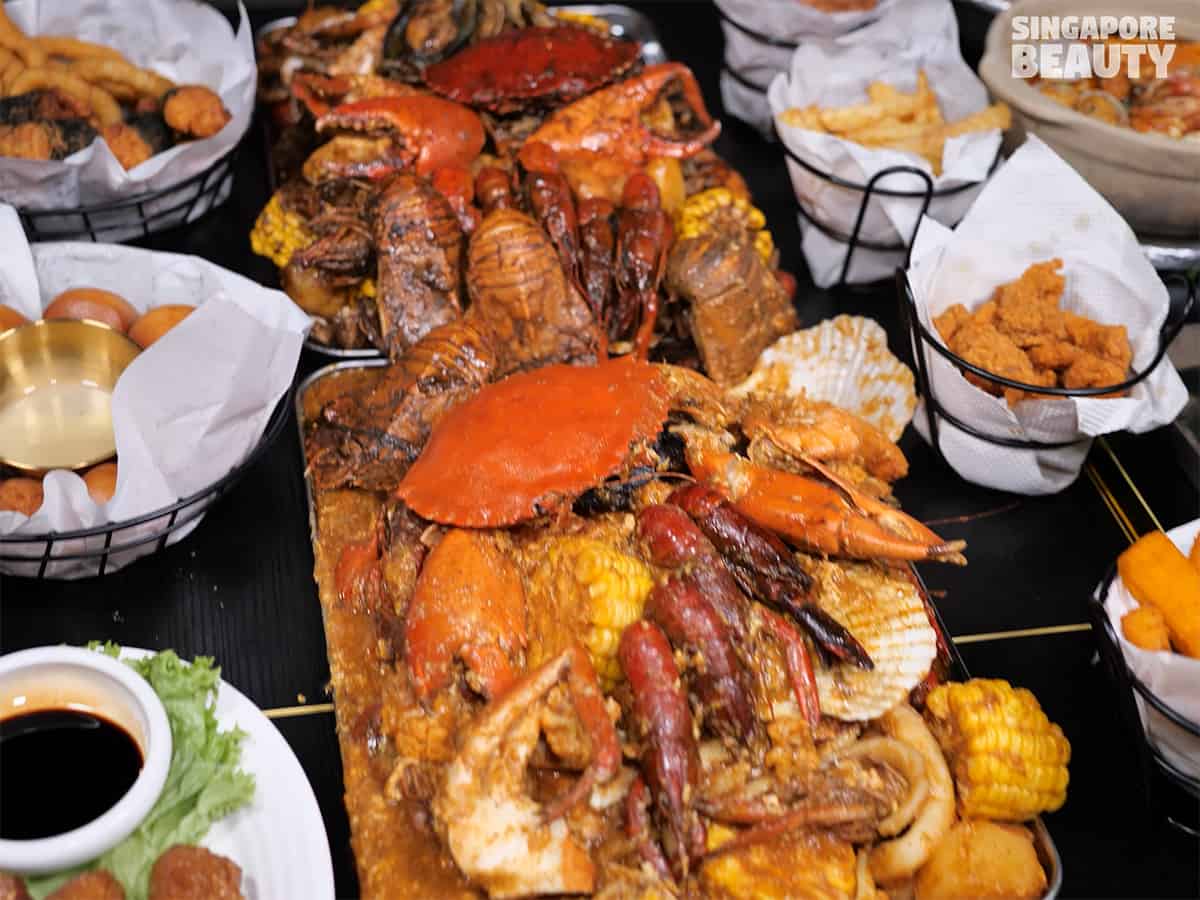 That1 seafood bucket buffet have some seafood that I really look forward to such as the mud crab, the slipper lobster, the crawfish, the half shell scallop, mussels, squid ring and prawns. The bucket is also paired with sweet corn cobs, soft boiled potatoes and cocktail sausage to soak up the savoury sauce. If you ordered the chilli crab sauce seafood bucket, get the free flow fried golden mantou buns as well to dip.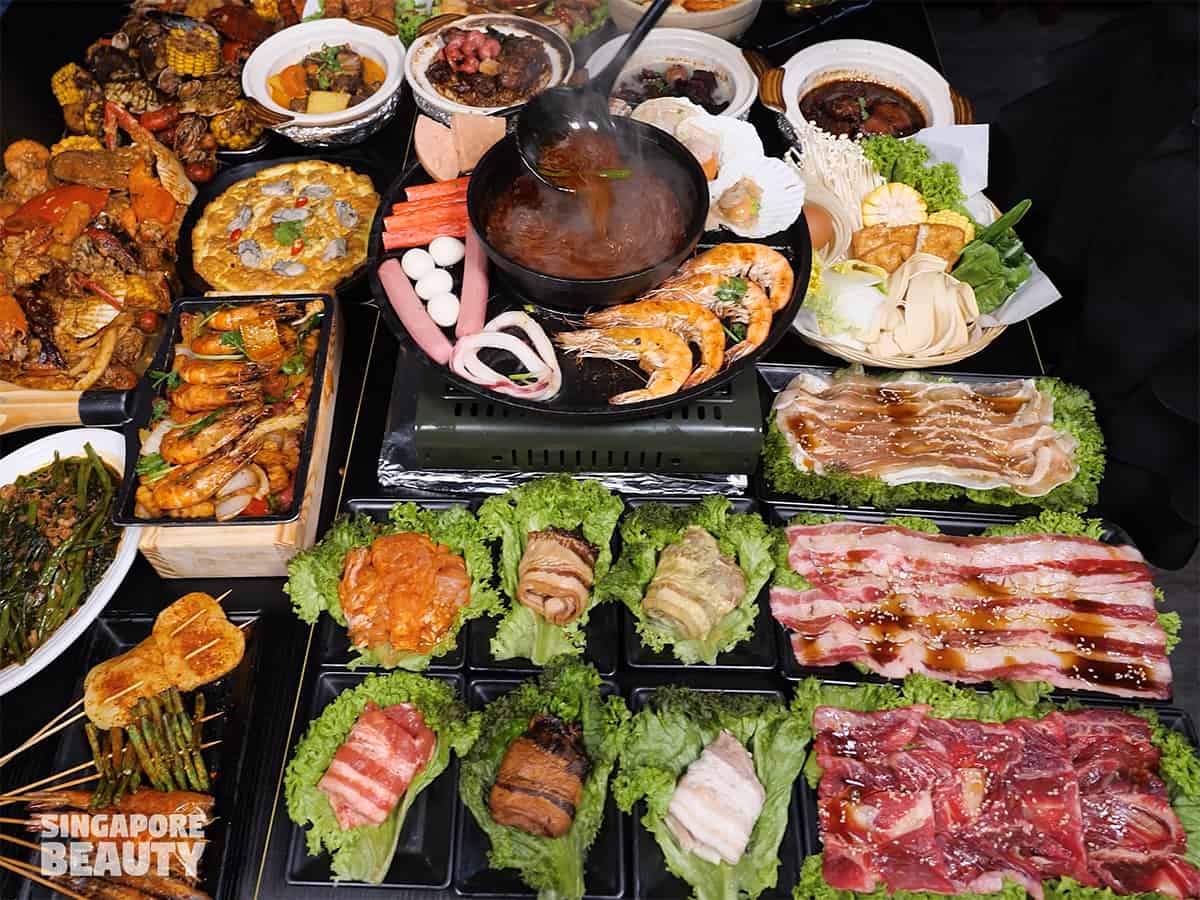 If you choose 1 bbq steamboat buffet set with unlimited 48 other dishes, this is how the steamboat set looks like. The choices for steamboat base are mala soup, chicken or laksa gravy. There are 1 seafood platter, 1 garden greens, surimi and carbs basket, 3 sets of marinated beef and pork belly, 5 flavours of marinated pork belly and 1 set of marinated chicken thigh.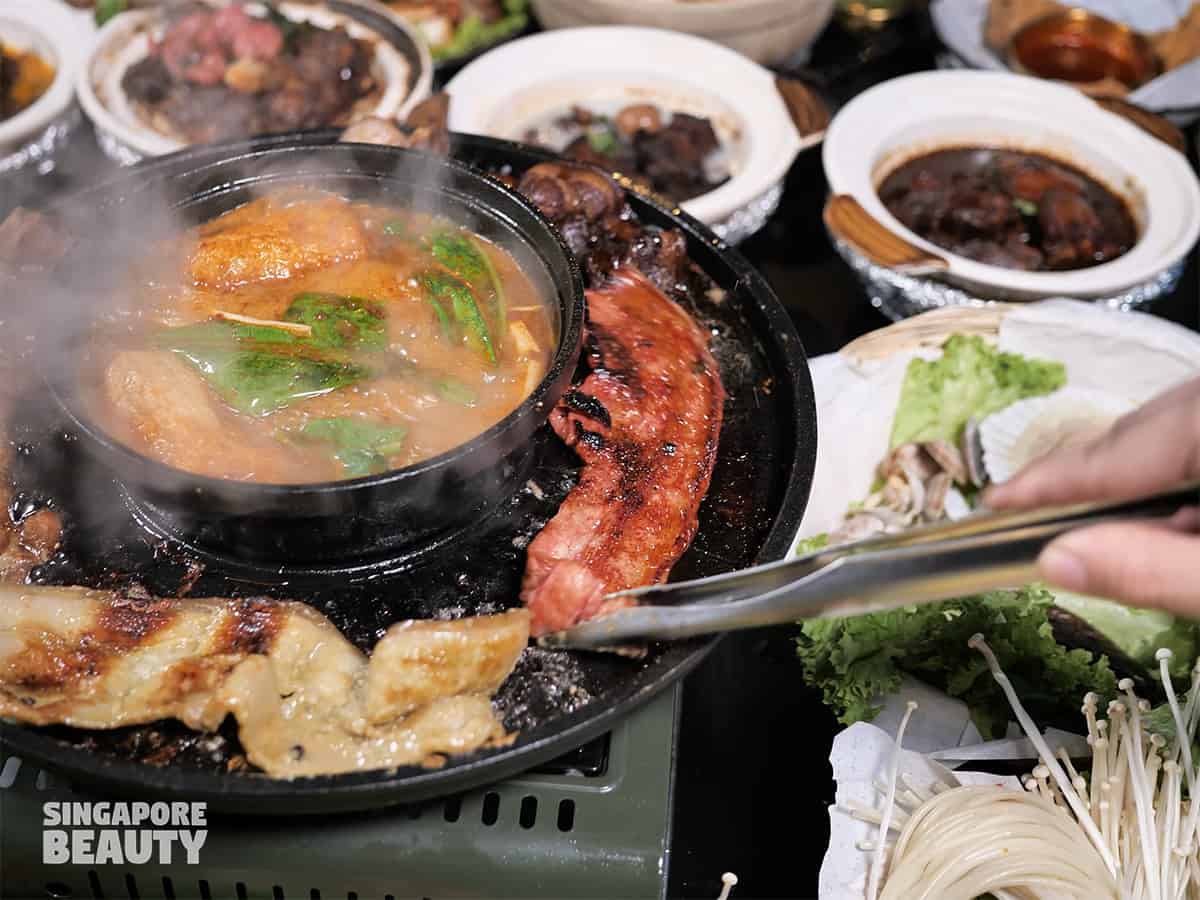 The bbq steamboat 5 signature marinated pork has a collective name known as Spice of Life. The pork bellys are marinated in lemon (represents sour), soy and sweet sauce (sweet moments in life), coffee (bitter times), wasabi (spicy days) and fermented bean curd (when you are feeling salty). Pun intended. We grilled the meats and the flavours are quiet distinctive. We are pleasantly surprised by the flavours of the meat such as the wasabi and fermented bean curd, which we think are quite unique.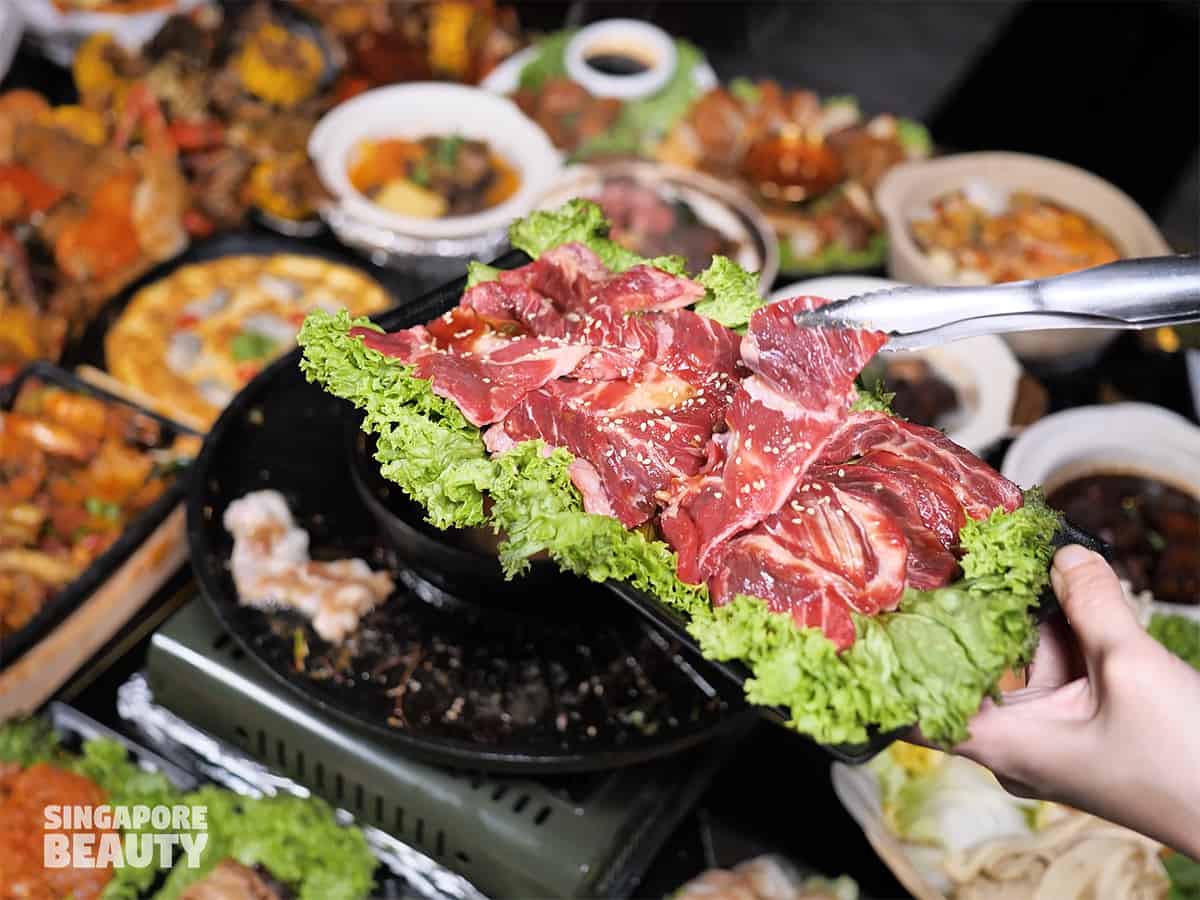 The steamboat bbq set also comes with beef drizzle with some sweet and savoury sauce. The beef has good amount of fatty parts interlaced with lean meats. The grilled beef has texture similar to a yakiniku style bbq, a little char caramelized on the surface and tender juicy inside.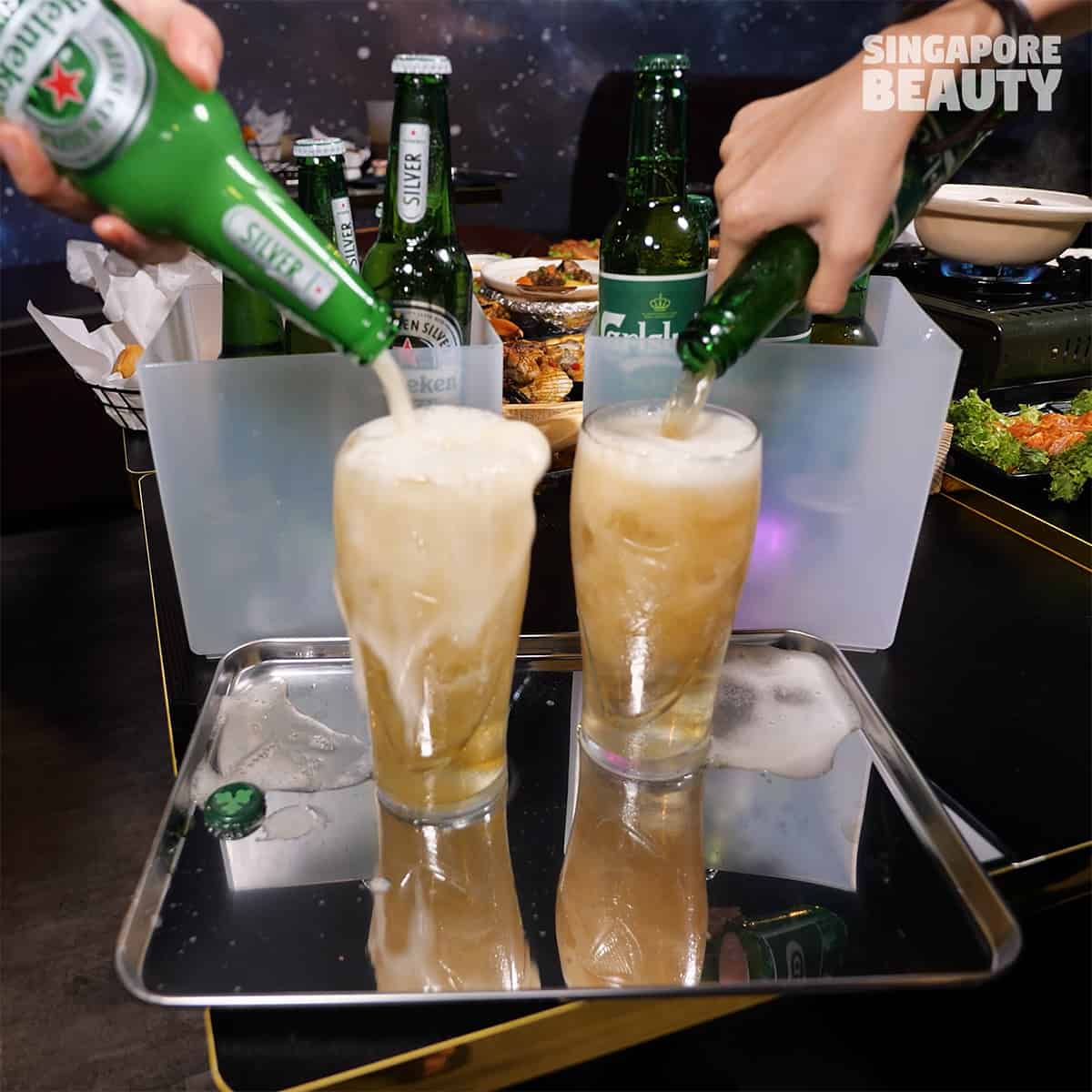 The buffet gets even better if you are someone who loves an icy cold beer. Top up $10 per head for free flow beer buffet served in a disco lit box. Seafood, grilled meats washed down with smooth cold beer, unlimited Heineken or Carlsberg anyone?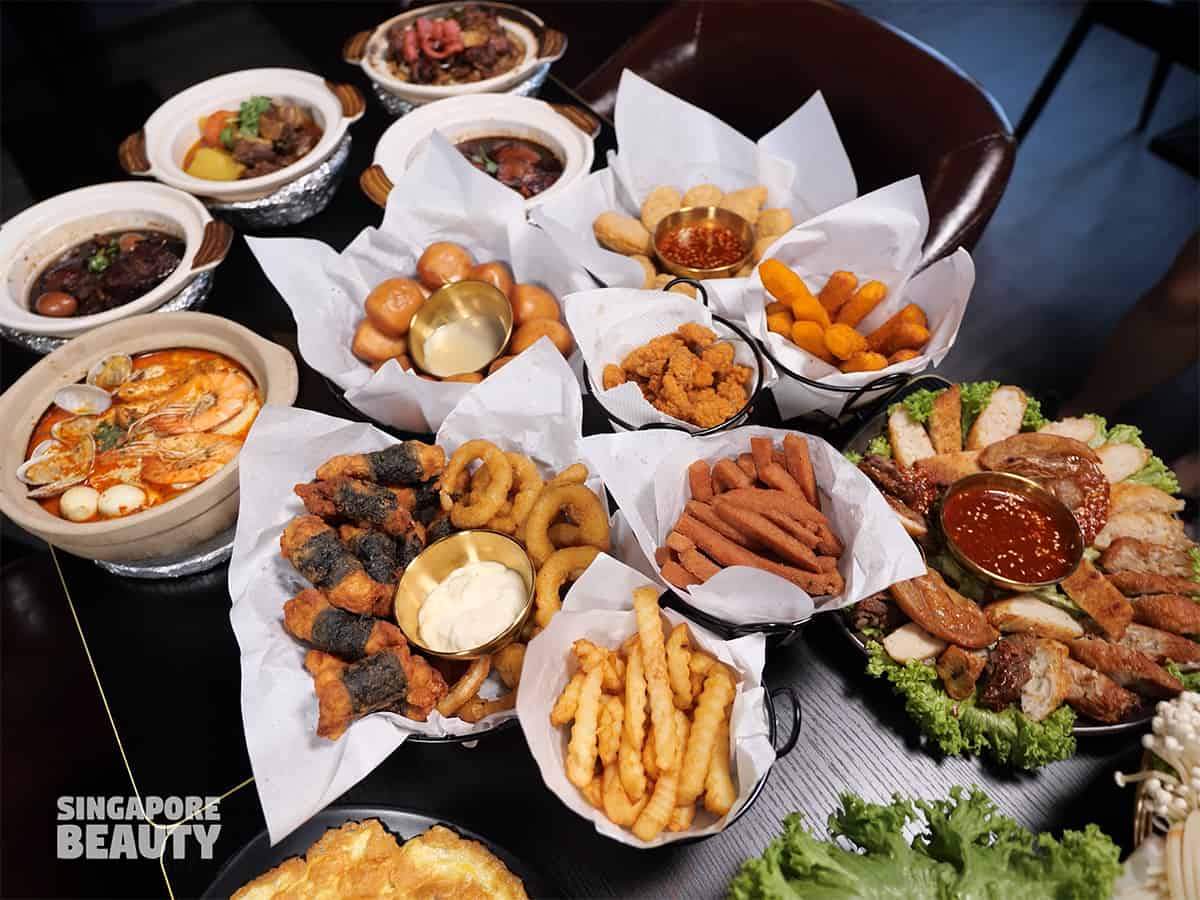 Free flow finger food is all the rage in That1 buffet with a plethora selection. This is like a fast food aka happy food party on its own with popcorn chicken, fried mantou, crinkle cut French fries, luncheon fries, fried prawn roll, fried chicken wings, fish fillet fingers, finger food platter – seaweed chicken & onion ring and wu xiang platter. All of these come with matching mayonnaise and sweet chilli dip.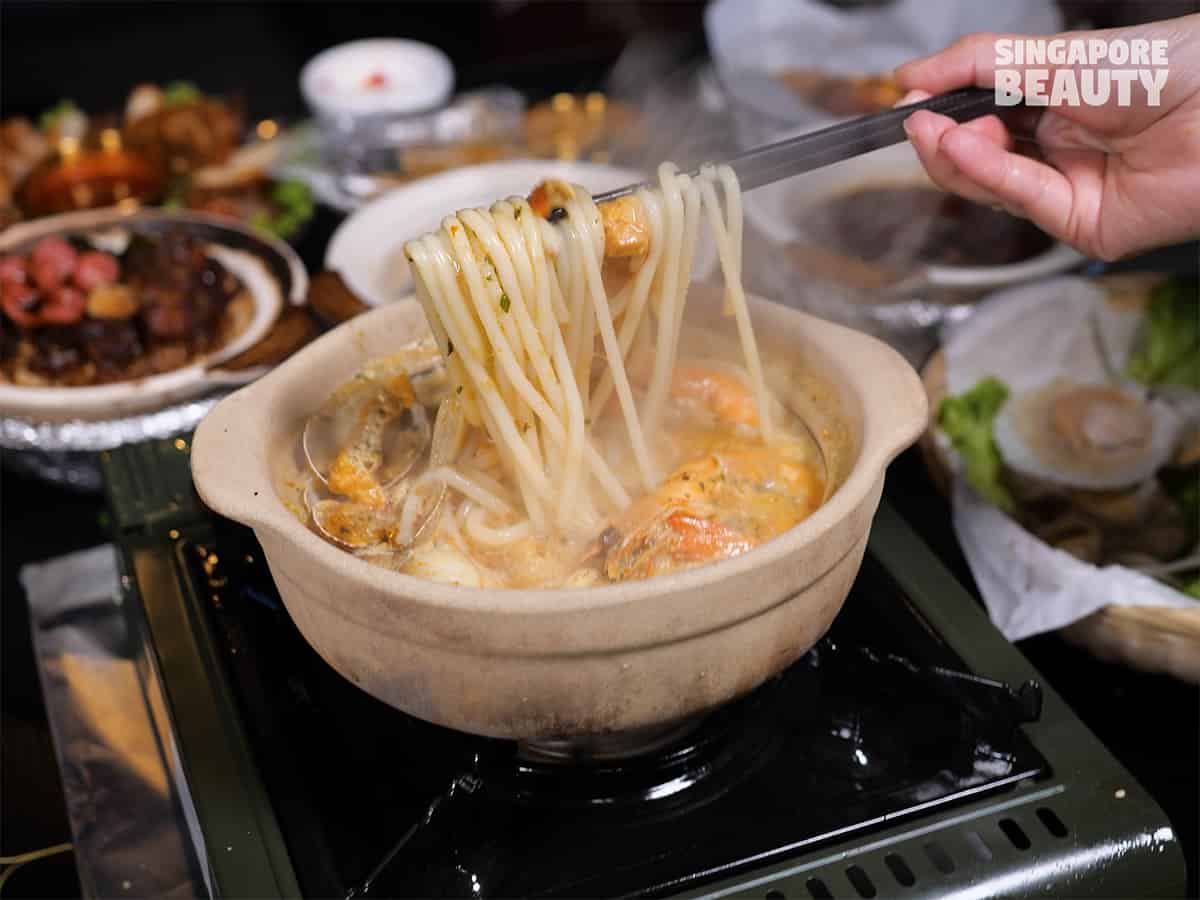 The claypot dishes on their main menu are also included as free flow in this buffet. They have beef, pork, chicken, seafood and even frog leg claypot! I need to give special credits to the claypot seafood laksa. The gravy is so lemak and on point which I will return for. The gravy is thick and rich, the noodle has a good bite, and the tau pok is soft soaked with the laksa gravy. The toppings are generous too with seafood such as prawns, clams and fish cake. The finishing touch of laksa leave flakes that coats the strands of noodles gives it an authentic laksa aroma.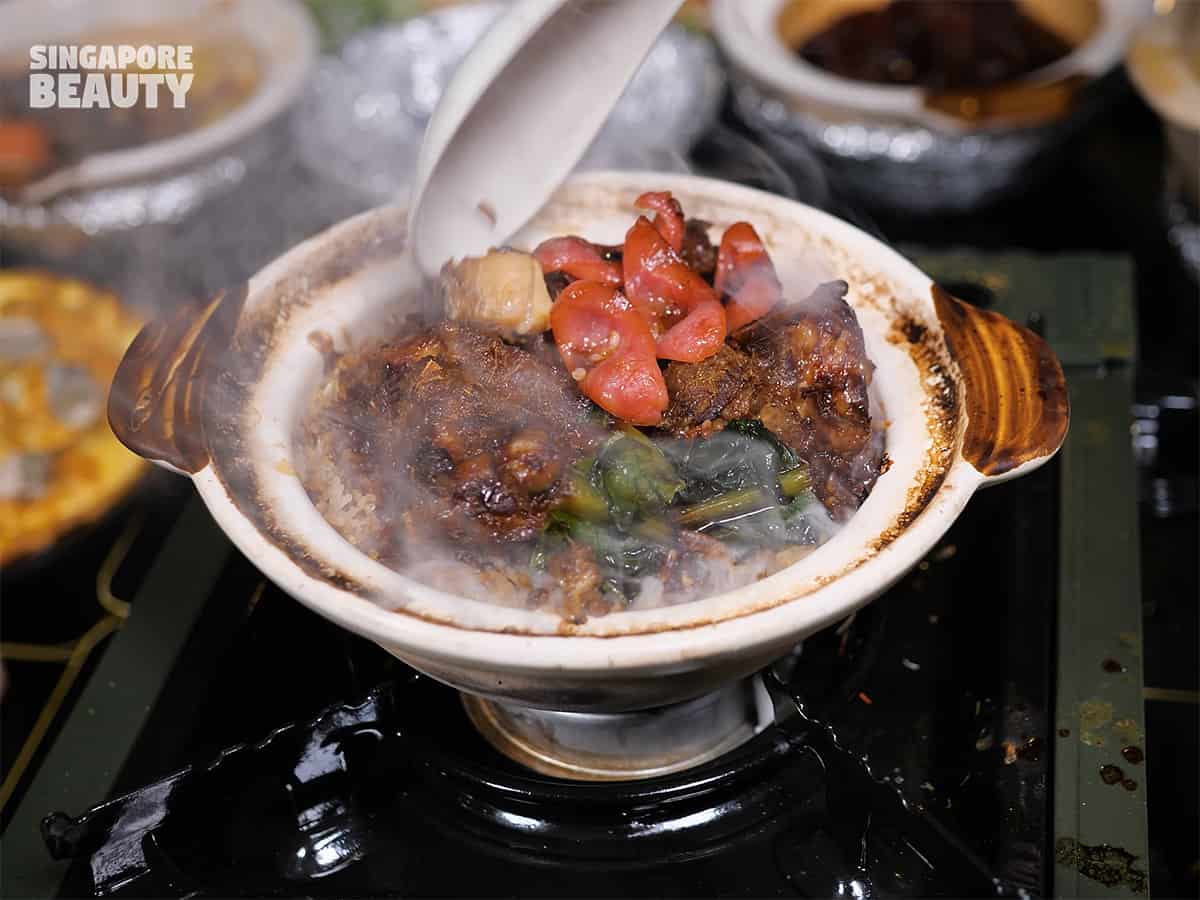 Besides the claypot noodles dishes, there are also several claypot meat dishes such as claypot rice, sesame chicken, stewed beef and yellow wine pork. These are like comforting dishes that your ah ma will cook for you at home. It's hard to choose a favorite amongst these, but the piping hot claypot rice got the better of me as it started raining. The claypot is topped with a large chunk of salted fish, sliced lap cheong and some well marinated chicken.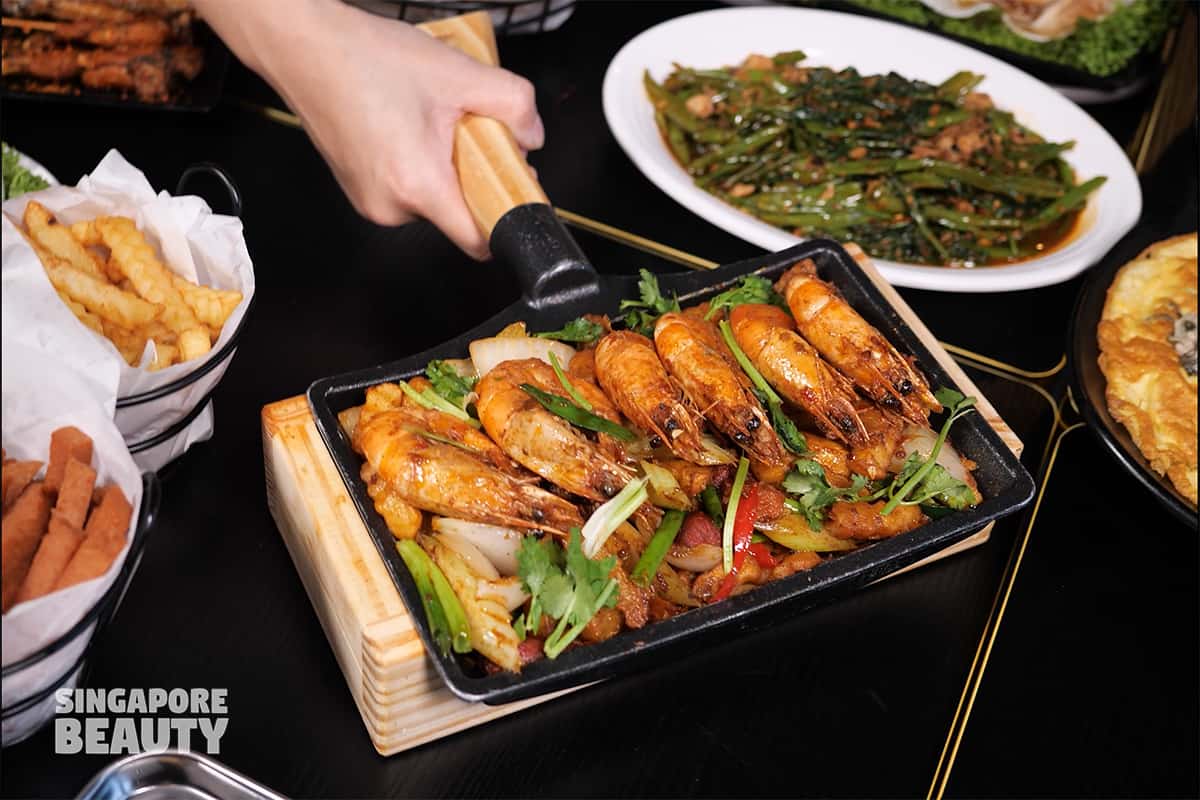 Dry pot seafood and dry pot frog legs, yes these are part of the buffet too. Served on a shove like hot plate, the prawns are coated with a subtle layer of mala flavour and not overpowering. The sweetness and crunchy of the prawns with the spicy aroma is addictive.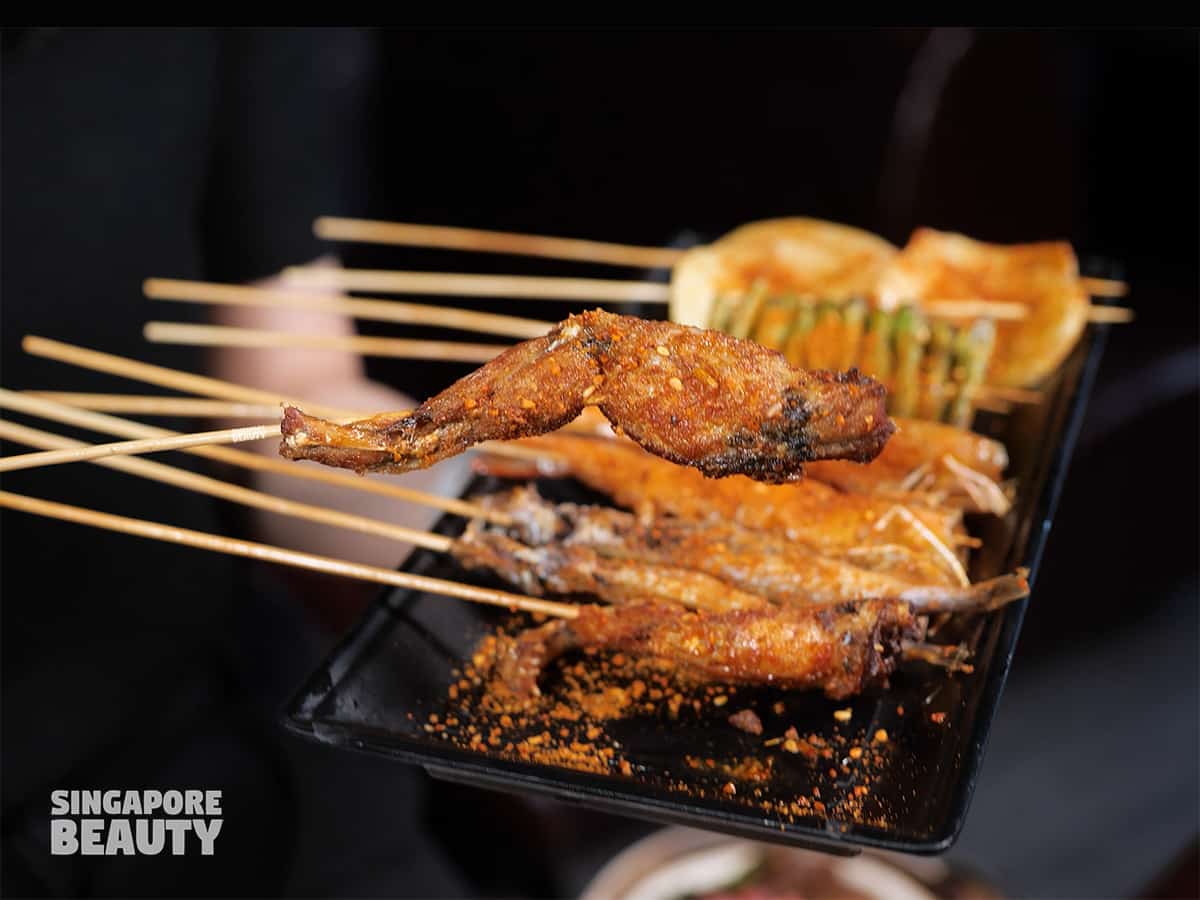 Fried skewers are great way to end the buffet. The skewers come in a platter which consists of frog legs, shishamo fish, prawns, long beans and sliced potato. Deep fried and coated with ground spices such as cumin, these lok lok or chuan chuan are fun bites with an intense saline spicy kick.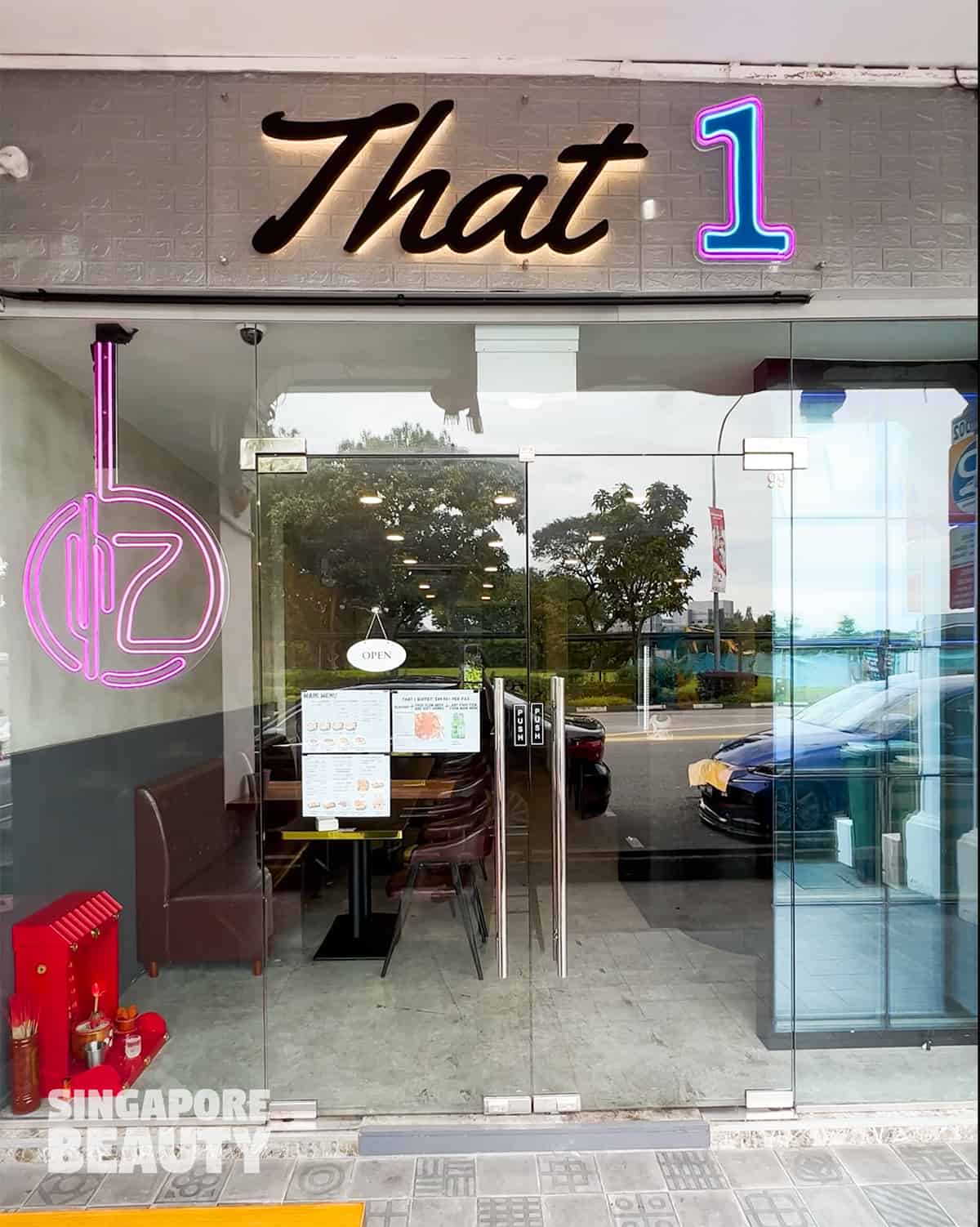 That1 Geylang buffet has an amazing spread of good food and you can easily get the bang for your buck back. Seafood and meat lovers can unite at this seafood bucket buffet, steamboat bbq buffet with free flow claypot dishes, zichar dishes such as oyster omelette, fried kang kong, special lok lok and more party food.
That1 Buffet Price
Weekday (Mon-Thu)
Either Seafood Bucket Or BBQ Steamboat and unlimited mains, zichar and finger food sides
Buffet $29.9+ (Min 2Pax, Limited 1 Bucket Every 2 Pax)
Weekend (Fri-Sun)
 Either Seafood Bucket Or BBQ Steamboat and unlimited mains, zichar and finger food sides
Buffet $39.9+ (Min 2Pax, Limited 1 Bucket Every 2 Pax)
Free Flow Beer Buffet Addition $10 Per/Pax
Special option, if want Seafood Bucket and BBQ steamboat, you can order an ala carte BBQ steamboat set for $39.90+
Opening Hours: 11 am till 11 pm daily
Address of That1 :
99 Geylang Rd, Singapore 389208
For reservations, Call : 9091 3288
Brought to you By That1 那忆家