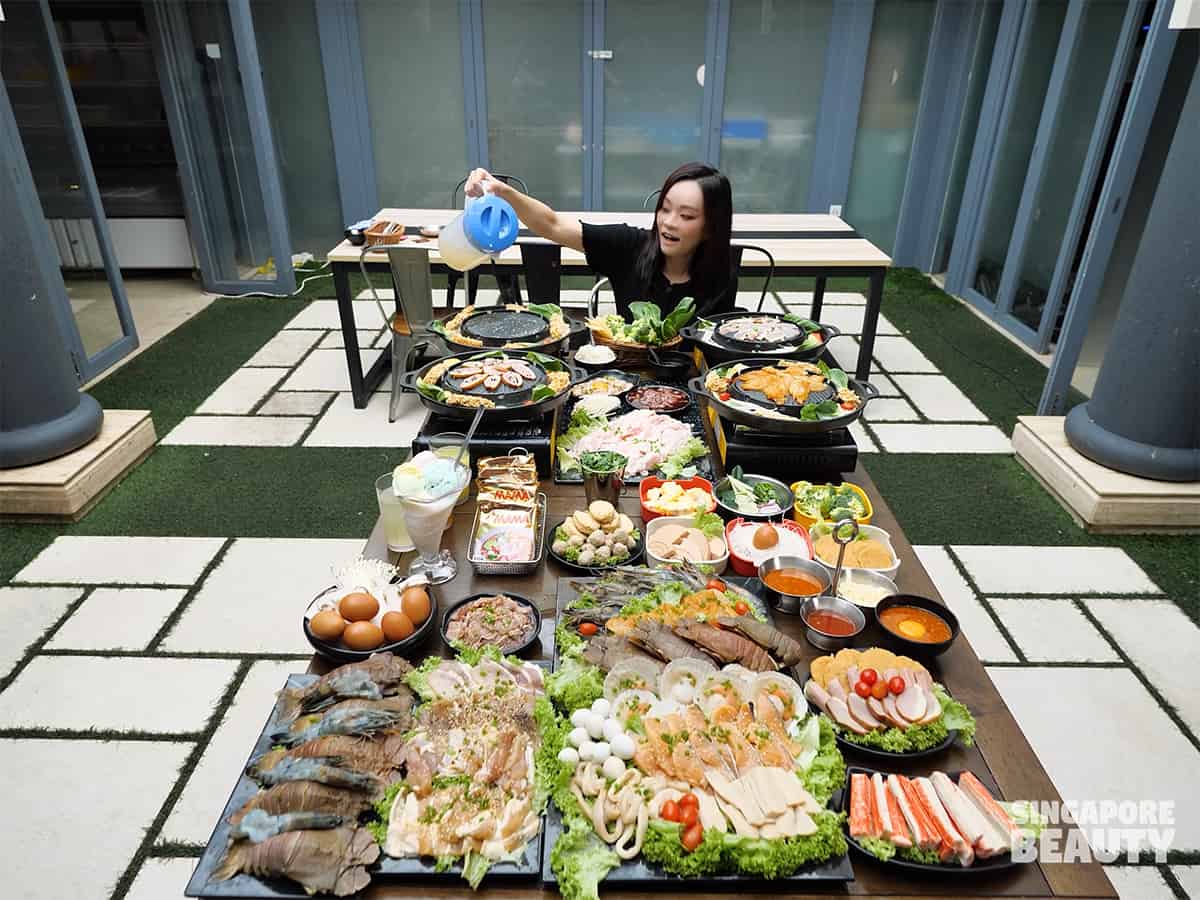 88 Mookata is a simple no fuss bbq seafood and meat buffet. The cooking pan is the dome shaped bbq grill in the centre of the pan with a circular reservoir around the bbq grill for hotpotting purpose.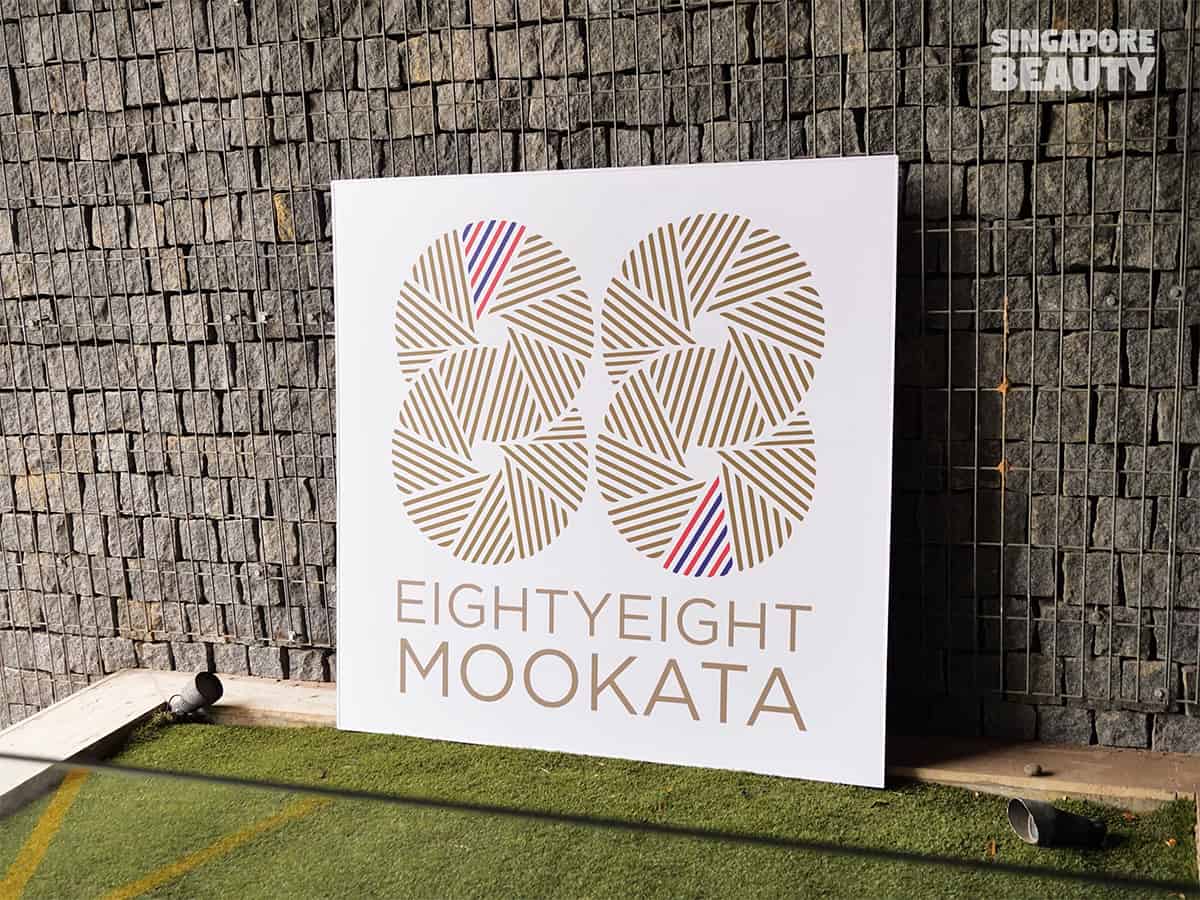 For those who are looking for a mookata place to chill after work that is spacious and not overly back to back type of crowded, this is the place for you. 88 Mookata at 10 raeburn park is hidden within this estate that houses mostly offices. Their location is prominently located on ground floor at the entrance to the office tower estate.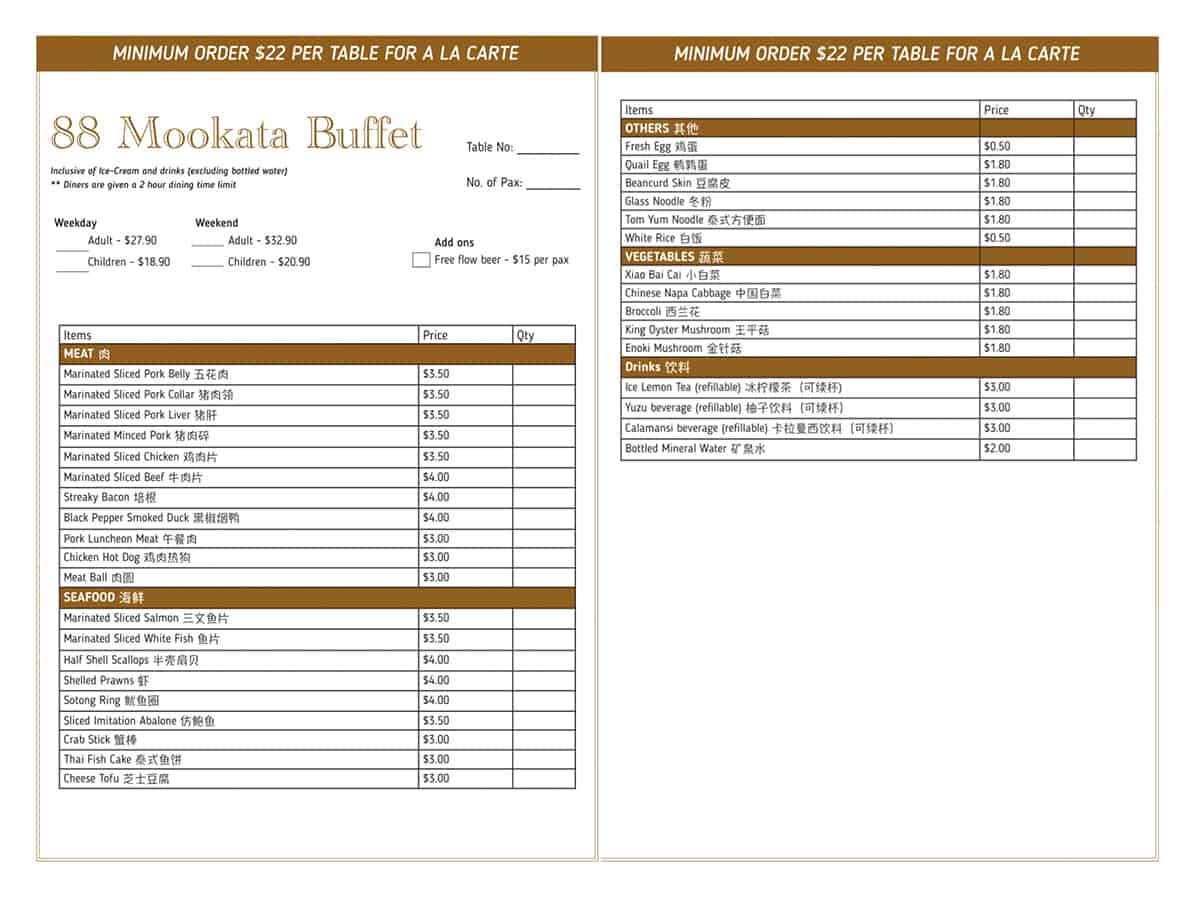 The menu of 88 mookata consist of meats, seafood, vegetables, surimi, drinks and ice cream. The adult price for 88 mookata buffet with dine in time of 2 hours are Weekday 27.90 nett and weekend 32.90 nett.
For seafood lovers, you can enjoy a variety of seafood such as prawns, salmon, squid rings, white fish and half shell scallop. We were told that the slipper lobsters are free flow and is a new addition to the menu. With slipper lobsters, you can easily get the bang for your bucks from this buffet by just eating a few of them.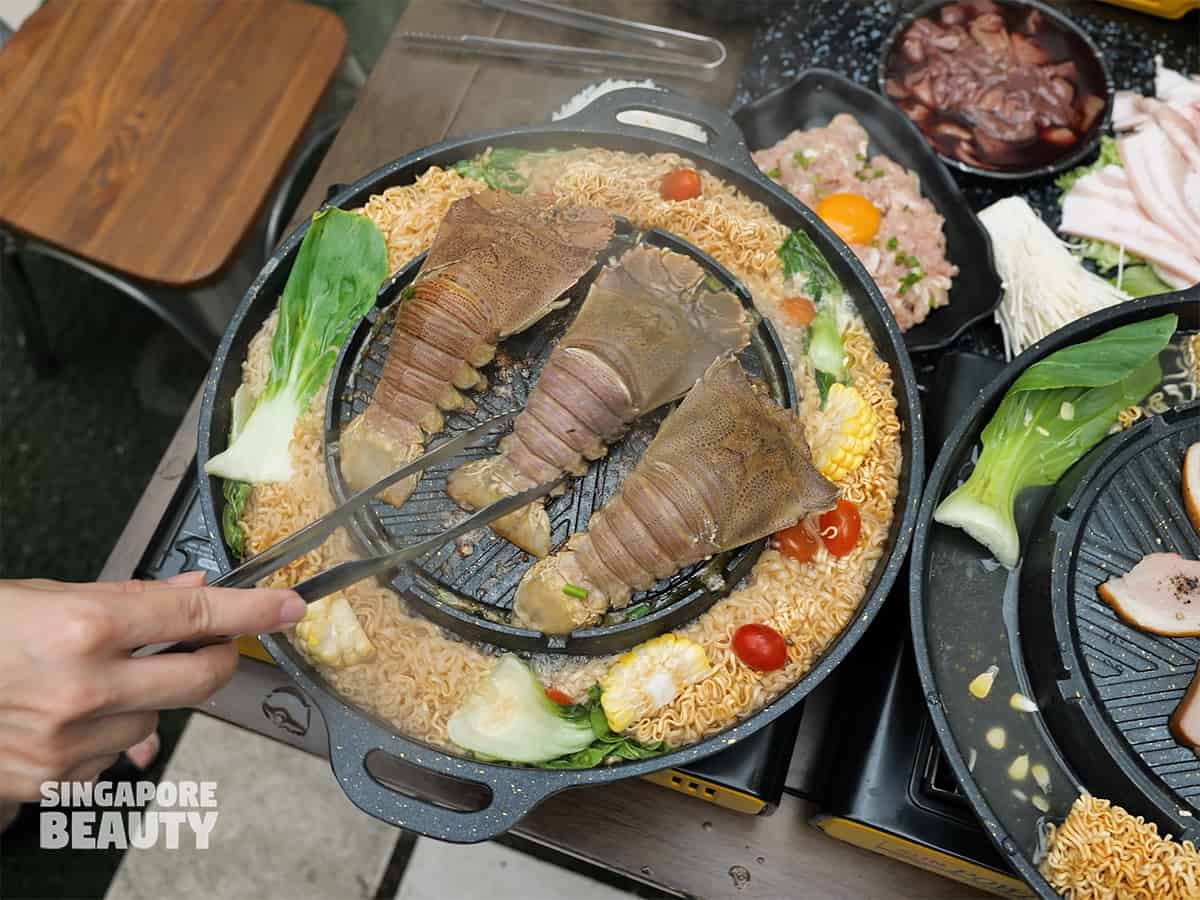 Although slipper lobsters are not really lobster as per their name implies, the slipper lobster actually has a texture that straddle between a shrimp and a lobster. It is said to be a close relative of the spiny lobster or otherwise known as the rock lobster. When grilled, the meat becomes firmer than when you hotpot it. The meat is flavourful and sweet.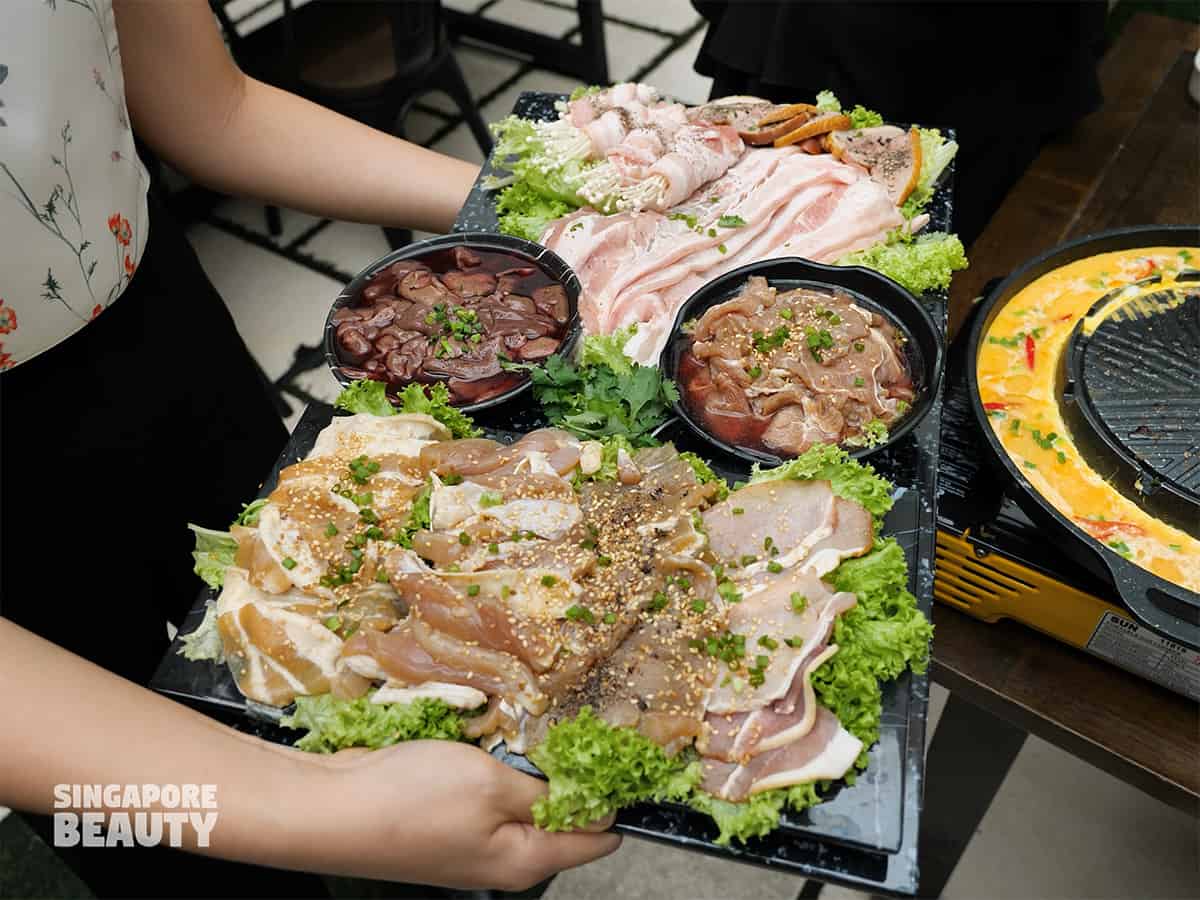 There are a variety of meats to please everyone. The majority of the meats are different cuts of pork, marinated chicken, marinated beef, smoked duck, streaky bacon and some handmade meat paste. There are a total of 11 types of marinated meats and surimi meats in all to choose from.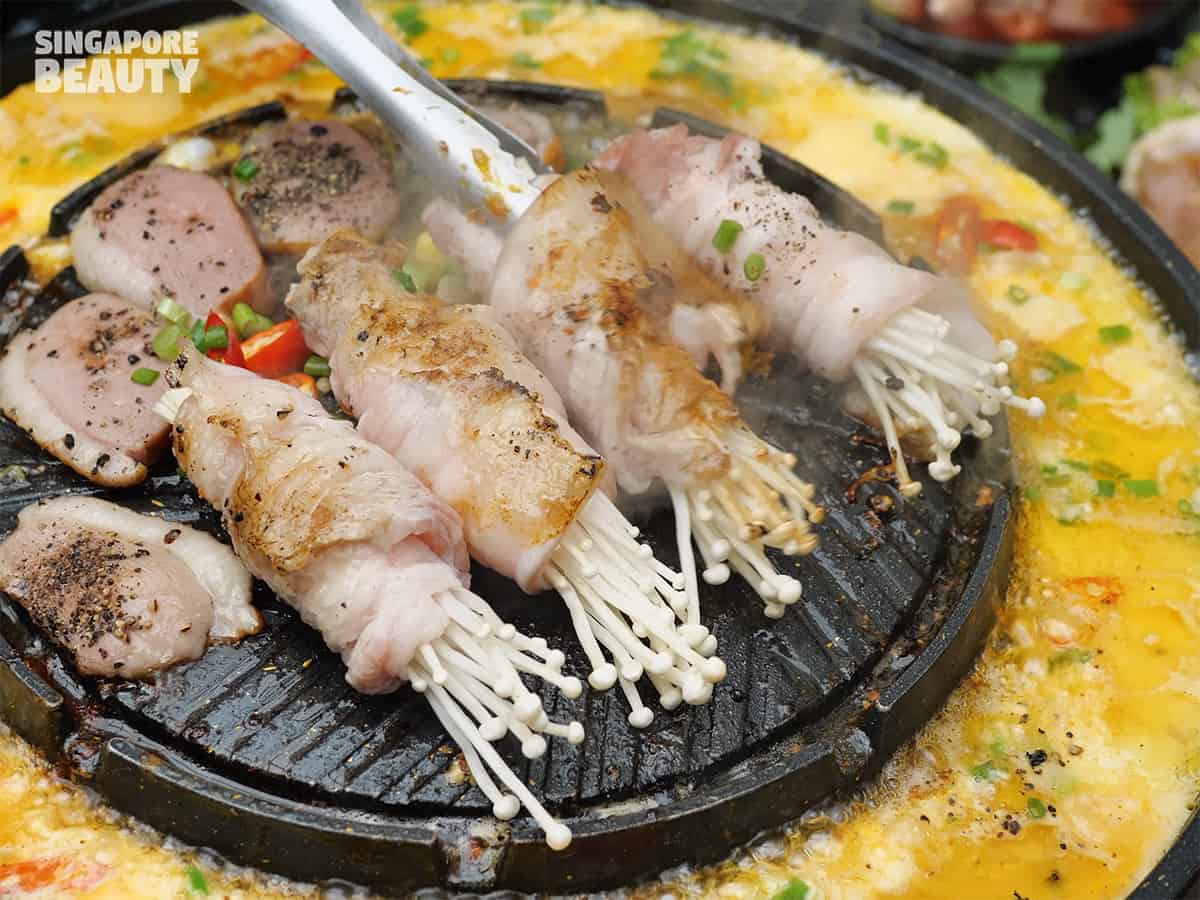 Since it is a mookata which means pork skillet, my obvious choice would be to start with their bacon with enoki to get the hot grill pan grease up. These pinkish rolls of mouth watering bacon cooks really well on the hot skillet. The smoky flavour of the bacon immediately permeates the air and we can't wait to pop them into our mouth.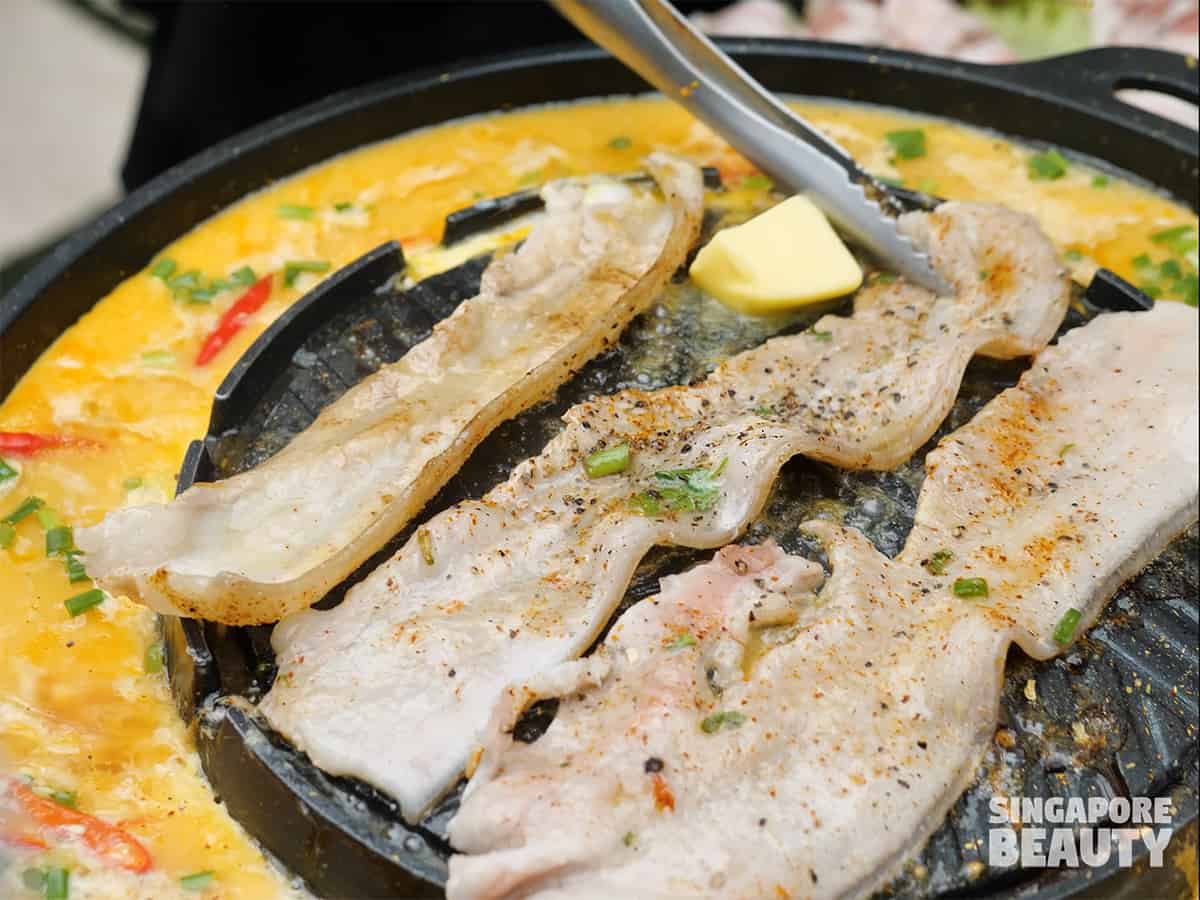 Streaky bacon are a must have for mookata. Cook the bacon well and you get a nice springy ribbon of meat alternating with gelatinous fatty parts. These cured meats has a nice saline flavour that goes well with greens and carbs.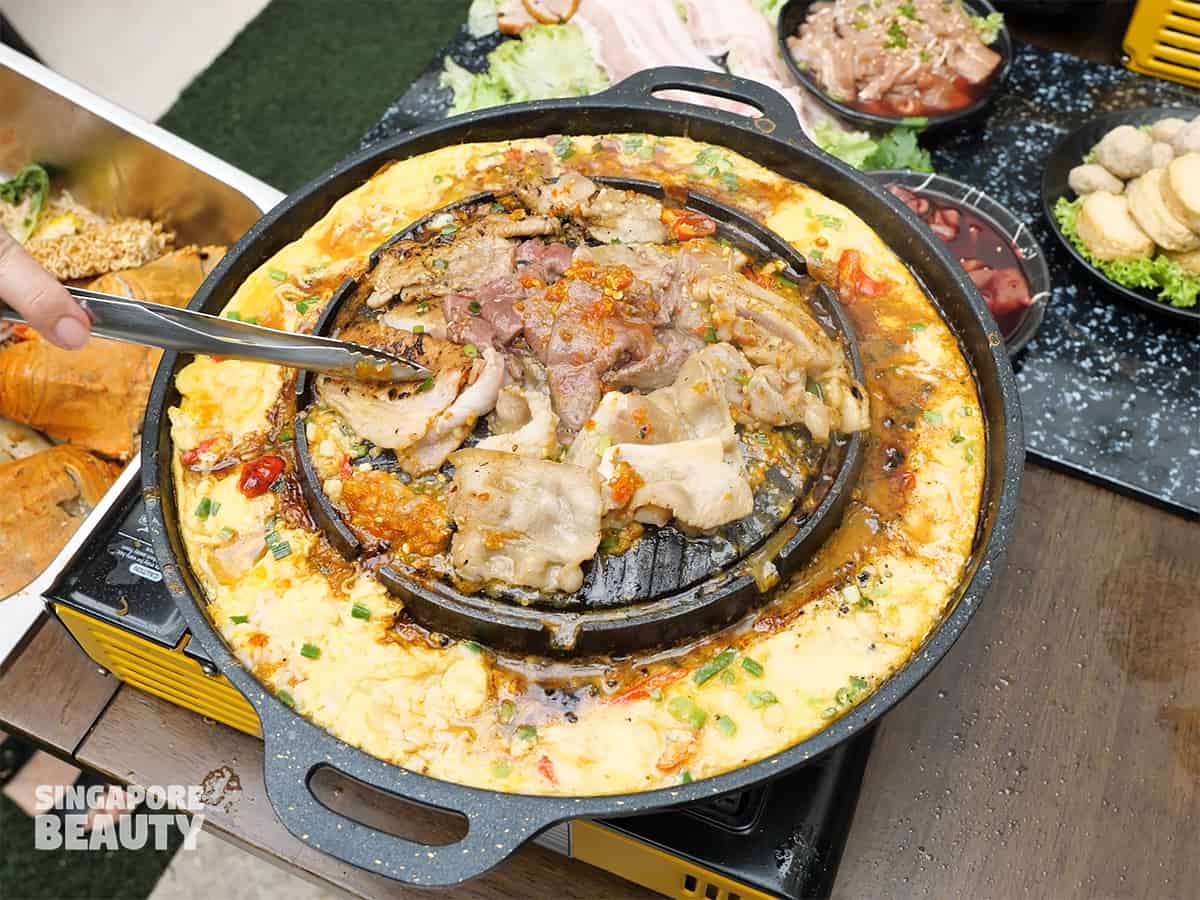 They have a variety of marinated meats such as pork collar, pork belly, pork liver, minced pork, sliced chicken and sliced beef. The marinated meats are mostly sweet and savoury. They have chilli, garlic and sweet chilli sauce on the sauce counter which you can help yourselves to spice things up.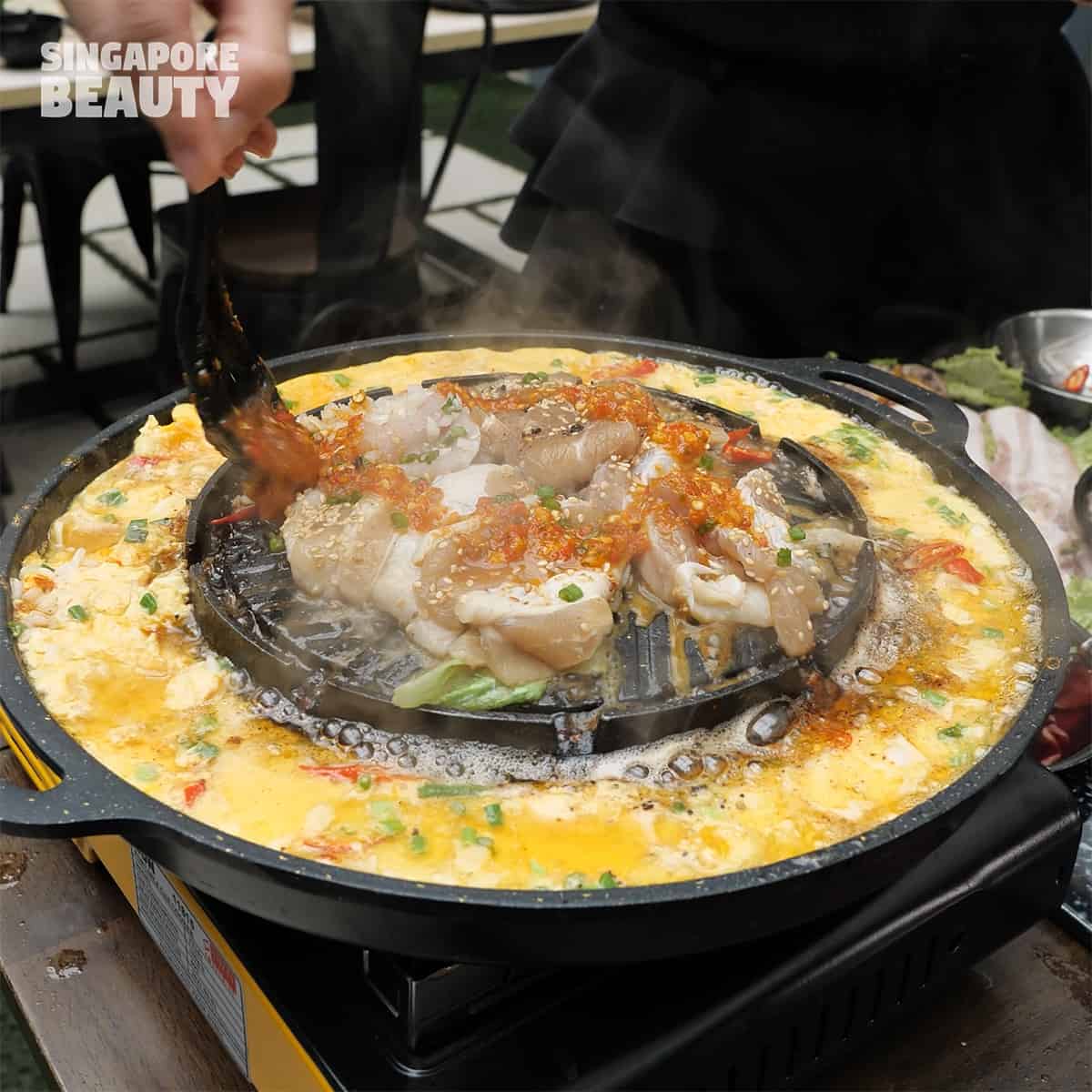 For those who loves a spicy garlicky kick in the meats like us, we added garlic, spicy chilli sauce and sweet chilli sauce to grill with the meats. The spicy chilli sauce are house made and are quite peppery with visible chilli seeds and chilli pulp to give you that spicy kick. Chopped garlic on meats are the best combo for grilling, we are glad that they provided raw chopped garlic as part of the sauce selection.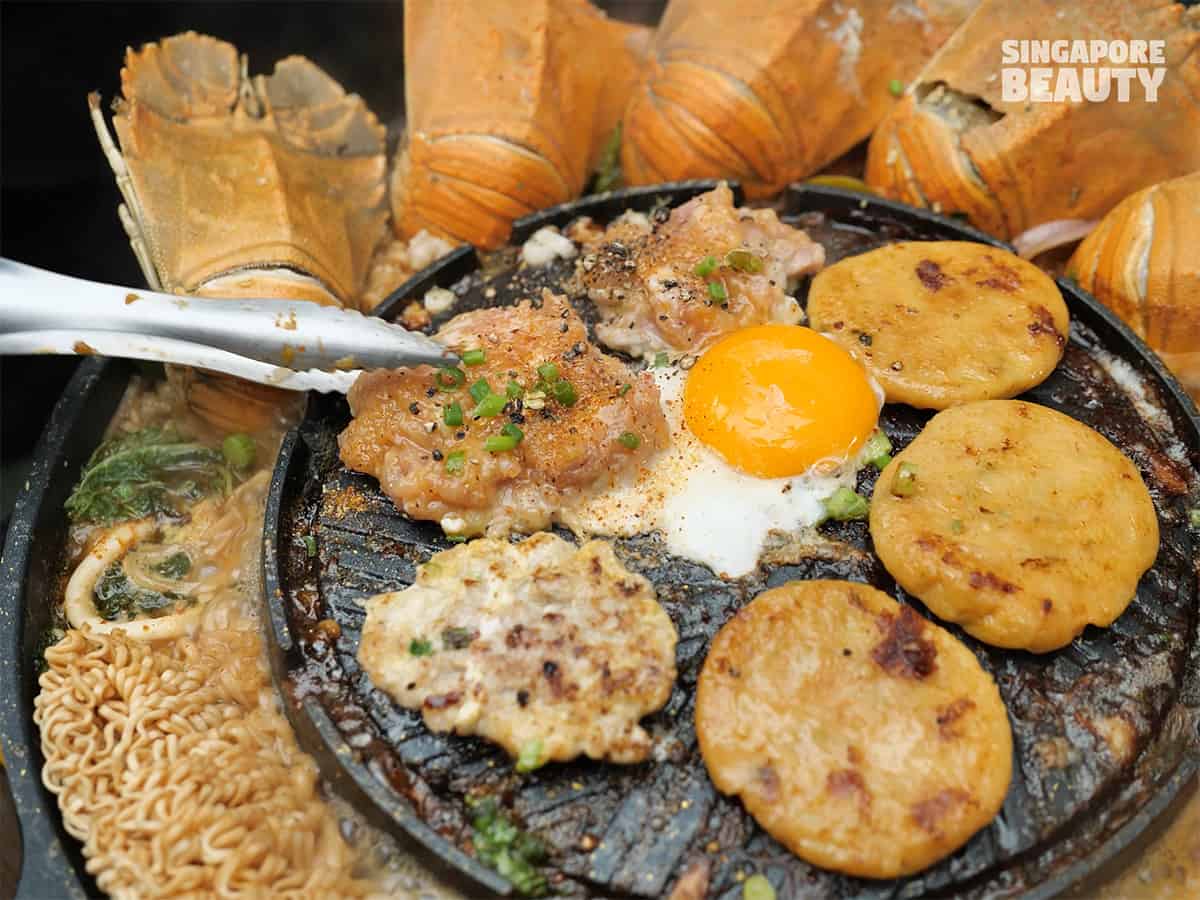 Make your own moo ping with their minced pork and grill their Thai fish cake with the run off lard from the moo ping. Flatten the minced pork to grill more evenly with the fish cake. Savoury minced meat compliments the lemon grass flavours from the Thai fish cake. These are best enjoyed with their sweet chilli sauce that is of the gooey texture.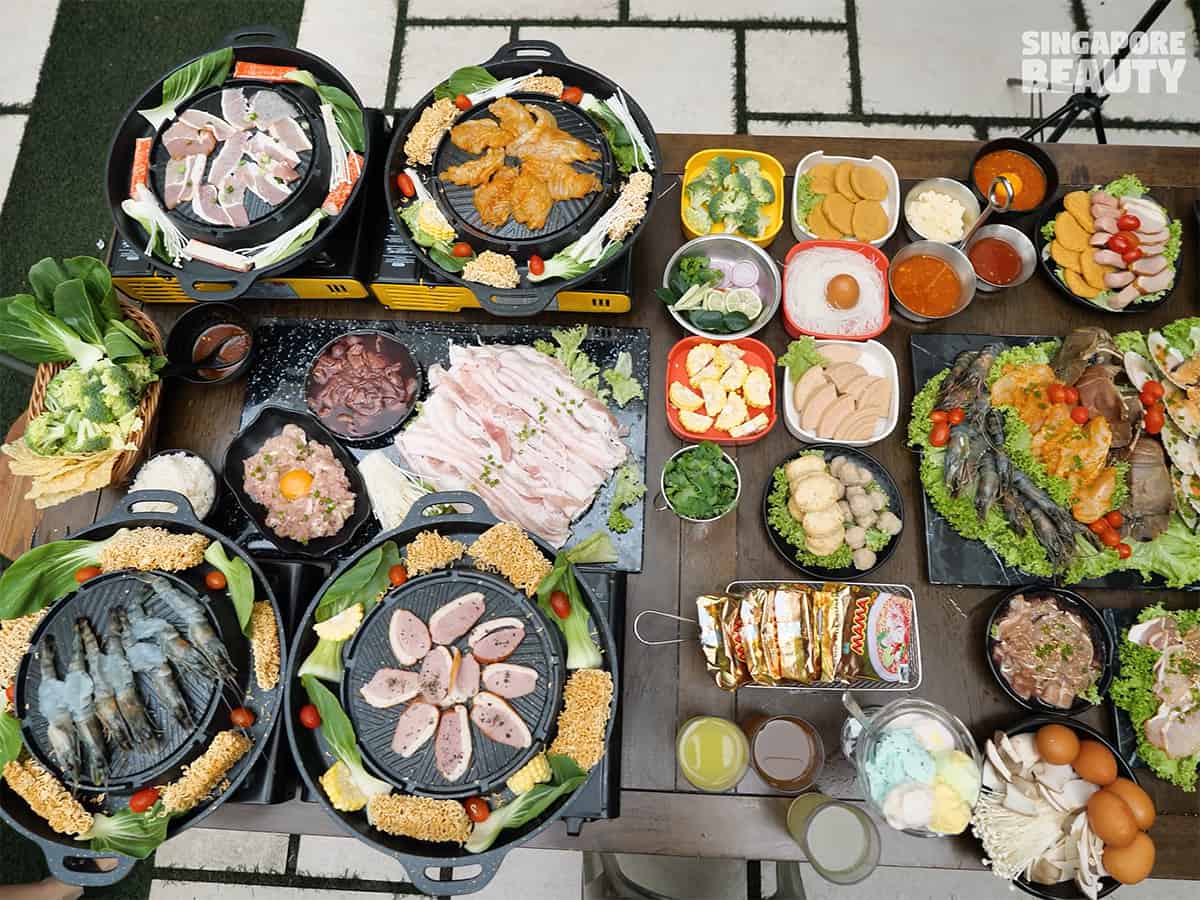 For this 88 mookata, we get to enjoy the best of both worlds steamboat and bbq buffet. With a total of 34 items on the menu, we helped ourselves to seafood, meats, unlimited ice cream and drinks. We were quite full at the end of the buffet. The flavour of the soup is chicken soup and it takes on the flavours of whatever you grill and hotpot. The soup gets richer as you grill and hotpot.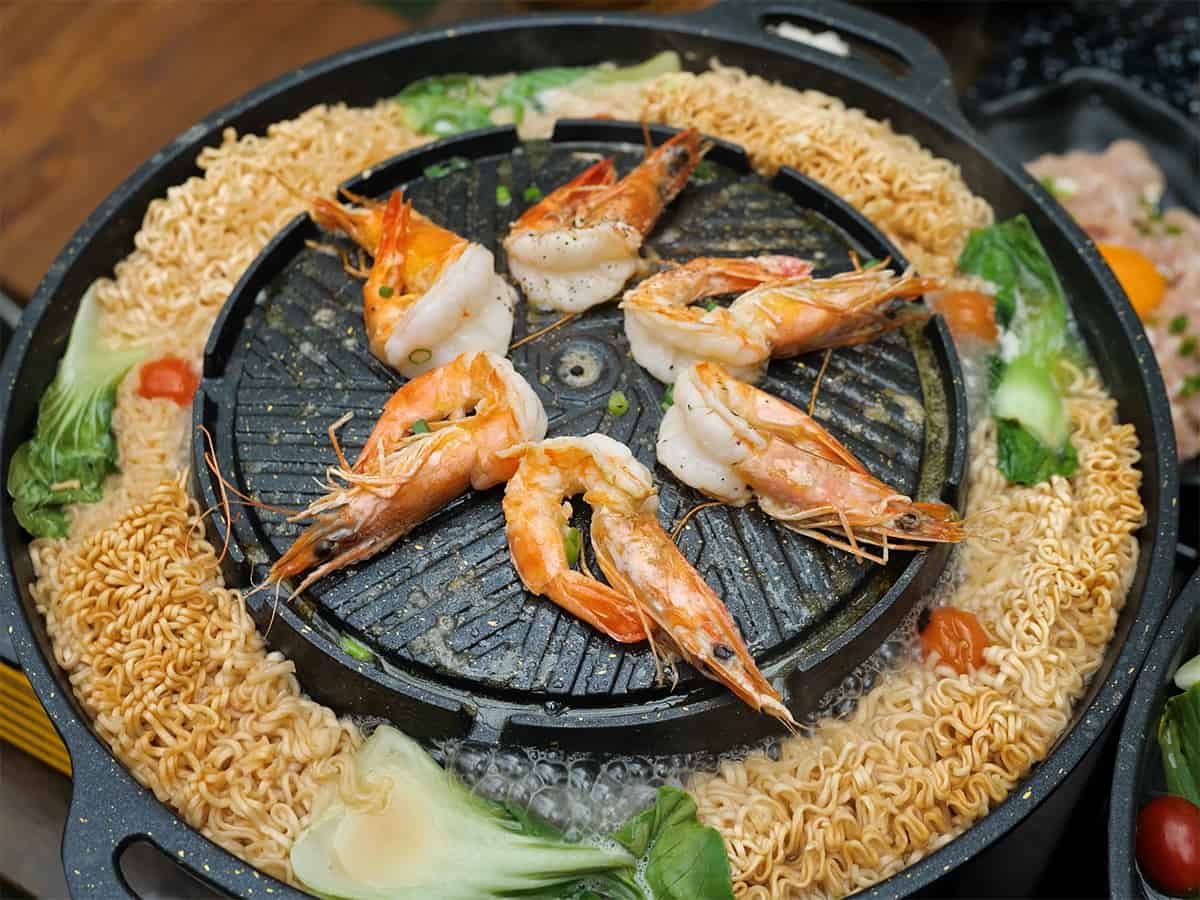 Towards the end of the buffet, we finished off with some seafood items and the mama instant noodles. The prawn grills quickly on the stove and was ready in no time. The mama noodles takes on the shrimp flavours that oozes into the noodle reservoir. These noodles have a nice shrimp tom yum flavour and are super springy.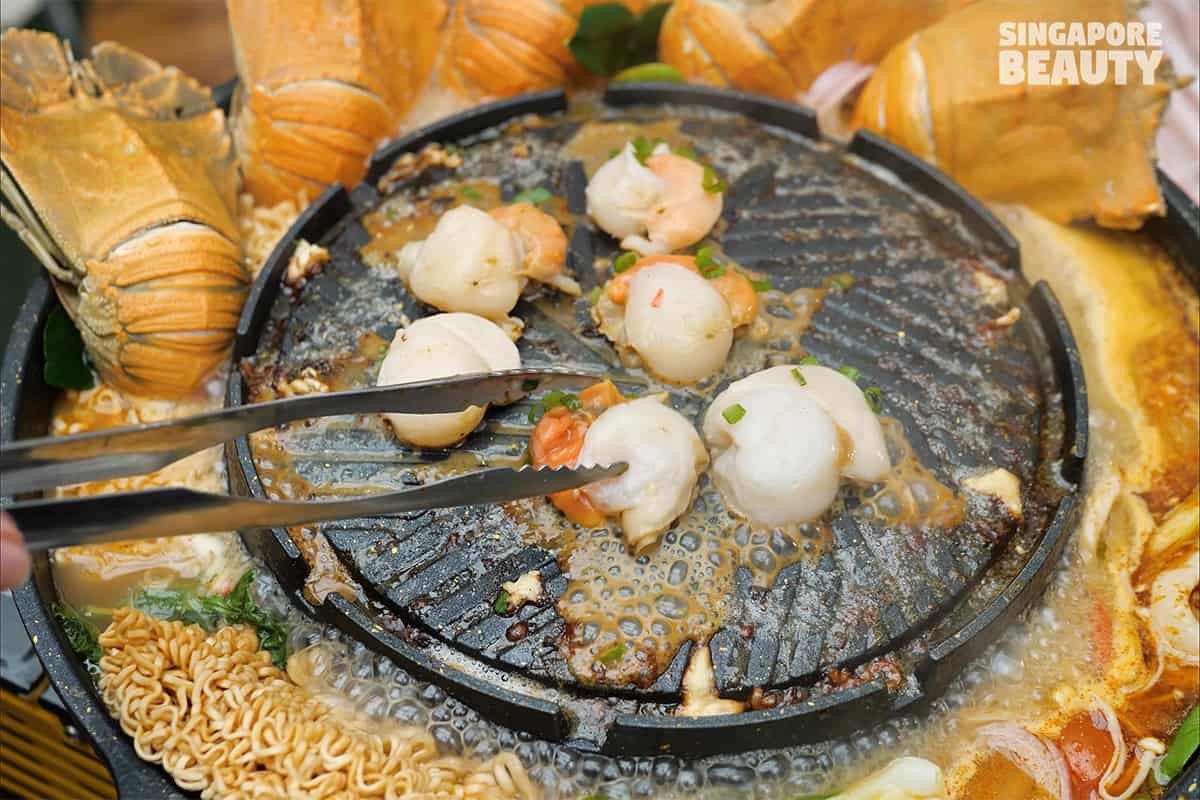 We had to grill more of these half shell scallops towards the end of our buffet to go with the tom yum flavour mama noodles for more seafood goodness. Lots of greens such as xiao bai cai, napa cabbage, broccoli, king mushroom, enoki and mushrooms are added to the soup to heighten the sweetness.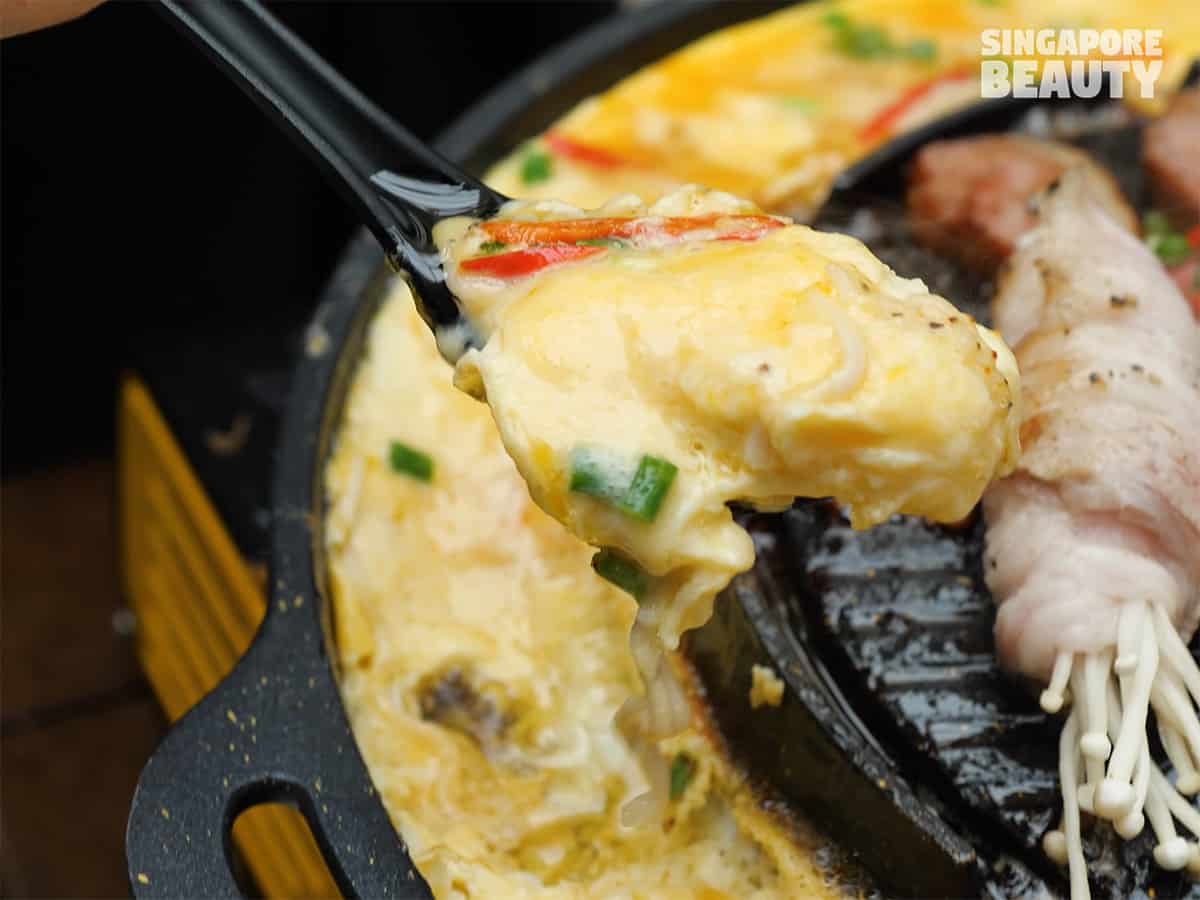 After we finished the noodle, the soup reservoir is now rich with seafood and meat juices that oozes off from the dome grill. We made a Korean style steam egg custard with the soup by pouring some beaten eggs into the reservoir. Took a bit of time to cook the egg, but the effort paid off with some savoury tom yum kick soft egg custard full of umami goodness. The egg custard is addictive as we scoop them off the soup reservoir. End your buffet on a sweet note with some ice cream and dispenser drinks.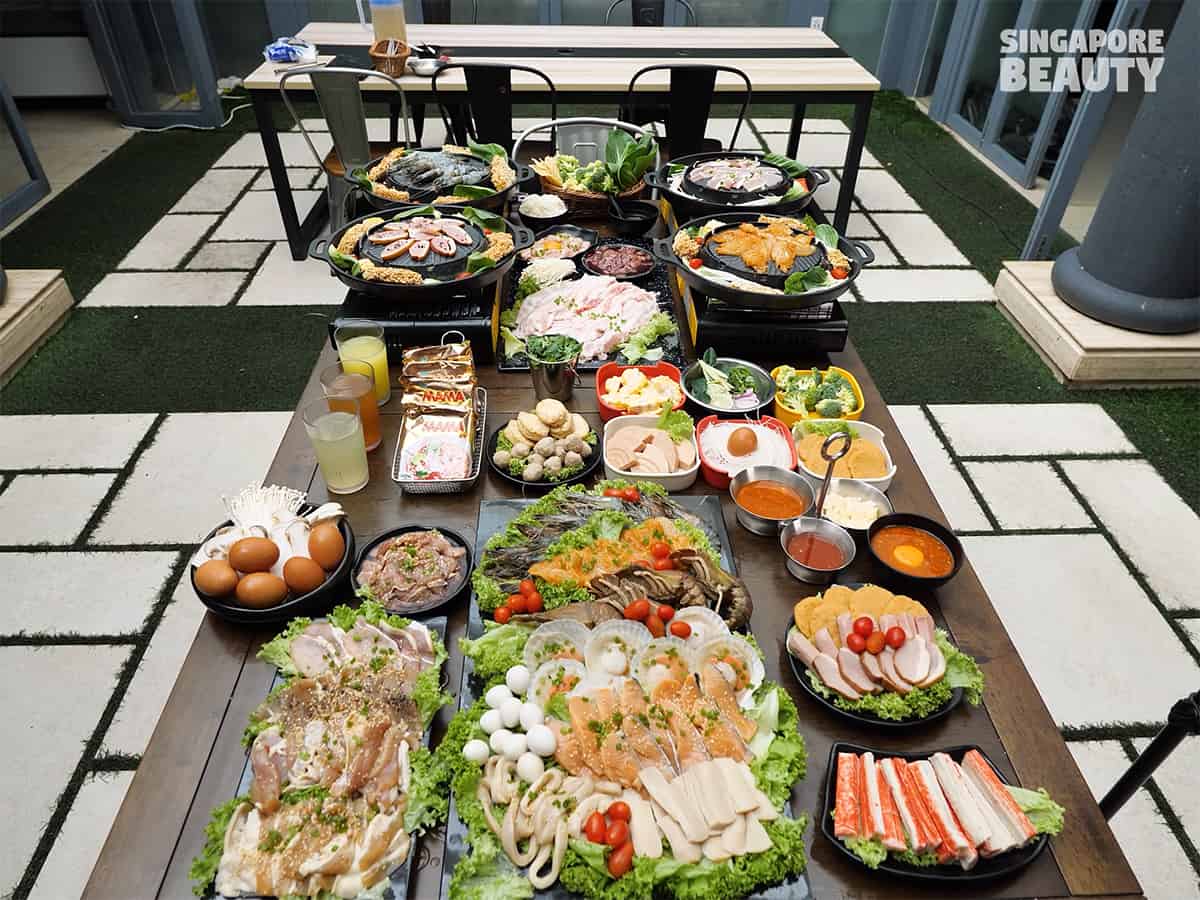 Gather your mookata buddies to enjoy this 88 mookata buffet with free flow seafood, meats, surimi, greens, drinks and ice cream too. Open after 4pm till 10.30pm daily except Monday.
Address of 88 Mookata:
10 Raeburn park #01-28
Singapore 088702
Buffet Price of 88 Mookata Buffet :
Weekday (Tues- Fri)
adult $27.90 Nett
Kids $18.90 Nett
Weekend (Sat & Sun)
Adult $32.90 Nett
Kids $20.90 Nett
For reservation call :9712 4978
Dine in time limit : 2 hours
Opening Hours :
Tuesday to Sunday 4pm – 10.30pm daily
Monday closed
Brought to you by 88 Mookata