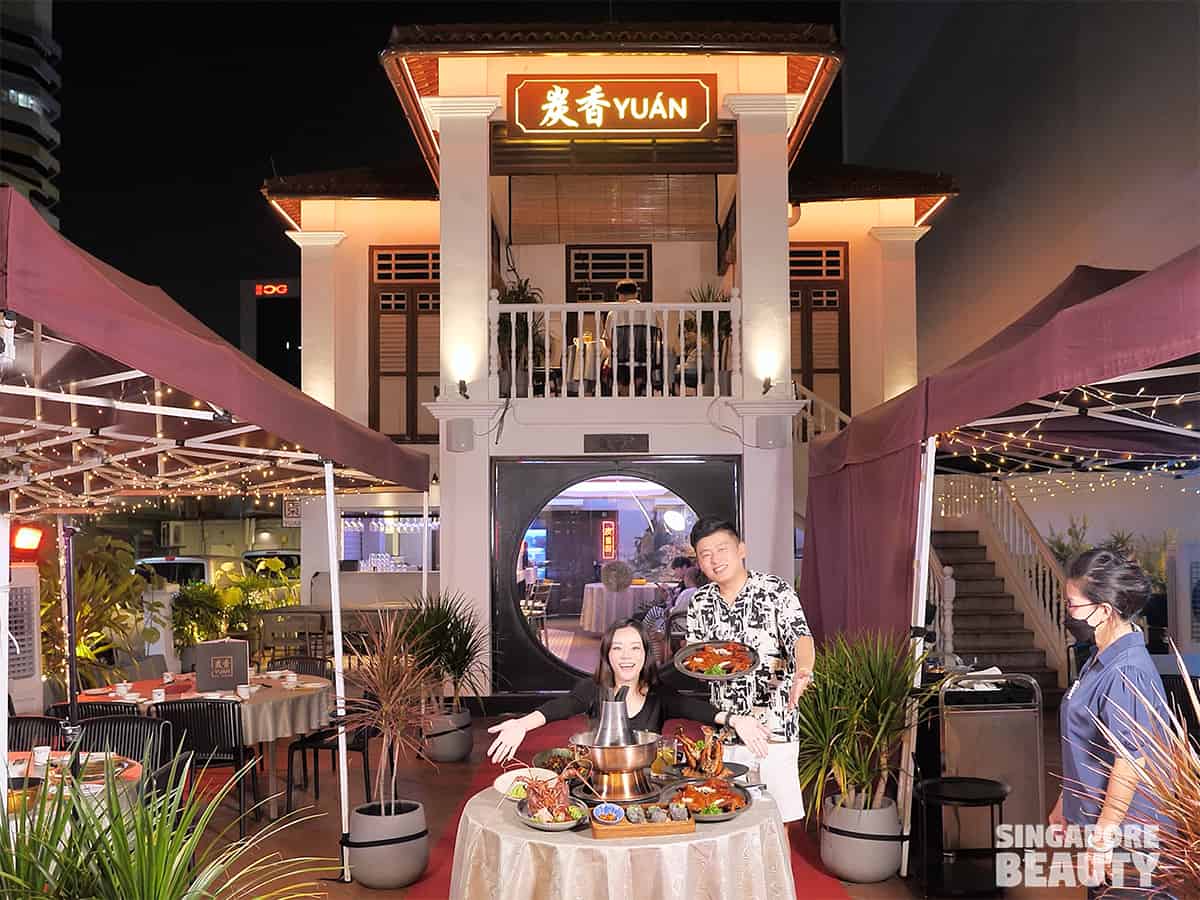 Tan Xiang Yuan 炭香YUÁN is a restaurant serving up Chinese cuisines, seafood hotpot and live seafood dishes. Two of the founders of Tan Xiang Yuan are Singapore actor-host-restaurateur Ben Yeo and award winning celebrity Chef Cao Yong who is also a familiar name in our local food show. Enjoy curated Chinese cuisines by Chef Cao Yong & Executive Chef Lim You Chai.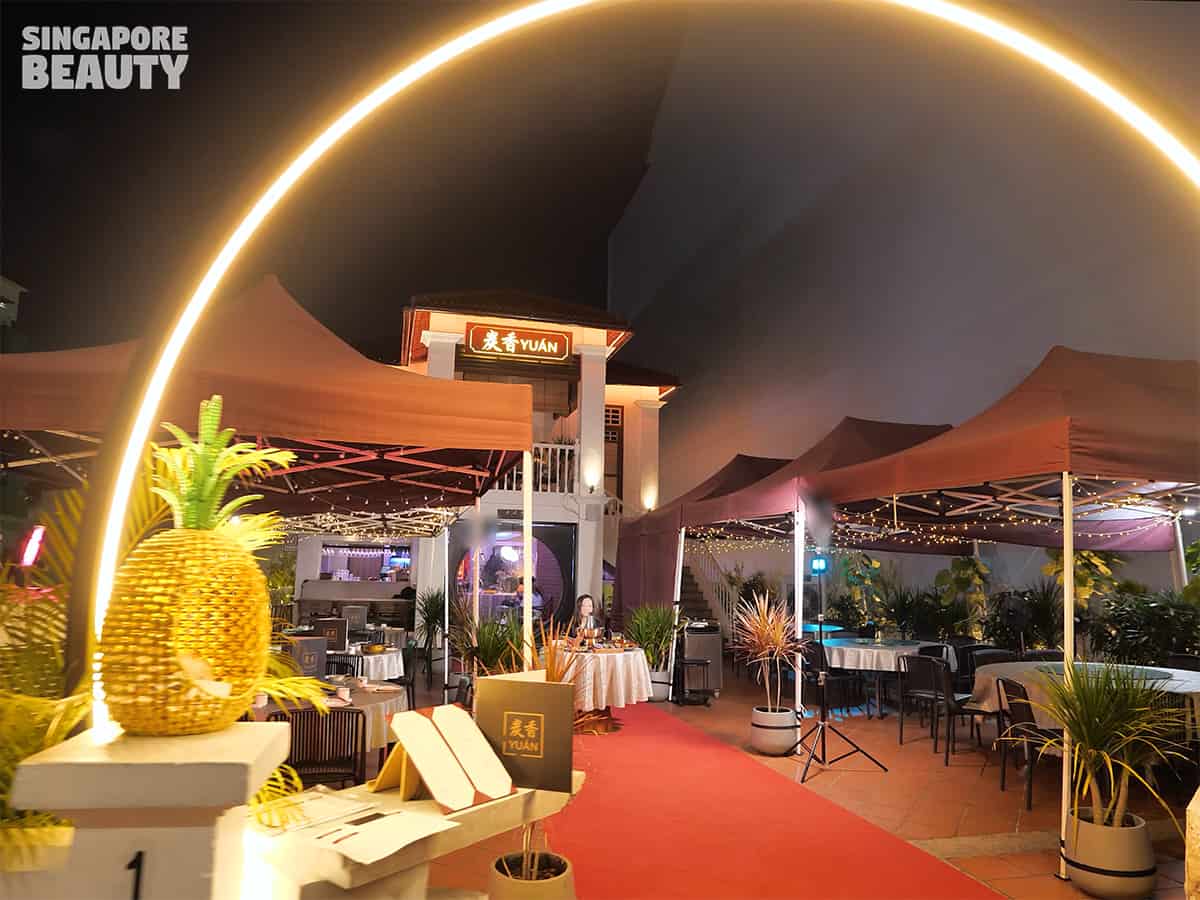 Tan Xiang Yuan location at Dickson Road is conveniently accessible via driving with their in house complimentary valet parking service to the nearby Sim Lim Tower, parking fees still applies. Arrive in style onto a red carpet and be mesmerized by a 2-storey modern teahouse villa in Little India. This used to be a pretty old heritage building and after undergoing an approximately $800,000 facelift, it has metamorphosed into this beautiful restaurant.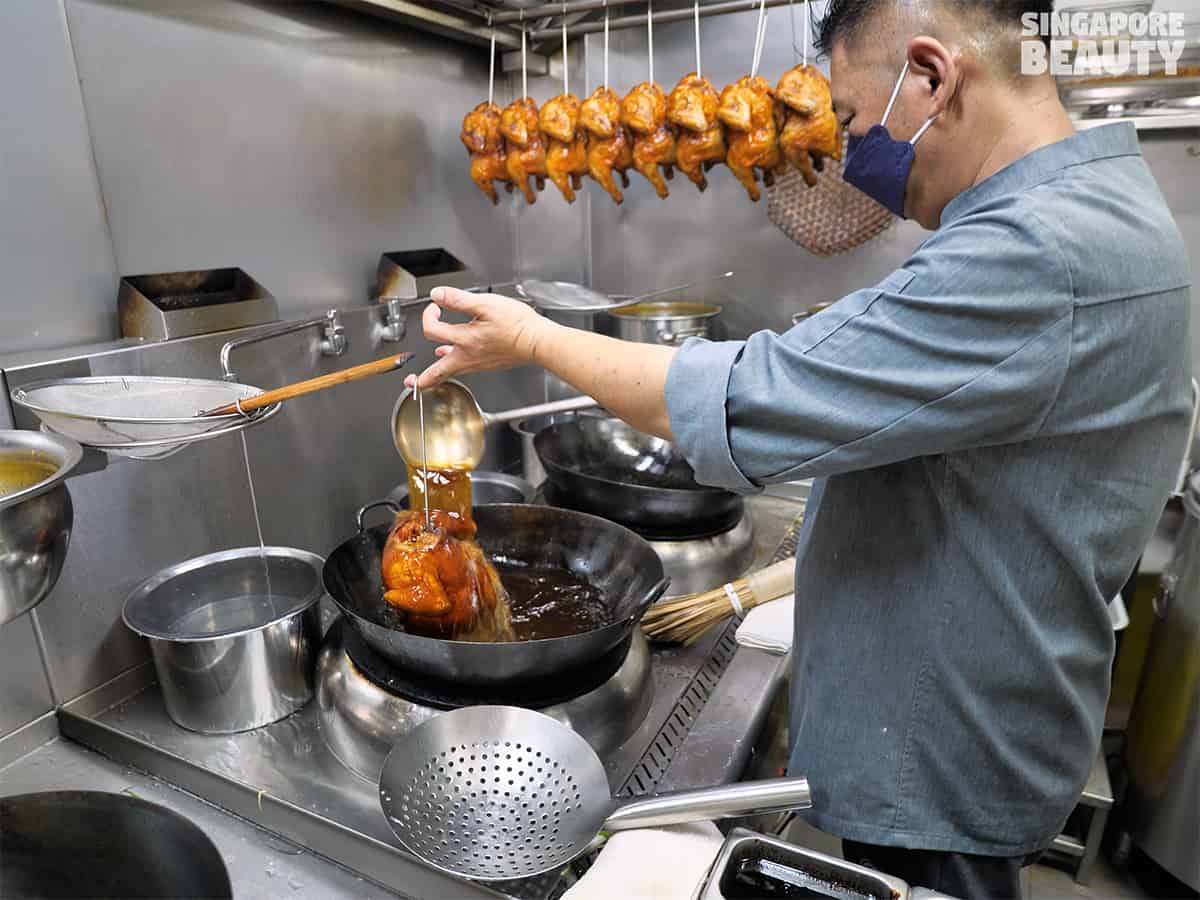 This is one of their signature Hand drizzled roast chicken prepared by Executive Chef Lim You Chai. Here's a little background on their Executive Chef Lim: He is trained by a famous Cantonese Cuisine Chef Chan Chen Hei for 14 years and spend some 8 years honing his skills in a popular local Seafood Restaurant. Hence, it comes as no surprise that the Cantonese Chinese Mod dishes and seafood dishes are well done in Tan Xiang Yuan with a chef that is so experienced.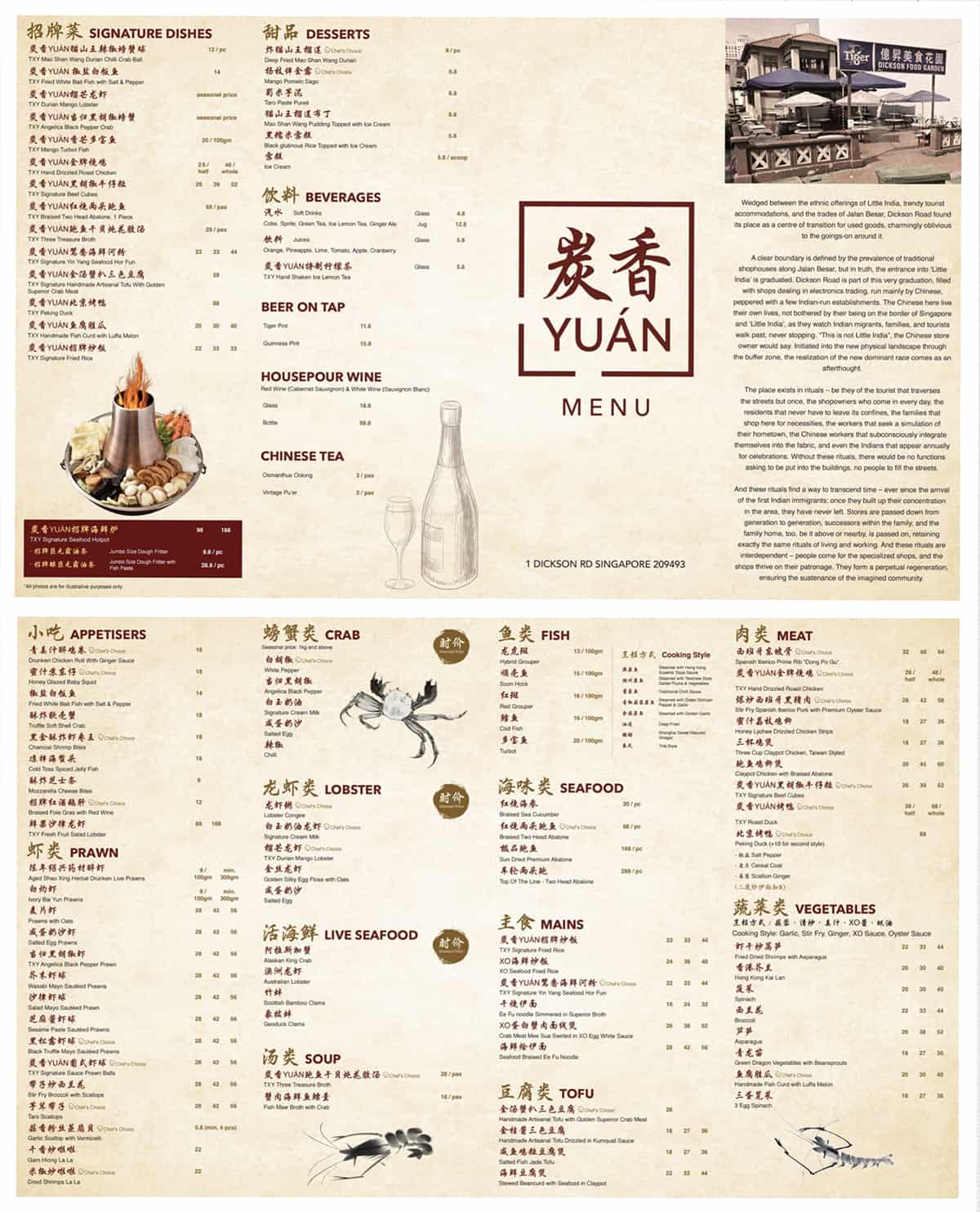 Here is Tan Xiang Yuan menu that so many of you have been asking for. The chef recommended dishes are charcoal seafood hotpot (also available in stove top steamboat style), fried dried shrimp with asparagus, signature beef cubes, Angelica black pepper crab, signature hand drizzled chicken and MSW durian chilli crab ball.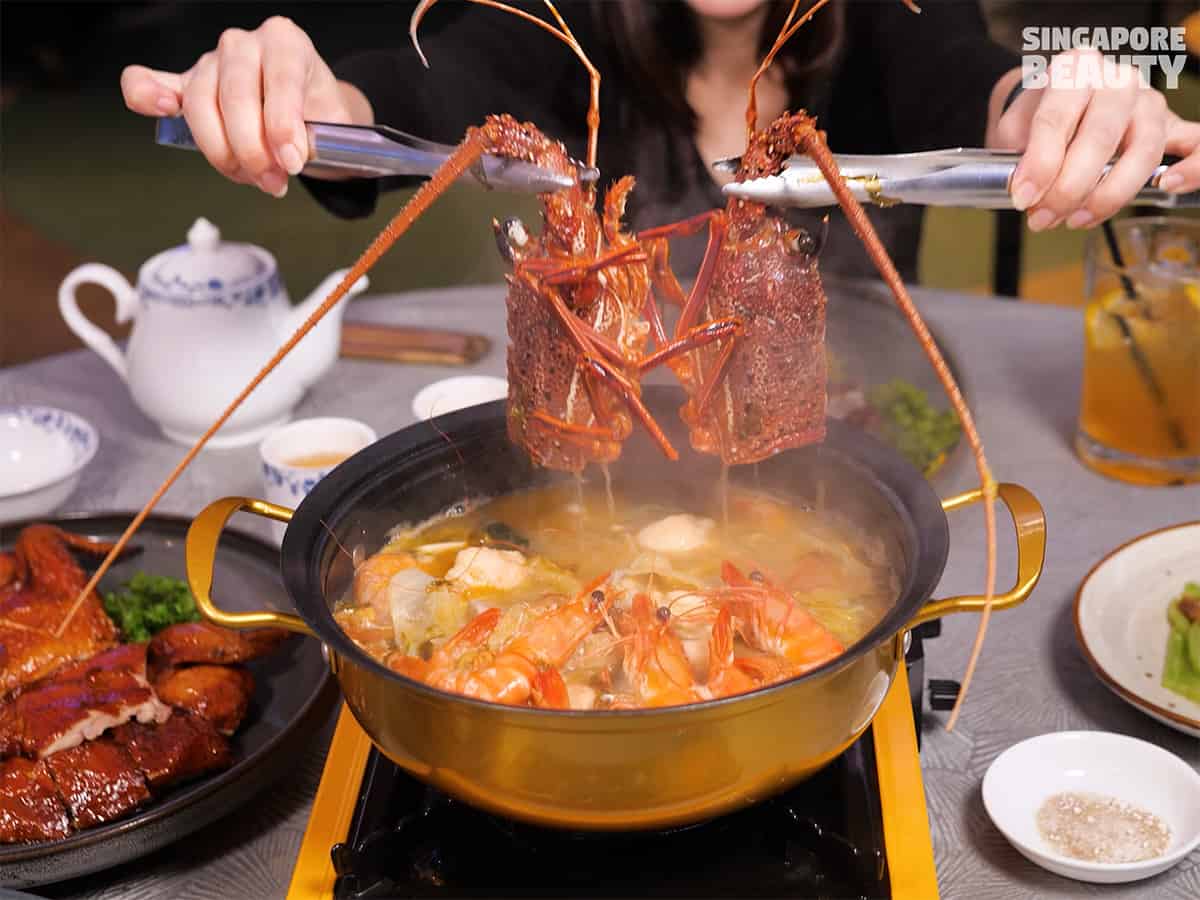 This is one of the must try TXY signature seafood hotpot ($98) that comes with many premium ingredients. This is Tan Xiang Yuan latest promotion, with every order of this signature seafood hotpot ($98), you get to top up $1 for an approximately 480-500 gram of Australian Live Lobster straight from their live seafood tank. For those who are ordering TXY signature seafood hotpot ($188), you get to top up $2 for 2 of these 480-500 gram Live Lobsters. Shown above is the Signature Seafood Hotpot with the $1 top up for Live Australian Lobster.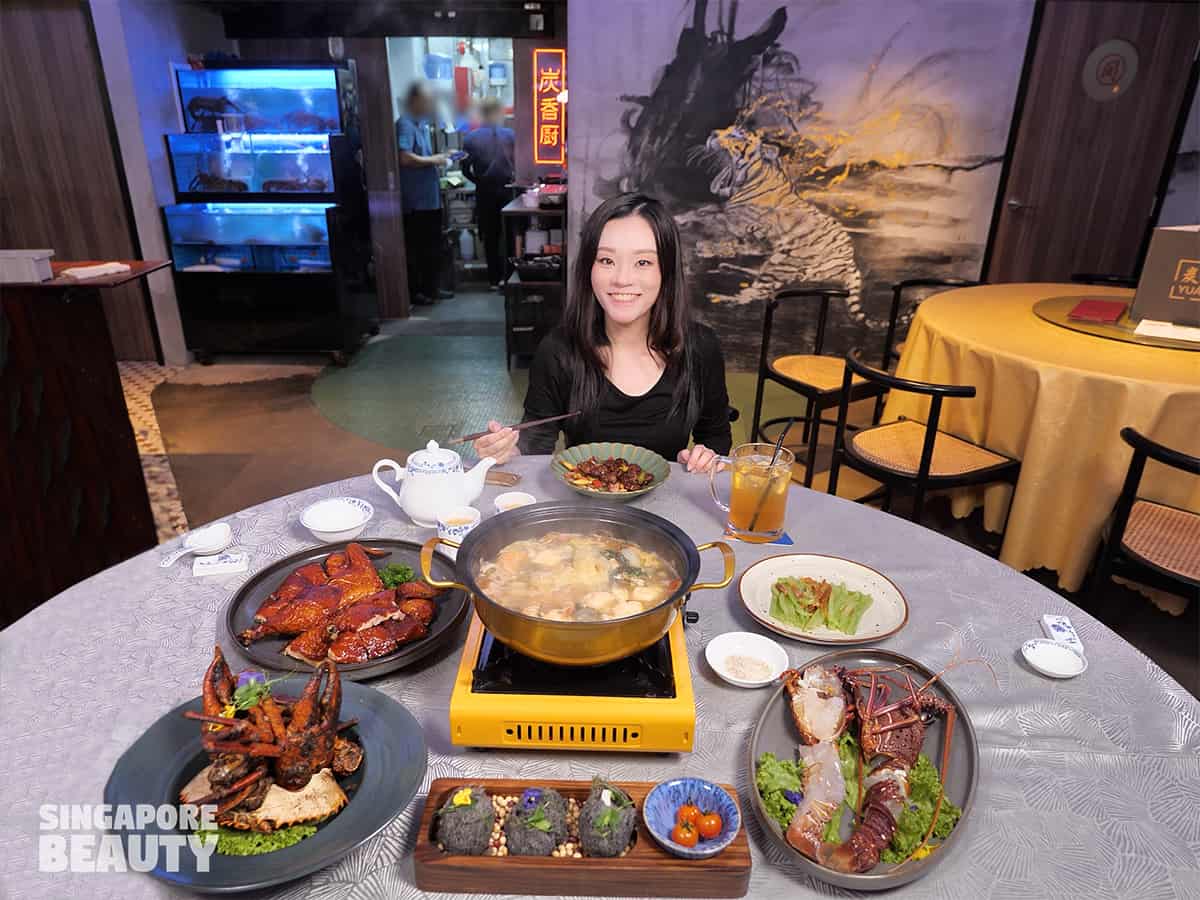 Here is our Tan Xiang Yuan review after trying their Mod Chinese Cuisines. The signature hand drizzled chicken is certainty a tick for me, with juicy meats and crispy skin. Signature Seafood Hotpot has a good amount of premium seafood that are fresh and succulent with different texture to complement one another. The dollar promotion of getting a live Australian Lobster is definitely of such great value that I strongly encourage you to top up. Angelica black pepper crab are those meaty crab which instantly won me over in additional to a very savoury and aromatic ginseng gravy. Dessert is MSW & chilli crab pastry –a strangely satisfying combo which is a pleasant surprise on my taste buds.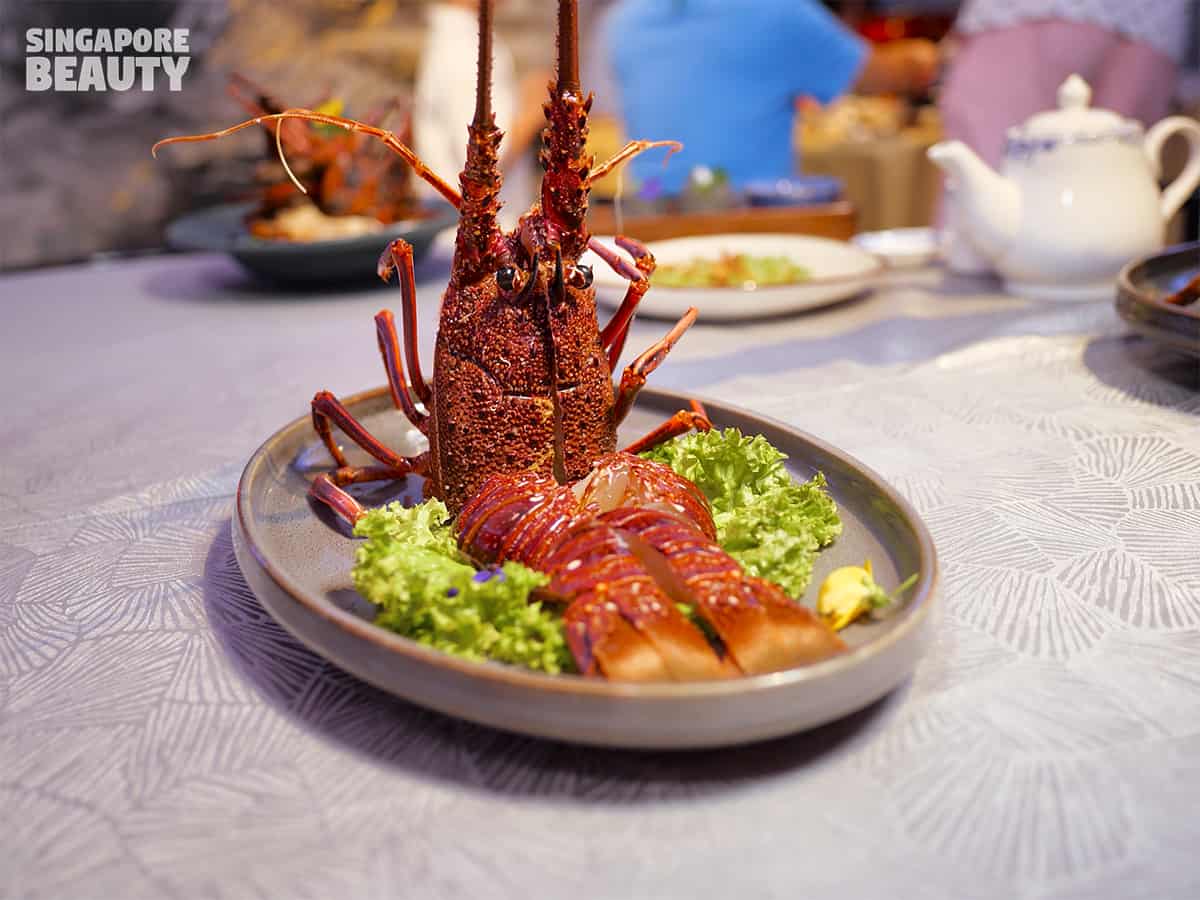 This is the 480-500 gram live Australian Lobster that you can get at a dollar with every signature seafood hotpot ordered to add to the seafood broth. I was told that this lobster is worth $98, the promotion will end on the 31 July 2023. This promotion is not available on 2 blackout dates 17 & 18 June 2023, eve & actual date of Father's day. These are dispatched to order and I actually see the lobster leg twitching reflex when it was already dispatched into bite size portions. The very tell tale signs of a freshly dispatched live lobster.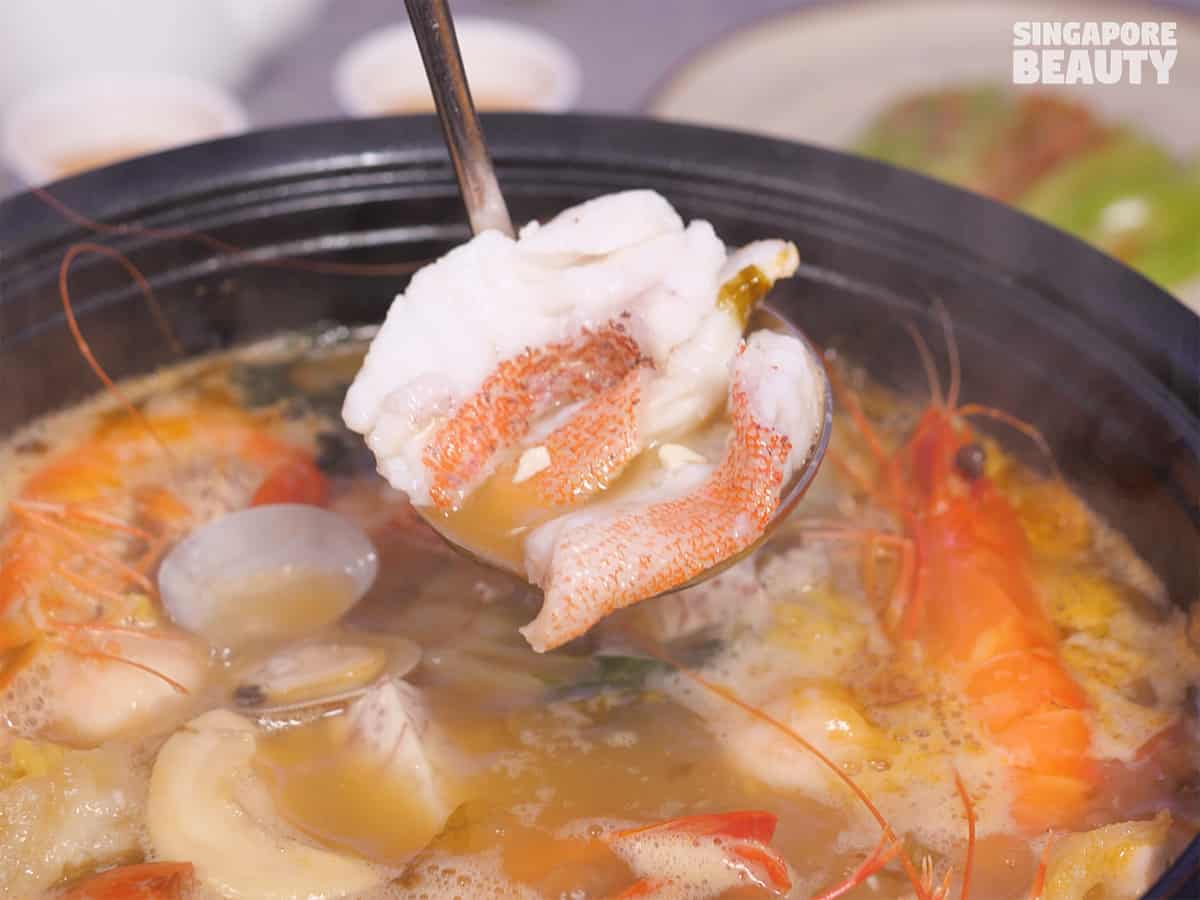 The premium ingredients found in this Signature seafood hotpot are sliced red grouper, Tiger prawns, abalone in brine, fish maw, Japanese hotate, handmade prawn balls and clams. Cabbages and sweet yam nuggets are used to add a natural sweet undertone to the hotpot broth. This hotpot broth is made by boiling old Hen, pork bones, prawns, red grouper bones and more for a luxurious taste. The longer the hotpot simmers with the various ingredients, the richer and thicker the flavour of the broth.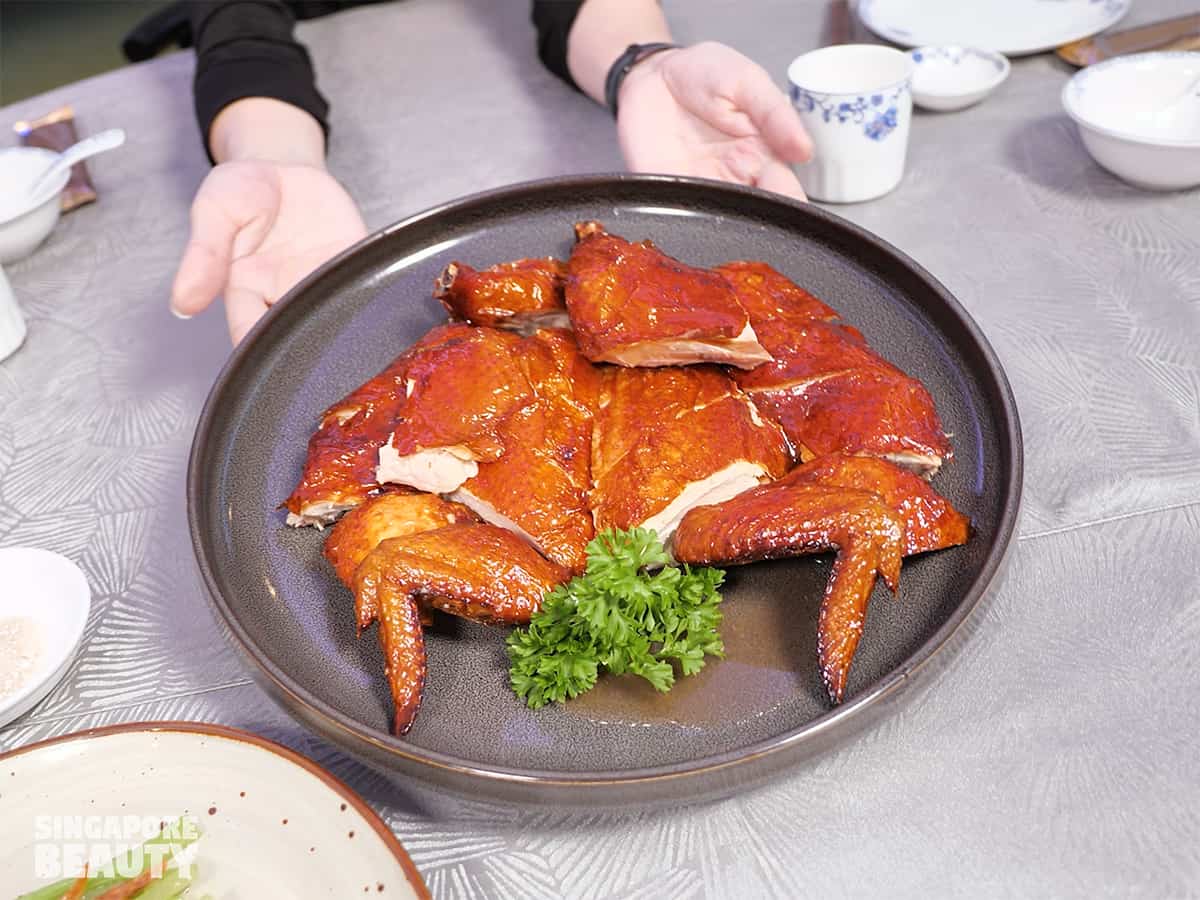 TXY Signature Hand Drizzled Chicken ($26 half/ $48 whole) is an air dry chicken and hand drizzled with hot oil in a wok to achieve a crispy skin. The chicken is served with a traditional Chinese style spiced salt (淮盐) that give an oomph to the already savoury juicy chicken. This is actually a stir fry salt with grounded 5 spices powder. The salt is stir fried till red hot and using the remaining heat from the salt to fry the 5 spice powder. The attention to these small details makes the dish really special for someone who grew up with Traditional dishes like this. If you are looking for old school roast chicken, this is highly recommended. Like the saying goes old is gold.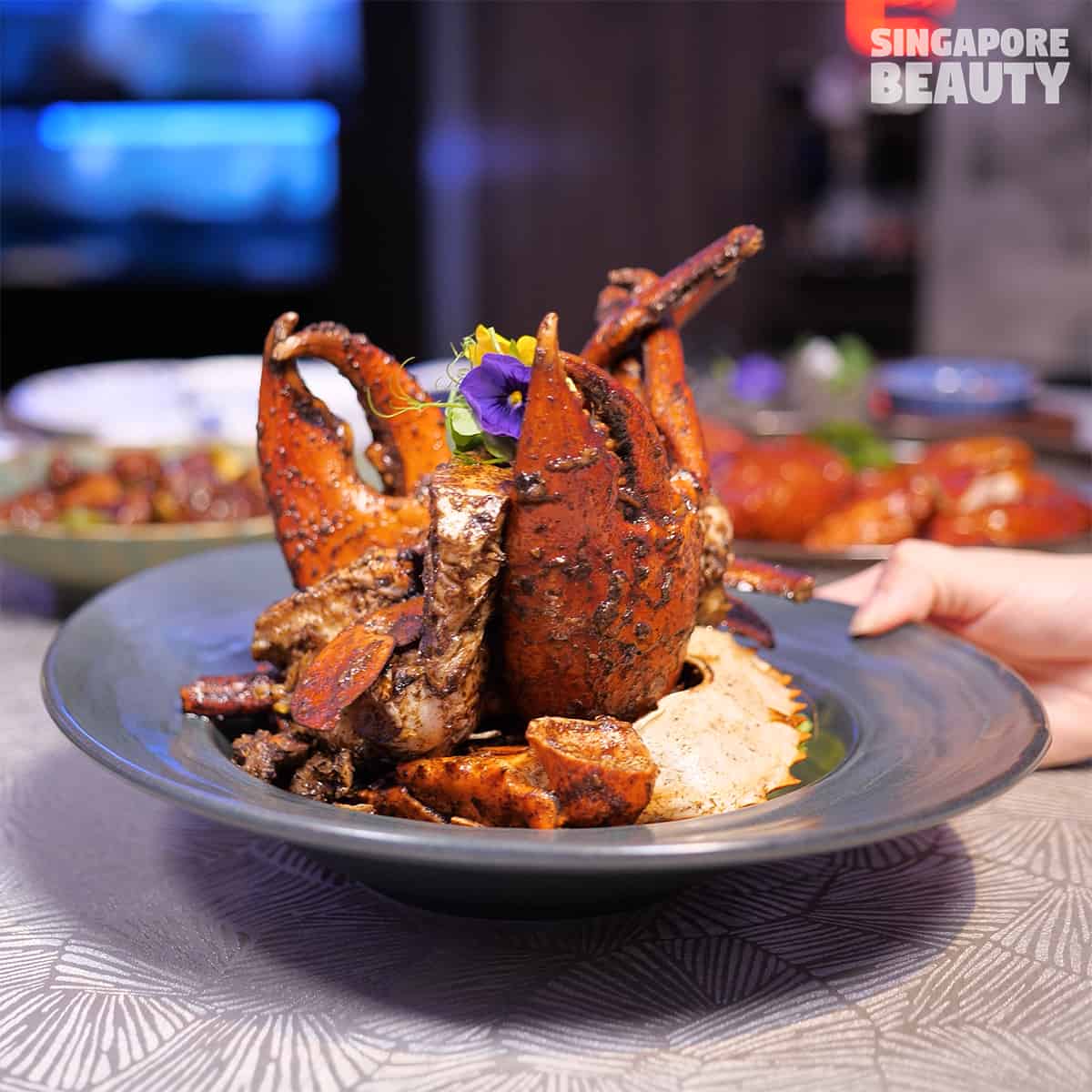 Angelica Black Pepper Crab ( seasonal price) is large meat crab stir fry in black pepper and angelica powder. Chinese Angelica also known as female ginseng (Dang Gui) which is known for its nourishing properties especially for the ladies.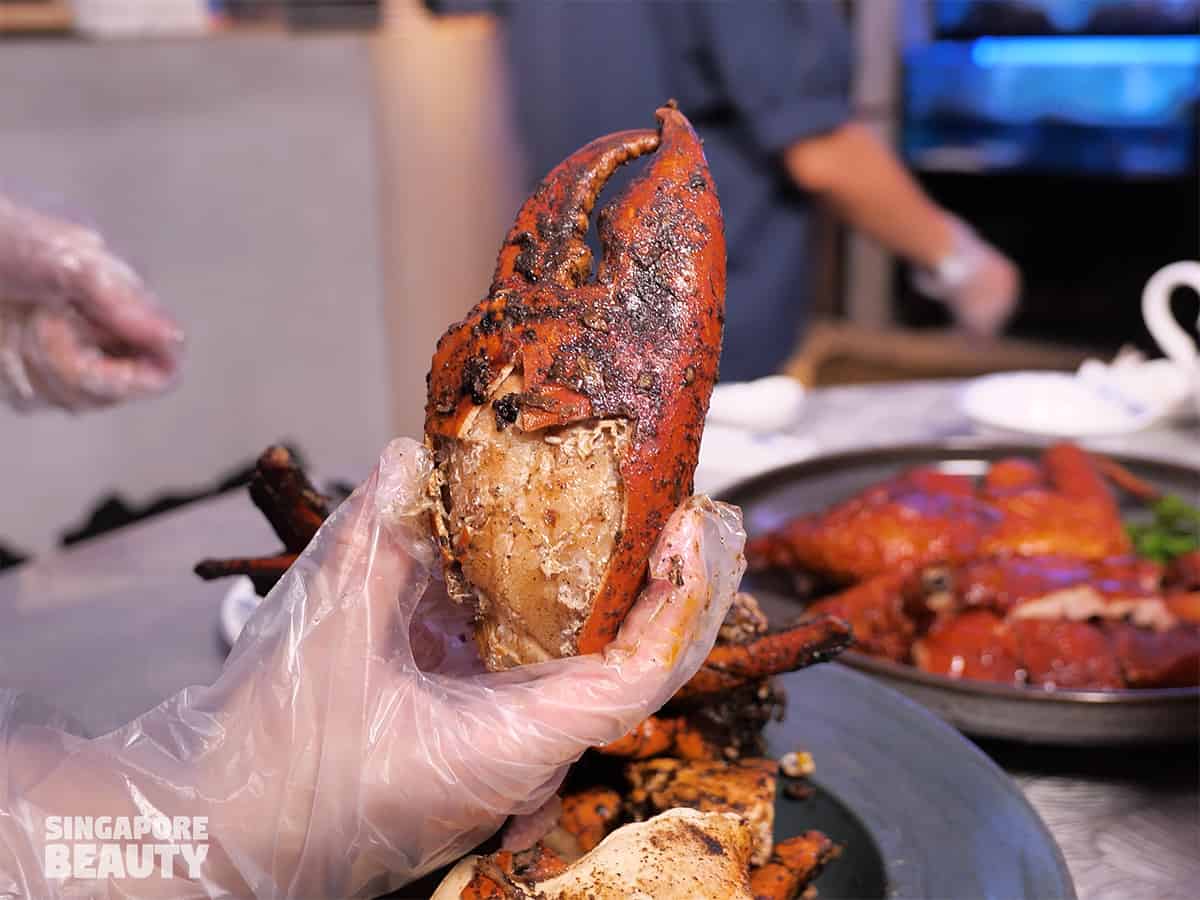 The crab has strong notes of black pepper and a subtly pleasant herbal notes of sweet licorice. The above portion cost $118 as a rough guide as the price is seasonal. The crabs claws are huge and makes a satisfying drumstick like crab claw.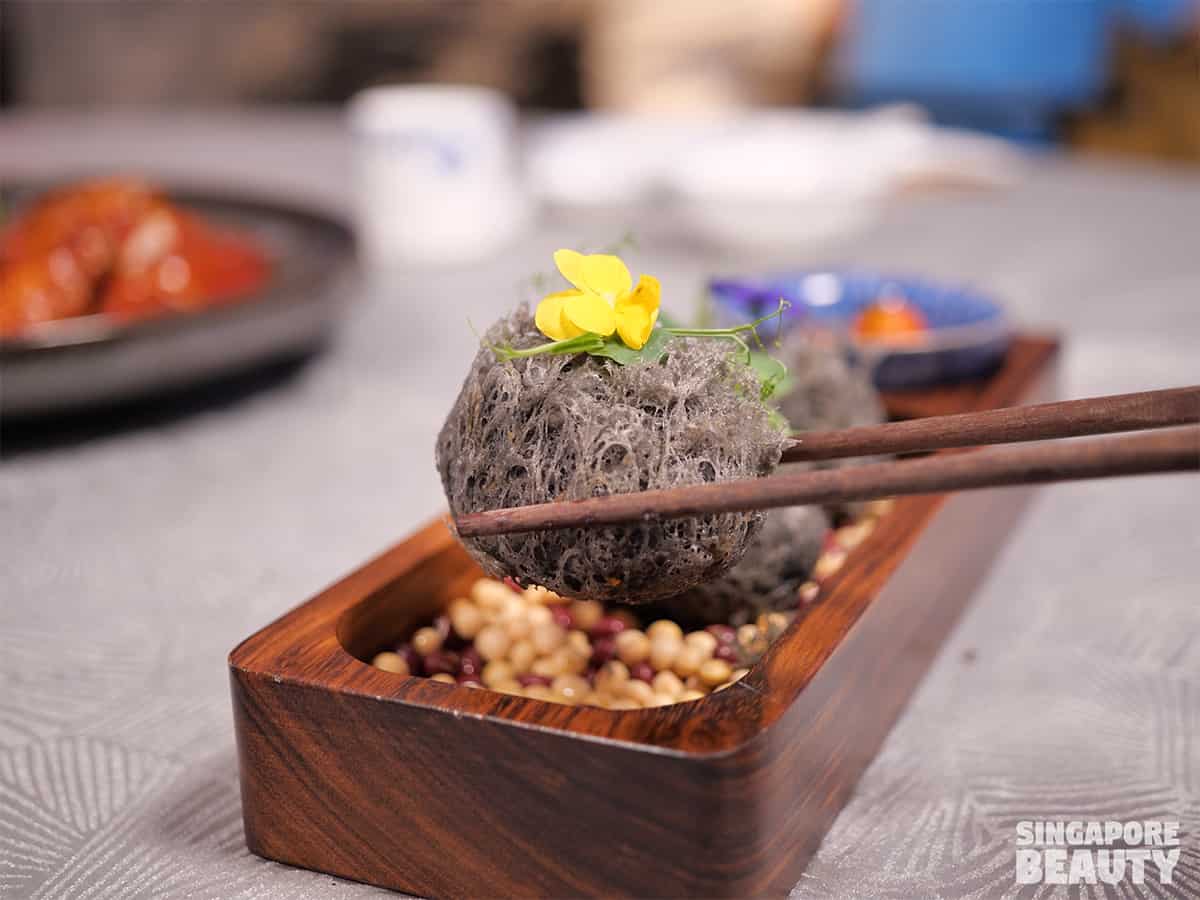 TXY Mao Shan Wang Durian Chilli Crab Ball ($12 each piece) – is a deep fried paste with MSW durian paste and chilli crab fillings. You get to enjoy the best of 2 local delights -the sweet aroma of MSW and spicy sweet chilli crab fillings. Great way to end a meal with sweet and savoury all in one bite, not the mention the delightful light crust that encased them. Certainty a feast for the eyes and indulgence for the taste buds.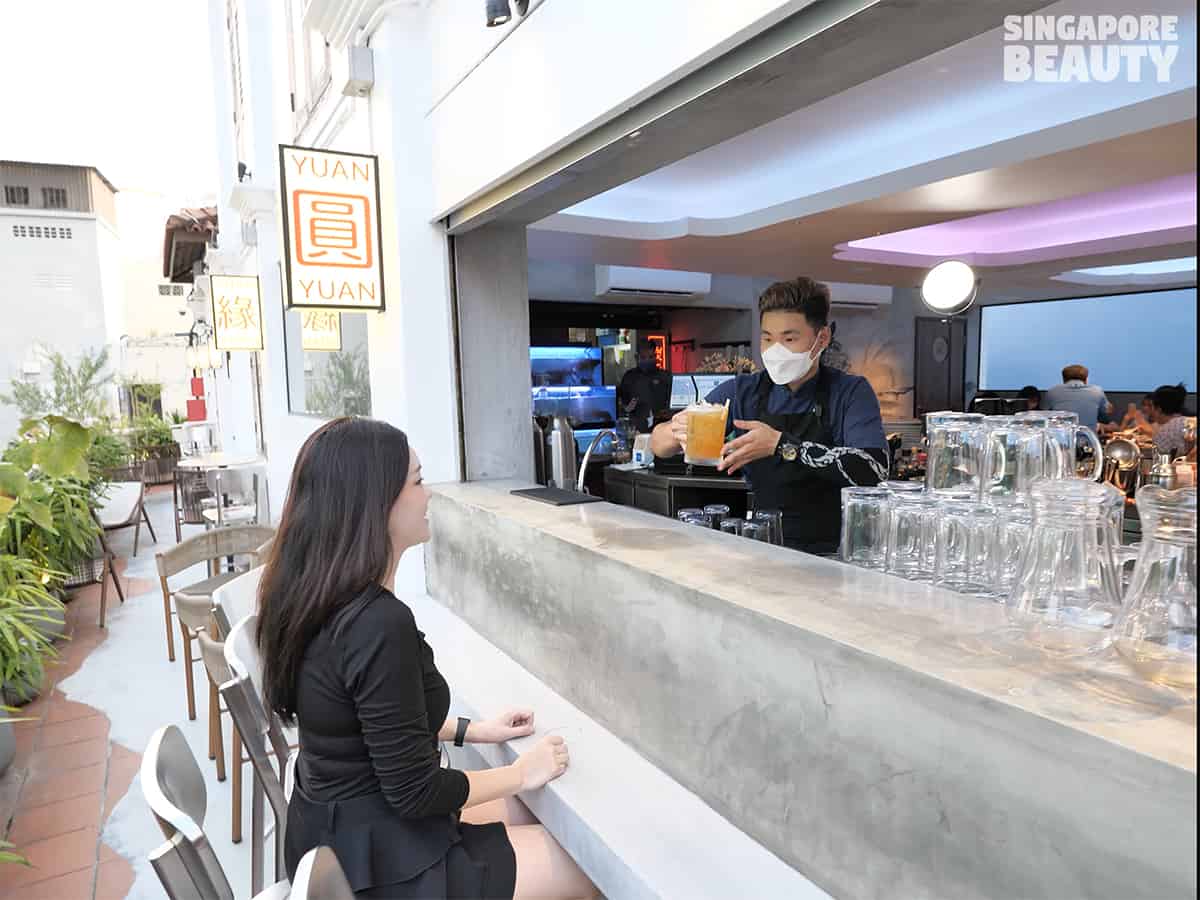 They also have an alfresco bar for refreshing brewed tea, beer on tap, housepour wine & Chinese hot tea like vintage Pu Er. We tried their TYX Hand shaken Ice lemon tea ($5.80) which is refreshing and great for the recent sweltering heat. As it is handshaken, it has an interesting light foamy top and the lemon tea is well chilled. Less ice is used which means the chilled drink stays concentrated throughout our whole food session.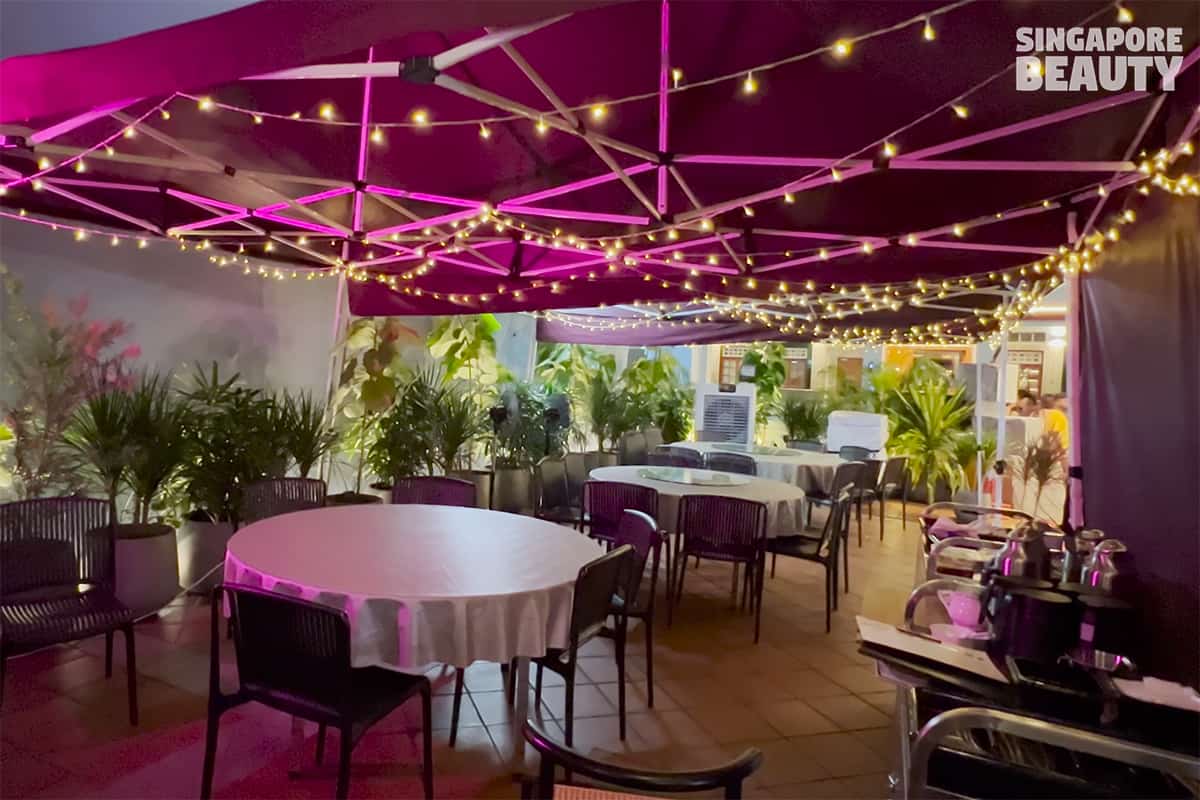 This is their ground floor outdoor dining under a pavilion, for those who are here for their popular charcoal seafood hotpot, you get to enjoy your hotpot here amongst lush greenery and under some fair lights in a starlit courtyard.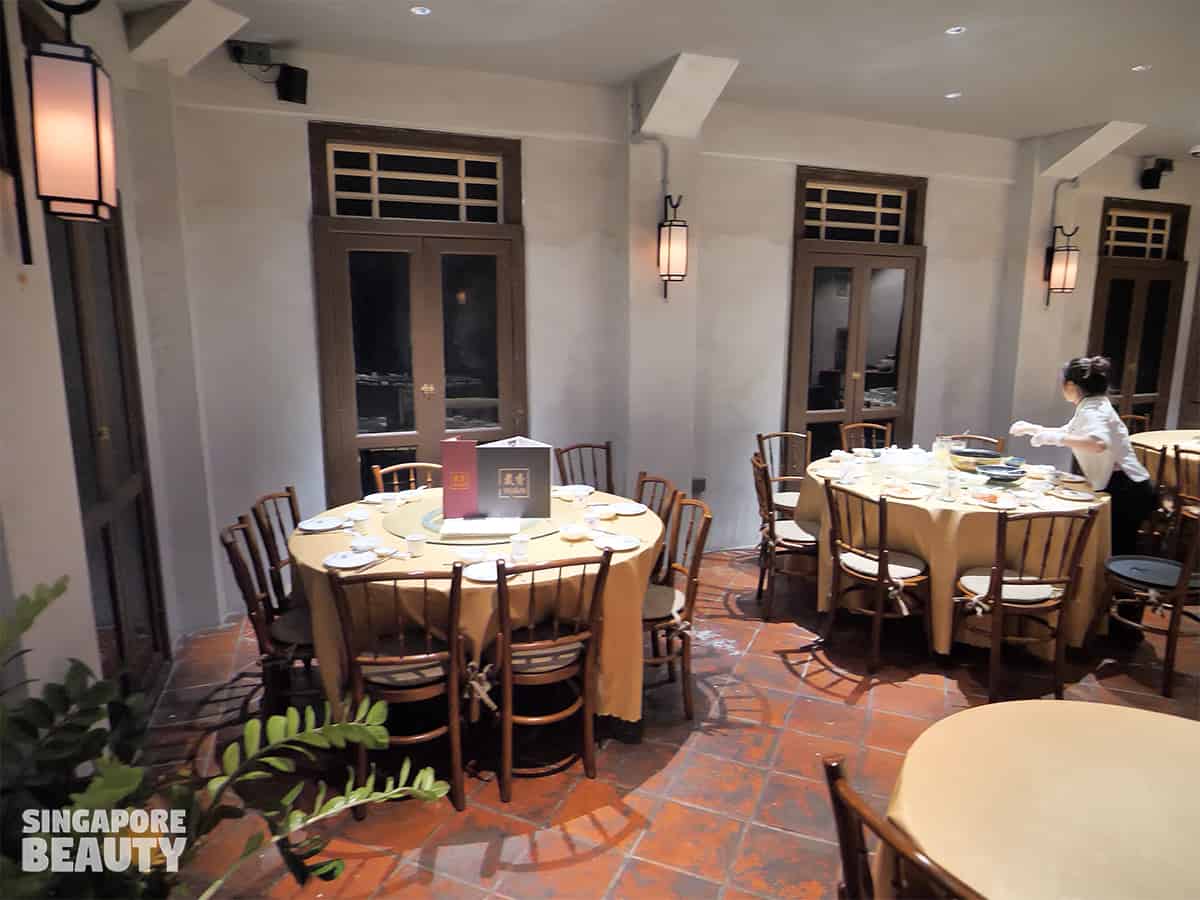 This is their 2nd storey private banquet dinning that can hold a big gathering. The interior brings a vintage nostalgic vibes with tradition red tiled flooring, cushioned traditional Mahogany chairs and shophouse style windows. The servers are dressed in a ma jie style with neat white collars and slicked back hair in a bun – a reminiscence of a scene from dining restaurant back in the older days.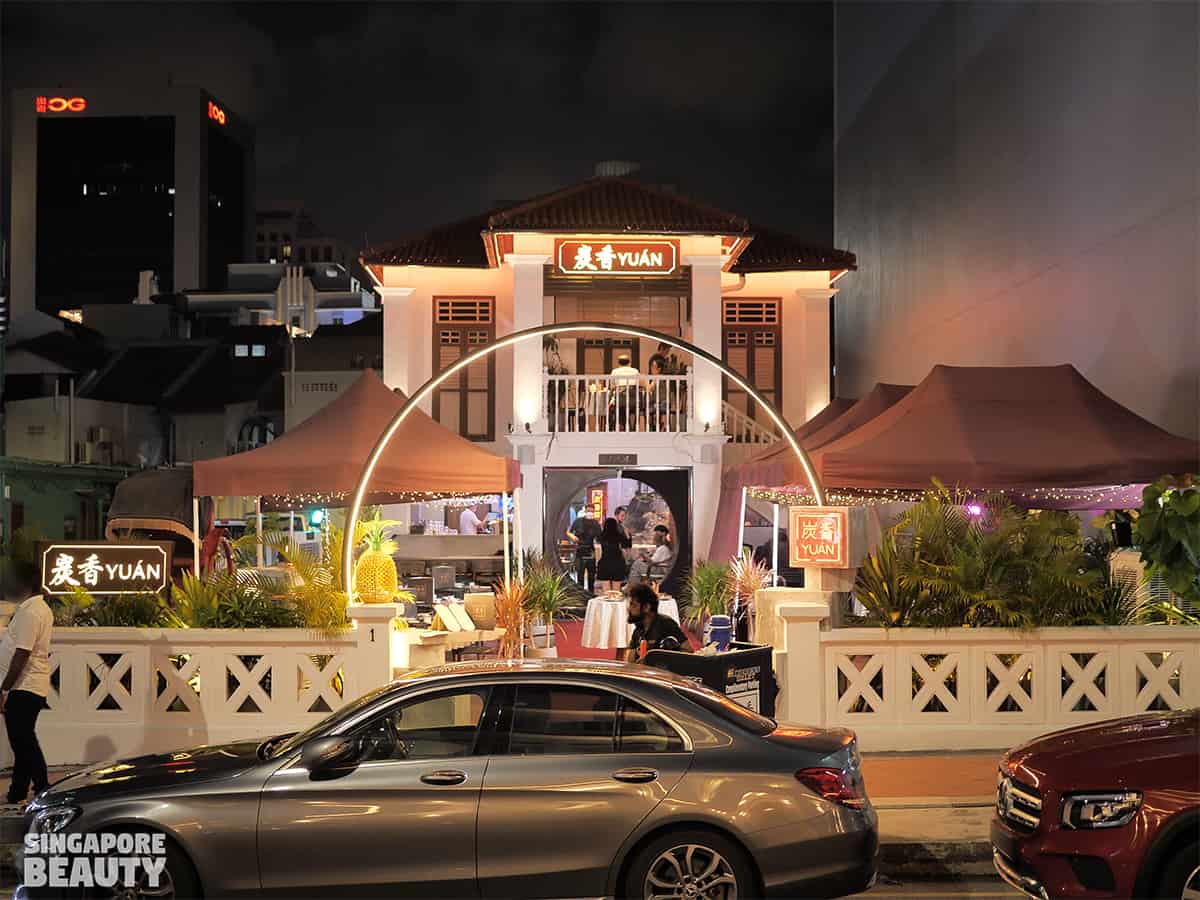 Head over to Tan Xiang Yuan at Dickson Road to try their Celebrity Chef Cao Yong curated Chinese cuisines in a beautiful villa. Reservations can be made by calling 8058 5527 or via online booking. With so many photoworthy spots in this beautiful villa, it will be a treat for both the senses and taste palate.
Address of Tan Xiang Yuan 炭香YUÁN :
1 Dickson Rd, Singapore 209493
For Reservation, please call: 8058 5527
Opening Hours : 11.30 am to 10 pm daily
Brought to you by Tan Xiang Yuan