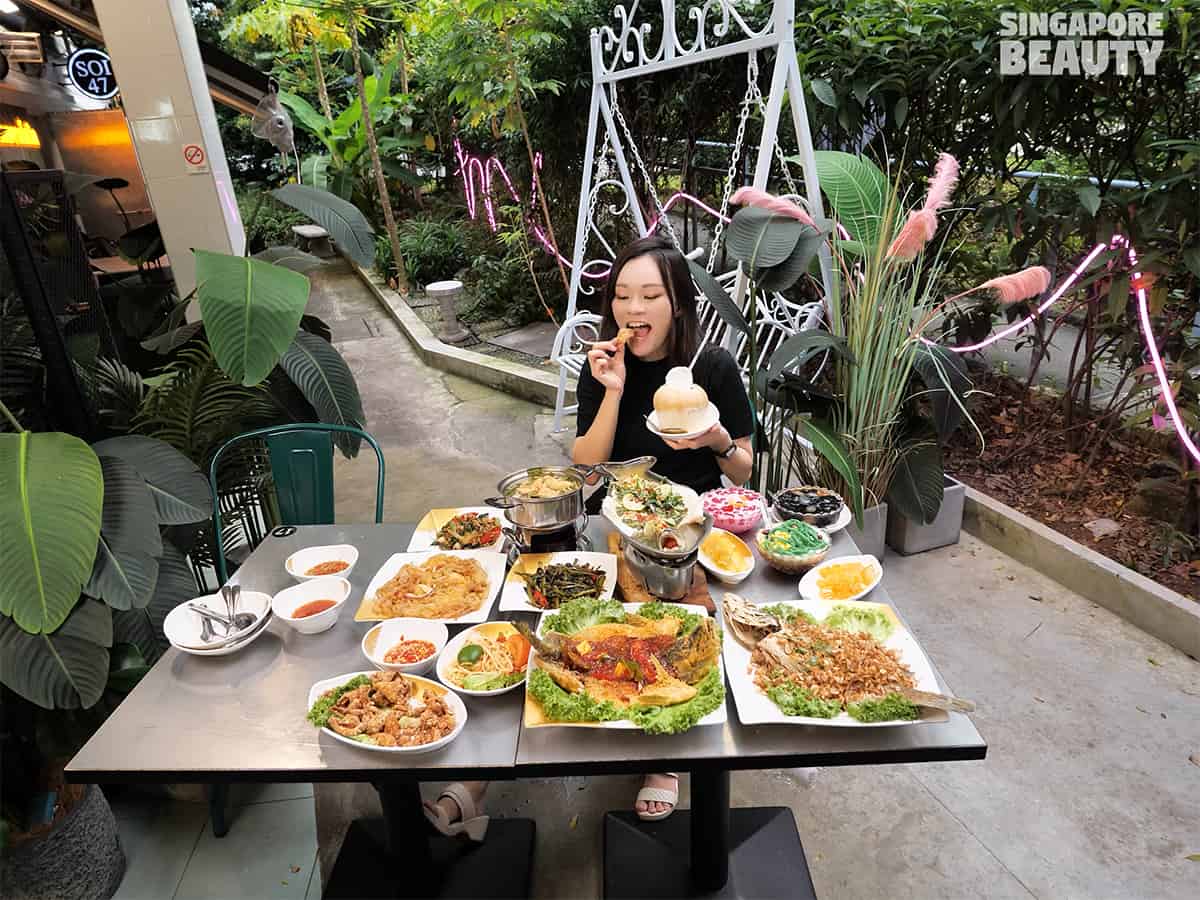 Soi 47 Thai Food is known for serving up authentic Thai Street food in their 5 outlets in Singapore. One of their latest location is Soi 47 Thai Food at Tiong Bahru – one of Singapore hippest place – to dine and chill.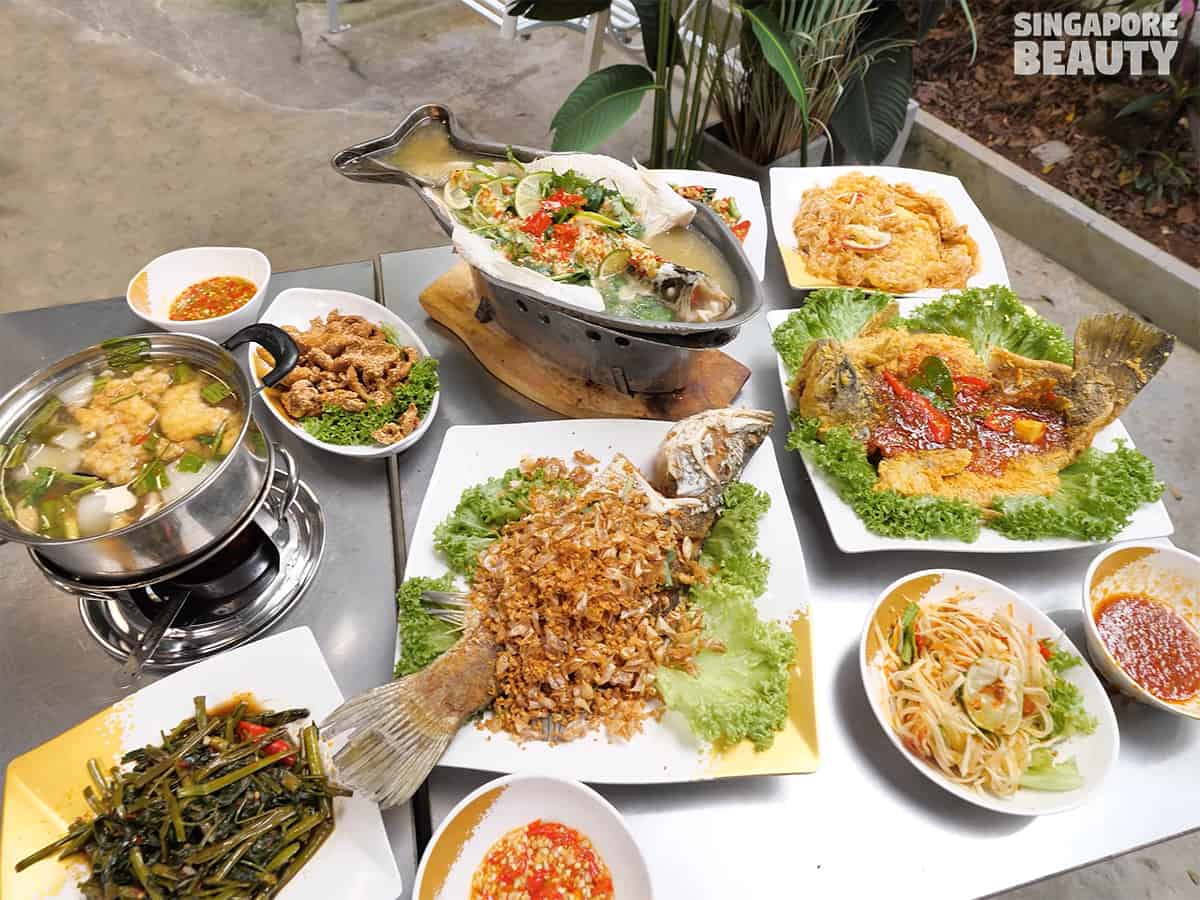 With over 140 food items on Soi 47 Thai Food menu, you will be spoilt for choice. The menu consist of finger food, salad, soup, stir fry vegetables, omelette, curry, rice dishes, noodles, seafood, chicken, beef, pork, desserts & drinks. Pictured above are what we tried for this food review at Soi 47, from (left to right) Tom Yam soup clear style, freshly fried crispy chicken skin, steamed seabass with Thai lime sauce, thai style omelette, Stir Fried Kangkong with sambal, deep fried seabass with baby garlic, Deep fried seabass with special thai chilli, papaya salad with salted egg and all of their desserts.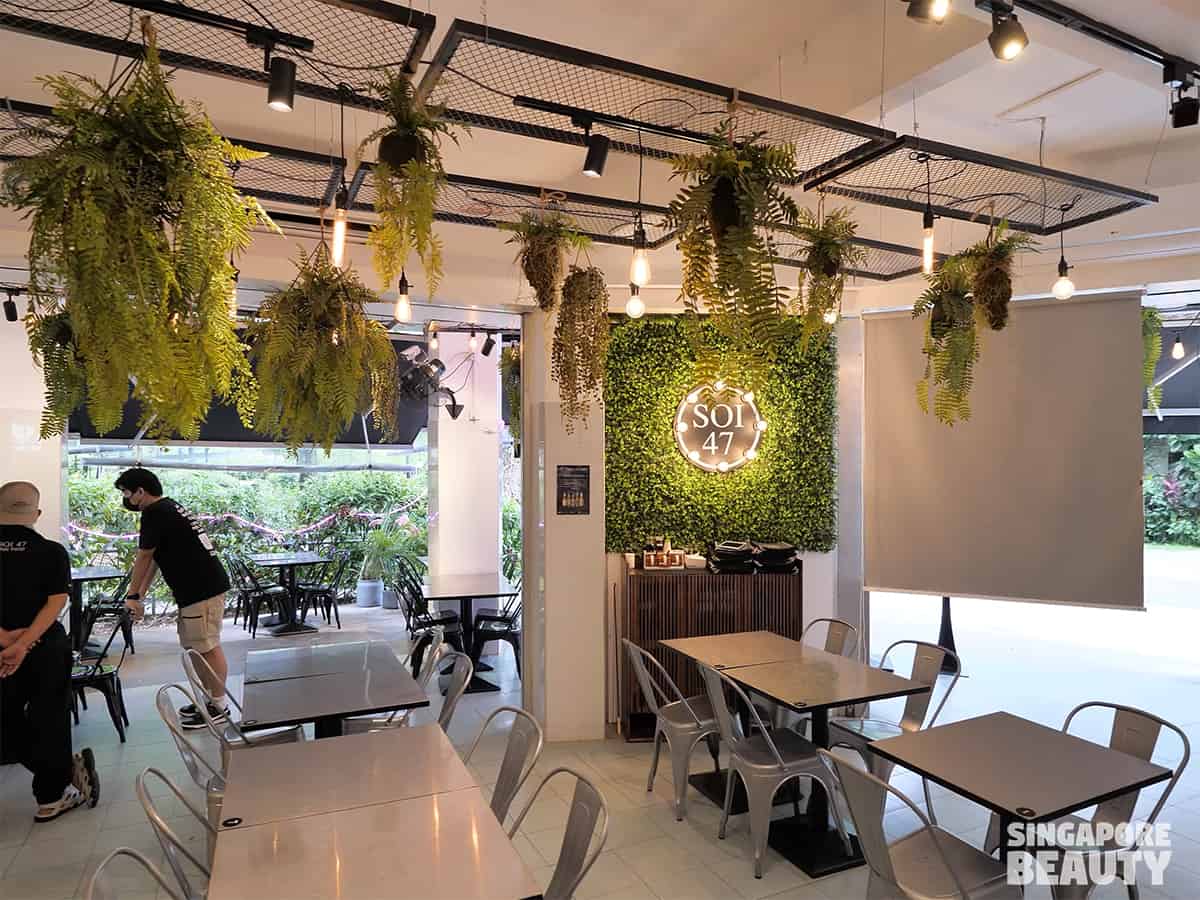 For Soi 47 Thai Food reservations, please call the respective outlets during their operation hours. The phone number for various outlets of Soi 47 is listed at the end of this article. This is the indoor dining at Soi 47 Tiong Bahru with soft ambience lighting, cosy setting & lush ferns overhang.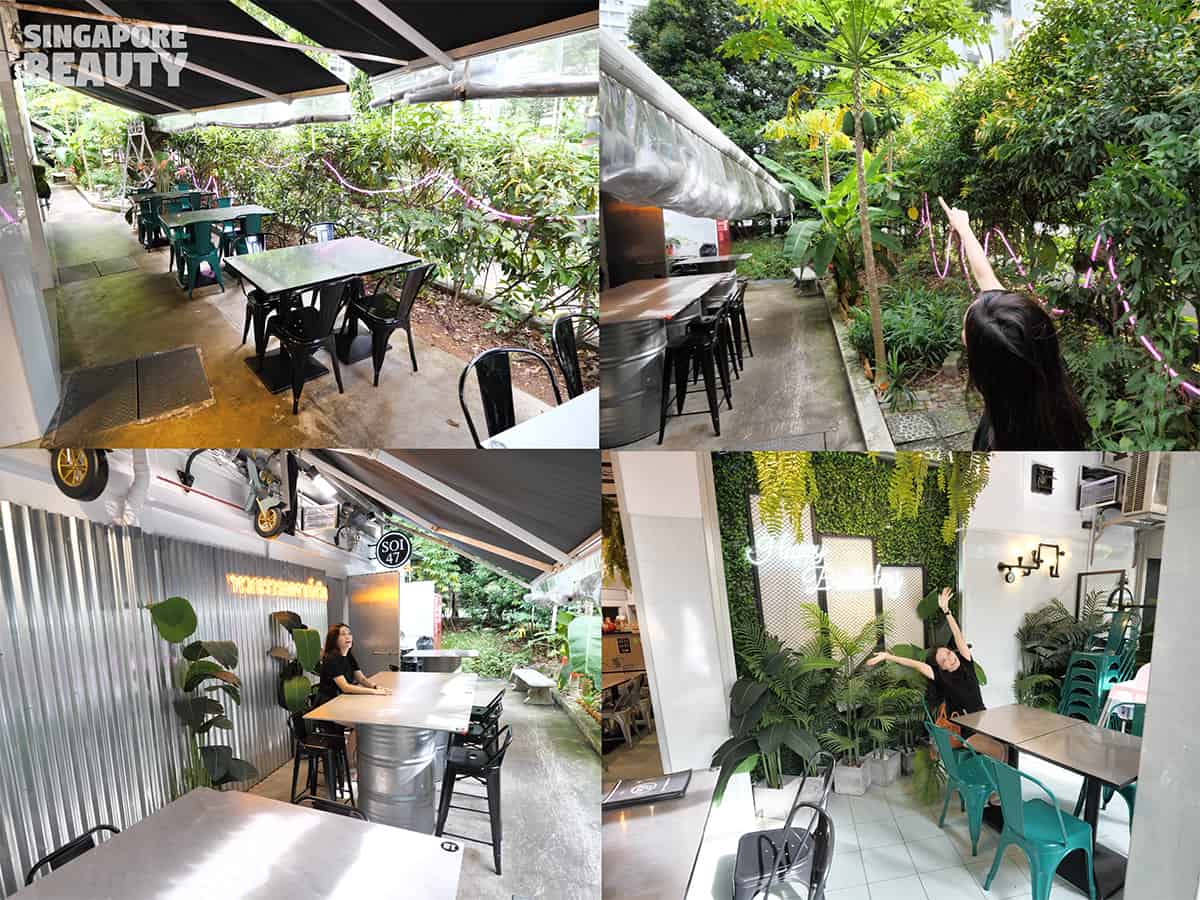 Most of the customers at Soi 47 Thai Food Tiong Bahru prefer the outdoor al fresco setting. There are high bar stool seating with playful vintage displays with zinc roof sheet container like backdrop.  A yard with fruit trees such as papaya and banana trees, herb garden with Thai basil, pandan leaves & lush hedge alongside the outdoor table with funky neon rope lights. There is also a retro neon sign that spells Happy Birthday for you to get some pictures for your special occasion with your love ones.
The semi outdoor seating straddles between the indoor and outdoor seating, where u can enjoy both the outdoor greenery and indoor cool air. A very rare Thai restaurant with Kampong vibes complete with wrought iron swing and garden stone bench- great for photo taking. You can also find similar garden swings at their King George Avenue and Orchard Central outlet for photo taking!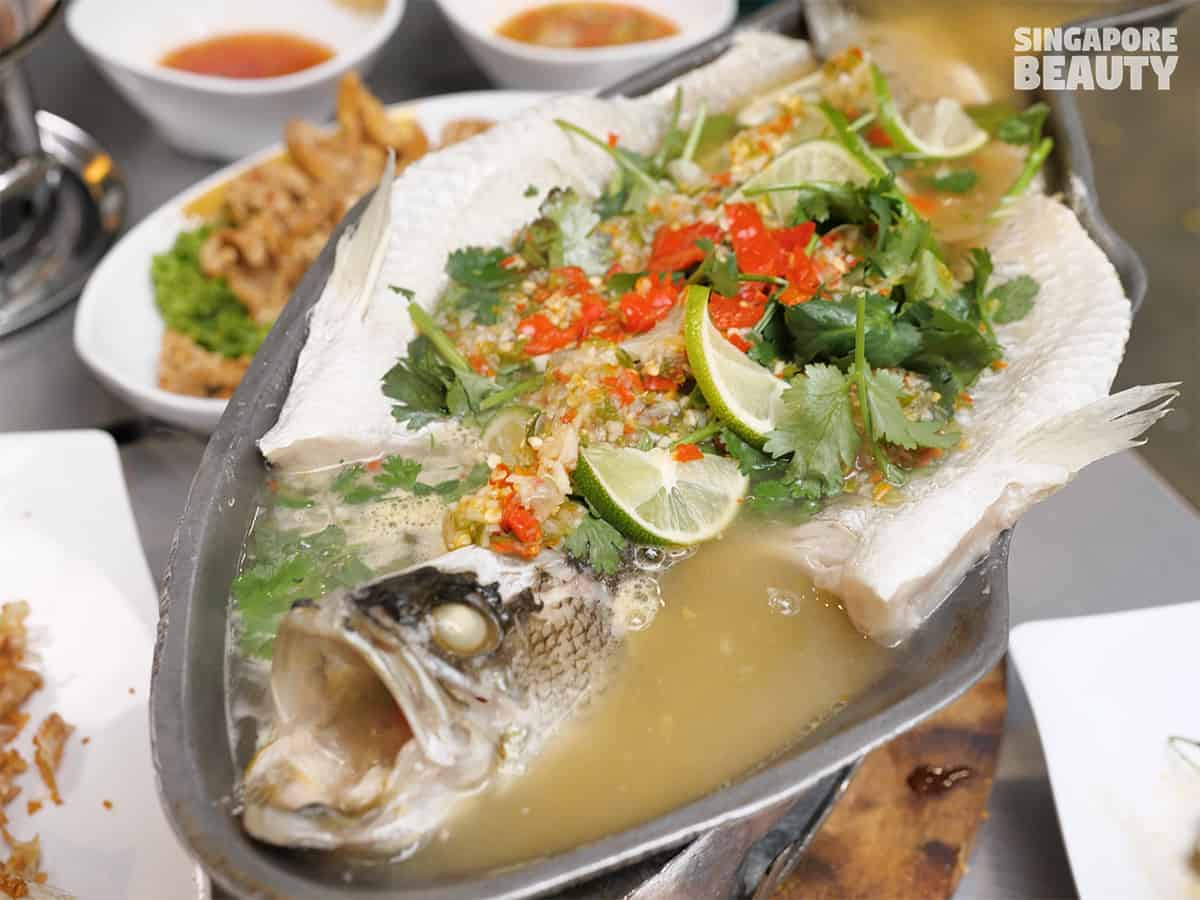 At Soi 47 Thai Food, one of their signature dish to order are their fish dishes, be it the Deep Fried Seabass with Thai Chilli sauce or this Steamed Seabass with Thai Lime Sauce ($19.80). A whole good size seabass is butterflied and steamed separately before pouring on their signature Thai lime sauce gravy atop. Served simmering on a stove, the seabass meat is tender but firm enough to be picked up with chopsticks. Gravy has a zesty tone and the heat from the chilli kicks in shortly after.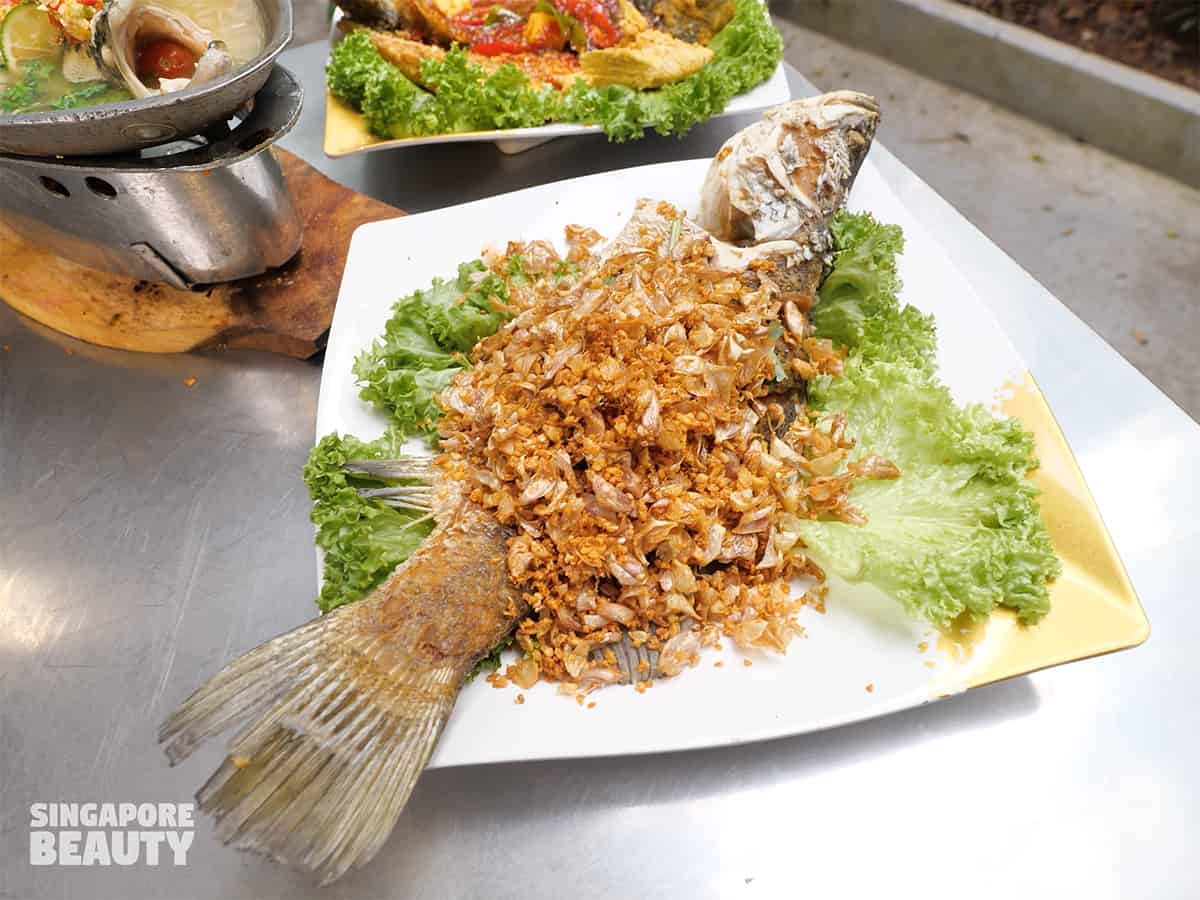 Deep Fried Seabass with Baby Garlic ($19.80) is a whole fried crispy seabass topped with small cloves of baby garlic. The garlic clove with skin on are fried till crispy and disintegrates in the mouth with much chewing needed. Instead of the usually pungent overwhelming garlic flavours, the baby garlic offers a nutty and sweet flavour.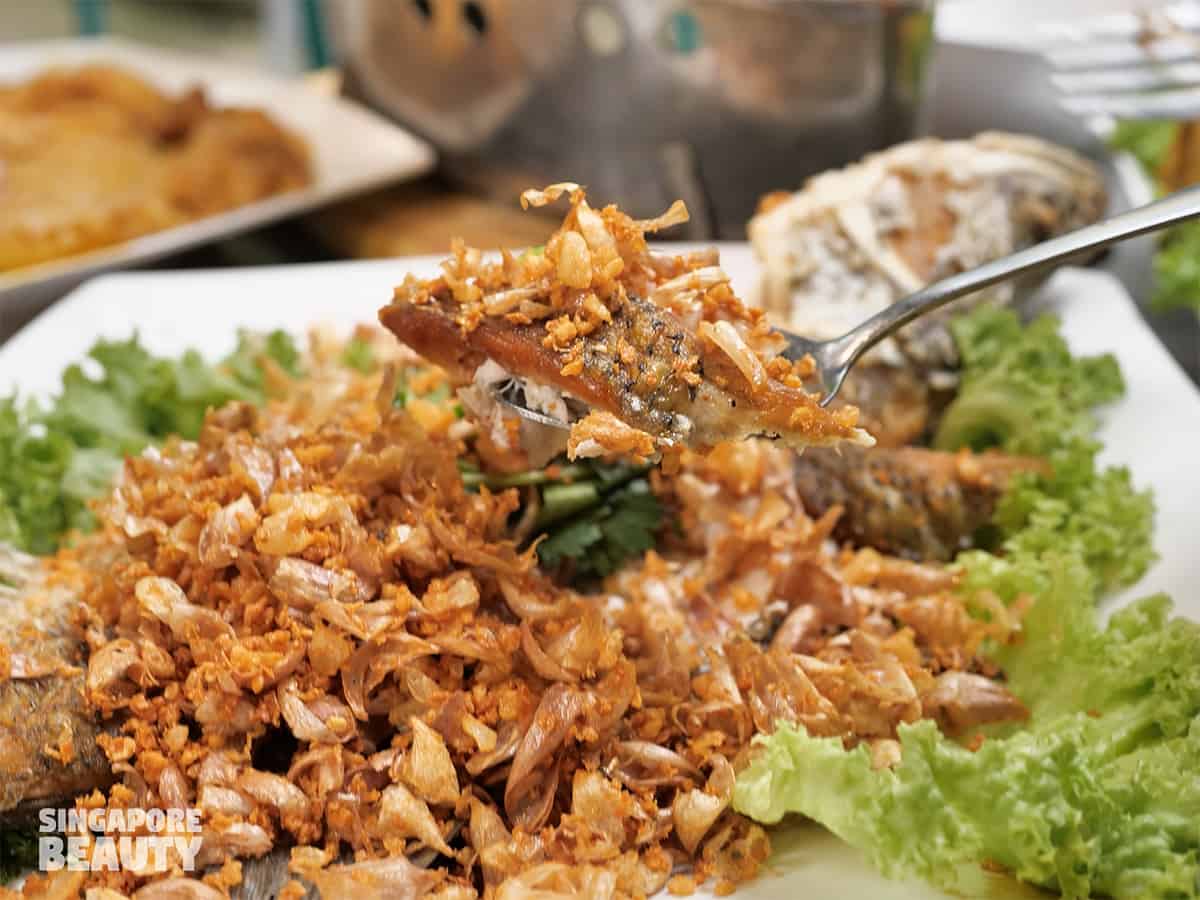 The fried garlic are mini garlic oil pops which releases the flavours when you bite into them with the lightly coated, mildly saline flaky fish meat held together by a golden crispy skin.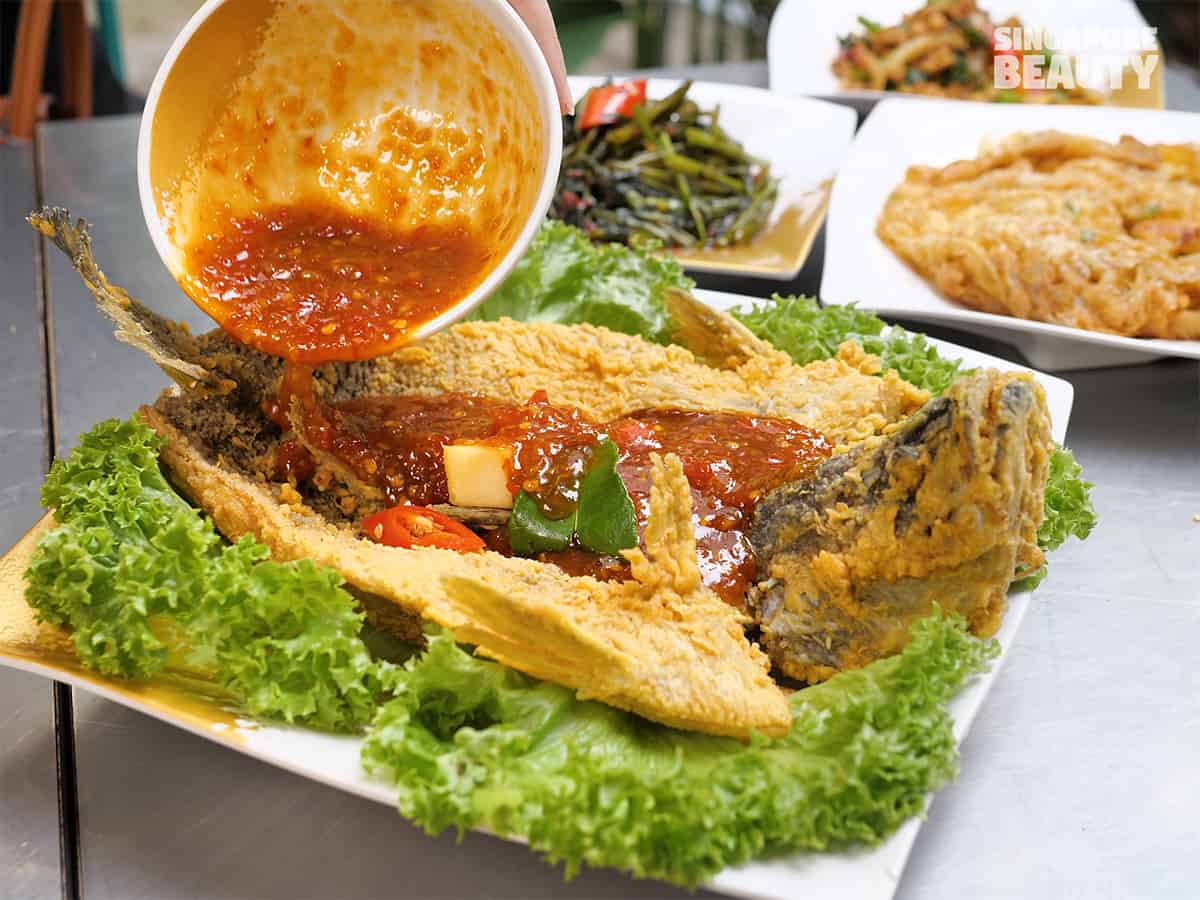 Deep Fried Seabass with Special Thai Chilli ($19.80) are like fish penyet where the fish is butterflied and fried till super crunchy. Texture wise is like fish meat encased in a crunchy crust, best enjoyed with the spicy & sweet Thai chilli sauce.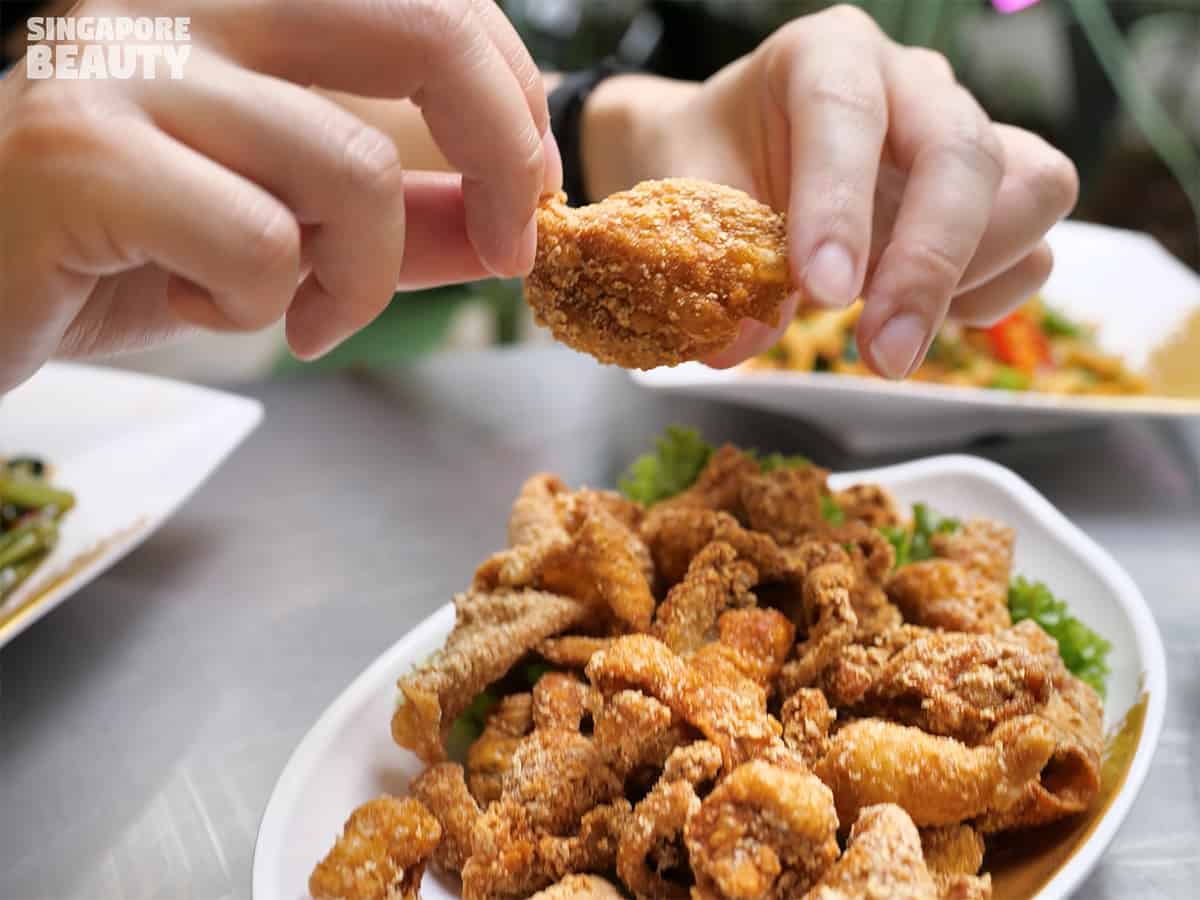 Crispy Chicken Skin ($5.50) is one of the must try finger food. These are chicken skin that are scrapped clean of fats and deep fried till crunchy like a chicken skin cracker. Has an addictive umami flavour, loud crunch and easily disintegrates in the mouth on first bite.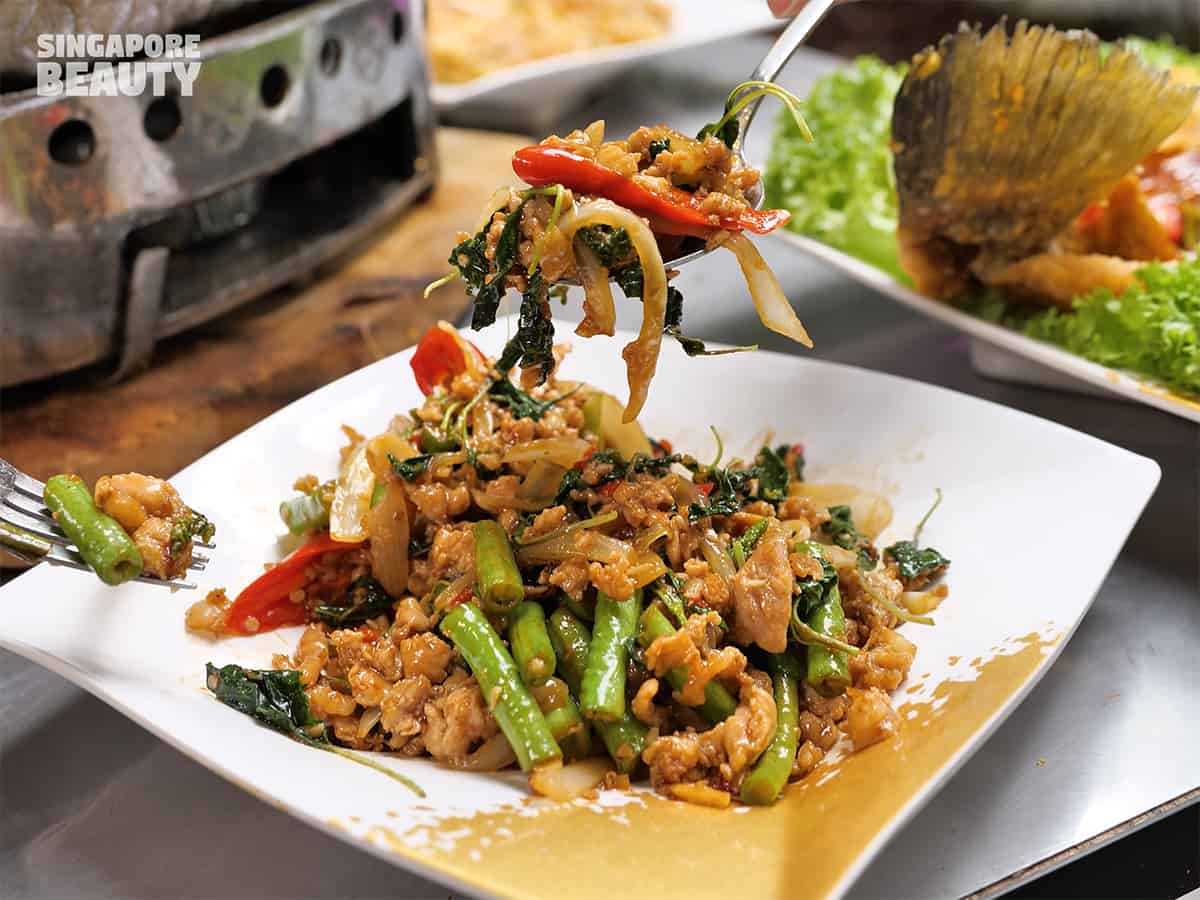 Stir Fried Chicken with Basil Leaves ($6.80) is a minced chicken dish that is stir fried with string beans, onion, fresh sweet Thai basil leaves, chilli pepper and more. A savoury dish with a strong accent of Thai basil aroma coated in a glaze of soy and fish sauce base gravy. Very appetizing dish that one can easily devour a bowl of steamed Jasmine rice with it.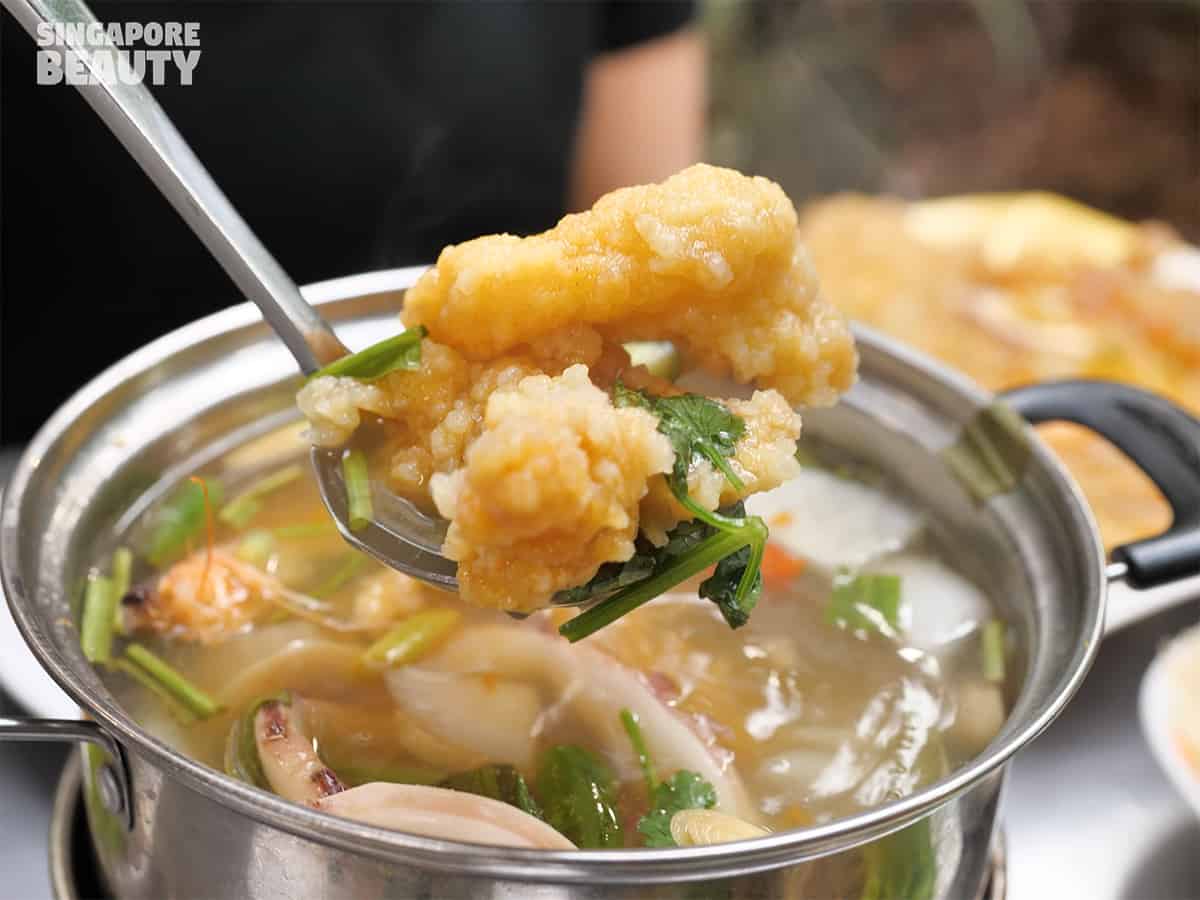 Tom Yam Soup Clear style ($6.80) with seafood – consist of a medley of squid rings, prawns, fried fish meat, mussels, mushrooms and more. You can also choose the other 2 options of tom yam soup with prawn ($8.50) or with chicken ($6). As with all Thai food, a Tom Yam Soup is a staple item and for Soi 47 Thai Food, it is a must order. We love this soup for both the refreshing flavours and the ample amount of seafood in the soup. They also have a creamy style tom yam soup if you prefer a full bodied soup that is richer in coconut flavour.
Thai Style Omelette with seafood ($6.50) is a beaten egg that is fried till light and crispy like a mega egg floss texture. Served atop a heap of bean sprout to get a balance of the fluffy texture with a grassy green sweet sprout flavour.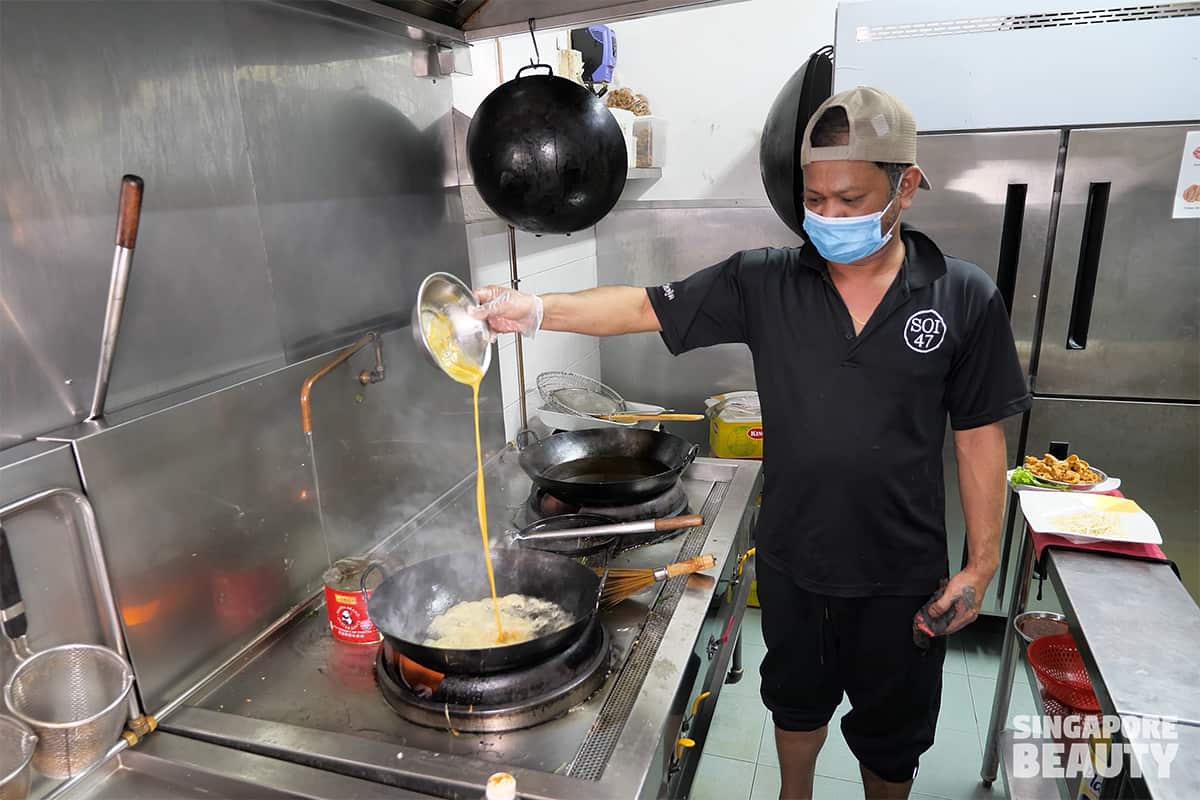 The egg is dropped from a shoulder level height into a hot heated oil of wok to achieve that fluffiness and airy texture. The cooking of this egg itself is a feat that not many chef are well versed with and look like an action to be performed only by a very skilled chef. The egg-cellent texture and flavour is something worth looking forward to, when you order this egg-traordinary Thai Style fried omelette. This is their Thai head chef showing us how to achieve that perfect fluffy fried Thai style omelette.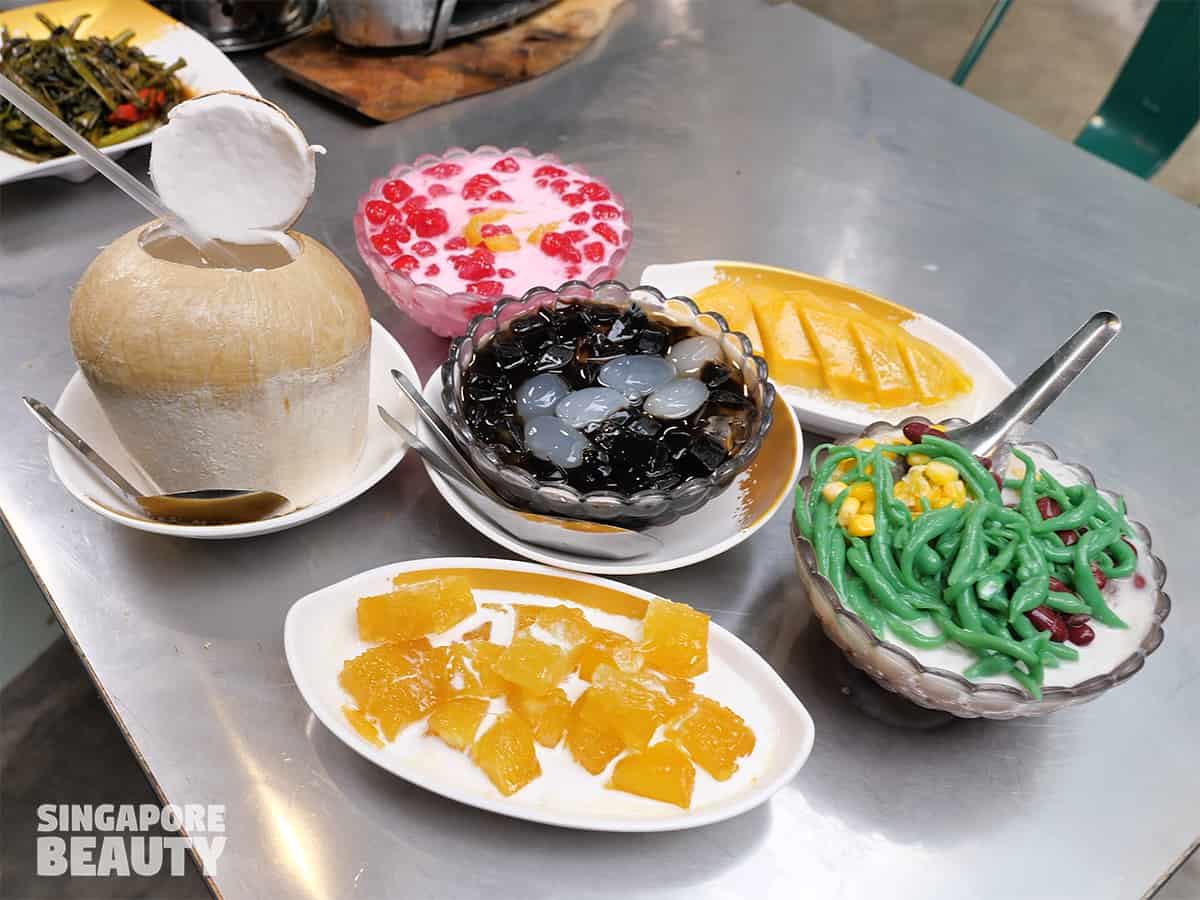 There are 5 desserts in Soi 47 Thai Food to end your meal on a sweet note. We are unable to choose the best out of these as they are equally delicious. Clockwise from Red Ruby ($3), Mango Sticky Rice ($5), Chendol ($4), Tapioca with Coconut Cream ($5) and Grass Jelly with Attap Seed ($4). The Fresh Thai Coconut ($4.50) is under their drink selection but the mildly sweet juice and pulp makes it feel more like a dessert to me. Both the Chendol and Red Ruby are served atop a heap of shaved ice with some rich coconut milk dressing. The tapioca with coconut cream are housemade and has a soft candied texture that is very comforting to enjoy.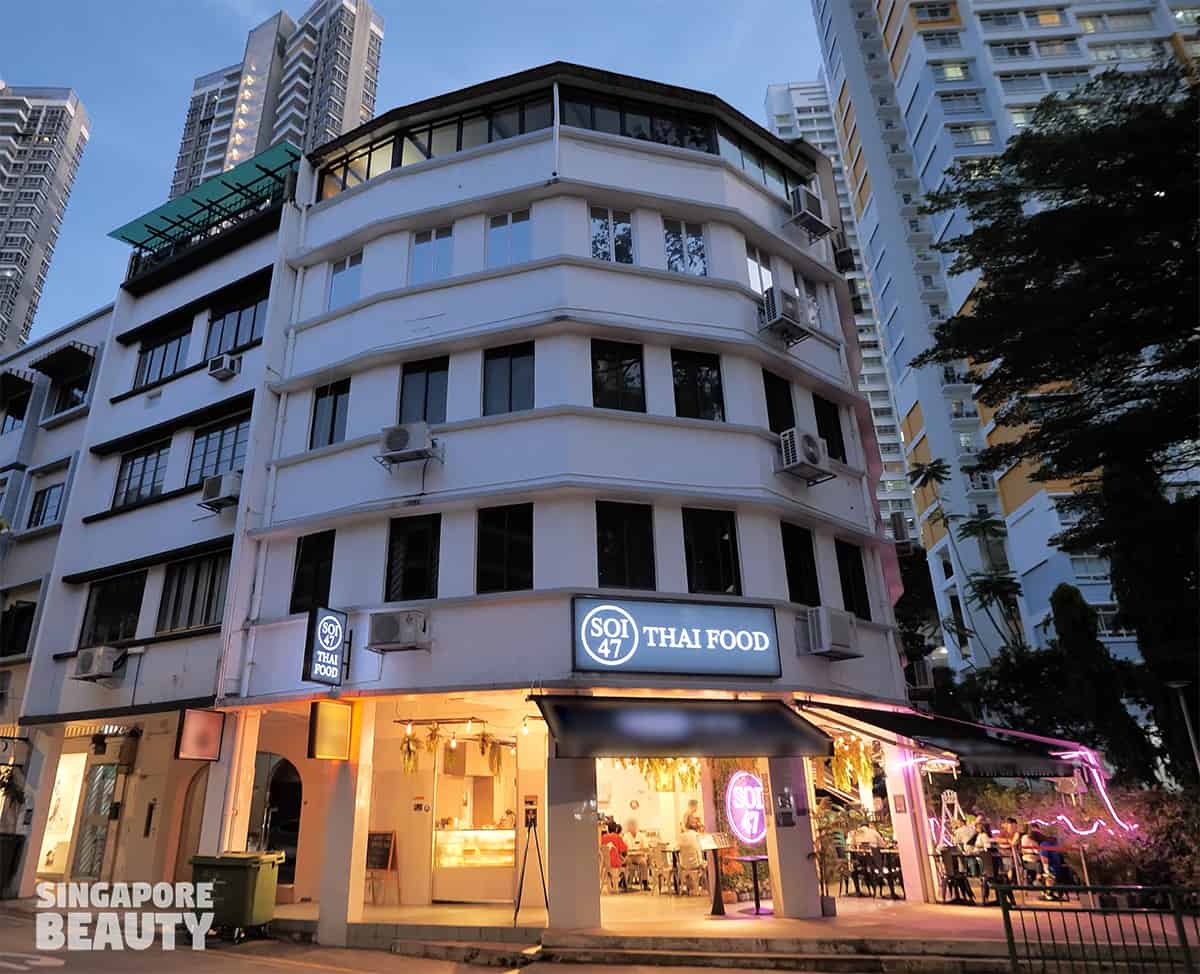 Soi 47 Thai Food at Tiong Bahru has a different vibe during the day and at night. This is how it feels at night with chill vibes. Dine alfresco with the night breeze in this hip neighbourhood of Tiong Bahru with over 140 Thai style food items. Enjoy a full spectrum of homely and authentic Thai food by Thai head chef, our local's favourite affordable thai food. Ideal lunch & dinner place in the hoods of Tiong Bahru estate.
Address of Soi 47 Thai Food:
(Featured outlet)
⌂ 27 Yong Siak Street, (near Tiong Bahru estate)
S168654
Call: 6588 4747
Opening hours: 11.30 am to 3pm, 5.30pm to 10pm daily
soi47 menu: facebook.com/soi47thaifood/menu
⌂ 181 Orchard Road, #04-08
Orchard Central, S238896
For reservation, call: 6555 4747
⌂ 6 Eu Tong Sen Street
Clarke Quay Central #02-78
S059817
Call: 6788 4747
⌂ 47 Toa Payoh Lor 6, #01-130
S310047
Call: 6266 4747
⌂ 111King George's Ave
S208559
Call: 6255 4747
Brought to you by  Soi 47 Thai Food