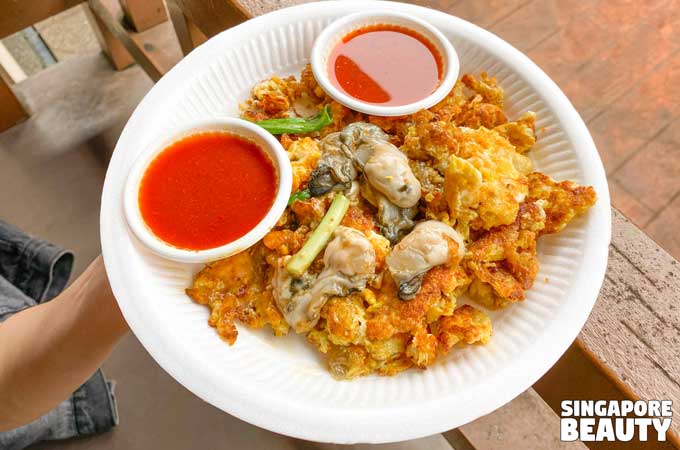 At Song Kee Fried Oyster 松记, we prefer the fried oyster with a bit of different texture, so we opt for the fried oyster ($4) traditional style with starch and is cheaper too. Oyster Omelette 蠔煎, commonly called "Orh Jian" or "Orh Luak" in dialect is cooked by frying starch (usually tapioca starch) with egg topped with oysters and served with a spicy vinegary chilli sauce.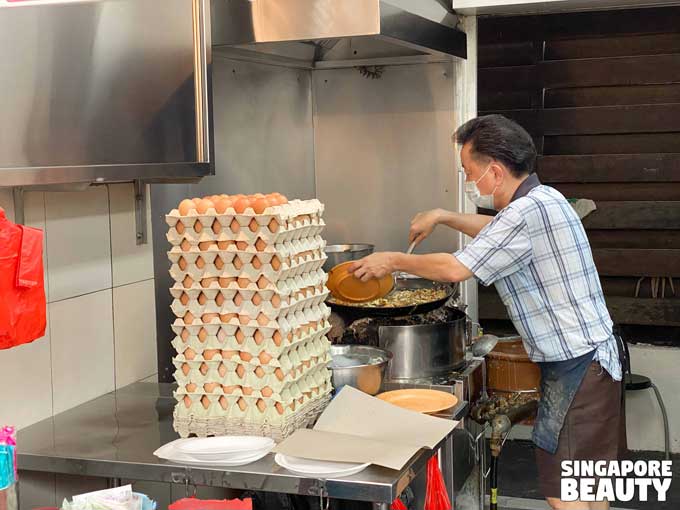 If you prefer the fried oyster without the starch, you can go for the fried Oyster Egg or Hao Dan 蠔蛋. In Singapore, it is a staple in almost every hawker centre, there are many popular fried oyster hawkers stalls to shout about. Here are some of them: Bedok North 85 Fried Oyster 勿洛北85蚝煎(Fengshan Hawker Centre), Hougang Oyster Omelette (Hougang Ave 8), Simon Road Oyster Omelette (Hougang St 21), Hock Kee Fried Oysters (Serangoon Garden), Hup Kee Fried Oyster Omelette(Newton Food Centre), Heng 興(Newton Food Centre), Xing Li Cooked Food 兴利熟食 (Old Airport Food Centre) and many more.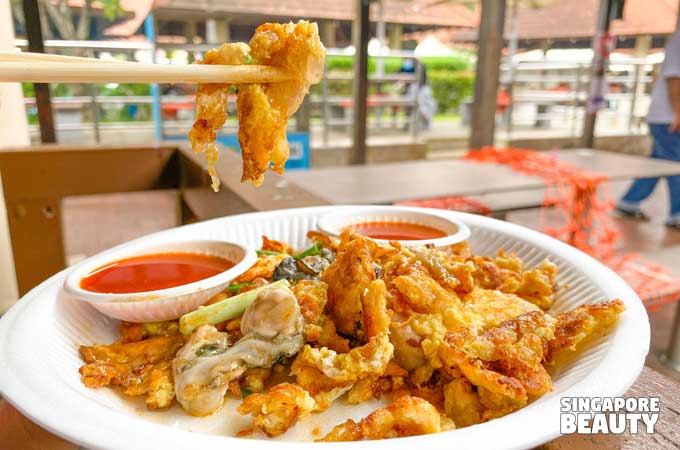 Song Kee Fried Oyster 松记 is recommended in the Michelin Guide. A plate of fried oyster ($4) is good enough to satisfy our craving for some fried egg with gooey soft chunks of tapioca starch. The amount and viscosity of the gooeyness is crucial in a good fried oyster omelette. The proportion of egg versus the gooey dollop hit just the right spot with the perfect balance at Song Kee.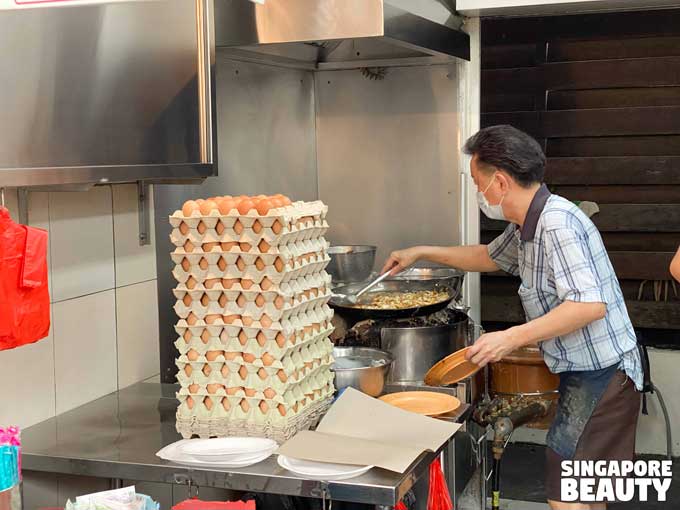 These fried oysters are cooked on a sizzling round griddle. This is how they do it : tapioca starch mixture is added to the hot oiled pan. Followed by fluffy beaten eggs to layer atop the starch. These are then quickly stir fried together over low heat.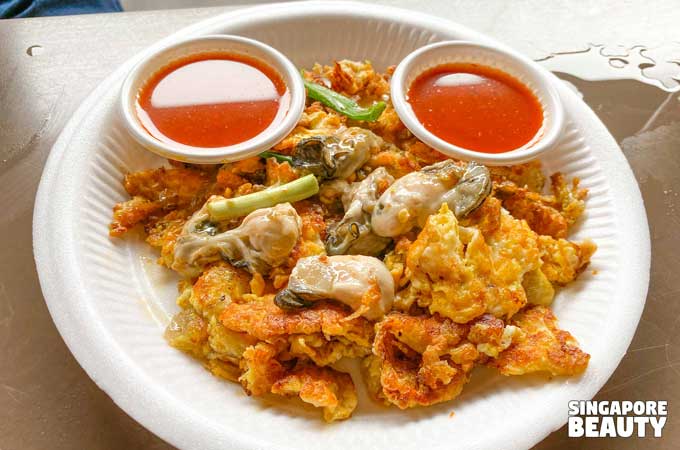 When the omelette is almost done, the raw frozen oysters are added to the edge of the pan and toss around with a dash of fish sauce to heighten the flavours. Long stems of scallions are then added at this point of time just before serving. These are then divided into stacks of egg omelette and plated to serve.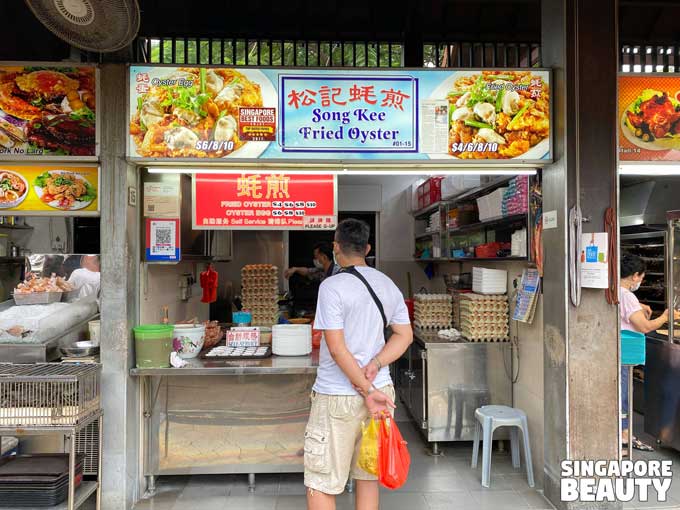 Song Kee's queue during weekend peak hours is always not very forgiving as it is a popular must eat hawker stall at East Coast, but on weekdays the queue is acceptable.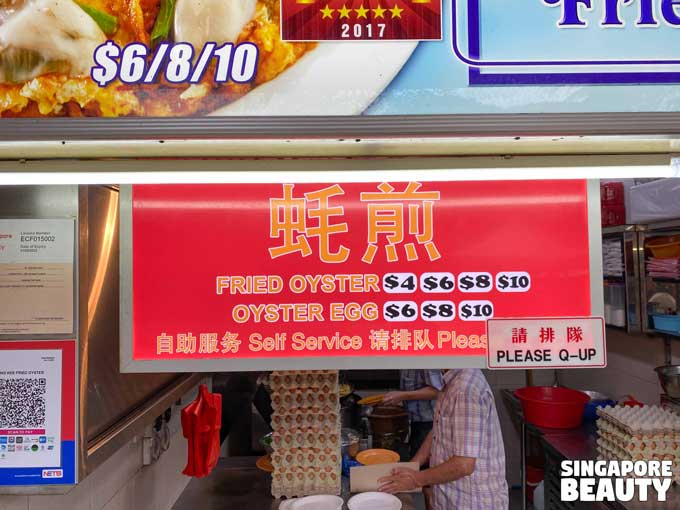 Here's the menu of Song Kee Fried Oyster 松记.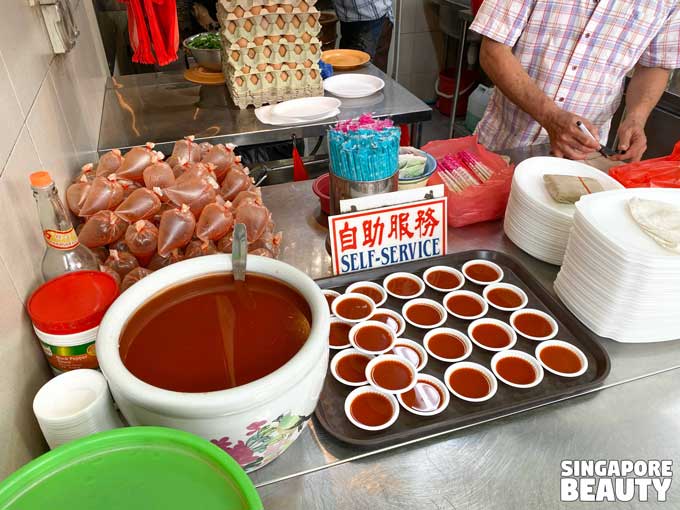 The fried oysters are topped with delicate medium size oysters, fried eggs mixture, some green scallions and 2 tangy chilli sauce.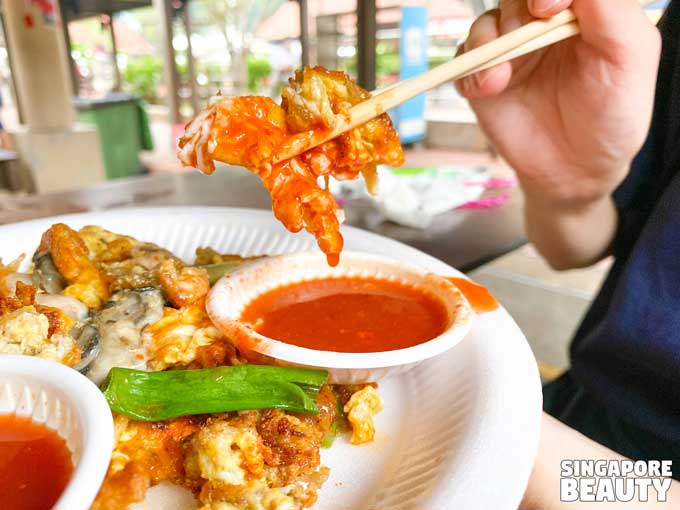 The chilli sauce has a sharp tart tone from the rice vinegar used. It pairs well with the savoury eggs and oysters. It also helps to cut the grease should you feel any.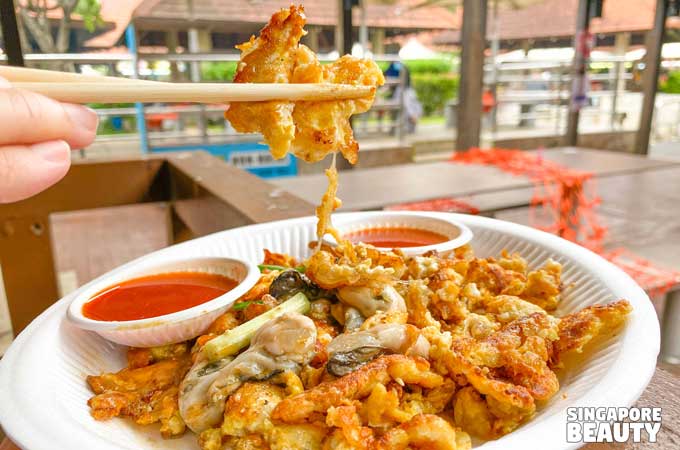 The fried eggs are moist like fluffy egg omelette inside, lightly brown around the edges with an aromatic eggy flavour outside. The oil used in frying the eggs is nicely expelled by controlling the heat of the griddle when plating. It is delicious!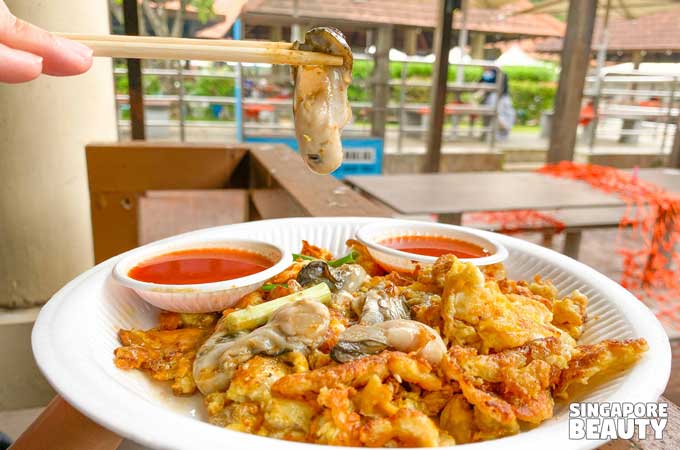 Oysters are succulent and creamy with a briny fresh seafood flavour. They are nicely warmed up with the residue heat from fried egg and not overcooked. Some of these oysters are plump and the size of a thumb.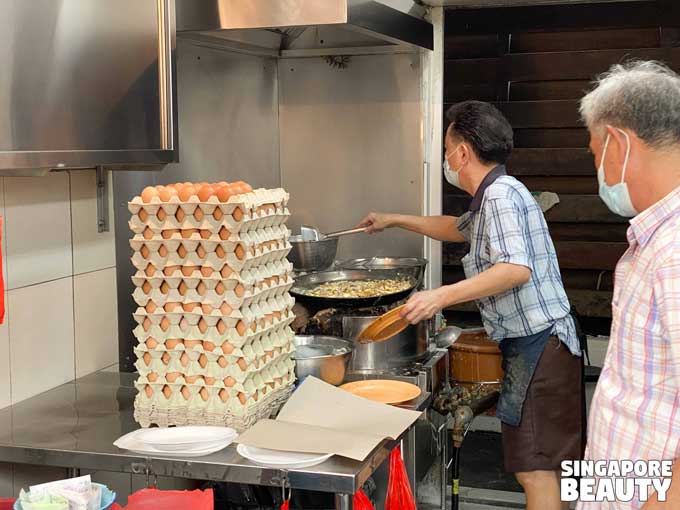 The hawker is considered generous with the numbers of oyster for the price. Do head over to Song Kee Fried Oyster 松记 today to try their local Singapore style fried oysters that is great even for a tourist's palate.
Opening hours:
1pm to 1am daily
Song Kee Fried Oyster 松记 Location :
East Coast Lagoon Food Village
East Coast Park Service Road, unit #01-15, Singapore 468960