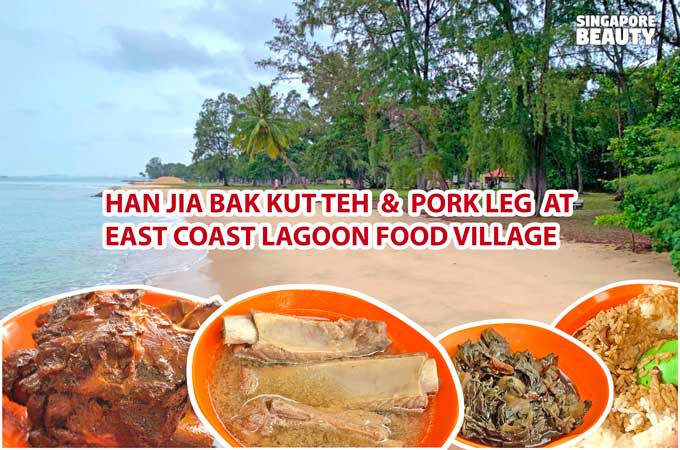 The usual food to order at East Coast Lagoon Food Village are mostly the barbecued stuff. But for a change today, if you decide to eat some comforting bak kut teh and braised pork trotter by the seaside, you have one option, Han Jia Bak Kut Teh & Pork leg 韩家肉骨茶,猪脚.
Han Jia Bak Kut Teh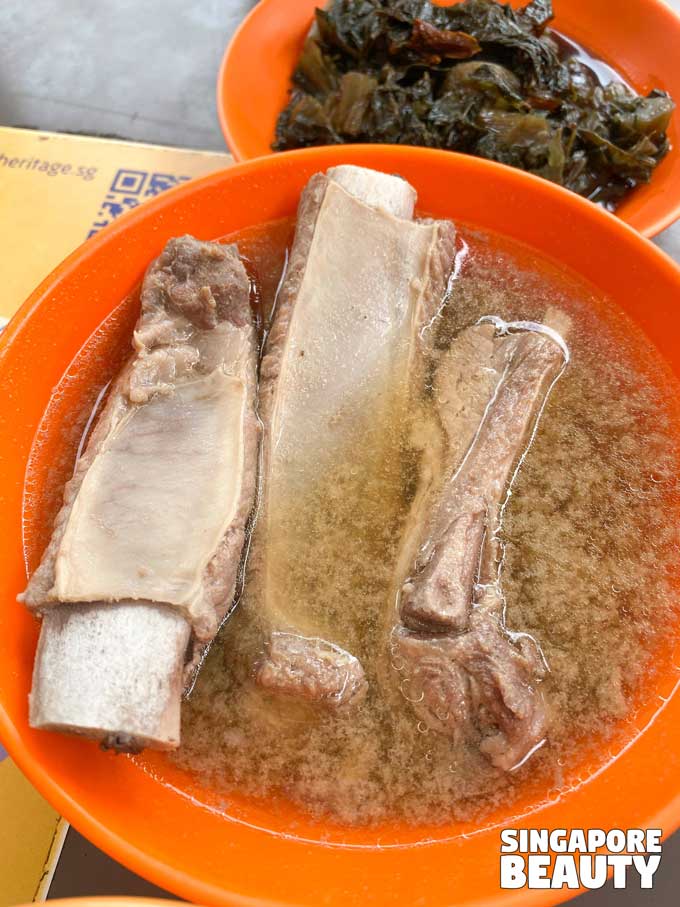 A brief history of dates back to 1963 when it was founded by Old Mr Han. He used to peddle his trade at MacPherson's back alley before settling down in East Coast Lagoon Food Village. We ordered a piping hot bowl of bak kut teh ($6) that comes with 3 pieces of pork ribs in a cloudy white spice infused soup. The meat is tender but has a mild chew to it. It is not the fall off the bone type but it separates easily from the bone. I find the soup a little greasy for my liking, however the peppery flavour is quite prominent.
Han Jia Bak Kut Teh Pork Leg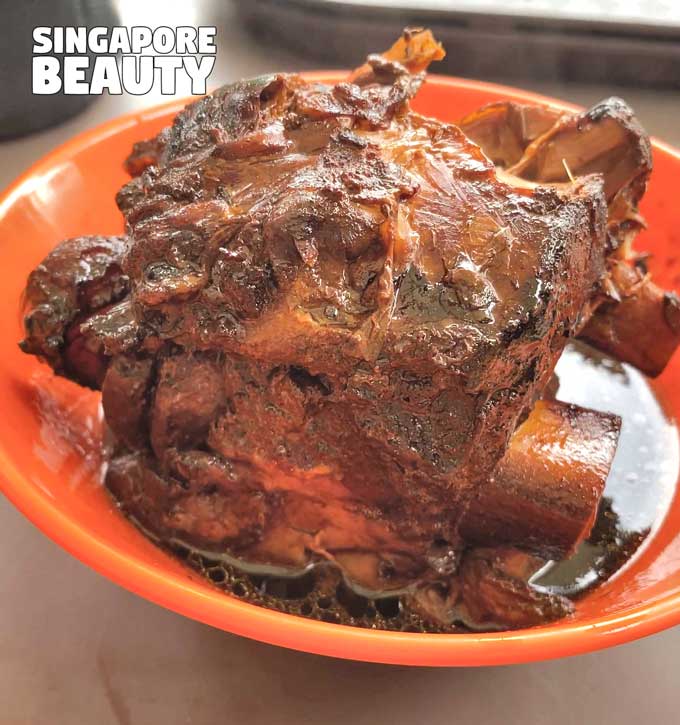 The next item to try is their braised pork trotters ($6). The pork leg is served in a dark rich herbal sauce that you can smell even without digging in. The skin of the pork legs has a sticky and gelatinous skin holding all the chunks of meat together. Packed full of deep soy herbal flavour and collagen. Although the leg is stewed till a very dark shade of brown, it is neither really salty nor savoury. Instead it is the herbal flavour that is very prominent.
The meat is quite flaky and fork tender definitely not the fibrous type. Some of the regulars love to suck on the pork bone marrow for that buttery stuff. Some love the fatty pig trotter for the wobbly melty skin and the jellied translucent tendon. Between the bak kut teh and the pork leg, we chose the later as it is more interesting in term of texture.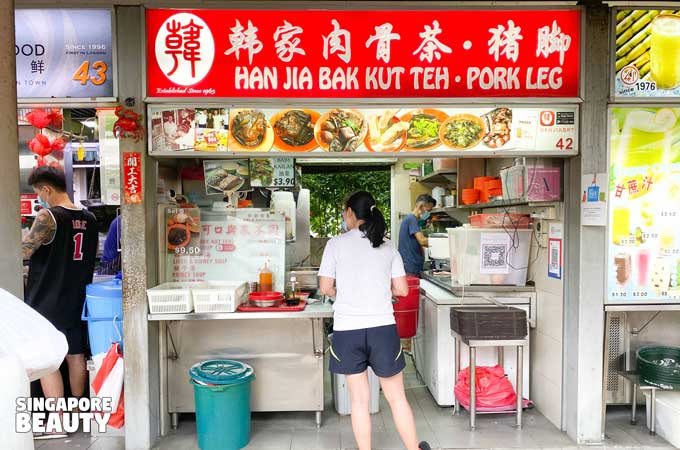 The hawker will also check your preference for the pork trotter, whether you prefer meatier or more fatty type. Actually you can choose the half fat and half lean option, so you get the best of both worlds. We took the skinless meaty trotter and there is really a lot of meat on it. The size of the pork leg looks like roasted German pork knuckles but braised instead.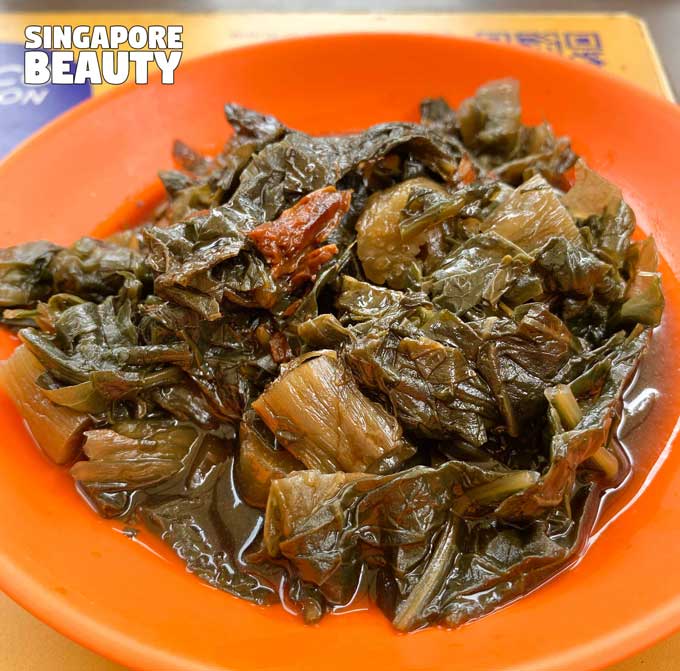 They also have sides dishes such as liver & kidney soup, baby kailan, braised pork intestines, tofu, beancurd skin, tau pok, eggs and preserved vegetable, mei cai. The preserved vegetables are soft, melty and savoury. Perfect dish to wolf down a bowl of plain steamed rice with. For the carbs, you can choose rice or a bowl of kway (broad flat rice noodles in herbal soup).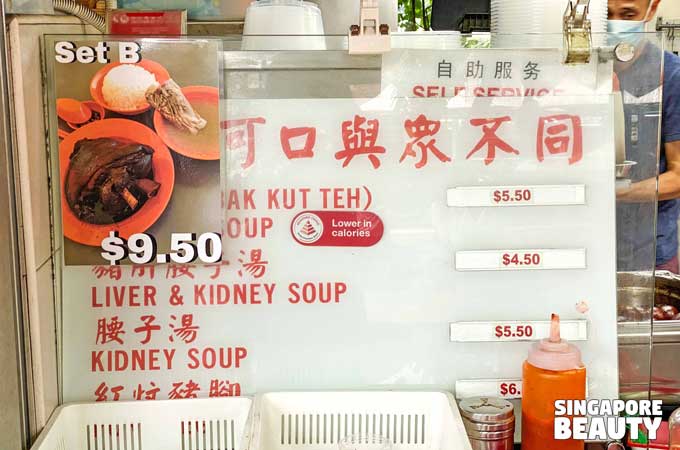 If you are lazy to travel there to dine in, you can order delivery from their delivery app, HanJiaBkt. Here's Han Jia Bak Kut Teh & Pork Leg menu for dine in, prices starts from $4.50.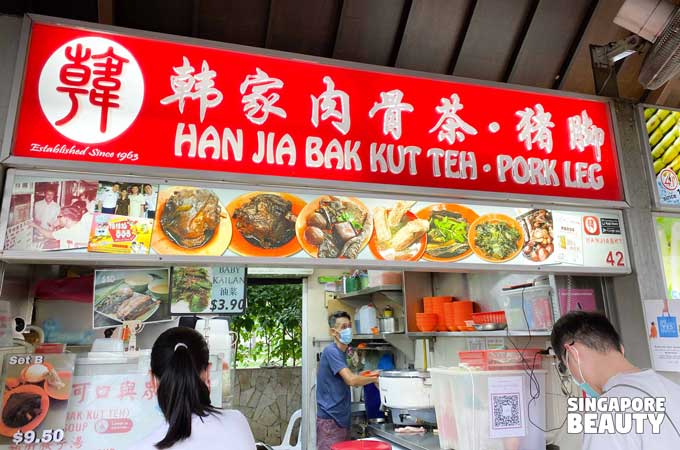 It is now run by the second generation Mr Han's son who used to be an engineer. He now engineers bak kut teh with a peppery base and is awarded Top 10 Bak Kut Teh in the City Hawker Food Hunt 2011. Enjoy some herbal and peppery style Bak kut Teh for a change today.
Opening hours :
11am to 8.30pm(Mon-Fri), 10.30 am to 8.30pm (Sat-Sun)
Han Jia Bak Kut Teh. Pork leg 韩家肉骨茶,猪脚 Location:
East Coast Lagoon Food Village
East Coast Park Service Road, unit #01-42, Singapore 468960
Tel: +65 62429808